Are you planning a spring trip to Europe and are unsure of where to go? This guide showcases the best places to visit in Europe in March – from the islands to the Arctic.
There are many great destinations to visit in Europe in March and we have recruited some other bloggers to share their favorites. We have included reasons to visit, the average temperatures, and some details about the place.
If you're looking to head stateside during this time, be sure not to miss our guides to the best national parks in March and the best destinations to visit in March in the USA.
Please share your favorite places to visit in March in Europe with us in the comments!
Where to Travel in Europe in March
Berlin
Location: Germany
Average temperatures and precipitation: highs of 48F (1C) and lows of 34F (9C); 8 days of precipitation
Reasons to visit Berlin in March: spring is on the horizon, more daylight than winter, cool festivals
Recommended by: Stefan at Nomadic Boys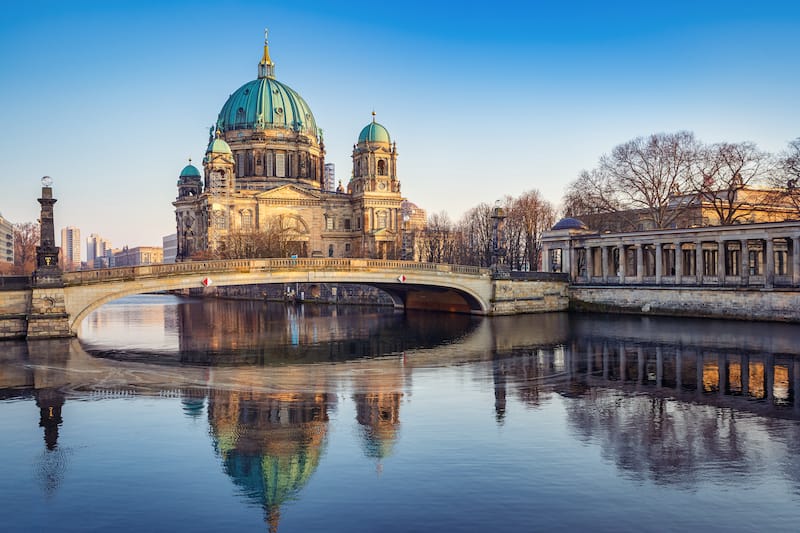 Berlin is a super rewarding city to visit. It is not only a huge cultural capital in Europe (Brandenburg Gate, remnants of the Berlin Wall, the Reichstag, and Museum Island to name a few!), but it also has exciting nightlife, particularly the gay scene of Berlin.
We particularly love visiting Berlin in March when there are many events taking place, particularly ITB – one of the largest travel expos in the world. ITB usually takes place over a 1-week period, which also includes some of the best parties and trade shows.
The MaerzMusik Festival of Time is another event to look out for in March. It takes place over 10 days in March during which time is celebrated through contemporary music by exploring the nature of time in life, art, and in theory.
The Spring Light Festival in early March is another not-to-miss event in Berlin. This is one of the most famous light festivals in the world, when all the main sights are lit up at night, over 10 days, with some pretty stunning and impressive light displays.
Oh, and the part about the exciting nightlife scene we mentioned at the start?
Well, in March it truly comes alive more than ever for St. Patrick's Day when Berliners unite with Irishmen to celebrate this famous Irish National Holiday in the many Irish pubs all over the city.
Venice
Location: Italy
Average temperatures and precipitation: highs of 55F (13C) and lows of 40F (4C); 5 days of precipitation
Reasons to visit Venice in March: fewer crowds, festivals around the Easter holidays, cheaper prices
Recommended by: Dymphe at Dymabroad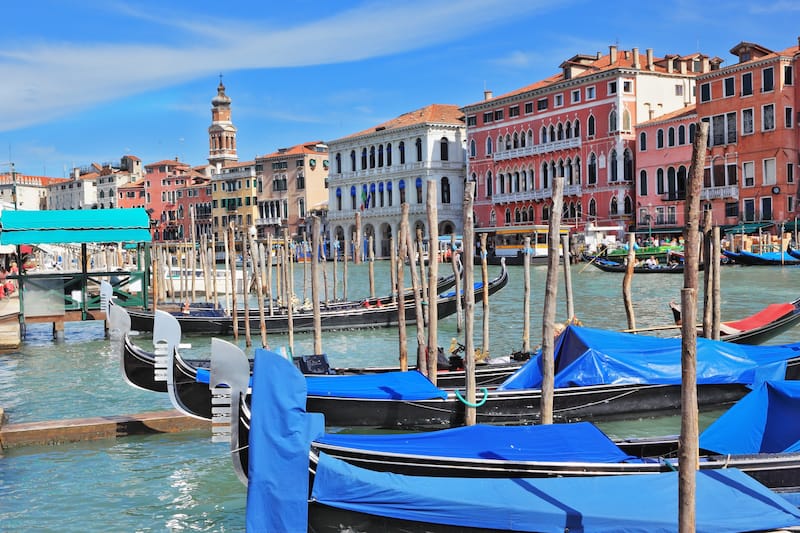 A place in Europe that is best to travel to in March is the city of Venice. This beautiful city lies in the north of Italy. There are many reasons why March is great. One of the reasons is that there are festivals and events that are amazing to experience.
One of these incredible festivals is La Festa Della Donna. This takes place on the 8th of March and it's dedicated to women.
On this day, there are many festivities and it is common for women in Venice to have dinner together. Also, restaurants have special menus on this day.
Another event that you should not miss out on is the Festa di San Giuseppe on the 19th of March. This is Italy's Father's Day. This day is celebrated with bonfires and a special pastry called Zeppole is eaten then.
Furthermore, at the end of March and the beginning of April, there is also the feast of Easter, which is very important for Italians. During the week leading up to Easter, there are many festivities and rituals in Venice.
Moreover, the streets are decorated and there are special masses in the churches of Venice that are great to attend.
Besides the amazing events, Venice is also less crowded in March than in the other months, making it feel like an off-the-path destination in Italy even if it isn't. This makes it much easier to experience the city as if you were a local.
Also, visiting Venice in March is much more affordable as the accommodations and airline tickets are cheaper then.
It's also very convenient that it's warmer outside and that there is less rain than during other cheaper and quieter months, such as November and January.
This is also great if you have only one day in Venice, as it allows you to move around the city with ease.
York
Location: United Kingdom
Average temperatures and precipitation: highs of 55F (13C) and lows of 40F (4C); 5 days of precipitation
Reasons to visit York in March: fewer crowds, festivals around the Easter holidays, cheaper prices
Recommended by: Sinead at Best in York Guide
The historic city of York in the north of England is a fantastic European destination to visit in March. Many of the city's attractions are outside so longer, lighter days will enhance your visitor experience.
Plus, York in springtime is known for its daffodil displays. The grassy slopes of York's medieval city walls – which, at two miles long, are the longest city walls in England – are blanketed in daffodils in March as are the steep slopes of Clifford's Tower – the circular remains of a Norman keep perched on top of an artificial hill overlooking the city.
March in York is a perfect time for enjoying a sightseeing cruise on the River Ouse or savoring one of the city's incredible scenic viewpoints such as the bird's eye, 360-degree view from the top of York Minster's central tower.
Relax with a picnic in Museum Gardens whilst viewing the remains of 12th-century St. Marys' Abbey, the intact 15th-century Hospitium, the 19th-century observatory, or the 2,000-year-old remnants of the Roman-era Multiangular Tower.
Or just spend your March days wandering the cobbled streets of the city admiring historic houses such as the Georgian-era Mansion House or the medieval shopping street The Shambles, which was voted the 'Best Street in Britain.'
There are many amazing things to do in York during the spring, making it one of the best places to visit in Europe in March.
Tenerife
Location: Canary Islands (Spain)
Average temperatures and precipitation: highs of 71F (21C) and lows of 59F (15C); 3 days of precipitation
Reasons to visit Tenerife in March: flowers blooming but still close to winter activities in the mountains
Recommended by: Charu at Travel with CG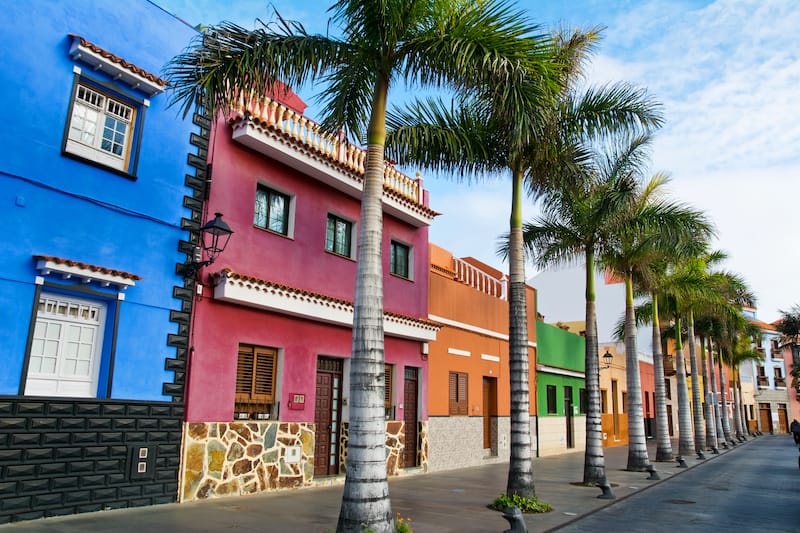 Located off the coast of northwestern Africa, Tenerife is the largest of the eight Canary Islands that are a territory of Spain.
With a subtropical climate, pristine white and black sand beaches, and the highest summit point in the whole of Spain… there is a lot that makes Tenerife an ideal destination year-round.
March in Tenerife, in particular, is great if you like enjoying beautiful places away from the peak season crowds.
With the famous Santa Cruz de Tenerife Carnival gone in February and summer still a few months away, it is when you will find accommodations and airfare relatively reasonable.
Siam Park, the biggest water park in Europe, is also comparatively less busy in March.
If you fancy stargazing, then you might be interested in knowing that Tenerife actually is one of the best places in the world for it because of its clear skies and high peaks. So, naturally, stargazing is one of the best things to do in Tenerife!
March is the beginning of meteor shower season in the Canary Islands, so you can drive to Teide National Park yourself at night or even book a tour to have an incredible experience whilst there.
Being one of the only few places in Europe where you can comfortably lay on the beach and swim in spring, Tenerife, without a doubt, is a great destination in Europe during March!
Sarajevo
Location: Bosnia and Herzegovina
Average temperatures and precipitation: highs of 53F (12C) and lows of 35F (2C); 8 days of precipitation
Reasons to visit Sarajevo in March: flowers blooming but still close to winter activities in the mountains
Recommended by: Ellis at Backpack Adventures
Sarajevo is a great city in Europe to visit in March because there are a variety of things to do when spring is just around the corner.
In Sarajevo in March, temperatures are warming up and flowers are starting to bloom. Meanwhile, you can still find a winter wonderland in the nearby mountain resorts of Jahorina and Bjelasnica.
Part of the charm of Sarajevo is that its scenic location is in the foothills of the Dinaric Alps. These mountains that typically see snowfall up until April were the reason that Sarajevo was chosen to be the location for the Winter Olympics in 1984.
March is still a great time to head up to the mountains for skiing, snowshoeing, or other winter sports.
In the city of Sarajevo itself, winter is long gone. As the weather improves day by day, the city is preparing for the upcoming tourist season.
March, however, is still a quiet month as a tourist because you have the city to yourself, making it a great time to explore everything that Sarajevo has to offer.
Sarajevo has such a multicultural past and that is evident in every corner of the capital city. The historic Ottoman town is like a journey back in time.
With its ancient mosques and madrassas, it feels more like the Middle East. The city also has a number of interesting museums about the Bosnian Civil War and the Siege of Sarajevo.
Other historic landmarks include the sacred heart cathedral, the Latin Bridge, and the Markale Market.
Provence
Location: France
Average temperatures and precipitation: highs of 59F (15C) and lows of 36F (2C); 4 days of precipitation
Reasons to visit Provence in March: wonderful road trip opportunities, fewer tourists, quiet villages
Recommended by: Ann and Rick at The Road is Life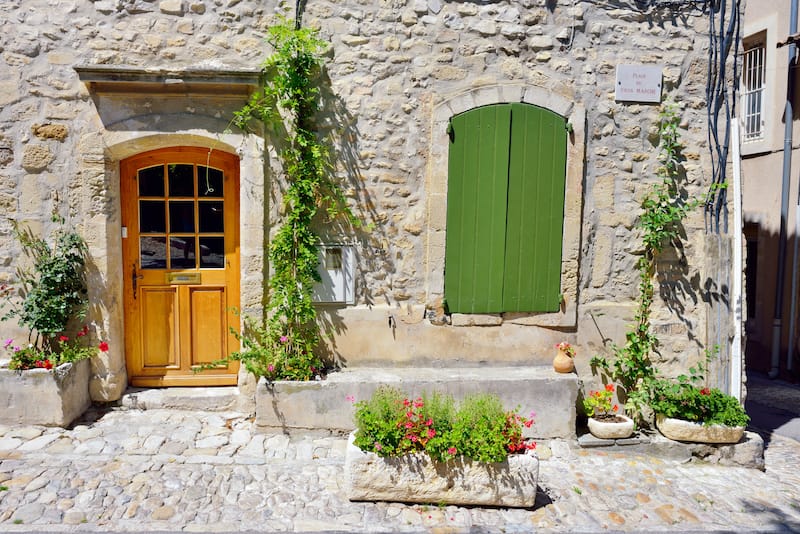 The south of France is known for its sunny and pleasant climate for most of the year. During the month of March, the Provence region begins to warm up seeing mostly sunny days with little rain.
March in Provence is still considered off-season meaning that the crowds are at a minimum and most hotels have not yet reached their peak-season prices. With fewer crowds and lovely sightseeing weather, March is an excellent time of year to travel to Provence.
The best way to explore this region's diverse landscapes and beautiful villages is to rent a car and go on a road trip through the French countryside.
If you plan to start in Nice, there are plenty of incredible sights to see that are easily accessible by car. One of the highlights is the Gorges du Verdon which is a 3-hour drive from Nice via spectacular mountain roads. There are some amazing French hiking trails here.
The Gorges du Verdon is truly a breathtaking sight to see and is often referred to as the Grand Canyon of Europe.
Shortly after the gorge, you'll be able to reach a few of France's most beautiful villages like Moustiers-Sainte-Marie, Gordes, and Rousillon. For the perfect Provence road trip, you should allow for at least 10 days to be able to experience the true magic of this region.
Copenhagen
Location: Denmark
Average temperatures and precipitation: highs of 43F (6C) and lows of 33F (1C); 9 days of precipitation
Reasons to visit Copenhagen in March: museums galore, cozy cafes, fewer tourists (especially at Nyhavn)
Recommended by: Annabel at Smudged Postcard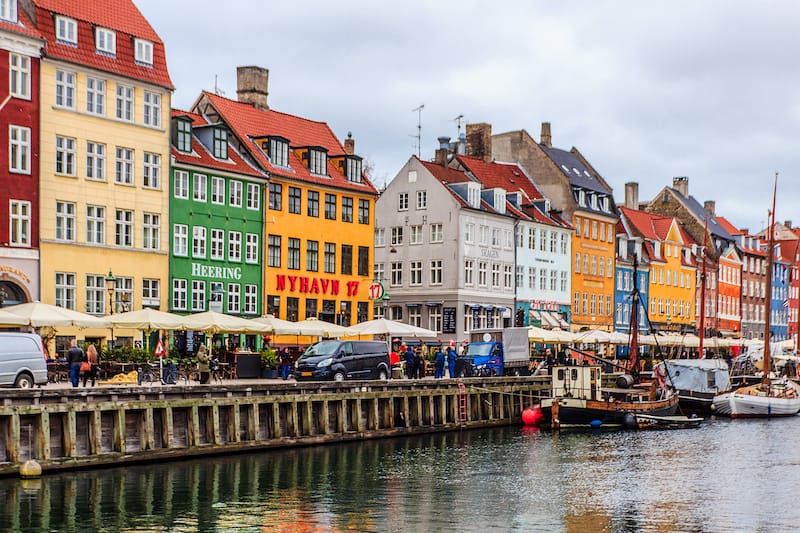 Copenhagen might not seem like an obvious destination for a March holiday. However, the Danes have a way of making things feel cozy in cooler weather – hygge. Cafes and restaurants have rugs and blankets and there's a warm atmosphere that pervades the city.
The best reason to visit Copenhagen in March, however, is the city's incredible museums.
Tourists flock to Denmark's capital in the summer months but early spring is still quiet, making it cheaper and more appealing to some.
The National Museum of Denmark is the place to go to get a full understanding of this diminutive Scandinavian country.
The museum is certainly one of the best things to do in Copenhagen with kids – a whole section of the museum is given over to teaching children about Denmark through playful means.
The excellent Louisiana Museum of Modern Art and the science museum Experimentarium are definitely worth a visit and both are fantastic options for families and those looking for refuge from temperamental weather in the spring in Copenhagen.
This overview wouldn't be complete without a mention of the famous Nyhavn, Copenhagen's colorful harbor.
In high season, it's packed with tourists, but if you come in March or other times during the winter, you'll discover a far more peaceful feel to this 17th-century waterfront.
Seville
Location: Spain
Average temperatures and precipitation: highs of 70F (21C) and lows of 48F (9C); 5 days of precipitation
Reasons to visit Seville in March: sightseeing without crowds, perfect spring temperatures
Recommended by: Ben at Driftwood Journals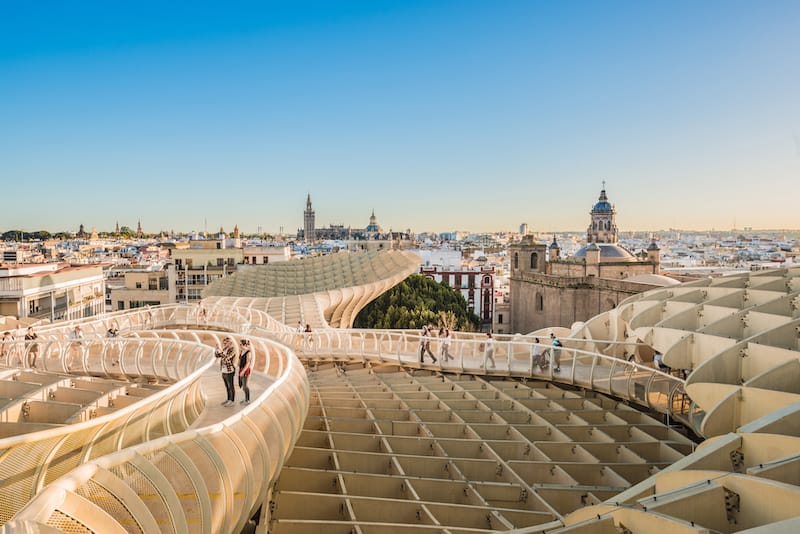 Spain boasts a glut of culture-oozing cities that will steal your heart and make you resent the fact you were born elsewhere, but none do it with the ease and majesty that Seville does.
This wildly intoxicating riverside city is the capital of Spain's flamenco-fused region of Andalusia and is one of the best weekend breaks in Spain!
And though there is no such thing as a bad time to explore its unique blend of Moorish and Christian architecture and culture, or tour its boisterous tavernas and sherry bars, March is undeniably one of the best times of year to be in this glorious part of the country.
Not only is the weather milder and more bearable (temps reach an unforgiving 40C/100F in the summer), but the crowds that flock there later in the year are yet to clog its arteries.
And, of course, smaller crowds mean you can better enjoy the many iconic sites, such as the colossal Catedral de Sevilla (the largest Gothic cathedral on the planet), the Moorish Real Alcázar Palace, and the emblematic Plaza de España.
Sip vino and local sherry down by the river at sunset and spend your evenings hopping from tapas bar to tapas bar in the bustling Barrio Santa Cruz.
Keep an ear out as the Giralda bell tower rings out over the city, and traverses the river to Triana, where flamenco echoes through the streets in a call to an altogether different kind of worship. Visiting Seville in March is definitely the perfect time to go and beat the crowds!
Dubrovnik
Location: Croatia
Average temperatures and precipitation: highs of 60F (15C) and lows of 49F (9C); 8 days of precipitation
Reasons to visit Dubrovnik in March: fewer crowds, cheaper attractions, comfortable temperatures
Recommended by: Kami at Kami and the Rest of the World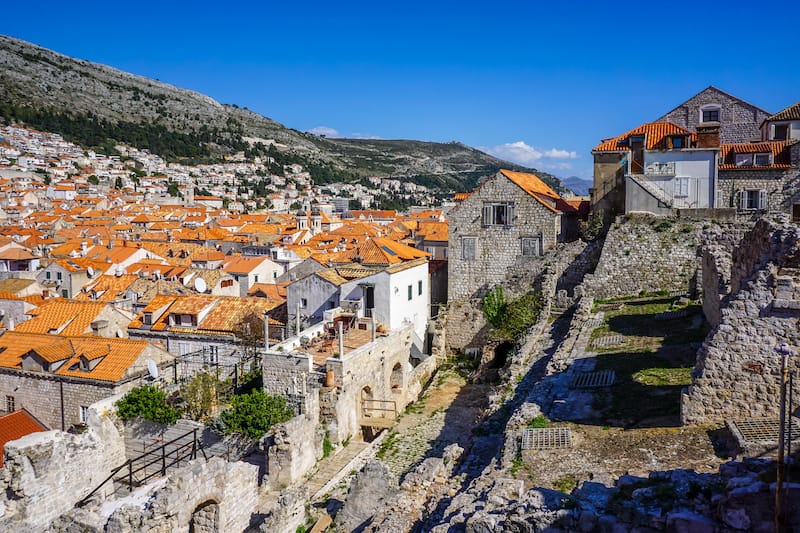 Dubrovnik, the Croatian gem of the Adriatic Sea, is known for its enormous crowd of tourists in the summer season.
However, if you visit Dubrovnik in March you can enjoy the city without too many people around and actually see its beauty. What's more, the weather is already warm and sunny enough that you can leave your winter jacket at home.
The entrance tickets to many of Dubrovnik attractions are usually rather pricey, but you can expect big discounts off-season which is another good reason to travel to Croatia then.
There are so many great things to do in Dubrovnik that you should plan at least two days to enjoy them all.
Start with the walk along the City Walls surrounding the Old Town – you can expect some spectacular views of the Adriatic Sea, mountains around the city, and rows of red rooftops.
Afterward, get lost in the maze of charming lanes where you might meet not a single person. Once you get tired, you can sit down for a coffee or lunch and you can be picky when choosing a place since most of them will have free tables.
Be sure to visit attractions outside of the Old Town too, especially Fort Lovrijenac and Mount Srd which both offer an amazing panorama of Dubrovnik.
If you are a fan of "Game of Thrones" you are in for a treat – many of the scenes were filmed in Dubrovnik and you can find the famous locations all over the city.
Lisbon
Location: Portugal
Average temperatures and precipitation: highs of 65F (18C) and lows of 51F (10C); 6 days of precipitation
Reasons to visit Lisbon in March: flowers in full bloom, comfortable temperatures, festivals
Recommended by: Renee at Dream Plan Experience
The picture-perfect city of Lisbon, with trams running between the pastel-colored buildings, is even more beautiful in springtime. The best time to visit Lisbon is from March to May when it's delightfully warm and sunny.
With fewer crowds, it means more time spent enjoying the city's best neighborhoods. From street art to hip bars, trendy restaurants, and fado music clubs – each has its own unique history and culture.
Take a walk along the Tagus River gazing upon 25 de Abril Bridge, the twin sister to San Francisco's Golden Gate Bridge, to reach the Belém Tower. It was built in 1515 as a fortress to guard the entrance to Lisbon's harbor.
Next, tour Jeronimos Monastery, built-in 1502. Both of these impressive top attractions are UNESCO World Heritage sites.
Lastly, visit the nearby Ajuda Botanical Gardens, the oldest in all of Portugal. It not only offers spectacular hilltop views of the Tagus River and the pretty terracotta rooftops, but it will be in full bloom of spring flowers.
One of the things to do in Lisbon in March is to visit the MONSTRA Animated Film Festival. Whether you are traveling with kids or on your own, you'll find fun and inspiring activities and events spread throughout the city to celebrate Lisbon's cultural scene.
Budapest
Location: Hungary
Average temperatures and precipitation: highs of 53F (11C) and lows of 38F (3C); 5 days of precipitation
Reasons to visit Budapest in March: Festivals, warmer temperatures, great museums
Recommended by: Rose at Where Goes Rose?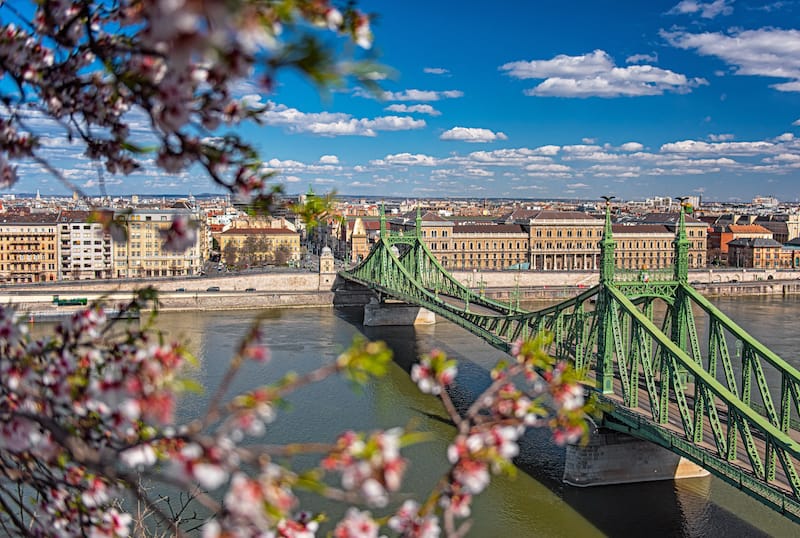 One of the best places to visit in Europe in March is the beautiful city of Budapest. The weather is mild and the city isn't too crowded (unlike during the summer months and the Christmas Market period) which means you can wander the streets and relax in the hot spas without them feeling too crowded.
Another perk of visiting Budapest in March is the many events and festivals that you can incorporate into your Budapest itinerary. One is the Budapest Fish Festival which happens in the first week of the month.
Locals and travelers alike can experience workshops and demonstrations as well as sample freshwater fish which is an important element in Hungarian cuisine. In the same week, the Taste of Hungary Festival will introduce you to other local foods like meat, honey, and cheeses.
Mid-month, you can catch the annual Revolution Day celebrations. This commemorates the revolution of 1848 which led to the War of Independence.
While visiting, you can catch shows and exhibits at the main museums such as the Hungarian National Museum. Also, Budapest History Museum and National Gallery waive their entry fee (usually 2,000 HUF) during the festival.
Finally, you'll find lavish celebrations for St. Patrick's Day in the middle of March in Budapest. While its origins are Irish, not Hungarian, it's still a lively celebration where you'll meet locals and experience the nightlife.
Sibiu
Location: Romania
Average temperatures and precipitation: highs of 51F (11C) and lows of 30F (-1C); 5 days of precipitation
Reasons to visit Sibiu in March: Warmer weather but still close to winter activities, museums, and cultural attractions
Recommended by: Jade at The Migrant Yogi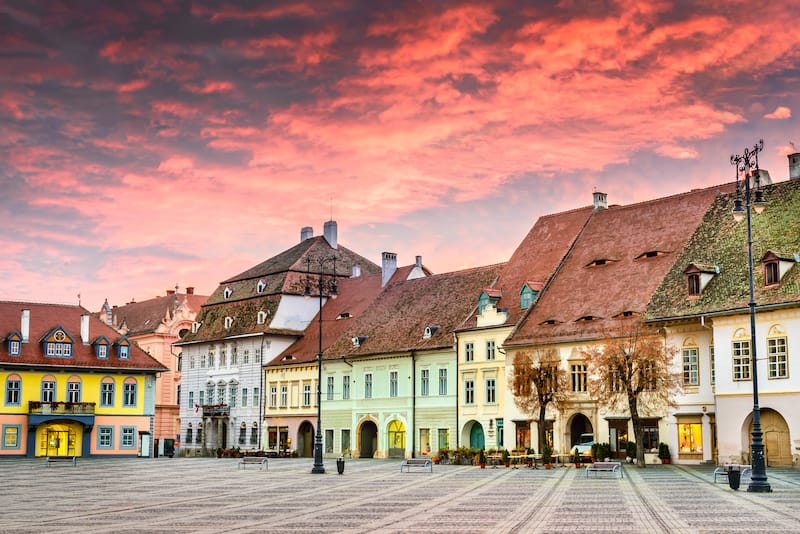 Sibiu, Romania is a medieval, Saxon city that is nestled in the basin of the Carpathian mountains in Transylvania. It's an ideal European city to visit in March.
While some may be predisposed to the notion that Romania would be frigid during this time, that's not the case at all and you can even head out on the first Romanian road trip of the year during March in many places.
In recent years, Transylvania (and Sibiu in particular) have been quite mild. Still, there is occasional snowfall, lending for the perfect opportunity to hit the slopes one last time before the season ends.
Regardless of the temperature, there are plenty of outdoor, socially-distanced activities and things to do in Sibiu and its vicinity. If there's fresh snowfall, head to the small resort of Platinis, just 10.5 miles (17 kilometers) from the city center.
Once there, you can check out the Old Slope or the somewhat newer Arena Platos. Both offer plenty of fun activities in the snow.
If you're visiting during a milder March in Sibiu, hiking or trekking in the Carpathians is a great option.
If the weather is rainy and poor, consider visiting some of the nearby monuments, such as Corvin Castle or Deva Fortress. Both are easily accessible as a day trip from Sibiu.
All of these activities offer fun and enjoyment, as well as the safety of social distancing, making Sibiu in March the perfect time to visit.
Funchal
Location: Madeira (Portugal)
Average temperatures and precipitation: highs of 65F (18C) and lows of 54F (12C); 6 days of precipitation
Reasons to visit Funchal in March: Comfortable weather, beat the summer crowds, hiking opportunities
Recommended by: Ilse at Digital Travel Couple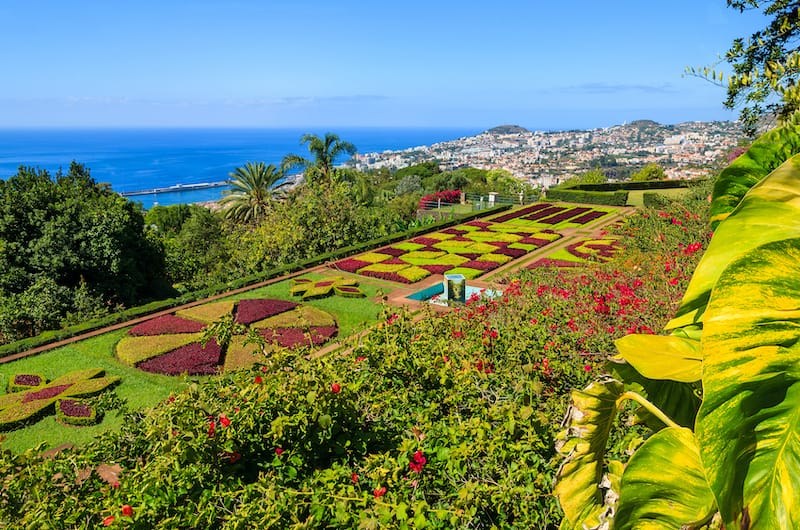 Funchal is the capital of the Portuguese island Madeira which is located in the middle of the Atlantic Ocean.
The charming coastal city is a great base to explore Madeira Island, which is also referred to as the 'island of flowers'. The small cobbled streets of Funchal have beautiful authentic buildings that are fun to explore and there is a lot of history to be found throughout the city.
The city contains fortresses, medieval churches, and palaces from the first settlers of Madeira. You can wander the streets of the Old Town or simply book your spot on one of the best tours of Madeira, almost all of which are based out of Funchal.
March is a perfect month to visit Madeira as it's shoulder season, making it less crowded as the colorful spring begins. The hotels in Funchal are also much cheaper than during the high season.
Many exotic flowers that Madeira is famous for are starting to bloom, making it one of the best months to visit the Madeira Botanical Garden.
The Cherimoya Fruit Festival also takes place in Madeira in March and it is a moment to appreciate the hard work that Faial farmers of the Anona (Cherimoya) go through.
With live musical performances, a fruit exhibition, cooking shows, masterclasses, and dance and folklore shows, this is a truly unique and local experience in Madeira.
From Funchal, you're only 30 minutes away from one of the highest peaks of Madeira, Pico do Arieiro, which is a must-visit. Watching the sunrise from this viewpoint above a sea of clouds is something you will never forget!
Rome
Location: Italy
Average temperatures and precipitation: highs of 65F (18C) and lows of 54F (12C); 6 days of precipitation
Reasons to visit Rome in March: Comfortable weather, beat the summer crowds, hiking opportunities
Recommended by: Editor's choice
All the roads lead to Rome in any season and the eternal city is welcoming visitors in spring and there are so many things to do and experience there during this time of year.
To visit Rome and not pay a visit to the Colosseum is a sin! The high season starts in spring so it is best to book your ticket ahead of time in order to see one of the world's most iconic historical sights.
Rome in March is a perfect place for sightseeing, hanging in just-opened outdoor cafes because it is already rather sunny, and walking around in an ancient city. Alternatively, you can head out of the capital city and visit one of the best ziplines in Italy close by!
The Vatican is another mind-blowing place that is possible to visit during March in Rome to see the antique sculptures, flawless paintings, and a place that has had a profound impact on our world.
If you are visiting Rome at Easter, then at the Vatican you'll find a huge gathering where the Pope will give a speech during the Holy Mass in Saint Peter's Square.
Rome is fantastic any time of the year, but it certainly is one of the best places to visit in Europe in March, particularly if you're looking for the best destination to spend spring break in Europe!
Arctic Norway
Location: Northern Norway
Average temperatures and precipitation: highs of 34F (1C) and lows of 25F (-4C); 11 days of precipitation
Reasons to visit Arctic Norway in March: Northern lights, 'normal' daylight hours, cheaper
Recommended by: Editor's choice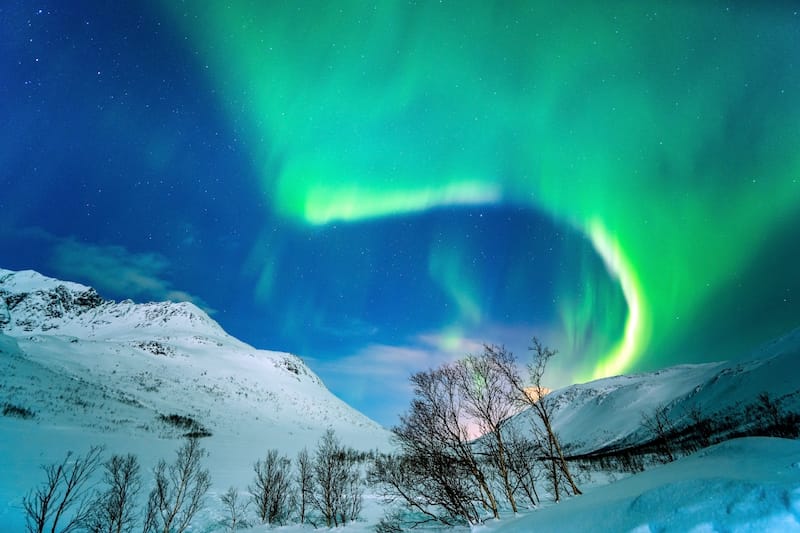 Not many people think to visit Arctic Norway in March, but it really is one of the best times to head to the far north. Arctic Norway starts just south of the Lofoten Islands and extends all the way to the barren tundra of Svalbard. The most popular city in Arctic Norway is Tromso.
So many people flock to these destinations in Norway in winter, but springtime is definitely a remarkable time to visit as prices are lower and you can still do many of the same activities as you can in the months that precede.
In addition, there is actual daylight then and you can see a bit more during the day and your sleeping schedule won't be as thrown off as visiting during the Polar Nights.
While whale watching in Tromso may not be a possibility as the whales have moved out of the local fjords, you can still take a northern lights tour, go dog-sledding, visit the Tromso Ice Domes, and more!
If you go further north, you can visit Nordkapp, the northernmost place in Europe that you can drive to. The summer months are busy at Nordkapp, but springtime is a great place to visit for fewer crowds and northern light opportunities.
The gorgeous Lofoten Islands are less crowded in winter and even into March, leaving these mind-blowing islands alone for you to visit without the astronomical Norwegian prices, crowded roads, and an opportunity to still see the aurora overhead.
One of the best places to visit in Europe in March is definitely Arctic Norway!
Ljubljana
Location: Slovenia
Average temperatures and precipitation: highs of 53F (12C) and lows of 35F (2C); 8 days of precipitation
Reasons to visit Ljubljana in March: Can still experience winter close by, milder temperatures in the city
Recommended by: Roxanne at Faraway Worlds
If you're traveling through Slovenia in March, basing yourself in Ljubljana, the pretty capital, makes for a very rewarding trip.
While the weather can still be a bit cool and unpredictable, the winter chill is definitely starting to recede.
Locals begin heading outdoors again, but there are fewer tourists than in the summer months, so you are free to enjoy the city's sights at your leisure.
March is also usually a busy month for cultural events in Ljubljana, with a range of music, theater, and dance performances to choose from.
The city's central location also makes day trips from Ljubljana very easy. In early March in Ljubljana, you'll still find snow on the mountains, so this can be a great time to ski in the Julian Alps.
You can also visit Lake Bled and Lake Bohinj to see breathtaking views of the lakes surrounded by snow-capped mountains. Towards the end of the month, the melting snows make the Soča River rise.
Take a day trip to Triglav National Park to see the Great Soča Gorge at its most impressive with fast-gushing water and beautiful emerald pools.
The Tolmin Gorge also opens at the end of March, so take the opportunity to see another side of Slovenia at its most peaceful time.
Amsterdam
Location: Netherlands
Average temperatures and precipitation: highs of 49F (10C) and lows of 36F (2C); 10 days of precipitation
Reasons to visit Amsterdam in March: tulips, fewer tourists in the cities, several festivals
Recommended by: Jenni at Cruise Mummy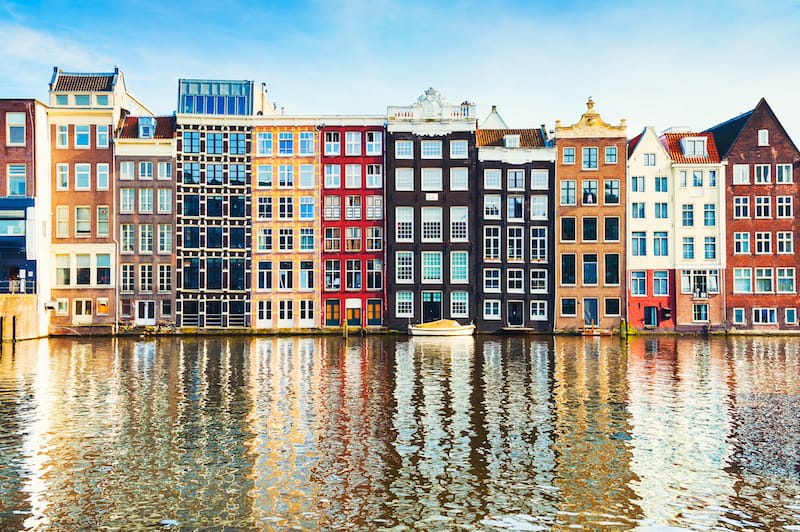 March is a great time to visit the Dutch capital city of Amsterdam. The city can be very crowded in the summer and freezing cold in the winter, yet spring offers the perfect balance with weather that's not too cold for days spent sightseeing and a manageable number of tourists.
March sees the beginning of springtime in Amsterdam and no visit would be complete without admiring the tulips that Holland is famed for.
Head 25 miles (40 kilometers) outside of the city and you'll find the beautiful Keukenhof Gardens which has displays of over 7 million flowers. The gardens open around March 20 each year.
If you visit Amsterdam in March (earlier in the month), you can still admire the beauty of tulips with a visit to the FloraHolland flower auction or the Museum de Zwarte Tulp.
Amsterdam hosts a range of food and drink festivals in March including the Amsterdam Coffee Festival, the Amsterdam Wine Festival, the Amsterdam Seafood Festival, and National Restaurant Week.
One of the best days to visit Amsterdam is Open Tower Day which takes place around the third Saturday of the month. Many of the city's towers open their doors to the public for one day only, giving tourists the chance to admire the city from high-up vantage points which are usually off-limits.
Amsterdam truly is one of the best places to visit in Europe in March and you'll find many museums, festivals, and more that make it worth the trip, whether you opt for merely four days in Amsterdam or a whole month!
Prague
Location: Czechia
Average temperatures and precipitation: highs of 50F (10C) and lows of 36F (2C); 6 days of precipitation
Reasons to visit Prague in March: Milder temperatures, far fewer tourists than in summer
Recommended by: Veronika at Travel Geekery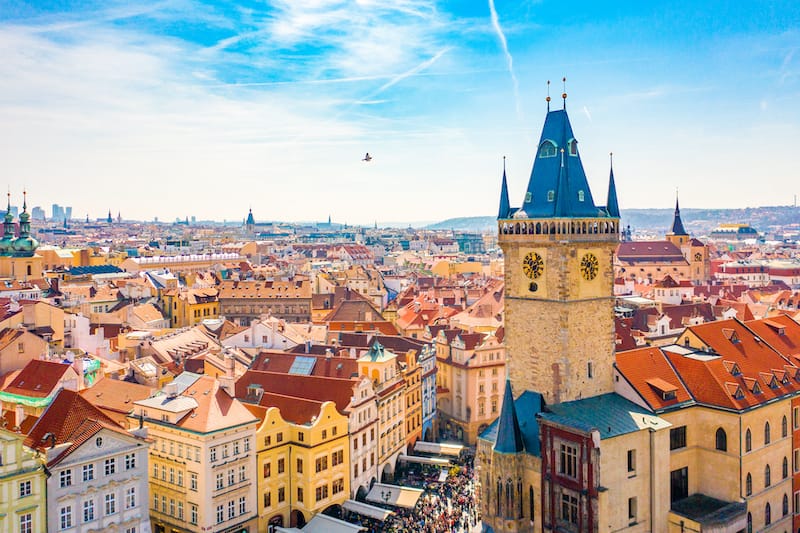 Visiting Prague should be on everyone's list, but why should you visit Prague in March specifically?
For years when Easter falls in March, the Czechia capital city is lively with Easter Markets and Easter festivities. The Old Town Square is where most of the cheer and joy is centered. In fact, they're a lot like the Christmas Markets, just swap mulled wine for Easter eggs!
The Prague Easter Markets typically start two weeks before Easter and last for another week after Easter Sunday.
If you prefer to avoid crowds, opt to visit Prague in the first half of March. The city is wonderfully empty during this time of year and the temperature usually rises to levels that make long walks possible.
Still, the weather is unpredictable in March, so pack some warm layers and always carry an umbrella.
March in Prague is when cultural events resume after the winter break and even festivals are being held. Febiofest, Prague's version of an International Film Festival, is usually organized at the beginning of March.
St. Patrick's Day is celebrated too, albeit on a smaller scale. To join in the typical Irish cheer, pay a visit to one of the many Irish pubs in Prague.
Lucerne
Location: Switzerland
Average temperatures and precipitation: highs of 52F (11C) and lows of 35F (2C); 12 days of precipitation
Reasons to visit Lucerne in March: Getting the last taste of winter and snow-capped mountain views, Carnival
Recommended by: Alyse at The Invisible Tourist
Lucerne is an underrated gem that is a must to include on any Switzerland itinerary.
During March in Lucerne, it's not too late to experience snowflakes gently falling over the city's medieval buildings. It is also a perfect late winter day trip from Geneva!
Combining that with a full winter's worth of snow coating Mt. Pilatus nearby, I soon found out that Lucerne was a stunning winter city break and one of the best places to visit in Europe in March!
With the feeling of spring in the air, March is a great time to visit, especially before Easter. There are fewer crowds in the Old Town, making visiting nearby attractions such as Chapel Bridge and the Lion Monument much easier and less stressful.
On the other hand, you'll be in for a different kind of a treat if your visit coincides with the Fasnacht carnival!
Against the painted façades backdrop of the Old Town, Fasnacht involves marching bands, dancing in the streets, and plenty of eating!
This centuries-old Christian tradition celebrates the "last feast" before fasting commences. Similar to Halloween, participants are encouraged not to reveal their true identities by dressing up in costumes that represent animals or famous people.
Finally, for snowy panoramic views of Lucerne, you're only a bus and cable car ride away. Mt Pilatus' summit is easily accessible and allows you to admire breathtaking views of the city hugging Lake Lucerne below and snow-capped mountain ranges to the horizon!
Istanbul
Location: Turkey
Average temperatures and precipitation: highs of 54F (12C) and lows of 41F (5C); 14 days of precipitation
Reasons to visit Istanbul in March: Comfortable temperatures, tulip season, beating the crowds
Recommended by: De Wet & Jin at Museum of Wander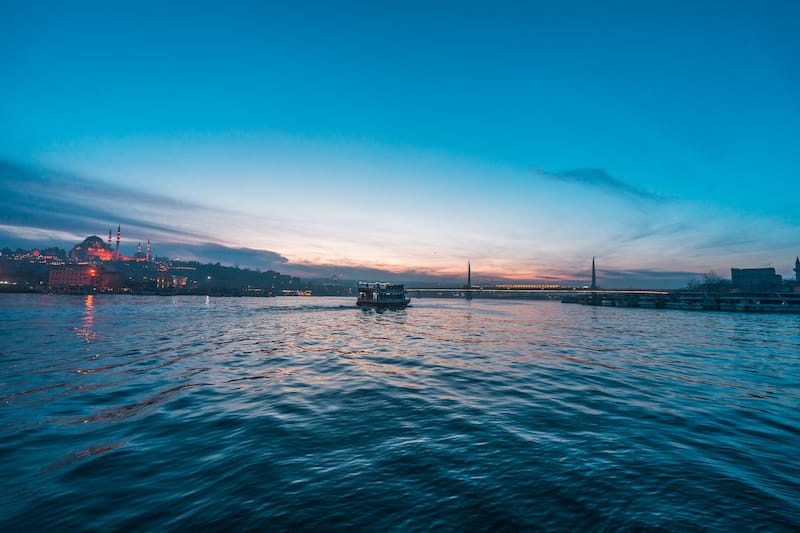 Sitting right on the spot where Europe and Asia meet, Istanbul is a city like no other. With a history spanning back to the beginning of time, excellent food, and spectacular sights, Istanbul is truly spectacular.
March in Istanbul sees the end of winter and signs of spring gradually appearing. That being said, it can still be a little chilly, which is great if you want to enjoy one of the most unique Turkish experiences.
Going to a hammam (Turkish bath) is an unmissable experience during a trip to Istanbul. When it's nippy outside, nothing beats warming up in the steam room of a hammam.
First, you'll lay down on warm slabs of marble, followed by a thorough scrub down. After a bubble wash and massage, you'll feel like a brand-spanking new person.
Towards the end of March, Istanbul will be in full-on spring mode as all the parks and gardens will be bursting with tulips. Few people realize that the famous Dutch tulips were actually gifted to the Netherlands from Turkey!
Tulips abound in Istanbul in March, but Gülhane Park near the Topkapi Palace is perhaps the best place to get your dose of spring color.
Istanbul's nightlife is also fantastic during March, as locals head to cozy up in the entertainment districts like Karakoy, Nisantasi, or Beyoglu.
Athens
Location: Greece
Average temperatures and precipitation: highs of 61F (16C) and lows of 47F (9C); 4 days of precipitation
Reasons to visit Athens in March: Tolerable temperatures, Greece Independence Day, festivals, lower prices
Recommended by: Editor's choice
Athens is one of the coolest and most beautiful cities in Europe and no matter what time of the year you are planning to visit, it has an astounding number of things to offer visitors.
After a mild winter in Athens, the city starts blooming during the spring and it becomes one of the top destinations to visit in Europe from March until the end of spring.
In March, just like in any season, the Acropolis is one heck of a place and is the main attraction of Athens and is absolutely worth a visit. The ancient sight is definitely a highlight when visiting Athens in March as it won't have nearly the crowds it receives during the summer months.
If you are planning to visit Athens in March, you will have a great opportunity to see how the locals are celebrating Greek Independence Day which is taking place on March 25.
On Independence Day, you can try traditional dishes, listen to some folk music, and really enjoy the day to the fullest. Alternatively, you can take a day trip from Athens to one of the nearby islands like Aegina, Agistri, or Hydra.
During springtime, life on the seafront Flisvos Marina in Palio Faliro neighborhood is booming, and one of the best things to do is enjoy a glass of wine (or a cocktail) while admiring the sunset.
Isles of Scilly
Location: United Kingdom
Average temperatures and precipitation: highs of 51F (11C) and lows of 44F (7C); 12 days of precipitation
Reasons to visit the Isles of Scilly in March: Tolerable temperatures, Greece Independence Day, festivals, lower prices
Recommended by: Ed from Island Travel Guides
Just off the coast of England, you will find the Isles of Scilly. The small archipelago rises out of the Atlantic, creating England's final frontier before the endless expanse of the Atlantic Ocean.
Looking more like Caribbean islands, with white sandy beaches lined with true palm trees and bright blue waters. Despite their natural beauty and proximity to the British mainland, the islands are rarely visited, especially in March.
Like the rest of the UK, the Isles of Scilly suffer from weather extremes, and Atlantic storms often roll in over the island, bringing plenty of rain with them. While the weather can be challenging, there is still plenty to do on the 5 inhabited islands that can be enjoyed throughout March.
The islands can be reached by plane or ferry from the mainland. Small planes depart from Lands End and Newquay year-round, with travel time taking around 30 minutes.
Alternatively, the ferry starts running to the Isles of Scilly in March; the journey takes around 3 hours from Penzance and offers a great opportunity to spot wildlife along the way.
Ferries run year-round between the islands, although it's best to get to the ports early to avoid lengthy queues and be wary that storms may disrupt the schedule.
Despite their small size, the islands have an incredible concentration of historical sites, and you can find relics from Bronze Age tombs to 17th-century military defense structures. Several museums on the islands, such as the Isle of Scilly Museum, have fantastic displays of local relics and items salvaged from shipwrecks.
The islands are classified as an area of outstanding areas of natural beauty, and there is nothing better than exploring the insane scenery by foot or bike. Along the coastal edges, there are chances you can see Atlantic grey seals chilling on the beaches and dolphins playing out in the sea.
Escape any bad weather that blows in by popping into a local pub and getting to know the friendly locals who will happily chat with you about life on these idyllic islands.
For a slightly more unique daytime activity, book a tasting at the Holy Vale Wines, the island's very own vineyard. Restaurants on the islands serve up awesome fresh seafood that has been locally caught.
Plovdiv
Location: Bulgaria
Average temperatures and precipitation: highs of 56F (13C) and lows of 36F (2C); 6 days of precipitation
Reasons to visit Plovdiv in March: warming temperatures, wildflowers, festivals
Recommended by: Lyubomira at Bulgarian on the Go
Bulgaria can be very charming at the beginning of spring – cold temperatures are taking a step back and the sun starts to shine brighter again. One of the best cities to visit there is Plovdiv – the second largest city in Bulgaria and one of the oldest cities in Europe.
Even though the city is actually not so big and most sights are concentrated in the city center, there are quite a few possibilities and things to do in Plovdiv.
The most important place to visit is certainly the Ancient Roman Theatre, which dates back to the 1st century AD and is still being used today!
Once you are there, you can roam around the Old Town, which impresses you with its old architecture and beautiful colorful houses.
The third attraction you need to see is the Kapana District, known as the creative district of Plovdiv, full of street art and interesting cafes and restaurants.
Something that is very unique for Bulgaria and Plovdiv in March is the so-called Martenitsa – a red-and-white bracelet that all Bulgarians exchange on the 1st of March and wear throughout the whole month.
The so-called "martenitsas" represent the coming of spring and are gifted among friends and family with wishes for health and a successful year.
Dublin
Location: Ireland
Average temperatures and precipitation: highs of 51F (10C) and lows of 37F (3C); 11 days of precipitation
Reasons to visit Dublin in March: St. Patrick's Day
Recommended by: Cultured Voyages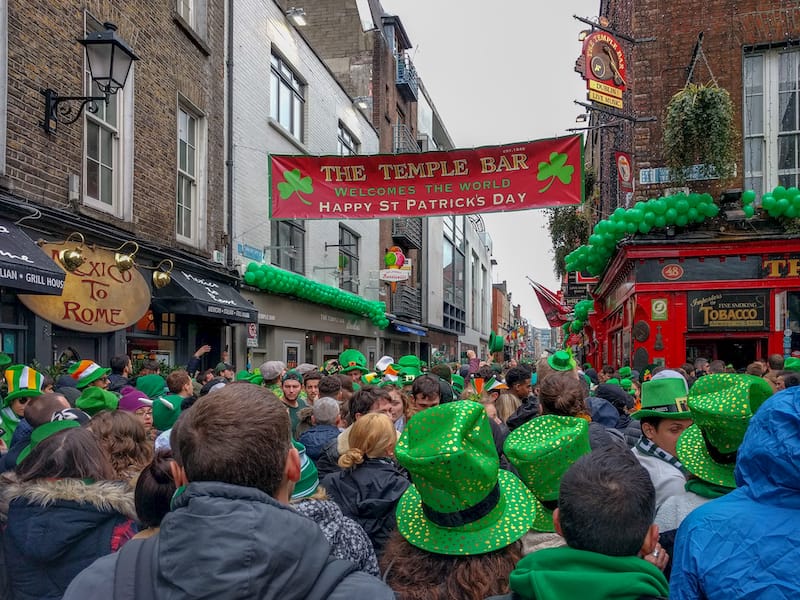 Dublin, Ireland is a perfect destination in Europe to visit in March. While temperatures are still a little on the chillier side, daylight hours have gotten much longer come March, leaving you plenty of time to enjoy the delights of Dublin.
The real draw of Dublin in March, however, is the annual Saint Patrick Day celebrations that fall on the 17th of March each year.
For those that don't know, Saint Patrick is Ireland's patron saint and his feast day is celebrated in style each year in Ireland, through lively parades that run the length and breadth of the country.
The best Saint Patrick's Day parade takes place in the capital city of Dublin, which starts at noon from Parnell Square on the north side of the river Liffey.
It also snakes its way through the streets of Dublin, before finishing on Kevin Street which is located on the south side of the river. The parade consists of bands, performing acts, and giant, decorated floats and draws around half a million people each year (which is a lot, considering the population of Ireland is only approximately 5 million).
Even if you don't attend the parade, the streets of Dublin descend into one, giant party, with many heading to Dublin's pubs to celebrate.
A bucket list item for many planning a break in Ireland, St. Patrick's Day celebrations in March are the perfect time to soak up the Irish warmth and gregariousness and the "céad míle fáilte" (or "hundred thousand welcomes") you receive when visiting the Emerald Isle.
Alsace
Location: France
Average temperatures and precipitation: highs of 53F (12C) and lows of 36F (2C); 8 days of precipitation
Reasons to visit Alsace in March: fewer tourists, festivals, warmer temperatures
Recommended by: Elisa at Travel France Bucket List
Alsace, in Eastern France, is a great destination to explore in March. The crowds are not there just yet, and after some sleepy months, the region celebrates the arrival of spring with many festivals.
An Alsace road trip is the best way to explore the whole region. With your car and a good map, you will visit the top tourist sites and travel off the beaten path.
In March, many Alsatian cities and towns celebrate Carnival. There's the Strasbourg Carnival and also carnivals in Colmar, Soultz, Saverne, Rhinau, and more. For something unique, however, head to Rosheim to see their spectacular Venetian carnival.
March is also the month when the first storks appear in Alsace, and places like Munster celebrate it with a dedicated festival (Le Printemps des Cigognes). And of course, you will want to visit the prettiest Alsace villages without the crowds and taste Alsace's good wine.
The Vosges are always a great place to stretch your legs after the winter months. If you visit Alsace in March (the earlier part of the month), you may still find some snow, and it's an excellent opportunity to enjoy a day of cross-country skiing completed with a hearty meal in one of the typical winstubs (Alsace's traditional restaurants).
Overall, March in Alsace is a great month to enjoy fun festivals and get the most out of the region without the crowds.
What are your favorite places to visit in Europe in March? Please let us know in the comments and share why you love them so much!
Check out our guide to the best places to visit in Europe in April if you happen to be traveling a month later!
More Europe Travel Guides
Pin this Europe in March Travel Guide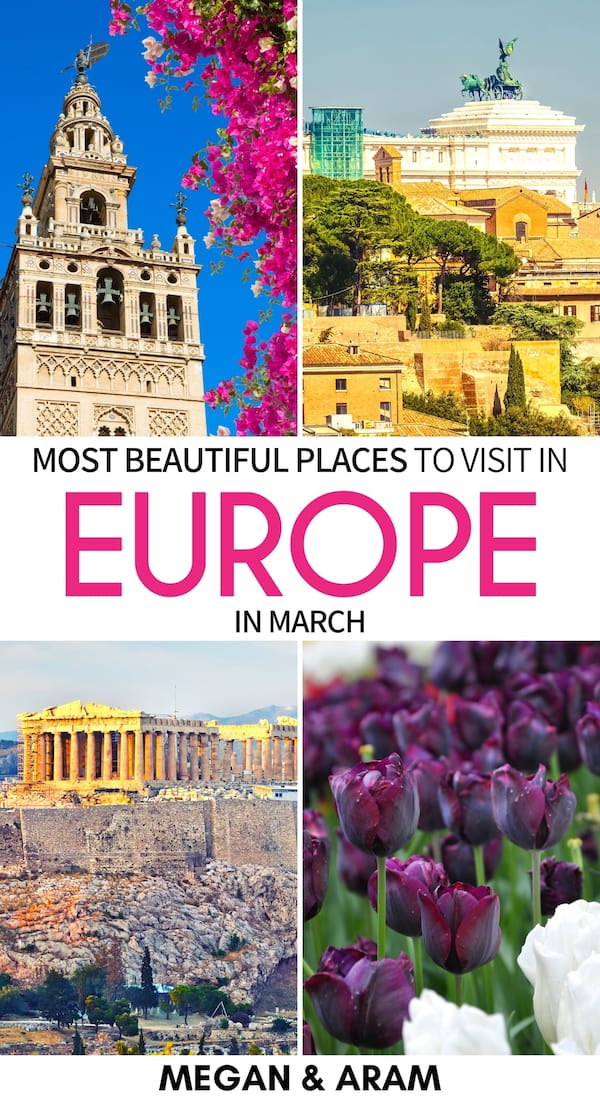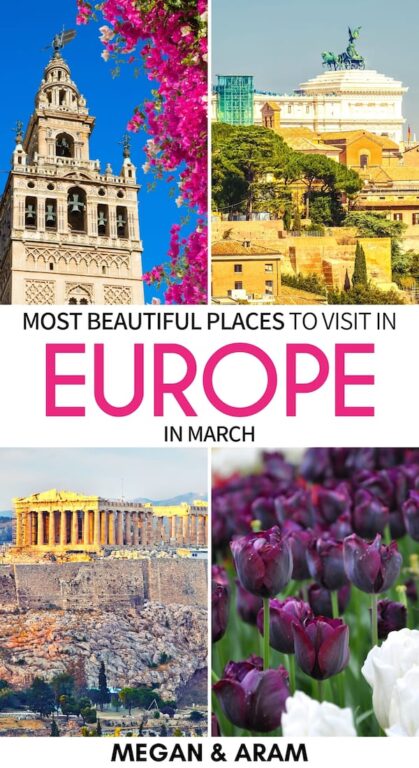 Photo Credits:
Copenhagen: Editorial credit: Kateryna Synelnyk / Shutterstock.com
Seville: Editorial credit: Anibal Trejo / Shutterstock.com
Dubrovnik: Editorial credit: theimperfecteye / Shutterstock.com
Budapest: Editorial credit: Botond Horvath / Shutterstock.com
Amsterdam: Editorial credit: Olga Gavrilova / Shutterstock.com
Prague: Editorial credit: Ksenija Toyechkina / Shutterstock.com
Istanbul: Editorial credit: Gokhan Dogan / Shutterstock.com
Dublin: Editorial credit: Ranieri Pieper / Shutterstock.com