Are you spending winter in Geneva this year? While the city may be experiencing low season, there is plenty of things to do in Geneva in winter! Keep reading for more!
The city (and country!) that is world-famous for its chocolates has so much to offer visitors regardless of which season you visit.
This guide will focus on a winter trip to Geneva, detailing all the best things that will make your trip cozy and unforgettable.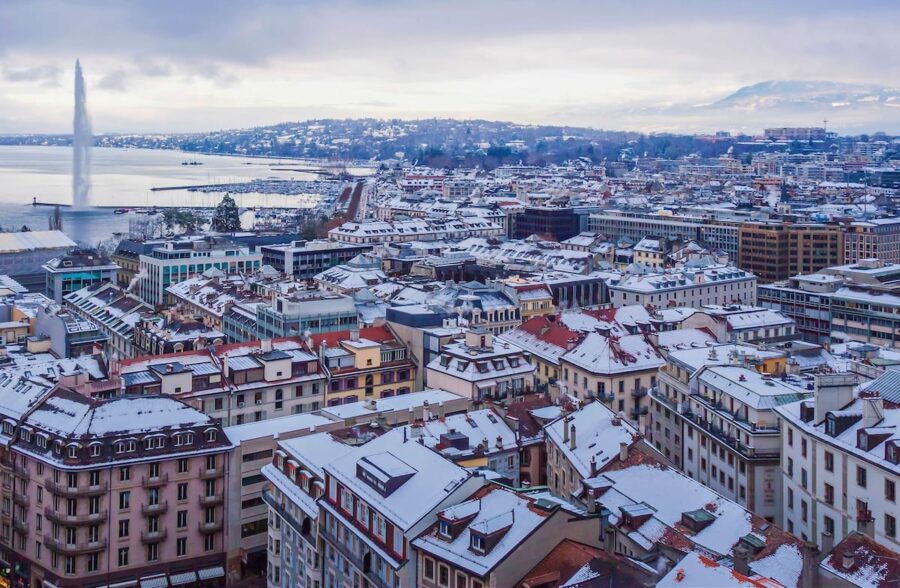 Did we miss any amazing winter activities in Geneva? Let us know your favorite things to do in Geneva in winter in the comments. Thanks!
Does it Snow During Winter in Geneva?
Typically, if there is snowfall during the Geneva winter, it will happen from November until April (most likely in December until February, though).
You can find the average winter temperatures in Geneva below:
Geneva in December: average highs of 5C (41F) / lows of 0C (31F)
Geneva in January: average highs of 5C (41F) / lows of -1C (29F)
Geneva in February: average highs of 7C (44F) / lows of -1C (30F)
Spending Christmas in Geneva is also very popular as the city has a really famous Christmas market! It usually runs from the middle of November until right after Christmas.
Best Things to Do in Geneva in Winter
1. Take a Chocolate Flavors Walking Tour of Geneva
Geneva is not only unique in architecture but also home to some of the world's best chocolates.
Don't miss out on taking a tour of Geneva's best artisanal chocolate shops and tasting their delicious creations. This three-hour tour will start in the old town with the tradition of breaking the "marmite" (cauldron).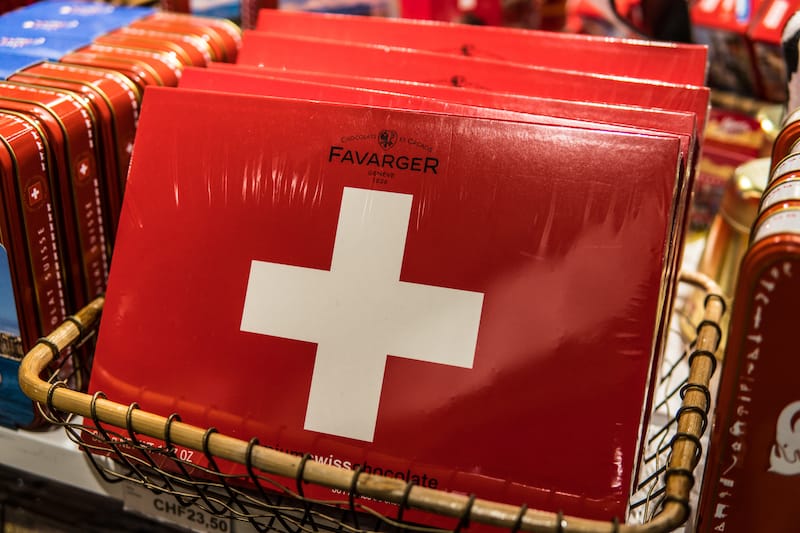 You will visit a chocolate shop where Winston Churchill, John F. Kennedy, and Grace Kelly used to shop, drink hot chocolate to get warm on a winter day, and taste chocolate cakes.
This day is going to be all about chocolate, but don't forget that not all of them are gluten-free.
If you have any allergies, make sure you double-check before taking part in any tastings.
>> Cilck here for rates and availability
2. Stop into the Saint-Pierre Cathedral
One of Geneva's most important historical and religious sites is the lovely Saint-Pierre Cathedral.
The early construction of the cathedral dates back to 1160, but it has undergone serious renovations throughout the centuries.
It also houses a very extensive archaeological site under the cathedral.
As this site is open to visitors, you will have a chance to see the ruins and unique treasures dating back to the 3rd century BC.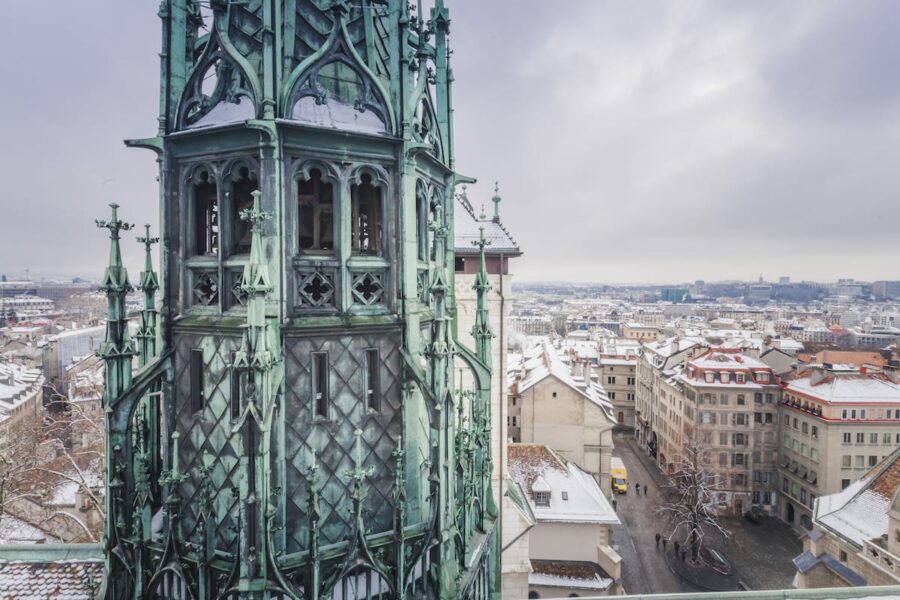 The cathedral is located at the highest point of the Old Town, offering a show-stopping panorama of the area.
Take the 157 steps to the top of the north tower to watch the city lights, see Lake Geneva, and you can even spot Mont Blanc.
There is a small fee (5 Swiss francs) to climb the tower, but the rest of the historical site is free.
3. Explore the Geneva Old Town
Geneva is a city of history and sublime architecture, concentrated in the Old Town, with small squares, hidden passages, and cobblestone streets.
The heart of the Old Town is Saint Peter's Cathedral, your first destination, where you can climb the 157 steps of the tower to have a panoramic view of the city and hear La Clémence bell ring.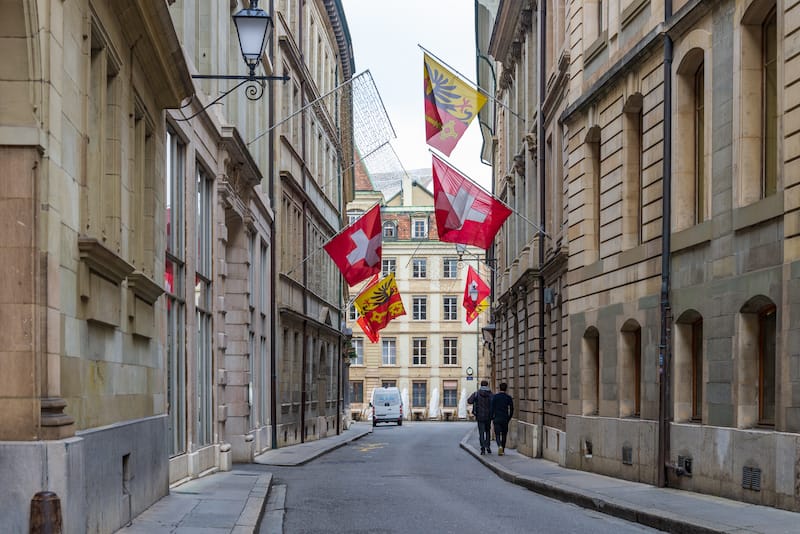 For a short break and to get warm, visit Place du Bourg-de-Four square for a coffee. Then head to Passage de Monetier to discover secret tunnels open only for one weekend in December.
If you have time, visit the Barbier-Mueller museum of culture and tribal art and the Galerie Jacques de la Béraudière, with a collection of 19th and 20th-century paintings and sculptures.
4. Enjoy International Balloon Festival Day
From Geneva, take a day trip to Château-d'Oex for the Festival International de Ballons (the International Hot Air Balloon Festival).
It is the largest air ballooning festival in Switzerland and is held every year in January, this year's dates being January 20-28, 2024.
Layer up against the winter chill and enjoy a breathtaking panorama of the snow-capped Swiss Alps from the birds' eye view, which is well worth it.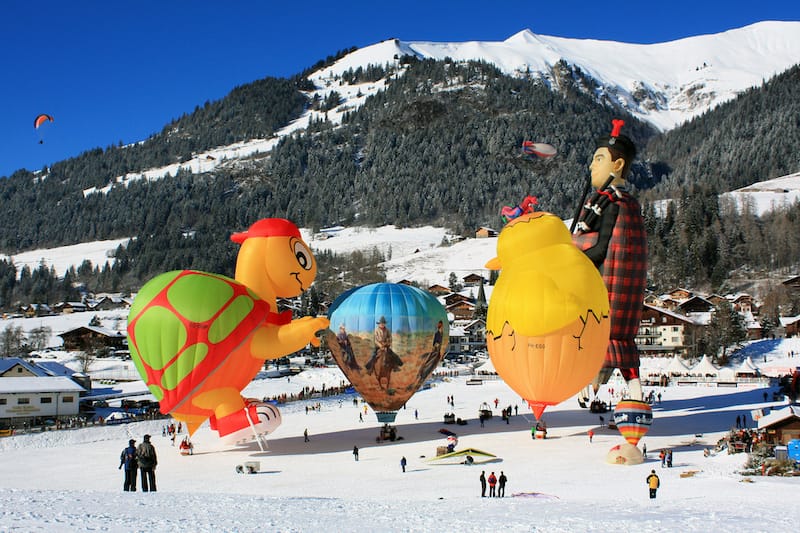 Dozens of hot air balloons will take off into the air to participate in air shows. The festival also offers helicopter rides, workshops, a night glow event, and more.
5. Visit the Place du Bourg-de-Four
Place du Bourg-de-Four is the historical and geographical center of the old town, where people meet to enjoy local cafes and shops.
Unlike traditional squares that are either round or rectangular, Place du Bourg-de-Four has an hourglass shape.
The south side is more like a classic square with a fountain, surrounding buildings, and a promenade.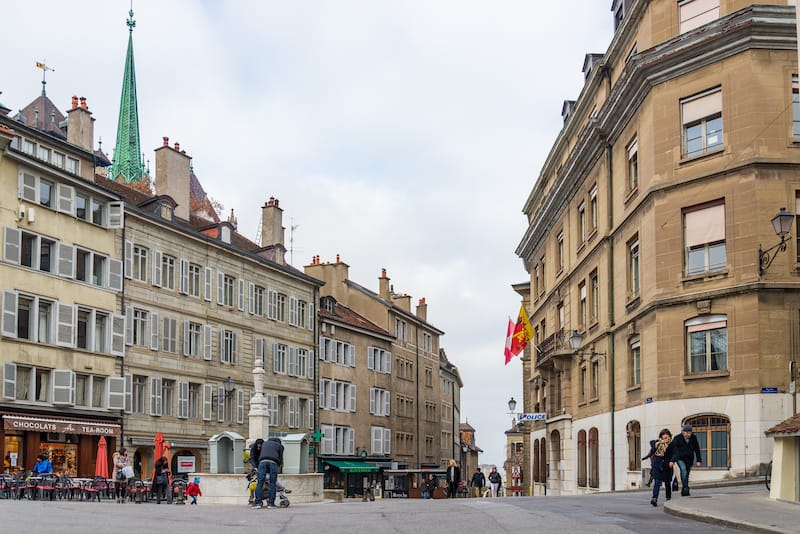 If you have planned your visit at Christmas, you will see the square decorated with thousands of lights like a true fairy tale.
The square has been a popular gathering place since Roman times. Today, Place du Bourg-de-Four is a cool place to hang out after strolling about town.
6. Check Out the International Red Cross and Red Crescent Museum
Geneva can be called the symbol of humanitarianism with headquarters of several international organizations located here.
To learn about the history of humanitarian activities in Geneva and around the globe, the International Red Cross and Red Crescent Museum has been created with an interactive chronology showcasing 150 years of human history and the role of the Red Cross and Red Crescent.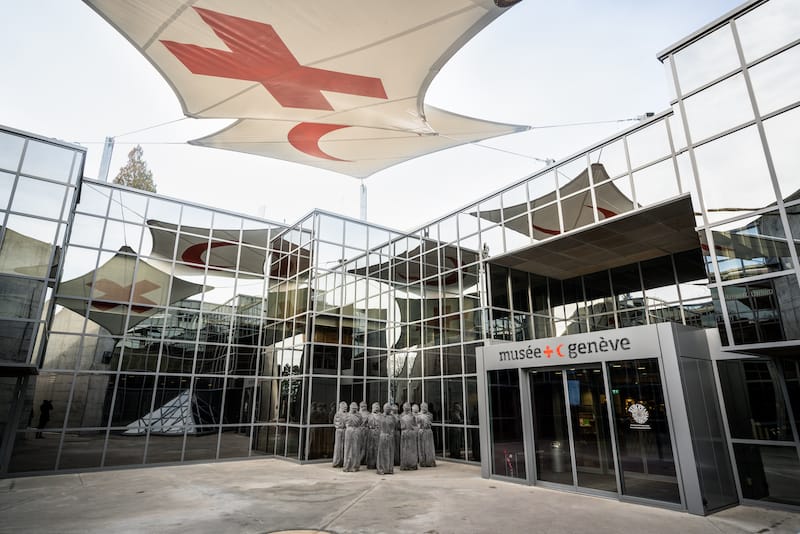 You will find the unique heritage near the Palais des Nations organized into three themed spaces: defending human dignity, reconstructing the family link, and refusing fatality.
In each zone of this emotional experience, you will learn about both the historical background of the Red Cross as well as the latest news and projects.
From November to March, the museum is open from 10 a.m. to 6 p.m. To better serve people with disabilities, the museum provides tools and information on each type of disability.
7. Take a Geneva Fondue Tour
There is no doubt that fondue is one of the most famous Swiss trademarks.
This melted cheese dish in a caquelon, heated on a portable burner, is a tasty and classic dish that gathers friends and family to dip pieces of crusty bread into the cheese. It's perfect to warm you up on a cold winter's day.
In Geneva, a fondue tasting on a private TukTuk tour is a fantastic way to experience this local dish.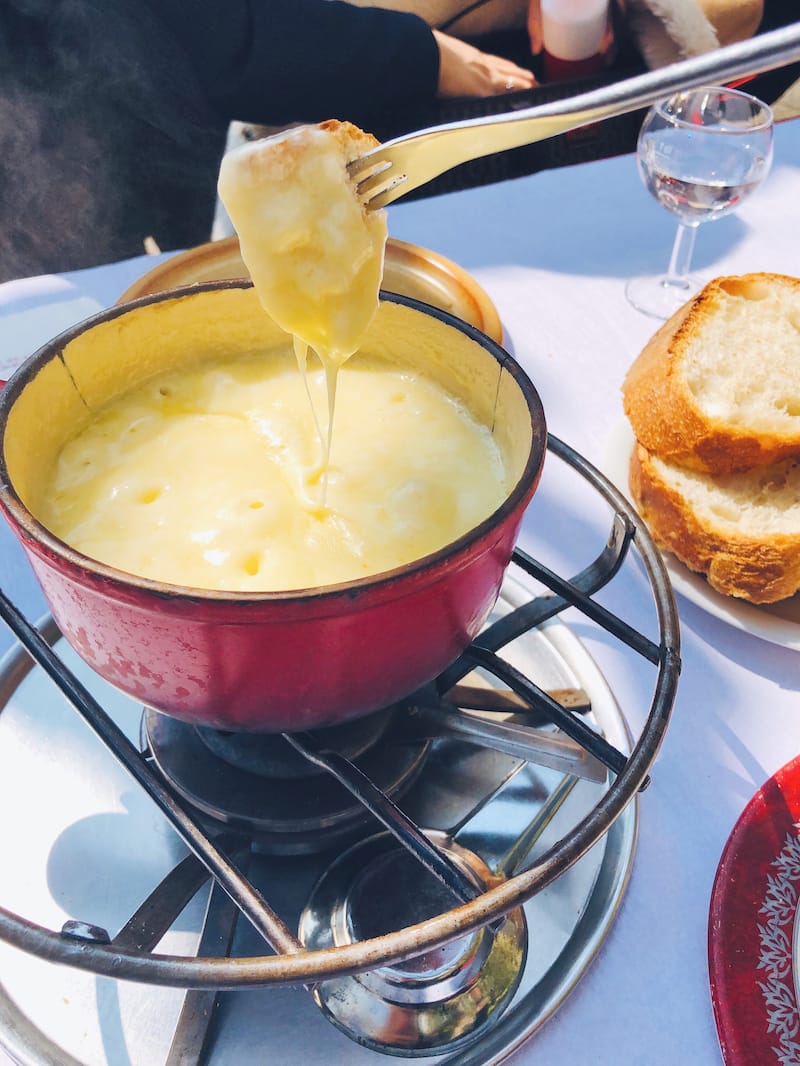 As you drive around the city, you will have a chance to combine sightseeing in the Old Town with a tasty break to enjoy a warming Gruyère fondue and a complimentary wine.
>> Click here for rates and availability
8. Discover the MAMCO Gallery
Opened in 1994, the MAMCO Geneva (Musée d'art Moderne et Contemporain) brings together the art of our era.
It is the largest and youngest contemporary museum in Switzerland, with a collection of over 4,000 exciting exhibits.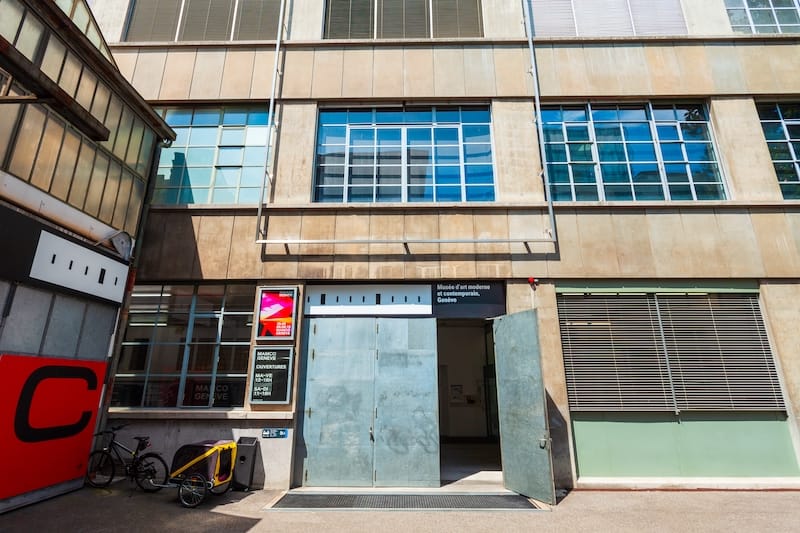 The museum occupies a 4-story building, a former laboratory transformed into a stylish and modern art venue.
Take at least 2 hours to get through all the exhibits, permanent and temporary. After your art tour, there are great cafes and restaurants nearby where you can grab a coffee or a snack.
9. Stroll along Eaux Vives Park
Though it is cold in Geneva, Eaux Vives Park is always a good idea to visit and have a short walk along the lake shore.
It is one of Geneva's oldest parks, set on a sloping hillside with long-standing trees, a manor house reopened as a hotel and a gourmet restaurant where you can get warm with a cup of hot tea while enjoying the views of the beautiful mountains.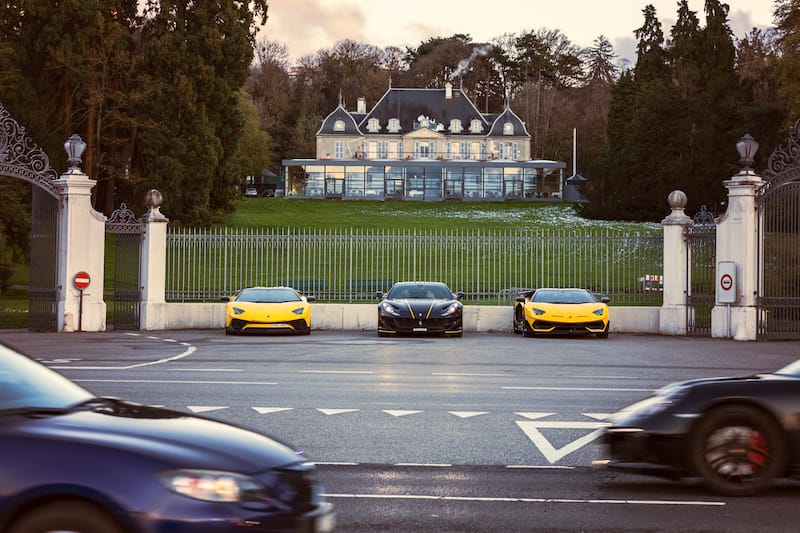 You can take an afternoon walk around the park and then finish your small tour with lunch in the restaurant. It's a great way to get outdoors and get some fresh air.
At the center of the park, you will find a waterfall with a natural spring tumbling through the rock. The name "Eaux-Vives" comes from the springs once discovered on the territory.
10. Take a Day Trip to Glacier 3000
Winter is a wonderful time to explore Glacier 3000, an alpine wonderland with various winter activities, jaw-dropping views, and an exciting glacier walk.
Located about an hour and a half from Geneva, Glacier 3000 is a great day trip destination.
You will start with a cable car gliding up to the summit station to enjoy an alpine walk or lunch in one of the restaurants with panoramic views.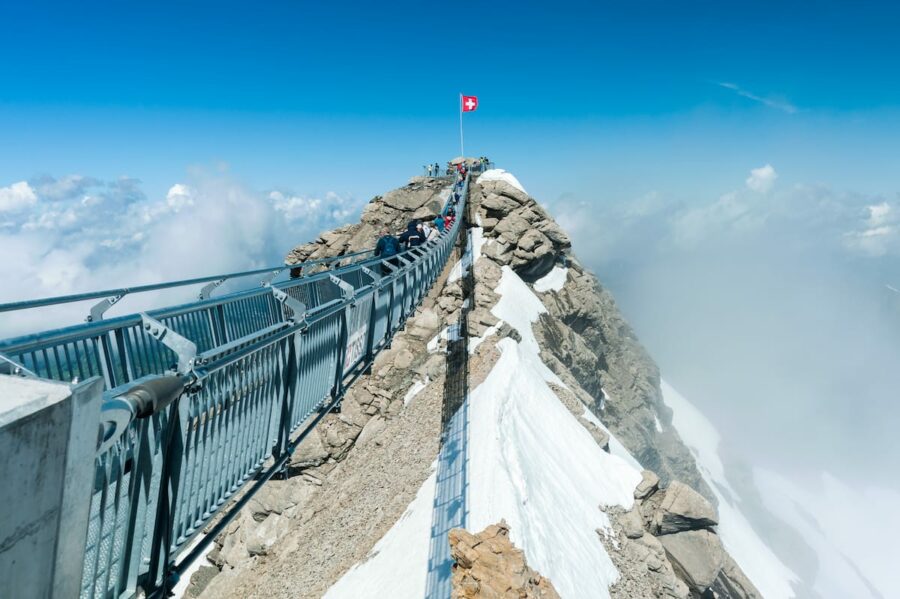 Winter activities include hiking on 75 kilometers of marked trails and cross-country skiing on 7 kilometers of professional slopes open from November to May.
There are plenty more things to do, so if you can stay longer than just one day it's well worth it.
Accommodation-wise, you can check out the hotels or guesthouses of Les Diablerets at Col du Pillon village for overnight stays.
>> Click here for rates and availability
11. Go on a Geneva Boat Cruise
Exploring Geneva from different perspectives is yet another way to enjoy the majesty of the city.
A sightseeing tour by boat will show you the top attractions you have already explored on foot in a new light.
This three-hour guided tour will start in the heart of Old Town and include the Palais des Nations, the Flower Clock, Jet d'Eau on Lake Geneva, and more.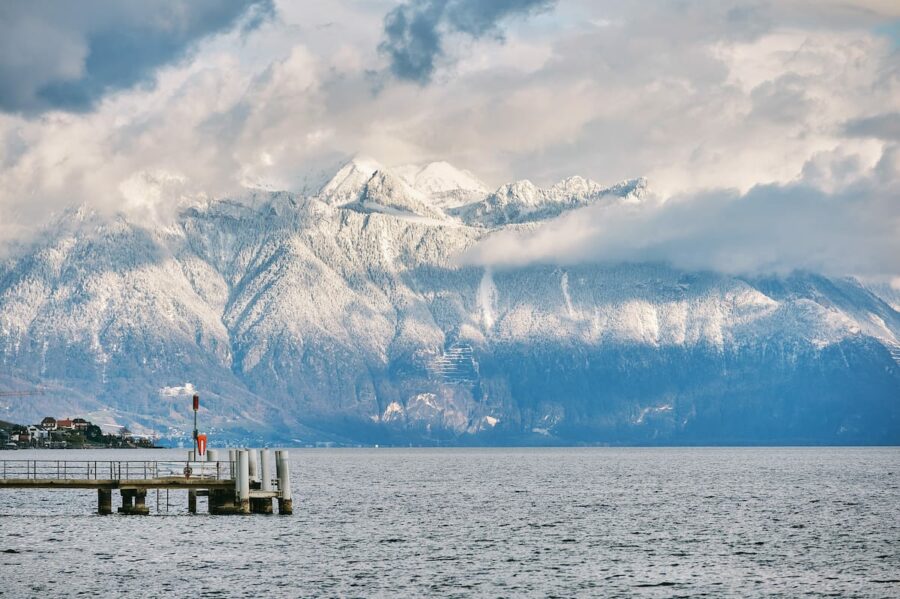 Your next stop will be a tramway tour of the Old Town with stories about the sites.
Finally, you will hop on a boat to continue with a 1-hour boat ride to see the rocks of the Pierres du Niton, Black Harbour, the Castle of Bellerive, the Mermaid, Villa Diodati, and more.
During the ride, you will have complimentary drinks to keep you warm.
>> Click here for rates and availability
12. Take a Day Trip to Chamonix, Aiguille du Midi, & Mer de Glace
Geneva is magnificent, but as soon as you drive out of the city, you will see the true beauty of the Swiss countryside.
Travel through the picturesque Arve Valley on your way from Geneva to Chamonix to discover Mont-Blanc, nicknamed "Europe's rooftop."
Once you arrive in Chamonix, purchase the Mont Blanc unlimited pass to visit the Aiguille du Midi and the Mer de Glace and have access to all the ski areas and attractions.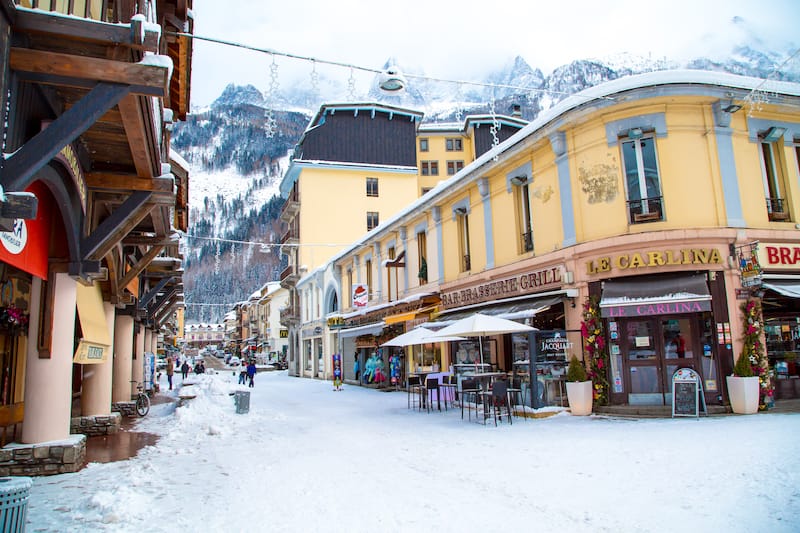 An extremely impressive moment is the world-famous cable car ascent to the rocky 3,842-meter peak of Aiguille du Midi. Here you can enjoy the best view of Mont-Blanc.
If you are not a lover of extreme heights and winter sports, you can still enjoy your trip by exploring the charming village of Chamonix. You can also take a train to the Mer de Glace glacier from the village.
>> Click here for rates and availability
13. Warm Up at a Geneva Coffee Shop
For many, drinking coffee is the best part of any day. In Geneva, your ritual will be spiced with unique blends of coffee. Immerse yourself in the local coffee culture by checking out these top three places:
The Boréal Coffee Shop will surprise you with its wide choice of coffee brews. Experimenting with different techniques, baristas will get you your caffeine boost, and don't forget to try out their tasty cupcakes with your coffee.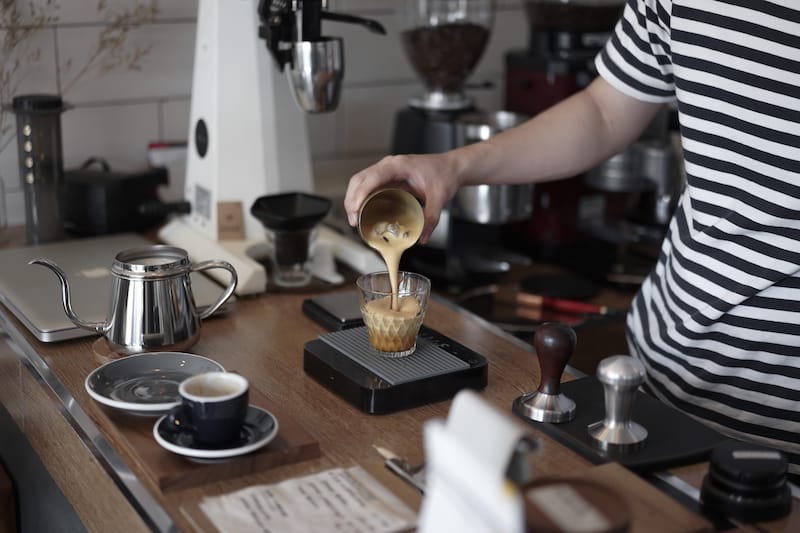 Don't miss Les Recyclables, a combination cafe and bookstore. Sip a delicious coffee, tea, or hot chocolate while browsing through their impressive collection of over 11,000 books. It's a perfect place to take a little break from a busy day of sightseeing.
Finally, discover the hidden Birdie Food and Coffee that experiments with different brew methods to create exceptional coffees. You can enjoy your cup of coffee with a fresh bagel or wrap.
14. Have Nordic Fare at Fiskebar
Fiskebar is a must-visit place not only because it offers authentic Nordic cuisine but because it offers an exceptional experience with an open kitchen concept, beautiful food displays, and fantastic views of Lake Geneva.
This Michelin-starred restaurant offers a terrific menu with a range of seafood, appetizers with catchy names, dietary options for vegans and vegetarians, and, of course, Sjokolade.
For the best experience in Fiskebar, enjoy fine dining in the restaurant from 6:30 pm to 10 pm, then continue your evening at the bar with craft cocktails and wine.
15. Go on a Chocolate Factory Tour
To make the most of your time indulging in as much Swiss chocolate as possible, consider taking a short 1-hour drive to Broc to visit the Maison de Cailler chocolate factory.
You will have a chance to see behind the scenes of chocolate production and indulge in the ancient Aztec cacao ritual.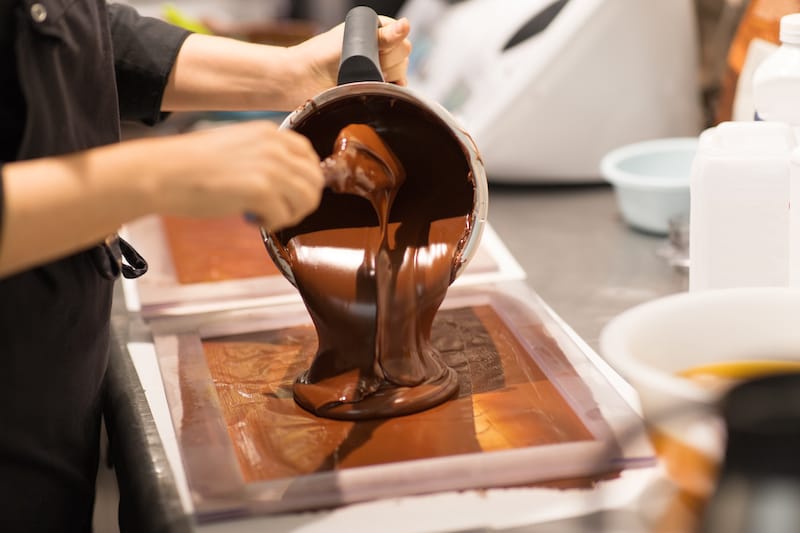 While you follow the aroma of fresh chocolate, you will learn the first authentic Swiss chocolate recipes, try your hand at making chocolate in the factory's workshop, and explore the history of chocolate making in Switzerland.
In the end, you will be rewarded with a chocolate tasting in the tasting room, where you can sample as much as you like.
>> Click here for rates and availability
16. Peruse the Parc La Grange
The largest park in Geneva is Parc La Grange, and even when it is completely covered in snow, you can still enjoy the great views from the park.
The center of the park is the 18th-century villa, hiding the ruins of Roman vestiges dating back to 50-60 AD. In the distance, you can also see the Palais des Nations and Lake Geneva.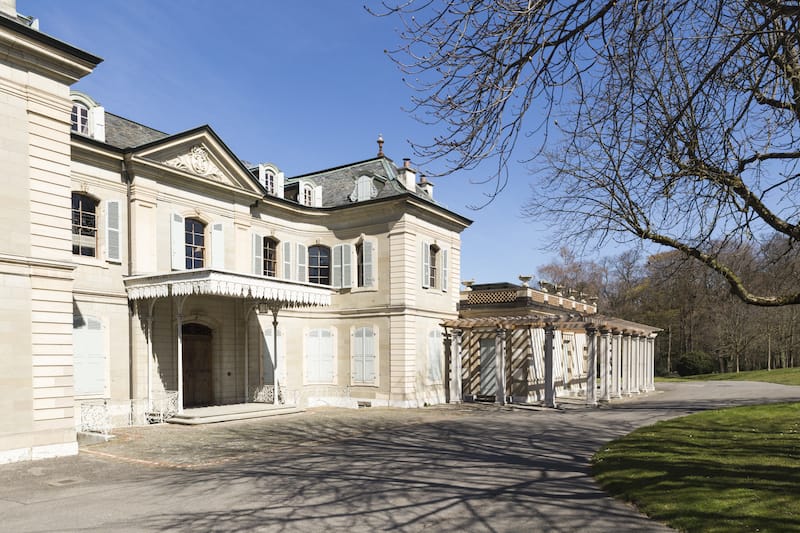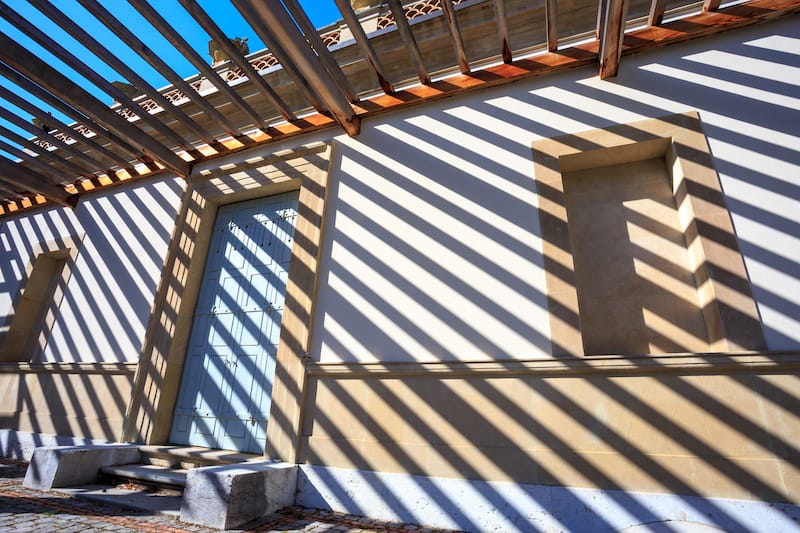 The park is located next to Eaux Vives Park, and both can be explored in one day.
There is a restaurant in the park for a winter escape where you can get away from the cold weather. In the winter months, the park is open every day from 7 a.m. to 6 p.m.
17. Enjoy Wine at Domaine de la Vigne Blanche
What can warm you up on a cold winter day better than a glass of wine or two? Take a short tour to Domaine de la Vigne Blanche in Cologny, just outside Geneva.
This vineyard, owned by the Meylan family for four generations, has been producing exceptional wine since the early 1900s.
Your wine tasting at Domaine de la Vigne Blanche will be a wonderful journey through wine flavors and history. In wintertime, the tour takes place in the wine cellars.
18. Learn a Little at the Palais des Nations
Built in 1929 as the headquarters of the League of Nations, today Palais des Nations houses the United Nations office in Geneva.
The building hosts over 10,000 intergovernmental meetings per year!
It is definitely worth visiting the Palais des Nations as a bright symbol of 20th-century architecture.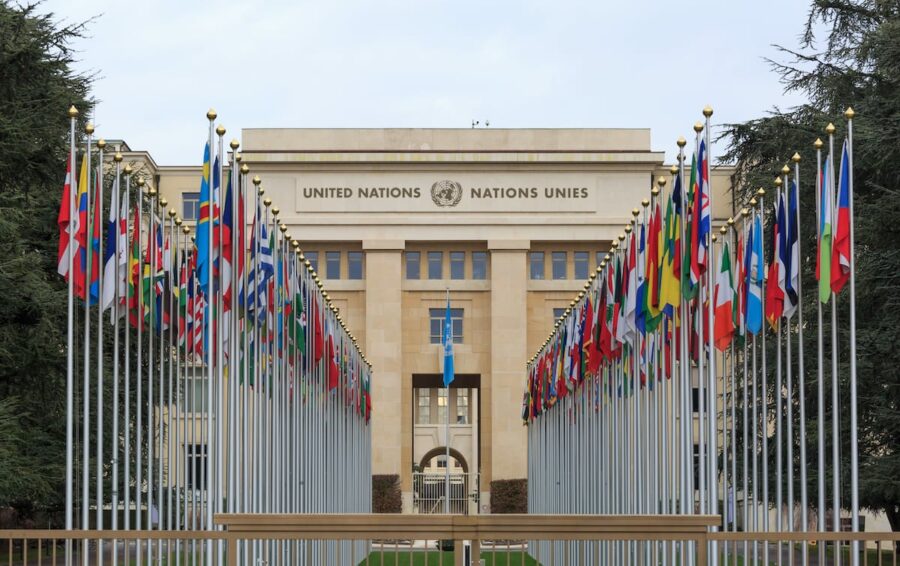 To learn more about the UN and the work they do there, you can take a guided tour to see the 2,000-seat assembly hall, the Council Chamber, and learn about the history of the UN.
Please note, you will be asked to check any larger bags upon entering the building.
19. Explore the Patek Philippe Museum
If you are familiar with the luxurious Patek Philippe brand of watches, you should definitely visit the Patek Philippe Museum, which has an extensive collection of watches.
You will see some of the best creations from watchmakers, as well as enamel miniatures and musical automata.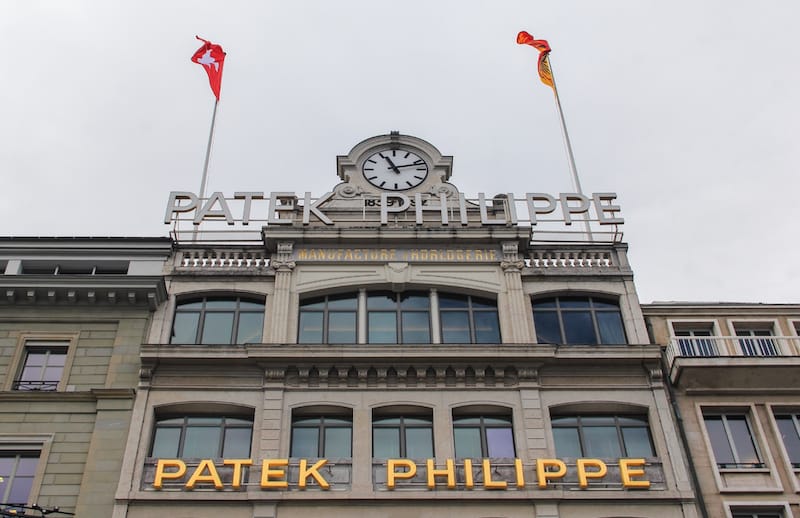 While walking around the museum, you will learn about watchmaking history in Switzerland since the 16th century and visit the library dedicated to horology.
The museum has four floors with a cinema, a watchmaking warehouse, exhibits of Patek Philippe watchmaking, and a library.
20. Visit the Botanical Gardens and Conservatory
Geneva's Botanical Gardens and Conservatory, occupying over 28 hectares, have one of the world's largest herbariums with six million species. This place is worth a visit regardless of the season.
Your tour will start with a garden that has 16,000 different plants blooming in different seasons, including in the winter.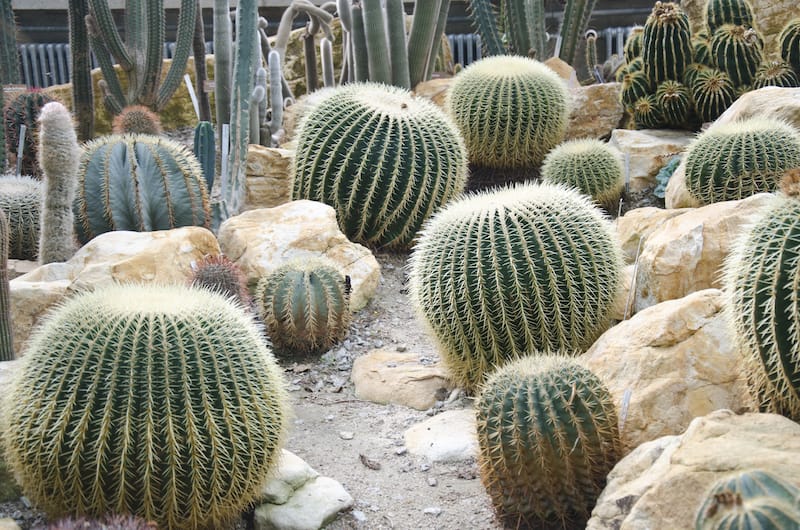 In the Herbarium, you will find plants from the Far East, South America, and the Mediterranean region. Also, don't forget to enjoy the peacocks in the animal park.
The Botanical Gardens and Conservatory are open to the public every day from 8 a.m. to 5 p.m. during the winter months.
21. Attend the Festival of Lights (Geneva Lux)
It's always a good idea to visit Geneva in the winter, especially during the Festival of Lights known as Geneva Lux, when the city is illuminated with thousands of lights.
Artists from all over the world decorate the streets with light installations from the end of January to the first few days of February to celebrate Geneva Lux.
Even the cold winter days seem a little warmer during this festival.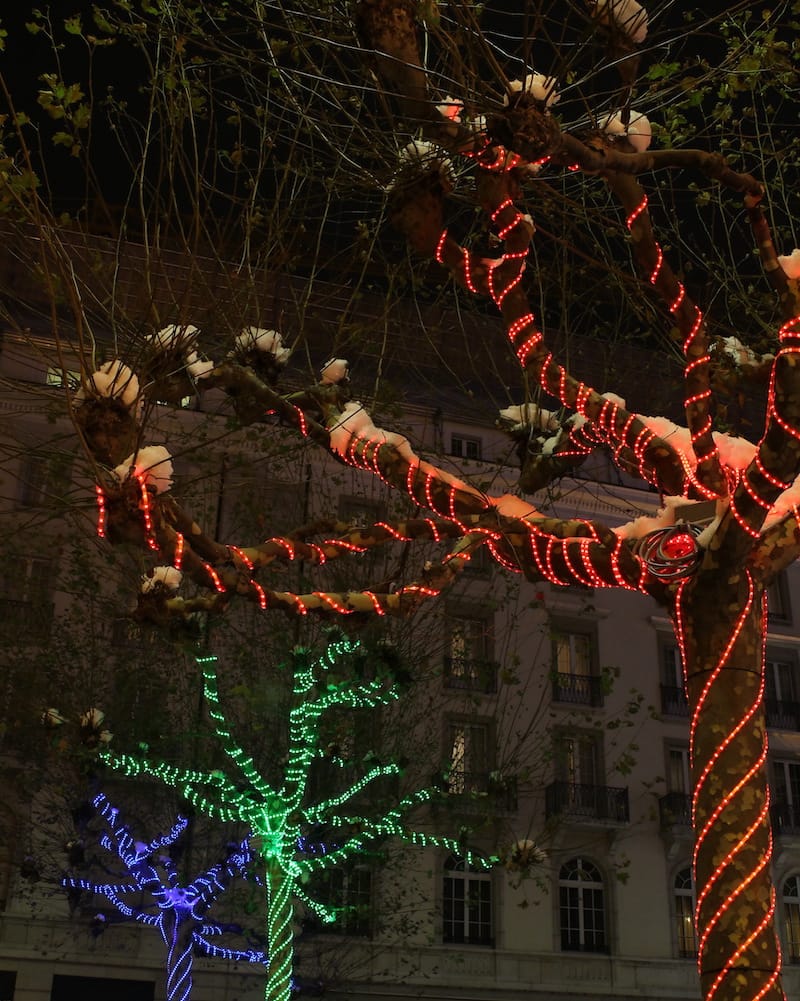 The illuminations are spread all around the city in over 20 locations; they are public and accessible to anyone.
It is an excellent chance to see beautiful light installations and explore the city at the same time.
Where to Stay in Geneva
If you're looking for some of the top accommodation in Geneva, the hotels below cover all budgets and are highly recommended!
Did we miss any amazing things to do in Geneva in winter? Let us know your Geneva winter travel tips in the comments. Thanks!
More European Winter Travel Guides
Pin this Geneva Winter Guide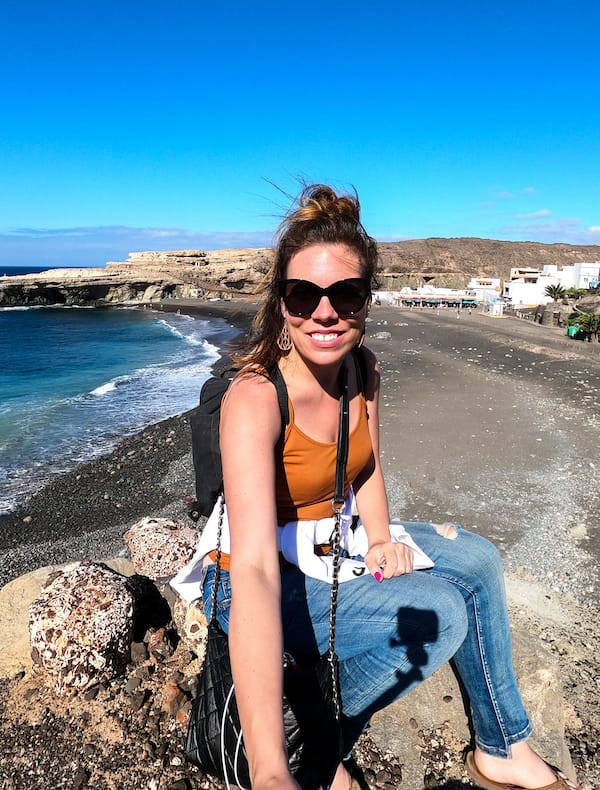 Megan is a travel blogger and writer with a background in digital marketing. Originally from Richmond, VA, she now splits her time between Frankfurt, Germany and Arctic Finland after also living in Norway, Armenia, and Kazakhstan. She has a passion for winter travel, as well as the Nordic countries, but you can also find her eating her way through Italy, perusing perfume stores in Paris, or taking road trips through the USA. Megan has written for or been featured by National Geographic, Forbes, Lonely Planet, the New York Times, and more. She co-authored Fodor's Travel 'Essential Norway' and has visited 45 US states and 100+ countries.