Are you planning on visiting Nuuk, Greenland? These Nuuk travel tips will tell you everything you need to know before traveling to Greenland's capital city!
Are you planning your trip to Nuuk last minute?
If youʻre booking your trip to Nuuk last minute, we have you covered. Below are some of the top places to stay in the city!
🛌 Top hotels and accommodation in Nuuk:
🇬🇱 Top Experiences and Tours in Nuuk:
Northern lights tour of Nuuk (runs Sept-April)
Private tour of the Nuuk Fjord (and glaciers!)
🚗 Looking for the best way to get from Nuuk Airport to the city center? Click here to check Nuuk airport transfers!
While most tourists find themselves in Ilulissat and the Disko Bay area, I decided to make my first trip to Greenland to Nuuk, the most populous city.
Why? I don't really know – but I had dreamed of traveling to Nuuk since I was young, so perhaps it always stuck with me and I knew that it had to be the first place I visited on the island.
This guide will help you with things you should know before you visit Nuuk, Greenland.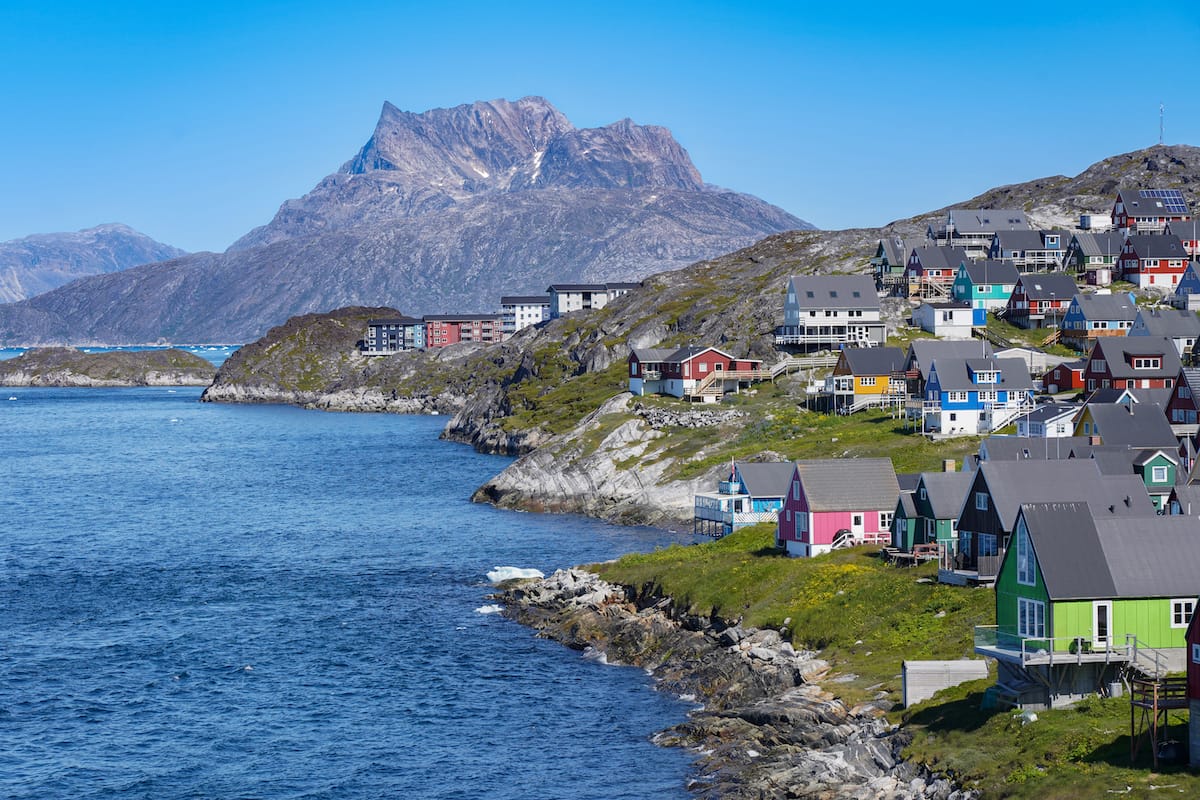 A lot of it will contain practical information, and the remainder of it will be my tips and observations from my time there.
I visited Greenland for almost two weeks and most of my time was actually spent in Nuuk on this trip – so I hope this will help you a bit in planning your trip and feel free to leave your own Nuuk travel tips in the comments!
How to Get to Nuuk
Arriving in Nuuk by Plane
In 2024, getting to Nuuk should become much easier! But, for now, getting there is a bit of a challenge.
In order to fly to Nuuk, you (likely) need to take a flight from Copenhagen (CPH) to Kangerlussuaq (SFJ).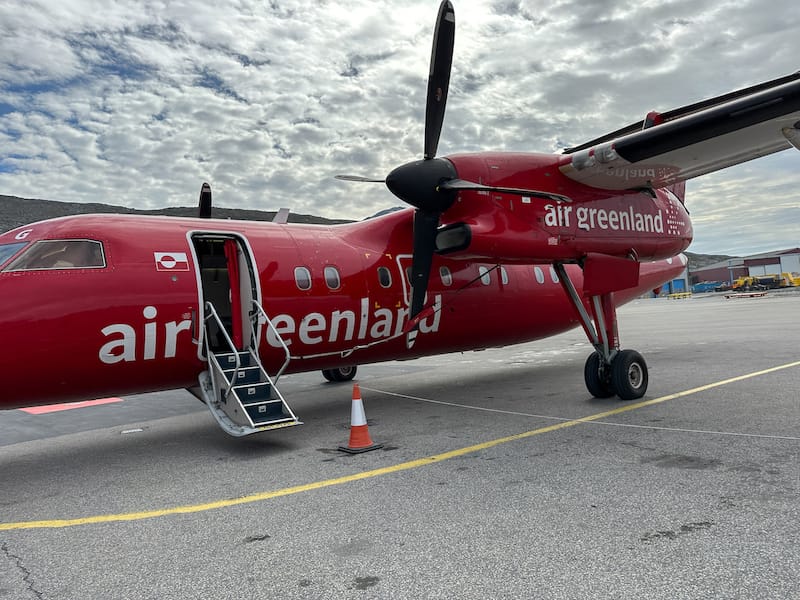 Air Greenland flies there pretty regularly and all flights wind up in Kangerlussuaq (for now). Alternatively, you can fly from Reykjavik's city airport to a few destinations in Greenland with Icelandair.
Once you arrive in Kangerlussuaq, you can take your flight to Nuuk, Ilulissat, Sisimiut, or wherever your final destination may be!
Nuuk has a New International Airport Coming in 2024
One of the coolest things happening in Nuuk is that Greenland's capital city is set to open up a new airport in 2024 – and it will receive international flights!
Everyone knows (including locals) how challenging getting around Greenland is by air as you have to stop in Kangerlussuaq.
But, this new airport (which has already opened one of the big runways) will help make that easier. Ilulissat is also going to be getting a new airport.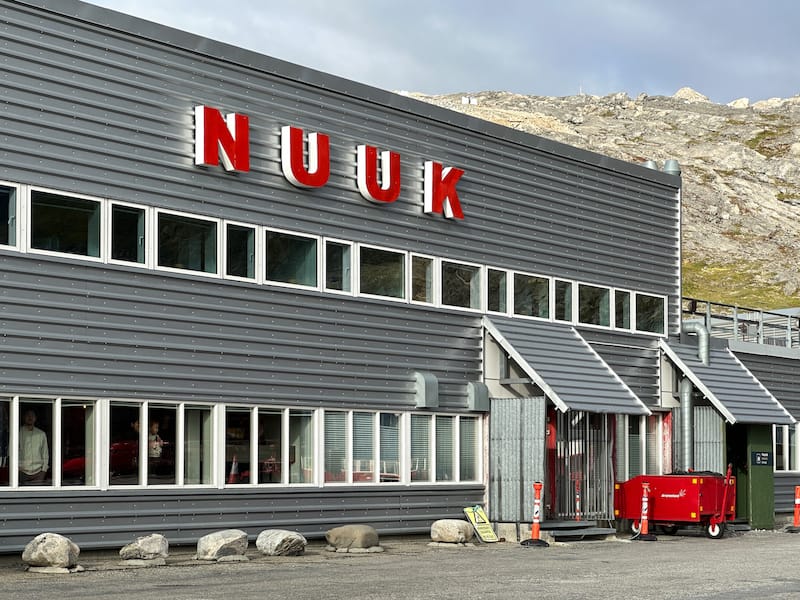 The new airport will make Nuuk a direct flight from Europe and North America without that Kangerlussuaq stop.
I think this will really develop tourism here and according to Air Greenland officials… they hope to do it in a way like the Faroe Islands and not Iceland. They also don't plan on bringing discount airlines here and seem to know who their target market is.
We shall see what happens, but I think this is a good start to developing tourism here.
Nuuk and its Notorious Fog
I am not certain about winter, but spring and summer greet Nuuk with fog. And lots of it! I thought the fog was just a morning thing, but I also saw it in the evenings more than once, so who knows?
So, why is it good to know this? Because flights to and from Nuuk are often delayed or canceled as a result. I have learned that more morning flights from/to Kangerlussuaq experience this issue as opposed to afternoon and evening flights.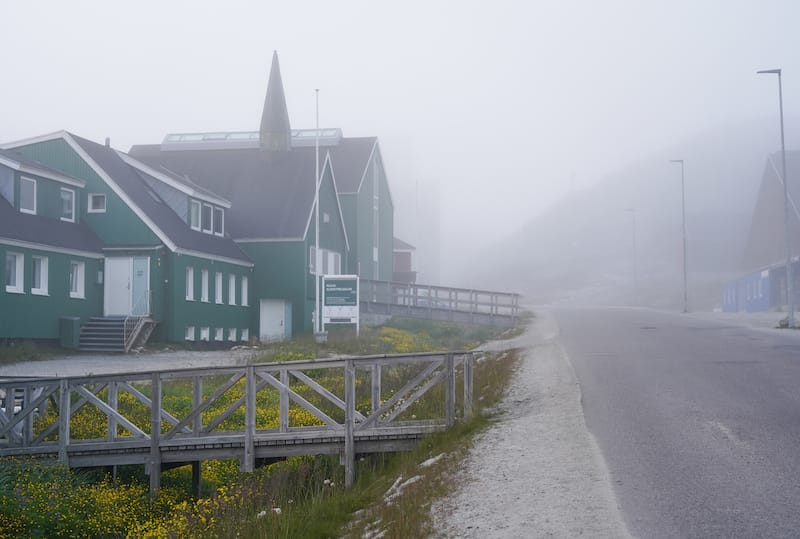 We actually had our flight from Kangerlussuaq to Nuuk canceled as a result. But, we took off, circled over Nuuk trying to land, and had to turn around. I thought this was a wild one-off but it is apparently quite common.
A local told me that spring is especially foggy and that is how she knows summer is on its way. Prepare accordingly!
⭐ GOOD TO KNOW: If it is foggy and you have boat tours booked, you may be okay. We had fog several times and no tour was delayed or canceled as the boat captains seemed to navigate it just fine and once we got deeper into the fjord, it always lifted and was lovely!
How to Get Around Nuuk
Like everywhere else in Greenland, you can't drive but so far here. The roads connect the airport and a few local commuter districts, but that is it. They completely cut off.
Another thing is that many locals own boats (or have a friend that does).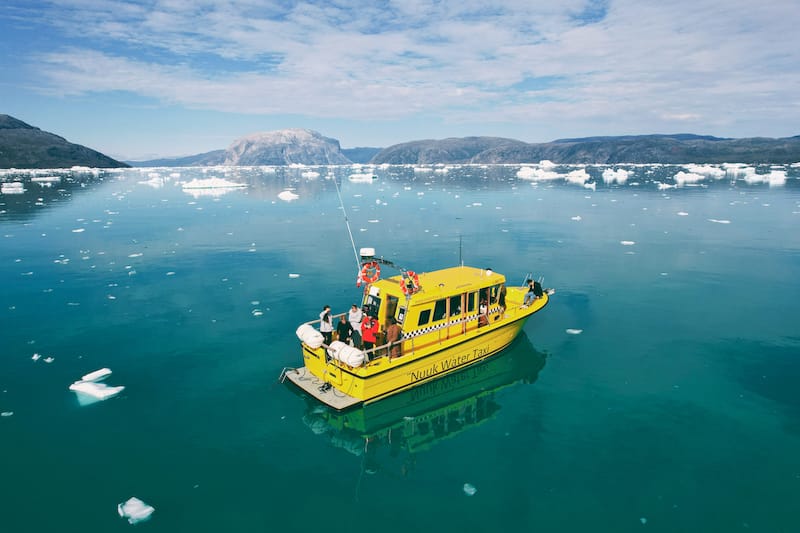 So, many of them are getting around by boat. They will even visit other settlements and towns in Greenland by boat since flying around is so pricey.
Taking a Taxi in Nuuk
As noted above, you can book a taxi with Nuuk Taxi easily from their webpage.
The only thing I would say could be a challenge is reciting the street name in Greenlandic.
I found it easier to get an easy landmark nearby to catch it from (or you can call it from a hotel). I was staying at an apartment while in Nuuk.
Buses around Nuuk
Luckily, you can reach most places on foot here, but there is also what seems to be a good bus network around town. I have seen locals and tourists using them and they seem to be quite regularly.
While I didn't use one myself as I walked everywhere, I knew I could catch one pretty easily in the city.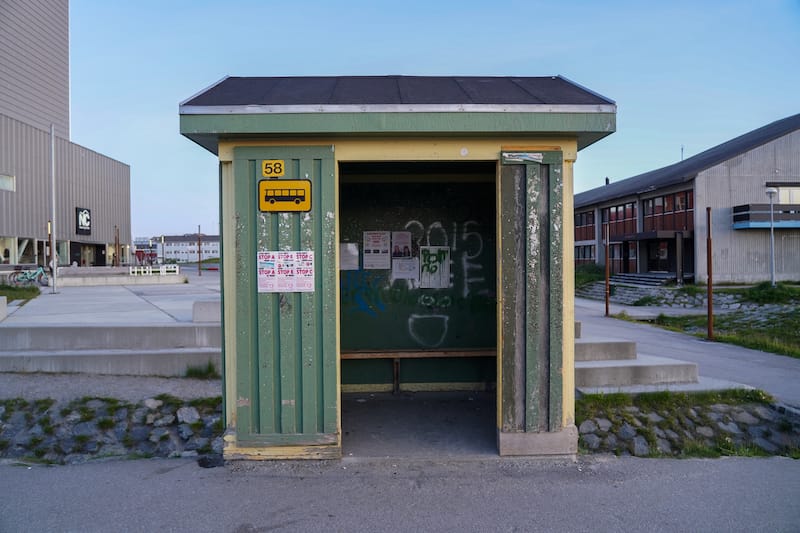 The public bus network is called Nuup Bussii and it runs daily from Monday to Saturday from 0600-0000 and on Sunday from 0720-0000. Adult tickets are 20 DKK but you can buy a 10-journey ticket for 136 DKK.
Getting from Nuuk Airport to the City Center
I found that the best way to get from the Nuuk Airport to the city center was by taxi. However, you can always book an airport transfer here on Viator to avoid any of the legwork yourself!
We were able to email a company beforehand to ask for a taxi and all worked out well – but since our flight was canceled once hovering over the city, we had to cancel when back in Kangerlussuaq.
So, when we got another flight and landed later in the day, we had nothing set up and there was merely one taxi sitting in front of the airport. It was secured for someone but had a number on the side of it that I called.
You can go to Nuuk Taxi's page here. There is a phone number there, as well as an email. Just make sure you email with ample time before landing! I believe we paid around $25 one-way both to and from the airport.
Food, Drinks, and Shopping in Nuuk
Food and Restaurants in Nuuk
Nuuk's restaurant scene is a work in progress. A lot of the renowned restaurants sit up in Ilulissat and the city is quickly becoming Greenland's food capital. Nuuk left something to be desired, but I managed just fine.
I actually think Greenlandic food is exceptional and I would love to see more traditional places (or places with a modern twist on traditional fare) in Nuuk that celebrated the unique ingredients Greenland has.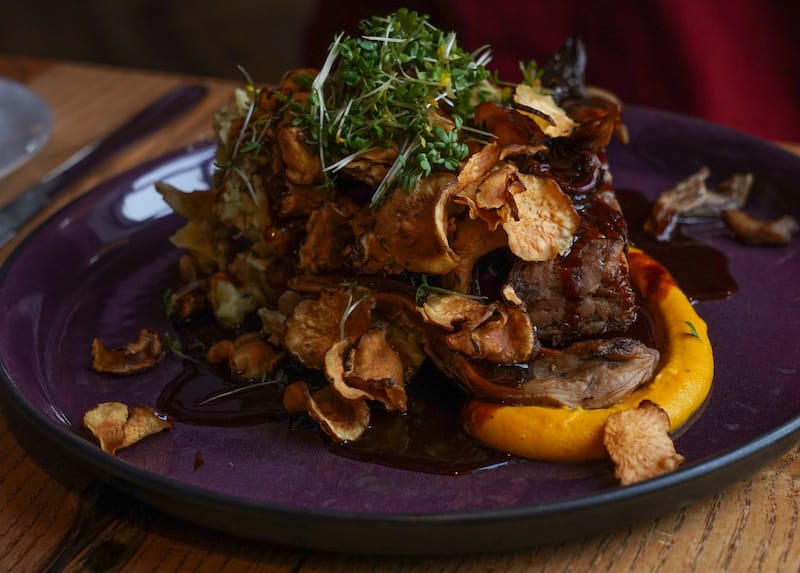 We found a few tasty places like Killut and Sarfalik, but everything outside of that was less impressive.
If you are craving Thai food, on the other hand, Restaurant Charoen Porn had really good food and we ate there more than once on the trip! And the burgers at Kunguak Cafe were spectacular.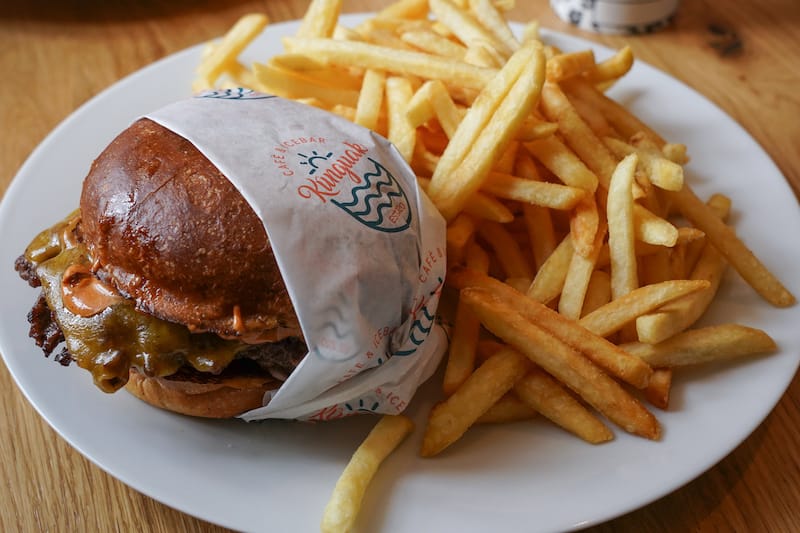 We also went out to Qooqqut Nuan for dinner one night after catching our own fish on a tour and that was exceptional!
Common Ingredients in Greenlandic Cooking
Greenlandic cuisine is unique, delicious, and severely underrated, in my opinion.
While whale, seal, and musk ox may seem foreign to outsiders, they are traditional (and sustainable) ingredients in Greenlandic cooking.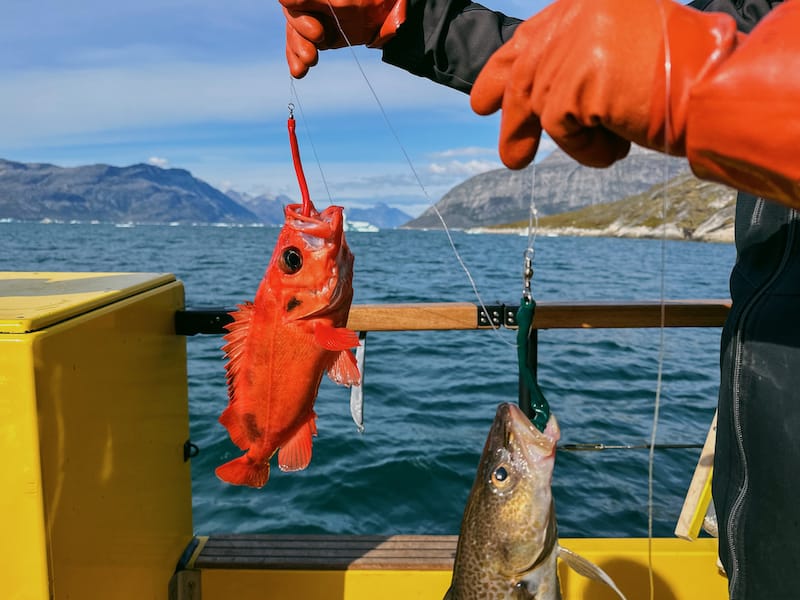 And, Greenlanders' bodies have adapted over the years to needing these ingredients to stay in good health – just like bodies in other parts of the world have adapted to local and sustainable ingredients there.
Some ingredients you will find in Greenlandic cooking are:
Whale skin/blubber (Mattak. Often made with Narwahl or Minke.)
Whale meat (Arfeq Nikkui)
Musk ox (Umimmak)
Caribou
Lamb (Sava – typically comes from the south of the country)
Ptarmigan
Crab
Seal (Puisi)
Berries
Varieties of fish like cod, redfish, halibut
Lumpfish roe (Nipisaq)
Arctic herbs (thyme, rosemary, etc)
Root vegetables (potatoes, carrots, turnips, etc.)
Bread (and it is delicious)
Do note that some ingredients are more common than others. I never saw seal on any menus when there and I was keen to try 'suaasat' – the famous seal soup.
One thing you can look out for when traveling to Nuuk is 'Greenlandic buffets' at restaurants. Or 'Greenlandic tapas'. I found that Killut had the tastiest of any of the places I went to.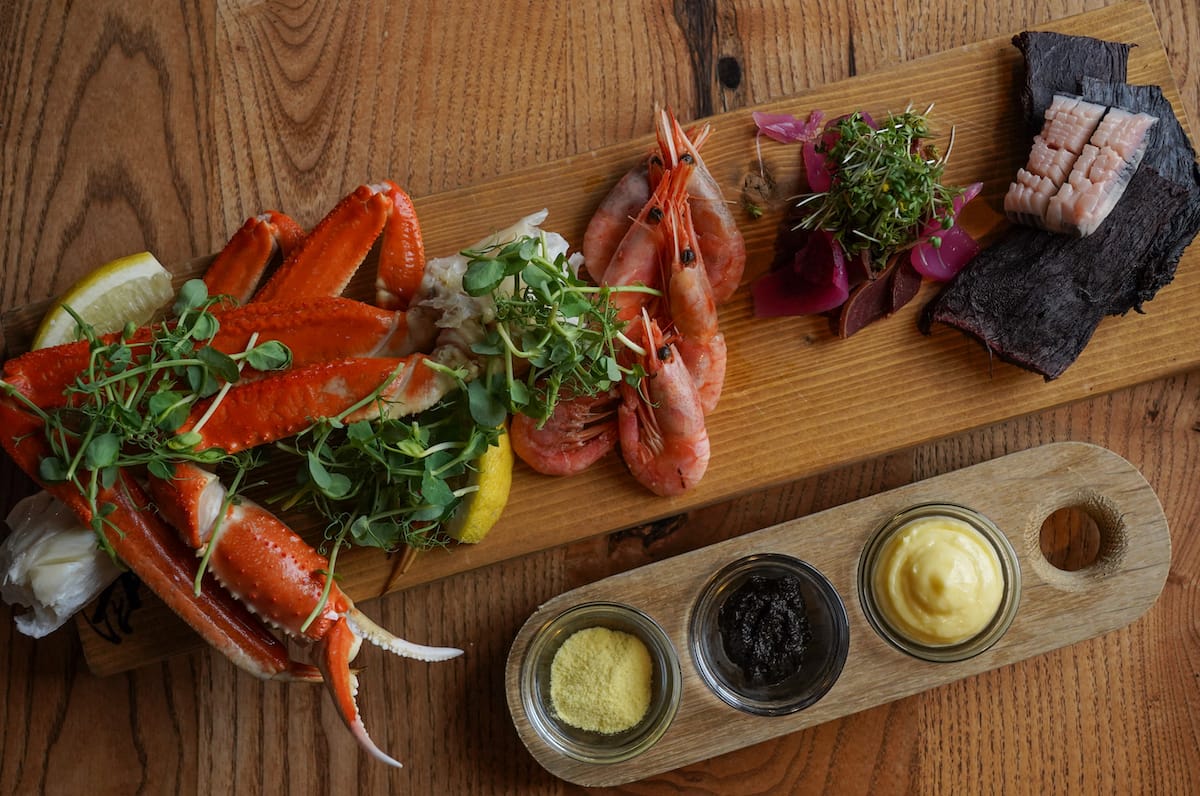 I did go to a Greenlandic buffet in Kangerlussuaq that seemed to cater to all the Danes eating there.
And it seems the Danes were more interested in piling their plates with their own food rather than tasting the few Greenlandic items that were also on the buffet.
Vegetarian, Vegan, and Gluten-Free Food in Nuuk
This was one destination that did don't cater to vegetarian and vegan travelers. In fact, there were places we traveled to that had not a single vegetarian dish on the menu when there (Sarfalik was one place).
But, many of the restaurants do tell you to call in advance or contact them to let them know you're vegan or vegetarian and they will do their best to accommodate your visit.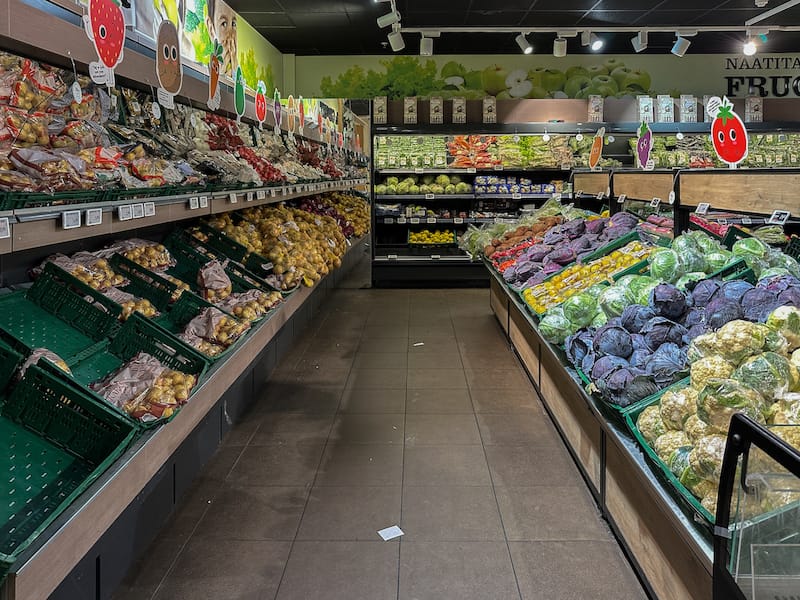 If you are on a plant-based diet, I would recommend renting an apartment while in Nuuk so you can prepare your own food in the evenings instead of going out to eat.
The grocery stores were stocked with everything!
Grocery Stores in Nuuk
Nuuk has plenty of large grocery stores and I could find pretty much anything there (and the quality was rather impressive for the island being a bit more remote!).
We found chili peppers, fresh orange juice, Thai curry paste (from Thailand), and more.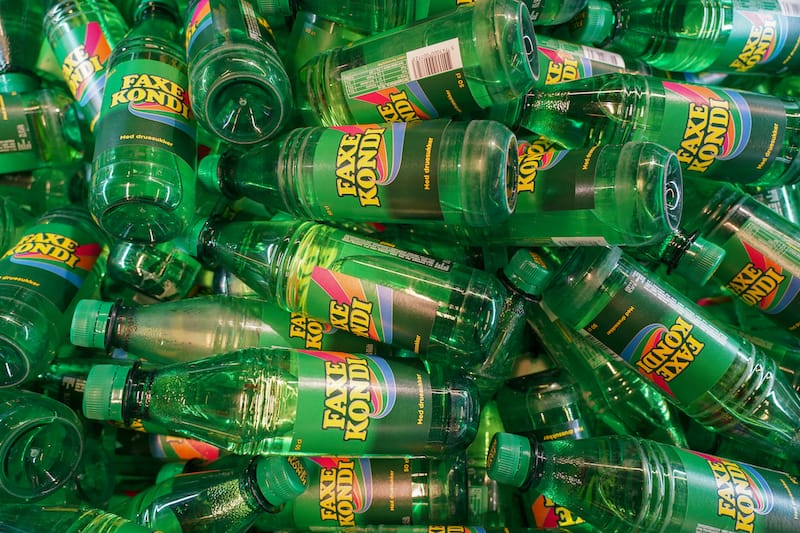 The grocery stores import as much from Iceland as possible which is pretty sustainable and they also have a section of local meats and delicacies.
You can find Greenlandic lamb, fish, whale, and more.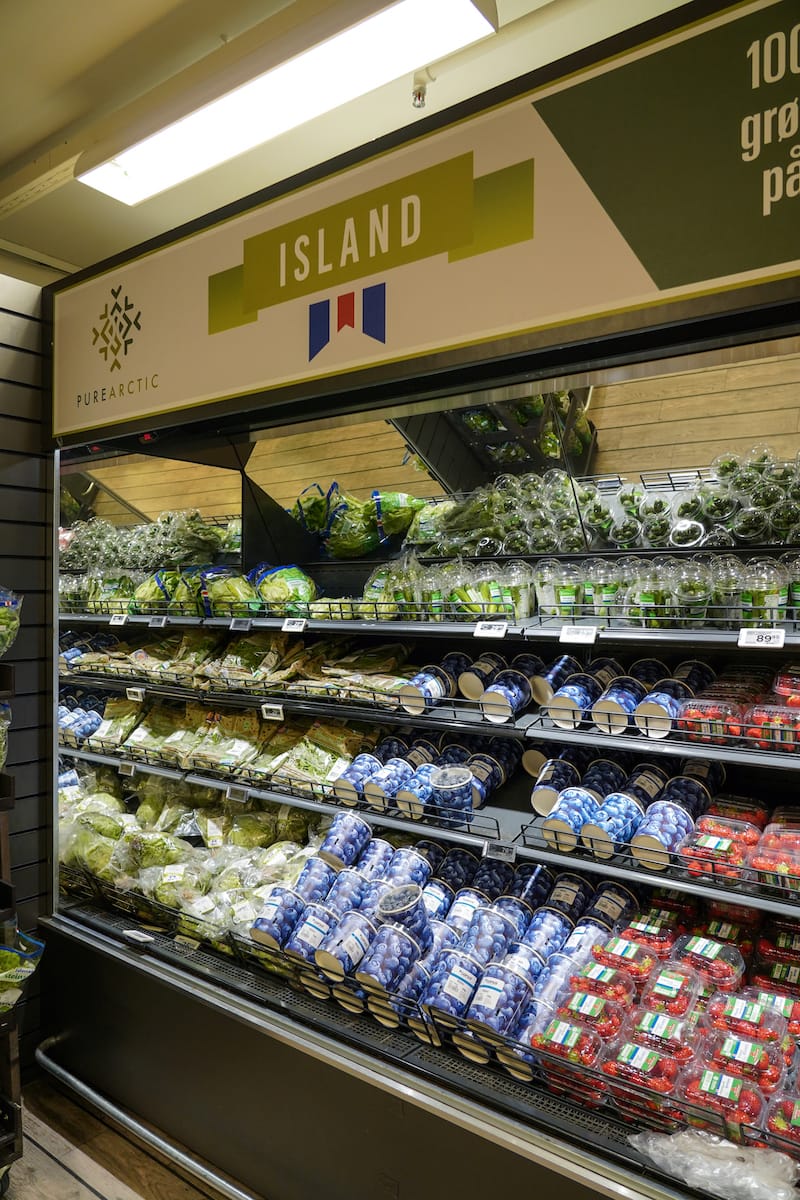 Another thing we loved about the grocery stores in Nuuk is that they were open for long hours.
This was nice as tours can start early (or run late!) and you can still manage to get food at the shop before heading home.
⭐ GOOD TO KNOW: Greenlandic bread is insanely good! Even the bread we got on the plane with Air Greenland was delicious. Take advantage of this! There is a bakery in the Nuuk Center across from Pascucci that is part of Pisiffik grocery store that had really great bread. I loved the Manitoba pumpkin seed bread they had!
Cash, Card, & Tipping in Nuuk
I never used cash in Nuuk. And it never presented a problem for me. Card was accepted pretty much everywhere I went, including taxis to and from the airport.
The only 'scare' I had was when we went to Qooqqut Nuan and the menu said they only took Danish cards and cash.
It turns out that it was written incorrectly, and they do take Visa and Mastercard (but only cash and Danish cards when the wifi goes out).
As for tipping, I always tipped at restaurants, but you will need to let them know the amount before they plug the number into the machine. It seemed to me that not many people tipped servers based on their reactions when I did.
I also normally tip tour guides, but it didn't seem common on the trips I took with Nuuk Water Taxi. They had no tip jar and I saw no one else leaving tips.
I saw a few ATMs in the city so you're never far from getting cash out if you need it for some reason!
Can You Drink the Water in Greenland?
Yes! Greenland has some of the best water in the world. Drink away!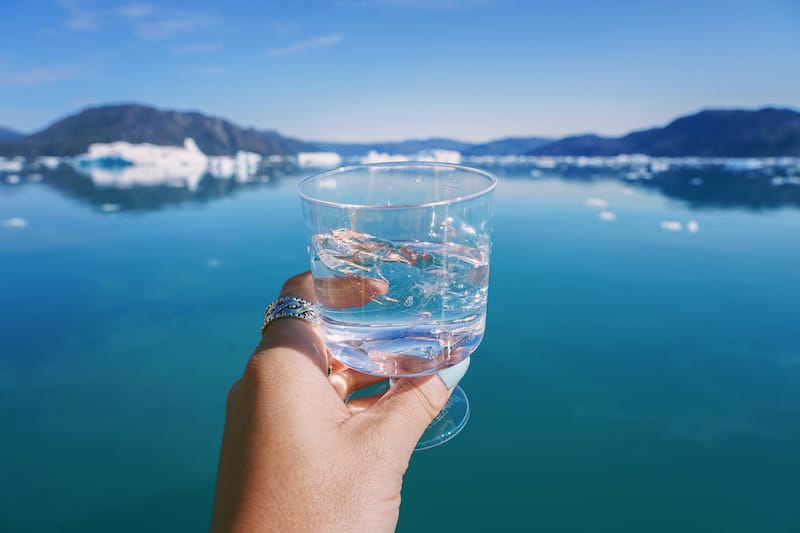 Practical Information for Visiting Nuuk
Best Time to Visit Nuuk
Like anywhere, there are pluses and minuses associated with each season. I loved visiting in summer because it allowed us to go on boat tours and have maximum daylight.
The downside? Mosquitoes (I touch on this later in the post!). Another downside is if you're looking for the northern lights, they are not visible during June, July, and a lot of August.
Another downside to visiting in summer is that the cruise ships are passing through. While the cruises are not as large as other ports around the world, when one is at the port, it can get a lot busier in the city.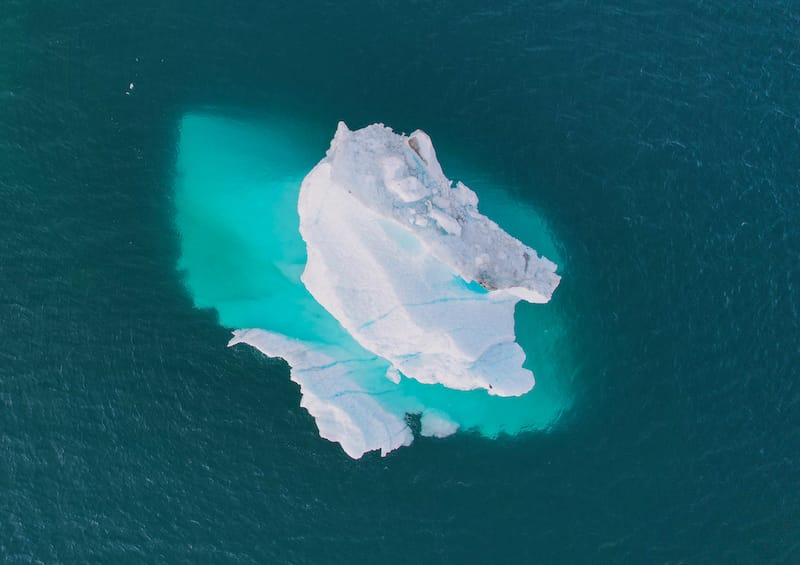 Winter is cold and dark. But, you can go snowmobiling, dog-sledding, and see the northern lights… so that is a huge plus.
The only reason I wouldn't recommend visiting in mid-winter just yet is because Nuuk's restaurant scene is a work in progress.
So, there is not a lot to do outside of those few activities.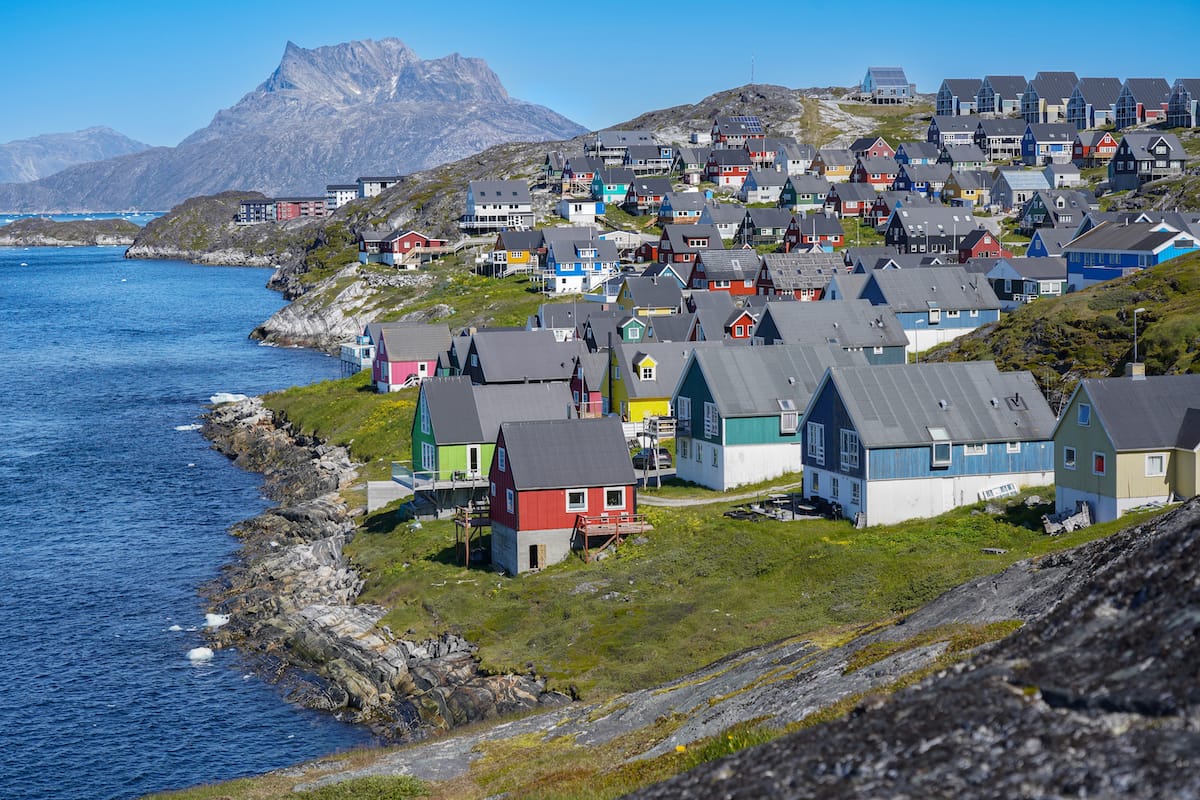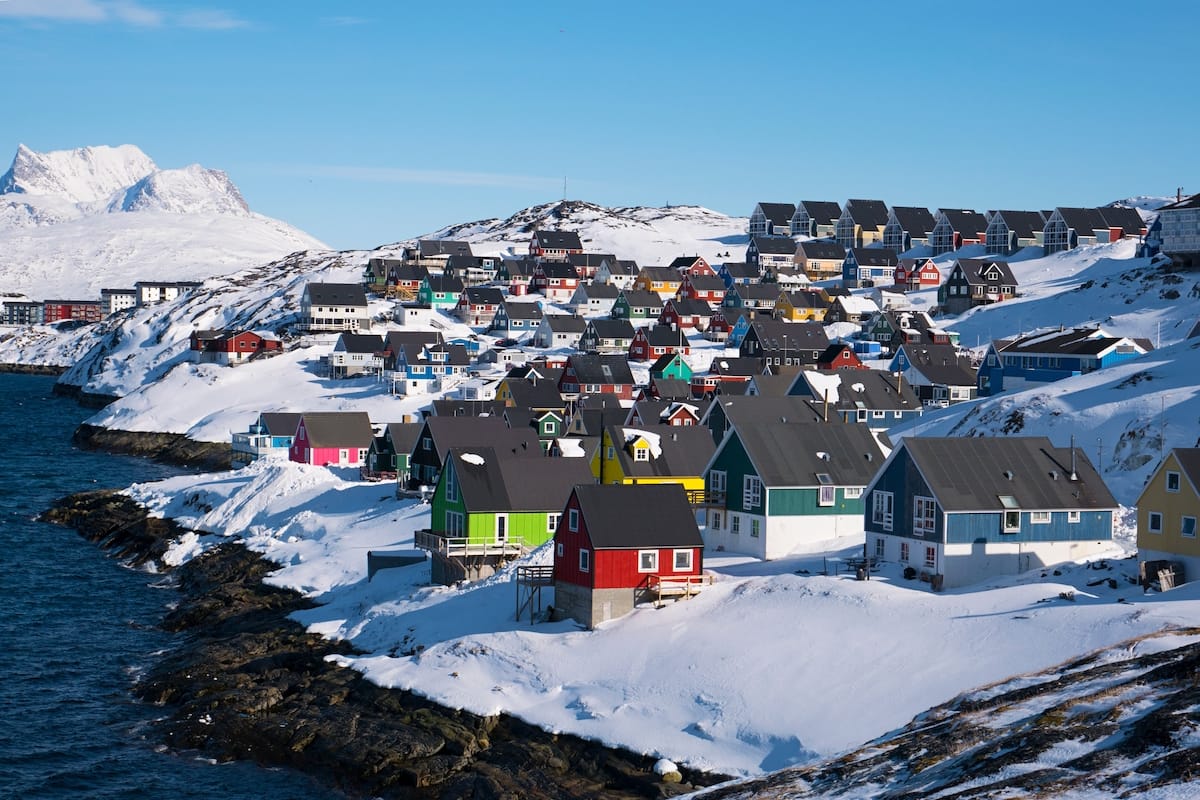 Shoulder season is great but, again, many summer boat activities start in May/June and stop in August.
If you can tolerate the mosquitoes, summer is a fantastic time to head there (I even think the end of August might dodge the worst of the season AND add the northern lights as an option).
Nuuk Weather
During the summer months, Nuuk is warmer… but still not that warm. It was warmer in Kangerlussuaq than Nuuk. Winter is cold.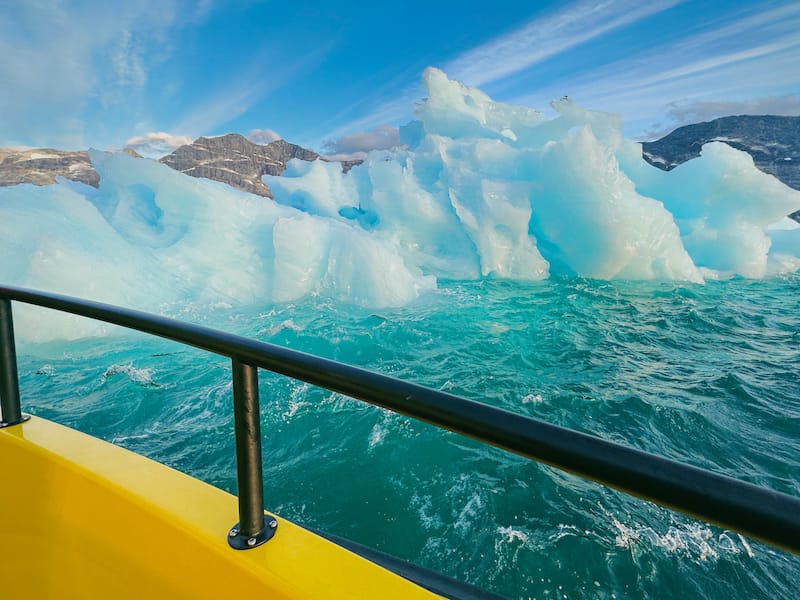 Here are the average temperatures throughout the year:
January: highs of 23F/-5C, lows of 14F/-10C (10 days of rain/precipitation)
February: highs of 22F/-5C, lows of 12F/-11C (9 days of rain/precipitation)
March: highs of 23F/-5C, lows of 13F/-10C (10 days of rain/precipitation)
April: highs of 31F/-1C, lows of 22F/-6C (8 days of rain/precipitation)
May: highs of 39F/4C, lows of 30F/-1C (8 days of rain/precipitation)
June: highs of 47F/8C, lows of 35F/2C (8 days of rain/precipitation)
July: highs of 52F/11C, lows of 39F/4C (8 days of rain/precipitation)
August: highs of 50F/10C, lows of 39F/4C (9 days of rain/precipitation)
September: highs of 44F/6C, lows of 35F/2C (11 days of rain/precipitation)
October: highs of 36F/2C, lows of 28F/-2C (10 days of rain/precipitation)
November: highs of 30F/-1C, lows of 22F/-6C (11 days of rain/precipitation)
December: highs of 26F/-4C, lows of 17F/-8C (12 days of rain/precipitation)
Can You See the Northern Lights in Nuuk?
Yes! If you're visiting during the right time of year, you can see them (if the sky is clear).
I was visiting in early-mid August and I saw them around August 7. It was not pitch black at night at that point, but they were out, even if just faintly. Below is a photo from my balcony of the apartment I stayed in.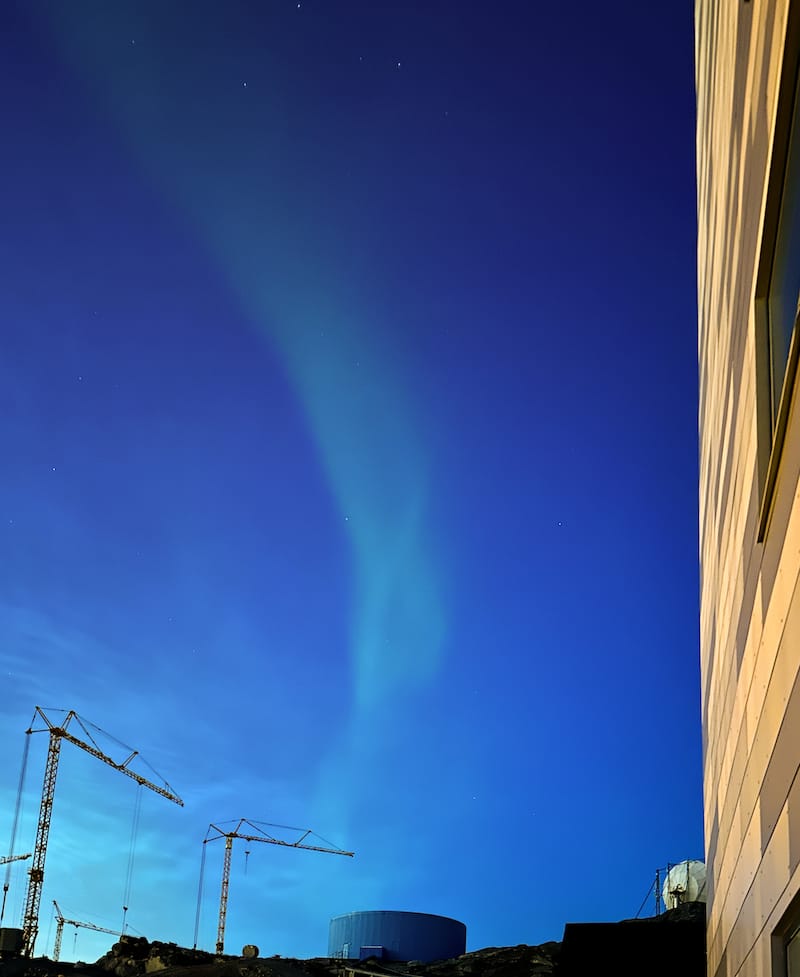 The best time to see the northern lights is usually during the fall (September/October) and late winter/early spring (February/March). The one thing I will note is that autumn is the rainiest time in Nuuk.
I noted above that fog plays a crucial role in so many aspects of life in Nuuk and this will also play a role in seeing the northern lights.
We had fog most days when visiting Nuuk, but usually, our nights were relatively clear in early August. We also learned that if you hop on a boat further into the fjord, escaping the fog was super easy!
Daylight in Nuuk (Midnight Sun & Polar Night Info)
If you're traveling close to winter solstice, expect darkness! If you're traveling close to summer solstice, expect long, long days!
During the summer, you will have a short sunset at night, but the sky never is completely dark. In winter, you will have a sunrise, but it won't be too high up in the sky. Just keep that in mind.
Here are the sunrise/sunset hours (approximation) for summer and winter solstice dates in 2023:
Summer solstice (June 21): Sunrise at 0254, sunset at 0004
Winter solstice (December 22): Sunrise at 1122, sunset at 1529
What to Pack for a Trip to Nuuk
During the winter, pack for heavy, cold weather. Parkas, mobile power banks (many phones can drain their batteries quickly in the cold), mittens, etc.
Packing in summer can be far more challenging than in winter, as summer here is not summer elsewhere.
The average temperature I experienced in Nuuk was around 8-10C (46-50F). The nights were slightly chillier in August, as the sun did set during this time of the year.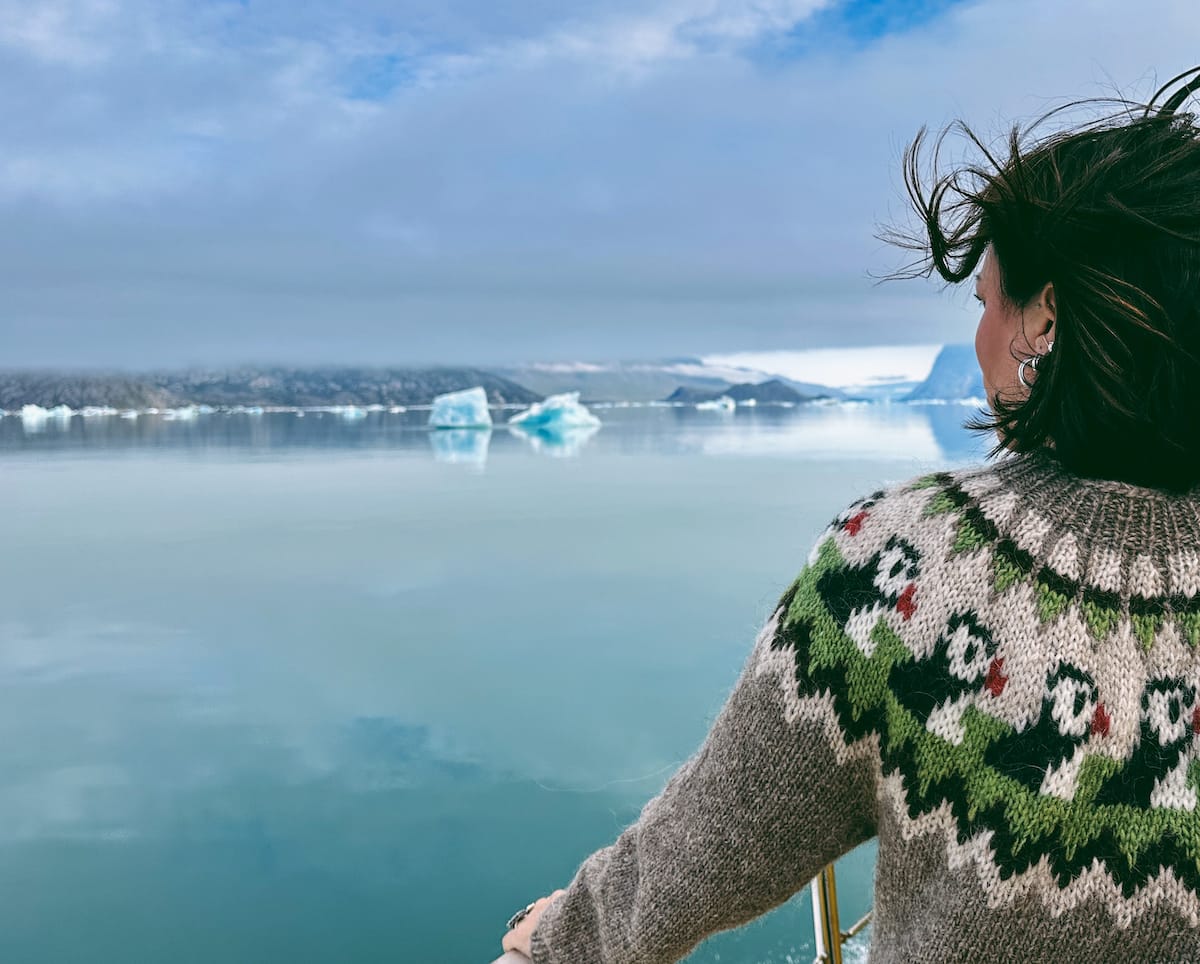 I wore Nordic wool sweaters on boat tours with a jacket over them until I became too warm.
If you're standing outside, you will get cold… but once your boat stops or you're more stationary, it will become warmer. The sun also is rather warm when it shines down, so also bring sunscreen!
What I wore daily was the following:
Wool sweater
Tanktop or t-shirt underneath (I sometimes took the sweater off in restaurants)
Outdoorsy boots (I love my Pajar Vienna boots and wore them every single day there!)
Thick socks
Leggings
On boat trips, I advise you to bring a pair of gloves if your hands get cold easily, as well as a beanie.
If you forget any of the above items, you can head to Nuuk Center to a shop called Ittu.net.
What Language Do They Speak in Greenland?
In Greenland, they speak Greenlandic (Kalaallisut). You will see Greenlandic everywhere, along with Danish.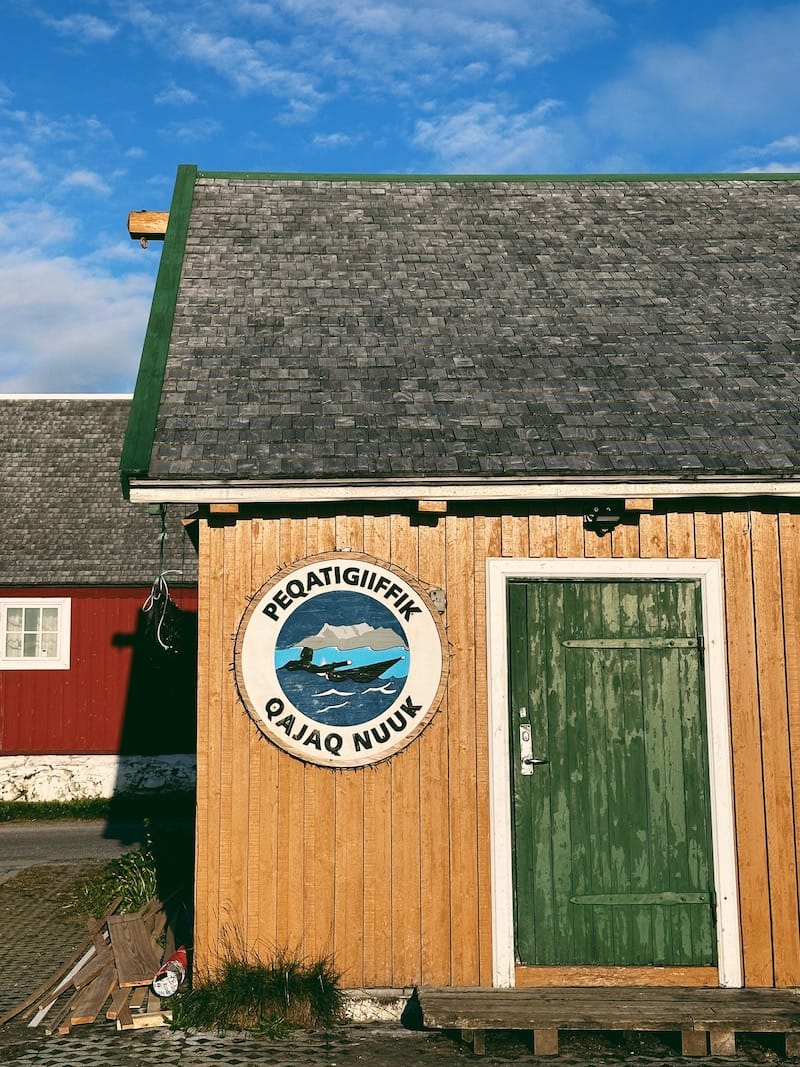 I highly recommend learning a few words of Greenlandic before you visit! It is a beautiful language and you can learn the basics here on Guide to Greenland.
Danish Language Before English
One thing that kind of puzzled me was that most everything was in Danish and Greenlandic, but not always in English.
While I understand the colonization history and that Greenlanders understand Danish, and that many of the tourists coming to Greenland are, in fact, Danish, it still felt a bit strange to a degree.
Especially since Danes are renowned for being some of the world's most proficient English speakers (as a second language).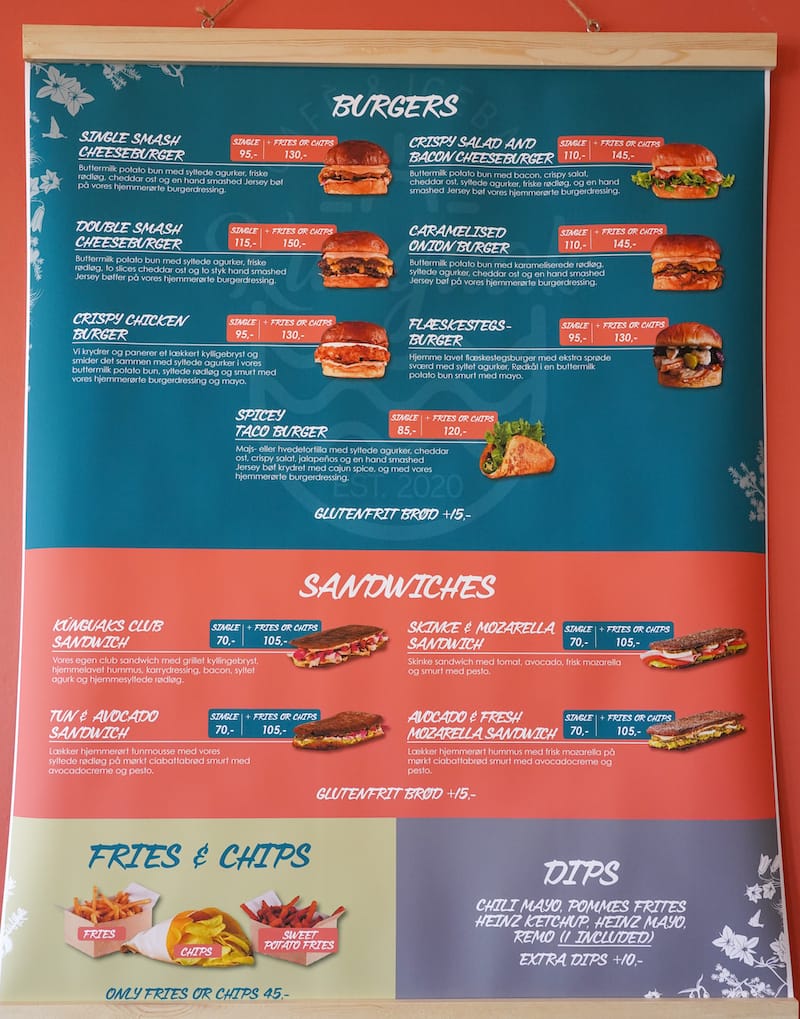 I suspect that once the new airport opens and other nationalities are able to visit (outside of taking a cruise here), this will change a bit.
I did find that most Greenlanders in Nuuk had a good command of English, on the other hand, and I never had any issues traveling here.
But, I also can read Danish with no problem, so that may have helped just a bit without me consciously knowing.
It was nice seeing everything in Greenlandic, however! And the language was almost always listed above Danish on signs, documents, etc.
Power Adapter for Greenland
In Greenland, you will use the same plug as in Europe (C, F, E, and K sockets).
Voltage is 230V and 50 Hz frequency.
Is the Wifi Good in Nuuk?
One thing that I was really surprised about is how dismal my wifi was everywhere I went in Nuuk.
The funny thing is, I don't feel like this is a common issue because everyone I spoke with did not have issues with it. My apartment had terrible wifi.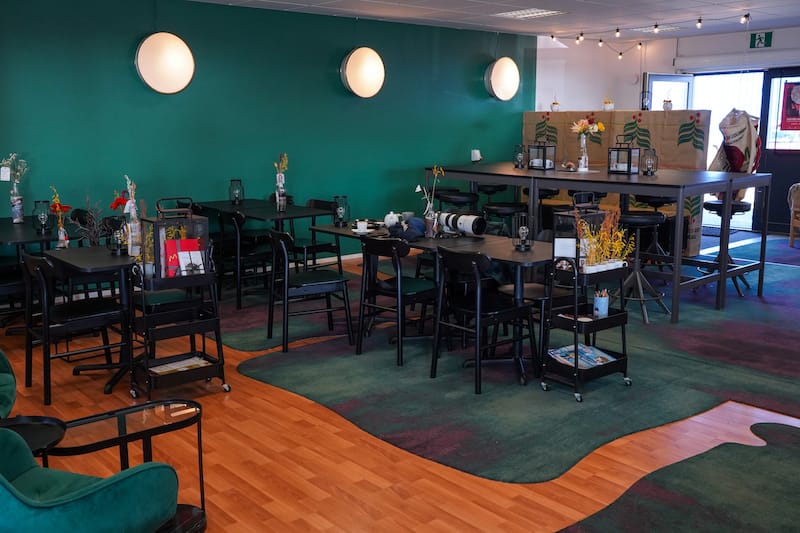 And I even went into a modern cafe by the harbor called Kunguak Cafe and they charged 50 DKK to use their wifi. I wonder if specific wifi packages allow only a certain about of GB to be used or something.
I was never particularly bothered by the situation (I mean… I am in Greenland!) but I was kind of shocked by it.
⭐ GOOD TO KNOW: EU roaming doesn't work in Greenland. I assumed it would since it worked in the Faroe Islands for me. I had to pay $34.99 for a week of data (only 4GB) with Vodaphone.
Nevertheless, some places that had free wifi without limits were:
Nuuk Water Taxi
Kaffevik
Pascucci (this was available but never worked for me when there)
The airport (at the time I visited in August 2023) and Katuaq Cultural Center did not have free wifi for guests.
Is Nuuk Wheelchair-Friendly?
Hm… not really, to be honest. I am not sure if cruise ships coming in have something to help passengers in wheelchairs, but the majority of places I went were not accessible.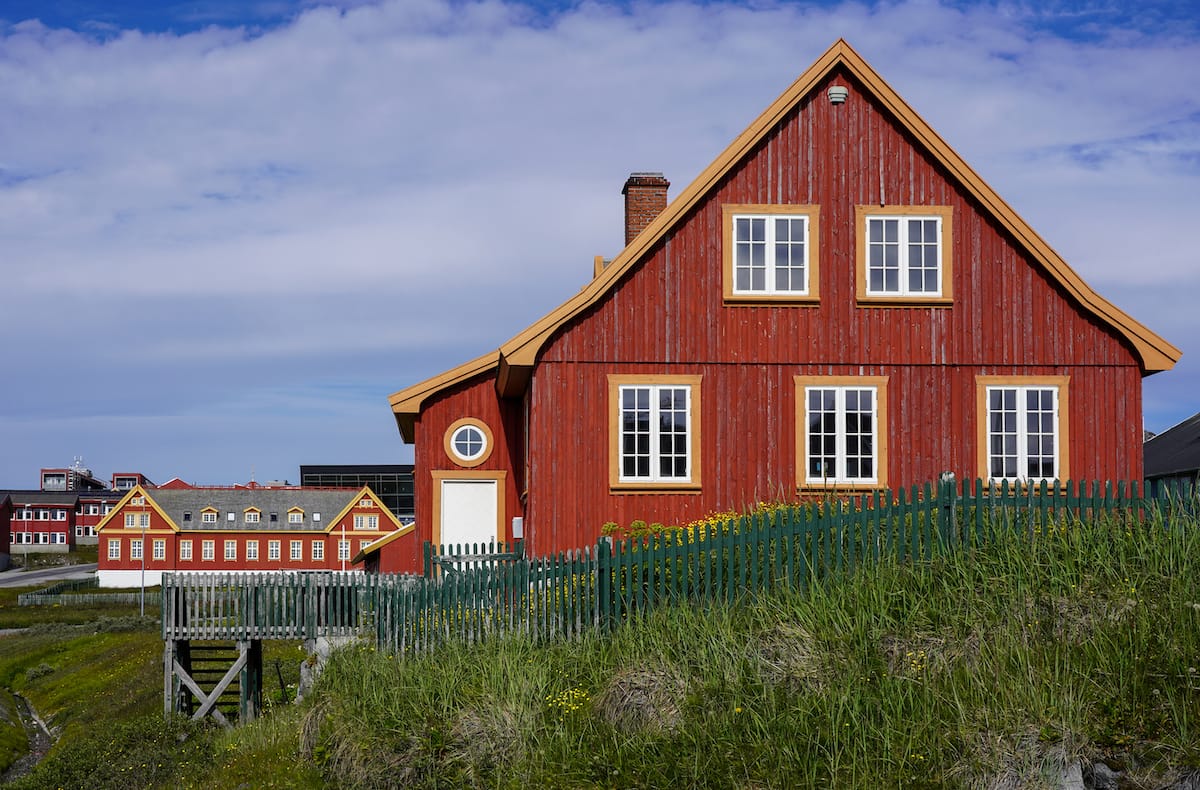 Naturally, winter would create an issue for passengers with mobility issues, but summer didn't seem great either.
Two wheelchair-friendly hotels in Nuuk are Hotel Nordbo and Hotel Søma.
Traveling to Nuuk on a Budget
While I am not a budget traveler myself, you can definitely have a budget-friendly trip to Nuuk… once you get there.
I stress the 'once you get there' because getting there is anything but cheap!
Below are some of our favorite budget tips for Nuuk.
Take Advantage of the Grocery Stores
While I think trying local Greenlandic food is important while there, you can spend a lot of money trying different plates around town. Instead, head to the grocery store and shop!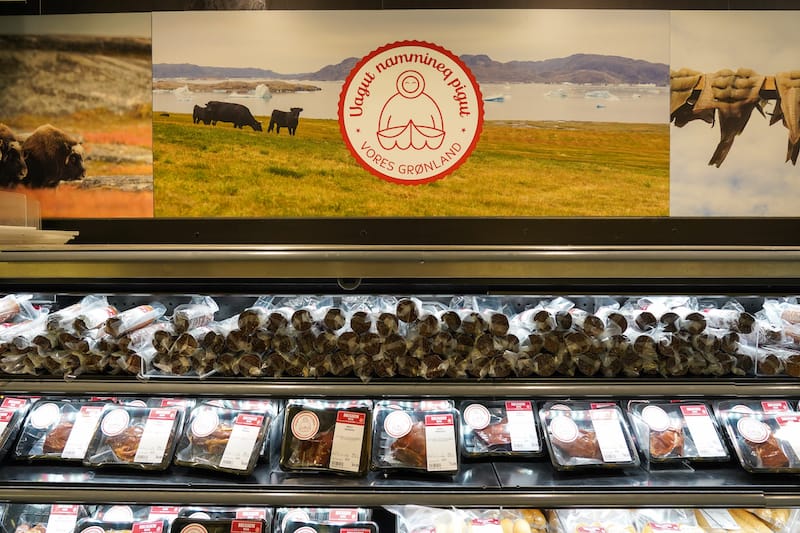 They actually even had my favorite type of ramen noodles there (Mama Thai) which I ate for lunch a few times when I ran out of food options in the city.
Try the Takeaway Places in Nuuk
Not every place is a sit-down restaurant in the city. You can try some of the takeaway places and get food for a fraction of the price.
Some of our favorite takeaways are Niini Takeaway (a Thai/Asian fusion place) and Sawadii Takeaway.
Stay Only in Nuuk
Many people go to Greenland and try to hit up multiple places.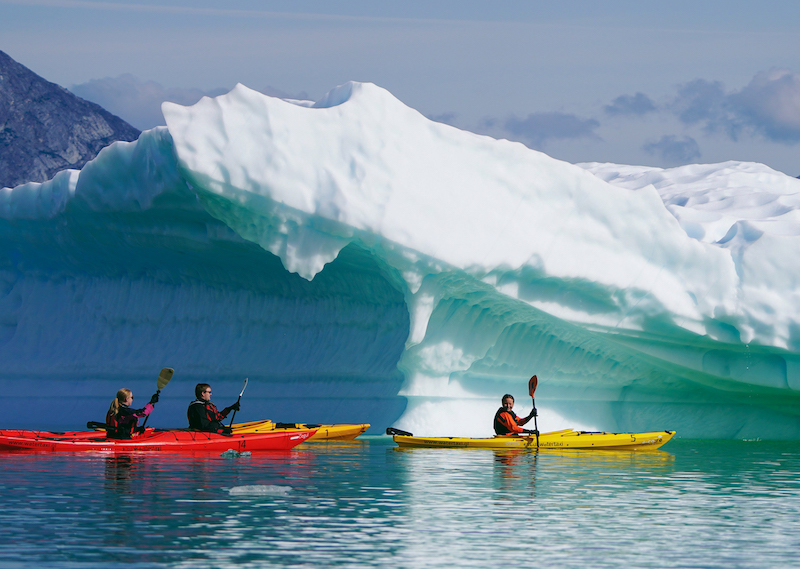 This makes the trip SO expensive. Stick around Nuuk and learn every inch of the city. You can always come back and explore another place in the future.
Take the Ferry if You Go North
If you want to visit more and have the time, the Sarfaq Ittuk ferry is a cheaper option for getting around Western Greenland than flights.
You can head from Nuuk up to Ilulissat and Sisimiut on this ferry.
It is cheap, but does require an overnight or two!
Make Sandwiches
Nuuk's bread is delicious and you can buy a loaf at the grocery store (or the bakery at Pisiffik in Nuuk Center) along with some toppings and it is super cheap.
In a grocery store, just look for 'pålegg' which means sandwich toppings.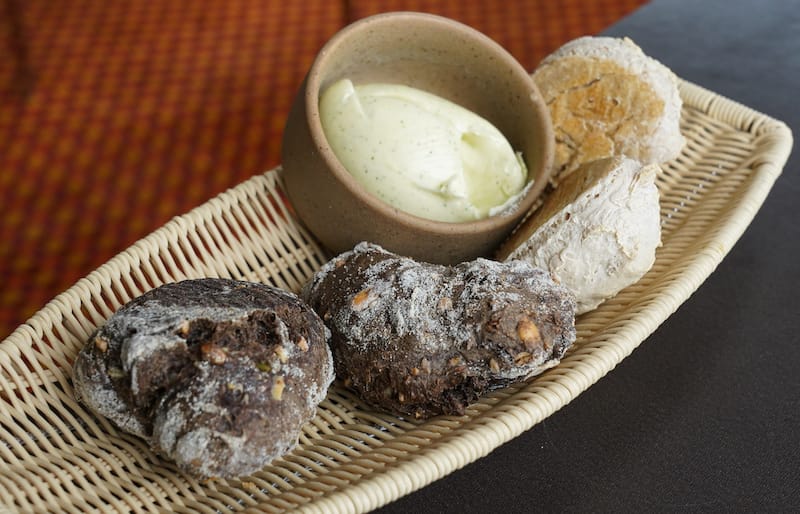 These grocery stores carry mostly Danish items and the Danes are renowned for their sandwiches!
Go to the Kalaaliaraq Market
If you want the local catch of the day (including seal and/or whale), you can head to the fresh market near the harbor.
They had everything from freshly caught cod to minke whale to lamb coming in from Southern Greenland.
Even if you don't purchase anything, it is a cool stop to make to observe the local culture. I went in and asked a few questions to learn more about what was being brought in.
It was so interesting and they were cool with me taking a few photos of the fresh products.
Book Your Trip to Nuuk Early
Things sell out and book up quickly in Nuuk – so book your trip as far in advance as you can.
I waited until the last minute when I booked my trip and I struggled to fit all of my tours in on the dates that I wanted them.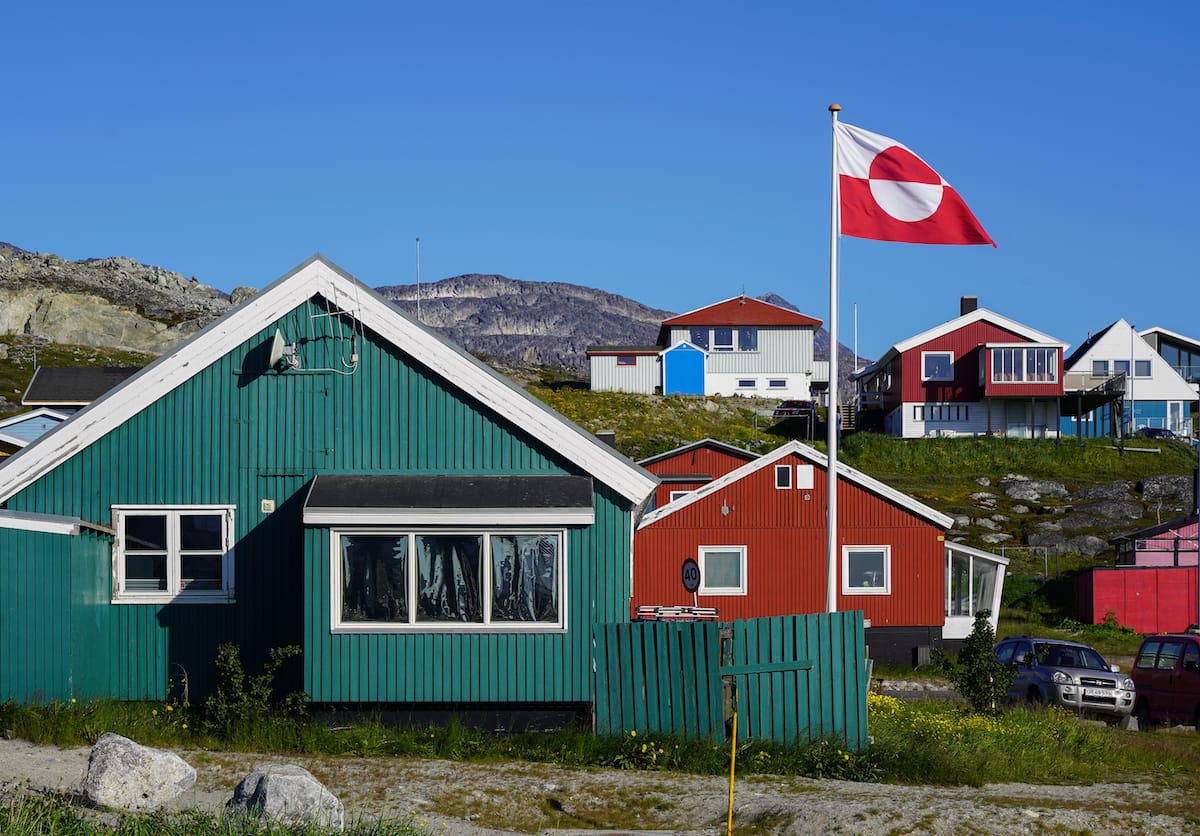 It all worked out in the end, but it was a lot of added stress. I also missed out on staying in a hotel and had to opt for an Airbnb (which ended up being fantastic in the end).
Stay in a Hostel or Airbnb
I hate advertising Airbnb these days, but the hotels in Nuuk were pretty much all booked out when I was ready to book which was my mistake.
But, I ended up with a fantastic flat in the center for $1,100 for 9 nights.
Other Nuuk Travel Tips (and Observations!)
Greenlanders are So Friendly!
Not that I expected anything different. But, they were so helpful, friendly, and happy to talk about their culture and customs.
Even little kids riding bikes and scooters around town said hello to us with smiles on their faces. I believe people assumed we were Danish, but we were toting cameras around, so they definitely knew that we were travelers.
One tip I will give is to do a little research before coming here.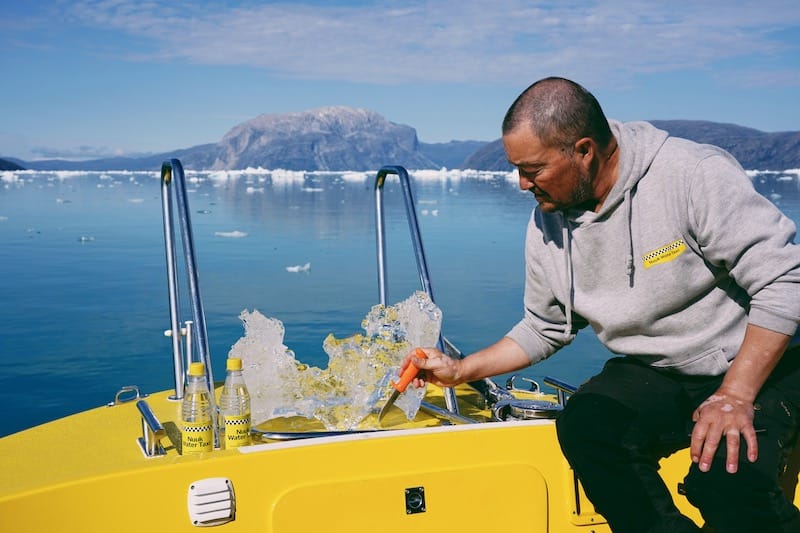 One of our tours in Kasserlussuaq had two men from Eastern Europe on it who were very nice, but their questions to the locals conducting a tour were a little judgmental, in my opinion.
They were scoffing at local foods here and were shocked that people in Greenland ate whale, amongst other foods that would not be typical of the diet of someone from Eastern Europe.
Locals seemed happy to talk about their customs, food, history, etc… but to those who seemed open-minded and inquisitive.
Cruise Ships in Nuuk
I was told by a guide on one of my tours that over 600 cruise ships had been in Nuuk this year – which is far more than previously.
While I find most cruise ship passengers in this part of the world are more engaged with the places they are visiting, I do hope to see more overnight tourists here who are not part of cruises or organized trips.
It will be really good for the local community, tour companies, and businesses.
The country welcomes around 100,000 tourists annually (this does not include cruise ship passengers), and I suspect that this number will rise quite a bit when the new airport opens.
Mosquitoes in Nuuk
So, Nuuk has mosquitoes. As a result, I recommend bringing mosquito repellent with you! Or you can purchase it easily when here.
I find mosquito repellent just doesn't work on me anymore so I just take the bites (although not like a champ).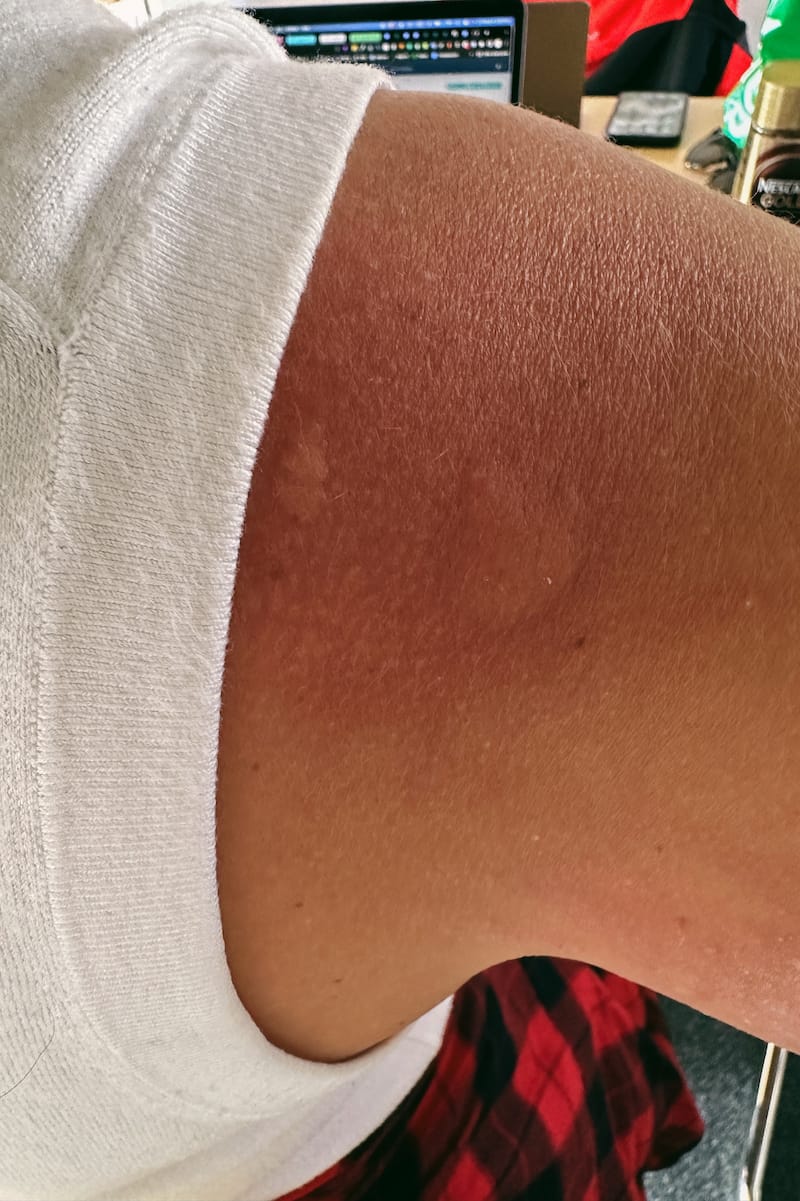 Summers here are teeming with mosquitoes and I was quite shocked when I arrived here because I always assumed places on the sea didn't get them. I was very wrong.
While the mosquitoes in Nuuk are not as bad as Kangerlussuaq, for example, they were still bad. And very big!
Mosquito season in Greenland starts when the ice begins melting and small puddles around the area can be seen. That is generally sometime in mid-June. It usually lasts until the end of August.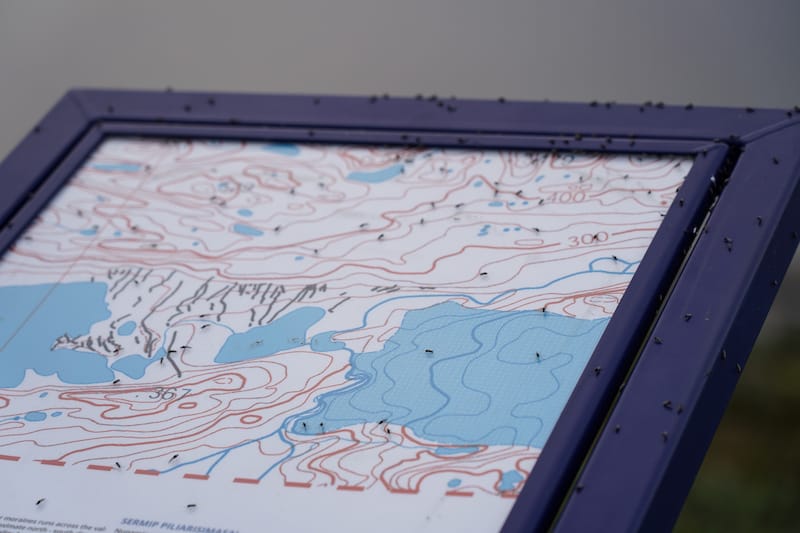 Some observations I noticed about dealing with mosquitoes:
Make the most of the mornings. I found far fewer mosquitoes during the morning hours.
They don't love the fog. If you have a foggy day, the mosquitoes tend to find it too cold to enjoy and will shy away.
Mosquitoes don't like glaciers. If you have trips planned to glaciers or the ice sheet, you won't find many mosquitoes directly nearby. If you're in Kangerslussuaq, for example, you will see a lot of reindeer near Point 660 because they hate them just as much as we do!
Arctic rosemary (qajaasat). Mosquitoes hate the stuff. You can find it around and it is fantastic in tea (called Labrador tea) but it is also a natural repellent and locals will rub it on their skin as a defense against the bloodsuckers.
Where to Stay When You Visit Nuuk
There is limited accommodation in Nuuk currently. But, if you book early enough, you should have no issue!
Here are some of the top places to stay in Nuuk:
Should You Travel to Nuuk?
Did we miss anything you'd like to know before you visit Nuuk?
Let us know your Nuuk travel tips in the comments if you have any – and if it is your first time visiting Nuuk, let us know your questions below!
Pin These Travel Tips for Nuuk