Many people aspire to visit Nordkapp in Norway for various reasons. This is a guide of everything you need to know before your travel to Nordkapp (North Cape) in the far north of Norway.
Are you planning your trip to Nordkapp last minute?
If youʻre booking your trip to Nordkapp last minute, we have you covered. Below are some of the, hotels, and more!
Top Hotels in Nordkapp:
If you have any questions about the North Cape, please let us know in the comments.
Tips Before You Visit Nordkapp in Norway
Visiting Nordkapp has been one of my dreams for years. It always seemed so far away, yet was located in the very country that I called home for four years.
Before I looked to move to Norway, I put traveling to the North Cape high on my list and was determined to do it. But I never did.
After I relocated to Norway, I focused my efforts on traveling to places that a beer didn't cost me $20. Don't worry, prices have fallen and beer is (um… more?) affordable these days than it was back when I lived there.
I did get a chance to travel to Svalbard but I never did make it up to the North Cape.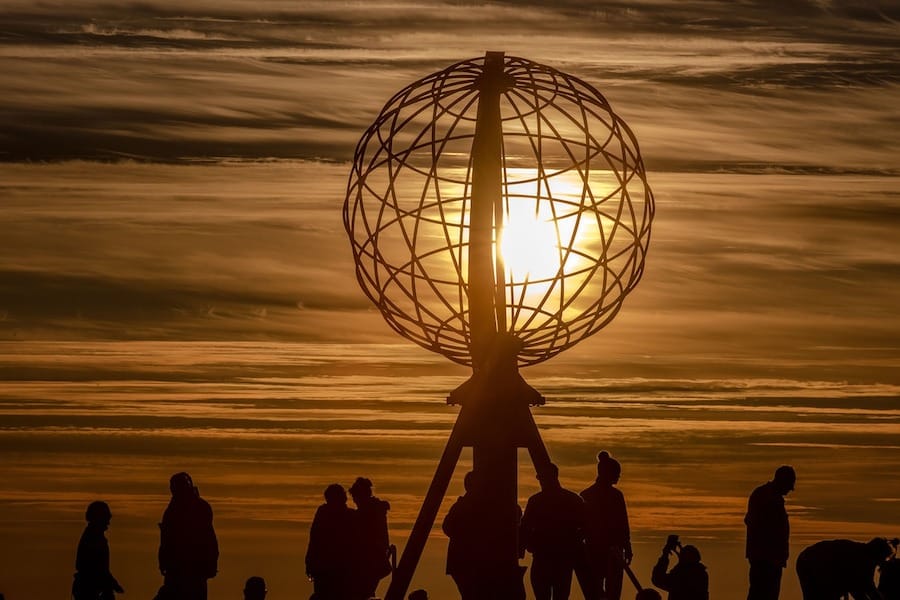 Fast forward several years, a new home, a great friend and business partner later… and I finally got to go to the North Cape.
Aram and I went up there in June and I can assure you, it was everything I had imagined it to be. And I totally know that this place gets over 250,000 visitors annually.
Interestingly enough, my desire to visit Nordkapp had nothing to do with seeing the monument or driving to the tip-top of Europe.
It was more about the treeless, tundra landscape on Magerøya island that left me captivated by this area. Nordkapp is cool but the scenery on Magerøya was what lured me in.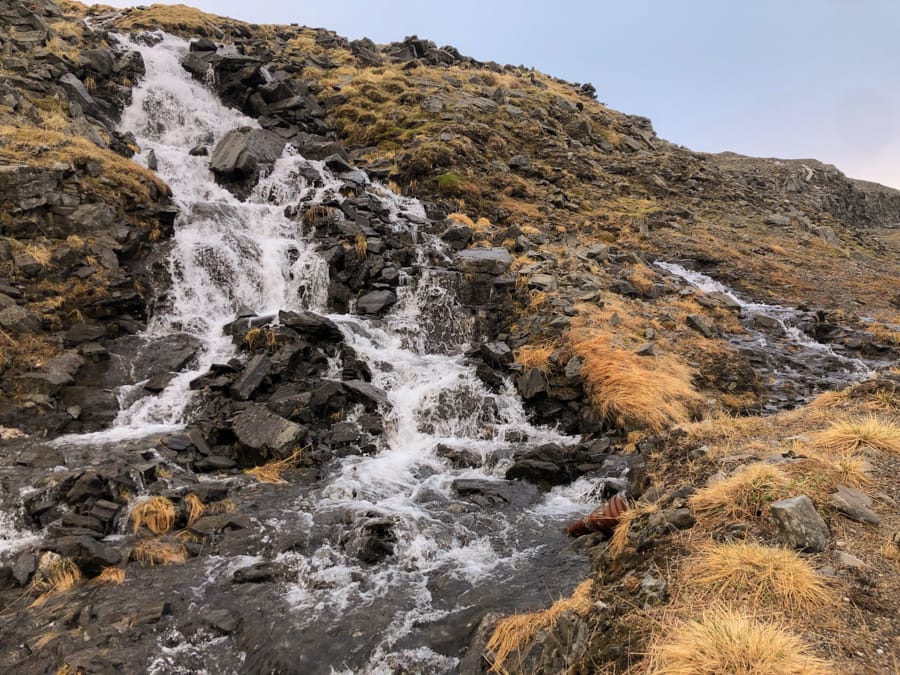 Our trip to Nordkapp was exceptional. But, there are definitely some things we wished we had known prior to embarking on a trip to this part of Arctic Norway.
This is a guide of things we deem useful to knowing before you visit the North Cape in the far north of Norway.
What to Know Before You Travel to the North Cape in Norway
How to Get to Nordkapp from Honningsvåg
There are actually a few ways to get from Honningsvåg to Nordkapp, but you need to really be cautious and wary of the weather situation you may encounter.
We arrived by rental car in summer… and while it was easy, the fog was awful and if we had been inexperienced drivers, we would have not been confident with the journey.
These next couple of sections offer some advice about how to get to Nordkapp from Honningsvåg (and some tours to Nordkapp).

Getting to Nordkapp Isn't Easy
Okay, so it kind of is, depending on when you visit and your circumstances. But, it can also be a bit inaccessible during the winter months if you're unfamiliar with snow and the roads there.
In fact, if the weather is crap with wind and snow, you may not be able to drive to the North Cape at all. This is particularly pointed at those visiting Nordkapp in winter.
If renting a car in Honningsvåg is your mode of transportation of choice, you can check out options and rates here.
Find out what the weather conditions are like there before going (and any time you rent a car in Norway).
If you are trying to go independently, you may want to hop on a tour as they will be able to get there in harsher conditions (but nothing is a guarantee, of course). We list some recommended tours in the following section.

Getting to Nordkapp from Honningsvåg
There are many ways to get to Nordkapp from Honningsvåg. We list a snowmobile option below (I am seriously doing this one next time).
But, you can also drive as noted above or take an organized tour there. There are many companies that offer tour excursions to Nordkapp. The two Nordkapp tours below have been highly recommended and their prices are decent:
North Cape Safari (Honningsvåg): Guided North Cape Visits starting from 1595 NOK p/p. Click here for more.
The North Cape Experience (Skarsvåg): Guided tour to Nordkapp from 1195 NOK p/p. Click here for more.
You Can Snowmobile to Nordkapp
But… you can take a snowmobile there! If all else fails, there is a tour that allows you to go via snowmobile to Nordkapp. The tour leaves from Honningsvåg and lasts for around 5 hours.
You do need to present a valid driver's license in order to do this. And there are several stops for photos of Magerøya along the way. I can't imagine a better way to see the Nordkapp, personally.
Click here to find out more about a snowmobile tour to Nordkapp
Honningsvåg Will Likely Be Your Base
If you're looking at places to stay when making the journey to Nordkapp, you will likely find yourself in Honningsvåg, Norway's northernmost city.
You can wild camp anywhere in Norway, of course, but the best place to rent a hotel and hit up grocery stores and what not is in the city of Honningsvåg. This is also where the closest airport is.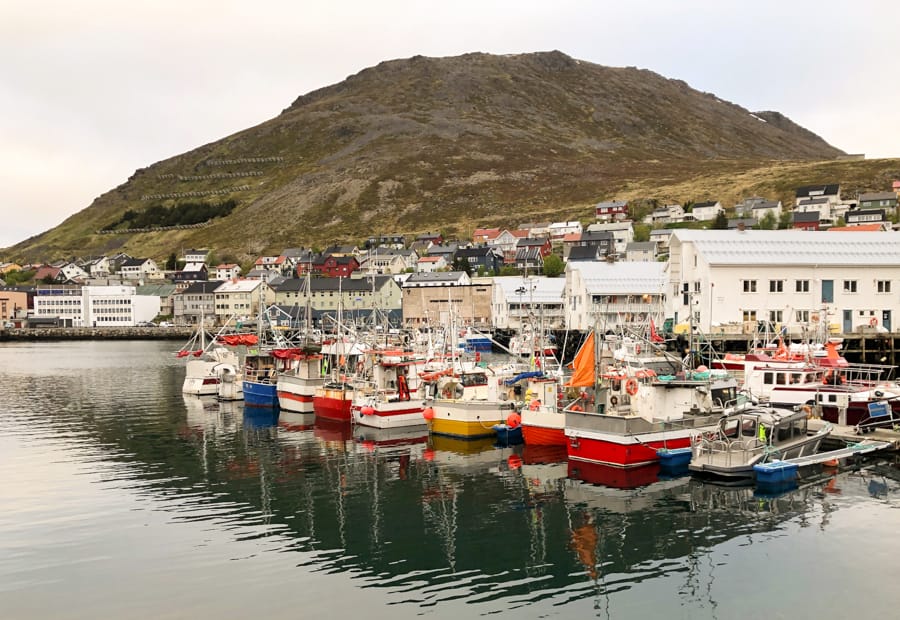 We really liked Honningsvåg. What seemed to be a normal fishing village in Arctic Norway actually had a lively kick to it.
There are many things to do in Honningsvåg, so we recommend hanging around there for a day, too. We list some places to stay in Honningsvåg at the bottom of this guide.
About Nordkapp and Magerøya Island
Nordkapp is located on Magerøya, a large island at the tip-top of Norway. Technically speaking, Nordkapp is a municipality in Norway.
But, when I refer to it on this guide, I am referring to this monument because that is probably what you're imagining too.
Magerøya is a large island that is around 440 square kilometers and it is where Honningsvåg, Nordkapp (monument and museum and stuff), Gjesvær, Skarsvåg, and some other tiny fishing villages are located.
On the island, archaeologists have found traces of settlements going back over 10,000 years, which is pretty mind-blowing if you ask me.
There Are No Trees on Magerøya
Yep, you are in the tundra and the rocky, frozen Earth does not allow for trees to grow so well. The wind and elements also tell trees to stay away.
The island is devoid of trees with the exception of a planted birch here and there and this was my favorite thing about it and what drew me there in the first place.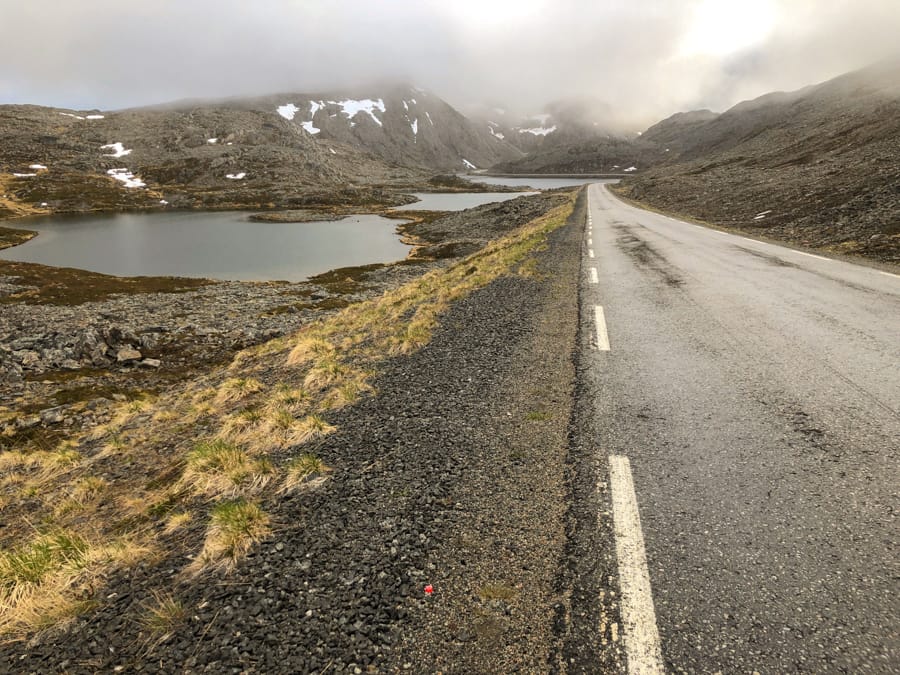 I am so drawn to these harsh, barren landscapes and Nordkapp and Magerøya delighted me in so many ways as a result.
Weather in Nordkapp and Magerøya
Aram and I were in Nordkapp in June and it was a balmy 3C / 37F. In JUNE. There was snow still on the ground and it was just really cold.
If the sun had made an appearance, it would have likely felt warmer, but we were greeted with fog and nastiness and we were ill-prepared for such.
In fact, we had planned to camp one night in the Nordkapp… needless to say, we got a hotel.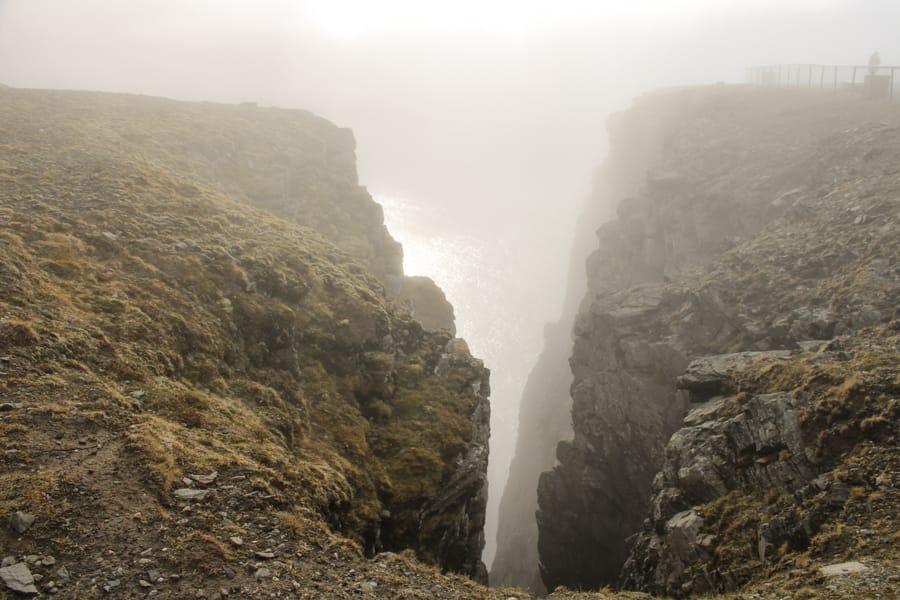 The weather is unpleasant… as it should be. You're right on the Barents Sea and the weather and wind are as unforgiving as the landscapes up that way.
Driving from Honningsvåg to Nordkapp also was foggy and unpleasant… but the journey was so remarkably beautiful that we didn't care.
Dress accordingly! Bring gloves, a hat to cover your ears, and wool (depending on what time of year you're planning to visit Nordkapp).
Nordkapp and Magerøya are Not 'Actually' the Top of Europe
Taking out Svalbard and Jan Mayen Islands, most people think that Nordkapp is the very top of Europe.
Well, it's not. In fact, you will have to head to another part of Norway (Mehamn Airport is where you'd fly into) slightly east to see the place that takes the honors.
However, driving wise, Nordkapp is pretty much the top of Europe and you can still get excited about your visit.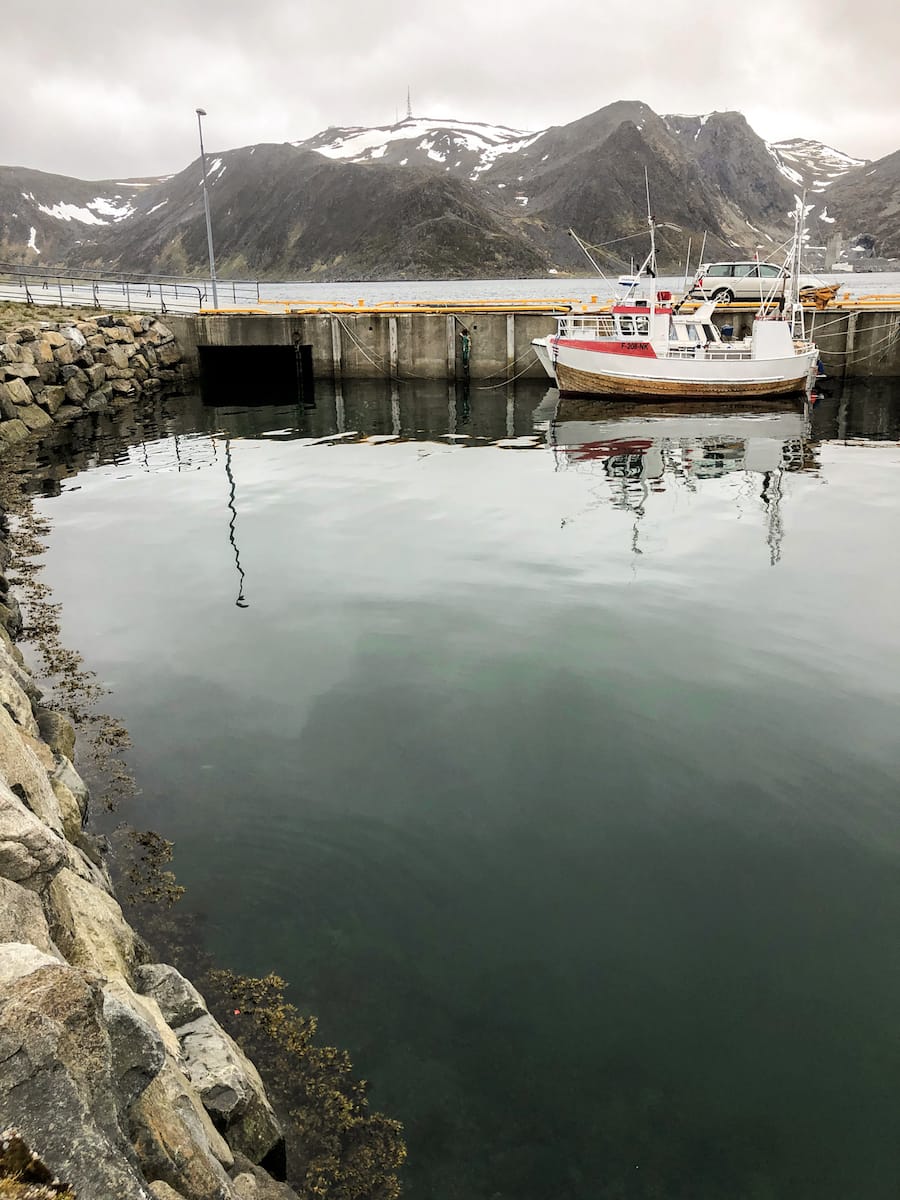 So, where is the northernmost point in Europe? Again, Svalbard and northern islands aside, you can find the northernmost point in Europe at Cape Nordkinn near Mehamn, Norway.
Reindeer on Magerøya
Yes, you will see reindeer on Magerøya and you will see many reindeer at Nordkapp (or at least on your way there).
We saw heaps and I pretty much shouted with excitement every few minutes. They will sometimes be on the roads, so drive cautiously and make sure you give them the right away.
The reindeer are only partially wild and are owned by locals. You will see markings on them indicating this.
When Aram and I went to Nordkapp in June, the young reindeer calves were frolicking in the wild but never went too far from their mothers.
Please be respectful and take photos with a zoom lens and don't get too close and disturb them.
Driving on Magerøya
It was fairly easy to drive because there were not many cars on the roads there.
On the other hand, there are many camper vans driving around (a lot of travelers from Germany and the Netherlands make the drive north).
Be careful on narrow roads with the campers as it can be a bit difficult to judge the distances.
On the other hand, people may willingly pick you up if you're hitchhiking. We grabbed a ride from a Dutch couple going from Honningsvåg to Hammerfest.
Fog and crappy weather may also present a problem. Be ready and prepared!
Birds on Magerøya
As if reindeer weren't cool enough, Magerøya is also home to several types of birds… including……….. Puffins! Could the North Cape get any cooler?
One place on Magerøya that is known for birdwatching is Gjesvær. There is a bird safari there that will take you out for some time to check out puffins, gannets, eagles, and much more.
If you're looking to do a little bit of birdwatching in Nordkapp, definitely check out Ola's Bird Safari here.

Nordkapp Ticket Prices
Visiting Nordkapp is not free. But if you came all the way to this part of the world, you likely already expected that. Here are the current prices for Nordkapp. Please check here to see if there are any changes before going.
Adult Nordkapp ticket: 285 NOK
Children (under 15) ticket: 95 NOK
Family ticket (2 adults + 2 children): 665 NOK
Students and military ticket: 180 NOK
These tickets include parking and admission to everything on-site, including museums, gift shops, exhibitions, monuments, etc. It is valid for 24-hours and can be used multiple times in one day.

Nordkapp Hours and Visiting Information
Nordkapp is not open 24 hours a day even though the monument is outside. But, it is open every single day of the year which is pretty cool. The hours for visiting Nordkapp in 2019 are as follows:
May 18 – August 17: 1100-0100
August 18 – August 31: 1100-2200
September 1 – May 17: 1100-1500
If you're looking to double-check these hours as they are subject to change, click here.
What to Expect and Do at the North Cape
Nordkapp Globe Monument
This is the famous monument that sits at the top of the world and that everyone aspires to photograph and get a picture of themselves in front of.
I tried the whole 'picture of myself in front of it', but the evidence of lack of sleep for days took over and it was rough. That's okay. I know I was there. So does Aram.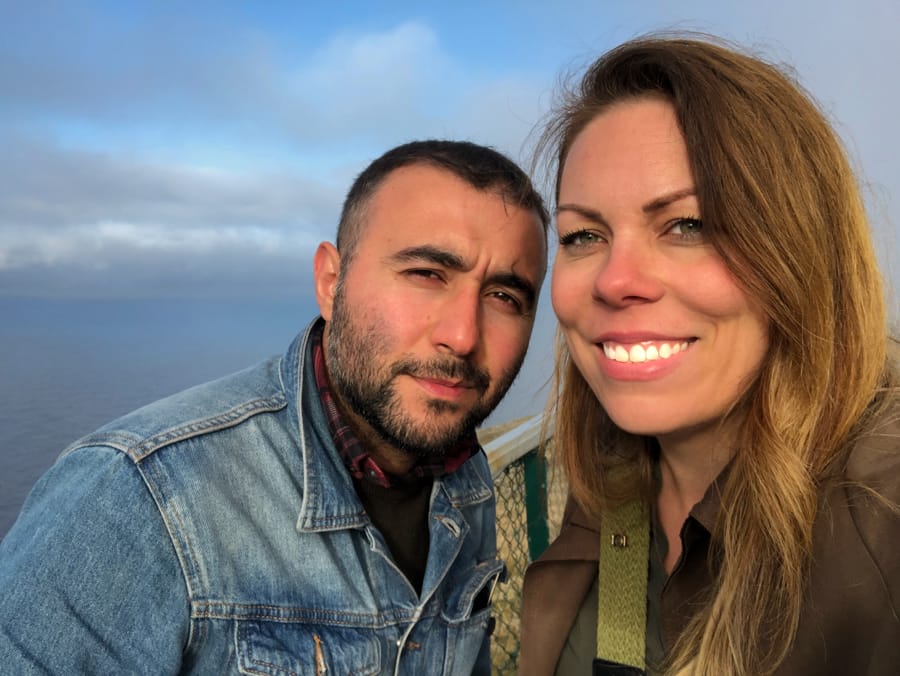 The area is packed and you will be lucky to get a photo of the monument without others in it.
It's all good because as soon as you see people's excitement for having made it so far north (many come on motorcycles and bikes), you will feel super inspired and elated by their happiness that you will want to have them in the photos anyway.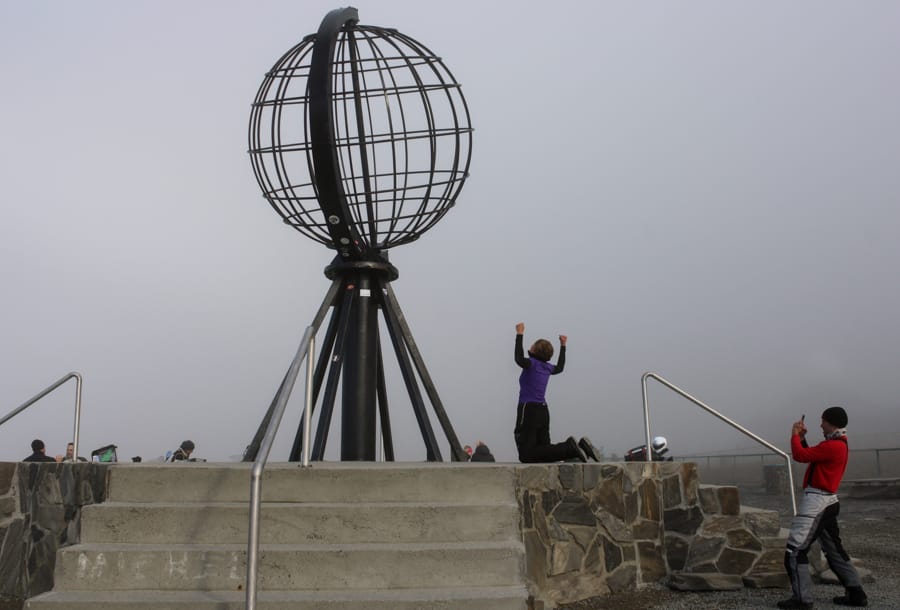 Children of the Earth Monument
One of our favorite things at Nordkapp was the Children of the Earth Monument.
The monument sits in front of the Nordkapphallen and is a compilation of drawings from seven children from various parts of the world. It was built in 1989 and features children from both the US and Soviet Union.
It is supposed to symbolize cooperation and friendship and I think there is no better way to get that message across than with children who come into this world without bias.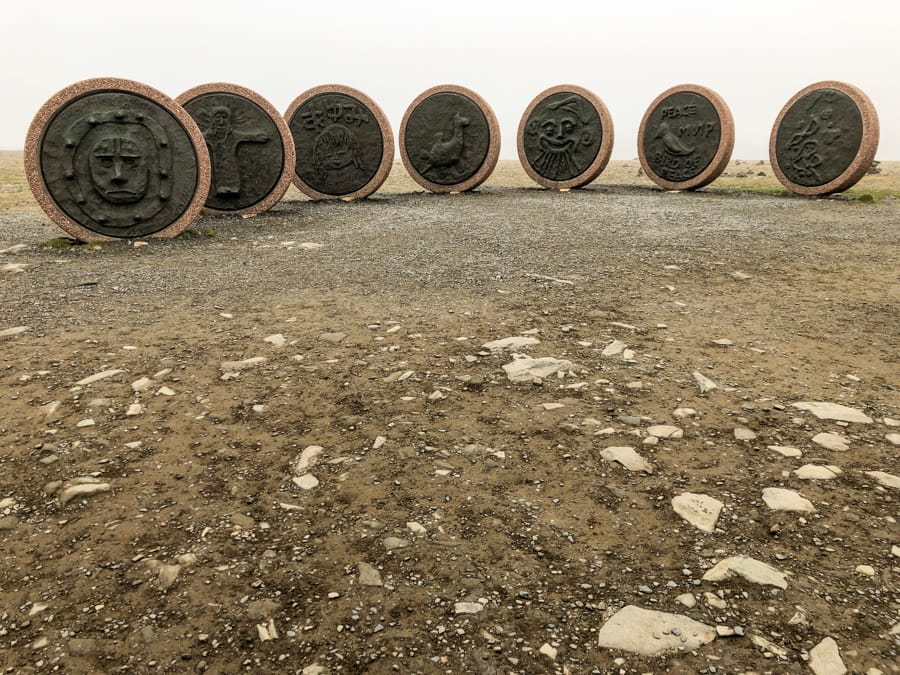 Museum Dedicated to a Thai King
One of the more interesting things you will find when you visit Nordkapp is a museum dedicated to a former Thai King.
Yep, you read that right. King Chulalongkorn of Siam (now Thailand) visited the North Cape in July 1907 and there is a small exhibition in a room that is dedicated to his trip there.
I find it quite interesting how a place like Nordkapp has been able to attract visitors from all over the globe… and King Chulalongkorn's visit is truly proof of that.

Gift Shop and Cafe
Inside of the North Cape Hall is a very large gift shop (so many stuffed animal toys- it was hard to resist) and a cafe and restaurant. It also had several gifts for motorbikers since they were a large portion of the tourists visiting the North Cape!
The weather outside was really cold so we found refuge in walking around the gift shop for much longer than we had expected and it was nice to have an option to grab some food on-site, although we opted not to.
There is nothing else around Nordkapp, so the restaurant was a welcomed option in the event that we became hungry.
Motorcyclist and Cyclists Everywhere
I knew that cycling or taking a motorcycle to the Nordkapp was a popular thing amongst riders, but I didn't realize how popular it was. They were everywhere!
It was pretty cool seeing that the space I shared with these travelers was when they were reaching the end of their journey or the beginning of it. I can only imagine the stories they could have shared (if I hadn't been too cold and ran back inside).
While I loved seeing the motorcyclists and cyclists there, I found the motorcycles and bikes that were around the globe monument to be a bit annoying, to be honest.
It was hard to navigate around and it felt as though the entire Nordkapp belonged to them and no other travelers.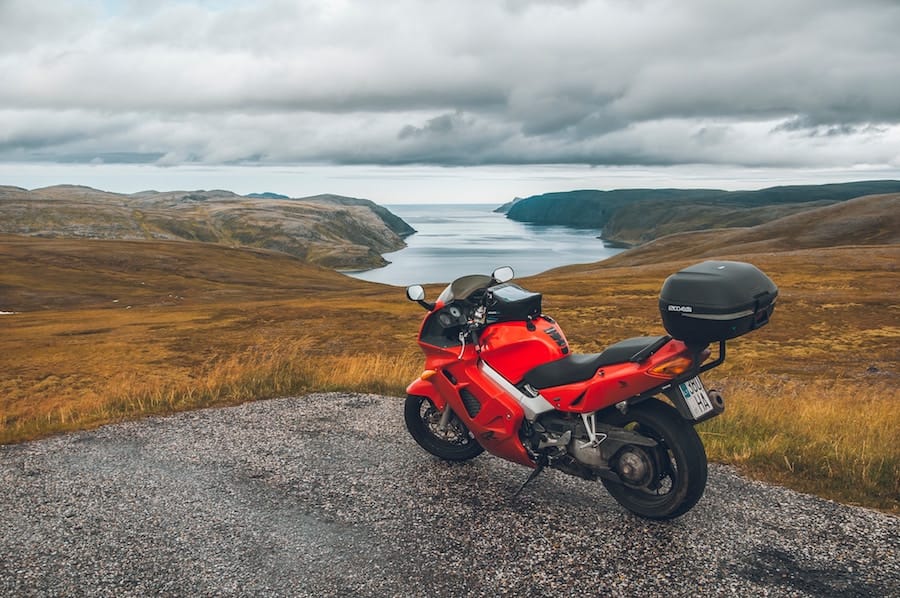 I remember wishing that the tourism office would ban the bikes from being that close to the monument.
But then again, what fun would it be to drive all the way to the Nordkapp and not get a picture of your bike or motorcycle by the very thing you aspire to visit?
So, I get it and realized that I lazily accomplished nothing by flying and taking a rental car up there while these people really made a journey of the entire trip. That is pretty freaking cool.

Nordkapp Museum
Along with all the other interesting exhibitions at the North Cape Hall, there is a really cool and interactive museum there dedicated to the local flora and fauna and lifestyles of the locals there.
We really enjoyed this museum and it even had a cool northern lights display area.
It showed the various animals that call the region home and I found it extremely educational as I haven't spent too much time in the tundra.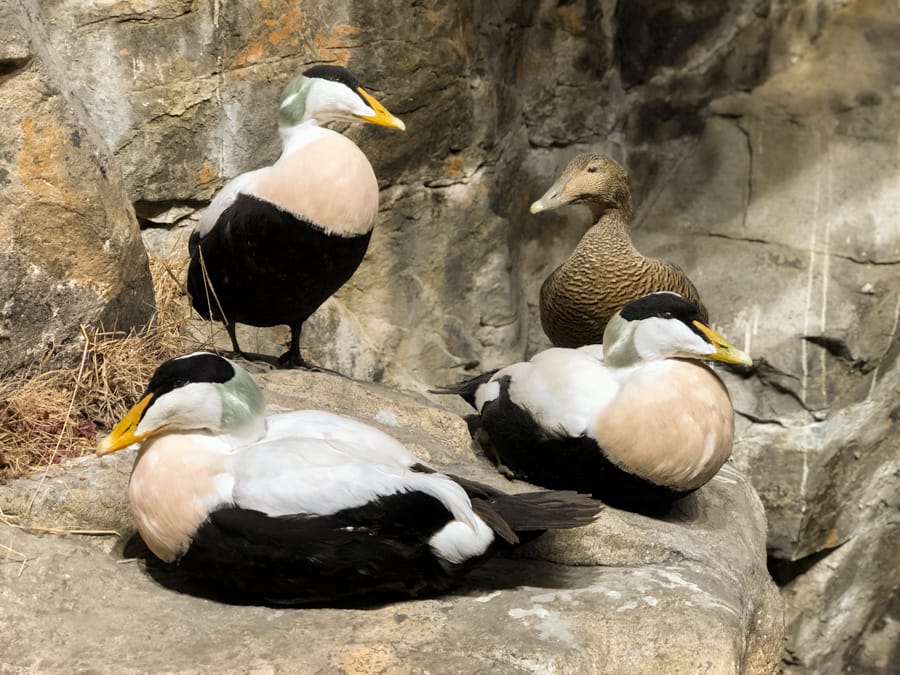 This is not to be confused with the Nordkapp Museum that is located in the city of Honningsvåg closeby.
Near the Hurtigruten docks, you will find a museum that is dedicated to Nordkapp and it has a lot of informative details about the Nordkapp area and wildlife and history.
Popping Champagne at Nordkapp is Not Uncommon
There used to be a Champagne room at Nordkapp and it blew away a long, long time ago.
But it is still common to see people pop open a bottle of Champagne at the Nordkapp to celebrate reaching such a monumentally epic place.
Aram and I are not drinking this year, so it was not an option for us, but we enjoyed seeing others do it.
Nordkapp Panorama Film
One of our favorite things to do at Nordkapp was to watch the panorama film they had on show inside of the Nordkapp Hall.
There was a nice, decent-sized theatre inside that frequently showed a film about the landscape, history, seasonal changes, etc of Nordkapp.
You can see Nordkapp from the year's snowy beginnings to the long, endless days in July and then back to winter.
It really gives a great insight into the area and the harsh landscape that make it so mysterious and magical at the same time.
Find out more about the panorama film here.

Can you Visit Nordkapp if You have Mobility Issues or are Disabled?
Yes, absolutely. They have wheelchairs on-site and there are elevators and ramps everywhere that allow access to every part of the museum and building.
The globe monument is also accessible to everyone, regardless of mobility issues or disabilities.
Where to Stay in Nordkapp
We stayed at two places in Honnigsvåg during our stay up at the Nordkapp. Here is where we stayed and our quick thoughts on both:
Scandic Bryggen (Honningsvåg)
The first place we stayed was the beautiful Scandic Bryggen hotel that sits right on the Honningsvåg harbor.
This hotel has all the amenities you could want, including an on-site restaurant with really delicious food and breakfast.
Breakfast is always free at Scandics in Norway. The rooms were modern and the wifi worked pretty well despite being in a remote part of the world.
–> For current rates and availability click here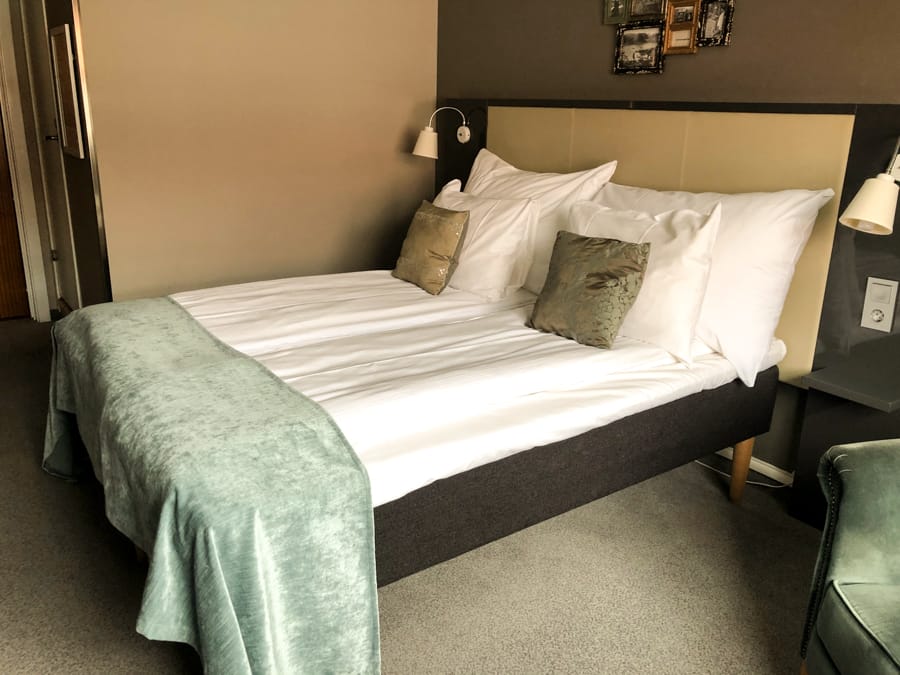 Nordkapp Vandrerhjem
Part hostel, part hotel… this place Honningsvåg accommodation is not located in the city center as the one above was, but rather on a road in another part of the city (right by a bus stop to Hammerfest and Alta, FYI).
The place reminded me of a place I stayed when visiting Svalbard years back which was a mining dorm converted into a hotel. It is basic accommodation with twin beds and a shared bathroom. The walls were a bit thin, so bring earplugs if you're a light sleeper.
We really enjoyed our time here and were able to make dinner as they had a full-stocked kitchen. The staff was also insanely friendly and we loved chatting with them. The great thing about Nordkapp Vandrerhjem is that it is for people of all ages.
It was not a party palace but a place where people all kind of connected at the end of the world. I would stay there again in a heartbeat. This is a great place to stay when you visit Nordkapp.
–> For current rates and availability click here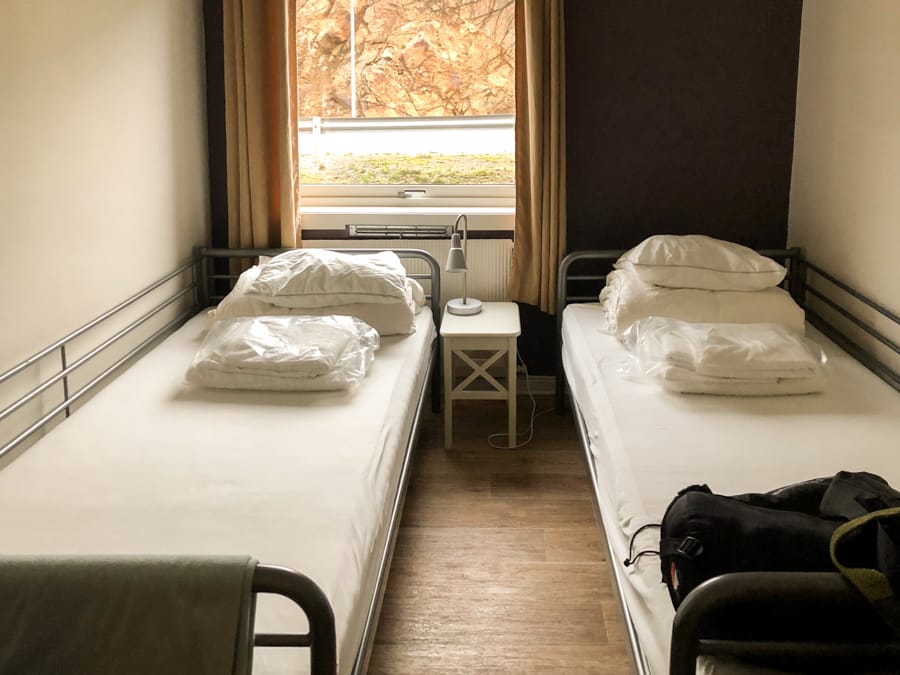 We had such an epic trip to Nordkapp and I still can't get over the fact that I finally saw this otherworldly part of Norway with my own eyes and with my best friend.
We still reminisce about it and can't wait to venture back there someday. If you have any questions as you plan your trip to visit Nordkapp, please leave them in the comments! We will do our best to answer them.
More Northern Norway Travel Guides