It is no question that visiting the Acropolis in Athens is one of the premier things to do when visiting Greece's capital city. This guide is here to help!
Are you planning your trip to Athens last minute?
If youʻre booking your trip to Athens last minute, we have you covered. Below are some of the top tours, hotels, and more!
🇬🇷 Top-rated Acropolis tours and tickets (+ other day trips!):
🛌 Top Hotels in Athens:
COCO-MAT Athens Jumelle (luxury)
Attalos Hotel (mid-range hotel with Acropolis views and where I stay!)
Mosaikon

(budget hostel)
🚗 Looking to travel around Athens independently? Click here to check Greece rental car rates!
This is a guide covering the essential things you need to know before going to the Acropolis, from Acropolis ticket prices to opening hours and beyond.
If you have any additional tips, please add them in the comments!
Useful Things to Know Before Visiting the Acropolis
I have been to Athens merely twice.
I write that with a frown on my face because it is a city I love so much that I could live there- but Greece has a disease called 'Schengenitis' that forces me to stay away from it.

My most recent trip to Greece was spent mostly in the islands (yea, I could live there too), but I had a bit of time in Athens and I decided to finally write a bit about the Acropolis since I have been asked on a few occasions for tips regarding visiting the Acropolis.
I hope this is helpful and provides you with useful information for your Acropolis visit.
Feel free to leave a comment with suggestions, tips, or questions… or send me an email if there is more Acropolis information you'd like to know.
Acropolis Facts, History, and Information
Learn the History of the Acropolis Before You Go
This is an obvious one, isn't it? Well, Greek history is something that I don't know that much about, to be honest.
I studied five years of Latin growing up and my forte was always Roman history.
While I learned Greek history in school, I never really remembered much of it since I had a huge affinity for a more tangible history (ie. Soviet history… which comes as no surprise to readers of this blog).
My lack of Greek history knowledge was extremely apparent when visiting the Acropolis.
Aside from the Parthenon, I really didn't know what the buildings and structures were. There are a couple of ways to combat going there dumbfounded as I did.
One is to watch a documentary called 'Secrets of the Parthenon' which can be found here.
This was recommended to me to watch by my taxi driver in Greece that took me from Piraeus port to Athens city center.
I didn't get a chance to watch prior to my visit to the Acropolis, but it is really great and offers extremely valuable insight into the historical site.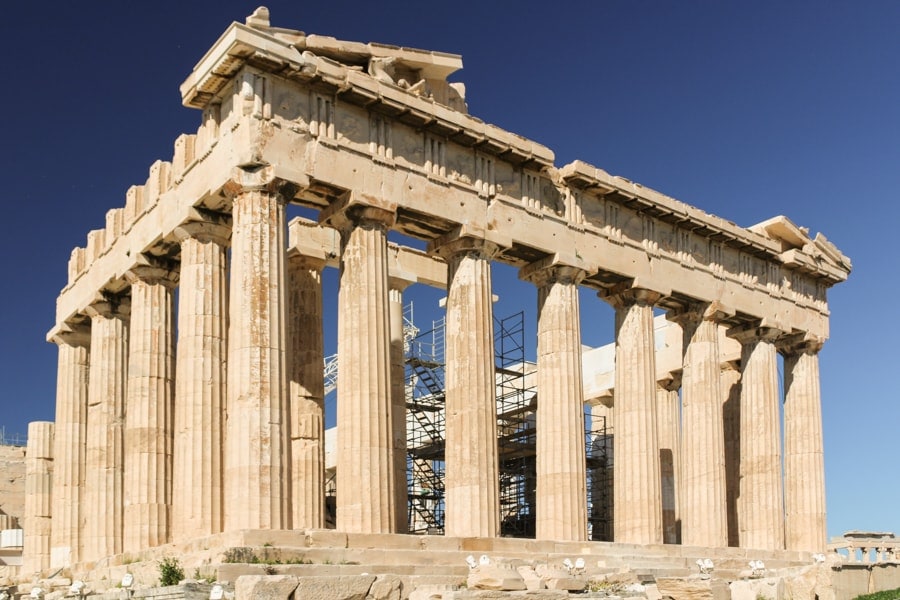 Another reason I think it is imperative to read a bit before going is that I found the information to be sparse once inside.
There were a few signs here and there but really, there wasn't much of anything giving definitive details into what I was staring at.
And I can imagine that any information that is there is hard to access during the higher tourism seasons as the place swarms with visitors.
There are Acropolis audio guides available at the entrance for a surcharge.
You can also download an app to your phone that offers Acropolis details, interactive maps, and information to the buildings and structures.
There are several other apps that offer Acropolis walking tours and audio tours if you search on Google.
If you're looking for something on your computer that will show you what to expect before visiting the Acropolis, click here.
There are Many Buildings and Hotels with Acropolis Views
In the center of Athens, you will find that most buildings are built to a certain height.
This height is not huge and the reason is that after an overthrow of a dictatorship, the city decided that every building built after that date must have a view of the Acropolis to remind the Greek citizens of a democracy.
This, in turn, has allowed some incredible rooftop bars and hotels to have views of the Acropolis.
I stayed at Attalos Hotel and I had a killer rooftop view from my hotel.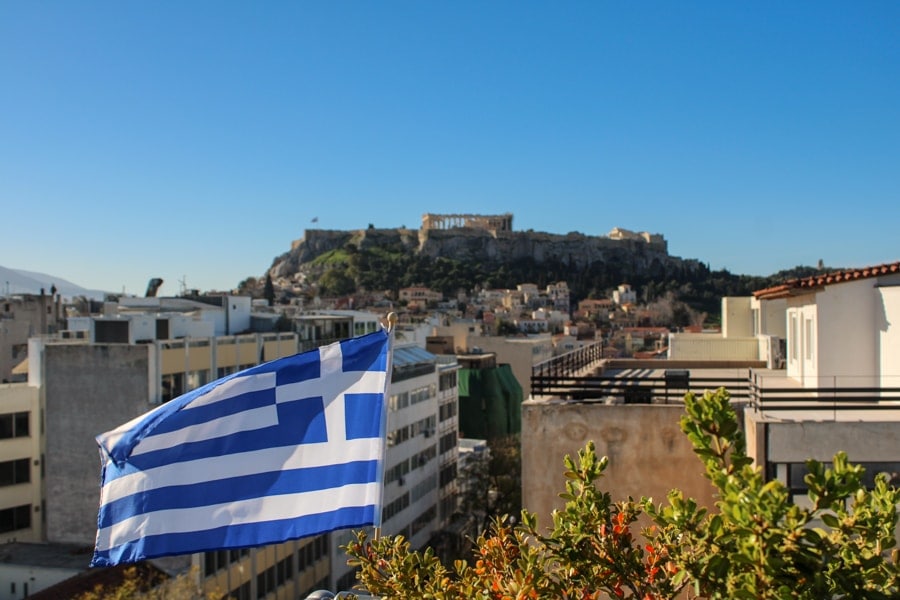 The price was affordable in the offseason (about $50 a night) and remains affordable during the high season at around $100 a night.
→ For current rates and availability click here
Practical Information for Visiting the Acropolis
How to Get to the Acropolis
The Acropolis is serviced by multiple metro stations and a few entrances.
The main metro station that services the Acropolis is 'Acropoli'.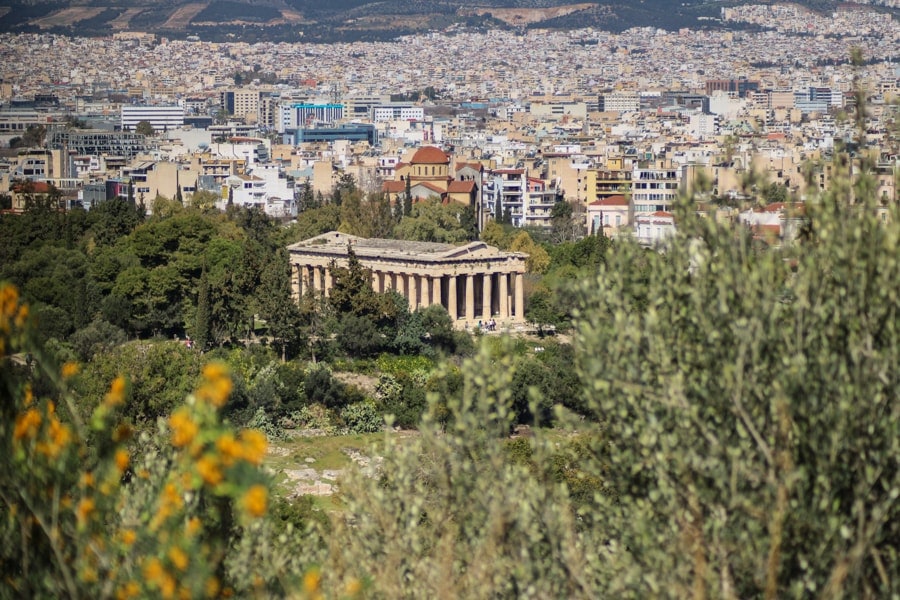 You can also take the metro to Thissio or Monastiraki and be extremely close to the Acropolis (Monastiraki takes you to a square of the same name but there is no direct entrance right by while Thissio will take you fairly close to an entrance after you walk through souvenir stalls, eateries, and some greenery with killer views over Athens).
But, if you want to get right up to the main entrance, take the metro to Acropoli, which is right next to the Acropolis Museum and research center.
Acropolis Entrance Fees
The entrance fees to the Acropolis vary depending on which Acropolis structures you want to see while there, the dates you're there, your age, and several other factors. Here is a breakdown of the Acropolis cost for visitors:
Tickets to the Acropolis and its Slopes
Regular-price ticket: 20€
Reduced-price ticket: 10€
Tickets to the Acropolis and Seven Other Sites*
Regular-price ticket: 30€
*The seven other sites that you can get entrance to with this ticket are (this includes the Acropolis): Ancient Agora of Athens, Archaeological Museum of Kerameikos, Archaeological Site of Lykeion, Hadrian's Library, Kerameikos, Museum of the Ancient Agora, North Slope of the Acropolis, Olympieio, Roman Agora of Athens, and South Slope of Acropolis. You will have 5 days to use this ticket and you can only use it once per site.
Regular-price tickets are the usual price for a ticket during most of the year. Reduced-price tickets are the price of tickets from November 1 – March 31.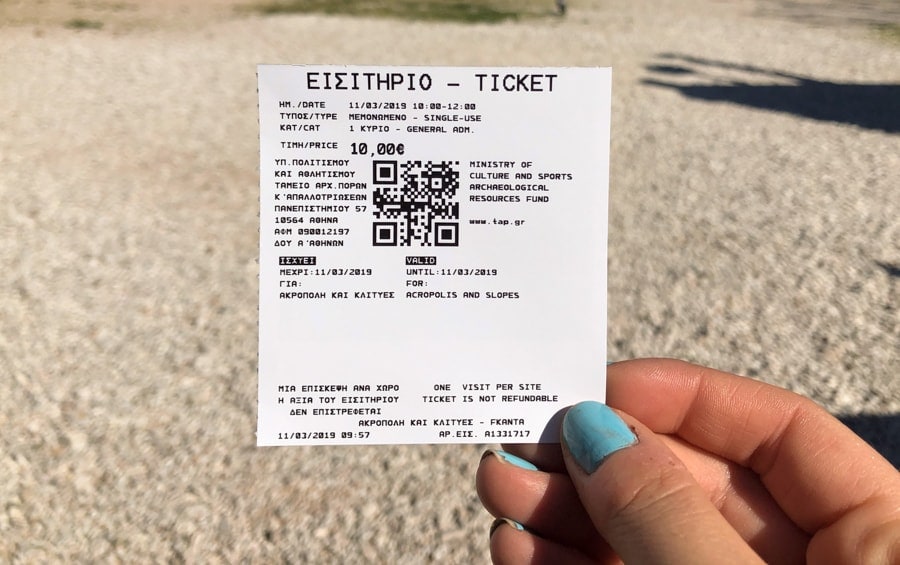 Do check out the Acropolis official site to see if you qualify for other discounts (senior citizens, students, and many others do qualify for an additional discount with the right documentation).
Entrance to the Acropolis is Free on Some Public Holidays and Selected Other Days
On certain days of the year and certain days of the month, you can visit the Acropolis for free. The Acropolis is free on the following days:
March 6 (Melina Mercouri Remembrance Day)
April 18 (International Monuments Day)
May 18 (International Museums Day)
The last weekend of September annually (European Heritage Days)
October 28
Every first Sunday from November 1st to March 31st
Acropolis Opening Hours
The Acropolis is open daily to visitors except for a few certain days of the year. Below are the visiting hours for the Acropolis:
8am – 5pm with the last entry at 4:30pm (November 1 – March 31)
8am – 8:00pm with the last entry at 7:30 pm (April 1 – October 31)
On the 1st of September, the opening hours change just a little bit as it heads into the off-season:
1st to 15th September 08:00 – 19:30 (Last entrance to the Site at 19:00)
16th to 30th September 08:00 – 19:00 (Last entrance to the Site at 18:30)
1st to 15th October 08:00 – 18:30 (Last entrance to the Site at 18:00)
16th to 30th October 08:00 – 18:00 (Last entrance to the Site at 17:30)

The holidays when the Acropolis is closed are as follows:
January 1
March 25
May 1
Easter Sunday
December 25
December 26
Get to the Acropolis Early to Avoid Queues
The busiest times to visit the Acropolis are from 11am until 1pm.
This is regardless of what time o the year you visit the site- so I would definitely try to arrive as early as you can to avoid hitting the area during the busy hours.
Since the Acropolis opening hours begin at 8am, I would strive to arrive then.
However, you can purchase 'Skip the Line' tickets which are incredibly useful depending on when you show up to the Acropolis. Here are a few Skip the Line options:
Mobility Issues Are No Longer (as Big of) a Problem
UPDATE (December 4, 2020): Yesterday, the Acropolis unveiled its brand-new wheelchair-friendly elevator.
It is a state-of-the-art lift and you can read more about it here.
Greece is doing what it can to make this ancient site as accessible to everyone as possible and this is a fantastic start.
Is the Acropolis handicap accessible? On most days, yes. When I was there… no.
The elevator was out of commission when I was there and it would have been a sincere challenge for anyone with mobility issues to get to the top of the Acropolis.

I can't even imagine how gut-wrenching it must be to travel all the way to Athens to see the Acropolis and historical sites only to find out you're unable to do so for a reason that is out of your control.
This post offers a great review and information for those with disabilities or mobility issues who are visiting the Acropolis.
Admission to the Acropolis is free for disabled visitors. To find out the current situation with the elevator, contact +30 210 3214172.
There are Water Fountains and Restrooms at the Acropolis
Yay for restrooms where you don't have to pay… an otherwise anomaly in Europe.
Just kidding- you paid an entrance fee to the Acropolis. Nevertheless, there are well-maintained restrooms and water fountains at the top of the Acropolis.

Summer heat in Athens can be a nightmare and this is definitely something that will be to your advantage. Be sure to forego buying plastic water bottles to quench your thirst and bring your own, reusable water jug.
I use a Klean Kanteen when I travel and highly recommend it to all travelers.
→ Click here to shop my reusable Klean Kanteen water bottle
There Will Almost Always be Construction There
The Acropolis is kind of old. Old things don't hold up well. Old things need to be renovated.
So, don't be surprised when you see scaffolding and cranes and construction work at the Acropolis.

Sure, it doesn't look great in photos and it would be ideal for this piece of ancient Greece to hold up perfectly without help… but that will never happen.
Just be prepared to see works and renovations when you go.
Acropolis Travel Tips (What to Pack + Gear!)
Wear Appropriate Footwear to the Acropolis
So, I learned this the hard way. And I figured that out even before I got to the Acropolis.
I wore a pair of Vans (the ones in the photo, in fact), and I actually slipped down a hill on my butt while walking to the Acropolis. Fortunately, no one saw me but my pride was still a little hurt.
Once I entered the entrance to the Acropolis, I realized that my footwear had been a monumental mistake as I slid around on marble and stone everywhere.
My Vans were usually pretty reliable but couldn't hold up to the slick Acropolis stones, evidently. I can only imagine what would have happened had the ground been wet.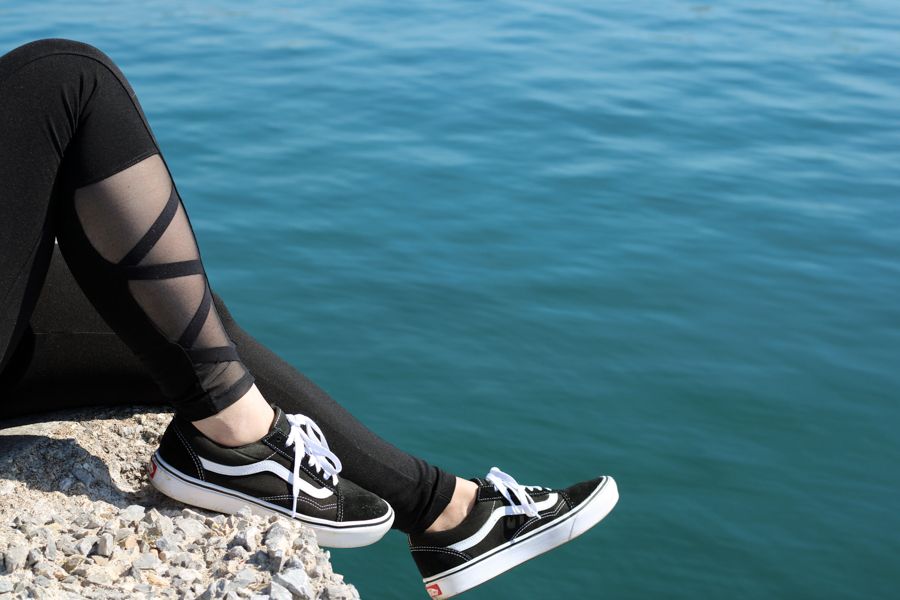 Anyway, definitely wear better shoes than I did. I think had I worn my Nikes or Dr. Martens, I would have been better off.
The nerd in me says the Nikes are a better option (only a few of you will get that reference).
Just make sure that your sneakers have good traction.
→ You can click here to shop my black Nikes or vegan Dr. Marten boots
Wear or Bring Sunscreen
Once you're inside the gates to visit the Acropolis, there is not much shade or shelter for fair-skinned folks to take cover under.
Athens's heat can be brutal and the sun can be lethal for everyone.

Make sure you bring something to protect your skin or you're in for a very long and miserable trip.
→ Click here to shop for sunscreen for your Acropolis trip
Other Acropolis Tips
Touching and Standing on the Acropolis Stones and Marble is Prohibited
No one cares about your fancy Instagram photo or anything else you may want to destroy historic sites for.
The marble at the Acropolis is fragile and has been walked on for years (hence why it is so slick).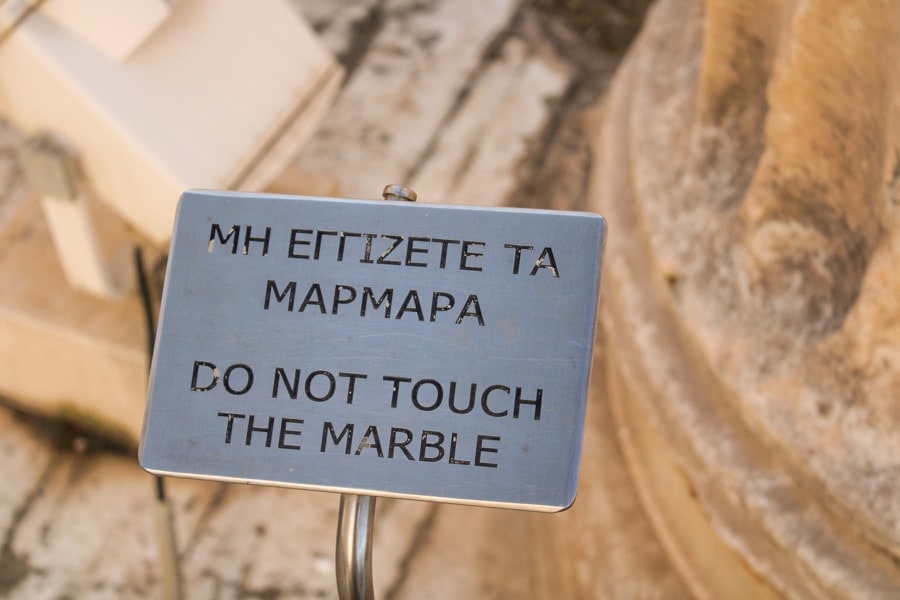 If a sign says 'do not touch things'… just don't.
There is already wear and tear to the grounds… can you imagine what would happen if everyone was touching and playing around on structures that prohibited people from doing so?
There are Summer Performances at the Odeon of Herodes Atticus Theatre
There is a Greek theatre inside of the Acropolis and the locals refer to it as Herodeon.
This theatre was built between 160AD – 174AD and is still in use today, actually.

During the summers, this theatre offers a wide array of performances and events.
They usually start in June and last through the end of October. To see the event schedule, click here.
Photography at the Acropolis
Acropolis Crowds are Large No Matter Which Season You Visit In
The crowds at the Acropolis vary depending on which season and which day you visit the historical site. But, one thing that is certain is that there will always be a crowd of some sort there.
My recent trip to Athens was in early March and when I was at the Acropolis, it was pretty packed.
I heard more Americans around than any other nationality which tells me spring break may have been in session or there was a reason so many Americans were there that time of year. But, it was just hoards of people from all over.
This may impact your photos of the Acropolis a bit. What can ya do?
Getting a Great Photo is Difficult
If you're looking for that epic photo of you alone in front of the Acropolis with a flowy sundress and gladiator sandals… good luck. You're not going to get it.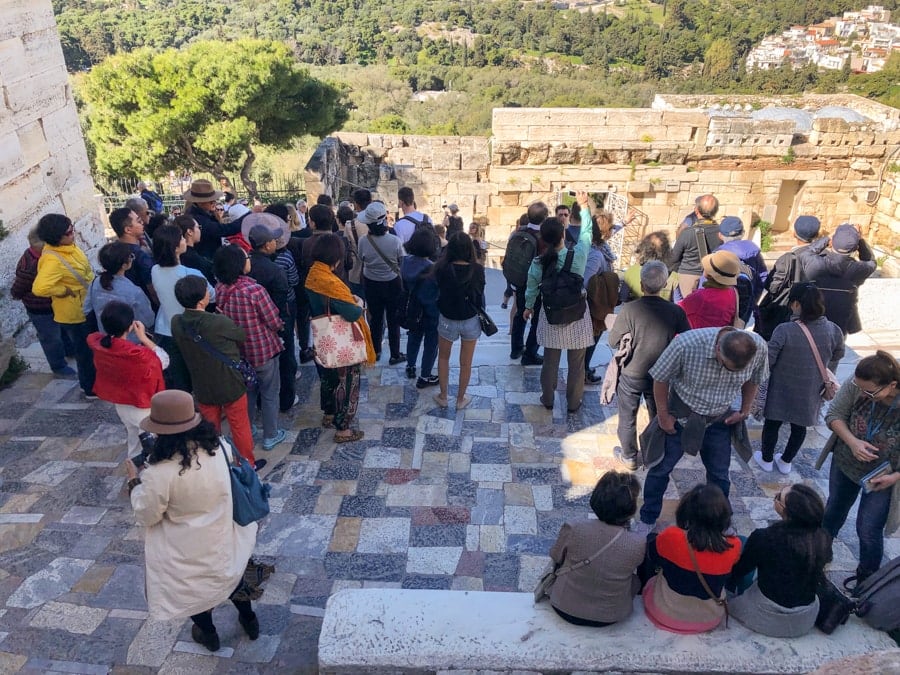 But you can ask every single one of these people if they will move out of your way so you can get it. They may be up for it.
Leave the Drone at Home
This won't impact most of you, but for those that it applies to, leave the drone at home.
Greece allows drones but not near or over archaeological sites.
If you can't seem to obey these rules and regulations, you may be slapped with a €500 fine and have your drone confiscated.

There are other ways to capture good videos at the Acropolis, however.
Bring your usual camera and or a GoPro and try some creative angles that will give you and the people that will see your photos a unique perspective.
→ Click to check out my GoPro and its features
The Views of Athens From the Acropolis are Beautiful
Don't just go to the Acropolis for the historical sites- also go for the views!
You can see the sea from the Acropolis as well as gain a 360-degree view over Athens from above.

It really is a remarkable place to take it all in and you can do this without having people in your photos.
Things to Do Around the Acropolis
Where to Buy an Acropolis Souvenir
Inside the Acropolis, you will not be hounded by vendors trying to get you to buy their souvenirs of Athens.
If you're looking to bring home a souvenir of the Acropolis, you will have better luck outside of the grounds on Apostolou Pavlou Street.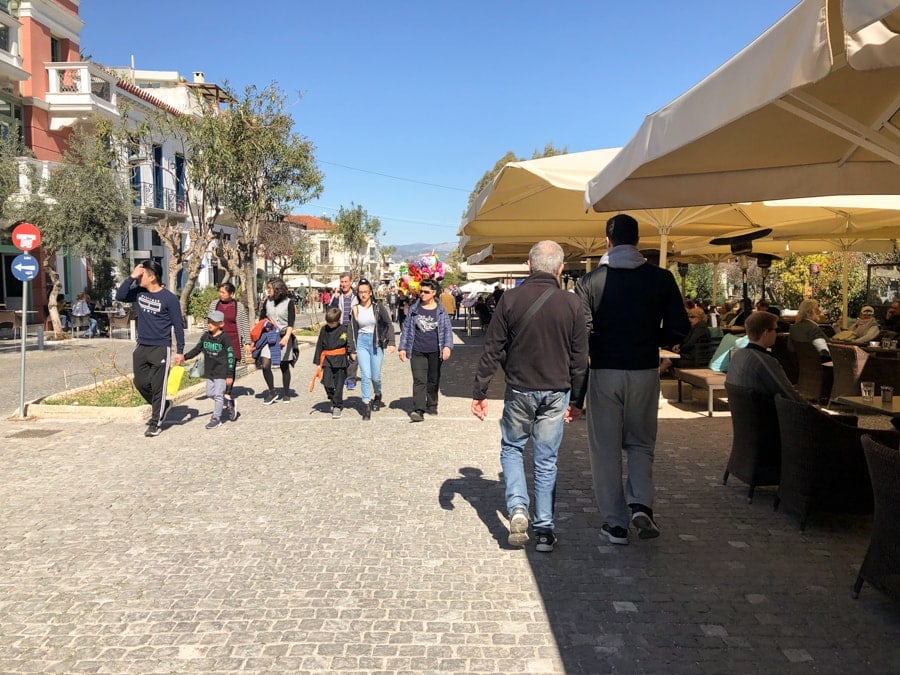 Also on this street, you will find loads of restaurants (many offering traditional Greek fare), cafes, and bars.
It is always bustling with people and you will likely end up there at some point during your trip to Athens.
Have a Coffee or Craft Beer at Underdog Cafe
Underdog Cafe is a specialty coffee cafe that also has an array of craft beer located near Apostolou Pavlou Street at Iraklidon 8.
The Underdog Cafe has very delicious flat whites and a really chilled-out atmosphere with a hidden terrace that you have to enter to enjoy.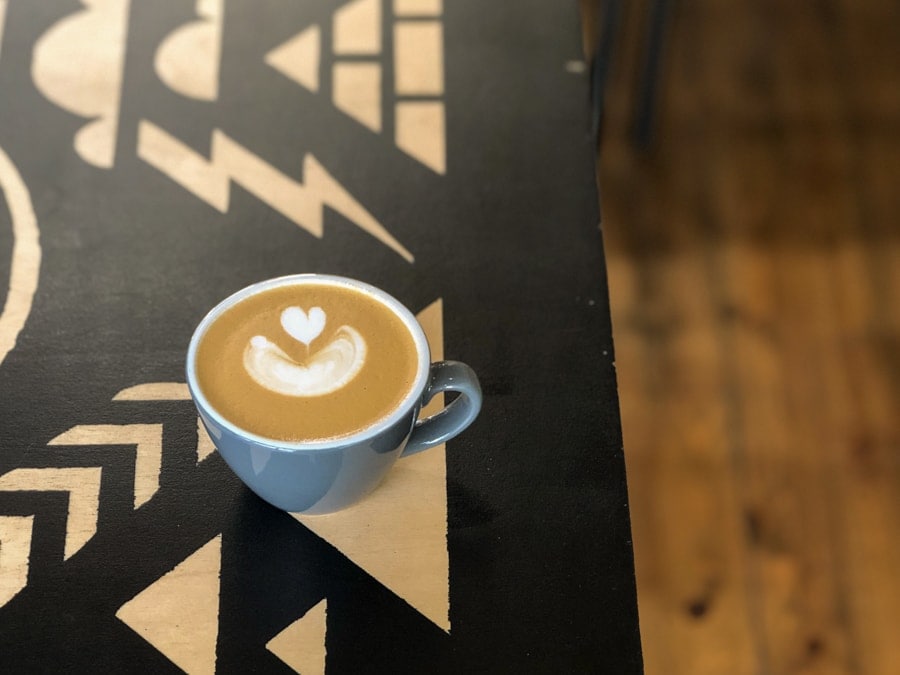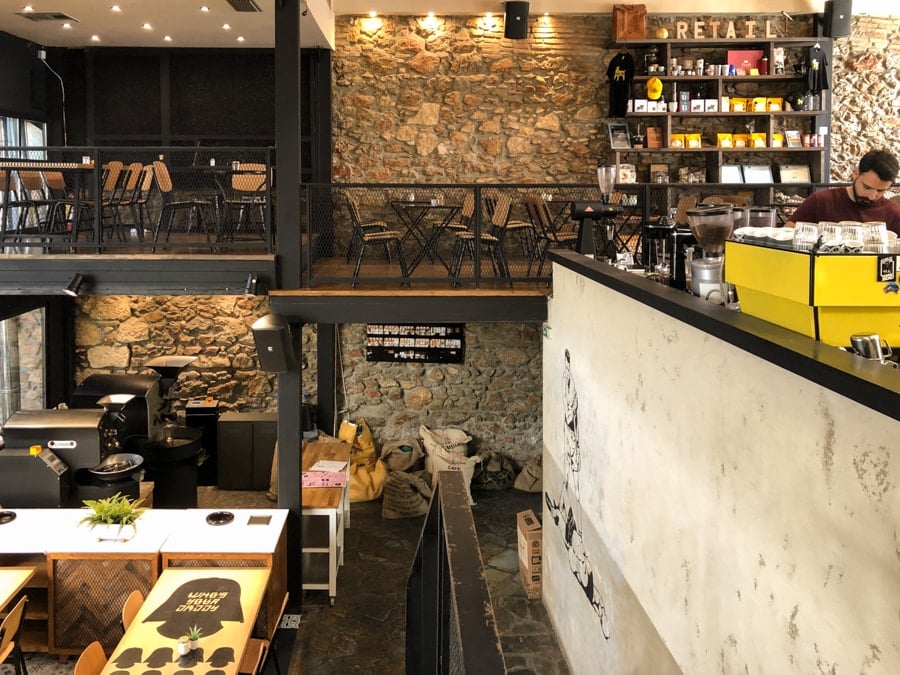 I have had some great coffee in Athens over the years and this cafe, which has received a lot of international accolades for its coffee and talented baristas, deserves your visit if you like third-wave coffee.
Where to Stay in Athens
There are so many great places to stay in Athens, but my choice this past trip was Attalos Hotel, a hotel with a rooftop bar and terrace with an Acropolis view close to Monastiraki Square.
I had an excellent stay there and there are even balconies for many of the rooms that overlook a beautiful and bustling part of the city.
There were also several cafes, restaurants, and things to do nearby.
I can highly recommend Attalos Hotel if you're going to Athens and visiting the Acropolis (or just looking for a place to stay there).
→ For current rates and availability click here
How to Get From the Athens Airport to the City Center
Getting from the Athens Airport to the city center is easy as there are several ways to do it.
I have taken a bus in the past but recently decided to use Welcome Pickups, an affordable pickup service that will make your arrival free of stress and get you to where you're staying with the snap of a finger.
The drivers will be at the airport an hour early and stay an hour late and they will speak great English.

They also give you a really cute tote bag that welcomes you to Athens.
Not only will they pick you up from Athens Airport, but they will also get you from the ports if you're coming in from the Islands.
→ Click here to book your Athens arrival with Welcome Pickups
Do You Need Travel Insurance for Greece?
I always travel with travel insurance and Greece is no exception.
I can recommend SafetyWing as I have used them in several countries, including when I was in Greece in the past.
→ Click here to get a quote with SafetyWing for your trip to Greece.
We hope that this guide has helped you figure out how to visit the Acropolis (and answer all your questions!).
More Athens Travel Guides