Europe, as a whole, is one of the most beautiful places to visit in spring! This guide will detail many of the best places to visit in Europe in May – and all are worth a spot on your bucket list!
Whether you want to check out the historical sites, museums, and tourist attractions, or you want to go on some hiking and biking tours, the European continent is bound to have something for everyone.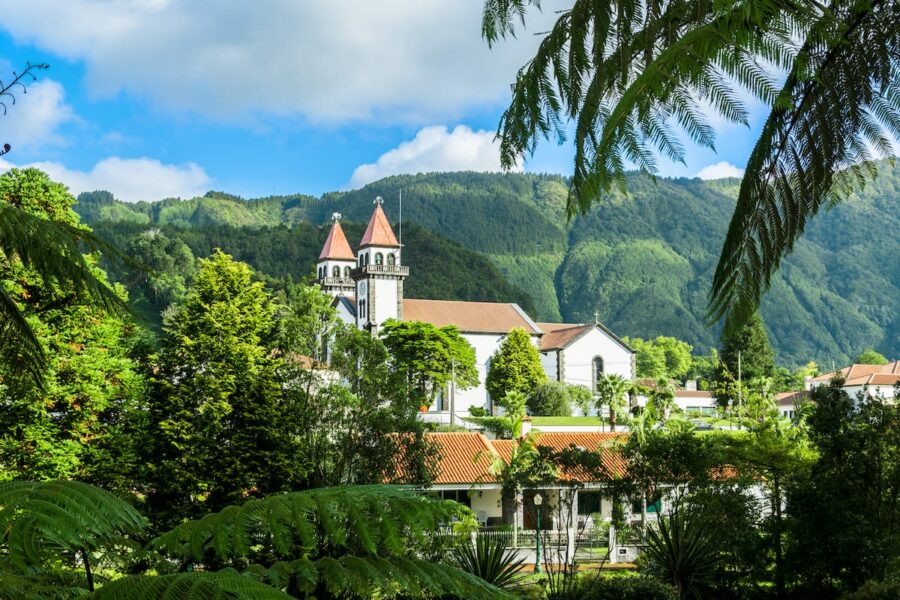 However, since there's an endless amount of activities to do in Europe, trip planning can be overwhelming.
You've come to a great place to start! In this article, we've compiled a list of the best places to visit during May in Europe.
Did we miss your favorite European spring destination? Let us know in the comments. Thanks!
Best Places to Visit in Europe in May
1. Munich
Location: Germany
Average temperatures and precipitation: highs of 19C and lows of 8C; 11 days of precipitation
Trust us, there is more to Munich at the start of summer than clinking cold beers! For example, check out Schneider Brauhaus for some white sausage, or visit the incredible Peterskirche and Asamkirche churches.
Sights like the Marienplatz and the Neues Rathaus, Freiheiz, Glockenbachviertel district, and the Ruhmeshalle and Reichenbachbrücke are perfect for getting a sense of Munich's history while enjoying music shows, great food, and beverages at the same time.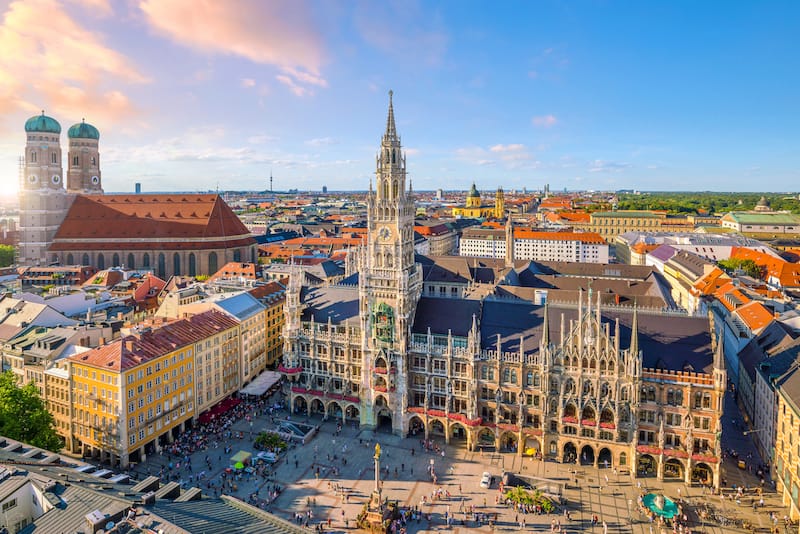 Since it's the beginning of summer, why not go for outdoor activities and even more monuments in the English Garden, Westpark, Luitpoldpark, and Ostpark?
The Isar River is also great to wind down and relax at. For a more royal experience check out the Munich Residenz or visit the BMW Museum if you're a car enthusiast.
More of a nightlife person? Visit Schwabing. Don't miss out on the Olympic museum or Feldmochinger See if you're into water sports!
2. Lyon
Location: France
Average temperatures and precipitation: highs of 20C and lows of 10C; 10 days of precipitation
There are plenty of things to do in this breathtaking renaissance city that is one of France's best weekend getaways! Start by exploring the historic architecture of Vieux Lyon and take a detour to visit Lyon's Roman Amphitheater.
Next, get your camera ready for some must-have photos at the Basilique Notre-Dame de Fourvière. Then head out to see the shops and sights at La Place Bellecour.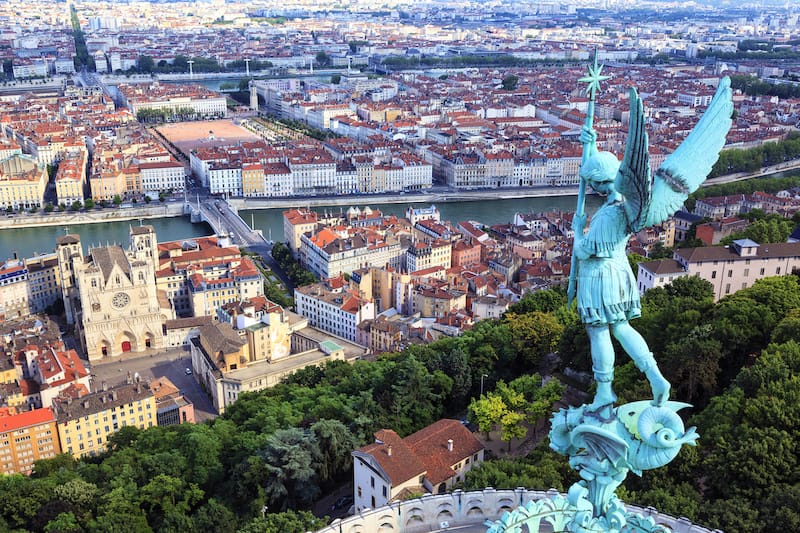 Of course, what is Lyon without a bit of wine tasting? Book wine-tasting tours to areas like Rhône Valley and don't forget to taste the cheese while you're at it!
Then visit Parc de la Tête d'Or for some outdoor recreation like picnics and biking, and stop by the famous Musée des Beaux-Arts for amazing exhibitions.
The Museum of Fine Arts and Musée des Beaux-Arts shouldn't be skipped! Foodies should grab a bite at Les Halles de Lyon Paul Bocuse. And don't forget Lyon's beautiful murals!
If you're renting a car (or even using a car shipping company to get your car to Europe for a lengthy amount of time), Lyon is a fantastic base for many day trips around the region!
3. Brussels
Location: Belgium
Average temperatures and precipitation: highs of 18C and lows of 9C; 10 days of precipitation
Late spring and early summer in Brussels means that the city's famous outdoor terraces are back, and you can grab a coffee, drinks, and Belgian waffles there after exploring sights like the Grand Place, Brussels City Museum, Brussels City Museum, Old England Building, Palais Royal, and Notre Dame Du Sablon.
If you're a fan of fashion, check out the Costume Museum. Brussels is also famous for its bars and cafes (such as Belga), most of which are located in city parks along with eateries.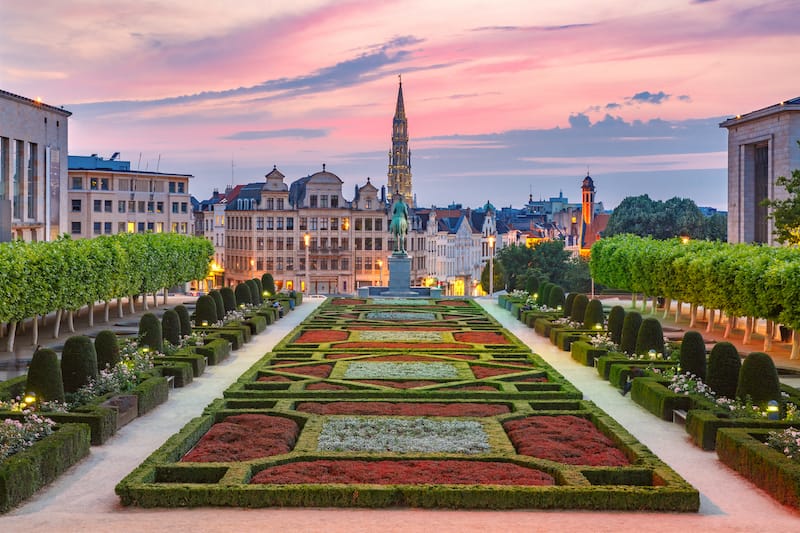 There is no shortage of great music here either! Head to the hip Madame Mustache, or Maidson de la Ballone. Need more historic sights to check out?
The Cathedral of St. Michael and St. Gudula and Palais de Justice comes to mind. A popular sight is the hilarious Manneken Pis statue.
Don't skip the famous Belgian beer tours in the city, and end your day at Parc Du Cinquantenaire for relaxation!
4. Brighton
Location: England
Average temperatures and precipitation: highs of 20C and lows of 8C; 8 days of precipitation
Welcome to Brighton, where you can get great coffee, and fantastic live music, go on a shopping spree, and visit historic sights at the same time!
Late spring and summer are perfect here, so why not explore sights such as Castle Hill, the Royal Pavilion, the Lanes district, British Airways i360, and the Brighton Palace Pier?
Cool down from the heat by knocking down a few cold pints at the many breweries while enjoying the city's famous fish and chips. Brighton isn't for adults only!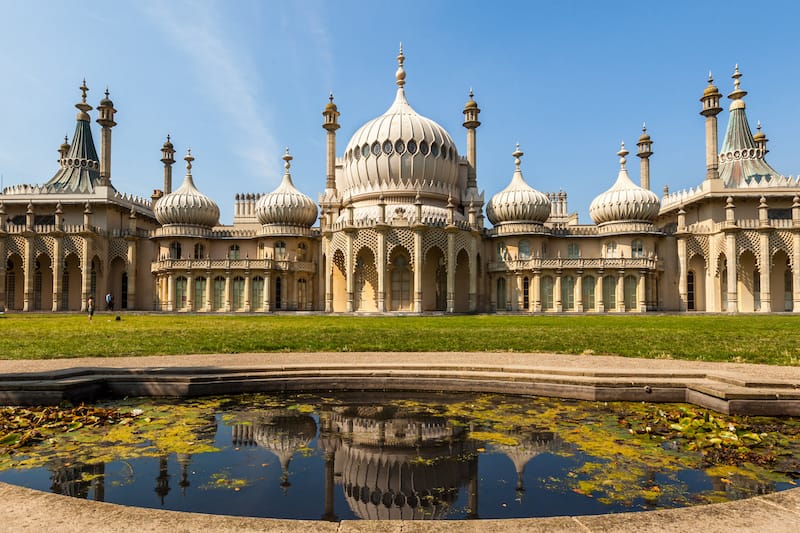 There are many great summer camps for kids here, including Barracudas Activity and the Outdoors Project to name a few. You can see even more sights by taking bus tours around the city.
If you're looking for outdoor activities, try cycling along the Undercliff Path. Fan of flea markets? Don't skip Snoopers Paradise! Trust us, Brighton in early summer is truly a bright experience!
5. Amsterdam
Location: The Netherlands
Average temperatures and precipitation: highs of 17C and lows of 8C; 8 days of precipitation
Heading to Amsterdam in May? Join the city's many cyclists and explore the sights… regardless of whether you have one day in the city… or four!
Start with the Jordaan district and enjoy the beautiful buildings before heading to the Waterlooplein Flea Market and Amsterdam's colorful neighborhoods.
Grab an ice-cold drink at the popular Amsterdam Icebar. There are three main festivals here which you can attend in May: Vondelpark Open Air Theatre, London Calling – Paradiso, and Rolling Kitchens.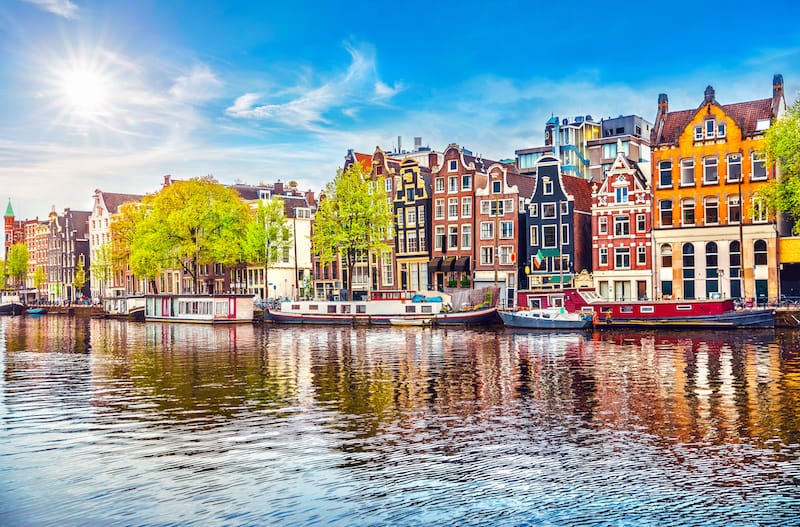 If it's history you're after, check out the Anne Frank House, Stedelijk, MOCO Museum, and the Van Gogh Museum. Amsterdam is also home to the world's biggest street art museum.
If you're visiting with kids, stop by Efteling Park and take the Amsterdam Canal Cruise. If you're feeling adventurous, then the Red Light District is the place to be.
At the end of the day, beer is always a good idea, which is why you should grab some from the Heineken Experience.
6. Florence
Location: Italy
Average temperatures and precipitation: highs of 24C and lows of 12C; 8 days of precipitation
Why visit Florence in May? Because it is home to the Uffizi Gallery and Florence Cathedral, and because the weather will allow the perfect wine-tasting and hiking experiences in the Tuscany outdoors.
Pay a visit to David and his friends at Galleria dell'Accademia, then head for a walk in the Piazzale Michelangelo.
Other popular sights are Giotto's Campanile, Palazzo Vecchio, the Stibbert Museum, and Officina Profumo Farmaceutica di Santa Maria Novella.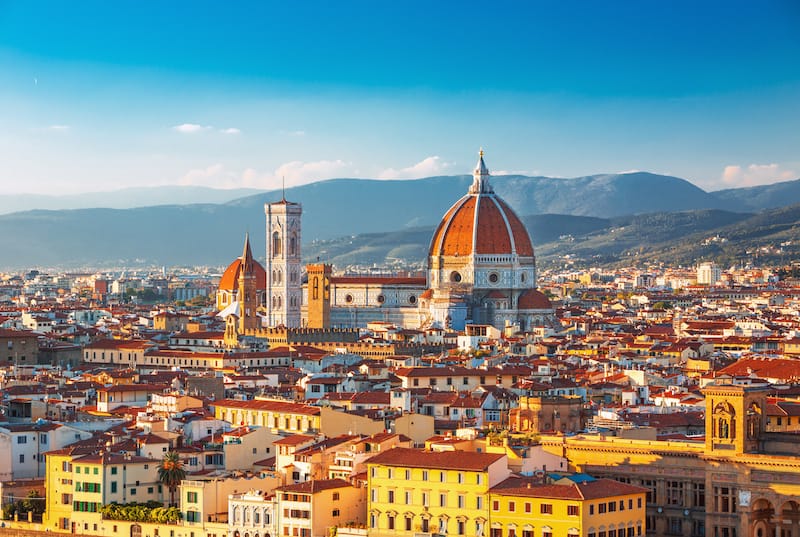 Visit Caffé Gilli and Mercato Centrale for fantastic food and great coffee.
Whether walking around or on Vespa tours, Florence's many basilicas and churches are never tiring to the eye, and the restaurants around the city are never uninviting!
Late spring is the perfect period for visiting this gorgeous city, especially since you can visit the majestic Boboli Gardens. It is also the best time to explore some of the cool, hidden gems of the area.
Florence is great to visit year-round (even winter!) but we think that late spring is absolutely the best time to head to the Italian city!
7. Budapest
Location: Hungary
Average temperatures and precipitation: highs of 23C and lows of 12C; 7 days of precipitation
May is the sweet spot when it comes to Budapest because you can experience a ton of activities before the Danube-side city hits its tourist peak.
There are many events that take place here in May, such as Budapest100, Rosalia Wine Festival, and OTP Bank Gourmet Food Festival, so mark your calendars! A-Ha, Zaz, and James Blake will be performing here this May.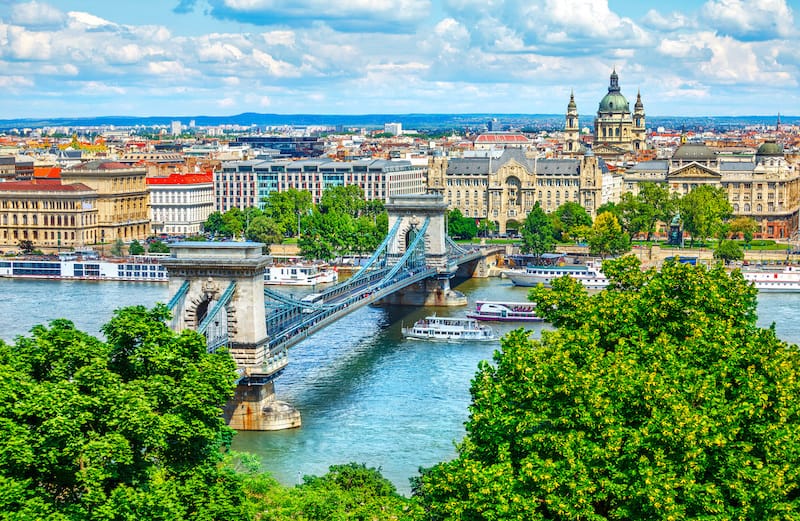 Budapest is also great to walk around due to its beautiful sights: Budapest Parliament, Gellért Baths, Heroes' Square, and of course: the Danube River!
Don't forget to book a cruise over the river and relax while tasting wine and Hungarian cuisine!
Once off the cruise, check out more historical sights such as Pest, State Opera House, Memento Park, House of Terrors, and the slightly-creepy Faust Wine Cellars!
Speaking of alcohol, check out Budapest's Ruin Pubs while you're there. And last but not least, shop at Great Market Hall.
8. Girona
Location: Spain
Average temperatures and precipitation: highs of 24C and lows of 12C; 8 days of precipitation
From old fortifications to historic churches and medieval walls, there's a lot to do in Girona and it is a must for every Northern Spain itinerary!
If you're into biking, then try the cycling tours of this beautiful city where you can see the Girona Cathedral, the medieval Jewish district, and the Cases de l'Onyar.
If you enjoy walking long distances, you can walk along the famous Medieval Wall, across the Eiffel Bridge, and the Plaça de la Independència.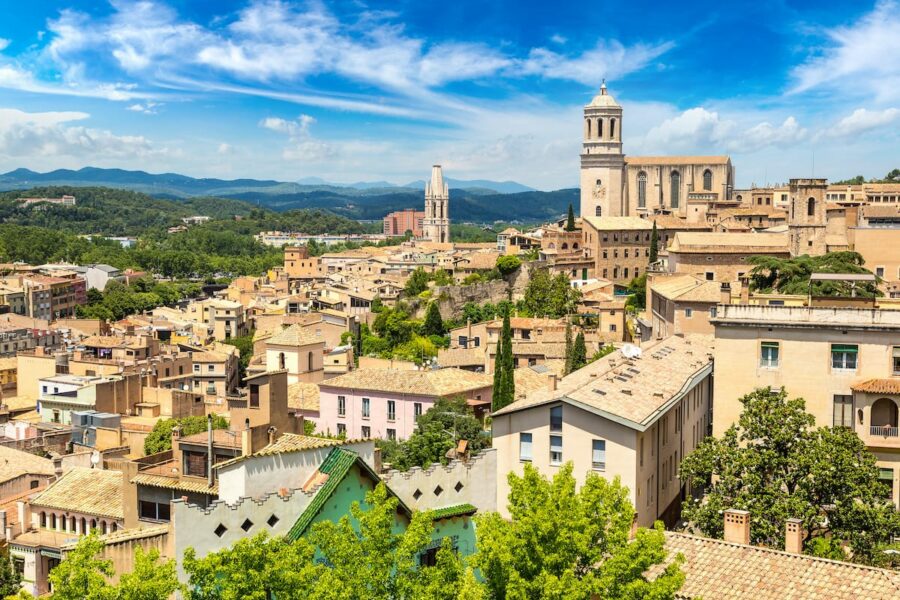 When sunset hits, take a walk alongside the Onyar river and enjoy the views. If it's shopping you're after, then head to Rambla de la Llibertat.
The Art Museum, Museum of Jewish History, Arab Baths, and Church of Sant Feliu is also popular sights.
Game of Thrones fans will love Girona because of the familiar sets in the TV series! Don't forget to try the Rocambolesc Ice Cream and end your trip at Lake Banyoles for a relaxing wind-down!
9. Krakow
Location: Poland
Average temperatures and precipitation: highs of 19C and lows of 8C; 9 days of precipitation
Start your pre-summer trip to Krakow by checking out the city parks and admiring the flora.
This will also give you the chance to explore sights such as Market Square, Wawel Castle, the old Jewish cemetery, St. Mary's Basilica, Barbican, and St. Florian's gate.
Krakow is also rich in great food and drinks which you can taste at Starka, Wodka, and Starpolski among others.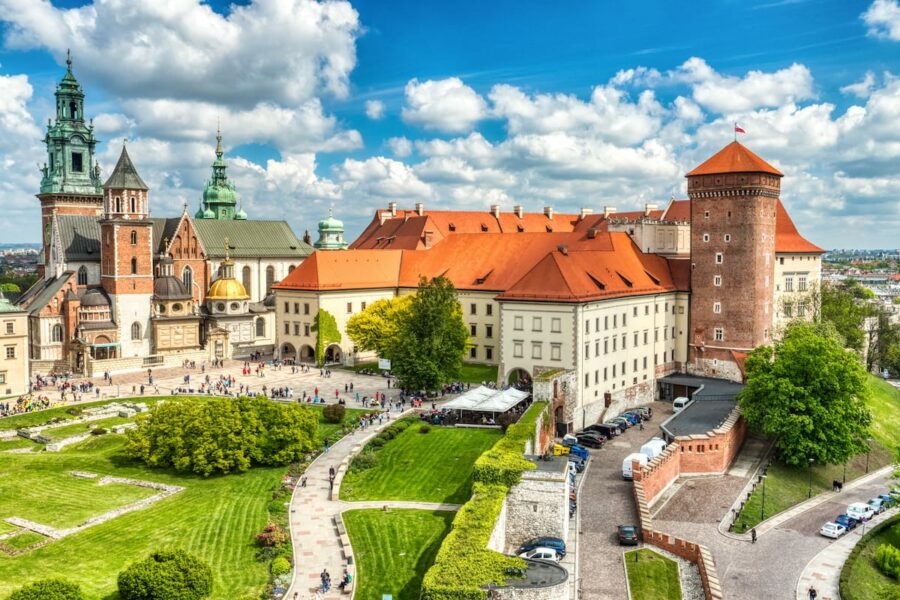 The city offers regular pub crawls and vodka tours! The Kazimierz neighborhood is also popular with its many eateries and pubs. For extra relaxation, visit the Zakopane Thermal Baths.
Other attractions include Krakow Cloth Hall and Sukiennice Museum.
Further explore the city's past by visiting Auschwitz-Birkenau, which was a Nazi extermination camp that is now a museum dedicated to the memory of the millions who died there, and the Ghetto Heroes Square.
The 62nd Krakow Film Festival, Krakow Photomonth Festival 2023, and Mastercard Off Camera 2023 will take place here in May, so make sure to attend if you're there!
10. Côte d'Azur
Location: French Riviera
Average temperatures and precipitation: highs of 22C and lows of 11C; 5 days of precipitation
Côte d'Azur, aka the French Riviera, is a summer (and year round!) hotspot.
Visit the resort town of Nice, where you can check in at the Palais de la Méditerranée hotel and visit attractions such as Villa Masséna, Cours Saleya Market, summer performances at the Theâtre de Verdure, and Fete des Mai folklore festivals.
Promenade des Anglais is popular with its beaches, palm trees, cycling trails, and historical buildings. So is Juan-Les-Pins with its summer jazz festival.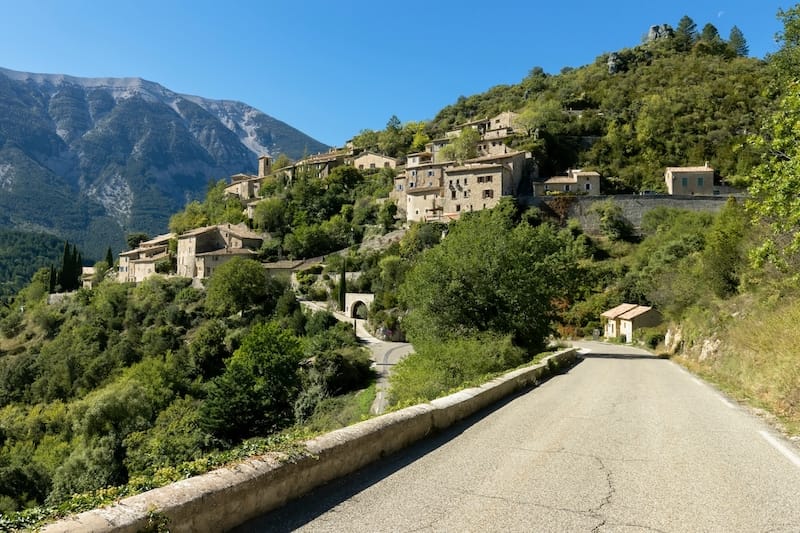 Make sure you check out the medieval villages located on the French Riviera, including Biot where you can shop for souvenirs. We recommend Grasse if you're into perfumes.
You can also take a boat trip to St. Honorat and St. Marguerite Islands which are ideal for outdoor activities and sightseeing.
May is also the ideal time to visit Saint-Tropez, Eze, Monaco, and Cannes, where you can attend the famous film festival from May 11-22.
11. Vienna
Location: Austria
Average temperatures and precipitation: highs of 21C and lows of 13C; 8 days of precipitation
What can we say about Vienna in May? It's teeming with festivals, such as the Schönbrunn Summer Concert and Danube Island Festival. And, it is far more comfortable than visiting the city in winter!
The open-air events are also back, such as the Music Film Festival. Aside from that, you can go sightseeing and checking out attractions such as Schönbrunn Park and Palace, St. Stephen's Cathedral, and Naschmarkt food market.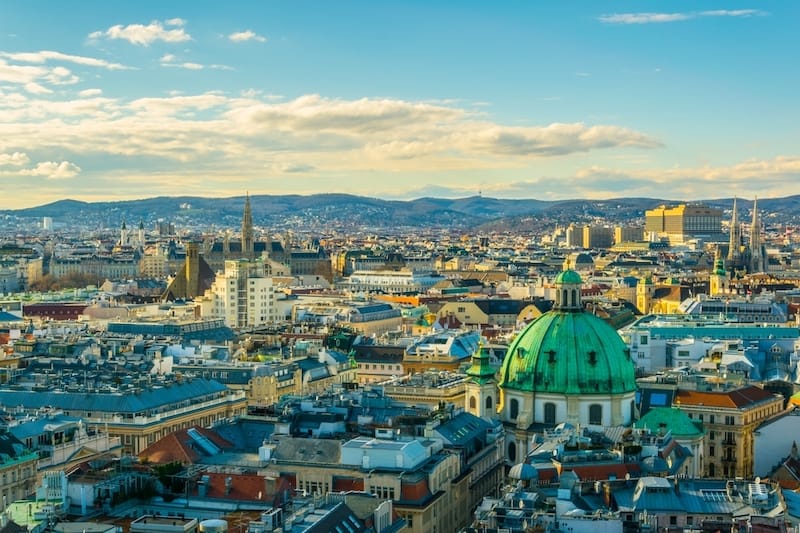 Feeling hot? Jump in the Alte Donau and Old Danube for a swim! Vienna is also famous for its wine and ice cream, so don't miss out and try them at places like the Danube Canal and Kahlenberg.
Outdoor fans can hike in the Vienna woods or in the city's parks such as Burggarten, Prater Park, and Augarten.
You can also go on cycling tours around Vienna, especially New Danube paths. For art enthusiasts, the Museumsquartier is a must-see. Finally, end your day by enjoying the sunset views on the riverfront.
12. Scottish Highlands
Location: Scotland
Average temperatures and precipitation: highs of 13C and lows of 7C; – days of precipitation
What better way to spend World Whiskey Month than visiting the Scottish Highlands in May? Summer is also perfect for catching the Scottish and Celtic Highland games.
Start your trip with the Isle of Skye, then head to Fort William and Hermitage forest for hikes. Fan of hunting monsters while enjoying scenic views?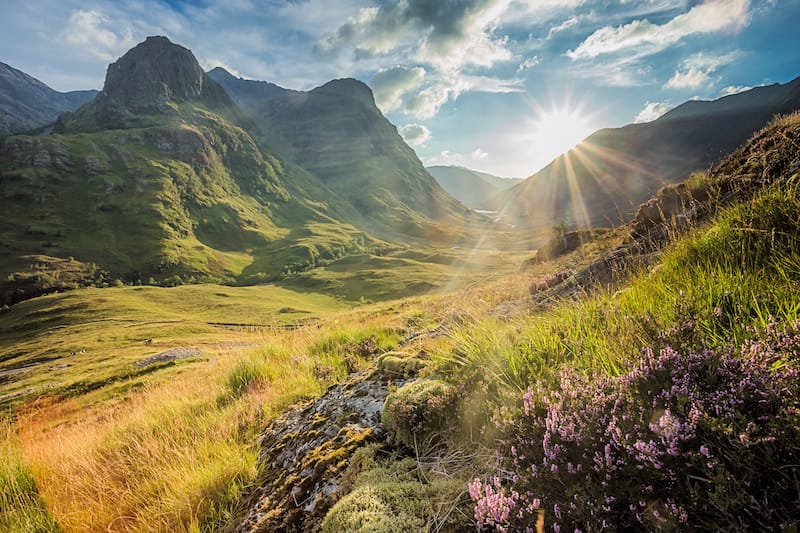 Try Loch Ness! Scotland is full of attractions, such as the National Museum, the Helix sculpture, the mystic Calanais Standing Stones, and the Nevis Range, where you can visit for some mountain biking adventures.
Glasgow and Edinburgh are two popular spots in Scotland with tourists and locals, due to their historic vibes and of course, great cuisine!
This is where you'll find most spring-summer events, such as the Spirit of Speyside Whisky Festival and the Edinburgh Film Festivals.
Scotland is also popular with Potterheads who rejoice at seeing the famous locations used in the Harry Potter films.
13. Sorrento
Location: Italy
Average temperatures and precipitation: highs of 26C and lows of 18C; 7– days of precipitation
With the arrival of May, the hiking season opens up in Sorrento, so make sure to visit the Sorrento Peninsula and hike around the Lattari Mountains. It really is Sorrento's perfect day trip!
This is also the season for boat rides, which you can take to visit the Isle of Capri, Positano (one of the most famous Amalfi towns!), and Atrani town. The Amalfi Coast is definitely one of the top places to visit on the continent!
Take some time out of your trip to explore historic locations like Pompeii, Herculaneum, or Villa Jovis. Aside from the ruins, Pompeii offers great wine-tasting experiences.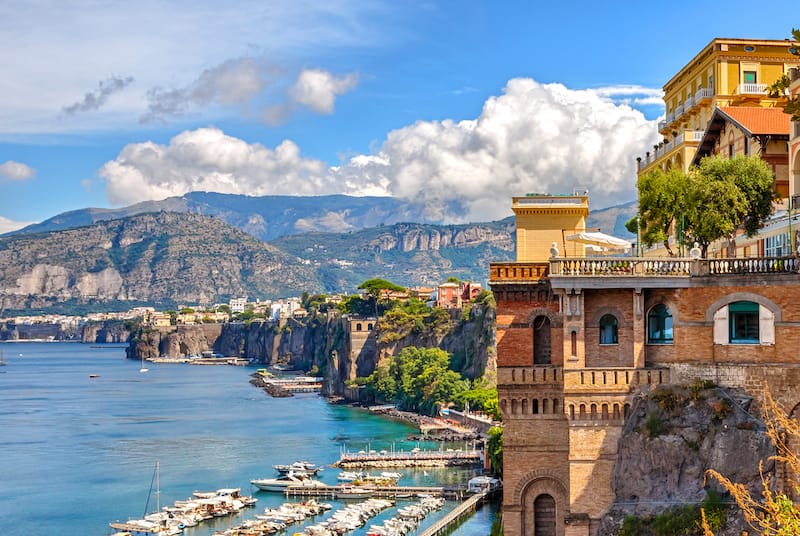 We also recommend trying the famous limoncello while you're here.
Marina Piccola is a great spot to relax while taking in the Gulf of Naples views. Check out private beach clubs like Marameo, and Da Salvatore.
Other attractions in Sorrento include the Vallone dei Mulini, Basilica di Sant'Antonino, Baths of Queen Giovanna, and the Piazza Tasso.
Event-wise, you can check out local traditional festivals, as well as the Sorrento Opera Festival and Ravello Festival.
14. Interlaken
Location: Switzerland
Average temperatures and precipitation: highs of 18C and lows of 7C; 12– days of precipitation
With its beautiful hiking trails (Oberburghorn, Loucherhorn, Hardergrat), Interlaken is the perfect outdoor summer location (it's also pretty awesome in winter).
So perfect, it has its own Touristik-Museum (Museum of Tourism)!
Start off by checking out the Harder Kulm viewpoint, especially the Panorama Restaurant for beautiful views of the Harder Alpine Wildlife Park and the Aare river.
When in this area, pay a visit to the memorials of famous composers Mendelssohn and Wagner located in the Hohbühl pavilion.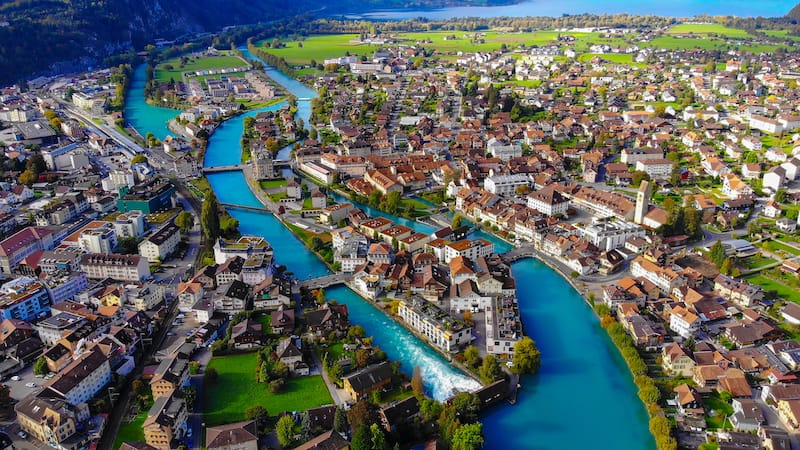 St Beatus Caves, Höhematte Park, Unspunnen Castle, and Oberhofen Castle are also popular places to visit in Interlaken. The city is also famous for paragliding events.
Tourists with a sweet tooth should check out the Funky Chocolate Club, while drink enthusiasts can quench their thirst at the Jungfrau Grand Hotel.
If you have time, also check out the Jungfraujoch Sphinx Observatory and ride the Historic Brienzer-Rothorn Railway for a fantastic experience!
15. Santorini
Location: Greece
Average temperatures and precipitation: highs of 22C and lows of 16C; 3– days of precipitation
Start your May vacation in Santorini by visiting beaches such as Kamari, Baxedes, Perissa, and Perivolos. Make sure to hit the beach bars as well!
There are also sunset boat cruises you can take. This area is famous for its volcano, the sight of which you can take in from Fira, Firostefani, Imerovigli, and Ola. Or, better yet, by jetskiing there!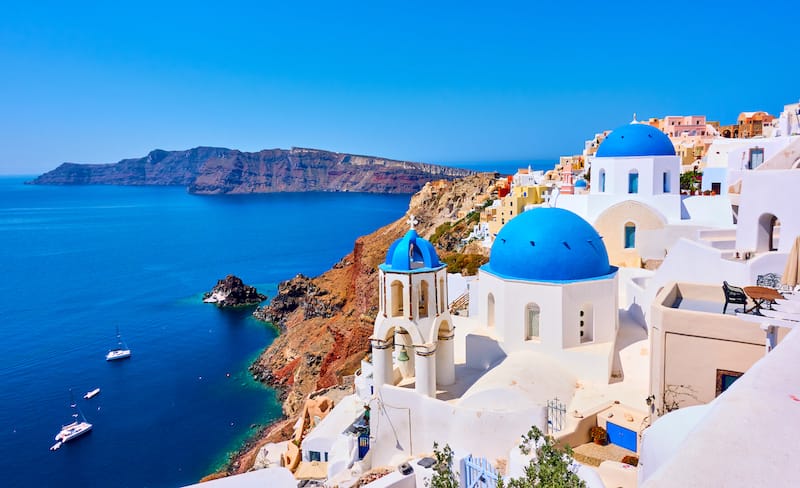 Fira is also the go-to spot for its nightlife, shopping areas, and eateries. For an extra sense of history, check out the Akrotiri ruins, an essential for any Santorini itinerary.
Whether hiking or driving, you can also check out the chapels in Santorini, such as the Convent of Saint Nicholas, the Chapel of Saint Antony, and the Chapel of Prophet Elias. Skaros rock is also a popular attraction.
If you happen to be in Akrotiri on May 29th, make sure to attend the Feast of St. Theodosia celebration. You'll find so many things to do in Santorini during the spring!
16. Prague
Location: Czech Republic
Average temperatures and precipitation: highs of 18C and lows of 7C; 8– days of precipitation
May is festival and concert season in Prague, where you can catch the Prague Food Festival, Veggie Festival, Czech beer festivals, and the festival of small breweries.
The venues for these festivals (Prague castle, Letná Park, Břevnov Monastery) are all attractions on their own.
This year, bands like Scorpions and Imagine Dragons will perform in May. St. John's Navalis Sound & Light Show is also a popular May event.
Aside from that, you can pedal on the Vltava river while enjoying the views, and get off to enjoy the delicious Prague cuisine in areas like Náplavka.
Prague is also home to a number of amazing museums such as the Frantz Kafka museum, the Petřín Observation Tower, the Museum of Music, Sternberg Palace, the Jewish Museum, and the Astronomical clock tower.
Finally, end your day on a high note by going on a Beer Tour!
17. Kotor
Location: Montenegro
Average temperatures and precipitation: highs of 24C and lows of 12C; 12 – days of precipitation
From beautiful beaches to relaxing bars and restaurants, Kotor is the perfect May-time holiday spot.
Relax at Bajova Kula Beach and then join others to hike all the way up from the city walls to the famous medieval fortress in Kotor where the view will open up for you to enjoy.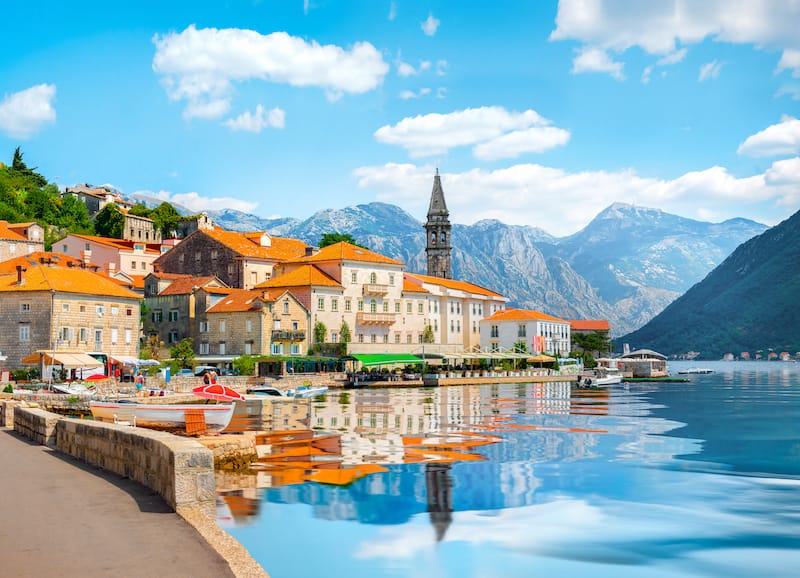 Next, take a walk in Old Town or Perast to admire the architecture. The carnival on the Budva Riviera also takes place in May. Needless to say, you have to try the seafood in Kotor's restaurants, and dip in for a swim in Kotor Bay!
Also, try the food at Palazzo Radomiri, and have a sip at Old Winery.
If you wind up in Perast, make sure to visit the Our Lady of the Rocks landmarks for a nice view of the bay. Other sights to check out are the Cathedral of Saint Tryphon and the Kotor Cats Museum.
18. Košice
Location: Slovakia
Average temperatures and precipitation: highs of 21C and lows of 10C; 9 – days of precipitation
Košice in summer is a city of adventure. Take a walk around the city to see landmarks such as the Baroque Immaculata, Jakabov Palác, St. Urban's Tower, and the Historical Town Hall.
You'll also be able to catch some shows at Tabacka Kulturfabrik. Don't forget to get a taste of famous Slovak cuisine and of course, beer!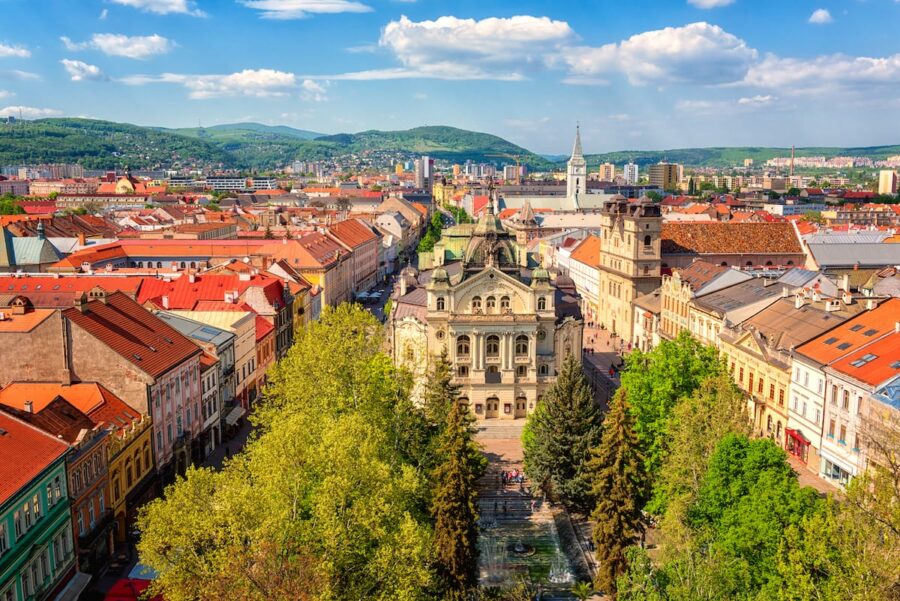 If you're an outdoor person, then go for hike tours at the High Tatras Mountains and visit the Museum of Sherpas. Alternatively, you can take aerial tours over Spišská Nová Ves and engage in skydiving.
Košice is also home to WoodRock, the highest indoor gym in Europe, in case you're into hitting the gym while on vacation!
For more outdoor fun, rent a kayak and hit the Hornád River. End your trip by enjoying a meal at any of Košice's historic restaurants.
19. Dublin
Location: Ireland
Average temperatures and precipitation: highs of 15C and lows of 6C; 11 – days of precipitation
Dublin is the ultimate experience in May and summer in general.
Start with the outdoors at Three Rock Mountain, and continue hiking to Dublin Mountains and taking the Great South Wall Walk.
Next, it's time for sightseeing, and Dublin has a ton of opportunities for that!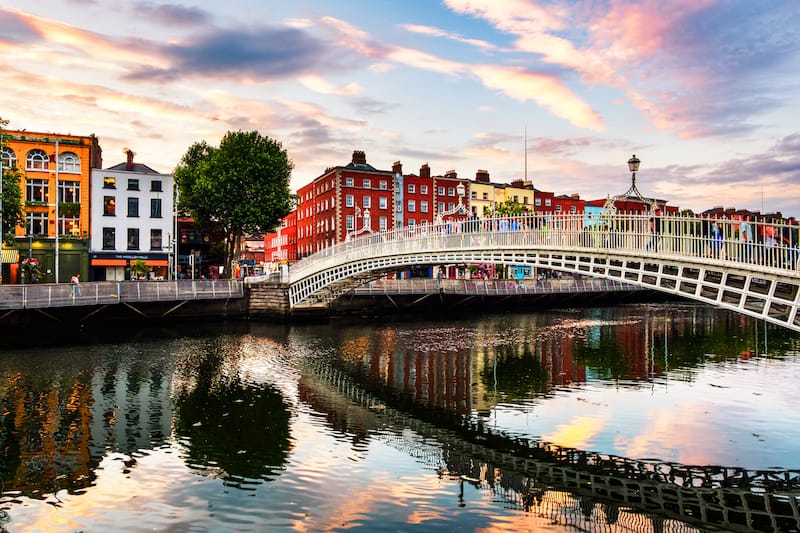 The Jeanie Johnston Famine Ship, the War Memorial Gardens, Stephen's Green, Temple Bar Food Market, James Joyce Centre, and the Crypt of Mummies at St. Michan's Church are just some of them!
Of course, you can't miss Dublin's fish and chips and the Guinness Brewery.
May is also full of events, so make sure to catch Trevor Noah, My Chemical Romance, and Whitesnake in action, as well as festivals such as Life Festival and the International Dublin Gay Theatre Festival.
For an even more exciting Dublin cuisine experience, end your day with a Dublin Food Tour!
20. The Azores
Location: Portugal
Average temperatures and precipitation: highs of 19C and lows of 14C; 7 – days of precipitation
Vineyards, beautiful hiking trails, thermal springs, and more await you at the Azores in the early summertime. Start your journey by hiking the Lagoa do Fogo trail on Sao Miguel and Maia Trail on Santa Maria.
The Azores are known for their fajas or lava spills, which can be seen from the Serra do Topo route on Sao Jorge. When visiting Sao Miguel, don't miss the boiling thermal waters and the gardens at Terra Nostra Park.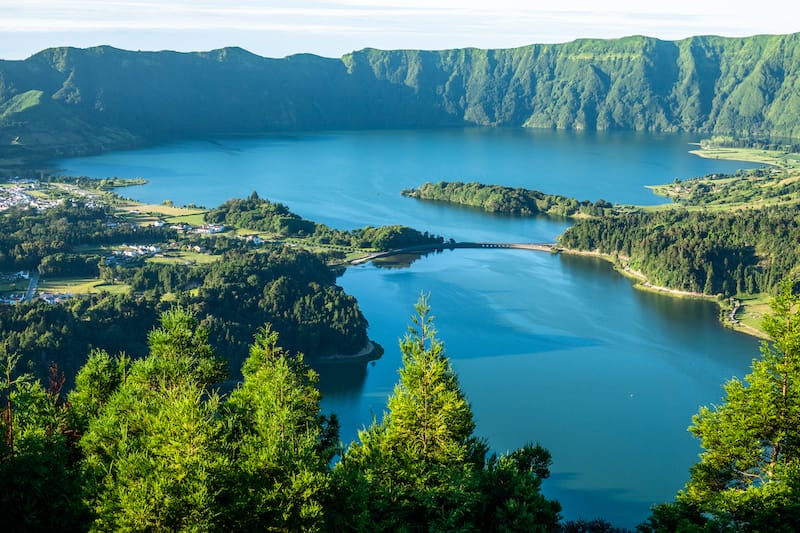 More springs are located in Poca da Dona Beija. All of these are especially beautiful at nightfall.
Others places to visit are the Gorreana Tea Factory, Mount Pico, and Poço da Ribeira do Ferreiro.
The Azores are also home to Angra do Heroísmo, a beautiful city full of historic buildings. Monte Brasil is also worth a visit, with its luxury hotel. Islet of Vila Franca do Campo is also a must-see in the Azores.
21. Copenhagen
Location: Denmark
Average temperatures and precipitation: highs of 16C and lows of 8C; 6 – days of precipitation
The May weather in Copenhagen makes it the perfect vacation destination where you can visit beautiful sights such as the Tivoli Garden, Stroget Square, Copenhagen Distillery (don't forget to taste the Carlsberg beer!), and the Islands Brygge Harbour.
May is also when beautiful flowers bloom here after the long winter, which is why visiting the Tulips and Rapeseed fields is a must.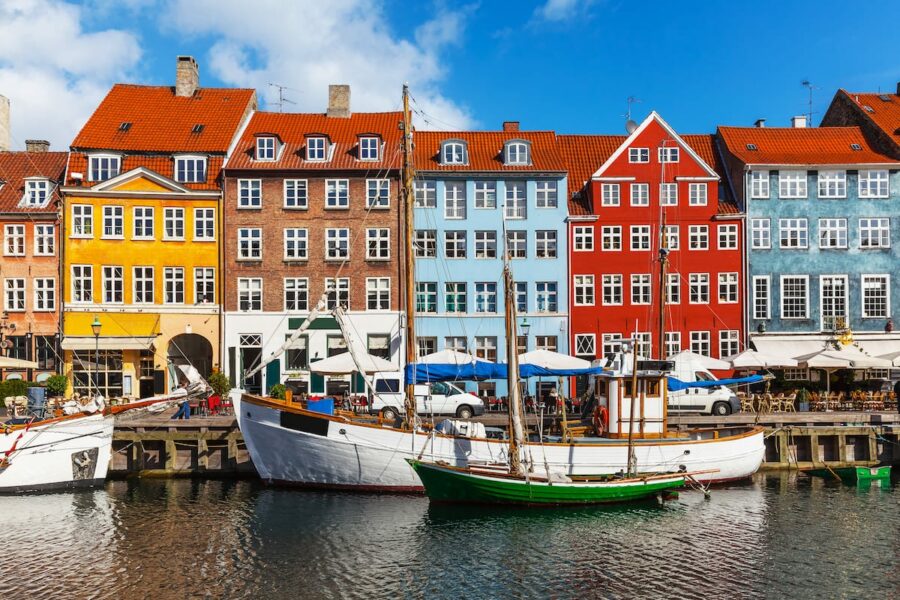 And of course, you should try the cuisine of Denmark! Enjoy the blue cheese, pastries, and the world-famous Frikadeller and Smørrebrød. Restaurant suggestions?
Aamanns 1921 and Restaurant Palægade! Another popular attraction is the Little Mermaid statue.
There are many May-time festivals as well, such as Copenhagen Salsa Festival, Liberation Day, and Howling Day.
Don't forget to visit the many architectural marvels like Rosenborg Castle, Botanical Garden, Christiansborg Palace, and the National Museum.
Did we miss any of the best places to visit in Europe in May? Let us know where to go during May in Europe in the comments. Thanks!
More Europe Travel Guides
Pin this Where to Go in Europe in May Guide