Europe is a desired travel destination for many, and June just happens to be one of the best times of the year to visit. These are the best places to visit in Europe in June!
June is the best time to make the most of your summer vacation while avoiding some of the intense heat common in July and August, as well as some of the huge crowds. The month is also time for many festivals all throughout the continent.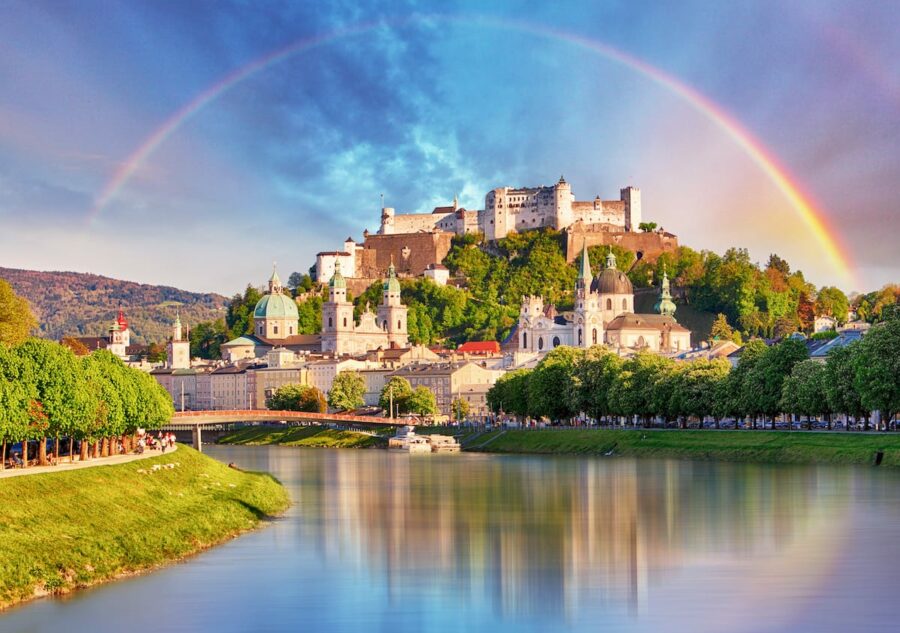 All that remains is booking your flight! Here are some of the best towns and cities that you should visit this June in Europe.
Some may already be on your travel list, but others may be new to you! Let us know your favorite European destinations in June in the comments. Thanks!
Best Places to Visit in Europe in June
Cornwall
Location: England
Average temperatures and precipitation: highs of 17C and lows of 12C; 9 days of precipitation
Reasons to visit Cornwall in June: festivals everywhere, more peaceful than July and August
Cornwall can be a wonderful summer holiday destination with the weather getting more delightful and sunnier in June. It really is one of the best weekend getaways in England!
While the hot tourist season starts in July, June is the time to enjoy solitude and peace while still having enjoyable temperatures. It is also the time to explore some of the beautiful towns along the seaside.
Summer in Cornwall really heats up in June with the Royal Cornwall Show, the country's biggest annual event full of exhibits, a funfair, shopping, and entertainment.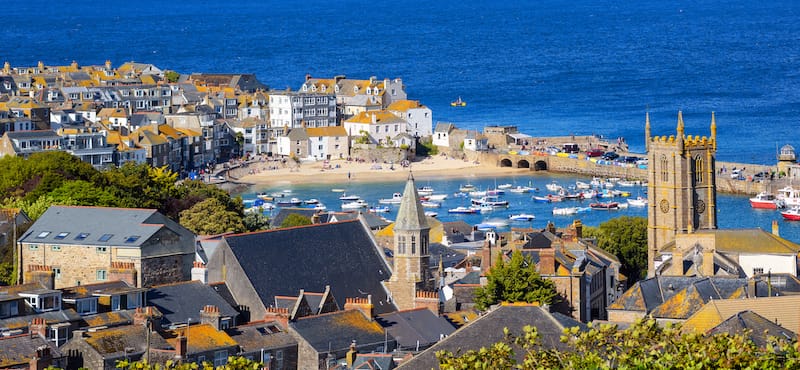 The Falmouth Sea Shanty Festival is another great event on Father's Day weekend in Cornwall, gathering Cornish singers for celebration.
Good weather and long sunny days are just perfect for hiking in the South West Coast Path stretching for miles with Bedruthan Steps and Land's End hotspots.
Donʻt miss the opportunity to get into the spirit of Cornish fun and flavors at the Heartlands Market weekend near Camborne. This two-day event offers visitors the chance to sample local produce and crafts while enjoying Cornish entertainment.
Auvergne
Location: France
Average temperatures and precipitation: highs of 23C and lows of 11C; 8 days of precipitation
Reasons to visit Auvergne in June: gorgeous parks and beach season, lots of camping opportunities
June in France marks the start of the summer season, jam-packed with events, from a nationwide cycling race to music festivals and D-day commemorations.
And Auvergne is one of the top locations to visit during this time of summer, especially if youʻre a mountain lover! It is one of the best weekend breaks in France.
Start your June vacationing in the Parc Naturel Régional des Volcans, one of the largest parks in France with the Puy de Dôme volcano, crater lakes, thermal lakes, and simply striking scenery.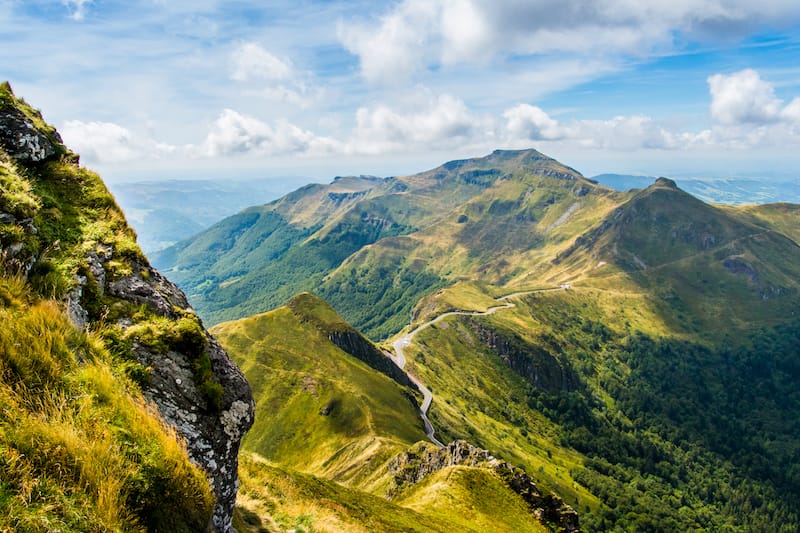 Go for a hike to the volcano's peak through the well-groomed trails and check out some river rafting or rock climbing. Dare to jump off the Puy de Dôme volcano or watch dozens of parasails darting around.
In June, you can officially open the beach season on one of the beaches of Auvergne with Blue Flag, ensuring the perfect water quality.
To cool off in the summer, visit Lac d'Aydat with great campsites in pine and hardwood forests.
Split
Location: Croatia
Average temperatures and precipitation: highs of 27C and lows of 20C; 5 days of precipitation
Reasons to visit Split in June: festivals and fewer crowds compared to other months
The dynamic Split welcomes guests with a packed cultural calendar for June. Besides the natural attractions and walking around, you can take part in festivals and events during your stay.
The best way to explore Split is Radunica, the oldest part of the city, which hosts the Days of Radunica street festival with lots of fun.
Another national festival held annually in June is Picigin, dedicated to a street game played on the beach.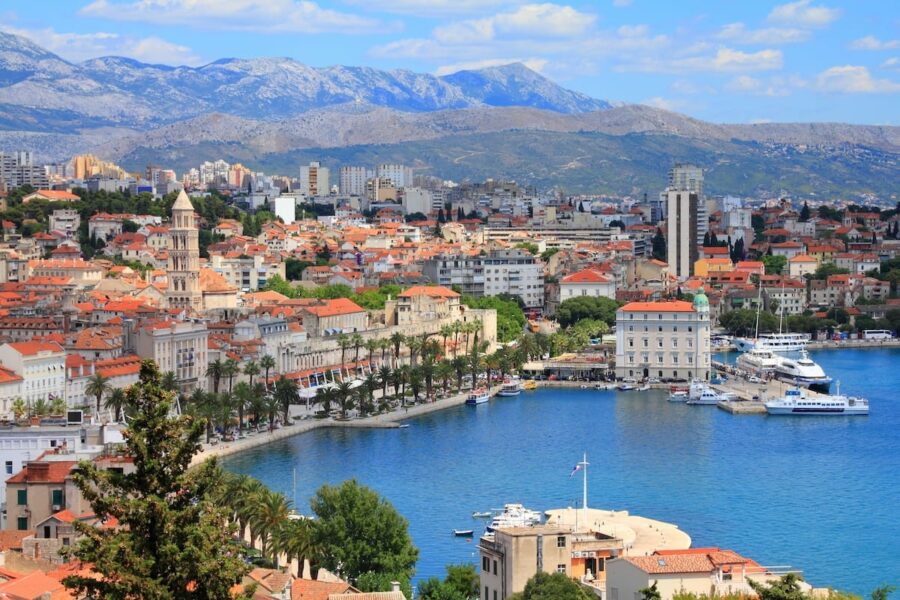 From cultural events, catch up with the Mediterranean Film Festival Split showcasing films from the region and the Bacvice Summer Cinema, an open-air movie screening held on Bacvice beach.
Split is perfect for sightseeing in June with fewer crowds on the beaches and popular attractions. Head to the Marjan Peninsula for kayaking and water sports, or choose the Cetina River for extreme rafting.
Finally, spice up your days in Split with wine and food tours in one of the finest hangout spots like Diocletian Palace, a UNESCO World Heritage Site.
Lake Bled
Location: Slovenia
Average temperatures and precipitation: highs of 26C and lows of 15C; 12 days of precipitation
Reasons to visit Lake Bled in June: beautiful flowers, not as crowded as July/August, swimming
Lake Bled is a fantastic destination in Slovenia that blooms in all the colors of nature in June. Before it gets overcrowded in July and August for festivals, June is a great time to enjoy nature in silence.
Bled is truly a magical lake with a paved road for hiking. Take a 6-kilometer hike to visit and admire the Bled Castle on the high hill overlooking the lake.
You will see some wonderful swimming spots on your way, so don't forget to grab your swimsuit.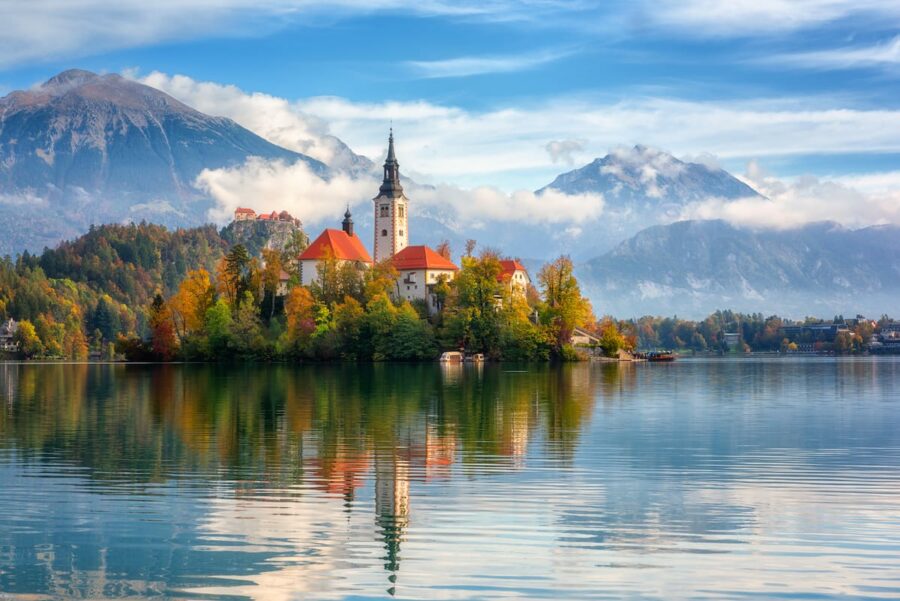 Another hiking trail, stretching from the west, takes you to Mala Osojnica with an iconic panorama. A strenuous trail leads you up to the viewpoint through trees.
There is a wooden bench on the top where you can take a minute to admire nature and find harmony.
In the middle of the lake, you will see a beautiful island with a white church, the Church of the Assumption.
Rent a rowboat to paddle out to the island while enjoying nature and views. Once in the church, ring the bell, and your dream will come true.
Sicily
Location: Italy
Average temperatures and precipitation: highs of 23C and lows of 15C; 4 days of precipitation
Reasons to visit Sicily in June: cultural festivals, hiking Mt Etna area
What can be more impressive than a trip to Sicily, a land of endless activities, rich nature, and versatile landscapes? It is home to some of the best off-the-path places in Italy (and some of the best scenery).
Summer is a great time to plan your trip, while June will please you with less crowded sites. Start exploring the history and culture of Sicily with the June festivals.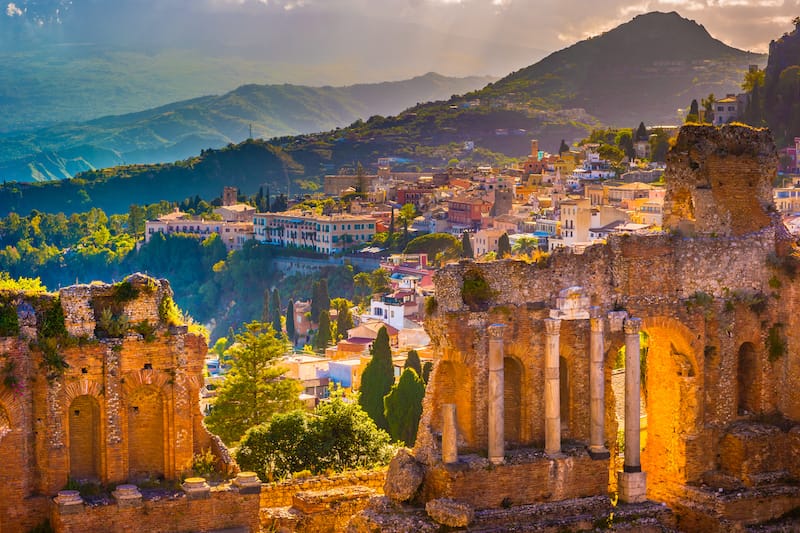 The most spectacular one is Festa del Muzzuni, honoring Demeter, the goddess of fertility. It is the oldest pagan holiday celebrated in the village of Alcara Li Fusi.
The Greek Theatre Festival held in Syracuse is the biggest and the most prestigious event in June, featuring the Agamennone, The Ifigenia in Tauride by Euripides, The Oresteia by Aeschylus, The Coefore Eumenidi, and The Edipo Re by Sophocles.
When done with cultural festivals, hike to Mount Etna National Park to see the highest volcano in Europe with its pristine nature on over 220 square miles of land.
You can join a tour or enjoy it as one of the best free things to do in Sicily.
Gothenburg
Location: Sweden
Average temperatures and precipitation: highs of 20C and lows of 8C; 11 days of precipitation
Reasons to visit Gothenburg in June: warm enough for beaches, island-hopping, Summerburst
Boasting vibrant nightlife, nature oases in the middle of the bustling city, and some significant festivals, Gothenburg may become one of your brightest travel memories in June. It is easily one of the top Swedish destinations!
Summerburst opens the summer season with the largest event and two festival days at the Ullevi stadium.
Most city guests plan a trip in June to not miss this tremendous event with dances, world-known artists' performances, and fireworks.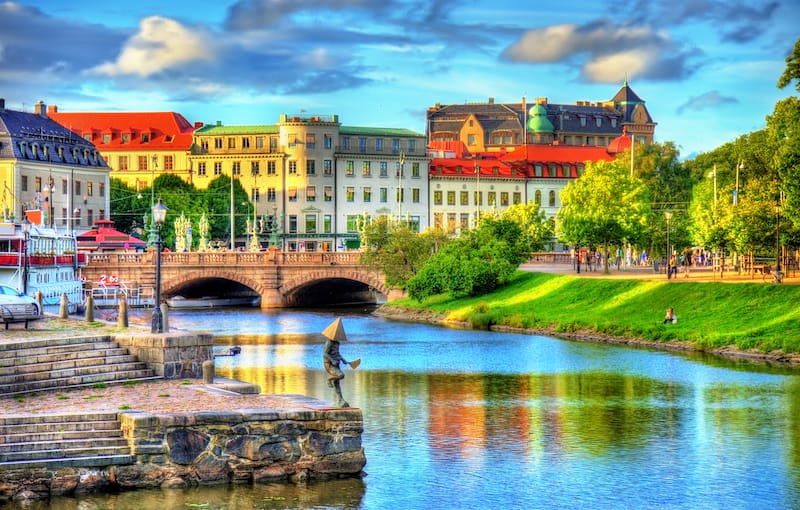 For short hiking, you can visit Slottsskogen, a 338-acre park with wild forests of birch and oak.
Choose another destination for hiking in Gothenburg's Southern Archipelago (Skärgården) to see the stunning scenery of flawless beaches.
For further hiking, you can take a ferry to Styrsö Island, a car-free zone to be fully in harmony with nature.
Porto
Location: Portugal
Average temperatures and precipitation: highs of 23C and lows of 14C; 5 days of precipitation
Reasons to visit Porto in June: festivals, delicious food everywhere, neverending entertainment
Porto means authentic charm, beautiful nature, good food, and traditional hospitality. But it also means fantastic summer events and festivals that will provide you with the perfect Porto weekend entertainment!
Start your Porto vacation with Festa de São João, paying tribute to Saint John the Baptist for already 600 years. Street parties and celebrations last from noon until night with sky lanterns and balloons.
The funniest part of the fest is guests smacking each other with plastic hammers! You will also have the chance to see crazy street dances, jump over flames, eat barbecued sardines, and sip wine.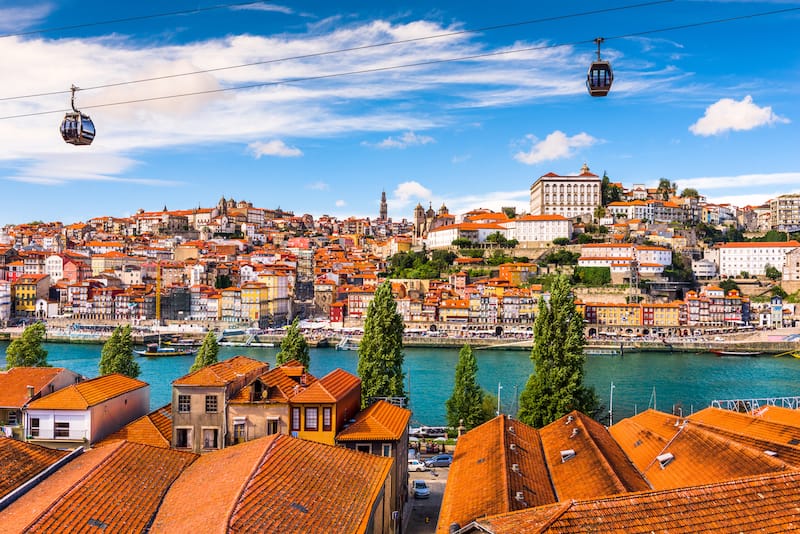 If you are a jazz fan, you will love the traditional Cascais Jazz Festival with a unique experience of Porto summer nights and outdoor concerts, which are perfect even if you only have one day in Porto.
After strolling about Porto and indulging in its history, you can relax during Serralves em Festa, 40-hour non-stop dances, theatrical, and music performances.
It is the largest art festival in Portugal and definitely not one to miss. But, you will find many other awesome things to do in Porto to keep you occupied this summer!
Bordeaux
Location: France
Average temperatures and precipitation: highs of 24C and lows of 14C; 8 days of precipitation
Reasons to visit Bordeaux in June: wine, cycling, several gastro festivals
Thinking of traveling to Bordeaux this June? Be prepared to fill your day with events and festivals organized throughout this month, and most of them are must-visits.
Start your "Bordeaux days" with the most exciting Bordeaux Fête le Vin (Bordeaux Wine Festival), showcasing the region's wine production diversity.
During those four days, you will taste local wine, meet winemakers, and participate in events along the banks of the Garonne.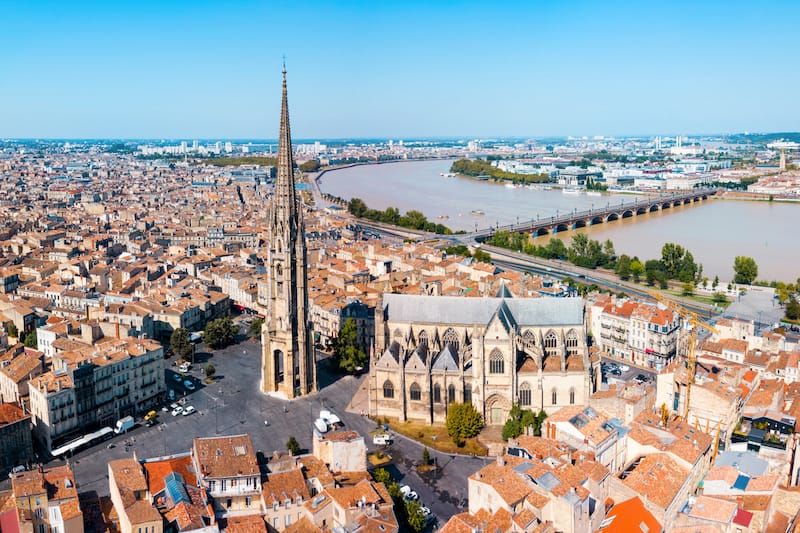 Wine is always great, but what about food and music? You'll find plenty of things to do in Bordeaux no matter what your interests are… and music (and food) are no exception!
The Vie Sauvage (Wild Life) is a 3-day music and gastronomy festival held in the village of Bourg. During the festival, the village and surrounding parks come alive in a series of events.
When done with festivals and wine, take a bike and enjoy 200 kilometers of cycling paths across Bordeaux while visiting its beautiful monuments.
Faroe Islands
Average temperatures and precipitation: highs of 11C and lows of 7C; 11 days of precipitation
Reasons to visit the Faroe Islands in June: sunnier and longer days, hiking opportunities, puffins
What is it like visiting the Faroe Islands in June? It is a unique chance to dive deep into unspoiled nature and fall in love with it forever.
With days getting warmer in June and the sun shining (trust me, it comes alive during summer far more than other seasons!), you can enjoy all the treasures.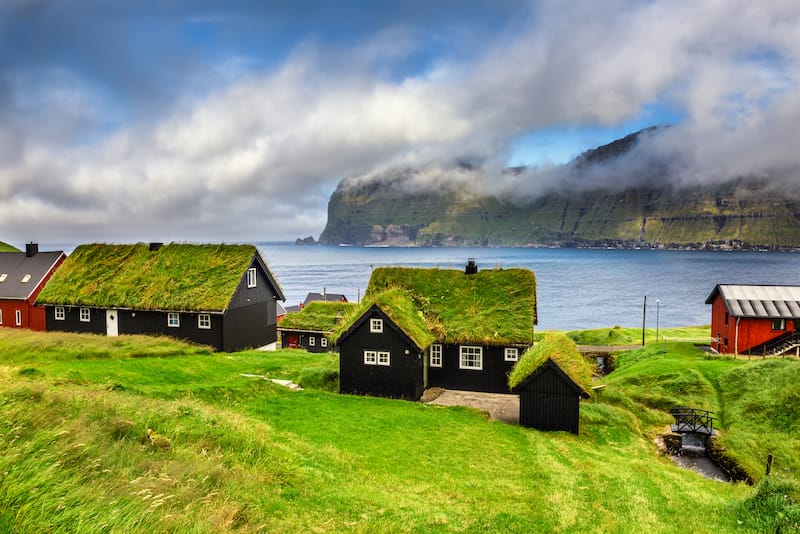 In June, one unforgettable highlight is a day tour to Mykines, a small island in the archipelago with incredible views and Atlantic Puffin birds. And this is the season where they are able to be seen in large numbers by taking a tour there!
Another place to enjoy birdwatching is Kalsoy island, with immense bird life surrounding the cliffs and the famous lighthouse hike that you can do for half a day.
For more views over the Atlantic, grab your hiking shoes and head to the Island of Vagar where you can hike to the biggest lake in the Faroe Islands.
Besides breathtaking views, the Faroe Islands host several festivals in June, and the most popular one is Voxbotn, a 12-hour pop music festival in the capital.
Athens
Location: Greece
Average temperatures and precipitation: highs of 29C and lows of 20C; 1 day of precipitation
Reasons to visit Athens in June: island escapes nearby, many festivals and events, beautiful weather
Athens, one of the cradles of civilization, is a place that everyone should visit at least once to explore the priceless heritage of thousands of years. You can plan your trip any time and it will be truly unforgettable.
However, if you want to enjoy warm weather, plan it for June, and you will have summer without unbearable heat, tourist attractions with fewer tourists, and more time to embrace the beauty of Athens.
It is much better than in winter!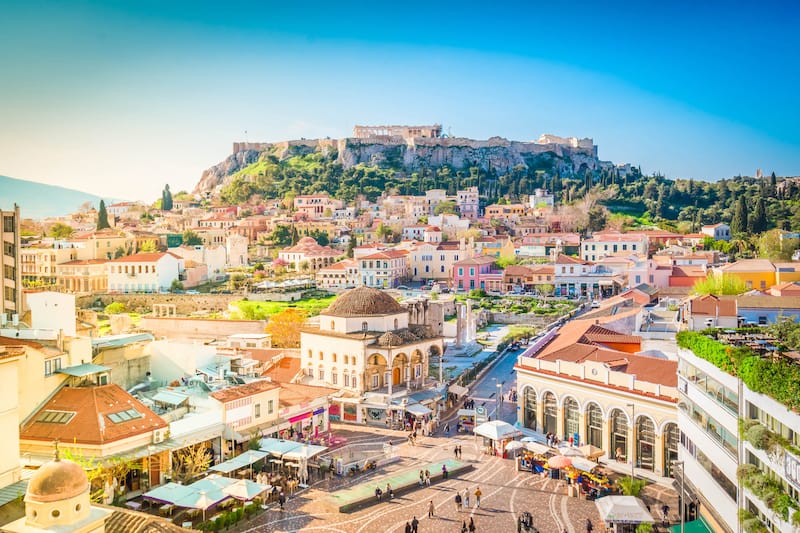 June marks one of the most legendary events in Athens, held in the Epidarius Theatre and the Odeon Herodes Atticus, two open-air theatres with perfect acoustics to enjoy live performances.
The theatres hosted big names like Frank Sinatra, Luciano Pavarotti, and Maria Callas. For alternative music, take part in Plissken, bringing together music addicts of all musical tastes.
And more music from Athens; book a ticket to the Ejekt festival in O.A.K.A, Athens, the headline festival in Greece. As a finishing touch to your Athens vacationing, dye your days in the shades of Color Day Festival in honor of India's Holi.
While the Acropolis may be packed with visitors, nearby islands like Hydra and Aegina are a nice day escape from the crowds!
Paris
Location: France
Average temperatures and precipitation: highs of 24C and lows of 14C; 8 days of precipitation
Reasons to visit Paris in June: music festivals, lovely weather, shopping sales
June is probably one of the most beautiful months to visit Paris, featuring pleasant weather, long lovely strolls about the city from sunrise to sunset, and some noteworthy events to take part in.
Besides sightseeing tours, festivals are an excellent opportunity to be part of its culture and lifestyle.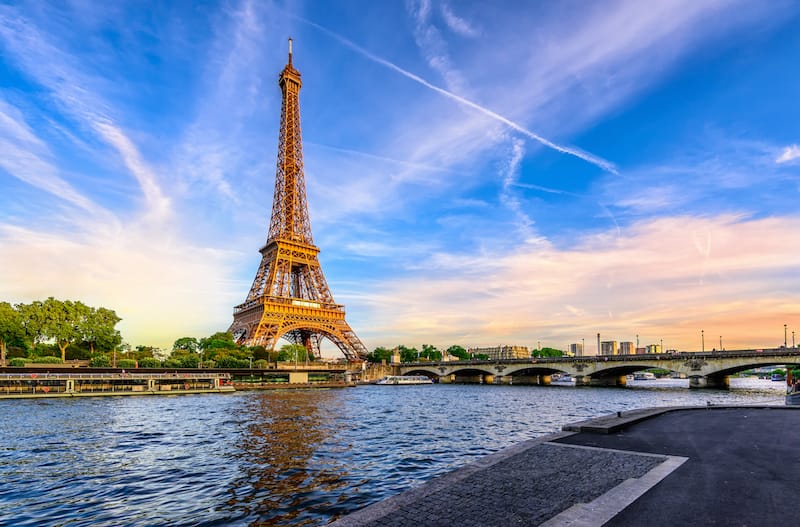 Paris is filled with music in June. You will come across open-air concerts like the Paris Jazz Festival in the Parc Floral de Paris, the Chopin Festival in the Parc de Bagatelle, or the Fête de la Musique with bands performing in the streets.
What can be more romantic? You can also take a night bike ride about Paris to see the other reality in night lights and with a more laid-back vibe.
P is for Paris, and P is for perfumery, boutiques, shopping, and Paris fashion. Another great reason to visit in June is that it is when many big sales start.
But, if youʻre looking for the ultimate escape – try taking a day trip to Champagne country from Paris. It is one of the most luxurious, romantic, and tastiest things to do!
Another worthwhile day trip is the Loire Valley. You can also enjoy one of Europe's best hot air balloon rides there!
Galway
Location: Ireland
Average temperatures and precipitation: highs of 17C and lows of 10C; 17 days of precipitation
Reasons to visit Galway in June: summer festivals, biking and hiking around
A vibrant city with Irish culture, old and new, Galway brims with buzzing streets, bright festivals, sweeping bays, and unimaginable landscapes.
Experience the magic of Galway, "The City of the Tribes," with the traditional Galway Session, the summer festival held during the first days of June.
Taking place in the Town Hall Theatre and the pubs throughout the city, you should not miss the event during your visit.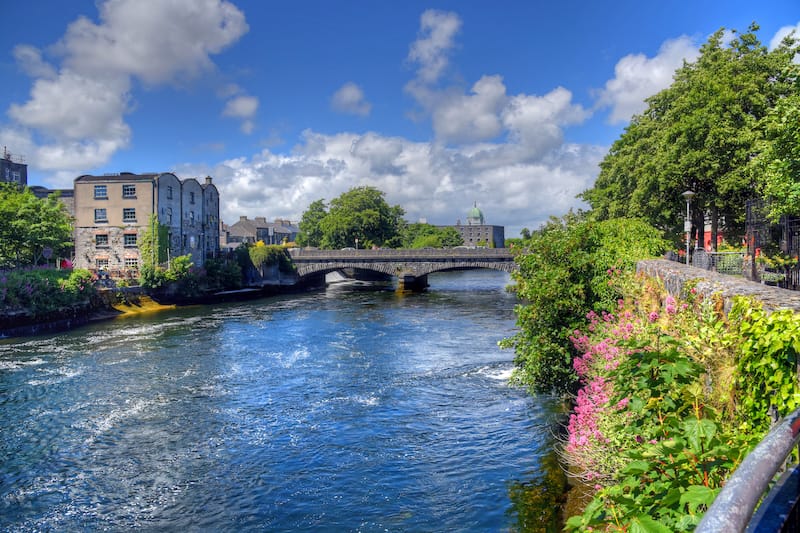 One of the best things to do in Galway is watch the view of the incredible Dún Aonghasa on Inis Mor Island. Standing at the cliff's edge, it feels like Ireland ends here.
Whether you choose to hike around or explore the territory on a bike, don't forget to visit two more places on the island: Kilmurvey Beach with crystal clear water and white sand and Poll na bPeist (the Wormhole).
The last one with hard to pronounce name is a natural miracle, a perfectly rectangular pool at the bottom of the cliff.
If you are looking for an alternative with even fewer tourists, opt for Sligo. It is off the path and absolutely beautiful!
Salzburg
Location: Austria
Average temperatures and precipitation: highs of 24C and lows of 13C; 16 days of precipitation
Reasons to visit Salzburg in June: hiking, mountain biking, gorgeous cultural events and landmarks
Are you looking for movie-like panoramas, baroque buildings, culture, and romance in one place? Salzburg in June is your answer!
Summer is an excellent time for city tours and hiking in the mountains surrounding the famous Austrian city.
You should be sure to visit the Maria Plain Church, which is a popular pilgrimage site among Christians that provides stunning views of Salzburg.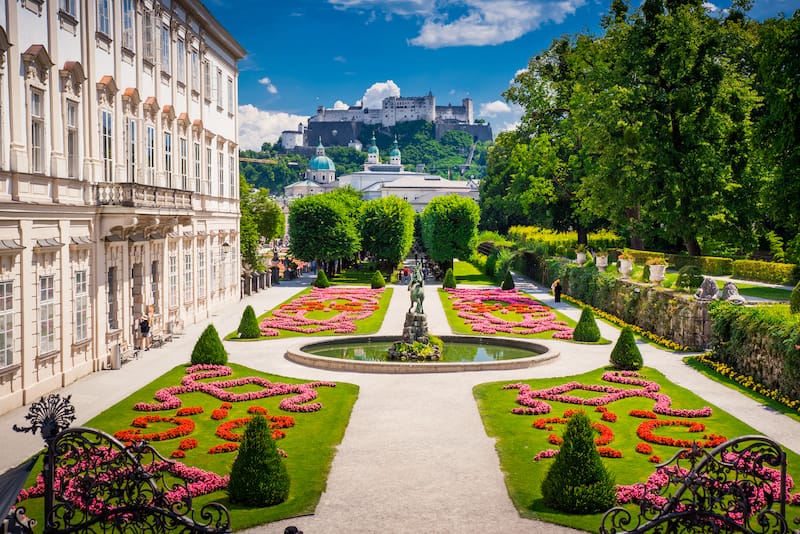 You have also certainly seen photos of the Hohenwerfen Castle among the backdrop of the breathtaking Bavarian Alps. Be sure to check out when the castle is open first prior to visiting.
Another destination for outdoor adventures is Gaisberb Mountain.
You will have over 20 km of well-marked trails of different difficulties and lengths for hiking, but if you are looking for a thrill, there are paragliding and mountain biking tours with fascinating views of Gaisberg expanses.
Riga
Location: Latvia
Average temperatures and precipitation: highs of 21C and lows of 10C; 8 days of precipitation
Reasons to visit Riga in June: city festival, warmer (yet comfortable!) temperatures, midsummer
Nestled between Estonia and Lithuania, Latvia is blessed with dense forests and enticing beaches.
Embracing its medieval history, it has become one of the most influential art nouveau countries with a rich cultural heritage in music, food, and architecture. Once you visit Riga in June, you may want to stay longer!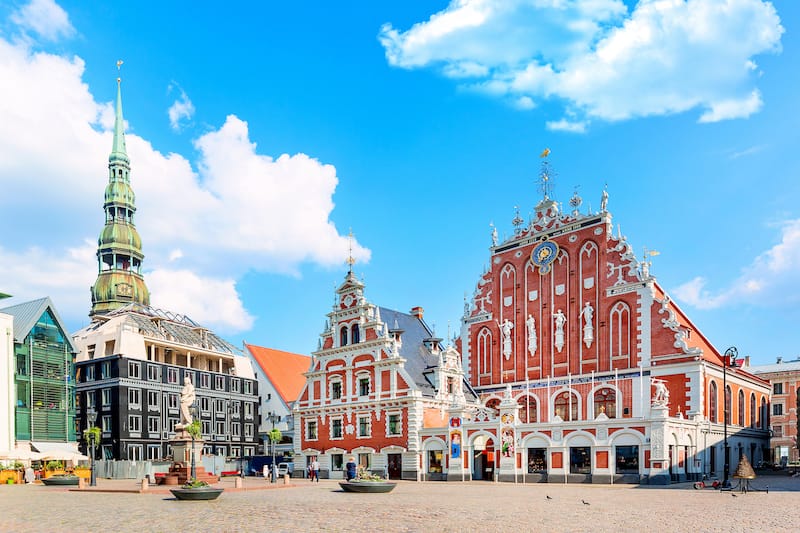 One of June's most significant cultural events is the Riga City Festival, transforming the capital's streets into the arena for the fest. You will have lots of entertainment, music, local food, and art installations in public parks and gardens throughout the city.
Another joyous traditional festival held in Riga and across the country is the Midsummer Festival, the summer solstice holiday with traditional Latvian food and dances.
If you are lucky to participate in this event, you will see locals gathering in the fields, making bonfires, and enjoying music.
Don't forget to keep your phone and camera charged because every corner has something "Instagrammable." And, there are plenty of day trips to also keep you occupied!
Amalfi Coast
Location: Italy
Average temperatures and precipitation: highs of 27C and lows of 22C; 10 days of precipitation
Reasons to visit Amalfi Coast in June: beautiful weather, hiking the Footpath of the Gods, Ravello Festival starts
Possibly the world's most awe-inspiring drive, the Amalfi Coast is also the most picturesque 48 kilometers of coastline in Italy and unquestionably one of the top tourist attractions in the country.
The small town of Amalfi is a favorite stop if you want to go on vacation in June for a couple of days. It is, in my opinion, the most photogenic of all of the towns on the coast (sorry, Positano)!
The best way to soak up the sun and embrace the coast's beauty is to follow the "Footpath of the Gods." It is one of the best day trips from Naples (and really is even better as a weekend getaway).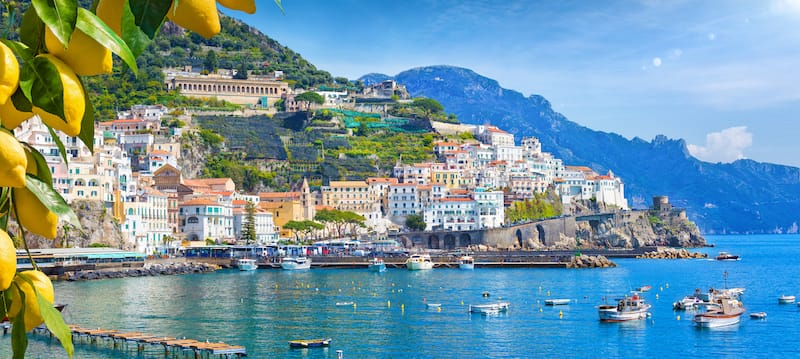 Hike through the walking paths and stone stairways passing through villages, forests, wildflowers, and lemon grooves.
Your June holidays in Amalfi will be spiced up with the sounds of the Ravello Festival, a music and arts festival lasting all summer.
You may also attend one of the performances in the Belvedere di Billa Rufolo or the Villa Cimbrone.
Another spectacular event to take part in is the ancient Italian Maritime Republic Regatta, where four former powers compete to take control over the sea.
Berlin
Location: Germany
Average temperatures and precipitation: highs of 22C and lows of 12C; 8 days of precipitation
Reasons to visit Berlin in June: nice temperatures, lots of colorful parties and celebrations
How to make the most of your time in Berlin?
The city's diversity makes it a place where there's something for everyone from museums and galleries to 72-hour parties for party-goers. Berlin is more than a city for summer vacation.
It will offer a parade of festivals and events with the first open-air cinema festival on the 2nd of June, where you can enjoy a warm evening and your favorite movie.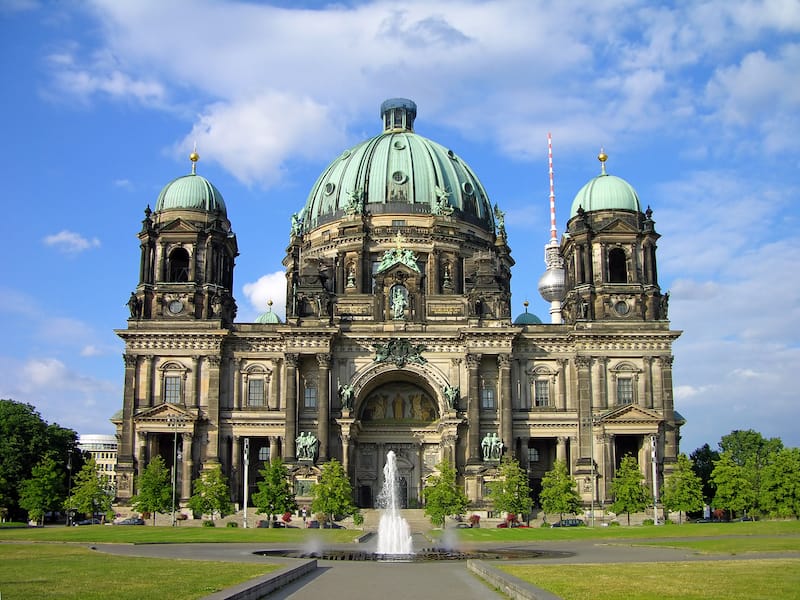 Close to the end of June, the streets of Berlin are filled with music, colors, and crowds, celebrating the Fête de la Musique.
Artists perform in the streets and on the squares, and the gala performance is held at the Theater a der Parkaue.
Want some more entertainment? Visit Berliner Volksfestsommer, the largest folk festival in Berlin with amusement rides, rollercoasters, lots of food, and live music.
Tirana
Location: Albania
Average temperatures and precipitation: highs of 28C and lows of 16C; 3 days of precipitation
Reasons to visit Tirana in June:
This underrated treasure in Europe, called Albania, has infinite things to offer: pristine nature, the versatility of landscapes, rich culture, and heritage. Tirana, Albaniaʻs capital city, is your destination for a June vacation in the heart of the Balkans.
Why June? It's also the perfect time to enjoy the sun in Tirana's parks, go for a picnic, or enjoy an outdoor movie.
The Nyou Music Festival in Grand Park Tirana takes place every June, showcasing jazz music and some of the best jazz artists on the Balkan Peninsula.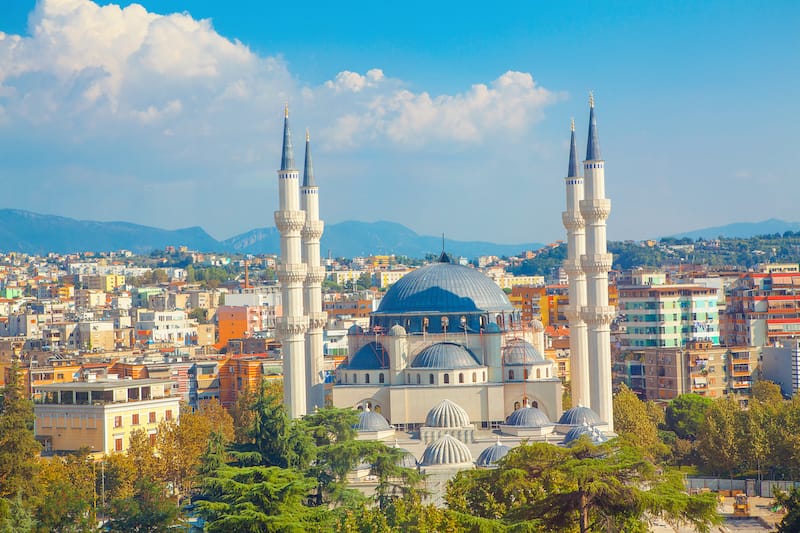 You will have a chance to enjoy the sounds of jazz in the open-air amphitheater under the stars with a light summer breeze. Just beyond the eastern edge of Tirana, you will find an excellent hiking spot, Mount Dajti National Park, with a lot of wildlife and phenomenal ridges.
The trail will take you through the oak forest as it passes between the two peaks of Dajti, and eventually making its way to Tujani peak.
At the top, you will be rewarded with beautiful panoramic views of Lake Bovilla. This is definitely one of the more low-key, cool places to visit in Europe in June.
San Sebastian
Location: Spain
Average temperatures and precipitation: highs of 21C and lows of 15C; 10 days of precipitation
Reasons to visit San Sebastian in June: festivals, coastal views, some of Europeʻs best food
There are few places as beautiful as San Sebastian on the Spanish coast. Seek out the jewels of Spain's Basque Country with hidden alleyways, cute bars, movie stars, and jazz musicians in June to double your emotions.
The feast of St. John is the most significant event in San Sebastian and throughout the country.
Starting from midnight on the 23rd of June, you can participate in an all-day celebration with bonfires. The center of the feast is the St. John's Ash Tree.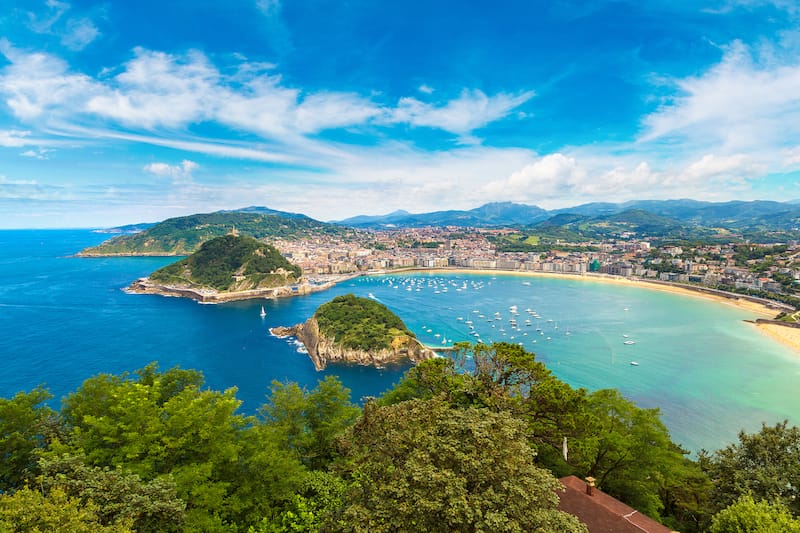 In San Sebastian, you can simply enjoy doing nothing by reveling in the seaside vistas of La Concha Bay with turquoise waves, but there are places worth traveling to.
Take a hike up to the Monte Igueldo at the far end of Playa de Ondarreta for a breathtaking coastline view. San Sebastian also becomes a true paradise for surfers looking for big waves.
The Playa de la Zurriola, with its challenging waves, draws surfers from all over the world, and if you are not a professional surfer, you can simply enjoy the view.
Corsica
Average temperatures and precipitation: highs of 24C and lows of 19C; 2 days of precipitation
Reasons to visit Corsica in June: some of Europeʻs best beaches, many festivals, water activities galore
On the Mediterranean Sea, 200 kilometers south of the French Riviera is Corsica, a tiny island that resembles a mini continent with natural wonders.
There is plenty to see and do on Corsica island in June, from snorkeling to hiking to the ancient hilltop villages. Before exploring the island, save the dates of popular June events.
One of the best experiences in Corsica is a 5-day Iron Man challenge showcasing crazy mountain biking, sea kayaking, canoeing, and mountain climbing in the Lecci village of the Alt Rocca mountains.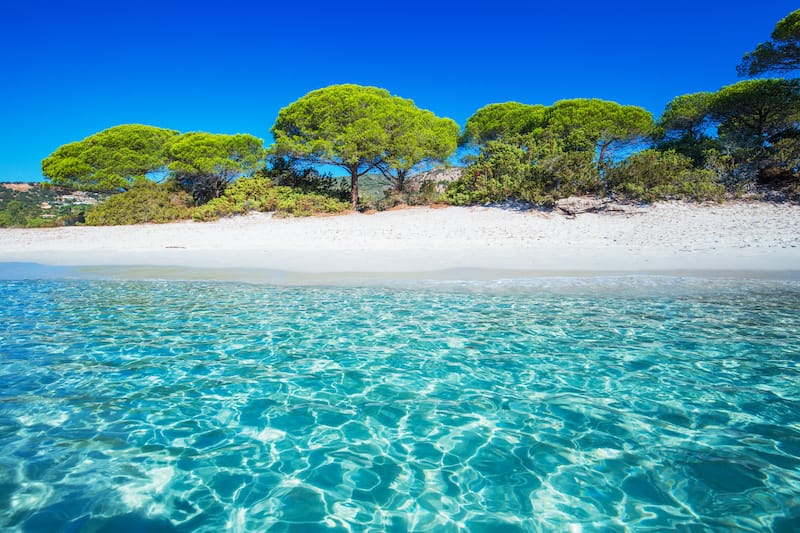 Be sure to take part in all activities while enjoying the views. Renting a car in Corsica is pretty easy and it makes reaching the many sights, beaches, and attractions simple!
June opens the season of music fests with remarkable events on the island. Fête de la Musique (Festival of Music) in La Balagne celebrates the joy of music with new and already famous artists.
When done with festivals, take a 19-km hiking tour through the Customs Officers' Path (Chemin Des Douaniers) along the coast with beautiful beaches to stop for a swim.
London
Location: England
Average temperatures and precipitation: highs of 21C and lows of 13C; 8 days of precipitation
Reasons to visit London in June: London Fashion Week, gardens in bloom, many festivals
In June, a visit to London will be delightful with nice weather, lots of festivals, and royal events. There are many things to do in London year-round, but the city really shines in summer!
June starts with the London Festival of Architecture, the world's biggest architecture festival across the city.
It is a great chance to uncover modern and future architectural ideas.
For fashion addicts, there is London Fashion Week with world-known designers and models rocking the runways for seven days. This year, Fashion Week will be all about gender-neutral designs.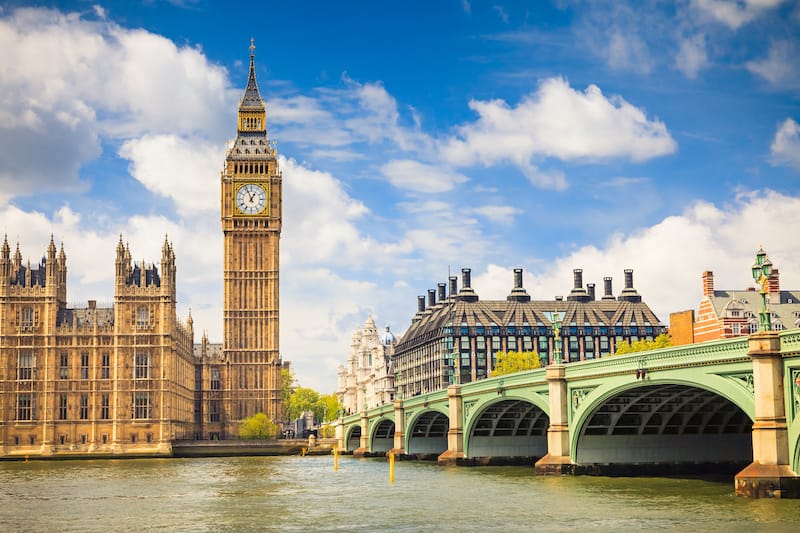 For two days, the beautiful private gardens of London and city center oases will be unlocked for visits during Open Garden Squares Weekend.
Finally, embrace the breathtaking views and get goosebumps during one of the candlelight concerts throughout London. Or take a day trip to Brighton for some chill time at the beach.
Rhodes
Location: Greece
Average temperatures and precipitation: highs of 21C and lows of 13C; 8 days of precipitation
Reasons to visit Rhodes in June: picture-perfect beaches, ocean caves, and festivals
Are you looking for heaven on earth? You have found it! Rhodes is nothing but a pure gem with unique and fun activities to do in June.
Though it would be hard to see anything else besides those picture-perfect beaches, there are things not to miss in Rhodes.
Greece is home to the richest heritage you want to see and touch.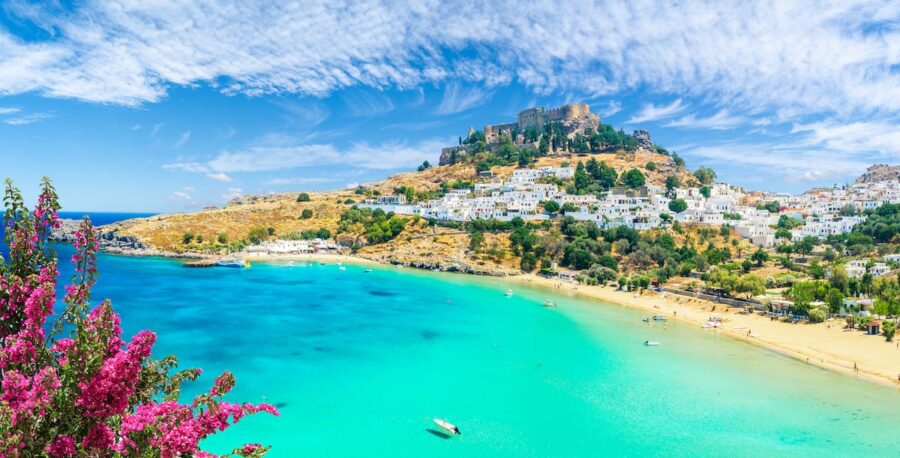 While visiting Rhodes, hike to the Lindos Acropolis, 2,000-year-old ruins of a castle with views of Lindos beaches and the coastline.
When in Lindos (an essential for every Rhodes itinerary!), don't miss the ocean caves and, if brave enough, jump from the cliffs into the clear turquoise waters.
Vacation in Rhodes means you will take part in Rhodes Medieval Rose Festival with the Witches and Fairies Dance, the performance of Fire Eater, and other impressive activities recreating the magic of ancient Rhodes.
Reykjavik
Location: Iceland
Average temperatures and precipitation: highs of 12C and lows of 7C; 9 days of precipitation
Reasons to visit Reykjavik in June: summer solstice, events and celebrations, many day trips with long days!
Iceland also is home to the beauty that can hardly be described with words, so you'd better see it at least once. June opens the doors to many outdoor adventures to make you fully enjoy Reykjavik.
Though you won't enjoy the Northern Lights at this time of the year, in June, you will see another unique phenomenon, the Sumarsólstöður (Summer Solstice), with the sun shining bright in the middle of the night.
By the way, on this day, you can also participate in the Secret Solstice music festival in Reykjavik with world-known headliners!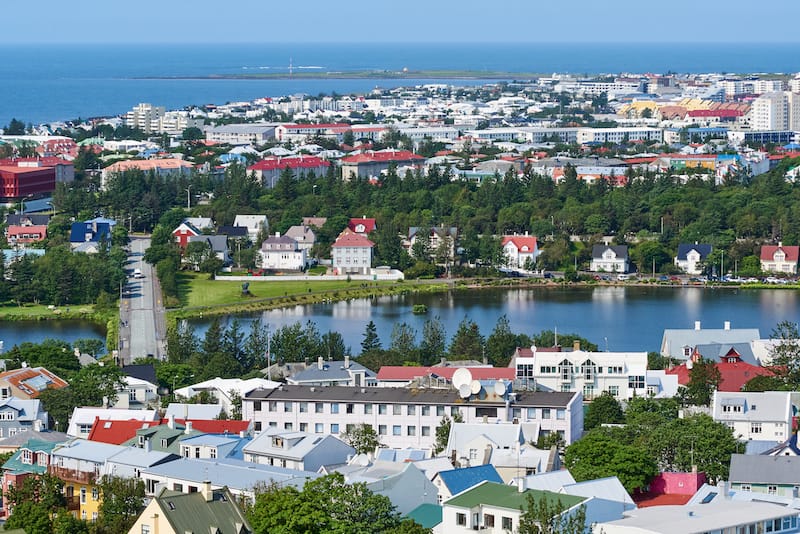 You will also be lucky to visit Reykjavik in June to be part of the Independence Day celebrations and explore the parties all throughout the city.
Change the city views with impressive Raufarhуlshellir lava caves near Reykjavik, one of the longest lava tubes in Iceland. You will see traces of volcanic eruptions walking through the tubes formed about 5,200 years ago.
You are also not far from some of the islandʻs most beautiful waterfalls and scenery!
Did we miss any amazing places to visit in Europe in June? Or are you visiting the US in June?
Let us know your favorite destinations in Europe during the summer in the comments. Thanks!
More Europe Travel Guides
Pin this Where to Go in Europe in June Guide