Are you looking for the best things to do in Copenhagen in winter? We have you covered!
This winter in Copenhagen guide covers many of the best things to do in the city – from seasonal festivals to some of the city's top attractions (that have fewer tourists in the winter)!
We also detail what to expect in winter when it comes to the weather and daylight (and snow!).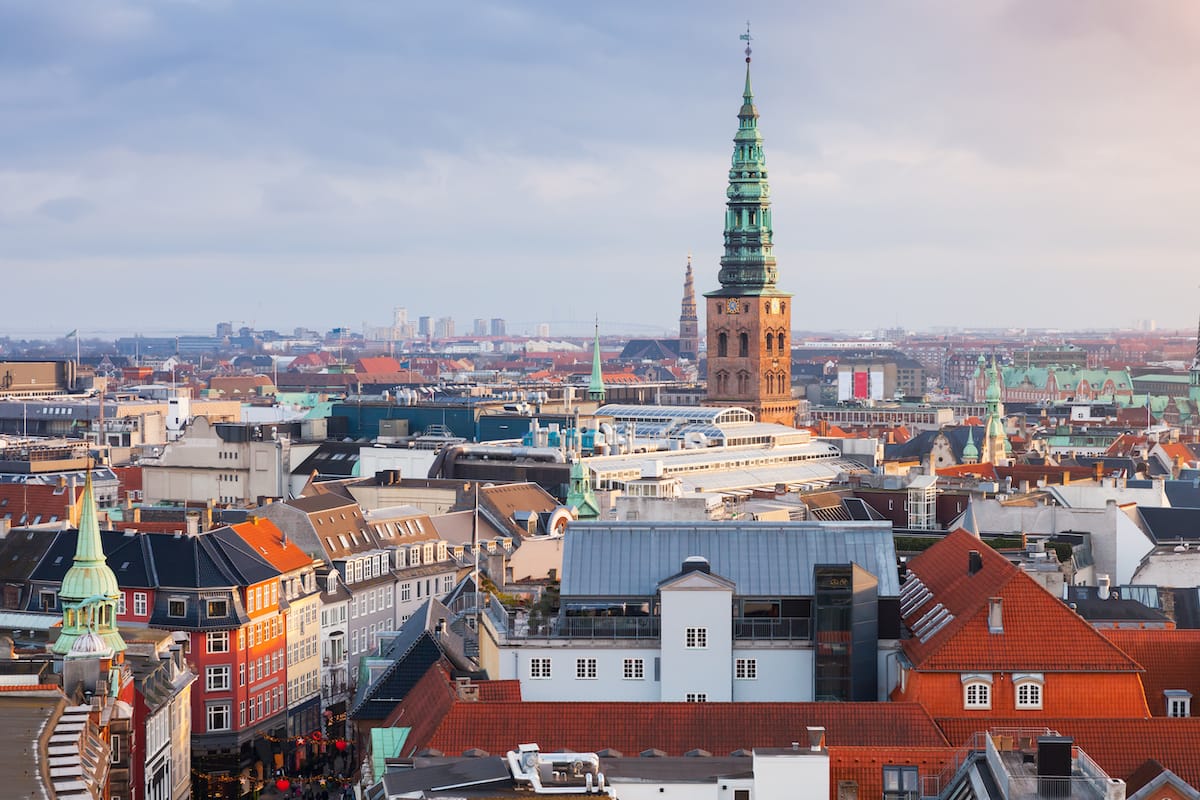 Did I miss anything to know before a winter trip to Copenhagen?
Let me know your favorite Copenhagen winter activities and things to do in the comments. Thanks!
Copenhagen Winter Weather Info
Average Winter Temperatures in Copenhagen
Since the winter (more-or-less) goes from December until March, we will give the average highs and lows for those months below:
Copenhagen in December: highs of 5°C (40°F), lows of 1°C (33°F)
Copenhagen in January: highs of 3C (38°F), lows of -1°C (31°F)
Copenhagen in February: highs of 3°C (38°F), lows of -1°C (31°F)
Copenhagen in March: highs of 6°C (43°F), lows of 1°C (33°F)
Snowfall in Copenhagen
Copenhagen does see snow in the winter months and the accumulation varies from year to year.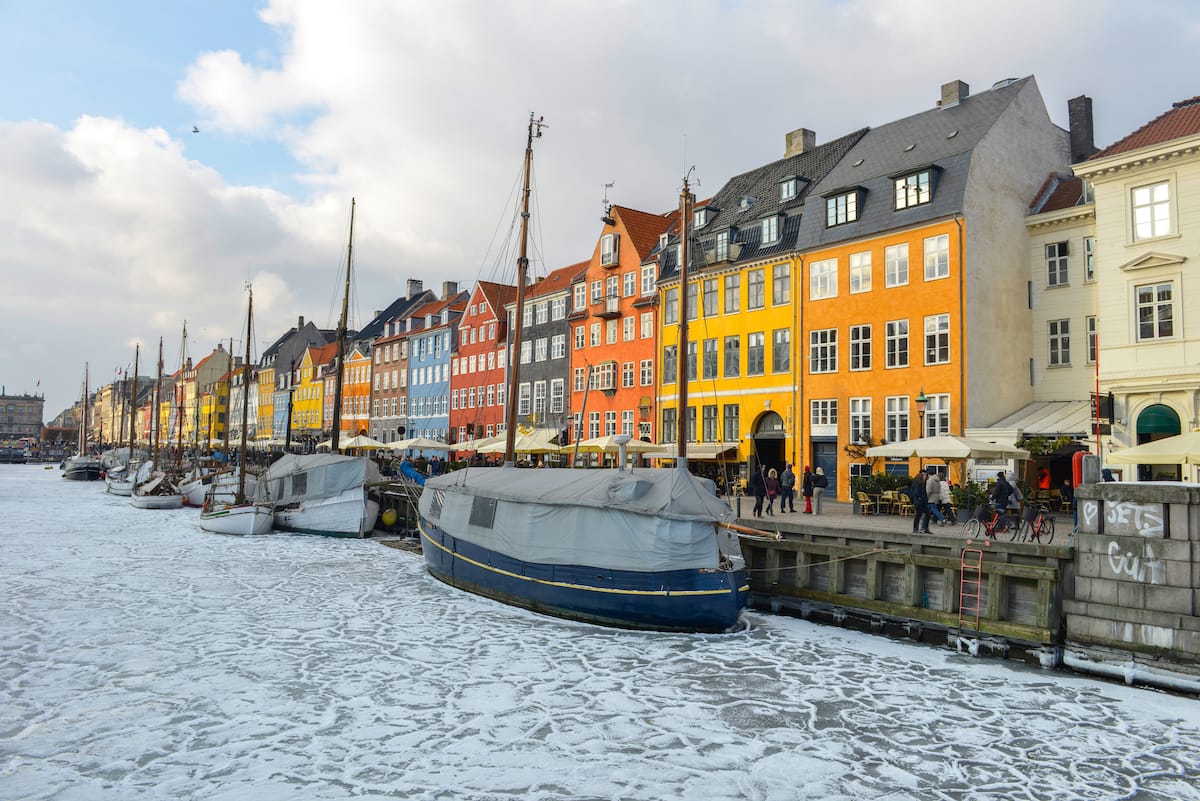 The snowy period tends to last from early December until mid-March. The snowiest month is February when the city will see an average snowfall of 4.6 cm (1.8 inches).
Overall, it is estimated that there are about 21 days of snow annually.
Winter Daylight in Copenhagen
Denmark is not in the south of Europe (of course) and does not experience sunny winters. There is just simply not much daylight!
The shortest day of the year is December 21 (winter solstice), when the sun rises at 8:37am and sets at 3:38pm.
Best Things to Do in Copenhagen in Winter
1. Stroll through the Tivoli Gardens
Soak up all the Christmas magic at stunning Tivoli Gardens, right next to the central rail station. This national gem, operating since 1843, is the second oldest amusement park in the world.
November and December transform the park into a winter wonderland packed with thrilling rides, markets, Christmas decorations, ice skating, fancy restaurants, shops, and a festive atmosphere.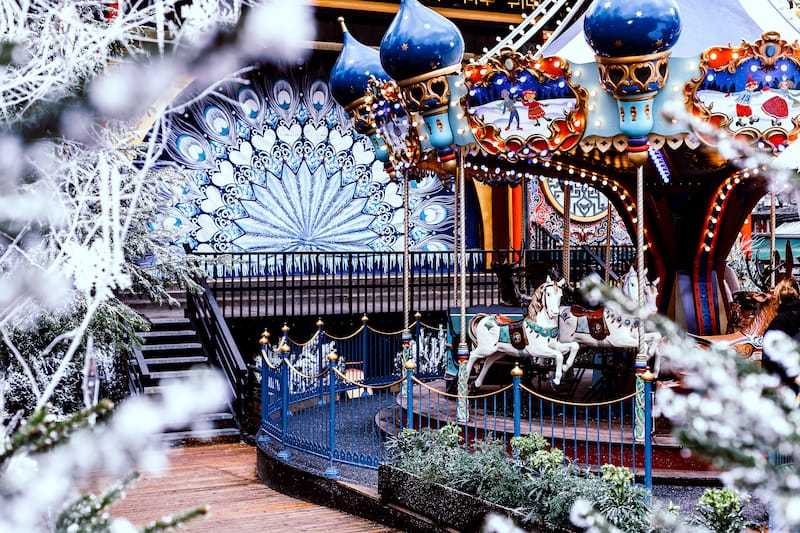 This combo ticket allows you to save time by skipping lines and gives you access to unlimited rides, but you can also book an entrance ticket without rides included!
Get your adrenaline rush while riding The Demon or The Flying Trunk, ​​go for a spine-chilling walk through the haunted Villa Vendetta, try your luck at Hyggehjulet or Grand Prix game, or simply relax in the exotic gardens to eat Christmas treats and enjoy a mug of spiced wine.
>> Book your Tivoli Gardens combo ticket with unlimited rides here
2. Take a Canal Cruise from Nyhavn
Undoubtedly one of the most popular things to do in Copenhagen is to take a canal cruise from Nyhavn. Boats in winter? Yep – bundle up!
On this super affordable boat tour, you will hop on a boat and cruise past beautiful homes, historic castles, and several imposing churches as you make your way through the canals of Copenhagen.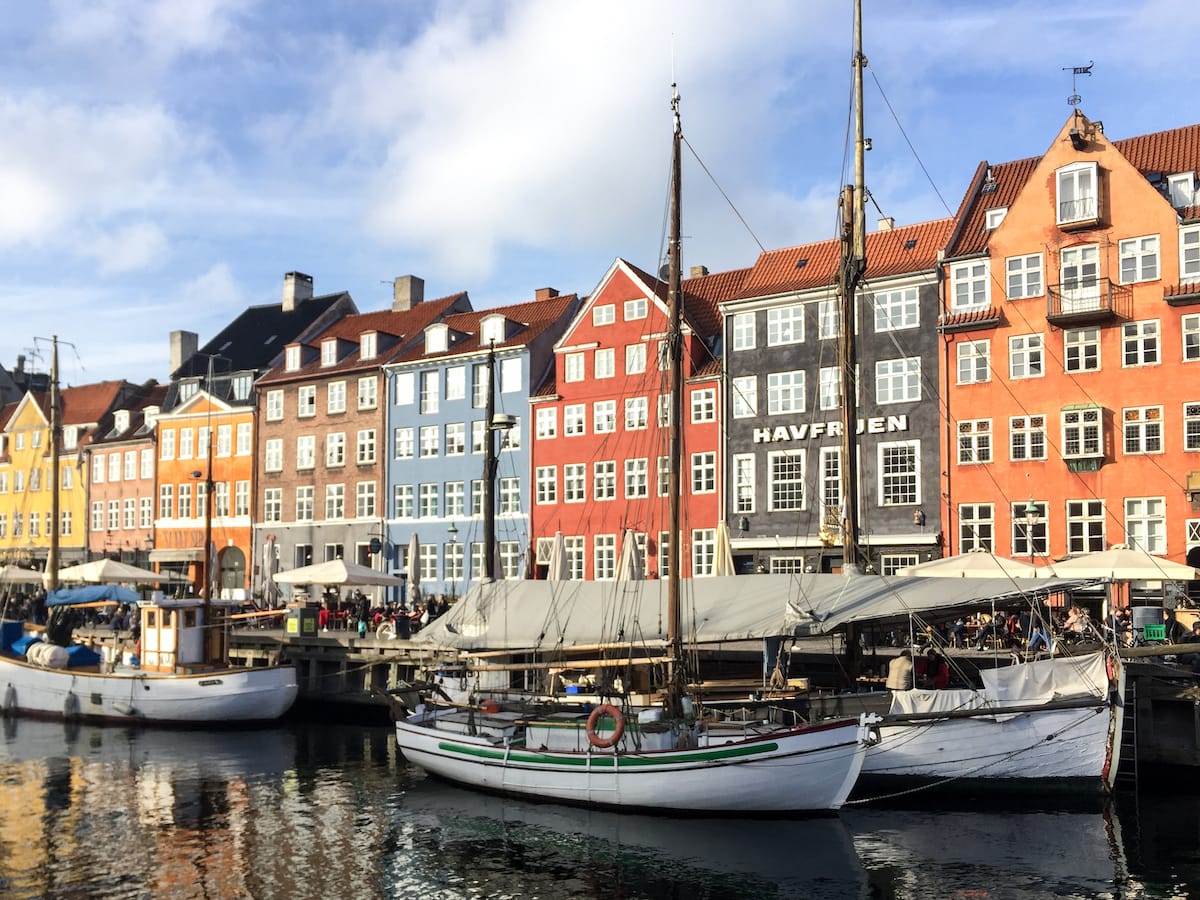 The boat cruise is only an hour long, making it the ideal way to get off your feet and relax for a bit! During the winter months, the boat runs around 6 times a day (starting at 10am and ending a bit after 4pm).
Unfortunately, this trip is not suitable for wheelchair users.
>> Click here to check Nyhavn canal cruise tickets and availability
3. Take a Scandinavian Delights Food Tour
Are you keen to explore the best of Danish gastronomy in just a few hours? If so, then this Scandinavian delights food and drink private tour is the one for you!
This 3-hour tour with a local guide will make you feel like a local as you visit the most traditional food stands and restaurants to discover the delights of Nordic cuisine.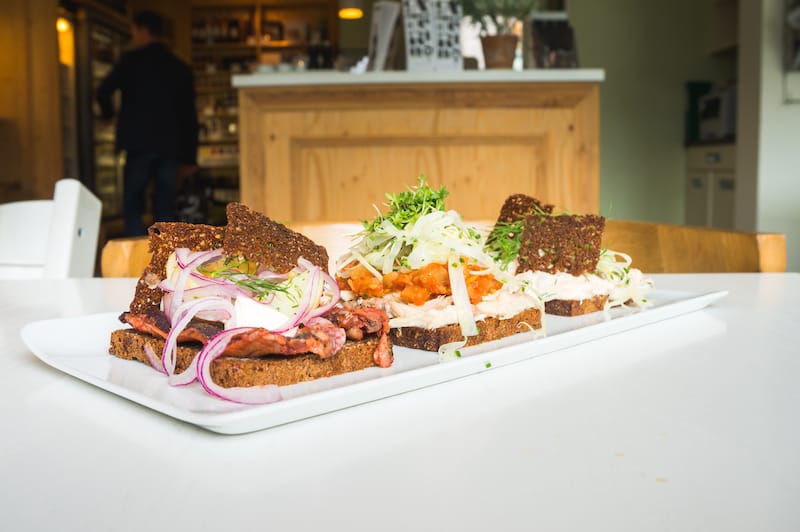 Stop at a 'Kiosk' to enjoy the exquisite Ristepølse accompanied by a traditional Danish elderflower juice, and then sit in one of the most famous squares to taste a Smørrebrod.
Head to the Torvehallerne Market to indulge your taste buds with the true taste of Fiskefrikadeller or Flæskestegssandwich and pair them with one of the most recognized Danish craft beers.
Round off your tour with a cinnamon roll and a coffee in one of Copenhagen's cozy pastry shops.
>> Check food tour rates and availability here
4. Enjoy Tasty Winter Food in Copenhagen
No trip to Copenhagen is complete without getting a taste of Danish winter food.
One of the most delicious Danish holiday dishes is Flæskesteg, which is a Danish pork roast with crackling skin, a delightful part of the traditional Danish Christmas dinner.
A holiday smørrebrød, which are small, open-face sandwiches topped with spiced pickled herring or other delectables, is another Danish classic everyone needs to try at least once on their trip to Denmark.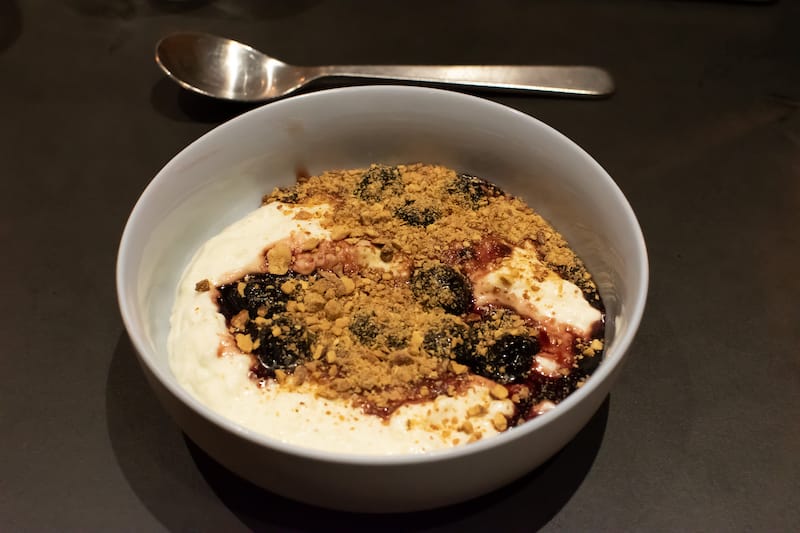 The Danish version of hot wine called Gløgg, mulled with slivered almonds and raisins, tastes like Christmas itself.
Then you can top everything off with Æbleskiver, fluffy round dough balls cooked and dusted with sugar.
Also, don't miss out on trying other yummy Danish holiday dishes like Risengrød (rice porridge, served with butter, cinnamon, and sugar), marzipan pigs, klejner, rødkål or krystkål, risalamande, and roast duck shredded in delicious sandwiches.
5. Relax at Vinterbad Bryggen
Looking for a winter sauna getaway?
Escape the winter chill in Vinterbad Bryggen, which is open for members every day of the week from 6am-10pm from the beginning of October until the 15th of April.
This winter bath brings life and warmth to those gloomy winter months.
Here you can experience the delights of winter bathing completely free of charge as part of the Copenhagen Christmas festival.
Address: Islands Brygge 14, 2300 København S
6. Take in the Views at the Round Tower
Being the center of Danish astronomy for centuries, the Round Tower has been a living landmark of Copenhagen since 1642.
This 17th-century tower is Europe's oldest functioning observatory which was originally built as a platform for the university observatory.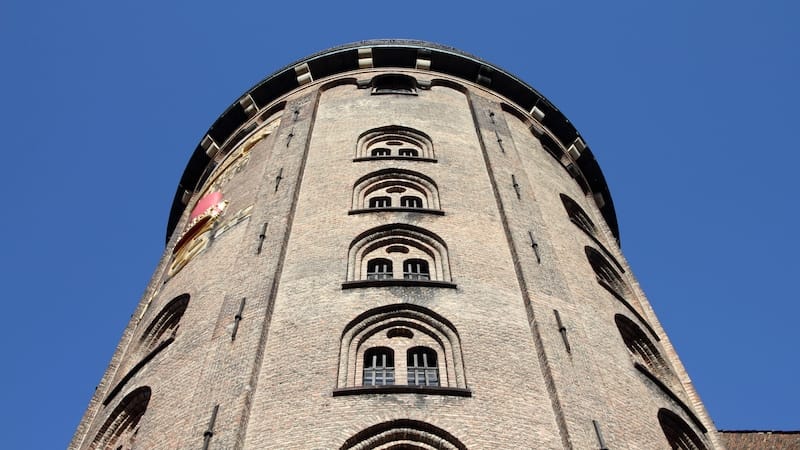 The Spiral Ramp, inspired by German Renaissance castles, is the only way to the top, which also gives access to the Library Hall, the Bell Loft, and the hollow core.
Once home to the entire book collection of the university, the Library Hall now serves as a venue for exhibitions, concerts, and cultural events.
Even in the winter months, you can take in the most incredible views over the old part of Copenhagen from the top of the tower.
Address: Købmagergade 52A, 1150 København
7. Go Skiing at CopenHill
Have you ever thought of skiing down an active power plant? If this intrigues you, make sure to add CopenHill to your bucket list.
This 3-level active clean energy power plant in the heart of Copenhagen features a rooftop that has been transformed into a snow-free skiing slope.
The CopenHill Ski Pass will take you to the top of the plant for thrilling adventures and great views.
Beginners may enjoy the middle and bottom levels, while more seasoned skiers shouldn't miss thrilling adventures on the upper level.
Check in at the ski rental station to get your rental gear and lift pass, and head to skiing on a 25.9-meter-high environmentally-friendly plastic surface.
At the top of the plant, you can take in mesmerizing views of Copenhagen for an extra special experience.
>> Check skiing rates and availability here
8. Check out The Little Mermaid
The Little Mermaid, sitting on the rock at Langelinie Pier, is one of Copenhagen's most iconic tourist attractions.
This over 100-year-old piece of art created in bronze and granite by Edvard Erikson was erected on August 23, 1913.
It was commissioned by Carl Jacobsen, who fell in love with the Little Mermaid, the gorgeous mermaid character in a ballet performance of Hans Christian Andersen's famous fairytale.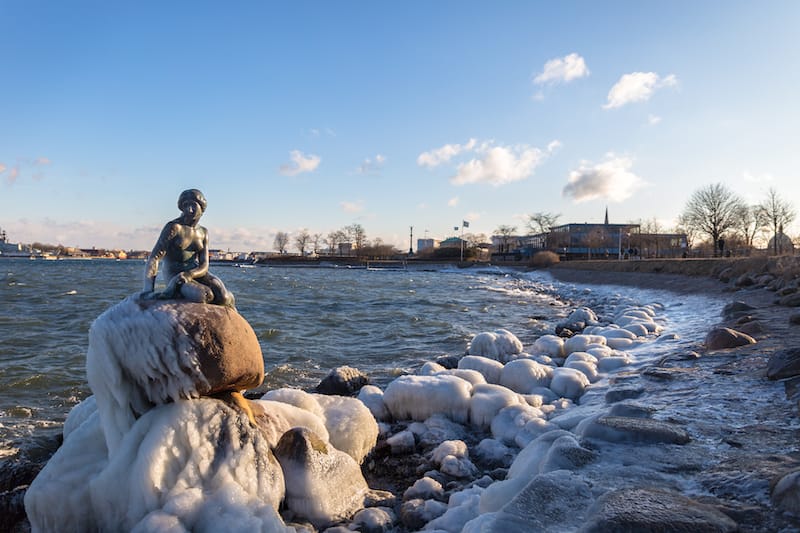 To warm up from the winter winds, you can grab a coffee, hot dog, or pancake from nearby stands.
The statue is about a 15-minute walk north of Nyhavn, or you can always take a bus to get there if you don't like walking in chilly weather.
Address: Langelinie, 2100 København Ø
9. Explore the Christiansborg Palace Tower
If you want to see Copenhagen from a new angle, then pay a visit to the Christiansborg Palace Tower, built from 1907-1928.
Housing the Danish Parliament, this 106-meter tower is the highest in Copenhagen.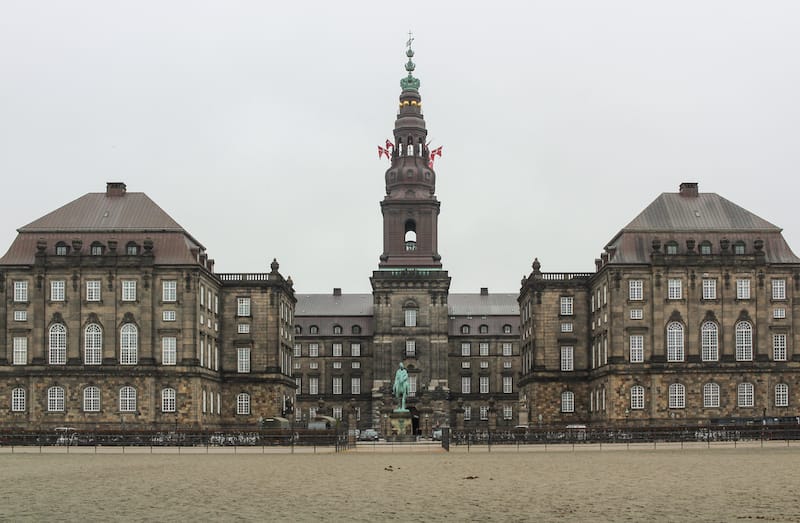 It was once the main residence of the Danish Royal Family, who moved to Amalienborg Palace in the late 1800s after a great fire and never returned.
Admire breathtaking views of the city from The View, the Tower's 44-meter high viewing platform; explore plaster figures and other objects at The Storage Room; marvel at a beautiful pigeon art installation by artist Eva Koch; and spice things up at the Tower's restaurant where you can taste traditional Danish dishes with a modern twist.
Note: The Tower is currently closed due to maintenance work and The View is only accessible to those who have a pre-booked dinner reservation.
Make sure to check their website for current information on opening times.
10. Take a Stroll along Nyhavn
Nyhavn's colorful buildings are what you need to cheer up a dreary winter day.
This postcard-perfect port is the most recognizable site in Copenhagen, which transforms into a real winter wonderland in November and December.
Don't forget your camera to snap the best shot of the boats adorned with beautiful Christmas decorations.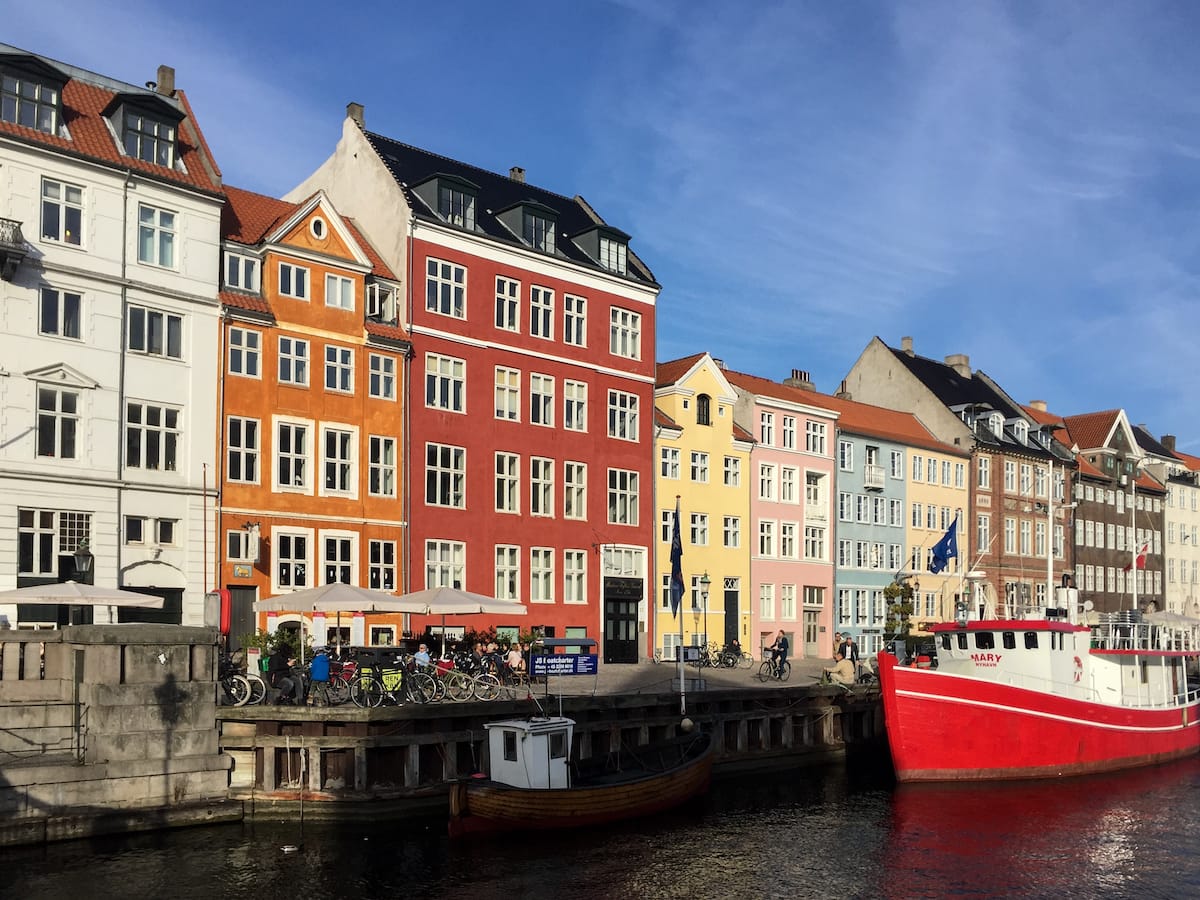 Embrace the Christmas spirit while taking a one-hour canal cruise to admire Amalienborg Palace and the Little Mermaid statue, browsing the Christmas markets lined along one side of the canal, exploring the house where legendary Danish storyteller Hans Christian Andersen lived, and enjoying the relaxed atmosphere while savoring Danish Christmas delicacies at one of the cozy cafes.
For a one-of-a-kind experience, embark on a majestic horse-drawn carriage ride down the canal to tour the world-famous Carlsberg Brewery.
11. Enjoy the Vinterjazz Festival
Indulge in the country's vibrant jazz scene during the Vinterjazz Festival, which takes place every February across the whole of Denmark.
The city will heat up this winter from February 1-25, 2024.
Spanning three weeks, this national festival features hundreds of concerts by national and international musicians in 150 venues from Musikkens Hus in Aalborg and Kulturværftet in Helsingør to DR Koncerthuset in Copenhagen.
It is a national collaboration between musicians and audiences, venues, and organizers, in both the big cities and the outskirts of Denmark.
Enjoy jazz along with blues, bossa nova, funk, and soul in intimate cafes, wine bars, clubs, and famous city concert halls around Copenhagen.
Please note that some of the concerts are free while others require you to buy a ticket.
11. Discover Copenhagen's Oldest Street
If one thing's for sure in Copenhagen, then it's that the cobblestone street of Magstræde will be dressed in snow and overflowing with Christmas spirit.
Walking along the oldest street in the Old Town of Copenhagen will surely spark that cozy Christmas feeling.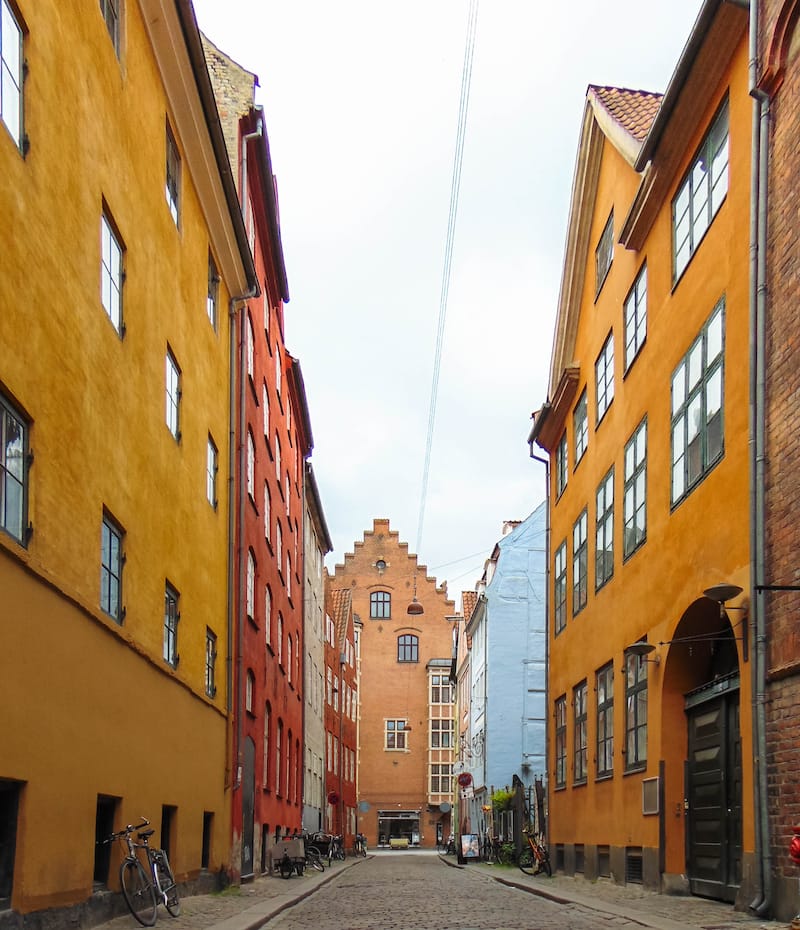 It is packed with colorful buildings, some dating back to the 18th century.
This area is more for wandering through as it doesn't have many cafes and bars there.
Get away from the city noise as you stroll among colorful buildings, immerse in winter magic as you marvel at the Christmas cheer on every corner, snap that perfect photo, and savor classic Italian flavors at Gorm's.
12. Go Skating Broen's Ice Rink
Get a taste of the Copenhagen Christmas spirit at the harbor-front Broen's Ice Rink, located in the heart of the city.
This 600-meter square ice rink at the end of the Inner Harbour Bridge offers an elevated ice-skating experience with stunning harbor views for the whole family.
The rink also hosts Disco On Ice, which happens every Friday in January and February between the hours of 5 pm and 7 pm.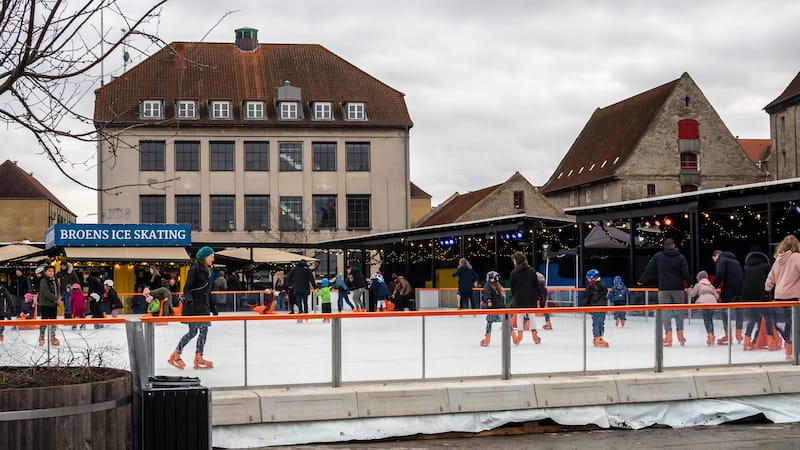 If you don't have your own skates with you, you can rent one for DKK 50 per hour. After hours of fun on the ice, you can enjoy a refreshing drink or grab a bite from the food stalls in Broens Street Kitchen.
Order fresh pasta from Pasta La Pasta and delicious burgers from Kong Hans Kælder.
Address: Strandgade 95, 1401 København
13. Visit Christianshavn Neighborhood
Christianshavn, one of Copenhagen's most beautiful neighborhoods, is made up of a series of little islands and canals.
Exploring the beautiful canals lined with colorful buildings, boathouses, and cobblestone streets is a great way to spend a winter afternoon.
Take in the sites from the water while enjoying a calming ride of the waterways; browse creative, independent second-hand shops and art galleries; and visit Freetown Christiania to delve deep into this autonomous community's interesting history.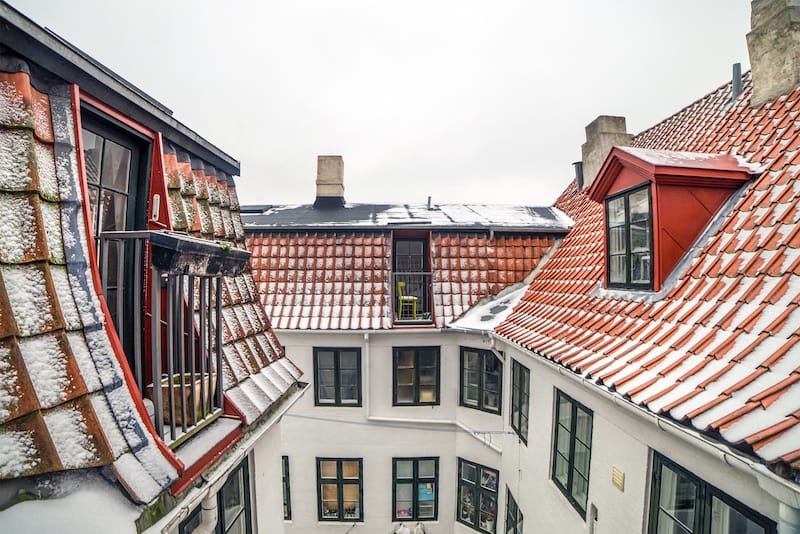 Don't miss climbing 400 steps to the top of the Church of Our Savior for incredible views over the city.
When you're done exploring this eclectic community, it's time to reward yourself with mouth-watering treats at one of the most delicious and famous restaurants in the world, like NOMA.
14. Check Out the Copenhagen Botanical Garden
For a tropical escape from the cold, visit the Copenhagen Botanical Garden, dating back to 1874.
Nestled a few steps from Nørreport Station, ten hectares of gardens feature Denmark's largest collection of living plants.
Here you can explore more than 13,000 species across various sections, including Danish plants, annual plants, perennial plants, rock gardens with plants from mountainous areas in Central and Southern Europe, and a Conifer Hill packed with coniferous trees.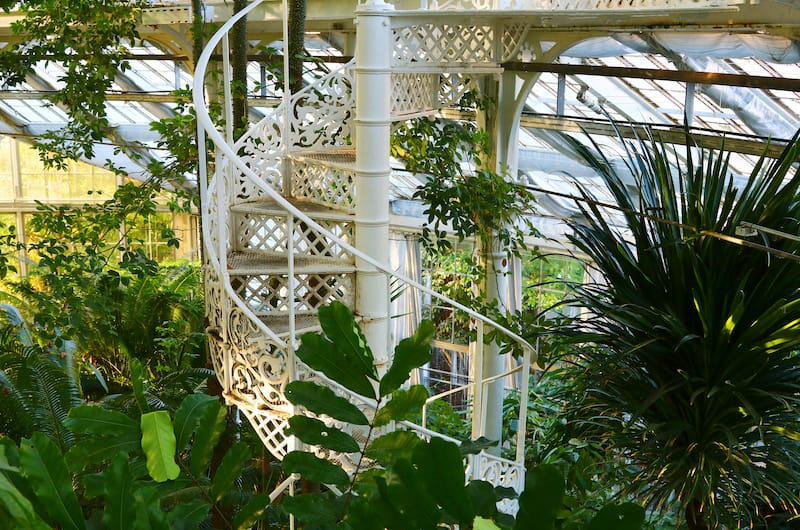 Don't forget to check out the rhododendron garden, which is one of the newest additions to the garden.
Marvel at the collection of 27 glass houses, take a walk up the 16m tall cast-iron spiral staircase inside the Palm House, browse the flower shop, and enjoy delicious treats at the cafe.
Address: Gothersgade 128, 1123 København K
15. Visit Eclectic Freetown Christiania
Freetown Christiania, also known as Christiania, is the autonomous anarchist district in the borough of Christianshavn.
Once a military base, which was abandoned for many years, then was taken over by a group of hippies in 1971 who made it their home.
Now, this community has its own flag, rules, and regulations, making it completely independent of the Danish government.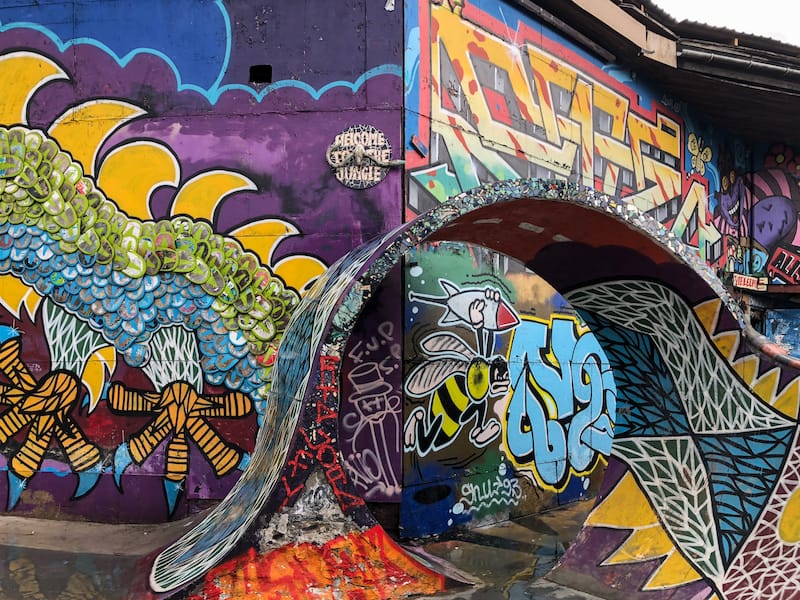 Tour the Green Light District, stroll Pusher Street to pick the perfect souvenir, head to Jazzklubben to enjoy jazz, check out the Christmas market, show off some skating skills at ALIS Wonderland, and spice things up at Science & Cocktails.
After exploring the area, it's time to fuel up at Cafe Nemoland, Morgetstedet, or Cafe Loppen. If you're in the mood for pastries, pop over to Sunshine Bakery to sample mouth-watering Danish kage.
16. Go Shopping on Stroget
Indulge in some good retail therapy at Strøget, one of Copenhagen's famous pedestrian-only streets lined with stores.
Festive decorations like pine boughs and lit-up hearts undoubtedly evoke the Christmas spirit.
You should definitely keep your eyes peeled for the city's street performers on Strøget, such as acrobats, magicians, and musicians.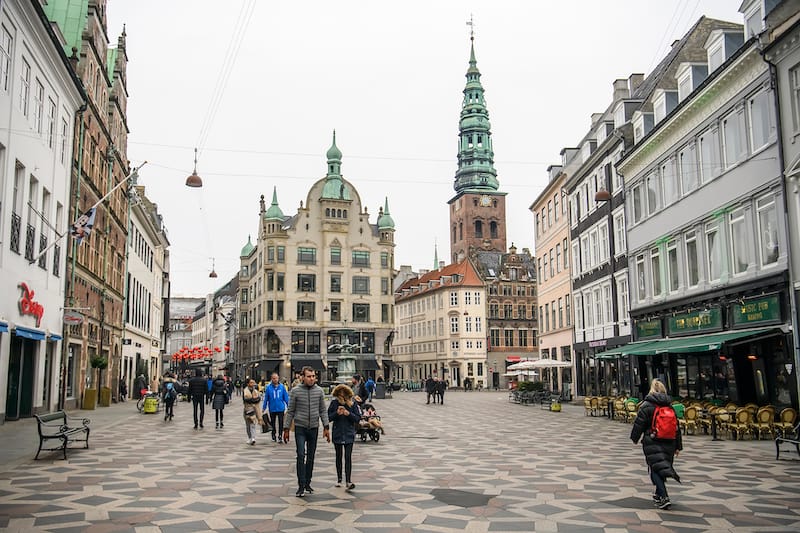 Stretching 1.1 km (0.7 mi) from City Hall Square to Kongens Nytorv, the street boasts a wide range of well-known shops, from budget-friendly stores such as H&M, Weekday, and Zara, to luxury ones including Prada, Max Mara, Louis Vuitton, Hermès, Hugo Boss, etc.
While shopping, look up and down the side streets to see Copenhagen's beautiful sights and attractions, like Helligåndskirken, Church of Our Lady, the court house at Nytorv Square, and the Stork Fountain at Amagertorv Square.
17. Discover the Rosenborg Castle
Get a glimpse into the past by visiting Rosenborg Castle, nestled in the King's Garden in the heart of Copenhagen.
Originally built by Christian IV, one of the most famous Scandinavian kings, as a country summerhouse in 1606, this gorgeous castle features some of the kingdom's greatest treasures.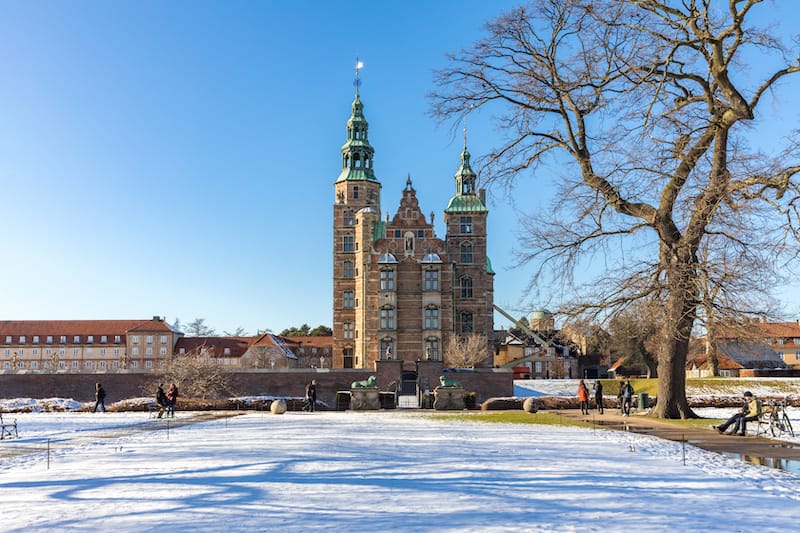 Travel back in time by touring the king's private chambers, bathrooms, and other magnificent rooms; view the portraits of scandal-hit Johan Friedrich Struensee and Queen Caroline Mathilde; see wax figures of former inhabitants; and explore 400 years of royal treasures, the Crown Jewels, and royal regalia in the basement cellars of the castle.
Among the highlights are the Winter Room (the best-preserved room from the original castle), the Marble Room, and the Great Hall with the coronation throne and three silver lions standing guard.
Address: Øster Voldgade 4A, 1350 København
18. See a Film at Palads Theatre
Film junkies can catch new releases in Palads Theatre, a Neo-Classical style palatial cinema complex operated by Nordisk Film in Copenhagen. Here you can enjoy the widest selection of films in the country, perfect for all ages.
With 17 screens and the ability to seat 689 people, this is the largest movie theater in Denmark and is equipped with the latest technical equipment, including Digital 3D. Passing by the building, you can't help but notice its garish rainbow-colored paint scheme.
In the lobby, you will find an exciting mix of crowds, colors, and candy stores.
The theater also hosts many other cultural events, sports functions, and ballet performances, and shows a lot of children's films on larger screens throughout the day up until 7pm.
Please make sure to reserve seats in advance for these shows.
Address: Axeltorv 9, 1609 København V, Denmark
19. Try Some of the Best Danish Pastries
What comes to mind when you think of Danish pastry? Maybe spandauer, tebirkes or croissants?
There's no place like the award-winning Andersen Bakery for indulging a sweet tooth and savoring Danish pastries.
Nestled in the heart of the Islands Brygge neighborhood, you can taste sourdough bread, cakes, croissants, pies, boller, baguette, tebirkes, cardamom knots, and more.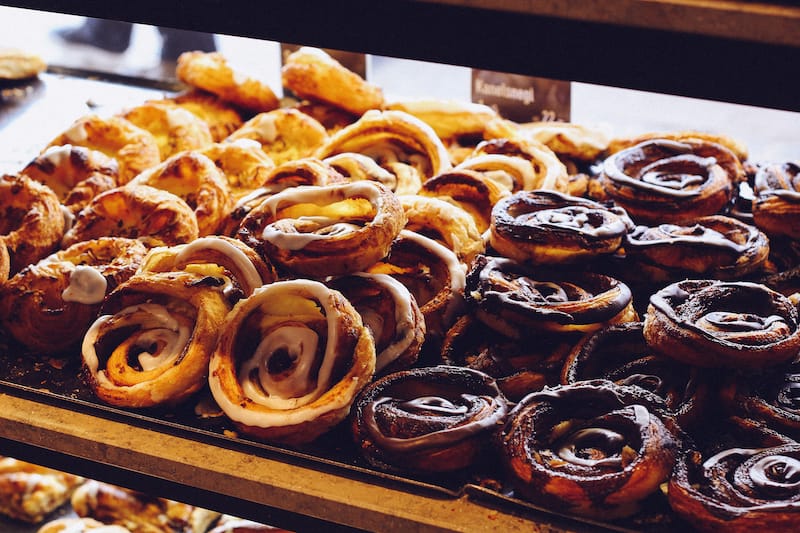 The Japanese baker Shunsuke Takaki, who came to Copenhagen in 1959, fell in love with Danish baking art and years later opened Andersen Bakery.
Their rhubarb croissant, pain au chocolat, strawberry pie, or rye bread shaped by unique touches of the chief baker and pastry chef Nicholas are special treats that pair perfectly with a hot cup of coffee, so make sure to add them to your list of must-do activities in Copenhagen in winter.
20. See Historic Amalienborg
If historic buildings are up your alley, Amalienborg, the winter residence of The Royal Family, is definitely not to be missed.
Get a real taste of royal history as you visit the seat of one of the world's oldest monarchies and watch the changing of the guards.
The Palace features four identical buildings: Christian VII's Palace, Frederik VIII's Palace, Christian IX's Palace, and Christian VIII's Palace.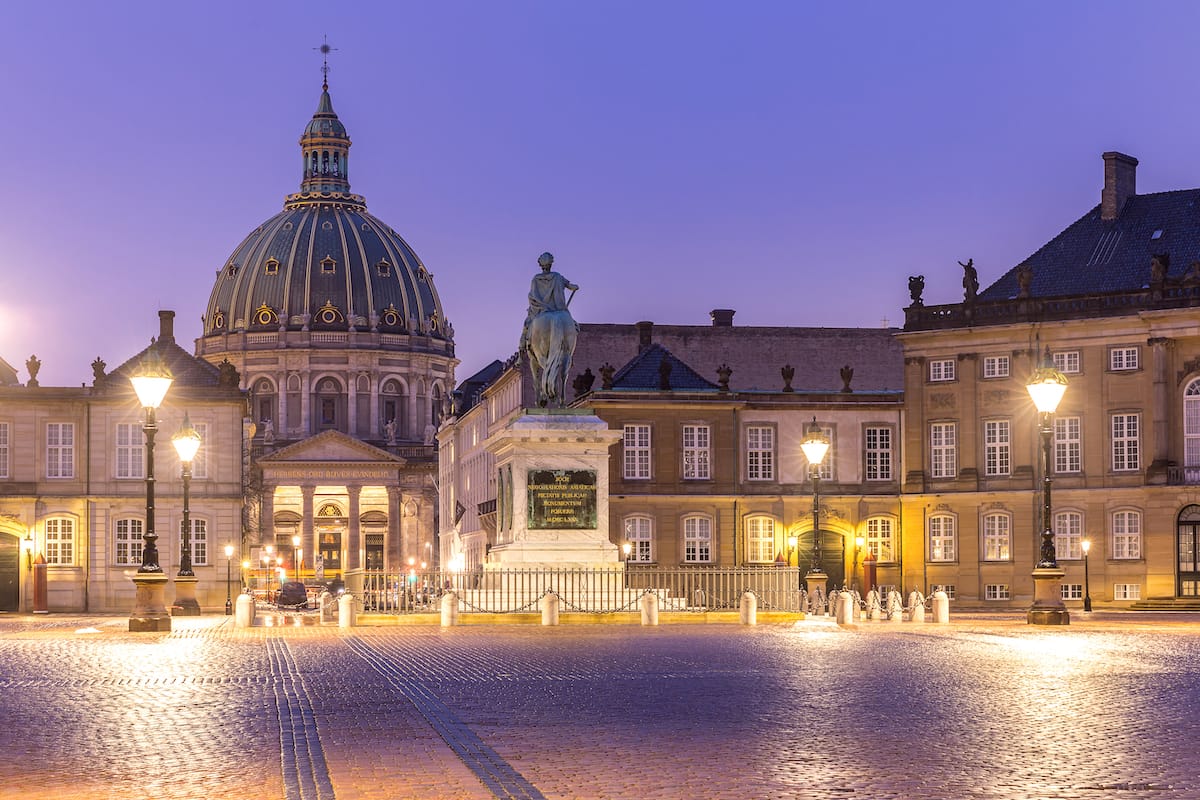 The latter houses the Amalienborg Museum, where royal history comes to life.
Here you can experience the daily lives of today's down-to-earth Danish Royal Family, travel back through the past 150 years of the monarchy, and browse the private chambers of previous kings and queens as they were back in the 18th century.
Address: Amalienborg Slotsplads 5, 1257 København K
21. Visit the Copenhagen Christmas Markets
Visiting Copenhagen Christmas markets is the best way to soak up the festive holiday mood.
In December, cozy Christmas markets are sprinkled all over the city.
Must-visit ones are at Tivoli, Freetown Christiania, Nyhavn, the Hans Christian Andersen Christmas market at Axeltorv, Højbro Plads, and even at the Carlsberg Experience, which are all lit up with cheery decorations.
Some specialize in food, while others offer adorable Christmas gifts and crafts.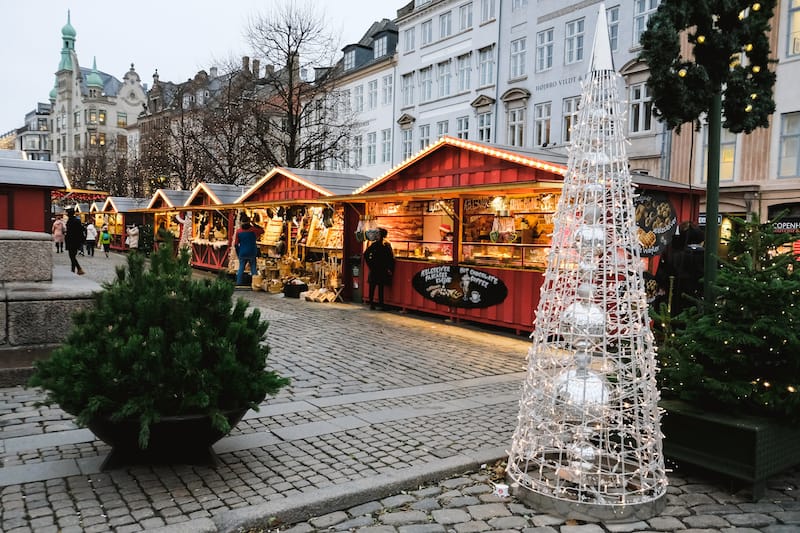 Grab your mug of delicious gløgg (sweet mulled Danish wine with raisins and almonds) and head over to pick the perfect Christmas gift for your loved one at Freetown Christiania Christmas Market.
For Christmas trees and decorations, Santa's sleigh, and more, visit Højbro Plads Julemarked.
The Meatpacking District in Vesterbro transforms into another Christmas market for foodies, which hosts a special Christmas food market each December.
22. See the Illuminations at the Copenhagen Light Festival
Prepare to be immersed in extraordinary light experiences during the Copenhagen Light Festival, the largest light festival in Europe, which will take place in February 2024.
This amazing festival will stimulate city life at the end of winter for the fifth year in a row.
Layer up against the winter chill and enjoy marveling at more than 50 distinct light installations that light up the city in February's darkness.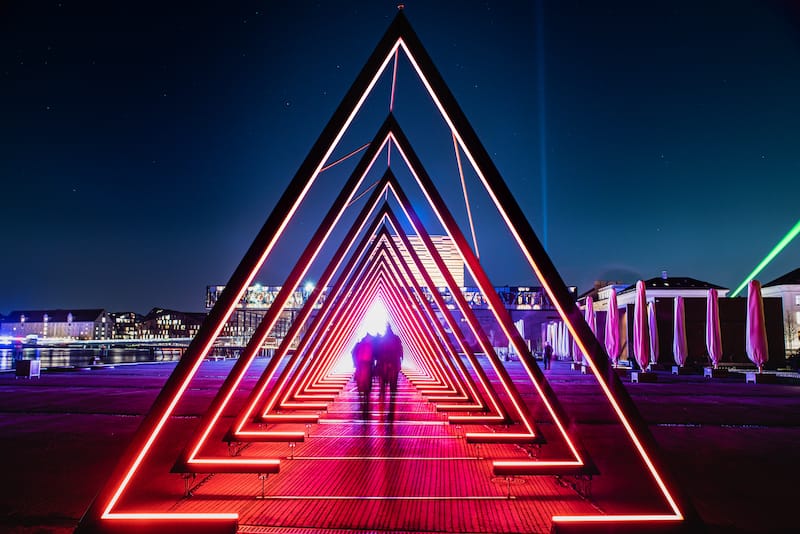 You will see dynamic and colorful facade lighting installations celebrating art, architecture, and acts of kindness on dark drifting clouds, beautiful old buildings, architectural squares, the city's canals, and other city spaces around Nordhavn and Ørestad.
Experience the magic on your own or take part in one of the festival's guided tours by segway, canal boat, kayak, or join a regular guided walk.
23. Cozy Up with a Coffee in Copenhagen
Copenhagen is a real hotspot for coffee enthusiasts!
There is no better place to embrace Danish hygge (coziness) than at a warm and charming Copenhagen coffee shop.
Enghave Kaffe is a cozy coffee shop that will feed your senses with its delectable menu of exceptional coffees.
Grab a filtered coffee crafted with Kenyan beans and cozy up at Coffee Collective's Jægersborggade.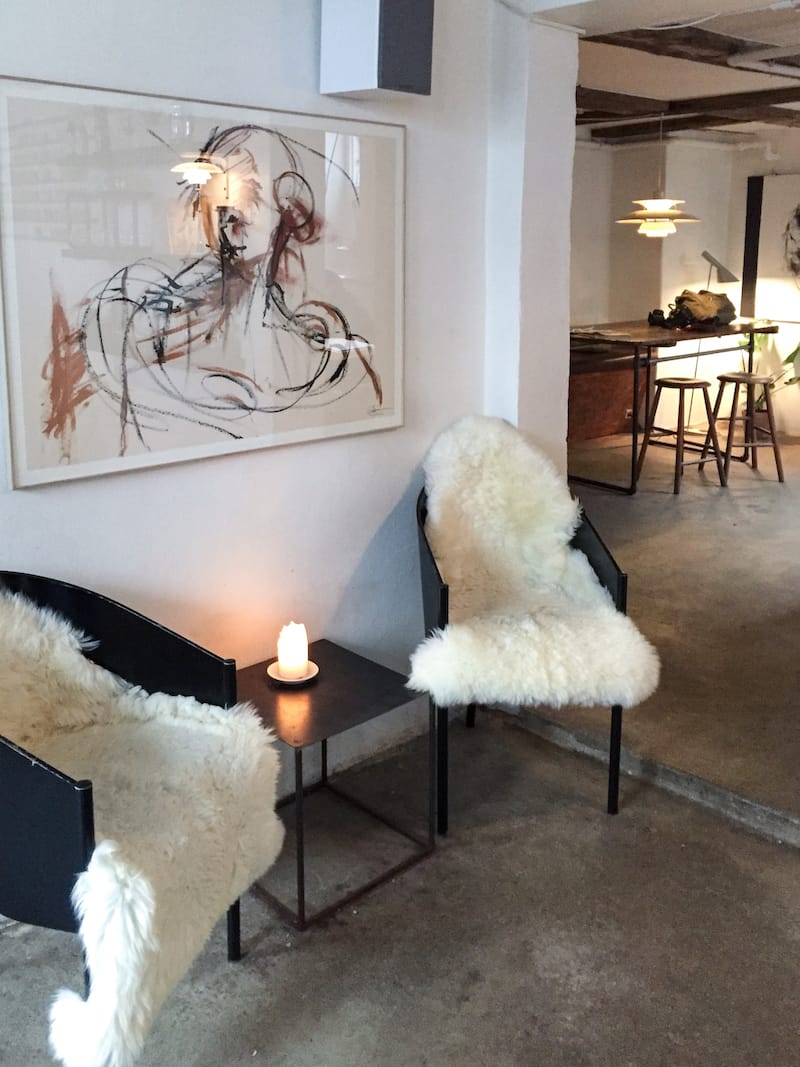 Prolog Coffee Bar and Darcy's Kaffe are other great coffee shops to escape the cold.
If you want to feed your sweet tooth and pair your coffee with a tasty pastry, then consider visiting Democratic Coffee, where their almond croissant is a real star.
Where to Stay in Copenhagen
Looking for the top places to stay in Copenhagen? The options below are top-rated and I even included my favorite hotel there!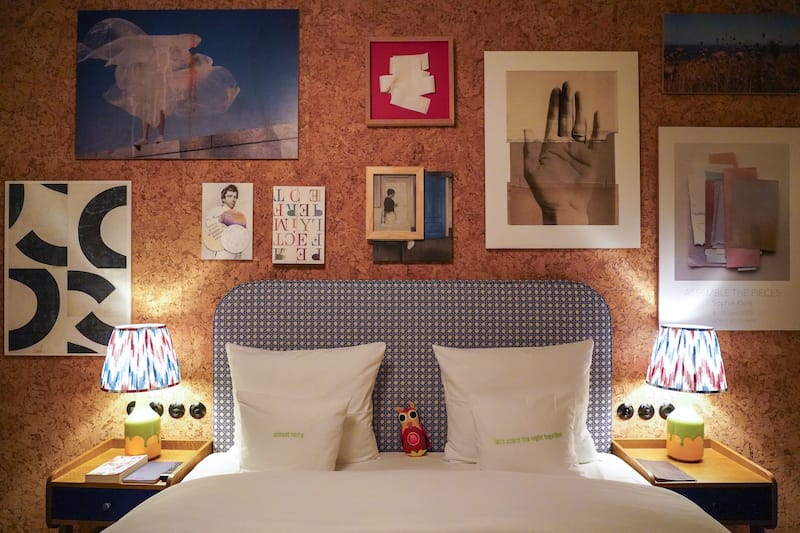 Did I miss any amazing things to do in Copenhagen in winter?
Let me know your top winter in Copenhagen tips in the comments. Thanks!
More Denmark Travel Guides
Pin this Winter in Copenhagen Guide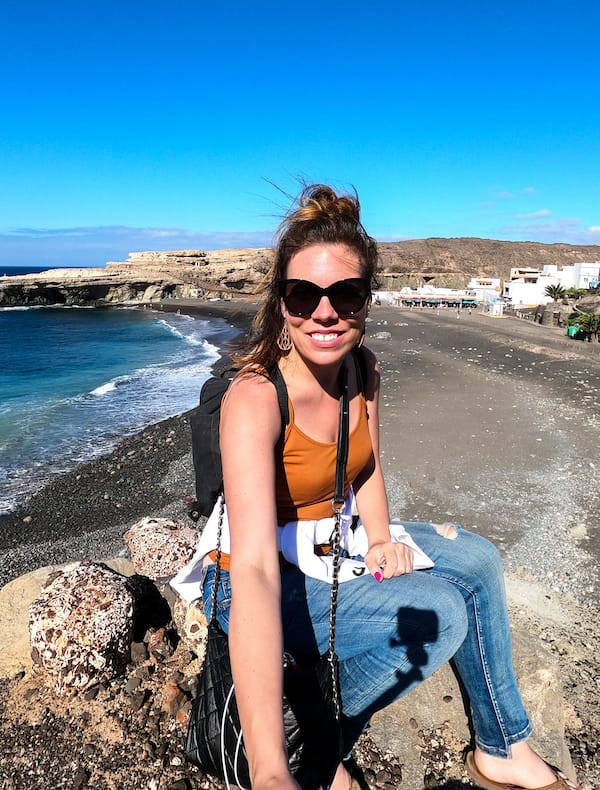 Megan is a travel blogger and writer with a background in digital marketing. Originally from Richmond, VA, she now splits her time between Frankfurt, Germany and Arctic Finland after also living in Norway, Armenia, and Kazakhstan. She has a passion for winter travel, as well as the Nordic countries, but you can also find her eating her way through Italy, perusing perfume stores in Paris, or taking road trips through the USA. Megan has written for or been featured by National Geographic, Forbes, Lonely Planet, the New York Times, and more. She co-authored Fodor's Travel 'Essential Norway' and has visited 45 US states and 100+ countries.