Are you looking for the best weekend breaks in Spain for an upcoming trip? If so, keep on reading!
These are the top Spain weekend breaks that I have rounded up from some Spain-loving bloggers! The destinations vary from large cities to smaller towns along the coast.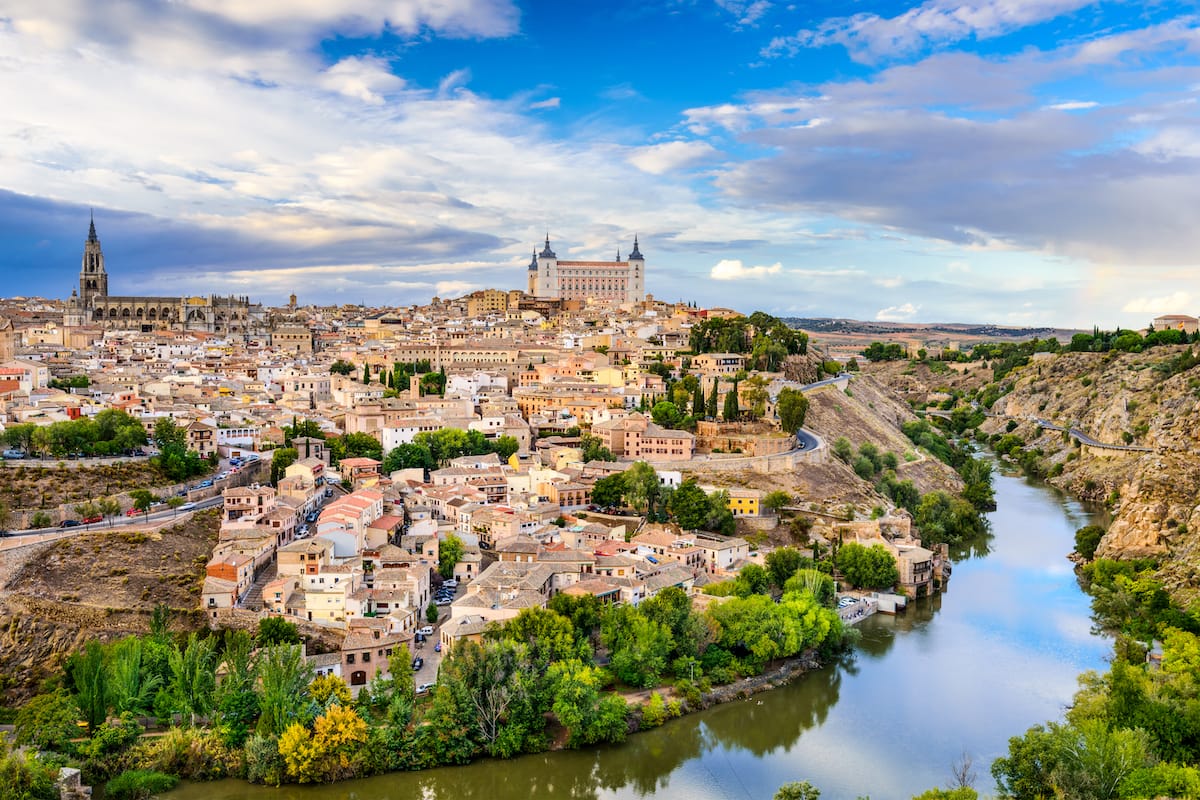 Did we miss any of the best weekend getaways in Spain?
Let us know your top picks in the comments (and why you recommend them)! Thanks!
Best Weekend Breaks in Spain
1. Bilbao
Bilbao highlights: Guggenheim Museum, Erribera Merkatua, Plaza Nueva, Parque de Dona Casilda de Iturrizar
Recommended by: Maggie from The World Was Here First
If you're on the hunt for a great weekend break destination in Spain, then look no further than Bilbao.
Home to its own international airport, this Basque city has a lot to offer, however, it is compact enough that you can easily spend only 2 days in Bilbao and cover quite a lot of ground.
Bilbao is perhaps best known for being home to its own branch of the Guggenheim Museum. Situated along the banks of the Bilbao Estuary, the Frank Gehry-designed building is a piece of artwork in and of itself and is very much worth admiring – even if you'd don't opt to enter the museum!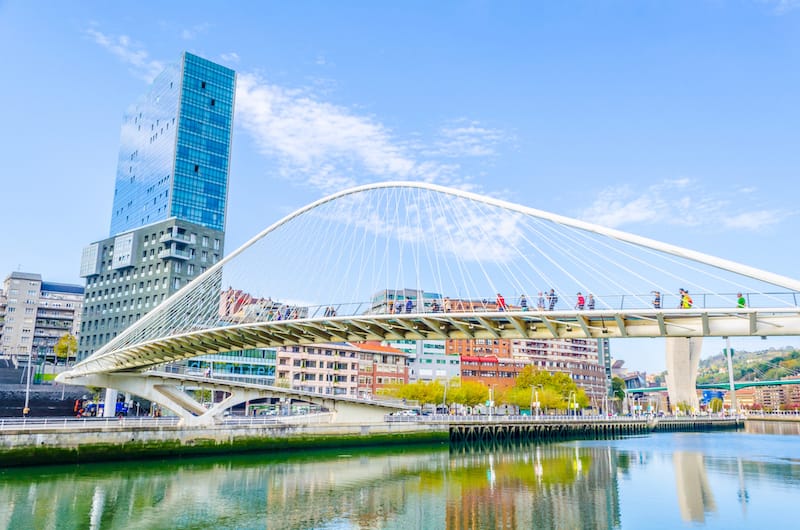 It's not just art museums that make Bilbao worth visiting. The Basque Country is known for its inventive, hyper-localized cuisine and there is no better place to experience that than in the city's markets and bars.
La Ribera Market is an excellent place to see and sample the fresh ingredients used in traditional dishes and the hall spans a number of floors so there is quite a bit to explore.
No visit to Bilbao is complete without hopping between bars for pintxos – the Basque version of tapas. Some great bars to check out are Sorginzula and Taberna Basaras in the Old Town and El Globo Taberna in the New Town.
Recommended Bilbao Tours
If you're looking to make the most of your time in Bilbao, consider taking a tour! Here are a few of the top-rated city tours (and day trip options) in Bilbao:
Where to Stay in Bilbao
If you're looking for a great place to stay while in Bilbao, then consider resting your head at Hotel Bed4U – a mid-range hotel located within easy walking distance of the city's top sites. Alternatively, these are some highly rated Airbnbs to check out!
>> Discover the best Bilbao hotel options here
2. Cadiz
Cadiz highlights: Catedral de Cadiz, Parque Genoves, Tavira Tower, Castillo de Santa Catalina
Recommended by: Paulina from the UK Every Day
Jerez and Seville are the two international airports that are well connected to Cadiz with several daily flights from all over Europe. So, catch a direct train or bus from the airport to one of the oldest cities on the continent, dating all the way back to 1104 BC!
Just a short 35-minute train ride from Jerez Airport will take you to some of the best beaches in Cadiz.
Relax at Playa de La Caleta with incredible views of the Castle of San Sebastian or for endless miles of sand check out one of the beaches between Playa de la Victoria and Playa de la Cortadura.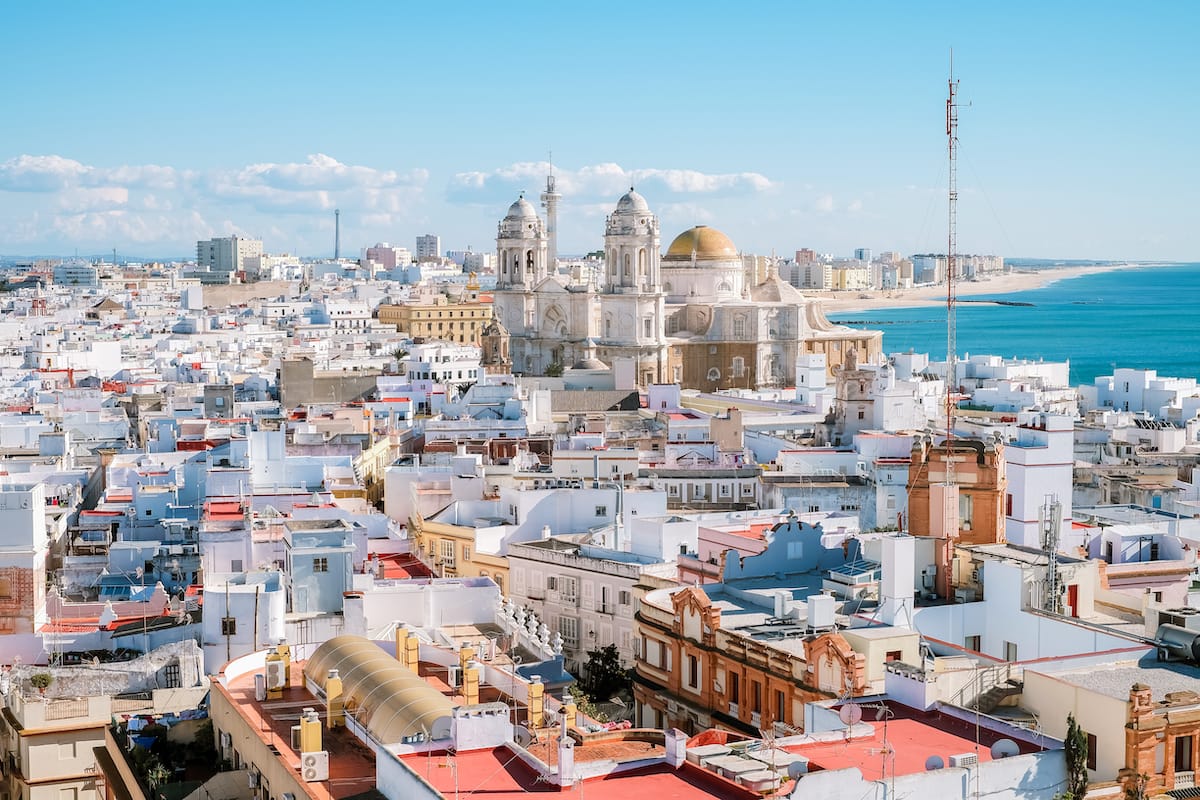 The city is very walkable so you can easily combine a beach break with historic sightseeing.
One of the most stunning buildings in Cadiz is Catedral de Cadiz with its iconic golden dome. Less than a 10-minute walk away, you will also find a 17th-century convent where you can stay for a weekend.
Recommended Cadiz Tours
If you're looking to make the most of your time in Cadiz, consider taking a tour! Here are a few of the top-rated city tours (and day trip options) in Cadiz:
Where to Stay in Cadiz
Hotel Boutique Convento Cádiz offers a unique experience in the heart of the city. The interior courtyard has chess black and white tiles and beautiful archways and it will take your breath away. Also, there are monks living inside this building, and finding such an unusual location for a weekend break in Spain is not difficult if you choose Cadiz!
>> Discover the best Cadiz hotel options here
3. Malaga
Malaga highlights: Alcazaba, Mercado Central de Atarazanas, Catedral de la Encarnacion de Malaga, Picasso Museum Malaga
Recommended by: Lowri from Many Other Roads
If you are looking for somewhere to spend a weekend in Spain, Malaga is a fantastic option!
Malaga is located on the Costa del Sol in Andalusia and is one of the most popular destinations in Spain.
With an average year-round temperature of around 25 degrees Celsius (77 degrees Fahrenheit), it's a great place to visit for an extended stay or just for a long weekend any time of the year.
This is one of the best weekend breaks in Spain as it has a lot to offer visitors, from beaches and shopping to culture and history.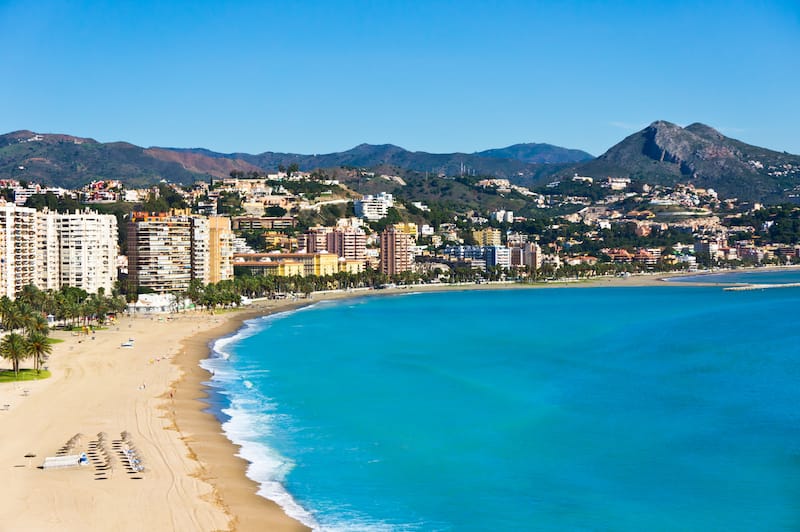 One of the best things to do is to check out the Alcazaba de Malaga, which is one of the best-preserved Moorish castles in Europe.
With plenty of places to explore like the Picasso Museum and the endless beaches to visit, you will have many things to keep you occupied when visiting Malaga.
If you are looking for some delicious food, there are plenty of restaurants to choose from. For those who want to try the best tapas, stop by El Pimpi. You may want to try and book a table here in advance as it's really popular!
Recommended Malaga Tours
If you're looking to make the most of your time in Malaga, consider taking a tour! Here are a few of the top-rated city tours (and day trip options) in Malaga:
Where to Stay in Malaga
When you visit Malaga for the weekend, the best place to stay is Exe Málaga Museos. Not only are the beds incredibly comfortable but its central location and rooftop pool also make it an amazing value for money.
>> Discover the best Malaga hotel options here
4. Cordoba
Cordoba highlights: Mosque-Cathedral of Cordoba, Alcazar of the Christian Monarchs, Roman Bridge of Cordoba, Palacio de Viana
Recommended by: Milijana from World Travel Connector
Captivating Cordoba is a World Heritage City. Amazingly enough, Cordoba is the city with the highest number of World Heritage Sites in the world!
Touring UNESCO sites in Cordoba is a must-do when visiting this amazing weekend getaway in Spain!
Strolling the beautiful historic center of Cordoba, visiting the spectacular Mezquita-Cathedral, seeing the intriguing Medina-Azahar, and admiring famous patios Cordobeses are the most popular things to in Cordoba.
Luckily, the main tourist attractions are in the walkable historic center.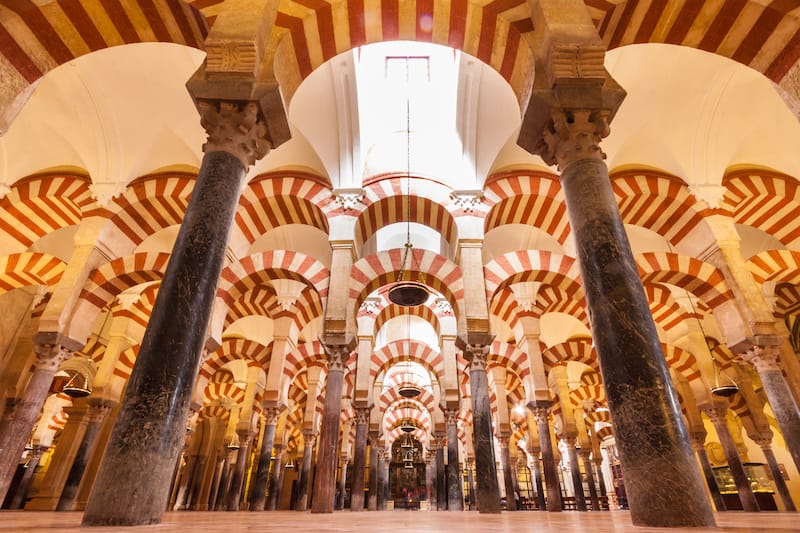 But stunning Cordoba offers more than UNESCO sites. Crawling tapas bars and enjoying traditional Moorish tea rooms (teterias) in Cordoba make any trip to Cordoba even more joyful.
Cozy taberna La Cuarta is famous for delicious Corodbese dishes and Salon de Te Cordoba for the best teas and infusions in Cordoba.
Cordoba is easily reachable from Seville and Madrid by high-speed trains. An average train ride from Seville to Cordoba takes only 45 min. And a train ride from Madrid to Cordoba takes one hour and 45 min.
Recommended Cordoba Tours
If you're looking to make the most of your time in Cordoba, consider taking a tour! Here are a few of the top-rated city tours (and day trip options) in Cordoba:
Where to Stay in Cordoba
If you are after a memorable stay in Cordoba, book a room in a palace-like Las Casas de la Judería de Córdoba hotel in the heart of Cordoba.
>> Discover the best Cordoba hotel options here
5. Tarifa
Tarifa highlights: Puerta de Jerez, Playa Chica de Tarifa, Punta Paloma Beach, Playa de Los Lances
Recommended by: Joanna from The World in My Pocket
Tarifa is one of the most rustic towns in Andalucia, famous as the windiest place in Spain.
Because of this, the town is a hub for water sports lovers who travel here from all over the world to practice windsurfing, surfing, and kitesurfing. In fact, learning how to tame the waves on a boar is one of the best things to do in Tarifa.
There are plenty of schools here from where you can rent equipment, or take lessons. Tarifa is the perfect place to start your adventurous watersports journey as well.
The town is also the point where the Mediterranean Sea meets the Atlantic Ocean. You can walk between the two bodies of water on a promenade connecting the mainland with Isla de las Palomas.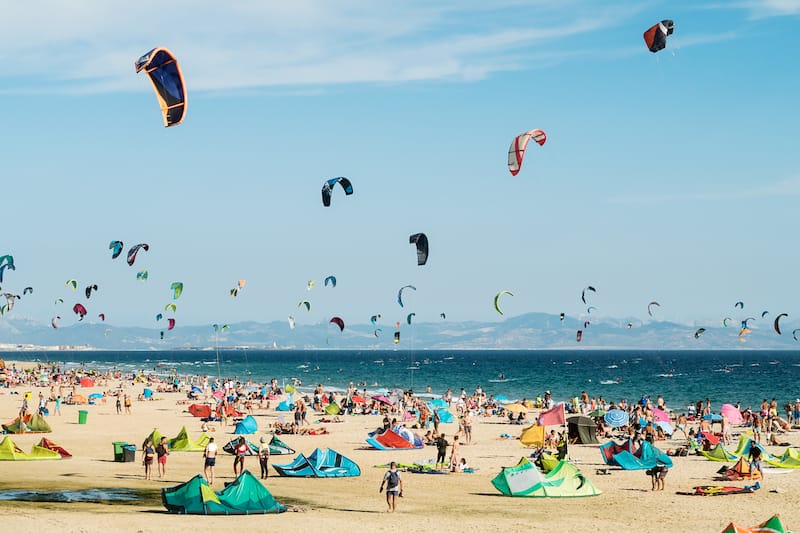 Another interesting fact about Tarifa is that Isla de las Palomas is the southernmost point of mainland Europe. While you can very rarely visit the fortress on it because it is a military object, you can check it out from the outside.
Tarifa is an old town, with narrow streets, white buildings, and a great castle enclosing the center inside its ancient walls.
You won't find any chains of hotels, restaurants, or shops inside the city walls, which makes the town extremely authentic and, in a way, quite romantic.
Recommended Tarifa Tours
If you're looking to make the most of your time in Tarifa, consider taking a tour! Here are a few of the top-rated city tours (and day trip options) in Tarifa:
Where to Stay in Tarifa
In Spain, Tarifa is considered quite a hippie town, so the accommodation ranges from campsites to quirky boutique hotels with only a few rooms. Such a place is the Riad which has themed rooms and the most intimate atmosphere.
>> Discover the best Tarifa hotel options here
6. Madrid
Madrid highlights: Museo Nacional del Prado, El Retiro Park, Plaza Mayor, Royal Palace of Madrid
Recommended by: Editor's choice
Madrid is so rich in culture with tons of things to see, it's impossible to do it all in just a weekend. But just relax, hit only the highlights you are interested in seeing, and enjoy a fun getaway to Spain's beautiful capital city.
There are several lovely plazas, such as Plaza Mayor, Puerto del Sol, and Plaza de Espana, to walk around, enjoy the architecture, and people-watch while drinking a coffee.
Close to Plaza Mayor you will find Europe's largest and possibly most opulent royal palace, the Palacio Real de Madrid.
This huge palace is home to tons of treasures, including paintings by famous artists, old weapons and artifacts, and the royal crown jewels of Spain. It is a great place for your itinerary if you're visiting Madrid in winter!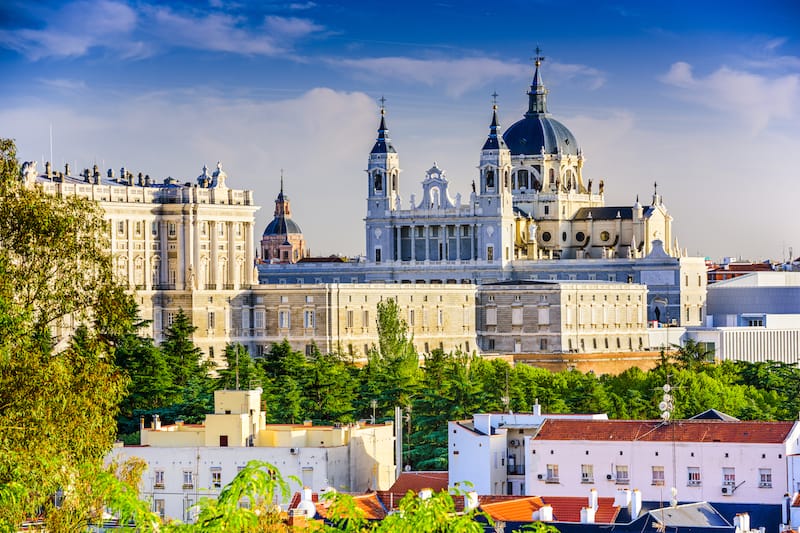 If you're an art lover, don't miss the world-class Museo del Prado, where you can admire works by Velazquez, Goya, Rubens, Bosch, and many other famous artists.
If the weather is nice, take a stroll through the beautiful El Retiro Park, just next to the museum.
A fantastic neighborhood to visit is the Malasaña area. During the day, stroll through the charming streets and relax at a cafe.
In the evening, discover the nightlife of the neighborhood by tasting the amazing Spanish wine and tapas at the local restaurants and bars.
Recommended Madrid Tours
If you're looking to make the most of your time in Madrid, consider taking a tour! Here are a few of the top-rated city tours (and day trip options) in Madrid:
Where to Stay in Madrid
A fantastic option for a mid-range to an upscale hotel in the center of Madrid is the Soho Boutique Opera, located in the Centro District of the city.
>> Discover the best Madrid hotel options here
7. Zaragoza
Zaragoza highlights: Basilica de Nuestra Senora del Pilar, Aljaferia Palace, Parque Grande Jose Antonio, Mercado Central de Zaragoza
Recommended by: Editor's choice
Zaragoza is an interesting city filled with breathtaking architecture and is easily one of the most underrated weekend breaks in Spain.
Visit the Basilica de Nuestra Señora Pilar and the Cathedral de Salvador de Zaragoza to see two gorgeous churches. At the basilica, don't forget to climb the tower to get fantastic views of the city.
The Palacio de la Aljafería is an amazing example of Moorish architecture, with displays about the centuries of history this building has seen.
There are also several archeological ruins in the city, such as a Roman theatre and thermal baths, which are some of the top places to visit in Zaragoza.
For art lovers, make sure to visit the Museo Goya Colección Ibercaja, where you can learn more about the life and works of Zaragoza's famed painter Francisco Goya.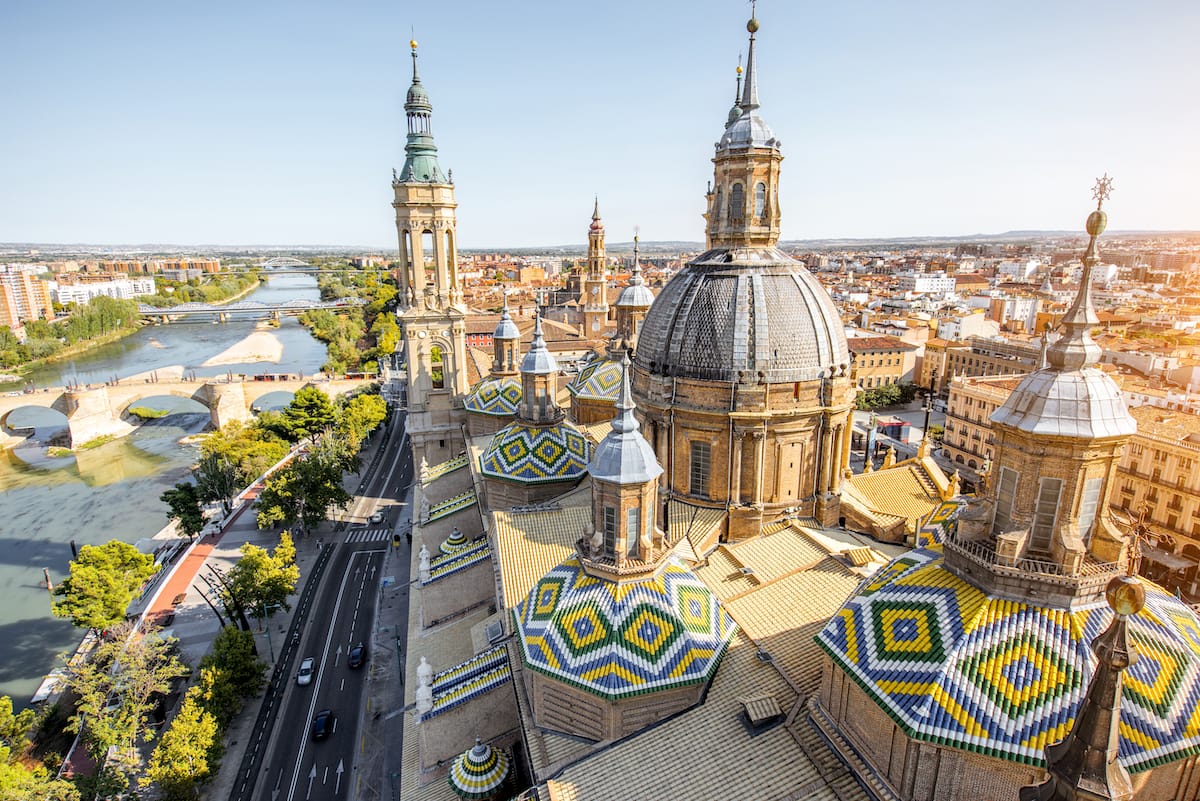 For fresh air and green space, stroll through the Parque Grande Jose Antonio Labordeta, a beautiful park full of shade, fountains, and sculptures.
Zaragoza is a wonderful place to try a wine-tasting and tapas tour, where you can get expert tips from the local guide.
Or, if you want to skip the tour and venture out on your own, visit the El Tubo district in the heart of the old town on Saturday evening, where you will find delicious tapas bars, local shops, and overall a fun and lively vibe.
For a simpler and cozy atmosphere, try tapas at La Republicana, and for a more gourmet experience, check out Meli Del Tubo's delicious tapas.
Recommended Zaragoza Tours
If you're looking to make the most of your time in Zaragoza, consider taking a tour! Here are a few of the top-rated city tours (and day trip options) in Zaragoza:
Where to Stay in Zaragoza
One of the top places to stay in Zaragoza is the Aparthotel Los Girasoles, self-catering accommodation with a terrace that has views of El Pilar Basilica! Alternatively, check out these Zaragoza Airbnbs.
>> Discover the best Zaragoza hotel options here
8. Marbella
Marbella highlights: Puerto Banus, Cabopino Beach, Plaza de los Naranjos, Castillo Sohail
Recommended by: Editor's choice
Marbella is the perfect beach weekend getaway. While it has a reputation for being an upscale resort town, you don't need to spend tons of money to enjoy this beautiful place.
Spend a sunny day on one of the nice beaches along the Marbella coast. Most of them have beach bars where you can get snacks as well as lifeguards on duty during the summer season.
To see fancy yachts, upscale boutiques, and Michelin-starred restaurants, head to Puerto Banus.
On Saturday, you'll be able to catch the Saturday Street Market there, a huge flea market where you can find antiques, books, spices, food…pretty much anything you can think of!
Wander through Marbella Old Town and discover the heart of the city, with its colorful buildings, winding pathways, and blooming flowers.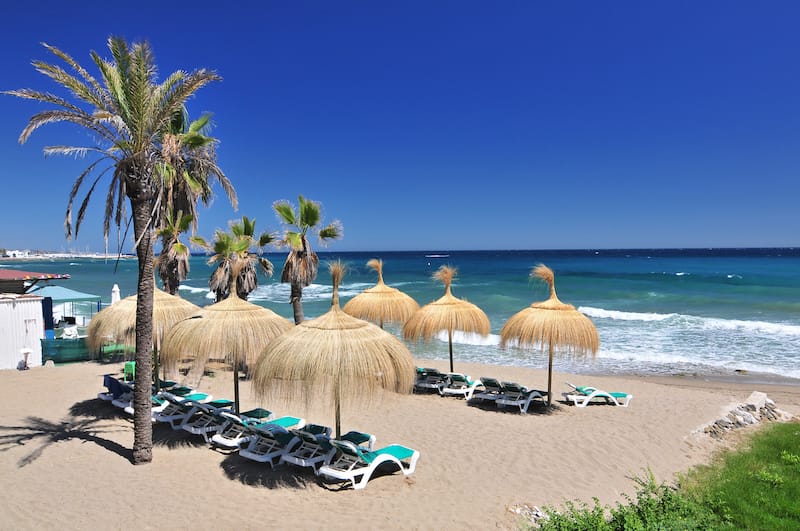 While there, don't miss out on eating at The Farm Restaurant, where you can enjoy a delicious, locally-sourced organic meal relaxing on their beautiful garden patio.
Check out Alameda Park right by Old Town, a beautiful park with fountains, foliage, and hand-painted tiles showcasing the city's history and monuments. After the park, walk down Avenida del Mar, which features sculptures by Salvador Dalí.
If you're into history, there are several fascinating Roman and Visigoth archeological sites you can visit in the area, such as the Vega del Mar Basilica.
Recommended Marbella Tours
If you're looking to make the most of your time in Marbella, consider taking a tour! Here are a few of the top-rated city tours (and day trip options) in Marbella:
Where to Stay in Marbella
If you're looking for a recommended mid-range hotel in Marbella for a getaway, the Hapimag Marbella comes highly recommended and has beach access and an outdoor pool!
>> Discover the best Marbella hotel options here
9. Barcelona
Barcelona highlights: La Sagrada Familia, Park Guell, Casa Batllo, Mercado de La Boqueria
Recommended by: Paula from Spain Travel Hub
Sending only one day in Barcelona can be packed to the rafters with unique UNESCO World Heritage-listed sites so it is definitely worth traveling for a long weekend there!
No matter how much culture or nature you want to fit into a weekend in Barcelona, the evenings are for tapas, flamenco, and bar hopping.
If it's a beach holiday you're after, then staying by the beach, of course, makes sense, but if you want to see the sites of Barcelona, staying close to the main walking street, Las Ramblas (there are several of them), means you'll never be more than a short hop on the tram to the sightly northern attractions such as Park Güell and Sagrada Familia.
Las Ramblas includes La Boqueria market with its iconic food stalls still visited by the city's best chefs and next door is the Cafe de l'Òpera, which can serve you excellent coffee as it has been doing since 1929.
To the east is the Gothic Quarter and the Picasso Museum which easily fills a whole day and if not, a dip in the waters of Barcelona Beach as the sun goes down surely will.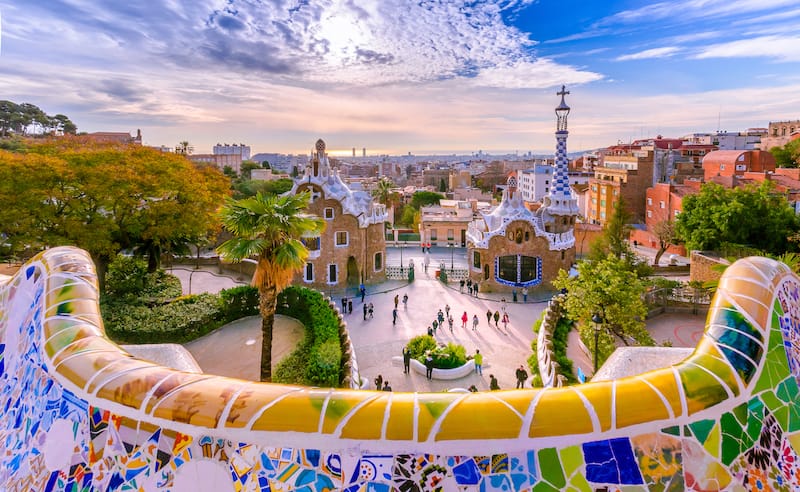 The architectural creations of Antoni Gaudí also fill a whole day and are a great option during the summer (or even if visiting Barcelona during winter!).
It's worth paying to see inside the Sagrada Familia and his main two central buildings, Casa Milà (La Pedrera) and Casa Batlló. Round out your sightseeing at Gaudi's extraordinary Park Güell.
Tapas time – head to Rambla de Catalunya, and especially to Ciutat Comtal. For dinner, their sister restaurant is wonderful – Cervecería Catalana, just five minutes' walk away at Carrer de Mallorca 236.
Recommended Barcelona Tours
If you're looking to make the most of your time in Barcelona, consider taking a tour! Here are a few of the top-rated city tours (and day trip options) in Barcelona:
Where to Stay in Barcelona
If you stay at Hotel Majestic, (Passeig de Gràcia/Carrer de Valencia) you can have a killer view of the city from the rooftop bar for a nightcap!
>> Discover the best Barcelona hotel options here
10. Seville
Seville highlights: Royal Alcazar of Seville, Plaza de Espana, La Giralda, Cathedral de Seville
Recommended by: Melissa from Parenthood and Passports
Seville is an ideal destination in Spain for a quick weekend getaway. In fact, 2 or 3 days in Seville is plenty of time to see the highlights of the Andalusian capital and take in the culture.
Plan to start your weekend of exploration in the heart of the city's historic center. Begin your weekend by touring the Seville Cathedral, also known as the Cathedral of Saint Mary of the See.
It is the largest gothic cathedral in the world and a must-see while in Seville. Inside this impressive church, you'll find the tomb of Christopher Columbus, the famous explorer who made 4 voyages to the Americas for Spain in the late-1400s.
The cathedral's most notable feature, the Giralda Tower, was once part of the Muslim Mosque that originally stood in the location during Moorish rule.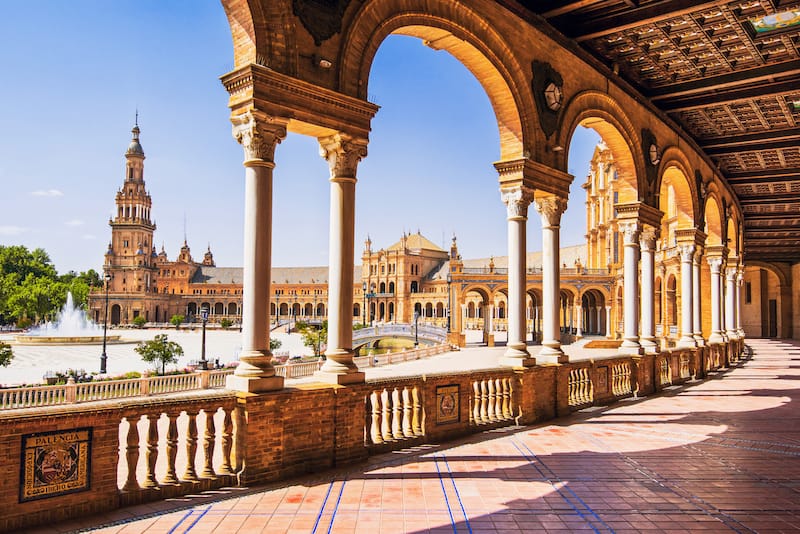 For exceptional views of Seville, climb the series of spiraling ramps and steps to the top of the 343-foot tower.
Adjacent to the cathedral, spend a few hours discovering the rooms and gardens at the Real Alcázar. The ancient royal palace and UNESCO World Heritage site is known for its pristine gardens and fountains and well-preserved and restored interior areas.
Of course, you'll want to spend time relaxing in the beautiful Plaza de Espana, wander through the streets of the Santa Cruz neighborhood, and take in a late-night flamenco show.
To watch a show and learn about the history of Spain's famous art form, visit the Museum of Flamenco Dance – renowned as one of the best venues to catch a flamenco performance.
Recommended Seville Tours
If you're looking to make the most of your time in Seville, consider taking a tour! Here are a few of the top-rated city tours (and day trip options) in Seville:
Where to Stay in Seville
Stay at Hotel Las Casa de la Juderia in the Santa Cruz neighborhood to maximize your time in the city!
>> Discover the best Seville hotel options here
11. San Sebastian
San Sebastian highlights: Hondaarribia, Haizearen Orrazia, La Concha Beach, Food!
Recommended by: Anisa from Two Traveling Texans
San Sebastian may be best known as a foodie destination but it has much more to offer visitors. It's ideal for a weekend break from May through October when you can enjoy all the outdoor activities!
Of course, you will want to try the city's famous pintxos which is their version of tapas. To learn more about their cuisine, you could do a food tour or even take a cooking class.
To burn off all those calories, why not do some hiking? You don't have to go far to find the path up Monte Urgull where you can see the statue of Christ, a castle, and more.
The Camino de Santiago, a famous pilgrimage hiking trail, also goes by the city.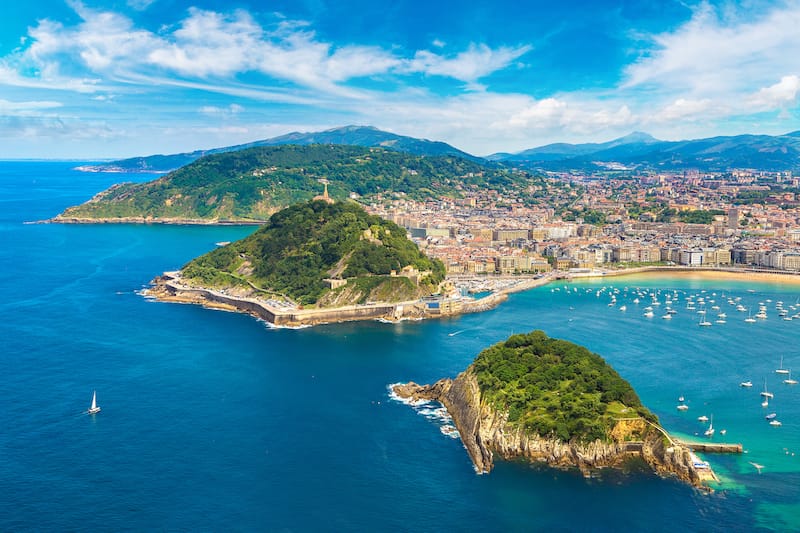 If you don't want to hike, but still want to get those views over the bay, you can take the funicular up Monte Igueldo. At the top, you will find a vintage amusement park, restaurant, and hotel.
Be sure to leave some time to relax on the famous La Concha Beach when in San Sebastian. It's a huge sandy beach with spectacular views. In the summer, it's a great spot for swimming too.
Recommended San Sebastian Tours
If you're looking to make the most of your time in San Sebastian, consider taking a tour! Here are a few of the top-rated city tours (and day trip options) in San Sebastian:
Where to Stay in San Sebastian
To make the most of your weekend in San Sebastian, treat yourself to a luxurious stay at Hotel de Londres y de Inglaterra. It's located right on La Concha Beach so only a short walk from the old town.
>> Discover the best San Sebastian hotel options here
12. Santander
Santander highlights: Centro Botin, Palacia de la Magdalena, Playa del Sardinero, Museo Maritimo del Cantabrico
Recommended by: Cristina from My Little World of Travelling
Santander, located in Northern Spain, is one of the most underrated destinations in Spain… but it's full of incredible spots to visit during a weekend.
Whether you love learning about local history, trying traditional dishes, or hiking, Santander has it all!
When visiting Santander, you can't miss the opportunity to go to the Magdalena Peninsula. It is one of the most beautiful places in the city!
Here you can enjoy the fantastic coastal views and visit an impressive former royal palace called Palacio de la Magdalena.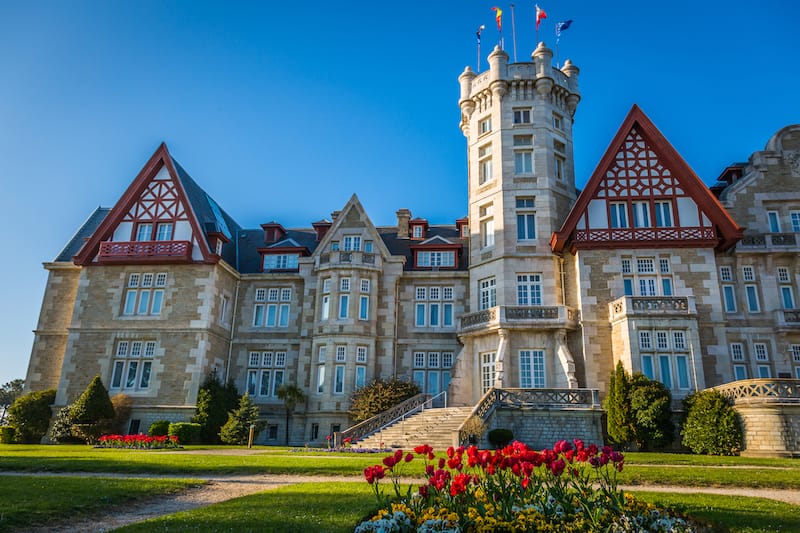 Other activities to do in Santander during the weekend are wandering its streets, which are home to interesting street art and historical buildings like its Gothic Cathedral, and going on a city cruise to see Santander Bay, one of the most beautiful bays in Europe.
If you are a foodie, you must taste the local cuisine characterized by the combination of sea and land ingredients.
Some local dishes you may want to add to your list are rabas (fried squid), anchoas (anchovies) and cocido montañés (a meat and beans stew). La Malinche is a great restaurant to enjoy traditional and modern dishes.
Santander is also very close to impressive green landscapes and hidden gems you can visit on a day trip.
For example, you can visit Santillana del Mar, a quaint medieval town with many historical buildings, or go to Covadonga situated in Picos de Europa for a hike with scenic views.
Recommended Santander Tours
If you're looking to make the most of your time in Santander, consider taking a tour! Here are a few of the top-rated city tours (and day trip options) in Santander:
Where to Stay in Santander
Regarding accommodation, Hotel NH Ciudad de Santander is an excellent option. It is very central and their rooms are modern and spacious!
>> Discover the best Santander hotel options here
13. Valencia
Valencia highlights: Parque Natural de la Albufera, Ciudad de las Artes y las Ciencias, Central Market of Valencia, Valencia Cathedral
Recommended by: Or from My Path in the World
Spending a weekend in Valencia is a wonderful choice if you want to explore the birthplace of world-known paella, visit some of Spain's most amazing landmarks, marvel at picture-perfect architectural gems, and stroll through the beautiful neighborhoods of a laid-back city.
There are plenty of free things to do in Valencia, so another advantage is that you don't need to break the bank to visit. It is also a warm weekend break in Spain during the winter months!
Valencia showcases a perfect combo of traditional and modern, so alongside historic sites like the Valencia Cathedral, the UNESCO-listed Silk Exchange, and the Serranos Towers, you'll find futuristic architecture at the cultural complex of the City of Arts and Sciences, colorful street art, and trendy cafes and bars.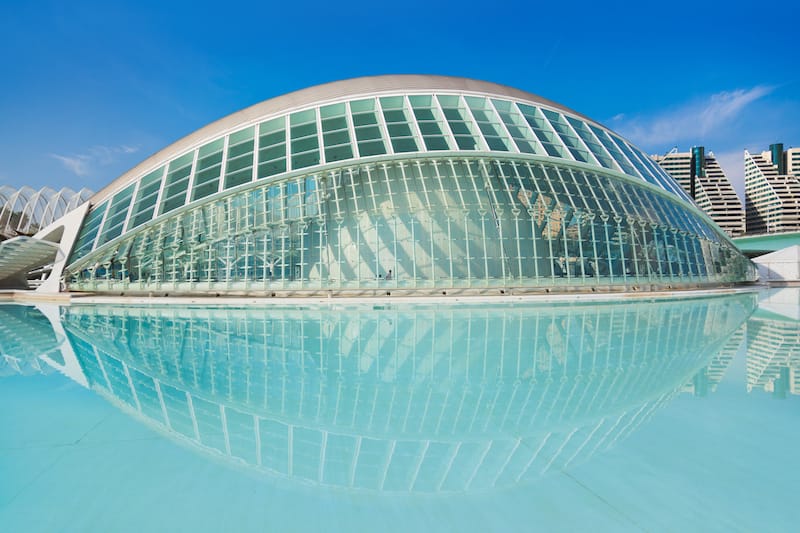 You should also visit some of the city's best museums such as the Museum of Fine Arts of Valencia and the National Museum of Ceramics, stroll through the lovely Turia Gardens and Jardins del Real, and be amazed by the indoor Central Market.
When it comes to food & drinks, you're in for a treat. Savor a cup of refreshing horchata at Horchateria Santa Catalina, try the local cocktail Agua de Valencia, and of course, devour authentic paella.
Some of the best restaurants to do so include La Pepica (one of the oldest in Valencia), Alqueria del Pou, Casa Carmela, and La Riua.
Recommended Valencia Tours
If you're looking to make the most of your time in Valencia, consider taking a tour! Here are a few of the top-rated city tours (and day trip options) in Valencia:
Where to Stay in Valencia
For central accommodation in the old town, check out the highly-rated L'Esplai Valencia.
>> Discover the best Valencia hotel options here
14. Toledo
Toledo highlights: Santa Iglesia Catedral Primada de Toledo, Alcazar de Toledo, Monasterio de San Juan de los Reyes, San Martin's Bridge
Recommended by: Emily from Wander-Lush
A melting pot of Moorish, Jewish, and Christian influences, Toledo is a must-visit city in Spain for lovers of architecture, history, and culture.
The 'City of the Three Cultures' sits on the Tagus River just an hour from Madrid by car or train. Easy to reach and the perfect size for exploring in 1-2 days, Toledo is made for a quick Spain city break.
Most of Toledo's must-sees are concentrated around the Old Town, a UNESCO World Heritage Site since 1986.
Start with the climb up to the 16th-century Alcázar, the splendid medieval fortress that apparently inspired Cinderella's castle.
The Military Museum is worth a walk through, but it's the sweeping views of Toledo city and the plains of Castilla–La Mancha that are the real highlight.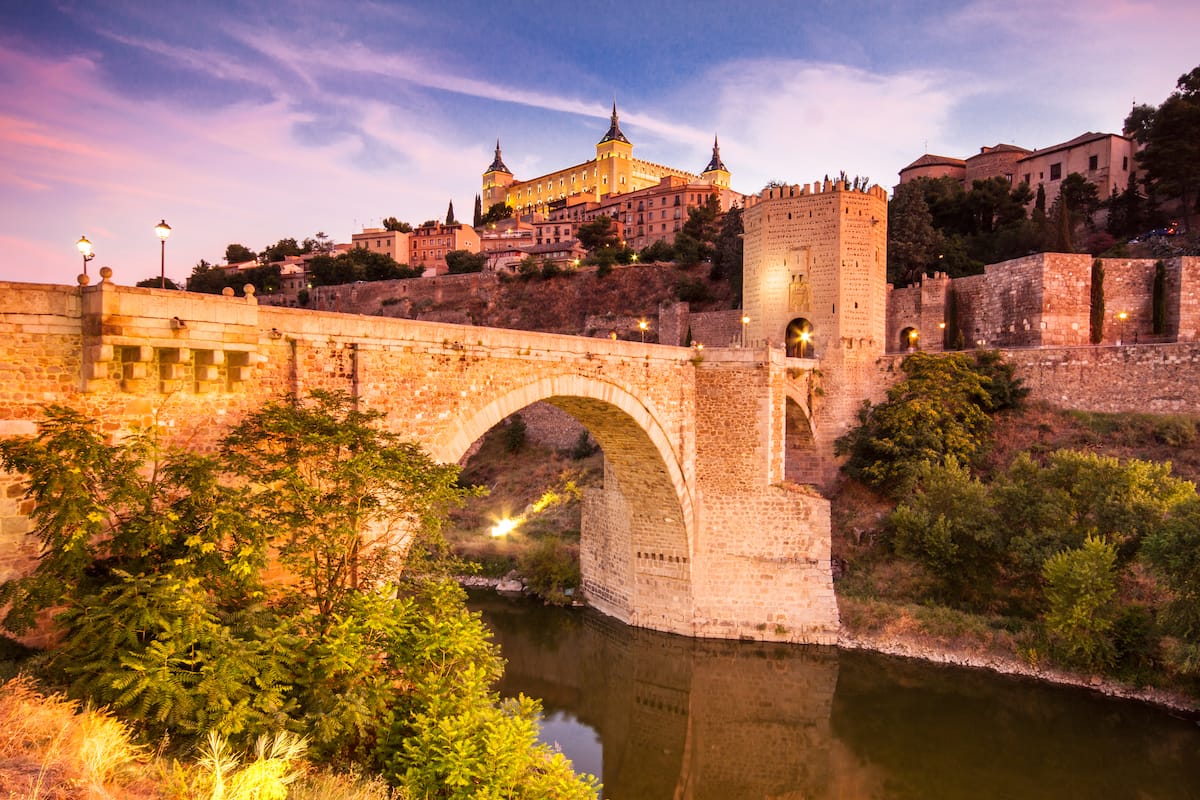 Wander through the incredible Toledo Aqueduct, one of several Roman-era structures that date back to the 1st century AD, to visit the Cathedral of Toledo, an exquisite example of Mudejar architecture.
A wander around the historic Jewish Quarter reveals artisan workshops and souvenir ateliers where craftspeople produce embroidery, ceramics, and leather crafts. Be sure to stop in at the Tránsito Synagogue for the Sephardic Museum.
For something different, walk the Senda Ecológica, a long park that follows the curve of the river and affords incredible views of the Tagus.
The 14th-century San Martin's Bridge comes into view on the western side of the river and is one of Toledo's most scenic spots.
For an authentic lunch or dinner, La Orza serves regional products sourced from farmers around Castilla–La Mancha.
Recommended Toledo Tours
If you're looking to make the most of your time in Toledo, consider taking a tour! Here are a few of the top-rated city tours (and day trip options) in Toledo:
Where to Stay in Toledo
When it's time to retire for the night, Entre Dos Aguas Hotel in the Plaza de Santo Domingo El Antiguo has charming Spanish villa-style rooms, a rooftop terrace, and a plant-strewn internal courtyard.
>> Discover the best Toledo hotel options here
15. Alicante
Alicante highlights: Santa Barbara Castle, San Juan Playa, Tabarca, Archaeological Museum of Alicante
Recommended by: Baia from Red Fedora Diary
You can spend one of the best weekend breaks in Spain in Alicante on the Costa Blanca coast.
This peaceful and charming town is a year-round destination that prides itself on with rich history, multicolored buildings, beautiful sandy beaches, and 3,000 hours of sunshine per year.
There are plenty of things to do in Alicante over the weekend. The prominent landmark is the Santa Barbara Castle sitting on top of the hill overlooking the city.
It dates back to the 9th century when Muslims ruled the Iberian Peninsula, making it one of the most extensive medieval castles in the country.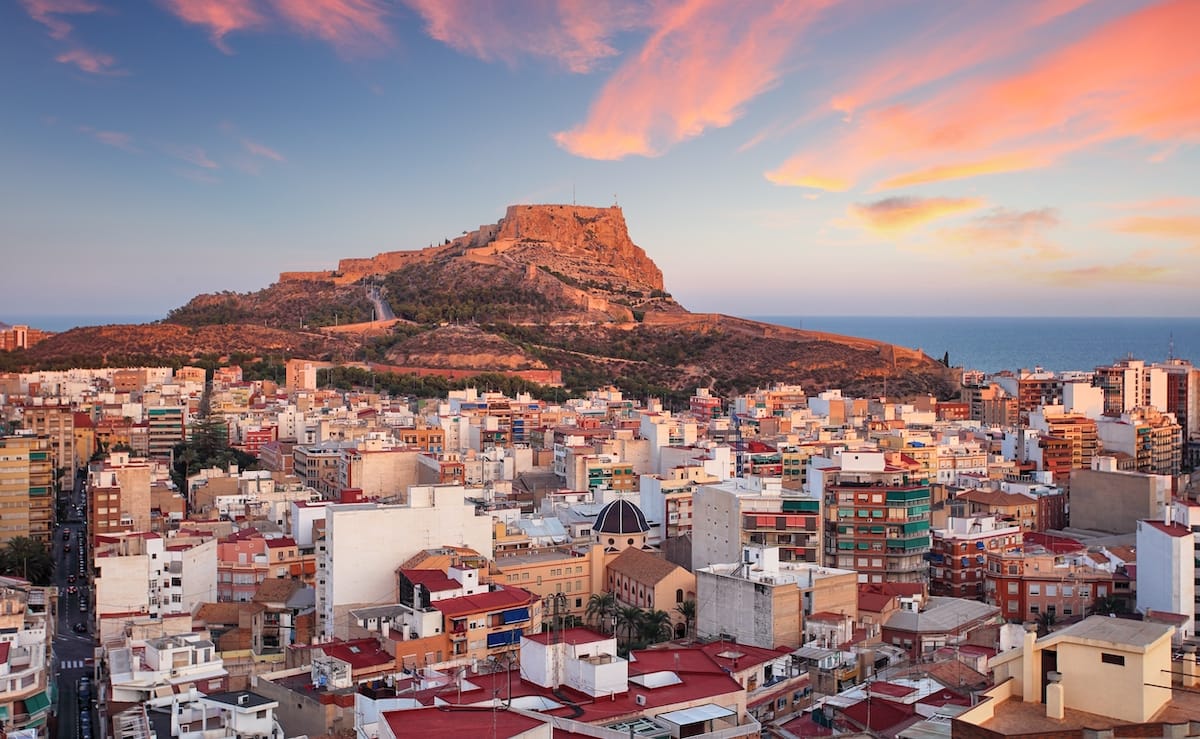 The best way to get to the castle is to hike through the Santa Cruz district full of white-colored houses decorated with colorful balconies, windows, doors, and flower pots.
Alicante is also renowned for its stunning cathedrals and churches, such as the Co-Cathedral of St. Nicolas, the Valencian Gothic-style Basilica of St. Maria, and a Roman Catholic cathedral.
If you are an art and culture lover, there are several museums and galleries to visit.
There are quite a few good restaurants in Alicante, but having a town's version of paella at El Gosto del Gourmet. Alternatively, if you'd like to dine like locals, go for tapas at Tapa-Caña.
Recommended Alicante Tours
If you're looking to make the most of your time in Alicante, consider taking a tour! Here are a few of the top-rated city tours (and day trip options) in Alicante:
Where to Stay in Alicante
Regarding accommodation, staying in the center or near the beach is highly advised (Alicante is walkable!). Palacio Salvetti Suites is close to the beach and even closer to the city center.
>> Discover the best Alicante hotel options here
16. Oviedo
Oviedo highlights: Iglesia de Santa Maria del Naranco, Metropolitan Cathedral of San Salvador of Oviedo, Museum of Fine Arts of Asturias, San Francisco Park
Recommended by: Cosette from Kars Travels
Oviedo is a city in the region of Asturias in the North of Spain and it remains a bit off of the tourist track compared to other Spanish cities! This means there aren't throngs of tourists, giving the city a laid-back vibe!
The city is perfect for a weekend getaway, or a stop on a France Spain Portugal road trip. All the top things to do are within walking distance from each other.
On your must-visit list of Oviedo should be the Catedral Metropolitana de El Salvador de Oviedo. It's a beautiful gothic cathedral, which is also the start of the Northern pilgrims' route to Santiago de Compostela.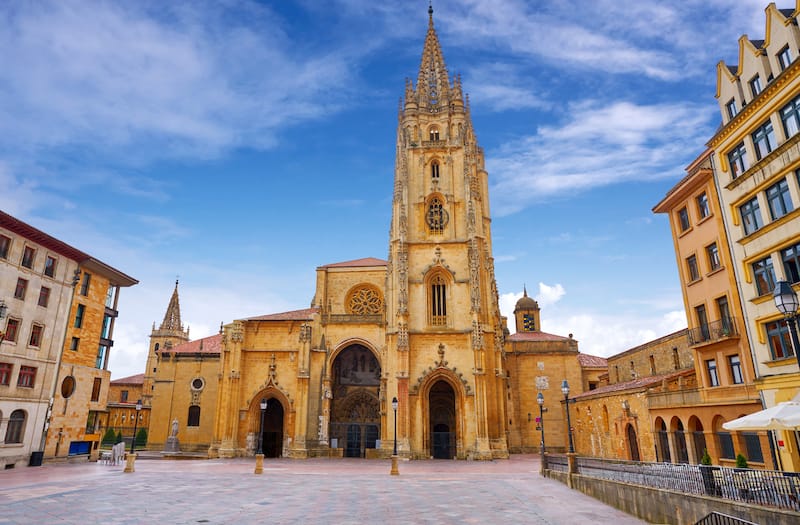 Next to that, explore Campo de San Francisco, a large park which is in the heart of the city. There are many interesting statues throughout Oviedo and there is also the Museo de Bellas Artes de Asturias.
It has art pieces from Spanish, Italian, and Flemish artists and is worth a visit.
Calle Gascona is the number one reason to visit Oviedo, however! It's a street lined with sidrerías, which are cider houses.
All local restaurants serve the famous apple cider that is produced in the region. They pour the cider from up high in the glass and make an entire show of it. This way of pouring gives the cider oxygen, intensifying the flavor.
Recommended Oviedo Tours
If you're looking to make the most of your time in Oviedo, consider taking a tour! Here are a few of the top-rated city tours (and day trip options) in Oviedo:
Where to Stay in Oviedo
A great place to stay in Oviedo is the Apartamentos Clarin. They are centrally located and a short distance from most main sites.
>> Discover the best Oviedo hotel options here
17. Palma de Mallorca
Palma highlights: Catedral-Basilica de Santa Maria de Mallorca, Castell de Bellver, Llotja de Palma, Calo des Moro
Recommended by: Claire from Europe in Winter
When you think of the best cities for weekend breaks in Spain, Mallorca may not be what immediately springs to mind.
But there's more to this Balearic island than meets the eye – and its capital, Palma, is well connected to other European cities and is packed full of fantastic attractions to keep you busy for a couple of days!
Palma Cathedral is the main landmark of the city, a striking religious building that was built between the 13th and 17th centuries, and is famous for its glittering rosette stained glass window.
The Royal Palace of La Almudaina is next door to the cathedral and was one of the official residences of the royal family, dating back to the 14th century.
A third fascinating historic building is located to the west of the city center, looking over the capital.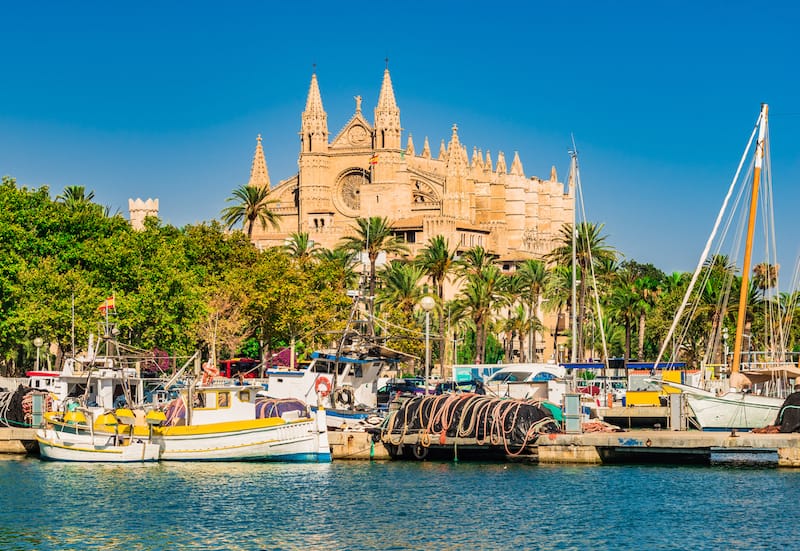 Bellver Castle was one of Europe's only round castles and was also a residence of Mallorcan monarchs. It was then a political prison in the 18th and 19th centuries.
Back in the city center, stroll around the labyrinth of historic cobblestone streets or head to the waterfront for sangria and sunset.
If you're visiting Mallorca in winter, the city bedecks itself fully for Christmas and has a festive market – just without the freezing temperatures!
Other attractions include the RCD Mallorca football stadium, the Es Baluard Museum, and taking a vintage train to Soller in the north of the island.
If you're hungry after all that exploring, head to Bar Espanya for delicious tapas.
Recommended Mallorca Tours
If you're looking to make the most of your time in Mallorca, consider taking a tour! Here are a few of the top-rated city tours (and day trip options) in Mallorca:
Where to Stay in Palma de Mallorca
Hotel Saratoga is chic, has a pool and trendy rooms, and is right in the center of beautiful Palma de Mallorca.
>> Discover the best Palma de Mallorca hotel options here
18. Benidorm
Benidorm highlights: Playa de Levante, Aqualandia Benidorm, Poniente Beach, Balcon del Mediterraneo
Recommended by: Martina from PlacesofJuma
Benidorm is a beautiful coastal city on the Costa Blanca and, on top of that, the perfect destination for a weekend trip in Spain.
Often called "Little Manhattan", this city scores with the highest density of high-rise buildings (in relation to the number of inhabitants) in the world.
During the summer months, countless tourists come from all over the world, but if you visit in the low season, then you can get really cheap bargains for a weekend trip!
Benidorm is famous for its beautiful sandy beaches, which are perfect for a vacation.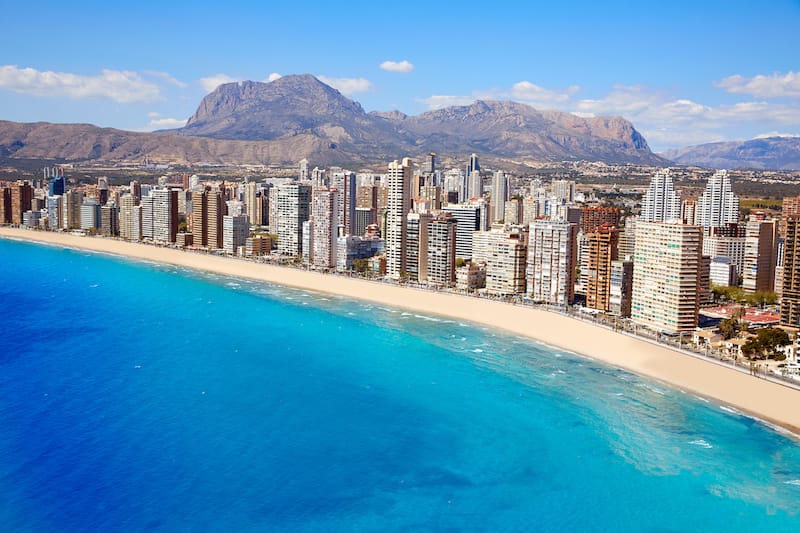 Right in the center, there is even a romantic old town, where the "Mediterranean balcony" leads directly into the azure sea. But there is more!
If you are looking for vibrant nightlife, then Benidorm is definitely a great choice! In addition, there are numerous amusement parks around Benidorm, which provide something to do for families and thrill-seekers.
Nature lovers get their money's worth in this region and Spanish destination. Nearby is Sierra Helade National Park, where you can take beautiful cliff walks.
Other gorgeous highlights of the region that can be visited via an excursion are the colorful town of Villajoyosa, the white city of Altea, and the jaw-dropping coastal town of Calpe.
Recommended Benidorm Tours
If you're looking to make the most of your time in Benidorm, consider taking a tour! Here are a few of the top-rated city tours (and day trip options) in Benidorm:
Where to Stay in Benidorm
Gastrohotel Boutique RH Canfali is a fantastic hotel option for a weekend trip. Located in the old town of Benidorm, this hotel enchants with lovely rooms, an indescribably beautiful location, and with a picturesque view down to Levante Beach.
>> Discover the best Benidorm hotel options here
Did we miss any of your favorite weekend breaks in Spain? Let us know your top picks in the comments! Thanks!
More Spain Travel Guides
Pin this Spain Weekend Getaways Guide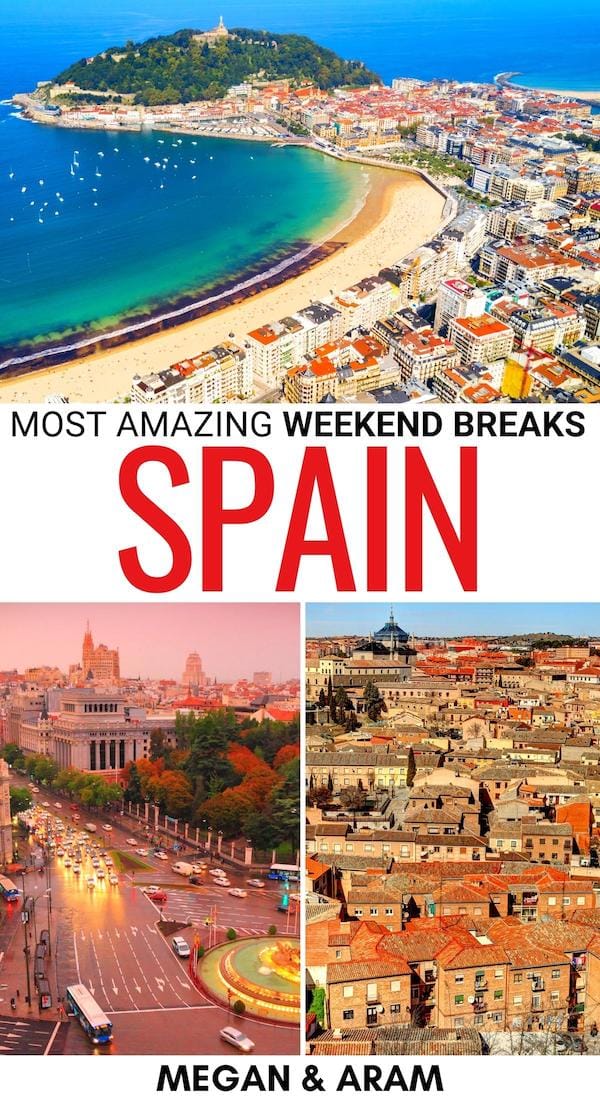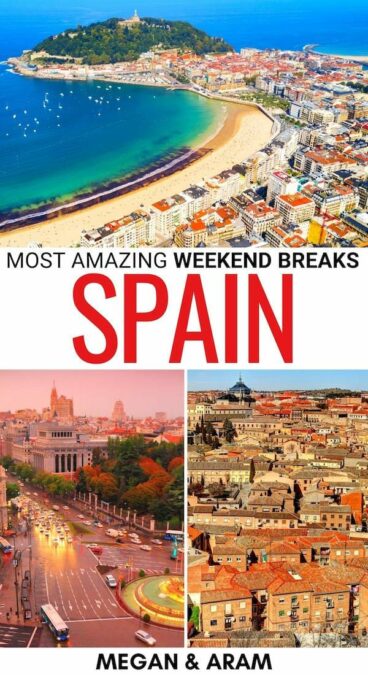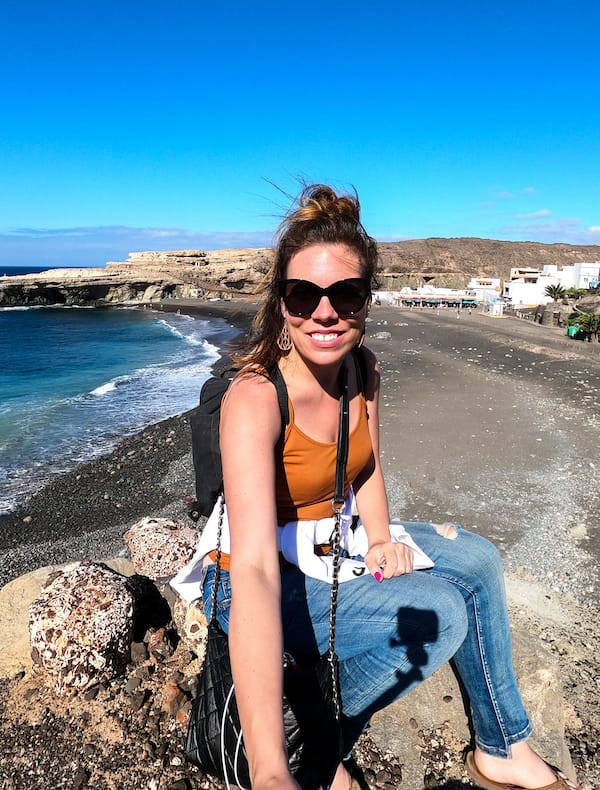 Megan is a travel blogger and writer with a background in digital marketing. Originally from Richmond, VA, she now splits her time between Frankfurt, Germany and Arctic Finland after also living in Norway, Armenia, and Kazakhstan. She has a passion for winter travel, as well as the Nordic countries, but you can also find her eating her way through Italy, perusing perfume stores in Paris, or taking road trips through the USA. Megan has written for or been featured by National Geographic, Forbes, Lonely Planet, the New York Times, and more. She co-authored Fodor's Travel 'Essential Norway' and has visited 45 US states and 100+ countries.