Are you searching for the best things to do in Tenerife for your Canary Islands trip? Don't worry – we have you sorted!
Are you planning your trip to Tenerife last minute?
If youʻre booking your trip to Tenerife last minute, we have you covered. Below are some of the top tours, hotels, and more!
Top Experiences and Tours in Tenerife:
Top Hotels in Tenerife:
Visiting Tenerife independently? Be sure to book your rental car ahead of time to ensure availability!
This guide contains the top Tenerife attractions, activities, beaches, and more!
Did we miss any of the best activities in Tenerife?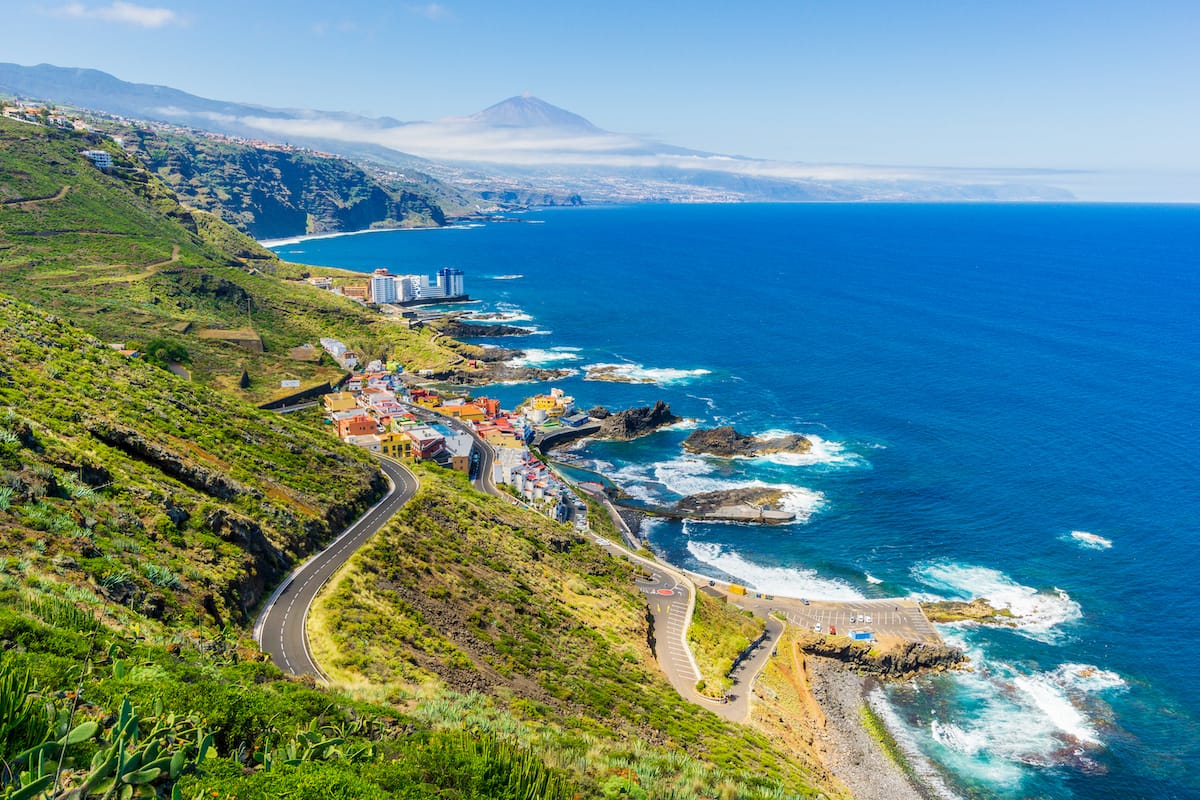 Let us know what to do in Tenerife in the comments. Thanks!
Best Things to Do in Tenerife
1. Visit Teide National Park (and Take the Cable Car Up Mount Teide)
With this popular Tenerife tour, you will be able to catch some of the most stunning views of Europe's most visited national park, Teide National Park.
The tour offers pick-up at your hotel. Then, you will be taken to the national park to board a cable car, which will take you up to Spain's tallest mountain, Mount Teide, for an 8-minute ride.
Here, you will be able to capture stunning views of the volcanic landscapes.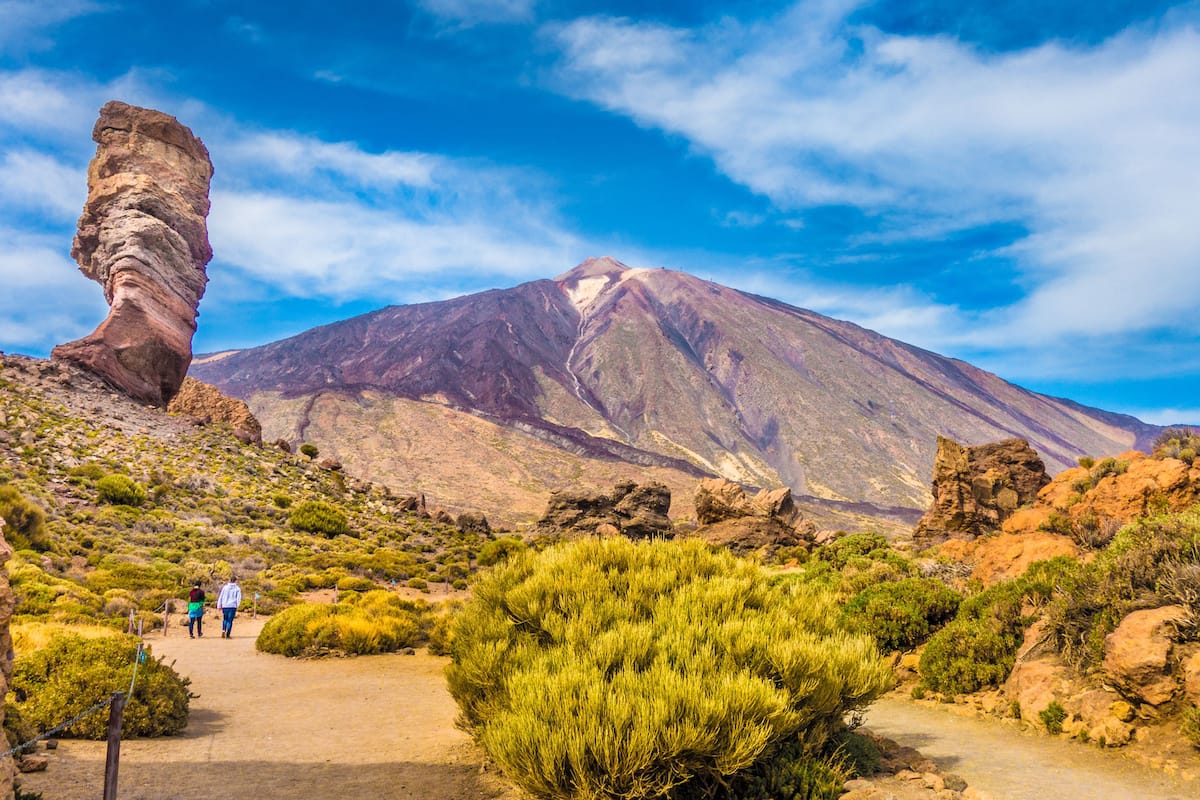 Hiking enthusiasts will also have the opportunity to check out 3 trails at the top of the mountain, including trails to the Pico Viejo Lookout and the La Fortaleza Lookout.
If you wish to visit the peak of Mount Teide, keep in mind that you have to apply for a permit.
The tour also comes with a guide.
>> Click here to check tour rates and availability
2. Relax on the Beach at Playa de Las Teresitas
If you're looking for one of the most beautiful beaches in Tenerife that offers calm, turquoise waters and pristine sands, look no further than Playa de Las Teresitas.
The 1.5-kilometer-long beach is considered to be one of the best on the island and is even home to some of the most beautiful Tenerife villas.
Do keep in mind, though, that it gets busy on the weekends, so you may want to consider a trip during the week, which should be doable if you're spending at least 7 days in Tenerife!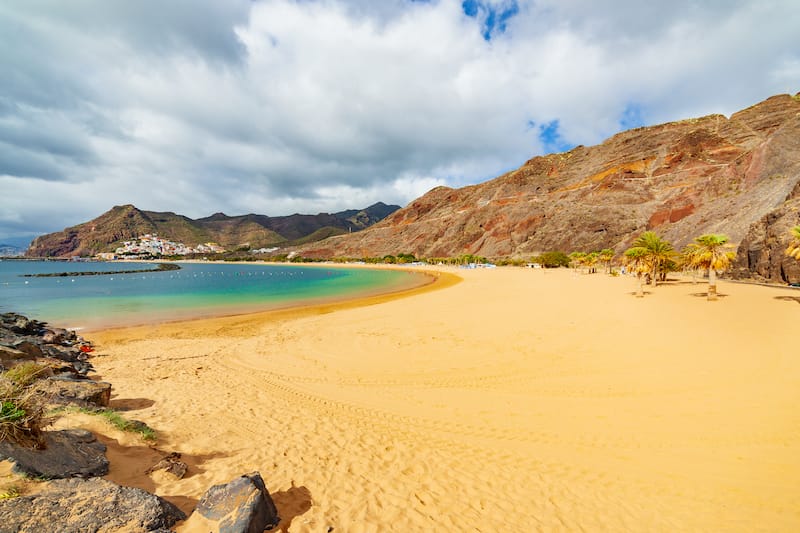 There are plenty of facilities available on the beach providing you with plenty of opportunities to participate in beachside sports like volleyball, yoga, running, and more, outside of the obvious waterfront activities.
Even more, you can head over to a bar or restaurant right on the beach!
3. Take a Wine Trip to Tacoronte
This guided tour of the Bodegas Monje winery is certainly not one that you should miss!
Here, you will have the chance to learn more about winemaking in Spain, as well as try out authentic wine and cheese, such as peppery goat cheese from Fuerteventura and goat and sheep milk cheese from Gran Canaria.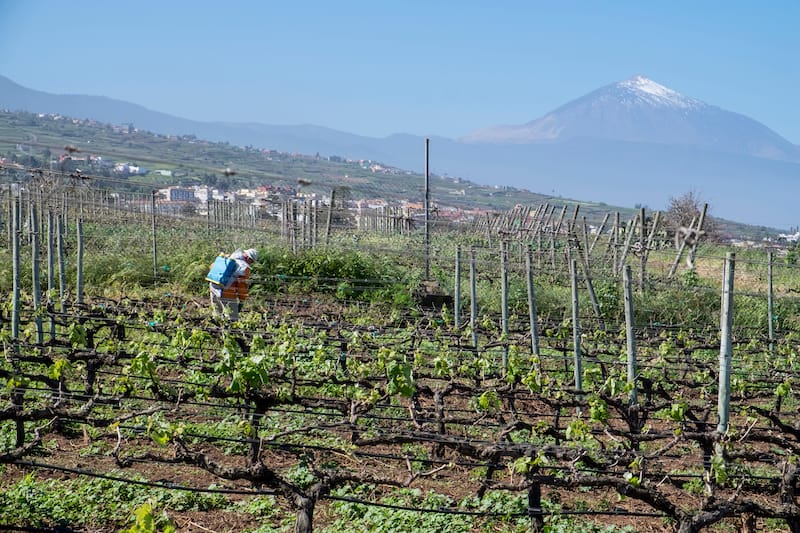 Overall, you will taste four wines and four cheeses.
The tour will also teach you about the history of the Monje family and the vineyards. You can choose to have the tour in Spanish or English.
It lasts approximately 2 hours.
>> Click here to check wine tour rates and availability
4. Go Kayaking (and Snorkeling) with Turtles in Tenerife
You should definitely consider this eco-friendly tour to explore Tenerife's marine life and snorkel with the turtles.
With this tour, you will be provided with kayaks and snorkeling equipment to head to the waters, where you'll be completely surrounded by 5 species of dolphins.
Keep in mind that it's not completely guaranteed that you'll kayak next to dolphins, but the chances are pretty high- 95%!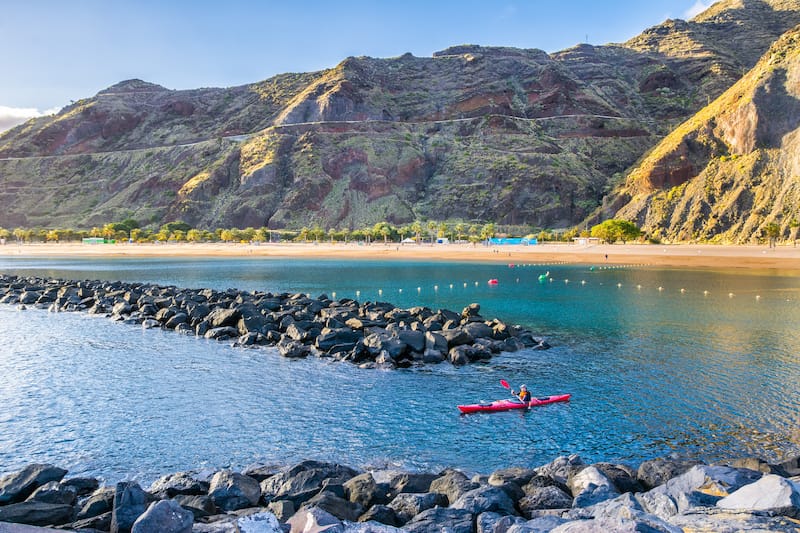 You can also choose to see bull rays in a bay that you can only access via kayak.
Curious turtles will also likely come close to you to check out the kayak.
If you want, it's also possible to take a break for swimming, where you'll have the chance to go snorkeling with the turtles as well.
>> Click here to check kayaking tour rates and availability
5. Explore the Historic Town of La Laguna
La Laguna, located in the northern part of Tenerife, is a UNESCO World Heritage Site and the oldest town that was established in the Canary Islands.
Here, you'll have the chance to check out a variety of historical buildings and architectural wonders.
You can visit the Tenerife History and Anthropology Museum, which presents the history of the island's colonization by Spain.
Be sure to also visit the town's cathedral, which is the only cathedral in Tenerife, and the church of La Concepcion, which includes a tower you can climb up to in order to catch views of the city.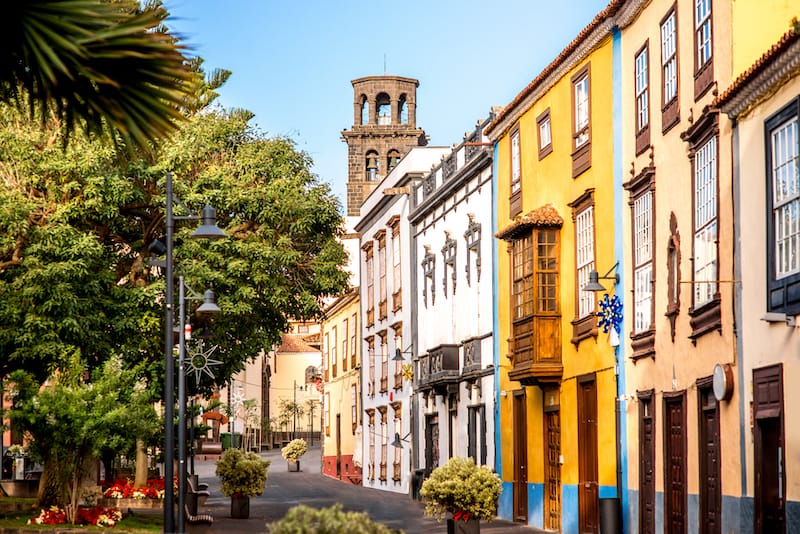 It's also a great idea to go for a stroll in the Old Town along the cobbled streets, where you'll be able to marvel at the cafes, museums, boutiques, and galleries. Be sure to bring your camera!
Want to grab a cup of coffee? Visit the small and authentic coffee shops in La Laguna, including La Cafeina and Makika&Co.
Finally, if you're someone who enjoys food markets, be sure to visit the La Laguna Market, which is home to fresh local produce and some exotic varieties as well.
6. Go Stargazing in Teide National Park
Aside from being Europe's largest national park, did you know that Teide National Park is considered to be one of the best places in the world to go stargazing?
This tour is the perfect choice for all astronomy lovers who want to catch gorgeous views of the night sky as they've never seen before.
With this tour, you'll get to enjoy a Canarian meal and views of the sunset beforehand.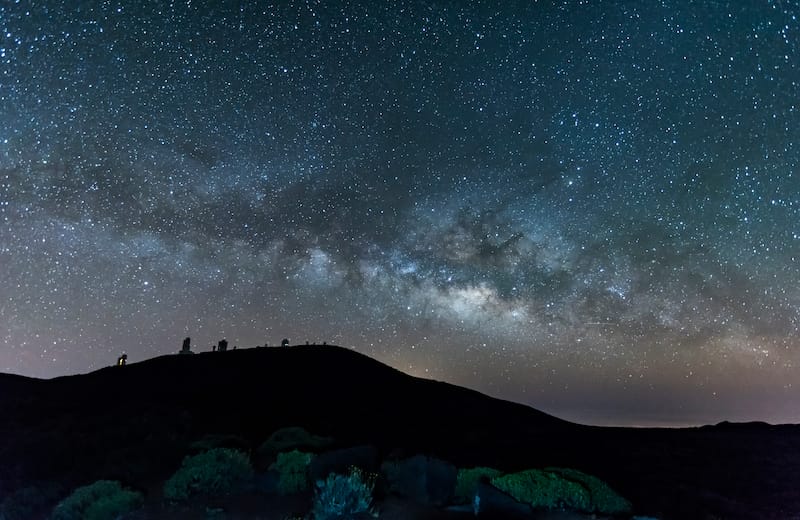 Then, you'll trek up the mountain for the stargazing adventure, where you'll learn all about telescopes and have the chance to see planets, stars, galaxies, the Moon, and more!
You will also go for a safari trek with lasers as part of the tour.
The tour is in English and lasts between 2.5 and 6 hours.
>> Click here to check stargazing tour rates and availability
7. Enjoy the Nightlife in Santa Cruz
Santa Cruz is one of the best places in Tenerife to enjoy nightlife if that's your scene.
It's not as intense as you might find elsewhere, but it is a favorite destination for many.
La Noria party street is by far the spot where all the action takes place. Here, you can enjoy a multitude of shows, festivals, and other gigs at night.
If you're into more low-key nightlife, start by the Santa Cruz waterfront port near the Plaza de Espana.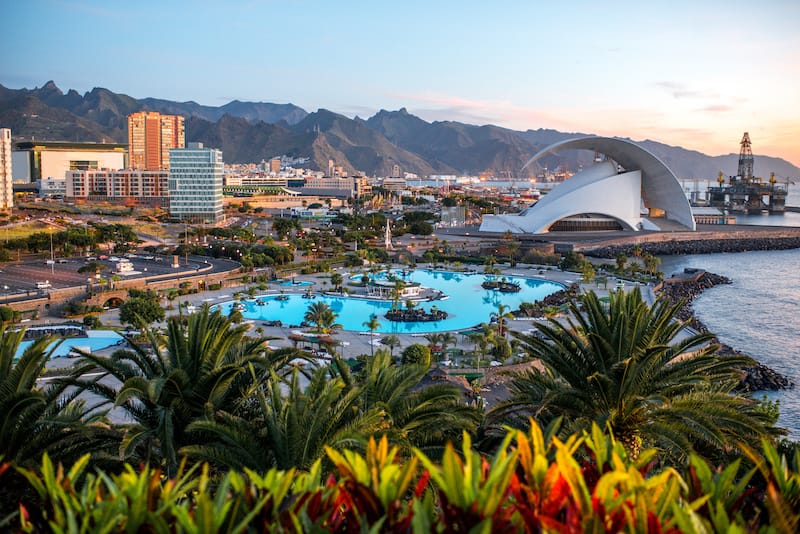 The shopping district is another great spot where you can check out the city by night.
There are a wide variety of different bars and nightclubs where you can find drinks for cheap prices. You can also find a lot of live entertainment throughout the night.
Don't forget to visit during Carnival, one of the most spectacular festivals on Tenerife.
8. Visit the Stunning Los Gigantes Cliffs
Although Tenerife is packed with gorgeous landscapes, the Los Gigantes cliffs will prove to be some of the best throughout the whole island.
The cliffs are located on the west coast of Tenerife and reach heights of 600 meters.
There are plenty of opportunities to see the cliffs along the Los Gigantes port all the way to Punta de Teno, including long hiking trails and viewpoints.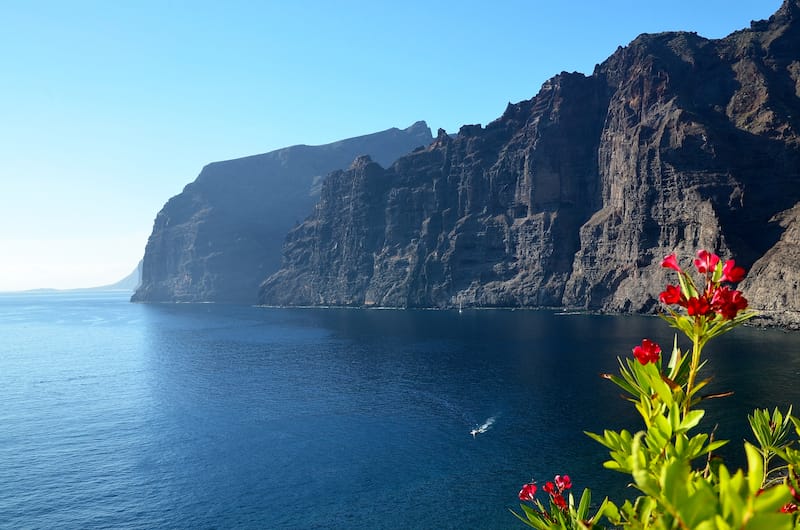 Once you reach the cliffs, there are a wide variety of activities available in the waters below, including kayaking, scuba diving, and whale-watching.
In addition, you can swim in the natural pools nearby or visit the cove of black sand.
9. Take a Whale and Dolphin Watching Tour
What better way to enjoy the beautiful waters off the coast of Tenerife than exploring with the dolphins and whales
With this tour, you'll have the opportunity to sail to the best places to see the dolphins and whales.
You'll start the tour by traveling through the Teno-Rasca Whale Sanctuary via catamaran, where you'll be able to see marine wildlife.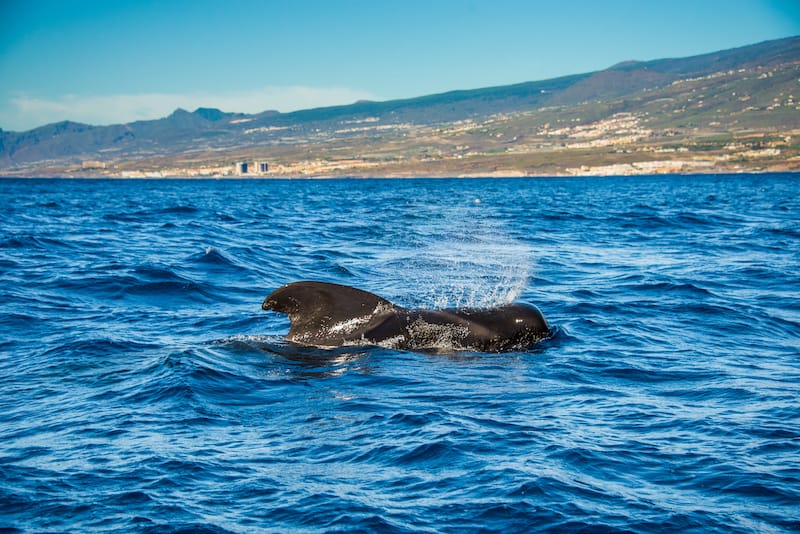 There is also the option to take an extended tour, where you'll be able to see more of the coastline, such as Masca Beach and Los Gigantes cliffs.
It is also possible to take some time to swim in the Atlantic.
At the start of the tour, you will go through a safety briefing on board. A small snack will also be provided, or if you choose the extended tour option, you will also have lunch.
>> Click here to check whale watching tour rates and availability
10. Hike the Masca Gorge
If you're a hiking enthusiast who is up for a challenge, you'll be sure to enjoy the Masca Gorge hiking trail.
It is one of Tenerife's most popular trails despite its difficulty. It takes around 3 hours to descend and 4 hours to ascend, coming to 7 hours in total, so be sure to plan a day trip.
You'll be rewarded with some of the most amazing views, including rock walls, mountains, ravines, and more.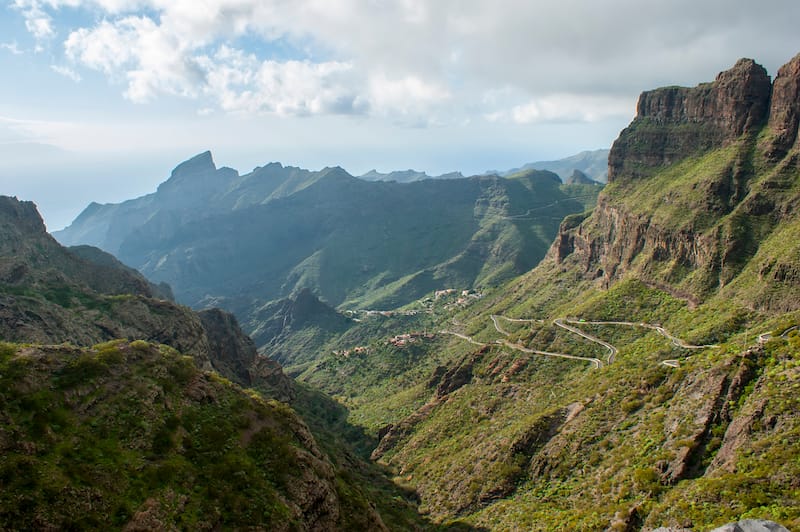 It's highly recommended that you go with a tour, where you'll have a guide, tickets, transportation, water, and even energy bars.
If you decide to go on your own, be sure to bring an ID and register online to get a free ticket to the ravine.
You need to be in good physical shape to do the hike and don't forget to wear proper shoes and clothing.
Also take water, a fully-charged phone, and as mentioned earlier, your ID.
11. Take a Trip to the Village of Garachico
Prior to the devastating volcanic eruptions, Garachico was one of the most prosperous towns in the Canary Islands, serving as Tenerife's port with global commercial connections.
Now, you can visit the 15th-century town to explore authentic Canarian architecture, delicious local cuisine, and of course, stunning views.
Upon arrival, be sure to visit Garachico's main plaza, Plaza de la Libertad, which is home to plenty of trees, and a gazebo where you can sit and relax.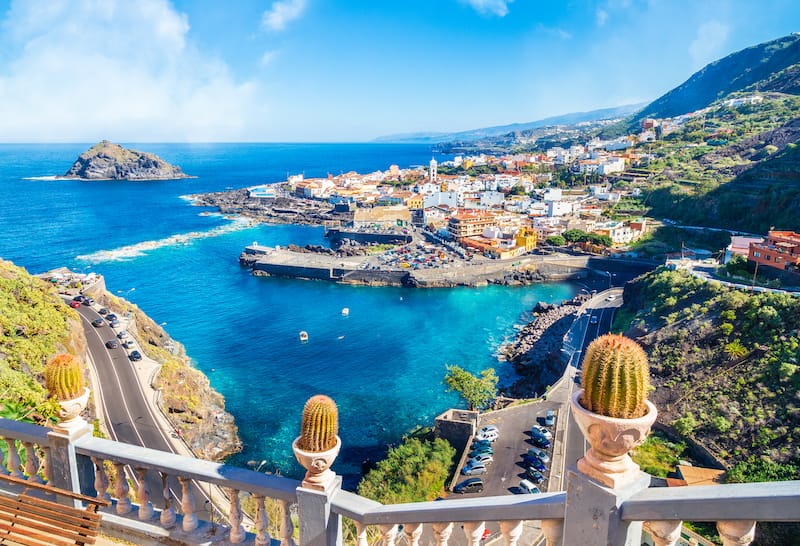 Next to the plaza is the Ex Convent of San Francisco, along with the Church of Our Lady of the Angels.
The Fortress of San Miguel is another must-see, dating back to the 16th century.
If you climb to the top, you will have amazing views of the El Catelon pool, which was formed by a volcanic eruption.
If you want to relax, check out the Playa de Garachico, which is a sheltered beach that is perfect for swimming. There's a lovely ice cream shop nearby- Heladeria El Abuelo.
12. Explore the Anaga Mountains
Visit Tenerife's oldest portion, the Anaga Mountains, which also serve as one of the best places for hiking in the area.
Here, you can catch some of the best views of the coastlines, along with amazing landscapes, forests, peaks, and ravines of their own.
The mountains feature a variety of hiking trails but be careful if you plan to hike after it rains because the trails can be very slippery.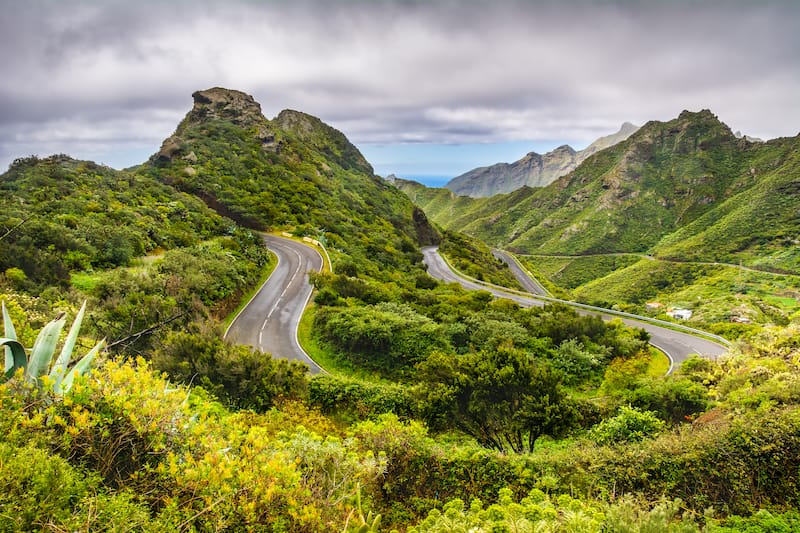 One of the trails you can hike is the Igueste de San Andres, which takes you to a small village with quaint white architecture.
If you're looking for a short hike, check out the Cruz del Carmen, which will take you through the laurel forests of Anaga.
Another option is Benijo, which takes you through the dragon trees and provides some gorgeous views of the Anaga coastline, as well as the Faro Punta de Anaga lighthouse.
Note that the hike is rather long, but the views are rewarding.
13. Visit the Historic Castle of San Cristobal
You can still see the ruins of Tenerife's first significant fortification, the San Cristobal Castle.
You will travel through an underground tunnel as you pass through the remains of the castle via the interpretation center, where you will learn more about the castle's history, including its defense system.
San Cristobal, San Juan, and Paso Alto were all castles that formed the main defense system of Tenerife.
The passageways will take you from when the castle was first built in the late 1500s all the way to when it was ultimately torn down in 1928.
It was reconstructed several times throughout its history and served as the main seat of the island's military government.
14. Go Jet Skiing on the Southern Coast ​
Jet skiing enthusiasts will also love this fun opportunity to explore the stunning coasts of Tenerife!
Along the Tenerife jet-skiing tour, you can discover the Arona Coast, San Miguel, Yellow Mountain, the Lighthouse of Punta Rasca, and Palm Mar Cave, as well as other unique sites.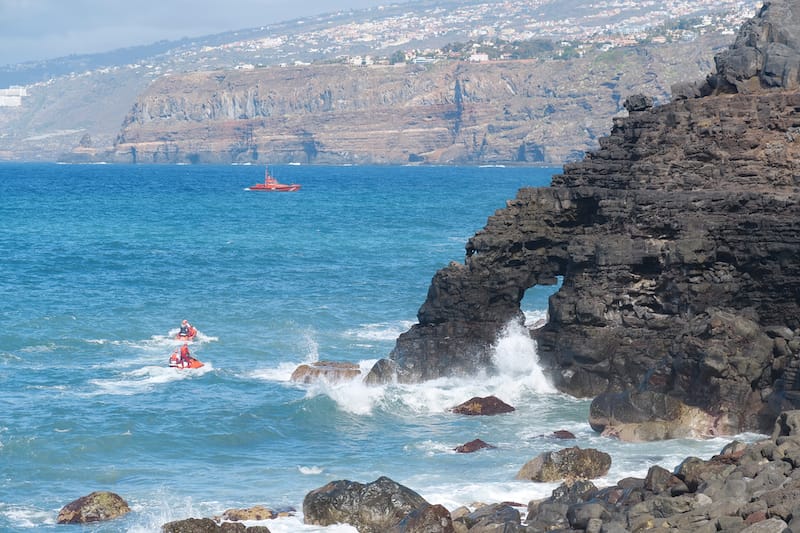 There will be a debriefing at the beginning of the tour full of safety measures and tips. You will also be provided with all the necessary equipment prior to riding the jet skis.
It's also very likely that you'll be able to see a variety of marine species like dolphins, turtles, and whales along the way!
The jet ski trip is available in English, French, and Spanish and lasts between 1 and 2 hours.
>> Click here to check jet-skiing rates and availability
15. Go on a Jeep Safari and Explore the Island's Interior
Here is a unique way for you to explore the island of Tenerife via a full-day 4WD tour that will last approximately 7 hours.
You will have the chance to enjoy Teide National Park's mountain villages, where you'll also get to see Spain's highest village, Vilaflor, as well as Masca.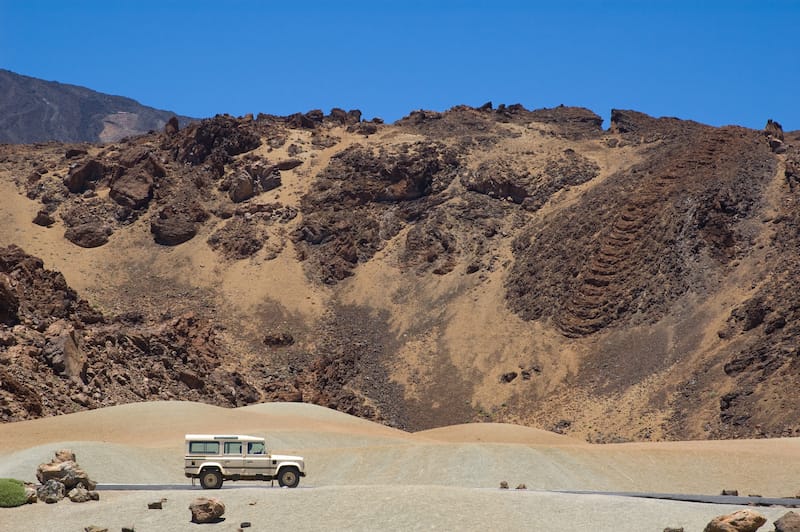 The tour will also come with a guide, who will teach you all you need to know about the different villages and stops that you'll explore along the way.
There will also be a stop at a restaurant for some lunch, but the price is not included in the tour.
>> Click here to check jeep safari rates and availability
16. Visit the Town of La Orotava
If you want to check out authentic Canary Island architecture and history, be sure to consider a visit to the 16th-century town of La Orotava!
The town's most popular attraction is Casa de los Balcones, built in 1632, with unique wooden balconies and an interior courtyard, as well as artwork by Eladia Machado.
The Hijuela del Botanico garden is another beautiful site featuring many species of plants. It's perfect to visit all year round, and the best part is that the entrance is free!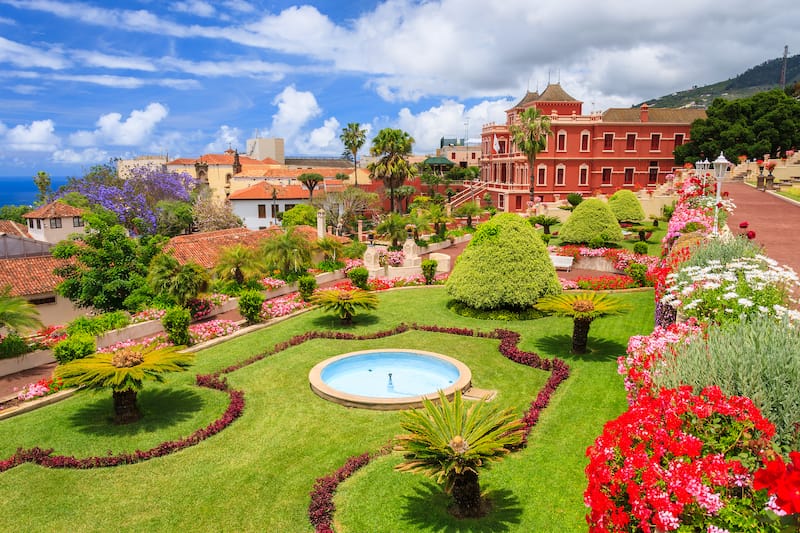 You can also check out the lush vegetation at the Victoria Gardens, where you can walk through the gardens and enjoy the beautiful scenery.
Other architectural marvels include the Town Hall, the Church of Our Lady of Conception, the Carpet Museum, and Iglesia de San Agustin.
17. Go Scuba Diving or Snorkeling Off the Coast
Want to check out Tenerife's stunning marine life up close? Check out this scuba diving tour, which is also ideal for beginners!
Here, you will have the chance to go scuba diving in a place that is full of turtles, as well as snorkeling in places that are considered some of the best in the world for snorkeling.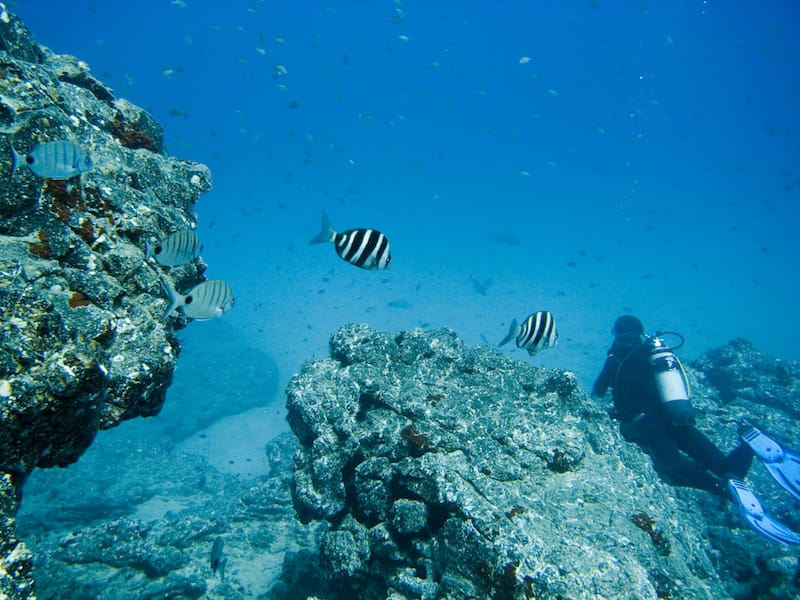 You won't dive any deeper than 7 meters, and you will be under the careful supervision of the instructor, so there is no need to worry!
Keep an eye out for dolphins and whales, too!
The trip will include all the needed equipment, including a wetsuit, as well as a PADI instructor to guide you.
>> Click here to check scuba diving rates and availability
18. Take a Trip to the Nearby Island of La Gomera
Take a trip to La Gomera island! You'll first catch a ferry to the island from southern Tenerife, then you will drive to Garajonay National Park.
First, you'll get to enjoy the forests of El Cedro and admire the unique plants that are present there.
Afterward, you will have lunch on the island, where you will also watch the island's locals speak in their unique whistling language, which is also referred to as Silbo Gomero.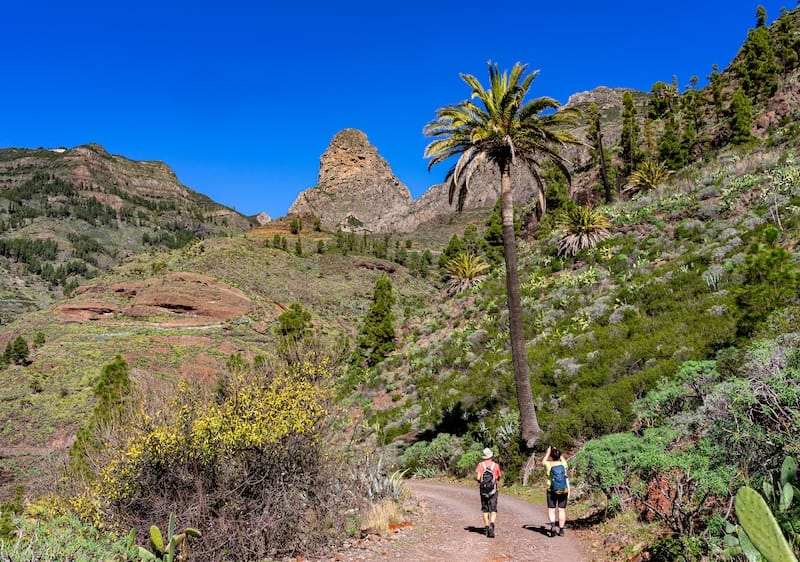 You will also see the Agando rock and learn more about the history and culture of the island.
Finally, the tour will end at the island's Church of Asuncion.
The tour will include a tour guide who can speak Spanish, English, French, or German.
>> Click here to check La Gomera day trip rates and availability
19. Explore the Cueva del Viento Lava Tube
The Cueva del Viento ("Cave of the Wind") lava tube is, undoubtedly, one of the most unique spots you can visit in Tenerife.
The tube was formed as a result of an eruption 27,000 years ago and is one of the longest tubes in the world, after four lava tubes in Hawaii.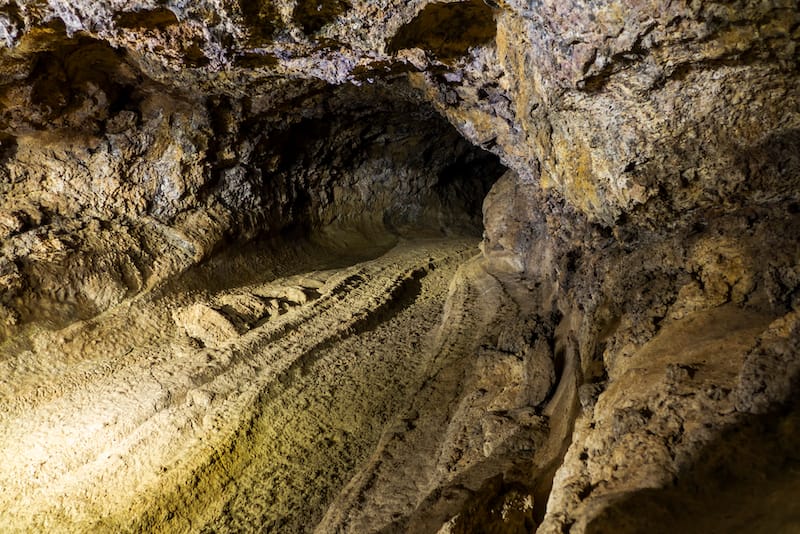 There are many underground passages and levels, also making this the most complex of all the lava tubes. The passageways extend to lengths of 17 kilometers long.
In addition to that, you will have the opportunity to see natural lava lakes, cascades, and stalactites.
20. Relax at the Natural Salt Pools of Garachico
Relax and recharge at the warm salt pools of Garachio.
Located next to the San Miguel castle of El Catelon, just north of Tenerife, you will be able to find natural pools that were formed from the volcanic eruption in Garachio during the 1700s.
Not only will you have the chance to relax here, but you can also have the chance to capture amazing views of the La Culata cliffs and the Canary Islands.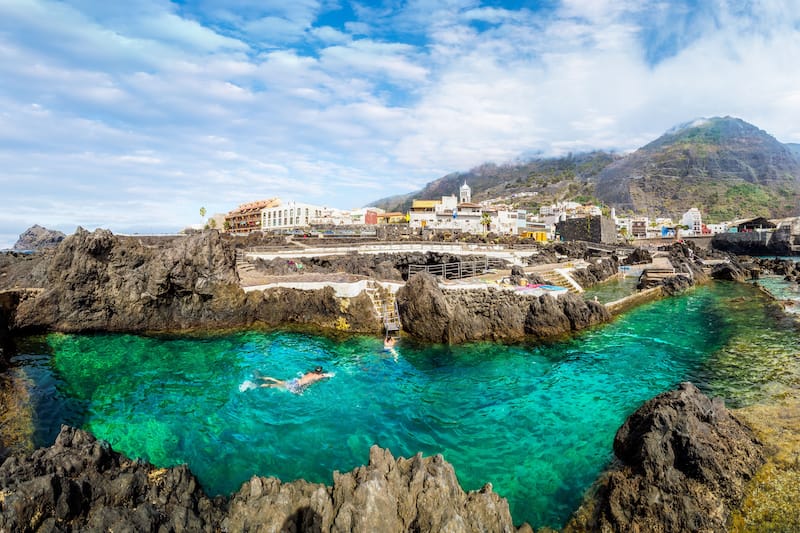 The area boasts a restaurant right on the lava, a beach, a regular swimming pool, and other shops.
Lifeguards are also present in the summer, and there are plenty of places to park if you're visiting by car.
21. Visit the Stunning Botanical Gardens of Puerto de la Cruz
The botanical gardens of Puerto de la Cruz remain some of the most beautiful in all of Spain. King Charles III of Spain ordered the opening of the gardens in the 18th century.
Here, it is possible to find a wide variety of tropical and subtropical plants, all of which have been able to adapt to the Spanish climate.
There are also plenty of native plants that you can marvel at.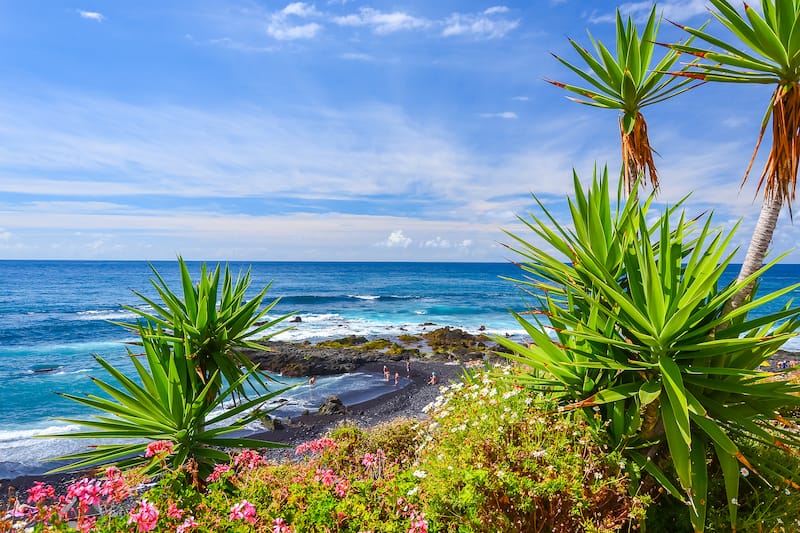 In addition, the gardens boast the cleanest air that you will be able to find on the island.
It should come as no surprise, then, that hundreds of thousands of people visit these botanical gardens every year.
You can visit the garden every day from 9 AM to 6 PM for an entrance fee of 3 euros.
22. Check Out the Charming Town of Icod de los Vinos
The beautiful town of Icod de los Vinos is best known for its Dragon Tree, also known as Drago Milenario.
It is considered to be the oldest of its type in the Canary Islands, attracting many tourists from all over.
You can especially capture great views of the tree Plaza de Andres de Lorenzo Caceres.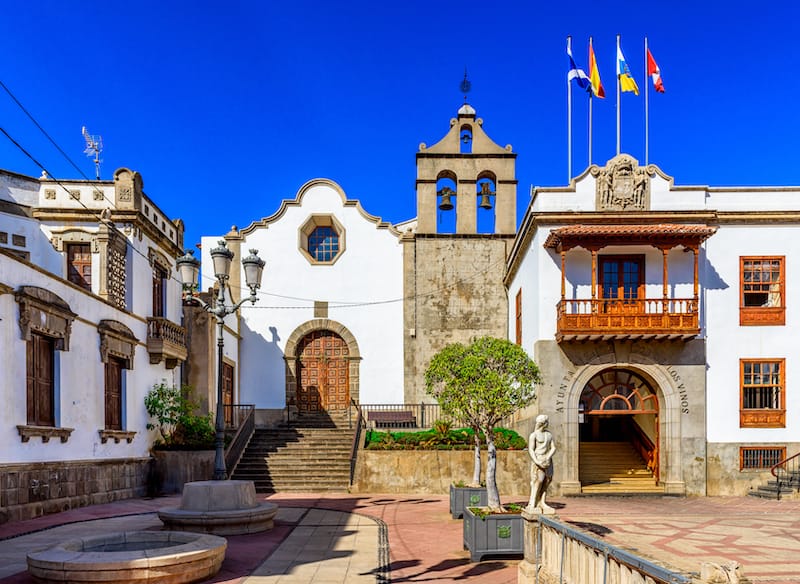 The tree is situated in a botanical garden called Parque del Drago, where you can check out a variety of plant species for a fee of 5 euros or even see the Dragon Tree up close.
Another unique spot to visit in Icod de los Vinos is Cueva del Viento, which is a volcanic tube that features many underground passages. Be sure to book your trip online.
The town is also known for its museums. Wine connoisseurs can visit the Malvasia Museum of Tenerife, where you can enjoy a wine-tasting experience, as well as the Guanche Museum to learn more about the Guanche culture.
23. Visit the Coastal Town of Adeje
Adeje is a tourist's paradise and a must-visit if you plan on taking a trip to Tenerife.
The small town boasts 26 kilometers of coast with over a dozen beaches and coves to choose from, making it the ideal spot to enjoy some waterfront activities like swimming, diving, and even whale watching.
You can even check out different water parks, such as Siam Park if you're looking for a bit more fun.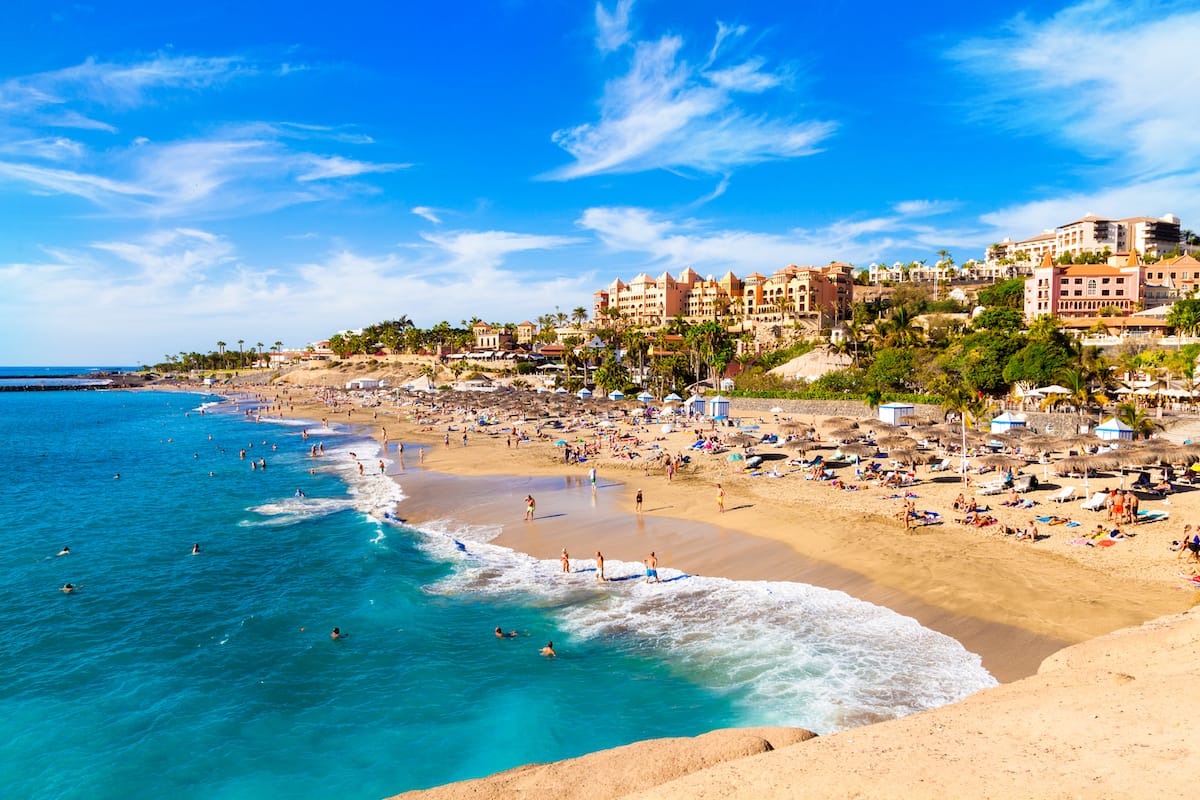 If you're more interested in the town's history, be sure to check out the church Iglesia de Santa Ursula, which was ordered to be constructed by the first lord of Adeje, as well as the Plaza de Espana, which features a bell tower.
Another historical location is the Casa Fuerte, which the first lord of Adeje also built to protect Adeje from pirate attacks in 1556. The ruins are still visible today.
Of course, there are many restaurants that you can't afford to miss, such as the Adeje Farmers' Market with local produce, La Caleta with seafood dishes, and local restaurants in the northern neighborhoods featuring mountain dishes like stew.
24. Go Paragliding or Hang Gliding over Tenerife
Want to see the beauty of Tenerife from a bird's eye view? Consider this paragliding tour!
Not only will you be able to catch a view of the stunning island landscapes, but this is guaranteed to be an incredible adrenaline rush.
The paragliding or hang gliding flight lasts between 15 and 20 minutes and you will fly at an altitude of 750 meters.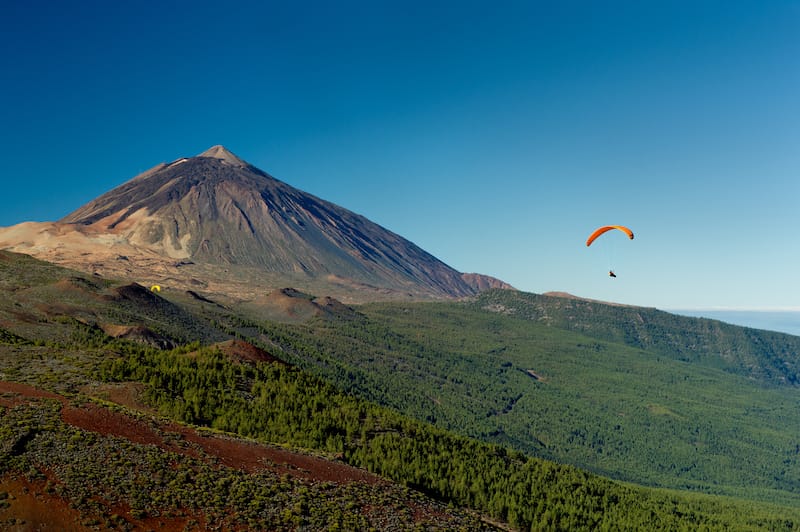 Prior to taking off, you will have a security briefing about the flight and be provided with all the necessary equipment.
Please note that all participants need to be between 30 and 115 kgs, and anyone under 18 must have their parents' permission.
Don't forget to bring a bottle of water, snacks, and sunscreen!
>> Click here to check hang gliding rates and availability
25. Take a Quad Tour of Teide National Park
With this final tour, you can have the opportunity to check out all the sites in Teide National Park, including Spain's tallest mountain, Mount Teide.
This is a guided quad bike tour where you will be able to choose between the options for single and double riders.
The tour will cross 90 kilometers of the national park, leading you from Playa Las Americas to Las Cañadas del Teide.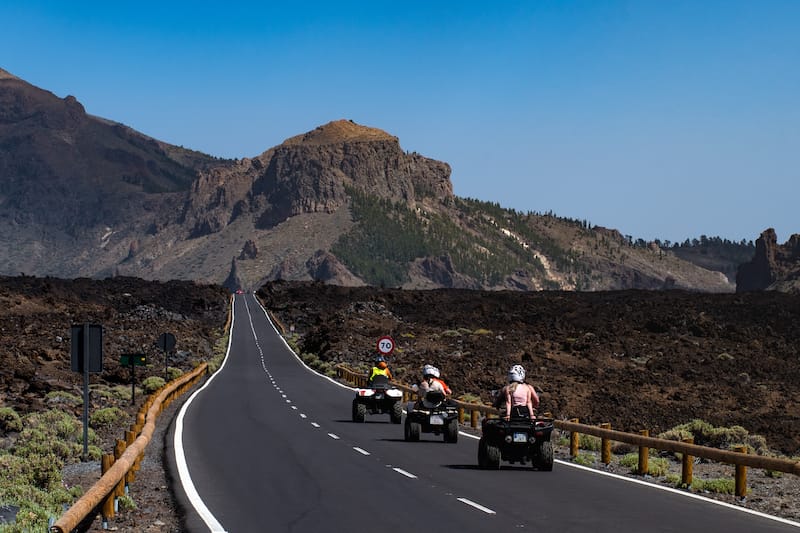 Throughout the tour, you will also get to enjoy stunning views from an elevation of 2,400 feet, as well as forests, volcanoes, and more.
It will also cross through the towns of Vilaflor, Arona, and La Escalona, as well as Boca del Touche, where you'll have some time to explore and relax.
As part of the tour, make sure that you bring warm clothes, appropriate shoes, and your driver's license.
>> Click here to check quad tour rates and availability
Where to Stay in Tenerife
If you're looking for some of the top accommodation options on Tenerife, these are some of our top picks!
Did we miss any of the best things to do in Tenerife (or things that should be on a Tenerife bucket list)?
Let us know your favorite Tenerife tours, activities, and sights in the comments!
More Canary Islands Travel Guides
Pin this Tenerife Things to Do Guide