Are you looking to tick off a few places on your USA bucket list this March? This is a guide to the best places to visit in March in the USA!
There are many amazing destinations all around the USA, but not all are created equal in spring. This guide showcases the best destinations to visit in the US in March and we asked some blogger friends for help!
Each destination on this USA in March guide will include average temperatures, reasons to visit, and some tips to help you plan your trip. Let us know your favorite place to visit during March in the USA in the comments!
Are you looking to visit national parks or go abroad instead? Check out our guide to the best national parks to visit in March and the best places to visit in Europe in March.
Where to Travel in the USA in March
Big Sur
Location: California
Average temperatures and precipitation: highs of 68F (20C) and lows of 44F (7C); 5 days of precipitation
Reasons to visit Big Sur in March: spring is on the horizon, more daylight than winter, cool festivals
Recommended by: Dhara from Roadtripping California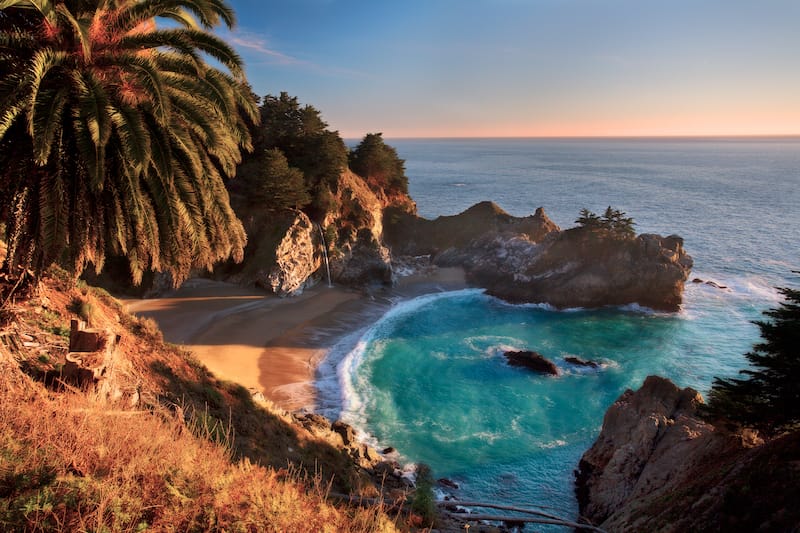 Big Sur in California is beautiful at any time of the year, but it is especially breathtaking in March when winter rains make the hills bright emerald and wildflowers start making an appearance along the slopes.
Daytime temperatures in Big Sur in March tend to be in the 60s, perfect for hiking the many trails there. Waterfalls are in full flow, and if you visit at the right time, you may even catch the famous Calla Lily Valley at its peak.
Among the best things to do in Big Sur in March is to hike the many scenic trails. The ocean-view trails in Point Lobos State Natural Reserve, the coastal trails in Garrapata State Park, the trail through the redwoods in Pfeiffer Big Sur State Park, and the bluff trail at Andrew Molera State Park are all worth doing for beautiful views and wildflower bloom.
In March, you will likely catch the best photo spots on a fog-free day, so make sure to stop at iconic landmarks like the Bixby Creek Bridge.
You will want to dress in layers because it can be breezy by the water, and a little cool, especially early or late in the day. Wear comfortable shoes, bring your camera, and get ready to enjoy a fabulous time during March in Big Sur!
This park is also home to one of the most iconic California Waterfalls – so be sure to check it out!
Philadelphia
Location: Pennsylvania
Average temperatures and precipitation: highs of 53F (12C) and lows of 37F (3C); 8 days of precipitation
Reasons to visit Philadelphia in March: festivals galore, tasty food, several museums for bad weather days
Recommended by: Derek and Mike at Robe Trotting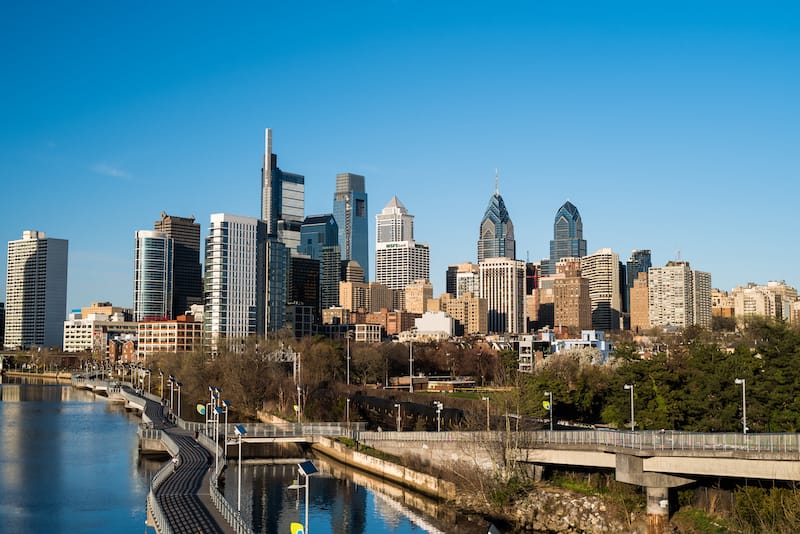 One of America's best destinations for a March city break is the East Coast city of Philadelphia. While the weather is still cooler, it's comfortable to spend time outside, and you can enjoy the city without large crowds or the heat of summer.
It's also a great time to find deals on hotels and optimal pricing when renting a Philadelphia Airbnb.
All visitors to the city love visiting all of the historical attractions in Old City. During March in Philadelphia, it's easy to reserve a spot on a free guided tour of Independence Hall.
Other attractions, like the Liberty Bell, will be free of crowds, and you can save time while sightseeing. Philadelphia is also home to world-class museums like the Philadelphia Museum of Art and the Franklin Institute of Science for cold or rainy spring days.
March is also a great time for events in Philadelphia, and it's traditionally when the annual Philadelphia Flower Show is held. There are also film festivals taking place in March, like qFLIX, highlighting LGBTQ+ filmmakers and cinema, as well as the Women's Film Festival.
You can also enjoy the Saint Patrick's Day Parade in March, and 21+ visitors can take part in the Erin Express Irish Bar festival.
Philadelphia is also a great foodie destination, and the crisp spring weather is perfect for trying Philadelphia favorites like a cheesesteak or tomato pie. Many days you can even dine al fresco at some of the incredible restaurants, like Parc or El Vez.
No matter what you eat, you'll love Philadelphia in March. It is a fantastic weekend getaway from Pittsburgh, Washington DC, and more!
Asheville
Location: North Carolina
Average temperatures and precipitation: highs of 59F (15C) and lows of 38F (3C); 9 days of precipitation
Reasons to visit Asheville in March: comfortable temperatures, cheaper accommodation, many outdoor activities
Recommended by: Bret and Mary at Blue Ridge Mountains Travel Guide
From the lush greens of summer to the vivid colors of autumn leaves and the winter draping of white, the mountains of Western North Carolina are a delightful place to visit all year round. But spring is arguably among the best times of year to visit Asheville, one of our favorite towns in the Blue Ridge Mountains.
There is an endless array of things to do in Asheville in March, which is a particularly great time for nature lovers to visit.
The temperatures are still fairly cool, with average highs of around 59F, which is great for hiking, mountain biking, or paddling without sweltering from the South's oppressive heat and humidity. But because March is the off-season, you can often score better hotel/AirBnB rates and avoid the summer tourist crowds.
Read More: Best weekend trips from Charlotte
In terms of attractions, this is an outdoor adventurer's wonderland. DuPont State Forest, Pisgah National Forest, and the Linville Gorge Wilderness are all within an hour's drive of the city. There are countless impressive waterfalls, such as Bridal Veil Falls (DuPont), Catawba Falls (Pisgah), Rainbow Falls (Highlands), and Triple Falls (Brevard).
Wildlife lovers will enjoy finding the Elk herd in the Cataloochee Valley section of Great Smoky Mountains National Park and learning about Red Wolf Conservation at the Western North Carolina Nature Center.
The world-renowned Blue Ridge Parkway, which begins at Great Smoky Mountains National Park, offers amazingly scenic road trips to Blue Ridge Mountain towns like Cherokee, Waynesville, and Little Switzerland.
And, of course, downtown Asheville has its fair share of tourist attractions, from the Biltmore Estate (the largest privately owned home in America) and the galleries of the River Arts District to the French Broad River.
Whatever you do, don't miss a chance to sample some of the exquisite downtown Asheville restaurants, from Curate and Posana to Bouchon, Buxton Hall, and the 12 Bones Smokehouse (the Obamas' favorite).
Savannah
Location: Georgia
Average temperatures and precipitation: highs of 70F (21C) and lows of 50F (10C); 6 days of precipitation
Reasons to visit Savannah in March: comfortable temperatures, cheaper accommodation, many outdoor activities
Recommended by: Editor's choice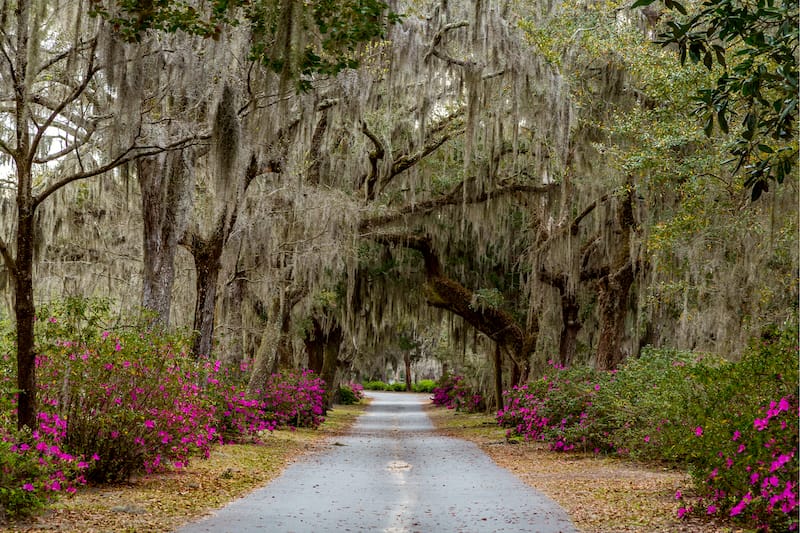 One of the best places to visit in March in the USA is Savannah, Georgia. The city exudes southern charm and it becomes a colorful array of life in March as the city's azaleas are in full bloom after the mild winter.
You can see these beautiful flowers on display in the city squares, Bonaventure Cemetery, Forsyth Park, and more.
Another fantastic reason to visit Savannah in March is that it has a huge St. Patrick's Day celebration.
This happens on and around March 17, but you can find many other festivals and events throughout the month, such as the Savannah Stopover, Tour of Home and Gardens, and the Savannah Music Festival.
Georgia weather is also comfortable and not too hot or humid during March.
You will find temperatures in Savannah perfect for outdoor activities (although, do take a jacket as rain can arrive on short notice!), such as visiting the low country's islands and nearby wildlife refuges.
San Francisco
Location: California
Average temperatures and precipitation: highs of 62F (17C) and lows of 49F (10C); 8 days of precipitation
Reasons to visit San Francisco in March: free museums, festivals, comfortable temperatures, delicious food
Recommended by: Chrysoula at Travel Passionate
March is great for visiting San Francisco as there is plenty to do, but fewer crowds! In March, the mornings are cool, but it warms up and becomes very comfortable by lunchtime.
The St. Patrick's Day Parade is held on the weekend nearest to March 17 and is popular with bagpipes and colorful floats. During March in San Francisco, there is free admission to many of the city's museums, and on March 14, there is free access to the Exploratorium to celebrate Pi Day.
There are interesting guided walks to Chinatown, North Beach, and Fisherman's Wharf, all looking at the city's history, art, and architecture.
If you are a foodie, there are several tours focusing on food there, including the Italian food of North Beach and the Asian tastes of Chinatown.
Another popular thing to do in San Francisco in March and other times of the year is to visit the Mission District, where you can explore its brightly colored murals and street art. Some incorporate mosaics and political or social messages.
Some of the sights in San Francisco can be enjoyed all year, with a 1.7-mile stroll across the Golden Gate Bridge topping the list! A fun way to end the day is on a two-hour California Twilight Cruise with drinks and appetizers served onboard.
Florida Panhandle
Location: Florida
Average temperatures and precipitation: highs of 70F (21C) and lows of 54F (12C); 6 days of precipitation
Reasons to visit the Florida Panhandle in March: beat the high-season, gorgeous beaches, Blue Angels air practice
Recommended by: Bryanna at Crazy Family Adventure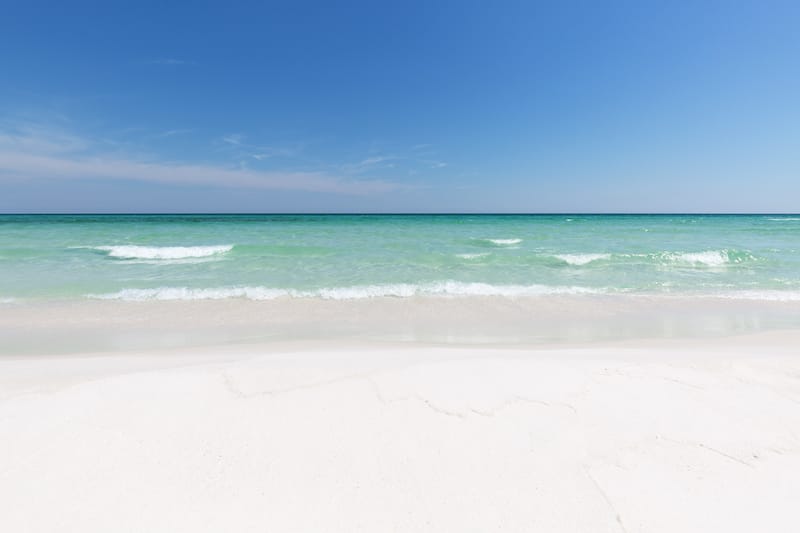 The Florida Panhandle is an awesome place to visit in March. The weather is warming up, and the sun is usually out and shining!
You can take a road trip from Pensacola's beautiful white sands, where you can visit Fort Pickens State Park and the National Naval Aviation Museum.
At the museum, starting in March, you can watch the Blue Angel's air practice. Watching these blue jets zoom by is an awesome sight to see! Be sure to also check out the Pensacola Lighthouse, one of the prettiest lighthouses in Florida!
Next up, head over to all the amazing things to do in Destin, Florida. You can go parasailing, jet skiing, out on a dolphin cruise, or on a pirate ship.
The list of things to do in this beach town goes on and on! You won't want to miss the white-sand beaches, which we have to say are the best beaches in the US!
The last stop will be the beachside town of Port St. Joe. Port St. Joe is more off the beaten path and a lot less busy than the rest of the panhandle.
Spend time kayaking in the bay, where you can see through the crystal clear water and find all the sea critters playing around on the ocean floor. Or head out on a boat to go and find the local dolphins swimming in the bay.
Visiting the Florida panhandle in March is a great time to visit before the business of summer takes over. There are many great state parks, restaurants, outdoor attractions, and activities to explore in this beautiful part of the country!
Texas Hill Country
Location: Texas
Average temperatures and precipitation: highs of 72F (22C) and lows of 49F (9C); 5 days of precipitation
Reasons to visit Texas Hill Country in March: nice temperatures, Texas bluebonnets, charming towns, delicious food
Recommended by: Kate at Lone Star Travel Guide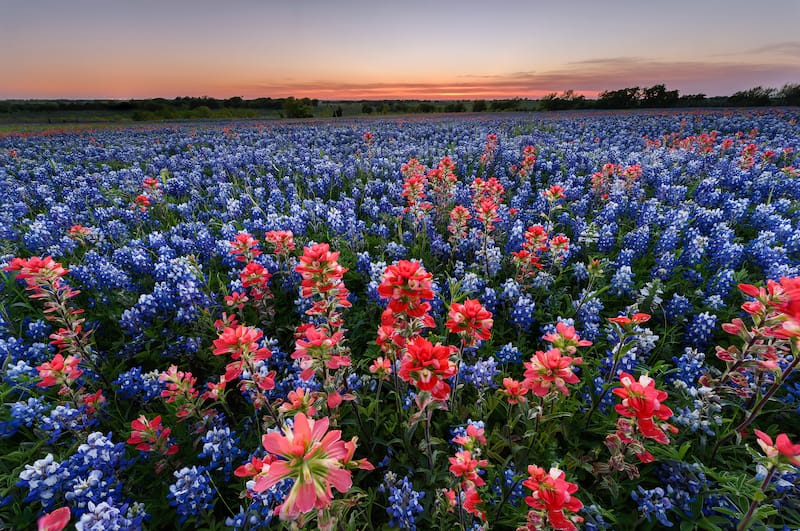 Located in the heart of central Texas, the Texas Hill Country is one of the best USA destinations to visit in March and an ideal weekend trip from Dallas, Austin, Houston, and more!
Known for its sparkling rivers, many wineries and distilleries, idyllic small towns, beautiful natural swimming holes, and gorgeous fields of wildflowers that stretch as far as the eye can see, March is ideal to visit the Hill Country because the wildflowers (and especially the Texas bluebonnets) come into season toward the end of the month.
Also, during March in Texas Hill Country, the weather tends to be sunny and warm (brave souls might even want to go for a swim!), but the unbearable heat of the Texas summer won't have set in yet.
The best things to do in the Texas Hill Country include touring the many small towns like Fredericksburg and Wimberley, eating barbecue in Lockhart, and going for a swim (Hamilton Pool in Dripping Springs and Jacob's Well in Wimberley are some of the most popular spots), climbing Enchanted Rock, touring the LBJ National Historic Site, visiting a vineyard or three, and hiking in one of the Hill Country's beloved state parks such as Pedernales Falls and Garner State Park.
During wildflower season, Burnet and Llano are great towns to visit to see the wildflowers. Be sure to drive Willow City Loop and visit Muleshoe Bend as well!
The popular cities of Austin and San Antonio also both lie on the edges of the Hill Country and make ideal places to start your road trip, and with plenty to do, see, and eat in each city, they also make excellent additions to your vacation!
Colorado Springs
Location: Colorado
Average temperatures and precipitation: highs of 53F (12C) and lows of 26F (-3C); 4 days of precipitation
Reasons to visit Colorado Springs in March: better temperatures, many nature opportunities, historical museums
Recommended by: Jyoti at Story at Every Corner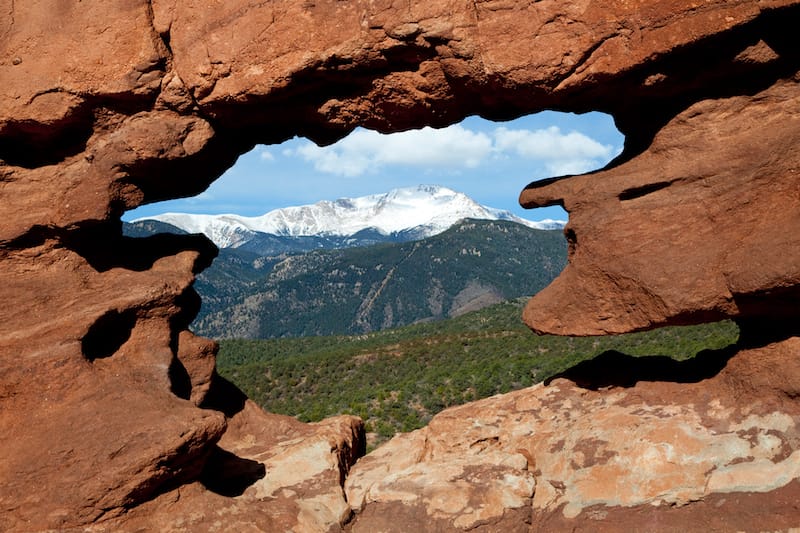 Colorado Springs is an amazing destination in March in the USA, especially for people who prefer milder weather and the great outdoors. This is when winter is transitioning to spring and the weather becomes comfortable before the heat of summer sets in.
There is tons to do in and around Colorado Springs. The top attraction is the incredible Garden of the Gods. It's a free park with huge red rocks and well-made pathways.
There's a multitude of activities, such as rock climbing, Segway tours, jeep tours, and photography. Just a walk around the park is fun.
Weather permitting, it's an exhilarating drive or hike up to Pikes Peak. It's one of the easier Fourteeners in Colorado to hike up. To drive, one has to park at Mile 13 or 16 and take the shuttle up to the peak at Mile 19. The ride lends itself to gorgeous photos, especially since you're not driving.
Cheyenne Canyon is a beautiful town with tons of history and outlandish stories. The Cheyenne Cañon Segway tour by Happy is amazing. As a great local storyteller, he brings history alive. It is definitely one of the best day trips from Colorado Springs!
Read More: 10 Rocky Mountains facts you didn't know
If you have 2-3 hours, a small hike at the Paint Mine Interpretive Center is amazing.
There are many more things to do in Colorado Springs such as visiting Manitou Springs and cliff dwellings, the US Olympic & Paralympic training center, Cheyenne Cañon Broadmoor Seven Falls, and the heritage museum. Allow for at least 2-3 days in Colorado Springs to enjoy the highlights.
Finger Lakes Region
Location: New York
Average temperatures and precipitation: highs of 44F (6C) and lows of 25F (-4C); 9 days of precipitation
Reasons to visit the Finger Lakes region in March: state parks with fewer crowds, many museums to flee the cold
Recommended by: Kelly at Girl with the Passport
March is the perfect time to visit New York's exquisite Finger Lake region and experience one of the most romantic getaways in upstate New York.
Not only will the weather be warming up but the days will also be getting longer, giving you ample time to explore the eleven different lakes that occupy this region.
Additionally, because March is shoulder season, you won't deal with massive crowds as you discover your new favorite vintage of wine at one of the area's 120 vineyards.
Personally, though, I would spend some time near Seneca Lake and the surrounding area. You'll be able to get stunning views of the lake, can enjoy a picturesque hike through Watkins Glen State Park, can drink your way through the Seneca Lake wine trail, and can relax and the nearby Lakewood Vineyards.
However, if you want to see more of what this area has to offer, you can visit the Corning Museum of Glass and try your hand at glass blowing, marvel at some fantastic pieces of art at the Herbert F. Johnson Museum of Art, or stand in awe of Buttermilk Falls after a nice hike through Buttermilk Falls State Park.
Regardless of what you decide to though, you'll quickly fall in love with the Fingers Lakes in March. It is a quiet, although sometimes brisk, month to visit this enchanting part of the state.
US Virgin Islands
Location: Caribbean
Average temperatures and precipitation: highs of 81F (27C) and lows of 67F (19C); 8 days of precipitation
Reasons to visit the US Virgin Islands in March: tropical temperatures and gorgeous beaches
Recommended by: Carol at California Crossings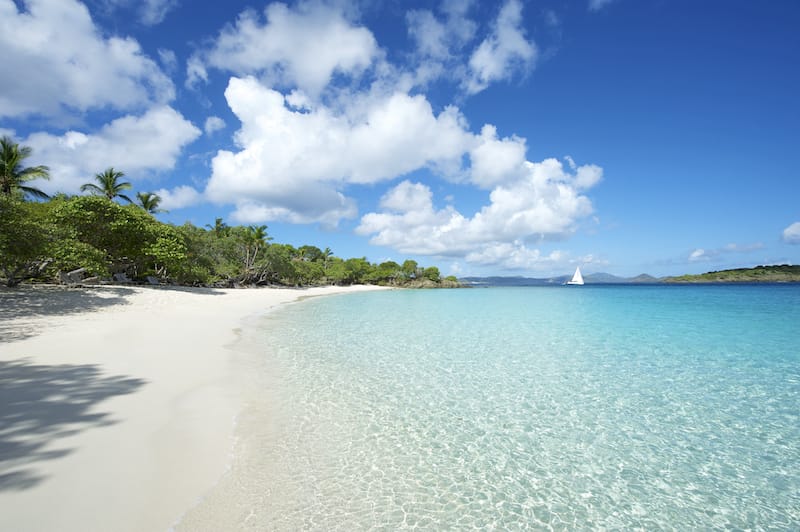 St. John in the US Virgin Islands is one of the best USA destinations to visit in March. Sure, it's technically part of the US, but it's really a warm-weather Caribbean getaway.
While New York is shivering at 45F degrees, a 4-hour flight will deliver you to St. John and a delightful 83F degrees. It's perfect for shorts, flip-flops, and an umbrella drink.
There are three main islands in the US Virgin Islands – St. John, St. Croix, and St. Thomas. We are recommending St. John for its slow pace and natural beauty.
About 60% of the land (and surrounding sea) is actually protected by the Virgin Islands National Park. So, you won't find a massive overload of condos, tour touts, or chain restaurants.
One of the top things to do in St. John is to take the 2.3-mile Lind Point Trail to Honeymoon Beach. Along the way, you can stop at the clothing-optional Salomon Beach.
Technically, the national park service frowns upon nudity in the parks, but hey, they didn't arrest me. Then you can go snorkeling at Haulover Beach, a local's favorite.
It's not a soft sand beach, but you can do some epic snorkeling there and it's off of the "beginner" snorkel trail that characterizes western St. John. Finally, it is time to hang out at Trunk Bay. Sure, you can snorkel their underwater trail or rent kayaks. Or, you can just chill on their pristine, wide white sand beach.
Click here to read more if you happen to be traveling to St. Thomas instead. You can also consider one of these St. Thomas excursions – one of them even takes a day trip to St. John!
Las Vegas
Location: Nevada
Average temperatures and precipitation: highs of 72F (22C) and lows of 39F (4C); 2 days of precipitation
Reasons to visit Las Vegas in March: mild temperatures, gorgeous Nevada nature outside of the city
Recommended by: Daria at The Discovery Nut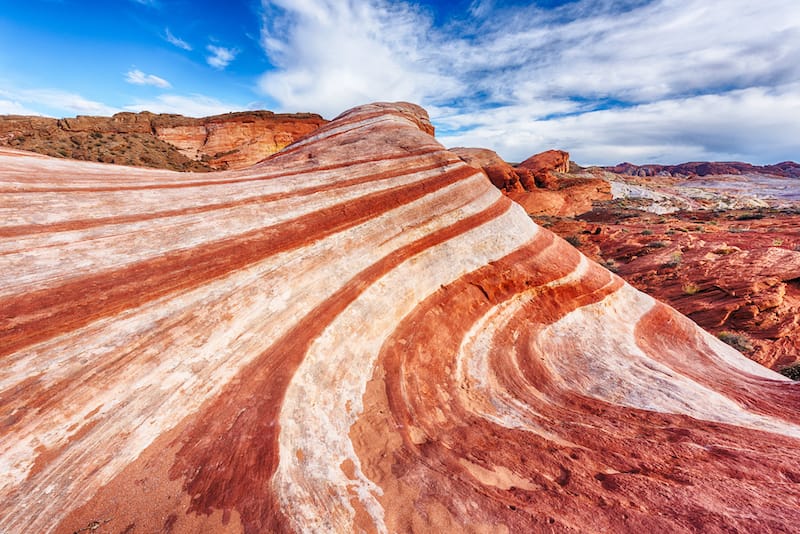 Las Vegas is often portrayed as a city in the desert where everyone comes to have fun and party. While everyone visits Las Vegas for different reasons, you should know that there's a lot more to Sin City than a stereotypical party scene.
Want to find out? Just come to Las Vegas in March, when temperatures are mild enough to venture outside and explore the surrounding areas of Sin City!
Visiting Las Vegas in early spring means that you don't have to spend the majority of your time inside air-conditioned hotels and casinos and instead can enjoy pleasant weather and explore the famous Fremont Street and walk down the glittering Las Vegas Strip without getting quickly dehydrated.
However, it's the areas near Las Vegas that are a real treat!
If you are craving a scenic hike, take a 25-minute drive to the Red Rock Canyon National Conservation Area, one of the most beautiful places near Las Vegas. If you don't mind driving a bit longer, check out the iconic Valley of Fire State Park an hour away.
And how about taking a kayak ride on Lake Mead or touring one of Nevada's famous ghost towns? These are just some of the most popular options for tourists who come here to enjoy Las Vegas before temperatures soar into the triple digits.
March is still not a busy month in Las Vegas, and you can score plenty of sweet deals on accommodations and popular tours. From the great weather to smaller crowds and great prices on hotels and entertainment, March is a perfect month to visit Sin City.
Another fantastic thing about Las Vegas is that it is an epic stop on a Colorado to California drive. Or any other drive in the southwest, for that matter!
San Diego
Location: California
Average temperatures and precipitation: highs of 67F (19C) and lows of 54F (12C); 4 days of precipitation
Reasons to visit San Diego in March: mild temperatures, gorgeous Nevada nature outside of the city
Recommended by: Nicholas at Rambling Feet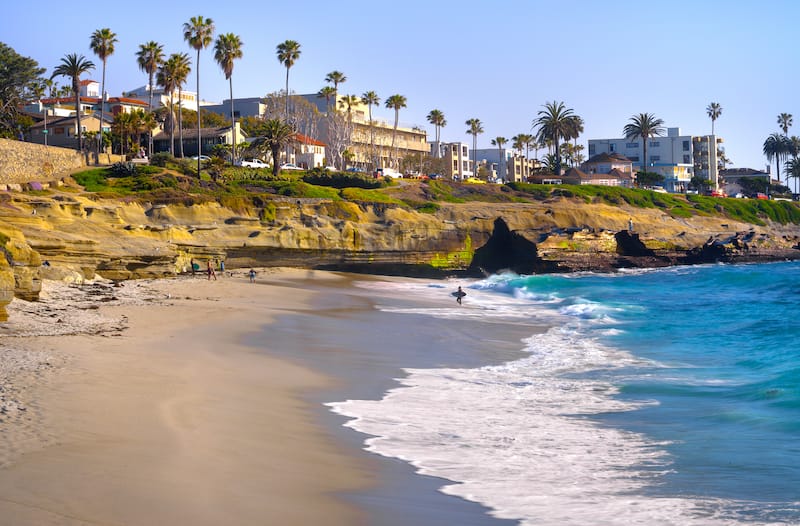 After a chilly winter, there are worse places to be in March than San Diego, California. The weather is mild and there is plenty of much-missed sunshine and the college students are out for spring break.
With the temperatures warming, going to the beach or the sea is no longer a terrible idea, and you are still in time for California whale watching season.
In San Diego in March, migrating gray whales make their way along the coast from Baja's lagoons back to the Arctic with their calves. Several companies will take you out to sea to observe them, and if you cannot find a deal online, they are easily available along the Embarcadero.
Read More: Best coffee shops in San Diego, California
If you prefer to stay on terra firma, an equally beautiful marvel awaits in the Carlsbad Flower Fields, which are just a 30-minute drive north of the city. Some 50 acres of ranunculus in a variety of colors begin to bloom.
The sight of bands of colors stretching as far as the eye can see is quite something to behold, and it easily rivals the tulip fields on the other side of the Atlantic.
When you pair these natural wonders with some of the best tacos and craft beer in the country, what's not to love about a visit to San Diego in March?
Minneapolis
Location: Minnesota
Average temperatures and precipitation: highs of 42F (6C) and lows of 24F (-5C); 5 days of precipitation
Reasons to visit Minneapolis in March: food festival, St. Patrick's Day, tons of museums
Recommended by: Lindsey Puls at Have Clothes, Will Travel
Don't let the unpredictable spring weather of Minneapolis scare you from visiting! This lovely Midwestern city has plenty to offer during the month of March and is perfect for a weekend trip!
One of the many great reasons to visit Minneapolis in March is because there are fewer crowds. Minneapolis gets most of its tourism from June-August. This means you can find great deals on hotels and some of the coolest Airbnbs in Minnesota.
There are many fun annual events that happen in March, such as the Food and Wine Experience, which typically happens in early March at Target Field. Here, you'll enjoy high-end tastings of fine wines from around the world, gourmet eats, and live music.
Speaking of Target Field, you can also take a guided, 90-minute tour of this famous ballpark. During the tour, you'll see areas of the ballpark many guests normally don't see, such as the dugout, the Herb Carneal Press Box, Delta SKY360 Club, and Budweiser Roof Deck.
Minneapolis also loves an excuse to celebrate! If you're visiting over St. Patrick's Day (March 17th) the city's breweries feature events such as live Irish bands and parties all week long. Then, the St. Patrick's Day Parade takes place in St. Paul.
No matter what time of year you visit Minneapolis, be sure to check out some of its fascinating museums. The most notable is the Minneapolis Institute of Art. It's home to 90,000 works of art that represent 5,000 years of world history and has a steady stream of fascinating rotating exhibits. Plus, it's free to visit!
Other great museums in Minneapolis include the Museum of Russian Art, Science Museum of Minnesota, the American Swedish Institute Mill City Museum, Weisman Art Museum, Walker Art Center, the Bakken Museum, and the Wells Fargo Museum.
And another great thing about the city? There are many weekend trips from Minneapolis that will keep you occupied there for days on end!
New York City
Location: New York
Average temperatures and precipitation: highs of 52F (11C) and lows of 36F (2C); 8 days of precipitation
Reasons to visit NYC in March: flower festival, St. Patrick's Day Parade, affordable prices
Recommended by: Leticia at Chic Travel round the World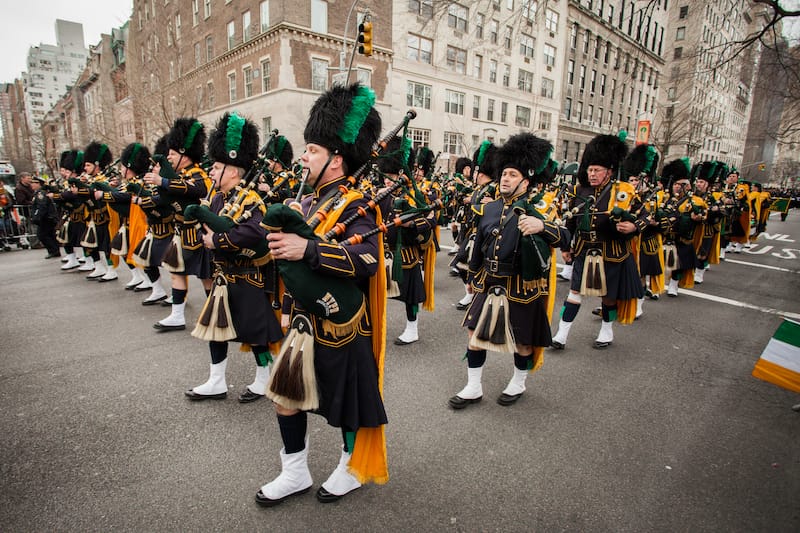 New York City is one of the best cities in the USA to visit in March due to a variety of reasons. One, the weather is great in March in NYC as the harsh New York City winter has dissipated, leaving room for spring's arrival.
The temperature is ideal meaning that it's less crowded as many prefer the snowy, winter months or the warmer, summer months. Hotel rates and attractions are also cheaper in March as it is considered shoulder season.
March is such a magical time in the city that never sleeps as there are so many exciting events taking place. The top event in March in New York City is definitely the St. Patrick's Day Parade which is held annually on March 17th.
This parade is by far the largest and oldest St. Patrick's Day Parade in the United States and the entire world. Another fun event held during March is the Macy's Flower Show which has been held for over 70 years. This event appeals to anyone that simply adores flowers and floral designs. The show features a wide range of gardens with a variety of different types of live flowers, plants, and trees on display.
If dance is your passion, then the Flamenco Festival is held in New York City in March. The festival has legendary flamencos dancers and singers from Spain that give the audience such an authentic experience.
Of course, the city of New York always offers a lot to do, in general, but March is a special month for all of the reasons mentioned above!
Richmond
Location: Virginia
Average temperatures and precipitation: highs of 60F (15C) and lows of 37F (3C); 8 days of precipitation
Reasons to visit Richmond in March: outdoor activities, cherry blossoms, festivals
Recommended by: Becky at SightDOING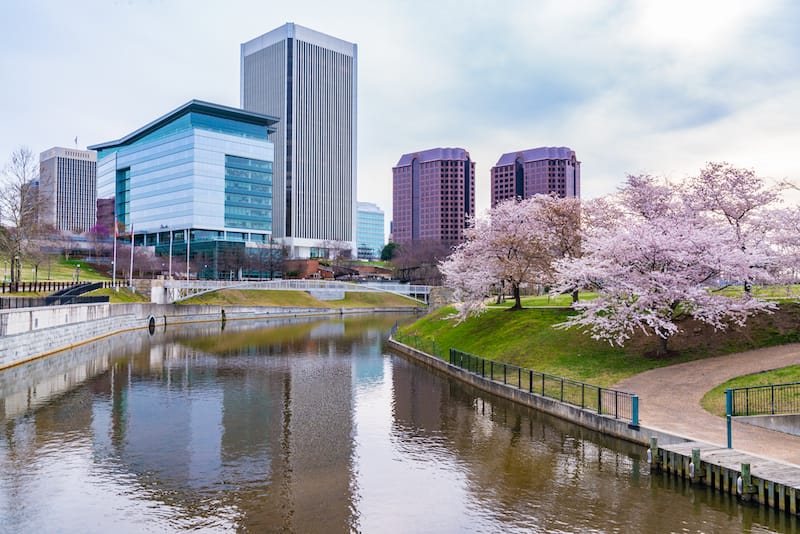 Festival season kicks off early in Richmond, Virginia and March features one occasion after another, making it a great time to visit.
Throughout the month, visitors will find events fit for foodies like the Virginia Wine Expo, Black Restaurant Week, and Richmond Brunch Weekend. It's the perfect excuse to pack your stretchy pants and try some of the city's award-winning restaurants.
Toward the end of the month, the Church Hill Irish Festival is a fun community event with live music and Celtic dancing. Walk around this historic section of the city while taking in family-friendly activities and stopping in small local businesses.
This is also a great time of year to catch Richmond's cherry blossoms. You'll find delicate blossoms up and down Monument Avenue, near the lake in Byrd Park, and in the Lewis Ginter Botanical Garden.
While you're in Richmond in March, be sure to enjoy the city's year-round attractions, too. Try an outdoor activity like rock climbing on the Manchester Wall or whitewater rafting on the James River (yes, even in March!).
For a mellower day, check out the city's street art and wash it down with a drink from one of the best breweries in Richmond.
Boston
Location: Massachusetts
Average temperatures and precipitation: highs of 46F (8C) and lows of 31F (-1C); 8 days of precipitation
Reasons to visit Boston in March: food tours, cheaper prices, historical significant sights without the crowds
Recommended by: Nicole at Go Far Grow Close
Boston is a fantastic destination to visit in March. Boston is a walking city – all of the interesting historical sites, restaurants, and shopping areas are near one another and one of the best ways to see the city is to walk from place to place.
However, if you prefer transportation, Boston has an excellent mass transit system, both for the city itself and the suburbs. If possible, avoid taxis or Ubers. Most of the city streets run one way and through an indirect road system that yields very expensive rides for what looks like short distances.
A couple of awesome activities to do in Boston are roaming the streets and taking a food tour, such as the Boston Secret Food Tour. You can explore significant parts of Boston all the while constantly eating delicious food (including lobster rolls) for hours!
A visit to Boston would not be complete without walking the Freedom Trail, which is a 2.5-mile walk that connects 16 nationally significant historic sites. You can do this alone or choose one of the free walking tours offered.
As for one of the best nighttime activities that you could do, look into the Improv Asylum in Little Italy. It is improv at its best!
Coincidentally, the Improv Asylum is a few doors down from one of Boston's iconic landmarks – Mike's Pastry. Here you can try one of the best cannolis in the city. Bring cash and prepare to wait a bit in line.
Tucson
Location: Arizona
Average temperatures and precipitation: highs of 75F (24C) and lows of 49F (9C); 2 days of precipitation
Reasons to visit Tucson in March: festivals, cool temperatures, epic outdoor opportunities
Recommended by: Anna at Anna Sherchand
One of the best places to visit in the USA in March is Tucson, Arizona. March to May is springtime and when the weather is the most temperate, the desert is in bloom, and you're best able to take advantage of all the outdoor adventures Tucson is known for, like hiking in Saguaro National Park.
Home to the University of Arizona, a thriving visual and performing arts scene, and respected galleries and museums, Tucson is a sought-after destination for locals & visitors.
Read More: Best places to visit in Arizona
In March in Tucson, it is an ideal time to go rock climbing, hiking, or even just outside to experience this beautiful desert city.
That being said, visitors come to watch classical music in AFCM, a non-profit organization that presents world-class chamber musicians live in concert at an affordable ticket price.
Alternatively, people also land in Tucson in March for the annual Festival of Books and the Tucson Jazz Festival which also occurs during March.
With its vibrant multicultural heritage, dramatic beauty, and the Sonoran Desert, Tucson is a great destination for those traveling Arizona solo or those traveling in large groups!
Staying in Tucson longer? Be sure to check out some of the best Tucson road trip destinations on this guide!
St. Louis
Location: Missouri
Average temperatures and precipitation: highs of 56F (13C) and lows of 38F (3C); 8 days of precipitation
Reasons to visit St. Louis in March: festivals, beat the Gateway Arch crowds, comfortable temperatures
Recommended by: Tiffany from Mommy and Me Travels
St Louis, Missouri is a Midwestern destination that everyone should add to their list of places to visit in March in the USA. This small city with a big city feel is known as the gateway between the eastern and western U.S.A.
The most notable icon in St. Louis is the 630-foot Gateway Arch on the Mississippi River. Definitely worth a trip to the top of the Arch on your March in St. Louis visit.
While St. Louis is a great place to visit year-round, you will definitely enjoy a trip in March because the city is just starting to move back outdoors as the weather is getting nicer and the feeling of spring is in the air. There are a plethora of attractions and festivals that you need to check out and add to your visit in March.
March attractions in the area to consider are the newly renovated Union Station with the largest observation wheel in the midwest, catching a concert/show at the Pageant or Fox Theater, and taking in the history and art at Forest Park.
March festivals to add to your list of activities are the St. Patricks Day Parade and fun run, the GO St. Louis family fitness weekend, and the orchard show at the Missouri Botanical Gardens.
There are many other smaller festivals in and around the area as well but these are the largest and attract the most individuals from all around.
One last note, St. Louis weather in March is very unpredictable so make sure you plan accordingly. Regardless of the weather, you are bound to have a great time at all of the fun activities and events available during your trip. Be sure to check out some of these amazing weekend trips from St. Louis!
Southern Florida
Location: Florida
Average temperatures and precipitation: highs of 77F (25C) and lows of 67F (19C); 4 days of precipitation
Reasons to visit Southern Florida in March: perfect weather, dry season, gorgeous beaches
Recommended by: Ed at Island Travel Guides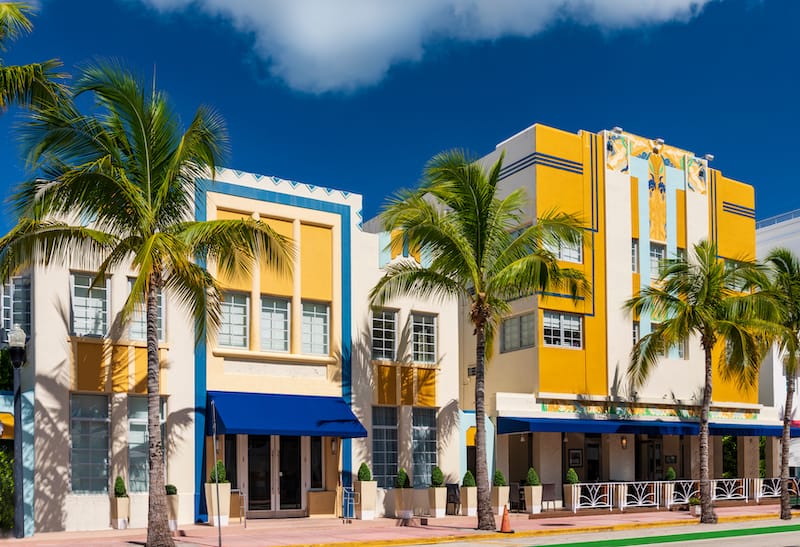 Southern Florida comes to life in March, as people from all over the states flock to enjoy spring break in the always warm and inviting climate.
During March, Miami becomes a party hub as young students fill up South Beach during the day before heading out to the bars and clubs for the night.
However, Southern Florida has so much more to offer than just partying. The southern tip of Florida is encapsulated in Everglades National Park, where you will find some of the state's most fascinating wildlife, including the famed American alligator.
Read More: 16 awesome stops on a Miami to Key West road trip
Alternatively, the Florida Keys offer a more idyllic island lifestyle. The long archipelago stretches south of Miami into the Caribbean. The islands are known for their chilled-out vibe and awe-inspiring natural beauty.
The Upper Keys are perfect for those traveling with families and offer plenty to do, with fishing and diving two of the most renowned activities. At the end of the island chain, you will find Key West, an anything-goes city where the fun never stops and it is encouraged to embrace your quirkier side of life.
The weather during March is generally perfect for those looking to spend a weekend in Key West, with the dry season in full swing. Rain almost never falls but the temperatures remain comfortable and not too hot.
As March is the high season, you will need to book hotels and any rentals far in advance to avoid any disappointment.
Sedona
Location: Arizona
Average temperatures and precipitation: highs of 69F (20C) and lows of 40F (4C); 5 days of precipitation
Reasons to visit Sedona in March: perfect weather before summer heat, great hiking opportunities
Recommended by: Allison at She Dreams of Alpine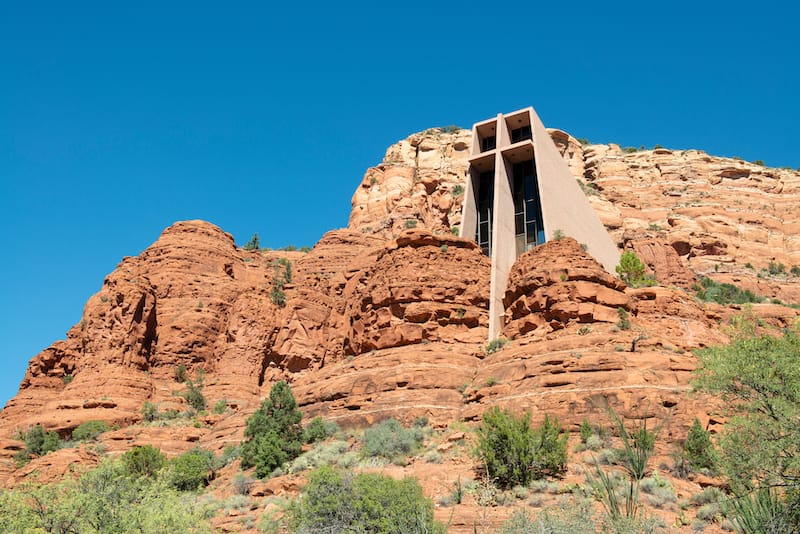 Known for its stunning red rock formations, Sedona, Arizona is the perfect place to visit in March. Since Sedona has a desert climate, March provides the ideal weather to explore all that Sedona has to offer, from outdoor adventure to unique shopping.
You can't travel to Sedona without taking some time to appreciate the beautiful sandstone that surrounds the town.
The Pink Jeep Tours provide an easy way to see a lot of the main attractions with someone else behind the wheel, but to fully immerse yourself in the red rocks, you should try one of the many hikes in Sedona.
The Merry-Go-Round Trail is a wonderful hike in Sedona in March (it can get way too hot during the heat of the summer), and you'll find that it provides some of the most stunning views in Sedona.
Read More: How to plan a road trip from California to Arizona
After your outdoor adventuring, visit the Tlaquepaque Arts & Crafts Village, showcasing stucco buildings that contain art galleries, shops, and restaurants, all lined up along cobblestone streets.
You can also experience the special energy of Sedona by visiting the vortexes, certain sites where the energy of the earth is thought to be extra powerful.
You won't forget the memories you make on your March vacation to the sun-baked desert destination of Sedona!
Chicago
Location: Illinois
Average temperatures and precipitation: highs of 45F (7C) and lows of 34F (1C); 5 days of precipitation
Reasons to visit Chicago in March: museums without crowds, St. Patrick's Day celebrations
Recommended by: Kat at Dotted Globe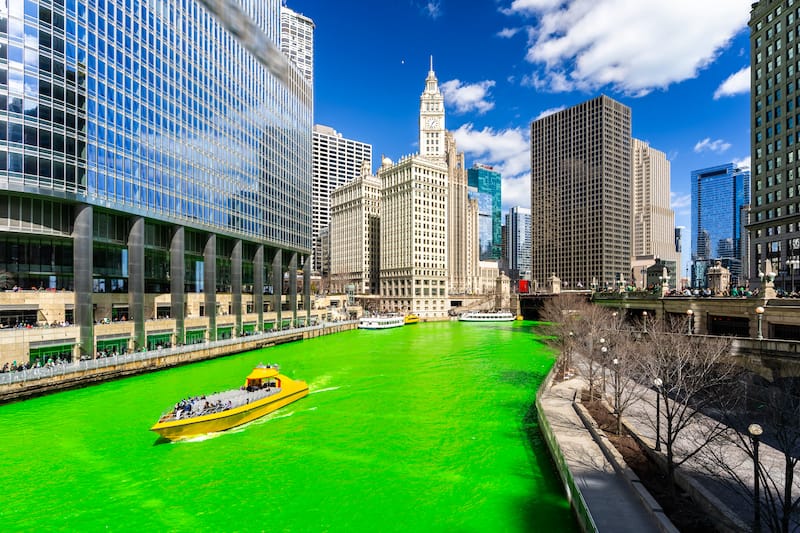 Chicago is one of the best places to visit in the US in March. The city is not as cold as it is in December and the summer holiday crowds are yet to come. But the best part about being in Chicago in March is that you can be a part of the annual St. Patrick's Day Celebrations in the city.
The holiday is on March 17th but most of the celebrations take place on the third weekend of March. The Chicago River is dyed a sparkling emerald green and thousands visit the city to see this beautiful sight.
Parades are also held downtown and on the south side. Several bars in the city serve green beer and Irish food and there is a party atmosphere everywhere.
Even if you can't make it for the St. Patrick's Day celebration, Chicago is amazing to visit throughout the month. The earliest of spring blossoms can be seen in the city and the Lurie Garden in Millennium Park is bursting with colors.
This is also a great time to see the city's museums without the crowds that exist during summer in Chicago. Art lovers enjoy checking out the Art Institute of Chicago while families flock to the Field Museum to see dinosaur skeletons.
If the weather permits in March, you can also enjoy canoeing and kayaking in the city, taking a boat tour, and more!
Gulf Shores
Location: Alabama
Average temperatures and precipitation: highs of 71F (22C) and lows of 51F (11C); 6 days of precipitation
Reasons to visit Gulf Shores in March: tasty food and comfortable temperatures without the prices and crowds
Recommended by: Brianna at Casual Travelist
If you're looking for a great beach getaway in March you can't do much better than Gulf Shores and Orange Beach, Alabama.
Beaches in Alabama? You bet, and they are amazing. Located about an hour away from Pensacola (Florida), Gulf Shores has the same powder white sand and turquoise water with a fraction of the crowds of Florida beaches.
Read More: Best places to visit in May in the USA
Gulf Shores has over 32 miles of beaches but has plenty to do off the sand as well. Gulf State Park has over 20 miles of trails that highlight the diversity of this coastal landscape that is best explored using the free Bloom bike share program.
If you've worked up an appetite the food in Gulf Shores offers up a mix of southern and Floribbean with a bit of cajun spice. Sample fresh local oysters at James Beard-nominated Fisher's Upstairs Orange Beach or head to the Gulf, an outdoor food hall that has a little something for everything.
At night, head out to the world-famous Florabama, a beachside honkey-tonk that hosts some of the biggest acts in country music.
Traveling another time of the year? Check out our month-by-month guides!
Pin this March in the USA Destinations Guide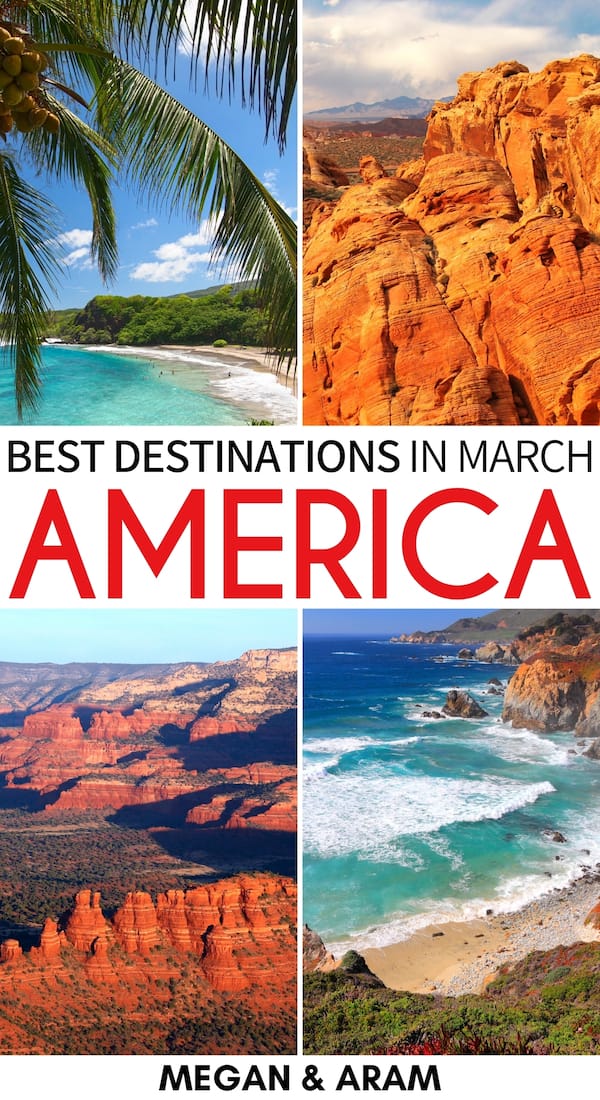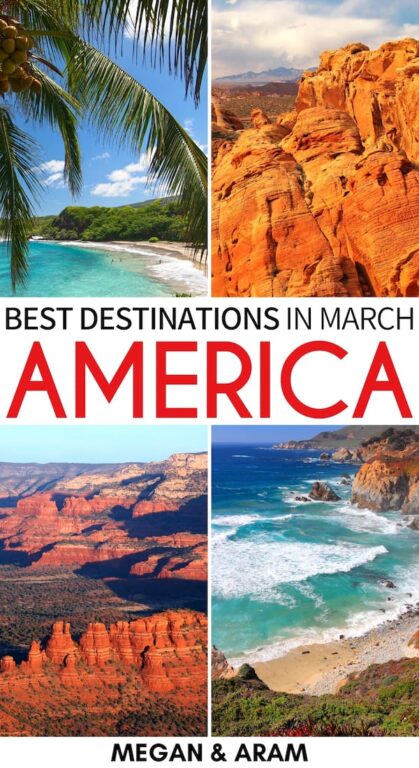 Photo Credits:
Philadelphia: Editorial credit: Rhymeandreason / Shutterstock.com
NYC: Editorial credit: Photo Spirit / Shutterstock.com
Sedona: Editorial credit: NatalieJean / Shutterstock.com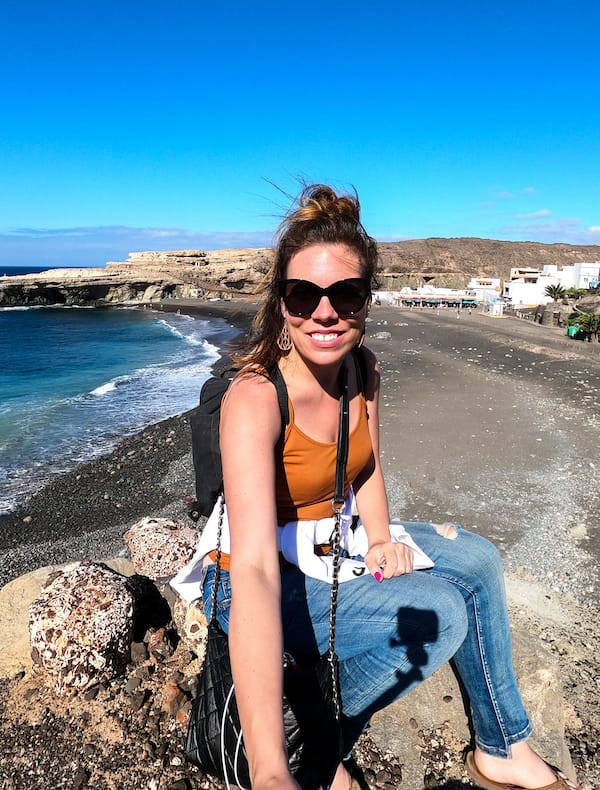 Megan is a travel blogger and writer with a background in digital marketing. Originally from Richmond, VA, she now splits her time between Frankfurt, Germany and Arctic Finland after also living in Norway, Armenia, and Kazakhstan. She has a passion for winter travel, as well as the Nordic countries, but you can also find her eating her way through Italy, perusing perfume stores in Paris, or taking road trips through the USA. Megan has written for or been featured by National Geographic, Forbes, Lonely Planet, the New York Times, and more. She co-authored Fodor's Travel 'Essential Norway' and has visited 45 US states and 100+ countries.