Are you planning a trip to the south of France and are looking for the best destinations?
This guide details ten amazing places to visit in South France for your bucket list!
Are you planning your trip to South France last minute?
If youʻre booking your trip to South France last minute, we have you covered. Below are some of the top tours by towns, and more!
🇫🇷 Top Experiences and Tours in South France by towns:
🚗 Looking for the best way to get around Southern France? Click here to check rental car rates for France!
From Toulouse to Biarritz, the number of incredible places to visit in the south of France never ceases to amaze visitors.
Kathryn is a travel blogger at Wandering Bird and she guides you through ten destinations in South France to inspire your upcoming trip!
What is on your South France bucket list? Share your top pick in the comments below!
South France Destinations Map
To add this map to your Google Maps account, click the 'Star' icon next to the map name. You can then view it on your cell phone or computer by heading to your Google Maps account, click the menu and add it to 'Your Places'.
Best Places to Visit in South France
France is an amazing country. The longer you spend exploring, the more you realize that you could spend a lifetime and barely scratch the surface.
If you have a visa to Schengen countries, the land is a goldmine for a truly epic trip. But there is just something special about the south!
If you're planning a trip to southern France, there are some beautiful places you absolutely need to have on your radar. Here are the best places to visit in South France.
1. Saint-Émilion
Saint-Émilion is widely regarded as one of the most beautiful towns in France. The town is a UNESCO World Heritage Site, and the area was very important on the pilgrimage route to Santiago de Compostela.
Many churches, monasteries, and hospices have been built there, dating from the 11th century onwards.
In addition to religious buildings, you'll find the area full of vineyards – you are in Bordeaux after all! The town is famous for its red wine and you must take the time to enjoy a chateau tour (or two!) so you can sample the wonderful variety of wines produced locally.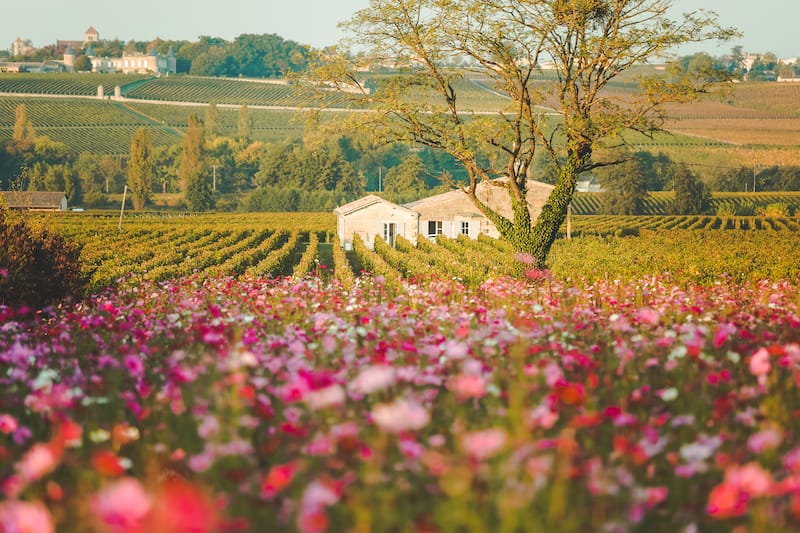 In the town itself, be sure to visit the caves and catacombs, but be careful where you sit! One of the underground chairs is a fertility chair and many girls come to sit in it to increase their chances of pregnancy.
💥 PRO TIP:
Plan your wine tours ahead of time and make appointments in advance (often by calling them directly).
Many tours get booked up months in advance. Another option is to ask at the local tourism office- they'll usually be able to help you.
2. Biarritz
Biarritz is one of the most famous towns in the southwest of France- and for good reason. Built right on the edge of the Atlantic Ocean, Biarritz manages to be both cool and relaxed, attracting celebrities and surfers at the same time.
You'll find luxury hotels and spas rubbing shoulders with chilled cafes and restaurants, all filled with people enjoying the vibe, the surf, and the amazing sunsets.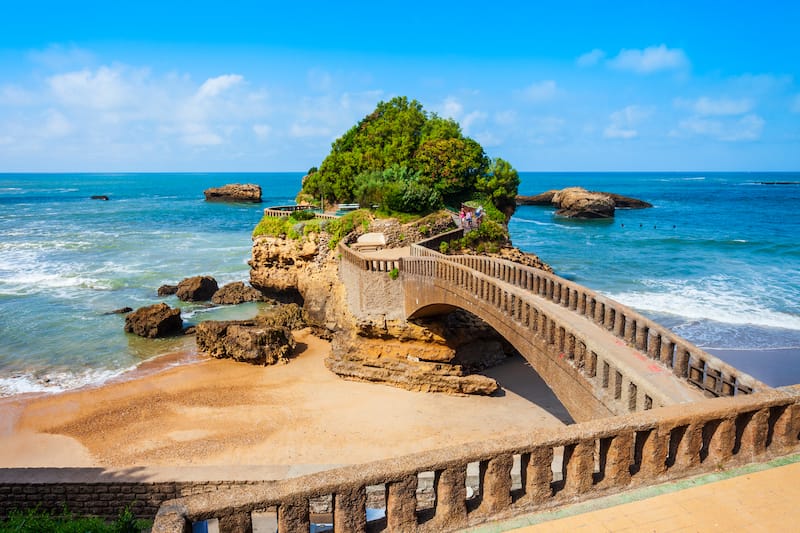 The city center is quite small so it's easy to move around on foot once you're there. One of the best things to do in Biarritz is to walk from the Côte des Basques to the north-end lighthouse via the main beach.
From there, you can catch the most stunning sunsets. It's also a great place to go surfing.
Don't leave the area without trying some of the traditional Basque cuisine, or fresh seafood. It is mouth-wateringly delicious in this part of France and in nearby Northern Spain!
If you're visiting by motorhome or camper, be aware that wild camping for vans in France is tough along this part of the coast- you're better off trying to find a campsite or an aire.
One thing to note is that Biarritz is one of the most accessible beaches in France. The area is extremely developed and it is a great place to vacation no matter who you are traveling with!
If you're traveling by car, there are plenty of hotels and Airbnbs for all budgets in the area- although you'll pay top dollar for a sea view!
3. Bayonne
Bayonne is just inland from Biarritz and is most famous for… ham. Yep, Bayonne ham is a cured ham- and is so famous it's now protected by several rules. It is truly one of the best weekend breaks in France!
Aside from cured meat, Bayonne has many interesting attractions. Some of the most famous include the magnificent Gothic cathedral and its cloister- one of the largest cloisters in France.
Both the cathedral and cloister are UNESCO-protected.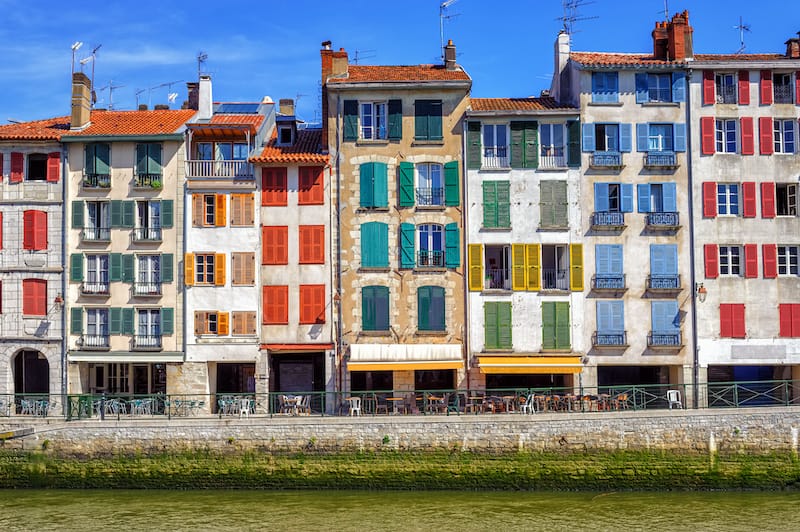 Another interesting discovery about Bayonne is that it is the home of French chocolate! The first French cocoa makers were based in Basque country and there are plenty of chocolate shops to tempt you.
If you happen to be visiting in August, be sure to wear white and red and join in the Fete de Bayonne, where you can clearly see the melting pot of French, Spanish, and Basque influences in the celebrations.
There are bullfights, fireworks, and lots and lots of dancing.
4. Toulouse
Toulouse is often referred to as the pink city, ("La Ville Rose") because many of the buildings in the city are built from a pink-ish colored stone, which glows especially brightly at sunset.
As you would expect from a city named one of the best places to live in France, there are plenty of things to do in Toulouse for any visitor to the city!
For history lovers, there are plenty of museums, churches, and cathedrals, as well as some great walking routes around the Old Town.
For fun, there is a wide selection of bars, restaurants, and places to enjoy the local dishes of Toulouse, especially Cassoulet and the famous Toulouse sausages.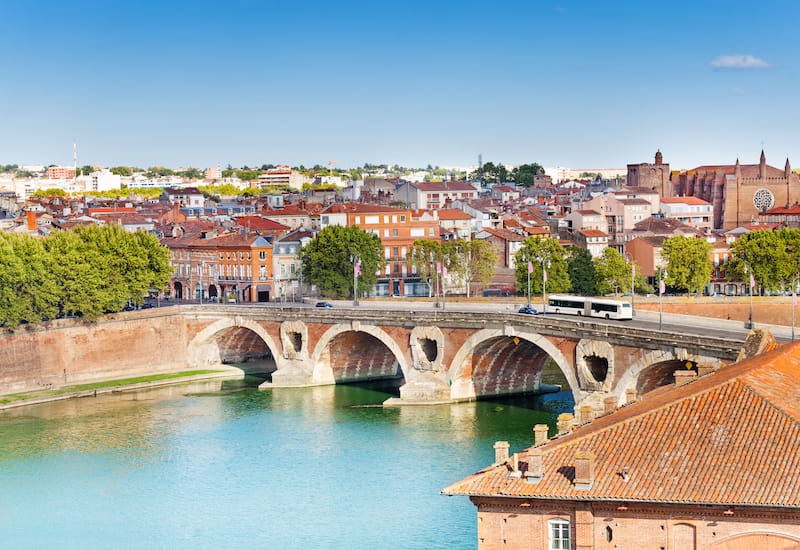 For relaxation, enjoy a picnic on the banks of the River Garonne, or hire a boat to explore the Canal du Midi, which links the Atlantic to the Mediterranean. For the best views of the city, head to La Daurade, especially near sunset.
💥
INSIDER TIP:
If you're learning French, this is one of the best cities to visit in France, as the people speak much slower here than in other parts of France – which is very helpful for a beginner. (However, slower is relative- it's still pretty fast)!
5. Carcassonne
Speaking of pretty cities, it doesn't get much more impressive than the medieval walled city of Carcassonne. You can see the fortified city, known as the Cité, from miles away and it only gets better as you get closer.
Carcassonne is split into two areas – the new town and the old town. Most of it can be explored for free, but you should consider paying the 9.50 Euros to visit the Château Comtal (Count's Castle).
You will find plenty of France's beautiful castle hotels in this region and it is worth an overnight stay in one!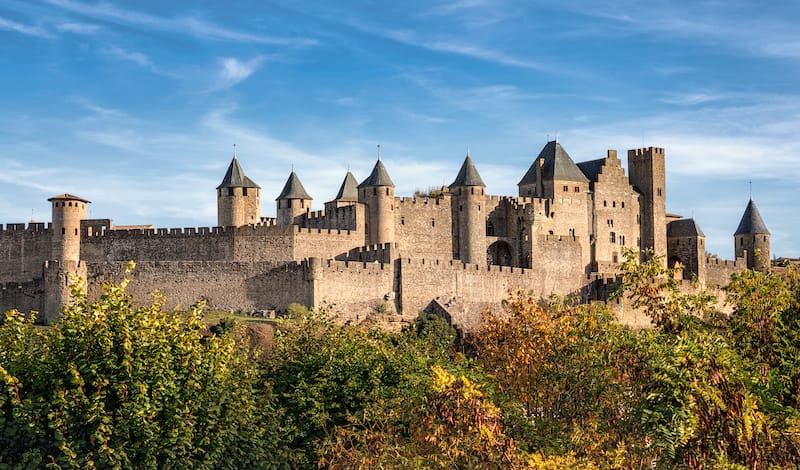 CarcassonneThe medieval, walled town looks impressive, especially at night when it's all lit up, but inside it is VERY touristy and often over-crowded.
The shops and restaurants are much more expensive there too.
For a better experience, split your time between the old and new.
New Carcassonne is much calmer, very pretty, and has plenty of places to sit and watch the world go by, especially in the main square, which is full of delicious restaurants and eateries.
Many people visit Carcassonne as a day trip from Toulouse.
While you could easily see the town in a few hours, for a more peaceful atmosphere and better photo opportunities, consider staying overnight- there are plenty of hotels, Airbnbs, and campsites in the area.
6. Pyrennes
This famous mountain range runs along the French-Spanish border and is a must-see for every France road trip itinerary.
Full of snowy peaks (even in summer) and amazing driving roads, it's also home to some of Europe's rarest wildlife, including vultures and brown bears.
Although less famous than the French Alps, the Pyrenees are still popular and a mecca for outdoors enthusiasts including skiers, climbers, hikers, and cyclists.
There are plenty of cute villages and towns in the Pyrenees. One of the most popular towns is Argelès-Gazost, famous for its thermal spa and casino and regular celebrity sightings.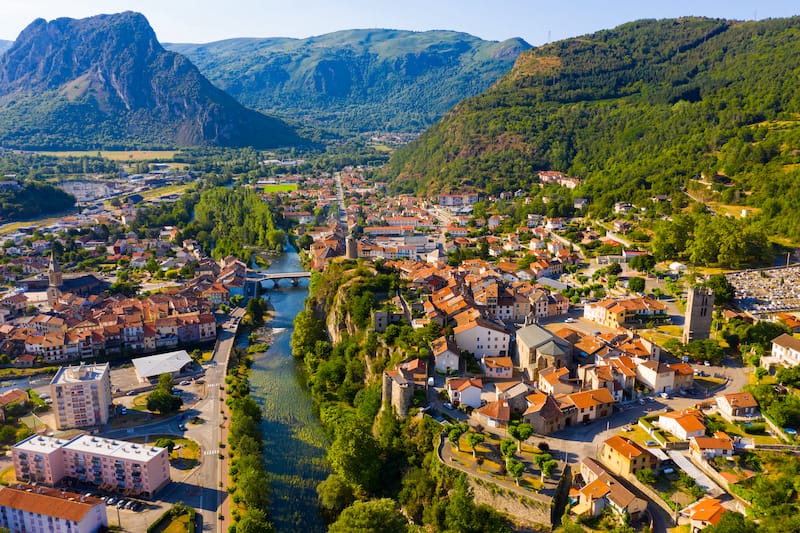 In addition to the spa and casino, you can enjoy plenty of activities nearby, including a treetop trail, river rafting, and an animal park for the kids nearby, along with a cycle path along the bottom.
The mountain peak of Hautacam is just a few minutes away from the town. There, you'll find many mountain-based activities including a mountain luge, segway, and hiking trails.
If you're into road cycling, Hautacam is also one of the most famous climbs of the Tour de France, along with the Col Du Tourmalet and Col D'Aubisque.
7. Cirque de Gavarnie
The Cirque de Gavarnie is one of the most awe-inspiring places to visit in South France.
Located in the heart of the French Pyrenees, it's a natural horseshoe-shaped bowl formed by the mountains, about 3000 meters wide at the top and around 1500 meters high.
Within that bowl is the Gavarnie Falls – the second-highest waterfall in Europe (422 meters high) and can be clearly seen from miles away!
The Falls often freeze in the winter, but during spring, summer, and autumn, you can walk right up to them (just don't bring your dog- they're not allowed as far as the falls).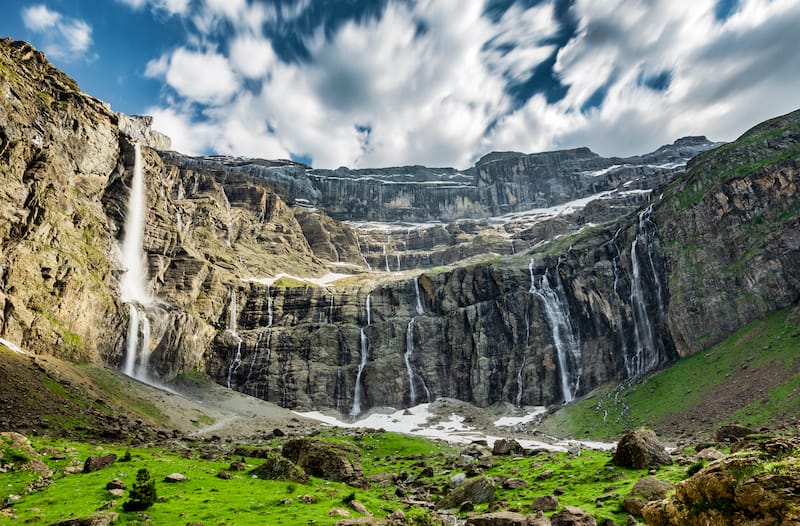 The hike up to the restaurant near the falls is fairly flat, but there are a few steeper sections that might be too much for less-mobile visitors.
It takes about an hour one way and there are no facilities en route, so prepare accordingly. On a hot day, be sure to take some water and snacks!
If you prefer riding to hiking, there are stables in the town where you can rent a horse or donkey and go riding up into the park. Take a picnic and relax by the river, enjoying the quiet of nature at its finest.
8. Pink Lakes of Camargue
One of the most surprising finds in the south of France is the pink lakes near Camargue. Known as the largest salt lake marsh in the Mediterranean, it produces 500,000 TONS of salt per year!
To really visit the lakes properly, you need to book a guided tour. These take you out onto the marshes, usually by train, bike, or foot, and will show you the best places.
If you prefer to go independently, you can pay an entrance fee to explore by yourself on foot or on a bike.
The salt lakes are only open a few months out of the year, usually from March to November. They are also a breeding ground for mosquitos, so make sure you protect yourself!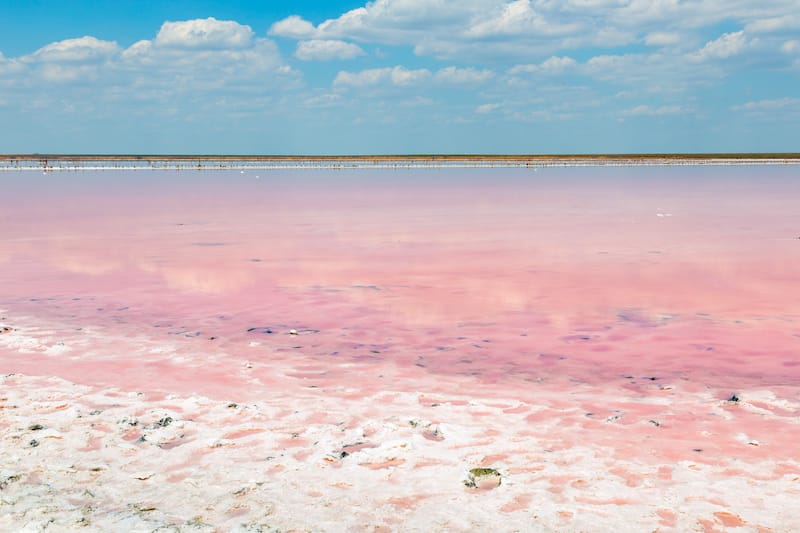 The color of the lakes are caused by the algae and salt in the water- and it really is a vibrant pink, although how vibrant will depend on both the weather and the time of year and day when you visit.
This is due to how the light hits the salt and the special kind of algae that forms in especially salty waters.
The best time to see the brilliant pink hues of the lakes is either early morning or late afternoon when the angle of the sun has dropped and is not so strong- it allows the pink to shine through more vibrantly.
9. Les Gorges du Verdon
There is only one word to explain the Verdon Gorge – WOW.
You would not expect to see a mini Grand Canyon in the south of France, but that's exactly what you get here.
This spectacular 21-kilometer-long natural wonder is one of the deepest canyons in Europe, with the deepest point being around 700 meters.
Gorges du Verdon was carved by the river into the limestone and creates one of the most breathtaking backdrops in any photo. It's a mecca for rock climbers, hikers, canoeists, and photographers alike.
The panorama from the route around the canyon is really unique and worth seeing at least once in your life.
Be aware that if you're touring France by motorhome, you'll want to use the southern side- the North is one way and much harder with a large vehicle.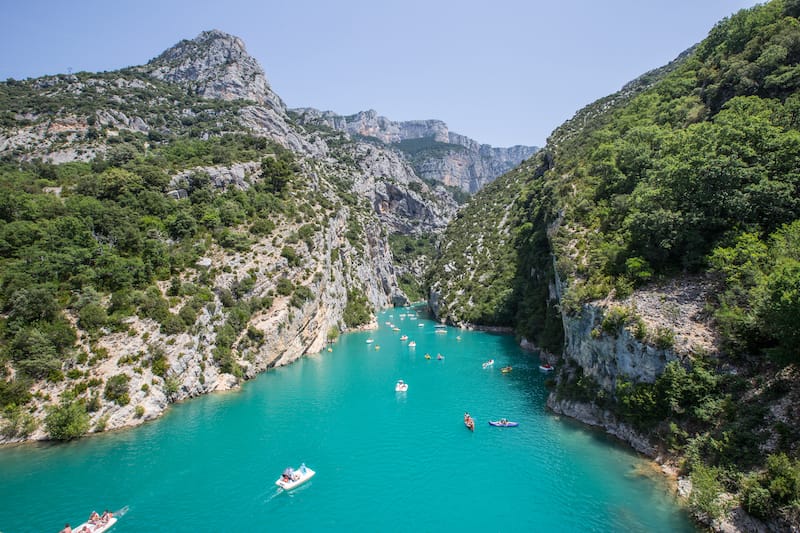 The best way to explore the gorge is with your own vehicle, as the public transport system is not great in the area and there aren't any trains nearby.
You can get away with spending a day driving around the Gorge, but if you want to do any activities, allow yourself at least 2 or 3.
There are also several other lakes near the Gorge which all have that incredible green water.
Just beware if you visit after a period of heavy rains- the waters turn to a muddy brown and are not so striking.
Also, there are regular rock falls on Gorge Road, so drive with care!
You can visit Gorges du Verdon as a day trip from Toulon, Marseille, Nice, and many other cities in southern France.
10. Pont du Gard
One of the most iconic sites in France, the Pont du Gard, welcomes over a million visitors each year!
Built by the Romans around 50AD to carry water to nearby Nimes, it is one of the tallest Roman aqueducts in the world, standing at 160 feet high.
Pont du Gard is open year-round (with reduced opening hours in the winter months). The highlight is walking along the viaduct, but be sure to visit the museum as well.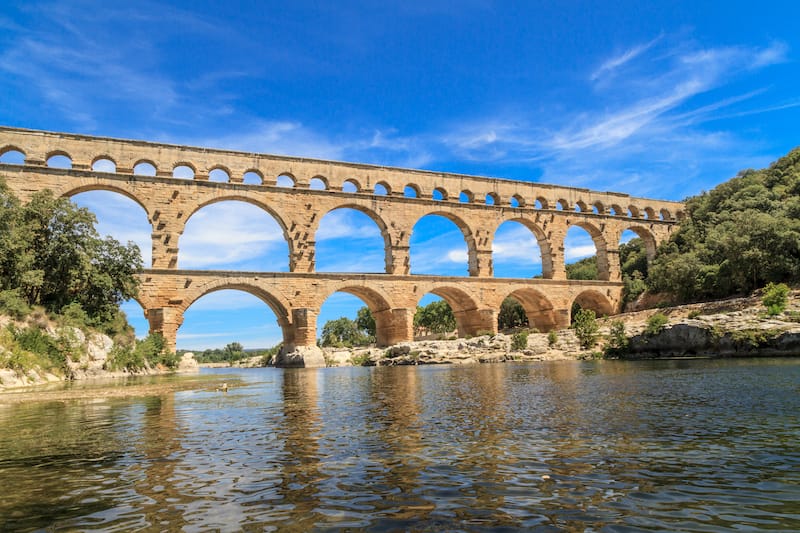 If you're lucky, you might be able to participate in one of the guided tours which takes you up to the higher levels of the viaduct.
Public events are often held within the grounds, occasionally with free admission. Kids go free anytime.
You should allow at least a half-day for visiting, but could easily spend the entire day enjoying the surroundings of the aqueduct, particularly in the summer months when a swim in the gently flowing river will be too tempting to pass up!
There is a cafe, toilets and changing facilities within the grounds.
Have you visited southern France? What are your top places to visit in South France? Let us know in the comments!
ABOUT: In 2018, Kathryn Bird quit her job to travel Europe in a motorhome with her (bewildered) husband and overly excited puppy.
Since then, they've visited 19+ countries and driven over 60,000 miles, sharing their experiences on the award-winning motorhome travel blog Wandering Bird.
She is passionate about inspiring others to experience the freedom of life on the road, whether for a long weekend in the UK or a month away around Europe.
You can read more about Kathryn's road trip adventures, tips, and 'How to' guides at www.wandering-bird.com or find them on Instagram or Youtube.
More France Travel Guides
Pin This South of France Bucket List Guide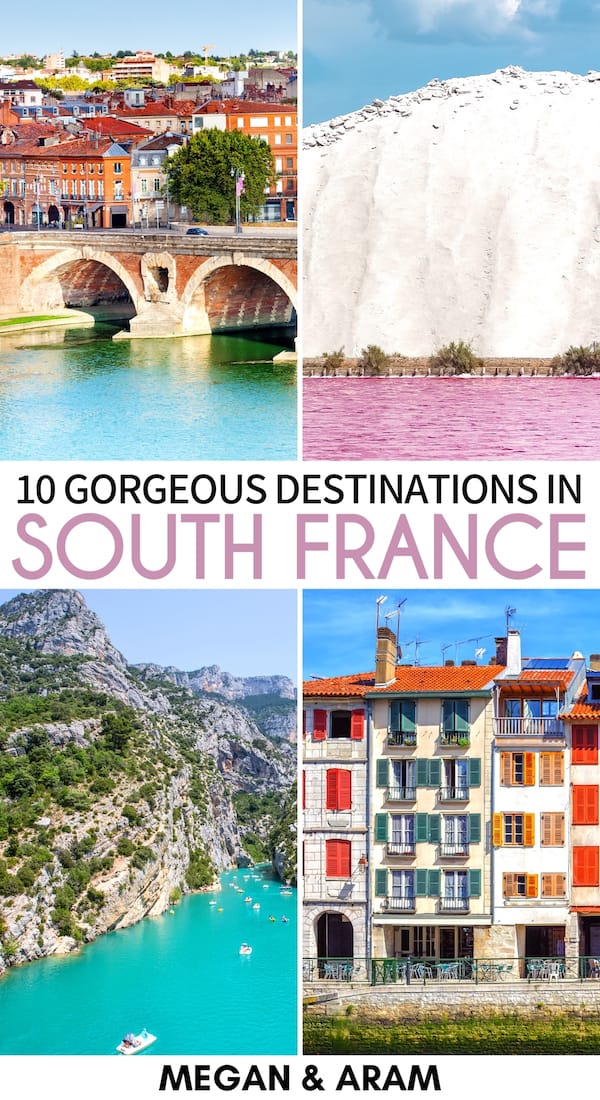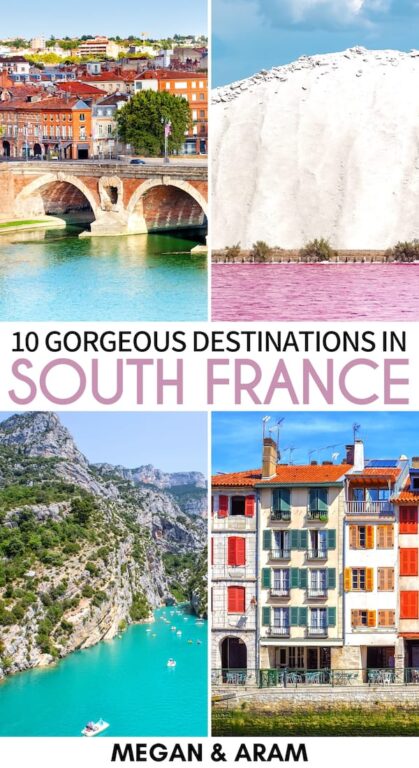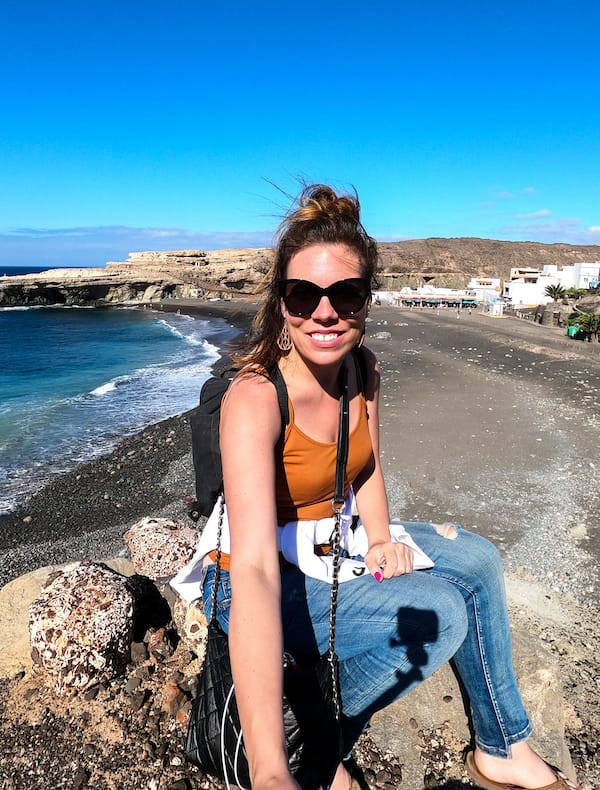 Megan is a travel blogger and writer with a background in digital marketing. Originally from Richmond, VA, she now splits her time between Frankfurt, Germany and Arctic Finland after also living in Norway, Armenia, and Kazakhstan. She has a passion for winter travel, as well as the Nordic countries, but you can also find her eating her way through Italy, perusing perfume stores in Paris, or taking road trips through the USA. Megan has written for or been featured by National Geographic, Forbes, Lonely Planet, the New York Times, and more. She co-authored Fodor's Travel 'Essential Norway' and has visited 45 US states and 100+ countries.