Are you planning a trip to Italy and are looking for the best destinations that are off the beaten path in Italy? This guide showcases some of the best hidden gems in Italy – from Puglia to Sicily and beyond!
We have recruited some other bloggers from around the world to share their favorite lesser-known destinations in Italy, as well. Please let us know in the comments what your favorite Italy hidden gem is!
Italy Hidden Gems – Map
To add this map to your Google Maps account, click the 'Star' icon next to the map name. You can then view it on your cell phone or computer by heading to your Google Maps account, click the menu and add it to 'Your Places'.
Ascoli Piceno
Recommended by: Katy at Untold Italy
Region: Marche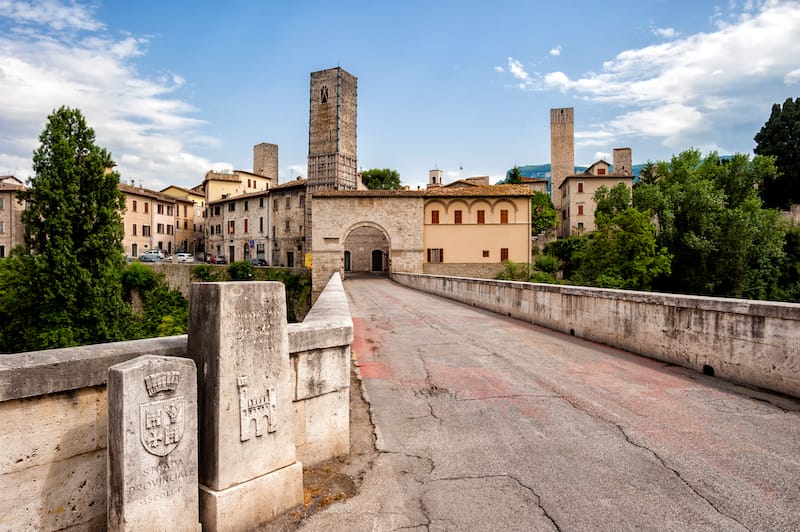 Beloved by Italians, but little known by visitors, the region of Le Marche is found to the east of Rome. The capital, Ascoli Piceno, is full of the charm and character you come to expect of Italy's secondary cities.
Wander into the Centro Storico (old town) and you can't miss the elegant Piazza del Popolo, a Renaissance square made from travertine regarded as one of the most beautiful in Italy.
Along the side of the piazza, arcades are home to shops and restaurants including the historic Caffe Meletti, the perfect spot for a coffee or aperitivo.
Also found on the piazza, you must visit the Palazzo dei Capitani, built in the 1300s and home to a beautiful shaded courtyard and Roman ruins.
Ascoli is a place for wandering and discovering its medieval towers, impressive city gates – the Porta Romana – and stunning community theater the Teatro Ventidio Basso.
And when it is time to eat, you cannot miss trying the local specialty – olive ascolane. Giant olives are stuffed with meat, covered in breadcrumbs, and fried. It is the ultimate aperitivo treat and is best accompanied by a glass of local Pecorino or Rosso Piceno wine.
To get to Ascoli, there is a direct train line from Venice or it's a three-hour drive or bus ride from Rome. Just be sure to plan your Italy trip before you go to ensure don't miss any of the top attractions in Ascoli Piceno.
Varese
Recommended by: Editor's Choice
Region: Lombardy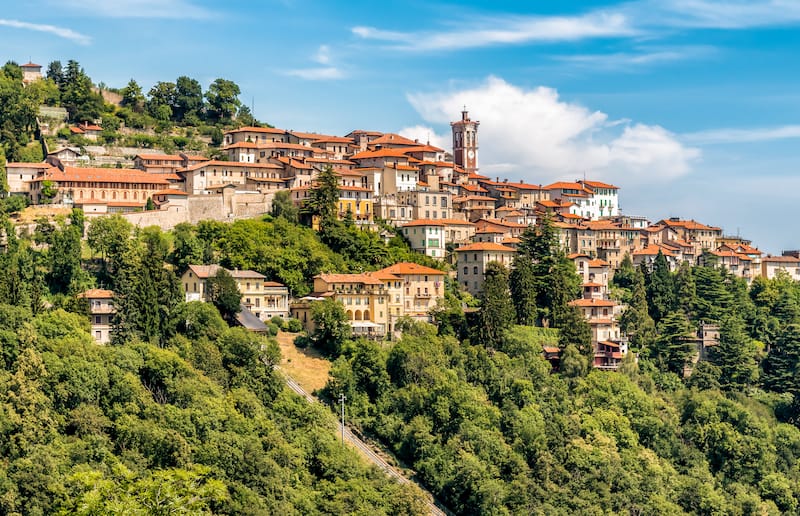 Varese is a beautiful town near Milan, located near Lake Maggiore. It was known beginning from the times when it became officially a municipality (Early Middle Ages).
Later, in the 20th century, the population began to increase, and the economy prospered, leading to a rise in the dimensions of this urban spot.
Varese is known to be flourishing in the mechanical and electromechanical industry and textile (mainly footwear) industry and the city is the perfect day trip from Milan.
One thing you can't miss when visiting Varese is the various parks and gardens, giving the city the name "The Garden City".
Palazzo Estense, often described as Milan's little Versailles, was built in the 18th century for Francesco III d'Este, the Duke of Modena.
This place is truly mesmerizing and a must when visiting Varese. Currently, it serves as the local town hall, but the visitors can still admire the palace from the outside, starting from its beautiful gardens all the way to the view from Belvedere Hill.
It is actually a cool day trip (or overnight) if youʻre visiting Milan in winter and want a cozy space to relax in a quieter part of the country.
Carloforte (San Pietro Island)
Recommended by: Claudia at Strictly Sardinia
Region: Sardinia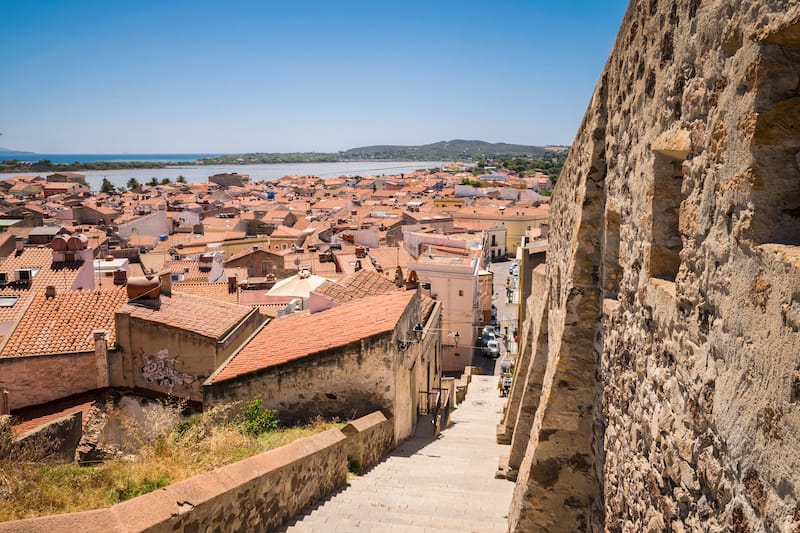 Carloforte is one of the most picturesque small towns in Sardinia.
The only town on San Pietro Island, off the southwestern coast of mainland Sardinia, you can get there on a quick ferry ride from either Porto Scuso (about a 1-hour drive from Cagliari, Sardinia's main city) or from the charming Calasetta (about a 1 hour and 20-minute drive from Cagliari) – either way, the ferry ride won't last more than 30 minutes.
Carloforte was founded by the Tabarkine, a small community of Genoese origins who arrived there from Tabarka, an island off the coast of Tunisia.
To date, the main language spoken there is Tabarkine, which resembles the Genoese dialect more than Sardinian.
The village is a maze of lovely narrow alleys and pastel color buildings, archways that are picture-perfect, and a couple of churches and museums worth visiting to get to know its story.
It's home to one of the most popular Sardinian festivals – the Girotonno, which celebrates the fishing of tuna that is of incredibly high quality there.
From Carloforte, you can visit the many beaches on the island. Some are tiny, rocky coves; others are sandy with clear, shallow waters. San Pietro is an excellent diving destination and in Carloforte, you will find several good diving schools.
Trani
Recommended by: Editor's Choice
Region: Puglia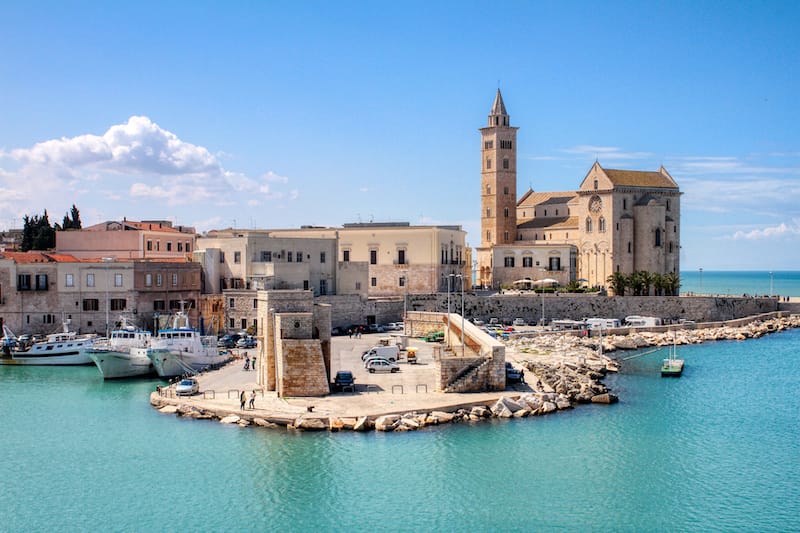 Located in southern Italy, Trani is a fishing port in Puglia, on the Adriatic coast. If you're staying in Bari or somewhere else nearby, Trani is an excellent choice for a quick day trip.
The town's overall picture can be described as a mid-20th-century, old-time seaside Italy, full of historic buildings.
One of the greatest and most renowned sights to see in Trani is the Cattedrale di San Nicola Pellegrino. The cathedral dates back to the 12th century and was built for St. Nicholas the Pilgrim.
The building is imposing and is one of the most renowned places to visit in Puglia. The Romanesque styling of the building quickly catches nearby guests' attention, making this location one of the most visited ones in the whole of Trani.
The church museum, the Museo Diocesano, is located near to the cathedral is the church museum, where you can find exhibitions of sculpture collections and archaeological finds from the churches of Trani.
Another very famous spot in the town is Castello Svevo, Trani's defensive fortress, located on the shore, adjacent to the cathedral. It was built in 1249 by one of the fascinating historical figures of the Holy Roman Emperor Frederick II.
For many years, the construction was a prison, but currently, it's open for tourists to visit and spend their time participating in seasonal exhibitions and special events.
Agropoli (Cilento)
Recommended by: Krista at Krista the Explorer
Region: Campania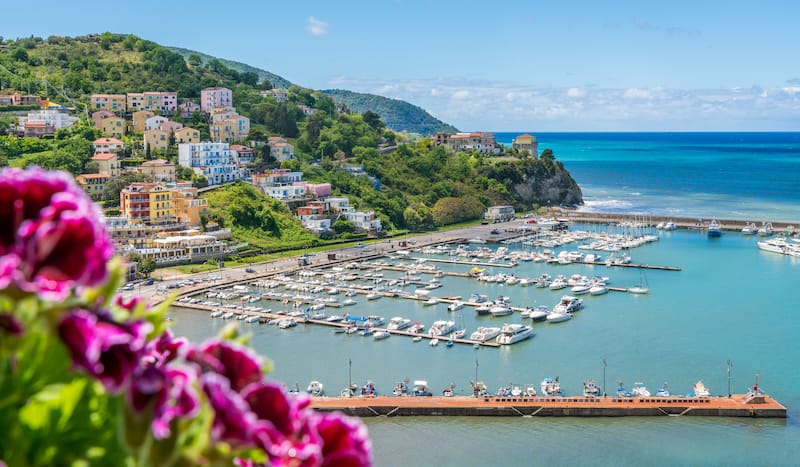 A fantastic alternative to the overcrowded Amalfi Coast is the lesser-known Cilento Coast, which is only a short drive south.
The coastal town of Agropoli and the Cilento National Park that surrounds it is a beautiful location to stay, and the beaches in the area have fewer tourists.
Agropoli is only 1.5 hours from Naples, and on the drive down you pass by Herculaneum and Pompeii which are definitely worth visiting (and is one of the best Naples day trips).
Agropoli is a charming Italian town to walk around with a medieval Italian castle overlooking the coastline and is free to enter.
Nearby you can find the famous Greek temples at Paestum, which are beautifully preserved and worth spending half a day exploring.
Agropoli is located in the Province of Salerno, which is the birthplace of buffalo mozzarella, so there are plenty of farms to stop at and sample some of their unique dishes.
You can also drive along the coast to Pioppi, the home of the Mediterranean Diet, and on the way back stop off at Santomiele to take an exclusive Italian fig tour and sample some of their famous figs too.
Agropoli and the surrounding area are often overlooked in favor of the Amalfi Coast, but it has a lot to offer and is stunning to drive around.
Tropea
Recommended by: Annabel at Smudged Postcard
Region: Calabria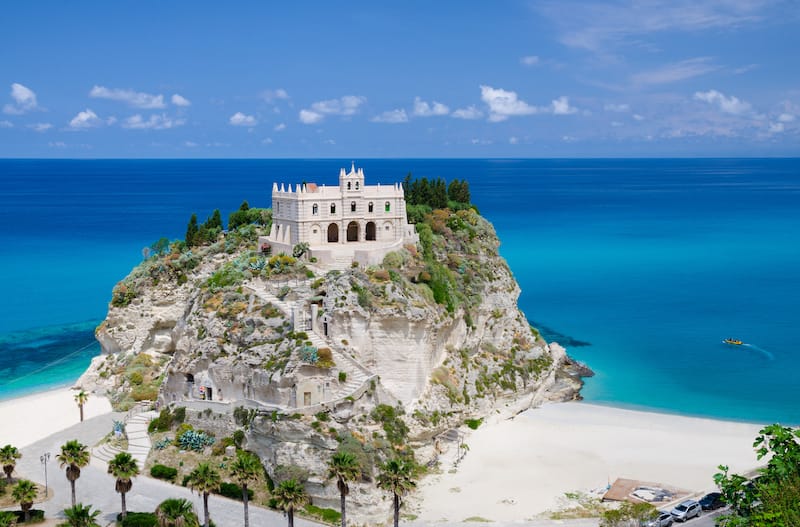 Tropea is a pretty seaside town in Calabria in southern Italy. It is located midway along the coast of Italy's toe between the towns of Lamezia and Reggio di Calabria.
Tropea is extremely popular in the summertime with Italians who flock there for the region's lovely beaches. The sea is beautifully clear and there are some good areas for snorkeling among the rocks.
The town has a beach below the buildings that can be reached via a long flight of stairs or via a winding road. From the town, there's a great view of the little rocky island with its church, Santa Maria dell' Isola.
Tropea is famous for its red onions which are particularly sweet and delicious. With its location in Calabria, you'll also be able to sample the famous nduja spicy sausage there known for being perfect as a topping on pizza.
The best place to enjoy dinner is in Piazza Ercole, the town's central square and one of the most appealing piazzas in Italy to while away a sunny afternoon watching Italian holidaymakers as they stroll along Corso Vittorio Emmanuele.
Best reached by car, Tropea has so many great beaches in the region that it helps to have independent transport so that you can explore the area to its fullest. The nearest airport is Lamezia which is served by Alitalia and several budget European airlines.
Vicenza
Recommended by: Ed at Island Travel Guides
Region: Veneto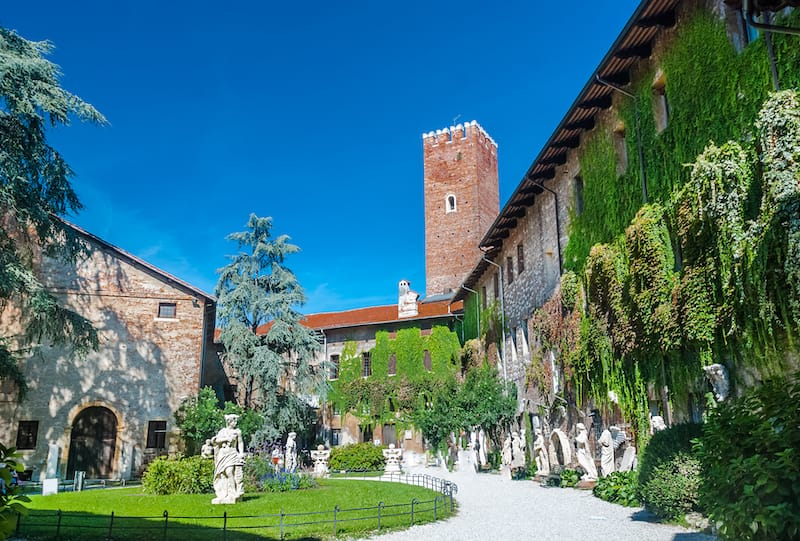 Vicenza is a medium-sized town widely known as "The city of gold" as it's famous for its precious metals trade. Vicenza has its own province and is located in the Veneto region of Italy.
The town is medium-sized and has a population of 110,000 people. The history is quite rich, even some remains of the Roman city can still be seen there!
The city of Vicenza was attacked by the barbarians a lot, but the town has never lost its significance and was ruled by some great powers like Venice, Napoleon, and the Austrians. Later in 1866, it was recognized as part of the new Kingdom of Italy.
The town was a quite remarkable one under Venetian rule. It kept on prospering throughout the years and demonstrated great architecture, much of which is still available for visitors to enjoy.
One of the differentiating attributes of the town is that it has a pretty unique appearance, leading to its designation as a UNESCO World Heritage Site as the "City of Vicenza and the Palladian Villas of the Veneto."
Vicenza has a relatively small but awe-inspiring town center, eye-catching villas, and some amazing viewpoints where visitors can fully grasp the alluring overlooks of the town.
Mantua
Recommended by: Dymphe at Dymabroad
Region: Lombardy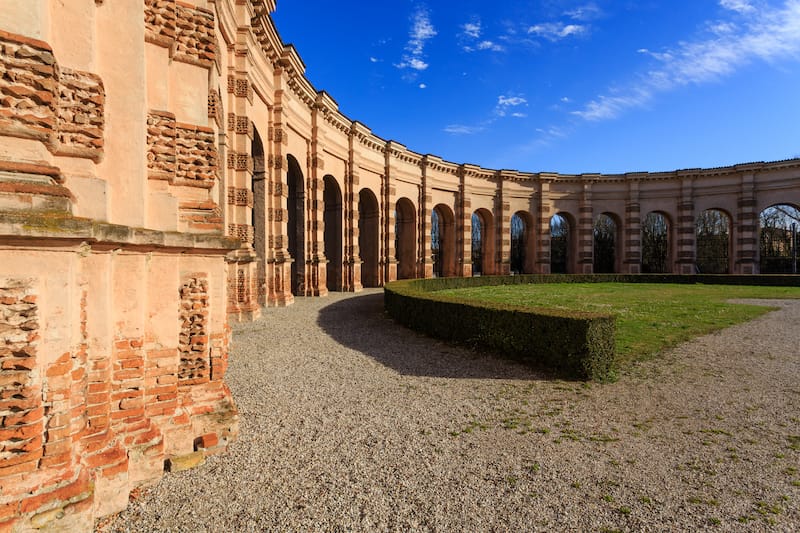 A lovely lesser-known city in Italy is Mantua. This is a city in the region of Lombardy. The closest known city to Mantua is Verona, but Venice, Milan, and Bologna are all not that far from it.
Moreover, you can easily reach Mantua from these larger cities by train. From Verona, it's only 45 minutes by train to Mantua. From Milan, it's about 1 hour and 15 minutes, and the journey from both Venice and Bologna takes about 2 hours.
There are a lot of things to do in Mantua. One of the best things to do is to visit the Ducal Palace, which was the residence of the House of Gonzaga who ruled Mantua for a long time. It is a beautiful building to see!
Another great thing to do is a boat tour! Mantua is surrounded by three lakes, which makes the city unique, so seeing the city from the water is something that you should not miss out on!
Furthermore, the Basilica di Sant Andrea is a beautiful church to see and is a must when you visit Mantua! Another thing to do is to try out the cuisine of Mantua. There are many delicious dishes here! One of the best of these is the Tortelli di Zucca!
Trieste
Recommended by: Editor's Choice
Region: Friuli-Venezia Giulia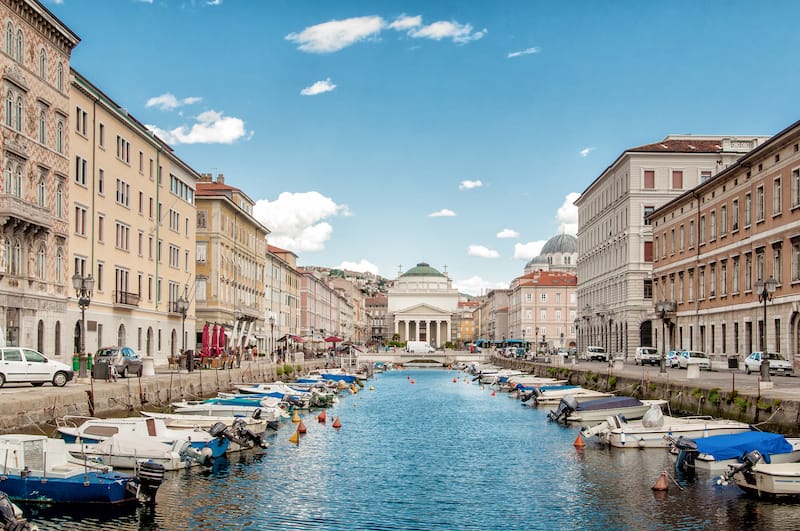 The city and seaport named Trieste is situated between the Adriatic Sea and Italy's border with Slovenia. Trieste, with its unique and prominent features, has inspired the work of famous writers like Rilke, Svevo, Joyce.
The Karstic area is where there are a lot of impressive natural wonders like the famous Grotta Gigante, Pervedol Sinkhole (a valley full of rich vegetation), etc.
When visiting Trieste, one of the first things to do is to visit the old city center. It has very rich historic and artistic features like the Arco Riccardo (arch), the Roman Theatre, the Cathedral, and the Castle of San Giusto (built in the 14th-century).
Piazza dell'Unità d'Italia is yet another very charming and extraordinary spot, surrounded by neoclassical buildings and known for its Austrian touch.
Salina
Recommended by: Emily at Wander Lush
Region: Messina, Sicily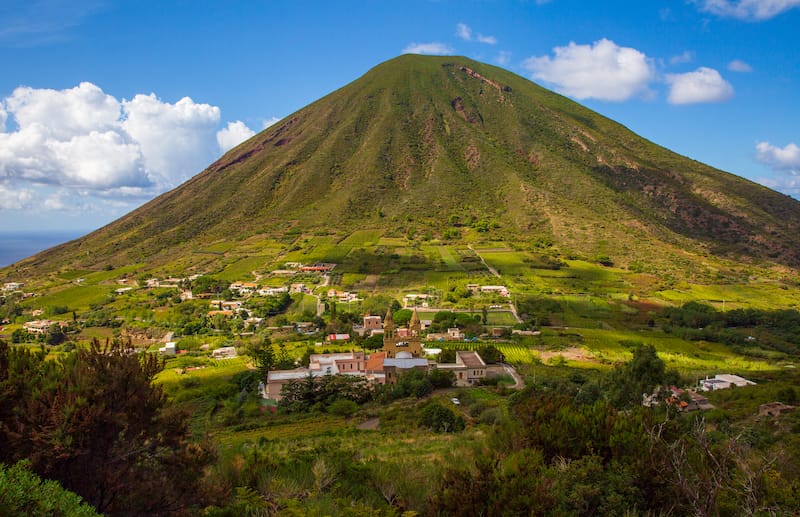 Compared to the rest of the Italian coast, the Aeolian Islands off north-west Sicily have shied away from the tourism spotlight – especially the smaller islands in the archipelago: Filicudi, Alicudi, and Salina.
Salina is the third island in the chain and can easily be reached by hydrofoil from Milazzo or Messina. In summer, there are additional boats from Naples and Palermo.
Named for the retired salt pans carved from its southern tip, Salina – the 'green island' – stands out for its rich soils that support thriving grape, olive oil, and caper industries.
Touring the island's Malvasia wineries is one of the best things to do when visiting the islands. In the village of Malfa, there are several boutique hotels where you can sip a glass of wine with a view of Stromboli puffing away in the distance.
Salina has a very laid-back feel. Smaller villages such as Valdichiesa and Leni – with their pretty churches, bottegas, and ceramics workshops – can be explored on foot, while you'll need a car to access the more remote black-sand swimming beaches.
Follow a marked hiking trail to summit one of the six extinct volcanoes that make up the island. Sunset from Pollara on the western shore is also a must. Both are some of the best things to do in Sicily on a budget!
Castelmezzano
Recommended by: Erki at Genem Travels
Region: Basilicata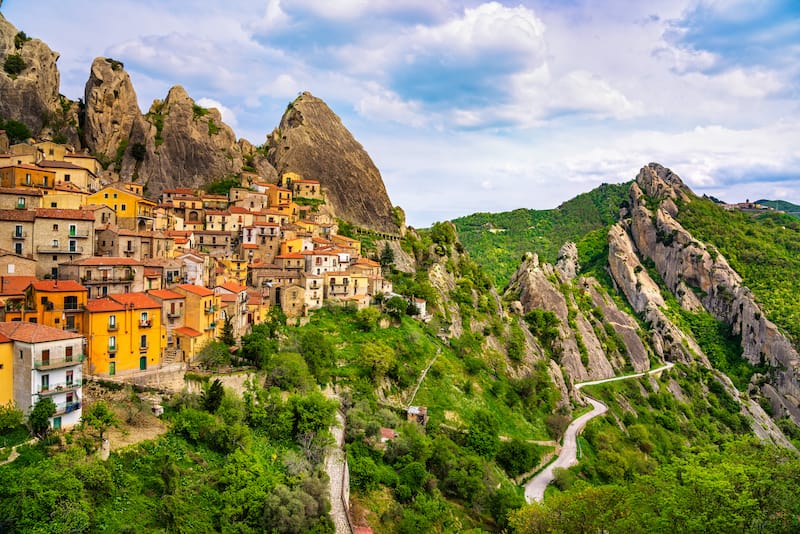 Castelmezzano is located in the southern part of Italy in the Basilicata region. It is a village that is listed as one of the most beautiful places in Italy.
It's a bit off track from the main roads and as a result, it remains a bit unknown and has fewer crowds than other places in the region.
In Castelmezzano, every traveler will find something that suits their needs whether it is a peaceful village walk or admiring the churches and architecture from the narrow streets. The town even has a Michelin-star restaurant!
Travelers who want nature and hiking trails will find both in Castelmezzano, including epic views of the Dolomiti Lucane. One of the most notable hikes is from the village to Gradinata Normanna.
If you're seeking an adrenaline rush, then check out the high-speed zipline over Castelmezzano. Volo dell'Angelo connects the village with a nearby village called Pietrapertosa. The speed is over 120 km/h and has a height of over 400 meters.
Another perk of visiting Castelmezzano is that it is an easy day trip to Matera.
Capri
Recommended by: Nicole at Go Far Grow Close
Region: Campania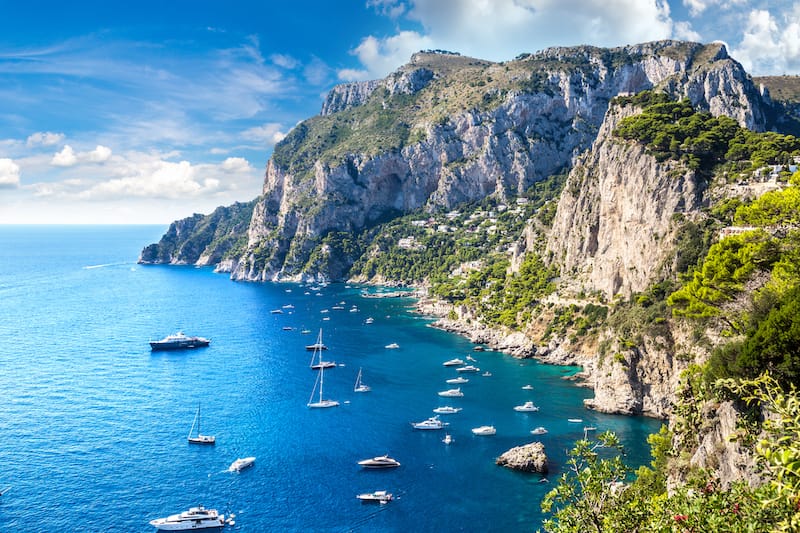 Capri is a small Italian island 34 km from Naples. The only way to reach Capri is by sea (or helicopter, if your budget allows). Multiple ferries depart daily from Naples and Sorrento.
It takes between 50 minutes to 1.5 hours one way, depending on whether you take a fast or slow ferry. One-way tickets cost between €14 – €21.
In the summer, there may also be routes from towns like Positano, Amalfi, Salerno, and Ischia. For most of the year, motor vehicles are forbidden except between November and Easter.
One of the most popular things to do in Capri is to visit the Blue Grotto. The Blue Grotto is a natural sea cave, 60 meters long and 25 meters wide, but only a meter high. The only way to enter is by rowboat, lying on your back, with a skipper at the helm.
Inside, the beautiful blue light is at its strongest between noon and two in the afternoon, though the reflections are amazing all morning. It is expensive though. It costs €14 per person for a 5-minute visit.
Another must-do activity is to take a boat tour around the island. Most of the famous sites can be seen from the boat. A group tour costs around €17 per person for 1-2 hours.
Most will stop at the Blue Grotto, but you would need to pay an additional €14 to go inside.
For those keener to stay on land, you should visit the Gardens of Augustus. Close to the center of town, they comprise a series of panoramic flower-decked terraces and pathways overlooking the Faraglioni (spectacular coastal and oceanic rock formations) on the one side and the Bay of Marina Piccola on the other.
The entrance is €1. It is best to take your day trip to Capri early morning or late afternoon to avoid the hot sun and crowds.
Taormina
Recommended by: Derek at Robe Trotting
Region: Messina, Sicily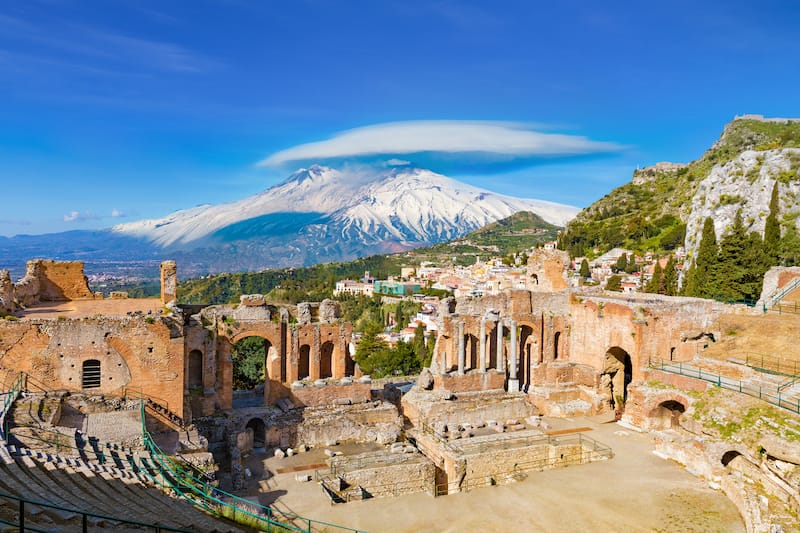 One of Italy's best offbeat destinations is the picturesque hill town of Taormina in Sicily. Most visitors arrive in Taormina by flying into Catania and taking a 90-minute bus ride or paying extra for a taxi transfer to save time.
The gorgeous city sits high above the sea with sweeping views of the coastline and Mount Etna.
One of the most popular things to do in Taormina is to explore the nearby volcano which can be accessed by hiking trails or even an ATV excursion.
Of course, the Sicilian beaches around Taormina are wonderful, as well. The most beautiful beach in Taormina is Isola Bella, famous for the tiny island that sits in the protected cove along the beach.
During low tide, it's connected to the mainland by a narrow sandbar that's submerged off and on throughout the day. It's one of the best places in Italy to soak in the sun, but be ready to wade back to shore depending on the timing of your visit.
Along with these majestic natural attractions the city is home to Teatro Antic de Taormina, an ancient Greek theatre. It has marvelous views of the seaside cliffs below and is a must-visit attraction in the city.
Taormina is a charming medieval walled city atop the hills of Sicily's northeastern coast and worth a visit. Don't overlook this wondrous destination in Italy!
Monopoli
Recommended by: Editor's Choice
Region: Puglia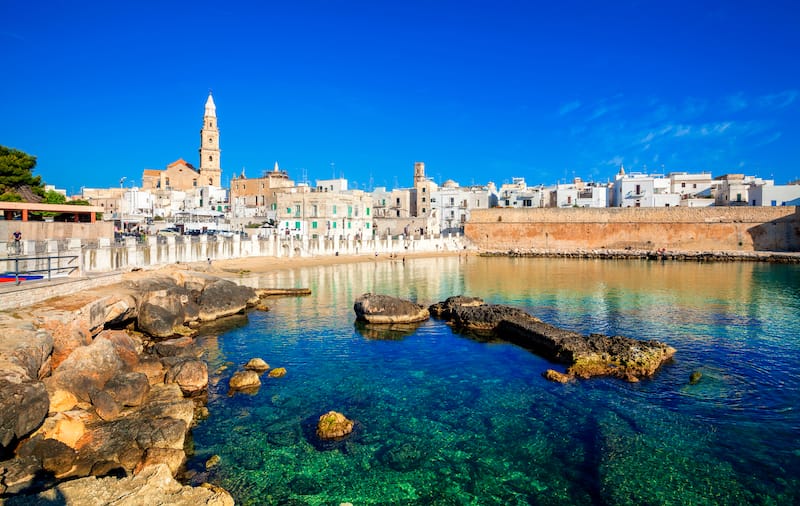 In case you're looking for an affordable alternative to Polignano a Mare, then Monopoli might be one of the best choices for you.
The name of the town comes from Greek origins, meaning unique city. Monopoli is essentially different from other Italian coastal towns as it's more like a busy city and has a commercial center.
Monopoli was founded by the Greeks and then taken by the Romans. The town was thriving and prosperous under the Byzantines and Normans, mainly due to its position in Puglia between the seas.
Overall, it kept its name along with the list of affluent locations like Amalfi, Genoa, and Venice.
Visitors are welcome to visit the beaches and inlets around the coast. One of the best things to do in Monopoli is to visit the old town with its still-solid castle that was built in 1552. Another prominent sight is the cathedral and its iconic tower.
The church has a Baroque-Romanesque style and was built in 1693, containing frescoes showing the four gospel-writing apostles. Monopoli is perfect for a day trip or to even stay overnight.
There are many fantastic places to stay in Monopoli, adding to the experience of this forgotten Puglia gem.
Portovenere
Recommended by: Nadine at Le Long Weekend
Region: Liguria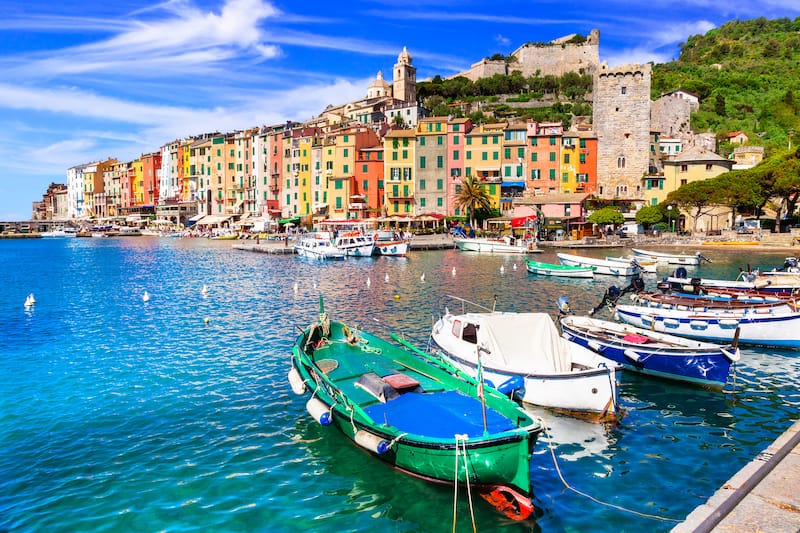 Located on the Ligurian coast, the fishing village of Portovenere lies in the Bay of Poets – a picturesque area also known as the Gulf of La Spezia.
A UNESCO World Heritage Site, Porto Venere does see its share of visitors, but more often it gets overlooked by those heading to the Cinque Terre.
The railway line from La Spezia cuts a path directly to the five villages of the Cinque Terre, completely bypassing Portovenere and leaving its charms all but undiscovered.
Don't make this same mistake, and take the ferry, bus, or drive the short distance from La Spezia to Lord Byron's beloved village instead.
Once you get there, spend your time touring the ancient streets of the old town, climbing up to Doria Castle, trekking around Palmaria Island that lies just off the coast, or simply sunning yourself on one of the village's stunning beaches and swimming at Byron's Grotto.
Those who want to combine their visit to Portovenere with the villages of the Cinque Terre can do so by buying an all-day ferry pass.
However, once you arrive in Portovenere, you'll realize that spending any less than a day in this special corner of the Italian Riviera would be an oversight. Click here if you want to check out the best Cinque Terre boat trips.
La Morra
Recommended by: Coni at Experiencing the Globe
Region: Piedmont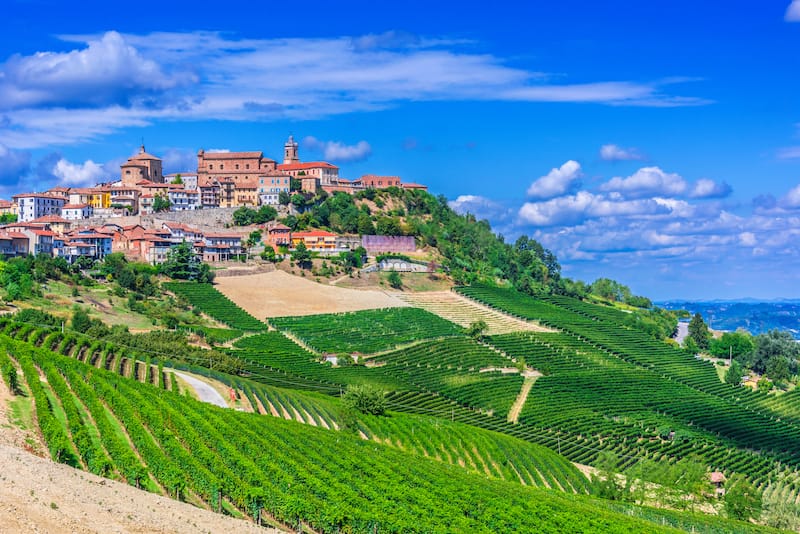 Italy's top wine region, Piedmont, is full of charming little top-of-a-hill towns and all should be on your travel bucket list.
Whether you're interested in medieval architecture or you want to have striking vistas of the endless valleys of the county, a must-see is La Morra. This postcard-like village is only 50 km away from Turin.
Although it's a lovely destination throughout the year, if you want to make the most out of your visit, go during harvest season so you can see the vines full, and the traditional process of grape picking ongoing.
If your trip is in any other season, you should stop by the Cantina Comunale di La Morra for tastings, and at the Museum/Cantina Renato Ratti, a winery and a tribute to the winemaking process.
The town itself is a delight to aimlessly walk around. Get lost in the cobblestone aisles and eventually you'll get to the town's main sights: San Sebastian Church and Torre Campanaria di La Morra.
Make sure you also look for a viewpoint called Belvedere di La Morra, where you'll find a great panorama of wine country with the Alps in the distance.
Finally, just outside the town, at the foot of the hill, there's a unique and colorful little chapel, the Cappella delle Brunate (also known as Cappella del Barolo).
Treviso
Recommended by: Editor's Choice
Region: Veneto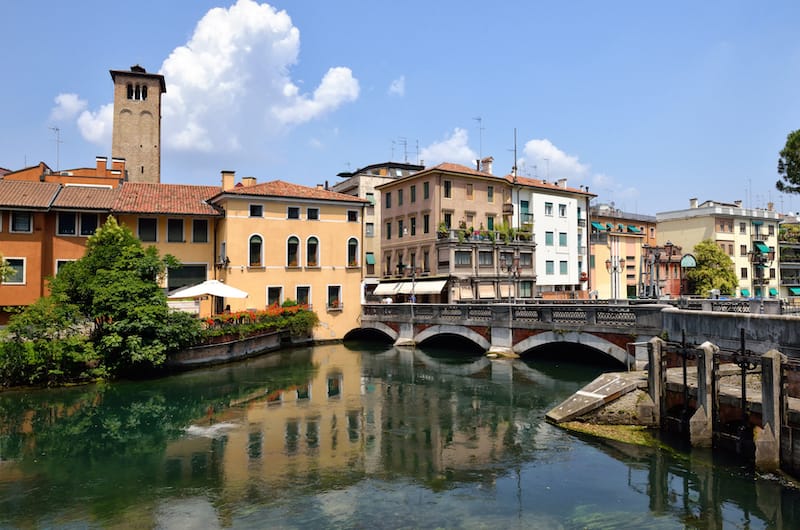 One of the most famous things about Treviso is that it's thought to be the origin of the widely-known Italian dessert Tiramisu. But, you'll find many other amazing things to do in Treviso that make it worth a visit!
Apart from that, Treviso is also the original production area of Prosecco wine and radicchio, and there is a lot more to explore in this northern Italian city!
Treviso has a population of over 80,000 and is situated about 40 minutes from Venice. Notably, most of the citizens live outside the historic city walls.
There is a belief that the Celtic people were settled in Treviso originally. However, in 89 BC, it became a Roman Commune and became a city of significance.
Later during the Middle Ages, the place was part of the Lombard League, with which a lot of conflicts and dangers came, leading to a need to have defensive towers and walls.
Many of the ancient fortifications are still in Treviso, in fairly good condition. Apart from that, the city also prides itself on various significant museums and religious structures such as the Treviso cathedral.
Also, just like the universally famous canals of Venice, Treviso has its own system of canals, which is yet another sight worth checking out when visiting!
Orvieto
Recommended by: Rachita Saxena from MeanderWander
Region: Umbria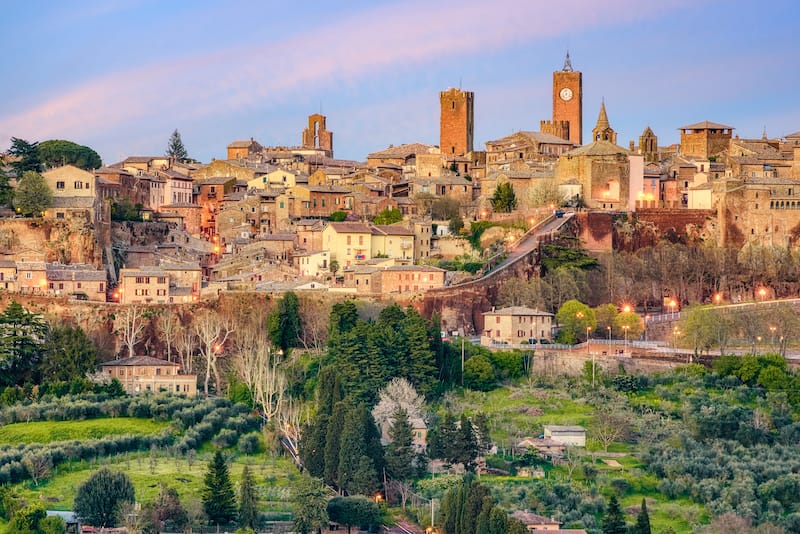 Located in the Umbria region of Italy, Orvieto is an amazing offbeat destination to visit in Italy which is just an hour from Rome. This small city is situated at the summit of a large, flat hill that is made out of volcanic ash rock.
Although Orvieto is secluded and not frequently visited by tourists, there is actually a lot to explore and do around here. One of the best things to do around here is to walk among the Etruscan tombs that are completely covered with moss.
These tombs were constructed by pre-Roman people who built the tombs out of slabs of volcanic rock.
Apart from the tombs, you can also explore the beautiful streets of Orvieto that give you a classic Italian feel and are made out of cobblestones. There is also a fort named Fortezza Albornoz and a few public gardens where you can spend some time.
From the fort, you can enjoy the view of the city and the entire valley and the best part is that there is no entry fee to this fort.
You should also visit the Duomo of Orvieto, an 800-years old cathedral that has slightly pink and gold architecture and looks absolutely gorgeous!
There are lots of underground tunnels, mazes, etc. to explore here too and one can easily plan a full day trip to Orvieto from Rome.
You will find both intercity and regional trains going from Rome to Orvieto. The first train starts at 6 a.m. from Roma Terminus and it takes almost an hour to reach Orvieto on the train.
Ventimiglia
Recommended by: Ally at Ally Travels
Region: Liguria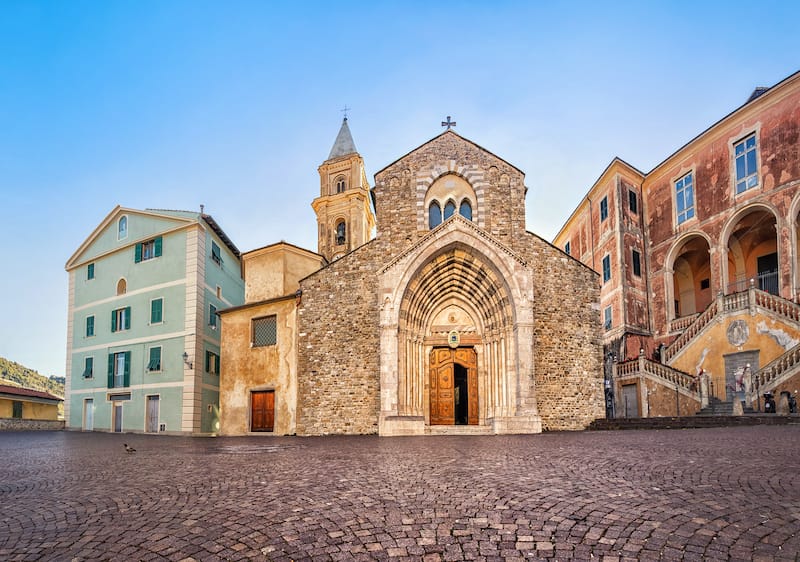 Ventimiglia is a small under-the-radar gem on the Italian Riviera. You'll find this medieval town about 5 miles from the French-Italian border and about 80 miles southwest of Genoa.
It's easily accessible by car or train from either southern France or other places in Italy.
They split the town into two sections, with the Roja River running between them. The old town sits on the hill, and the modern town runs along the seaside.
If you can, plan to visit on a Friday so you can enjoy the town's large outdoor marketplace. You'll spend the day strolling through the markets, shopping the almost 500 stands that offer everything from food, to leather goods, and antiques.
While you're visiting, trek up the ancient Roman Road, Via Aurelia, to the Villa Hanbury. Spread over 22 acres, you'll see gorgeous flora, statues, ponds, and spectacular views of the Mediterranean.
Another must-see spot is the beautifully built Biblioteca Civica Aprosiana. It's a book lover's dream, housing the country's second-largest collection of 17th-century manuscripts and books.
It was founded in 1648 and is one of the oldest libraries in all of Italy.
Whether you're visiting for the day or the weekend, Ventimiglia has something for everyone!
Ischia
Recommended by: Diana at The Globetrotting Detective
Region: Campania
Ischia island is one of the Phlegrean Islands in the Tyrrhenian Sea, in the Gulf of Naples. It's not really known among foreign tourists. It's rather an island more favored by Italians. You can easily get to Ischia by ferry from Naples or Procida Island.
There are about 25 ferries from Naples to Ischia on daily basis. The journey time is 1 hour and 30 minutes by slow ferry which departs from Porto di Massa and 1 hour by high-speed ferry which departs from Porto Beverello.
Ticket prices range from 12.30 to 23 €.
From Procida, there are about 20 ferries on daily basis. The journey time is about 20-30 minutes. The ferry ticket costs around 8 €.
You can get around the island by local bus or rent a car there. Driving is probably a better idea if you only have one day to look around. But two days is the least amount of time that you should spend there.
Ischia has many gorgeous towns and villages. One of them is the Ischia Ponte where you can visit the key highlight of the island, the medieval castle called Castello Aragonese.
Castello Aragonese was built in 474 BC on a tiny rocky island. It's connected by a stone bridge to the fishing port of the island called Ischia Ponte. The entrance ticket for the castle costs 10 €.
Other spectacular villages include the fishing village, Sant'Angelo, and Lacco Ameno along with Forio where you can find amazing restaurants and breathtaking beaches and thermal parks.
Thermal parks and springs of the volcanic island of Ischia are very famous in Italy. One of them is the ancient Terme Cavascura which is hollowed into the rock of a very deep valley that was previously enjoyed by the Romans.
Prices of the thermal parks on Ischia range between 15 – 35 € per day. But, there are also free thermal springs bubbling up in the sea, such as the Sorgeto Beach, close to Sant' Angelo.
Santa Maria Di Leuca
Recommended by: Michele at A Taste for Travel
Region: Puglia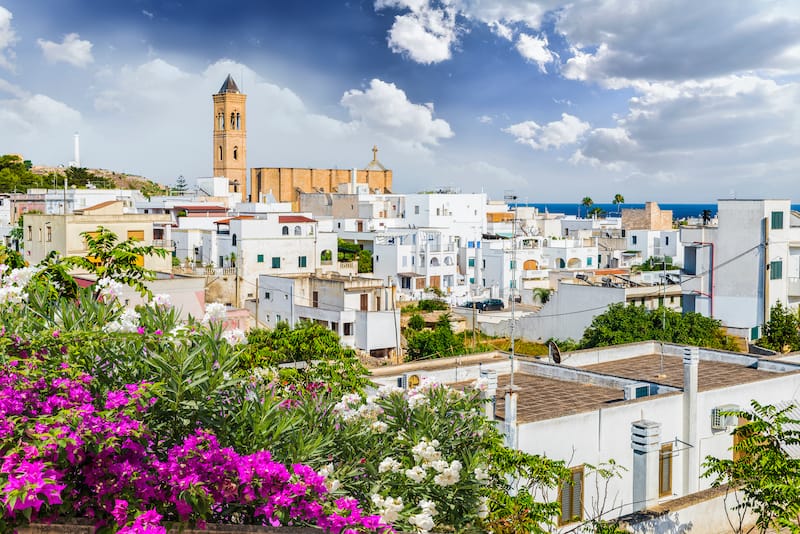 Although best known among Catholic pilgrims as being the site of the Basilica Sanctuary of the Madonna di Leuca de Finibus Terrae, this small city at the most southerly point of Italy "heel of the boot" is overlooked by other visitors but well worth experiencing due to its many other attractions.
Begin at the Basilica itself, set on an expansive plaza offering 360 views of sea and sky. Anchoring the stone plaza is a lighthouse, the second largest in Italy after Genoa, as well as the Cascata Monumentale, a man-made waterfall built by Mussolini in 1939.
While it's possible to climb the stairs flanking this enormous waterfall, the best way to appreciate its impressive construction is during one of the sound and light shows when the water is turned on and it cascades in time to dramatic music and undulating lights as it flows into the sea.
Other things to do in Santa Maria di Leuca include spending time at one of the many lido (beach) clubs that stretch along the Ionian Coast, taking a scenic boat tour of the sea caves shaped by the powerful force of centuries of waves and wind, or hiking the trails flanking the dramatic Adriatic coastline to the east.
Dining outdoors at one of the many seafood restaurants is a must-do for food fans. The Salento region of Puglia is treasured for its fine regional ingredients including prized olive oils, heritage seasonal produce, and southern Italian wines such as Negroamaro and Primitivo varietals.
The closest major city is Lecce, located 70 kilometers away, but most people fly or take the train into Brindisi and either rent a car or take a shuttle van to Santa Maria di Leuca.
It's handy to have a car as it's then possible to visit off-the-beaten-path villages, participate in a religious festival, and experience life along the ancient pilgrim paths, the longest of which leads all the way to France.
Piacenza
Recommended by: Helga at ShegoWandering
Region: Emilia-Romagna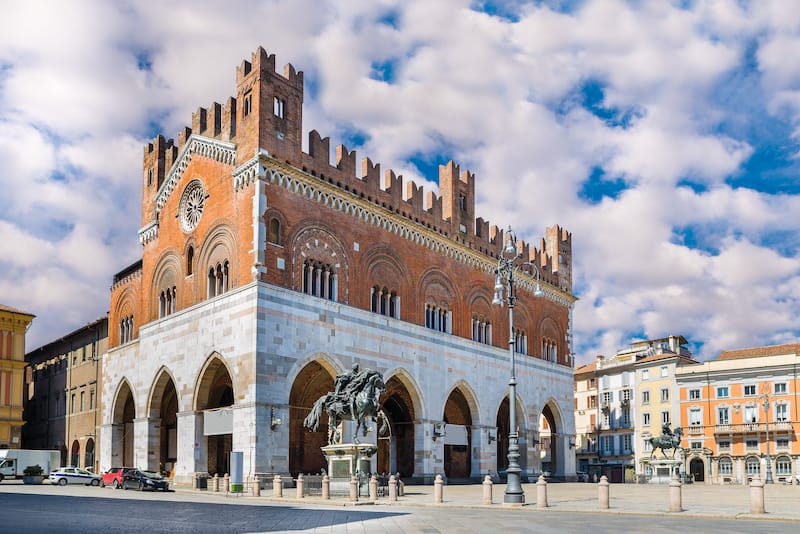 In the famous Food Valley of Italy, the region of Emilia-Romagna is this small town of Piacenza. It's the last town in the region. While infrastructurally Piacenza sits in a perfect location, it still remains hidden from the public.
The town of Piacenza looks back on a millennium of rich history, having some real gems that must be seen when you visit the place.
If you're traveling through the region, or you're just in Milan for a few extra days and you're looking for day trips, Piacenza can offer you various things to do.
The most famous landmark in the town is the Palazzo Gotico, a building from the 14th century, standing on the main square called Piazza Cavalli.
Stroll around the historic center along the colorful old streets, and visit one of the oldest Romanesque churches of the region, the Duomo di Piacenza. Also be sure to hit up a "salumeria" where you can try some of the region's famous salami, Piacentini (local cold cut). And, finally, enjoy the traditional town while grabbing an aperitivo at Battisti Bar.
You can also visit things like the Basilica of St. Antoninus, the Church of San Francesco, and the palace and museum of Palazzo Farnese, which was built by the famous ruler family, the Farnese.
If you're looking for traditional food, grab your lunch or dinner at a traditional, local osteria, such as Osteria Santo Stefano, or the Osteria d'Una Volta, and try the panzerotti al forno!
Gaeta
Recommended by: Lisa at Planning Away
Region: Lazio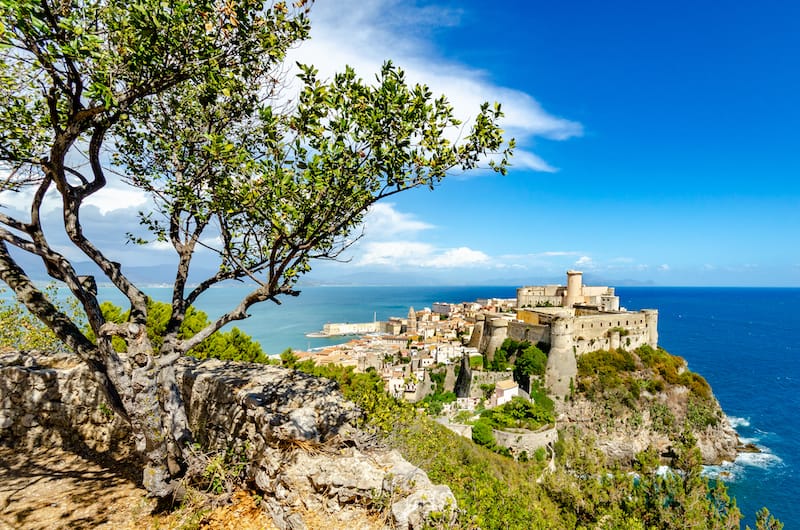 Gaeta is an Italian coastal town known for its beauty and beaches. It is a southern city in the Lazio region of Italy and is not on the usual tourist trail primarily because it does not have a train station nearby. Driving is one of the only ways to get to this area.
It is located about two hours from Naples and about two hours from Rome. A Gaeta beach vacation and overnight stay is a perfect getaway from either location.
There are seven public beaches in Gaeta. Local Italians flock to these beaches in August, making it the most crowded time of year.
One of the most famous beaches is 40 Remi Beach, one that can only be accessed by rowboat. The name indicates how many oar strokes it takes to get to this beach.
If you love spectacular views, the cliffs located just above the beaches offer just that. There are also grottoes all along this coast to explore.
Another popular activity at these beaches is snorkeling and scuba diving. You can also find plenty of hiking trails, boat rentals, and more!
Gaeta is definitely a southern treat worth visiting!
Urbino
Recommended by: Milijana at World Travel Connector
Region: Marche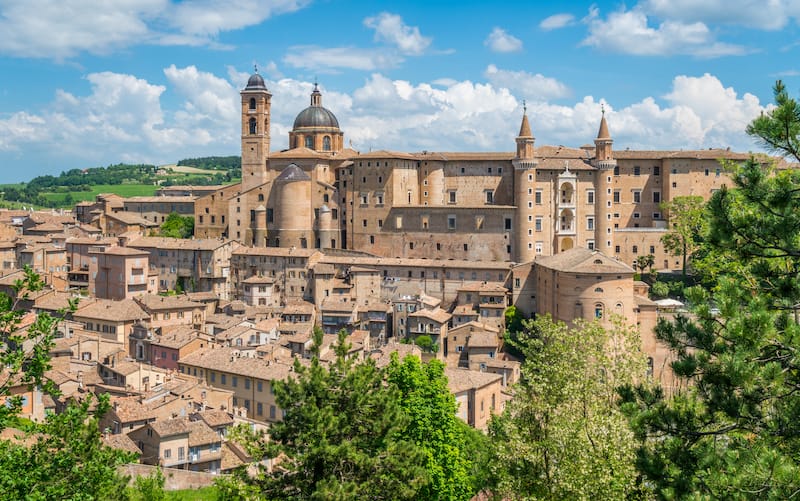 Urbino is a small medieval hilltop town in the Marche region in central Italy. This stunning walled town is one of the most beautiful Italian towns representing a culmination of Italian Renaissance art and architecture.
Arresting Urbino was a major cultural center in Italy during the Renaissance era that attracted many important scholars, artists, and men of outstanding talent from all over Europe.
Even Raphael, a genius master painter, and architect of the High Renaissance was born and raised in Urbino and today his birth house is a museum in Urbino.
If you love Renaissance art and architecture, medieval walled hilltop towns, and picturesque settings, Urbino is a must-see in Italy.
Some of the best sites to visit in Urbino are the Ducal Palace with the Galleria Nazionale Delle Marche, the cathedral, the Monastery of Santa Chiara, and the Casa Natale di Raffaello.
The Galleria Nazionale Delle Marche is home to one of the most remarkable collections of Renaissance art in the world. It holds amazing artworks by Raphael, Piero Della Francesca, Paolo Uccello, Timoteo Viti, and Titian to name a few.
UNESCO acknowledged the importance, uniqueness, and universal value of the historic center of Urbino and accredited it as a World Heritage Site.
Urbino is only 35 km from Pesaro, 58 km from Rimini, and 56 km from San Marino. But if you are visiting Tuscany by car, please note that Urbino in neighboring Marche is only 100 km from Arezzo, 180 km from Siena, and 190 km from Florence.
Make a short detour from Tuscany and visit Urbino and Marche. You will be bewitched by the uniqueness, authenticity, beauty, and artistic and historic heritage of Urbino and the Marche region!
Ponza
Recommended by: Linda at La Dolce Fit Vida
Region: Lazio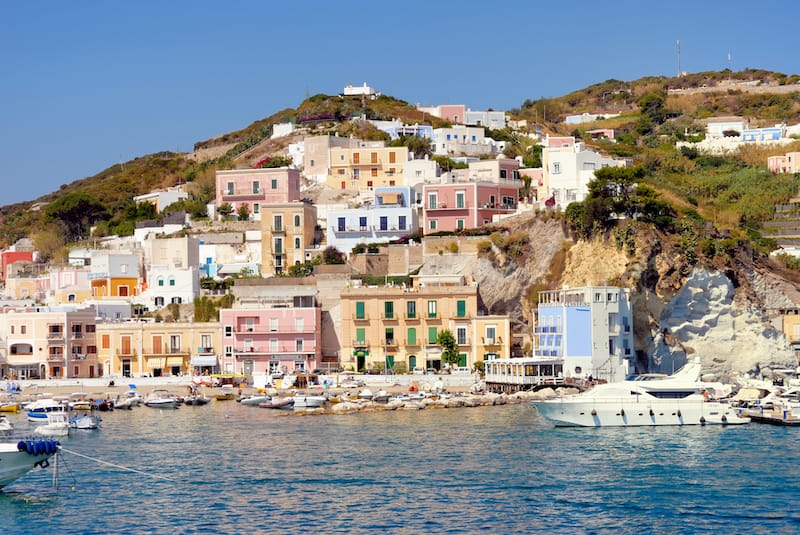 If you are itching to get off the beaten path in Italy and into some lesser-visited places, just a mere couple of hours from Rome, you can reach some of the most pristine turquoise waters on Ponza island.
On Ponza, you will get the chance to get up close and personal with the locals but also have those dolce vita moments you've been dreaming of. You know… the wind in your hair as you ride on a Vespa cruising the coastline type of moments- yep.
Well, get ready for some sun-kissed skin and never-ending aperitif boat days because Ponza will steal your heart.
There are numerous places you can board the ferry to Ponza from- Anzio, Formia, Terracina, even Naples, but this is quite further away if you're coming from Rome.
The island in itself is incredibly beautiful so I recommend dividing your days between "boat days" and "land days."
For your boat days, you can opt for a guided tour around the island. Many prefer a quieter and more intimate setting, so you can rent a boat for the day and also include snorkeling on the outing. For divers, right outside Cala dell'Acqua, you can venture to explore a sunken American WW2 ship!
Back on land, you will definitely want to schedule a sunset aperitif at Chiaia Luna. As you sip on your mojito, the magic unfolds down below as the sun disappears behind one of the most stunning panoramic bay views.
Also, make sure you head to Le Piscine Naturali for some sun and splash time. These natural pools are a sight in themselves reminiscent of a sort of lunar landscape that over the years has been patiently sculpted by the surrounding sea. You can lay out and catch some rays or even hang out at the two restaurants that are right there on the rock!
So many activities to pack on an island that is virtually untouched by international tourism. If you have extra time, it is recommended to visit neighboring Palmarola on a guided day tour.
There, you will get a Maldives experience with Italian food- does it get any better than that?
Belluno
Recommended by: Editor's Choice
Region: Veneto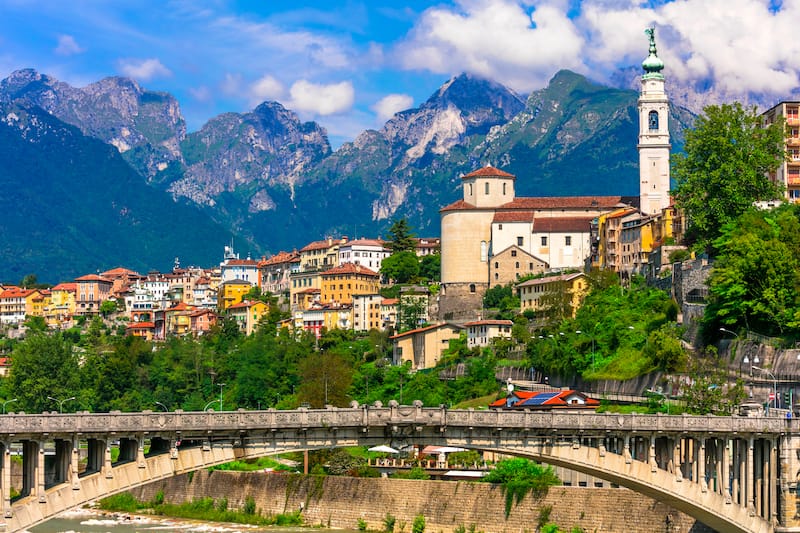 Belluno is a town and province located in the Veneto region of northern Italy. It is about 62 miles (100 kilometers) north of Venice and is considered to be the most important city in the Eastern Dolomites region.
The town has approximately 36,000 inhabitants, and it is the largest populated area of Valbelluna.
It was initially founded in 220 BC as a Roman military stronghold, and up until today retains some of the civic features of that era in the current street pattern.
After the fall of the Roman Empire, Belluno was passed around for several centuries before it allied itself in 1404 with the Republic of Venice.
Agriculture and tourism are known to be the primary booming industries of the town and while many people flock to Italy as a summer holiday destination, Belluno tends to attract visitors with its skiing during the winter months.
These are the best destinations that are off the beaten path in Italy – please let us know your favorite Italy hidden gem in the comments!
Pin This Off the Beaten Path in Italy Guide