Are you looking for the best beaches in Tenerife? Keep reading as we dive into the most beautiful Tenerife beaches to add to your bucket list!
Are you planning your trip to Tenerife last minute?
If youʻre booking your trip to Tenerife last minute, we have you covered. Below are some of the top tours, hotels, and more!
🌊 Top Activities and Tours in Tenerife:
🛌 Top Hotels in Tenerife:
🚗 Visiting Tenerife independently? Be sure to book your rental car ahead of time to ensure availability!
Tenerife is one of the most alluring places in Europe and the island is home to some beautiful coastal areas.
This guide will detail the best beaches on Tenerife, including what to do at (and how to visit!) each of them.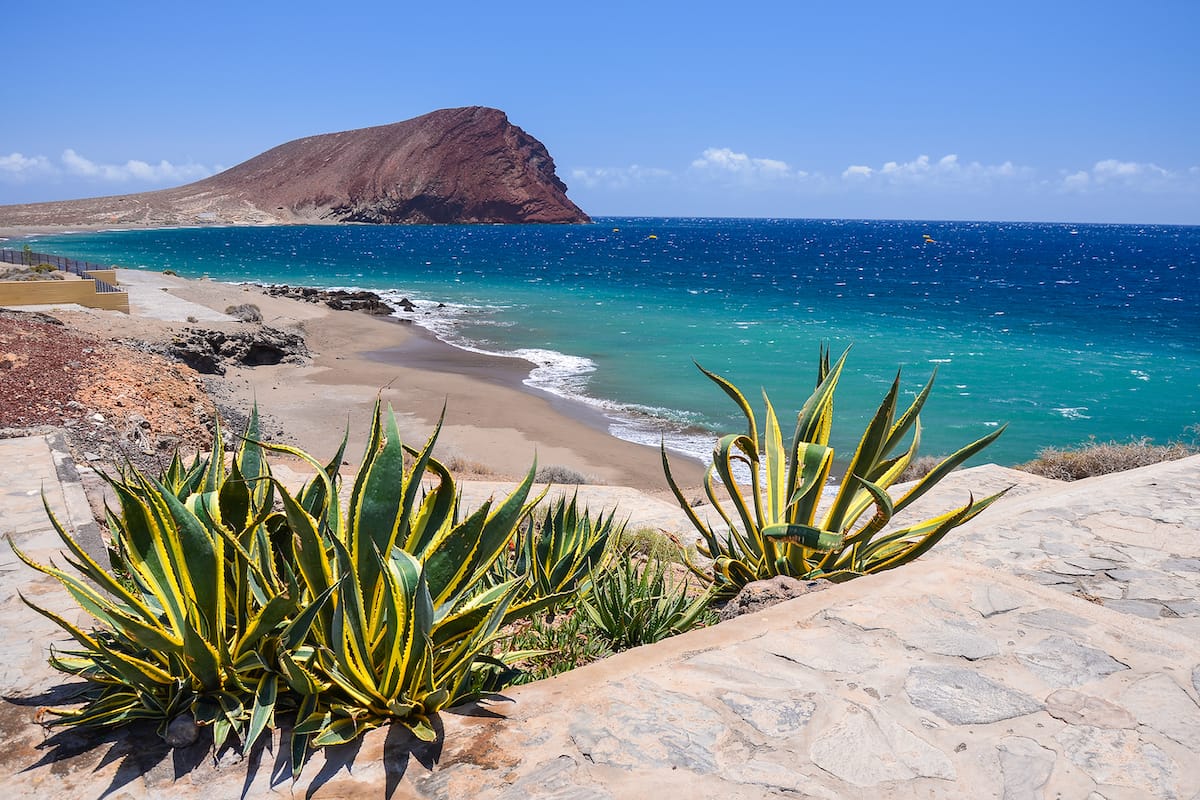 Did we miss any beaches in this guide? Let us know in the comments!
Best Beaches in Tenerife
1. Playa de las Teresitas
Nestled in the quaint village of San Andrés, Playa de las Teresitas is a stunning artificial beach stretching about 1500 meters and visiting is one of the best things to do in Tenerife!
This awe-inspiring beach boasts over 1500 meters of golden sand that glisten in the sun, creating an idyllic contrast with the clear blue waters and majestic mountain views.
Teresitas beach is well-equipped with all the necessary amenities, including showers, public toilets, and lifeguards. Visitors can also find several beach clubs and bars with sunbeds and cabanas to enjoy the sun and sea.
For those looking for a more active day at the beach, plenty of water sports activities are available such as kayaking, paddle boarding, and surfboard yoga.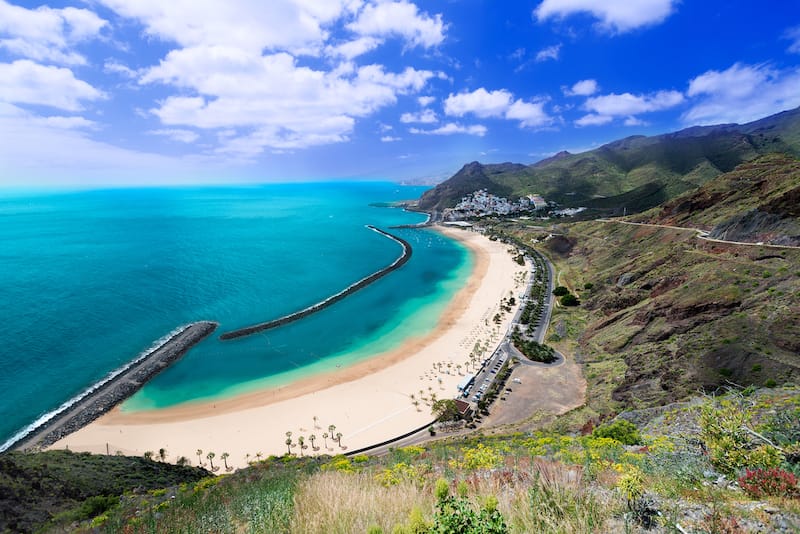 Beyond the beach, visitors can explore the magnificent Anaga Mountains by hiking and marveling at the stunning scenery of the coast and surroundings.
The nearby village of San Andrés is a lively hub with an array of shops and restaurants offering tantalizing Canarian cuisine. Experience the region's flavors at the top-rated Restaurante Rincon del Pescador, Restaurante Los Pinchitos, and La Pandorga.
To make the most of your stay, choose from some of the best hotels near the area. The Iberostar Grand Mencey, located just a few miles away, offers luxurious accommodations with private balconies overlooking the pool or the city.
Its upscale dining options, beautiful outdoor pool, and lavish fitness center and spa make for an unforgettable experience.
Alternatively, the NH Tenerife is a short drive away from the beach. It boasts soundproof rooms with contemporary design, a rooftop with spectacular views, and proximity to Santa Cruz's best museums and attractions.
2. Playa de Fañabé
Playa de Fañabé is a must-visit beach on the Costa Adeje that exudes luxury and relaxation. It is a must for every Tenerife itinerary!
The beach spans approximately 600 meters, boasting soft golden sand and crystal-clear waters, and is fully equipped with all the essential amenities, including public toilets, showers, and beach loungers.
Fañabé beach offers plenty of activities for tourists to enjoy. Visitors can take a leisurely stroll on the beach, bask in the sun, or try their hand at water sports such as jet skiing, parasailing, and riding a banana boat or pedalo.
Adrenaline junkies can also experience the thrill of paragliding with pick-up services available. For families with children, there are trampolines, mini-golf, and a play area to keep them entertained.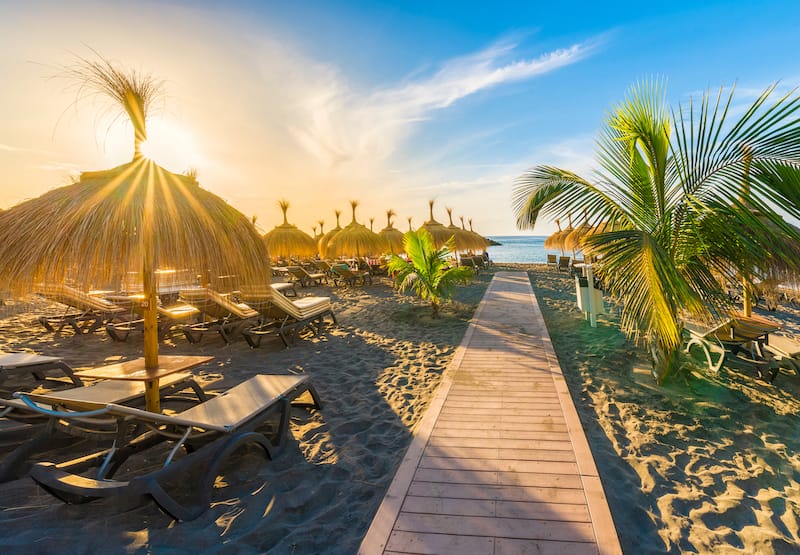 One of the greatest ways to experience Playa de Fañabé is by visiting its oceanfront dining options.
Some of the best include Restaurant Limoncello, which serves up delicious Italian and Spanish cuisine, and El Makami, known for being the best tapas bar in the area.
If you're in the mood for Indian cuisine, Ganges Tandoori offers stunning sea views and delectable dishes. Welcome India and Torviscas Spice Village are also nearby.
Apart from excellent restaurants, Playa de Fañabé is home to great accommodations. Royal Sunset Beach Club, GF Fanabe, and Labranda Bahia Fanabe & Villas are three of the best hotels near the famous beach.
The Royal Sunset Beach Club, only 100 meters from Fañabe Beach, offers apartments with pool or stunning sea views and a well-equipped kitchen, a lagoon-style pool, and a restaurant serving international cuisine.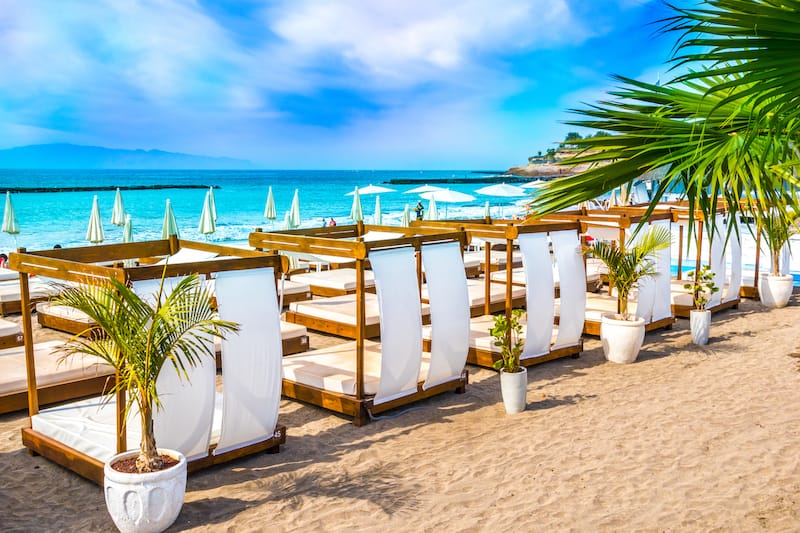 GF Fañabe is a family-friendly hotel with an outdoor pool, a kid's club, and a wellness center. It is also known for its excellent dining options, live entertainment, and adults-only roof terrace.
Lastly, Labranda Bahia Fañabe & Villas is an aparthotel complex that boasts villas with a private balcony and some with a roof terrace.
It also features swimming pools for adults, a separate pool for the kids, and an on-site restaurant serving delicious Spanish and international cuisine.
3. Playa de las Américas
Playa de las Américas on the southwestern coast of Tenerife is the perfect destination for beach enthusiasts.
With a stretch of nearly 500 meters long and 60 meters wide, it has six beaches – three natural and three artificial – each with unique features to suit every preference.
For those seeking a relaxed swimming experience, Playa de Troya is an excellent option with gentle waves that are safe for children.
Families who prefer quieter beaches can head to the northernmost tip of Playa de El Bobo or the southern Playa del Camisón. However, if you're feeling adventurous, Playa Honda offers excellent surf waves, while Playa de Guincho, also known as Playa del Búnker-El Guincho, is ideal for kite and windsurfing.
But the fun continues beyond just the beaches! Playa de las Américas is also famous for its bustling nightlife and shopping scene. If you're up for neon lights and loud music, Veronica's Strip, Starco Centre, and the Patch are the places to be.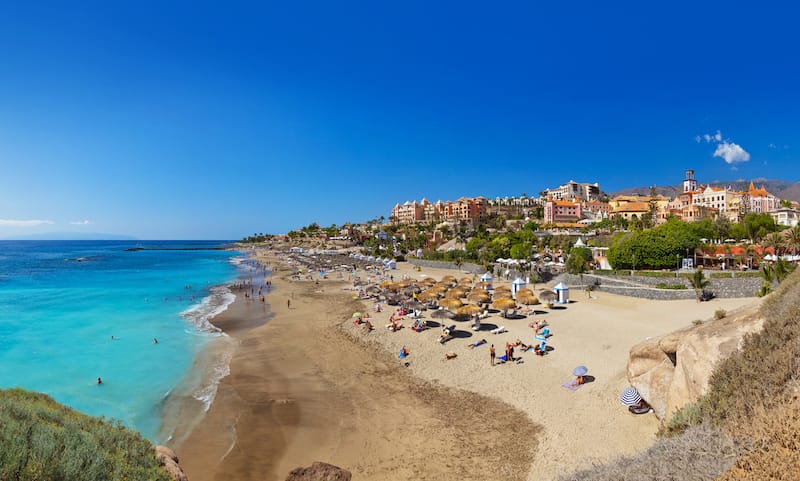 For a more laid-back shopping experience, the town center and Americas Torviscas Market offer a range of products to satisfy your shopping cravings.
When it comes to accommodation, H10 Las Palmeras Hotel is a standout choice. This gem is located just steps from the beach and boasts luxurious accommodations, multiple restaurants, bars, and gorgeous outdoor pools to soak up the sun.
Alternatively, Hotel Zentral Center, a few minutes walk from the beach, is an excellent adults-only option with an outdoor pool, hair salon, solarium, restaurant, and bar to cater to your every whim.
Finally, no trip to Playa de las Américas is complete without indulging in its delicious cuisine.
La Casita de Taby and El Molino Blanco are two top-rated restaurants where you can savor the flavors of Spain and the Canary Islands.
And if you're a sushi lover, you can't miss out on Sushi Amore, where you'll be treated to mouthwatering sushi dishes presented with artistic flair.
4. Playa de la Arena
Nestled on the southwestern coast of Tenerife, Playa de la Arena is a 175-meter long and 75-meter wide stretch of fine dark sand.
The beach is fully accessible, complete with a wheelchair-friendly ramp, lifeguard service during high season, and amenities like toilets, showers, and sunbed and parasol rentals.
Families with children will love Playa de la Arena, but be sure to supervise little ones, as the cove can grow deep quickly. Adventurous travelers can try their hand at windsurfing, water-skiing, or paragliding.
For a closer look at the local marine life, take a few minutes' drive to the Los Gigantes marina for whale- and dolphin-watching tours or other sea excursions.
After a day of soaking up the sun, head to the commercial avenue lined beside the beach to explore a variety of shops, bars, and restaurants.
If you'd like to treat yourself to some delicious local cuisine, El Mesón is a standout option, serving up tasty Spanish and traditional Canarian dishes.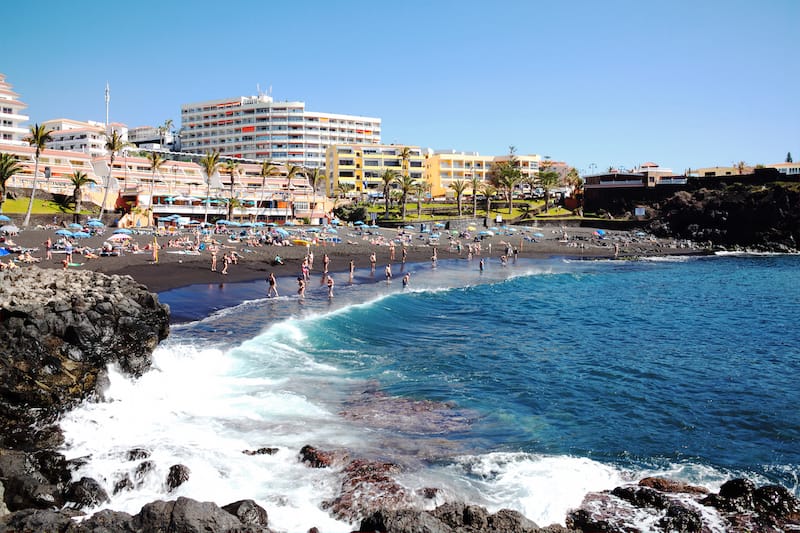 Their paella and chateaubriand are especially lovely. Also try Poggetto Ristorante for expertly cooked Italian favorites like carpaccio, risotto, and pizza.
When it's time to rest and recharge, there are plenty of options to suit any taste and budget. If you're after a serene retreat, the adults-only Barceló Santiago is a top choice.
Perched on a cliff, it boasts comfortable rooms with stunning ocean views, exquisite dining options, and a beautiful outdoor pool that will take your breath away.
And when you're ready to explore the area, the incredible Los Gigantes cliffs and the neighboring island of La Gomera can be admired from almost any angle in the complex.
Alternatively, you might prefer the modern minimalist vibe of the Hotel Landmar Playa La Arena.
This gem is just a short stroll from the beach and features sleek and stylish rooms, several swimming pools (including an infinity pool that seems to merge with the ocean), a relaxing piano bar, and stunning panoramic views of the coastline.
5. Playa Jardín
Located in the charming city of Puerto de la Cruz, Playa Jardín is a stunning man-made beach designed by the renowned artist and architect César Manrique.
This beach is famous for its black sand, lush gardens adorned with native flora, and enchanting waterfalls. Spanning over a kilometer, it comprises three coves, each with unique features.
Playa de Punta Brava, also known as Playa Maria Jimenez, boasts calm waters and is ideal for swimming.
Playa del Castillo, situated closest to Castillo de San Felipe, is the perfect spot for surfing. Meanwhile, Playa Chica, or Playa del Charcon, has moderate currents, and its broad green garden area is the greenest of the three coves.
The beach is connected to a promenade lined with delightful gardens, children's playgrounds, cafeterias, and terraces. Additionally, a stage for concerts is also available.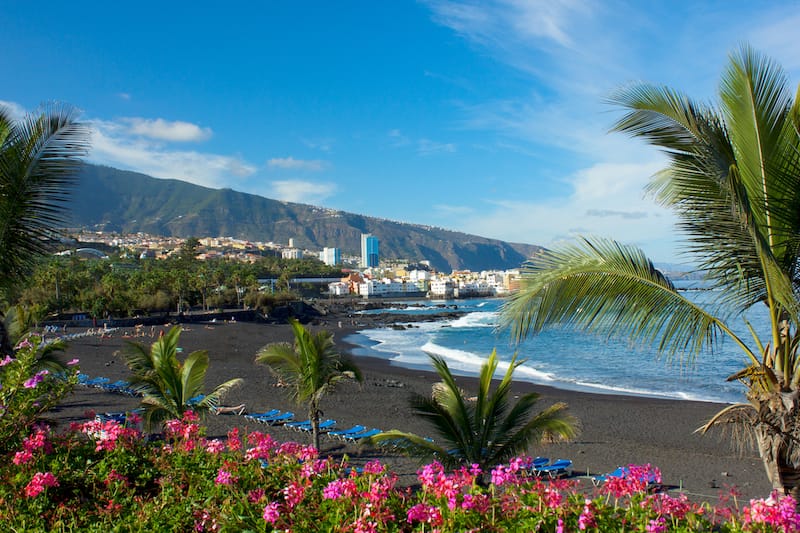 Sunbed and parasol rentals, showers, changing rooms, and facilities for individuals with reduced mobility are all available on the beach.
Several hotels, including the H10 Tenerife Playa, are located in close proximity to Playa Jardín. With elegant and comfortable rooms, it also boasts excellent dining options, a beautiful swimming pool, and live entertainment.
The Sol Costa Atlantis is another fantastic option. This hotel features contemporary and immaculate rooms, a rooftop spa, a charming pool area, and a restaurant.
Numerous dining options are available in the vicinity of Playa Jardín. Brunelli's Steakhouse, a Michelin-starred restaurant, is one of the best restaurants in the area, offering succulent chateaubriand and steak tartare, as well as an impressive wine selection.
Terraza del Mar is another excellent choice, serving a range of Spanish dishes, including the area's finest paella.
6. Playa del Duque
Located in the upmarket area of Costa Adeje, Playa del Duque is a stunning artificial beach that offers a calm and classy environment.
Its 200-meter-long stretch of light sand gently slopes to the calm and shallow waters, making it perfect for a relaxing dip and a child-friendly day out on the beach.
This pristine beach boasts a coveted Blue Flag award for its cleanliness and an impressive array of facilities catering to every need.
You can soak up the sun in style with amenities like lifeguards, showers, changing areas, toilets, and sunbeds. And for those with mobility challenges, the beach also features ramps designed for disabled visitors.
But that's not all – Playa del Duque offers more than just relaxation. Adventure seekers can test their courage by jumping off the cliff at the end of the beach, where the historic Castillo del Duque de Abrantes castle stands tall.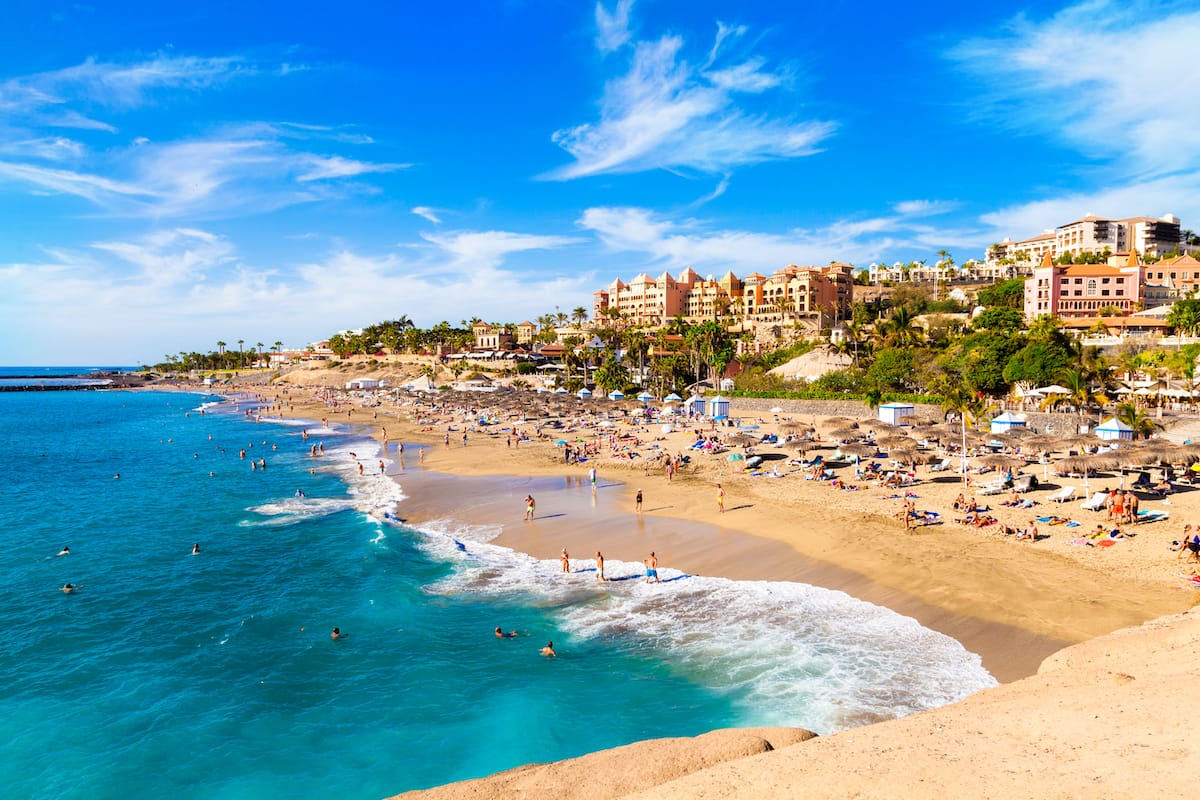 If that's not enough, it offers a range of heart-pumping activities like parascending, flyboarding, and flyfish riding, ensuring that there's never a dull moment.
And when you're ready to take a break from the sea and sand, Playa del Duque is ideally situated close to the upscale shopping malls of Plaza del Duque Commercial Center and El Mirador Commercial Center.
So you can indulge in some retail therapy and sample the best of the local cuisine after a day in the sun.
If you plan to stay in the area, several top-rated hotels are nearby.
The 5-star Iberostar Grand Hotel El Mirador is just a few steps away from the beach and offers luxurious accommodations, fine dining at La Pergola, and a huge outdoor pool.
The GF Gran Costa Adeje Hotel features spacious rooms, excellent dining options, and great outdoor areas with four enormous swimming pools, including a children's pool and an adult-only pool on the rooftop.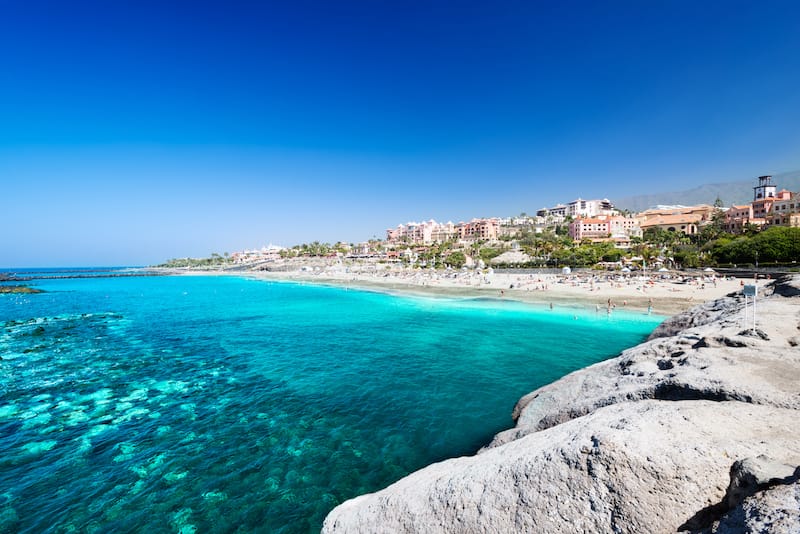 Looking for some delicious dining options near Playa del Duque? You're in luck! Splurge at Restaurante Donaire, one of the best fine dining in all of Costa Adeje, for an exquisite tasting menu.
For a more laid-back gastronomic experience with stunning coastal views, check out Acanto, located just behind El Duque beach. They serve fantastic paella and chateaubriand in salt.
But if you're in the mood for comfort food, Wetherspoons Cafe Bar is the perfect place to indulge in some classic British fare and tapas.
7. Playa de la Tejita
Playa de la Tejita is one of Tenerife's best-kept secrets. Nestled in the sunny south, this stunning beach boasts a staggering 1500 meters of natural sandy shoreline and is one of the longest on the island.
But that's not all! Playa de la Tejita is also beside the breathtaking Montaña Roja Nature Reserve. This old reddish-brown volcanic crater adds a unique touch to the already picturesque surroundings.
Whether you're in the mood for a leisurely stroll or some much-needed sunbathing, Playa de la Tejita has got you covered. The strong winds that whip through the bay make it a haven for watersports enthusiasts, especially surfers and windsurfers.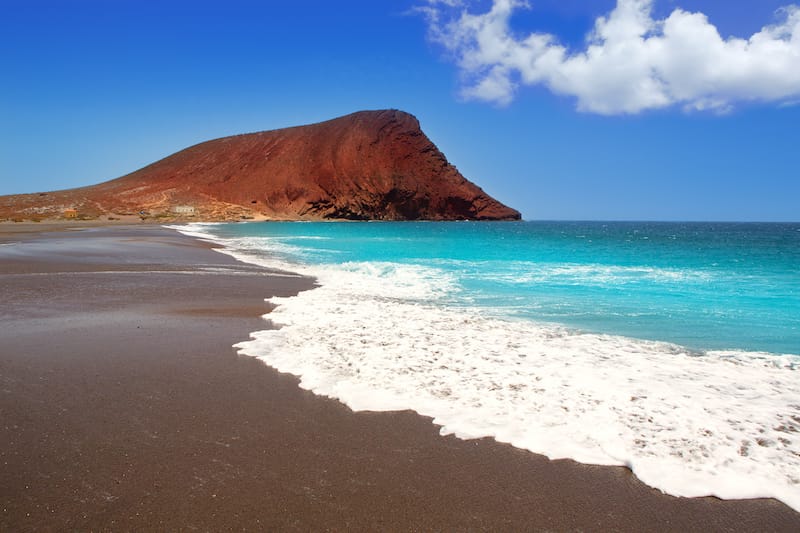 However, parents should note that the waves can be too intense for young children. And for those looking to bare it all, the eastern side of the beach near Montaña Roja is a clothing-optional area.
While there are no buildings or amenities on the beach, except for the small Chiringuito Pirata beach bar, this only adds to its charm as a peaceful and relaxing escape.
For those looking for a bite to eat or a place to stay, nearby towns like Los Abrigos and El Medano offer plenty of options.
8. Playa El Médano
Playa El Médano, the longest natural beach in Tenerife, is where you can experience an exciting water sports adventure or simply bask in the sun with a refreshing drink in hand.
Stretching over two miles, this crescent-shaped beach is spread between El Médano harbor and Montaña Roja, providing an idyllic view of the horizon.
Surfers flock to this beach and call it the "surf city" due to its constant strong breeze and abundance of surf schools and equipment rental shops.
Beachgoers will also find amenities such as showers, changing facilities, toilets, and easy access for those with disabilities. A lifeguard is on duty during the high season to ensure safety. The sand here is unique, not black nor golden, but instead a lovely silver-gray.
Divided into different sections, the first section boasts a promenade lined with shops, restaurants, bars, and cafes. It provides a haven from the wind and waves, making it suitable for families with children. Sunbeds and parasols are also available for hire.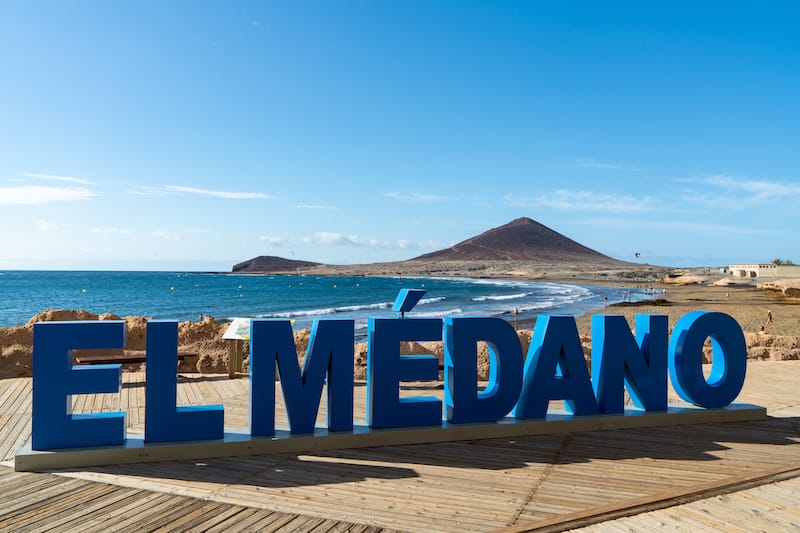 On the other hand, the more rugged and untouched section is the playground of thrill-seekers who enjoy surfing, kitesurfing, and windsurfing.
In fact, international competitions are held here, so you never know who you might see riding the waves. The area near the red mountain is also known as Playa de Leocadio Machado.
Looking for a more adventurous experience? Take a ride on a genuine U-boat from the town harbor, or join a diving school for snorkeling and diving trips.
Calmer spots can be found where you can enjoy the underwater world without crashing with an enthusiastic surfer.
Afterward, visit El Medano's two local markets in the central square for some shopping. The Farmer's Market or Mercado del Agricultor offers fresh local produce and is held every Wednesday morning.
On Saturday mornings, the El Medano market offers gifts, clothing, and handicrafts.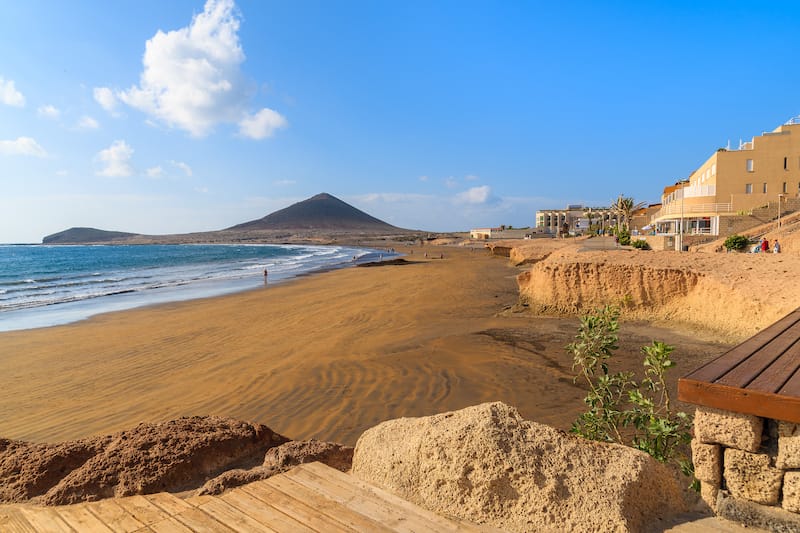 To complete your experience, sample the local culinary scene in some of the best restaurants and cafes near Playa del Médano.
Try El Ancla Médano Restaurante or Cofradía El Médano for fresh seafood, and check out Barrio Cabezo for the best pasta, ravioli, and tiramisu in town.
For accommodations, there are several options, such as KN Hotel Arenas del Mar Beach & Spa, an adults-only establishment with a buffet and à la carte restaurant, pool bar, outdoor pool, a solarium terrace, and gym.
Alternatively, the Hotel Médano is a fabulous option with spacious rooms and a breakfast balcony with direct access to the ocean.
9. Playa de los Cristianos
Los Cristianos is one of the most popular tourist towns in the Canary Islands, and its bustling port is said to be the busiest in Spain.
One of its two golden sand beaches is Playa de Los Cristianos, a stunning golden sand beach that stretches over 400 meters and boasts a wide range of activities for visitors of all ages.
From thrilling water sports like jet skiing and windsurfing to more laid-back pursuits like pedalo boating and kayaking, there's something for everyone at this beach paradise.
If you're looking to explore the ocean further, the beach is just beside the harbor that offers a range of sea excursions, including dolphin and whale watching trips, deep sea safari adventures, lively party cruises, and ferries to neighboring islands.
When it's time to refuel, you won't have to venture far from the beach to find a delicious meal.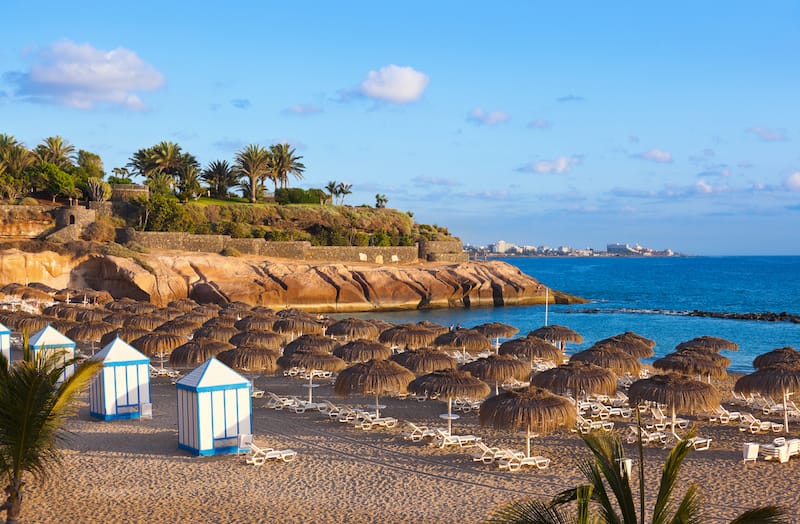 The promenade is lined with an array of bars and restaurants offering everything from authentic Thai cuisine at Thai Rico to mouthwatering Italian and Spanish-style seafood at Ricos. But if you're looking for something truly unforgettable, be sure to try Spice Empire Indian, where you'll find a flavor explosion of unforgettable poppadoms and biriani.
Of course, no trip to Los Cristianos beach is complete without finding the perfect place to stay, and luckily, there are plenty of options to choose from.
For those looking for a touch of luxury, the H10 Big Sur Boutique Hotel is a top-rated choice, featuring bright rooms, exceptional dining options, and a stunning rooftop terrace overlooking the Atlantic.
Alternatively, the Hollywood Mirage offers sprawling apartments with huge balconies, an on-site shop, a restaurant, a poolside bar, and all kinds of entertainment throughout the day, making it a perfect choice for extended stays.
10. Playa de Abama
Playa de Abama is a stunning beach in the southwestern part of Tenerife. It is a hidden gem that's worth the effort to find.
Nestled within the lavish grounds of the Ritz Carlton Hotel, this stunning beach boasts golden sand and crystal-clear waters with breathtaking ocean views and nearby cliffs that will take your breath away.
It may require a bit of navigating through a hotel's private property, but don't let that deter you. Abama beach is open to the public, just like all beaches in Spain, so anyone can enjoy its beauty and tranquility.
Don't let its quiet nature fool you – there's plenty of excitement to be found near Playa de Abama. Golf enthusiasts can tee off at the Ritz Carlton Abama golf course, while adventurous hikers can explore the nearby mountains for stunning island views.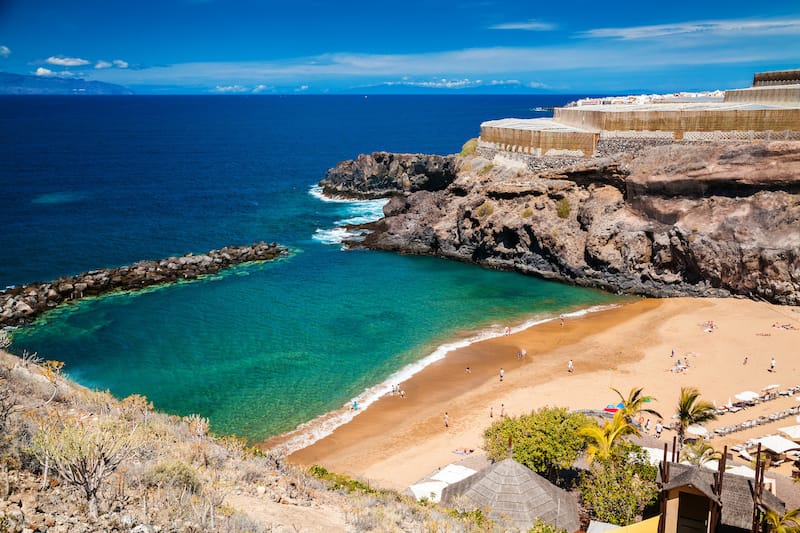 And for those looking for a culinary adventure, there are several restaurants offering both international and local cuisine. Indulge in the delicious Japanese dishes at Kabuki Abama or savor traditional Spanish tapas and seafood at Txoko.
When it comes to accommodations, there are several luxury hotels located near the beach.
The Ritz Carlton Abama boasts spacious and elegant rooms, several swimming pools, and, of course, the famous golf course.
Meanwhile, Las Terrazas de Abama Suites offers huge, beautifully decorated aparthotel units with stunning ocean views and amenities of a private house, as well as a well-maintained 18-hole golf course.
11. Playa de las Gaviotas
The serene paradise of Las Gaviotas Beach is a secluded gem near the capital.
A hidden oasis perfect for those looking to get away from the hustle and bustle of major tourist towns, you'll be awed by the stunning view of the Anaga mountain range, which majestically looms over the fine black sand.
The beach's unique charm and exotic allure are a testament to the unspoiled natural beauty of Tenerife.
Though the waves are usually mild, it's always best to be cautious and check the condition of the water before taking a dip.
Here, you'll find the freedom to enjoy the beach in your own way, as nudism is accepted. If you're looking for more adventure, take a hike in the nearby mountains.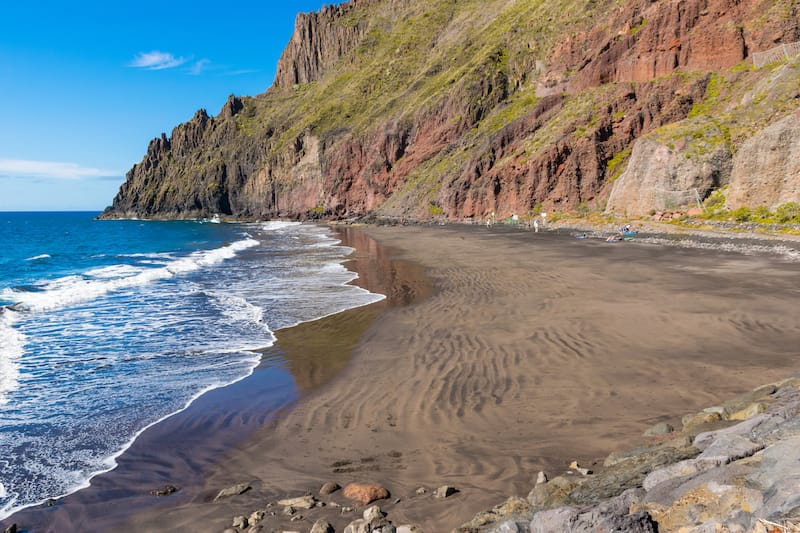 Las Gaviotas is conveniently reachable by car, and plenty of parking space is available right by the beach.
And with waste bins and regular cleaning services available, you can rest assured that you'll enjoy the pristine surroundings without any distractions.
When you're ready to indulge in local flavors, head over to nearby restaurants like Restaurante Los Pinchitos, Restaurante Rincon del Pescador, or La Pandorga. These dining options offer fresh seafood dishes with authentic Canarian flavors.
If you're looking to extend your stay, Apartamentos Playa Chica is only a few minutes walk away from Playa de las Gaviotas.
The oceanfront apartment complex stands right on a black sand beach with an undisrupted view of the Atlantic. Of course, there are also plenty of choices for accommodation in the nearby towns and villages.
12. Playa de Benijo
Nestled on the island's northern coast, Playa de Benijo is a stunning black sand beach that boasts breathtaking views of the Roques de Anaga rock formations.
If you're a nature lover and crave unspoiled beauty, visiting Benijo beach is an absolute must.
Located in the town of Taganana, Benijo is the most remote beach in the area and is accessible by a path with steps or by car. Although not suitable for swimming, the beach is a paradise for sun-worshippers and surfers alike.
The crystal-clear waters and consistent waves make it an excellent spot for surfing, while the picturesque landscapes provide a perfect backdrop for sunbathing or relaxing.
In addition to the beach, there are plenty of activities to enjoy in the surrounding area. Hiking in the nearby Anaga Mountains, exploring the charming town of Taganana, or taking a dip in the natural pools of Roque de las Bodegas are just a few options.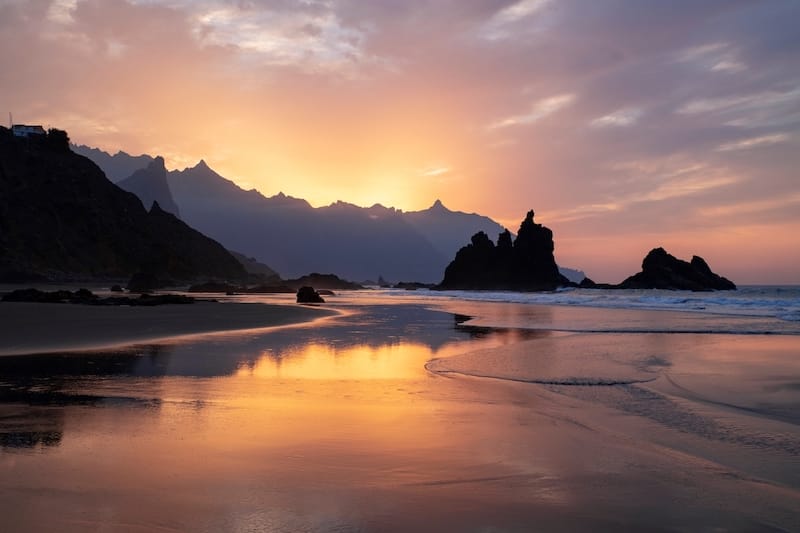 While Benijo beach is secluded and unspoiled, a handful of restaurants and cafes are nearby.
Don't miss the chance to indulge in the mouthwatering local dishes and fresh seafood served at Restaurante La Ola, El Mirador, or Casa Africa – Bar Playa.
If you plan on staying for a few days, rental casas are available near the beach.
However, if you're looking for more than just a comfortable vacation house, you can venture to the nearby towns and villages of La Laguna or Santa Cruz de Tenerife, where you'll find an array of hotels and apartments to choose from.
Did we miss any of the best beaches in Tenerife in this guide?
Let us know your favorite Tenerife beaches in the comments!
More Canary Islands Travel Guides
Pin this Tenerife Beaches Guide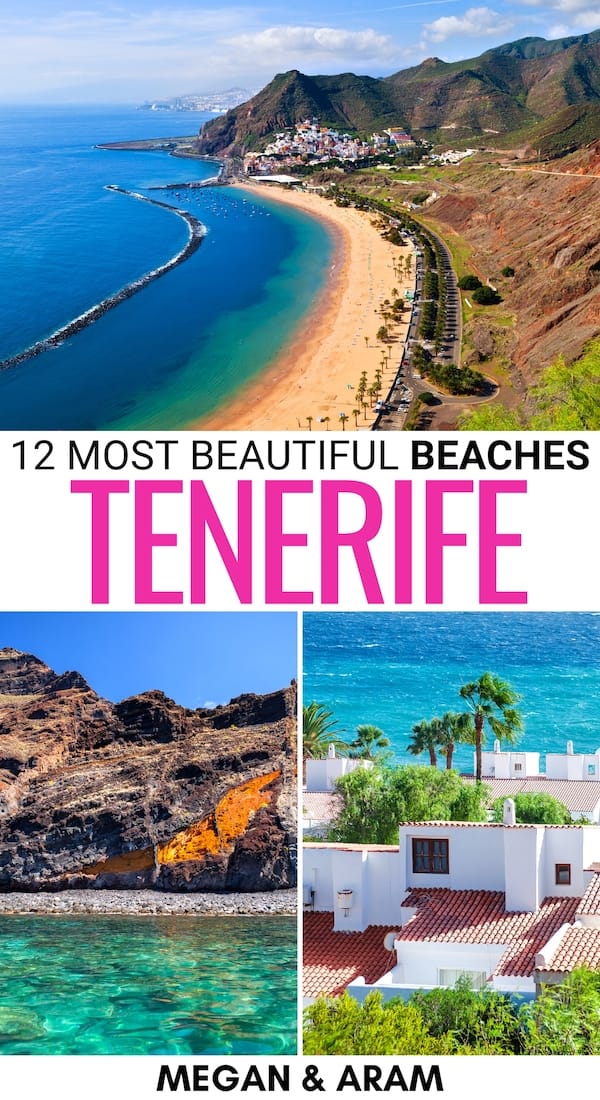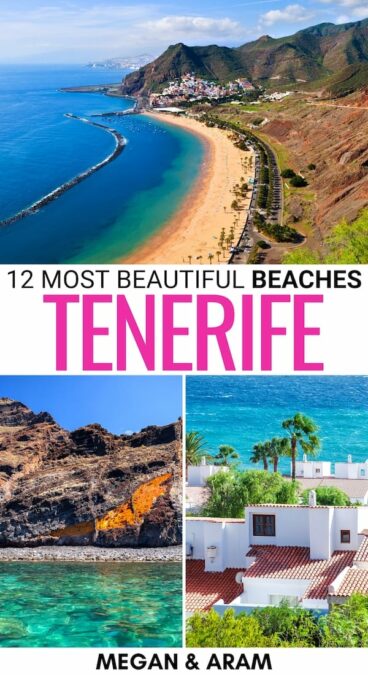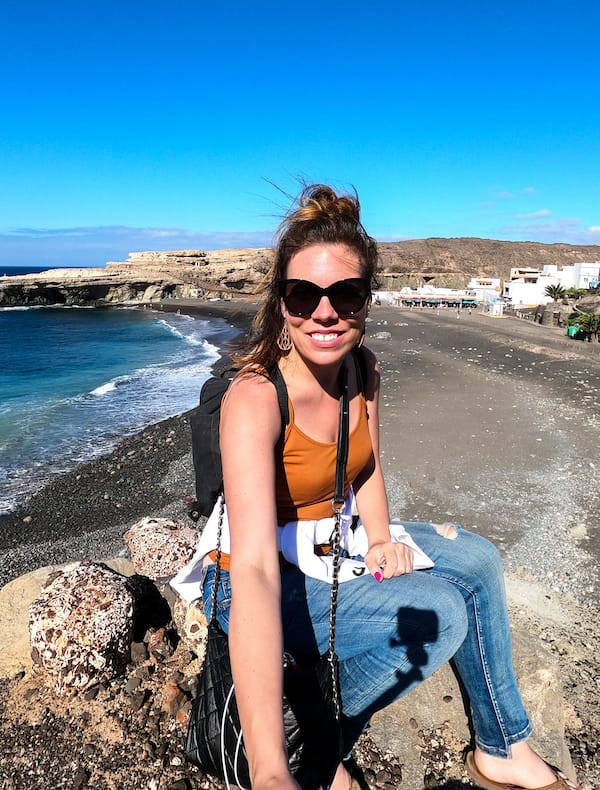 Megan is a travel blogger and writer with a background in digital marketing. Originally from Richmond, VA, she now splits her time between Frankfurt, Germany and Arctic Finland after also living in Norway, Armenia, and Kazakhstan. She has a passion for winter travel, as well as the Nordic countries, but you can also find her eating her way through Italy, perusing perfume stores in Paris, or taking road trips through the USA. Megan has written for or been featured by National Geographic, Forbes, Lonely Planet, the New York Times, and more. She co-authored Fodor's Travel 'Essential Norway' and has visited 45 US states and 100+ countries.