Are you looking for the best places to visit in Europe in January this year?
This guide discusses some of the best places in January in Europe! We have a mixture of places that will suit all travel styles – from the rainy north of Scotland to the dry, enviable temperatures of the South of France!
I have rounded up some of my favorite travel bloggers to help create this diverse list!
Did we miss your favorite place to visit in Europe during January? Let us know your top European winter destinations in the comments. Thanks!
Best Places to Visit in Europe in January
Shetland Islands
Location: Scotland
Average temperatures in Shetland in January: highs of 6C (42F) and lows of 4C (37F); 20 days of precipitation
Recommended by: Kathi from Watch Me See
Spending the dark winter months in the far north of Scotland might not be your first choice, but January is actually one of the best times to visit the remote islands of Shetland.
Every year, on the last Tuesday of January, the people of Lerwick celebrate Up Helly Aa, a festival that celebrates the Viking heritage of the islands and marks the end of the darkest time of the year.
The celebration is led by the Guizer Jarl and his Viking squad, while the rest of the up to 900 participants wear all sorts of homemade costumes.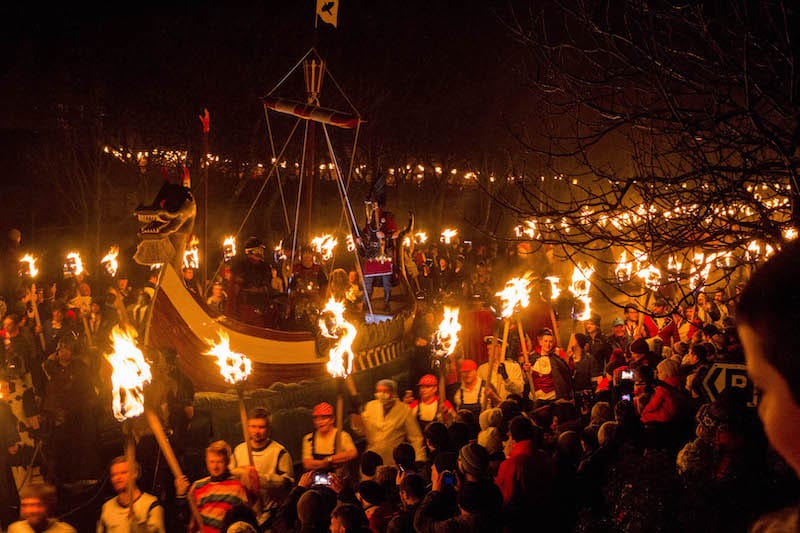 They march in a torchlit procession and onlookers watch as they throw their torches onto a great pyre, setting ablaze a purpose-built wooden Viking ship.
Afterward, the people of Lerwick spread out across several venues and the costumed squads take their turn in each hall to perform a skit or a dance. The entire village joins in on the party that usually lasts until the early morning hours.
It is essential to start planning a trip to Up Helly Aa well in advance to secure accommodation, and wise to spend a bit of extra time exploring the islands.
Lodz
Location: Poland
Average temperatures in Lodz in January: highs of 1C (33F) and lows of -5C (24F); 17 days of precipitation
Recommended by: Caroline from Veggie Wayfarer
The former industrial city of Lodz is located a few hours away by train from Warsaw. As the third largest city in Poland there is plenty to see, do and eat! January tends to be very cold so inside activities are preferential.
Museums worth a visit include Herbst Palace Museum, the Film Museum, Lodz City Museum, and Museum Miasta Lodzi. Kids will love the planetarium EC1 and the former factory now turned museum Centrum Nauki I Techniki EC1.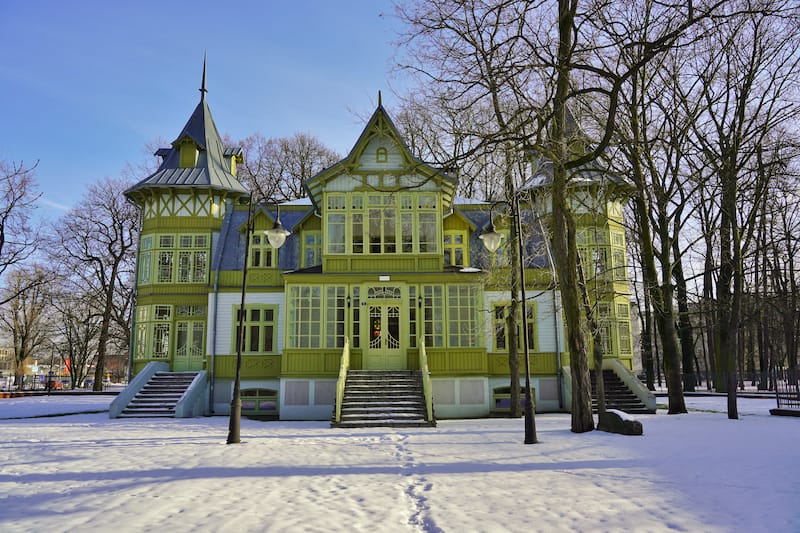 Head over to Manufaktura for a bout of shopping or to keep warm while indulging in some of the city's finest restaurants. Just around the corner, you will also find the prettiest palace in all of Lodz, the Izrael Poznanski Palace.
Bundle up in your warmest clothes and stroll down the Ulica Piotrokowska to take in the opulent mansions of the former factory owners.
Be sure to also check out Rosa's Passage, a little alley of the main road filled with millions of tiny mirrors.
Croatia Istria
Location: Croatia
Average temperatures in Croatia Istria in January: highs of 10C (49F) and lows of 5C (41F); 9 days of precipitation
Recommended by: Emily from Wander-Lush
Croatian Istria is a fine destination for winter sun in Europe – and a great alternative to the Dalmatian Coast.
The weather is crisp (daytime temperatures average 50°F on the coast) and dry, with plenty of blue-sky days and beaming winter sunshine.
January is definitely the off-season, and while it will surely be too chilly for swimming or boating on the Adriatic, there are plenty of other things to do in the region – especially in Green Istria, the inland part of the peninsula.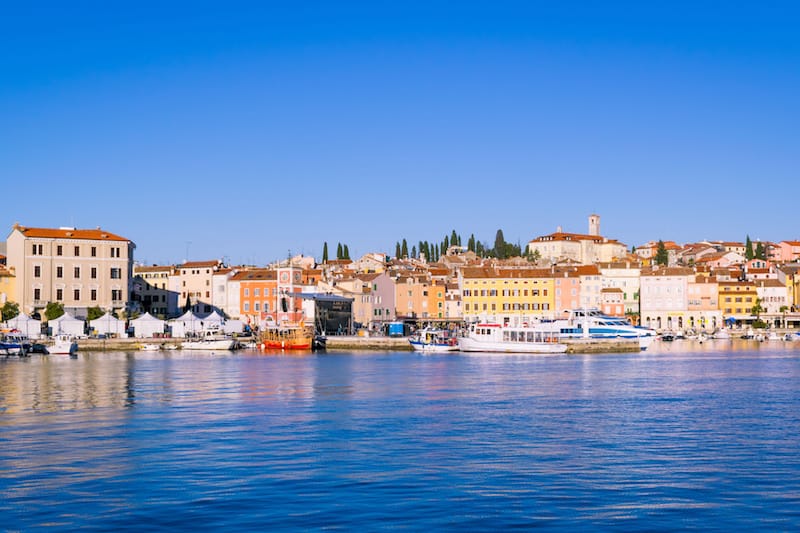 In January, you'll find that the streets of popular coastal cities such as Rovinj are pleasantly quiet, and archaeological sites such as the Pula Arena that are overcrowded in summer are all but empty.
Christmas is a big affair in predominantly Catholic Croatia, and carnivals continue throughout January in the different towns.
January is a great month for foodies, with the Winter Delicacies festival and the Antonja exhibition of wine and olive oil both taking place in Rovinj.
Not to mention that winter is truffle season and the best time to go foraging for white truffles and to taste this delicacy on restaurant menus.
If you're road tripping, you could easily pop up to Piran on Slovenia's Istrian coast, which is also very pleasant in winter and even cross the Italian border to spend a day in Trieste.
Geneva
Location: Switzerland
Average temperatures in Geneva in January: highs of 5C (40F) and lows of -1C (29F); 9 days of precipitation
Recommended by: Editor's choice
Geneva is a beautiful place to visit in the winter with its charming, snowy town and stunning views.
January is a particularly exciting month as Geneva hosts the International Balloon Festival (this year, it's January 21-29, 2023).
This fun festival offers a number of balloon shows and events with a rainbow of colored hot air balloons rising in the sky with a gorgeous mountain backdrop.
While visiting Geneva in winter, make sure to explore the quaint Old Town area, and check out the St. Pierre Cathedral, their main church.
A walk up to the bell tower gives panoramic views overlooking the town, Lake Geneva, and the distant mountains.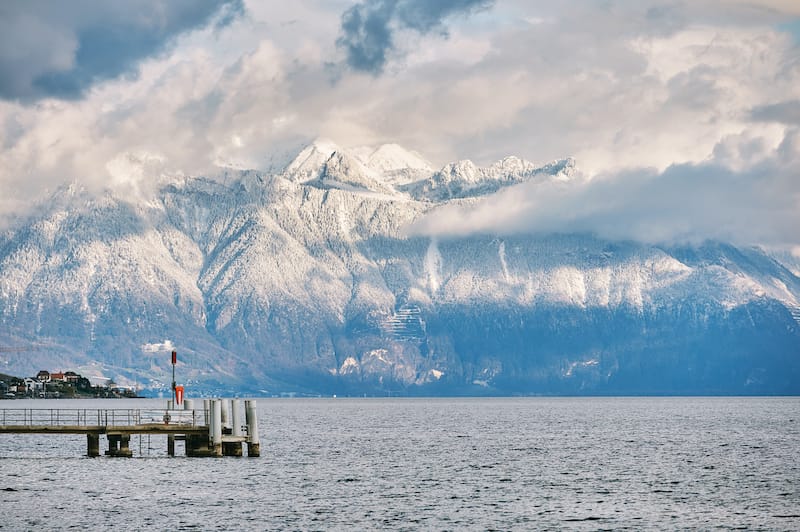 For an interesting indoor activity, visit the Patek Philippe watchmaking museum, the interactive Red Cross museum, or take a tour of the United Nations headquarters.
The Swiss know what to eat to keep warm, so make sure you try their winter specialties, such as cheese fondue and hot chocolate.
If you're a chocolate fanatic, you can take a chocolate tour around town, tasting different types of chocolates at different artisan locations.
For a day trip, consider heading to Chamonix to see Mont Blanc or to Glacier 3000, where you can ski, snowboard, hike on a glacier, or take an exhilarating alpine coaster ride.
Belgrade
Location: Serbia
Average temperatures in Belgrade in January: highs of 5C (41F) and lows of -1C (30F); 7 days of precipitation
Recommended by: Marya from The Beau Traveler
Belgrade in Serbia is where to go if you're looking for something different in Europe in January.
As all Eastern Orthodox churches use the Julian calendar as their liturgical calendar, Serbians celebrate Christmas on the 7th of January instead of the 25th of December.
And because of this, Serbians celebrate New Year twice in January: on the 1st like the rest of the world, and on the 15th to celebrate Serbian New Year.
Don't miss the Open Heart Square at Trg Republike during this festive period!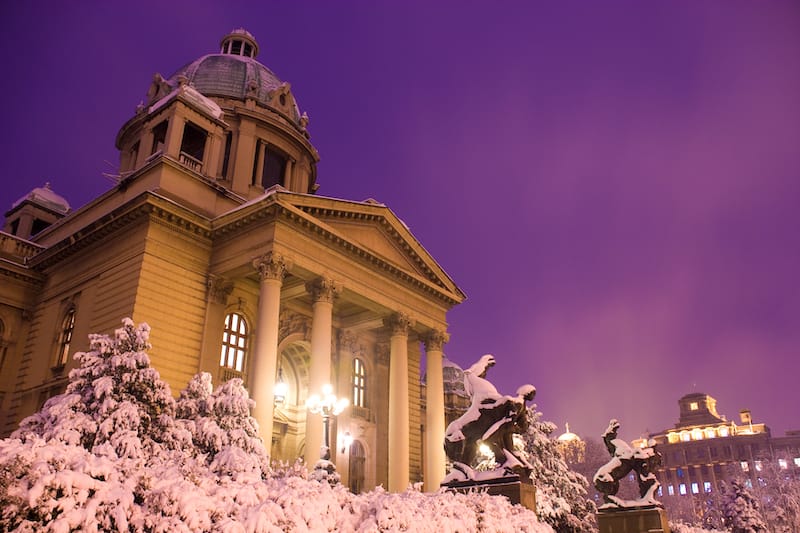 Located on the capital city's main square, you will find a mini Christmas market where you can find some wooden huts full of lights that sell Christmas snacks and souvenirs.
Apart from the regular Christmas tree, the oak tree is also a part of the Orthodox Christmas tradition.
It is a custom in Serbia that families will burn oak branches on the fire for Christmas Eve. Known as badnjak in Serbian, now it's pretty common to see it done in public.
To experience this firsthand, you can head over to St. Sava Temple and spend the authentic Orthodox Christmas celebration in Belgrade!
Puglia
Location: Italy
Average temperatures in Puglia in January: highs of 13C (55F) and lows of 5C (40F); 6 days of precipitation
Recommended by: Editor's choice
Although you won't have the hot beaches or cool nightclubs, for a more tranquil and sunny winter destination, Puglia is where it's at.
Delicious food, great scenery, and emptier towns await to give you a more "authentic" Italian experience without the tourist-packed streets and beaches.
Although it's too cold to swim, make sure to take a stroll down the mostly-empty beaches for fresh air with beautiful views. Dine your way through your Puglia trip when the olives, artichokes, cabbages, and other foods are at their peak season.
Take advantage of the seaside location by indulging in some fresh seafood; locals say the fish is actually tastier in winter than in the summer.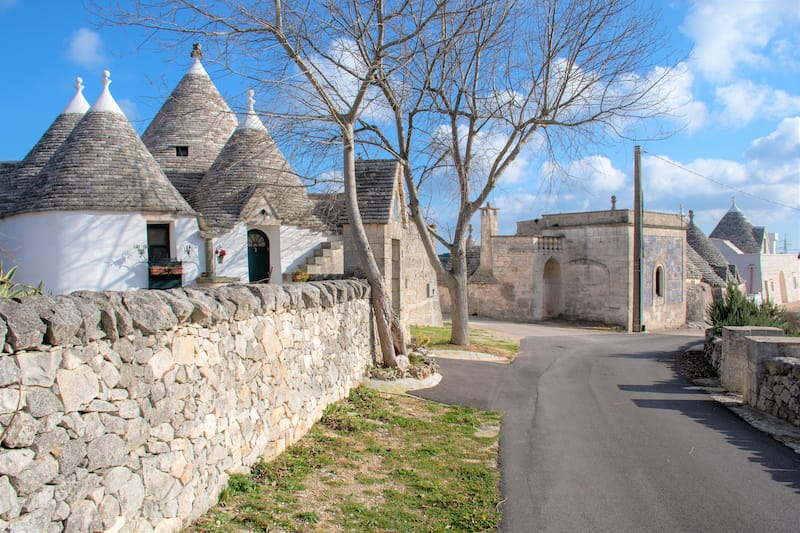 Visit a masseria, of the many fortified stone farmhouses dotted around Puglia, which serve delicious homemade dishes made from local products.
Another great activity to do in the winter is take a cooking class to learn some of the methods and secrets Italians have that make their cuisine so fantastic.
In January, the Puglian town of Novoli hosts the largest bonfire in the Mediterranean region.
The Fòcara Fire Festival honors Saint Anthony, the patron saint of fire. Thousands of people flock to this exciting festival every year.
Seville
Location: Spain
Average temperatures in Seville in January: highs of 16C (61F) and lows of 6C (42F); 6 days of precipitation
Recommended by: Milijana from World Travel Connector
The gorgeous city of Seville is a popular year-round destination that offers much to its visitors.
The best time to visit Seville are spring and autumn, but visiting Seville in January is a special treat because Three Kings Day happens on January 6.
Three Kings Day is one of the most festive holidays in Spain. Kids in Spain get their Christmas gifts on Three Kings Day, not on Christmas day.
This tradition commemorates the biblical event of the three kings who gifted the newborn Jesus.
The Three Kings Day celebration in Seville is one of the best in Spain. The celebration starts with a spectacular parade the day before, on January 5. The parade in Seville is one of the most incredible events in Spain!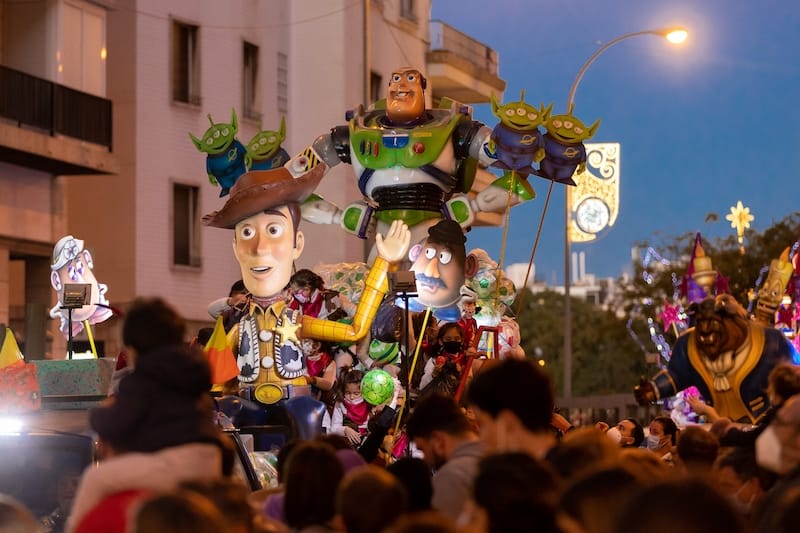 You'll see the Three Kings come on gigantic floats in a procession that goes through the streets in Seville for 6 hours!
The Three Kings on the floats come with the pages and their ladies in carriages, while the Kings throw sweets at cheerful crowds.
However, witnessing the Three Kings Parade is only one of the many amazing things to do in Seville in January. Visiting Seville in January means strolling the famous attractions of Seville with fewer crowds than in spring and autumn.
The Seville Cathedral (which holds Christopher Columbus' tomb) and the Giralda Tower see fewer visitors in winter.
The impressive Alcazar Place is less crowded too in winter as well! And flamenco tapas bars and cozy bodegas are even more appealing on chilly winter days!
Cornwall
Location: England
Average temperatures in Cornwall in January: highs of 9C (49F) and lows of 4C (40F); 16 days of precipitation
Recommended by: Sylvie from Kids 2 Cornwall
Cornwall is a beautiful area located in the far southwest of the UK. When people think of visiting Cornwall, most think of Cornwall in the summer with its stunning white sand beaches and crystal clear waters or its charming seaside towns.
However, visiting Cornwall in January has a different ambiance with a quieter atmosphere, cheaper accommodation prices, and still plenty to do and see.
Take a walk along one of the beautiful Cornish beaches and take in the emptiness while you listen to the crashing waves.
On popular surfing beaches such as Fistral Beach and Porthmeor Beach, watch out for the surfers braving the January sea temperatures. Why not join in with the Cornwall beach clean at Fistral beach on the 15th of January hosted by the Wave Project?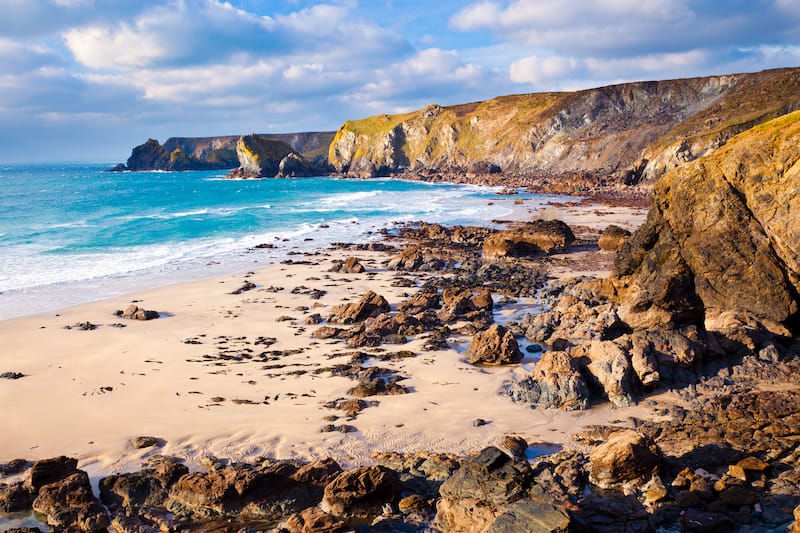 Most of Cornwall's attractions stay open in January – many are also indoors! Enjoy the ice rink and indoor biomes at The Eden Project, or explore the beautiful Lost Gardens of Heligan.
If you visit Cornwall in early January, you'll be able to see the famous Christmas lights before they are taken the town.
Explore the coastal village of Mousehole, which has some of the most beautiful Christmas lights in the UK. In 2023, you'll also be able to catch the end of the magical Mousehole Cat puppet and action production.
January in Cornwall is also an excellent time to try the local cuisine. In addition to exploring the cafes and restaurants, shop local at some of the best Cornwall farm shops, and visit some of the farmers' markets. The St. Ives farmers market is held every Thursday at the Guild Hall.
Zakopane
Location: Poland
Average temperatures in Zakopane in January: highs of 0C (31F) and lows of -9C (16F); 5 days of precipitation
Recommended by: Holly from Four around the World
Zakopane is a beautiful mountain town in Poland that is well-known for its winter sports and quaint wooden houses.
The other drawcard is the location! Zakopane sits at the foot of the breathtaking Tatra Mountains. Two of the most popular Polish Tatras are Gubałówka and Kasprowy Wierch.
Mount Gubałówka is right in Zakopane and is one of the most popular skiing spots, known for its long, wide slopes that are great for beginners and intermediates.
Hike up or take the funicular up where you will find markets and some of the best street food in Zakopane.
The hill next to the funicular is also popular for tobogganing. This is one of the best things to do with kids in Zakopane during winter, but it's big enough to get a thrill at any age.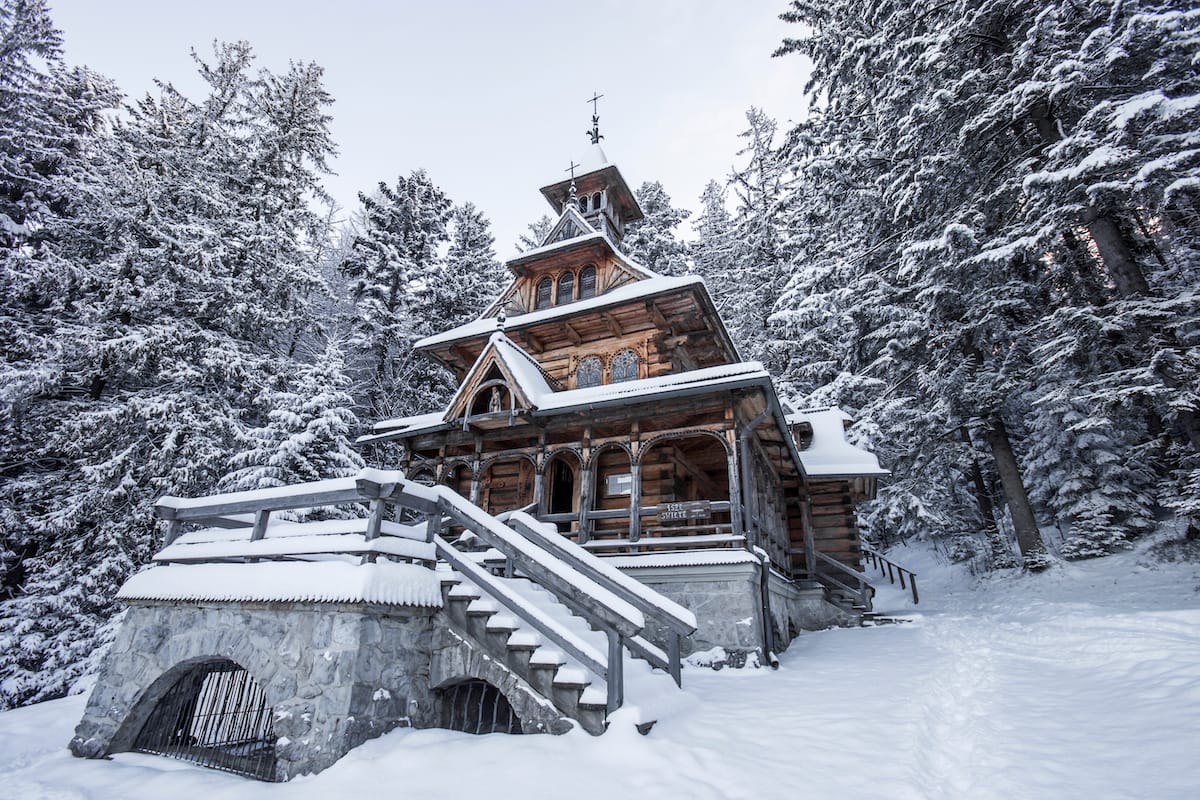 Kasprowy Wierch is a more challenging mountain with steeper slopes better suited to experienced skiers and snowboarders.
Although many visitors come for the cable car experience instead, with a bird's eye view of the snowy mountains, valleys, and forests. It does get really busy in December and January though!
During winter, there are also husky sleigh rides, snowmobile tours, and ice skating, plus the thermal baths are open all year round.
At night, go on an evening sleigh ride through Zakopane National Park with a bonfire and live music from the local Highlanders.
This is a memorable experience with traditional food to warm you up. But for the best pierogi in town, you can't miss out on the ones at Restauracja Gazdowo Kuźnia.
Auvergne Region
Location: France
Average temperatures in Clermont-Ferrand in January: highs of 7C (45F) and lows of -1C (31F); 6 days of precipitation
Recommended by: Patricia from Ze Wandering Frogs
The Auvergne region in the center of France offers a great mix of outdoor activities in January: go skiing at the Mont Dore Ski Resort or Besse Super Besse in the Sancy mountains or cross-country skiing around Chastreix-Sancy.
Also, try snowshoeing on one of the numerous trails around the famous Puy de Dôme, the highest peak of the ancient Auvergne volcano range, a peak that can also be reached via the Panoramique des Dômes Train.
Finally, snowkiting and dog mushing are exciting things to do for those looking for more extreme winter sports in Prabouré and Le Lioran, respectively.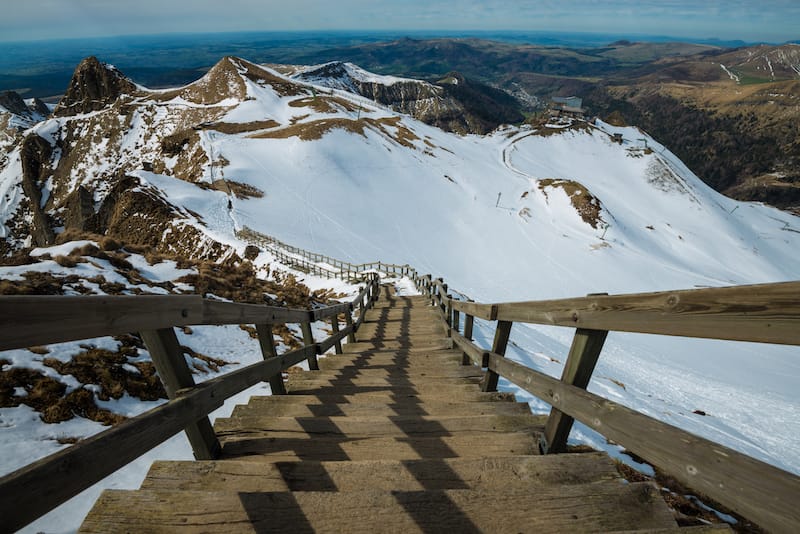 All these activities are easily reached from Clermont-Ferrand, the region's capital, from 30 minutes to a couple of hours drive.
While visiting Clermont-Ferrand, attend the Hivernales du Puy de Dôme until the beginning of January or the Festival du court métrage Clermont-Ferrand (International Short Film Festival) from the end of January to the beginning of February.
And because no trip to Auvergne is complete without tasting some local delicacies, make sure to try Aligot or Truffade, hearty dishes that are perfect for staying warm in the winter!
Amsterdam
Location: Netherlands
Average temperatures in Amsterdam in January: highs of 6C (42F) and lows of 1C (33F); 12 days of precipitation
Recommended by: Roxanne from Faraway Worlds
January is usually Amsterdam's coldest month with relatively few tourists visiting the city, however, there are several events that make a trip worthwhile.
The annual Amsterdam Light Festival runs throughout the month, with colors, lights, and art illuminating the city's streets and hotels.
Spend a few hours following the festival route and finding the light installations scattered around the central neighborhoods in Amsterdam.
For more color and vibrancy, visit Amsterdam on the third Saturday in January for National Tulip Day, when over 200,000 tulips are planted in the city. Head to the pop-up garden in Dam Square to pick tulips of your town!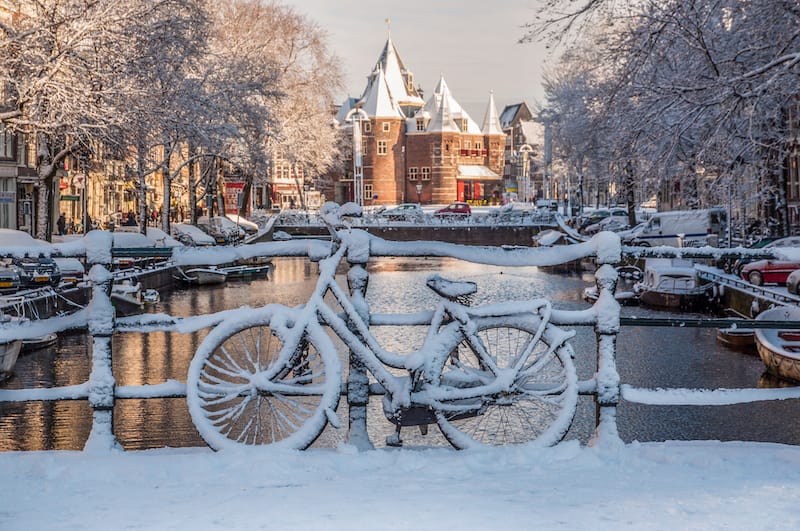 Or if you're after some indoor entertainment, the International Improvisational Theater Festival runs for six days in late January, with teams of actors from several countries performing.
It's a fun, unpredictable way to spend an evening and you can expect to laugh a lot.
January is also the last month to ice skate at the huge outdoor rink in Museumplein – a highlight of winter in the city and a must for any Amsterdam itinerary.
Be sure to get a warm drink and some local food from the nearby stalls when you're there. If you're lucky, you may also see the canals freeze during your visit!
North Wales
Location: United Kingdom
Average temperatures in North Wales in January: highs of 7C (45F) and lows of 2C (36F); 17 days of precipitation
Recommended by: Paulina from the UK Every Day
North Wales is a fantastic place to visit in Europe in January for a romantic winter escape.
Not only mountains in Snowdonia National Park can be covered in white snow, but it is also a time of the year when the Welsh celebrate Valentine's Day!
Surprise your partner on the 25th of January with a unique gift – a Welsh love spoon that lovers often give each other on St Dwynwen's Day.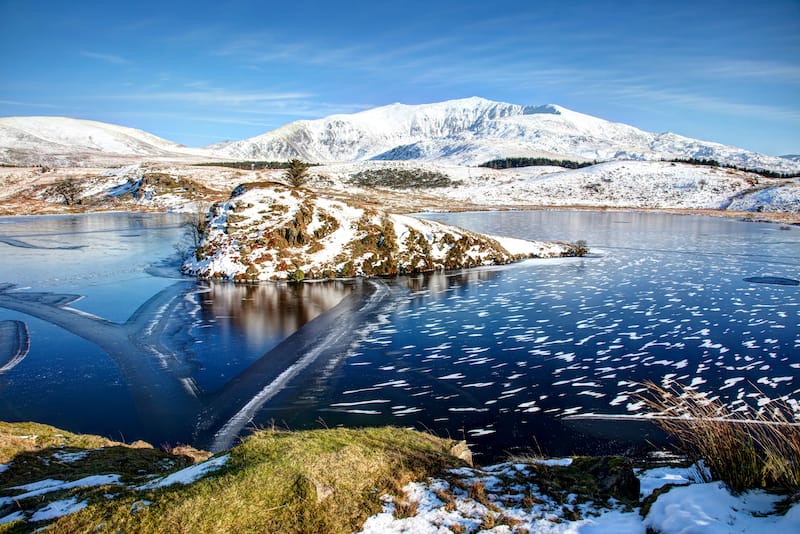 According to the legend, Dwynwen was one of the most beautiful Brychan Brycheiniog's daughters. Therefore, a visit to Ynys Llanddwyn, off the Anglesey Island where she established a monastery cannot be missed.
While many Welsh roads are narrow and can be difficult to drive in winter, North Wales has an expressway that spans from Cheshire to Holy Island.
On the length of 90 miles, you will find plenty of charming towns such as Conwy or Llandudno where you will learn more about Welsh New Year traditions.
Courmayeur
Location: Italy
Average temperatures in Courmayeur in January: highs of 4C (39F) and lows of -1C (29F); 10 days of precipitation
Recommended by: Mike from Live Travel Teach
Courmayeur, Italy is one of the premier European destinations for mountain adventures.
Possibly more famous for the summertime Tour du Mont Blanc but thankfully those trails traverse many ski resorts with fantastic gondolas and ski lifts.
Courmayeur has 3 resorts of its own and the Aosta valley sports 24 different ski resorts! You can easily get to the top of many mountains for a day on the slopes making it a dream January vacation for me.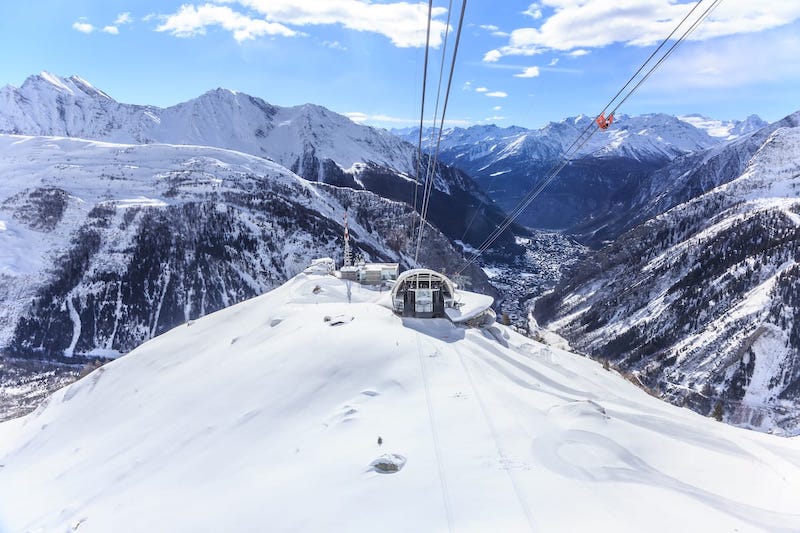 There are countless hotels for you to choose from in this cute alpine town.
Sitting beneath the southern face of Mont Blanc and with so many resorts, it's no wonder why it's a hotbed for winter sports and festivals.
In addition to being at the base of many gondolas, the old town center is full of shops, restaurants, and hotels. Whether you want some Italian gelato, local pasta or shopping Courmayeur has what you need.
Bruges
Location: Belgium
Average temperatures in Bruges in January: highs of 7C (45F) and lows of 3C (38F); 12 days of precipitation
Recommended by: Paulina from Paulina on the Road
Bruges is located in the West Flanders area of northern Belgium and is considered one of the most beautiful cities in the country.
It was honored as a UNESCO World Heritage Site and is known as the Venice of the North. It is famous because of the peaceful canals with lined chocolate box houses, beautiful landscapes, and medieval architecture.
The city is worth visiting in January as it resembles the wintery scenes from a movie.
From the rightly preserved gild houses around the Market to strolling around Streenstraat, everything feels like a traditional holiday time. And, if you're lucky, the Christmas decorations will still be up!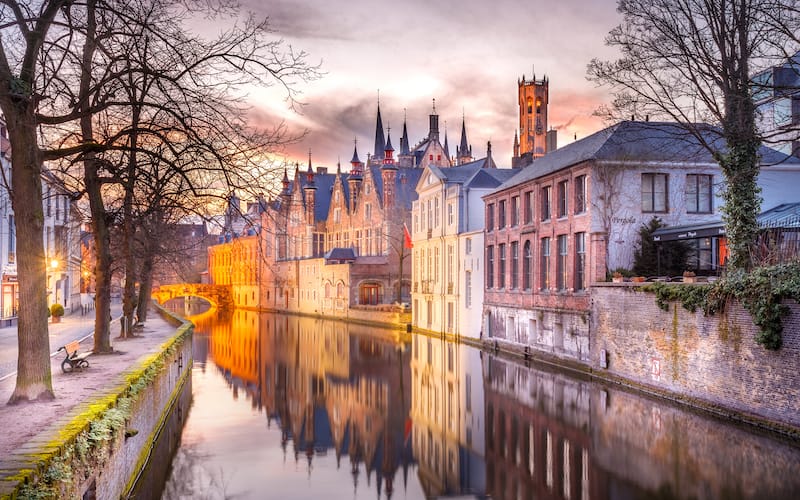 When you are there, start by exploring the Medieval Bruges Market Square.
The Bruges Markt is where you can explore breathtaking Bruges Belfry and the reserved West Flanders Provincial Court Building.
Continue the winter exploration by climbing up the Belfry of Bruges to enjoy the 360-degree views of the city.
Your visit to this city is incomplete without a cruise on the canals. Explore Bruges by boat and your trip to this heavenly destination is made!
You may have discovered many beautiful cities in Belgium, but Bruges will definitely take your heart.
Zell am See
Location: Austria
Average temperatures in Zell am See in January: highs of 0C (32F) and lows of -6C (20F); 13 days of precipitation
Recommended by: Lara from The Best Travel Gifts
If you are looking for one of the best places to ski in Europe in January, Zell am See in Austria is the place to go.
It has a relatively low base (760 m) and the highest lift will only take you to 2000 m. This is why January is the best month to visit, as it's one of the coldest months with the most snowfall.
Its location at Lake Zell is what makes it such as unique ski resort. As you are making your way down the slopes you are rewarded with a beautiful view of the lake in the valley.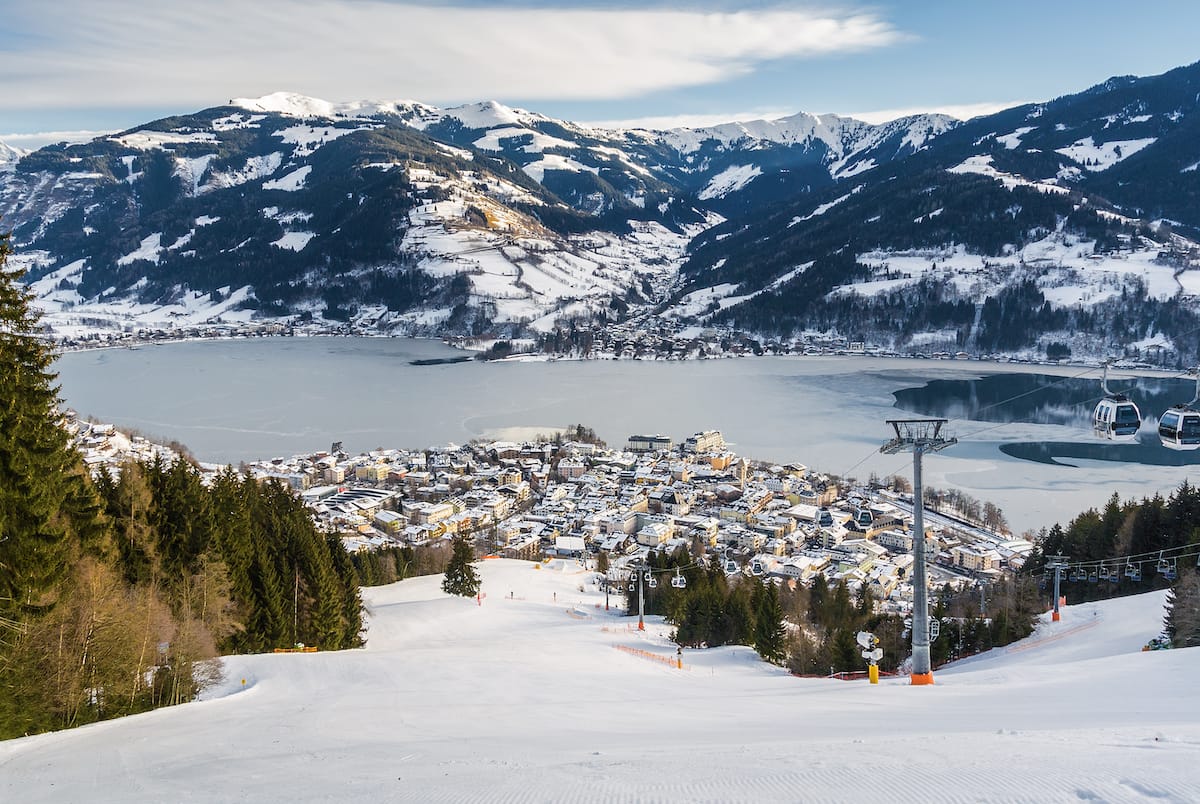 You will find no less than 408 km of slopes that are mainly aimed at beginner and intermediate skiers and snowboarders.
If you want to do something different for a day, you can also go hiking, ice skating, or explore Zell am See town to score some traditional Austrian souvenirs and try a delicious kaiserschmarrn at Restaurant Steinerwirt.
Two cool events in Zell am See in January, are the Spartan Winter Obstacle Race and the GP Ice race which takes place in Zell am See every last weekend of January and includes pro-racers like Hamilton.
Paris
Location: France
Average temperatures in Paris in January: highs of 8C (46F) and lows of 3C (37F); 9 days of precipitation
Recommended by: Lena from Salut from Paris
One destination not to miss in January is certainly Paris.
Especially if you are keen on seeing France's capital without the crowds that are flocking the boulevards at any other time of the year! Paris in January is cold, but that shouldn't stop you.
Thanks to the many outstanding museums like the Louvre (of course!), the Musée d'Orsay, or even the lesser known ones like the Musée Carnavalet about the history of Paris, you won't need to count on spending too much time outside!
January is also wonderful if you are looking for good deals because it's the time for the long-awaited winter sales!
It's best to reserve an entire day for the big department stores like Printemps and the famous Galerie Lafayette.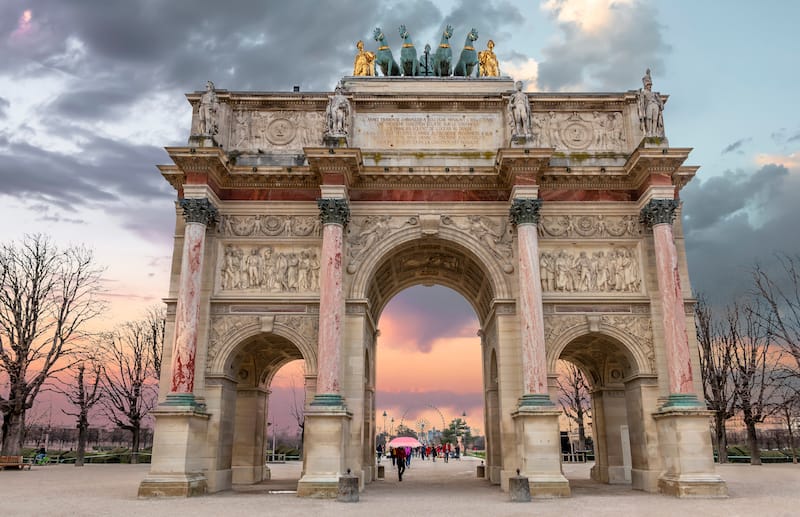 When visiting the latter, take a moment and head up to the rooftop for amazing views over Paris and the Eiffel Tower.
For everyone interested in the culinary side of town, get yourself a Galette du Roi from one of the outstanding bakeries in Paris.
It's a frangipane-filled puff pastry with a baked-in little figurine (fève) that is traditionally eaten on Epiphany. If you are the lucky one to find the figurine in your slice, you're the king or queen of the day.
If you're looking for something cool to do near Paris, head on a day tour of Champagne country!
Tromso
Location: Norway
Average temperatures in Tromso in January: highs of -1C (30F) and lows of -5C (23F); 13 days of precipitation
Recommended by: Allison from Eternal Arrival
One of the best places to visit in Europe in January is Tromso, Norway! January is a great month in Tromso because all the winter activities you can do there are at their peak.
There is typically enough snow to do things like go dog sledding and snowmobiling, and the whale watching tours still depart until the end of January to go whale watching in Skjervoy.
In January, the northern lights are frequently visible since nearly most of January is still in "polar night" when the sun never rises above the horizon.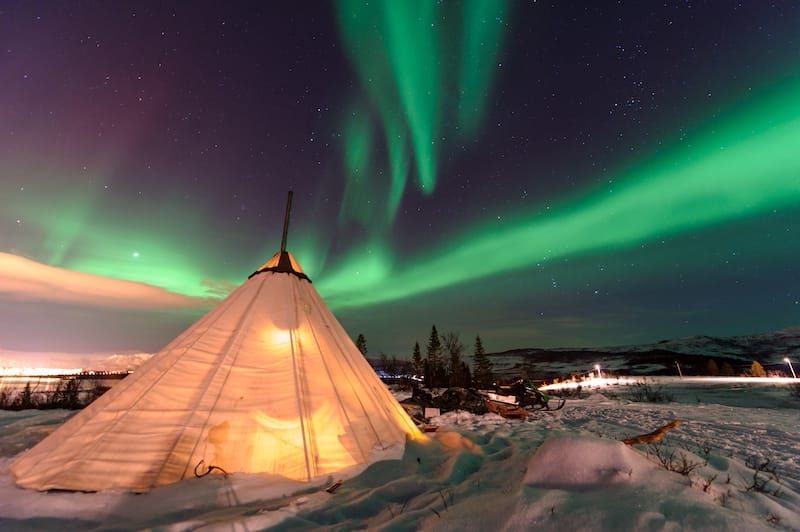 Also in January, some seasonal-specific attractions are able to be visited, like the annually-rebuilt Tromso Ice Domes about 1.5 hours outside the city.
The last week of January also celebrates the Northern Lights Festival, a music festival featuring an eclectic array of styles from jazz to classical to modern.
You can also find Northern Lights Concerts at the famous Ishavskatedralen four times a week!
Malaga
Location: Spain
Average temperatures in Malaga in January: highs of 17C (62F) and lows of 8C (46F); 5 days of precipitation
Recommended by: Paulina from Visit Southern Spain
Malaga is the capital of the Costa del Sol. It is known to be the new Barcelona because it has a great cultural scene and is considered to be one of the most Cosmopolitan cities in Southern Spain.
It is a city with a mix of historical significance and modern culture. January in Malaga is a great time to catch some winter sun. Be ready to enjoy its historical monuments, beaches museums, and more.
The climate adds to the diversity of the city. Malaga gets lively in January especially because of its events.
One of the most celebrated events in January is the Three Kings Parade. You can enjoy this event with your kids by watching the cavalcade.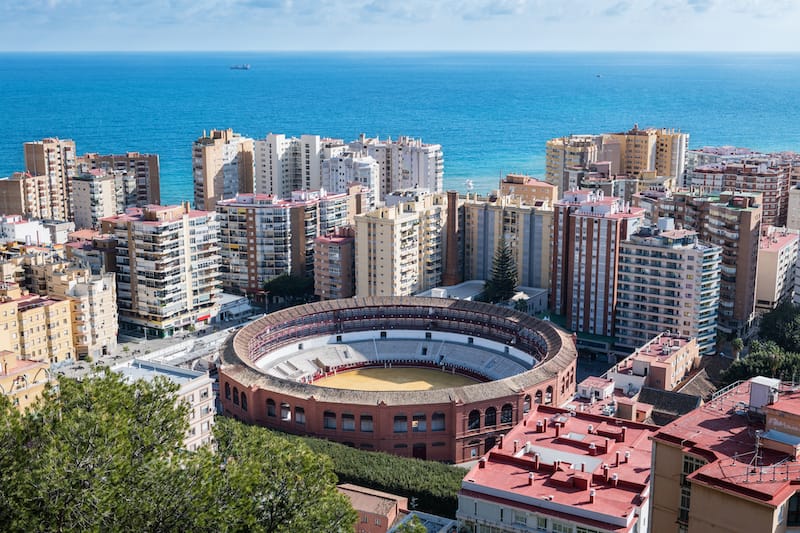 The city offers a lot of things to do during this time. You can start by tasting some of the best winter foods in Malaga such as the gazpachuelo. It is a traditional dish that is served piping hot with fish.
Head to Gibralfaro Viewing Platform or Muelle Uno for a beautiful winter sunset.
For sunrises, the western seafront is the right choice. Do not forget to give yourself some shopping therapy during after-Christmas market sales.
Wondering where to stay in Malaga? Choose Hotel Miramar for a unique experience!
Garmisch-Partenkirchen
Location: Germany
Average temperatures in Garmisch in January: highs of 3C (37F) and lows of -6C (21F); 10 days of precipitation
Recommended by: Soujanya from The Spicy Journey
The Garmisch Partenkirchen region in the state of Bavaria in South Germany is famous not only for its natural beauty, lakes, gorges, and idyllic towns but also for winter spots in late December and January.
One of the best things to do in Garmisch in winter is to visit Zugspitze – the highest point in Germany.
A cable car from the Zugspitze and Eibsee parking lot goes all the way up to the top where you'll get gorgeous views of the Bavarian Alps covered in snow.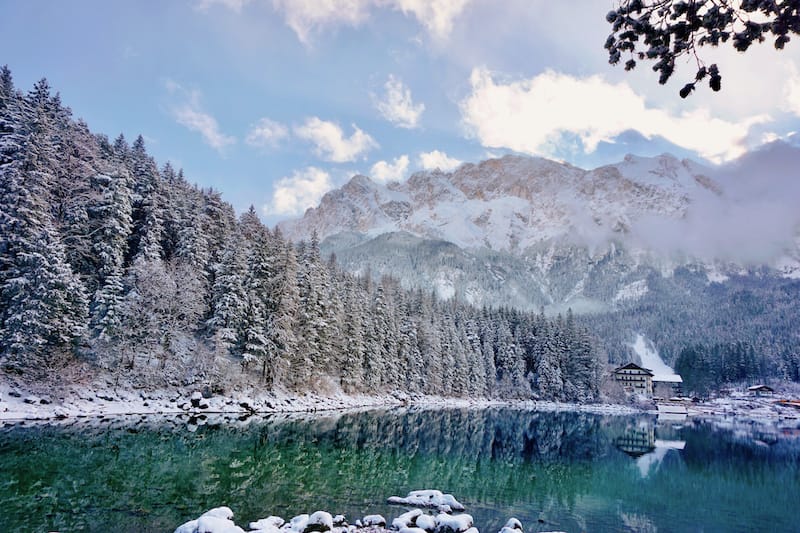 While you're here, it's worth walking around Eibsee – the most beautiful lake in Germany.
The Patnach-klamm gorge is also worth visiting in January as the water turns into ice so it's fun to walk along the rails to see the cool icy effect all around.
There are 2 major spots to do skiing or snowboarding in Garmisch Partenkirchen – Garmisch Classic and Zugspitze.
One of the highlights of Garmisch in January is the Olympic Ski Jump competition that is held on New Year's day each year.
Apart from this, there are many ice skating arenas, ski tours, night sledding, and snowshoeing possibilities in Garmisch Partenkirchen.
Antibes
Location: France
Average temperatures in Antibes in January: highs of 13C (55F) and lows of 5C (42F); 6 days of precipitation
Recommended by: Christine from Journey to France
Are you looking to experience local French life and spectacular Cote d'Azur scenery during the winter?
Visiting Antibes in January, you will realize that it is rather lovely. An ideal blend of charming cobblestone streets and some wonderful beach resorts, Antibes is a thriving and culturally rich seaside town that's perfect for a relaxing winter holiday.
Antibes is one of those rare places where you can hop in the car on a sunny winter morning and be in the Alps within 90 minutes.
After skiing in the mountains, you can easily drive back to the seaside and spend the afternoon relaxing while gazing up at the peaks. The popular ski areas of the Cote d'Azur are Auron, Isola 2000, and Valberg.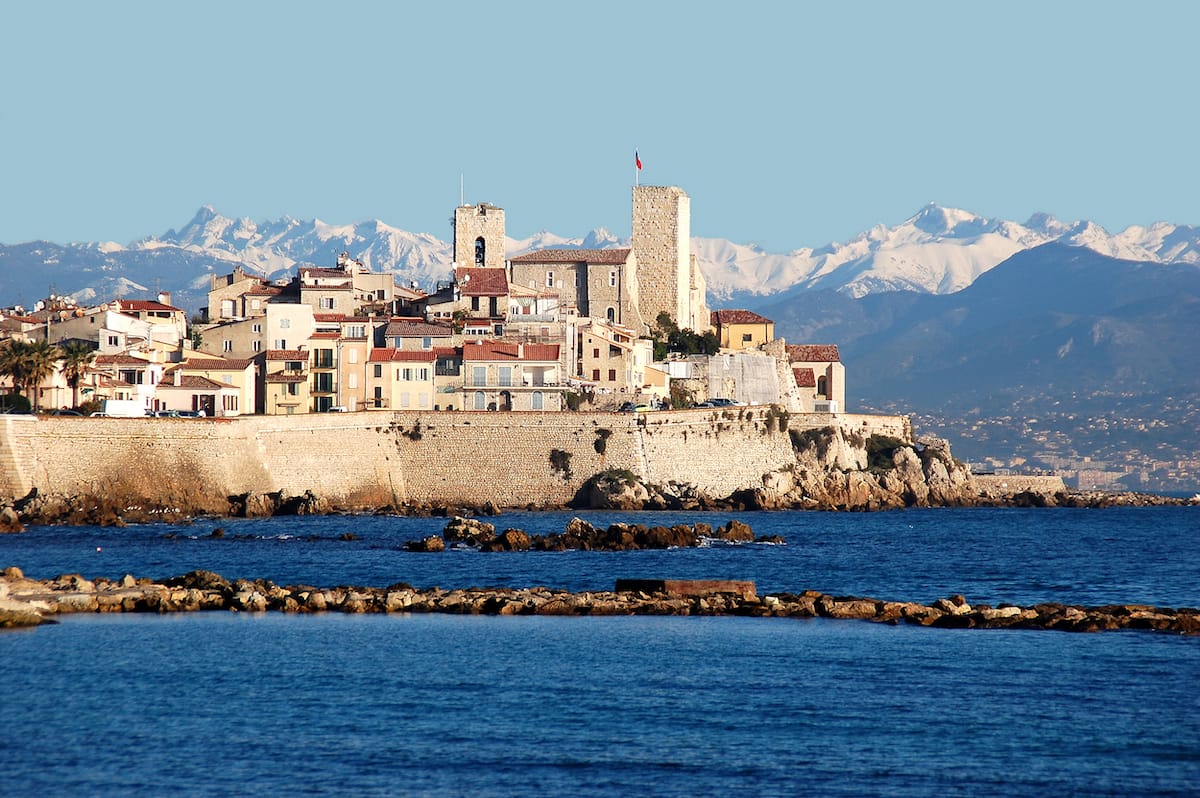 And yes, Antibes has some fabulous sunny beaches like Plage de la Gravette and Place Nationale, perfect for soaking up some warm winter rays in the wonderful south of France.
In the afternoons, take a scenic drive along the Route du Mimosa. Enjoy the empty roads this winter and admire the Mediterranean environment as you travel through the winter blanket of mimosa blossoms.
Just seeing the hills covered with golden blossoms above the deep blue water would be worth the trip here in the winter.
Conveniently located on the Cote d'Azur between Nice and Cannes, Antibes is less than thirty minutes from Nice Côte d'Azur Airport and Gare de Nice-Thiers.
Athens
Location: Greece
Average temperatures in Athens in January: highs of 13C (56F) and lows of 7C (44F); 5 days of precipitation
Recommended by: Monique from Trip Anthropologist
Athens is a global city bursting with ancient ruins that millions of tourists queue in long lines to see each year. It is also sweltering in the peak European summer season.
There are lots of advantages to seeing Athens in the quieter winter months and the city has religious feasts over this period so there is always something exciting happening.
Visiting Athens's ancient sites and the Acropolis Museum is an unhurried and stress-free experience without the heat, the queues, and the people standing in front of the monuments taking selfies!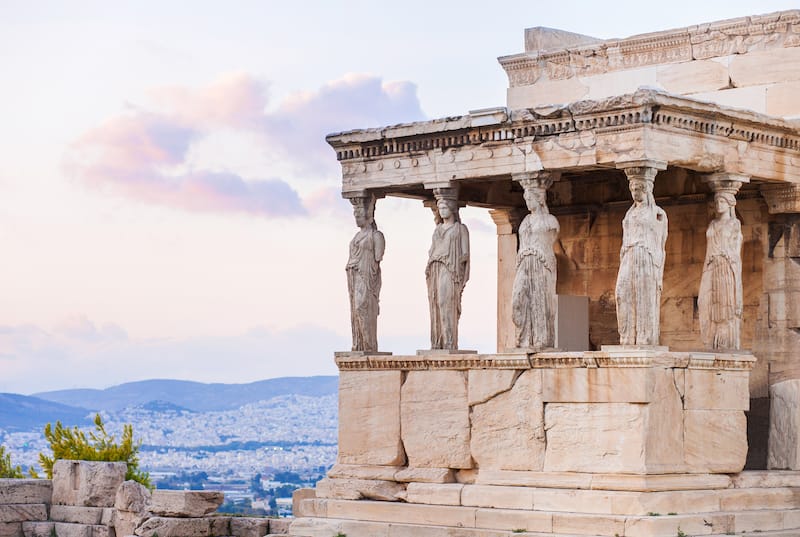 Christmas is Greek cookie season and the butter cookies with toasted almonds (Kourambides) can be found in any bakery or pastry shop in Athens.
Following Christmas is the spectacular New Year's Eve fireworks display above the Acropolis, and then on 6 January, Epiphany is celebrated.
Epiphany has several traditions that make Athens a fun place to be on January 6. Priests throw crosses into the harbor and young men dive in to find them.
They are also thrown into fountains. Children and priests go from house to house singing carols and it's a national holiday.
Zermatt
Location: Switzerland
Average temperatures in Zermatt in January: highs of 1C (34F) and lows of -7C (20F); 7 days of precipitation
Recommended by: Giorgy from G-Extreme Travel
One of the best places to visit in January in Europe is Zermatt, located in the southern Swiss canton of Valais. It is also one of the most walkable cities in Europe, even in the winter months!
One of the most notable things about Zermatt is that you can see the famous Matterhorn peak in the distance.
Zermatt is a renowned place in Europe for skiing and snowboarding, but one thing that is overlooked there is that an area is a fantastic place for winter hiking on snowshoes as well as ice climbing!
The Matterhorn Glacier Paradise, also known as Klein Matterhorn, is not to be missed.
The Swiss cable car reaches a height of almost 13 thousand feet, making it the highest in Europe.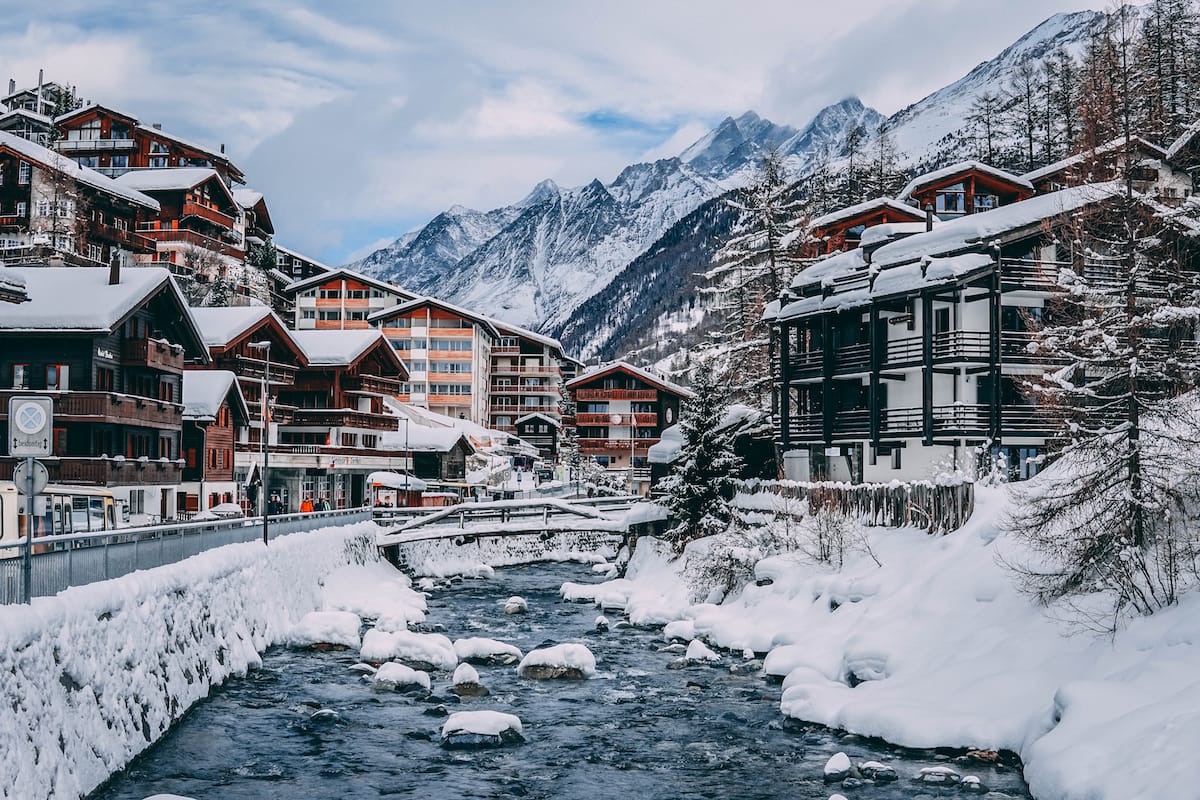 Upon reaching the top, there is a spectacular view of 14 glaciers and 38 mountain peaks from the Panoramic Platform, which is only open on days with good weather.
A few other places to check out and things to do on your Zermatt January trip are the Glacier Palace, snow tubing, the cogwheel railway to Gornergrat, and more.
Three are also restaurants at Riffelalp and Riffelberg where you can warm up with some delicious fondue.
If you're hanging out in the city center of Zermatt, don't miss out on a visit to the Matterhorn Museum. The interactive museum provides insight into Valaisian village life, mountaineering, and more.
There are plenty of cozy places to stay throughout, but definitely consider Hotel Bellerive in Zermatt, which is one of the most beautiful boutique hotels in the city.
It is merely a stone's throw from legendary Whymper Stube, a place renowned for its fondue and raclette.
Belfast
Location: Northern Ireland
Average temperatures in Belfast in January: highs of 7C (45F) and lows of 4C (38F); 15 days of precipitation
Recommended by: Allan from It's Sometimes Sunny in Bangor
January is a lesser visited month in Belfast which works well given the hotels are cheap and there are always discounts on city and spa breaks during this time.
And while many visitors will be on wider bus tours to explore the famous Game of Thrones filming locations during this atmospheric time in Northern Ireland, others will be seeking the comforts of the indoors.
Belfast Christmas Market, unfortunately, shuts up shop on Christmas Eve but the city-wide decorations remain and the seasonal festivities instead move to the famous Irish bars and Belfast pubs in January.
The liveliest area would be the cobbled 'Cathedral Quarter' with well-known bars including the Duke of York, as well as regular live music at the Harp Bar.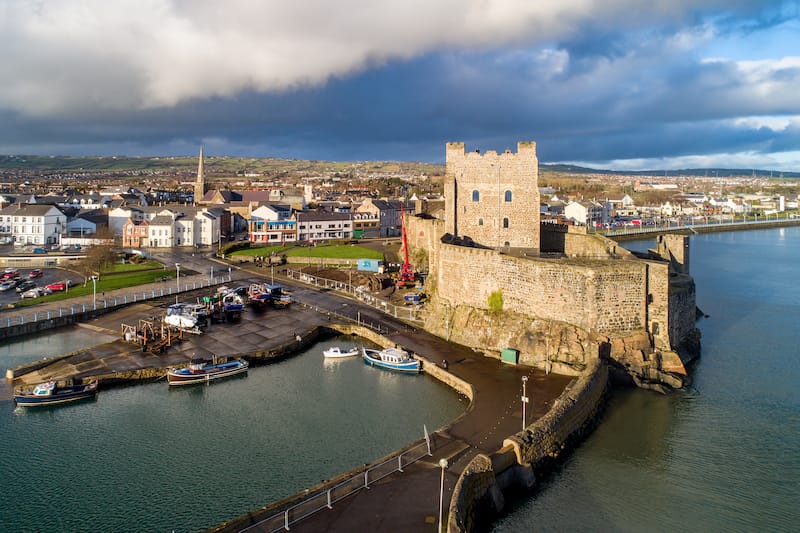 January is also a busy time for the Grand Opera House with a regular program of drama, opera, comedy, and musicals including Sister Act The Musical Tour as well as regular comedy shows at the Waterfront Hall.
Then, there are many activities and events for families around the Titanic Quarter at W5 and Vertigo.
Another recent local interest would be the 25-minute train ride to neighboring Bangor-by-the-Sea which was awarded city status at the Queen's Jubilee in 2022.
Bergen
Location: Norway
Average temperatures in Bergen in January: highs of 4C (39F) and lows of 0C (32F); 18 days of precipitation
Recommended by: Editor's choice
Bergen is full of fun winter activities in January. Layer up and head out for some outdoor fun, whether it's a stroll around town or near the old harbor Bryggen (a UNESCO World Cultural Heritage site!), or skiing, hiking, or sledding in the surrounding areas.
Ride up the Floibanen funicular to enjoy beautiful views over Bergen and stay for a cozy drink at the cafe. Don't miss out on exploring the gorgeous fjords by boat.
Fjord cruises run all year long so you can take advantage of the low crowds in January and enjoy the stunning beauty of Norway's fjords.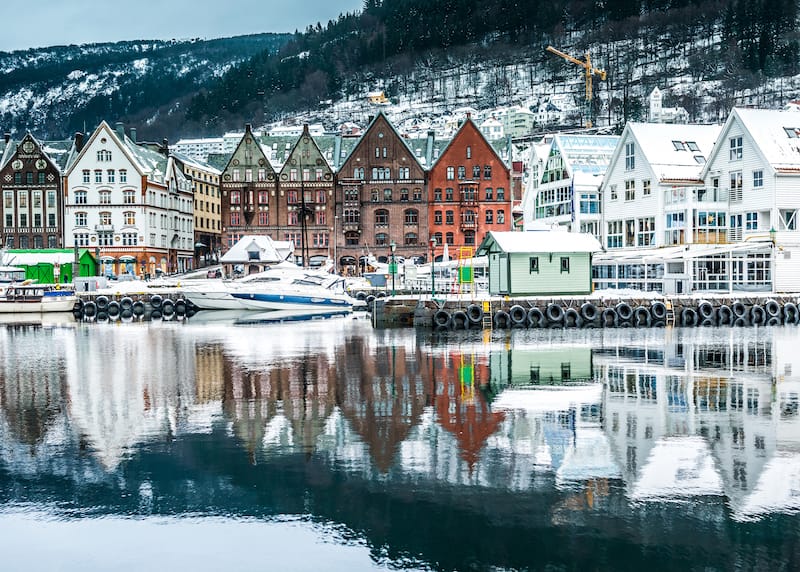 If you get cold, there's plenty of indoor fun to be had as well. Bergen boasts many interesting museums, such as the KODE Art Museum, the Maritime Museum, and the Hanseatic Museum chronicling Bergen's history.
Norway is known for its cozy cafe culture, so you'll find many comfortable cafes where you can warm up with a nice cup of coffee. Another winter staple in Bergen you can try is a hearty fish soup.
And if you're a beer or whiskey lover, you're in luck- in January, Bergen hosts a Whiskey and Beer Festival, with national and international offerings. This year's festival will be held on January 27-28, 2023.
Lisbon
Location: Portugal
Average temperatures in Lisbon in January: highs of 15C (59F) and lows of 8C (47F); 10 days of precipitation
Recommended by: Editor's choice
Lisbon is a beautiful city with colorful streets ready for you to wander around and take photos in. It is a fantastic weekend destination (or longer)!
January is a perfect time to visit because you'll almost have these picturesque streets all to yourself, thanks to it being the low tourist season.
As the Christmas season extends into January in Portugal, if you arrive early in the month you'll be able to experience their fantastic Christmas markets.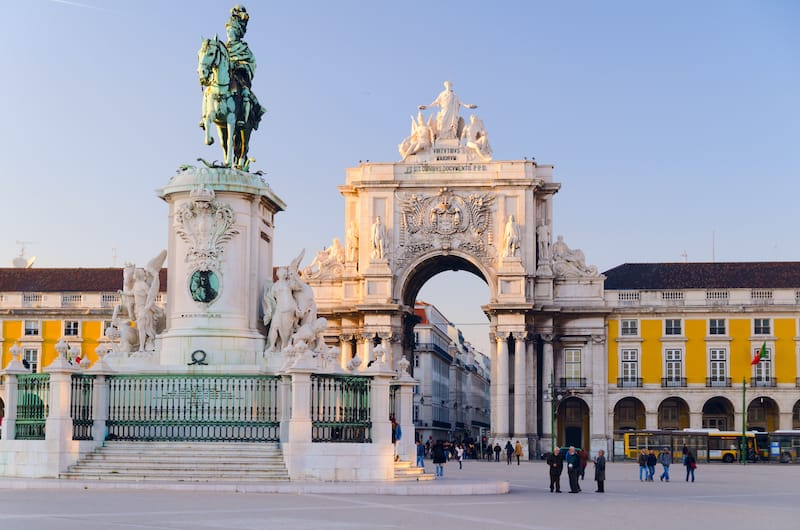 Don't miss the annual New Year's concert by the Portuguese Symphonic Orchestra, held this coming year on January 3, 2023.
Food-wise, make sure to try hot wine, pastel de nata, or caldo verde soup, a traditional Lisbon wintertime staple. To get more of a taste of Portuguese cuisine, check out the food market hall Mercado de Campo de Ourique for some tasty treats.
Lisbon is a hilly city, which makes for some great viewpoints across town. Visit one of the famous "miradouros" (outlooks), such as Miradouro das Portas do Sol or Miradouro de São Pedro de Alcântara, for gorgeous views without the crowds.
For a day trip out of the city, don't miss Sintra, a fairytale-like town with castles and villas nestled in a pine forest.
Iceland
Average temperatures in Iceland in January: highs of 3C (37F) and lows of -3C (27F); 13 days of precipitation
Recommended by: Editor's choice
Although January is the coldest and darkest month in Iceland, with an average of six hours of daylight, don't let this put you off from exploring this amazing country in the winter.
January sees a lull in tourists after the Christmas season, giving you the least amount of crowds of the year.
The winter month is a fantastic time to chase the Northern Lights, with winter being the clearest time and January giving you max night hours to see them.
It's also a great time to explore ice caves, as the low temperatures ensure the structural integrity of the caves. Don't miss hiking across gorgeous blue glaciers, fresh with winter ice.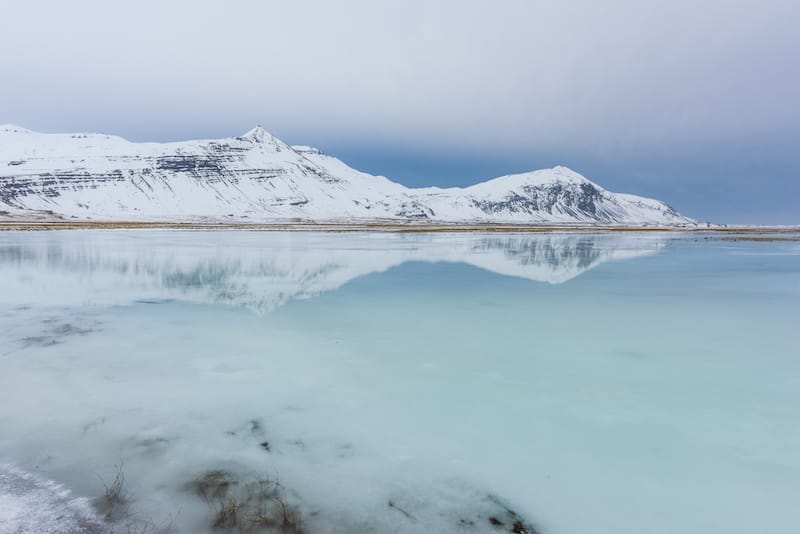 To warm up, make sure you soak in one of Iceland's geothermal springs, the most popular being the Blue Lagoon.
January also hosts exciting festivals such as Þorrablót (Thorrablot), an ancient midwinter feast originating from the corresponding month on the Icelandic calendar.
You can taste special Icelandic delicacies eaten specifically on this day, such as fermented shark and whale blubber. Give them a try during the short days in Reykjavik during winter!
Another festival you won't want to miss is Dark Music Days, a contemporary music festival held in late January at the Harpa concert hall in Reykjavik.
Lanzarote
Location: Spain
Average temperatures in Lanzarote in January: highs of 20C (67F) and lows of 13C (55F); 2 days of precipitation
Recommended by: Editor's choice
Lanzarote is a great January destination if you want comfortable temperatures and sun, with the weather staying in the upper 60s F (about 20C).
January gives you a great incentive to get out and explore the island which you might not do another time, as warmer weather entices you to lounge on the beach instead.
Lanzarote is a fascinating desert island with volcanic origins, which you can discover more about at the Timanfaya National Park where you can see volcanic fields.
Don't miss El Golfo, which is a bright green volcanic lake, nestled against the stunning backdrop of the coast. It is one of the best places to visit on Lanzarote!
If you're here the first week of January, you can see the festival for Epiphany, marking the end of the Christmas season.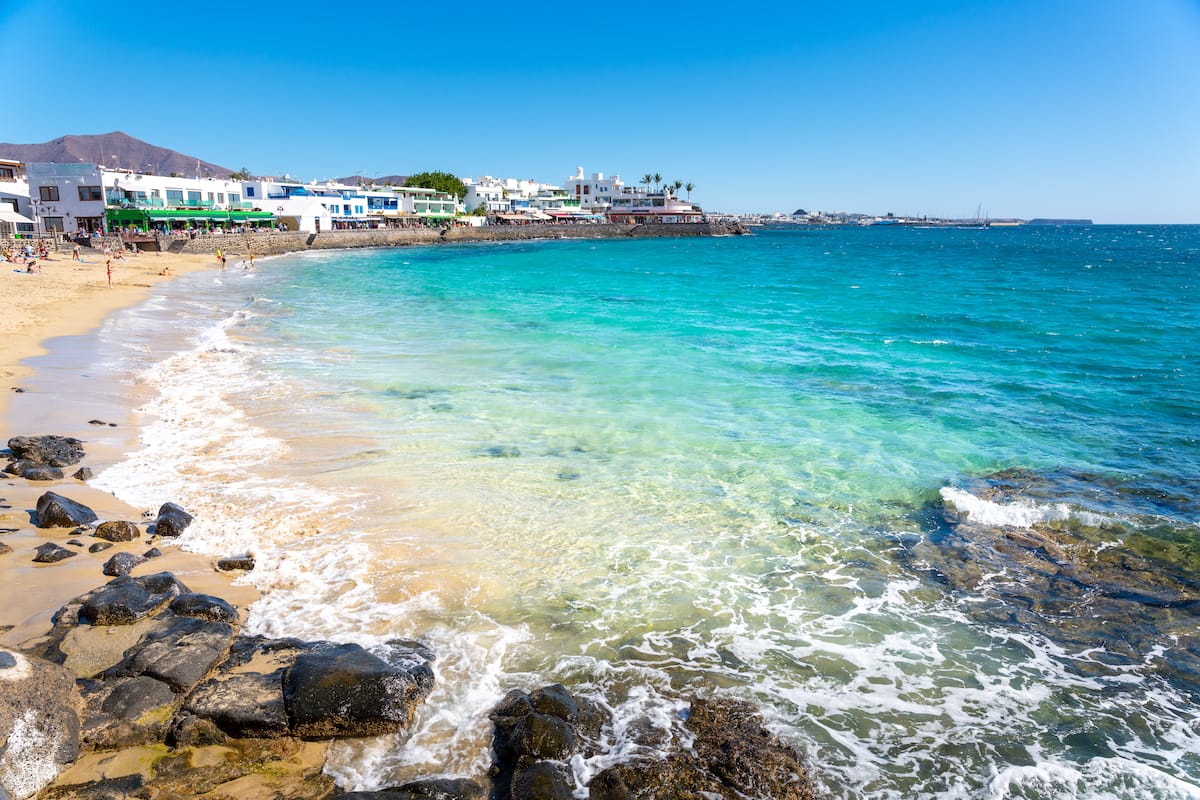 On January 5th, the capital city Arrecife hosts a parade celebrating the Three Kings, where they parade down the street throwing candy at children.
You can partake in the celebration with a tasty King's Cake, made with crystalized fruits and nuts. It is one of the best things to eat during winter on Lanzarote.
While you're there, don't miss out on trying some delicious winter stews, such as Carne de Cabra, a goat meat stew, or Ropa Vieja, with garbanzo beans and tomatoes.
Did we miss any amazing places to visit in Europe in January? Let us know your favorite European winter destinations in the comments!
More Europe Travel Guides
Pin this Where to During January in Europe Guide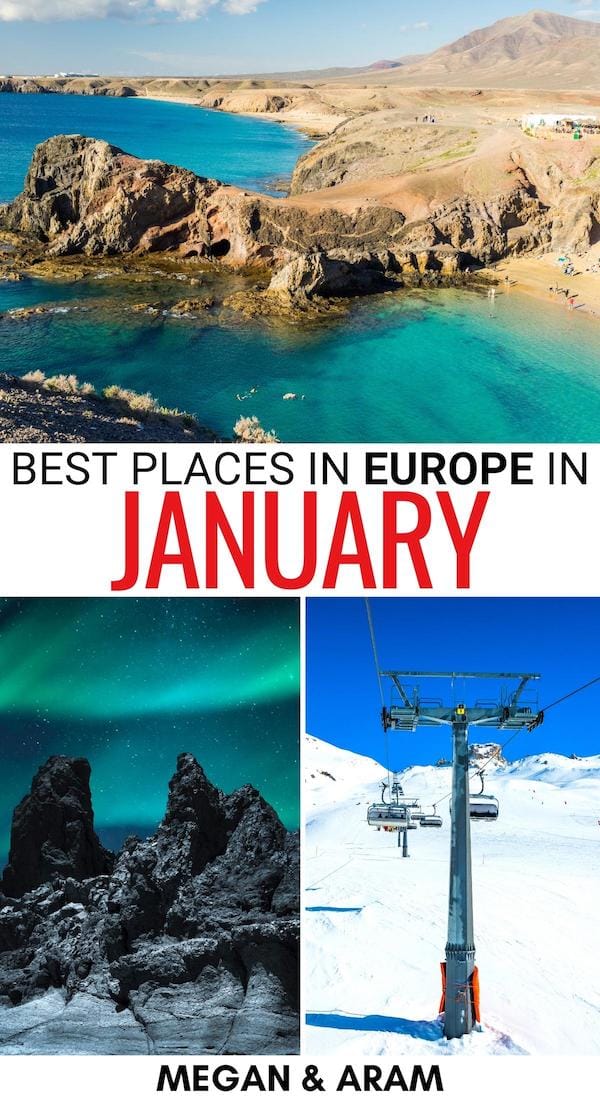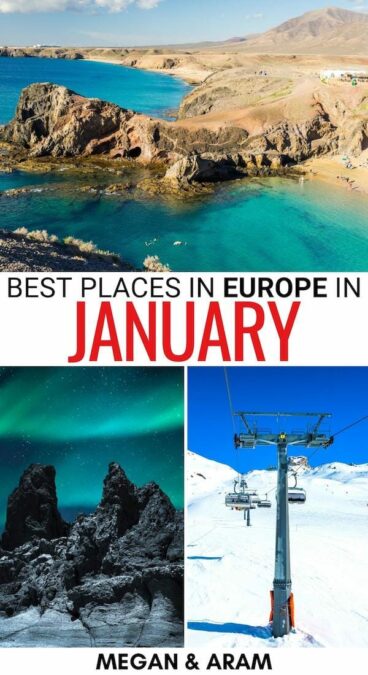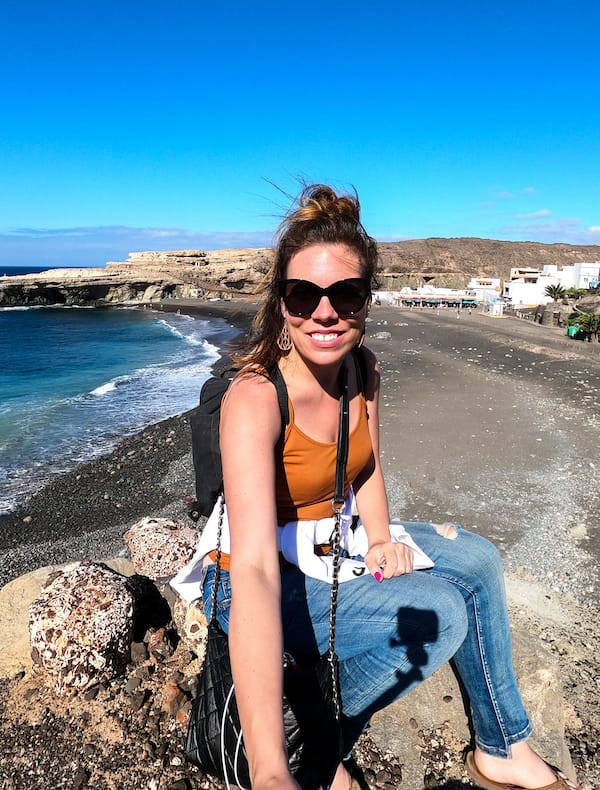 Megan is a travel blogger and writer with a background in digital marketing. Originally from Richmond, VA, she now splits her time between Frankfurt, Germany and Arctic Finland after also living in Norway, Armenia, and Kazakhstan. She has a passion for winter travel, as well as the Nordic countries, but you can also find her eating her way through Italy, perusing perfume stores in Paris, or taking road trips through the USA. Megan has written for or been featured by National Geographic, Forbes, Lonely Planet, the New York Times, and more. She co-authored Fodor's Travel 'Essential Norway' and has visited 45 US states and 100+ countries.