Are you looking at potential European destinations for your upcoming trip? This guide details the best places to visit in Europe in April – from the islands in the Mediterranean to the mysterious Caucasus region.
There are many great destinations to visit in Europe in April and we needed to recruit some other awesome bloggers to help with the task! We have included reasons to visit, the average temperatures, and some details about the place.
Please share your favorite places to visit in April in Europe with us in the comments!
And if you can't make it to Europe this year – be sure to check out our guide to the best places to visit in the USA in April instead (or our guide to the most beautiful European cities)!
Where to Travel in Europe in April
Oslo
Location: Norway
Average temperatures and precipitation: highs of 51F (11C) and lows of 36F (2C); 7 days of precipitation
Reasons to visit Oslo in April: flowers start to bloom, more daylight, cafes begin opening
Recommended by: Jessie at Pocket Wanderings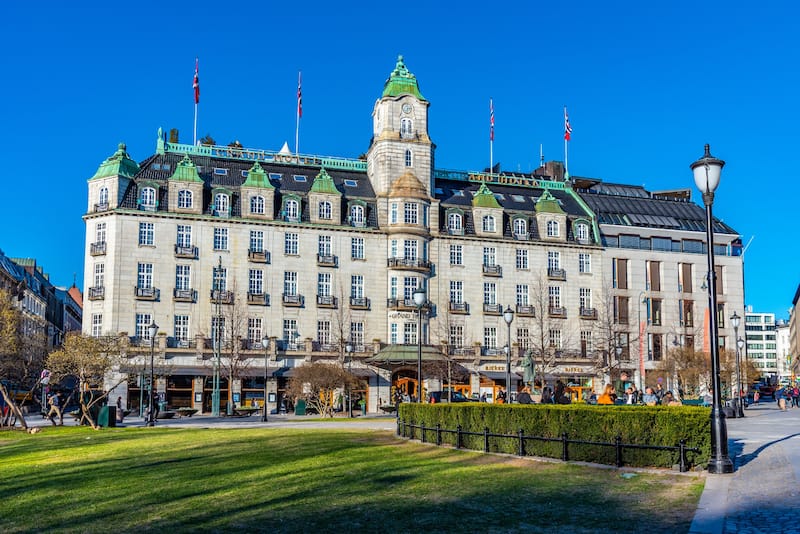 April is a wonderful time to visit Oslo, as visitors can experience the beautiful transition into spring. As Norway emerges from winter hibernation, the temperatures warm up, the snow melts, and the flowers blossom.
Spring arrives sooner in Oslo than the more northern parts of the country, so you can avoid the harsh winter chill of the winter months when you visit beautiful Oslo in April.
Spending a few days in Oslo is a must for any Europe bucket list. It is a trendy metropolitan city that offers a high quality of life and breathtaking nature all around.
Explore the five national museums of the Bygdøy Peninsula, or embark on one of the many picturesque trails for walkers and cyclists. April is a fantastic time of year to take in the sights of Oslo on foot, as the temperature is perfectly pleasant for walking.
Just be sure to pack a waterproof jacket, as Norwegian weather can be a little unpredictable all year round. Also, grab yourself an Oslo Pass to help with discounts around the city (including transportation)!
Oslo is a hub for theater and music, with a number of fantastic performances throughout April. The Oslo Opera House is home to the Norwegian National Opera & Ballet – it's a breathtaking landmark that resembles an iceberg and sits on the harbor.
If your music tastes are a little heavier, then the Inferno Metal Festival is an annual extreme metal event held in April.
Waterford
Location: Ireland
Average temperatures and precipitation: highs of 55F (13C) and lows of 41F (5C); 10 days of precipitation
Reasons to visit Waterford in April: crowds are gone after St. Patrick's Day, food festivals, warmer temperatures
Recommended by: Catherine at Travel around Ireland
One of the best places to visit in Europe in April is Waterford, Ireland. Tucked away in the southeastern corner of Ireland, Waterford is a city often overlooked in favor of other cities such as Dublin and Galway.
However, it is a city with lots on offer for visitors. Visiting Waterford in April means the St Patrick's Day crowds have gone and the weather is starting to get a bit warmer.
The Waterford Food Festival takes place over a weekend in April, making it an ideal place to visit for foodies. As well as showcasing regional foods, the festival also plays host to top chefs, food stalls, dining experiences, and more. This family-friendly festival attracts many visitors.
The city also has a rich Viking history and this can be discovered in the Viking Triangle with Reginald's Tower taking center stage and two museums to visit close by.
There is a small tourist train which gives a short 45-minute tour of the city and of course, the headquarters of Waterford Crystal is a must-visit. A short 30-minute drive from the city center, you'll find the 16th-century tower house of Waterford Castle.
This and more make Waterford one of the best places in Ireland to visit in April.
Sao Miguel
Location: Azores (Portugal)
Average temperatures and precipitation: highs of 63F (17C) and lows of 54F (12C); 9 days of precipitation
Reasons to visit the Azores in April: few tourists in the off-season, perfect time to enjoy the hot springs
Recommended by: Ucman at Brown Boy Travels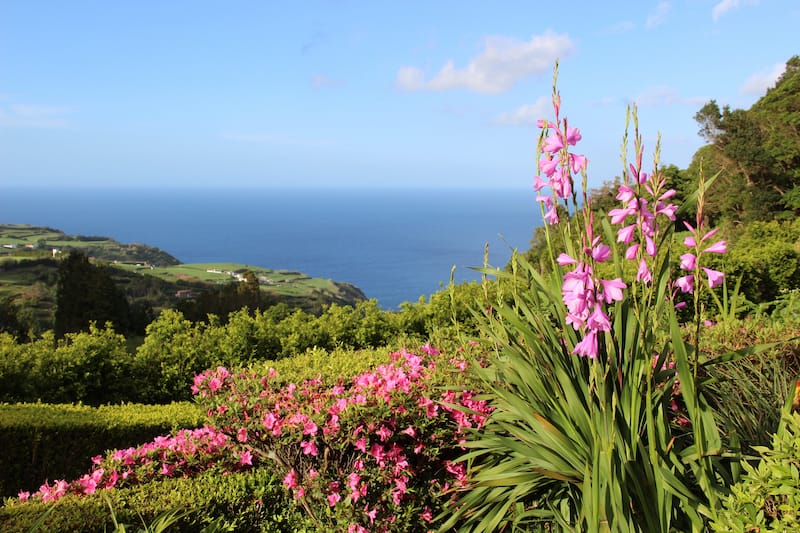 There are very few places that suit so perfectly off-season travelers like the Azores in Europe. It has the perfect temperature and mix of activities that work for you, regardless if you're a summer-loving traveler or one that doesn't care too much for warm temperatures and sun.
The island of Sao Miguel in the Azores offers hot springs both in the form of leisure spaces like the Parque Terra Nostra or the hot springs of Dona Beija in Furnas. Both must be on your Sao Miguel itinerary!
They are open until 11pm and you can enjoy absolute bliss by either relaxing or taking a walk in the lush botanical gardens. The temperature during the day warrants shorts and the 38-degree heated pools feel perfect at night.
If you're looking for adventure, the other side of the island offers great hiking and trekking opportunities. The viewpoints at Sete Cidades are legendary with two different colored lakes that make you forget everything else.
Another can't-miss destination in the Azores is the fantastic viewpoint in Mosteiros overlooking the Atlantic.
If you're still not convinced, the island offers amazing value for money both for food and accommodation and the infrastructure is in spotless condition. From the weather to money, adventure to relaxation, the Azores are the best place to find your April vacation spirit in Europe.
Isle of Skye
Location: Scotland
Average temperatures and precipitation: highs of 51F (11C) and lows of 37F (3C); 14 days of precipitation
Reasons to visit the Isle of Skye in April: no midges, few tourists, longer daylight hours
Recommended by: Kat at Wandering Bird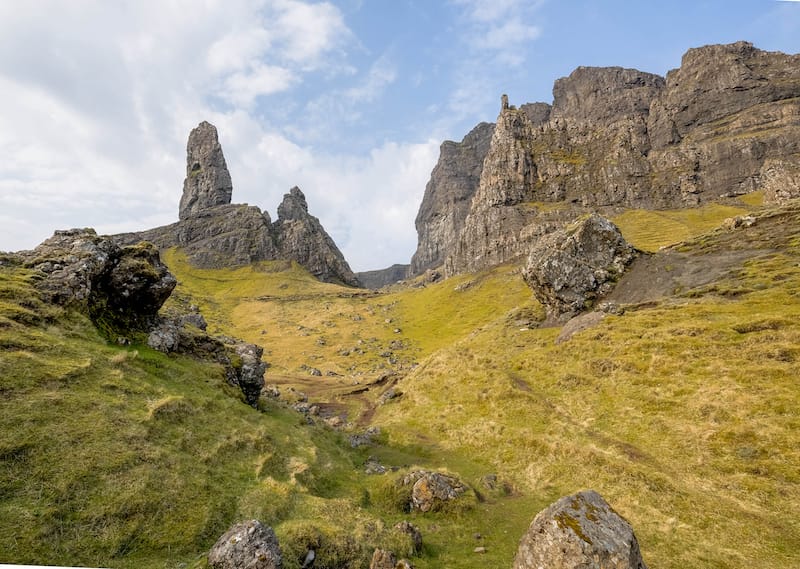 Scotland is one of the prettiest places in Europe to visit in April, and the Isle of Skye is one of the prettiest places in Scotland!
This is by far one of the best times to visit, although if Easter falls in April, you might want to avoid the Easter holidays. Still, the days are getting warmer, and there's more light and time to explore, yet you still get plenty of sunsets. Oh, and the midges haven't started yet either!
There are so many things to do on Skye – breathtaking waterfalls (including the famous Fairy Pools which you can swim in!), mountains to hike in every direction, a gold cave you can go into (seriously!), whisky tastings and distillery tours, and beautiful castles you can explore inside and out.
For the adventurous, you can kayak, rock climb, or abseil. You can also hire bikes and cycle around the island- a great way to see some of the more hidden places (and find all the best pubs as you go!)
Most restaurants, cafes, and bars reopen at Easter, so after a day of exploring, you can relax and unwind and there are plenty of places to stay.
Mostar
Location: Bosnia and Herzegovina
Average temperatures and precipitation: highs of 70F (21C) and lows of 50F (10C); 9 days of precipitation
Reasons to visit Mostar in April: perfect temperatures, low tourism, witnessing bridge jumpers
Recommended by: Emily at Wander-Lush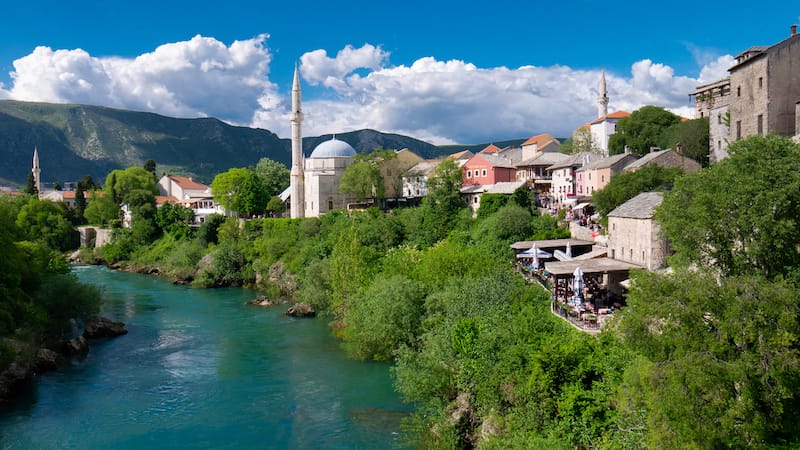 April in Mostar brings temperate weather and thin crowds – perfect conditions for exploring Bosnia and Herzegovina's most charming city on foot. Mostar can be visited on a day trip from Sarajevo, but it's preferable to spend a couple of nights in the city, using it as a base to see more of the Herzegovina region.
In spring, the sun beams down on the city's many outdoor cafes and the cobbled Old Bazaar, turning the Neretva River into a sparkling ribbon of sapphire and lighting up the city's crown jewel, Stari Most (the Old Bridge).
The best views of the iconic UNESCO-Listed bridge can be found by walking over Lucki Most or scaling the minaret of Koski Mehmed Pasha Mosque.
Depending on water levels, bridge jumpers usually start in late March, so you'll have a chance to glimpse the daring divers who tempt fate by throwing themselves off the crest of the bridge into the river below.
April also marks the anniversary of the start of the Siege of Mostar in 1992 – a devastating event that left much of the old city, including the bridge, in tatters. This adds an extra layer of meaning to visiting Mostar in April.
If your knowledge of Balkan history is limited, the Museum of War and Genocide Victims is a sobering introduction. Here you can watch original footage of Stari Most collapsing into the river.
Yerevan
Location: Armenia
Average temperatures and precipitation: highs of 68F (20C) and lows of 47F (8C); 6 days of precipitation
Reasons to visit Yerevan in April: Easter celebration, sidewalk cafes, flowers everywhere
Recommended by: Editor's choice
Yerevan is arguably one of the most beautiful cities in the Caucasus and one of the oldest ones in the world… even older than Rome, by approximately 29 years.
The ancient city, also known as the pink city because of the volcanic pink stone called Tuf that it's built with, has a lot to offer in any season to its visitors, but it's especially magical during the springtime and after winter in Yerevan dissipates.
In April, Yerevan is already blooming and that's when the sidewalk cafe life that Yerevan is known for comes back to life after a harsh Armenian winter.
Yerevan also is a paradise in April for jazz lovers because they can enjoy free music on the annual Yerevan Jazz Day that takes place right at the end of the month around April 30.
On that day, the entire world, like Yerevan, is getting jazzy and celebrating International Jazz Day. The lovers of the musical genre are gathering at Yerevan's Cascade Complex, a renowned masterpiece of Soviet architecture, to enjoy jazz music totally free.
Also on April 24, Armenians from around the world (and non-Armenians) gather in Yerevan to commemorate the day of the Armenian Genocide of 1915. Thousand of people march on the streets to the Tsitsernakaberd Armenian Genocide Memorial Complex.
Armenia was the first Christian nation in the world in 301 AD and the country has its own Easter celebration date and traditions.
In April, Armenians are celebrating Easter and if you are visiting Yerevan at that time, you will see how locals are playing with colored eggs trying to hit and break them, eating sweet plov and fish, and drinking wine.
Zadar
Location: Croatia
Average temperatures and precipitation: highs of 64F (18C) and lows of 52F (11C); 7 days of precipitation
Reasons to visit Zadar in April: fewer crowds, delicious food, wonderful sunsets
Recommended by: Editor's choice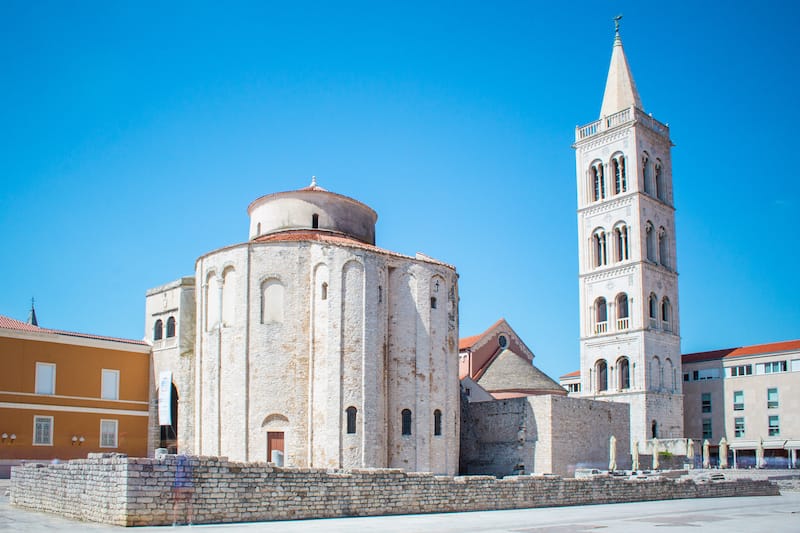 Known as one of the most popular cities to visit in Croatia, Zadar is a city of rich cultural heritage surrounded by many historical and archaeological monuments and ancient ramparts. The city is blooming in spring, especially in April when the season is just getting started.
Zadar is home to beautiful Medieval, Renaissance, and contemporary architecture in the city and one of the jewels of modern architectural minds is the Zadar Sea Organ, which is the first one of its kind in the world.
The sound art object Zadar Sea Organ was built in 2005. Located on the coastal promenade, the instrument has tubes underwater and makes sounds when the sea waves are hitting those tubes. It also illuminates during the evenings and at night. It is one of the best places to visit in Zadar in April and pretty much any time you decide to visit the city!
In April, travelers come to Zadar to visit the Roman Forum, a first century BC ancient Roman ruin in the city.
Go off the coast to Kornati National Park, an island park consisting of 147 islands, or enjoy a glass of wine with delicious and fresh Croatian seafood at the many seaside cafes and restaurants in Zadar.
Crete
Location: Greece
Average temperatures and precipitation: highs of 51F (10C) and lows of 35F (2C); 7 days of precipitation
Reasons to visit Crete in April: Easter celebration, delicious food, beat the crowds
Recommended by: Annabel at Smudged Postcard
One of the most appealing European destinations to visit in April is Greece. The country has a strong Orthodox faith that is, at its most, fascinating over the Easter period.
Crete is one of the most southerly Greek islands in the Mediterranean, so if you're after a fix of both culture and good weather, Crete takes some beating.
Cretan food is excellent and Easter is no exception – there's a slow-roasted lamb on a spit, painted eggs, and various other traditions. The Venetian harbor town of Chania is a great base for exploring Crete.
Usually overrun with tourists, at Eastertime, Chania is packed with locals celebrating the Easter holiday.
Aside from Easter, Crete in April sees wildflowers blooming in the mountains and the island is generally very green – unlike its more parched palate in the summertime.
April is a great time to try hiking in one of the mountain ranges or trekking one of the island's famous gorges. The weather is warm enough for walks to be really enjoyable before the heat sets in and you can be a bit more flexible with your Crete itinerary since high-season is not yet there.
If you're visiting Crete with kids, you'll be able to wander through the island's famous historical sights such as Knossos – there will be few tourists and the cooler temperatures mean that children will be more willing to explore.
Whatever you choose to do during April in Crete, you'll want to return again and again as spring really is the perfect season to visit.
Faroe Islands
Location: –
Average temperatures and precipitation: highs of 45F (7C) and lows of 37F (3C); 16 days of precipitation
Reasons to visit the Faroe Islands in April: beat the crowds, cheaper prices and airfare, easier to get a rental car
Recommended by: Editor's choice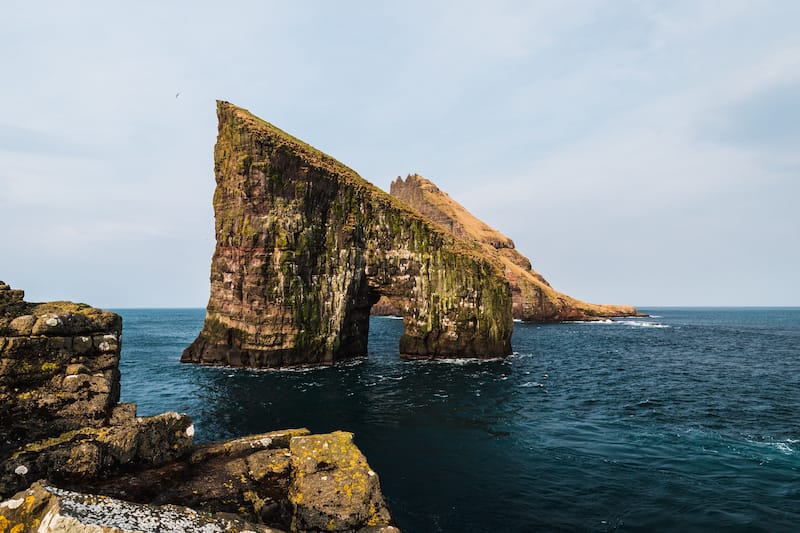 Located in between Iceland and Norway (and kind of Scotland!) this small archipelago in the middle of the Atlantic Ocean called the Faroe Islands is mesmerizing no matter what time of the year you visit.
But, you can beat the crowds (and prices) by visiting the Faroe Islands in April!
The tourist season in the Faroe Islands starts more at the end of the spring but April is still a perfect time to visit the Faroe Islands if you're not just in search of puffins.
The reason that travelers opt to visit the Faroe Islands in April is that accommodation can be a bigger challenge to find in the summer season and the ferries that are going to gorgeous Kalsoy, known for the famous Kallur Lighthouse hike, are harder to get on during the high-season.
In addition to that, the roads are very narrow in the Faroe Islands and they are not many people on them during April.
High-season driving can be a bit more challenging despite the weather being more favorable. It is also so much easier to rent a car in April than in July, for example!
In April, travelers to the Faroe Islands can witness the breathtaking Múlafossur Waterfall, charming Saksun village with green roofs and epic views, Kallur Lighthouse, and many other places with ease!
Chisinau
Location: Moldova
Average temperatures and precipitation: highs of 63F (17C) and lows of 45F (7C); 7 days of precipitation
Reasons to visit Chisinau in April: Easter celebration, Soviet architecture, wine
Recommended by: Ellis at Backpack Adventures
April is when spring arrives in Chisinau. This is when the capital of Moldova sees blooming flowers in its many parks and when it celebrates its biggest festival.
Being an Orthodox country, Easter is one of the most important holidays. Though religious in nature, it is surrounded by lots of traditions that are followed by all.
As a result, it is in Chisinau that you will find some of the biggest Easter festivities in Europe and they take place throughout April. For travelers, the most interesting are the Easter fairs with local food and beverages. They are a great opportunity to try the famous Moldovan wine.
Moldova was once one of the biggest wine producers for the Soviet Union and is still home to the largest wine cellar in the world. Milestii Mici has over 200 kilometers of tunnels for wine storage and it is open to visitors.
This makes for an interesting day trip from Chisinau. Cricova is another interesting wine cellar to visit as it includes Putin's private wine collection.
The city still has lots of Soviet architecture to bewonder but also has kept its religious nature. Easter is a great time to visit the Orthodox churches and monasteries in Chisinau.
The ancient cave monasteries of Orheiul Vechi are only 50 kilometers north of the capital and within the city are several churches worth a visit. Visiting Chisinau in April offers so much to visitors and it is a great place for your Europe bucket list.
Munich
Location: Germany
Average temperatures and precipitation: highs of 57F (14C) and lows of 39F (4C); 9 days of precipitation
Reasons to visit Munich in April: parks, warmer temperatures, Frühlingsfest
Recommended by: Renee at Dream Plan Experience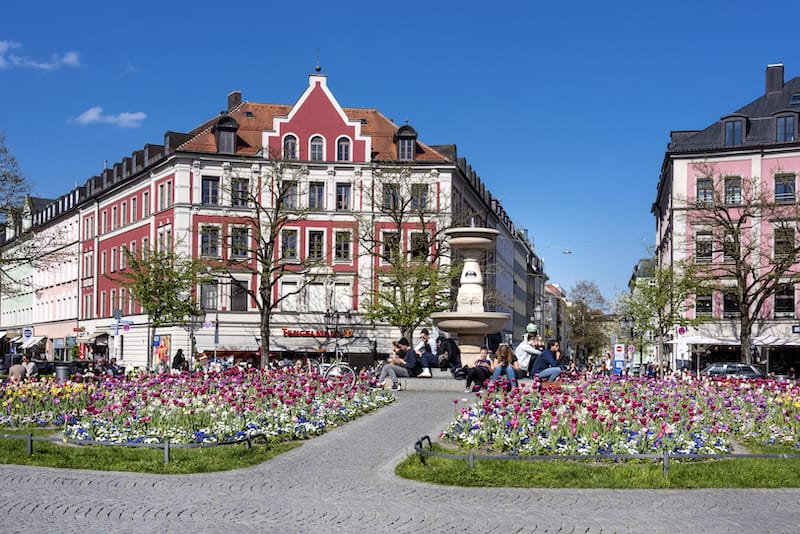 Munich, the capital city of Bavaria and the third-largest city in Germany, comes alive in April. The days get warmer, the trees and flowers start blooming, and everyone gets outside.
It is also the month that the city's festivals and events kick off. The first is Frühlingsfest (or spring festival), the little sister to the city's world-famous Oktoberfest in the fall. It offers carnival rides, entertainment, vintage markets, and of course, the delicious food and beer the city is known for.
In April, everyone wants to be outdoors and this city offers so many amazing things to do. First, head to the Englischer Garten (English Garden), the city's largest park.
Massive trees, wide-open spaces, and endless winding paths for cyclists, runners, and walkers to enjoy. Locals meet up in the beer garden and surfers head to Eisbach River where they surf against the strong currents.
In April, the city becomes a sea of flowers. Thousands of daffodils, tulips, and hyacinths are now in bloom and can be found all over the city of Munich in April.
Take a stroll through the castle grounds of Nymphenburg and Hofgarten or any of the public squares to see the kaleidoscope of colors these spring blooms offer.
Provence
Location: France
Average temperatures and precipitation: highs of 63F (17C) and lows of 41F (5C); 5 days of precipitation
Reasons to visit Provence in April: comfortable temperatures, flowers, many markets and fairs and festivals
Recommended by: Nadine at Le Long Weekend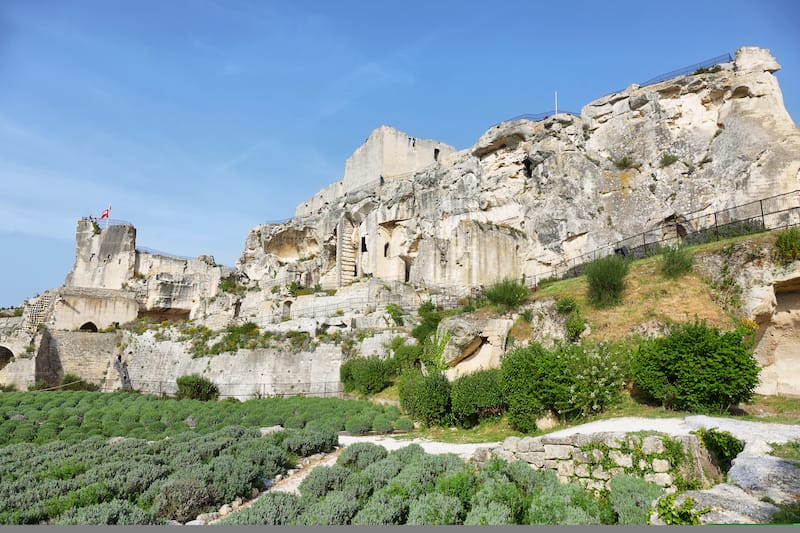 April in Provence is all about food, festivals, and flowers. It's when the region shakes off its winter sleepiness and comes alive again to celebrate the produce, arts, and culture that is unique to this part of the country.
April is absolutely brimming with events, from the markets and fairs popping up in every village in Provence – including one of the biggest antique fairs in Europe that takes place in the canal town of L'isle-Sur-la-Sorgue – to the annual strawberry festival in Carpentras and the goat's cheese festival in Rognes.
Arts take center stage too, with the nationwide Journées des Métiers d'Art (arts & crafts festival) event taking place in museums, galleries, and studios around the country.
And more locally, in Lourmarin, the village's renaissance château sets the stage for the spring concert series, while nearby Bonnieux hosts a curated ceramics exhibition.
The landscape also comes alive in Provence in April, with delicate almond blossoms and vibrant rapeseed fields adding pops of color to the countryside.
So it's an excellent time to strap on some hiking boots and hit the French trails around the coast or through the hills of the Luberon and the Alpilles while the weather is warm and typically dry.
In our opinion, this is one of the best destinations in Europe for spring break!
Brasov
Location: Romania
Average temperatures and precipitation: highs of 54F (12C) and lows of 40F (4C); 15 days of precipitation
Reasons to visit Brasov in April: Easter holiday, hiking in local mountains, cafe culture begins
Recommended by: Richard at RJ on Tour
After the harsh winter in Brasov springs into life, particularly in the mountains. Tampa Mountain is part of the town center and the local wildlife and flowering plants begin to bloom.
This is a great time to explore the mountain and see the spring colors. Hiking on the local mountains is accessible for people of all abilities and there are routes to reflect this. It is also a nice time to consider a Romania road trip.
The town center restaurants in the central square all get the outside seating out from hibernation, and cafe culture starts. This gets particularly vibrant from Orthodox Easter weekend which is an important celebration for Romanians.
On Saturday/Sunday night at about midnight, there is a service in all the Orthodox churches in the area. The city has many churches, the most striking being the Black Church in the old town area. Orthodox Easter in April is primarily a religious holiday complemented by Sărbătoarea junilor.
Lads of Brasov, or Sărbătoarea junilor, is a tradition that occurs on the first day of Orthodox Easter.
This celebration lasts for the entire Easter week, the highlight of this being the Lads, wearing colorful traditional clothing descending on horseback across the city. The whole aim and backstory of Sărbătoarea junilor is to preserve historical Transylvanian traditions.
Brasov is one of the most unusual places to visit in Europe in April but it is off the path and worth a venture to!
Seville
Location: Spain
Average temperatures and precipitation: highs of 72F (22C) and lows of 51F (11C); 6 days of precipitation
Reasons to visit Seville in April: Easter celebrations, perfect time for a road trip, April Fair, orange trees in blossom
Recommended by: De Wet & Jin at Museum of Wander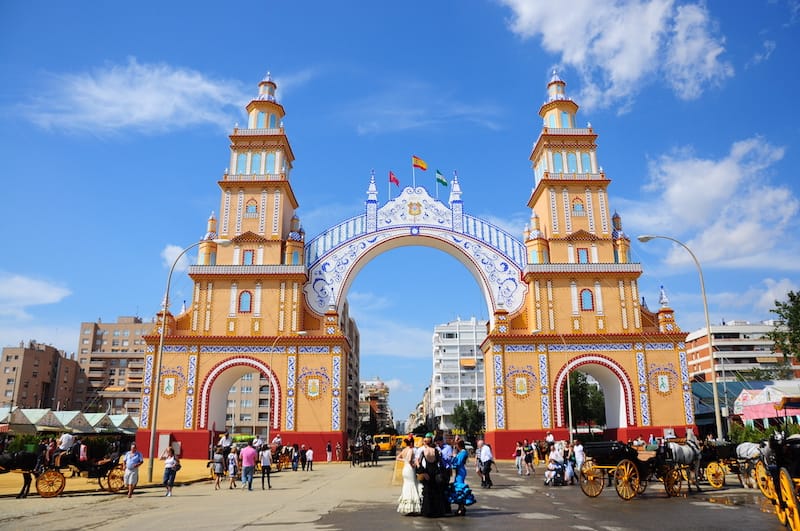 Seville, Spain is at its most colorful and exotic in April and the city is drop-dead gorgeous then. April in Seville is warm and much better for exploring than the sweltering heat of the summer months.
The capital of Andalusia welcomes spring with a bang, and the city explodes with cultural and religious festivals.
The most important event taking place in April is, of course, Easter, or Semana Santa as it's known in Spain. During Holy Week, there are processions taking place every day, and thousands of locals and visitors alike line the streets to see the floats and join in the festivities.
After Holy Week, Seville keeps the fiesta going with the annual April Fair, also known as the Spring Fair. Colorful parades continue to fill the streets.
Parades during the April Fair are known for men with large hats on horseback, riding together with their wives in beautiful dresses. Of course, there will be lots of good food and dancing too.
If that's not enough, the city's Seville orange trees are in full bloom during April, and the sweet scent of orange blossoms follows you wherever you go.
Seville is an excellent choice for a city break, a weekend away, and an unmissable stop on any Spain and Portugal itinerary.
Campania Region
Location: Italy
Average temperatures and precipitation: highs of 83F (28C) and lows of 65F (18C); 3 days of precipitation
Reasons to visit Campania in April: cheaper accommodation, fewer tourists at major sites, amazing weather
Recommended by: Editor's choice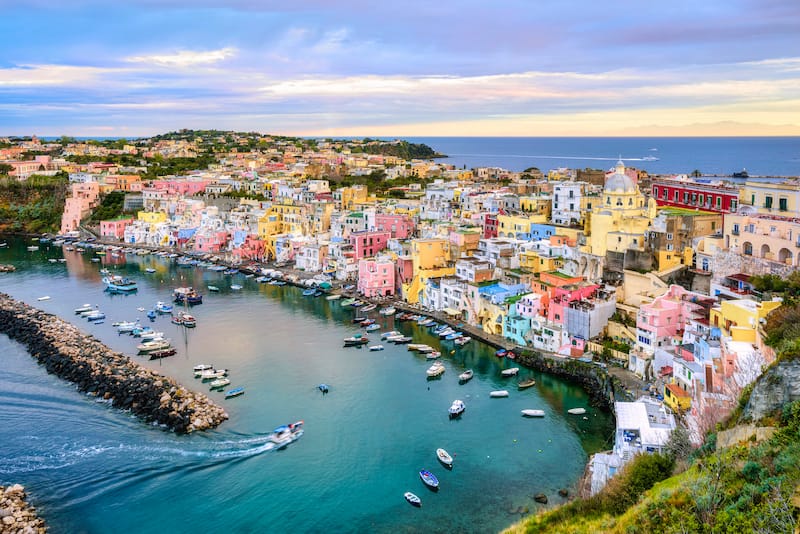 Italy is one of the most desirable countries in the world and in the high season, it can be nearly impossible to visit the country without standing in long lines or getting stuck in traffic because millions of other tourists are fighting to see the same sights as you.
One of those places is the Campania region which is located in the south of Italy and has many unbelievable and ancient monuments and sights.
On the list of those well-trodden places are Pompeii, Herculaneum, the Amalfi Coast, and the beautiful and famous city of Naples. All these sights and cities are super crowded during the high season which starts at the end of the spring and lasts until fall.
In April, it is still somewhat touristy in Campania, but far less than in summer, giving visitors easier access to ancient cities like Herculaneum and Pompeii, both of which were decimated due to the eruption of Mt. Vesuvius.
You will also have the opportunity to visit the Amalfi Coast which resembles a colorful painting. It is a well-known holiday destination where accommodation is easier to find in April.
And, of course, there are many amazing off the path places in Campania, such as Procida, that are worth a visit too.
Accommodation in Naples is a bit cheaper than during the high season, making this one of the best places to visit in Europe in April!
Tirana
Location: Albania
Average temperatures and precipitation: highs of 67F (20C) and lows of 46F (8C); 6 days of precipitation
Reasons to visit Tirana in April: Street vendors, Easter, seasonal dishes
Recommended by: Anna at Anna Meanders
Tirana's leafy boulevards, terrace cafés, and delightful patisseries are amplified in April with street-side flower vendors peddling bunches of daffodils and tulips, spring weather hovering around 19C, and wafts of espresso around each corner, thanks to Albania's Roman history.
One of the best places to truly experience Albania is in Tirana, its capital city.
April is the month of Easter, a celebration Albania celebrates twice – both Catholic and Orthodox Easter, sometimes both falling inside the month of April.
You will find numerous cultural celebrations in Tirana in April from dyed egg hunts, and feasts of lamb and sherry – so get ready to eat until you're stuffed.
If springtime showers have you holed up, get to your nearest Albanian restaurant and try Japrak – tender spring vine leaves stuffed with rice and minced beef, a specialty of the season here. Mullixhiu is a great choice, but throughout April you should find this dish in most restaurants dishing up traditional Albanian fare.
While the weather is good, get out and explore Tirana's lively street art in the trendy Blloku neighborhood, where international graffiti artists made their mark in the 2018 festival of urban art, and while in the neighborhood, make sure to explore the Postblloku open-air museum.
Locals love to relax at Liqeni Artificial when the sun is shining, a large artificial lake on the edge of downtown, flanked by the equally gorgeous Grand Park of Tirana; great for a leafy respite from the hustle of the city where you can catch the plum blossom season in full swing.
While nearby, don't forget to visit the Pazari i Ri Farmers Market to fill up on fresh springtime strawberries on your way home!
Dutch Countryside
Location: Netherlands
Average temperatures and precipitation: highs of 56F (13C) and lows of 40F (4C); 8 days of precipitation
Reasons to visit the Dutch Countryside in April: flowers and tulips everywhere!
Recommended by: Sarah at CosmopoliClan
Every spring, thousands of flower fields turn the Dutch landscape into the most vivid painting. The tulip is the hero of this colorful spectacle while other bulb flowers, such as daffodils and hyacinths, complete the eye-catching picture.
April is the best time to visit the Dutch Countryside since that's when the tulips are in full bloom. Most visitors flock to Keukenhof Gardens, the so-called Amsterdam tulip garden that gained international fame over the years.
This popular flower park can be reached from Amsterdam in just half an hour and makes for the perfect day trip and ideal to put on your spring Amsterdam itinerary.
It's located in the heart of the Flower Strip, which stretches out between the cities of Haarlem and Leiden. Lesser-known regions that look just as spectacular in spring are the Kop van Holland and the Noordoostpolder.
There are several ways to explore Holland's vibrant patchwork, such as exploring the Dutch tulip fields by bike, visiting a tulip-picking garden, or watching one of the many flower parades that liven local streets and squares.
Even the capital hosts its own flower event: The Amsterdam Tulip Festival aims at adding a colorful touch to dozens of locations around the city and takes place throughout the month of April.
Tallinn
Location: Estonia
Average temperatures and precipitation: highs of 48F (9C) and lows of 32F (0C); 7 days of precipitation
Reasons to visit Tallinn in April: thawing temperatures, plenty of cafes and bars, great museums
Recommended by: Derek and Mike at Robe Trotting
One of the best places to visit in Europe during the month of April is the medieval city of Tallinn, Estonia. Since it's located on the Baltic Sea, Tallinn can still have a chill in the air left over from the harsh Tallinn winter, but it's somewhat comfortable weather and there are so many things to do in Tallinn, both indoors and outdoors.
The city is famous for its well-preserved city walls that add a layer of character and history everywhere you look. They were built over a 300-year period and stretch 2.3 km around the city center.
About 1.8 km of the city walls are still standing and one of the best places to appreciate their beauty is from the lookouts on Toompea Hill, in the "new town".
For an even better view, climb Tall Herman, the tower of Toompea Castle. It's a national symbol of Estonia that proudly displays the nation's flag from its highest point.
Attached to the castle is the Estonian Parliament Building, a bright pink building added in the 18th century during Russian rule. After touring, walk down the hill and sit outside in Town Hall Square for lunch and a drink or explore the craft beer bars in Tallinn.
It's easy to find a seat before tourist season begins and the weather is just warm enough to dine al fresco in this historic square.
Thessaloniki
Location: Greece
Average temperatures and precipitation: highs of 67F (19C) and lows of 46F (8C); 4 days of precipitation
Reasons to visit Thessaloniki in April: fewer crowds, Easter celebrations, food scene
Recommended by: Anda at Travel for a While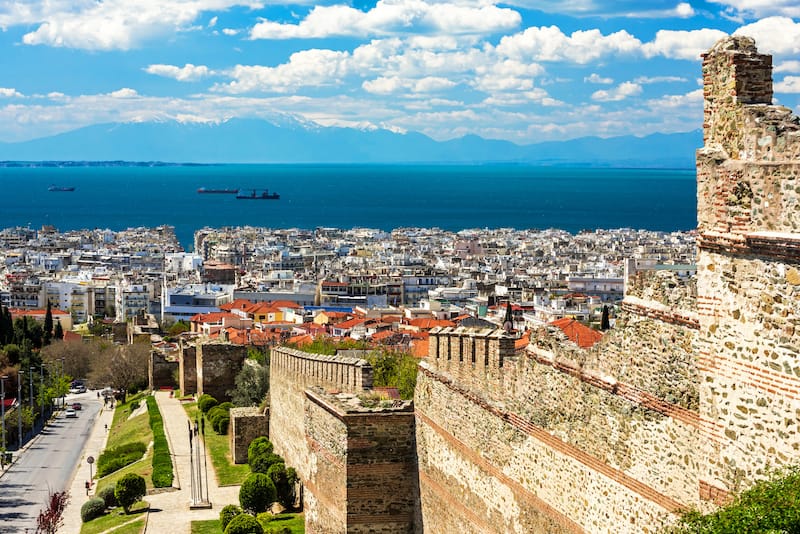 Thessaloniki is the second-largest city in Greece and is a large city with a long sea promenade. The city becomes busy during the summer months but you can visit earlier and still enjoy sunny weather without the crowds.
Thessaloniki is not only a great destination for the sea but also for history, churches, and amazing Greek food. Don't miss the Old Town uphill-Ano Poli, the incredible Rotunda, and the symbol of Thessaloniki, the White Tower.
But the main attraction is that long waterfront. You can walk, run, take photos of the Umbrellas installation and take one on the sailboat excursions.
Another attraction you can't miss is the food scene in Thessaloniki. The city has it all, street food, Greek taverns, and the Ladadika district full of bars and restaurants. The locals know how to enjoy all that and you'll see them starting their days with a morning coffee around Aristotelous Square or the waterfront.
Usually, April in Thessaloniki is also the month of the Greek Orthodox Easter. The holiday is the perfect opportunity to explore the local culture.
Enjoy the celebrations and visit some of the Byzantine Churches on the UNESCO World Heritage list, like Agia Sophia, Agios Dimitrios, Panagia Acheiropoteios, or Agios Panteleimon.
Batumi
Location: Georgia
Average temperatures and precipitation: highs of 61F (16C) and lows of 46F (8C); 9 days of precipitation
Reasons to visit Batumi in April: fewer crowds, comfortable temperatures, delicious food
Recommended by: Kami at Kami and the Rest of the World
Batumi, the famous Georgian resort on the Black Sea coast, is one of the most popular places to visit in the summer season.
However, if you decide to visit Batumi in April, you can find only a few tourists around and can peacefully enjoy all the great things to do in Batumi.
The weather should be already nice, warm and sunny (around 16C), so if you like relaxing on the beach, you have the option to do so although swimming may be a bit cold.
Aside from the long and pleasant seaside promenade with interesting modern architecture, Batumi has much more to offer. You can wander around the charming Old Town with many beautiful Art-Nouveau houses, take the cable car to Anuria Mountain to see the city from above, or go for a ferries-wheel ride with some stunning views of the Black Sea.
A bit further from the city, you should visit the Batumi Botanical Garden, which really comes to life in the springtime when everything is blooming.
Don't skip the local bazaar where you can get fresh fruits, vegetables, or seafood. And in the evening, head to one of the restaurants serving Georgian food to try one of the most delicious dishes you will ever have. Getting to Batumi from Tbilisi is rather easy, making it a fantastic stop on your Georgia bucket list.
Malta
Location: –
Average temperatures and precipitation: highs of 68F (20C) and lows of 54F (12C); 3 days of precipitation
Reasons to visit Malta in April: fewer crowds, comfortable temperatures, little rain
Recommended by: Anu at Country Hopping Couple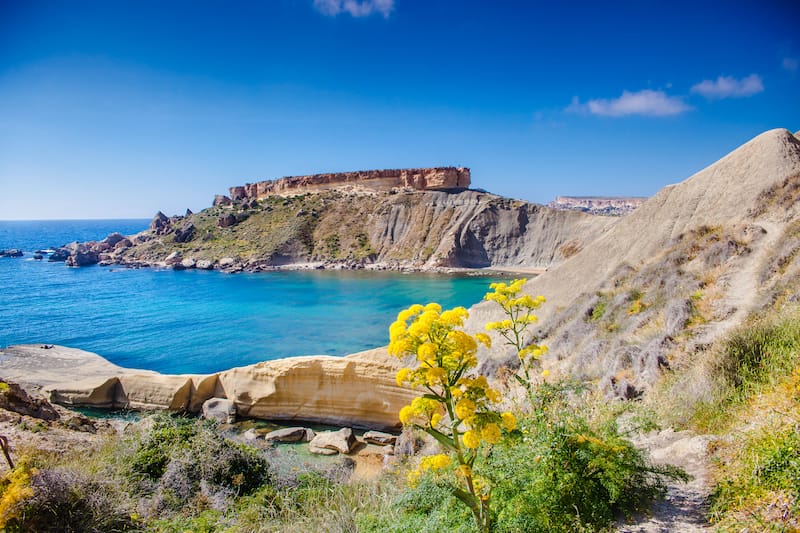 Located in the middle of the Mediterranean sea, Malta is a pocket-sized island nation that enjoys 300 days of sunshine a year. Hence, Malta is a popular go-to holiday destination, not only for Europeans but also for people from all over the world.
April is, in fact, the best time to visit Malta, when the weather is warm and not too hot. The average temperature is around 20 degrees and it could drop to 12 degrees, making it cooler in the evenings.
It is certainly not beach weather, but ideal enough to sunbathe and engage in plenty of outdoor activities. April is also a little bit quieter in Malta before the tourist storm takes over. So, it is possible to enjoy Malta in April without the hustle and bustle of high season.
Malta has three UNESCO World Heritage Sites, all of which are truly a symbol of the rich history of the bygone period. Valletta, the capital city, is postcard-perfect with its limestone architecture, adorable waterfront, and colorful balconies. For panoramic views, head over to the Upper Barrakka Gardens in Valletta.
Marsaxlokk is a colorful fishing village in the south of Malta that is worth visiting. Further down is Blue Grotto, one of the best diving spots in Malta.
Explore the maze of narrow lanes in Mdina and be lost in time. April is also a great time to enjoy hiking and walking in Malta. With a stunning coastline and limestone cliffs peppered with picturesque towns and villages, the possibilities are endless!
Champagne Region
Location: France
Average temperatures and precipitation: highs of 59F (15C) and lows of 39F (4C); 9 days of precipitation
Reasons to visit Champagne country in April: fewer crowds, cheaper prices, many museums and historical sights
Recommended by: Editor's choice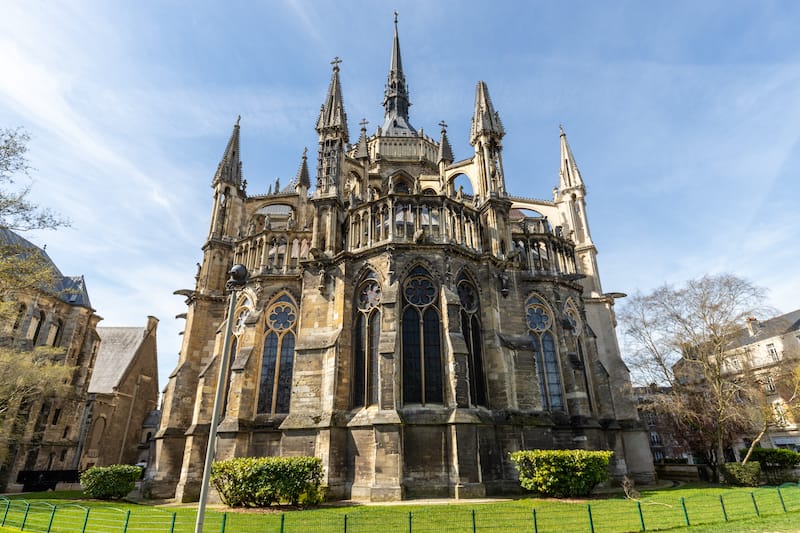 One of France's most visited regions is definitely the Champagne Region of France. People flock from afar to visit its many vineyards, Champagne houses and production facilities, and check out some of the small villages (or large Reims) for a romantic getaway.
Reims is the unofficial capital of the Champagne Region and that is where most will end up basing themselves if not just visiting on a Champagne day trip from Paris. There are many Champagne tours in Reims, as well, and it is best to stay overnight there for your trip if you can manage to do so.
Visiting Champagne country in April is not really the 'prime' time according to many, but it will definitely beat the crowds. If you're not a Champagne expert, you can still participate in tastings and tours and enjoy sightseeing in Reims without being in the area for the actual harvest and festivals.
The Champagne region is not just Champagne, however! There is a copious amount of history at your fingertips, too!
One of the most famous sights in Reims is the Reims Cathedral and the Palace of Tau, both exquisite examples of Gothic architecture and are recognized by UNESCO. There is also the Porte de Mars, a preserved Roman gate that is one of the main attractions in Reims.
Anatolia Region
Location: Turkey
Average temperatures and precipitation: varies throughout the region
Reasons to visit Anatolia in April: fewer crowds, cheaper prices, many museums and historical sights
Recommended by: Diana at The Globetrotting Detective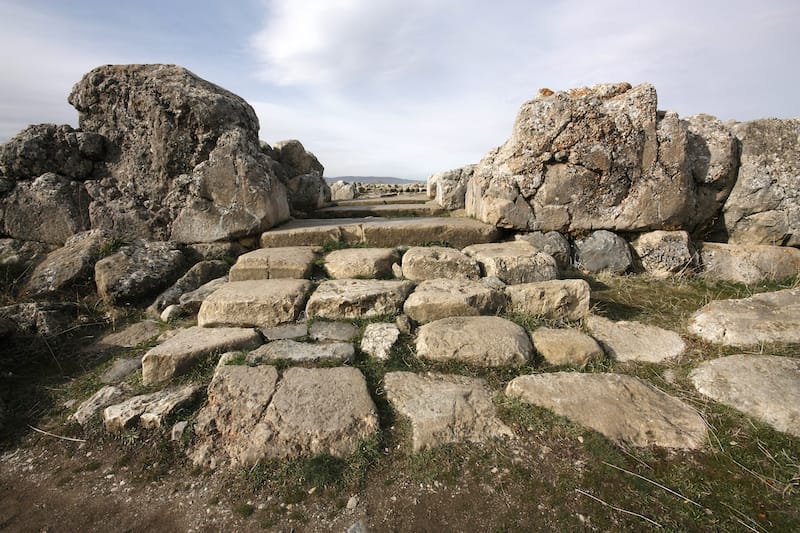 In Turkey, in the Southeastern Anatolia Region, the average temperature in April is between 20 – 23 degrees during the day. That makes it a perfect place to visit in April. The region is an arid plateau at an average of 600 meters. Most people living in the region are Turkish citizens of Kurdish descent.
People in this region are incredibly hospitable. You will find yourself overwhelmed with the generosity and kindness of the locals.
In Biblical times, the Southeastern part of Turkey was a crossroads of civilizations. Thus, you will find a plethora of spectacular ancient historical sites there.
The best things to do there are visiting the most epic places in the region namely Mardin, Diyarbakir, Sanliurfa, Gaziantep, Harran, and Nemrut National Park. All the above travel destinations are very different from each other.
As for Mardin, Diyarbakir, and Sanliurfa, each of them has a unique architecture. Mardin's old city was built by the Artuquid dynasty and features some of the most beautiful Assyrian churches of Mesopotamia. What makes Diyarbakir exceptional is the dark basalt stones used for the building of the city including all the mosques.
Sanliurfa has a historic old town as well. The key highlight in Sanliurfa is the Balikli Gol, the sacred pool of Abraham, surrounded by a green park full of life.
Gaziantep is one of the best gastronomic cities in Turkey and celebrated for its traditional Turkish sweets such as baklava and authentic dishes as Alinazik kebab. The best thing that you can do in Gaziantep is to try different food in the restaurants of Gaziantep.
Harran is the most ancient city in the region and is renowned for its beehive-like mud houses.
Last but not least, visit the Nemrut National Park where the number one tourist attraction is the colossal stone heads on the peak of Mount Nemrut.
We hope you enjoyed this post about the best places to visit in Europe in April! Thanks so much to all of the contributors who shared their favorite European spring destinations with us!
If you're traveling earlier, be sure to check out our guide to the best places in Europe to visit in March!
More Europe Travel Guides
Places to Visit in Europe in April – Pin It!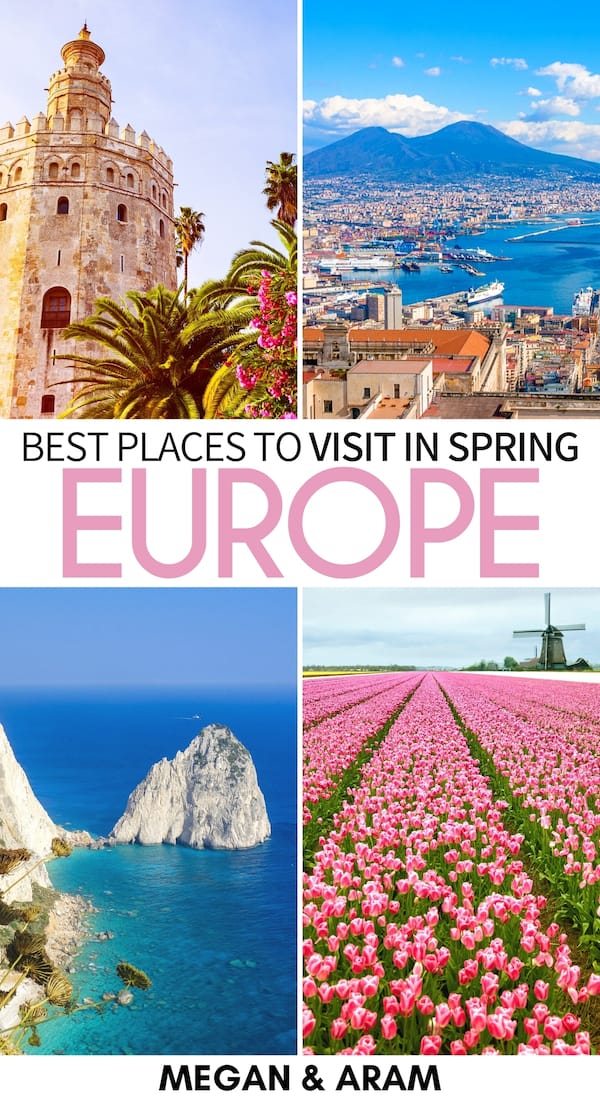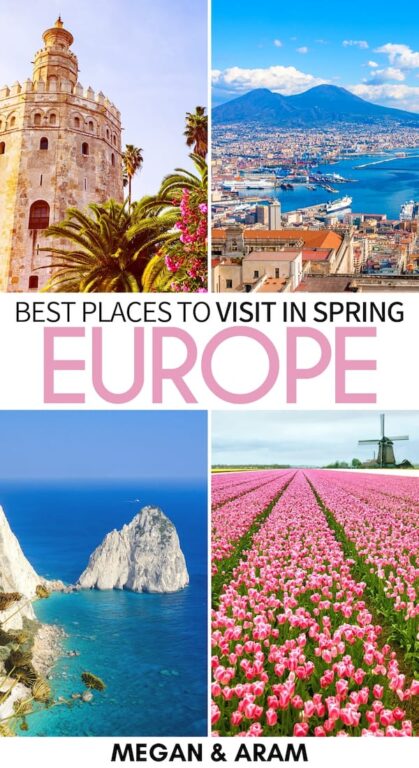 Photo Credits:
Oslo: Editorial credit: trabantos / Shutterstock.com
Isle of Skye: Editorial credit: Jan Bray / Shutterstock.com
Mostar: Editorial credit: NivCube / Shutterstock.com
Munich: Editorial credit: Rolf G Wackenberg / Shutterstock.com
Seville: Editorial credit: Silvia B. Jakiello / Shutterstock.com
Thessaloniki: Editorial credit: SIAATH / Shutterstock.com