Often referred to as the Old Continent, Europe is a fantastically diverse, multicultural place with an incredible array of landscapes and some of the prettiest cities you'll ever visit.
Quaint, colorful, and eclectic, many European cities are a trip in and of itself and you will need a lifetime to fully uncover their mysteries.
If you are planning a trip to this side of the Atlantic and are looking for the most beautiful cities in Europe, this post is a good starting point. I have selected the best of the best for you: from large, famous capitals to art-packed cities and unassuming, lesser-known ones.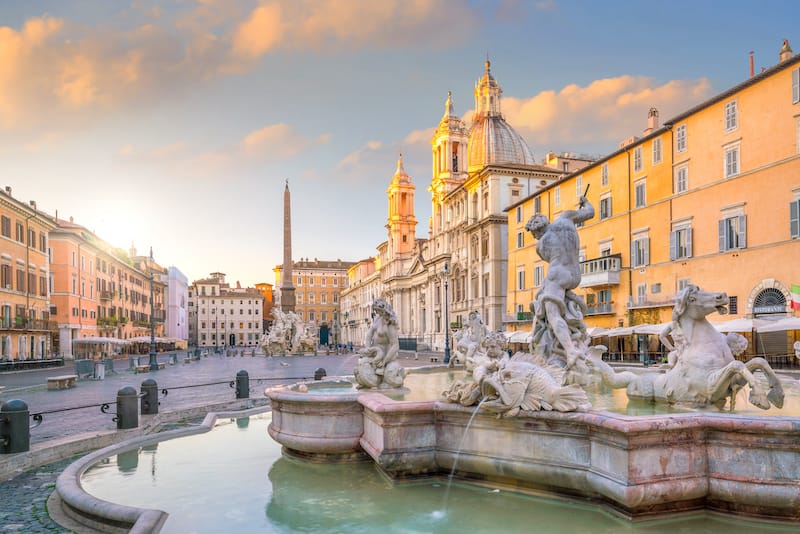 Curious to find out more? Continue reading!
Beautiful Cities To Visit In Europe
Rome
The Eternal City, aka the Italian capital, is the epitome of history, culture, and art. You won't find many other places in Europe that have such an array of attractions, and no matter what your taste in travel is, you are bound to fall in love with it.
Famous for its many archeological sites – the Colosseum, the Roman Forum, and Palatine Hill, home of the Roman aristocracy; Rome is also home to stunning churches and fine art museums.
Set in the many squares you'll find some of the most monumental fountains of Rome, as well as the "nasoni" – drinking fountains that will help you stay hydrated and fresh even on the hottest summer days.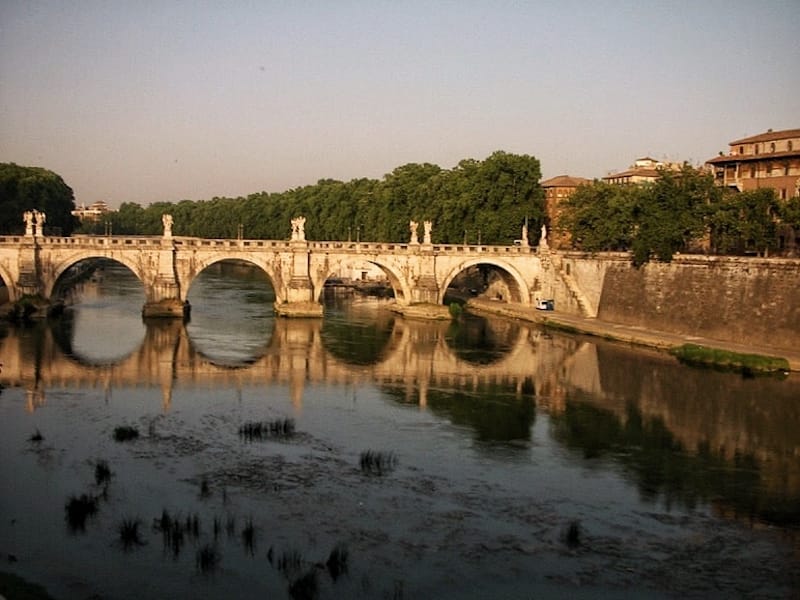 Although it is an expensive city, not all landmarks in Rome will require a ticket to be visited. Walk by Largo di Torre Argentina and you'll find an impressive archeological site, home to the very steps where Julius Caesar was assassinated and currently the site of one of the most famous cat sanctuaries in town.
Not far from it, the Pantheon – once a temple, and then a Catholic church – is one of the best-kept historic buildings in town and completely free to visit too. Just as well, all squares in Rome, and the fountains in them – Trevi Fountain, Piazza Navona, and Piazza del Popolo just to mention a few – are free to admire.
As with any proper Italian city, Rome is also a fantastic food destination. Make sure to try supplì, mouthwatering cones of rice stuffed with mozzarella and fried; and spaghetti cacio e pepe, a three-ingredients-only pasta that is packed with flavor.
If you're looking for a more adventurous activity, one of the most renowned ziplines in Italy is located near Rome and it is worth checking out!
Paris
If you are looking for a romantic getaway, or want to propose to your better half, Paris is the place to go.
A bucket-list destination and one of the most visited cities in Europe, Paris is where you'll find the iconic Eiffel Tower (hint: the best views of the Eiffel Tower are actually from Montparnasse Tower, or from the Trocadero Center, right across the street).
A cruise along the Seine River will offer splendid sightings of the beautiful Pont des Arts and Pont Alexandre III, as well as of the precious Notre Dame – currently under restoration after a fire caused much damage in April 2019.
The French Capital is also home to the Louvre, the largest art gallery in the world (a day is not enough to explore it properly!), and the Museé d'Orsay, with incredible works of impressionist art.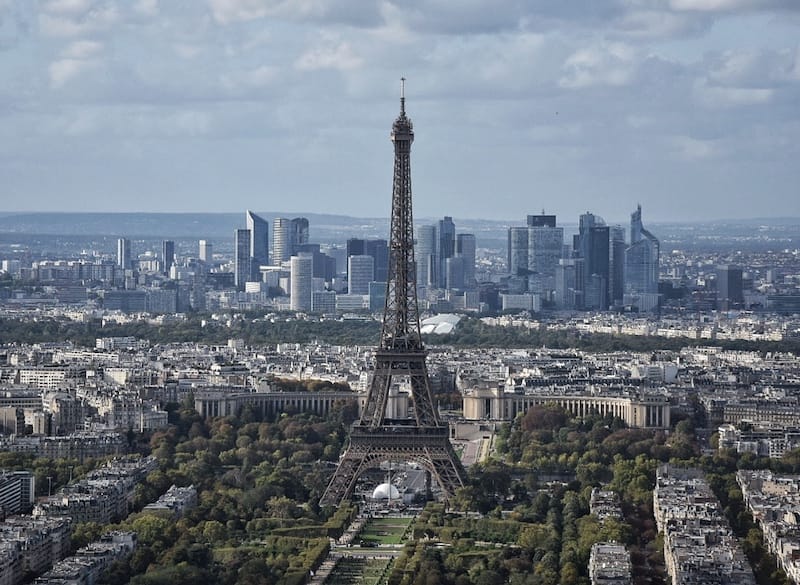 A proper trip to Paris is not complete without exploring its most famous neighborhood, Montmartre – though avoid going on the weekend, when it is most packed.
For quaint views make sure to stop by Shakespeare and Company, one of the oldest book stores in town; and to go for a walk around Les Marais – Paris's most gay-friendly neighborhood is safe, pretty, and packed with nice bars and bistros.
Finally, spend a full day in Versailles to visit the massive castle and its gardens, a splendid work of art and engineering. If you have extra days, try taking a Champagne trip from Paris to learn more about the famous beverage.
Paris is also a great place to embark on some of the best hiking trails in France.
London
If you have a knack for eclectic cities, London is the place for you. This is a city where contemporary and antique are perfectly mixed so that you never get tired of exploring. It is one of the best weekend breaks in England (and Europe)!
Places you should not miss when in London include the Tower of London – where the Crown Jewels are stored; and the nearby Tower Bridge. The best views are actually from the southern bank of the Thames, which is a lovely place for a walk on sunny days.
Buckingham Palace and the Changing of the Guard ceremony are other must-sees, as well as the nearby Regent's Park, St. James' Park, and Hyde Park – each of them a fantastic place for a picnic.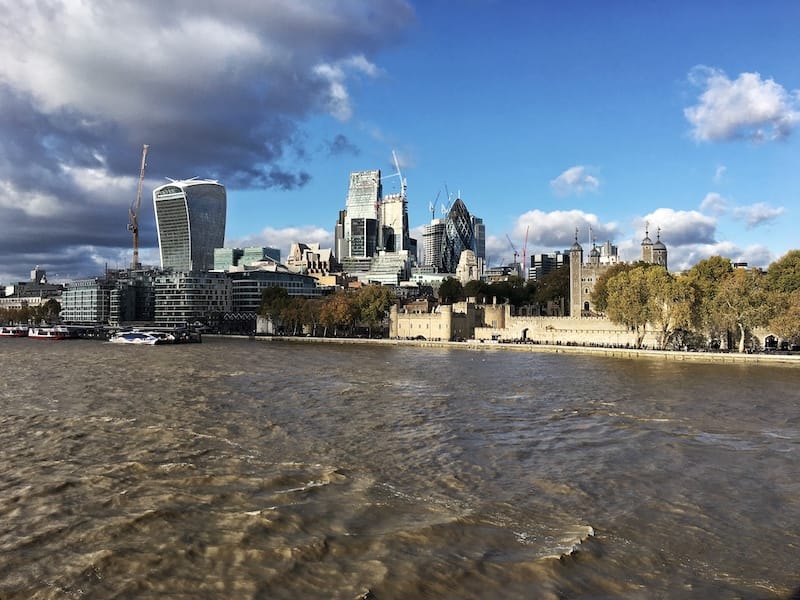 For impressive views of the city, you will have to either ride the London Eye or go up the Shard – just make sure to get tickets in advance. Alternatively, you can go to the Sky Garden, which is free to visit (but reservations are required).
The British capital is not exactly budget-friendly, but virtually all of its museums are free to access – not to mention great to visit. So you may want to include a stop to the British Museum – where the Rosetta's Stone is kept, as well as an impressive collection of mummies; and to the National Gallery in Trafalgar Square.
Finally, make sure to visit one of the many London markets for a fun day of shopping. Camden Market is one of the most popular to try some good British dishes, but also very touristy. Opt for Spitalfields Market for a place that is fun to visit and that has a nice selection of antiques, food, and curious finds.
If you're keen on taking a day trip away from London, be sure to visit Brighton for some beachside fun and delicious food!
Prague
Prague, the capital of Czechia, is a lovely city with plenty of interesting places to visit – yet what will capture your heart is the charming atmosphere.
Once a lesser famous capital, in the last 15 years, Prague has become one of the most popular tourist destinations in Europe – and for good reasons. It is also a popular spring break spot in Europe!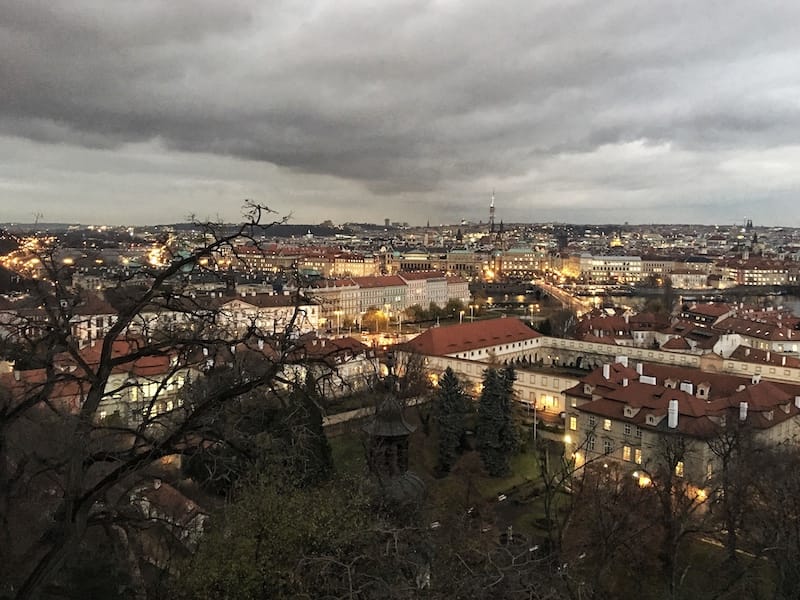 Its most popular landmarks are Charles Bridge, the subject of many a photo; the Prague Castle, which offers impressive views of the city; the Old Town Square and the Dancing House. If you fancy unique architecture, the many functionalist buildings will keep you busy too.
Prague is a great spring and summer destination, but if you visit in December, the lovely Christmas markets scattered around down and the free-flowing svarak (mulled wine) and medovina (honey wine) will definitely be reasons enough to linger on.
Finally, when in Prague take advantage of the abundant and delicious beer!
Riga
The capital of Latvia isn't the first place that comes to mind when thinking about cities to visit in Europe – and that's a pity because it has so much to offer!
Riga is a wonderful mix of old and new, with a thriving cultural scene and a multi-layered history (the city has gone through Swedish, Russian, Nazi, and Soviet occupation) and a nightlife that puts to shame that of many other cities on the continent.
Vecrīga, the Old Town, is a lovely place to wander around and you'll find plenty of photo opportunities. That's where the Cathedral is located, as well as St. Peter's Church, from where you can admire the city.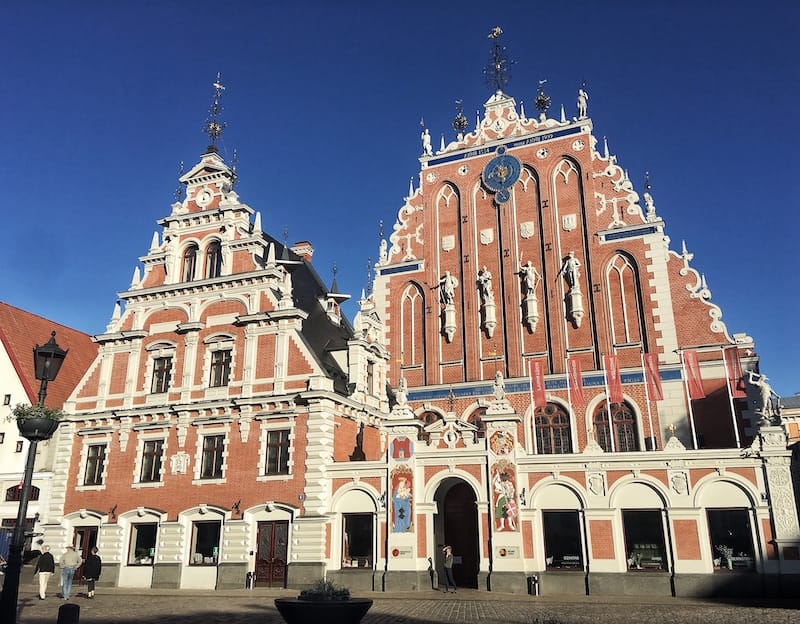 Another viewpoint is that of the Skyline Bar – a wonderful spot for a sunset drink. Landmarks in Riga not to be missed include the House of the Blackheads and the Swedish Gate.
Visit the Museum of the Occupation to learn more about the dark past of the city; but for a truly unique experience head to the Corner House, a former KGB building used in Soviet time to interrogate, torture, imprison and kill political opponents.
Lovers of Art Nouveau will find plenty of interesting buildings scattered around town – the highest concentration is in Albert Street. For an eclectic mix of art and culture, also be sure to check out Andrejsala.
Finally, there are many great day trips from Riga like Gauja National Park, perfect to get close to the pristine Latvian nature.
Berlin
The German capital is the kind of place that will leave you baffled – you'll either love it or hate it, and will possibly have to visit several times to fully make sense of it.
Granted, Berlin is hardly the most beautiful city in Europe, but it certainly is one of the most interesting ones; not to mention incredibly glamorous, quirky, and vibrant with culture and art.
The Cold War atmosphere is still palpable in the plain architectural style of many buildings. Brandenburg Gate and the Reichstag Buildings are both must-see, as well as what remains of the Berlin Wall.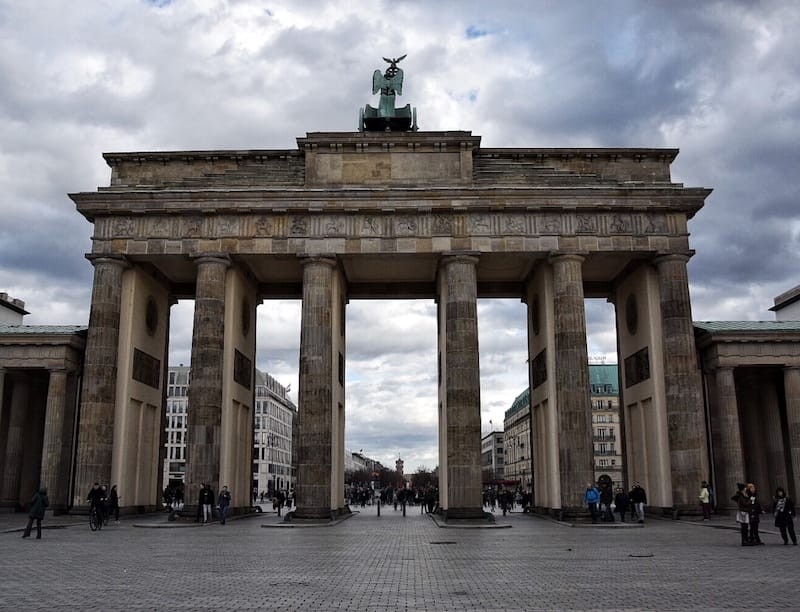 The best views of the city are from Berlin TV Tower, while the best museums are located on Museum Island – the Pergamon is one of the most important galleries in the world.
Finally, the food scene is actually thriving in Berlin, and veganism a major trend so if you are following a vegan lifestyle, you will be pleased to know you will have an abundant choice of places to eat.
Venice
Yes, Venice is not a capital city. In fact, it is significantly smaller than all other cities mentioned in this post. Yet, it really is one of the best cities to visit in Europe – so unique, romantic, and packed with culture and beautiful sights that you won't want to miss it during your trip to Italy.
Located in a lagoon off the coast of Veneto, in Northern Italy, Venice is made up of 118 islands and a myriad of canals, and a whopping 391 footbridges. The city reached its peak in power in the 13th century, and though those times are long gone, its grandeur is still visible in the many palazzi.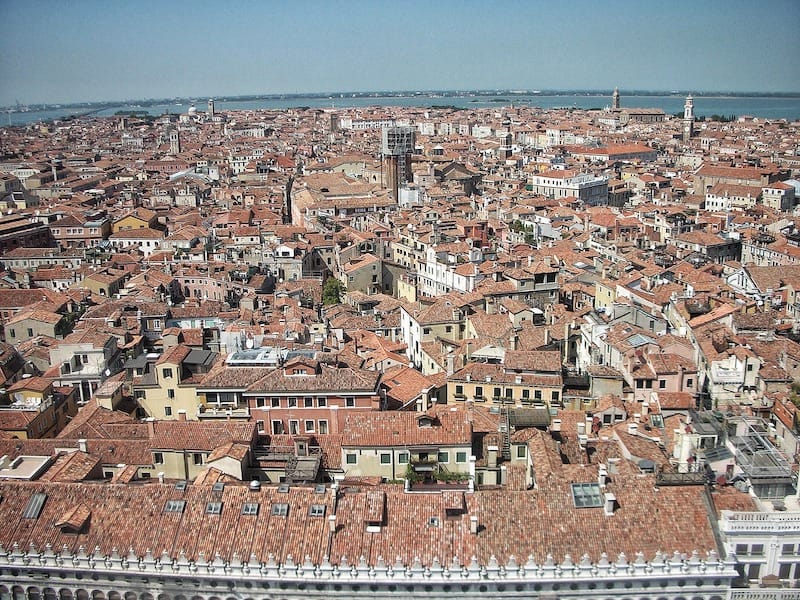 Must-sees in Venice include the gorgeous Piazza San Marco, where you'll find the bell tower from which you can admire impressive views of the city. St Mark's Cathedral and the Doge Palace are other unmissable attractions, as well as the famous Ponte di Rialto.
If you fancy getting away from the crowds, head to the Jewish Ghetto; whereas for a day in the sun the beach of the Lido di Venezia – albeit being a million miles away from the stunning beaches of Sardinia – will definitely do. For an easy day trip, opt to go to the lovely Murano and Burano islands.
Istanbul
The largest city in Turkey has had many names in the past – Byzantium, Constantinople, New Rome. This reflects its long history, which spans more than 2500 years.
Istanbul really is one of the best cities in Europe, and what makes it even more interesting is that it actually spreads across two continents! An easy ferry ride will indeed take you across the Bosphorus Strait, and within moments you'll find yourself in Asia.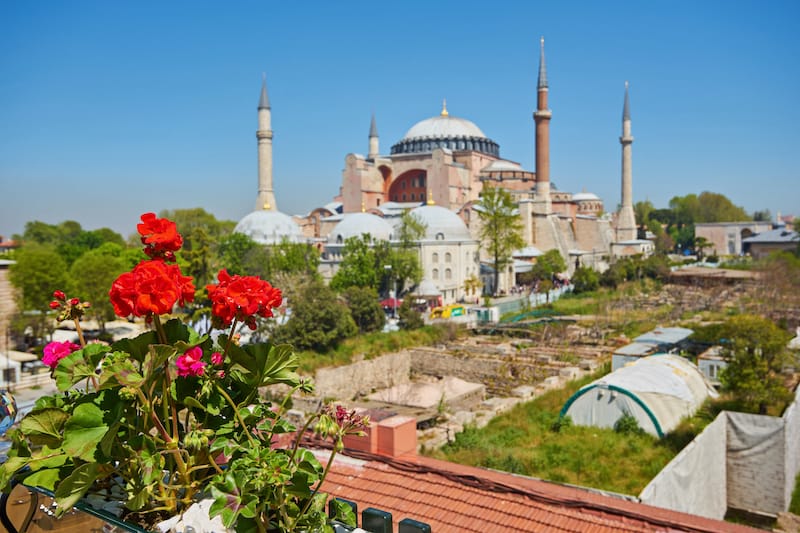 The main sights in Istanbul include Hagia Sophia and the Blue Mosque. The Galata Tower is the best place to admire the views of the city.
The Grand Bazaar and the Spice Market are both must-see – make sure to sit down for a cup of deliciously rich Turkish coffee, accompanied by the sweetest baklava, for a proper break from all the shopping.
If you love cats, you'll be in for a treat – this is one of the most cat-friendly cities in the world, and it's not uncommon to find these small felines basking in the sun, on top of a pillow in a shop window.
Barcelona
Easily one of the most popular cities to visit in Europe, the capital of Catalonia doesn't need any introduction! Its most iconic landmark is the Sagrada Familia, Gaudì's masterpiece and a UNESCO World Heritage site, whose construction started in 1882 and is yet to be completed.
But Barcelona is much more than that. Places you should not skip are the Gothic Quarter, Park Guell, and Casa Batllò, another of Gaudì's creations.
La Rambla is the perfect spot for a walk. Stop by Picasso's Museum to admire some of the painter's most celebrated pieces.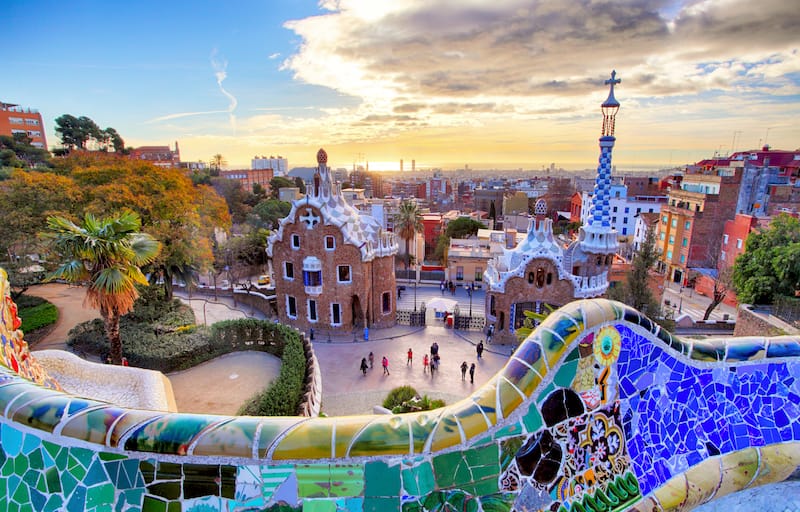 The Mercado de la Boqueria is the most popular market – a tourist hotspot for sure, but also a great place to taste the many local flavors.
Barcelona is also a great starting point to explore the region of Costa Brava. Great day trips include Girona, a quaint smaller town with a gorgeous cathedral – and a GoT filming location; and the many smaller coves along the coast.
If you fancy hiking, the Volcanic Region of Garrotxa and the many trails of the Pyrenees won't disappoint.
Another awesome thing about the city? Barcelona is great in winter and not just the high season!
Lisbon
Last but definitely not least in this selection of best cities to visit in Europe is Lisbon, the celebrated capital of Portugal. Beautifully perched on steep hills and right by the water, Lisbon is one of the most affordable European capitals – so you may want to visit before this changes.
Among the things you should not miss when in town is a ride on the iconic Tram 28. For breathtaking sunset views, plan a cruise on the Tagus River. A walk around the Alfama district will uncover more quaint spots and some of Lisbon's best cafes.
Portugal's capital is a very musical city, so grab some tickets to enjoy a Fado music show and be sure to put it on your weekend itinerary for Lisbon! Plan a day out of town to visit the beautiful Sintra Palace or Cascais, a charming coastal town.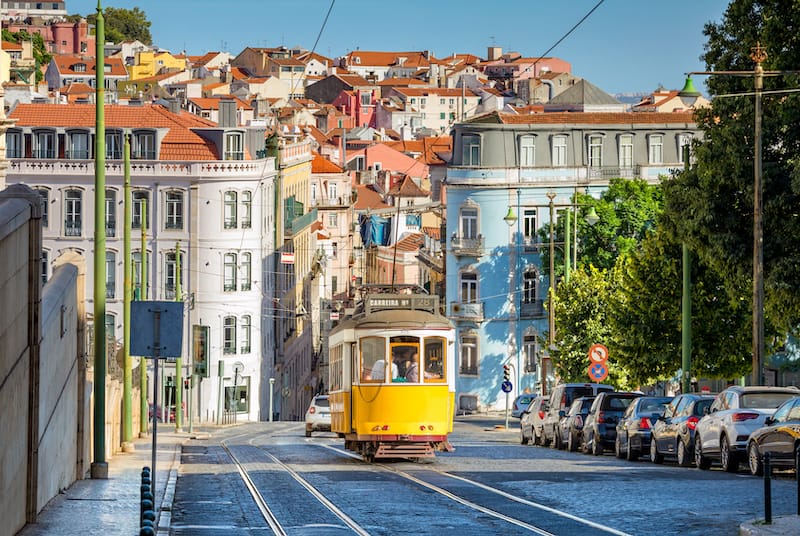 Food is yet one more reason to visit Lisbon. Time Out Market is the best place in town to take in all its flavors, but you will also want to go to Belem to try the delicious Pasteis de Nata – mouthwatering, crispy, and flaky pastries dopped with delicious custard.
What other cities would you add to this list?
Claudia Tavani was born and raised in Cagliari, Sardinia, but her father grew up near Rome so the city is her second home in Italy. You can keep up with her travels at My Adventures Across the World.
You Might Also Like:
Pin This Beautiful European Cities Guide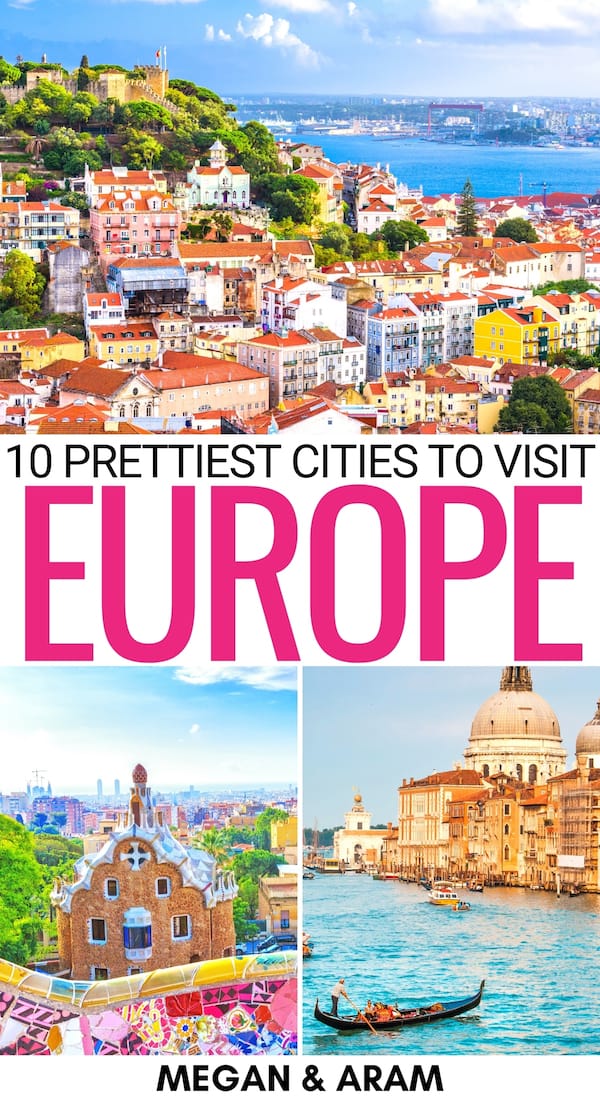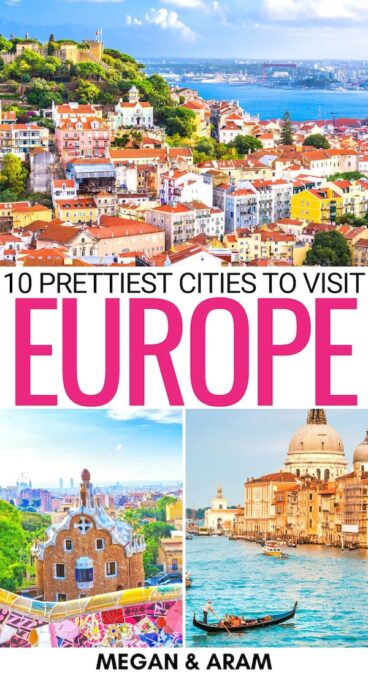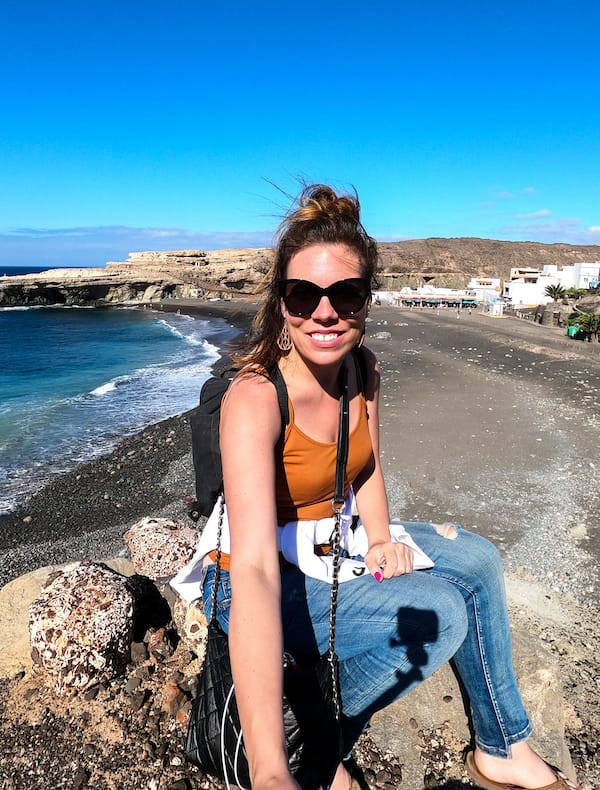 Megan is a travel blogger and writer with a background in digital marketing. Originally from Richmond, VA, she now splits her time between Frankfurt, Germany and Arctic Finland after also living in Norway, Armenia, and Kazakhstan. She has a passion for winter travel, as well as the Nordic countries, but you can also find her eating her way through Italy, perusing perfume stores in Paris, or taking road trips through the USA. Megan has written for or been featured by National Geographic, Forbes, Lonely Planet, the New York Times, and more. She co-authored Fodor's Travel 'Essential Norway' and has visited 45 US states and 100+ countries.