One of the most underrated European countries to drive in is Romania. This driving in Romania guide will give you tips and information for embarking on the perfect Romania road trip, including how to rent a car in the country.
This is a guest post from Rachelle at Adventure is Never Far Away.
Road Trip in Romania
Romania is one of the best-kept secrets in Europe and the perfect place to embark upon an ultimate road trip.
Have you been daydreaming about traveling to faraway lands, winding around country roads, dodging livestock, and horse-drawn wagons, all while passing by some of the most magical castles in the world?
Are you ready to get out and discover a new country? Dying to see why Eastern Europe is one of the best corners of the globe?
Want to fill your social media feeds with truly unique pictures of landscapes that you only thought existed on your computer's screen saver screens?
Whatever your reason, it's time to start planning your ultimate road trip through Romania! It is one of the best-hidden gems that is yet to become overcrowded with tourists.
Road trips create the best memories, etching stories in your heart and mind forever. Turning you into that epic storyteller you've always wanted to be. So why not have an ultimate Romania road trip to fill up your adventure tank?
Here you'll find my first-hand tips for driving in Romania, along with some of the best places to stop along the way. Get ready – you're about to learn how to have the perfect Romania road trip!
Why Should You Take a Road Trip in Romania?
When planning a road trip, do you envision sitting in traffic? Or rolling along dirt roads, riddled with potholes? Probably not.
Romania is the best of both worlds. The country is still a relatively unknown destination for most international travelers, so the amount of vehicles out on the open roads pales in comparison to other European countries.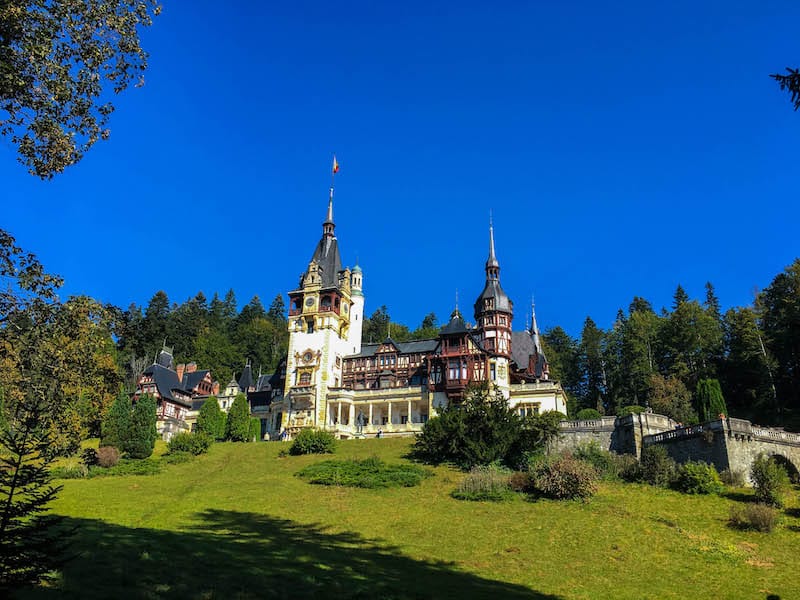 Romania was under Communist rule until 1989, and otherwise thus unexplored by outsiders.
Even today, you can take a road trip around Romania and feel like an explorer of olden times, discovering hidden gems along your way.
Renting a Car in Romania
If you're not taking your own car to Romania, you will need to rent a car there. Be sure to do so in advance and be sure to also get insurance with it!
>> Click here to check Romania rental car rates
Planning Your Romania Romania Road Trip
Once you realize that there is no better place to have an ultimate road trip than Romania, it's time to start planning! Where do you want to go? What do you want to see? How long do you have for your ultimate Romania road trip?
Before we dive into the details and tips, let's have a quick geography lesson.
Romania is the largest country in Southeastern Europe and the 12th largest in Europe proper. The terrain consists of equal parts mountains, hills, and plains, with the Eastern border abutting the Black Sea.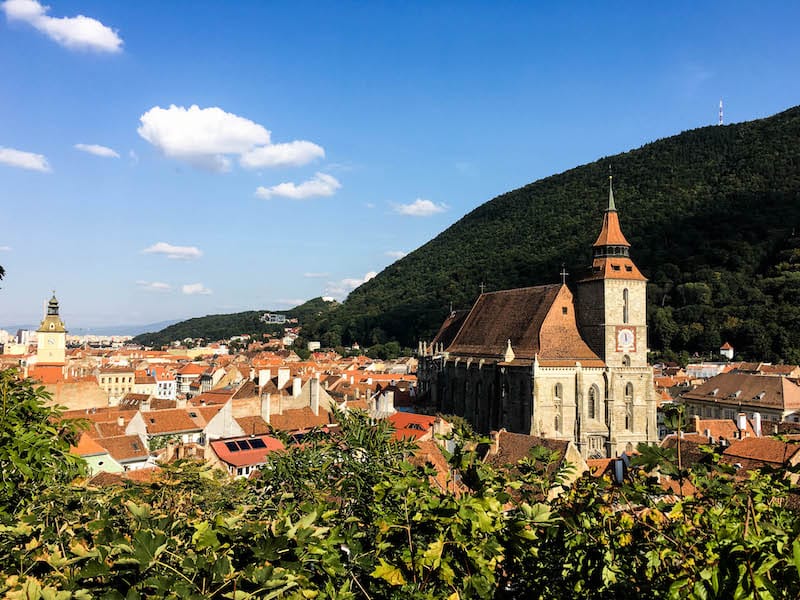 When planning your epic Romania road trip, consider what kind of terrain you'd like to explore. Once you decide that, consider the time of year that you'll be road-tripping.
If your desire is to criss-cross the Carpathian mountain range, maybe avoid traveling during the winter, when the "Romanian Alps" are covered in snow.
If you want to take a road trip along the Black Sea and stay at resorts on the water, maybe plan on the hot summer months. If the Danube Delta is on your list, avoiding winter is a great tip to take into consideration!
Route Options
There are so many different route options that you can take on your road trip in Romania, based on how much time you have and what you want to see.
One of the best ways to plan your route is to pick which city you want to be your "starting point" and go from there. Here are some suggestions to help you plan out your road trip!
Transylvania
Maybe you're like me and the romantic inside of you wants to say that you've road-tripped through Transylvania. Base yourself out of the city of Brașov and get ready for some of the most unique castles and fortified buildings you have ever imagined!
Road trip to the cities of Bran and Sinaia to check out Bran Castle and Peleș. See the colorful city center of Sighișoara and the houses that have eyes in Sibiu.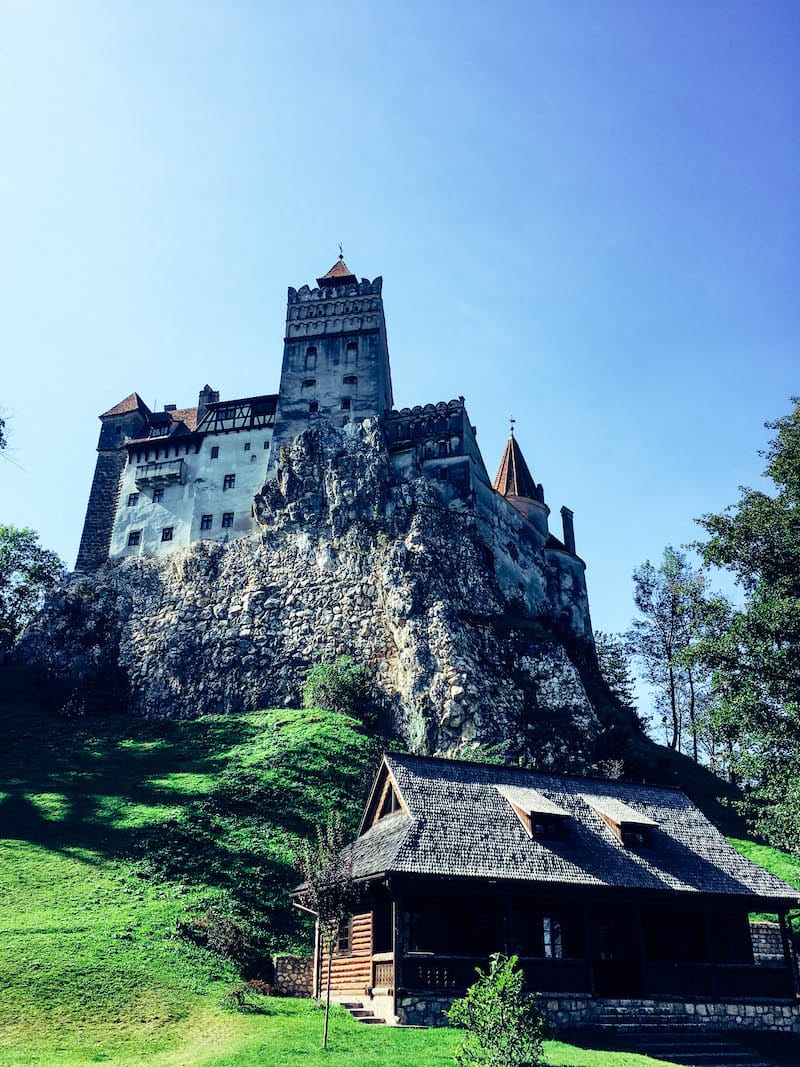 Drive through the countryside and visit some of the country's most preserved medieval towns.
Or take the challenge of driving along the Transfagarasan Highway, high atop the mighty Carpathian Mountains. A route that the guys from Top Gear have dubbed the best road in the world!
Northern Romania
The college town of Cluj-Napoca, or simply "Cluj," is the perfect gateway to a road trip around northern Romania.
Known for its vibrant social and nightlife scene, Cluj is a box of treasures just waiting for you to open. Head up north to the Maramures region of Romania and take a step back in time to a simpler age.
Check out the Merry Cemetery I'm sure you've seen pictures of, and celebrate the local wood craftsmen.
Or if you'd like to head south, you can take a road trip down to Hunedoara, home to the legendary Corvin Castle. I'm almost convinced it is the Romanian version of Hogwarts.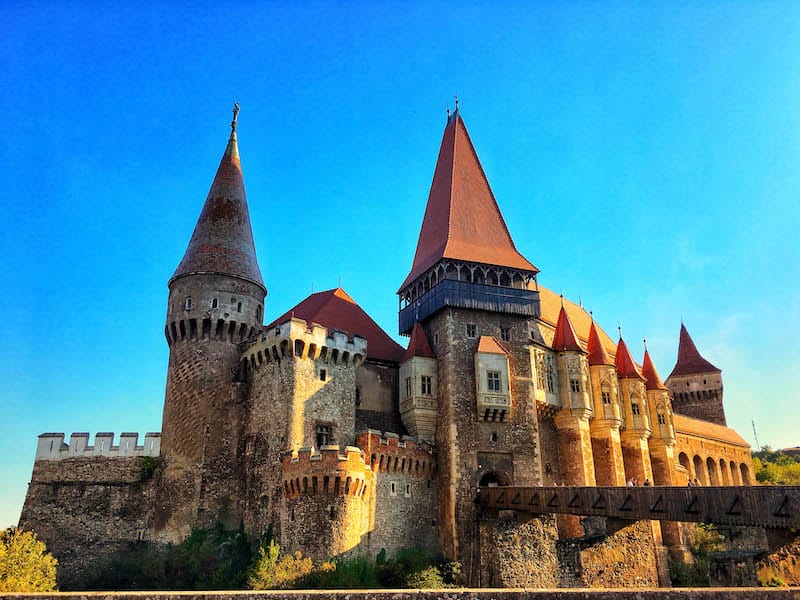 Bucharest
The capital city of Romania is one of Europe's best-kept secrets and you can easily put together an amazing Bucharest itinerary. From Bucharest, you can easily head southwest and reach the shores of the Black Sea for a seaside route.
Head towards the quaint town of Constanța and drive with your windows open to catch the breeze. Just a little further north along the banks of the Black Sea is the Danube Delta, offering unique ecosystems and wildlife.
Whatever route or combination of routes you choose for your drive through Romania, your experience will be unforgettable.
Romania is one of those places that gets under your skin and holds onto your soul, all in the best ways possible. But to ensure you have the best road trip possible, here are some specific driving tips for Romania that you should consider.
Driving in Romania Tips
Vehicle
Having the best vehicle for your road trip will make or break your adventure (if you're bringing your own vehicle to Romania for your road trip, feel free to skip this section).
Most rental vehicles in Europe have manual transmission, also known as a stick-shift. If you're uncomfortable driving a manual transmission, you can pay a little extra and reserve an automatic transmission car.
Trust me on this – if you haven't been driving a manual transmission for years, spend the extra money for some peace of mind.
I spent two weeks prior to my trip learning manual but was fortunately upgraded at the car rental place. Don't leave it to chance.
Insurance
Any time you travel, it's always a great idea to have insurance. Aside from your usual traveler's insurance, you'll NEED to make sure that your rental vehicle has plenty of insurance.
If you have personal vehicle insurance through a company in your home country, do some research to see if they have any international coverage in Romania.
And when you're at the car rental place in Romania and they ask you if you want full-coverage insurance with your vehicle, do it!
Keep in mind that you'll need a credit card for the insurance, not a debit card or cash.
Documentation
It should go without saying, but you need to be able to drive and have proof before you can rent a vehicle in Romania.
You'll want to check with your country's respective embassy to see if further documentation will be needed.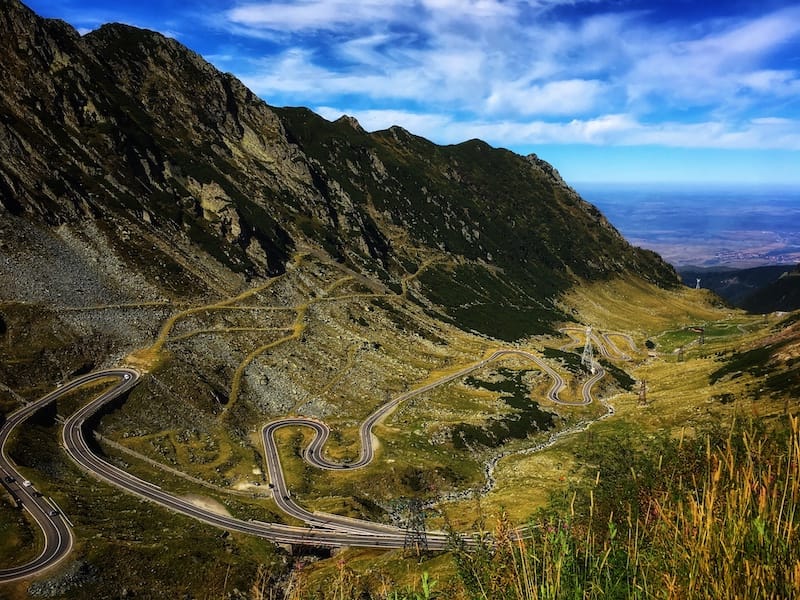 Although you might only need your country's driver's license at the rental car agency, the local police might require an International Driving Permit (IDP). Better be safe than sorry. All it takes is a quick Google search.
Packing Essentials
Along with the road trip essentials, there are a few items that you'll want to make sure you pack for your ultimate Romania road trip: cash, toilet paper, and an emergency road kit.
Many places in Romania are still extremely rural, so cash (Romanian: Lei) is essential if you need to make most purchases. Roadside pit stops/rest stops are literal holes in the ground that aren't for the faint of heart.
There's no guarantee that they'll be toilet paper for you. Come prepared. And although you might travel with an emergency road kit, it's imperative to have one in Romania.
A spare tire, red flags, extra water and food, cables, a blanket, and any other tools you might need to repair the vehicle.
Road Signs in Romania
Especially if you've never driven in another country, read up on the local road signage before getting behind the wheel.
The signage tends to cater to a more universal model, so it would be prudent to familiarize yourself with some of the signs you'll see the most: speed limits and rules of the road.
Learn how the signs work.
For example, the signs you'll see right before you enter a small village will be different than the ones you'll see as soon as you pass through it.
Rest Stops
As mentioned before, rest stops tend to be rustic. Although some of the rest stops I've seen look picturesque with painted buildings that complement the countryside, the interior leaves much to be desired.
If you're traveling between cities or places where you're staying overnight, take care to relieve yourself before you leave…unless you enjoy roughing it in the countryside.
Remember to bring in your own toilet paper, since it's never a guarantee in some of the more rural locations.
Parking
Don't be surprised when you are driving along the main road through a city and all of a sudden have to swerve around a car that decided to park in their lane, against a curb.
For some reason, drivers tend to just pull over and park, regardless of traffic, busses, or other people around them.
It seems like any place that isn't covered by a dedicated bike path is fair game for someone to park their vehicle. Sometimes you'll even see cars parked stacked a few deep on the sidewalk.
Take care to follow posted signs when finding a parking spot.
Villages
When you're driving out in the countryside, you'll discover that the road winds through rural villages. As you approach the villages, the speed limits will rapidly decrease and the lanes will narrow down to one each direction.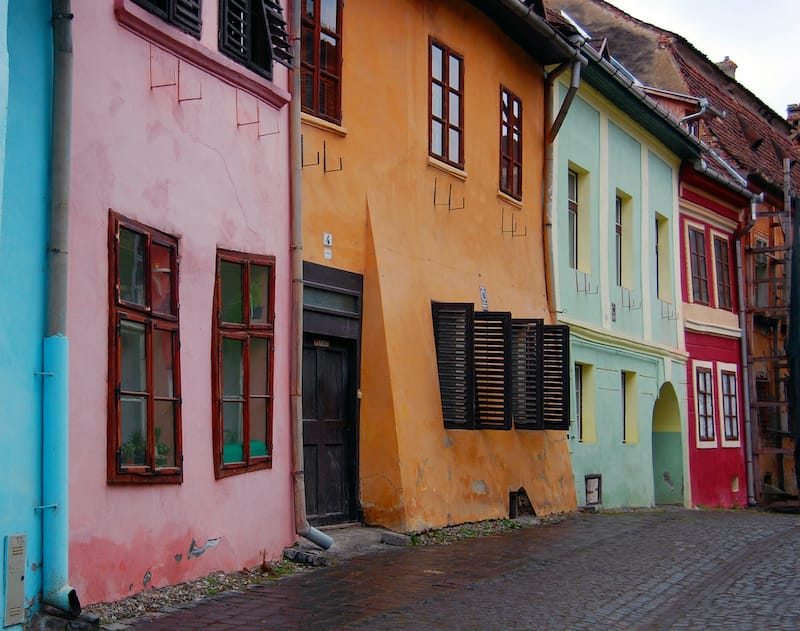 You'll pass colorful houses, with most of their front doors opening to the main road. Be sure to slow down and marvel at the beauty that you're driving through.
And once you pass through the village, you'll see a sign indicating the increase of the speed limit.
Road Blocks
Cows, haystacks, wagons, oh my! Any time you find yourself driving in the countryside, there's always a great chance that you'll come across livestock and farming equipment.
There have been multiple times where I've had to slowly follow an oversized horse-drawn wagon, stuffed with hay. One time I was passing through a rural village and the cows had gotten loose, stopping the traffic both directions until the owner could wrangle them up.
Just drive slow and if you're traveling with a companion, have a camera ready!
Cyclists
Like many countries in Europe, Romania has a strong cycling community. To most cyclists, Romania is a gem that is waiting to be discovered.
In turn, cyclists can be a major hazard to drivers. While there are often dedicated bike lanes in some of the bigger cities, you can expect to come across numerous cyclists throughout the country.
It has been reported that Romania experiences more cycling deaths per year than any other country in Europe, due to the dangerously winding roads that snake through the mountains and countryside.
As a driver, make sure you give a wide berth to any cyclist you come across. Go slow as you turn tight corners, use your horn as you navigate blind corners, and only pass cyclists when safe.
Traffic Circles (Roundabouts)
Romania has more traffic circles than I ever expected. If you're unfamiliar with what a traffic circle is, think of it as a way cities and countries can keep the flow of traffic moving without having to wire for traffic signals.
Always yield to the vehicles coming at you, and don't assume that anyone is going to stay in their lanes. Most smaller towns will have individual traffic circles at the various intersections.
However, you'll find a different configuration all over the capital of Bucharest. There were instances where I would be driving along and come across a traffic circle that was actually 3 connected circles.
From the air, I'm sure they looked like a drunk snowman. If you're unsure of how to navigate the circles, there's no shame in having to go around each one a few times to orient yourself with the situation.
Just keep in mind that other drivers might be in a hurry and zoom around you.
Crossing Lanes
One of the first things you'll realize during your ultimate Romania road trip is that drivers strictly observe the pedestrian crossing lanes.
Also known as "zebras" for their black and white pattern, these striped lanes are a safe haven for pedestrians all over the country. If there is a pedestrian in the zebra, do not enter. Do not cross through. Stay clear.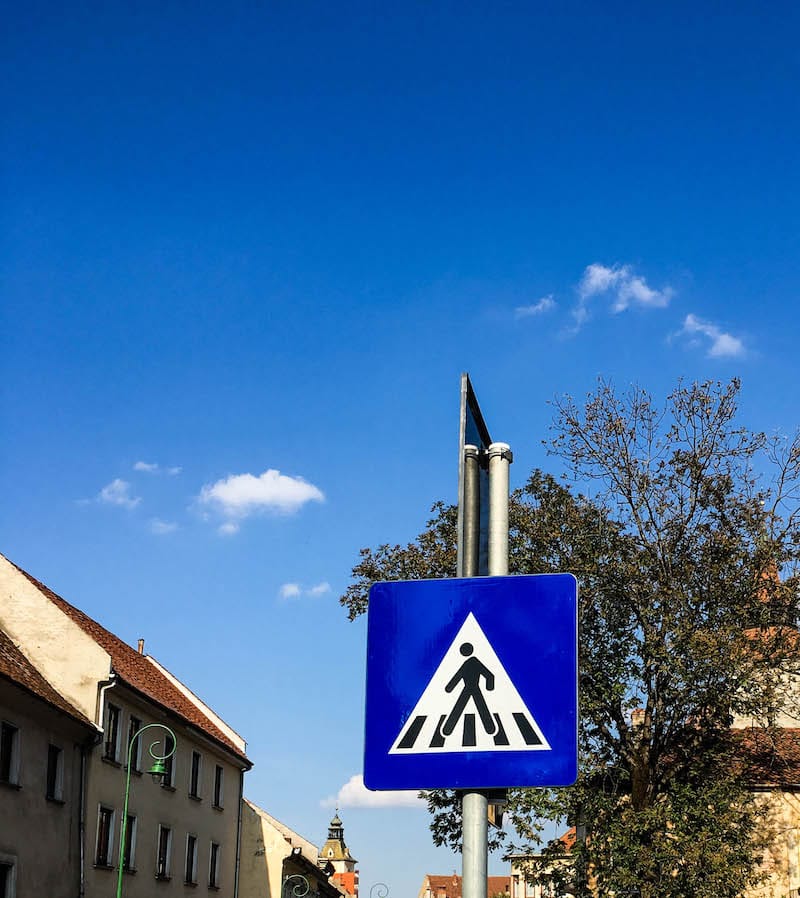 Crossing through a zebra while it is occupied by a pedestrian, be prepared to be scowled at worse than if you park your car in the middle of the highway.
Aggressive Drivers
Drivers in Romania have places to go. Once you roll out into the street in your vehicle, you become a player in the chaotic scene. If you're a passive driver overall, you might need to put on a more aggressive persona.
Let me clarify – aggressive drivers aren't necessarily bad drivers. When I say aggressive, I mean that they'll go when the light turns green, pass you if you're going too slow, and enter the various traffic circles like they own them.
There was a time when I was waiting to turn left at a signal in Bucharest, and I had pulled out into the intersection a little bit.
As I was waiting for the cars to clear, 2 other cars pulled up on either side of me, also waiting to turn. It was like we were a huge, metal oreo and I was the creme in the middle. Once there was a break in the opposing traffic, all three of us turned at the same time.
As an American driver, it took me by surprise that anyone would do something like that. But as long as you keep your cool, you'll be just fine.
Whatever route you wind up taking, or if you decide to just follow the way the wind blows, Romania will surprise you in the best ways possible!
About the Author:
Rachelle is the writer and creator behind the website Adventure is Never Far Away. After moving to Utah in 2009, Rachelle was finally bitten by the travel bug and started to travel around the world and in her own backyard. She has been determined to prove that adventures can be found anywhere. You don't have to go far to find an adventure! Click here to follow her on Instagram, Pinterest, or Facebook.
PIN IT FOR LATER!