There are several things I recommend travelers to know before they visit Tromsø, Norway. This guide is a conclusive list of my Tromsø travel tips – and it covers all seasons as I have visited multiple times!
Planning your trip to Tromsø last minute?
Below are some of the top tours, hotels, and more! Donʻt forget to plan ahead when visiting Tromsø and nearby!
🇳🇴 Top activities and tours in Tromsø:
🛌 Top Hotels in Tromsø:
✈️ Want to get from the airport to Tromsø hassle-free? Find the best airport transfer option here!
🚗 Visiting Tromsø independently? Be sure to book your Norway rental car ahead of time to ensure availability!
This is a guide of all the useful tips and recommendations I have for those traveling to Tromsø, Norway's Arctic capital and one of the coolest cities in Scandinavia.
It includes tips for all seasons, particularly winter. Let us know your travel tips for Tromsø in the comments!
What to Know Before You Visit Tromsø, Norway
I have traveled to Tromsø, Norway twice. Once in the winter and once in the summer. I have also lived in Norway for four years and I know the country like the back of my hand, even still today after moving away!
Norway is one of the easiest countries to travel to… really! It is safe, everyone speaks English, and it is so efficient it hurts.
But, like anywhere, there are some things you should know before visiting Tromsø. This guide is about those things!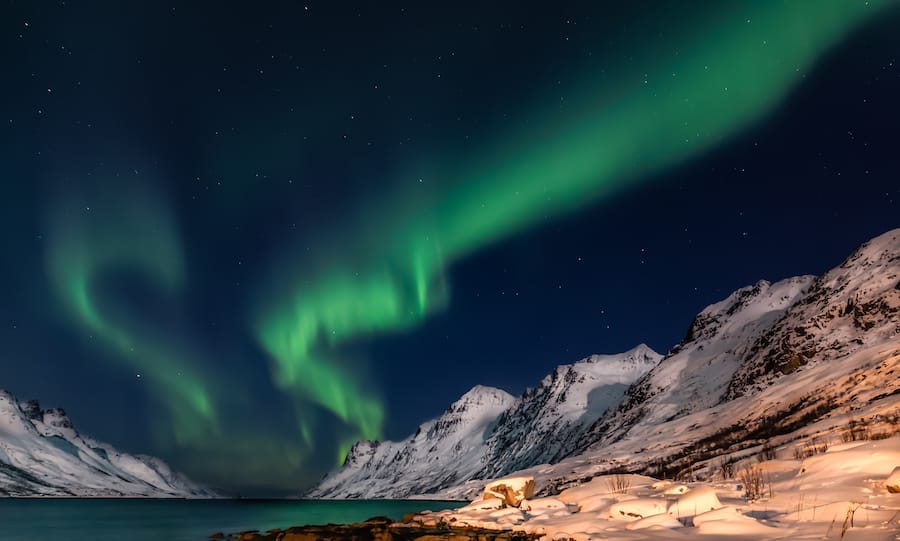 It will include practical information for your Tromsø trip, but it will also include random facts and observations I have gathered from my two trips there.
If you have anything to add, please drop it in the comments below to assist travelers. Thanks!
Getting to and Around Tromsø
How to Get to Tromsø
If you're looking to get to Tromsø, the best way to reach the city is by flying there. Some of the airlines that fly there are Widerøe, Norwegian, SAS, Lufthansa, Finnair, KLM, and Wizzair.
Other airlines go in and out of Tromsø as well and you need to check to see if certain routes are year-round or merely seasonal.
Another option for getting to Tromsø is to book a journey on the Hurtigruten. I took the Hurtigruten (cruise ship) from the Lofoten Islands to Tromsø and it was an interesting and worthwhile experience.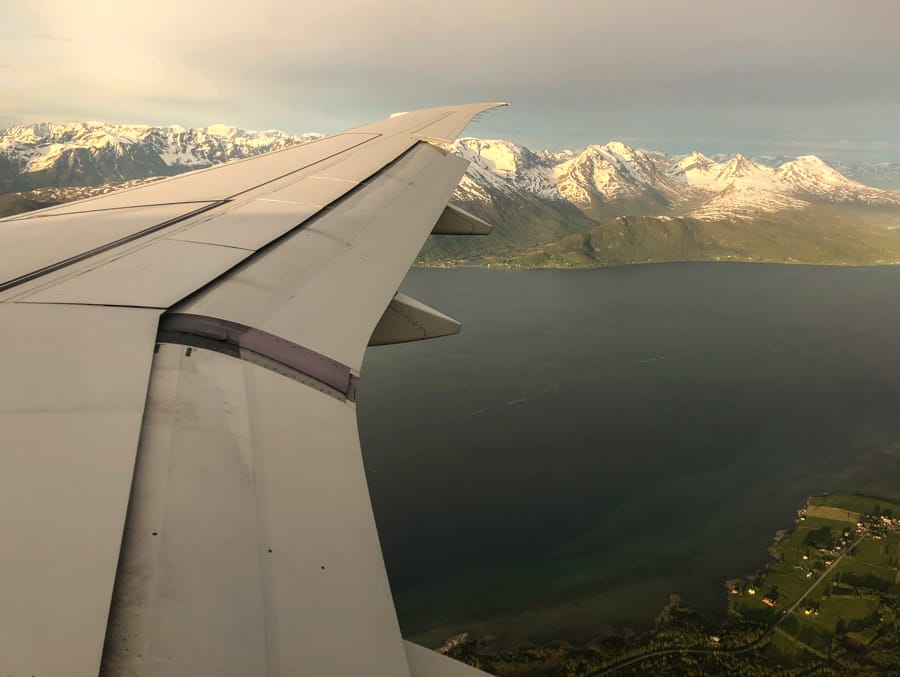 Driving to Tromsø is not the most practical task as it will take ages to get there and is probably a better summer option for those who have an extended holiday or time off.
If you do choose to consider this route, wild camping is LEGAL in Norway and you can pitch a tent pretty much anywhere.
Tromsø is also a popular starting point for a wide range of Arctic cruises.
If you can, spend some extra time before or after your cruise exploring the unique cultures and local attractions you can find in these vastly different Arctic and sub-Arctic towns.
Getting from Tromsø Airport to the City Center is Painless
Like… really painless. When your flight arrives, you will grab your bags and head out to the front of the airport.
Once here, a bus will be waiting. You will pay with your card to the driver and voila! You're on the bus to the city center. Don't speak Norwegian? The bus driver will speak English.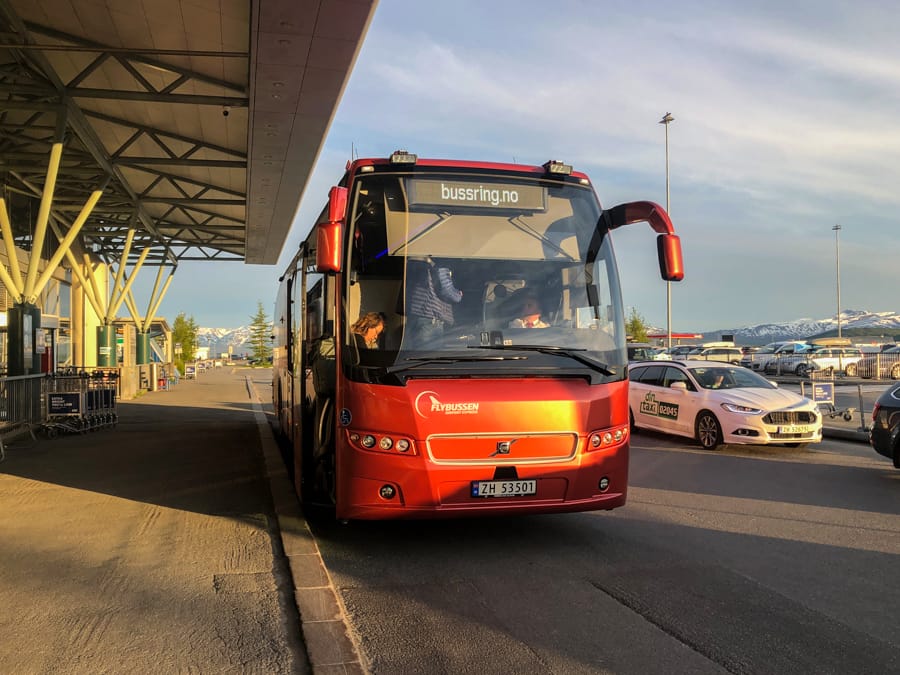 Once you're in Tromsø city center from the airport, you will get dropped off at one of the few locations that are all centralized and near the hotels.
Tromsø city center is small and manageable.
I would recommend downloading a map of the city (offline) before you arrive and I would also recommend asking your hotel for specific arrival instructions just in case you're staying somewhere a bit off the path.
Don't Take Taxis in Tromsø
Or anywhere in Norway. Sorry, taxi companies in Norway. It is absurdly expensive and there is always a public transportation option available in almost any city, including Tromsø.
Tromsø is small, anyway, and walking around is the easiest way to get from Point A to Point B. Aram and I have used public transportation in Tromsø (buses) and it worked wonderfully.
Food, Drinks, Shopping in Tromsø
Tromsø (and Norway) Doesn't Like Cash
Are you planning to arrive in Tromsø with a load of cash to change over to Norwegian kroner?
Well, don't. Norwegians hate cash. And you will too after you leave Norway! Norway is a pretty much cashless society.
While it is not completely cashless, it is very rare to see cash when you're traveling in Norway, and almost everywhere takes card.
If a place doesn't accept cards, they will have an app for that where you're encouraged to purchase a ticket online (ie. buses in Oslo).
Arriving in Tromsø with heaps of cash is really not going to be a great idea as it is just much easier to use your card when there.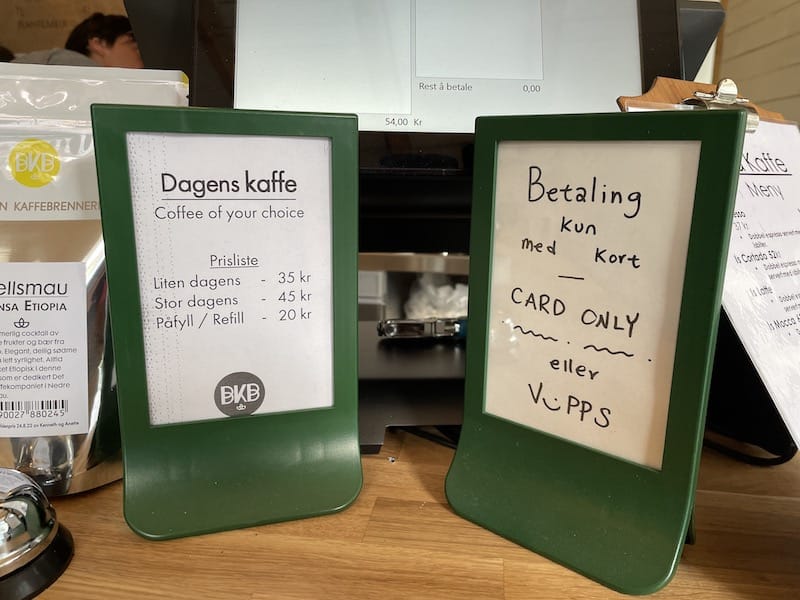 There are ATMs everywhere if you still insist on getting cash out (and ATM exchange rates are usually no different than a currency exchange office, anyway).
I have a good checking account that allows me a certain number of times that I can take cash out without fees.
If you receive foreign exchange fees with your bank for using your card abroad and in different currencies, many card machines will give you the option to select your home currency or to run the transaction in Norwegian kroner.
This happens to me a lot so I always choose USD. With that being said, it is always a good idea to have a backup card or a wad of cash somewhere in the event that you do lose your card.
Apple Pay is widely accepted in Norway, as well.
Shop at Grocery Stores in Tromsø (Not 7-11 or Narvesen)
If you're on a budget, definitely stay away from 7-11 or Narvesen kiosks and convenience stores.
The cheapest place to purchase food anywhere in Norway is at a grocery store (particularly Kiwi, Rimi, or Rema 1000).
You will experience at LEAST a 3x higher price inside of a 7-11 or Narvesen on food and drinks.
The only time I step foot in one of these types of shops is if it is Sunday and I forgot to buy food (more on that later) or if they have a good deal on hot dogs (pølser) and I want something cheap and on the go.
Norwegian Grocery Stores are Closed on Sundays
Ouch. This can be a hard one to swallow if you're from a country where things are open for extended hours (ie: the United States).
But, it allows Norwegians to keep that good work/life balance and after a while of living in Norway, I got used to it!
I recommend you plan ahead for your Sunday in Tromsø or you will be obligated to shop at one of the expensive convenience stores listed above.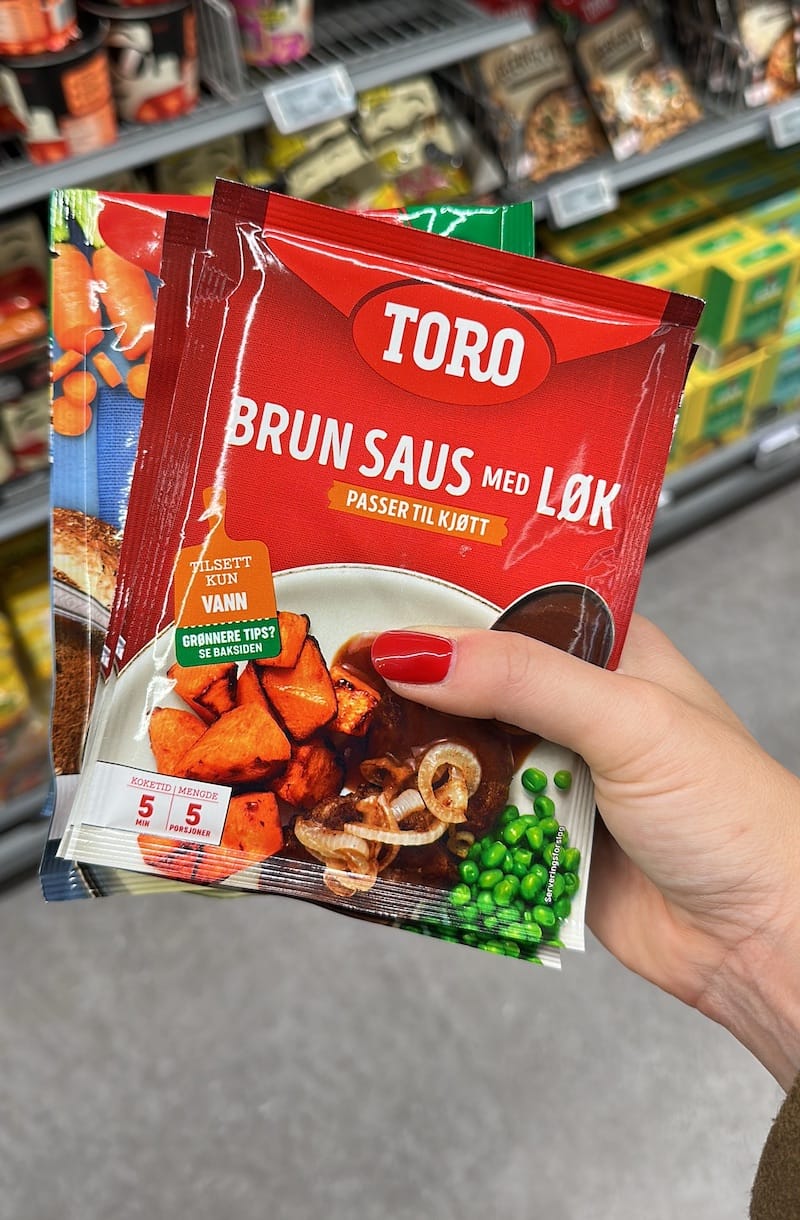 However, if you really need to go to a grocery store, there are random ones that are 'søndagsåpent' (Sunday open) in Tromsø and you can find them in advance by checking Sunday hours before Sunday actually comes.
Grocery stores in Norway that are søndagsåpent will have their hours listed outside in red.
These grocery stores in Tromsø are open on Sundays:
Joker Storgata (Storgata 63 in the city center open from 10am-11pm)
Joker Dramsveien (Dramsveien 153 in between city center and botanical gardens)
With that being said, other stores will likely be closed too. Souvenir shops will be open still, but clothing stores and other shops will likely have their doors shut on Sundays.
Alcohol Laws in Norway
If you're traveling to Tromsø and are excited to learn more about the local alcohol, be ready to pay some money. Alcohol is a heavily taxed item in the Nordics and Norway is no exception.
In addition to heavy taxes on alcohol in Norway, you will find a lot of regulations and laws surrounding beverages.
Here are some quick thoughts about alcohol in Tromsø and the rest of Norway:
Buying alcohol in grocery stores in Tromsø is prohibited unless it is beer (øl). You can purchase beer in grocery stores in Norway on weekdays until 8pm and on Saturdays until 6pm.
It is prohibited from buying alcohol on Sundays. It is also prohibited from buying alcohol on election day in Norway.
Hard alcohol and wine must be purchased from the 'Vinmonopolet', or state-run shop. These shops have limited hours and are expensive.
You can find the Vinmonopolet in Tromsø at Nerstranda 9 inside the Nerstranda Senter and it is open from 10am until 6pm daily, except on Saturdays when it is open from 10am-3pm. It is closed on Sundays.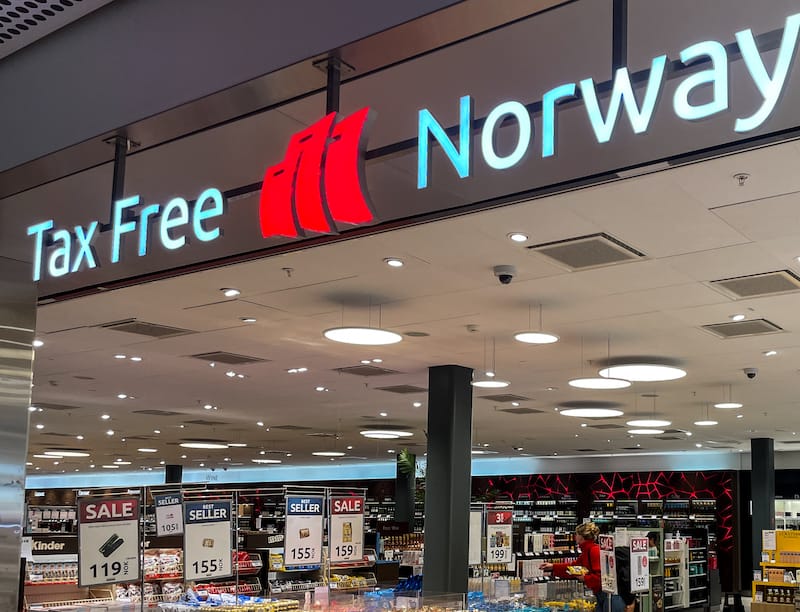 You can purchase alcohol from duty-free shops upon landing in Tromsø, but you will have limited quotas on what you can bring into the country.
Norway is not part of the EU, so they are not the same rules you'd have in Sweden, for example.
You can bring 1 liter of spirits into Norway with over 22% alcohol volume and 1.5 liters of wine with less than 22% alcohol volume. You can bring 2 liters of beer into Norway up to 4.7% ABV.
Remember this at duty-free if you choose to do your booze shopping there! This is the amount per person over 18 years old.
Drinks are served at bars whenever they are open. Same with restaurants that have an alcohol permit. There is no cut-off time in the evenings, fortunately.
To buy alcohol in Norway, you must be 18 for beer and wine and 20 for hard spirits.
Can You Drink the Water in Norway?
Um… Norwegian water is pretty much the best in the world.
It is super drinkable and there is no need to ever purchase bottled water in Norway. Bring your reusable water jug and enjoy!
Here are a few of my favorite reusable water jugs you can bring along for the journey.
Ingredients Used in Northern Norwegian Cuisine
One of the most underrated things to do in Tromsø is to EAT. Many people go for northern lights and winter activities, but trust me, eating should be on your list.
Tromsø and Northern Norway are home to some unique ingredients and you should try them if you have the means to do so.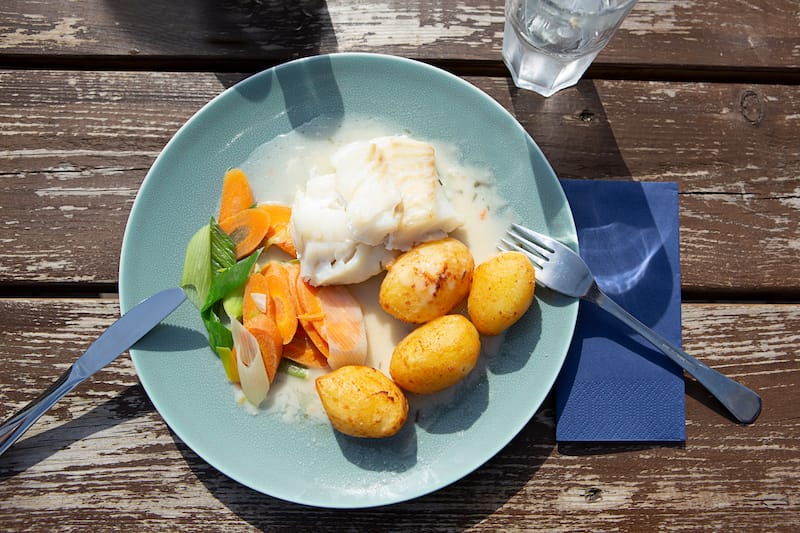 While this is not to shine a light on the uncommon ingredients, here are some that you might come across when traveling to Tromsø (along with the name of it in Norwegian):
Cod (torsk)
Reindeer (reinsdyr)
Whale (hval or hvalbiff)
Salmon (laks)
Dill (dill)
Potatoes (poteter), carrots (gulrøtter), leek (purreløk), beetroot (rødbeter)
Butter (smør) and bread (brød)
Many types of berries such as blueberries (blåbær), cloudberries (multe), lingonberry (tyttebær), strawberries (jordbær), raspberries (bringebær), black currant (solbær), and red currant (rips).
These are some of the main ingredients, or common ones, that you'll see on menus in Tromsø.
Gluten-free, Vegan, and Vegetarian Food in Tromsø
If you're a vegan or vegetarian, 99% of places will have an option for you.
You can see on a menu if something is 'vegansk' (vegan) or 'vegetarisk' (vegetarian).
If you're celiac or not eating gluten, just ask for 'gluten-fri' options when you're at a restaurant. You will also see several gluten-fri options in grocery stores.
You will easily find them as it is a section of a bunch of products with really horrendous and outdated packaging (sorry, it's true).
Most restaurants, especially in the city center, will have menus in English so identifying products that are plant-based is usually extremely easy.
Tipping in Tromsø
Like the rest of Norway, tipping is not a common practice.
Norwegians make a really great salary compared to many countries and even service workers are paid comparably for their work and don't rely on tips.
With that said, if you felt you had exceptional service, tip! I am American so if I don't leave something, I can't sleep at night. I always leave 20%, even when in Norway.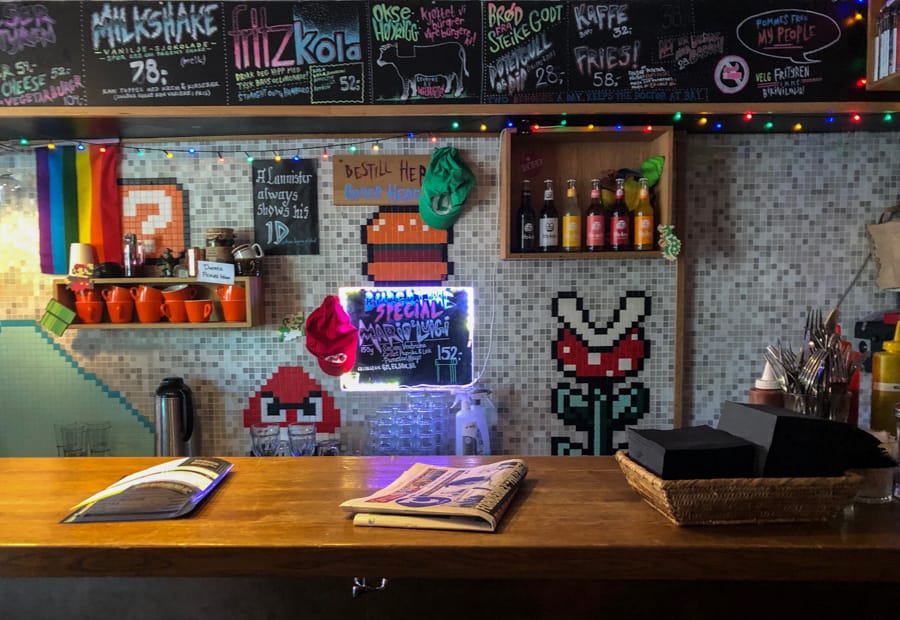 That is really high… so I would suggest leaving 10% if you're satisfied with your service and had a great experience.
Again, you won't feel obligated and no one writes tacky notes on napkins saying 'tips appreciated' in Norway… but if you want to leave a tip, it is a nice and appreciated gesture by many.
Tromsø Restaurant Tips
Eating out in Norway is pretty expensive but I suggest saving up and doing it a few times because Tromsø has some great food (I detail some of my recommendations in my Tromsø winter guide).
Some things to expect when eating out in Tromsø are:
Tap water is generally free there. Ask first, of course, but I don't recall ever paying for tap water in Norway and the quality of it is sensational.
Alcohol is as pricy as many of the dishes and starters. If you're keen to save money, stay away from the booze, as tempting as it may be!
But, if you have the means and want to try something, ask for local craft beer that is not Mack Øl (that is a large brewery producing 'craft' beer now).
Dairy is used in sauces and dishes quite frequently, especially in fish soups. Just a tip for the lactose-intolerant folks out there. Every restaurant will take credit cards with no problem.
Practical Information for Visiting Tromsø
The next section is some practical information that will be helpful for those visiting Tromsø.
The Best Time to Visit Tromsø Might Surprise You
Visiting Tromsø in winter, especially December and January, seems to be the popular thing. But, is it the best time to visit Tromsø? I don't think so.
Many travel to Tromsø to see the northern lights. The best season to view the northern lights is generally autumn or spring.
It is cheaper since it is technically 'off-season', the weather is more tolerable, and the aurora is often more active then.
You can actually see the northern lights in Tromsø from around August until late April… so definitely consider this when you're booking your trip there.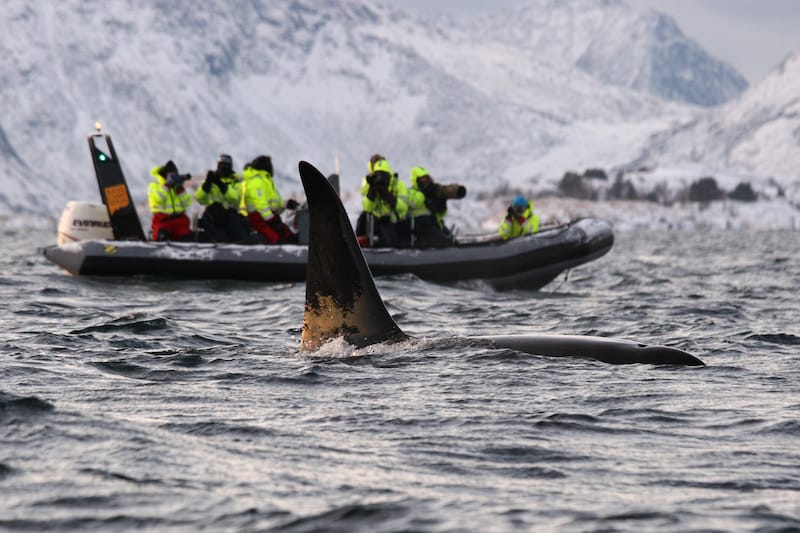 As noted above, the temperatures are a bit more tolerable during the spring and autumn than during the dark, Tromsø winter.
In addition, if you're heading to Tromsø in January to go whale watching, you may have missed the season.
The best time for whale watching in Tromsø is late October (roughly) until mid-January.
Anyway, just consider all factors when you book a trip to Tromsø as there might be a more optimal time to visit as opposed to the high season in December and January.
Click here to take a glance at our Tromsø winter itinerary.
Tromsø Might Be Colder Than You Think
Here's the thing… Tromsø itself is not that cold. The temperatures hover around 0C-2C during the day and about -5C-2C at night (upper 20s to 30s for American travelers).
BUT… if you're going there to take tours, prepare for significantly colder temperatures.
Tromsø is along the sea and that helps keep things a bit warmer.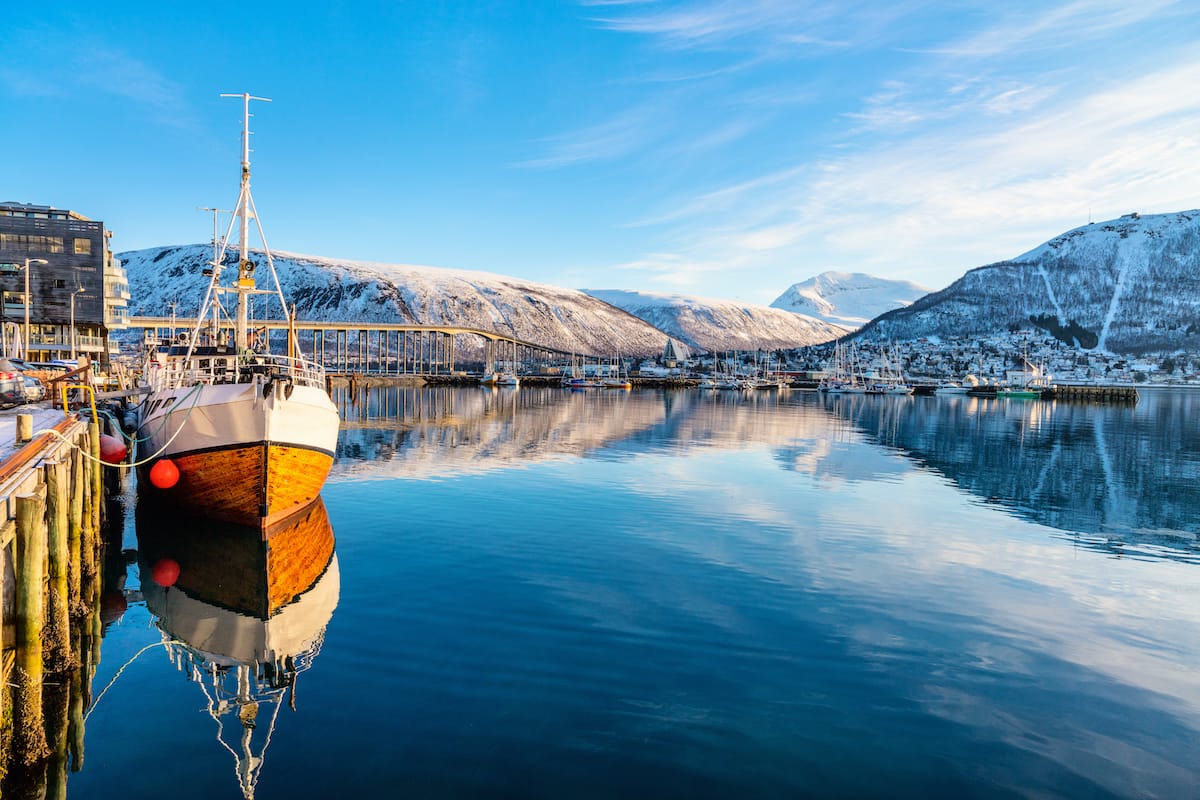 The tours you will take, especially Tromsø dog-sledding tours, northern lights tours in and around Tromsø, and Sami experiences with reindeer are all inland a bit.
These areas experience far colder temperatures than Tromsø city.
I remember dog-sledding in temperatures that were around -20C (-4F). Be sure to bring the right clothing for winter in Norway with you or you're going to regret it majorly!
On the other hand, many Tromsø tours and activities will provide thick suits to participants to help with the temperatures. See below.
Tromsø Tours Often Provide Additional Winter Gear
If you're signed up for dog-sledding tours or anything else in Tromsø, you might have the option of using their additional winter gear for the journey.
This is really helpful if you didn't dress properly (me… ALWAYS). They are not the prettiest things, but hey, it keeps ya warm!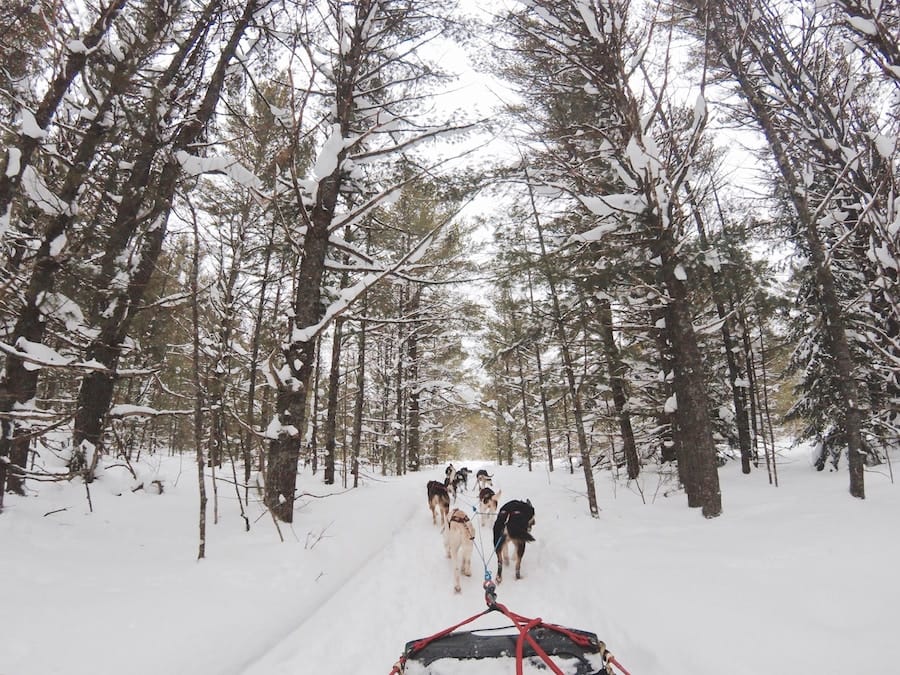 Don't count on this, however. If you're going whale watching or chasing the northern lights, you will be on your own so you better bring your best winter clothing along for the ride!
If you're taking a Tromsø snowmobiling tour, you will be provided some extra gear!
Summer in Tromsø Delivers… the Midnight Sun
Just as the winters are dark and ominous, Tromsø delivers the opposite during the summer. And… it is AWESOME.
Aram and I traveled to Tromsø in summer months and we got to witness the midnight sun there and while nothing compares to the northern lights, the midnight sun sure does come close.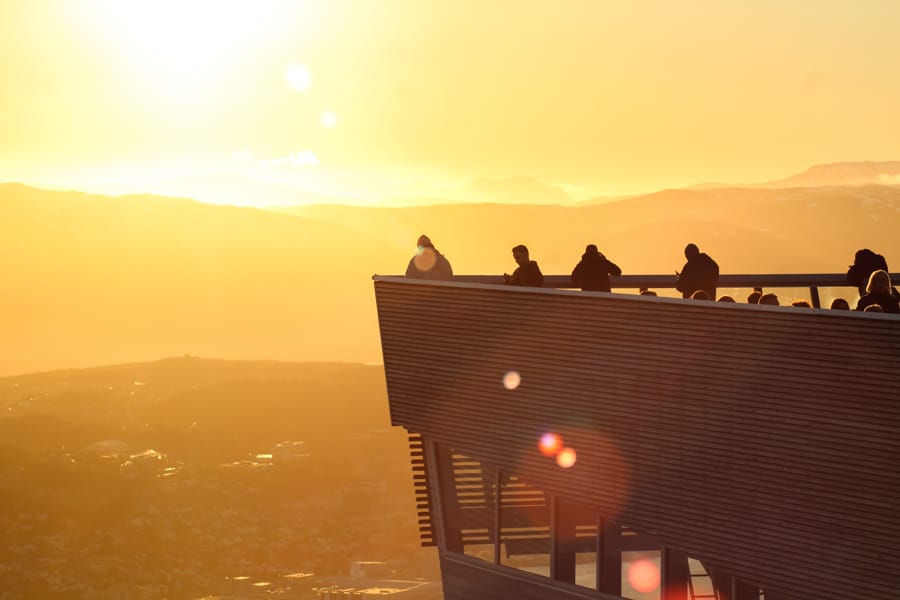 The best place to witness the midnight sun is atop Fjellheisen, a cable car that takes you to the best view of Tromsø.
There were people from Sweden and southern Norway up top popping open bottles of Champagne and I have to say- it was definitely a moment to celebrate.
Is there Daylight in Tromsø in Winter?
One of the biggest misconceptions about winter in Tromsø is that there is absolutely zero 'light' since the sun never reaches above the horizon. This is actually not true.
There is a 'little' light still out there. The snow helps make it seem a bit lighter than it should, as well.
Below is an unedited photo of mid-day in Tromsø in December (around the 10th of the month, I think).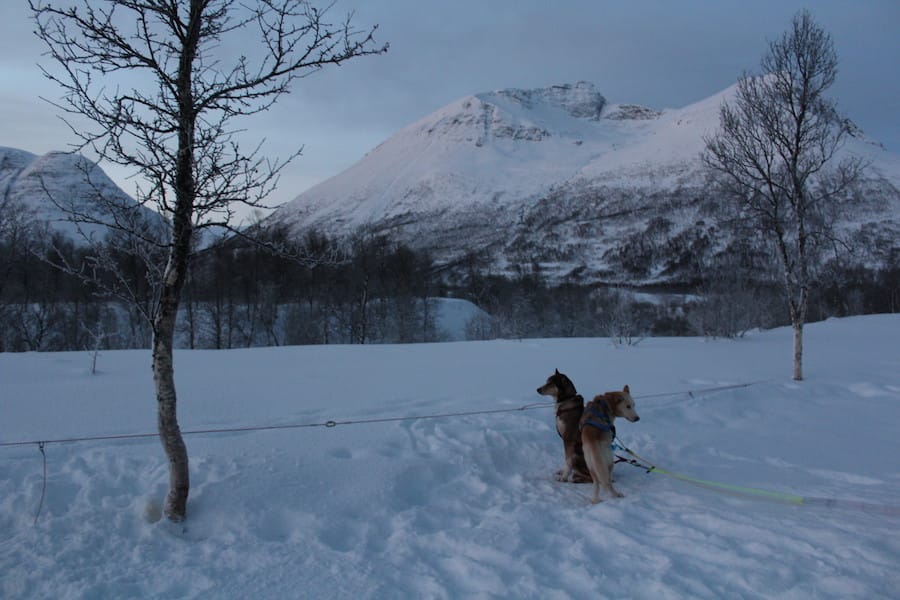 If you're keen to photograph the city, do be prepared to photograph in a lot of lowlight situations.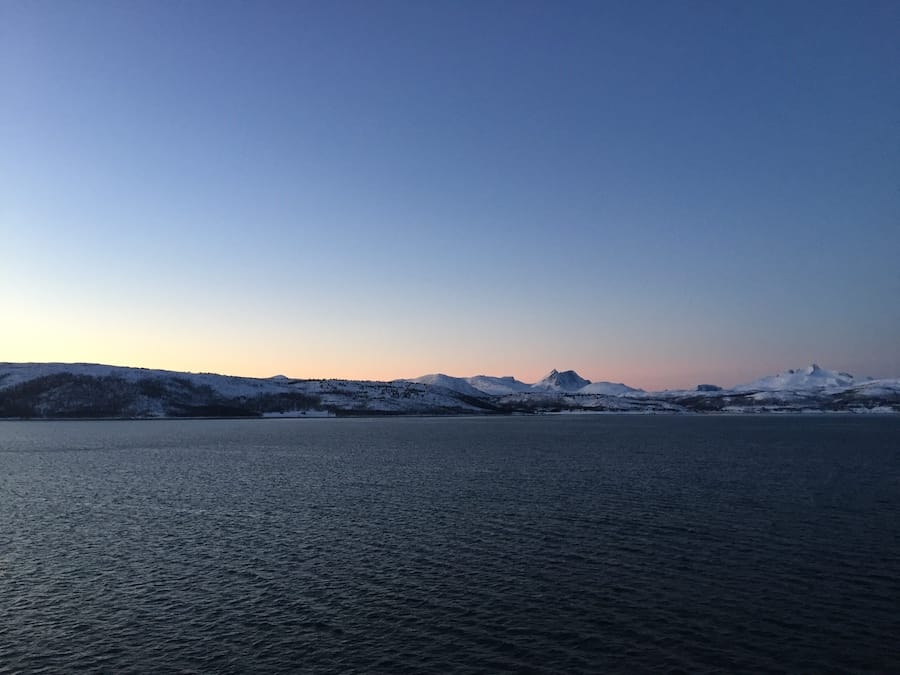 This can make things rather challenging and I do recommend bringing along a tripod and remote for your camera in order to make things a bit easier.
Can You See the Northern Lights in Tromsø City?
If the KP Index is high enough, YES. But, don't necessarily count on it, to be honest.
My first night in Tromsø was insane and the northern lights were extremely visible in the city center for many hours.
I went out to photograph them and the light pollution mixed with the lights made for some pretty horrendous photographs since I didn't know what I was doing.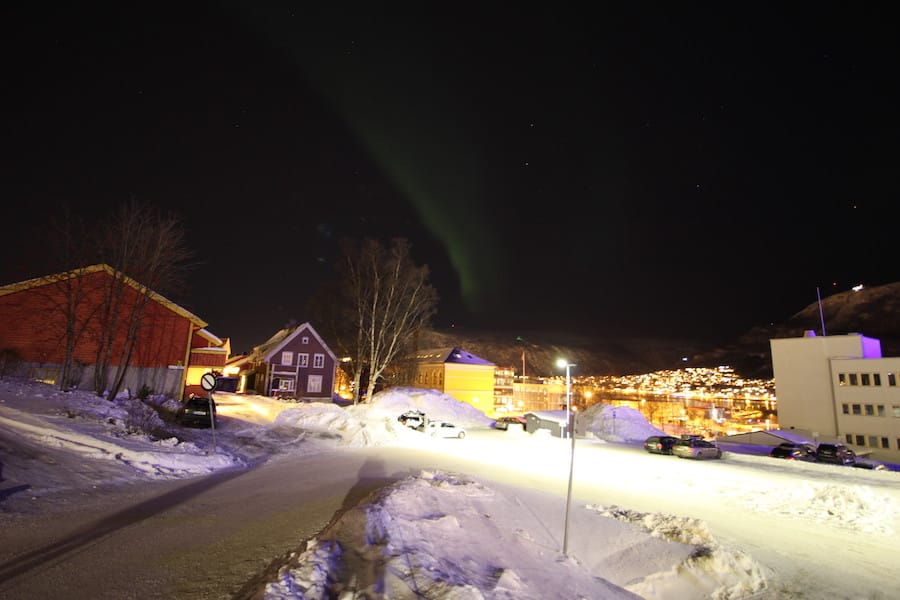 Above is an unedited photo of the northern lights in Tromsø city center from early December.
This aurora was the weakest we saw it that night- it became pretty vivid and visible to the eye!
Familiarize Yourself with the Norwegian Language
Norwegians speak impeccable English but learning a couple of Norwegian words or even just the alphabet will be really impressive to locals when you're visiting.
Tromsø gets heaps of winter tourism and by showcasing a little bit of knowledge about language, you will stand out from the rest of the people who come to simply take advantage of Tromsø's opportune geographical location.
The Norwegian language has three letters that English does not: Æ, Ø, and Å. The letter 'Æ' is similar to the letter 'a' in English in the word 'sad' or 'hat'.
The letter 'Ø' is similar to 'ur' in the word 'burn'. But, when it is said, it is not really emphasized to the point of hearing that 'ur'. If that makes any sense.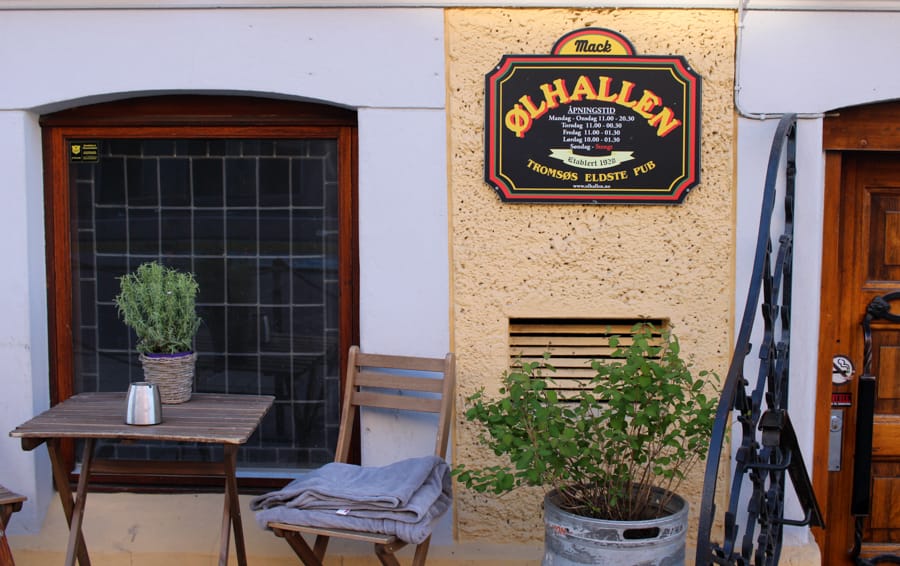 The letter 'Å', sometimes listed as 'AA' in Norwegian words (especially old writing) is pronounced like 'aw'. But, that letter depends on how it is inside of a word.
Norwegians will not laugh or make fun of you for trying. They will be extremely impressed.
Don't be offended if they switch over to English- their English will be better than your ten words of Norwegian, anyway.
Click here to purchase a Norwegian phrasebook for your Tromsø trip.
Do You Need a Power Adapter for Tromsø?
If you're reading this, there is a good chance you're from North America, the United Kingdom, or Australia… and YES, you will need a power adapter.
Norway uses the usual European socket that you'll find (except in the UK) with 220v.
My recommendation is that you buy a power strip for your home plug sockets and one single adapter for Europe.
By doing this, you can charge all of your stuff from one place and only need to invest in one power adapter. It is much easier- trust me!
Another thing to note is that most of Norway's electricity is hydroelectric so do use it sparingly and make sure you flip off the lights when you go in and out of your hotel room.
>> Click here to find a power adapter for your Norway trip
Is the Wifi in Tromsø Good?
It is pretty good, actually. It is not as fast as what you'd get in the south of Norway near the larger cities, but it is certainly better than you'd probably expect being in such a remote region of the world.
You can find wifi almost anywhere and if you have an EU SIM card, you can use it in Tromsø and Norway with no issue.
Most cafes will have wifi access points for tourists. It is also readily available at hotels across the city.
Is Tromsø Wheelchair-Friendly?
For the most part, Norway is friendly to those with mobility issues or disabilities.
But, you have to consider that Tromsø gets heaps of snow during the winter months and this may pose an issue for many people.
One thing I recommend for those who are a bit older or not so sturdy on their feet (like me!) is to bring a pair of crampons with you.
These are spikes you pull over your shoes that will help you walk better and more securely on snow and ice.
You can purchase a pair of crampons online but should you forget, don't worry- they are easy to find in Norway at many shops.
They are called 'brodder' or 'broddene' (depending on where used in a sentence and it can sound like two different things) and you can just tell a shop assistant that you need a pair.
Regarding tours, not all are easy to take for those with mobility issues or disabilities.
Here are a few tours that DO take travelers in wheelchairs (and those with mobility issues):
Sami Culture in Tromsø
One thing that kind of flies under the radar in Tromsø is the indigenous culture and people, the Sami.
The Sami people make up anywhere from 37,000-60,000 people in Norway and they are underrepresented and have historically been discriminated against.
Norway is 'trying' to progress and give a voice to the Sami but after years of 'Norwegianization', the lifestyles, language, and other aspects have become endangered or somewhat extinct.
While I don't really know too much myself (shamefully- especially as someone who lived in Norway for so long), I am starting to take an interest in learning more when I am in northern Norway, Sweden, and Finland.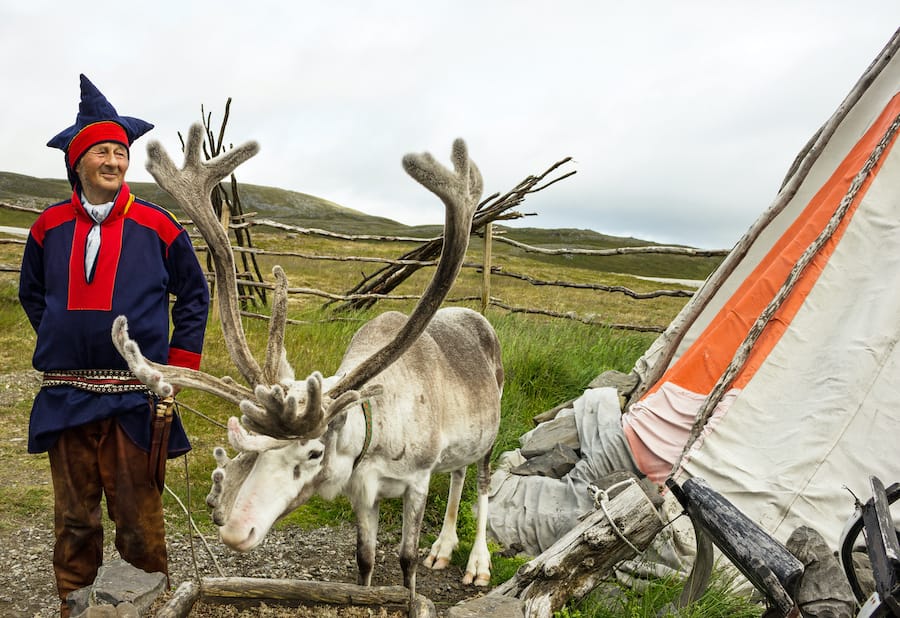 If you have some downtime in Tromsø and want to learn more, I encourage you to do so.
A great place to start is the University of Tromsø Museum where a permanent exhibition details Sami life and history in Norway.
If you want to explore more of Norway to learn more about Sami culture and lifestyle, I recommend you head to Karasjok and Kautokeino.
Karasjok is the unofficial 'Sami capital' of Norway and nearby Kautokeino has a larger population of Samis… this is a great opportunity to learn more.
Sami National Day
Sami National Day is February 6 annually and you can travel there to celebrate if you're interested.
Vanessa (formerly the brains behind Nordic Wanders blog and ex-Tromsø resident) gave a review of some of the events from Sami National Day in Tromsø and said they were a mockery but she recommends you visit anyway as you will get a chance to speak to Samis about their history, challenges, and culture in Norway.
Sami and Reindeer Experiences
So, is it worth booking a Sami experience at a reindeer ranch? It truly is commercialized and you won't learn that much about the Sami culture… but I still think it is worth it.
I don't find the reindeer sleigh activity part of the experience to be ethical, however.
You can read more about my recommended Tromsø Sami experiences at reindeer farms here.
Traveling to Tromsø on a Budget
Is Tromsø on your bucket list and you aren't sure you can afford it? I would definitely take many factors into consideration before booking a trip there… and affordability is one of them.
Here are a couple of generic tips I have for those on a budget:
Travel in the off-season. Don't go to Tromsø in November, December, or January but rather in spring, summer, or autumn.
Take advantage of your hotel's breakfast… by packing a 'to-go' lunch with bread and toppings. Sorry, Scandic, Thon, and Radisson. It'll save you a little money and essentially you're eating the most Norwegian lunch ever- a boring 'matpakke'.
Grocery shop instead of eating out.
Rent an Airbnb so you can cook your own food. I actually think this ends up just as expensive as eating out by the time you buy everything you need to make food for a week.
Take larger group tours instead of smaller, private ones.
Head to another city or area that isn't Tromsø. Alta, Hammerfest, the Lofoten Islands, Senja, or Honningsvåg are viable options. Or, even make the trek up to Svalbard.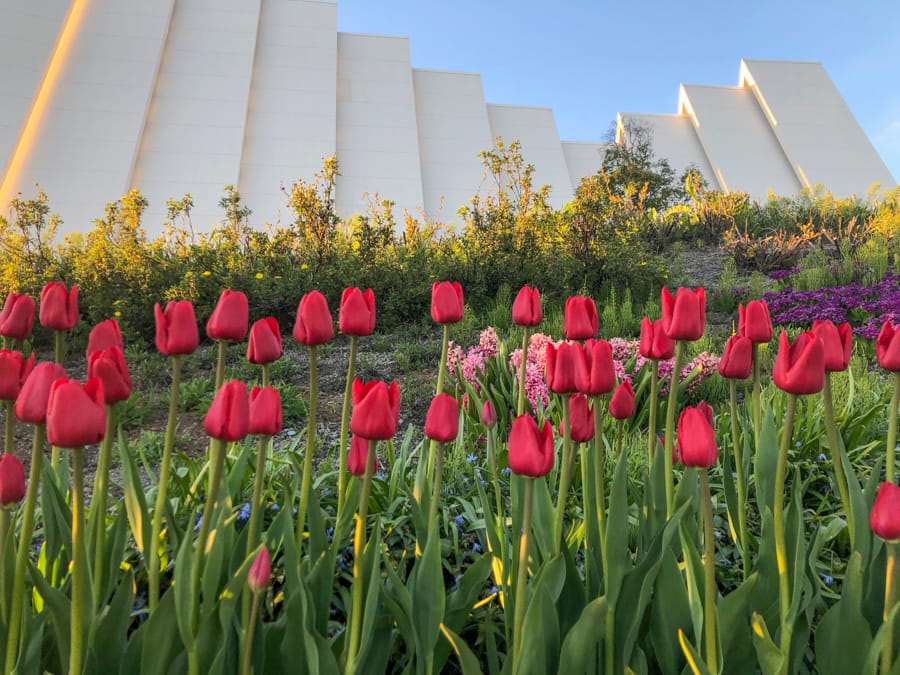 Perhaps my biggest budget tip is to PLAN AHEAD! Tours sell out fast in Tromsø and you don't want to be stuck having to book something more expensive last minute!
You can find links to the best tours in Tromsø below:
Where to Stay in Tromsø
If you're traveling to Tromsø, we recommend you get a place in the city center as it will make going on tours significantly easier.
It is also very convenient to stay in the city center as the bus from the Tromsø Airport will drop you off right there and you can walk to your hotel with ease.
You can check out our Tromsø hotels guide here… but here are a few quick recommendations of where to stay if you're wanting to be centralized and near where the tours leave from:
Should You Travel to Tromsø?
YES. YES. YES. Tromsø is a great city break for a long weekend in the winter or summer if you're Europe-based and is a perfect addition to a Norway trip if you're not.
You can check out my Tromsø itinerary which details just how many days you should spend in the Northern Norwegian capital.
If you're concerned about visiting somewhere that is quite touristy (it truly is in the wintertime… sorry!), perhaps explore other options in Norway. Alta is perfect for the adventurous traveler.
The Lofoten Islands have a lot of the same things as Tromsø to offer… especially if you visit Lofoten in winter.
And the wonderful North Cape is just magnificent and one of the best road trips I've ever taken.
There are several places to visit in Norway, and Tromsø is just fantastic and will offer you a spectacular trip, no matter whether you visit Tromsø in summer or winter!
Please feel free to reach out if you have additional questions.
More Northern Norway &Tromsø Travel Guides
Pin These Tromsø Travel Tips