Are you searching for the best places to visit in Europe in December for a holiday trip this year?
This guide details some of the top places in December in Europe – from cold and wintry ones to places that offer sun (and the sea)!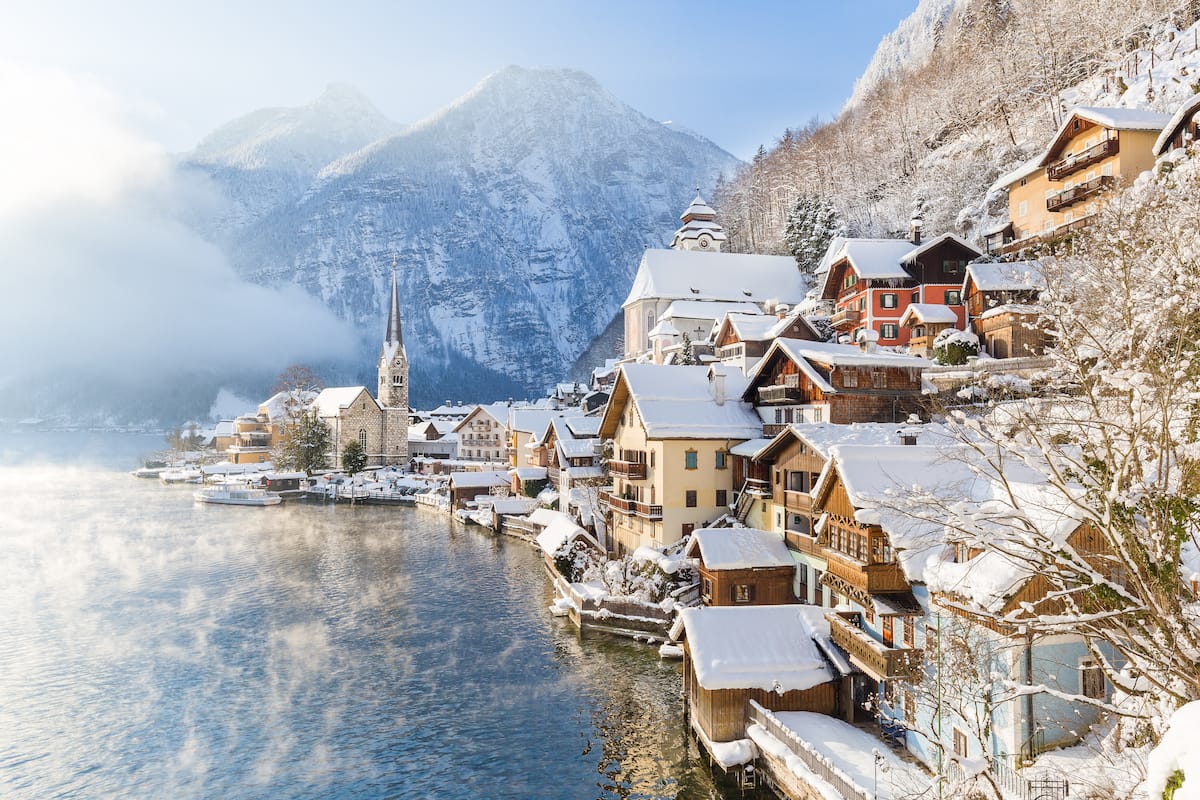 I am a cold weather person myself, so I have recruited the help of other travel bloggers to help round this out so there is something for any December traveler!
Did we miss your favorite place to visit in Europe during December?
Let us know your favorite European Christmas and winter destination in the comments. Thanks!
Best Places to Visit in Europe in December
Rovaniemi
Location: Finland
Average temperatures in Rovaniemi in December: highs of -4C and lows of -11C; 9 days of precipitation
Recommended by: Editor's choice
December is the perfect month to go to Rovaniemi, as it has been dubbed the "Official Hometown of Santa Claus."
Only a few miles north, across the Arctic Circle, lies Santa Claus Village where you can meet the jolly old man himself! Sip a warm drink as you browse the little shops for the perfect Christmas gift.
Don't forget to stop by the Santa Claus Main Post Office, where you can send your friends and family cards officially stamped and mailed from Santa Claus Village.
Rovaniemi offers fantastic outdoor activities, so bundle up and head outdoors for some fresh air. Try ice fishing, or take a walk through the woods on snowshoe.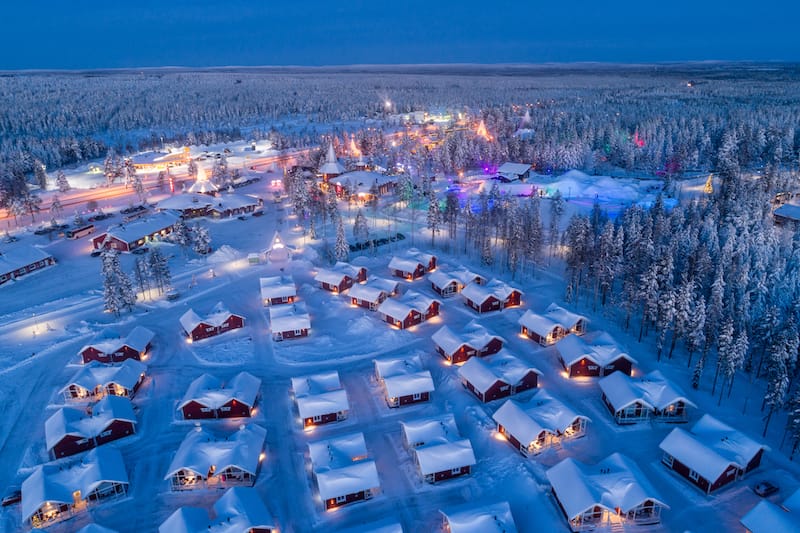 If you want to go a little faster than snowshoeing, rent snowmobiles for a more adrenaline-pumping experience. Make sure to try dog sledding, a classic activity in Finnish Lapland.
The Northern Lights come out in the winter, so an excursion to see this breathtaking event is absolutely a must-do. Warm up after a long day outside in a traditional steamy sauna.
For another indoor activity during the winter, check out the Arktikum, an interesting museum about Finland housed in a uniquely designed building.
Prague
Location: Czechia
Average temperatures in Prague in December: highs of 4C and lows of 0C; 5 days of precipitation
Recommended by: Veronika from Travel Geekery
Prague in winter sees the Christmas atmosphere fill the crisp air and there may even be snow. Vibrant Christmas markets and snowy rooftops make for a magical mix beyond words.
There are Christmas markets on every corner in the spacious center of Prague. The Old Town Square market is the largest of them all and the city's oldest. It's well worth visiting and strolling through, enjoying the Christmas treats and the large tree.
However, if you seek true holiday magic, visit the Prague Castle Christmas markets. Prague Castle is amazing on its own, so combining that charm with a small market will melt your heart.
Another good small Christmas market can be found on Náměstí Míru in front of the church of St. Ludmila. It's the locals' favorite.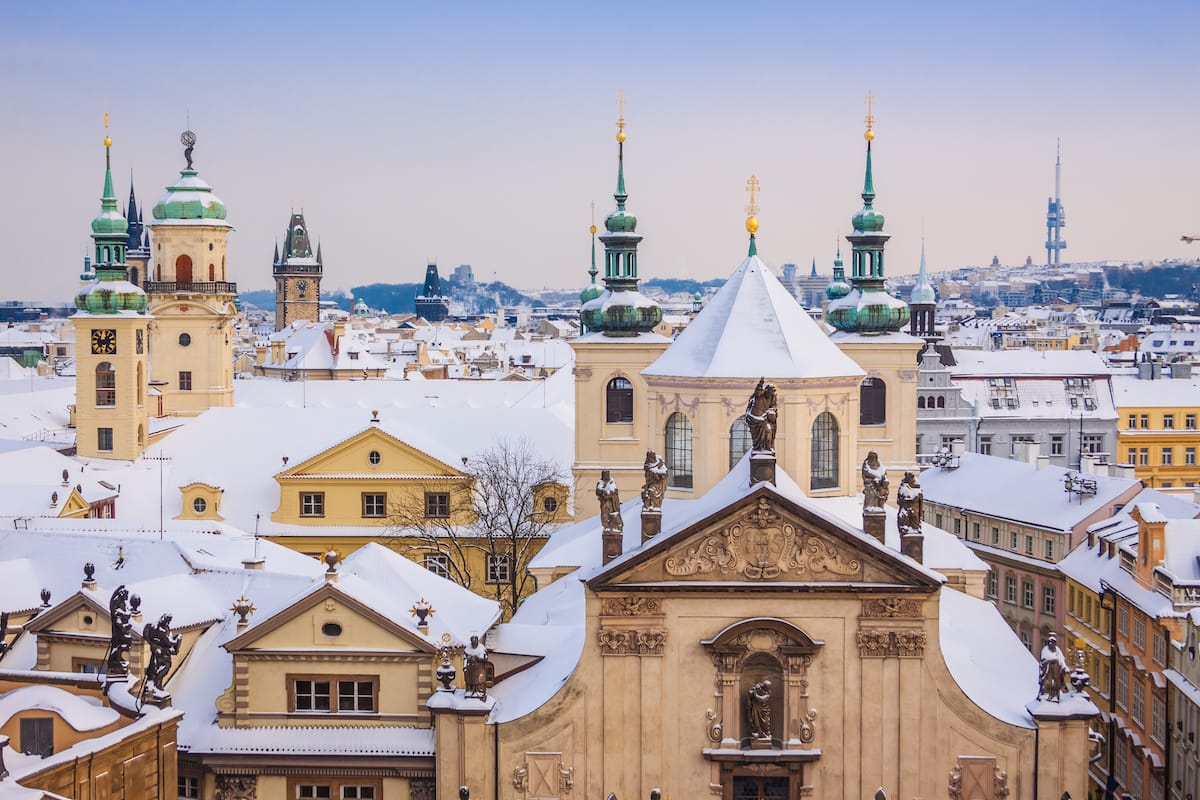 On the night of December 5th, you can come across groups of devils, angels, and St. Nicolas.
It's St. Nicolas Day in the country, which means children who've behaved throughout the year can recite a poem or sing a song, and will get a sweet treat or two. Disobedient kids may get coal.
Aside from Christmas markets, cute cafés, and restaurants, you can make your December trip more active by heading to an ice-skating rink. One is typically set up in the heart of the Old Town – at Ovocný trh Square.
Florence
Location: Italy
Average temperatures in Florence in December: highs of 11C and lows of 3C; 8 days of precipitation
Recommended by: Lori from Italy Foodies
If you're looking to visit Europe in December for some holiday fun, the Renaissance City of Florence, Italy offers some truly unique holiday experiences without the biting cold of other European locales!
The month coincides with three of Italy's most important religious events — the Immaculate Conception, the birth of Jesus, and St. Stephen as well — and all three are celebrated through holiday events.
Florence has several Christmas markets — some of them even kick off in mid to late November and run daily through the holidays.
Lovers of retro and vintage clothing and decor should check out the annual Pimp My Vintage for one-of-a-kind pieces.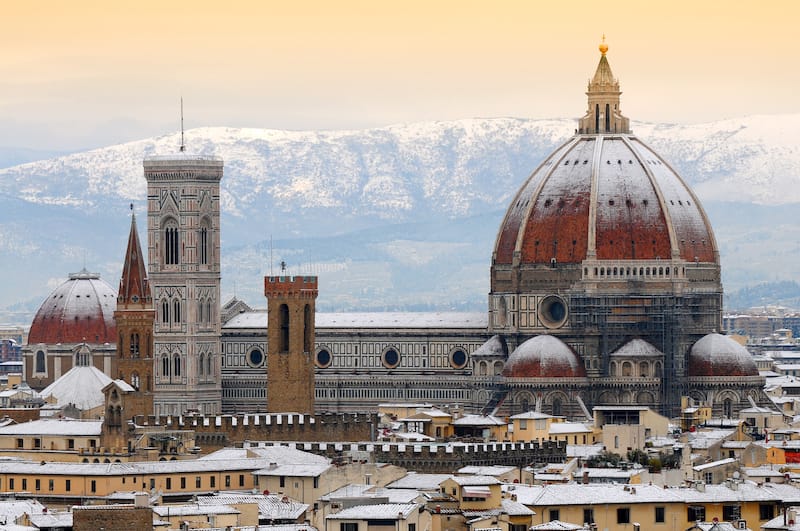 The largest holiday market in Florence is at the spacious Piazza Santa Croce, which is chock full of vendor stalls selling traditional holiday foods, gifts, and European-style treats like Glühwein, sweet pretzels, and Italian hot chocolate, or cioccolata calda.
In early December in Florence, the annual Fierucola dell'Immacolata in Piazza Santa Annunziata features organic and farm-grown food and gifts for sale.
Florence is literally aglow throughout the month and it all starts with the annual Christmas tree lighting in front of the Duomo.
From here, the Festival of Lights, or F-Light, lights a tree in the Palazzo Vecchio and illuminates the city's landmarks and monuments with light projections and other fantastical decorations.
Tromsø
Location: Norway
Average temperatures in Tromsø in December: highs of 0C and lows of -4C; 15 days of precipitation
Recommended by: Editor's choice
Tromsø is an exciting winter destination, and December in Tromsø is especially magical as the holiday lighting gives extra cheer to the dark winter days.
Christmas markets are scattered throughout the town, and be sure not to miss a ferris wheel ride and ice skating near the harbor. Visit the Arctic Church, one of the northernmost churches in the world, with its fascinating architecture.
Don't miss out on another "northernmost" establishment, the Ølhallen brewery. Take the Fjellheisen cable car up to the mountain ledge Storsteinen and you will be rewarded with lovely views of the city and surrounding area.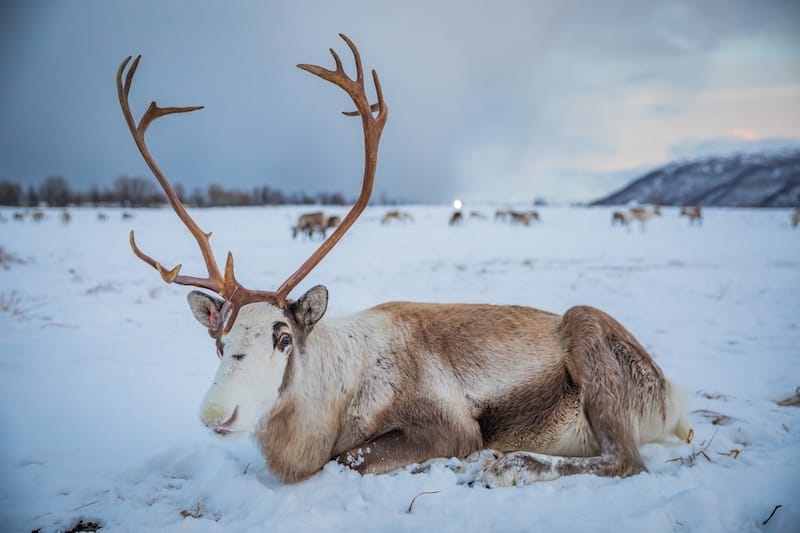 You're in luck: winter is the best time to see the northern lights, so it is probable you will get to experience this fascinating phenomenon firsthand.
Try your hand at a classic arctic activity- dog sledding! You can either drive the sled or just ride, but either way it is an exhilarating experience! You can do so much on land, but don't forget about the water too.
Cruise the gorgeous fjords and keep your eyes peeled for whales, which pass through the area on their winter migration.
Rotterdam
Location: Netherlands
Average temperatures in Rotterdam in December: highs of 7C and lows of 2C; 13 days of precipitation
Recommended by: Annelies from Travelers and Dreamers
Rotterdam is the second largest city in the Netherlands and a nice alternative to the more popular capital of Amsterdam.
The city is charming, with a big harbor, the famous yellow cube houses, a lot of vintage shops and vegan restaurants, and the best museums in the whole of the Netherlands.
In December, special events take place in Rotterdam, like the yearly winter fair in Rotterdam Ahoy where you can participate in Christmas- related workshops, enjoy concerts, shop around, and try out Dutch winter snacks.
Ijsvrij Festival is another great event taking place in Rotterdam in December. This festival includes a big ice skating rink at Plein 1940 near the Maritime Museum in the city center.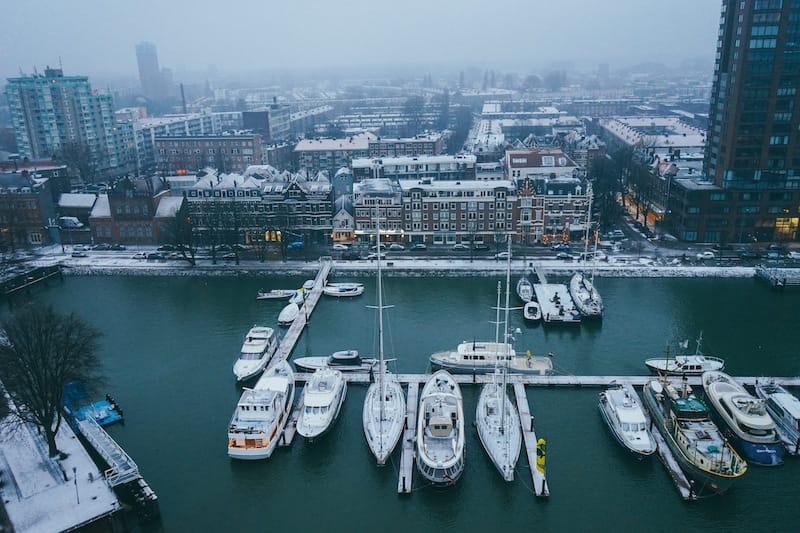 Aside from these special events, there are also a few Christmas Markets to be found in Rotterdam. You can find them in Delftshaven, Trompenburg, Overschien, and Lusthofstraat.
They tend to take place during the same weekend in December. It's best to ask your accommodation to find out about the exact dates so you can book accordingly.
The Scandinavian churches in Rotterdam are also organizing Christmas events in December where you can try and buy Norwegian, Swedish, and Danish Christmas specialties.
Be sure you don't forget to try oliebollen and bitterballen, two traditional Dutch snacks, that taste great in winter!
Zagreb
Location: Croatia
Average temperatures in Zagreb in December: highs of 5C and lows of 0C; 7 days of precipitation
Recommended by: Kristin from Global Travel Escapades
One of the best places in Europe to visit in December is the Croatian capital, Zagreb. During the winter season, Zagreb is known to go all out in terms of holiday festivities, drawing visitors from all over the world.
In particular, Zagreb is known for hosting a month-long event called Advent. At Advent, 25 smaller Christmas markets are set up throughout the city, generating one massive Christmas market.
To enhance visitors' experiences, each of the markets has its own special theme and offers a variety of activities corresponding to that theme.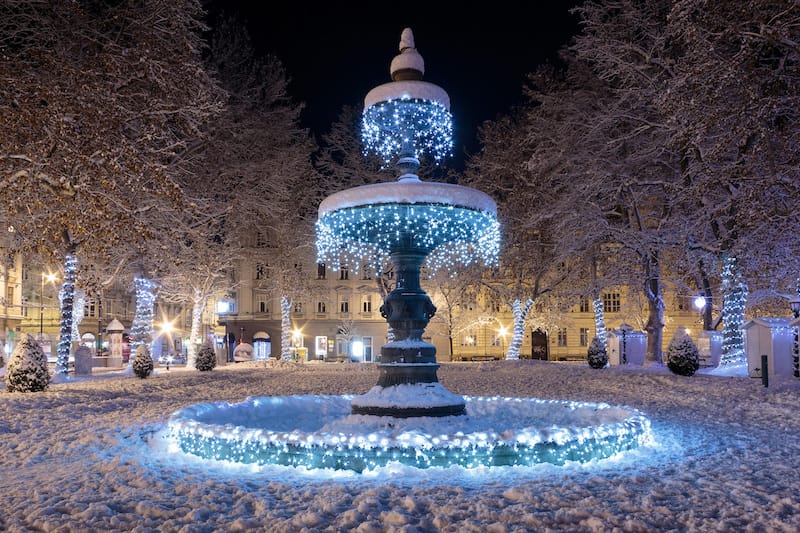 Plus, a noteworthy fact about Zagreb is that Advent was awarded the title of Europe's Best Christmas Market for three years in a row (2016-2018). This is a true testament to the grandeur, popularity, and success of Advent!
If you're looking for another reason to visit Zagreb, come for delicious food! Zagreb's most popular gastronomic event is Fuliranje, in which skilled chefs from local restaurants come out to serve up tasty street food and traditional Croatian dishes.
The event is made even better with live Christmas music performances to create a perfect ambiance.
All in all, if you're ready to get in the holiday spirit, consider a trip to Zagreb!
Stockholm
Location: Sweden
Average temperatures in Stockholm in December: highs of 2C and lows of -2C; 10 days of precipitation
Recommended by: Allison from Eternal Arrival
One of the best places to visit in Europe in December is charming Stockholm!
While most people think of Germany, France, and Central Europe when they think of winter destinations in Europe, Sweden in winter is less crowded and just as beautiful and festive.
In fact, the cool Swedish capital city is even more fun to visit in December, when the Christmas markets are in full swing, the cafes are in their coziest modes, and the water around the archipelago is icy and beautiful.
Be sure to stop by the main Christmas market (Stortorgets Julmarknad) which is located in Gamla Stan, Stockholm's Old Town district.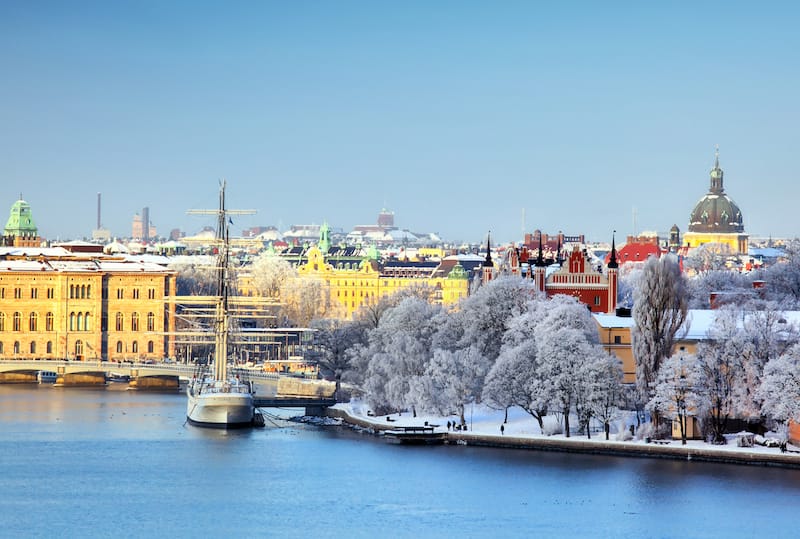 The festive decorations liven up the medieval buildings and it's a great place to shop for handcrafted souvenirs and tasty snacks, especially Swedish pastries like kanelbuller (cinnamon buns).
Stockholm is also known for its museums, which are great places to while away a cold winter day. Visit the Vasa Museum to see a beautifully restored ship that sank centuries ago, or head to the ABBA Museum to pay homage to Sweden's most successful cultural export (besides IKEA and H&M, of course).
The Fotografiska photography museum is another fantastic museum, and I'd also recommend the Nobel Prize Museum. They are two of the best in all of Sweden!
Lastly, be sure you don't miss taking a tour of the Stockholm Royal Palace! The interior is stunning and it's a great way to spend a cold winter day in Stockholm.
Madrid
Location: Spain
Average temperatures in Madrid in December: highs of 10C and lows of 4C; 6 days of precipitation
Recommended by: Editor's choice
If you pack correctly, December is a great time to visit Madrid. It is quite a dry city, so there probably won't be much rain or snow, but do pack a windbreaker for the chilly winds that often sweep through town.
Dressed properly, it's time to explore the city! Madrid takes Christmas seriously, evidenced by the plethora of fantastic lights and Christmas displays across the city.
Take an evening walk to enjoy the magic of the lights, or if you don't feel like walking, catch the Naviluz bus which will take you around town to view the twinkling displays.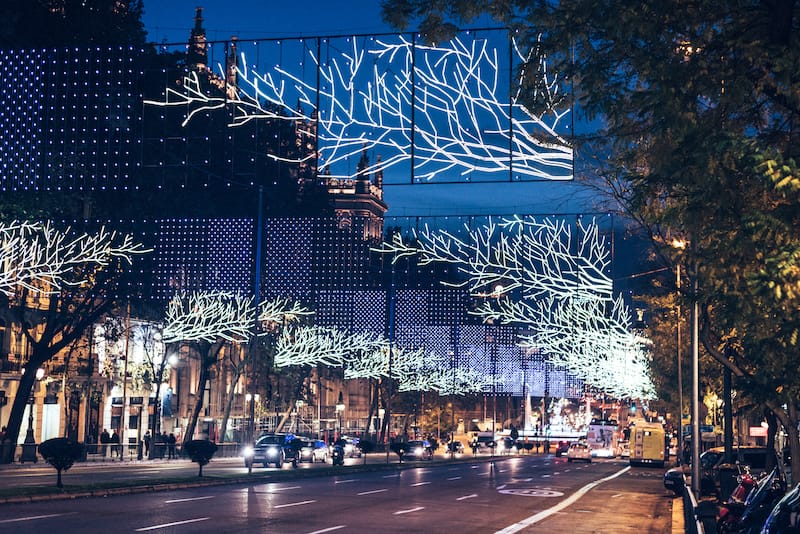 For more lights and Christmas decor, visit the Winter Wonderland at the Real Jardín Botánico (botanical gardens). Don't miss ice skating at one of the several pop-up rinks around town.
Get a taste of a classic Spanish Christmas market at the best and biggest in town, the Plaza Mayo market. Warm up with the tastiest treat and always a must-try in Spain, churros and chocolate! Try them at the iconic Chocolateria San Gines.
Madrid is surrounded by mountains, so for an adventurous day trip, head to the resort Puerto de Navacerrada for some downhill skiing.
If you are tired of being outdoors, there are tons of great museums to visit in Madrid- definitely check out the Royal Palace!
Tallinn
Location: Estonia
Average temperatures in Tallinn in December: highs of 1C and lows of -5C; 14 days of precipitation
Recommended by: Editor's choice
Winter in Tallinn may be cold, with highs hovering around the freezing mark, but the enchanting medieval city is well-worth a December trip.
In fact, Tallinn seems even more dreamy with the winter mists, without the crowds streaming in from summer cruise ships, and if you're lucky, a dusting of snow that transforms everything into a winter wonderland.
To catch a great view of the beautiful city from above, head up to the Kohtuotsa lookout. Wander through the heart of the fairytale-like Old Town, fully decorated with Christmas lights, where you can visit one of Europe's best Christmas markets.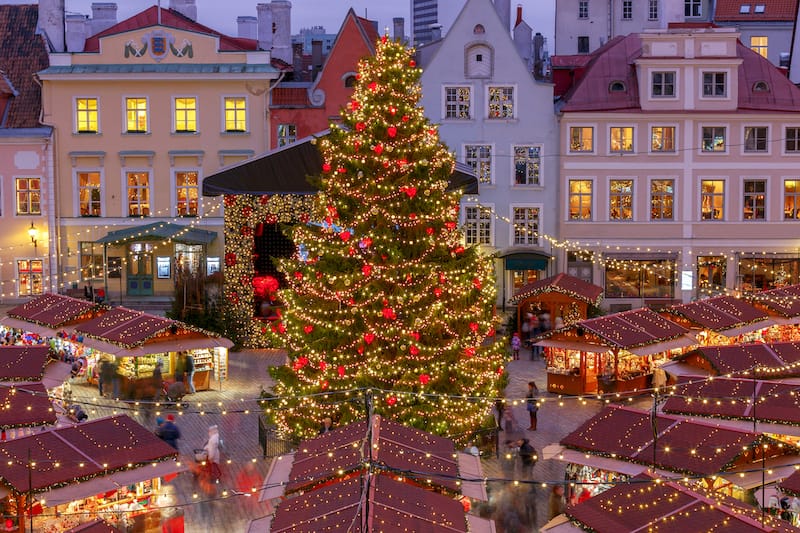 This fantastic market offers lovely souvenirs, gifts, food, and warm drinks like Tallinn's mulled wine, called glögg. Check out the outdoor ice skating rink set up on Harju Street outside St. Nicholas Church.
Great ways to warm up include sipping coffee in a cozy cafe, sweating it out in a rejuvenating sauna, or visiting one of the many fascinating museums Tallinn has to offer.
If you're looking to get out of the city, take a day trip to the Jägala waterfall, which is especially interesting in winter with its many icicles hanging from the falls.
Rome
Location: Italy
Average temperatures in Rome in December: highs of 13C and lows of 4C; 8 days of precipitation
Recommended by: Editor's choice
Rome is another heavily-visited summer destination that shines in the winter with fewer crowds, giving you time to explore the city and major sites like the Colosseum, Forum, and museums with shorter lines and room to breathe.
Enjoy a stroll through town to see Rome decked out in holiday cheer, with big Christmas trees, lights, markets, outdoor ice skating, and nativity scenes scattered throughout the city.
Piazza Navono's regular market turns into a big Christmas market where you can pick up great gifts and delicious treats.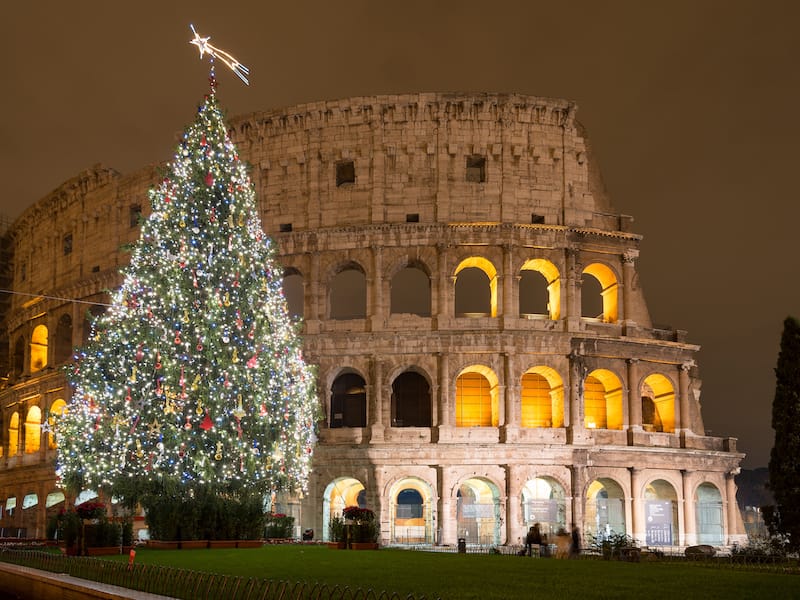 Speaking of treats, make sure to try some of Rome's classic holiday offerings- varieties of Christmas cookies, a traditional fish dinner on Christmas Eve, and the soft brioche-like cakes popular around this time- pandoro and panettone.
There is a competition amongst Italians of which cake is the best; it's fun to try both so you can decide which team you are on, Team Pandoro or Team Panettone!
December is also the start of citrus season, so you can sample many varieties of citrus fruit grown across Italy.
The Vatican City is also a must-visit during this important holiday, whether just to see St. Peter's at this time of year or to attend the Pope's Christmas morning blessing of peace on Rome and the world.
Dingle
Location: Ireland
Average temperatures in Dingle in December: highs of 11C and lows of 6C; 19 days of precipitation
Recommended by: Janelle from Make the Trip Matter
Dingle is a small town on the west coast of Ireland that is renowned for its scenic beauty and friendly atmosphere. December is a great time to visit Dingle, as the town comes alive with Christmas lights, decorations, and holiday celebrations.
Plus, it's the perfect time to cozy up in the warm pubs (try Dick Mack's Pub & Brewery!) with a delicious pint of Guinness and listen to some traditional Irish music.
The weather in December can be unpredictable, but it's relatively warm with the temperature averaging 8C (46F) over the winter months.
Even still, the surrounding nature is stunning and the variable winter skies give a unique ambiance to the Dingle Peninsula and its beautiful coastal scenery.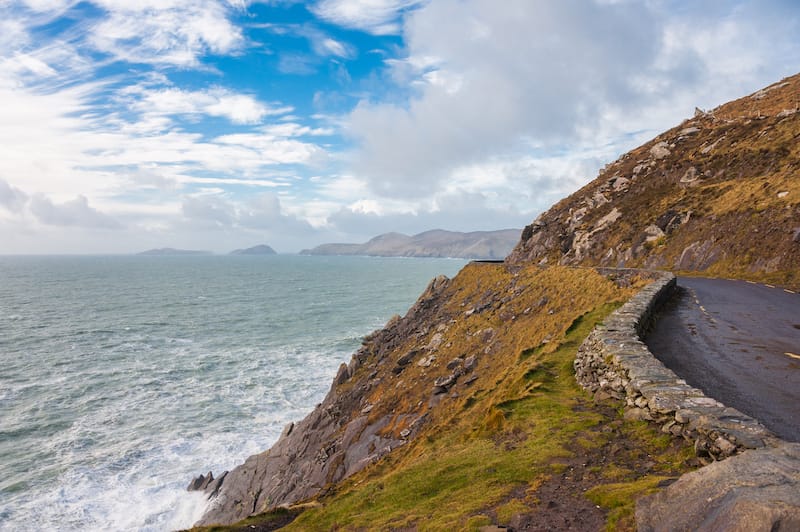 Dingle is a great place to buy Christmas gifts, as there are many unique shops selling handmade Irish crafts.
And on the 26th of December, visitors can participate in a beautiful local festival called Wren's Day (or Lá an Dreoilín) where locals dress up for day-long festivities including live music and parades.
The Dingle Peninsula is not as popular with tourists in the winter, so many of the popular activities will be much quieter. There are also many incredible cozy and nature-front places to stay in Dingle.
So if you're looking for a festive and friendly town to visit this December, be sure to add Dingle to your list!
Frankfurt
Location: Germany
Average temperatures in Frankfurt in December: highs of 6C and lows of 1C; 10 days of precipitation
Recommended by: Vicki from Vicki Viaja
Frankfurt am Main is a great city to visit all year round. But if you have the chance, a visit to "Mainhatten" – as the locals affectionately call the city – is especially worthwhile in December.
Every December, the main Christmas market is set up in the pre-Christmas period, so during almost the entire month of December, at the Römerberg.
Surrounded by romantic buildings, this creates a lively atmosphere. And as a result, Frankfurt's festive Christmas Market is one of the most beautiful Christmas markets in Germany.
However, this Christmas market is not the only one in town! Be sure to also check some of the other markets if visiting Frankfurt in December!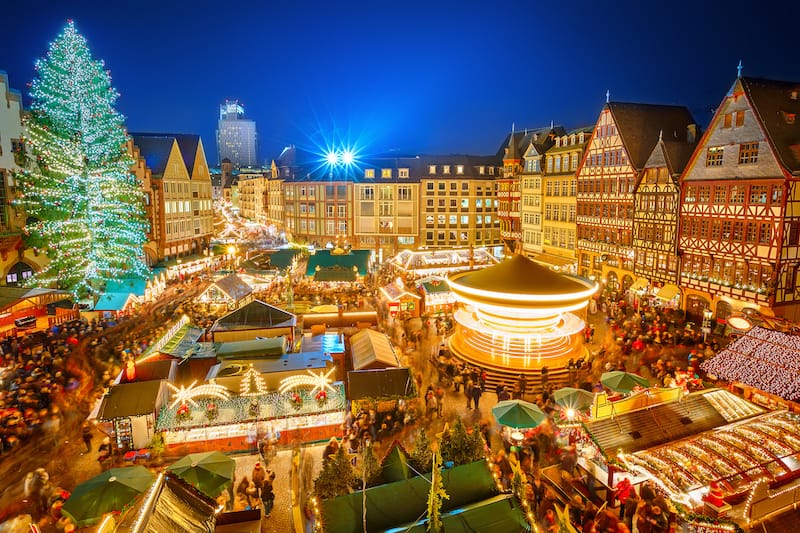 If you are looking for a more local market, you can visit the Sachsenhausen Christmas Market. The market is located in the district of Alt-Sachsenhausen in a small forest, which makes for an even more festive atmosphere.
Another unique market to visit during the Christmas season is the LGBTQ-community Christmas Market Rosa Weihnacht, where they serve pink mulled wine and the entire market is illuminated by pink lights.
If you visit Frankfurt during the winter, you should definitely try apple mulled wine. It consists of Frankfurt's famous apple wine which is served chilled during the rest of the year.
At Christmas time, however, it is served warm, with winter spices and usually a stick of cinnamon.
Besides the popular Christmas markets, you can join many events all over the city, such as festive concerts in the Alte Oper.
Lugano
Location: Switzerland
Average temperatures in Lugano in December: highs of 8C and lows of 2C; 5 days of precipitation
Recommended by: Zoe from Together in Switzerland
For a beautiful Swiss location worth visiting in December, consider visiting Lugano in winter! This stunning city surrounded by snow-topped mountains is an idyllic and festive place for your winter adventures.
For wintery things to do, Lugano captures the joyous holiday spirit with a local Christmas market, which is open from the end of November.
You can find the traditional market stands located mainly at the Piazza della Riforma, but other stands are also placed throughout the small shopping streets. The whole city gets lit up with sparkly lights and a huge, decorated Christmas tree.
You can get cozy at all the candlelit restaurants and eat local cuisine such as a melted cheese Swiss fondue.
Try a local Ticino red wine with dinner (such as DOC Rosso Dogaia Brivio). Swiss wines are not all well known but are almost always delicious!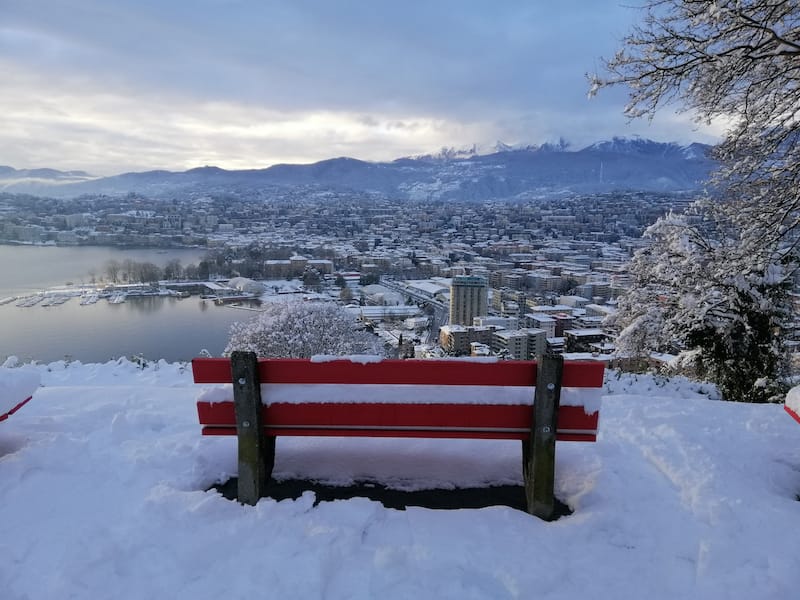 Three personal favorites for restaurant recommendations are Bar Ristorante Olimpia 1845 and Restaurant La Cucina di Alice (both in the city center) and La Taverna del Pittore, which has a gorgeous view from the Lugano Paradiso neighborhood.
For something a bit more adventurous, consider taking the funicular (that has a winter timetable) or hike up one of the local mountains, such as Monte Bré, for spectacular views of Lugano and the lake.
The restaurants at the peaks are usually closed during winter, but the views are well worth the trip up.
Average Lugano snowfall during winter is 1-3cm only, but dress appropriately for the season as there is always a possibility to be surprised with a beautiful layer of white fluffy fresh snow during the night.
Lugano is also a fantastic (but long!) day trip from Milan and other places around the region!
London
Location: England
Average temperatures in London in December: highs of 8C and lows of 2C; 10 days of precipitation
Recommended by: Paulina from UK Every Day
If you want to experience one of Europe's most festive cities in December, visit London. Admiring the largest light displays in the UK or joining famous light festivals are only a few things to do in London in winter.
You can enjoy ice skating in Winter Wonderland or buy unique gifts in a Bavarian-style village.
A visit to Hyde Park is one of the top things to do in London during December. However, Christmas shopping on Oxford Street can be also magical.
One of the best places to admire winter decorations is at Annabel's. The facade of the building impresses visitors every year.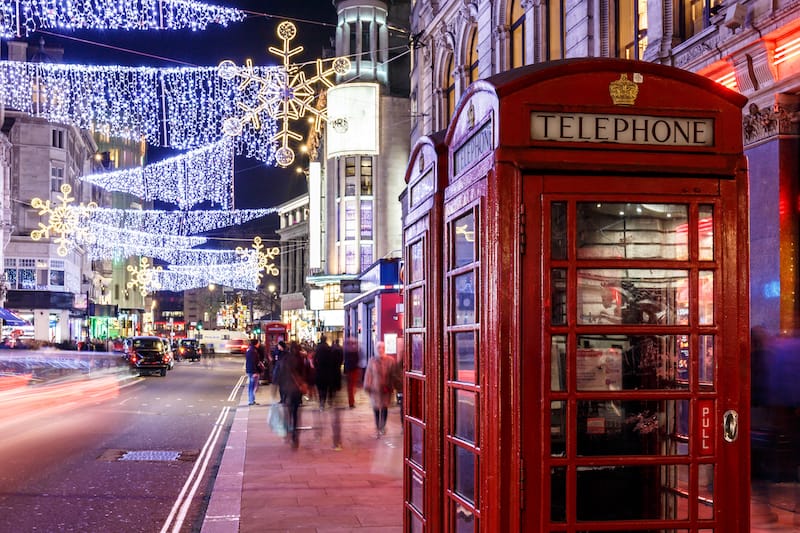 Also, Covent Garden cannot be missed during your visit to London. The big Christmas tree on the piazza and beautiful ornaments in the Apple Garden are truly magical.
If you love art, many talented artists exhibit their masterpieces during winter festivals in London. Whether it is Lightopia Festival or Lumiere London, luminous decorations will take your breath away.
Those award-winning festivals can be experienced only in winter and offer a great way to spend the evening in one of the most vibrant capitals in Europe (and one of the best weekend getaways in the UK).
London is abundant in attractions so even when it will be cold outside, you will have plenty of other options.
You can watch winter shows in one of the best theaters in London such as the Globe or drink hot chocolate in BAR 31 while admiring panoramic views of the city.
Krakow
Location: Poland
Average temperatures in Krakow in December: highs of 13C and lows of 4C; 8 days of precipitation
Recommended by: Diana from Travels in Poland
In the short days of December, no place is more beautiful than Europe's largest central square in Krakow, Poland.
With the old cloth hall, Sukiennice, situated in the middle of the square, popping inside for some holiday shopping is a must!
Outside of the cloth building, visitors will find dozens of cafes, restaurants, and bars dotting the square, ready to serve up warm coffee or some of Poland's finest cultural foods, pierogi and golabki.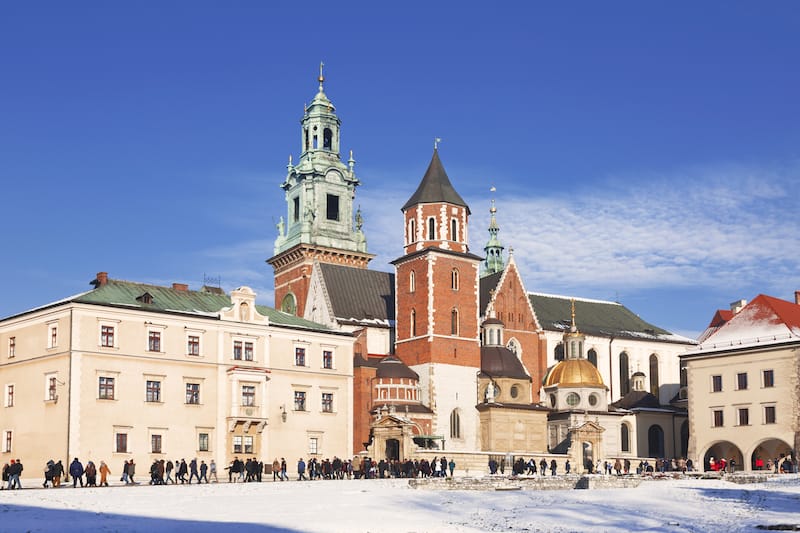 The local Christmas market is a great place to find spectacular food and gifts for loved ones.
The Wawel Royal Castle nearby on Wawel Hill is worth touring, and a visit to the dragon's den at Wawel Castle is a fun way to work your way down to the Vistula River where an evening dinner cruise can cap off a great day.
For visitors wanting to explore a bit outside of the city, the Wieliczka salt mine is less busy during the month of December, and the beauty of the old salt mine and its dozens of corridors is unlike any other salt mine in Europe.
The salt mine is easily reachable by train from Krakow.
Malta
Average temperatures in Malta in December: highs of 17C and lows of 11C; 8 days of precipitation
Recommended by: Lowry from Many Other Roads
Many travelers search for the best places to visit in Europe in December to get in the Christmas spirit. However, this time of year guarantees to bring the bitterly cold weather with almost any trip.
So why not enjoy the festivities in one of Europe's warmer destinations, like Malta.
Malta is a fantastic destination to visit all year round, thanks to its fantastic weather. One of the best things to do is to see Malta by car.
You will be able to visit the endless stunning locations including Paradise Beach and Popeye's Village with ease.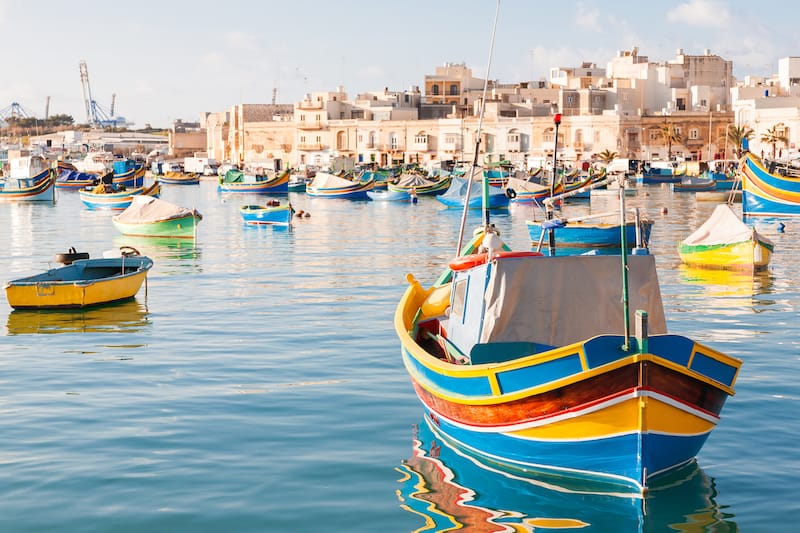 Another amazing thing to do in Malta in December to feel festive is to visit St. John's Co-Cathedral in Valletta.
The island is a Roman Catholic nation so you will find multiple concerts, handmade nativities, and impressive decorations throughout December. The most magical thing to see here is the candlelit carol services.
For those wanting to find bespoke gifts, Malta is full of them. You will find plenty of options for unique Christmas gifts including Limestone art and Maltese Filigree Jewelry.
As Malta is also famous for its hand-blown glass products, make sure you visit Mdina Glass Malta.
To get in the festive spirit without the cold weather, Malta is absolutely one of the best places to visit in Europe.
Vienna
Location: Austria
Average temperatures in Vienna in December: highs of 5C and lows of 0C; 8 days of precipitation
Recommended by: Nadine from Le Long Weekend
There are few places in Europe, and indeed the world, that absolutely outdo themselves come December. But Austria's capital city does just that.
Dressed up to the nines, Vienna starts to sparkle in late November, but it's through December that the seasonal cheer really takes hold.
With more than 20 Christmas markets taking place in Vienna each year, there's a scene to match every mood. From grand glistening palaces to quirky artisanal affairs – they adorn every corner of the city.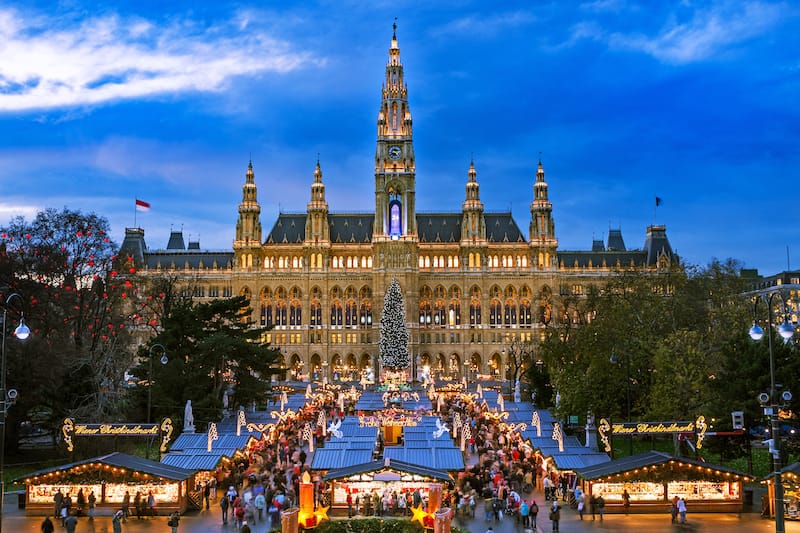 Even if you're not in the mood for shopping, they make an excellent place to pause for a warming mug of punch, or the country's famed soup in bread. Seasonal festivities aside, you'll love exploring this walkable city that's peppered with history.
Discover Vienna's museums, galleries, churches, and opera houses. Immerse yourself into a tropical paradise in the butterfly house, or simply cozy up in a cafe to experience the legendary coffee and cake scene.
Don't leave without taking in the view at the top of St Stephen's spire (there's a lift option available), going ice skating at Rathausplatz, or taking a visit to the curiously named Spanish Riding School.
Pick up an original Viennese snow globe while you're there, and you'll have the perfect souvenir to remember the time you visited Vienna in December.
Edinburgh
Location: Scotland
Average temperatures in Edinburgh in December: highs of 7C and lows of 1C; 11 days of precipitation
Recommended by: Moumita & Sankha from Chasing the Long Road
Magical at any time of the year, the Scottish capital city of Edinburgh looks particularly special during the festive winter month of December.
With its stunning medieval architecture, narrow cobbled streets, and a castle perched over an extinct volcano – it is hard to beat the charm of this city.
In December, the Christmas spirit takes over, and there are plenty of festive and cultural things to do in Edinburgh to make you fall in love with this medieval city.
Edinburgh's Christmas market mainly takes place in the Princes Street Gardens at the heart of the city center with beautifully decorated chalets and fairy lights.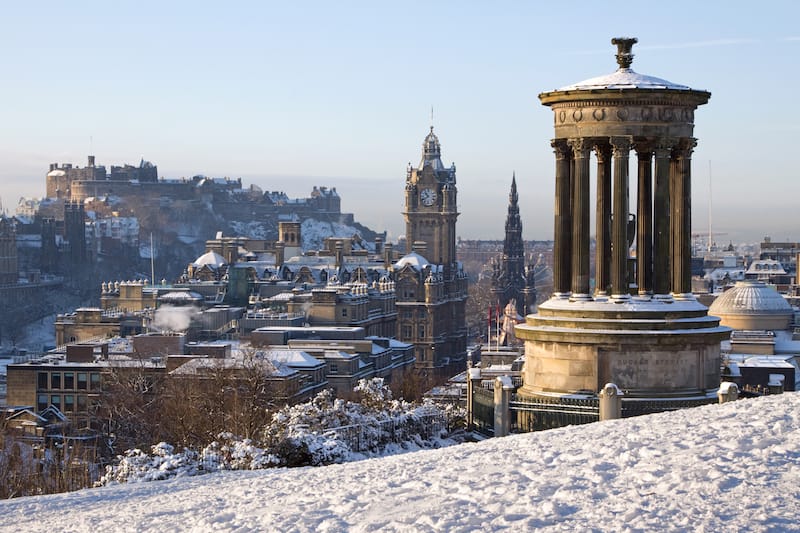 You can take part in many fun activities, like taking a ride on the gigantic Big Wheel and the Star Flyer to admire the spectacular view over the city.
Younger visitors would love the Christmas Tree Maze, Santa's Grotto, and Nativity Carol Concert. You can also attend Christmas-special events at Edinburgh Castle and the Royal Botanic Garden.
Hogmanay is an integral part of the Edinburgh Christmas Celebration. It is a three-day annual celebration from 30th December to New Year's Day.
Hogmanay includes a spectacular torchlight procession, stunning fireworks displays from Edinburgh Castle, concerts, and street parties.
Berlin
Location: Germany
Average temperatures in Berlin in December: highs of 4C and lows of 0C; 10 days of precipitation
Recommended by: Ali from Berlin Travel Tips
While Berlin can be dark and gloomy in December, it can still be a wonderful time to visit for a weekend getaway.
There are more than 50 Christmas markets in Berlin, so you can spend your time sightseeing during the day and enjoy the holiday cheer in the evening no matter where you are in the city.
One of the best Berlin Christmas markets is at Gendarmenmarkt. This is one of the city's prettiest squares, and it's a favorite among locals and tourists.
There's a 1 euro entrance fee, but it's worth it. This market has a slightly more upscale feel to it than other markets, but it still follows traditions.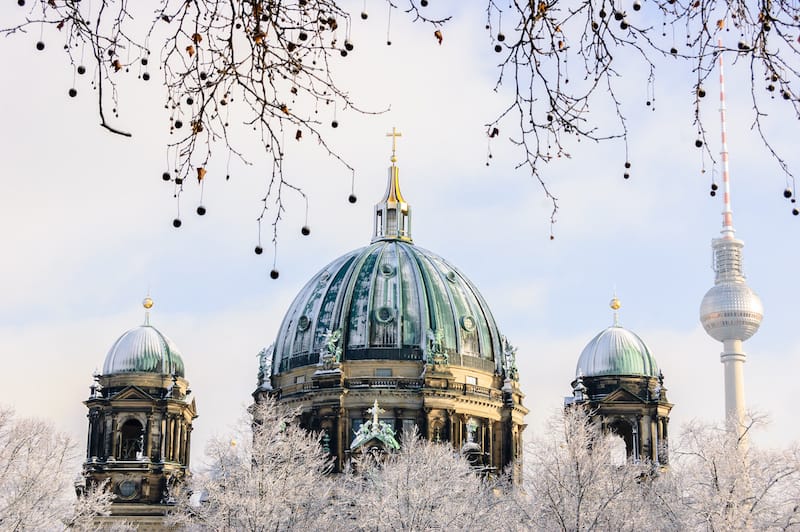 Another market worth visiting is the one at Charlottenburg Palace. The palace makes for a gorgeous setting, and it has such a cozy atmosphere. You'll find traditional German food but also other specialties, such as Hungarian goulash and langos.
If you love to party, Berlin is also a great destination for late December. The city hosts a huge New Year's Eve party in front of Brandenburg Gate with music and other performances.
But be warned: It is estimated that over a million people attend, so you have to be comfortable with large crowds for a long period of time.
If you're not up for this type of party, you'll still see fireworks all over the city.
Athens
Location: Greece
Average temperatures in Athens in December: highs of 15C and lows of 8C; 6 days of precipitation
Recommended by: Editor's choice
Athens is a fantastic city to visit in December because it has some of the mildest weather in the European capitals!
In winter, you can experience amazing historical sites such as the Acropolis without the pressing crowds of summer.
A great way to get some fresh air is to head to the top of the highest hill in Athens, Mount Lycabettus, which will reward you with gorgeous views. If you don't feel like walking to the top, you can take the convenient cable car up.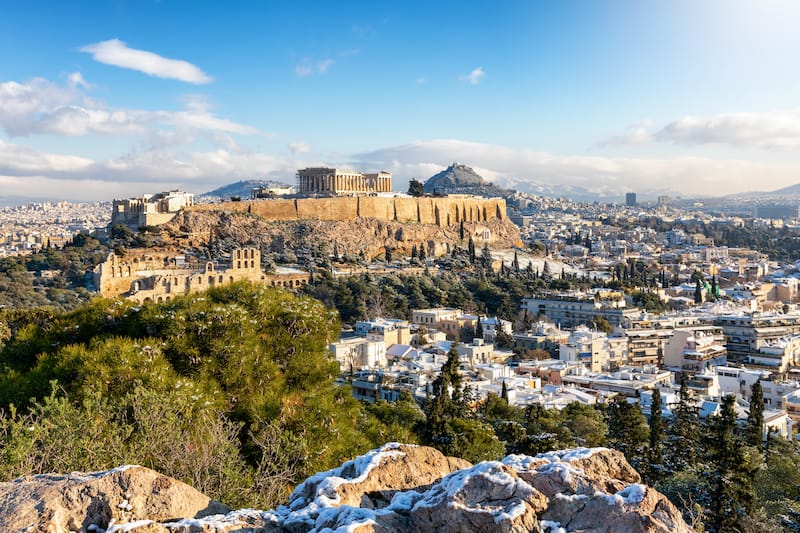 If you feel chilly, spend some time at a fascinating museum, such as the National Archeological Museum or the National Historical Museum of Athens.
For lunch, warm up with a delicious bowl of traditional avgolemono soup, a tasty lemon, chicken, and rice creation.
For a dose of Christmas cheer in Athens, go ice skating at one of the several outdoor rinks around the city or stop for a hot chocolate at Noel, a cafe decked out in Christmas decor.
Be sure not to miss the most festive places in Athens- Syntagma Square with its Christmas lights and decorations and the Christmas Factory at Technopolis, a huge Christmas village with gifts, rides, ice skating, and tasty Christmas-time treats.
Salisbury
Location: England
Average temperatures in Salisbury in December: highs of 8C and lows of 2C; 11 days of precipitation
Recommended by: Sarah from Slow Travel
Salisbury is a city that really comes into its own every December!
The main attraction is the German-style Christmas Market, which is frequently voted as one of the top ten across the country. Selling gifts, treats, and delicious food… it is accompanied by live music and an ice skating rink installed in front of the Guildhall.
Salisbury is always beautifully decorated with lights and trees across the whole city and its parks, including a tree trail for kids and the ever-popular giant illuminated bauble which you can walk through.
The local church of St. Thomas hosts a Christmas Tree festival which is filled with hundreds of trees decorated in a myriad of festive styles.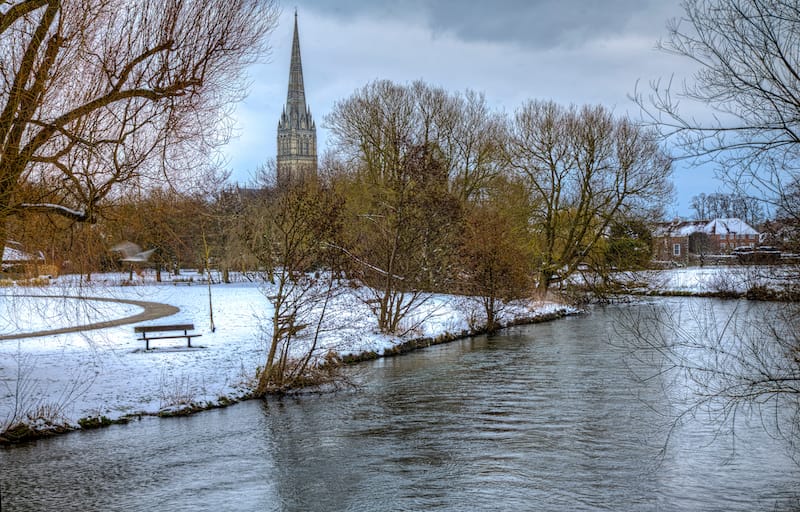 Salisbury Cathedral runs festive Twilight Tower Tours, where you climb the cathedral at dusk, emerging onto the top of the tower to see the Christmas lights spread out beneath you when the moon is high in the sky.
It is a truly beautiful and festive sight and is followed with a cream tea in the refectory. Entertainment venues host seasonal events and big-name bands, while the Salisbury Playhouse puts on a traditional pantomime that is renowned across the country.
It is a great place to visit in December with so much to do and if you are really lucky, you may even get some snow!
Ghent
Location: Belgium
Average temperatures in Ghent in December: highs of 7C and lows of 3C; 13 days of precipitation
Recommended by: Barbara from Next Stop Belgium
Visiting Ghent in December is a great way to experience the Christmas spirit in Belgium. Rather than an average Christmas market, the city organizes a 'Winter in Ghent' festival that offers a great backdrop for your explorations.
The Ghent Christmas market is one of the largest and most popular in Belgium. There are over 150 stalls scattered around the historical city center between Sint-Baafsplein and Sint-Veerleplein.
Discover traditional Belgian food and drinks and bring home some original souvenirs.
In front of the spectacular architecture of the City Pavilion on Emile Braunplein, you can whirl around on the ice rink in a Medieval setting. It almost feels as if you're a part of one of the works of Brueghel, the famous 16th-century painter.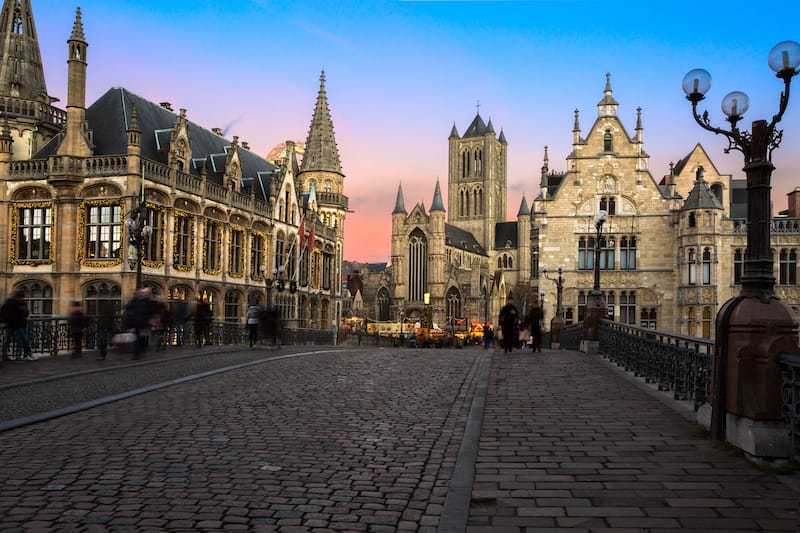 Ghent Alight is the city's award-winning light plan. This 3.2-km walk shows a magical play of light and shadow against the historical streets. While you can do this walk year-round, in December, the Christmas lights give it an extra touch.
Ever wanted to visit Hogwarts? No need! In winter, the famous Belgian Castle of the Counts is transformed into a real-life winter wonderland castle.
Explore the hidden staircases and the famous torture room (with equipment!) – all with enchanting lighting and seasonal music.
The majority of the activities take part from the 8th until the 31st of December, but some are extended until the first week of January.
Gran Canaria
Location: Spain
Average temperatures in Gran Canaria in December: highs of 17C and lows of 11C; 7 days of precipitation
Recommended by: Joanna from The World in My Pocket
If you are planning a winter sun trip in December, then Gran Canaria is the perfect destination for you.
Gran Canaria is an island like a small continent, with various scenery ranging from beautiful beaches to sand dunes, rough terrain, and high cliffs to 1900+ meters high mountains.
Depending on what type of tourist you are, there is a place to stay in Gran Canaria for everyone. The north is rugged and rural, famous for its coffee plantations, natural swimming pools, as well as some of the tallest cliffs in the world.
The center of the island is covered by mountains from where you can spot the other Canary Islands, especially Mount Teide in Tenerife.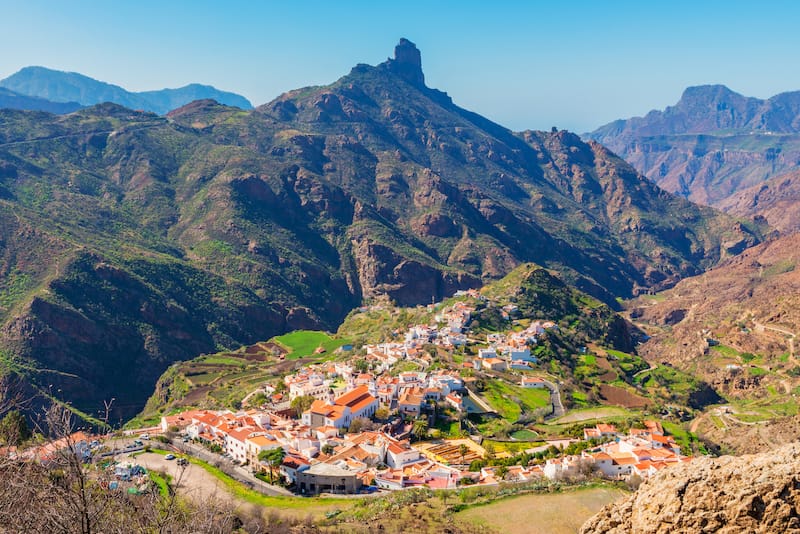 The South of Gran Canaria is a great place to go if you're looking to relax. You will find the best beaches, sand dunes, and luxurious resorts there.
You shouldn't miss the capital of Gran Canaria, Las Palmas de Gran Canaria, where most events take place in December. The city is fascinating, with the old town dating back to the 16th century when the island was discovered.
Playa de las Canteras in Las Palmas is home to the largest nativity scene built straight in the sand by different artists who come to the island specifically for this event. December is also when a lot of concerts take place in Las Palmas.
The most notable are the Christmas Eve concert in front of the Cathedral and the symphonic New Year's Eve concert.
Sicily
Location: Italy
Average temperatures in Sicily in December: highs of 17C and lows of 6C; 7 days of precipitation
Recommended by: Louisa from Epic Book Society
When looking for warm winter destinations in Europe, you should cast your eyes in the direction of Sicily, an Italian island in the warm Mediterranean.
The island is known for its natural beauty, stunning cathedrals, amazing Roman architecture, and poetic Italian authors.
It also has a year-round temperate climate which makes it the perfect spot for wine cultivation. Sicily is brimming with vineyards and wineries, some of which have the highest quality wine in the whole of Italy.
For those looking for a romantic destination in December, a vineyard retreat in Sicily is definitely one way to kindle some romance.
December is the quiet period for visitors to Sicily, which means prices are lower and you can enjoy the attractions without the throngs of other tourists.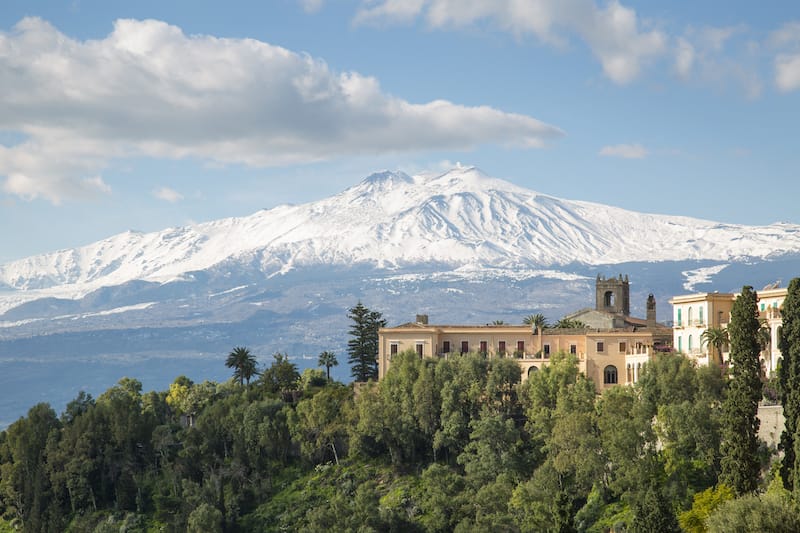 Another good reason to visit Sicily in December is for Christmas. Since most Sicilians are Roman Catholic, Christmas is a big deal here. You'll see festivities begin on the 7th and 8th of December during Festa dell'Immacolata (Feast of the Immaculate Conception).
On these days, you'll see many towns hold processions to honor the Virgin Mary, where villagers carry statues and parade in the street.
One area, in particular, to check out is the Ragusa Province, where people flood the street singing songs dedicated to "dell'Immacolata."
The singalong is known as Canzoncine and features a marching band, local musicians, and singers who walk from church to church singing songs and spreading the festivities.
It's considered the main event and is definitely not something to be missed if visiting Sicily this time of year.
Paris
Location: France
Average temperatures in Paris in December: highs of 8C and lows of 4C; 9 days of precipitation
Recommended by: Martha from May Cause Wanderlust
They say Paris is lovely in the springtime – and that is entirely true! But Paris is also crowded in the springtime. And the summer. And even into autumn. The best way to avoid crowds is by visiting Paris in winter!
There are lots of things to do in Paris in winter, even if the weather is bad, including world-class museums like the Louvre, magnificent church interiors such as Sainte-Chapelle, opulent theaters including Palais Garnier, arthouse cinema, and historic covered markets.
However, if you visit Paris in December, you get the added bonus of the Christmas festivities, which Paris does so well.
There are some stunning Christmas decorations in the grand Paris department stores. The spectacular display inside the already ornate dome of Galleries Lafayette is a real treat!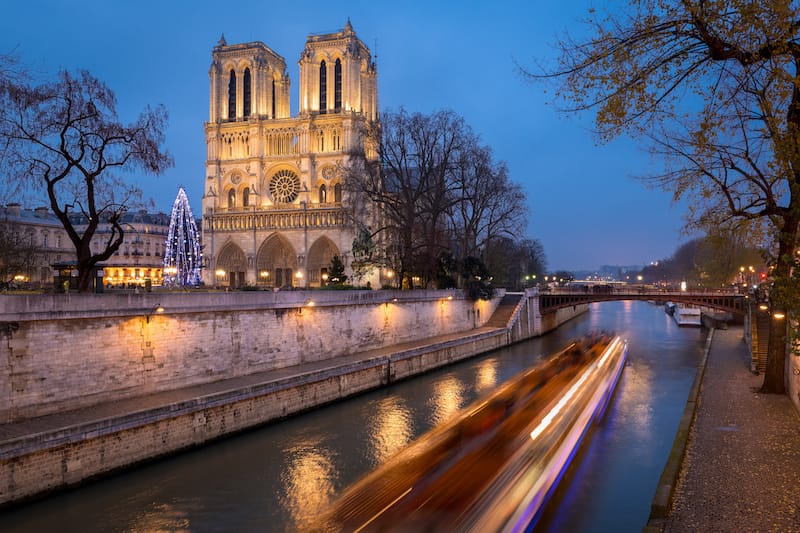 And there will be lots of Christmas Markets (or Marchés de Noël) dotted around the city, including at Notre Dame Cathedral, the Eiffel Tower, and Montmartre.
However, the most spectacular is The Magic of Christmas, or La Magie de Noël, at Tuileries Garden. There are fairground rides and plenty of vin chaud on sale – and even a Champagne bar.
But the best thing about this Christmas market is the huge choice of delicious food, including raclette, garlic snails, onion soup, omelets, and, of course, crepes.
Bolzano
Location: Italy
Average temperatures in Bolzano in December: highs of 7C and lows of -3C; 8 days of precipitation
Recommended by: Lori from Travlin Mad
A highlight of the December holiday season in Europe is a visit to one of the festive Christmas markets and if your plans include a visit to Italy, put the Bolzano Christmas market at the top of your bucket list — it's the largest of all the Christmas markets in Italy.
Located in South Tyrol close to the border with Austria, Bolzano is nestled in a valley between the scenic mountains that cover the landscape.
With train services from major cities like Bologna, Florence, Milan, and Venice, Bolzano is easy to get to (but still a bit of a hidden gem!).
As the market vendors set up in Piazza Walther in late November, bright Christmas decorations and twinkling lights make their appearance in shop windows and on the facades of buildings all over town.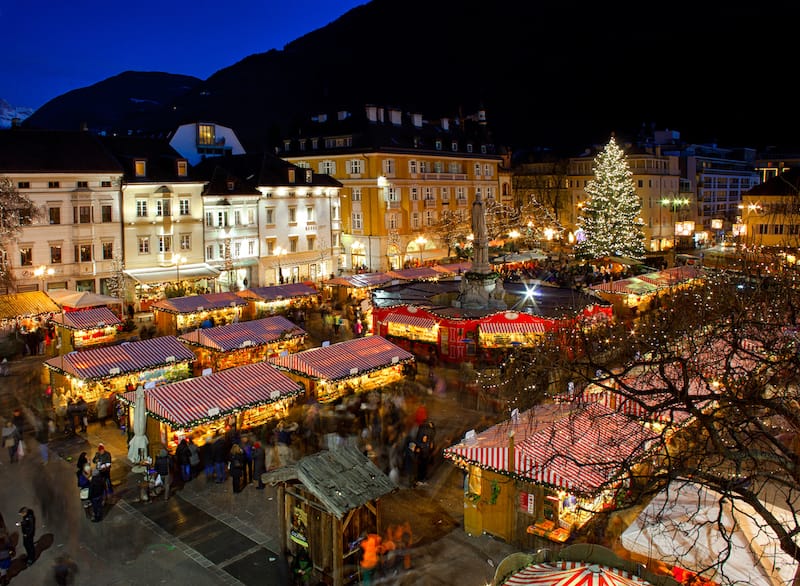 To go along with the festive vibe are the aromas of holiday foods, cinnamon pastries, and mulled wine.
Because of its proximity to Austria and Switzerland, local restaurants and markets serve traditional German-style foods like sweet and savory soft pretzels, raclette, cheeses and cured meats, and other local seasonal favorites of the region.
Peters Patisserie is a must-stop around the holidays.
Powder hounds will find ski slopes just outside of Bolzano in the Sarentino and Ega valleys, and of course, the Italian Dolomites are nearby.
Turin
Location: Italy
Average temperatures in Turin in December: highs of 9C and lows of 4C; 3 days of precipitation
Recommended by: Or from My Path in the World
Turin might be the 4th-largest city in Italy – a royal destination, a chocolate empire, and the birthplace of the aperitivo tradition and brands such as Lavazza and Fiat – yet it is an underrated gem that offers countless things to do and see.
If you're eager to visit in December, you'll be rewarded with decorated streets and shops, Christmas markets, and other winter-time events.
You can admire the unique light installations created by the Luci D'Artista project, wander around the enchanting Christmas markets at Piazza Castello and Piazza Solferino, enjoy the Christmas edition of Bunker Big Market, and check out Emanuele Luzzati's nativity scene at the famous Borgo Medievale.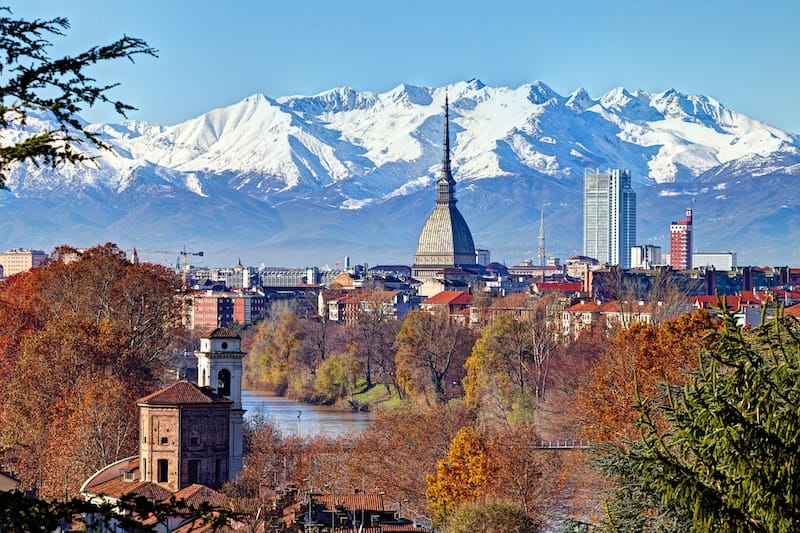 If the weather gets too cold to handle, opt for indoor activities like warming up with a cup of a local coffee-chocolate drink called Bicerin, devouring hearty Piedmontese pasta and risotto dishes, and visiting Turin's museums and UNESCO-listed residences of the royal House of Savoy.
These include the 16th-century Palazzo Reale, the impressive Egyptian Museum, and the incredible National Museum of Cinema, which is the tallest in the world, housed in the stunning building of the Mole Antonelliana.
The best area to stay in Turin is the Historic Center (Centro Storico), where you'll find most of the city's landmarks, museums, historic cafes, and other attractions.
Turin is an easy train journey from Milan and other cities around the north of Italy (and Switzerland).
Barcelona
Location: Spain
Average temperatures in Barcelona in December: highs of 15C and lows of 9C; 3 days of precipitation
Recommended by: Lisa from Waves and Cobblestones
Barcelona is one of the best places in Europe to visit in December. Since Barcelona is located on Spain's Mediterranean coast, the mild temperatures make this a fantastic place to visit during the winter months for an escape from the cold!
You'll want to be sure to visit Barcelona's longest-running Christmas market, Fira de Santa Llúcia.
This market is held from the end of November until nearly Christmas, right in front of the stunning Cathedral of Barcelona. It is the perfect place to find traditional holiday items such as nativity scenes.
Barcelona's famous pedestrian boulevard, La Rambla, is just a hop from the cathedral and is not to be missed.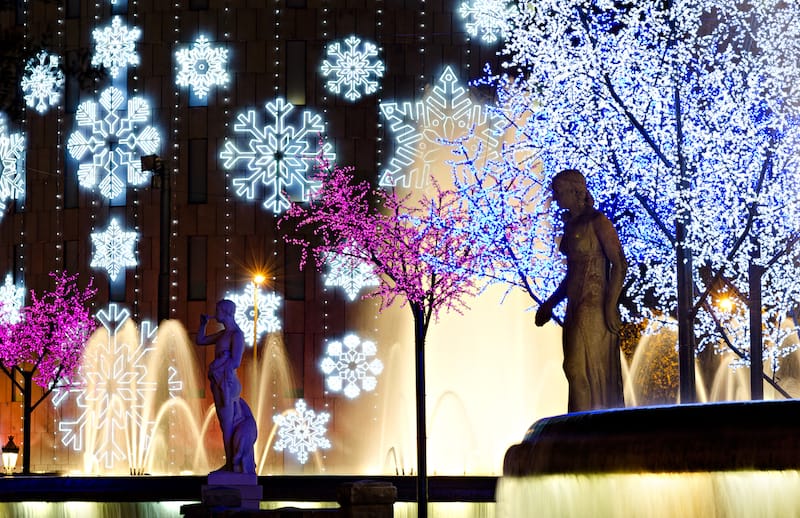 La Rambla is chock-full of shops, cafés, museums, hotels, and of course, the Mercado de La Boqueria. This market is a Barcelona icon and a great place to do some shopping and sample local culinary favorites.
One of the best things to do in Barcelona is to view the incredible architecture of Antoni Gaudí. Highlights include his masterwork basilica, La Sagrada Familia, and the flowing vibrant mosaics making up Parc Güell.
A December visit to Barcelona also allows you to experience Casa Milà at night with a rooftop audiovisual show projected onto this unique building.
Hallstatt
Location: Austria
Average temperatures in Hallstatt in December: highs of 7C and lows of 1C; 15 days of precipitation
Recommended by: Martina from Places of Juma
The picturesque village of Hallstatt is definitely one of the most stunning winter destinations in Europe and is a great choice for a perfect visit in December!
The best part of Hallstatt in winter is that the dreamlike location on the shore of the black Hallstatt Lake, with the majestic snow-capped mountains in the background, makes the village reminiscent of a real postcard.
In December, you can expect a true picture-book feeling here, with colorful lights, snow, and amazing views. Although the town is relatively small, Hallstatt still has many attractions to offer.
One definitely worth seeing is the historic market square with its beautiful Holy Trinity Column and many colorful houses. In winter, a beautiful Christmas market is held there.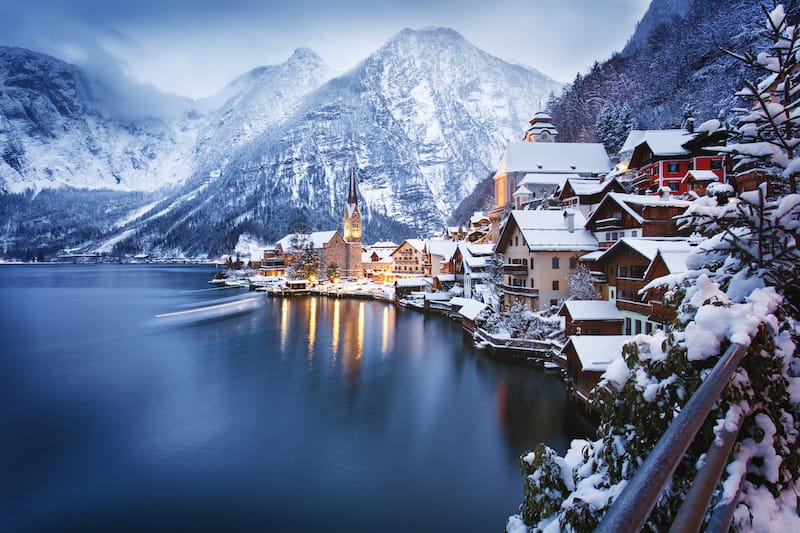 Another special place to visit in Hallstatt is the Bone House, a historic collection of 600 colorful skulls in the cemetery.
If you like to take captivating winter photos, then you should definitely visit the Hallstatt lookout point, where you can enjoy the most beautiful view of the snow-covered Hallstatt.
You'll also find plenty of day trips from Hallstatt worth embarking on! One excellent choice is the snowshoe hike in Dachstein-Krippenstein up to the 5-finger overpass. Another beloved favorite is visiting Gosau where you'll find a ski area.
Be sure to book yourself into Seehotel Grüner Baum, one of the best hotels in Hallstatt!
Bansko
Location: Bulgaria
Average temperatures in Bansko in December: highs of 4C and lows of -4C; 10 days of precipitation
Recommended by: Lyubomira from Bulgarian On The Go
Bulgaria is an underrated destination that has a lot to offer, especially in wintertime. And when talking about winter in Bulgaria, the first place that pops to mind is Bansko – the country's biggest and most famous winter resort.
Bansko is located just about 2 hours away from Sofia, and apart from being a preferred winter getaway, it's also a beautiful town with a rich history and many landmarks to visit.
Number one on the list of things to do in Bansko is to try some winter sports. The ski season begins in early December, so this is also a perfect time to visit, and the slopes here are the best-kept ones in all of Bulgaria.
There are also a few thermal pools close by, providing a wonderful opportunity for relaxation after a day on the slopes. One of the best ones to check out is Regnum Banya.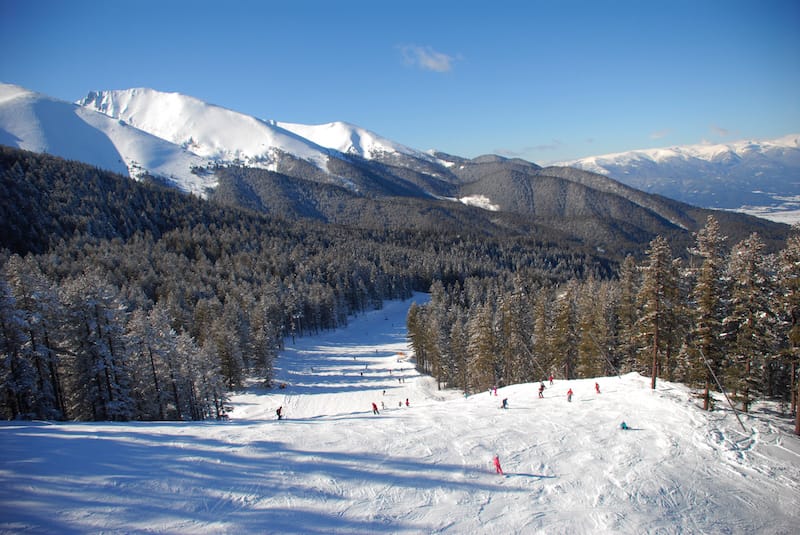 Another must-do is to roam around the old town and be enchanted by the cobbled streets, traditional taverns, and lovely architecture.
Don't skip exploring the historic part of Bansko, as there are some interesting sights, allowing you to get to know Bulgarian history and culture even deeper.
Be sure to visit the Holy Trinity Church, the Neofit Rilski House Museum, and the Nikola Vaptsarov House Museum.
The best and easiest way to reach Bansko is to fly to Sofia and then either catch a bus or drive there. The bus journey takes about 3 hours and leaves from the Central Bus Station, whereas the drive takes around 2 hours.
Did we miss any amazing places to visit in Europe in December? Let us know your favorite European winter destinations in the comments!
More Europe Travel Guides
Pin this December in Europe Guide