Are you looking to go whale watching in Tromsø on your upcoming trip? These are the top whale watching tours in Tromsø, including how to book (and answering all your questions)!
Planning your trip to Tromsø last minute?
Below are some of the top tours, hotels, and more! Donʻt forget to plan ahead when visiting Tromsø and nearby!
🇳🇴 Top activities and tours in Tromsø:
🛌 Top Hotels in Tromsø:
Clarion 'The Edge' (Tromsø's most beautiful hotel – on the sea!)
Thon Hotel Tromsø (I stayed here twice and recommend it!)
Radisson Blu (many tours leave from here – by harbor)
✈️ Want to get from the airport to Tromsø hassle-free? Find the best airport transfer option here!
🚗 Visiting Tromsø independently? Be sure to book your Norway rental car ahead of time to ensure availability!
Not all Tromsø whale watching tours are created equal… so choose your tour in Norway wisely!
We have created this guide to encourage you to pick the Tromsø whale safari that is best for you!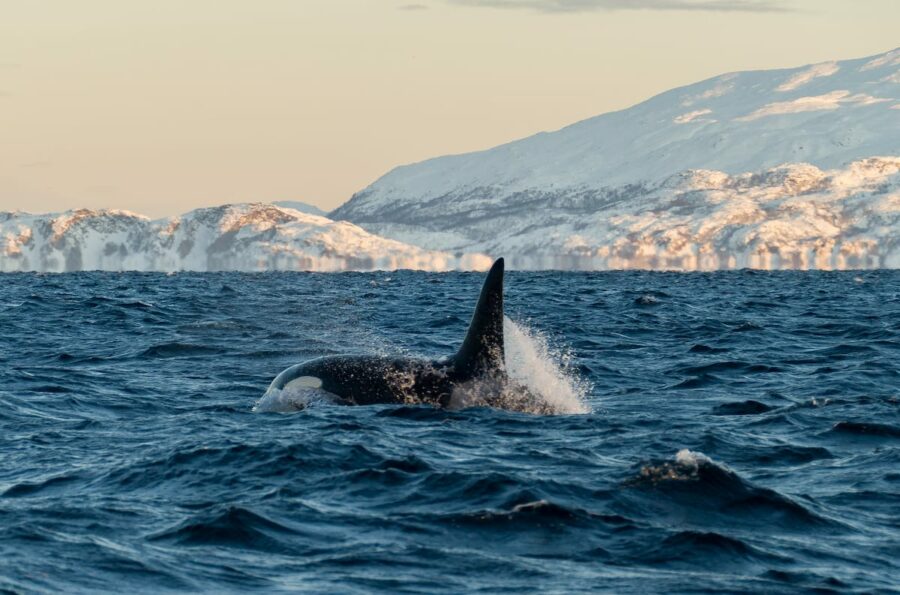 Please do note that whale watching season in Tromsø is not year-round. This is a season that extends from November until February (sometimes a little shorter but very rarely longer).
Do you have any questions about whale watching in Tromsø? Let us know in the comments. Thanks!
Tromsø Whale Watching Tours (in this Guide)
I have listed merely a few of the Tromsø whale watching tours available in this guide and you can get a quick overview here.
I think each tour offers something unique and a reason to book. Here is a quick round-up of the whale safaris in this guide:
🥇 My top whale watching option:
🐋 Other fantastic choices for a trip:
Best Tromsø Whale Watching Tours
1. Whale Watching Tour by Hybrid-Electric Catamaran
Duration: 8.5 hours
Wheelchair accessible: Yes
Languages: English, Norwegian, Danish
🐋 BOOK HERE
One of the coolest things about this whale watching tour is that it strives to be silent and to capture the Tromsø whales in their natural environment by taking place on a hybrid-electric catamaran.
The boat is silent and it is the perfect way to ethically encounter the whales feeding on the herring-rich waters of Northern Norway!
This tour is perfect for English or Norwegian speakers and it lasts 8.5 hours. It is wheelchair accessible.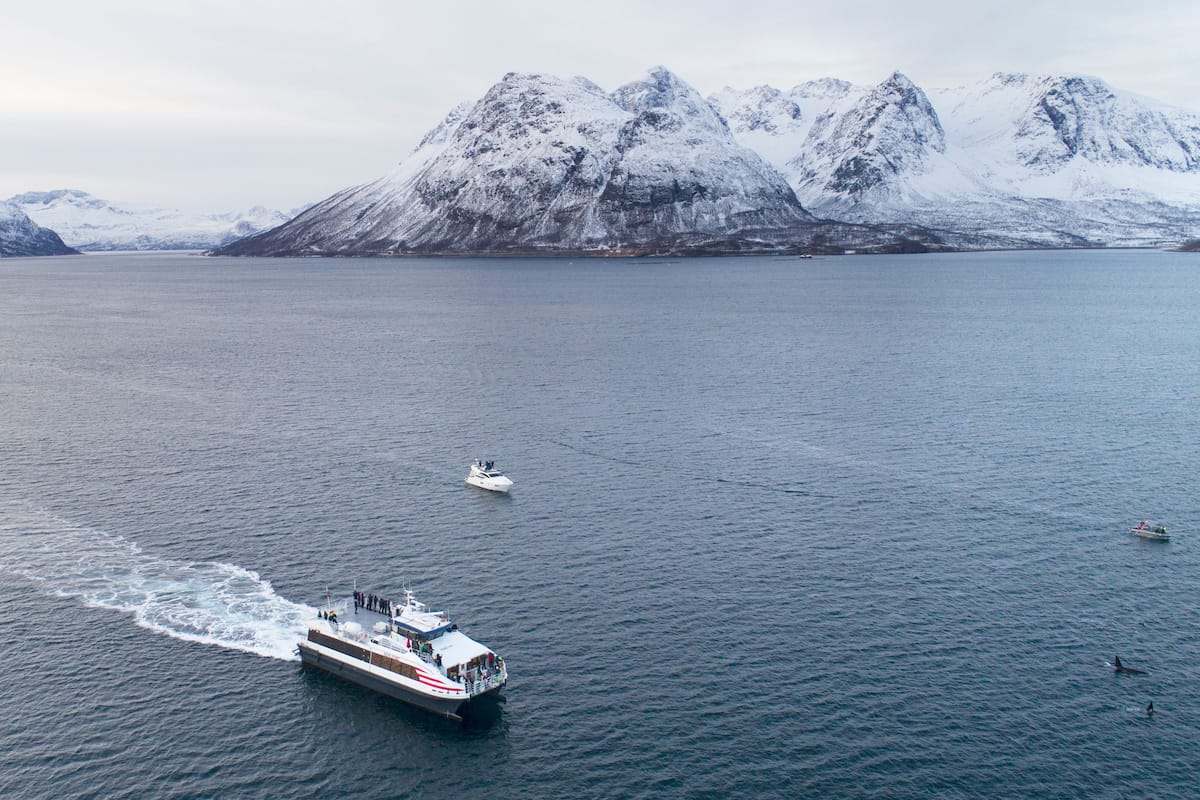 On board the boat, you will be able to enjoy food and drinks for a surcharge. The boat has wifi and it will take around 3.5 hours to reach the whales in the fjord north of Tromsø.
Once you reach them, you will have about 1.5 hours to enjoy their presence and admire them from afar in their natural habitat.
2. Whale and Arctic Wildlife Cruise Safari
Duration: 7 hours
Wheelchair accessible: No
Languages: English, Norwegian
🐋 BOOK HERE
This Tromsø whale watching tour leaves from the harbor and departs up the fjord, allowing passengers to enjoy the gorgeous views and Arctic wildlife and sea life along the way!
It is a 7-hour tour that gives you the chance to spot harbor porpoises, orcas, humpback whales, and more! This is not a suitable tour for those with a mobility impairment, unfortunately.
There are outdoor viewing decks and you can either stand out there or see from inside. The hot coffee and tea on board will keep you warm and fresh for your Arctic adventure!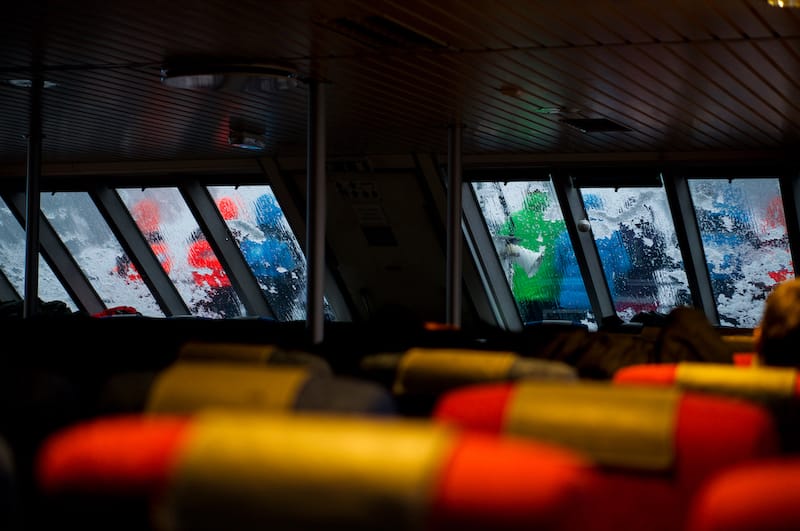 Once arriving at the fjord where the whales are feeding, you will have about 1-1.5 hours to enjoy the scene! This includes a Thermal winter suit and life jacket as well as hot drinks and biscuits.
3. Whale Watching in Magical Skjervoy (RIB Boat!)
Duration: 12 hours (only 2.5 hours in boat)
Wheelchair accessible: No
Languages: English, Norwegian
🐋 BOOK HERE
This tour is one of the top-rated whale watching tours in Tromsø and for good reason – you are seeing them from a RIB boat!
The 12-hour whale watching tour by RIB boat will take you and no more than 11 others on an adventure to the Kvaenangen Fjord by Skjervoy for the magical sight of the whales feeding and going about their daily lives.
The RIB boat allows you to see the whales from up close (closer than a catamaran) and you will be able to feel at one with nature while you do so.
Floatation suits are available and you will feel secure in the boat on the 2.5-hour adventure. You will actually be driven by vehicle up to Skjervoy before hopping into the boat (honestly, a great thing for those that get a bit seasick)!
After the trip, you'll get to enjoy some refreshments before heading back to Tromsø.
This tour is not for those that have a mobility impairment, back issues, heart problems, or are over 120kg (264lbs).
4. Overnight Lavvo Stay with Whales & Northern Lights
Duration: 29 hours (includes overnight stay)
Wheelchair accessible: No
Languages: English
🐋 BOOK HERE
This adventure is a bit different than the other day tours in that it is a full-on Arctic experience and you will stay overnight in a lavvo (Sami tent).
From the glass roof of the lavvo, you will even have a chance to be away from the light pollution of Tromsø which means a far better chance of seeing the northern lights.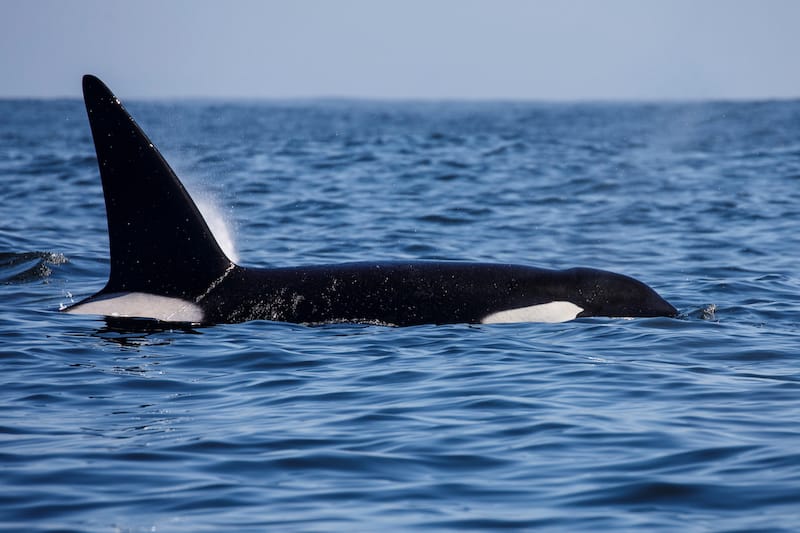 The tour is 29 hours in total as it is overnight and throughout, you will head to the Kvaenangen Fjord by RIB boat to check out the orcas and humpback whales.
Accommodation is included in one of the six private Crystal Lavvos and breakfast, dinner, and lunchtime sandwiches are also included in the price. This is not a tour for those with mobile impairments or back issues.
5. All-Inclusive Whale and Sea Bird Boat Cruise
Duration: 8 hours
Languages: English
🐋 BOOK HERE
Head from Tromsø to alluring Skjervøy on this boat where you will have a chance to witness whales in their natural habitat as well as seabirds in theirs!
The tour lasts for 8 hours and is in English. You'll have a chance to see orcas and humpbacks feeding on the herring and you'll be able to witness sea eagles along the journey!
The boat will offer refreshments and thermally insulated suits.
Is Whale Watching in Tromsø Worth It?
Tromsø, Norway is the epicenter of winter travel in Norway when it comes to tourism. Many people flock to this part of Norway to view the northern lights, make friends with a reindeer, go dog-sledding, and enjoy the dark Arctic skies.
I was always that person who wanted to visit Tromsø in the summer. I guess when you're living in Norway you don't see the appeal of full-on darkness and the cold… so you flock south.
But, what a huge mistake that was. I finally went to Tromsø when I was living in Germany (and have been back multiple times since)!
One of my favorite activities in Tromsø was my whale watching tour in winter so it is one of the first tours I advise you to book when heading there!
It truly is spectacular… but I encourage you to do your research to ensure you pick the right tour!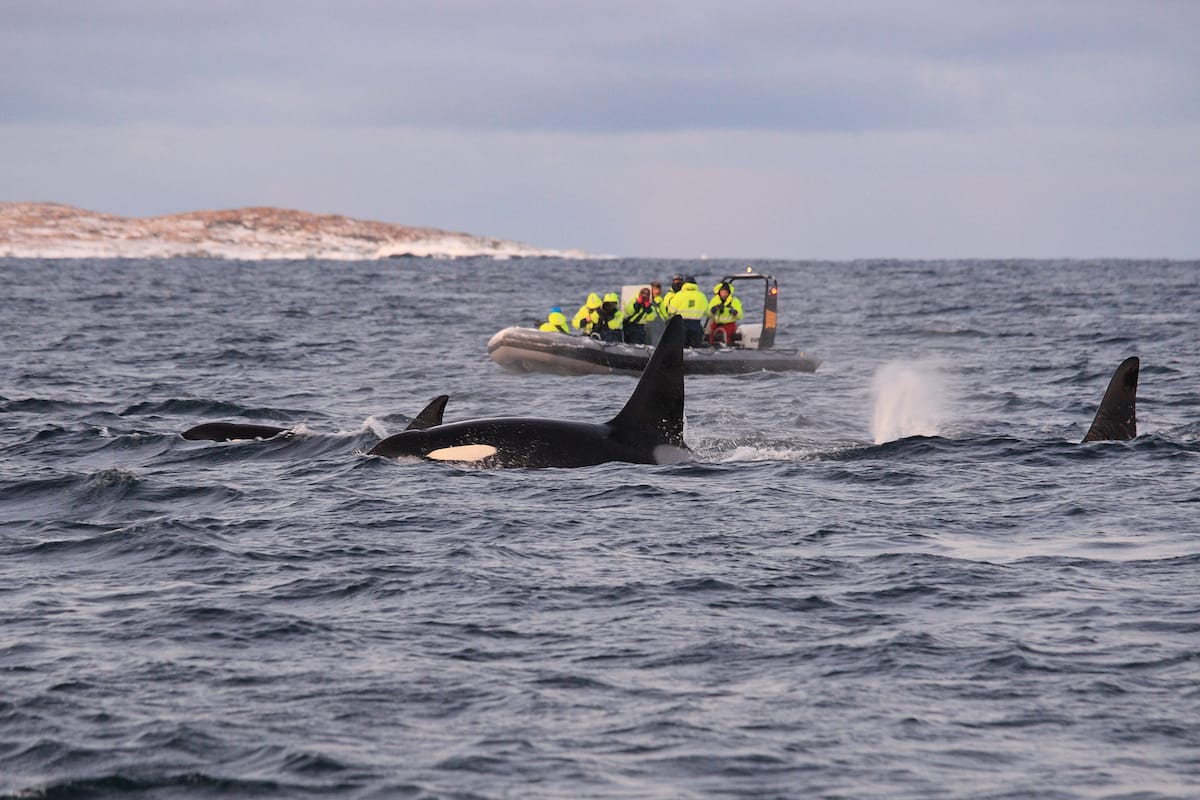 In this guide, we covered those Tromsø whale-watching tours as well as frequently asked questions that you should definitely give thought to before taking a tour. We also cover a little info about the animals themselves!
Best Season for Whale Watching in Tromsø
The best time to go whale watching in Tromsø is from early November until early February. This, naturally, depends on the whales' feeding and migration habits.
This is always subject to change so just be sure to book it early and chat with the company to ensure everything is as it seems ahead of time.
Marine biologists study and track the whales in Tromsø, and these communications are sent to various companies so they should have a good idea of things.
Where and What is Skjervøy?
If you're booking a whale watching tour in Tromsø, you might notice the word 'Skjervøy' written everywhere. So, what and where is Skjervøy?
Skjervøy is an island north of Tromsø that is on the Kvænangen fjord and actually has a really interesting history. However, today, it is where the whales are currently feeding during the winter months!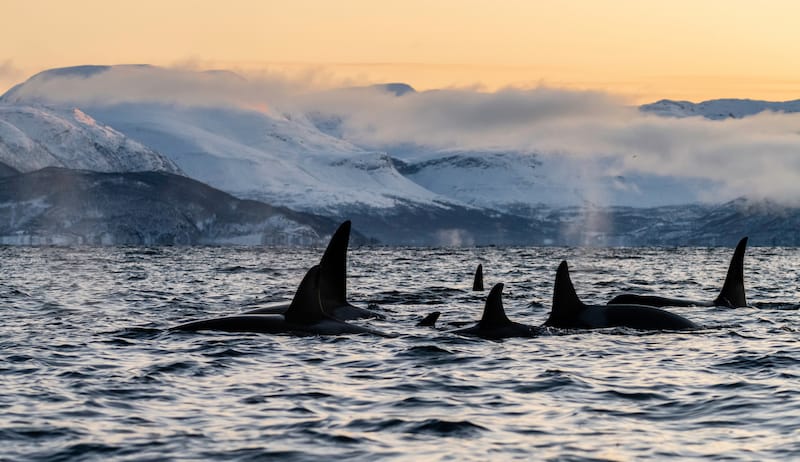 The whales used to feed on herring closer to Tromsø and taking a tour out to see them was a half-day trip at most.
Today, due to overfishing and climate change, the whales go further and further north, and the only way to see them from Tromsø is to take an all-day tour up north to Skjervoy.
The tours are well worth it but it is something you must incorporate some time for. Make sure you plan a full day for whale watching in Skjervoy if departing from Tromsø.
The good news is that you can also fit an evening northern lights tour into your itinerary if planning ahead!
Tromsø Whale Safari FAQ
Before I went on a whale watching trip in Tromsø, there are a few things I wish I had known. Some of this is quite repeated throughout this post, but I hope it helps prepare you slightly for the trip:
1. Whale watching in Tromsø changes year by year. The whales are not always in the same place feeding on those herring!
They used to hang out a bit closer to Tromsø, but sadly, many factors have changed their patterns and behavior.
So, prepare an entire day as you need to head north to Skjervoy.
2. You are not guaranteed to see any whales. This is not the fault of the tour company. They have trackers to see where the whales are, but conditions don't always cooperate so the whales would rather hang out below the water.
Just enjoy the day on the fjord and water and don't view it as a loss as much as it will sting!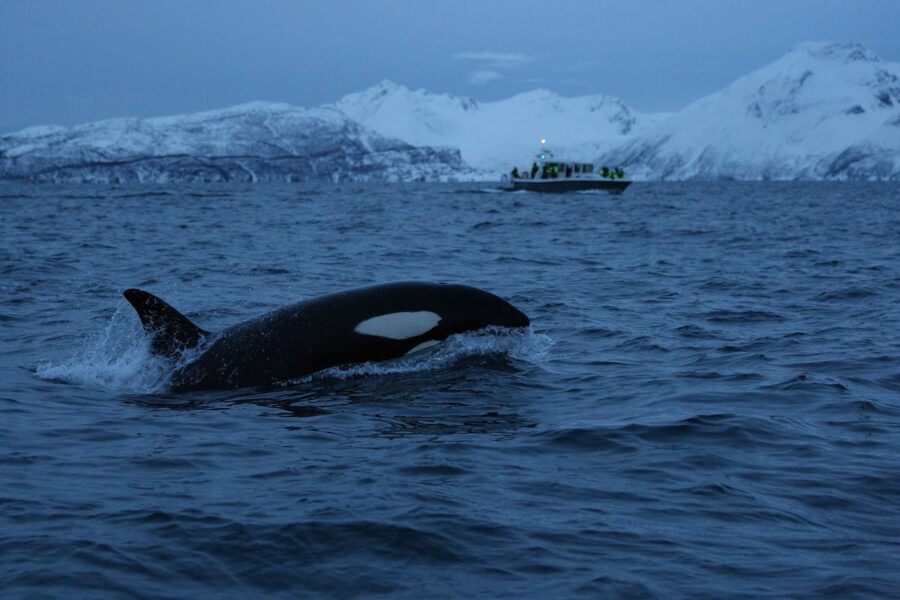 3. Don't scream when you see a whale. When we saw whales, I think every single person on my boat decided to announce it to other corners of the planet!
Just keep calm, take photos, and move aside for others to enjoy once you get your shot.
4. The weather is cold in Northern Norway during the winter. Obviously- I am sure you didn't choose the destination as a tropical one. Dress accordingly, especially if you're on a RIB boat!
If you're in Tromsø whale watching during December or January, you will likely not have a sunrise.
If you're photographing whales, be sure to have your low light settings ready to go as it will be slightly more difficult to photograph them if you don't know what you're doing.
Is Whale Watching Ethical?
If whale watching is done correctly, it should merely be humans on a boat from afar marveling at these stunning and majestic creatures.
In Tromsø, there is a rule that says that only three boats can be in the fjord at a time whale watching. There is also a rule that you must approach the whales in a certain way and can not chase them.
Because the demand to see the cetaceans was so high many years ago (and still today), the companies started having larger boats and working together to fit everyone into one vessel.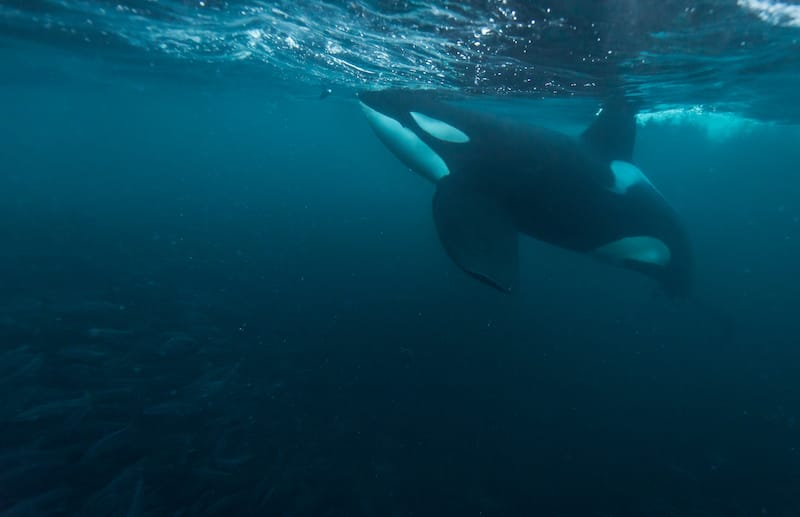 This move was a result of the rule that only three boats could be in the fjord at a time watching the whales.
Boats must stay at least 50 meters away from whales and 100 meters away from calves.
If your boat company does this and follows these rules, there is nothing wrong with enjoying whales in their natural habitat from afar and without any disruption to their routine.
What to Bring on your Norway Whale Watching Trip
Below are some of the things I suggest bringing with you on a Norway whale watching trip:
Whale Watching Photography Tips
Photographing whales in Norway is not the easiest task during the winter months if you don't know what you're doing.
Why? Well, you're dealing with no sunlight, so you already need to know your way around a camera and low light as a starting point.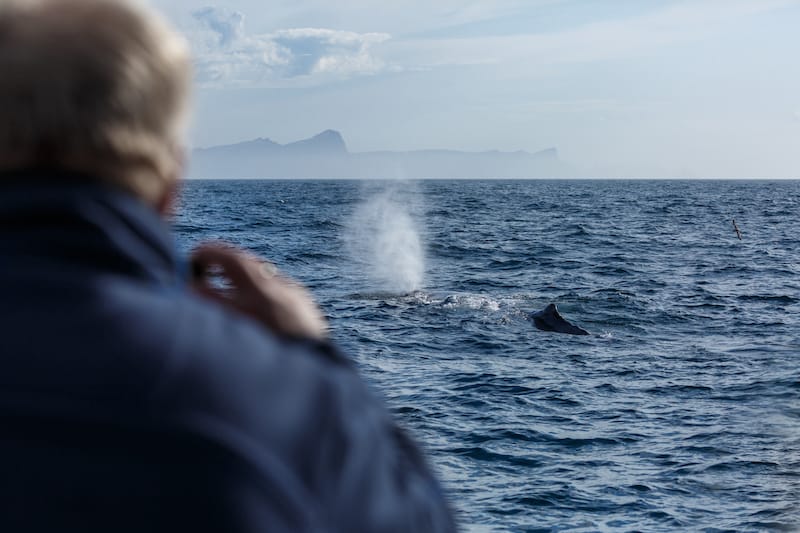 Once you see the whales, you won't have a lot of time to react and get photos, so you need to be fully prepared on how to shoot them before going out to sea.
If you're on a RIB boat (or even a regular one)- it could be rocky and hard to get the photos you want. These are the pieces of equipment I recommend to have with you for your Tromsø whale watching trip.
I am including the camera I have (Sony a7iii) and its lenses/equipment.
Where to Stay in Tromsø, Norway
I actually stayed at the Thon Hotel in Tromsø multiple times (listed below). I also booked a night at the Smarthotel one night, as well. The Radisson Blu is a good recommendation, too, as many tours leave from there!
If you're looking for additional Tromsø hotels and where to stay in Tromsø, check out our linked guide.
More Norway & Tromsø Travel Guides
Pin this Whale Watching Tours in Tromsø Guide