Are you looking for the best things to do in Copenhagen (as a first-time visitor)? This guide has you covered!
Throughout this guide, we cover top-rated Copenhagen attractions, museums, and day trips. You will find everything you need to put places on your Denmark itinerary!
We also uncover some of the best places to eat in Denmark's capital city, as well as a few places to drink coffee and craft beer.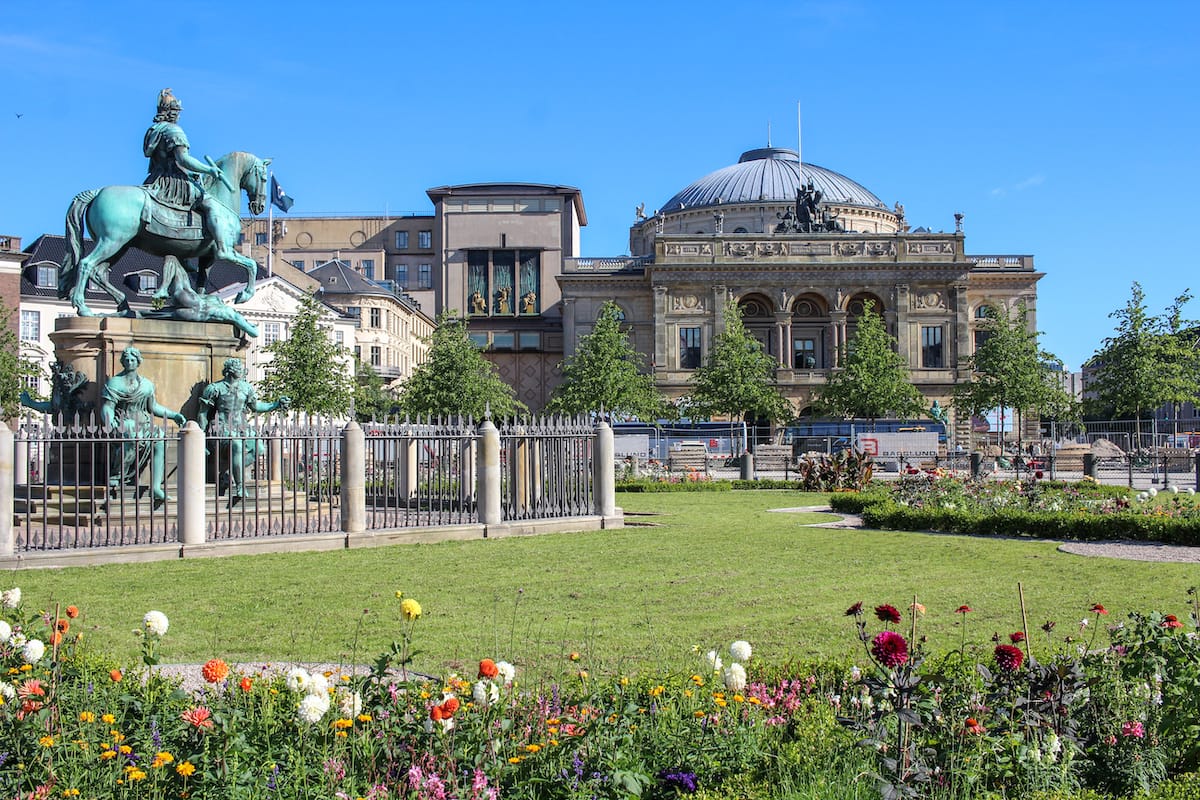 Do you have any ideas about what to do in Copenhagen that you'd like to share with other travelers? Let us know your favorite Copenhagen landmarks and things to do in the comments. Thanks!
Best Things to Do in Copenhagen
1. Take a Canal Cruise from Nyhavn
Nyhavn, a picturesque waterfront district in Copenhagen, is one of the most popular tourist destinations, with colorful buildings right on the harbor.
Hans Christian Andersen, the most famous son of Copenhagen, spent most of his life in Nyhavn, and his tales immediately come alive as soon as you see those buildings.
Initially built as a commercial port, Nyhavn has transformed into a lively waterfront promenade with a canal that connects the sea to Kongens Nytrov's central square.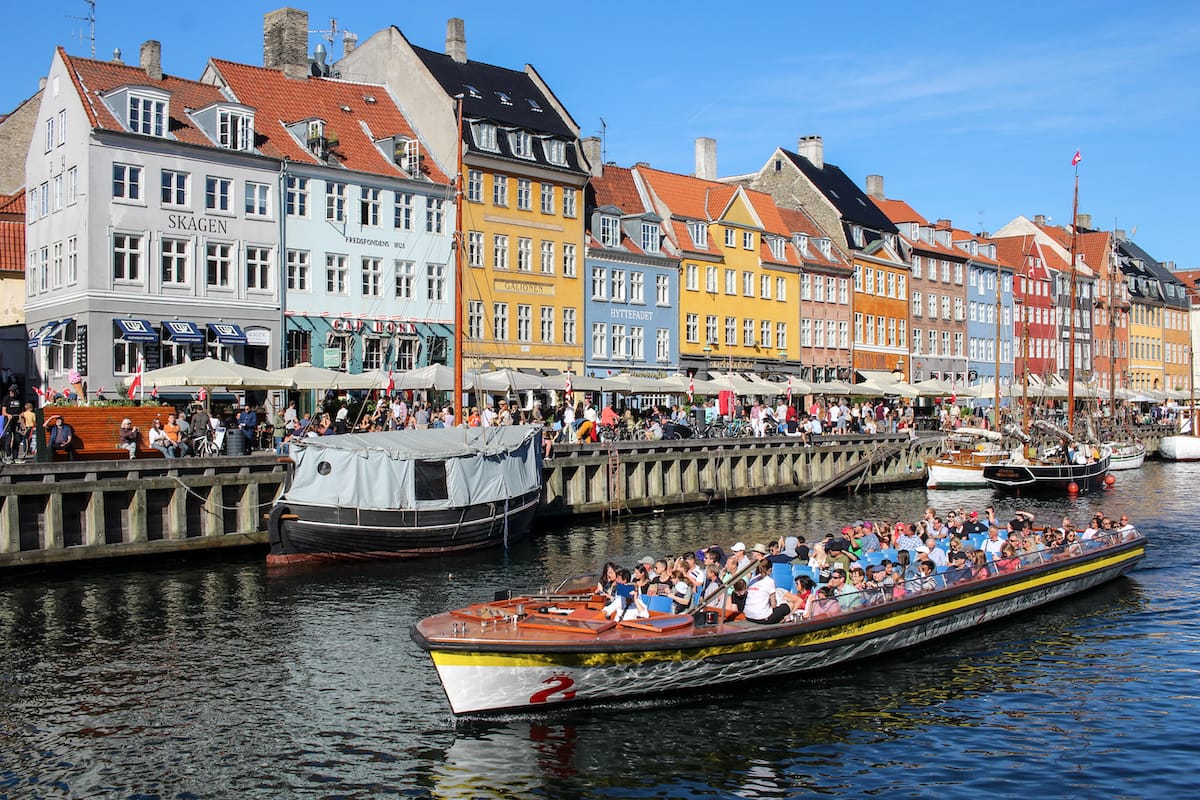 This iconic canal, lined with old wooden ships, now boasts charming cafes and restaurants, creating a postcard-perfect scene that attracts visitors.
One of the best ways to experience the charm of Nyhavn is by embarking on a leisurely canal cruise. The guided boat tour takes you along the picturesque canals, offering stunning waterfront views, colorful buildings, and notable landmarks.
Listen to informative commentary about the area's history, architecture, and cultural significance as you glide through the calm waters.
You will see the Little Mermaid statue in Langelinie, with a narrative about the mermaid, and rows of beautifully painted townhouses, each with its own unique character and history.
>> Click here to check cruise rates and availability
2. Enjoy a Day trip to Roskilde, Frederiksborg, and Kronborg
Take a tour around Copenhagen, visiting the charming towns of Roskilde, Frederiksborg, and Kronborg, which offer an immersive journey into the country's rich history and cultural heritage.
From ancient Viking roots to majestic royal castles, this tour will make you delve into architectural wonders, captivating museums, and picturesque landscapes for 8.5 hours.
Your first stop will be Roskilde, a small town renowned for its UNESCO-listed Roskilde Cathedral and Viking Ship Museum with excavated ships, the crypt with more kings buried than anywhere else in the world, and Roskilde harbor.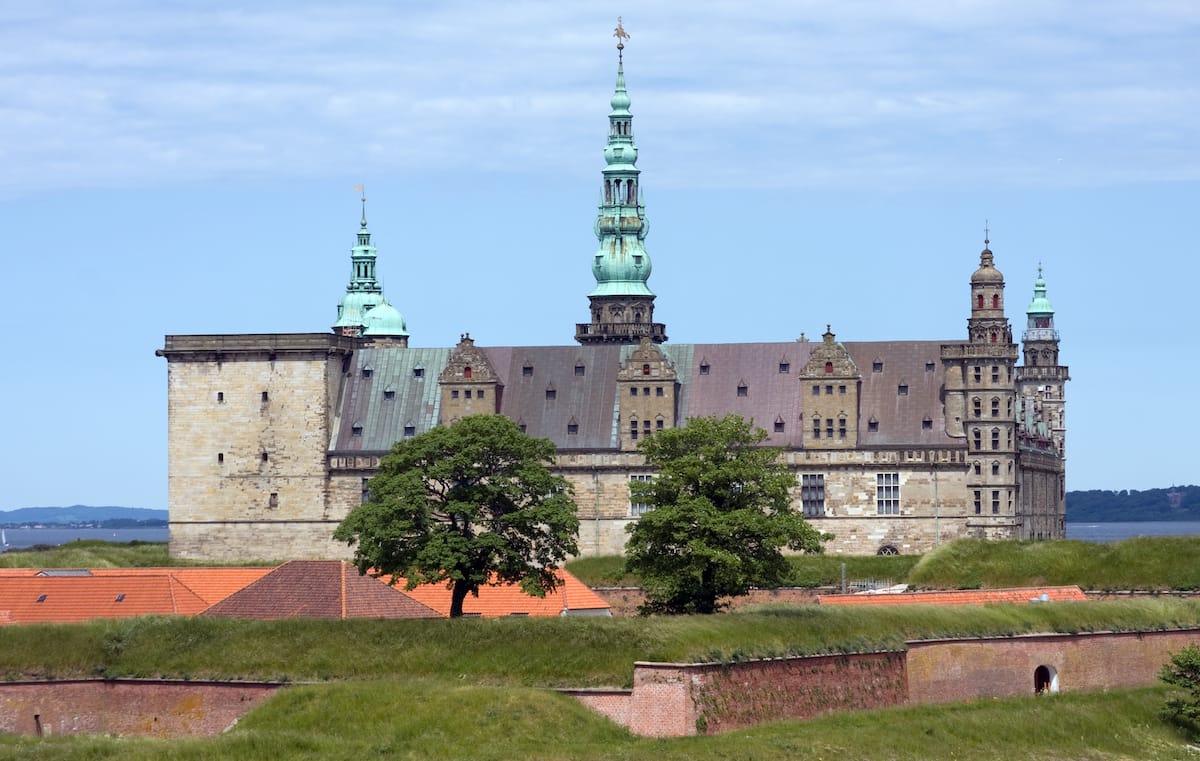 Your next stop is Frederiksborg Castle in Hillerød, the 17th-century royal residence of the Renaissance era with a chapel, the National History Museum, the castle grounds, and magnificent gardens.
After a short lunch, you will continue your tour to the final destination, the 15th-century Kronborg Castle in Helsingør, commanding breathtaking views of the Øresund Strait.
You will discover the castle's rich history and experience the setting that inspired Shakespeare's Hamlet.
If you visit the castle during the summer months, you will have a chance to witness the annual Shakespeare Festival.
>> Click here to check day tour rates and availability
3. Go on a Bike Tour of Copenhagen
Copenhagen is known for its bicycle-friendly infrastructure, so it's no wonder why bike tours around the city are so popular among tourists.
A 3-hour bike tour combines both and provides a unique experience around the city's historical highlights in an eco-friendly way without breaking into a sweat.
Already provided with a bike, you will start your tour in Copenhagen's inner city and continue to the main attraction.
Visit Nyhavn, a picturesque waterfront district lined with colorful 17th-century townhouses.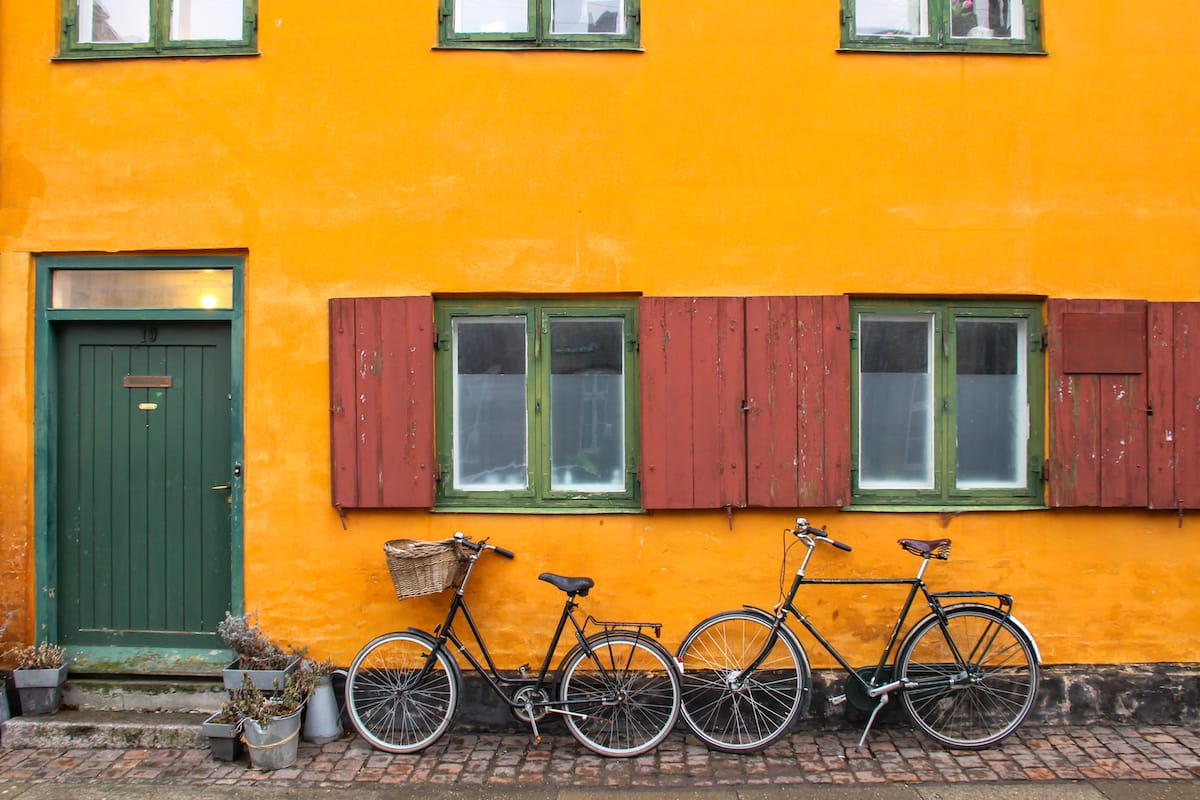 This lively area is perfect for a leisurely bike ride, with numerous cafes, bars, and restaurants along the canal.
Next, pedal your way towards the Langelinie Promenade to see The Little Mermaid statue and capture some memorable photos.
Ride to the Rådhuspladsen (City Hall Square), the 1843 Tivoli Gardens, the iconic Round Tower (Rundetrn), the Amalienborg Royal Palace, and more.
>> Click here to check bike tour rates and availability
4. See the Little Mermaid Statue
Renowned for its rich history, culture, and remarkable landmarks, Copenhagen will definitely capture hearts.
Among its many attractions, one iconic statue stands out, attracting visitors from around the world—the Little Mermaid Statue.
Nestled on the Langelinie promenade, this exquisite sculpture is a symbol of beauty, folklore, and artistic craftsmanship.
The statue was a gift from Carl Jacobsen, a Danish brewer, inspired by Hans Christian Andersen's fairy tale about a mermaid, longing for her true love, perched on a rock at the water's edge.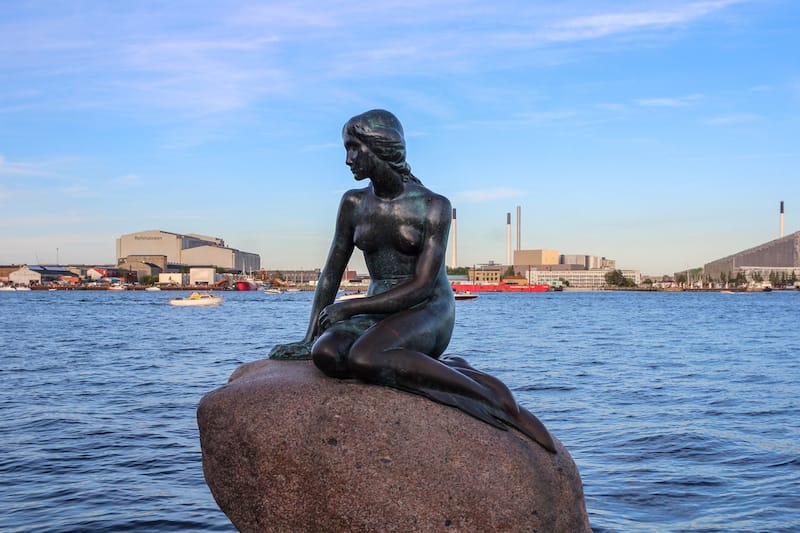 The image of a mermaid was copied by ballerina Ellen Price, who was a leading dancer in The Little Mermaid ballet.
Situated on the picturesque Langelinie promenade, the statue enjoys a stunning waterfront location, overlooking the sparkling waters of Copenhagen Harbor.
As you approach Langelinie Pier, you will see the statue, standing approximately 1.25 meters tall. It is a bronze statue with flowing hair and intricate scales on the tail.
P.S. The statue is cute but very small; don't wait to see a huge statue rising from the water.
5. Take a Gastro Tour of Copenhagen
A food tour is the best way to explore the culture and history of Copenhagen.
From the multiple available tours, choose the one that will help you delve into the city's rich culinary scene, discovering traditional flavors, local delicacies, and hidden gems.
Start your journey with a visit to Arla Unika, where you'll discover three award-winning Danish cheeses.
Next, savor the flavors of Denmark's spread salads, served on hearty rye bread at Rørt. You will have two small tastings accompanied by a glass of wine or beer.
Keep the mood up and continue exploring the city while experiencing the art of smørrebrød, the iconic Danish open-faced sandwich, at Aamanns Deli.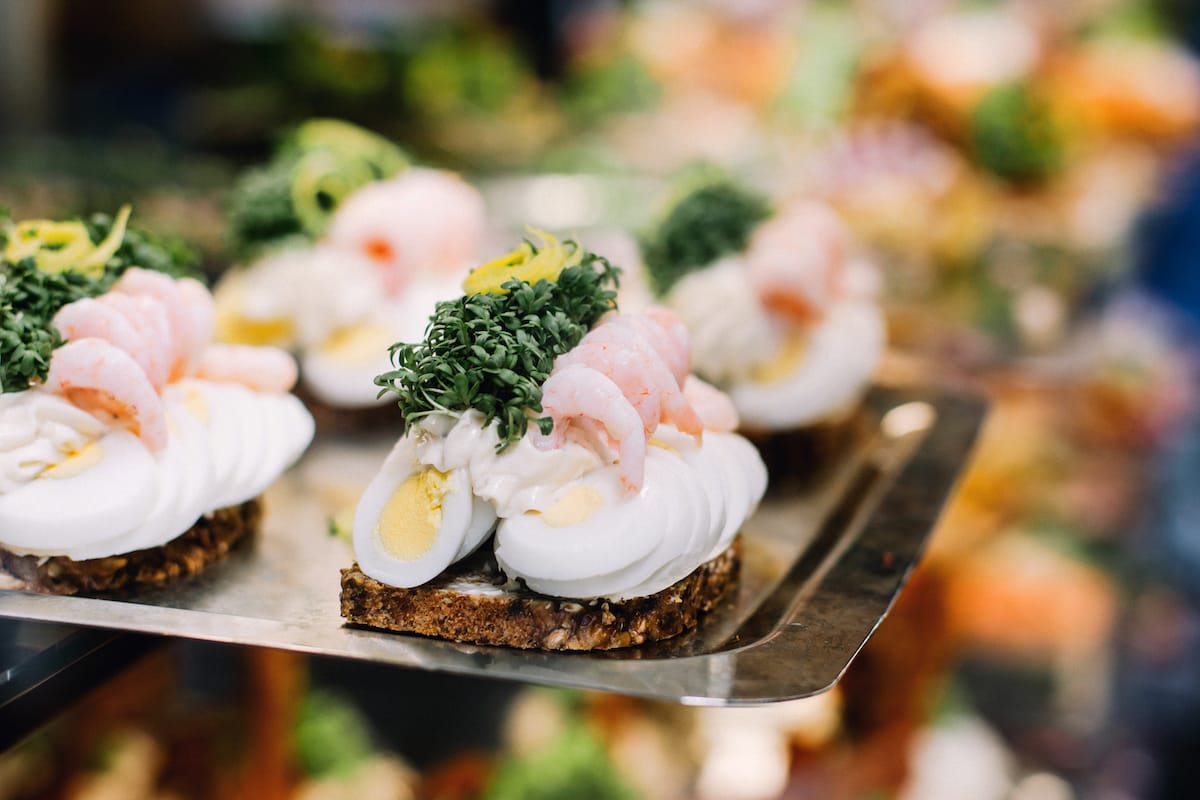 You will be treated to different types of smørrebrød, each prepared with fresh, locally sourced ingredients.
If you are a beer enthusiast, you will be delighted to taste three tap beers at Nørrebro Bryghus and appreciate Danish beer-making.
Hope you have more room for local snacks because your next stop will be at Den økologiske pølsemand for an organic hotdog.
There are two more places to go before finishing the tour. You will have two types of rock candy at Sømods Bolcher and a traditional chocolate treat at Summerbird.
>> Click here to check gastro tour rates and availability
6. Photograph Christiansborg Palace
Christiansborg Palace is a breathtaking architectural gem in the heart of Copenhagen, with picturesque settings to capture.
With its grand halls and regal exteriors, historical artifacts, and stunning views, Christiansborg Palace is truly the most beautiful building in Copenhagen.
As you explore the palace, you will visit its opulent royal reception rooms, each boasting unique design elements and luxurious embellishments.
Next, you will see the Royal Throne Room, the Queen's library with thousands of books from the reign of Frederick V, and the Royal Stables with the Golden State Coach adorned in 24-carat gold leaf.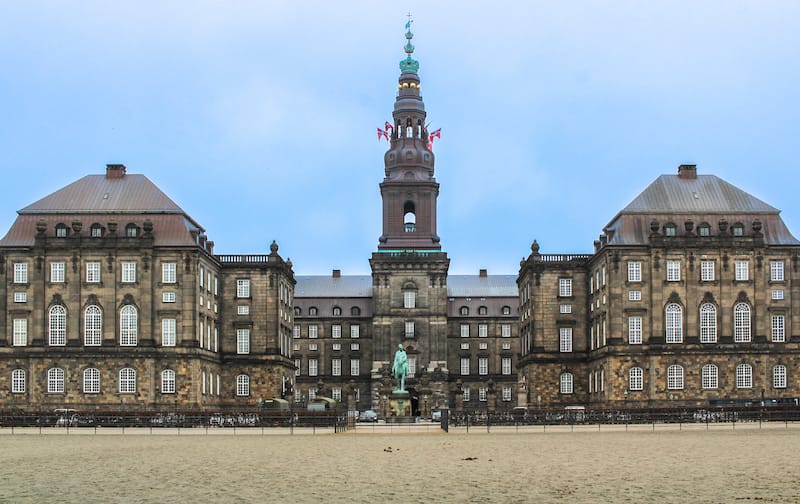 You will also see displayed royal jewels, including tiaras, hair accessories, and other unique jewelry pieces.
One of the highlights of the palace is the Tower, the tallest building in the city with the best city views.
Note that only taking photos for private use is permitted in the Royal Reception Rooms, the Chapel, the Ruins, and the Stables.
Address: Prins Jørgens Gård 1, 1218 København
7. Warm Up at One of Copenhagen's Best Cafes
With its vibrant coffee culture, Copenhagen is a haven for coffee addicts looking for a cozy spot to savor a delightful cup of joy. It is one of the best things to do in Copenhagen during winter, summer, or any time… really.
From traditional cafes with rich histories to trendy specialty coffee bars, you will have many ways to experience "coffee in Copenhagen".
The Coffee Collective
Having three locations in the city, the Coffee Collective is a must-visit place for its artisanal coffee roasted from coffee beans directly sourced from farmers, ensuring a sustainable and ethical approach to coffee production.
The baristas are passionate about their craft and will happily guide you through single-origin coffees and brewing methods.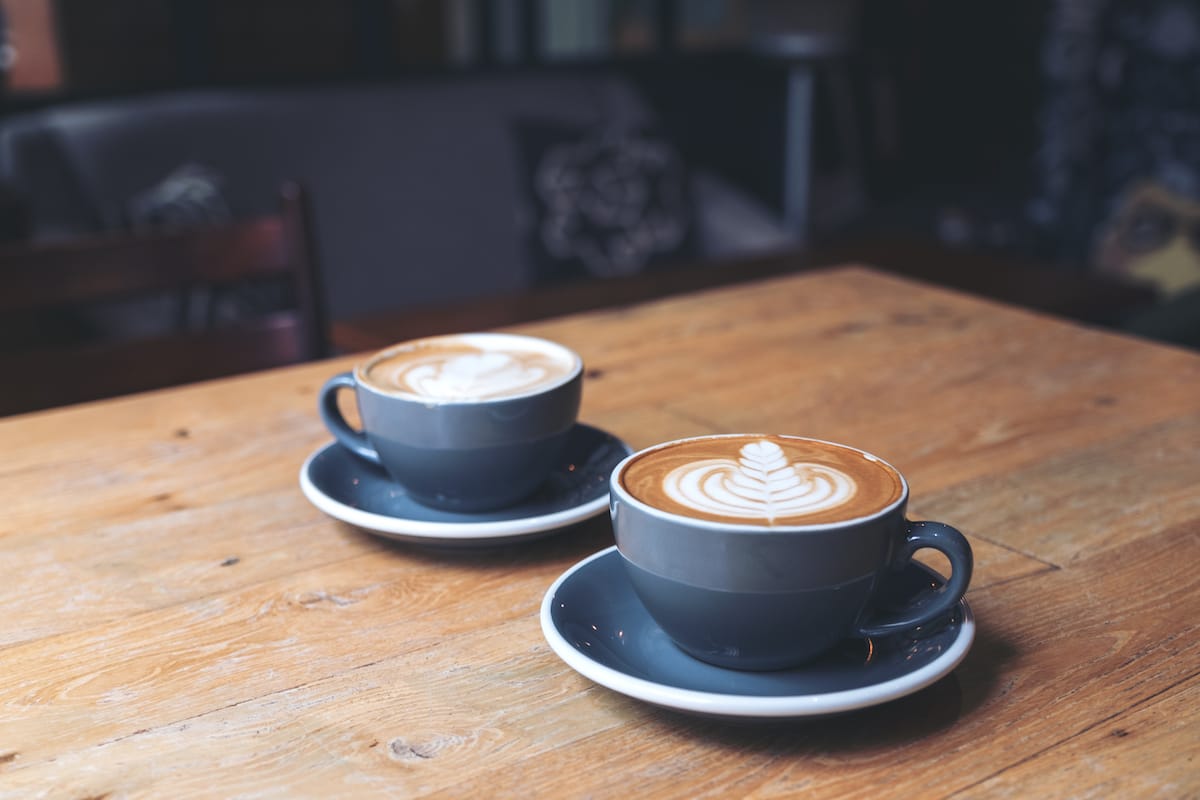 Prolog Coffee
This coffee bar takes Copenhagen's coffee culture to the next level with its filter brews.
Prolog specially roasts its own beans, adding unique flavors of berries, citrus, and nuts.
Democratic Coffee
For a truly immersive coffee experience, Democratic Coffee is the place to be.
Located in the busy city center, this café offers perfectly roasted coffee served with freshly baked pastries.
Also, don't miss out on their specialty almond croissant, which goes so well with a morning coffee.
8. Go to Tivoli Gardens
The world's second-oldest amusement park is located in the heart of Copenhagen, inviting you on an exciting program with fun rides and beautiful scenery.
The Tivoli Gardens inspired Hans Christian Anderson and Walt Disney, and even if don't write a tale that will become a masterpiece, you will spend quality time and have unforgettable moments.
With the skip-the-line ticket and unlimited ride pass, you will access the rides, aquarium, and one free spin on the Hyggehjulet or Grand Prix.
Established in 1843, this historic amusement park has managed to maintain its timeless charm. The rides are designed to match the overall architecture and mood with flair or nostalgia.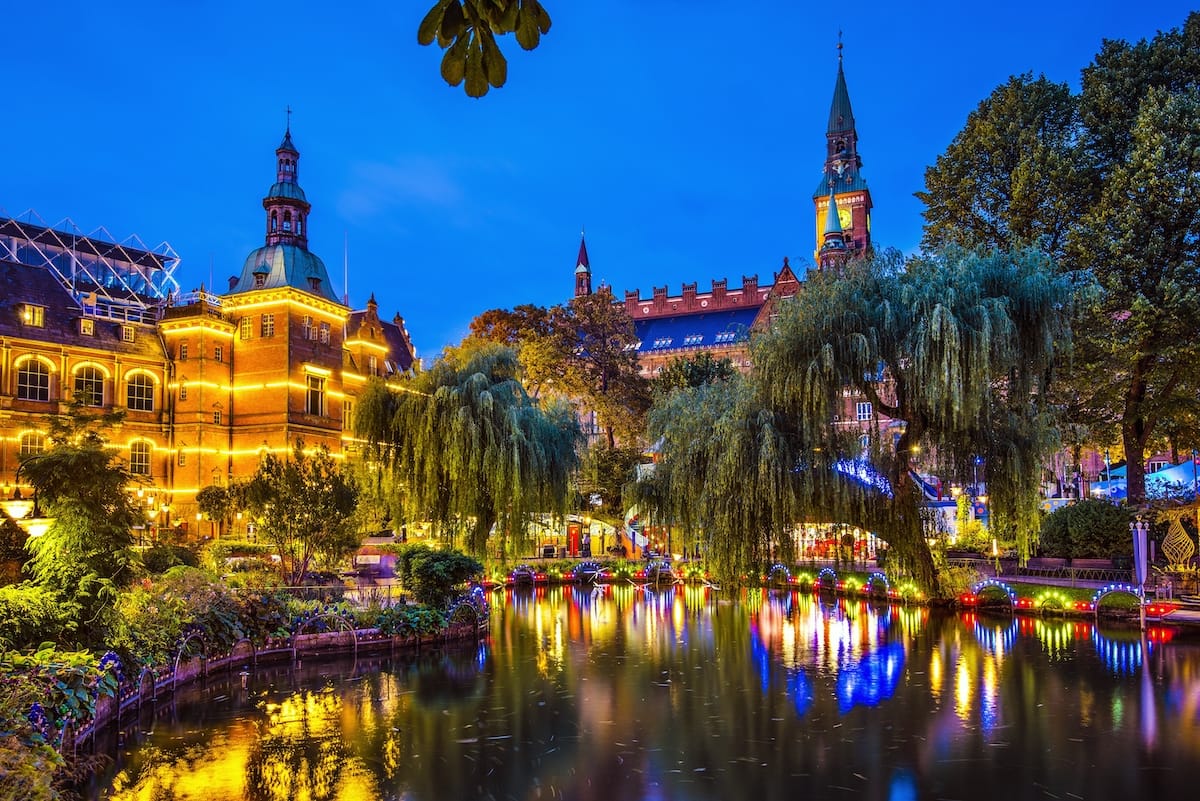 For example, the oldest ride is a 1914 wooden rollercoaster, which is a true rarity in contrast with the new Vertigo rollercoaster.
Beyond the exhilarating rides, Tivoli Gardens is renowned for its gardens. Stroll through the park to find yourself surrounded by flowers, lush greenery, and tranquil water features.
Tivoli Gardens is a paradise for food lovers, with multiple dining options available. Here you will find a seafood bistro, renowned Gasoline Grill hamburgers, the best vegan restaurants, and more.
>> Click here to check ticket rates and availability
9. Explore Rosenborg Castle and its Gardens
The magnificent 17th-century Rosenborg Castle and its stunning Gardens in the heart of Copenhagen offer a captivating journey into Danish royal history.
Originally built as a summerhouse for the king, the impressive Renaissance-style castle now stands as a symbol of Danish monarchy and architectural brilliance.
As you enter the castle, you will see King Christian IV's Winter Room and Writing Room, the Darkroom, the Marble Room, the Stair Turret, and more.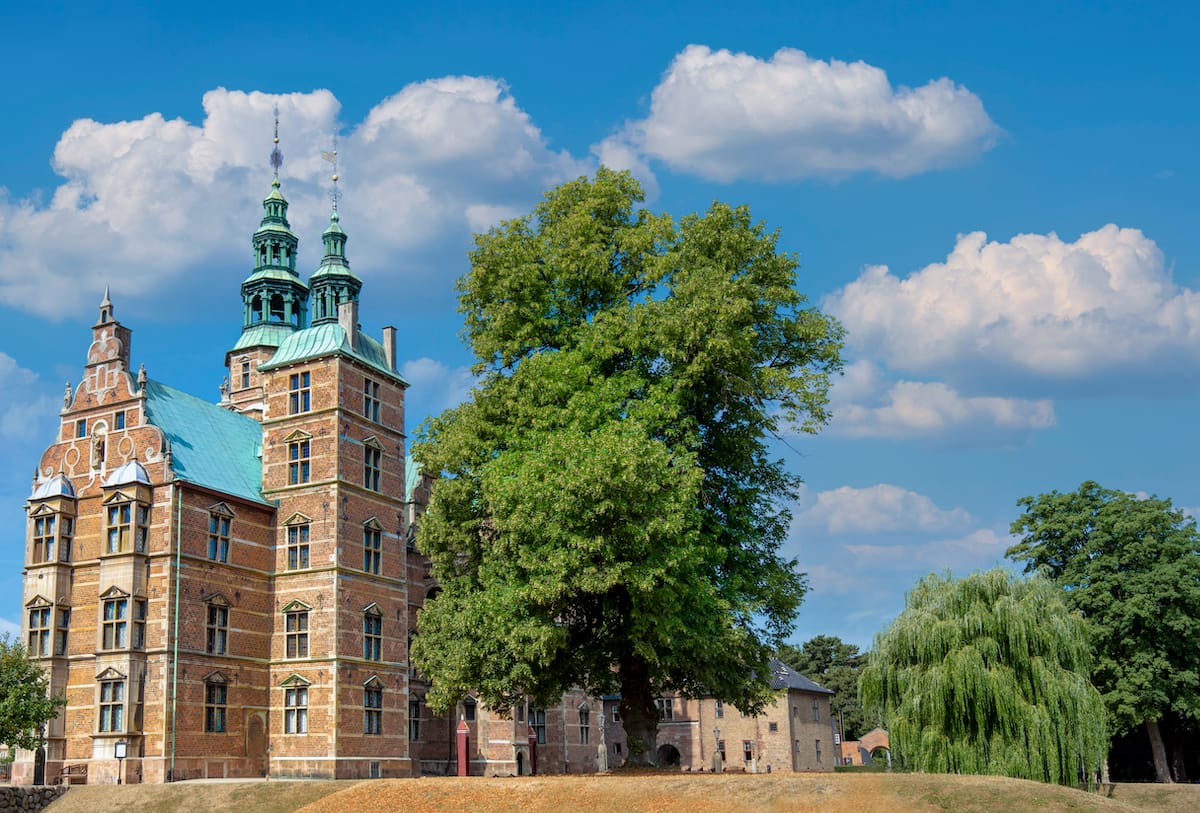 The most significant one is the Winter Room, one of the king's three private chambers, with a unique art collection and an original ceiling adorned with paintings.
Beyond the castle's grandeur lies Denmark's oldest royal garden, spread across 12 hectares.
This Renaissance park with a pavilion is a serene retreat.
Also, visit the Hercules Pavilion, nestled within the garden, which now operates as a cafe with a panoramic view of the lush surroundings.
Address: Øster Voldgade 4A, 1350 København
10. Take a 'Hygge' (Happiness) Tour of Copenhagen
Copenhagen has long been celebrated as one of the happiest cities in the world.
At the heart of this happiness lies the Danish concept of "hygge," which embraces coziness, contentment, and enjoying the simple pleasures of life.
To understand Denmark, you should first experience hygge, which is hard to explain but easy to feel.
A 'Hygge' and Happiness Culture Tour in Copenhagen is the best way to immerse yourself in this delightful Danish way of life.
This 3.5-hour walking tour will start with the charming yellow buildings of the Nyboder neighborhood, its cobblestone streets, and green zones.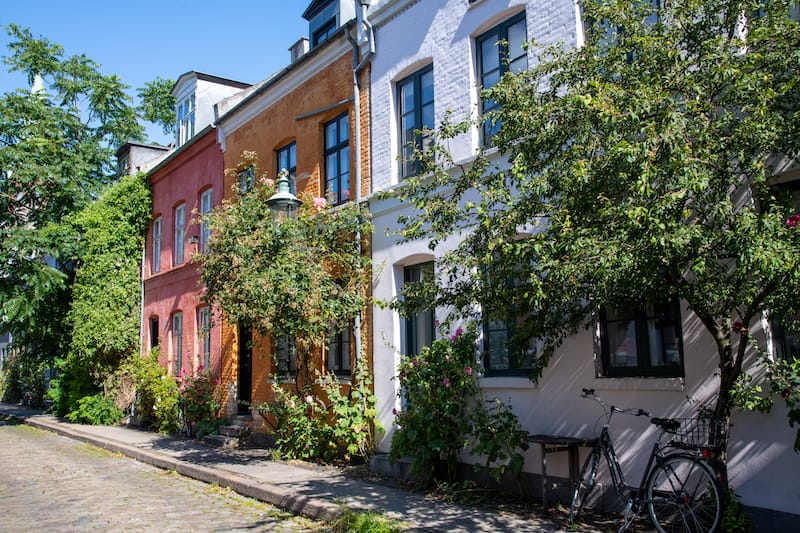 Add some sweet flavor to your tour of Nyboder with traditional Danish flødeboller and a cup of freshly brewed coffee.
The different unexpected turns during your tour will make you scream hygge when seeing yet another beautiful corner of Copenhagen with old-world charm.
Your guide will tell you everything about Danes being one of the world's happiest people and how they live in a fairy tale while ignoring the rest of the world.
>> Click here to check hygge tour rates and availability
11. Walk Through the National Gallery of Denmark
The country's main museum for visual art invites you to explore the extensive art collection, which includes over 260.000 pieces.
The Statens Museum for Kunst (SMK) is a true treasure trove of Danish art and culture in the heart of Copenhagen.
Because the collection is so large, the museum displays only part of it; one part is sent to other museums as rotating exhibitions, and the rest is kept in museum facilities.
Designed by the renowned Danish architect Vilhelm Dahlerup, the 19th-century building's grand facade sets the stage for the artistic wonders that lie within.
As you step into the National Gallery of Denmark, you'll be greeted by Danish and international art, including Danish Golden Age art, European classics, Renaissance, and contemporary art.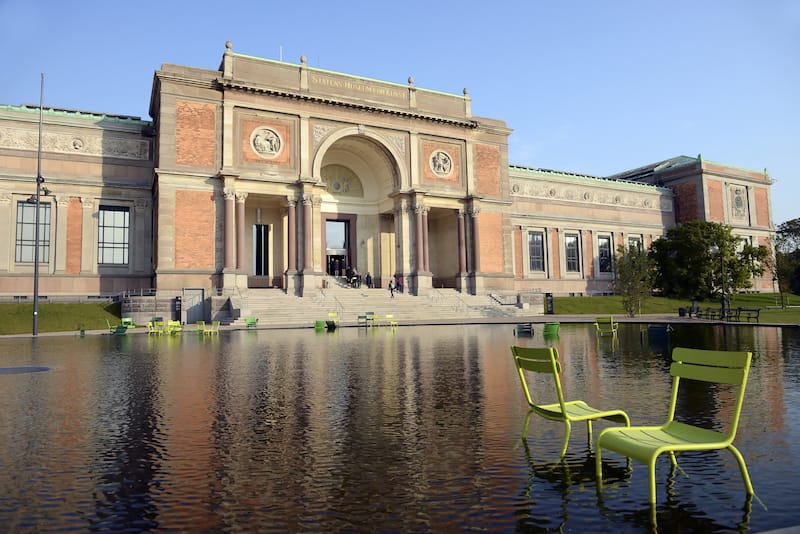 You will see names such as Rubens, Matisse, Munch, Abramovic, and others.
Before or after your museum exploration, don't forget to visit the SMK Shop and Café.
Discover a wide range of art books, exhibition catalogs, posters, and unique souvenirs inspired by the museum's collection.
Relax in the cozy café with a cup of coffee or a glass of wine.
Address: Sølvgade 48-50, 1307 København K
12. Visit the Danish War Museum
The Danish War Museum is an extraordinary destination where you can delve into the rich military heritage of Denmark.
This museum stands as a testament to the nation's history, showcasing artifacts, exhibitions, and stories that span centuries of bravery, conflict, and triumph from the 1500s.
Located at Christiansborg Palace Square in Copenhagen, the Danish War Museum is housed in Christian IV's arsenal building and holds a prominent place among the country's cultural institutions.
The Royal Danish Arsenal is the main exhibition hall, which showcases an impressive collection of weapons, armor, and artillery used throughout Denmark's military history.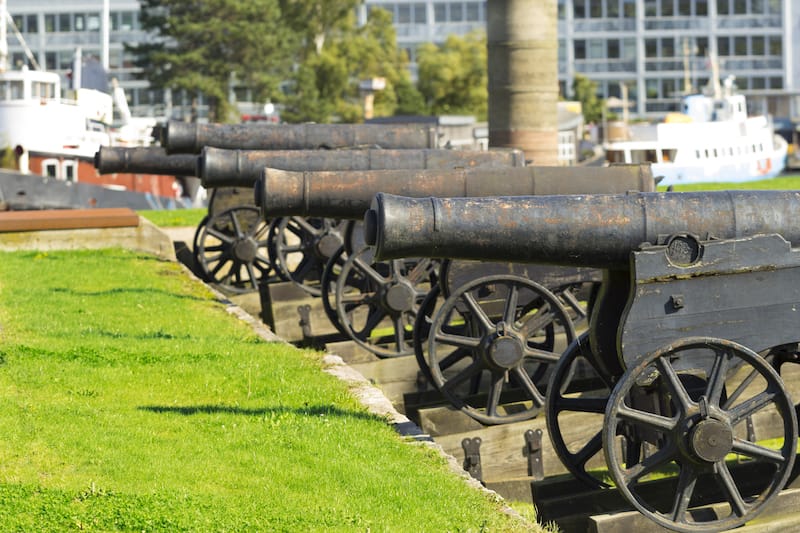 Immerse yourself in the history of the Great Northern War (1700–1721), a significant period in Danish history, by exploring its interactive displays, multimedia presentations, and artifacts.
The Danish Navy exhibition showcases a selection of miniature ships from Denmark's naval past and naval battles from the 16th century.
Enhance your museum experience with a guided tour and fascinating insights into the museum's collections or thematic tours of significant historical events.
>> Click here to check entrance ticket rates and availability
13. Go Shopping in Strøget in Copenhagen
Shopping in Copenhagen means Strøget, or, better said, Strøget means shopping in Copenhagen.
This vibrant and bustling pedestrian street is one of the largest in Europe and an iconic shopping district stretching over 1.1 kilometers.
In fact, Strøget covers several streets—Frederiksberggade, Nygade, Vimmelskaftet, Østergade, Nytorv Square, Gammeltorv Square, and Amagertorv Square—filled with performers, cafes, branded shops, and a vibrant atmosphere.
You will find iconic brands such as Georg Jensen Silver, and Royal Copenhagen, and visit Europe's Guinness World Records Museum to see a life-size statue of the world's tallest man.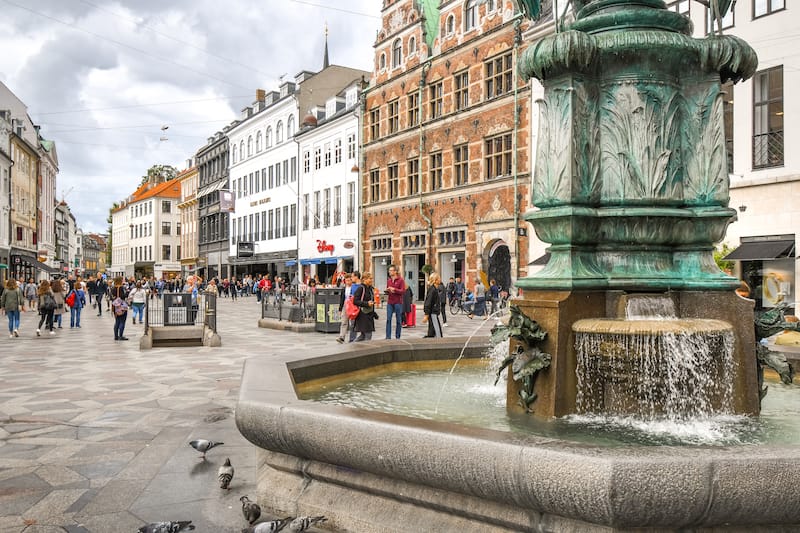 Strøget is not only a shopping destination but also a cultural hub. You will see Helligåndskirken (the Church of the Holy Spirit), Vor Frue Kirke (the Church of Our Lady), Nytorv Square with the courthouse, and Stork Fountain at Amagertorv Square.
Finally, spending a day at Strøget means having delightful moments at food stalls and cafes.
From myriad options, you can choose pocket-friendly Riz Raz with a large salad buffet and perfect hamburgers.
14. See the Views from the Round Tower
If you are looking for a breathtaking city perspective, the Round Tower (Rundetårn) is definitely the best place to visit.
As you ascend this historic tower through the spiral ramp, you'll be treated to panoramic views of Copenhagen's charming streets, beautiful architecture, and vibrant atmosphere.
The 17th-century tower was built as a university observatory to continue the heritage of Tycho Brahe and his achievements in astronomy.
The tower is still used by amateur astronomers as Europe's oldest observatory.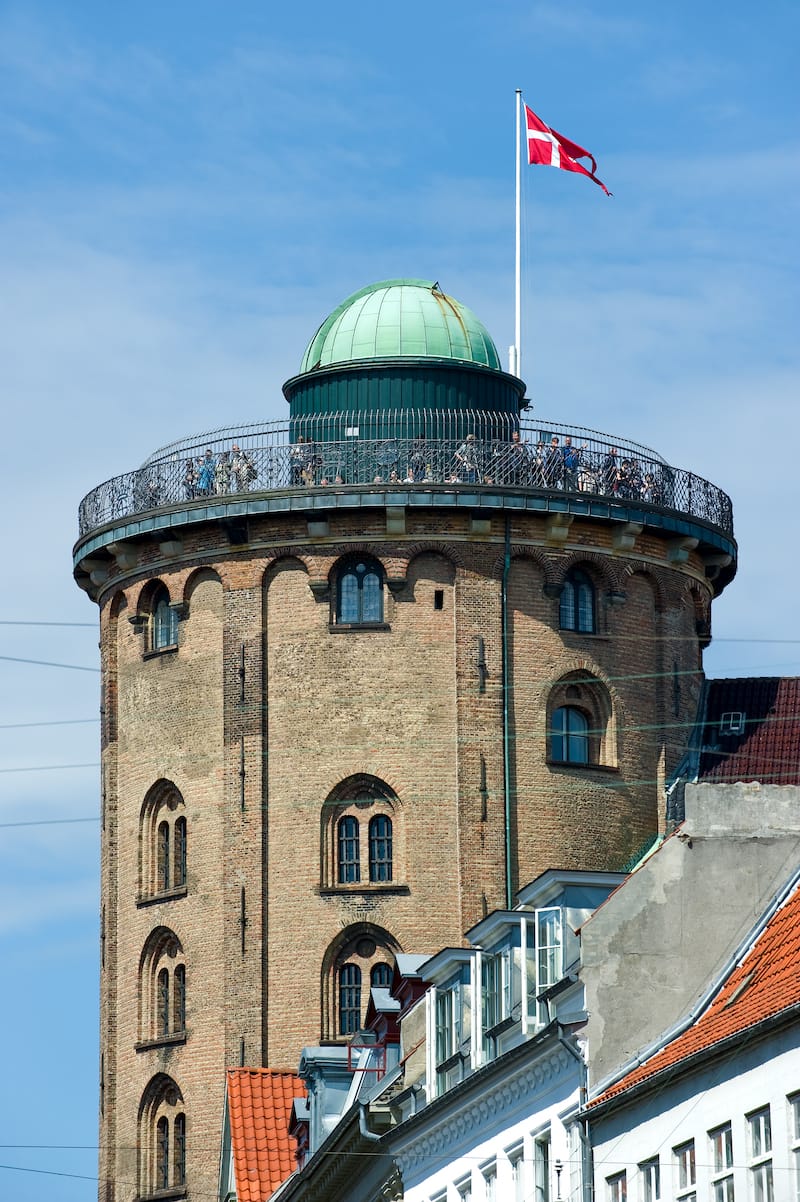 Besides the observatory, you will have a chance to visit the grand library hall, where Hans Christian Andersen used to borrow books.
Now, the library is transformed into an exhibition space.
When exploring the tower, look for doors hiding behind old latrines that are no longer in use but show how people used to exploit the building.
Fun fact: the sewage pits hadn't been emptied for 60 years; people used to smoke in the latrine to cover the unbearable smell.
Another door in the middle of the tower hides a hollow core with a glass floor.
Address: Købmagergade 52A, 1150 København
15. Enjoy a Michelin-star Meal in Copenhagen
Copenhagen is renowned for its thriving food scene and gastronomic excellence, with several Michelin-starred restaurants worth your attention.
Whether you choose a 3-star, 2-star, or 1-star restaurant, you will have an exceptional dining experience.
Geranium (3 Michelin Stars)
Located on the eighth floor of the national football stadium, Geranium is not only the epitome of culinary excellence but also a dining spot to enjoy the city views.
The interior is made in the Scandinavian style with modern interpretations and wooden details. But the menu is the real surprise, with wine carts and wine pairings.
a|o|c (2 Michelin Stars)
Nestled in the renowned Nyhavn harbor and occupying a 17th-century building, a|o|c offers expertly combined flavors characteristic of Danish traditions.
The restaurant presents a progressive and imaginative interpretation of Nordic cuisine, served in an elegant ambiance.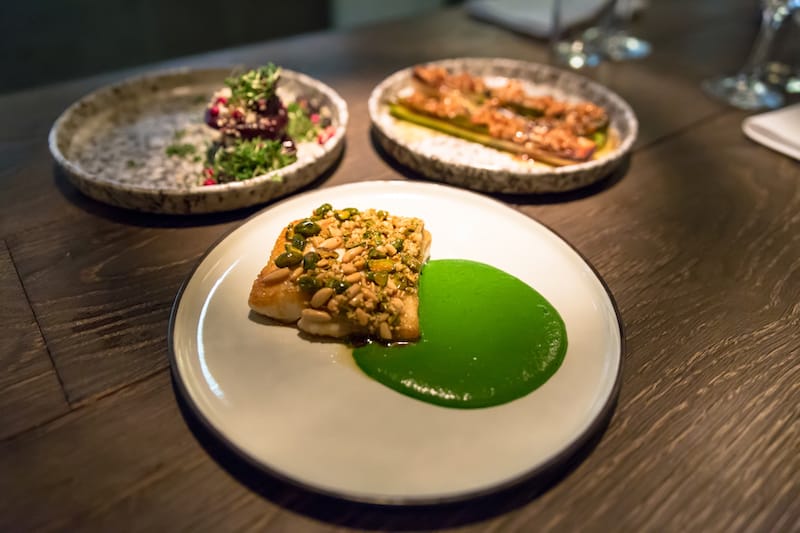 formel B (1 Michelin Star)
formel B captivates diners with its modern and inventive approach to Danish cuisine, but the phenomenon of the restaurant is its extensive wine cart with the best red wine selection.
The culinary philosophy revolves around highlighting the natural flavors of seasonal and locally sourced ingredients a la carte and sampling menus.
16. Visit the National Museum of Denmark
Discover the captivating world of Danish history and culture at the National Museum of Denmark, which is a fascinating journey through time, showcasing a rich collection of artifacts, exhibits, and interactive displays.
Established in 1819, the National Museum of Denmark holds the distinction of being the country's largest cultural and historical museum.
Its comprehensive collection spans over 14,000 years of Danish history, from prehistoric times to the present-day era.
Start exploring the museum's prehistoric exhibits, including ancient weapons, tools, and jewelry, that shed light on Denmark's early inhabitants.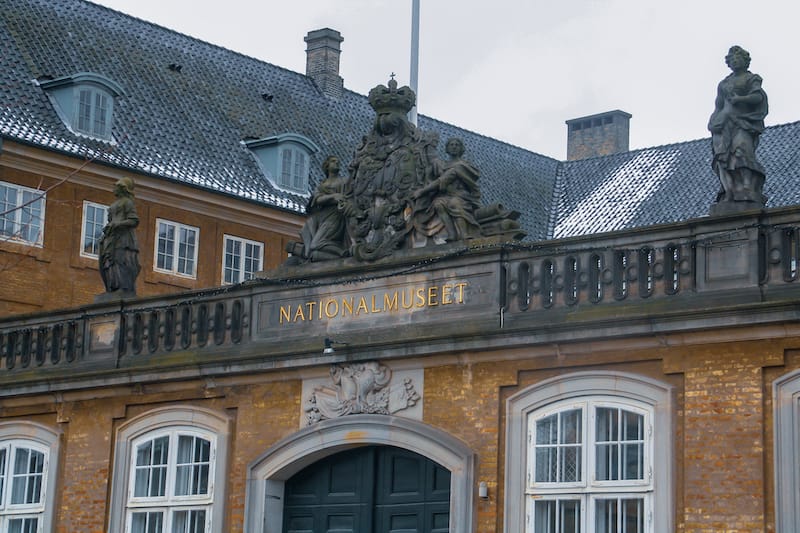 Highlights of this section include the world-famous Sun Chariot, the Bronze Age Egtved Girl, and the Tollund Man, a remarkably preserved Iron Age bog body.
Visit the Viking era exhibitions with the imposing Viking longships and weapons, and learn the story of Bjorn Ironside and the Viking raids.
After exploring all the exhibits, visit Restaurant SMÖR for Danish smørrebrød.
If you plan your visit for the weekend, you will have a cake table with all possible local delicacies.
>> Click here to check tour rates and availability
17. Discover Freetown Christiania
Want to explore an alternative side of Copenhagen?
Freetown Christiania is a fascinating neighborhood and a self-proclaimed autonomous community with a distinctive experience away from traditional tourist attractions, where you will see a totally different "city" within the city.
Christiania emerged in the early 1970s when a group of squatters took over the abandoned military barracks.
They declared the area an autonomous and self-governing community with a different way of living based on communal values, artistic expression, and sustainability.
Most houses in the neighborhood are built by the locals, giving the area an extremely diverse look.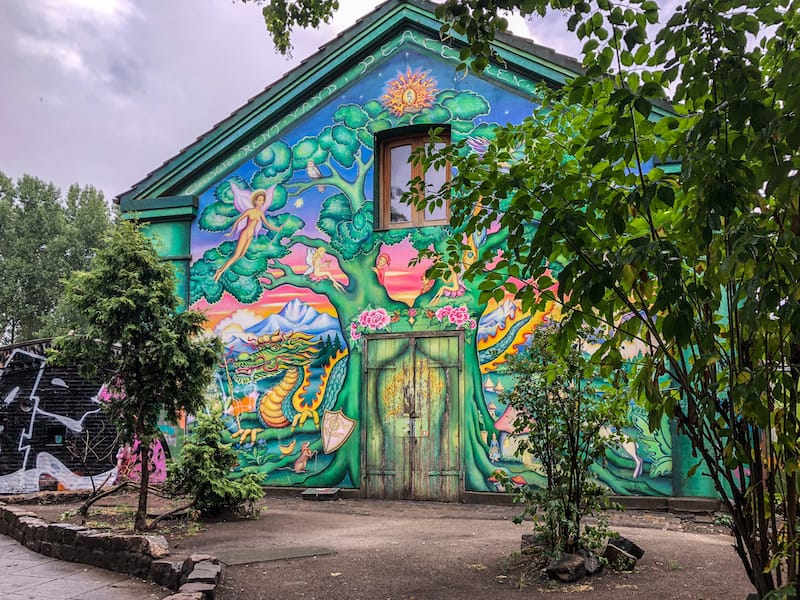 Pusher is the main street with the "Green Light District," which was once known for open-air stalls and shops selling cannabis.
Today, you won't find even a trace of cannabis there.
As you wander through the neighborhood's narrow alleys and open spaces, you'll encounter stunning graffiti and artistic expressions that reflect the community's creative spirit. Take your time to appreciate the diversity of styles.
The community is multicultural in many ways, including the dining experience. Here you will find inexpensive cafes and restaurants like Café Nemoland with juicy burgers or Café Loppen with vegan dishes.
Note: Keep in mind not to photograph locals without permission.
At the community entrance, you will see a "running causes panic" note, so don't run. The district is car-free, so make sure you wear comfortable shoes.
18. Check Out the Museum of Copenhagen
A city steeped in rich history and cultural heritage has to have many museums, and the Museum of Copenhagen is just another storage of history and culture.
This museum offers a captivating glimpse into the 800 years of Copenhagen's history that have shaped the Danish capital.
The museum occupies Overformynderiet, the former government building in the city center, and can be easily visited as part of a city tour.
As you enter the museum, you will pass the temporary exhibition hall, cafe, and gift shop before entering the permanent exhibition, which is split into sections.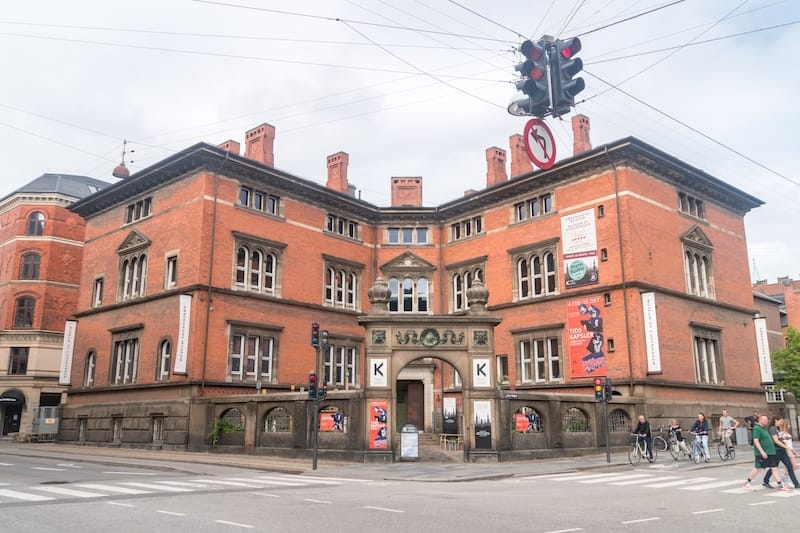 The first exhibition is the "Time Travel Copenhagen" exhibition, covering the period from 12,000 BCE to 1660 with archaeological finds.
The next hall is "A Fortified City," covering the era from 1660 to 1850. The most significant exhibit in the section is the huge keys to the city gates.
The top floor is occupied by "The Modern City," a section showcasing the lives of residents, documents, and old photos.
The final "room" is a video display of "Copenhagen 2019," representing the modern city.
Address: Stormgade 18, 1555 København V
19. See the Amalienborg Palace
Amalienborg Palace stands as an architectural marvel and a testament to Danish royal heritage.
This grand palace complex, consisting of four buildings surrounding an elegant courtyard, serves as the official residence of the Danish royal family, Crown Prince Frederik and Crown Princess Mary (Frederik VIII Palace is not open to the public).
Amalienborg Palace dates back to the mid-18th century when it was commissioned by King Frederik V.
Today, the main attraction is the Royal Palace Museum, housed within one of the four palaces.
Here, you will explore royal interiors and see the lives of Danish monarchs in lavish rooms and royal chambers.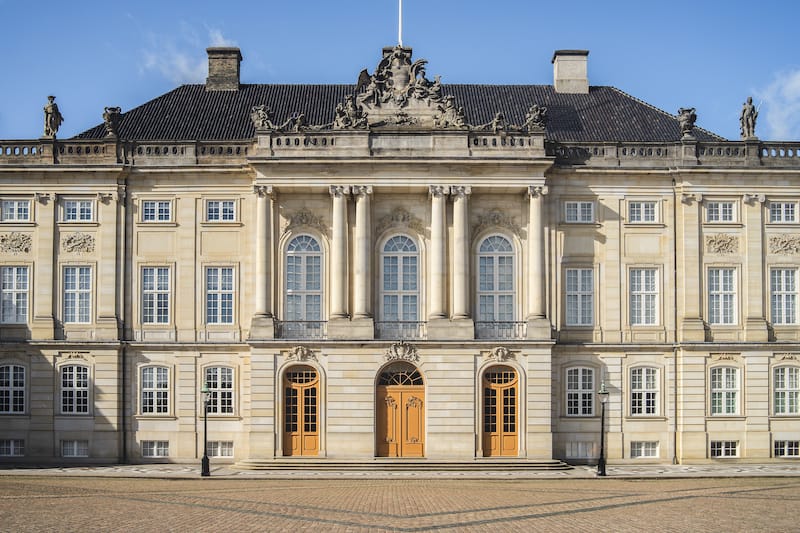 No less spectacular is the daily Changing of the Royal Guard ceremony.
Accompanied by a marching band, the guards march from their barracks to the palace square, creating a captivating display of precision and tradition.
After exploring the territory, visit the stunning Amalie Garden adjacent to Amalienborg Palace, a tranquil oasis amidst the bustling city.
Take a relaxing walk among the fountains, well-manicured gardens, and elegant sculptures.
20. Explore the Design Museum of Denmark
If you are interested in the history of Danish applied art and design and its contribution to the world of art, make sure you have time to visit the Design Museum of Denmark.
From furniture and fashion to graphic design and industrial creations, the museum showcases the innovative and timeless designs that have shaped Danish aesthetics.
Designmuseum Danmark is housed in a beautiful 18th-century building known as Frederik's Hospital.
As you enter, you'll be greeted by a blend of classic and contemporary design pieces from the Western world and Asia.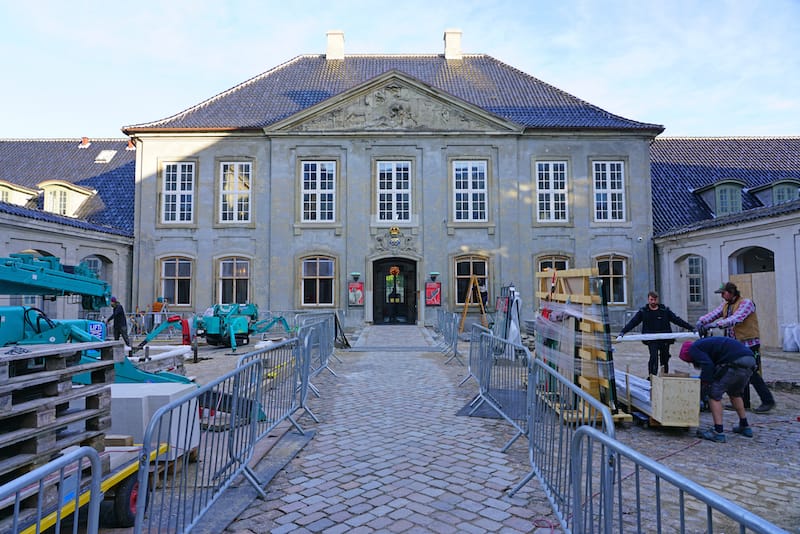 The permanent collection showcases works by Kaare Klint and Poul Henningsen, 18th-century British and French furniture, Chinese earthenware, and more.
Temporary exhibitions are constantly updated, hosting impressive pieces from around the world.
As a visitor, you will also be invited to check out the design workshop next to the museum for creative learning activities.
Here, people try their hands at designing furniture and working with glass and ceramics.
Address: Bredgade 68, 1260 København
21. Discover Copenhagen's Craft Beer Scene
Do you know that Copenhagen is one of Europe's most interesting and popular beer destinations?
With a multitude of breweries, beer bars, and beer-related events, the city offers a unique and immersive experience in the world of craft beer.
The city is home to breweries that craft different beer styles, ensuring there is something to suit every palate.
But the two prominent names that have shaped history and culture are Carlsberg and Mikkeller.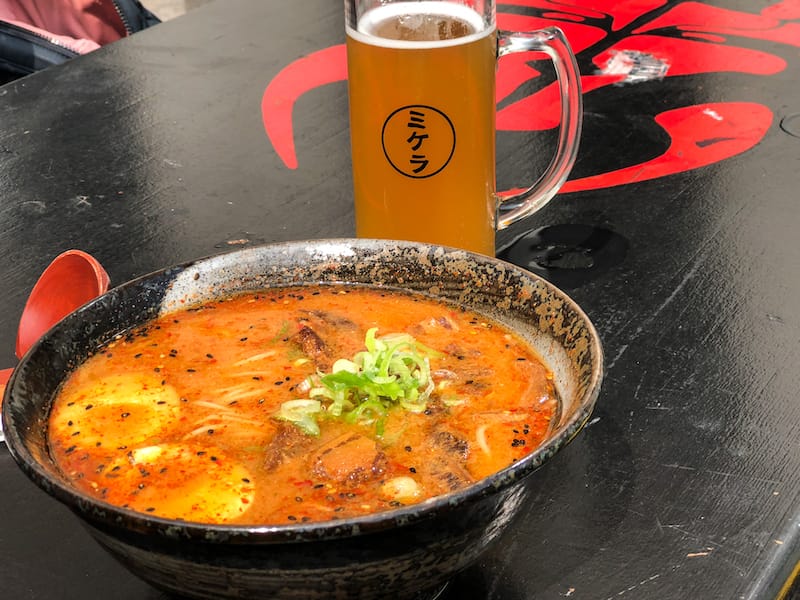 Let's leave those two giants behind and go beer bar crawling in Vesterbro and Nørrebro, where most craft beer bars are located.
In Vesterbro, look for Warpigs Brewpub and Texan BBQ, which serve Mikkeller and American Three Floyds beers, along with delectable barbecue dishes to pair with your pint.
Nørrebro offers several popular locations, like BRUS brewery, bar, and restaurant under one roof, producing 32 craft beers on tap; Ølbaren with a legendary bartender and no less legendary selection of beers.
If you are in the city center, visit the new BrygBrygBryg, which has already managed to make a noise in Copenhagen.
22. Enjoy Lunch at the Tivoli Food Hall
The Tivoli Food Hall is not just a place to satisfy your cravings; it's an experience that combines the joy of gastronomy with the enchantment of Tivoli Gardens.
15 food stalls covering 850 square meters present a wide range of local delicacies and culinary delights from around the world.
If you are looking for Danish delights, choose Hallernes Smørrebrød, which serves seasonal fresh produce.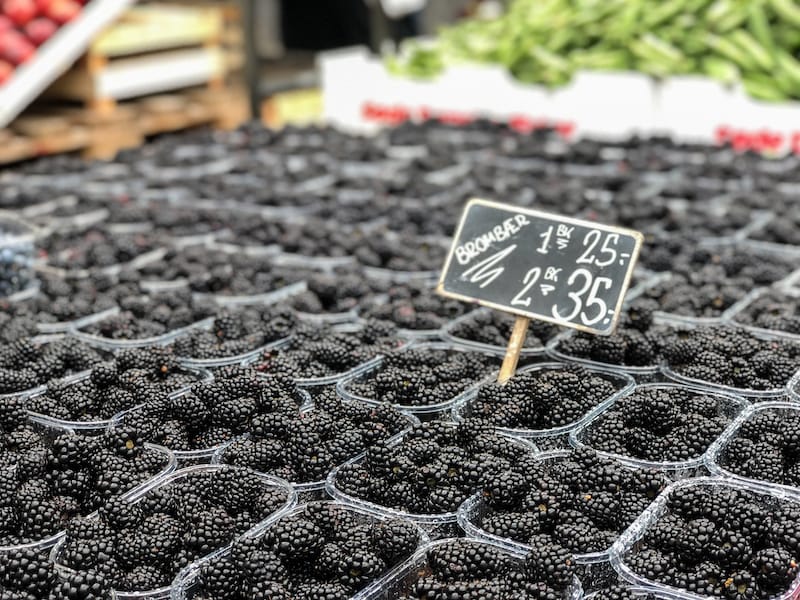 For international flavors from Asian to French and spicy Mexican, the Tivoli Food Hall has everything to offer.
You will love Cocks and Cows, serving mouth-watering burgers or Københavnergrillen with grilled sausages and pork steak sandwiches.
Complete your culinary adventure with a selection of delectable desserts and sweet treats.
French Market, with its perfect crème brûlée and glass of wine, may be a great option.
Address: Bernstorffsgade 3, 1577 København
Where to Stay in Copenhagen
There are plenty of amazing places to stay in Copenhagen, but here are our three top picks, covering any budget!
71 Nyhavn Hotel (Luxury option)
K10 Apartments (Mid-range)
Wakeup Copenhagen (Budget)
Did we miss any of the best things to do in Copenhagen? Let us know in the comments!
More Denmark Travel Guides
Pin this Copenhagen Things to Do Guide