One of my favorite trips was to Madeira, a gorgeous island in the Atlantic.
There are so many cool options for where to stay in Funchal, but these are the best hotels in Funchal that I think you should consider booking for your trip.
Are you planning your trip to Madeira last minute?
If youʻre booking your trip to Madeira last minute, we have you covered. Below are some of the top tours, hotels, and more!
🌊 Top Experiences and Tours in Madeira:
🛌 Top Hotels in Madeira:
🚗 Visiting Madeira independently? Be sure to book your rental car ahead of time to ensure availability!
This is a Funchal accommodation guide, giving options for all budgets and types of travelers.
If you have any hotels in Funchal worth recommending, please leave them in the comments!
Best Hotels in Funchal, Madeira
The small Atlantic island of Madeira is a great place to spend a trip escaping the crowds of mainland Europe.
The lush, volcanic island is paradise and has an unbelievable amount to do for its size– from hiking the famous levadas to exploring the depths of lava tubes to visiting some of the world's largest cliffs and awesome marine life in the surrounding waters.
The capital, Funchal, is the best place to stay in Madeira as it is centrally located on the southern coast. The beautiful city is full of history, as well as modern and fantastic hotels.
Funchal is a vibrant and fun city and is definitely one of the best places to stay on the island. It has a vibrant nightlife, a buzzing restaurant scene, and an abundance of culture. It is the epicenter of things to do in Madeira.
There are plenty of things to do within the city and surrounding areas such as the Cristiano Ronaldo Museum, boat tours, and a plethora of Madeira tours about the history of the island.
If you are planning to do any of the tours of the island, most tour companies include pickups from hotels in Funchal.
In this guide, I will cover different types of Funchal accommodation options for luxury and mid-range hotels, as well as hostel options for budget-conscious travelers.
Which neighborhood in Funchal is best to stay in?
The best neighborhood in Funchal to stay in for nightlife and restaurants is Sao Martinho.
Se is a popular neighborhood for sights and shopping. Many travelers opt to stay in Lido (Hotel Zone) or the Old Town which are also fantastic choices. Santa Maria is also popular with tourists.
Funchal Old Town may be problematic if you're renting a car, on the other hand. If you rent a car in Madeira, choose a hotel in Lido (Hotel Zone).
Where to Stay in Funchal (Quick Guide)
If you're just looking for a quick list of the hotels in this Funchal accommodation guide, here they are, broken down into categories that suit all budgets: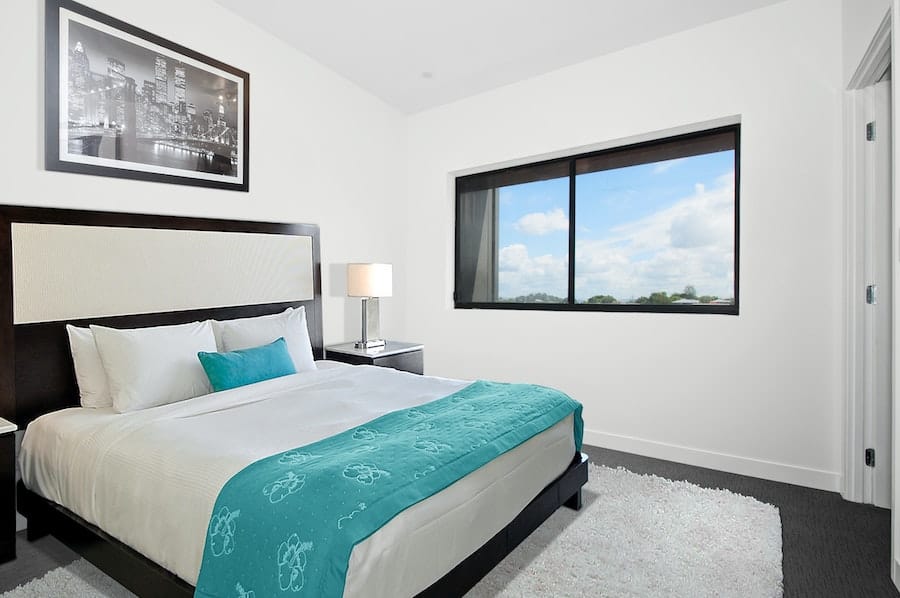 Luxury Accommodation in Funchal
The Vine Hotel
Check into one of Europe's award-winning design hotels, with spacious rooms starting at 55m squared and individually styled around the four seasons.
The Vine Hotel has stunning rooms that come equipped with TVs, free Wi-Fi, and a modern bathroom. From the room's balcony, you will have great views over the city making it the perfect place to witness a romantic sunset.
The hotel feels like a work of art with so much thought put into the sleek and contemporary design. The hotel's roof boasts a sports area with an infinity pool overlooking the city. There is also a spa and massage area.
The rooftop terrace bar serves a mixture of traditional Madeiran and French cuisine that can be enjoyed while gazing out over a panoramic view of Funchal.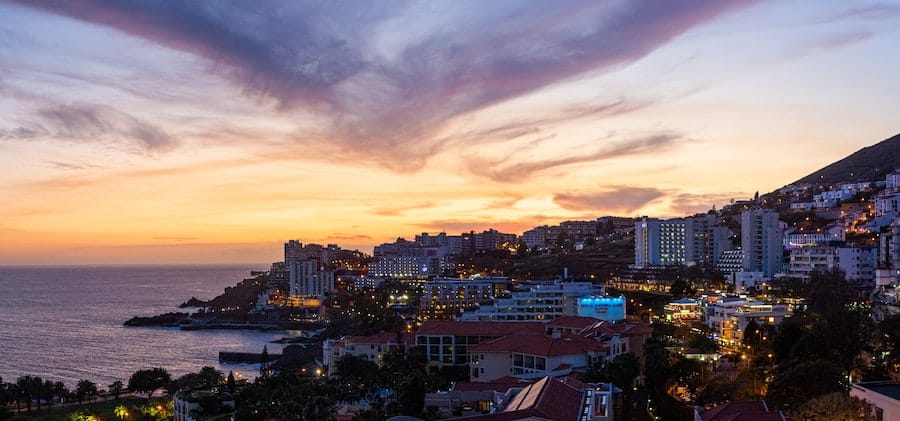 There is also a 24-hour reception, a gym, spa, and an airport shuttle service. The Vine Hotel also has a highly-rated breakfast buffet where you can enjoy a large variety of options. The hotel's location is perfectly central within Madeira and close to many of the city center sites.
The Cliff Bay – PortoBay
Situated on top of a peninsula, The Cliff Bay – Porto Bay is a five-star hotel and the perfect place to relax and enjoy island life.
The spacious rooms come equipped with a TV, desk, and air-conditioning. The bathrooms are styled in marble and have all the necessary fittings.
The highlight of each room is a large balcony that overlooks either the interior garden or jaw-dropping sea views.
The hotel is a paradise for fine dining lovers with a 2 Michelin-starred restaurant on-site that serves Mediterranean and Iberian cuisine.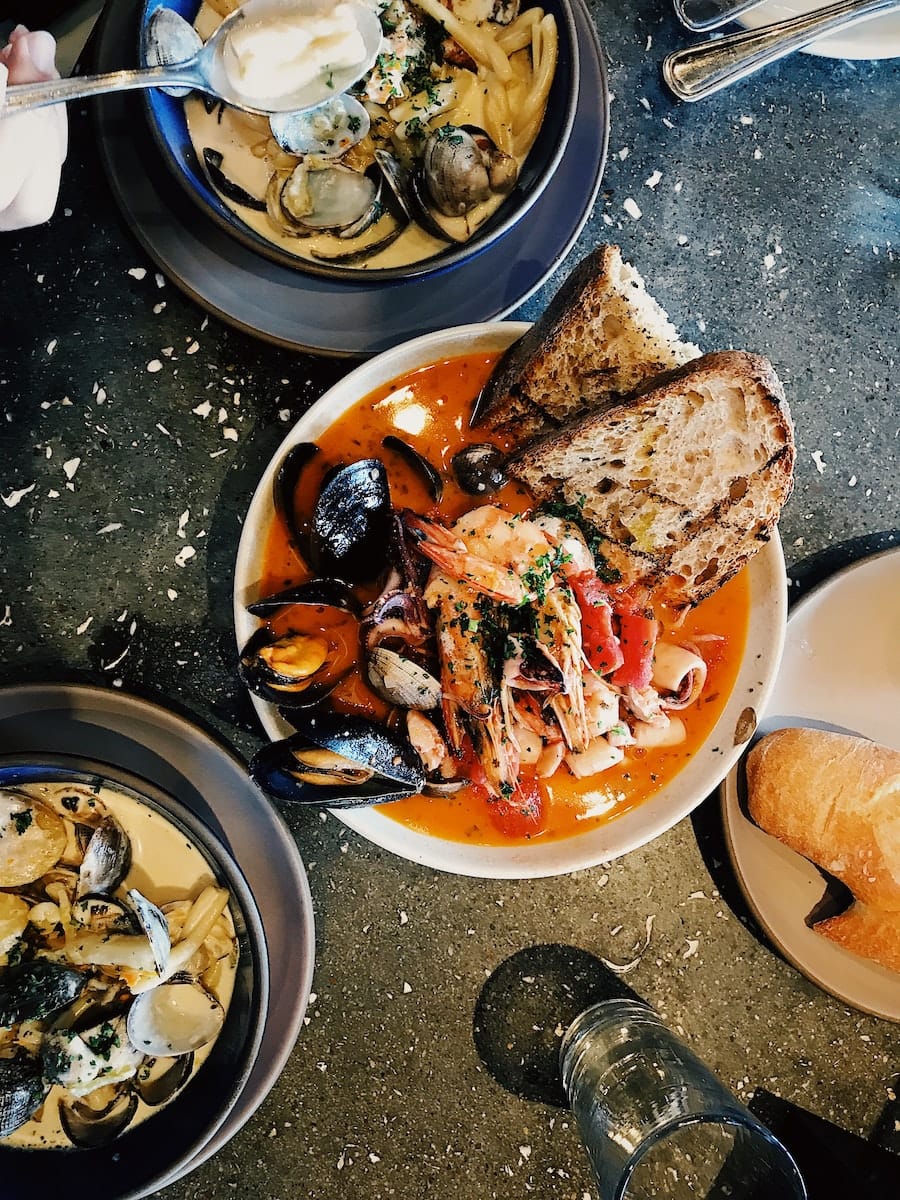 There are also two other restaurants on the premises and a few cafes where you can enjoy a coffee while relaxing in the sunshine. Along with the awesome dining possibilities, there is a private beach where guests can relax.
For those looking to do a lot of sports, there are tennis courts and two swimming pools to use as well as a games room.
Only a five-minute drive from the city center, The Cliff Bay – Porto Bay has a 24-hour reception, spa, hair salon, and an airport shuttle for an additional charge.
Although located slightly out of the city, the 25-minute walk into Funchal is beautiful and a great way to start the day.
Pestana CR7 Funchal
When you think of Madeira, often one name comes to mind – Cristiano Ronaldo. The Pestana CR7 Funchal is his very own hotel in partnership with Pestana, located near the museum dedicated to his accolades and life.
The rooms are spacious and comfortable with free Wi-FI and spacious en-suite bathrooms.
Pestana CR7 Funchal has a rooftop swimming pool and workout facilities, including an outdoor gym where you can train in the Madeiran sunshine. A spa and wellness center is available for an extra charge, as are the massages.
There is an on-site restaurant that servers standard European fare, such as pizza. In the mornings, you can enjoy a delicious breakfast included in the rate of the room.
The reception is open 24-hours and has a full concierge service. Location wise, this hotel couldn't get any more central if it tried as it is situated right on the harbor. You are merely a stone's throw away from all the major sites and landmarks.

Mid-Range Hotels in Funchal
Hotel do Carmo
Hotel do Carmo is located centrally within the city and is a great place to stay if you are looking for a high-quality hotel for a fair price.
The rooms are stylish with a sixties theme that runs throughout the entire building. They come equipped with a TV, Wi-Fi, and an en-suite bathroom.
If you are desperate to escape the crowds, the hotel has a rooftop swimming pool where you can relax and chill out while gazing out over the city.
There is an on-site restaurant that serves a tasty breakfast that is included in the rate of your room. The hotel bar is an awesome place to try local Madeiran drinks.
Hotel do Carmo has a 24-hour reception and an airport shuttle for an additional charge. Location-wise, you are within a short walk of all the main sites in the city.
Another advantage of the location is that you are close to the seafront and harbor.
ARTS IN City Apartments Ponte Nova
If you are looking for a bit of a more independent style of Funchal accommodation, then the ARTS IN City Apartments Ponte Nova is a great option. The stylish apartments come with fully-equipped kitchens and separate living room spaces.
An added bonus is that each unit has a washing machine. If you are lucky, you may get an apartment with a sea-view balcony.
With the fully-equipped kitchen, you have the possibility to cook your own meals using the fresh, local produce that is available on the island.
This is great if you are trying to save money while visiting Madeira as it will cut down on restaurant costs. However, if you are looking to go out for a lovely meal, there are plenty of places available around the apartment.
There is Wi-Fi throughout the apartments. Location-wise, ARTS IN City Apartments Ponte Nova couldn't be any more perfect since they are close to many of the main sites of Funchal and you will be able to walk just about anywhere.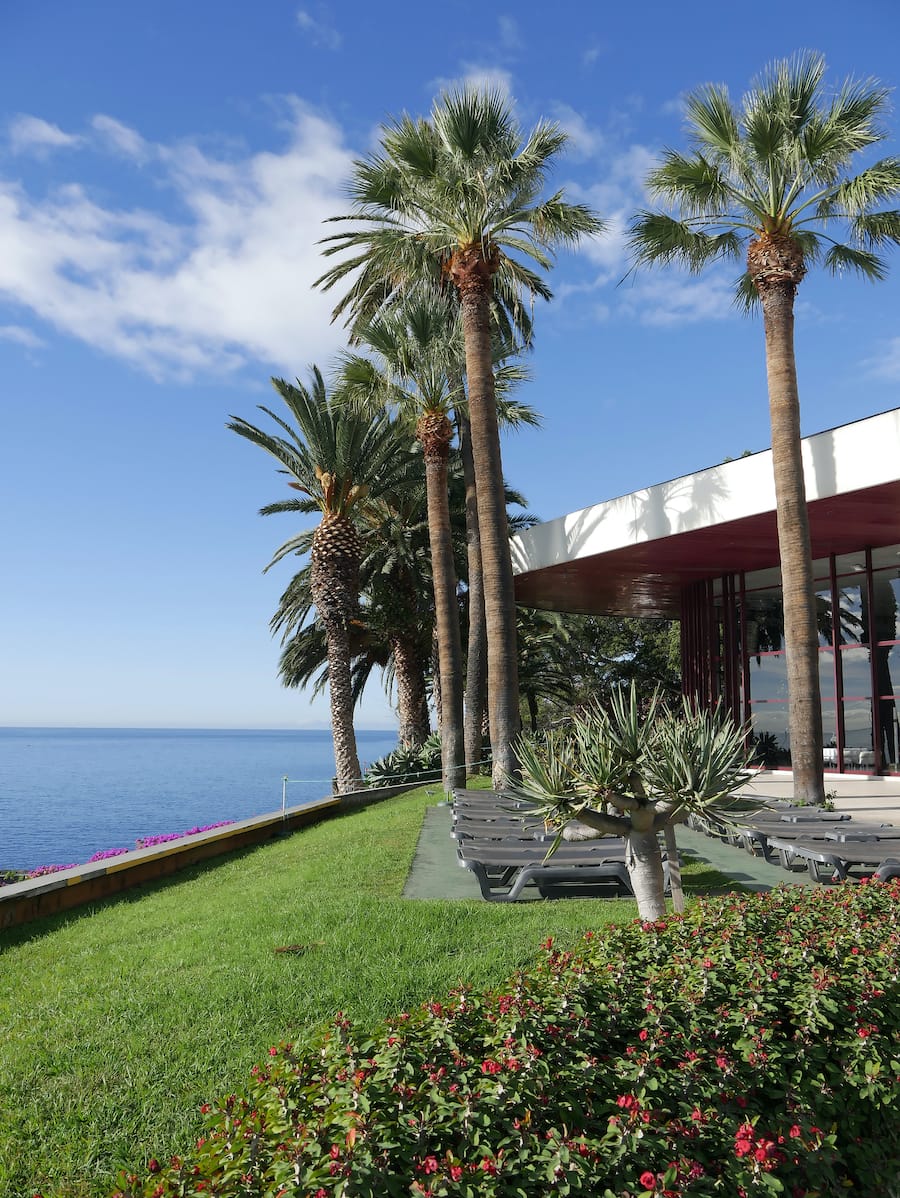 The Marketplace by Storytellers
Another great apartment-style hotel, The Marketplace by Storytellers offers centrally-located, spacious apartments. Each unit comes with a fully equipped kitchen, a living space with a TV, and a washing machine.
Situated by the old town, you can quickly reach all the fantastic historical sites that are located in Funchal, such as Sao Tiago Fort.
There are plenty of bars and restaurants that can be enjoyed in the area if you don't fancy cooking for yourself in the modern kitchen in the apartment.
There is Wi-Fi throughout the apartments and the superior rooms have balconies with stunning views.
The Marketplace by Storytellers has a continental breakfast with great coffee provided to each apartment.

Hostels in Funchal
109 Funchal Hostel
The 109 Funchal Hostel is a great option for the budget-conscious traveler. There is a range of room options available, including mixed dorms and private rooms.
The dorm rooms have shared bathrooms, as to be expected.
There is a shared kitchen available where you can cook lovely meals using the tasty local produce and fresh fish from the Atlantic.
The kitchen is also a great place to socialize with other guests if you are traveling alone. The friendly vibe of the hostel makes it super hospitable!
The hostel is in a great location close to all the main sites. There is Wi-Fi available at 109 Funchal Hostel and you can book Madeira activities and excursions through the hostel.
Madeira Happy Hostel
If you are looking to stay outside of the city a bit and enjoy hiking opportunities, then the Madeira Happy Hostel is a great option.
The clean and comfortable hostel has several room options from mixed dorms to private rooms with balconies.
There is a nice garden where you can spend time relaxing and basking in the Madeiran sunshine with a glass of wine.
Located outside of the city, it will take around an hour to walk to the city. The quiet area is perfect for hiking and enjoying Madeiran nature.
There is Wi-Fi throughout the building and a continental breakfast is provided at the room price.
Wine and Champagne can be purchased for an additional cost and enjoyed in the amazing setting at Madeira Happy Hostel.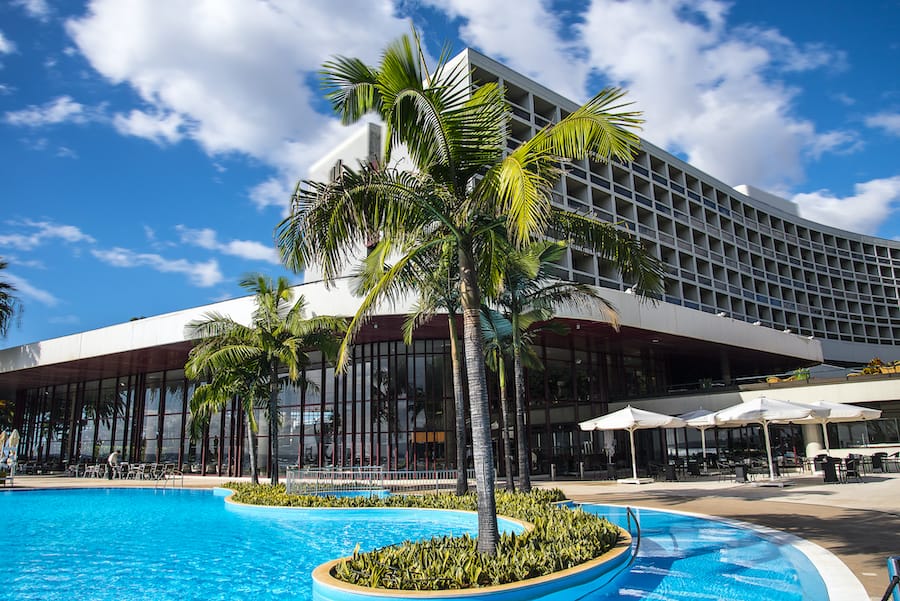 This guide gives you ideas of the best hotels in Funchal and its surrounding area. If you have questions about where to stay in Funchal, please drop us a comment or send an email!
YOU MIGHT ALSO LIKE: