Are you starting to plan your late-year travels right now?
This is a guide to the best places to celebrate Christmas in Europe.
It details some small, lesser-known destinations, as well as some popular places, like Vienna.
This guide also includes information about the activities or Christmas Markets at the destination, plus any useful tips that will help you plan your trip there.
This post was written by Valerie at Valerie & Valise.
Let us know your dream place to visit in Europe for Christmas and the winter holidays!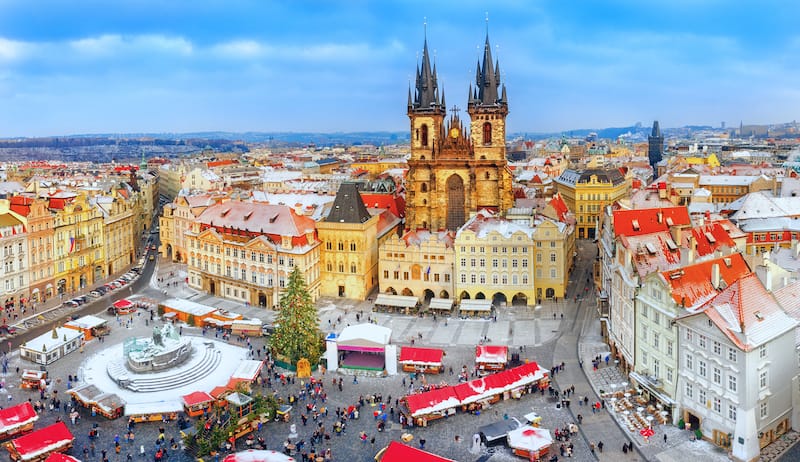 Christmas in Europe
Imagine waking up in a small town, just in time to celebrate Christmas in Europe.
You wander to the window, throw open the wooden shades of the half-timbered house, and see a fresh dusting of snow on the picturesque rooftops.
Colorful lights twinkle along the eaves, and Christmas trees sparkle in the ground-floor windows.
It's Christmas, and you're living in a fairy tale. While many of us envision spending Christmas in London or Paris, there are so many other options too!
Below, you'll learn about several destinations where you can celebrate Christmas in Europe.
From big cities to small towns, each is known for its Christmas markets and irresistible charm.
Some places are known for their markets – like the Brussels Christmas Market and others are simply known for their charm, traditions, and more.
If you're looking for the perfect place to celebrate Christmas in Europe – these are the places!
Some of them are the most beautiful cities in Europe and others are lesser-known towns!
1. Colmar, France
Colmar is a hot spot for travelers right now – as is the whole Alsace region. It recently came to the world's attention that France was hiding a beautiful pocket of well-preserved towns, and everyone wants to visit!
As the largest town in Alsace and the beating heart of tourism for the region, Colmar is a great destination year-round, and an easy day trip from Strasbourg!
For the holidays though, it transforms into a storybook vision.
From Little Venice to the babbling canals, everything in Colmar gets a touch of Christmas magic… and it has one of the best Christmas markets in Europe!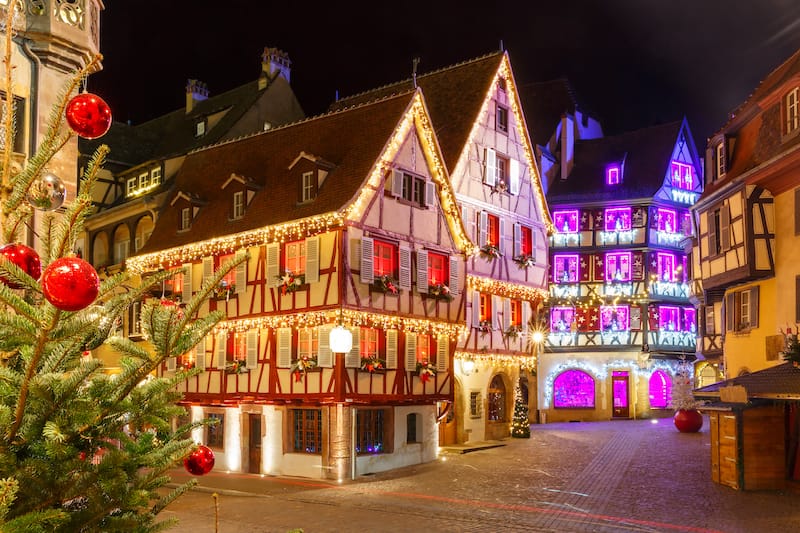 Visiting the Christmas Markets in Colmar
Colmar is home to five Christmas markets!
At the Place de Dominicans, near the Cathedral.

In the Petit Venice area, tailored to children.

In the Koïfhus, an indoor market.

At the Place de l'Ancienne Douane, next to the Koïfhus.

At the Place Jeanne d'Arc, tailored to foodies.
The Christmas markets in Colmar operate daily from around November 23 to December 29, 2023, including Christmas Eve and Christmas Day (with limited hours).
2. Eguisheim, France
"The towns of the Alsatian wine trail sit along the base of the Vosges mountains like a string of pearls," said our guide, pointing east across the German border toward a low line of mountains in the mist.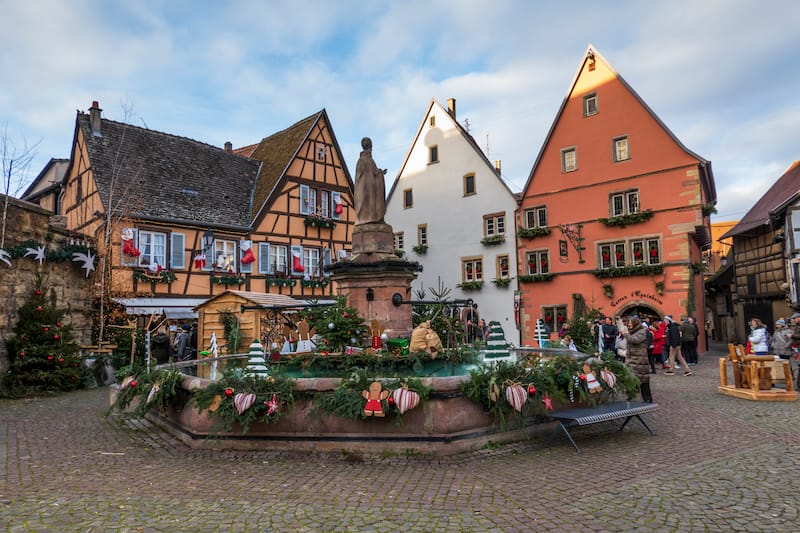 These "pearls" – truly strung out in a row from north to south – do two things exceptionally well:
Make Alsatian wine

Celebrate Christmas
A compact, walled city stuffed to bursting with demure half-timbered houses, Eguisheim is one of the most popular towns on the Alsatian wine trail.
Aside from delicious wines, they also do Christmas and Christmas markets really, really well.
Visiting the Christmas Markets in Eguisheim
Eguisheim ("eggy-shime," with "shime" like "shine") is part of the Christmas' Stars Land celebration, along with several nearby towns.
In addition to markets, many other holiday and religious events happen in Eguisheim and its neighbors.
Eguisheim has also been honored with the title of "Villes et Villages de Noël," highlighting it as one of the best experiences of the season.
The Christmas markets in Eguisheim run daily from November 24 until December 23, 2023.
They take place in the main square (near the statue of Pope Leo IX), as well as nearby squares and courtyards.
3. Freiburg, Germany
Freiburg is the biggest "town" on this list, and should probably be considered a "city" instead!
It certainly feels big compared to some other cities on this list but doesn't lose its small-town feel once you're walking around the bustling streets.
Located in the German state of Baden-Württemberg on the edge of the Black Forest, you can actually see the Black Forest from certain spots in Freiburg.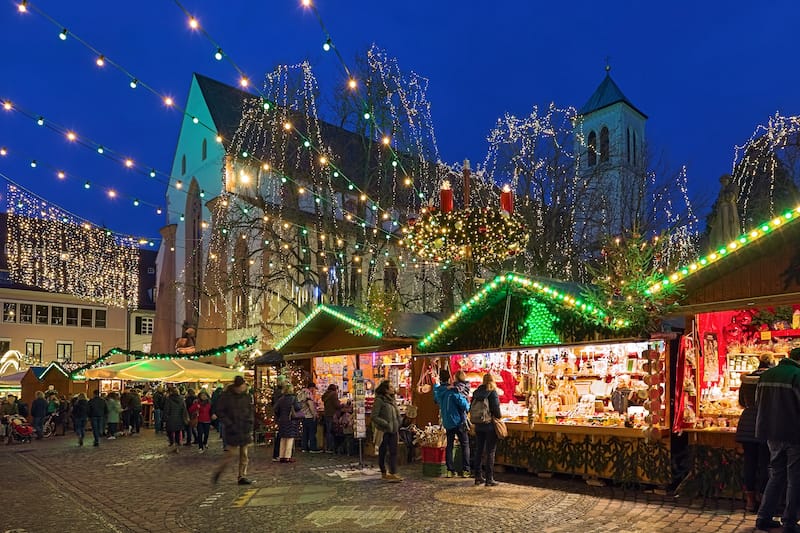 Given that the Black Forest has inspired many fairy tales and is home to other great attractions like the Triberg Waterfall, it's no surprise that Freiburg feels like you're living in one too!
When the snow begins to gently fall on the cobbled streets, it becomes all the more magical.
Visiting the Christmas Markets in Freiburg
Freiburg has one big Christmas market that takes place in several parts of the city:
the Rathausplatz

the Franziskanerstraße

the Unterlindenplatz

the Kartoffelmarkt

in the shadow of the Freiburger Münster (cathedral).
These streets and squares are all connected and it's easy to walk between them.
The Christmas markets in Freiburg are open from November 23 until December 23, 2023.
While in Freiburg for the Christmas market, Stay Inn Freiburg is a great option for accommodations.
If you're looking for a place to visit that is not as far south, opt for the small wine town of Rudesheim in Hessen. The area also known for fantastic Christmas Markets and more!
4. Regensburg, Germany
Visiting Regensburg is an experience at any point in the year, especially for history lovers.
The town was left largely untouched by bombing in World War II, and many of the buildings date back centuries to medieval times.
Its walled city is so well-preserved that it attained UNESCO Heritage Site status 10 years ago!
Large and easy to explore, it's also a popular stop for river cruises on the Danube – and especially popular during the holiday season.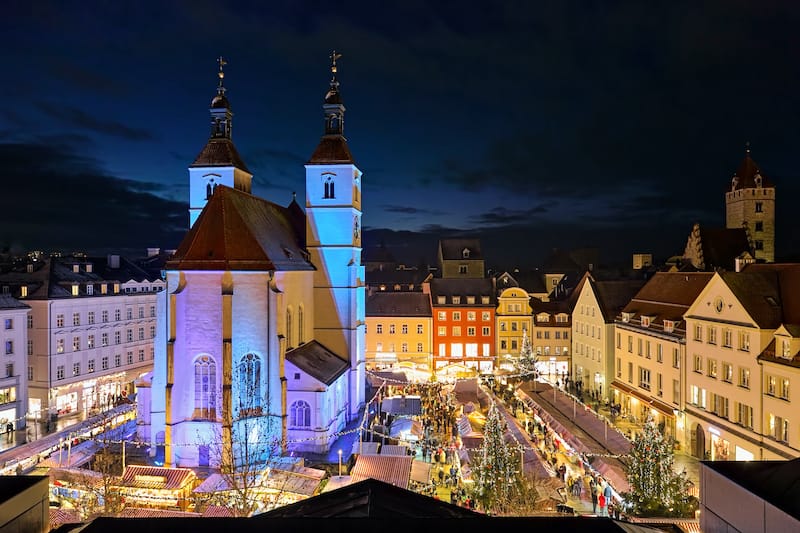 With several churches and squares, as well as picturesque views from the River Danube, Regensburg gets even more dolled up as the holiday season approaches.
It's also easily reached from other parts of Germany, making it a perfect Christmas destination.
Visiting the Christmas Markets in Regensburg
There are four main locations for Christmas markets in Regensburg:
In the square near the Neupfarr Church.

In the Spitalgarden, focusing on religious celebrations.

At the Lucreziamarkt, where craftsmen share their trade.
The final location is in the Romantic palace of Thurn & Taxis, for an additional fee (usually €5-7).
The Regensburg Christmas Market dates vary depending on the market itself.
The one at Neupfarr Church shuts down before Christmas whereas some of the other small markets stay open until early January (but temporarily close during the Christmas holidays).
5. Riquewihr, France
Brightly colored houses, cobbled streets, and yet another walled medieval city – what's not to love about teeny, tiny Riquewihr on the Alsatian Wine Trail.
Riquewihr reveals itself with windows full of the scent of flowers that are replaced with Christmas lights and gingerbread smells during the holiday season.
It's off the beaten path but has all the provincial charm you need.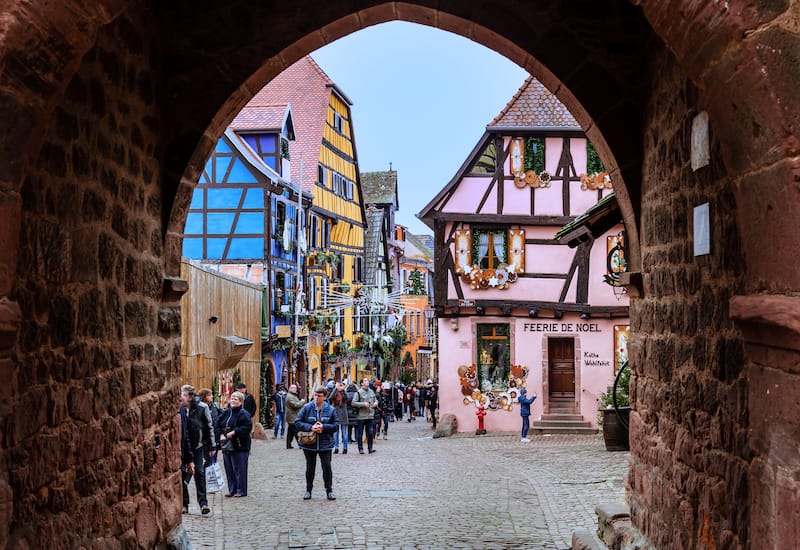 Visiting the Christmas Market in Riquewihr
Given its size (1,200 people), Riquewihr has a proportionally smaller Christmas market than some of the other towns on the list but makes up for it with gusto.
The theme of the Christmas market in Riquewihr is medieval, so expect to see traditional dress and decorations everywhere.
The light-lined streets and squares will become a Christmas market from November 25 until December 20, 2023.
6. Rothenburg, Germany
While each town on this list has an old-world charm, none captures the imagination so much as Rothenburg.
Of all the towns on the list, it is my most recommended destination for celebrating Christmas in Europe, and here's why.
This small town of just 11,000 is amazingly well-preserved: all of the old walls and towers still stand around the city.
Though some portions were bombed in World War II, an unlikely combination of luck, word-of-mouth, and foresight among generals and commanders on both sides managed to save most of the city from destruction.
Now, the town is a magnet for visitors from all over the world.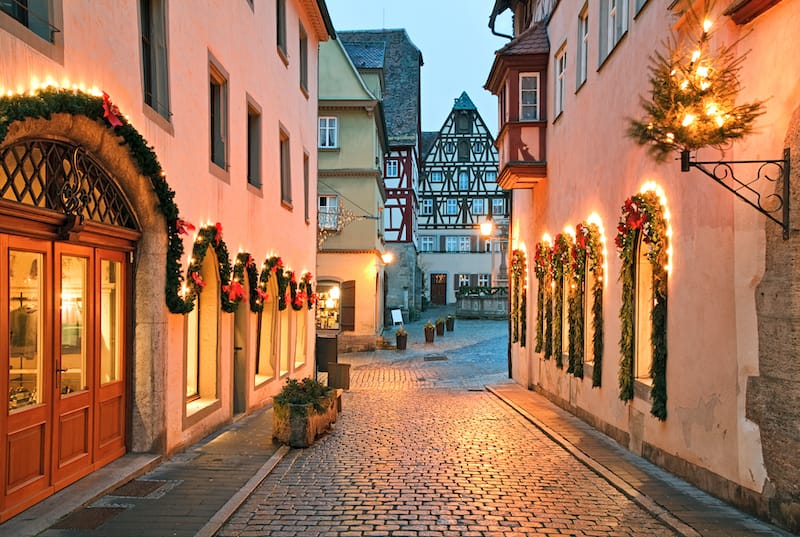 Visiting the Christmas Market in Rothenburg
In the holiday season, the main square becomes a mecca of Christmas market stalls and food stands.
When it's not Christmas, the flagship Käthe Wolfhart store near the Rathaus draws visitors to wander among the 30,000+ different decorations and learn about the history of Christmas in their German Christmas Museum.
Christmas is big business in Rothenburg, but it doesn't lose its authentic German Weihnachtsmarkt feel.
The Christmas market in Rothenburg operates from 1st December to 23rd December 2023.
7. Vienna, Austria
As one of the biggest cities on this list, it's no surprise that Vienna also goes big for Christmas markets.
These are just two of the fourteen Christmas markets in Vienna each year.
While most people think of Germany as the hub for Kristkindlmarkts, Austria is obviously pretty big on the idea too.
Whether you want to browse local art, enjoy local food (go for the sausage in a bread roll!), or sip mulled wine, there's a Christmas market in Vienna for everyone.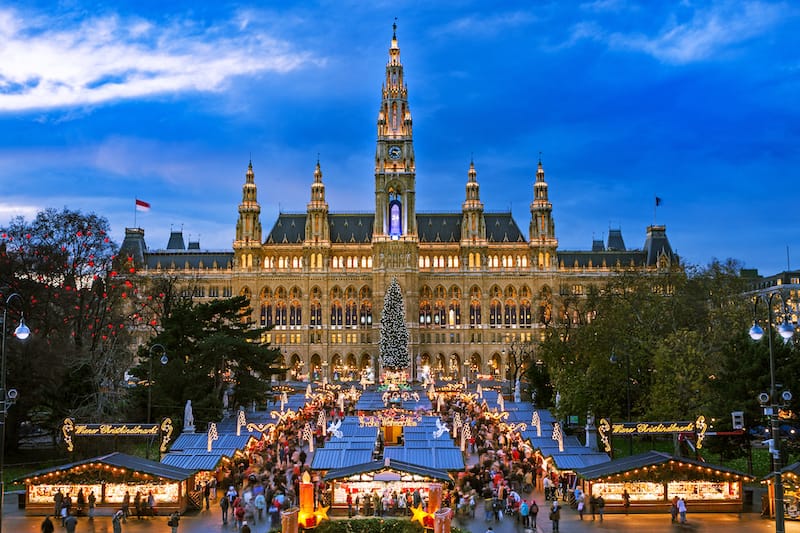 Visiting the Christmas Market in Vienna
As there are fourteen Christmas markets in Vienna, it's hard to choose just one. Here are some of the most popular:
At some of Vienna's famous plazas, including the Rathausplatz, Stephansplatz, and Maria-Theresien-Platz

In front of front Vienna's stunning palaces – Schönbrunn Palace and Belvedere Palace

At the Opera House and Karlsplatz, which are all about food and art
The Christmas markets in Vienna all have different starting and ending dates, as well as operating hours. Generally speaking, they begin in mid-November and last until around Christmas.
There are so many things to do in Vienna in December that it is definitely worth putting on your European bucket list!
8. Prague, Czech Republic
Prague's Christmas market sits in the shadow of some of Prague's most famous sights, including the Astronomical Clock and Church of Our Lady before Tyn.
A massive Christmas tree is erected, as well as several stages and a spread of Christmas huts selling food like trdelnik and delicious mulled wine. It's a great spot to warm up after a chilly day exploring Prague!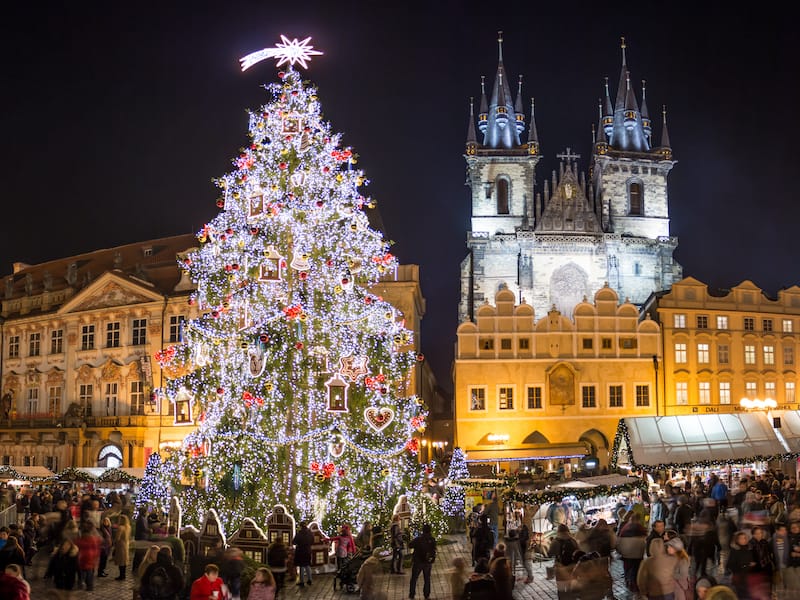 Visiting the Christmas Market in Prague
It's hard to miss the Christmas markets in Prague if you're visiting – both are right in Old Town! In addition to the market at Old Town Square, there is one at nearby Wenceslas Square.
The Christmas market in Prague runs from 5th November 2023 and to 5th January 2024.
9. Røros, Norway
Røros doesn't get the love it sometimes deserves and there is no better destination to celebrate Christmas in Europe than this Norwegian town that is a designated UNESCO World Heritage Site.
The Christmas Market in Røros is a very short event and only lasts for a few days (typically at the beginning of December), so you must head into town for those specific days, but you will be greeted by a snowy wonderland and one of the most beautiful winter destinations in Norway.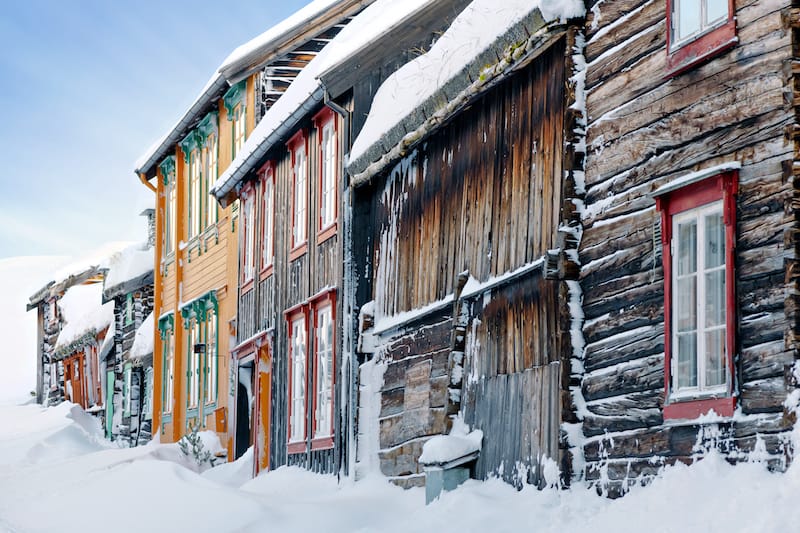 The Røros Christmas Market takes place in between the colorful, wooden buildings that the town is known for.
You will find many stalls, Christmas carolers, and horse and sled rides. This is a fantastic place to visit with children.
You can find more information (including tentative dates) about the Julemarked Røros here.
10. Tallinn, Estonia
There is truly something special about spending Christmas in Tallinn, Estonia.
The capital city is known for its Medieval architecture and Old Town and it turns into one of the coziest and dreamiest places in Europe in winter and is definitely worth a trip.
One of the perks of visiting Tallinn in winter and at Christmas is that you will get to experience traditional food, warm cafes, and an adventure that truly is Estonian.
The city is cold during December and the tourists are not out in droves like they are during the summer months, allowing you to stroll around the city more peacefully.
Another perk of visiting Estonia at Christmas is that you're a short ferry ride away from Helsinki, meaning you can spend time in the Finnish capital as well as the Estonian one!
There is a lot to see in Helsinki in a day, and it is recommended to take the trip across the Baltic to do so! and Christmas in Helsinki is pretty cool, too.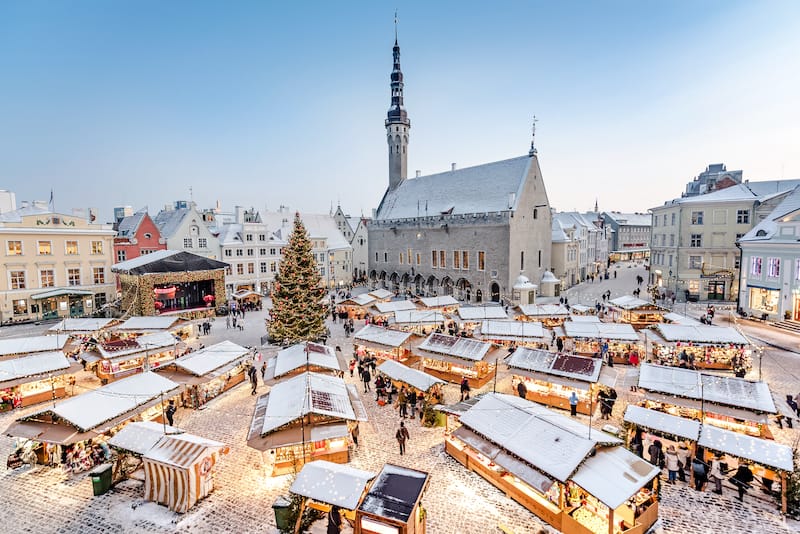 Visiting the Christmas Market in Tallinn
The Christmas Market in Tallinn is centrally located in the Old Town at Town Hall Square.
You will see a large Christmas tree and a lot of small stands in the square.
This is actually the site of the first Christmas tree in a square and the tradition dates back to 1441 (Riga contests this).
The Christmas Market in Tallinn starts on November 25 and goes on until January 8, 2023.
Do you have any dream destinations to visit for Christmas? Share your favorite Christmas in Europe memories or places on your winter bucket list with us below in the comments!
More Europe Travel Guides
Pin This Europe Christmas Guide!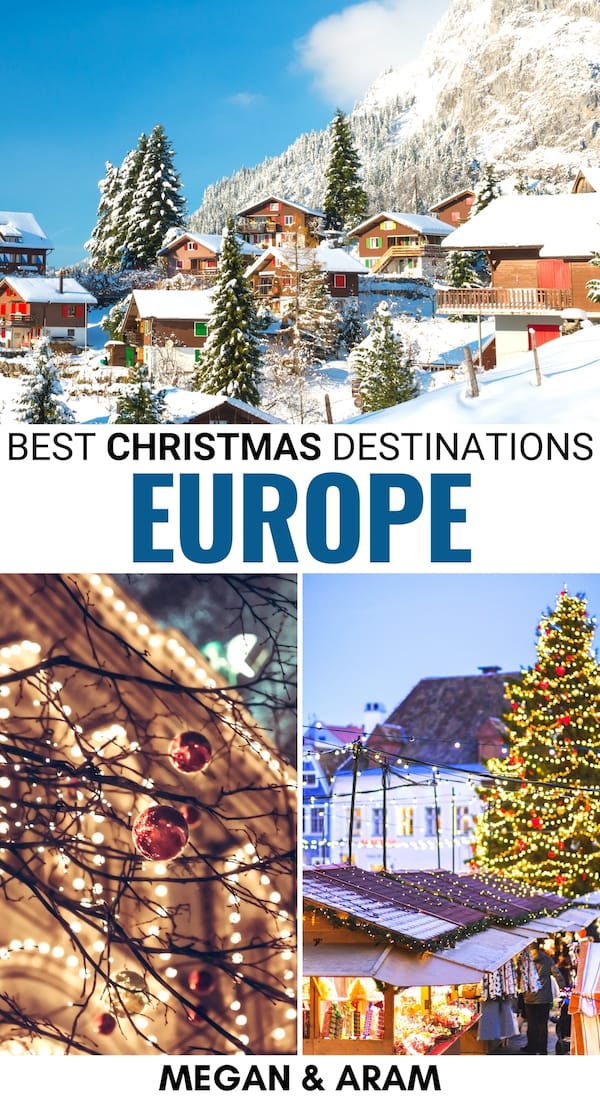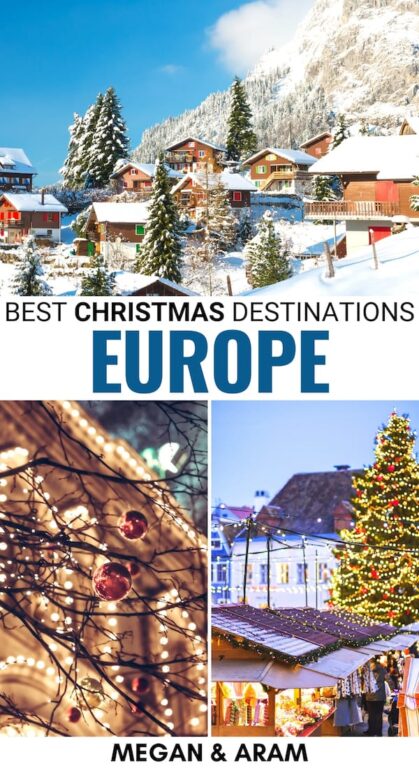 Photo Credits:
Eguisheim: Editorial credit: Jo Jones / Shutterstock.com
Freiburg: Editorial credit: Mikhail Markovskiy / Shutterstock.com
Riquewihr: Editorial credit: Apostolis Giontzis / Shutterstock.com
Røros: Editorial credit: Stefan Holm / Shutterstock.com