There are so many fantastic places to visit in Norway during winter. And Lofoten in winter is one of those amazing places!
This guide will detail everything we think you need to visit the Lofoten Islands in winter. It includes the northern lights, adventurous activities, and more.
We hope it encourages you to book that Lofoten winter trip this year!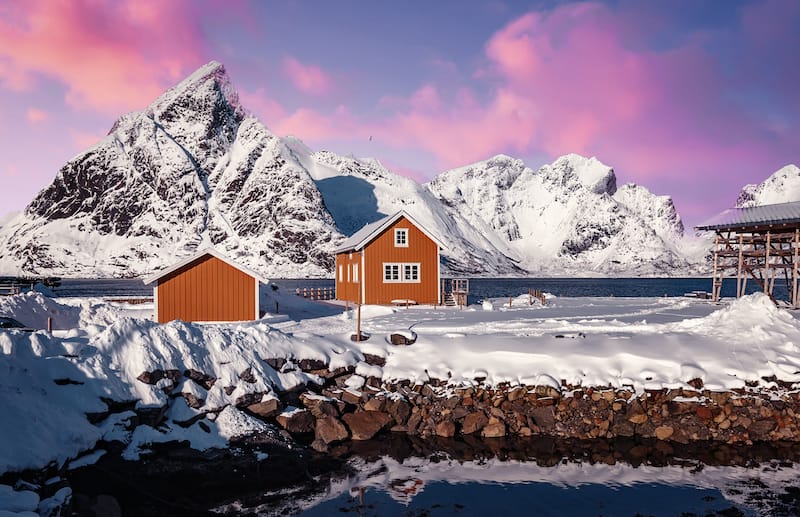 Best Things to Do in Lofoten in Winter
The Lofoten Islands are absolutely stunning no matter the season.
It is extremely difficult to choose a favorite season in Lofoten as any time of the year offers unique perks compared to the other months and seasons.
We have been to Lofoten in winter and summer both.
Winter in Lofoten brings back memories of the northern lights, snow-covered peaks, and adventurous winter activities. Summer in Lofoten makes us think of blue skies, Caribbean-like beaches, and several water activities.
No matter when you visit the Lofoten Islands, you're in for a real treat.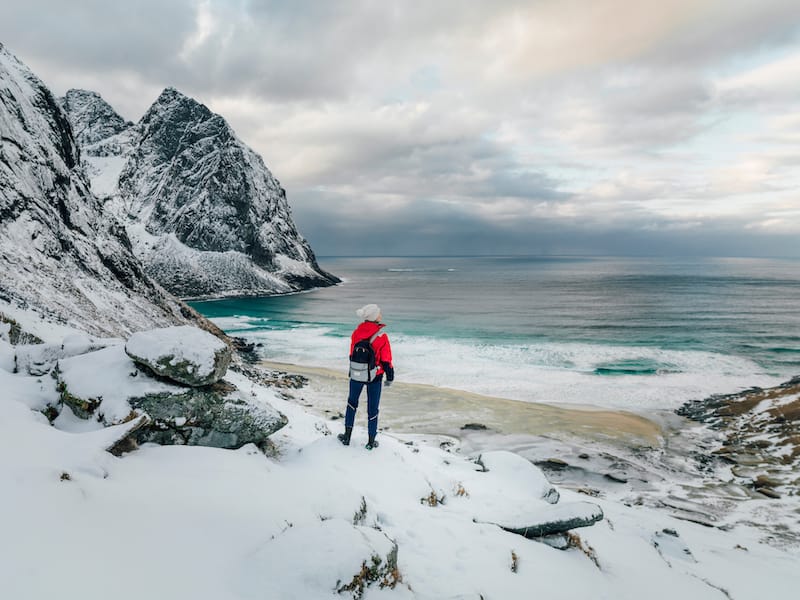 This guide will highlight some of our favorite Lofoten Islands' winter activities. Some are geared toward the more adventurous traveler and others are for the more relaxed and chilled-out traveler.
If you have any alternatives or suggestions, please drop them in the comments!
What to Expect During a Lofoten Winter
To be honest, I wasn't sure what to expect when first traveling to Lofoten during winter. Would it be dark or light?
Would it be cold or mild?
I found it to be mild when it came to temperatures compared to other parts of Norway (usually was around freezing or slightly above on a daily basis) and there was hardly any daylight.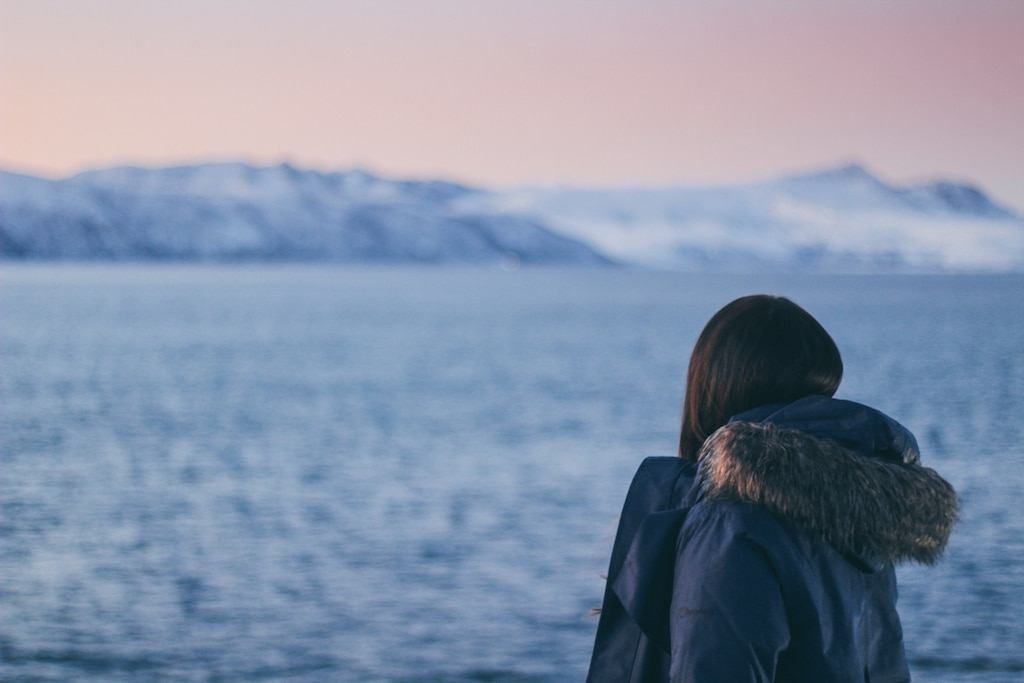 The sun stays below the horizon during the longest winter days and when there is a bit of light, it just looks like an extended sunset.
But, these dark skies give way to one of nature's most magical phenomenons… the northern lights. Not a bad alternative, no?
Renting a Car in the Lofoten Islands
In our opinion, the best way to navigate the stunning Lofoten Islands is via a rental car.
While we wish that public transportation options were better for this part of Norway, with the sparse population, it just isn't practical.
Rental cars, on the other hand, allow travelers a chance to experience Lofoten in their own way and give them the chance to stop whenever they want.
Do be sure you are comfortable with driving in the winter and during a lot of darkness, however.
>> Click here to check rental car rates for the Lofoten Islands
Best Lofoten Winter Tours
There are so many incredible tours available and at your disposal for Lofoten winter activities.
We recommend some throughout this guide, but the following are some of our favorite suggestions to rookie travelers to Lofoten who are trying to make the most of their time in Northern Norway:

Do You Need Travel Insurance for Norway?
Yes, we highly recommend getting travel insurance for Norway.
The Scandinavian country may have a capable medical system for residents, but you really don't want to get injured in one of the most expensive countries in the world and be stranded without medical coverage.
We recommend SafetyWing for your Norway travel insurance.
>> Click here to get a Norway travel insurance quote with SafetyWing
Lofoten Winter Things to Do – The List
1. Surf at Unstad Arctic Surf Resort
The first point on this Lofoten winter guide is surfing!?
We know, we know… but interestingly enough, it is possible to surf in Lofoten year-round because no matter the season, the water temperature stays pretty consistent at 8-14C.
Unstad Arctic Surf Resort is the world's northernmost surf resort and they offer lessons and opportunities to take to the waves at any time of the year.
Regardless of your skill level, Unstad will offer you a chance to hone your skills or to teach you something new.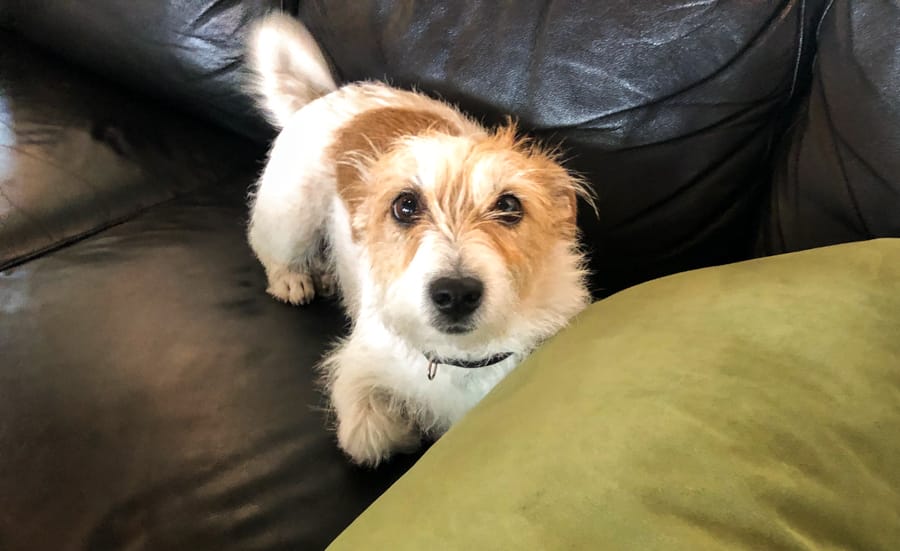 If you're not down to get surfing during Norway's never-ending winters, you can still head to Unstad Arctic Surf Resort and chill out.
They have a surf shop and a massive cafe.
There is even a dog that lives there!
They claim to have the best cinnamon bun in the world. I tried it. It definitely was the best one I have ever had. I guess you'll have to go there Unstad and test it for yourself…
Unstad is open from 1000-1800 daily. You can find them at Unstadveien 105 in Bøstad.
2. Northern Lights Horseback Riding on Gimsøy
There are so many cool experiences to have in Lofoten but one of the best, regardless of the time of year, is to go horseback riding in Lofoten.
On Gimsøy island you will find Hov Gård, an Icelandic horse farm that offers rides along the sandy beaches on the island.
There are many tour packages that you can choose from but we highly recommend the one that takes you riding below the northern lights.
If you're not keen to ride a horse, they also have several aurora lodges along the waterfront that you can rent out and see the northern lights from your own windows.
Gimsøy truly is a nature lover's paradise and one of the most underrated places in the Lofoten Islands.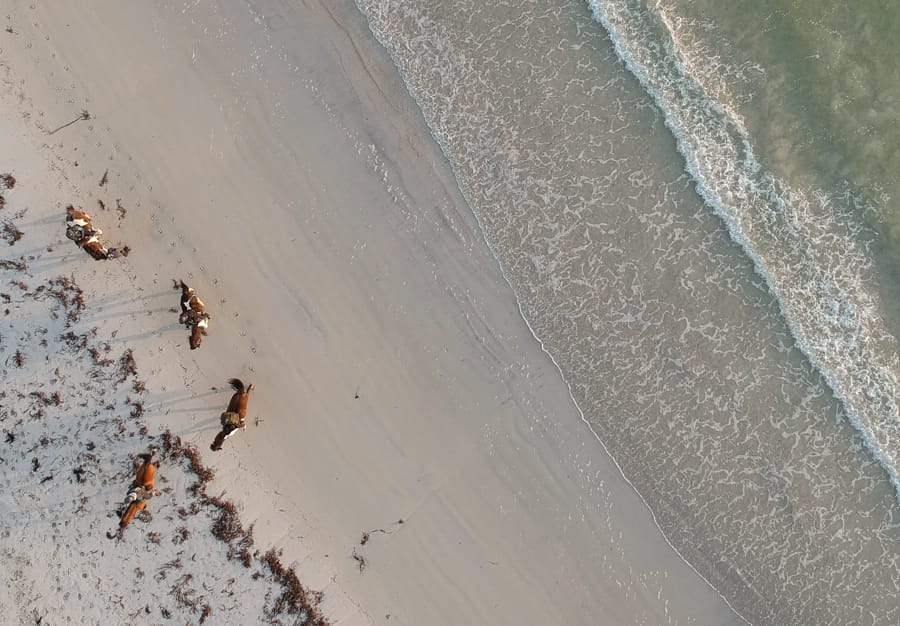 If you decide to go horseback riding on Gimsøy, do bring really warm clothing.
They have extra insulated suits to go riding in but we suggest bringing your own gloves or mittens, insulated socks, and thick boots, and whatever else you may need on your body to keep warm.
Hov Gård has a cafe that sells delicious food and coffee/tea that you can enjoy before your ride.
The farm is open from 1000-2200 and can be found at Tore Hjortsvei 471 in Gimsøysand on Gimsøy.
3. Take a Sea Eagle Safari through Trollfjord
Another popular Lofoten winter excursion (and summer) is to take a sea eagle safari through Trollfjord, a narrow, mystical fjord located kind of close to Svolvær.
Lofoten Explorer offers daily RIB safaris out to the fjord where you will feed the local sea eagles their lunch and watch them magically fly around the local waters.
The sea eagles in Lofoten have recently struggled to maintain numbers and fish their own due to previous issues with a lack of food supply for them in the fjords.
This excursion not only teaches you more about the gorgeous creatures, but it also allows you to help keep them and their young afloat and their numbers in check.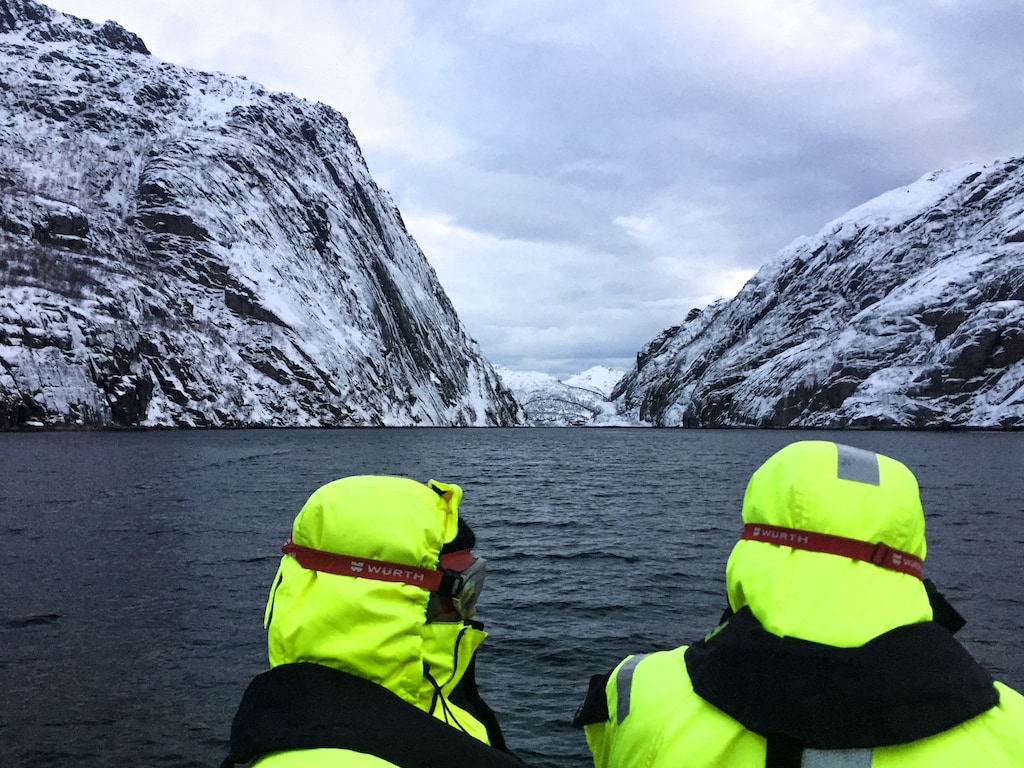 This was one of my favorite activities in Lofoten that I have had the chance to do throughout the years. The RIB sea eagle safari leaves from Svolvær. Do dress very warm even though they have suits ready.
If you're wanting to photograph, be sure you have a dry bag to keep everything from getting wet while you make your way to the fjord. I recommend dry bags from The Friendly Swede. I have used them all over the world throughout the years.
If you have a GoPro, this is the time to whip it out and use it. Do be sure to have some waterproof and weatherproof accessories for it.
Click here to check out the GoPro we use.
>> Click here for rates and availability for the sea eagle tour
4. Go Snowshoeing in Lofoten
Believe it or not, my first time snowshoeing was in Lofoten.
This activity is the ideal thing to do in Lofoten for those that love hiking in winter.
While the temperatures tend to be milder in Lofoten than in other parts of Norway more inland, there is usually still plenty of snow around the region that will allow for ample snowshoeing opportunities.
I went snowshoeing near Kabelvåg and I went a bit early in the day and did a private excursion, but if I had gone a little later, I likely would have seen the northern lights on my trek.
I saw them anyway later that night with a tour.
If you're not an advanced snowshoer, I definitely recommend a tour and not going out on your own (pending you have snowshoes with you anyway).
There are many trails but it is better to be with someone more experienced, especially as the days are dark, cold, and long.
>> To inquire about snowshoeing in Lofoten, check out this tour for rates and details
5. Hunt Down the Northern Lights in Lofoten
Ahhh… the most memorable thing you will likely do in Lofoten in winter is chasing the northern lights.
So many people flock to Tromso in winter… and don't get us wrong, Tromso is GREAT. But, so is Lofoten.
And we genuinely think that Lofoten has just as much to offer as Northern Norway's capital city.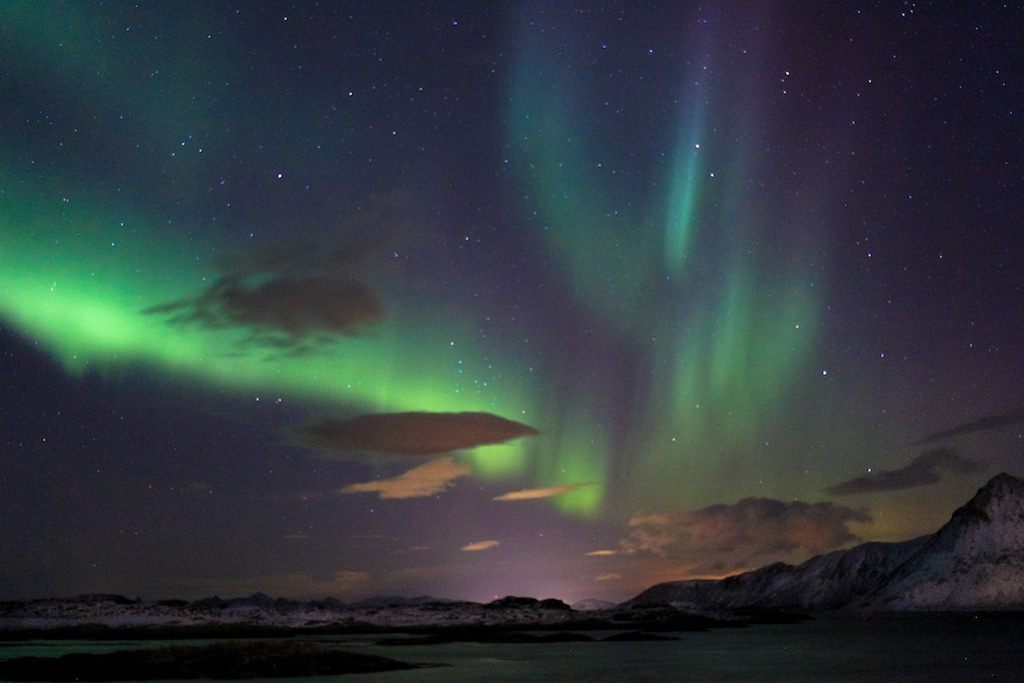 You can easily see the northern lights in Lofoten if you try or know what you're doing.
In order to do this, you will need to join a tour or join forces with a more experienced aurora chaser.
I looked at the forecast on my own the night I had a Lofoten northern lights tour booked and it said there was 'very little activity'.
When my guide met me, she told me that means very little if you know where to look and have patience. She drove us around and sure enough, she was completely right.
We chased the lights around for a couple of hours and it was pure magic. This is definitely a northern lights destination if you plan it right.
>> Click here for Lofoten northern lights tour information and prices
6. Go Back in Time at the Lofotr Viking Museum
If you're into learning about the history of Norway, Scandinavia, and the Lofoten Islands, you definitely can not overlook the Lofotr Viking Museum at Borg.
Housed in and beside the world's biggest longhouse built by Vikings, the museum holds so many interesting relics and artifacts from the Viking-era and it is just simply fascinating.
When I went, there was a short film that humanized the period a bit more and there was a Viking feast at the end.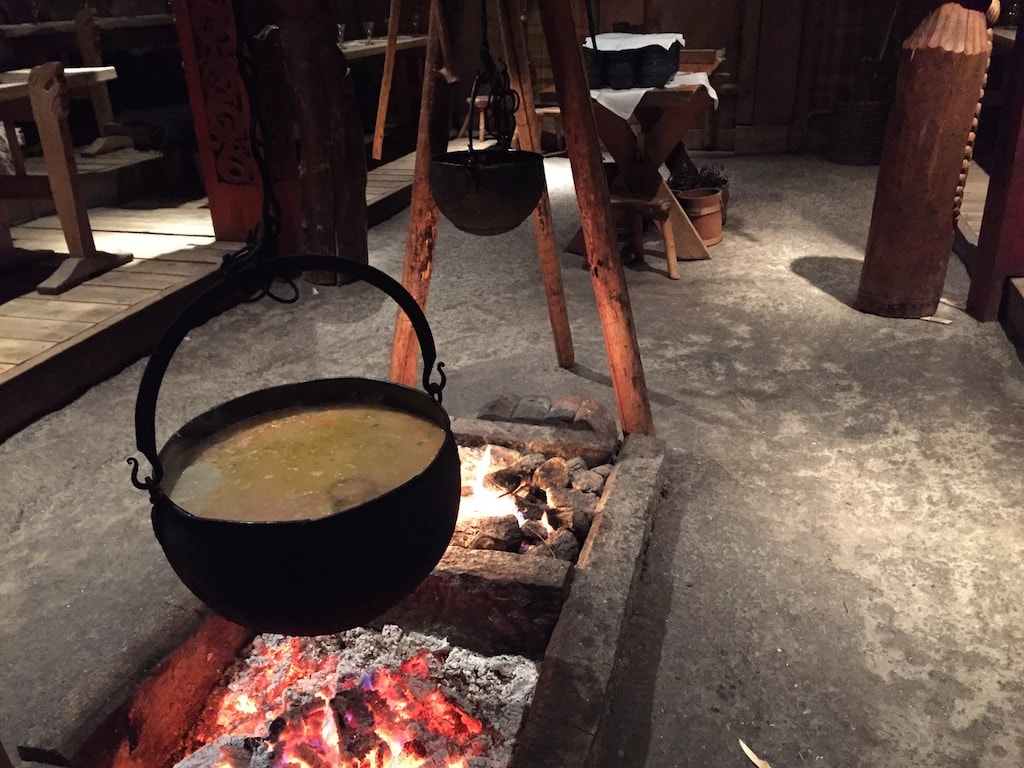 The entire experience is a bit commercial, to be honest, but it truly did end up being one of my favorite things to do in Lofoten during winter.
If you're into learning more about the islands and Northern Norway, I highly recommend spending a couple of hours at the museum.
The Lofotr Viking Museum is open Mondays-Saturdays from 1000-1700. It is closed on Sundays. Tickets are anywhere from 170-200 NOK depending on the season and type of ticket.
You can find the Lofotr Viking Museum at Vikingveien 539 in Bøstad. Click here to learn more.
7. Enter a Winter Wonderland at Magic Ice Bar in Svolvær
An attraction for all ages and a perfect thing to do for families visiting Lofoten from afar, the Magic Ice Bar is the world's first permanent ice gallery. Inside, you will find ice sculptures that showcase Viking and fisherman history.
The lobby also has an amazing gift shop.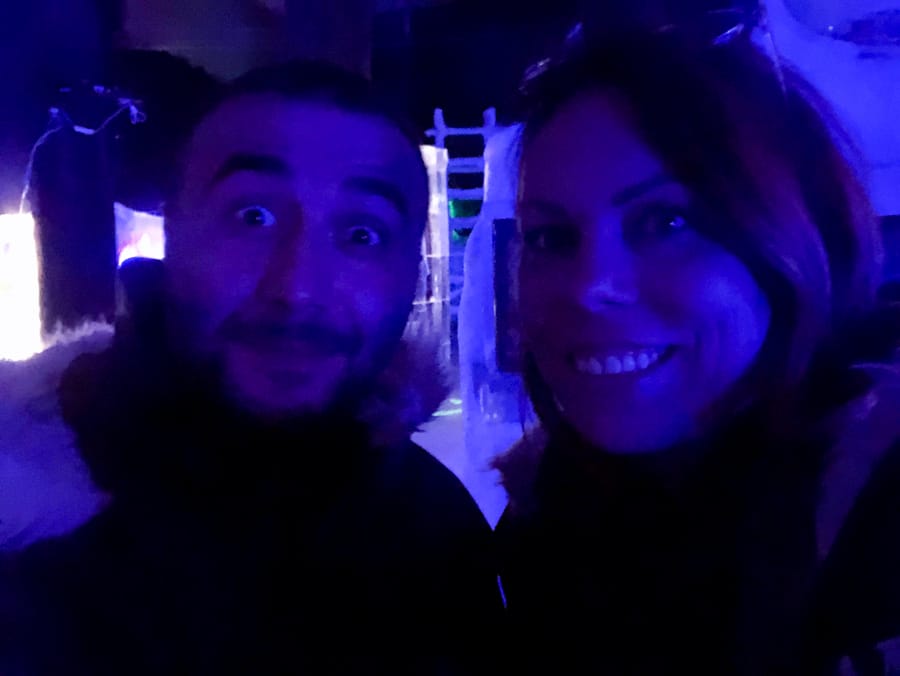 Once you're donning a parka and inside of the ice bar, you will have the chance to enjoy a cold cocktail and take stunning photos of the venue.
The staff is especially friendly and will make you feel very welcome.
You can visit the Magic Ice Bar any time of the year but we are huge fans of visiting in winter because it feels like an Arctic party that can carry on once you leave and are back outside.
The Magic Ice Bar's opening hours are from 1200-2300 during the summer months (June 1-August 31) and daily during the winters from 1800-2200 (the rest of the year).
To enter, you must pay an admission price of 225 NOK but you get appropriate clothing and a free drink with that price.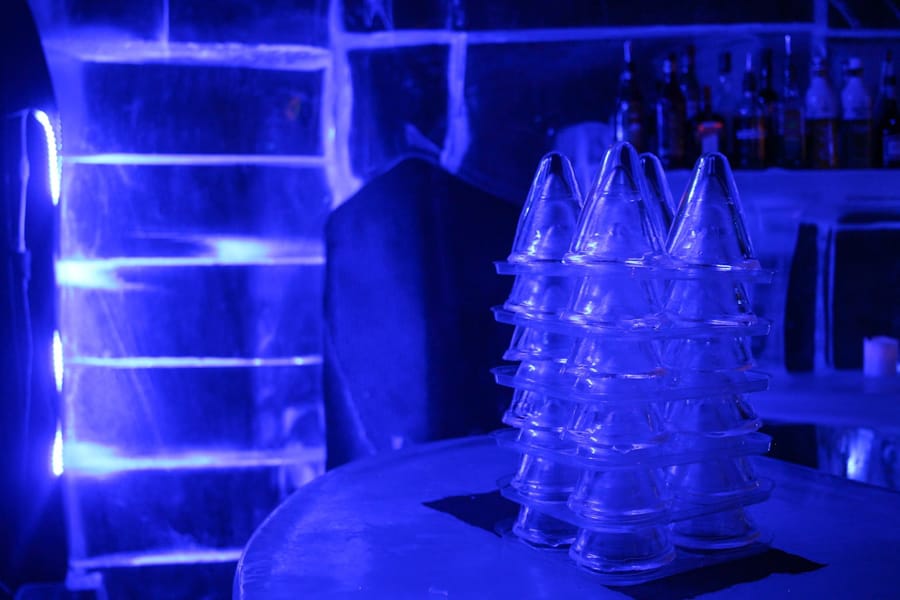 8. Go on a Craft Brewery Tour at Lofotpils in Svolvær
If you're still in Svolvær, definitely don't miss the chance to book a brewery tour with Lofotpils, the first and only craft brewery in the Lofoten Islands.
The company and brewery may be small but they are really starting to get international recognition and their beers tell the story of why. They are simply delicious.
In addition to amazing beer, you will notice that Lofotpils has the cutest mascot ensuring all beer is palatable and produced to top quality. It's a hard job, but some(pup)'s got to do it.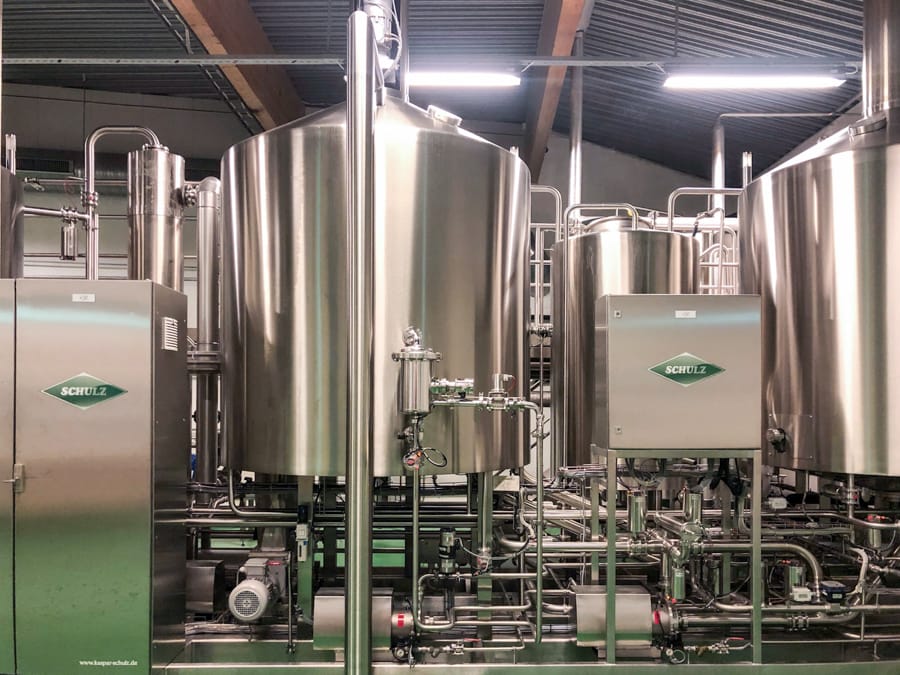 You can find the Lofotpils Brewery at Fiskergata 38 in Svolvær.
Fortunately, if you can't make it to the brewery with a scheduled tour, you can find their beer all over the Lofoten Islands. Their beers change with the season and are a great Lofoten winter drink. Trust us!
9. Indulge in a Norwegian Christmas Dinner at Børsen Spiseri
Fortunately, if you're in the Lofoten Islands in December or any time close to then, you will have the chance to enjoy a proper Norwegian Christmas dinner. Pinnekjøtt, tynnribbe, lutefisk… oh my!
You can grab a Norwegian Christmas dinner at many restaurants throughout the islands but I really loved my experience eating it at Børsen Spiseri at Svinøya Rorbuer in Svolvær.
The food was absolutely delicious and the scenery in the surrounding area just felt so Christmasy.
The rorbuer at Svinøya are red and white and when there was snow, it felt like I was walking through a winter wonderland.
You can find Børsen Spiseri at Svinøya Rorbuer in Svolvær. You can also stay there overnight as I did. It was one of my favorite experiences anywhere in Lofoten! I highly recommend it.
10. Stay Overnight in a Northern Lights Lodge
On Gimsøy, you can rent a northern lights lodge right on the water. The lodges are newer and windows cover each and every lodge on the side of the buildings to the north, allowing you maximum opportunity to see the wondrous auroras if they decide to make an appearance in Lofoten.
These Lofoten Links northern lights lodges are part of Hov Gård, the Icelandic horse farm that is situated next to them and also with Lofoten Links, the top-notch golf course also owned by the same team.
You can stay in the lodges year round but definitely opt for them during winter if you're looking for a unique experience that can help you make memories for life.
>> Click here to see rates and availability of the Lofoten Links northern lights lodges
11. Find a Cozy Cafe in Picturesque Henningsvær
One of the most photogenic places in the Lofoten Islands is the famous fishing village of Henningsvær.
Stunning in winter, it has such a cool and cozy cafe culture and you will find everything you need right at your fingertips if you venture to Henningsvær.
Having a coffee or tea at a cafe is one of the best things to do in Henningsvær.
Not only will it warm you up but you will also get a true sense of what a charming fishing village in the Lofoten Islands is like.
Two great recommendations for cozy cafes are Henningsvær Lysstøperi and Cafe and Klatrekaféen.
They have winter meals and drinks and the staff is super friendly at both.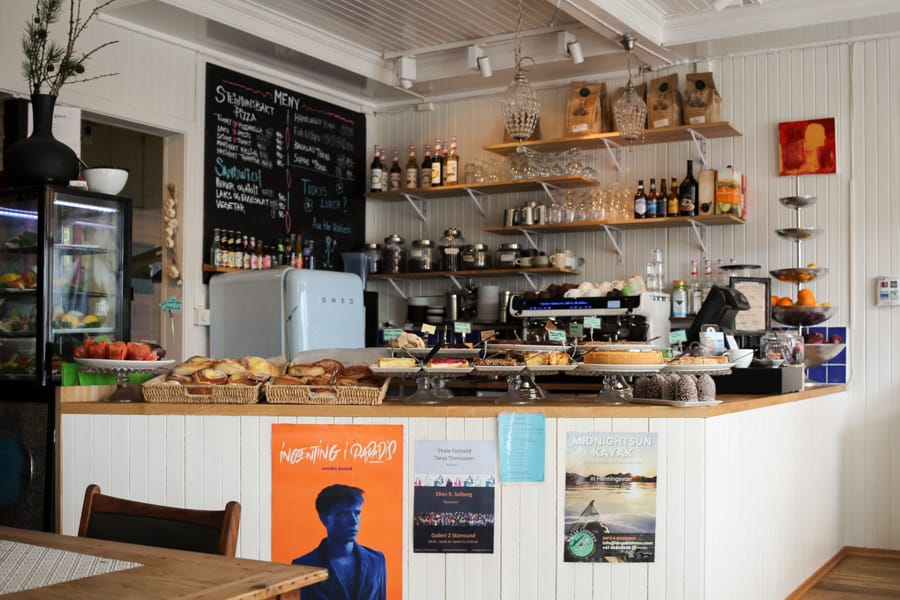 At Henningsvær Lysstøperi, they also make homemade candles in the building and it is a great opportunity to purchase a Norwegian souvenir for a friend or family member for the holidays.
You can find them at Gammelveien 2 in Henningsvær. You can find Klatrekaféen at Misværveien 10 in Henningsvær.
12. Eat Your Body Weight in Stockfish
Everywhere you go in the Lofoten Islands will have 'stockfish' as a signature dish on their menu. There is truly nothing more 'Lofoten' than stockfish.
Ready to be served at any time of the year, we highly recommend trying this local delicacy when visiting the Lofoten Islands.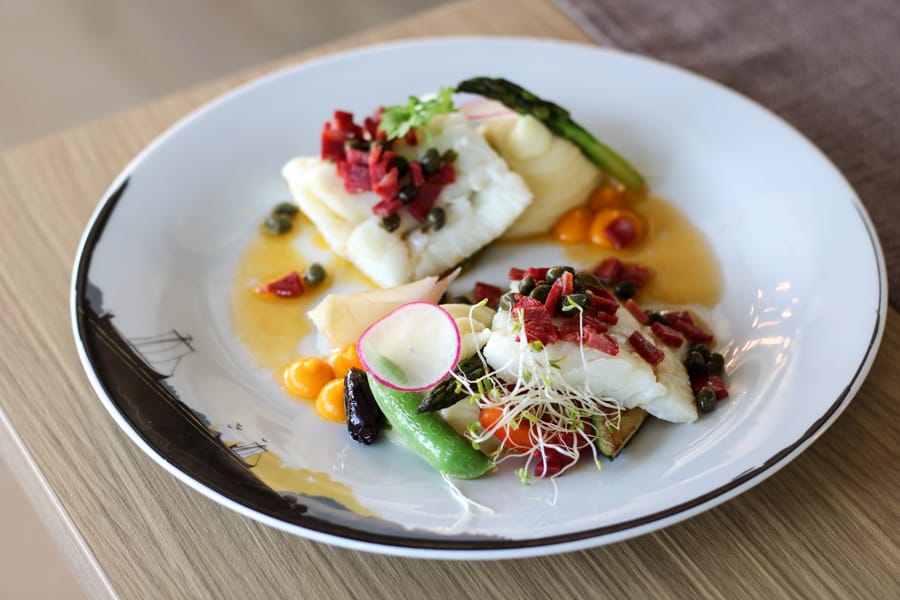 Our favorite place to enjoy stockfish is at Henningsvær Bryggehotell in the aforementioned fishing village of Henningsvær.
Their restaurant served the tastiest stockfish and they paired it with unique flavors from the south of Europe that made it stand out from the monotony of the rest we had throughout our trip.
If you're looking for a place to stay in Henningsvær, we can also recommend the hotel!
Great food and hotel = win/win in our book!
13. Go Deepsea Fishing in the Lofoten Islands
Fishing is a fun activity for a lot of people and one of the best places to go fishing is undoubtedly in Northern Norway. Svolvær is an adventure hub and the locals enjoy it too.
Go2Lofoten is a tour company that was formed in 2018 by six brothers who have been fishing since childhood.
They take out families, small groups, or larger groups… depending on your desires.
Their experienced fishermen skills will ensure you have a memorable experience of deepsea fishing in one of the most beautiful places in the world.
Don't forget a heavy jacket (although they do have suits available) and your camera!
>> Click here to inquire about deepsea fishing in the Lofoten Islands
14. Go Backcountry Skiing in Lofoten
This is definitely something that is for the more adventurous Lofoten traveler (and not for us even though we wish we were skilled enough to do it!)
Lofoten Ski Lodge is a professional ski and guided tour company that will show you many hidden spots around the Lofoten Islands for ski enthusiasts.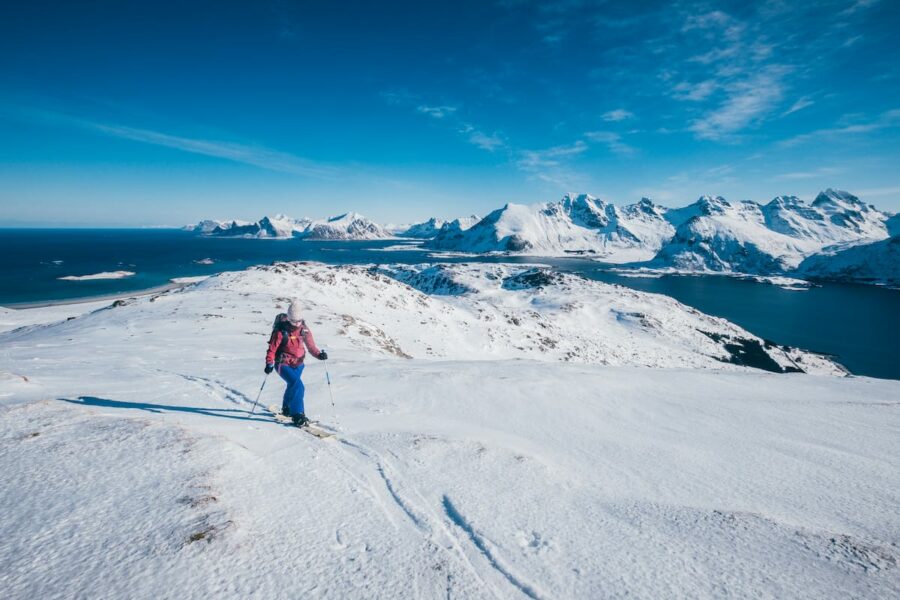 Winter in Lofoten is stunning and this is a great and different way to experience it for those with the capacity to do so. The nature is so wild and the views are sick in Lofoten and this is a great way to remember the landscapes.
You can check out Lofoten Ski Lodge's site to learn more about its packages and offerings.
The company is husband and wife owned and when you read the credentials of the guides that work with them and the owners, prepare to be mindblown.
15. Take a Lofoten Winter Photography Tour
Everyone wants to return from their trip to Lofoten with the best photos to show off to friends.
The magic of these islands and the mesmerizing landscapes will encourage it even if you don't think about this when you set off for your trip.
Finding the best spots can be challenging and just may simply be unknown to you. From Svolvær, you can take a photography tour of the Lofoten Islands.
When I was there in winter, I was challenged trying to photograph the dark skies and northern lights, so this is definitely a tour I would have taken had I known it was an option at the time.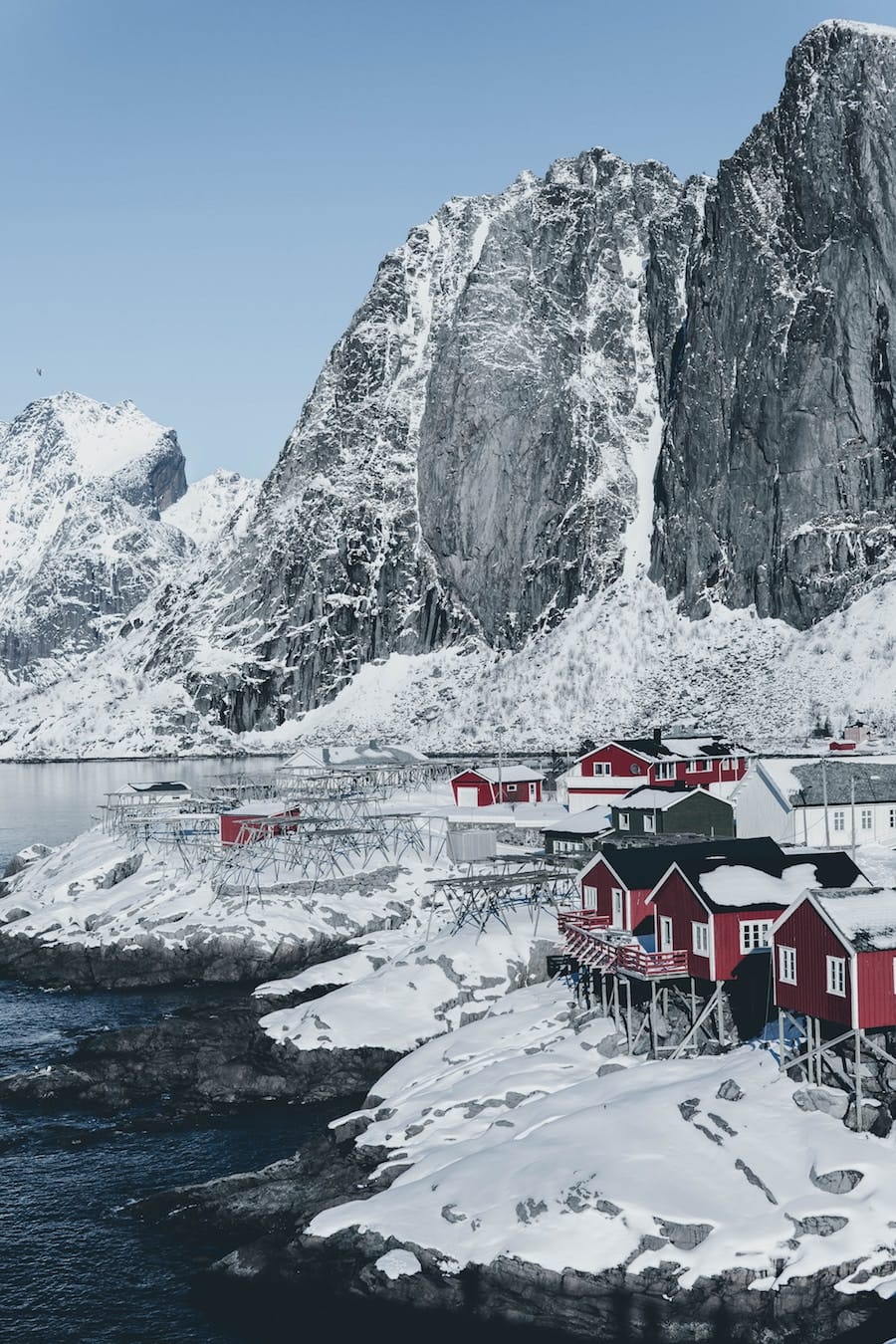 Photographing polar nights and northern lights is not the easiest of tasks. You have to have your camera settings very exact and a lot of patience.
Having an experienced photographer or someone who knows the scenery and settings is really crucial to ensure you are able to take the best photos possible. It also helps when that person knows the killer spots around the islands!
>> Click here to see the Lofoten photography tour's rates and availability
16. Experience a One-of-a-Kind Polar Night
If you visit Lofoten during December, then you are in for a special treat- the polar night.
In the Arctic region, December is the darkest month and the sun does not rise, marking a period of perpetual darkness. This lasts for approximately a month between the beginning of December to the beginning of January.
Although you won't get to see the sunrise, you will be able to see the beautiful Arctic glow. Each day has a blue hour that is a fantastic experience to see.
You also will have a much higher chance of seeing the Northern Lights during this time because of the darkness.
17. Check Out the Lofoten Beaches
The beach? In the middle of an Arctic winter?
Maybe not the first thing that you would consider doing during a trip to Lofoten in the winter, but it's definitely something you should check out! Of course, we don't mean to take a dip!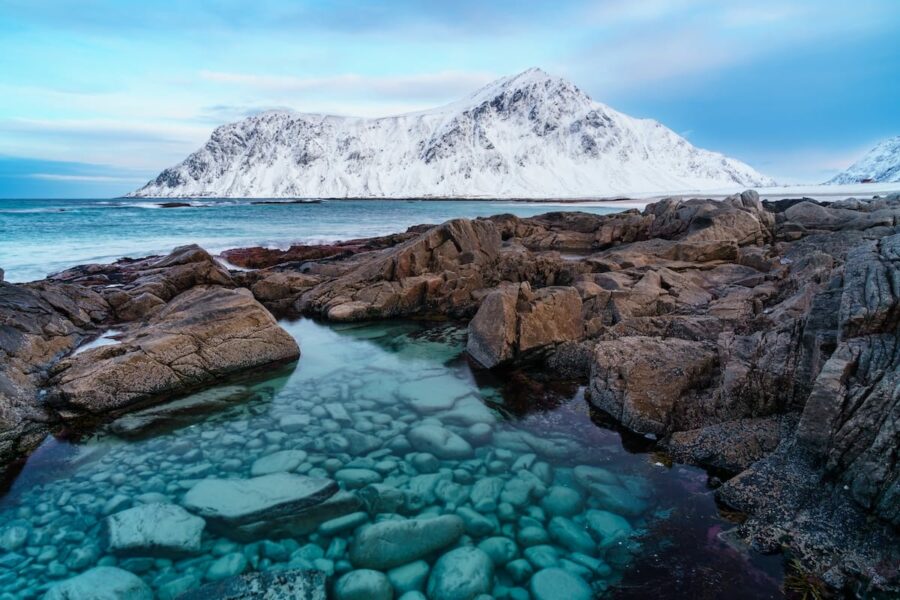 Even in the freezing cold, Lofoten's beaches are truly magical with clear blue waters and pristine sands.
Some of the most popular choices include Ramberg Beach, Haukland, Unstad, and Skagsanden.
They're especially perfect to see on a sunny winter day, where you can get a true glimpse at the Norwegian winter wonderland.
Where to Stay in the Lofoten Islands
We highly suggest renting a rorbuer, or fisherman's cabin, for your stay in the Lofoten Islands.
We have stayed at two different ones in various parts of the islands and it was such an incredible and cozy experience that we definitely can't imagine having stayed anywhere else during the winter.
Here are our top two rorbuers to stay at in Lofoten as well as one awesome hotel recommendation we also loved when there:
Svinøya Rorbuer: These are perhaps the most famous rorbuer in the Lofoten Islands and they turn into a winter wonderland at the end of the year.
They are also the home to the delicious Børsen Spiseri where we suggest indulging on Christmas dinner at.
Click here for rates and availability for Svinøya Rorbuer.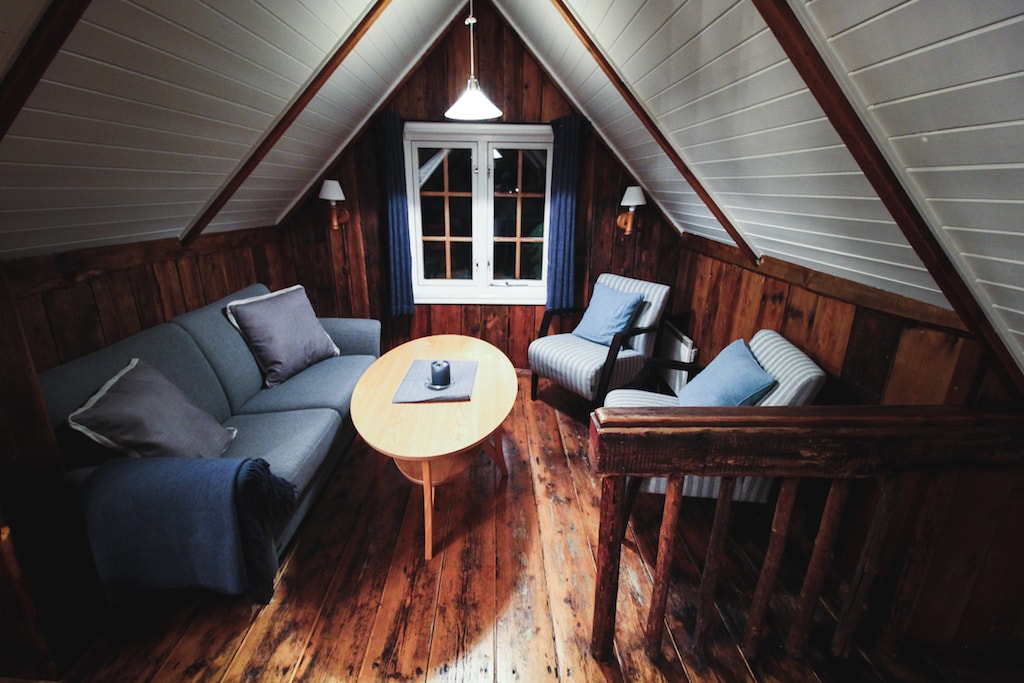 Nusfjord Arctic Resort: Another group of rorbuer but in a lesser-visited area called Nusfjord. You need a rental car to reach this intimate and cozy village.
They have an on-site restaurant called Karoline that has some of the most delicious cod.
They also have a bar and cafe. Click here for rates and availability for Nusfjord Arctic Resort.
Henningsvær Bryggehotell: In the most charming fishing village's harbor sits Henningsvær Bryggehotell, one of the best places to crash in the Lofoten Islands.
Whether you're there in winter or summer, this hotel offers fantastic views and a welcoming staff.
Their on-site restaurant is also one of our favorite places to eat in the Lofoten Islands!
Click here for rates and availability for Henningsvær Bryggehotell.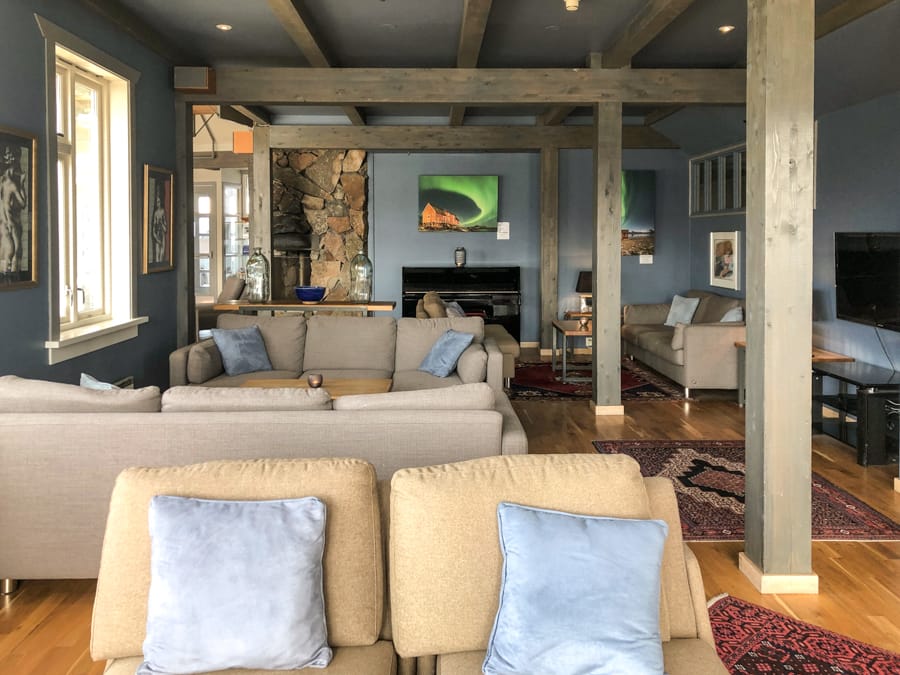 There are so many amazing winter activities in the Lofoten Islands and we hope you have the time to enjoy some of them on your trip.
This Lofoten winter guide was made with all types of visitors in mind- from the adventurous traveler to the museum lover.
If you're carrying onto Tromso after Lofoten, be sure to check out our Tromso Northern Lights guide as well as our ethical whale watching in Tromso guide.
More Lofoten Travel Guides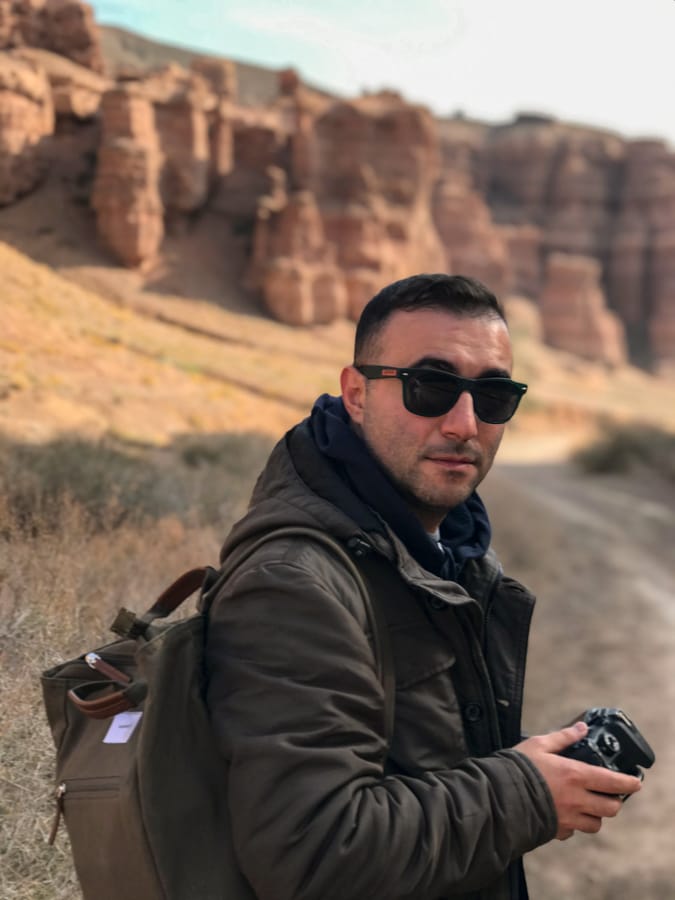 Aram is a travel blogger and writer from Armenia who spends his time between Spain and his home country. He is passionate about music and football (the European kind) and covers a lot of Western European destinations on the blog. Aram is a laidback traveler who enjoys meeting new people and finding the best food in each city that he visits (hence his frequent trips to France, Italy, and Greece!). He has been featured in (or written for) Forbes, BBC, The Guardian, Fodor's Travel, and more.