°
Are you searching for the best places to visit in Europe in February? This guide is here to help!
Along with some of our favorite bloggers, we have rounded up a diverse list of European destinations to visit in February. Some are to beat the winter blues… and others are to celebrate the plentiful snow during that time of year!
We also took into consideration amazing places to celebrate Valentine's Day in Europe as well as some of the best ski resorts on the continent.
Did we miss any fabulous places to plan a trip to during February in Europe? Let us know in the comments. Thanks!
Best Places to Visit in Europe in February
1. Bled
Location: Slovenia
Average temperatures in Bled in February: highs of 8°C (47°F), lows of -1°C (30°F), 8 days of rain
Recommended by: Bradley from Dream Big Travel Far
Nestled at the base of the Julian Alps and beside the glacial Lake Bled, Bled is a stunning resort town that's especially beautiful to visit in February.
As the last full month of the winter season, it's the perfect time to enjoy a snowy trip and visit many festivals with fewer crowds.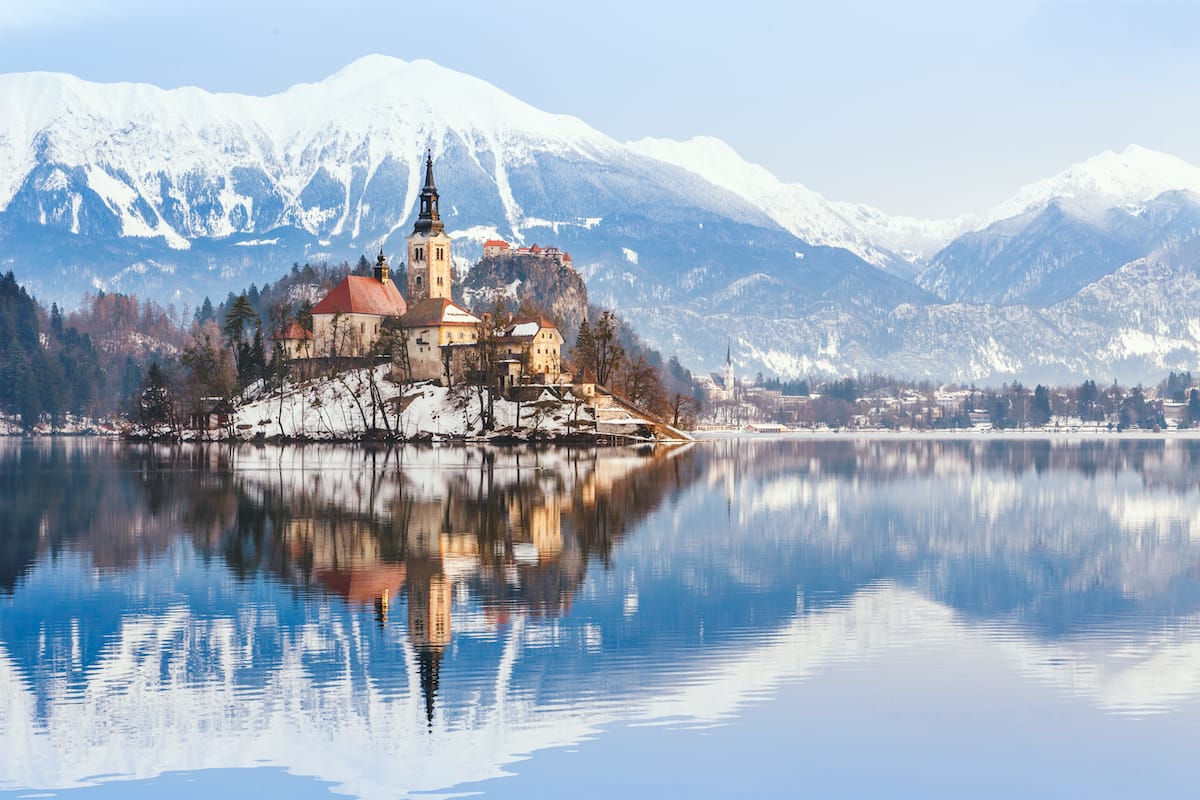 The people of Bled celebrate many events in February, the most famous being the Slovenian Mardi Gras, also known as Kurentovanje. Dancing, parades, delicious treats, and other jovial festivities will liven up the streets.
The city is also a pretty romantic place during the month. Make sure to ride in a traditional Pletna to visit Bled Island, which offers picturesque views of the surrounding areas and interesting histories to explore.
Then, after a day of winter activities like skiing and snowmobiling, time to unwind in a relaxing jacuzzi or sauna.
Bled has many ski resorts and day spas where you can get one-time access. A popular favorite? Spa & Wellness Essense.
Finally, don't miss the opportunity to take a selfie with the famous Bled Heart—a quintessential photo spot. It's there year-round but is decorated in seasonal ornaments during the holiday winter season!
2. Cyprus
Average temperatures in Cyprus in February: highs of 17°C (62°F), lows of 8°C (46°F), 8 days of rain
Recommended by: Paulina from UK Everyday
Visiting Aphrodite's Rock, the birthplace of the Greek goddess of love, watching sunsets near the Edro III Shipwreck, and sharing a kiss on the Love Bridge are just a few romantic things to do in Cyprus if you're looking for Valentine's Day getaway.
Off-season visits to the island's ancient sites are a great chance to discover more about the connection between Aphrodite and Cyprus without being faced with large groups of tourists.
Moreover, a fantastic celebration that only takes place once a year in Cyprus is Limassol Carnival, which dates back to ancient Greek times.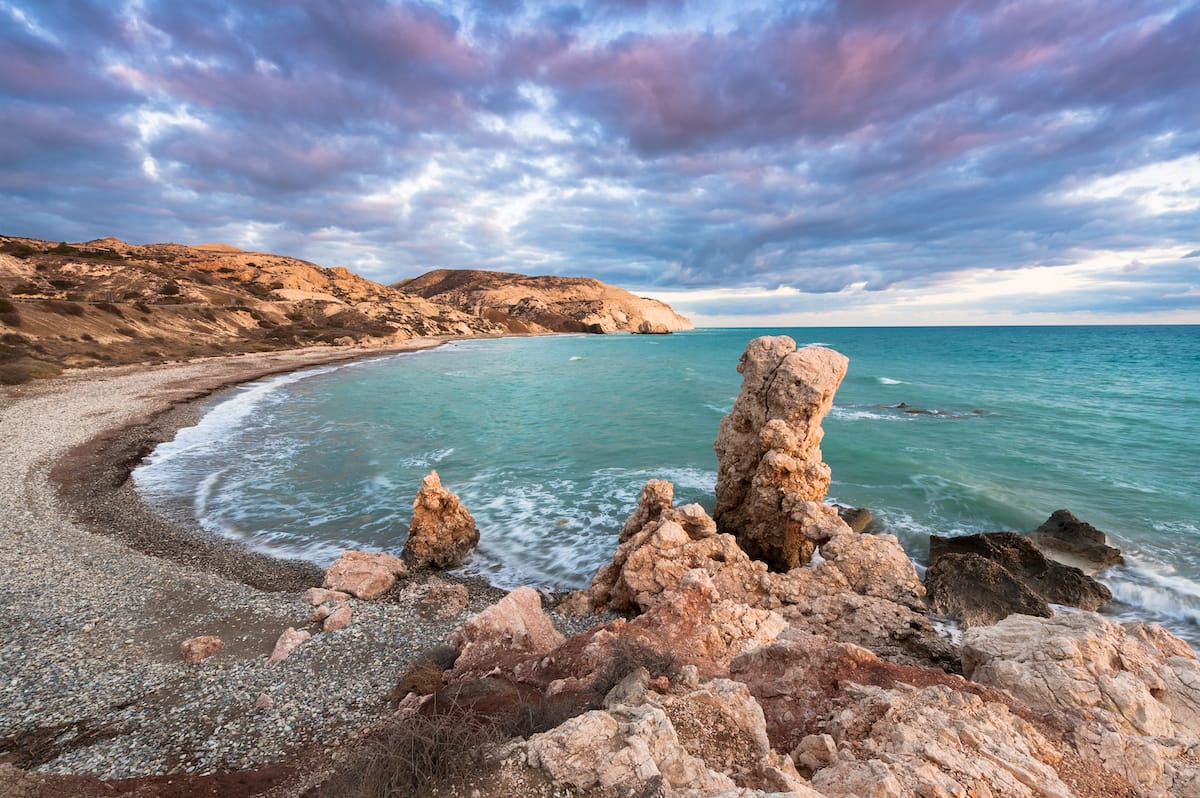 At the end of February, thousands of people parade through the streets of Limassol – one of the largest cities on the island. Dressed in bright and colorful clothes are singing satirical songs of the Carnival King.
This 10-day event offers many quirky attractions and even Angela Merkel has been selected as the Queen of the festival in the past, so who knows who will be the next Carnival King/Queen?
3. Nice
Location: France
Average temperatures in Nice in February: highs of 13°C (56°F), lows of 6°C (42°F), 4 days of rain
Recommended by: Lisa Garrett from Waves and Cobblestones
Nice, France is one of the best places in Europe to visit in February. It's long been a favored winter destination and is a UNESCO World Heritage site for its history as the winter resort town of the Riviera.
There are plenty of great things to do in Nice year-round. Enjoy the miles of beautiful beaches curving around the shimmering azure waters of the Mediterranean Sea. Stroll along the Promenade des Anglais, Nice's iconic pedestrian boulevard.
Be sure to visit the Marché Aux Fleurs Cours Saleya. This outdoor market is located in Vieux Nice and is an excellent place to find fresh flowers and local produce, and to sample local cuisine.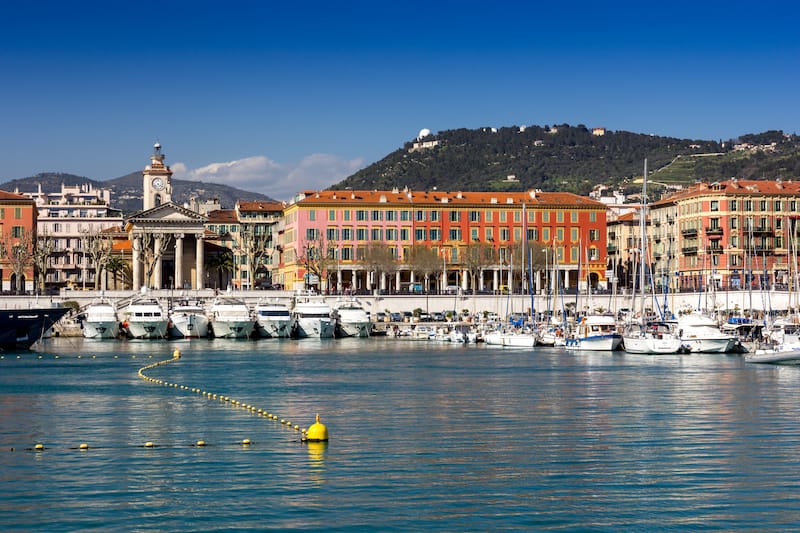 One of the top reasons to visit Nice in February is to join in the city's fantastic Carnival celebrations. Nice's Carnival is one of the largest around the world, and may actually have been the location of the first Carnival.
During Carnival, vendors set up market stalls selling everything from lavender and Provençal goods to foods, flowers, and fabrics.
The main events of Nice's Carnival celebrations are the parades (including the 'Battle of the Flowers' Parade), musical entertainment, and a big fireworks display.
4. Brussels
Location: Belgium
Average temperatures in Brussels in February: highs of 7°C (44°F), lows of 1°C (33°F), 9 days of rain
Recommended by: Annelies from Travelers and Dreamers
While the weather tends to be dark and rainy in Brussels in February, it is equally a month that bursts with fun activities to take away the winter blues.
To celebrate Valentine's Day, check in at hotel Le Berger for a few nights of fun! Le Berger is a beautiful Art Deco and former Rendez-vous hotel in the center of Brussels.
It still lives up to its erotic past with see-through satin curtains between the bedroom and the bathroom and room names like Lola, Camille, and Blanche.
You can book the "Love escape"-package which includes a bottle of Prosecco and a "Love Box" with massage oil and other goodies.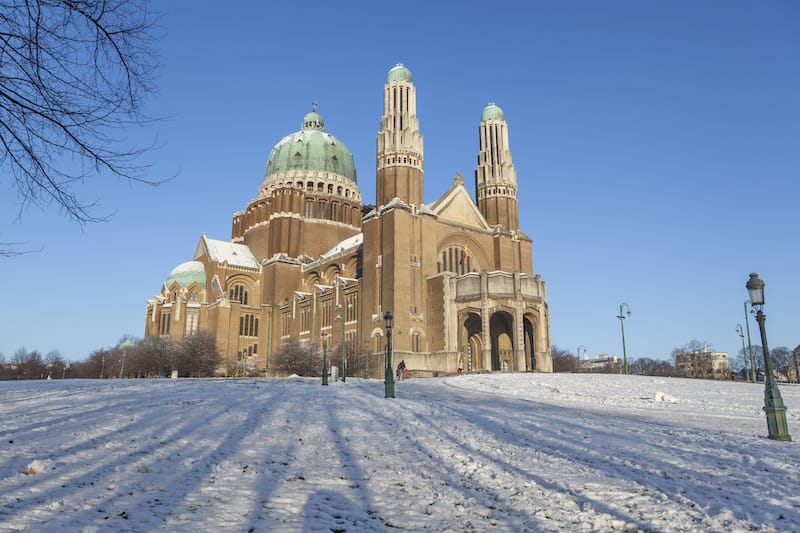 In February, you can also enjoy Bright Brussels. Bright Brussels is an annual three-day light festival that takes place at different locations scattered around Brussels.
At Bright Brussels, you can marvel at impressive light installations while discovering Brussels on foot.
When you get too cold, warm up with a Belgian beer, visit Neuhaus for some chocolate, or try one of the many great vegan restaurants in Brussels if you're a plant-based foodie.
Last but not least, if you like to celebrate carnival, take a day trip from Brussels to the city of Binche to experience the UNESCO-protected carnival of the "Gilles de Binche".
Get ready to dance with these clown-like figures, and be prepared to get hit with a bundle of willow twigs and tangerines!
5. Tyrol
Location: Austria
Average temperatures in Tyrol in February: highs of 0°C (33°F), lows of -9°C (16°F), 5 days of rain
Recommended by: Paul from Paulmarina
Tyrol is a popular ski resort region located in the Western Austrian alps. Most visitors appreciate the white perfect landscape, the top ski resorts, and the winter sport experience that Tyrol has to offer.
Some of the best ski resorts include Arlberg, Ischgl, the Kitzbühel area, the Zillertal Arena, and the Skiwelt Wilder Kaiser. The people living high up in the mountain villages define this region with its rich customs and age-old traditions.
There is no better time in the year than in February to visit when the locals celebrate their heritage. Carnival, called Fasching in German, is the rebirth of nature and the customs reflect this in the unique Tyrolean carnival parade known as Fastnacht.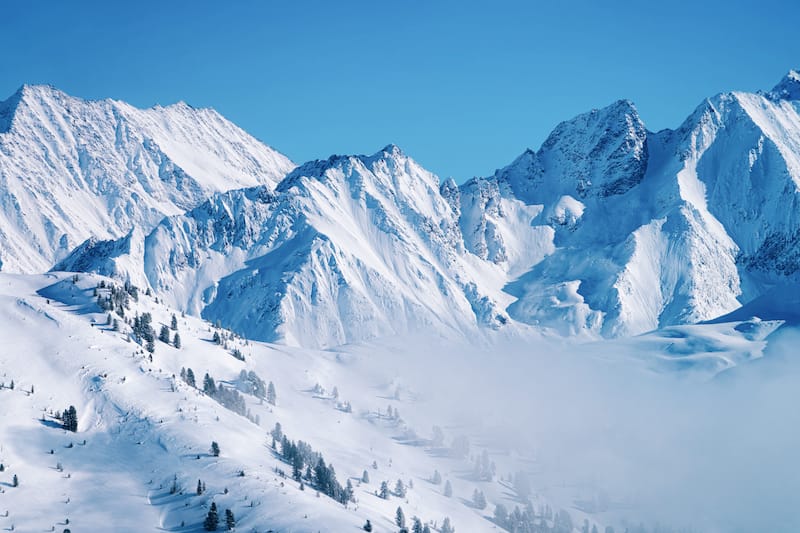 Mystical creatures and characters dressed in a colorful, eclectic way, with expression-rich masks as they dance and move about the roads in song and odd otherworldly noises.
The most famous UNESCO world heritage protected spectacle, the Schemmenlauf in Imst, is held only every 4 years and the next one will be in 2024.
Other similar parades are held in towns around Innsbruck, the regional capital, every year. Discover more things to do in Tyrol to plan a future trip to this otherworldly alpine region!
6. Malaga
Location: Spain
Average temperatures in Malaga in February: highs of 18°C (64°F), lows of 8°C (47°F), 4 days of rain
Recommended by: Cristina from My Little World of Travelling
Malaga is one of the best Southern Spain destinations to visit in February.
The main event that takes place in February is the carnival. Many locals go out with friends dressed up in funny costumes on Larios Street, so there is a very lively atmosphere.
In addition to this, there are costume competitions throughout Malaga, too.
Valentine's Day in Malaga isn't as big as it may be in other countries. However, you will find romantic activities to do with your loved one – from having dinner with a view at Parador de Malaga to relaxing in the Arabic Baths.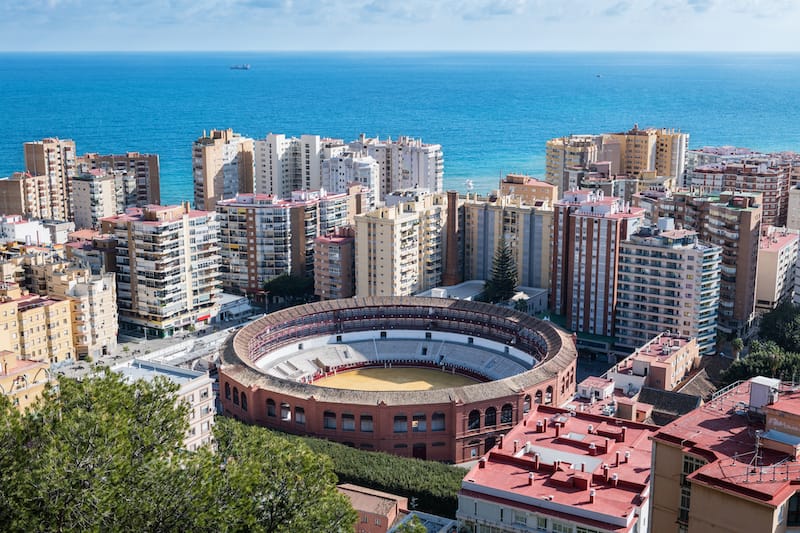 This is also a fantastic time to visit Malaga if you love theater as it is the Theatre Festival in which you can enjoy different performances and brand-new shows.
Apart from the amazing events that are organized during this month, February is a good time to travel to Malaga if you are on a budget.
Flights to Malaga are relatively cheap from many European destinations and it is a good place to escape the winter blues!
7. Lipno nad Vltavou
Location: Czechia
Average temperatures in Lipno nad Vltavou in February: highs of 2°C (36°F), lows of -4°C (24°F), 6 days of rain
Recommended by: Cosette from KarsTravels
Lipno nad Vltavou is a perfect destination to visit in February! There's a frozen lake and snow is everywhere in town.
The town of Lipno nad Vltavou is in Southwestern Czechia, close to the border with Austria and it's situated between Lipno Lake and the mountains.
There are several fun things to do in Lipno nad Vltavou in the winter. One of those is ice skating on Lipno Lake. The lake freezes over during the winter but part of it is kept snow free.
As a result, you'll be able to skate around part of it throughout the winter months.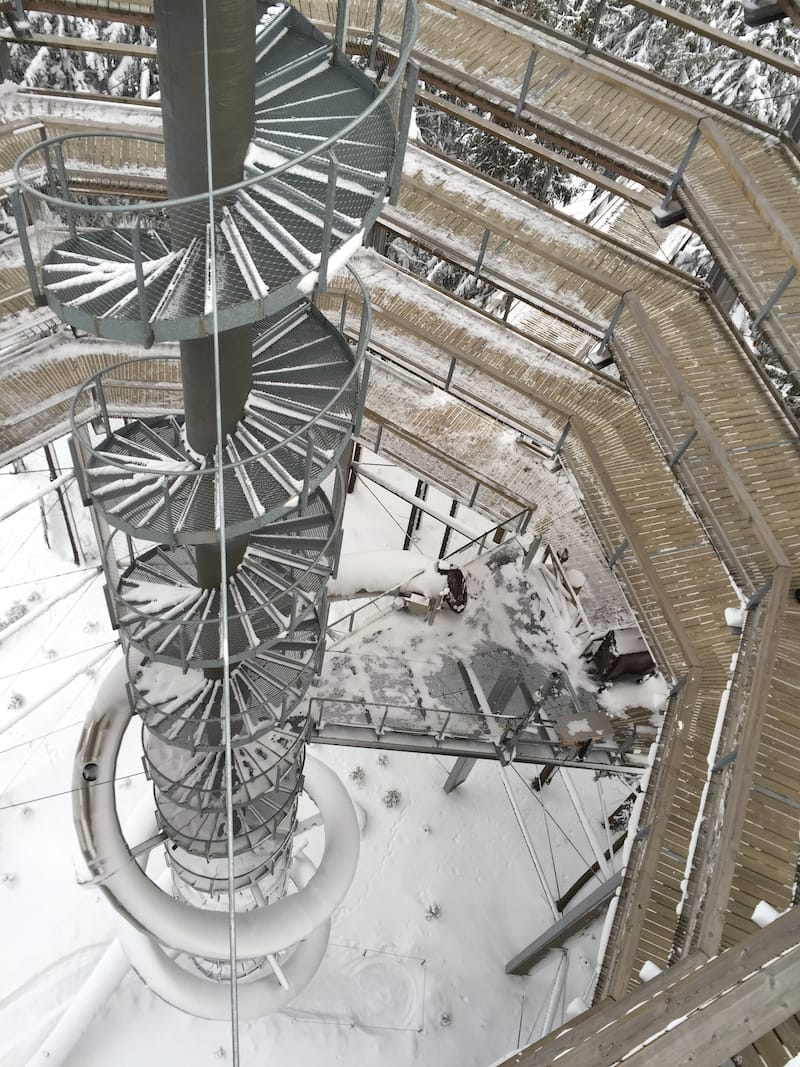 On the mountain, there are several winter activities waiting for you. One famous one is the Snowpark Lipno Lyžařsky areál, with 13.5 kilometers of ski slope and 4 ski lifts.
Slideland Bobova Draha Lipno is a bobsled track that you'll find up there. The rails go up and down the mountain and one track is open in February.
Last, but not least, there's a treetop walkway on the mountain, which is one of the favorite activities for children visiting. It's 40 meters in height and towers above the treetops.
To get down from the walkway, you will either need to slide down or walk the same way back. It is truly something exciting for families during the winter months.
8. Palermo
Location: Italy (Sicily)
Average temperatures in Palermo in February: highs of 15°C (59°F), lows of 9°C (49°F), 7 days of rain
Recommended by: Caroline from the Veggie Wayfarer
Palermo is the capital of the island of Sicily and the perfect place to escape the cold and dreary month of February in Europe.
There are plenty of things to do in Palermo at any time of the year, but the added value of traveling in February is that you will only be sharing with locals!
Spend one day in the historical center, head to Palermo Cathedral, and make sure to climb the cathedral spire for the best views over the city.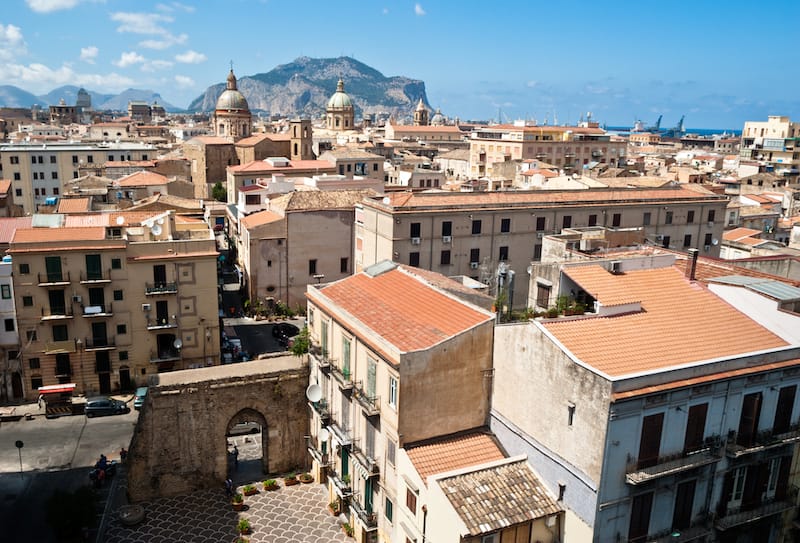 Next up, explore the Arab Norman, a UNESCO Classified Palatine Chapel. Step into the Chiesa del Gesu to witness the most impressive baroque church built on the island.
Try some of the delicious Palermitan street food at Ballaro market or simply sit down and grab a glass of Messina beer while you watch locals go about their daily business.
Looking to head out of the hustle and bustle, catch the bus to the sleepy beach town Mondello and meander along the beach… it is one of the top free things to do in Sicily.
9. Budapest
Location: Hungary
Average temperatures in Budapest in February: highs of 6°C (43°F), lows of 0°C (32°F), 5 days of rain
Recommended by: Emily from Two Get Lost
February is the perfect time to visit Budapest, with plenty of fantastic wintertime activities and it is also one of the most romantic places to visit in Europe.
Budapest can get bitterly cold over the winter, but luckily it's famous for its thermal baths. St Gellert Thermal Bath is one of the best.
This incredible building opened in 1918 and uses the same deep underground springs that the Knights of St John used in the 12th century.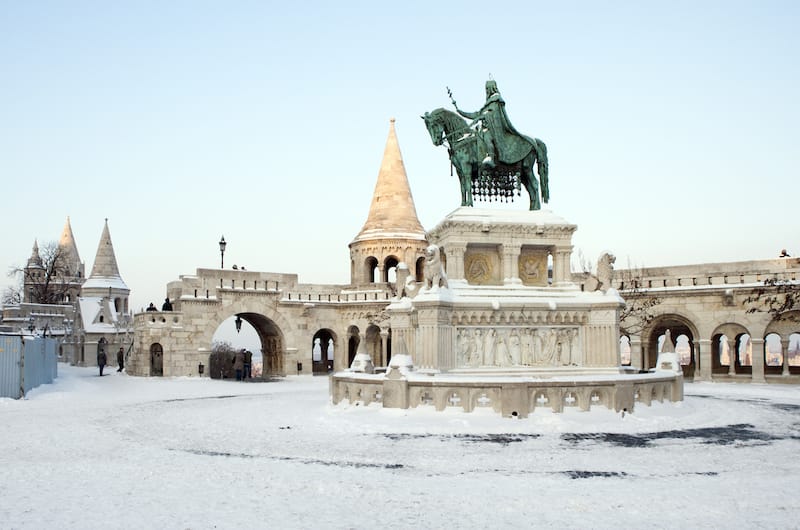 Now it is a little more luxurious, with several different pools including medical pools, a wave pool, and spa services too. It costs around 20 euros for standard entry depending on whether you visit during the week or over the weekend
If you're visiting over Valentine's Day, then you will find several romantic things to do in Budapest. One of the most popular is to take a walk across the famous Széchenyi Chain Bridge at sunset.
The bridge connects Buda and Pest and was the first permanent bridge across the River Danube. It is one of Budapest's most famous sights and is free to cross!
10. Venice
Location: Italy
Average temperatures in Venice in February: highs of 9°C (48°F), lows of 1°C (34°F), 4 days of rain
Recommended by: Dhara from It's Not About the Miles
Venice in February is a delight! You can enjoy the iconic Italian city's many famous landmarks without the elbow-jostling crowds you'll encounter in the summer and early fall.
Carnival is of course one of the major reasons to visit Venice in February, which starts in the middle of the month and continues through to the end.
The extravaganza of color makes the Carnivale di Venezia a wonderful experience. Enjoy the masks and the costumes, the floats, and the parades.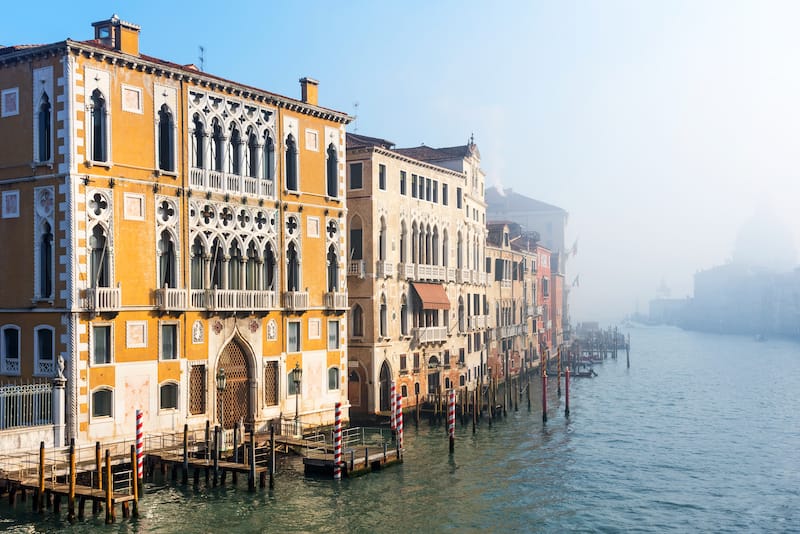 Venice is also a great place to be on Valentine's Day! Celebrate with a romantic gondola ride for two, and enjoy a special dinner afterward.
The city of canals is atmospheric in February, with foggy mornings that offer unique photo opportunities.
During the day, walk around Saint Mark's Square, take a tour of the Doge's Palace and St. Mark's Basilica, pop into a museum or two, and wander the blissfully-less-crowded streets of Venice.
Daytime highs in Venice in February tend to be around 50 degrees Fahrenheit (10 degrees Celsius), so you'll need layers. A waterproof jacket with a hood is a great idea, in the event you hit rain.
11. Prague
Location: Czechia
Average temperatures in Prague in February: highs of 5°C (41°F), lows of -1°C (30°F), 4 days of rain
Recommended by: Veronika from Travel Geekery
Prague is amazing to visit year-round but if you don't like crowds and don't mind a bit of a chill, go in February!
Prague's top sights will be nearly empty – even Prague Castle is likely to have a rather low number of tourists and it's probable you won't have to wait in line for too long.
Still, there are a lot of wintery things to do if you want to enjoy a proper Prague winter. In the city itself, you can go ice skating.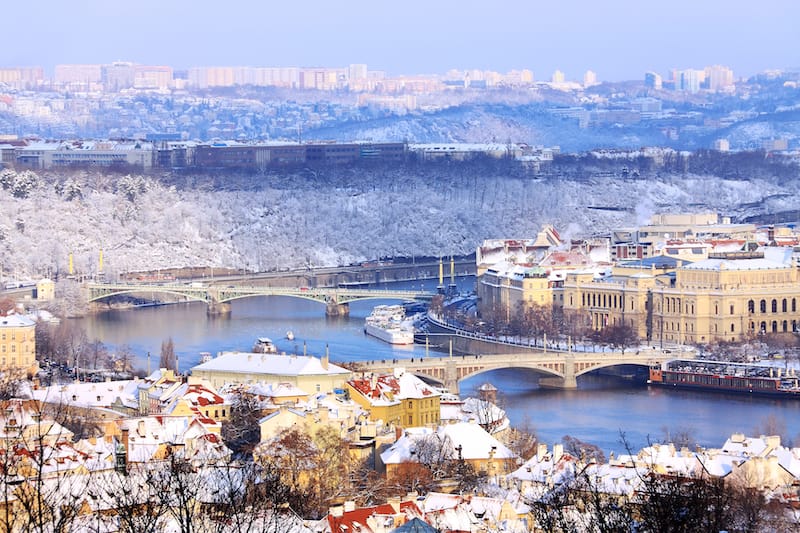 A good ice-skating rink can be found under the Žižkov TV Tower (the one with the babies crawling on it). If there's enough snowfall, Prague is going to be beautifully covered in snow and you'll see children sliding down hills in parks.
Riegrovy Sady is a good park to watch all the action – plus, you'll have the view of Prague Castle in the background! If you dare, grab a plastic bag, sit on it, and try sliding down a hill yourself.
When it comes to special events, the carnival, locally known as Masopust, takes place in Prague in February, just like in many other European countries.
12. Svalbard
Location: Norway
Average temperatures in Svalbard in February: highs of -9°C (15°F), lows of -17°C (2°F), 3 days of rain
Recommended by: Editor's Choice
If you are up for an adventure, consider Svalbard on your February itinerary. This archipelago, situated between Norway and the North Pole, is one of the northernmost inhabited parts of the world.
While you will still experience the polar night in Svalbard (where the sun doesn't come above the horizon), February is the "blue month," where it gets lighter in the day and isn't completely dark for 24 hours.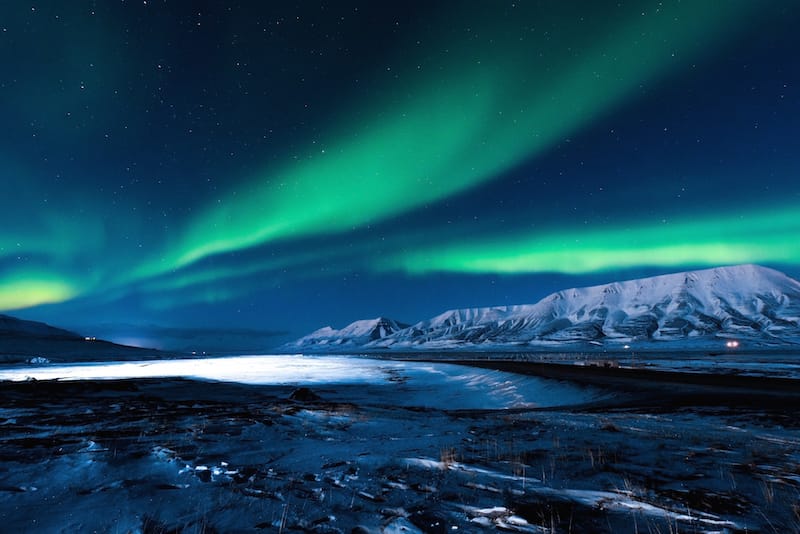 In February, if the skies are clear there is a good chance you will see the Northern Lights. You can choose from different types of tours- by coach, a photography-focused tour, a snowmobile tour, etc- to try to spot this beautiful phenomenon.
Snowmobiling, dog-sledding, and ice-caving are great outdoor activities in February that allow you to see Svalbard's wild beauty.
If you visit Svalbard, be sure to try the local cuisine staples like Arctic cod or ptarmigan, a land bird similar to a pheasant.
For something fun and different, check out the northernmost taco truck in the world, Tio Monchos, located in Longyearbyen.
Longyearbyen also hosts the northernmost jazz festival, PolarJazz, every February. This fantastic jazz festival brings together both local and guest artists and holds different events and concerts for various ages.
13. Paris
Location: France
Average temperatures in Paris in February: highs of 9°C (48°F), lows of -3°C (37°F), 8 days of rain
Recommended by: Soujanya from The Spicy Journey
Paris in February is a great idea because it's the off-season and that means you get to see the city of lights like a local!
In February, you can visit all of the popular sights, attend a concert at the Opera House, visit one of the Chinese New Year events that take place around the city, and see the Mardi Gras parade.
Visiting Paris in February gives you the advantage of getting into popular sites and museums without the long queues, as well! So, there is no better time to get into the Louvre.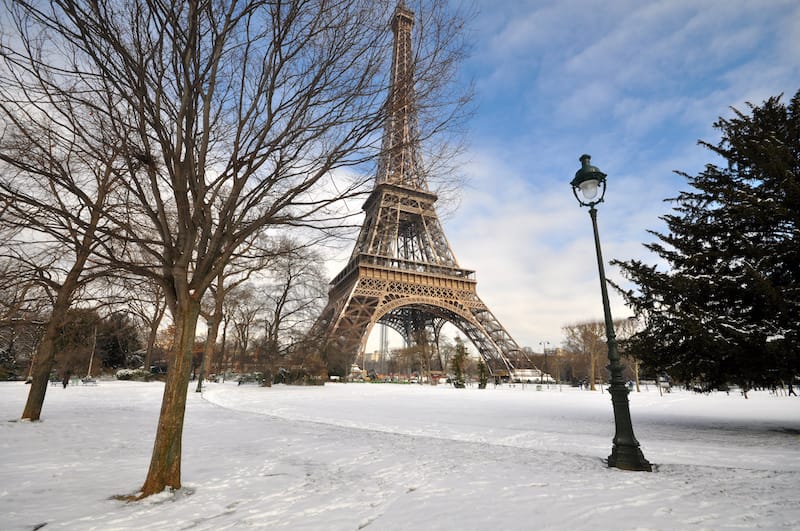 Additionally, there's nothing more romantic than spending Valentine's Day in Paris!
An ideal way to spend this day would be to visit a romantic cafe such as Cafe de Flore, stroll along the Seine, or take a vintage car tour around the city.
On this day, make sure you get a picture taken at one of the many Eiffel Tower viewpoints, see the Iron Lady from the rooftop of Galeries Lafayette, and end the day at a rooftop restaurant.
Another fantastic thing to do during February in Paris is to take a day trip to Versailles since the lines to get into the palace are too long during the high season months.
Is Versailles not your type of trip? Take a Champagne day trip from Paris instead!
14. Cyclades
Location: Greece
Average temperatures in the Cyclades in February: highs of 14°C (57°F), lows of 10°C (49°F), 10 days of rain
Recommended by: Editor's Choice
The Cyclades is a group of Greek islands that include well-known ones like Naxos, Paros, Mykonos, Andros, and Santorini.
If you're looking for a calmer vibe, where you can explore the islands, archeology, beaches, and history without hoards of crowds or the wild nightlife, February is the perfect time to explore the Cyclades!
Be aware that in the winter months some things are closed so there are more limited options for accommodation, transportation, and dining, but this also gives you a chance to live more like a local.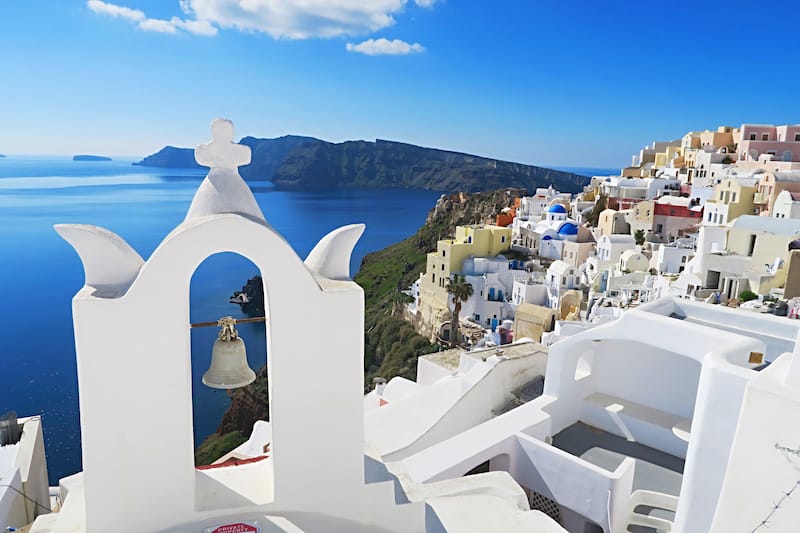 You will be able to enjoy the beauty of the islands by hiking, exploring, chatting with locals, and finding the best tavernas to try tasty winter specials- hearty stews, meatballs, and bean soups.
February is a special month because the Greeks celebrate carnival! In Andros, join in the festivities at a parade complete with floats, costumes, and fireworks. In Naxos, watch a dance performed by young people in costumes with bells.
Don't miss the dancing, music, parades, and festival food you will find all over the Cyclades Islands during this exciting period.
15. Stockholm
Location: Sweden
Average temperatures in Stockholm in February: highs of 1°C (34°F), lows of -3°C (27°F), 6 days of rain
Recommended by: Kristin Lee from Global Travel Escapades
Another destination that's a beautiful place to visit during the winter season is Stockholm, Sweden.
During this time of year, the city averages chilly (yet somewhat manageable) temperatures, so you can expect a fair amount of snow without it being too chilly to venture outside! And to entice you to explore the city, there are all kinds of things to do.
One popular attraction is the Vasa Museum, located on Djurgården island. Within the museum, you'll be able to witness the salvaged Vasa Ship and learn about its fascinating story.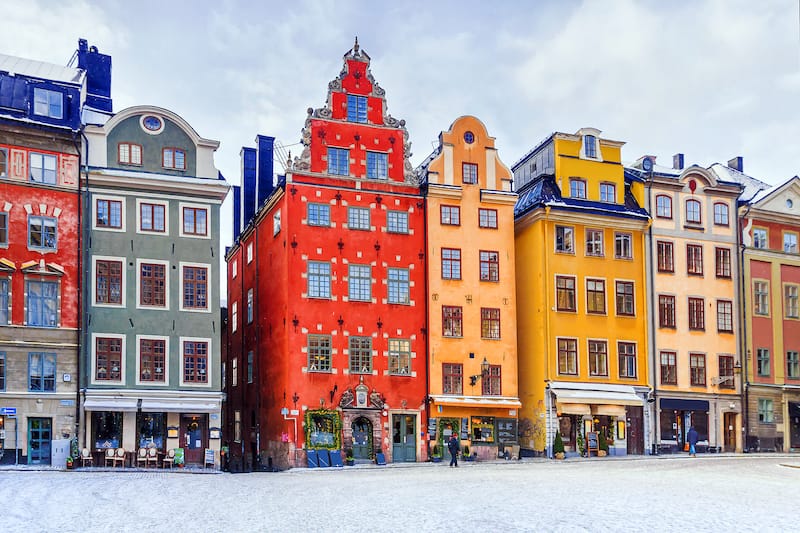 Meanwhile, if you want to spend your time outdoors, head to Kungsträdgården located in the middle of the city. Here, you'll find a beautifully decorated ice skating rink that allows you to skate under dazzling lights.
And if you want to experience the more historical side of Stockholm, head to Gamla Stan. You'll find the city's oldest buildings here, including the Royal Castle and Royal Cathedral.
Thus, be sure to consider Stockholm, Sweden for your February European vacation!
16. Nazaré
Location: Portugal
Average temperatures in Nazaré in February: highs of 16°C (60°F), lows of 6°C (43°F), 11 days of rain
Recommended by: Jenifer from The Evolista
Nazaré, Portugal is one of the best places to visit in Europe in February. It's big wave season at Praia do Norte, and the tsunami-sized waves are an amazing sight to behold.
Garrett McNamara put Nazaré on the map when he set the record for riding the biggest wave ever surfed in 2011. You can watch the harrowing tale in the 100 Foot Wave documentary.
The best way to experience the big waves in Nazaré, Portugal is to start in the historic part of town and walk down to the surf overlook at Sao Miguel Arcanjo Fort.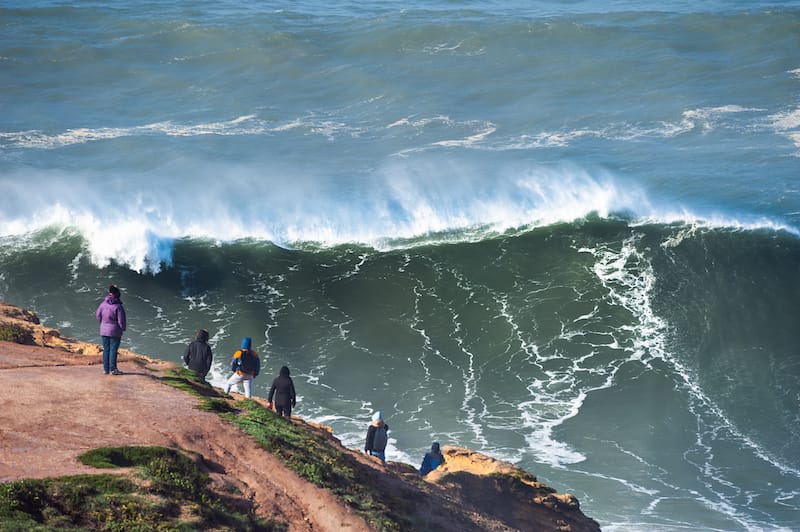 The massive waves are easily seen from multiple viewpoints. It's a once-in-a-lifetime sight. Check Surfline for the surf forecast before you go so you know which day is best to show up!
After seeing all the excitement, visit the 14th-century church, Santuário de Nossa Senhora da Nazaré, in the historic village.
Then take the Ascensor da Nazaré (funicular) down to Vila da Nazaré. The ride is only a few minutes and the views are terrific. There's a promenade with shops and restaurants.
Nazaré is one of the best Portugal beach towns and the large, sandy Praia Da Nazaré beach is absolutely beautiful.
17. Chamonix
Location: France
Average temperatures in Chamonix in February: highs of 5°C (40°F), lows of -1°C (31°F), 8 days of rain
Recommended by: Mike from LiveTravelTeach
Chamonix, France should top your list of European destinations this winter. The ski town is situated between stunning mountains that have snowfields during a summer Tour du Mont Blanc, so you better believe it's a hotbed for winter sports!
There are 5 separate ski resorts with gondolas literally dropping you off in the town center, at a bus stop, or near countless hotels, restaurants, and Airbnbs.
If you're looking for a more exciting backcountry, heli-ski or hut-to-hut adventure the local guides in Chamonix can help you plan a winter trip of a lifetime. If you're more like me than stick to the groomed trails, it would take you all winter to ski or ride each one.
Make your trip a Valentine's fantasy by spending the whole month to try and see every trail and plan a romantic evening in Chamonix or nearby one of the more secluded villages.
Enjoy locally sourced cheese, pasta, and a bottle of wine which can be found at just about every restaurant, but we highly recommend the hotel Saint-Antoine's restaurant.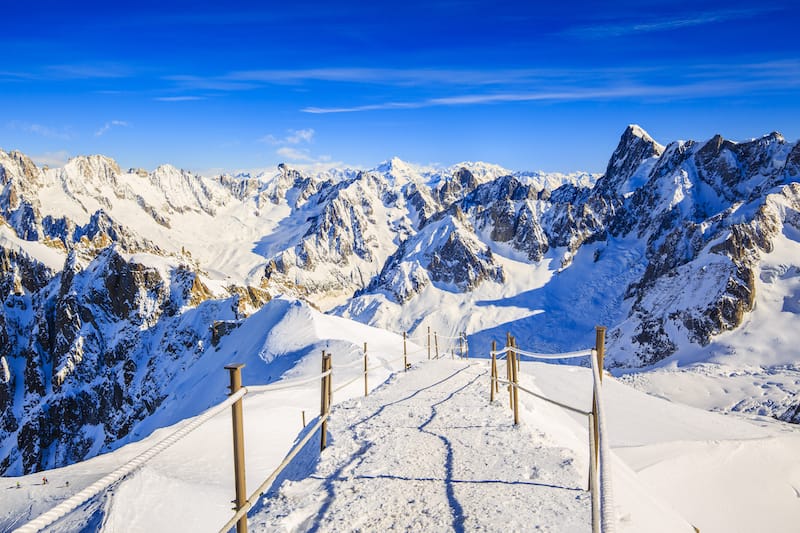 After dinner, you can walk the old town streets shopping for dessert or a souvenir but be sure to rest up for whatever winter adventure you plan the next day.
The landscapes around Mont Blanc will leave you in awe and non-skiers can enjoy a trip to Chamonix too. Ride the gondola to a lodge on top of any number of mountains and tell your skiing friends to meet you for lunch.
Or, better yet, ditch them on the slopes as you take the Aiguille du Midi cable car 2,807m vertically on the world's highest vertical ascent on a cable car.
You'll get as close as mechanically possible to Mont Blanc and have a panoramic view surrounding you.
Chamonix also hosts the Kandahar World Cup, a ski competition, every February bringing celebration and cheer to the streets of an already fantastic destination.
18. Cologne
Location: Germany
Average temperatures in Cologne in February: highs of 7°C (44°F), lows of 1°C (33°F), 9 days of rain
Recommended by: Editor's Choice
February is a fantastic time to go to Cologne because they host Germany's best carnival celebrations! Experience Cologne's "Crazy Days," a six-day period of festivals, parades, balls, cultural events, pubs open late into the night, and a jolly mood all around.
Make sure you don a costume and join the partygoers for an exciting time. If you're not there during carnival or are looking for a respite from the chaos, there are plenty of other cool things to experience in Cologne.
Their massive, gorgeous cathedral is a must-visit. You can climb to the top of one of the towers for a great view of the city.
Make sure to book a tour to visit the Farina Fragrance Museum, a perfume company established in 1709 by Johann Maria Farina, the inventor of "Eau de Cologne."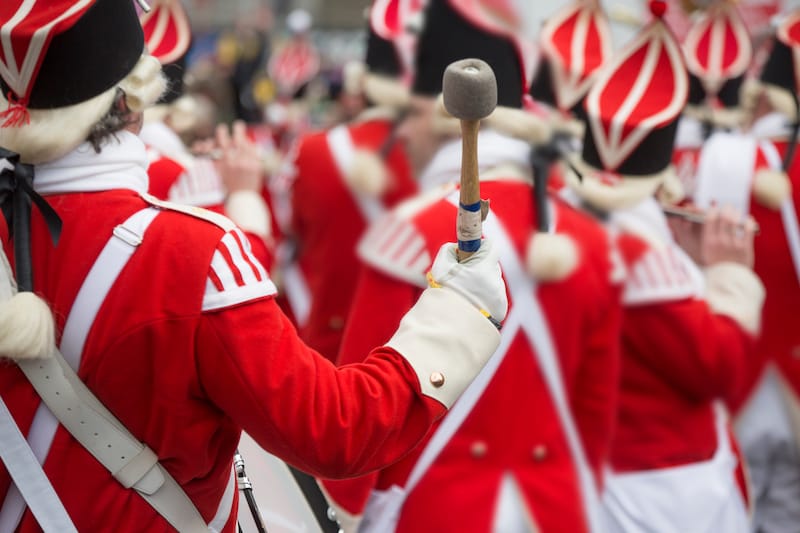 His signature fragrance, which is still sold today, has been worn by many famous people over the years, including Napoleon Bonaparte and Queen Victoria.
If you fancy getting out of the city for a little bit, take a trip to Schloss Drachenburg, a 19th-century villa modeled after a medieval castle.
You can explore the preserved interior and see beautiful views of the Rhine River from the balconies and turrets.
19. Lisbon
Location: Portugal
Average temperatures in Lisbon in February: highs of 16°C (61°F), lows of 9°C (48°F), 8 days of rain
Recommended by: Pedro from Travel with Pedro
February is a great time to visit Lisbon. While January is a cold and rainy month, in February, the temperatures are more pleasant and most days are sunny.
In recent years, Lisbon became a very popular destination and prices in Portugal have gone up considerably.
In February, however, you'll see fewer tourists around, so prices at hotels and restaurants are more budget-friendly. Visiting Lisbon in winter is a great choice, as a result!
Lisbon is a romantic city and perfect for a Valentine's Day break. "Dia dos Namorados", as it's called in Portuguese, sees many restaurants offering special menus.
For a high-end experience, try the Rib Beef & Wine restaurant, located at Pousada de Lisboa Hotel, in the heart of the city. It is a must for any weekend trip to the city!
But what really makes February a great month to go to Lisbon is the carnival celebrations. Every year the city organizes a celebration with parties in many places around the city.
The main carnival parade takes place in the Alfama district, with different groups competing against each other.
Although not as big as the carnival in Rio, the customs, the colors, and the amazing vibe makes the carnival in Lisbon totally worth it.
There are also major celebrations with more traditional parades around Praça do Comercio.
20. Levi
Location: Finland
Average temperatures in Levi in February: highs of -7°C (20°F), lows of -12°C (11°F), 6 days of rain
Recommended by: Editor's Choice
Levi, located in the northern Finnish region of Lapland, is a winter paradise. There are so many fantastic things to do in February when there is a good layer of snow on the ground. Levi is probably most well-known as a skiing hub.
Take advantage of the great downhill slopes for all levels, as well as miles of trails for cross-country skiing and snowshoeing.
February is when many families are on holiday and come to ski, so make sure you book your passes in advance if you want to ski in February.
Alternatively, bundle up and try other fun outdoor activities, such as hiking, skating, and ice fishing.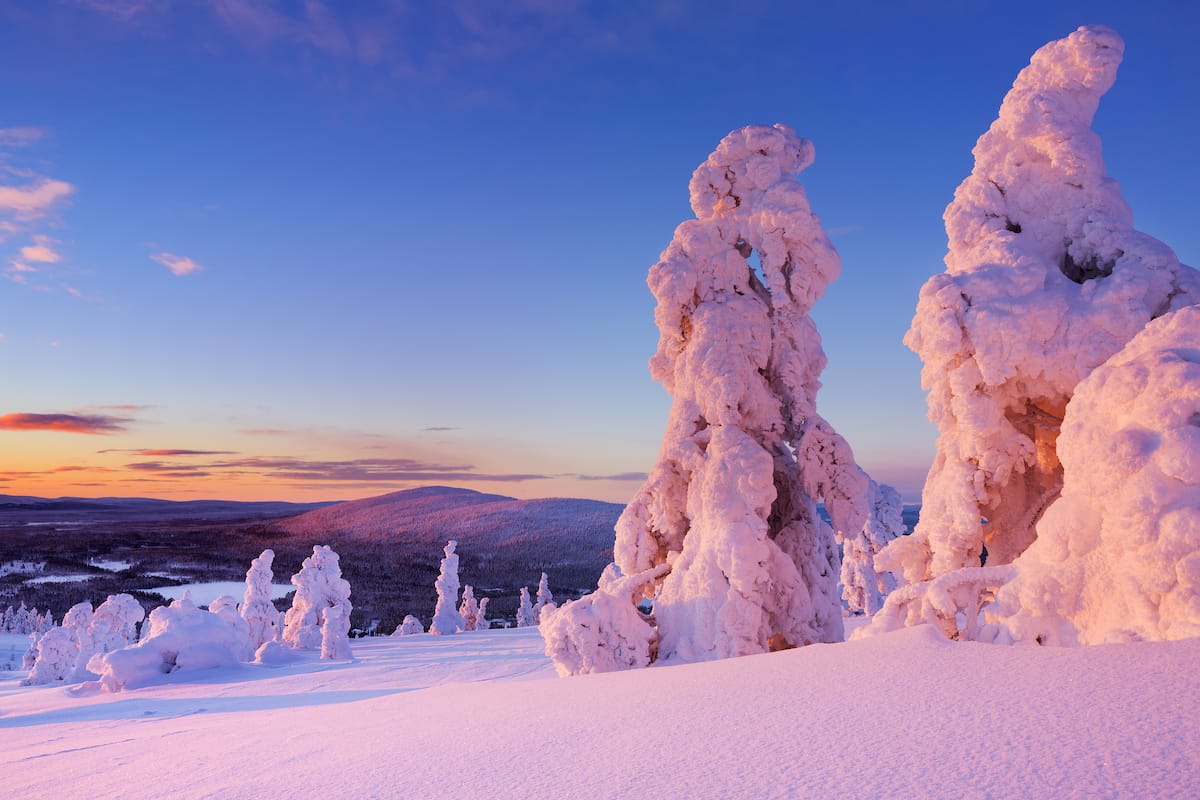 If you loved playing Mario Kart, don't miss out on ice-karting! You can race studded-tire karts around 500m of ice track. To warm up, there's always a sauna nearby, which is a staple in Finnish culture.
Levi skies are often graced with the Aurora Borealis in winter, making February the perfect time to go chase the Northern Lights.
For a cozy Northern Lights experience, book one of the popular glass hotel rooms or igloos, which give you unhindered views while laying in your comfy bed.
21. Cadiz
Location: Spain
Average temperatures in Cadiz in February: highs of 17°C (62°F), lows of 11°C (51°F), 5 days of rain
Recommended by: Linn from Amused by Andalucia
Cadiz is one of the best places to visit in February in Europe, especially for featuring Spain's oldest carnival.
In fact, Cadiz itself is the oldest continuously inhabited city in Europe and while all festivities in Spain were illegal during Franco's times, Cadiz still celebrated carnival.
The first time in history that the carnival has been canceled in Cadiz was during the pandemic in 2020 and rumor says that even when it was not allowed the following year, locals went together and celebrated.
The history of Cadiz's carnival dates back to the days when the city traded with Venice whose carnival inspired the Spanish to adopt the tradition – in their own way.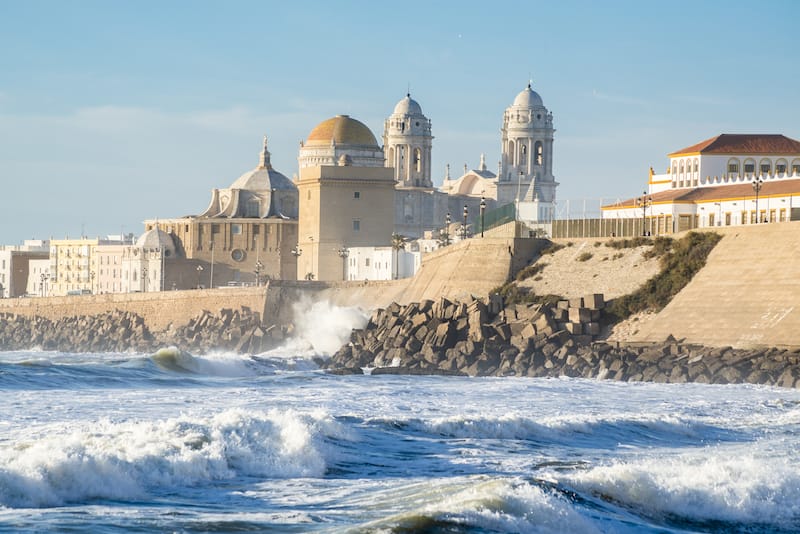 Any China shop will have fun costumes you can dress up in, but you should get there early as you are not the only one planning on doing so.
In the daytime, you can watch floats and musicians filling up the streets and at nighttime, the street corners fill up with comedy groups and concerts liven up the cobblestoned squares.
There are a lot of things to do in Cadiz besides the carnival too and even in February, you can go surfing and soak in Vitamin D on a sunny day when the wind takes a break.
Climb the Tavira Tower for sweeping views of the city, discover the city's castles, explore a number of Roman and Phoenician remains hidden in the many parks of the city, step into the cathedral, and enjoy local tapas.
22. Poiana Brasov
Location: Romania
Average temperatures in Poiana Brasov in February: highs of 5°C (40°F), lows of -3°C (27°F), 14 days of rain
Recommended by: Anda from Travel for a While
February is the perfect time of the year to visit Poiana Brasov, the largest ski resort in Romania.
With almost 25 km of ski routes, you're not going to get bored in Poiana Brasov! Some of the larger hotels have pools and spas to relax after a day spent outside.
Add to that the hearty Romanian food, and you'll have the perfect winter holiday experience.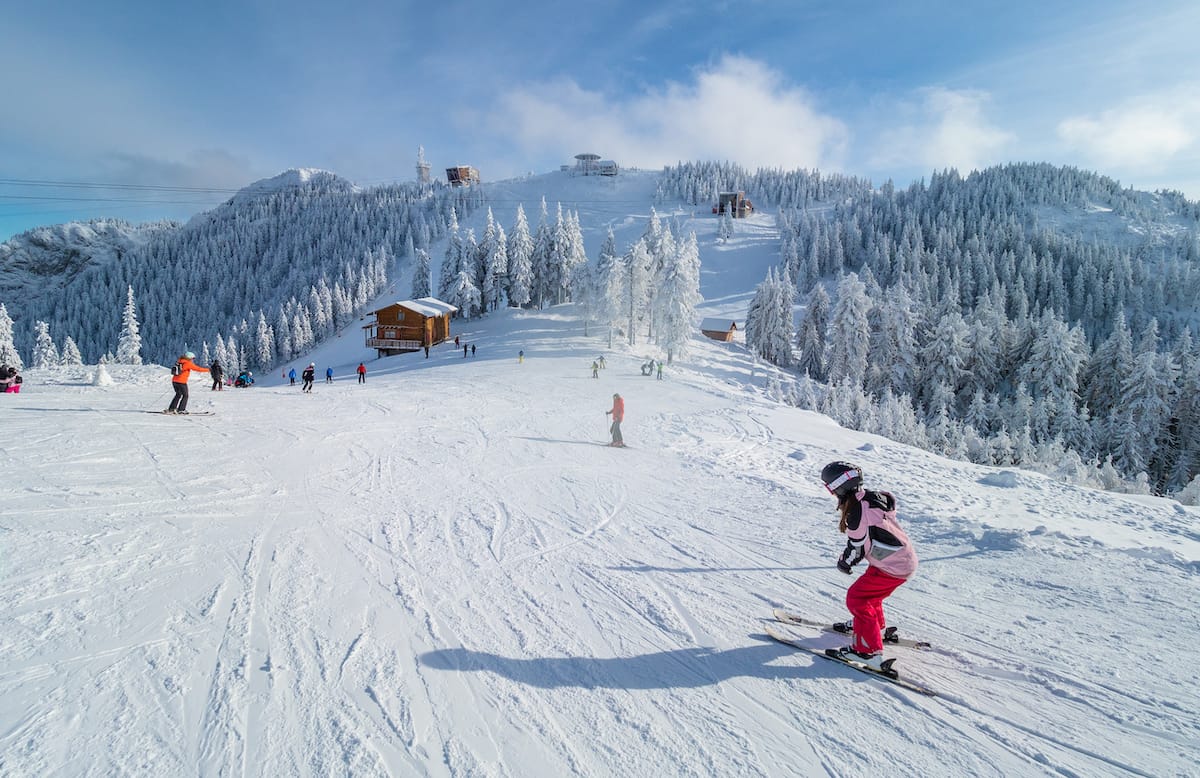 If you're looking for more entertainment, every February, there are two festival weekends at the Winterfest in Poiana Brasov.
Music and competitions are in order at the festival, and there's always some mulled wine available to help stay warm.
Poiana Brasov is also at the center of an area with many other attractions. You can visit Rasnov Citadel or the famous Bran Castle. Another place you must visit is Brasov, one of the most beautiful medieval cities in Romania.
There are plenty of things to do in Brasov, so another idea is to stay in Brasov and go to Poiana Brasov for skiing as a day trip!
23. Sardinia
Location: Italy
Average temperatures in Sardinia in February: highs of 15°C (59°F), lows of 6°C (42°F), 6 days of rain
Recommended by: Editor's Choice
Sardinia is an underrated destination that is perfect for a February vacation.
While you won't be sunbathing on the beach, without all the crowds and umbrellas you can take in the fresh air while strolling along the sand admiring the gorgeous views.
There are also many fantastic hikes ranging from beginner to advanced to enjoy the unique landscape of the island. Don't miss out on the fascinating museums and archeological sites chronicling Sardinia's ancient history.
Make sure to visit a few of the nuraghes, ancient monolithic edifices built by the Nuragic civilization thousands of years ago, and now UNESCO World Heritage sites.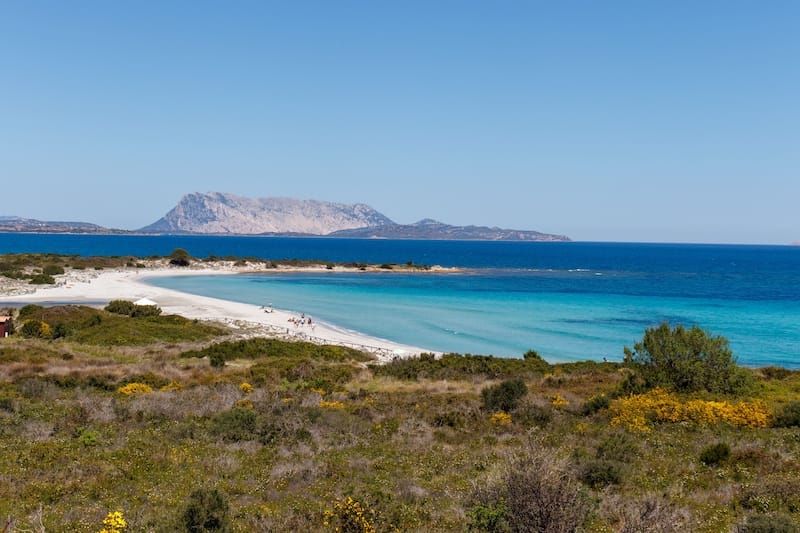 Finally, probably the best part about being in Sardinia in February is the opportunity to enjoy their carnival celebrations, which take place in many towns all over the island (I even got to see it when I was visiting Cagliari)!
Most famously, the Carnival of Mamoiada is a centuries-old celebration featuring parades, masked dances, costumes, food, local red wine, and days-long festivities.
Sa Sartiglia is an exciting event held in Oristano that features knights jousting in a competition to win the "silver star" prize. This specific carnival tradition has taken place since the 1500s!
24. Dubrovnik
Location: Croatia
Average temperatures in Dubrovnik in February: highs of 13°C (56°F), lows of 7°C (45°F), 8 days of rain
Recommended by: Becki from Meet Me In Departures
While the north of Europe still has weather in the single figures and shorthand, Dubrovnik averages 13°C, sometimes even pushing as high as the upper teens, plus it has a glorious 7 sunshine hours a day.
Even if the air temperature is cool, in sun, it makes up for it, and you'd be ok wearing a t-shirt during the day.
Dubrovnik is a destination that has suffered from over-tourism in recent years, even more so after Game of Thrones, and in the peak season, it can feel claustrophobic, especially in the main street – Stradun.
A city break to Dubrovnik in the low season means you'll get to see some of the old-world charm the city has without hordes of tourists.
The most iconic thing to see and do in Dubrovnik is the city wall walk. Also, head to Dubrovnik Old Harbor and pick up one of the ferries that make the 15-minute / 600m journey across to Lokrum Island.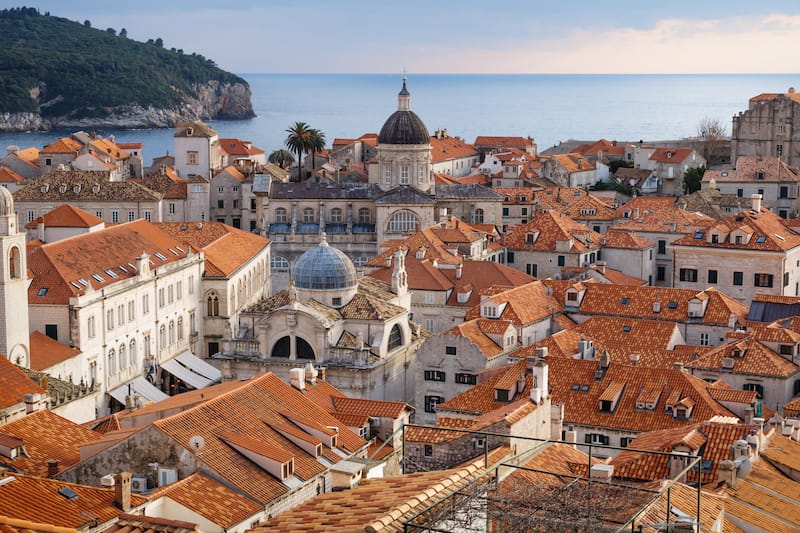 Not only is this a great place to escape the crowds, but there is also an old monastery ruin in the middle, as well as a nudist beach!
Another unmissable things to do are to go up Srd Hill. You can walk if you're feeling energetic or take the Dubrovnik Cable Car. There is a restaurant at the top as well as beautiful panoramic views over the city.
For Valentine's day, the Dubrovnik Tourism Board has worked in cooperation with numerous Dubrovnik restaurants to offer what's called "Valentine's Day Gastro Days".
A total of 14 restaurants have participated previously, each preparing a special Valentine's menu for anyone wanting a romantic meal.
Ask at the Tourist Infomation Center which restaurants are taking part, and when, as it differs slightly each year.
25. Ibiza
Location: Spain
Average temperatures in Ibiza in February: highs of 15°C (60°F), lows of 8°C (46°F), 4 days of rain
Recommended by: Carley from Home to Havana
While Ibiza might be best known for its raging summer party scene, visiting this stunning and historic island in February is a perfect way to see a whole other side of the island, with just a tiny fraction of the visitors.
February is the best time to explore Ibiza if you're looking for a packed calendar of celebrations and festivals to attend.
Ibiza is home to a fantastic Carnival celebration in February, one of the best things to do in Ibiza, including floats, costumes, and fantastic displays through historic streets that you won't want to miss.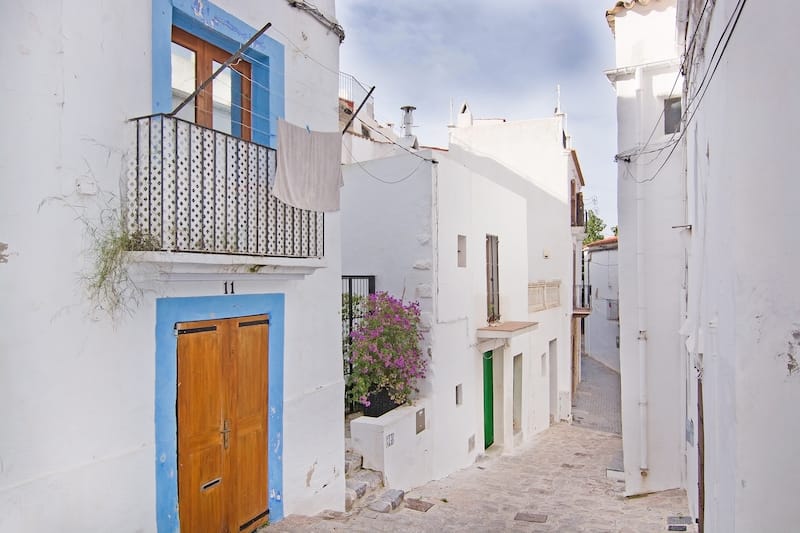 If food interests you more than parades, stick around for the Patrimoni Gastronomic Food Festival. This food festival spans the entire month and includes special menus at participating restaurants, special foodie events, delicious Balearic and Spanish foods, and featuring international food offerings.
All of this while enjoying spring-like weather, uncrowded streets, lovely blooms returning to trees, and much lower prices on accommodations and activities. It's easy to see why February in Ibiza feels like an unforgettable getaway.
Did we miss any amazing places to visit in Europe in February?
Let us know where to go during February in Europe in the comments. Thanks!
More Europe Travel Guides
Pin this February in Europe Guide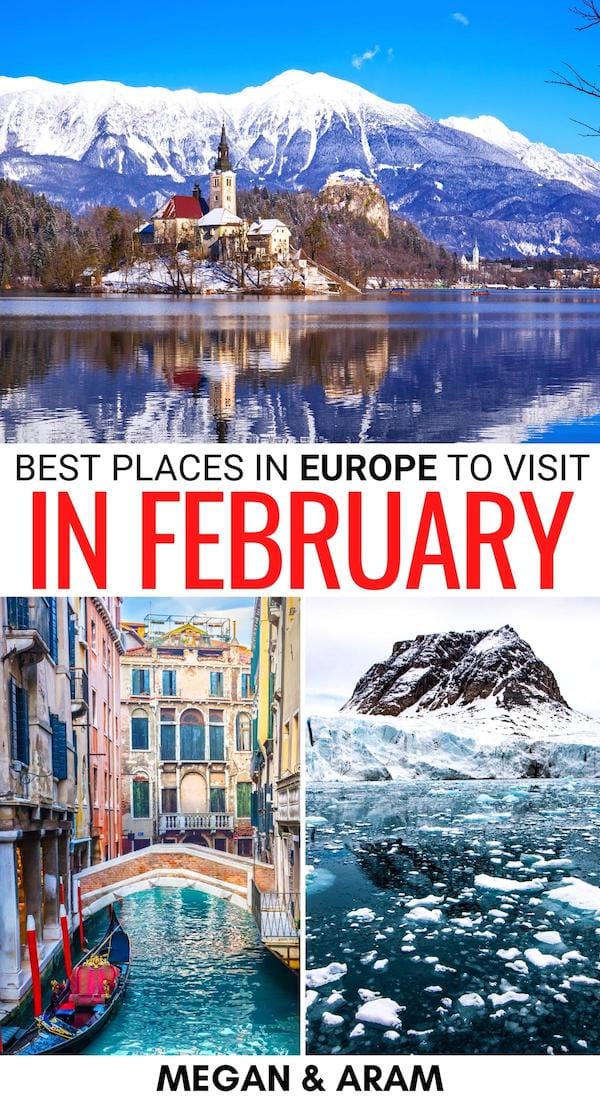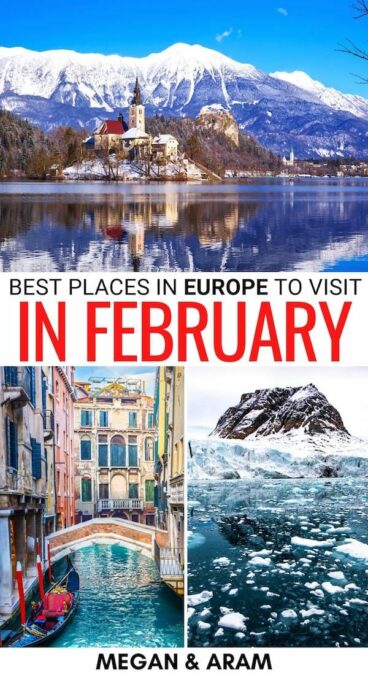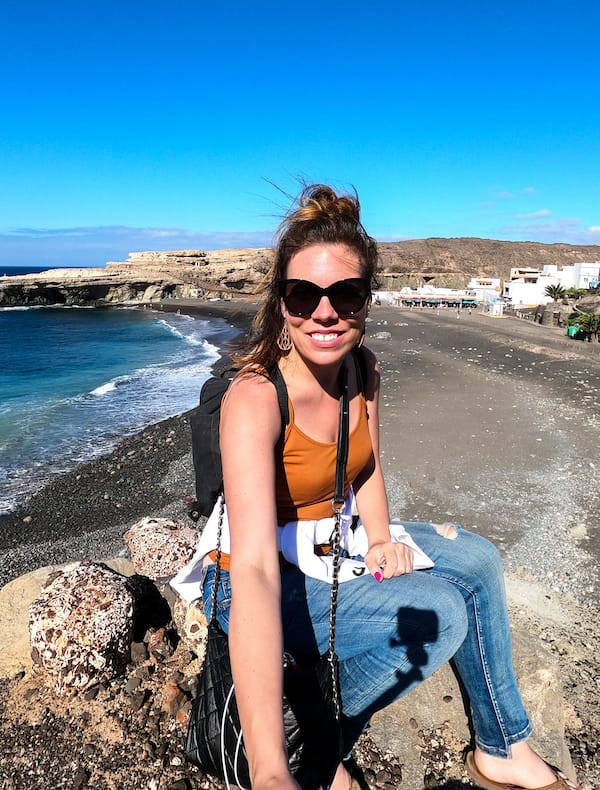 Megan is a travel blogger and writer with a background in digital marketing. Originally from Richmond, VA, she now splits her time between Frankfurt, Germany and Arctic Finland after also living in Norway, Armenia, and Kazakhstan. She has a passion for winter travel, as well as the Nordic countries, but you can also find her eating her way through Italy, perusing perfume stores in Paris, or taking road trips through the USA. Megan has written for or been featured by National Geographic, Forbes, Lonely Planet, the New York Times, and more. She co-authored Fodor's Travel 'Essential Norway' and has visited 45 US states and 100+ countries.