Are you planning an Italy trip and looking for the best things to do in Venice in winter? We have you covered – read on!
Are you planning your trip to Venice last minute?
If youʻre booking your trip to Venice last minute, we have you covered. Below are some of the top tours, hotels, and more!
🇮🇹 Top Experiences and Tours in Venice:
🛌 Top Hotels in Venice:
The St. Regis Venice (Luxury)
Al Mascaron Ridente (mid-range)
West Side YMCA (budget)
🚗 Looking for the best way to get around Venice? Click here to check rental car rates for Italy!
With everything from delicious food to tours, markets, museums, and more, Venice is the perfect place to visit during the winter holidays. And Christmas in Venice is equally as beautiful!
Let's take a look at some of the fun things you can do during your winter visit to Venice, Italy!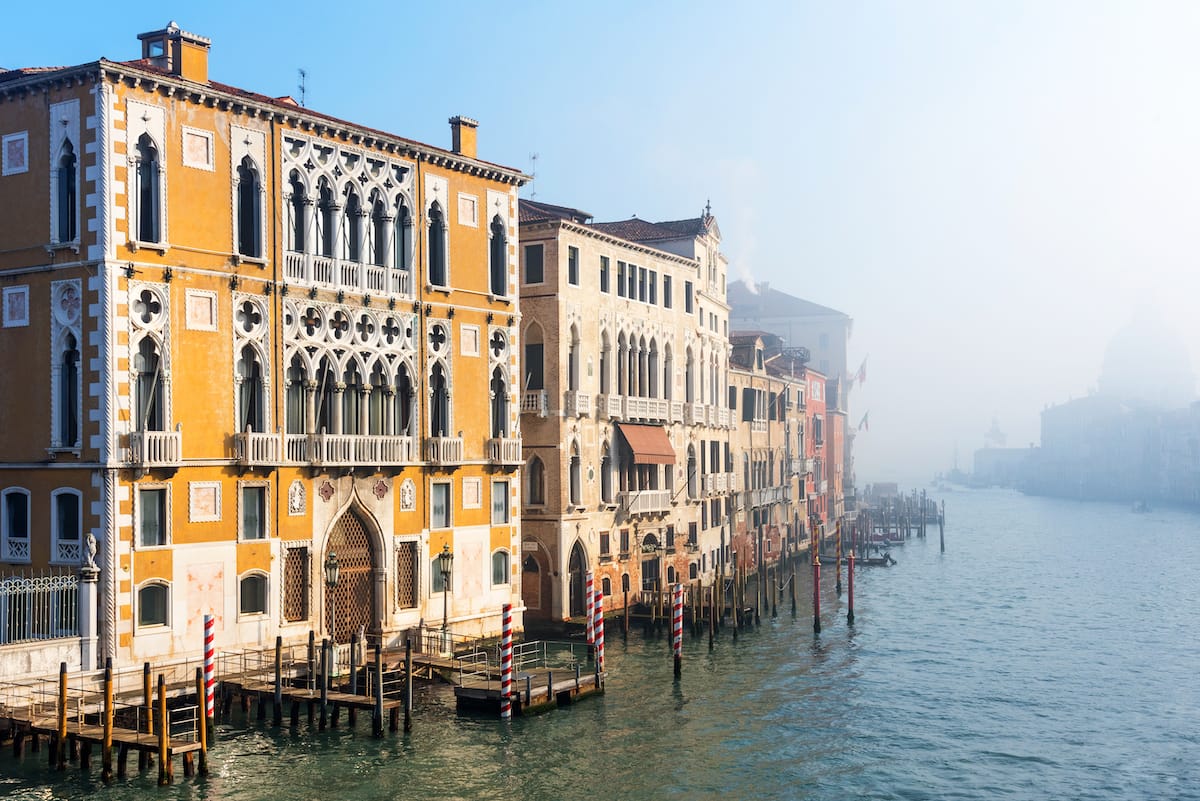 Did we miss any amazing things to do during winter in Venice? Let us know in the comments. Thanks!
Winter in Venice Quick Facts
Venice Winter Temperatures
Venice, like a lot of Italy, does not get very cold in the winter. The season tends to last between November and March, which is when the city is most likely to see freezing temperatures.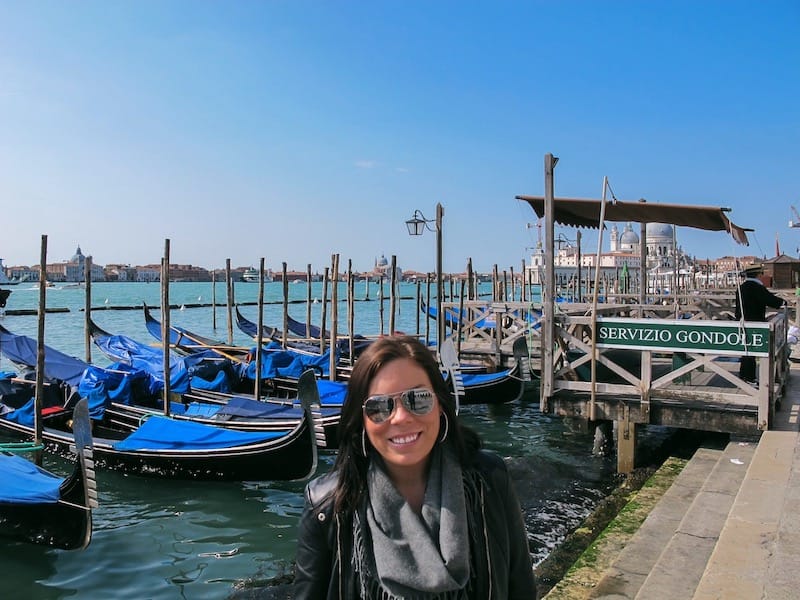 You can see the average Venice winter temperatures below:
Venice in November: highs of 54°F (12°C), lows of 41°F (5°C)
Venice in December: highs of 54°F (8°C), lows of 41°F (1°C)
Venice in January: highs of 54°F (7°C), lows of 41°F (0°C)
Venice in February: highs of 54°F (9°C), lows of 41°F (1°C)
Venice in March: highs of 54°F (13°C), lows of 41°F (4°C)
It tends to get rainy and chilly, though, so be sure to pack warm clothes!
Does it Snow in Venice?
You won't see a ton of snow in Venice, but the views are spectacular when you do see snowfall!
You're most likely to experience snow in January and February, with January having an average of 1.2 days of snow.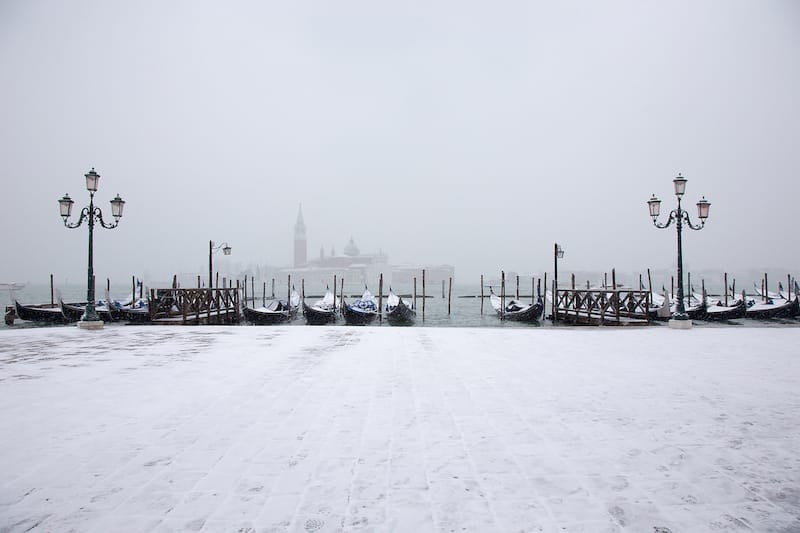 For the most part, Venice gets a bit of precipitation in the winter, and it gets windy, so be sure to pack accordingly.
Best Things to Do in Venice in Winter
1. Enjoy the Carnevale di Venezia in February
See Venice come alive with sound and color during the world-famous Carnevale Di Venezia.
This truly magnificent carnival began in 1162 in celebration of the Venice Republic's victory over its enemy, the Patriarch of Aquileia.
From the February 3-13, 2024, experience 18th-century Venice as you see people walking around in fancy period dresses and mysterious Venetian masks in every winding corridor of Venice.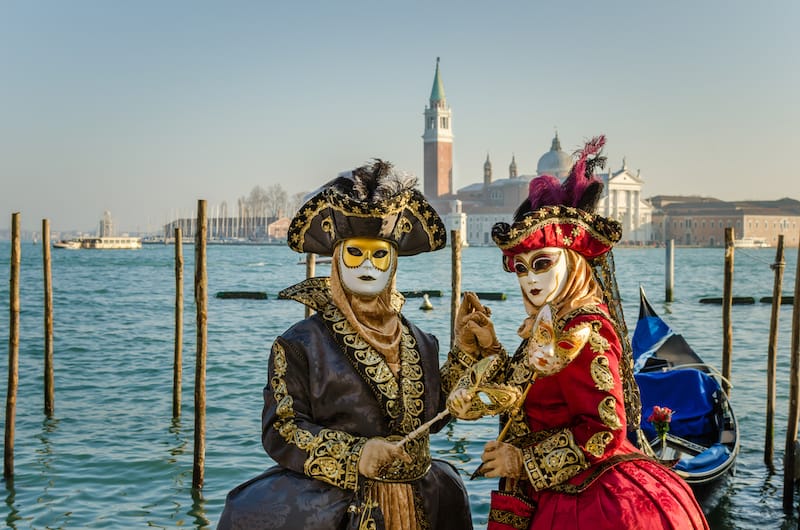 You'll witness colorful boat parades on the banks of Cannaregio, masquerade balls, unique costumes, performances, Venetian baroque music concerts, and more.
Don't forget to try festive frittelle cakes from the food stalls.
Among the highlights are the Venetian Feast on Water (the grand opening of the Carnival), Festa Delle Marie, Flight of the Angel, Flight of the Eagle, and Best Mask Contest (the Grand Final) in Piazza San Marco.
2. Enjoy the Sights at Palazzo Ducale
Visiting Palazzo Ducale is the perfect way to spend a few hours out of the cold while admiring the Gothic architecture and highly impressive art.
Nestled on Piazza San Marco, it was once the heart of the political life and public administration of the Venetian Republic until 1797.
When you enter, Sansovino's impressive 24-carat gilt stucco work, the Scala d'Oro (Golden Staircase), will lead you to the second floor.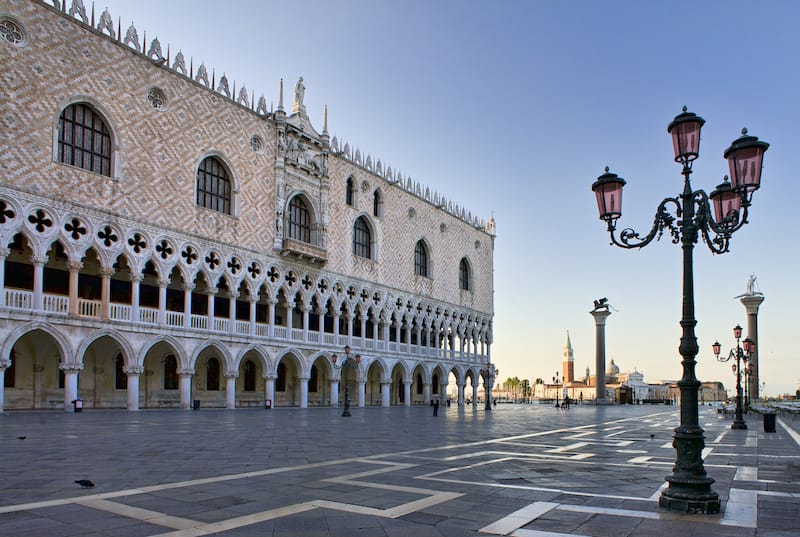 Here you can tour Doge's Apartments, the courtyard, the Institutional Chambers, the armory, and the prisons. This is one of the most-visited Venice attractions!
The bridge of Sighs was built in the 17th century to connect the existing palace to the new prison on the other side of the canal.
When visiting Doge's Apartments, you'll be mesmerized by a lavish display of renowned Italian artists like Veronese, Titian, Tiepolo, and Tintoretto.
Then you can head over to Maggior Consiglio hall, which houses the world's largest painting called "Paradise" by Tintoretto, and end your tour at prisoners' cells and humid wells (pozzi).
Address: P.za San Marco, 1, 30124 Venezia
3. Take a Venice Street Food Tour
Get a real taste of Venice with a street food tour with a local guide.
You'll meet your friendly guide in the San Marco district, then cross the Rialto Bridge to get to the Rialto Market alongside the Grand Canal.
Here you can wow at vibrant fruit and vegetable stalls and see locals doing their everyday grocery shopping. Then you will head to Campo San Polo to marvel at the Basilica dei Frari.
Following your foodie guide, you will sample a number of food specialties, ranging from regional cheeses and buranelli biscuits to traditional cakes.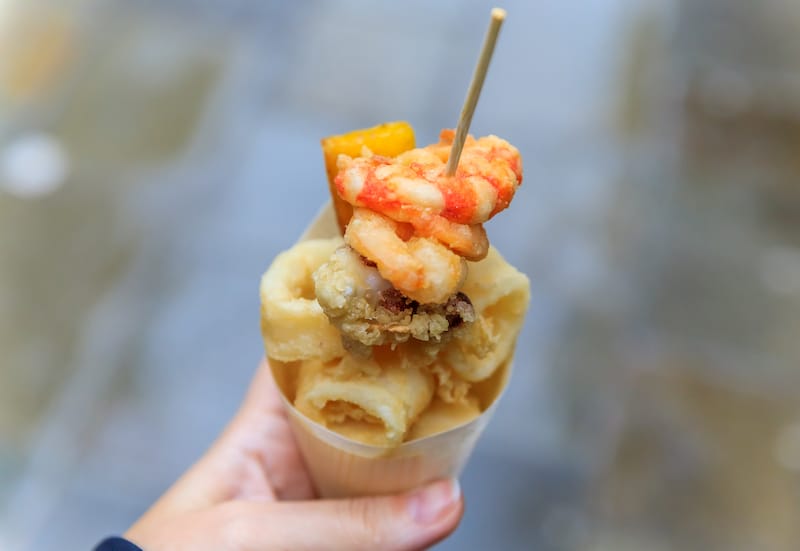 Make sure to leave a little bit of space to try sweet tiramisù in the city where it was invented.
Then you can savor unique cicchetti, which is Venetians' favorite tapas-like snacks usually served in cozy bàcari (bars).
You'll round off your tour at Campo Santa Margherita in the historical sestiere (district) of Dorsoduro.
>> Click here to check rates and availability
4. Indulge in Italian Hot Chocolate
Cozying up with a hot chocolate to refuel on the chilly, dark days of winter is a must in the city of canals.
First, head straight to the hot chocolate masters at the Vizio Virtù coffee shop. Here you can indulge your taste buds with their signature piping hot chocolate and pair it with chocolate bonbons.
You can choose your hot chocolate between dark or less dark, more or less spicy. Whatever you choose, this ultimate winter drink will delight your palate and warm your belly.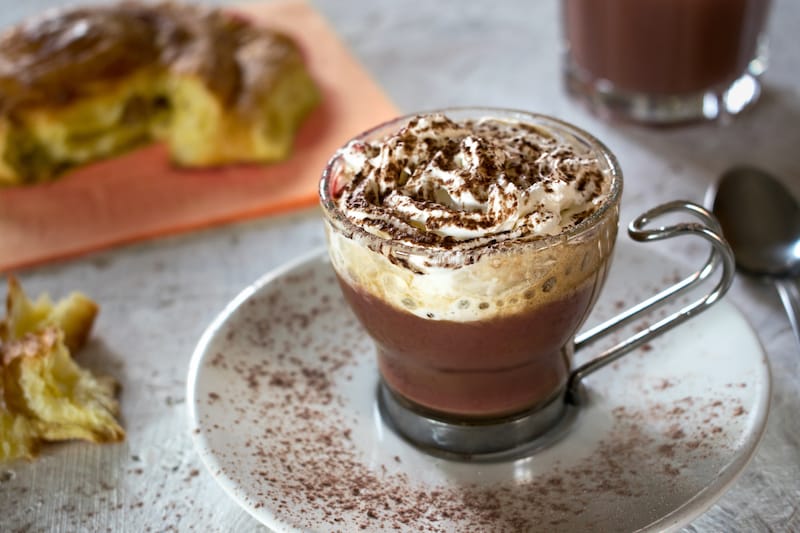 You can also treat yourself to Venetian hot chocolate at the iconic Caffè Florian in St. Mark's Square. This is Italy's oldest coffee house operating since 1720.
Their thick, creamy hot chocolate is served in a porcelain cup with delicious biscotti for dipping.
Casanova, Goethe, Proust, and Dickens are said to be regular visitors here, and the cafe even offers Casanova's namesake hot chocolate, which is topped with mint cream and chocolate shavings.
5. Create Your Own Carnival Mask
If you have ever wanted to try your hand at making your own Venice Carnival mask, then make sure to add "Create Your Own Carnival Mask Workshop" to your bucket list.
This workshop allows you to get insight into the use of masks in Venice carnivals during previous centuries and learn about the ancient techniques of creating masks from papier-mâché.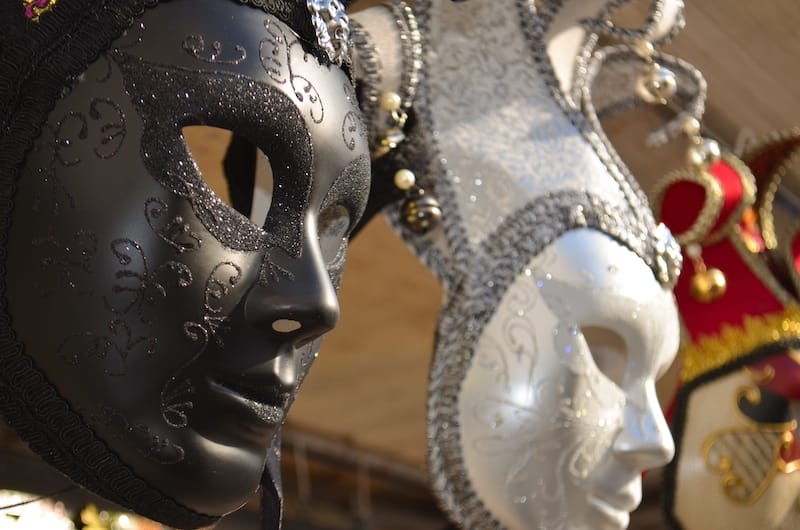 Just wait a few hours and return to the laboratory to get your dried and unadorned mask.
An experienced and friendly instructor will help you paint and decorate your own mask, after which you can take home this very special souvenir that will remind you of magical Venice every time you see or wear it.
>> Click here to check rates and availability
6. Visit the Islands of Murano, Burano, and Torcello
Your Venice trip won't be complete without visiting the islands of Burano, Murano, and Torcello. It is one of the best day trips in Venice, hands-down!
Join this Murano, Burano, Torcello Island & Glass Factory Tour to experience the beauty of the islands and learn about their unique history from your friendly guide.
After passing through the Lagoon of Venice, your first stop will be Murano, best known worldwide for its exquisite Murano glass.
Here you will visit one of the glass factories to witness the creation of masterpieces with your own eyes.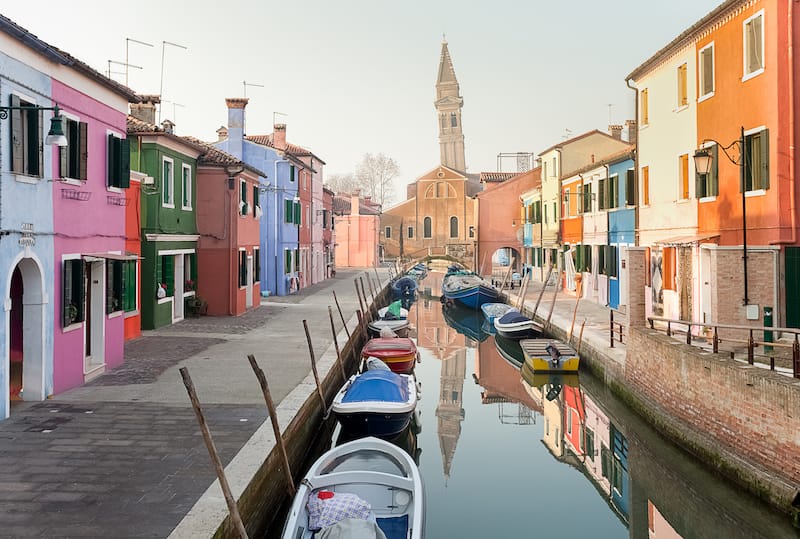 You'll have 1 hour of free time to wander around and shop for Murano glass items.
Then you'll visit Burano, the area's most colorful and vibrant island, where you'll have 2 hours to explore its brightly colored houses and enjoy a typical Venetian lunch at one of the many cozy restaurants.
Your final destination will be Torcello, the first center of civilization in the estuary, which is home to stunning archaeological gems.
>> Click here to check rates and availability
7. Go Ice Skating at Campo San Polo
It's time to lace up your skates and experience a winter wonderland at the city's largest square.
Every year from early December to late February, the stunning Campo San Polo turns into a big temporary ice rink where you can ice skate while admiring the scenic square.
The rink features a decorative ice sculpture at its center.
If you want to have the ice rink all to yourself and skate amid the glittering city lights, then make sure to visit after dark.
After hours of fun on the ice, you can grab a bite to eat, enjoy mulled wine, and purchase local arts and crafts from market stalls.
8. Take a Private Gondola Ride in Winter
Venice is one of the most romantic cities in Europe and a gondola ride across the canals should be a bucket-list experience. The Venetian winter mist will add an extra layer of magic to it!
A private gondola ride along the Grand Canal allows you to enjoy the waterways with fewer crowds.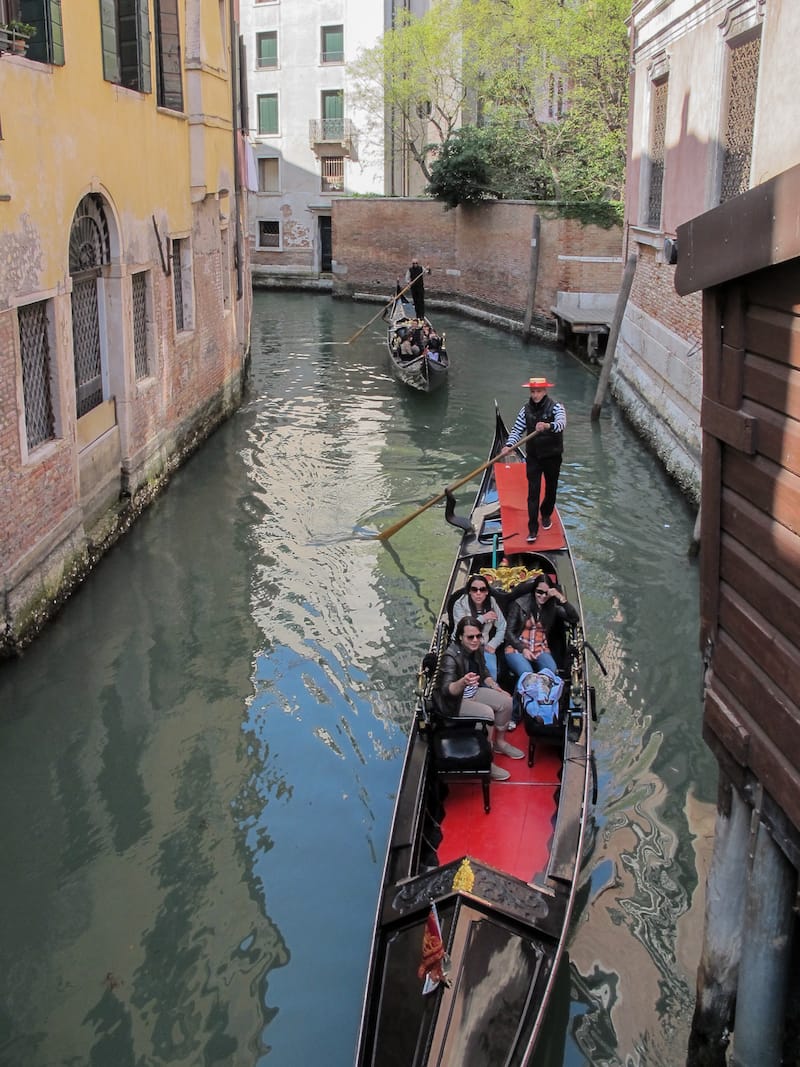 Explore the secret waterways of Venice as you float down the Canal Grande, pass under a small bridge, and see marvelous palaces, like the Peggy Guggenheim Collection and Basilica Santa Maria della Salute.
Boarding an authentic gondola and gliding down the canal with your loved one, you'll get the chance to admire St. Mark's Square, Fenice Opera House, Punta della Dogana and many other magnificent buildings lit by the low winter sun and discover hidden gems only accessible by gondola.
>> Click here to check rates and availability
9. Visit Famous St. Mark's Basilica
Visit St. Mark's Basilica on those chilly winter mornings, and you'll have this magnificent church all to yourself.
Dating back to the 9th century, this medieval marvel with its spectacular façade is devoted to honoring the remains of St. Mark, the patron saint of Venice.
St. Mark's Basilica features a Greek cross base with five domes and 500 columns dating back to the 3rd century.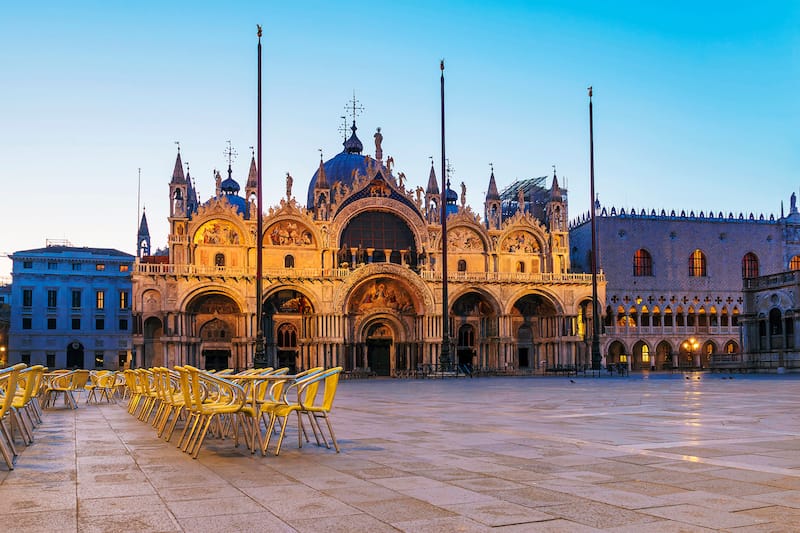 Blending Byzantine, Romanesque, Islamic, and Gothic architecture, inside, you can admire 4,000 square feet of gold-backed mosaics and lavish, gem-studded Pala d'Oro (High Altar) without the crowds of tourists.
It is open to the public from 9:30am-5:15pm each Monday through Saturday.
If you visit on Sunday from 9:30am-2pm, you can check out St. Mark's Museum (Loggia dei Cavalli) for a small fee (7 euros).
It houses Persian carpets, liturgical vestments, wood tapestries, illuminated manuscripts with the texts of St. Mark liturgies, etc.
Address: P.za San Marco, 328, 30100 Venezia
10. Peruse the Cozy Libreria Acqua Alta
Just a few steps from St. Mark's Square, you will find Libreria Acqua Alta, the ultimate cozy bookstore for cold winter mornings.
Nestled behind a canal in the Castello sestiere of Venice, it is packed with a huge selection of new and used books, magazines, and comic books in all languages, which are shelved in gondolas, canoes, rowboats, tanks, and anywhere possible.
Don't be surprised to see old encyclopedias (the ones which no one buys anymore) turned into a stunning staircase.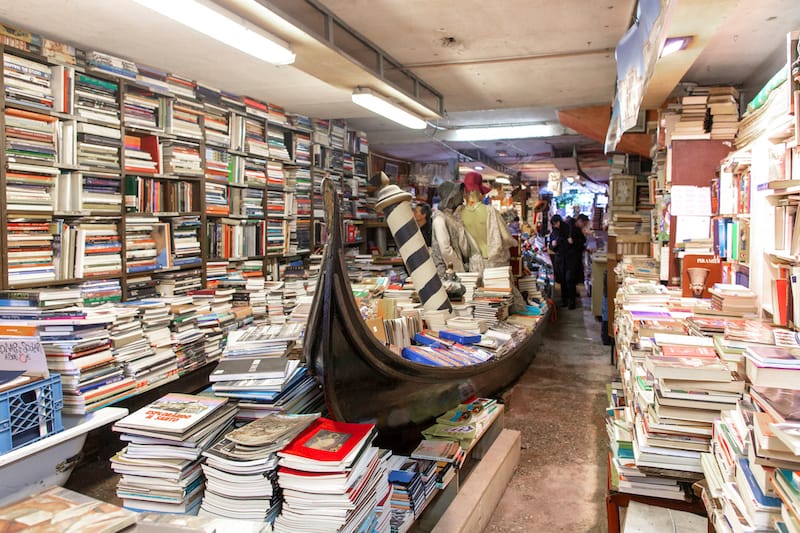 The first room features many books about art, sports, cinema, food, and music, while the second room offers comic books and bestsellers.
You can chat with the bookstore's friendly owner, Luigi Frizzo, who will recommend a cozy book to curl up with.
Libreria Acqua Alta welcomes its visitors every day from 9:00am-7:20pm.
Address: C. Longa Santa Maria Formosa, 5176b, 30122 Venezia
11. Attend a Concert at Teatro La Fenice
Catching an opera, ballet, or concert at the majestic Teatro La Fenice (Phoenix Theater) is a must-do activity in Venice, especially in the winter months.
Built in 1792, this is one of Europe's oldest and most beautiful opera houses, which has been Venice's main theater for almost 300 years.
The building was burned down three times and was rebuilt again from ashes, which gave the theater its name 'Phoenix' (rising from the ashes).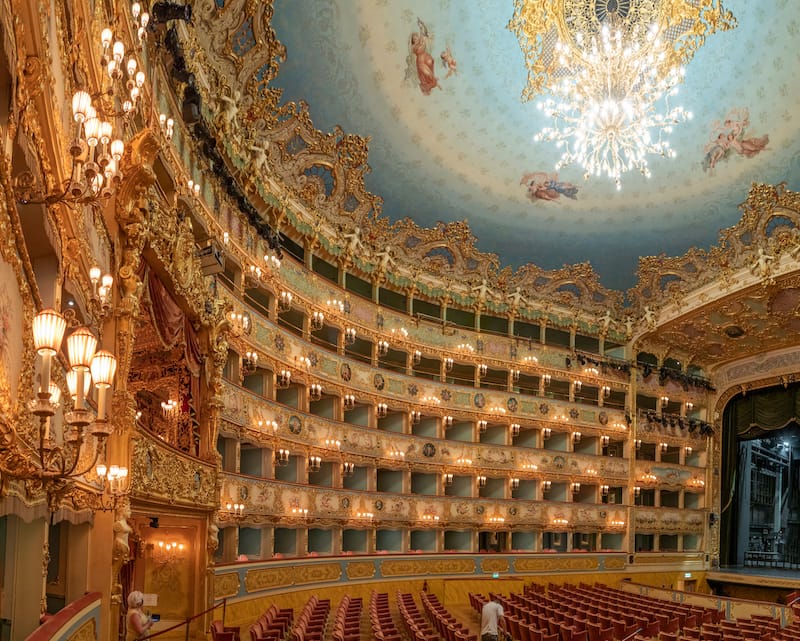 In the winter months, you can enjoy the unique program of Mozart and Verdi, which is brought to life by Daniele Rustioni, one of Italy's renowned conductors.
You can buy tickets at the Fenice Opera House ticket office.
If you are not in the mood for an opera, you can take a private one-hour tour of the famous theater for just 10 euros to gawk at La Fenice's jaw-dropping interiors reconstructed in the style of Venetian Classicism.
Address: Campo S. Fantin, 1965, 30124 Venezia
12. Check Out the Christmas Market at Campo San Stefano
Visiting the Christmas market in Campo San Stefano is the best way to soak in the festive mood.
During the weeks leading up to Christmas, Campo San Stefano transforms into a magical Christmas Village.
Featuring 30 small wooden cabins, here you can find local food products, marbled paper, ceramics, authentic jewelry, Murano glass decorations, traditional Carnival masks, and other Venetian craft specialties.
The festive atmosphere is guaranteed here by musicians, exquisite decorations, concerts, and entertainment, which even includes some programs designed especially for younger ones.
There is also a special section of the market filled with Italian specialty treats, such as traditional cakes and sweets, fine olive oils, bags of specialty pasta, almond nougat, dried porcini mushrooms, vintage balsamic vinegar, candied chestnuts, tiny biscotti, and more.
Don't forget to look for the perfect souvenir or gift to take home a piece of this winter magic with you.
13. See the Nativity Scenes at Scalzi Church (Santa Maria di Nazareth)
Located near the Santa Lucia Railway Station, Scalzi Church (Church of Santa Maria di Nazareth) is among the most significant monuments of the Venetian District of Cannaregio.
It was built in the mid-17th century by the architect Baldassare Longhena and served as the seat of the religious Order of the Discalced Carmelites until the beginning of the 19th century.
Besides its breathtaking facade, inside, you can admire stunning artworks, like Christ at Gethsemane, the Apotheosis of St. Teresa, The Ecstasy of Saint Teresa, and the Crucifixion of Giovanni Maria Morlaiter.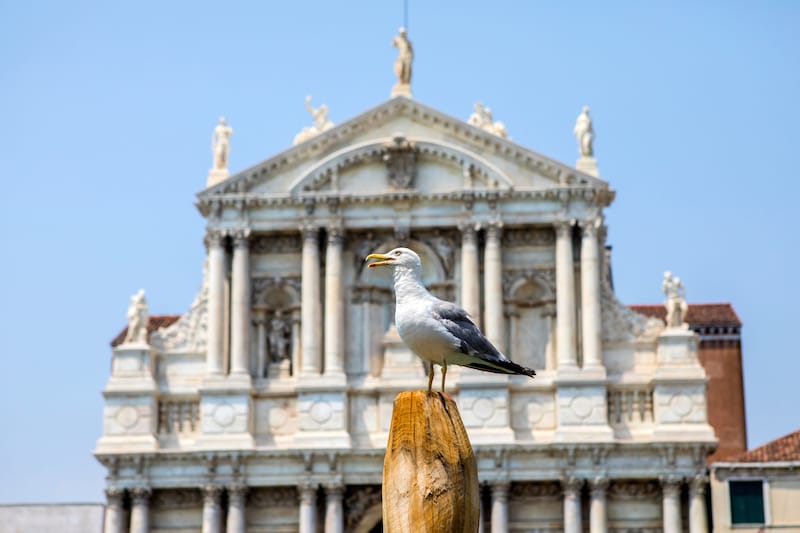 Witnessing a presepe, an Italian nativity scene, during the holiday season will guarantee a one-of-a-kind experience.
This authentic masterpiece of the late Venetian Baroque is the perfect place to see an exhibition of an entire glass nativity scene.
Here Murano glass masters celebrate Christmas by creating Murano glass creches for the religious themes of the Nativity.
Address: Cannaregio, 54, 30121 Venezia
14. Stroll through the Gallerie Accademia
There's no better place to escape the chill of Venice than at one of the world's greatest museums.
Located in the Dorsoduro district and housed in three buildings (Scuola Grande di Santa Maria Della Carità, the Canonici Lateranensi Monastery, and the Church of Santa Maria della Carità) on the south bank of the Grand Canale, Gallerie dell'Accademia is packed with an expansive collection of classic Venetian art from the 14th-18th centuries by renowned artists like Bellini, Da Vinci, Tintoretto, Carpaccio, and Veronese.
The Museum's special highlight is Leonardo da Vinci's Vitruvian Man, but please note that it is only put on display occasionally in order to preserve it.
The main collections of the Gallerie dell'Accademia are divided into 24 rooms and are laid out in chronological order.
The museum is open year-round with an admission of 16 euros for adults and free for young people aged 18 and under.
Address: Calle della Carità, 1050, 30123 Venezia
15. Go Shopping in the Rialto Market
Immerse yourself in the daily life of locals at the Rialto Market located directly on the Canal Grande and stretching west from the Rialto Bridge into the San Polo neighborhood.
Operating since 1097, this semi-covered market offers fresh food and perfect ingredients for Christmas meals.
Browsing through fruits, veggies, flowers, and souvenir stalls, you will find Pescheria, the famous fish market where fish from the Adriatic sea is sold.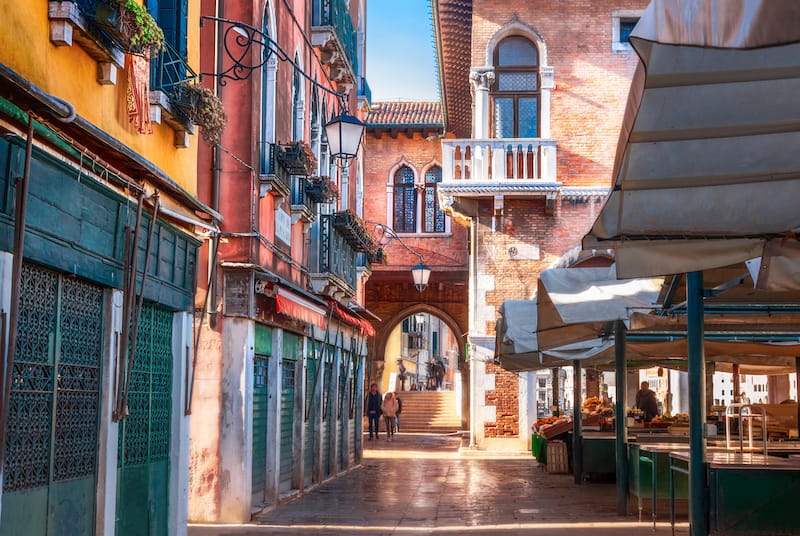 Venetian chefs buy fresh seafood from this Renaissance loggia that has shaded other fish vendors of Venice for centuries.
When hungry, pop over to Vini da Pinto, nestled at the back of the market, which is a popular meeting place for the locals where you can taste sea-to-table seafood meals with bustling market views.
Fun fact: in the famous movie The Tourist, Johnny Depp makes his escape by running over the roofs of those fish market stalls.
16. Visit Basilica Santa Maria Della Salute (for Great Views!)
Seeing the striking dome of Basilica Santa Maria della Salute breaking through the haze is an uncompromising experience.
Built to celebrate the end of the plague in 1631, it is one of the most important religious buildings in Venice.
Every year on the 21st of November, Venetians gather to celebrate the Feast of the Presentation of the Virgin by crossing an improvised bridge over the Grand Canal to the Salute Basilica in recognition of freeing Venice from the terrible outbreak.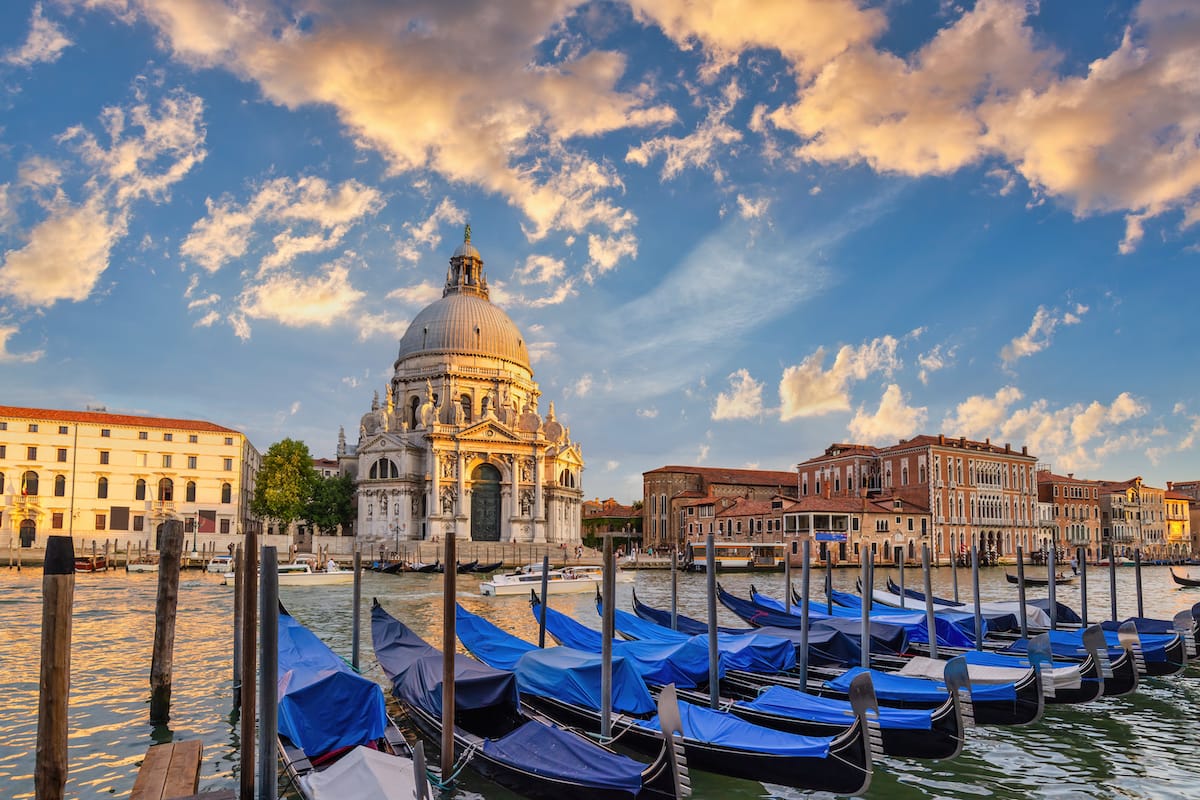 The exterior of this beautiful white stone basilica is embellished with 125 statues, while the interior features an elaborate Baroque altar and intricate mosaic flooring.
For a small fee, you can visit the sacristy to witness unique masterpieces by renowned artists, such as Titian's famous The Descent of the Holy Spirit.
Don't forget to climb to the cupola to take in stunning views of the city in the winter mist.
Address: Dorsoduro, 1, 30123 Venezia
17. Hang out in St. Mark's Square on New Year's Eve
Venice knows how to put on a New Year's Eve firework show to leave locals and tourists breathless.
Head to St Mark's Square at midnight to see dazzling fireworks light up the Venice skyline.
Grab a drink and watch the traditional midnight fireworks with your loved one along the waterfront to create unforgettable memories.
At the stroke of midnight, you can witness thousands of people kissing under the stars, and the city starts partying and dining throughout the night.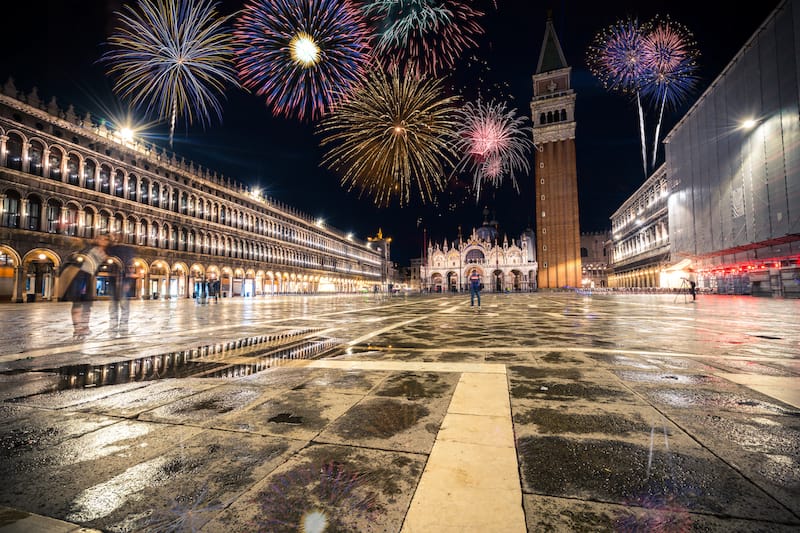 Those you want to get the best view of the fireworks should pop over to Riva degli Schiavoni, Riva San Biagio, Riva dei Sette Martiri, or Riva Ca'di Dio.
If you are planning on eating out, be sure to make a reservation a few weeks in advance.
Don't forget to savor Cenone di Capodanno, made of lentils and sausages, which is the traditional Venice New Year's Eve dish.
18. Watch the Regatta of Befana on Epiphany
Epiphany is one of the most important Christmas festivals, taking place on the 6th of January.
It represents the last day of the Christmas holidays and the end of the holiday season before schools start in Venice.
The best way to celebrate it is by watching the Regatta of Befana, a rowing regatta race through the lagoon from San Tomà to the Rialto Bridge.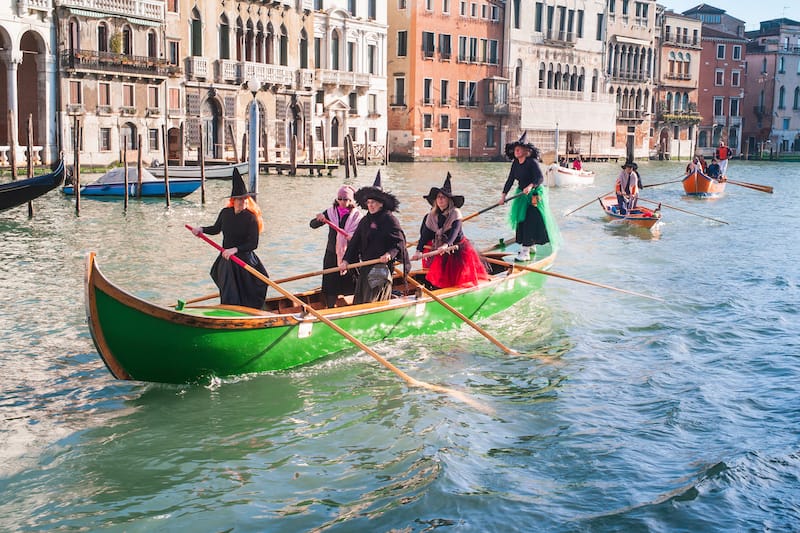 Venice holds hundreds of regatta races throughout the year, but don't miss this one as it features 50 men, members of the oldest rowing club of Venice, the "Bucintoro," dressed as La Befana (the Epiphany witch).
A Venetian legend, dating back to pre-Christian traditions, has it that Befana is an old witch who, on the 6th of January, delivers treats or tricks.
She climbs down chimneys and fills up the stockings with sweets for good children and coal for bad ones.
How to Get to Venice
The most common way to get to visit is by train via Venice's train station, the Venezia Santa Lucia. It is convenient due to its proximity to the city center.
You can travel between many of Italy's most prominent cities this way, as Venice is highly connected to the rest of the country.
This is especially great if you want to visit other towns throughout the country. For example, there are tons of cheap flights to Milan, and then you can take a train to Venice.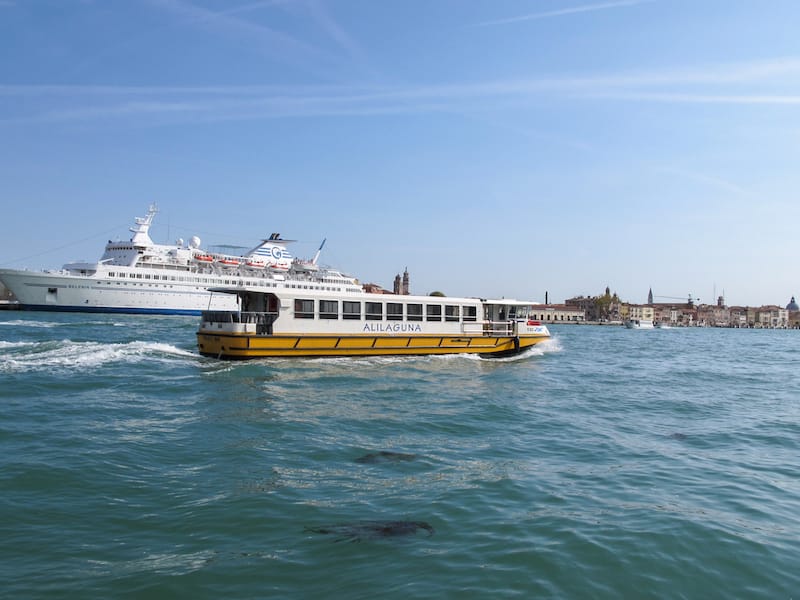 Do keep in mind that you will need to validate your train ticket using one of the yellow machines at the station in order to be able to get on the train in Italy.
An alternative solution is to fly to Venice via the Marco Polo Airport (VCE), which offers both national and international flights.
From here, you can take Bus No. 5, the ATVO Blue Bus, a water bus, or a water taxi to central Venice.
Venice is also quite easy to reach from the airport in nearby Treviso.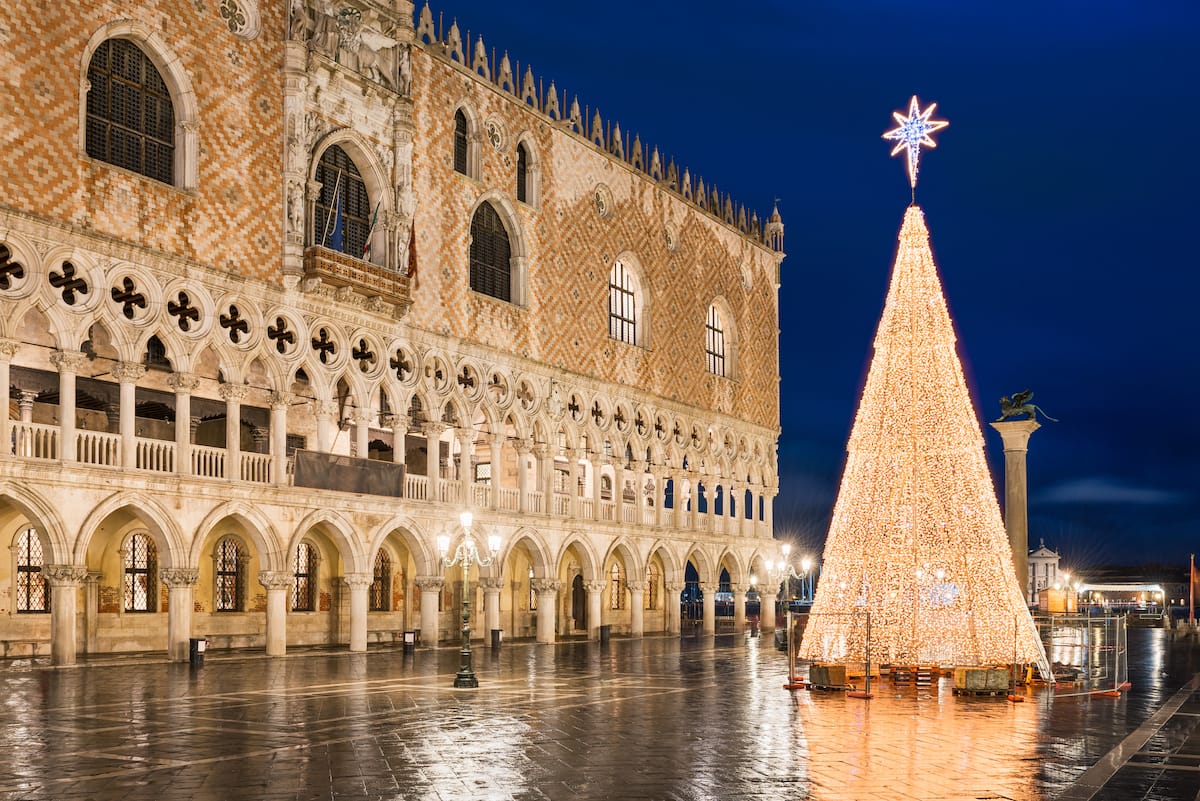 Where to Stay in Venice
If you're looking for the top options of where to stay in Venice, these are our recommendations (for any budget!) below:
Did we miss out on any awesome things to do in Venice in winter?
Let us know your winter in Venice travel tips and recommendations below.
More Winter in Italy Travel Guides
Pin this Winter in Venice Guide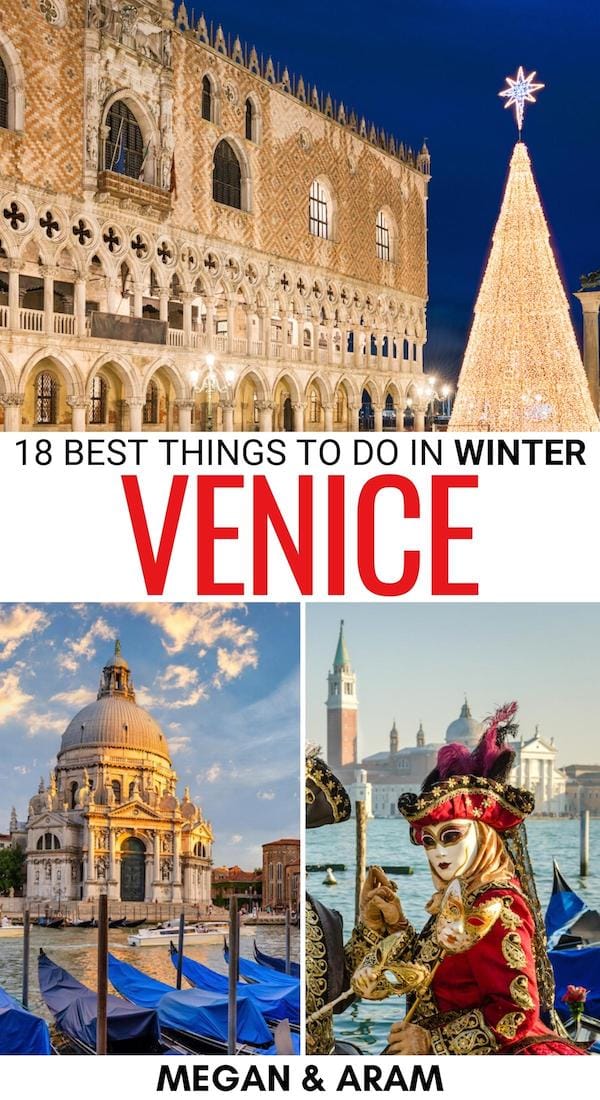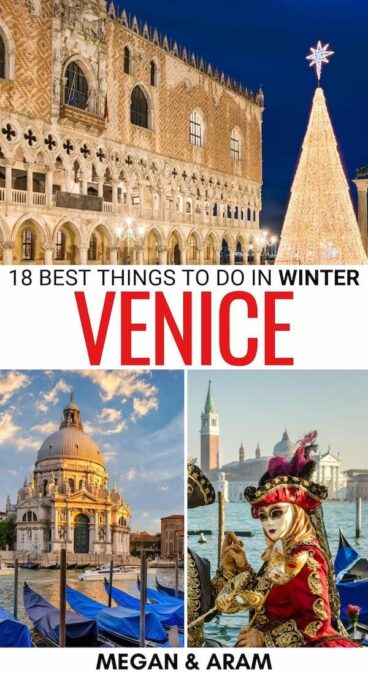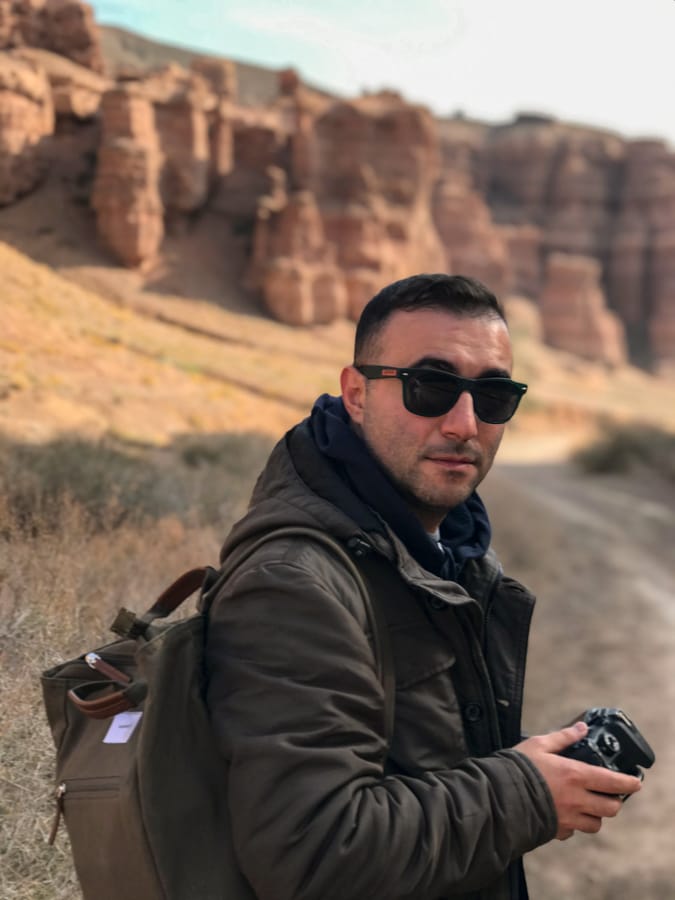 Aram is a travel blogger and writer from Armenia who spends his time between Spain and his home country. He is passionate about music and football (the European kind) and covers a lot of Western European destinations on the blog. Aram is a laidback traveler who enjoys meeting new people and finding the best food in each city that he visits (hence his frequent trips to France, Italy, and Greece!). He has been featured in (or written for) Forbes, BBC, The Guardian, Fodor's Travel, and more.