Are you looking to escape to one of the most romantic cities in Europe? This guide covers some of the most romantic places in Europe for a couples getaway!
We have included cities, islands, villages, and more in this roundup and have included some of our favorite bloggers to help!
If you're looking to spend time away with that special other (or even find the best places to spend Valentine's Day in Europe!), we hope that this list helps you plan.
Did we miss any romantic cities or towns in Europe in this guide? Let us know in the comments. Thanks!
Most Romantic Places in Europe
Venice
Location: Italy
Recommended by: Editor's Choice
Venice is mysterious, romantic, intriguing… the perfect place to spend your Valentine's Day!
Of course, people immediately think of gondola rides in Venice, but seriously, it is worth it at least once in your life!
Cozy up together as you sail through the canals, which are even more beautiful at sunset. Steal a kiss as you pass under the Bridge of Sighs; legend has it that if you kiss in this particular spot, your love will be eternal.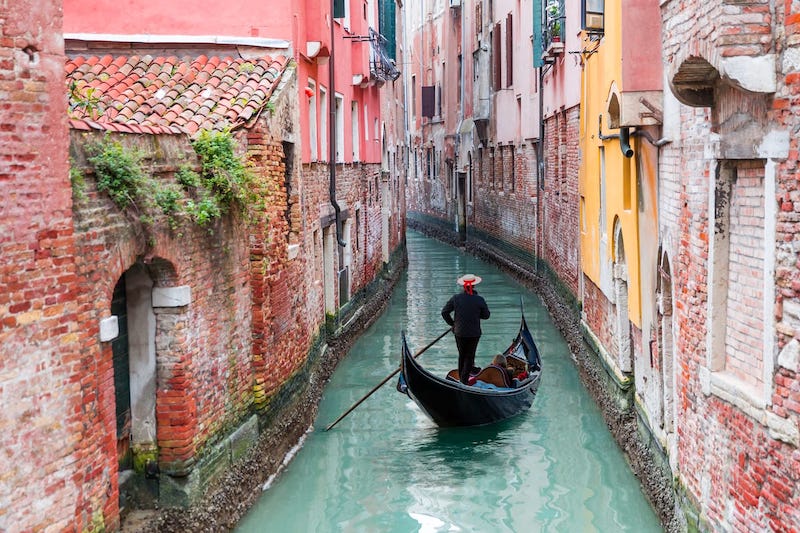 For a fantastic night out, attend a ballet or opera performance at the iconic La Fenice Theater (it is a fantastic thing to do during winter in Venice)!
This year, Valentine's Day happens during the period of Carnevale, so take the chance to get a costume and mask and attend a mysterious masquerade ball!
Also, don't miss out on some of the outer islands of Venice. Burano has idyllic colorful buildings, just waiting to have a photo snapped in front of them.
Murano is famous for its gorgeous glass blowing, where you can get a customized piece to commemorate your trip.
To get out of the hubbub of the city center, visit Torcello, a small island that has less than 50 residents. It's a perfect place to meander around in peace and quiet.
Ascona
Location: Switzerland
Recommended by: Zoe from Together In Switzerland
For a lesser-known romantic place in Europe, head away for a weekend in Ascona Switzerland. Located on the edge of Lake Maggiore, Ascona is part of the Ticino region of the country.
During the day, Ascona is perfect for those wanting to enjoy a boat trip on the lake or visit the lush botanical garden at Brissago Island.
Another popular thing to do is to do the challenging hike up to the Balladrum mountain viewpoint, which is a few hours (round trip).
However, to dive straight into the romantic side of Ascona, you can head out for dinner at one of the charming restaurants in the town.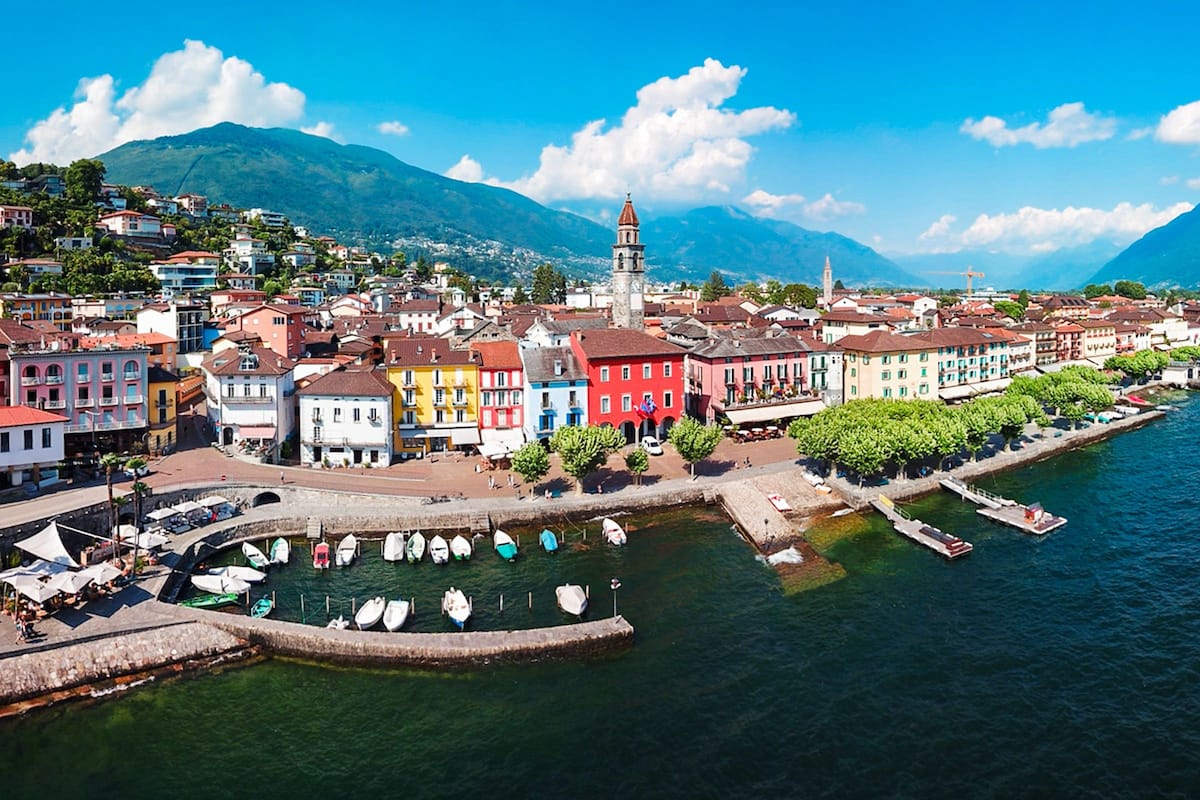 Since it's the Italian-speaking region of Switzerland, you can find many typical Italian dishes there, such as pasta and pizza at Ristorante Al Pontile. For those preferring fish and seafood, visit Ristorante Riva.
After taking a stroll around the cobblestoned village streets, listen to local live jazz music (often at local city spots during the summer) before enjoying one last cocktail or glass of local Swiss wine together at Sea Lounge.
Ascona is filled with many stunning hotels along the lake promenade that have waterfront views, such as the well-known Hotel Eden Roc.
Not only does this hotel let you explore Ascona up close, its 5-star status provides a private beach area and spa for those looking for a relaxing and cozy day.
Mostar
Location: Bosnia and Herzegovina
Recommended by: Emily from Wander-Lush
Mostar might have a turbulent past, but today this small city two hours southwest of Bosnia and Herzegovina's capital, Sarajevo, is one of the most atmospheric in the Balkans.
Enveloped by mountains and carved in two by the Neretva River, Mostar is a city of bridges.
Take a stroll through the charming Old Bazaar area, where coppersmiths and carpet vendors ply their trades, and stop for a džezva of traditional Bosnian kahva at one of the traditional coffee houses.
Mostar's heart and soul, the stunning half-moon stone old bridge, Stari Most, is straight from a fairytale.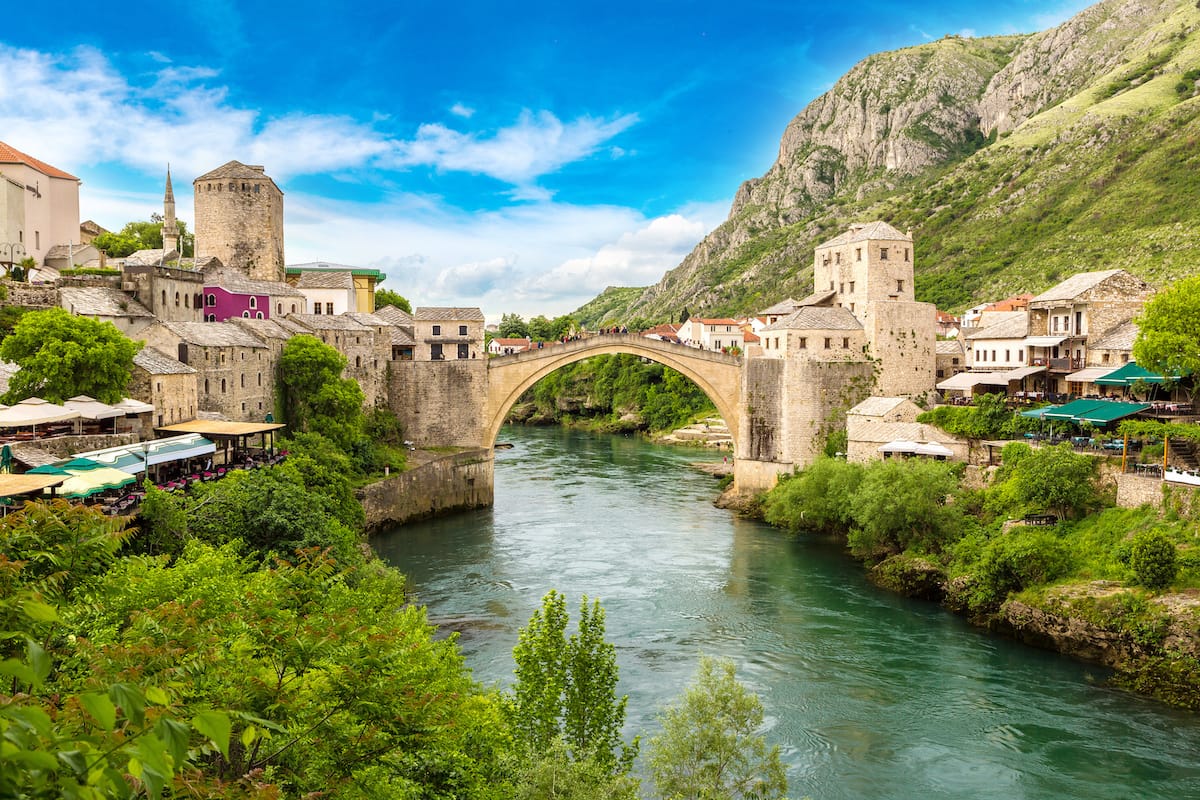 Climb the Koskin Mehmed Pasha's Mosque minaret for a picture-perfect view, and wait around to see one of the Bridge Jumpers dive into the shallows.
The rest of the city is a quixotic mix of mosques, Ottoman house museums, and boutique hotels nestled inside heritage buildings.
A day in Mostar is enough time to see the highlights – but for a truly special experience, stay for dinner at one of the restaurants that cling to the river bank.
The city is at its loveliest after dark, when the bridge stands empty and the lights glitter on the polished cobblestones.
Josselin
Location: France
Recommended by: Faith from XYUandBEYOND
In Brittany on the banks of the Oust River lies Josselin a Petite Cité de Caractère. This enchanting medieval town is centered around the fairytale Château de Josselin with its five towers that date back over 1000 years.
Within the grounds of the Chateau, you can visit the gardens that contain over 160 varieties of roses.
Wander out of the castle to the heart of Josselin with its medieval half-timbered houses and the flamboyantly gothic Notre-Dame du Roncier basilica built in the 11th century.
Don't miss the medieval gardens in the center of town where you can enjoy the fragrant flower, herbs, and kitchen gardens.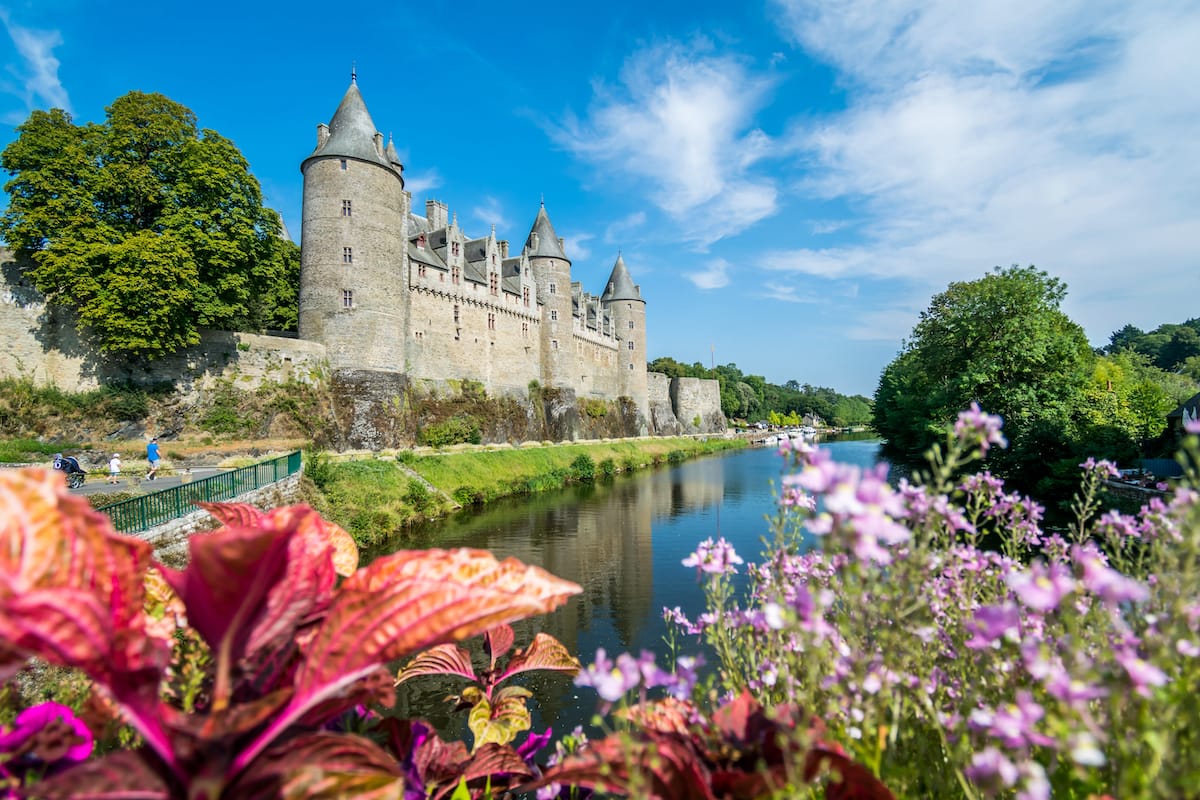 In the heart of Josselin, the Jardin du Bois d'Amour Wood of Love Garden is a peaceful, natural park that is made for wandering with a conservatory of rhododendrons, bamboo groves, and the Notre-Dame-du-Roncier Fountain.
The fountain is dated 1675 but is believed to be much older and was founded when a farmer recovered a statue of the Virgin in a bramble tree. Legend says that if the statue is removed, it will find its way home to the fountain.
Every Bastille Day, Josselin re-enacts its historic past with the hugely popular Festival Médiéval when the whole town dresses up in period costume and where you can enjoy medieval pageantry and feasts.
Tubingen
Location: Germany
Recommended by: Kristin Lee from Global Travel Escapades
Looking to travel off the beaten path for a romantic and intimate getaway? If so, consider Germany's fairytale town of Tubingen.
The quaint town is on the smaller side but it doesn't lack a wide variety of charming activities to partake in.
For example, a long-standing tradition is to go punting down the Neckar River. This is where you'll be able to enjoy a ride in a long narrow boat while someone standing on the end with a long pole propels the boat forward.
And since the Neckar River runs through the center of the city, you'll be treated to stunning views of the surrounding cityscape, colorful half-timbered houses, and the nearby park.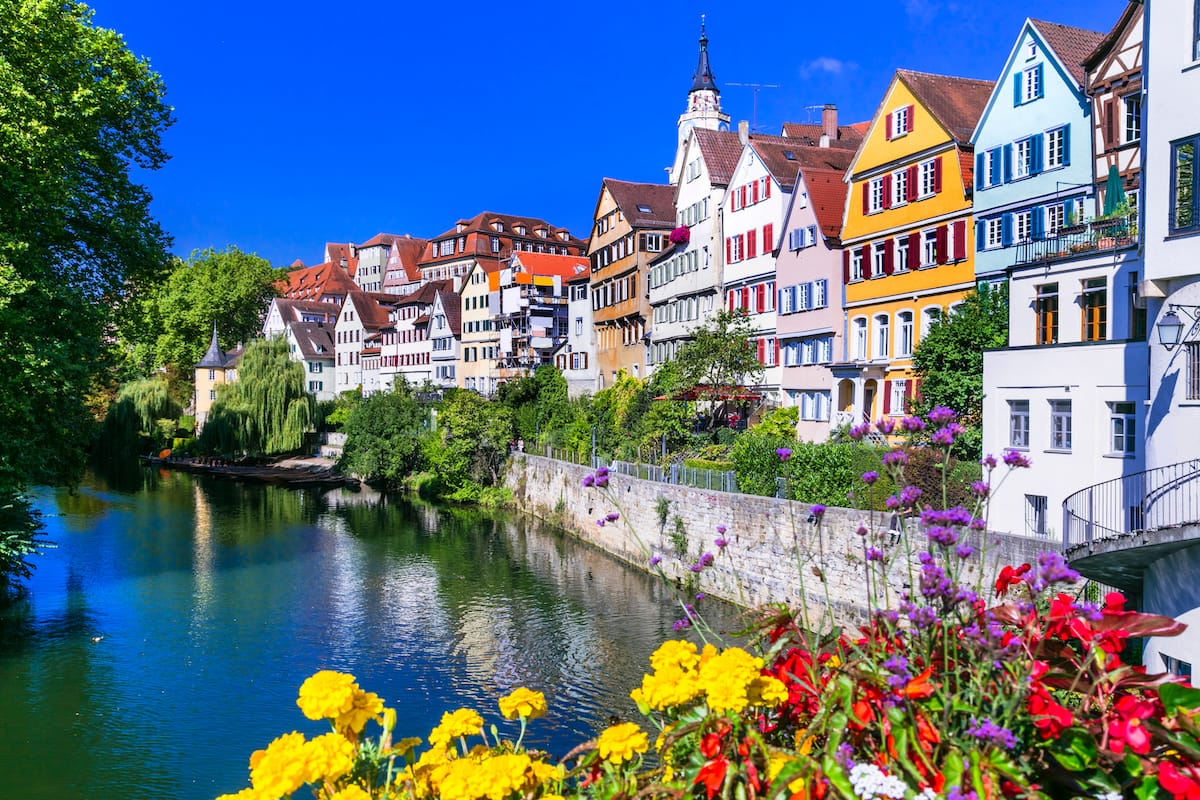 Another popular activity is to wander around the grounds of Hohentubingen Castle.
This castle dates back to the 16th century and allows visitors to catch beautiful panoramic views of the city and its iconic red rooftops. The experience is nothing short of magical!
Thus, if you're looking to indulge in a romantic getaway in Europe, be sure to check out Tubingen!
London
Location: England
Recommended by: Paulina from the UK Every Day
Enjoying love cakes in Peggy Porschen or strolling through Golders Hill Park covered with purple wisteria are just a few romantic spots to visit in London.
However, if you are interested in a truly unique place, look no further than the most impressive skyscrapers of London.
Visit the Shard for the incredible sunsets of the London skyline and enjoy cocktails in the tallest and most iconic building in the UK.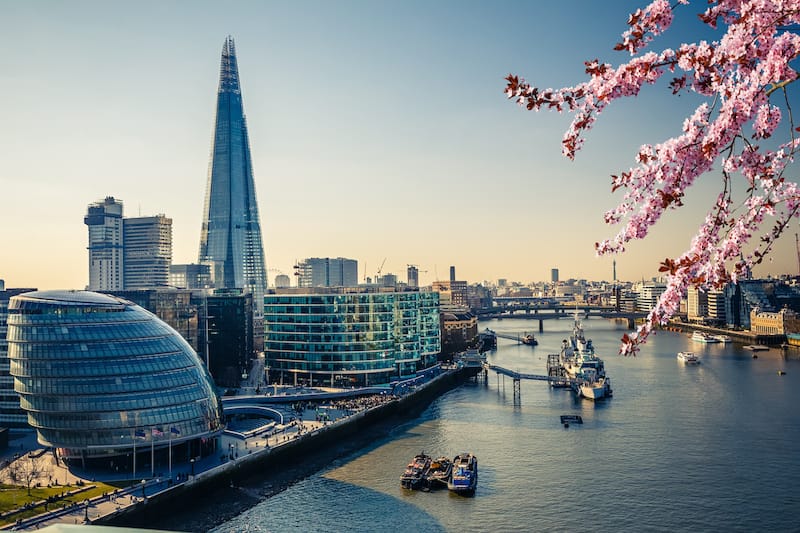 With an unlimited budget, you can propose in a private event space filled with 50,000 rose petals. If you are looking for an even more luxurious experience, book a night at Shangri-La The Shard hotel.
Another romantic location in the clouds is the highest public garden – Sky Garden. A walk around idyllic lush greenery and admiring London's landmarks such as St Paul's Cathedral will take your breath away.
Visit Sky Garden at night when the lights of the city are flickering and DJs come to play live music.
Have an extra day? Take a day trip to Brighton. Brighton is home to many amazing seaside views, restaurants, and cute shops!
Kinderdijk
Location: Netherlands
Recommended by: Penny from GlobeTrove
Kinderdijk is one of my favorite destinations in Europe largely because it was the first romantic place that we visited on the continent.
The UNESCO heritage site became really famous after its iconic photograph in the National Geographic magazine. Picture old Dutch windmills, canals, and fields framed by a picture-perfect sky!
While Kinderdijk may be a bit far from the bigger cities of the Netherlands, it is relatively easy to get there thanks to the Dutch transportation system.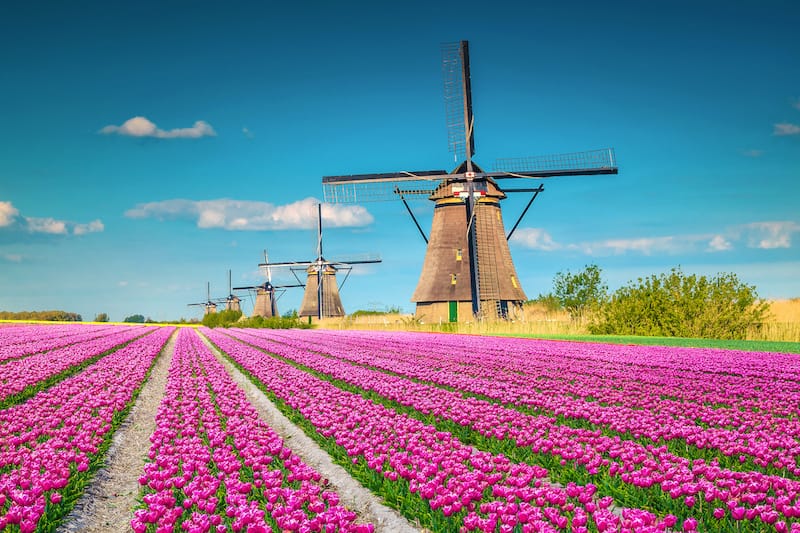 In fact, it is one of the weekend trips from Amsterdam that I highly recommend. You can even combine it with a trip to Rotterdam which is on the way!
My suggestion to take the whole romantic vibe to another level is to pack a picnic lunch. You can enjoy it with a view of the canals and away from the crowds.
Don't forget to explore the old windmills. You can even enter inside one and see what it was like to live in a windmill decades ago.
It does not look comfortable! The windmills however were essential to keep the land dry and someone had to do it!
Mikulov
Location: Czechia
Recommended by: Megan from Bobo and Chichi
​​Without a doubt, one of the most overlooked romantic places to visit in Europe is the town of Mikulov located in the region of South Moravia, the Czech Republic's wine country that borders Austria.
This enchanting town offers sweeping countryside views, multiple castles and chateaux to visit, and of course what's more romantic than wine country?
This area of the Czech Republic is located on the 49th parallel, the same as Champagne, France, making it an ideal climate for many grape varietals.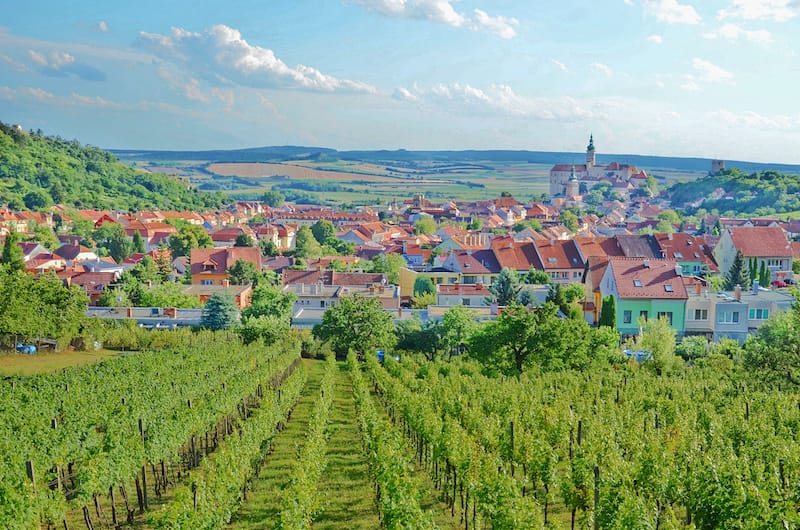 Be sure to visit Mikulov Castle in Mikulov, check out the views from Holy Hill, and be sure to have a car so you can visit the UNESCO World Heritage Sites including Lednice Chateau and Valtice Chateau.
Valtice Chateau even has a cellar you can enjoy an unlimited wine tasting of the best wines of the region while you shop and pick up a few bottles for the hotel room.
Santorini
Location: Greece
Recommended by: Editor's Choice
Santorini is known for being one of the world's most romantic destinations, with its blue waters, multicolored beaches, and iconic white and blue buildings of Oia.
While February is in the middle of the low season (which means fewer things are open) and has cool temperatures, there is still plenty to do and you will enjoy fewer crowds.
Oia is famous for its gorgeous sunset photo ops, but it can get crowded. Instead, book a private sunset sail to get spectacular views just for you two.
Don't miss gorgeous places to stroll together like Amoudi Bay or Red Sand Beach. You can even take a Santorini catamaran cruise to these destinations!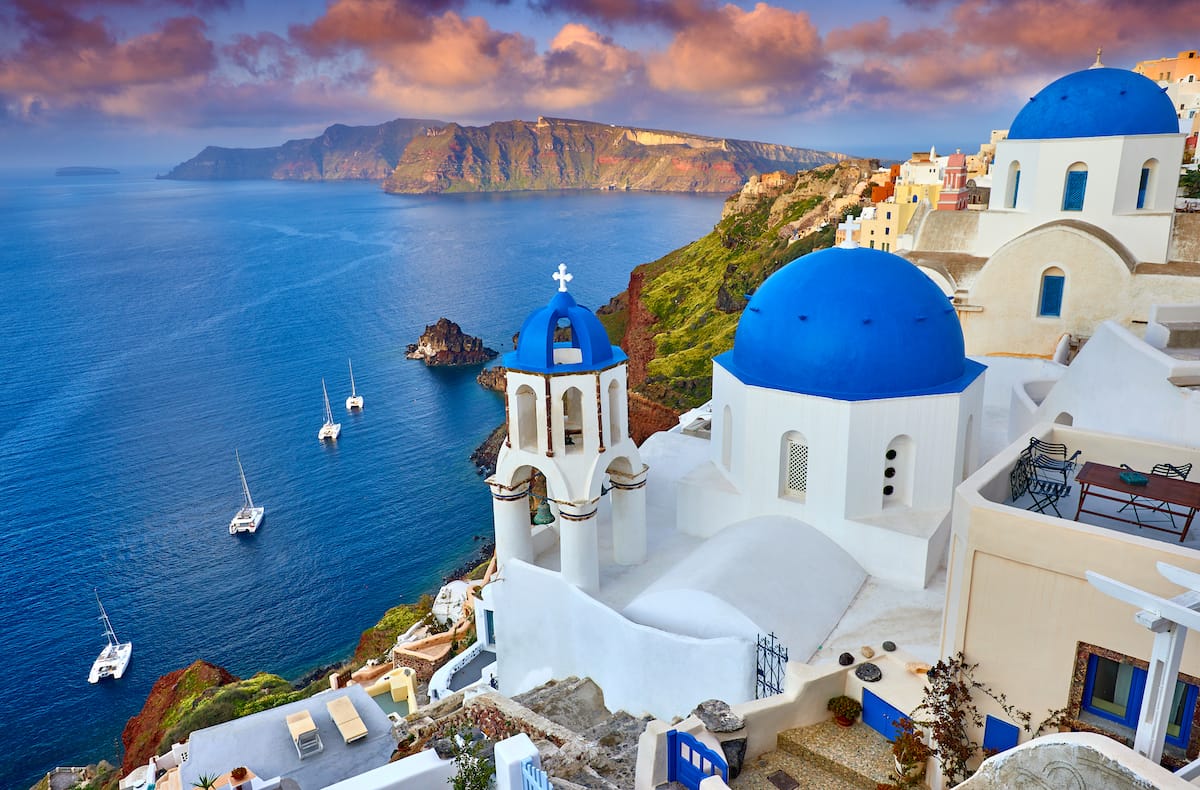 Just south of Órmos Athiniós is a heart-shaped hole in a rock (called the Heart of Santorini) that looks out on the caldera, which is a perfect place for a cute photo op with your partner.
Take advantage of the amazing scenery by booking a photography session to capture beautiful memories you can look back on.
While a romantic dinner is certainly a must, try something new by doing a wine tasting at one of the local vineyards – it is one of the best things to do in Santorini.
And, for the ultimate luxury, book a cave villa with a private pool overlooking the gorgeous caldera. It is a must for any couple's itinerary!
Bordeaux
Location: France
Recommended by: Jakub from Tym Razem
Bordeaux is the world capital of wine, and there is definitely nothing more romantic than a delicious dinner with a glass of this renowned wine.
However, there is no point in going to Bordeaux just for dinner! The city itself is beautiful and has many unusual alleys in which you will feel great. You can enjoy river cruises and evening strolls with your loved one.
Make sure you buy some "Canele" (local sweets) as they are a great thing to enjoy during the walk. You can find them in the Canelés Baillardran (net of confectioneries) and it is a Bordeaux itinerary must.
French cuisine is world-famous, and the close proximity to the ocean means that in Bordeaux, you will find delicious seafood and one of the most popular oysters in France (from Arcachon).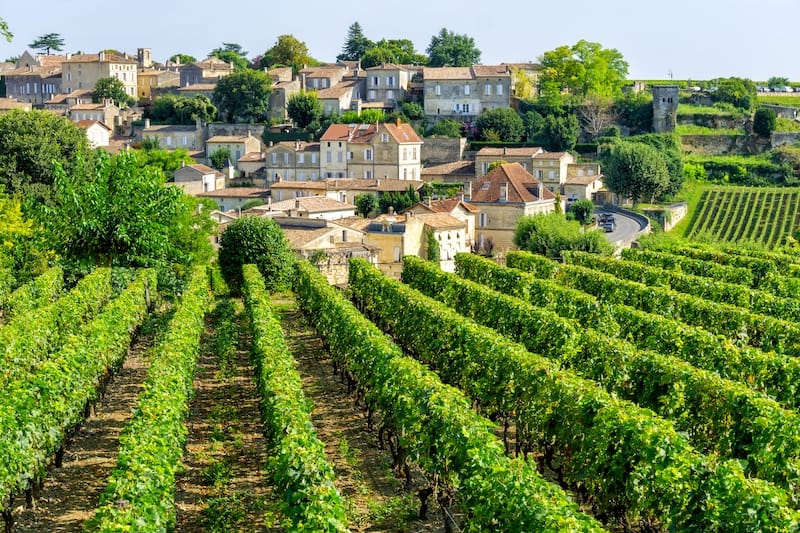 If you would like to try these fresh oysters, you need to check out La Cabane Cent Un restaurant – it has excellent wine and seafood!
You can get to Arcachon itself in less than an hour by car or public transport, but while in Bordeaux, plan a visit to one of the region's many vineyards!
Most offer accommodation, meals, and organized tastings! One of the closest (available by public transport) is Saint Achon, which greets guests with a beautiful Chateau and a lot of stories about wine!
It's best to go to Bordeaux in late spring, summer, or early fall. Be sure to visit the antique market, the bazaar with delicious fruits for sale, the bell tower of the cathedral, and the Cite du Vin – a center where you will learn everything about wine.
Bordeaux is one of the best romantic weekend getaways in Europe.
Barcelona
Location: Spain
Recommended by: Claire from Why Visit Barcelona
Barcelona is a gem of the Mediterranean and a wonderful city to explore with your partner. It's a popular place though so don't expect peace and quiet, but there are plenty of romantic things to do in Barcelona to keep you satisfied.
Valentine's Day isn't a big deal in Barcelona, but St Georges Day (La Diada de Sant Jordi) on the 23rd of April is the most romantic day of the year, with streets filled with stalls selling sweet-smelling roses and books to buy for your loved ones.
No matter when you choose to visit Barcelona you can enjoy some romance together (even during winter in the city!).
Wander the streets of the Gothic Quarter to find hidden squares and beautiful architecture, take a stroll along the beach, or enjoy a picnic under a shady tree in one of the city's parks.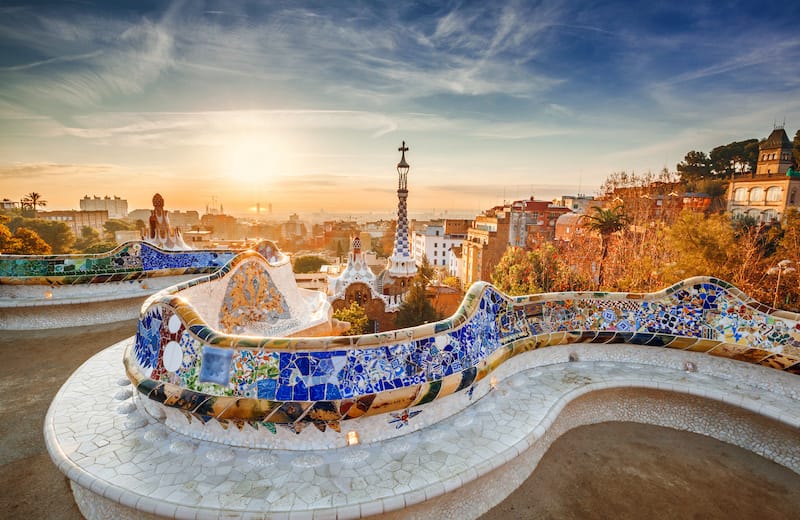 Gaudí's magnificent buildings are some of the most romantic places to visit in Barcelona, with his fairytale designs whisking you away to a magical world.
Don't miss going inside the magnificent Sagrada Familia, with columns stretching up to the ceiling like trees in a colorful forest, and Park Güell, where you can find a quiet place to admire the views.
For locals, a popular date spot is the Bunkers at Carmel, the remains of a civil war anti-aircraft defense post, which has some of the best views in the city. Head up there for sunset with a bottle of Catalan cava and enjoy.
Lofoten Islands
Location: Norway
Recommended by: Editor's Choice
The remote, rugged islands of Lofoten, Norway, are an unconventional paradise waiting to be explored with your partner. Bask in breathtaking views of the fjords on a cruise through the water.
The Trollfjord is a spectacular fjord not to be missed; it can only be reached by boat. If you love outdoor adventures, enjoy a winter kayak session or hike. Or, take a sea eagle safari to Trollfjorden!
Winter hiking is a serious sport, so if you don't have all the gear and stamina for a snowy hike, try the doable trek to Kvalvika Beach.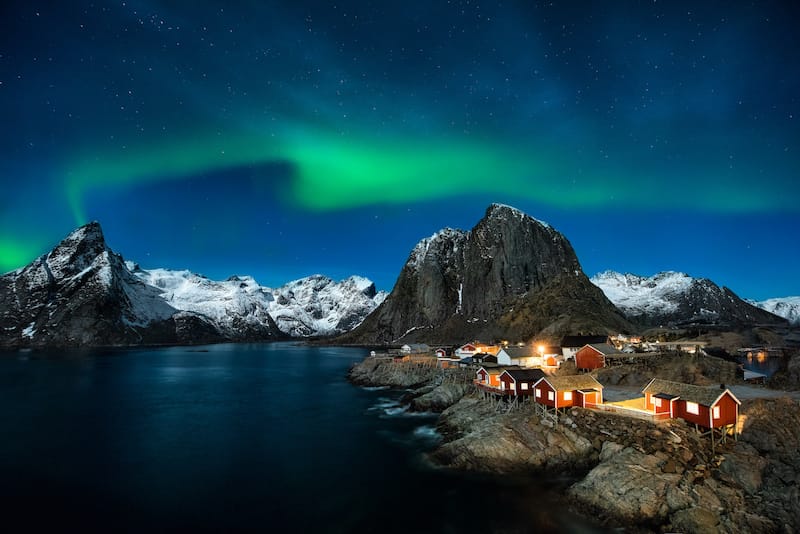 Don't miss out on taking a stroll along the gorgeous beaches, like Skagsanden Beach with its jewel blue water.
You can also walk through one of the many quaint fishing villages, such as Nusfjord or Reine, which are surrounded by amazing views and cozy rorbuer.
February is one of the best times to see the Northern Lights, so check the forecast to see if you might get the chance to see this amazing phenomenon together.
To get out of the cold, cozy up in one of the village cafes or spend time relaxing in a warm sauna.
Positano
Location: Italy
Recommended by: Editor's Choice
Gorgeous Positano is a perfect couples' destination along the world-famous Amalfi Coast.
There are so many beautiful spots to stop and take a nice photo together, whether it's while you explore the colorful hillside town or stroll along the beach together.
Soak in the scenery on a romantic private sunset cruise, where you'll have beautiful views of both the sea and shore.
Indulge in the fantastic cuisine of south Italy; enjoy a wine tasting at a vineyard, find your favorite gelato shop, and don't miss the best dinner experience in Positano- Ristorante Terrazza Cele.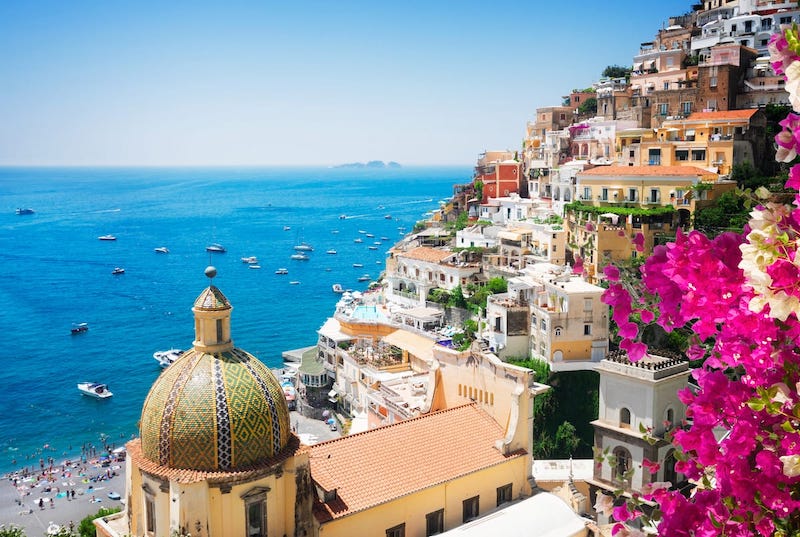 This fine-dining establishment boasts a delicious meal with spectacular views from its veranda seating. If you feel like dancing into the night, don't miss Music on the Rocks, Positano's coolest nightclub built into the cliffside.
Positano is situated on the Amalfi coast, which is renowned for its spectacular coastline and beautiful towns.
Rent a scooter and spend a day together zipping along the coast visiting some of Italy's most charming spots, such as Praiano and Ravello.
If you want to go a little further, take a day trip to the island of Capri, where you can experience the glowing Blue Grotto.
Siena
Location: Italy
Recommended by: Taima from Poor in a Private Plane
If you're looking for a romantic getaway in Europe, look no further than Siena, Italy. This picturesque city is renowned for its medieval architecture, lovely churches, and incredible food.
Siena is unique because it is a hidden gem where you will enjoy the beauty of Tuscany minus the tourist crowds. It also makes for a great place to call home while exploring other towns in Tuscany.
There is so much to see and do in Siena! Spend the day wandering the city center and exploring the winding streets and charming cafes.
Start at the Piazza Del Campo and make your way to the Cathedral, stopping at the Torre del Mangia and Piazza del Duomo along the way.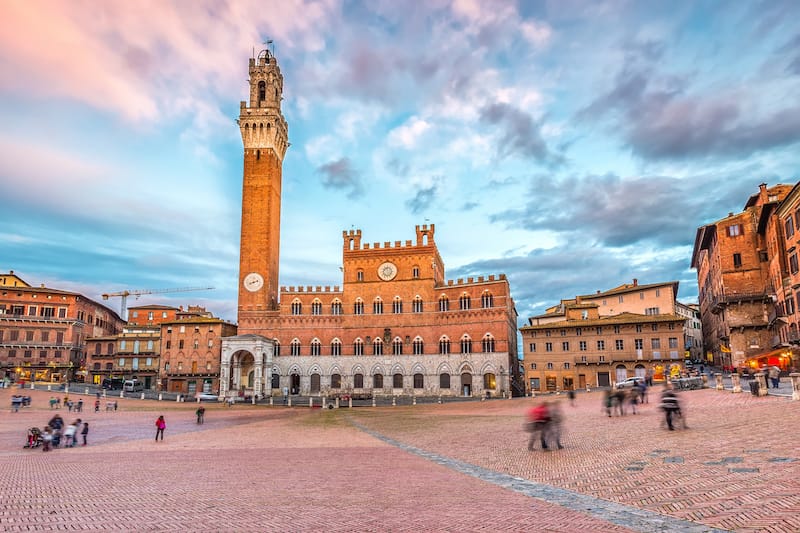 You can even spend the night in a castle at Castello Delle Quattro Torra. This 13th-century castle is built on an olive grove and offers impressive views of the Tuscan countryside.
One of the best things about Siena is the food. They actually have five restaurants that have been featured in the Michelin Guide!
Be sure to make a reservation for La Taverna di San Giuseppe, one of the five restaurants in Siena featured in the Michelin Guide. You will not be disappointed.
Finally, don't forget to enjoy one of the many wine bars or cafes like Zest Ristorante & Wine Bar as the sun sets.
You'll fall in love with Siena – and your significant other – all over again!
Zakynthos
Location: Greece
Recommended by: David & Intan from The World Travel Guy
The scenic island of Zakynthos Greece may be best known for its famous shipwreck beach (aka 'Navagio'), but aside from the dreamy beaches, it also has lots of romantic things to do and see.
You can explore the wonderful coastline by car or by boat, and the western coast of the island has lots of nice restaurants that are perfect for a romantic sunset dinner.
Some top restaurant choices for a romantic dinner in Zakynthos would be the Aeras Taverna, Porto Schiza Restaurant, Cross Taverna, or the Keri Lighthouse Restaurant.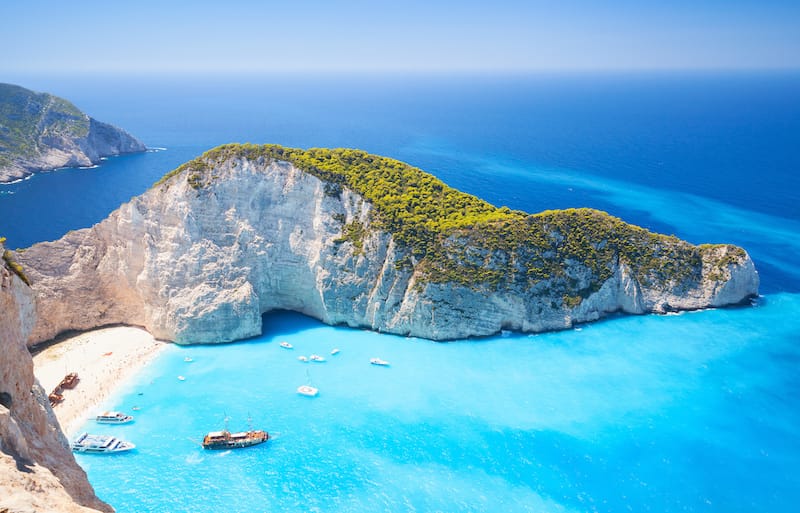 All of these are facing the sunset and are located near the coast, so the views are perfect! Along the way, you can visit some of the quiet country villages of Zakynthos and spend some time away from the tourist crowds.
For a romantic cruise, you can hire a boat captain and go visit Marathonisi Island or the Blue Caves, which are both known for their amazing scenery!
Paris
Location: France
Recommended by: Editor's Choice
Is there any place more famously romantic than Paris? Enjoy the atmosphere with a stroll around Montmartre, one of the most beautiful neighborhoods in the city.
Make sure you snap a photo together in front of the Wall of Love, a wall that has "I love you" written on it in 250 languages.
If you fancy a drink with a gorgeous view of the Eiffel Tower, head to the Perruche bar on the top floor of the department store Printemps Haussmann.
Or, climb to the top of the Arc de Triomphe near dusk for amazing 360 views over the city as it starts to light up.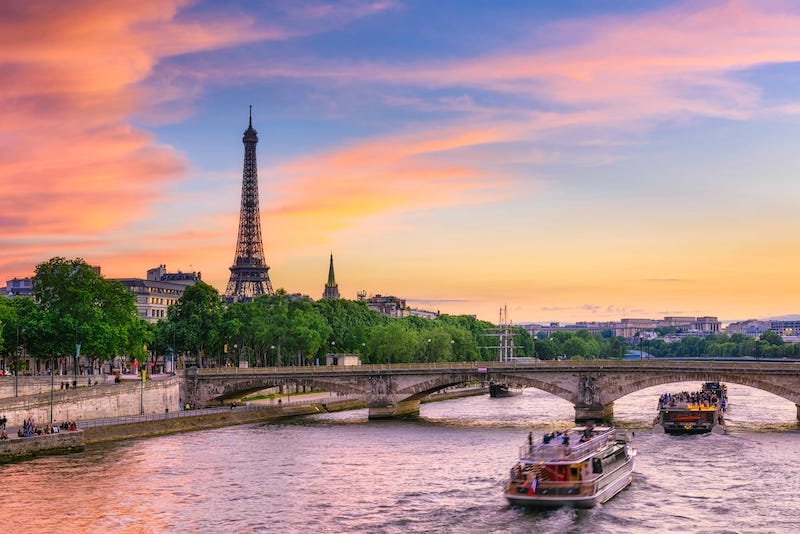 Don't miss spending a magical moment under the Eiffel Tower in the evening: the lights sparkle for five minutes on the hour between dusk and 11:45 pm.
Another fantastic way to see the City of Love is a romantic dinner cruise on the Seine. Skip the tourist-filled museums and go for a quieter one, such as the Musée de la Vie Romantique, Musée de L'Orangerie, or the Musée Rodin with its lovely gardens.
If you have an extra day slotted in there, be sure to take a day trip to Champagne country from Paris! It is the perfect romantic getaway from the city.
Lastly, have fun with your partner in a cooking class learning how to make French classics, such as macarons.
Salamanca
Location: Spain
Recommended by: Milijana from World Travel Connector
Salamanca is called the Golden City or La Dorada in Spanish. Beautiful La Dorada is a World Heritage Site and one of the most romantic Spanish cities!
The Old City of Salamanca showcases gorgeous Romanesque, Gothic, Moorish, Renaissance, Baroque, and Ultra Baroque architecture. The buildings of Old Salamanca are made of sandstone that strikingly glistens in the sunlight.
Therefore, the city appears to be made of gold! In addition, the stunning Salamanca's Plaza Mayor, built in intricate Baroque and Ultra Baroque styles, is often thought to be the most beautiful square in Spain.
Wandering the golden streets of sun-kissed Salamanca is romantic in itself. So, when in Salamanca, stroll the Old City and admire the street scenes.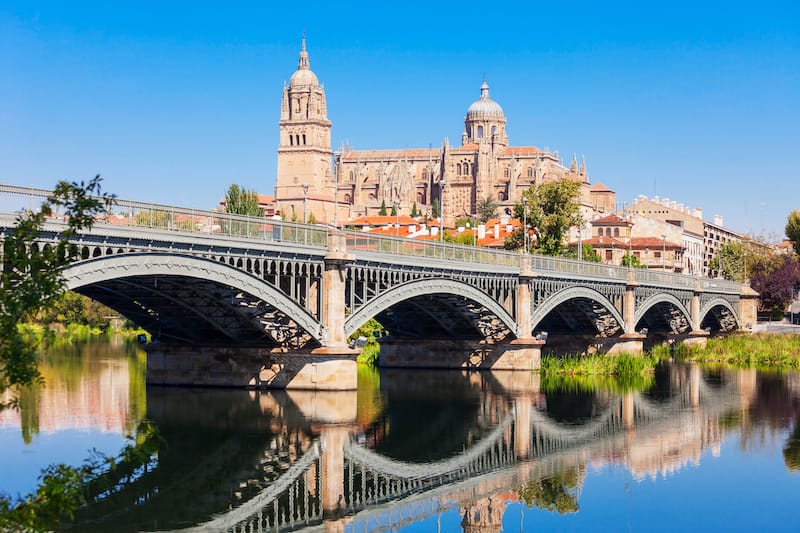 Check out the wonderful Salamanca cathedrals, see the famous Casa de las Conchas, and the Art Nouveau Casa Lis museum.
And when you get tired of strolling the city, treat yourself with delicious tapas and sip tinto de verano in bars at Plaza Mayor.
Pamper yourself at the Aquatherapia Spa Center, have a romantic dinner at the Michelin-star En la Parra restaurant, and romance is guaranteed.
If you are looking for one of the most romantic cities in Europe, look no further than the timeless beauty of Salamanca, Spain.
Isle of Skye
Location: Scotland
Recommended by: Moumita from Chasing the Long Road
The Isle of Skye is a breathtakingly beautiful island in the Inner Hebrides of northwest Scotland. It is famous for its rugged coastline, colorful fishing villages, windswept landscapes, and abundance of wildlife.
There are plenty of romantic things to do on Skye to make your stay with your loved one extra special.
Visit the famous Fairy Pools – a series of small picturesque waterfalls renowned for their clear turquoise water against the backdrop of dramatic mountain ranges. Bring your bathing suits, as you can take a refreshing dip into the natural pools in summer.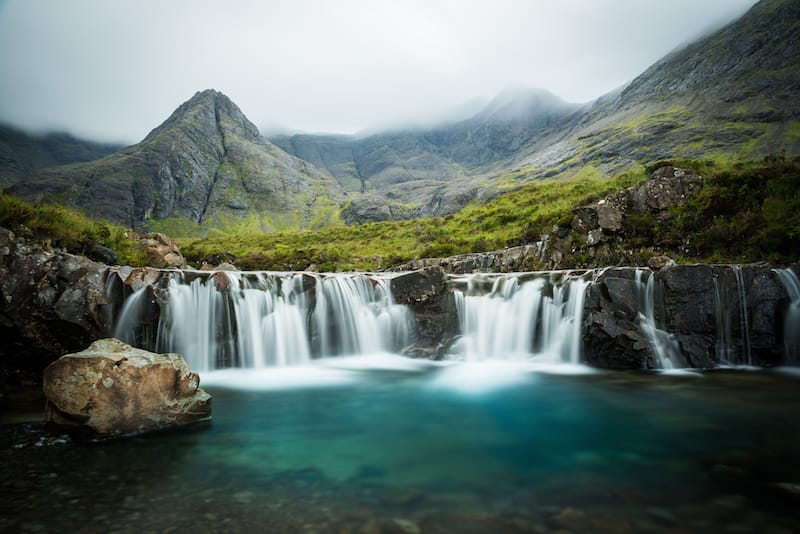 When in Scotland, you are never too far from a castle. Pay a visit to the historic Dunvegan Castle and Gardens, the ancestral house of the chiefs of Clan MacLeod for 800 years.
You can also go on a boat trip across Loch Dunvegan to see the Seal Colony.
The island is a hiker's paradise. You can go wild camping under the star in the remote and distant part of the island.
The iconic Old Man of Storr and Quiraing is the most famous walk on Skye. It passes through some of the most spectacular landscapes in Scotland.
Porto
Location: Portugal
Recommended by: De Wet from Museum of Wander
Porto is perfect for a romantic city break. Portugal's second city oozes charm with beautiful architecture, delicious cuisine, friendly locals, and romantic vibes galore.
One of the most beautiful places in Portugal, you'll fall in love over and over as you explore the city with your sweetheart.
Go in search of Porto's beautiful azulejo-covered buildings where you can take cute couple selfies.
The classic blue and white Portuguese tiles are all over town, but for the most impressive ones, take a stroll to the Capela das Almas, Sao Bento Railway Station, or the Igreja do Carmo.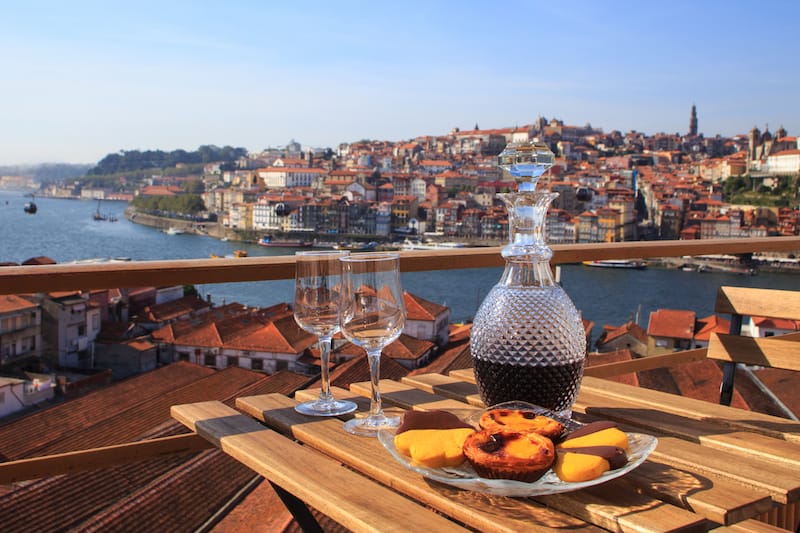 Walk hand in hand across the stunning Dom Louis bridge over the Douro River to the Gaia neighborhood… it is a must for any Porto itinerary!
Here you can visit Porto's famous port wine cellars, go on a cellar tour, and taste some of the good stuff.
Alternatively, get a drink and find a spot on the river bank, or jump aboard a 6 Bridges River Cruise on the Douro to see the city from another angle.
Sunsets in Porto are pure magic. For the best spot, head up to Serra do Pilar in Gaia to watch the Douro turn to gold as the sun sets.
Have a romantic dinner and drinks in Riberia followed by a stroll along the river. Ask one of the buskers to sing your song, and you'll have the most romantic city break.
Dubrovnik
Location: Croatia
Recommended by: Katie from KatieCafTravel.com
Dubrovnik, Croatia is well-known for being one of the most beautiful coastal cities in Europe.
Also known by the name the "Pearl of Adriatic", Dubrovnik looks like a city straight out of a fairytale, with medieval stone fortresses and palaces, all offset by the gorgeous blue waters of the Aegean Sea.
Being in the city during its high season, which is in the summer months from May to September, is a great time to embark on some of the more romantic activities Dubrovnik has to offer.
One great thing you can do for a day date in Dubrovnik is to visit a winery and go on a wine tour. The best know winery in Dubrovnik is Skar Winery. For even more romance, you can go on a sunset wine cruise around the Dubrovnik harbor.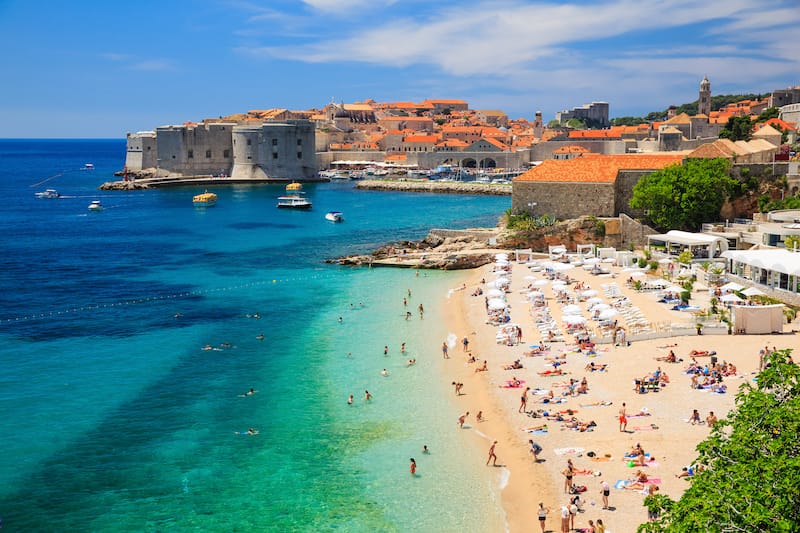 Another popular thing to do for couples is to take the Dubrovnik Funicular cable car from the city all the way to the top of Mt Srd, where you can take in sweeping views of Dubrovnik's Old Town and port with your partner.
Going on a walk along the cliffs is another wonderful romantic activity for couples in Dubrovnik.
For those who want to leave their mark on the city long after they finish their trip, you can place a love lock along the fence facing the Aegean Sea.
Marbella
Location: Spain
Recommended by: Cristina from My Little World of Travelling
Marbella, situated in Costa del Sol, in the south of Spain, is one of the best places to enjoy a romantic getaway. This charming town is much more than a summer holiday destination and has many activities to offer couples.
Visiting the Old Town of Marbella is one of the best activities for those who love exploring.
Its beautiful whitewashed buildings, bougainvilleas flowers hanging down from houses, and monuments make it a very romantic destination in Spain.
After wandering the Old Town, there is nothing better than having a meal at Plaza de Los Naranjos, a lively square surrounded by orange trees and plenty of restaurants with outdoor seating.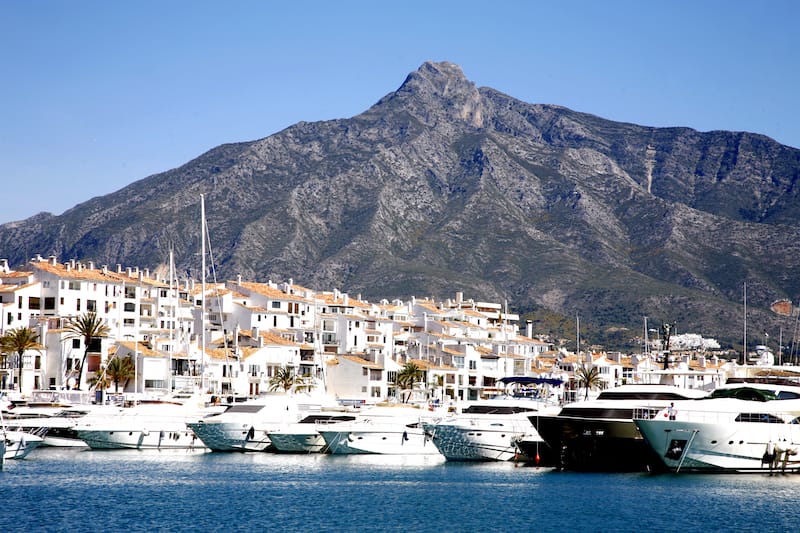 Marbella is also known for its luxurious style, and it is here where you will find some of the best boutique hotels in Costa del Sol.
Hotels like Amare offer beautiful rooms and facilities for adults only, perfect for couples who want to unwind and enjoy the beauty of this town.
Other romantic activities in Marbella include watching the sunset at the beach, eating at one of the many Michelin-star restaurants, and going on a wine tour.
Last but not least, Marbella is also close to other beautiful whitewashed towns that are worth visiting. If you like catching sunsets with your partner, go on a short day trip to Mijas Pueblo to enjoy the prettiest sunset in Costa del Sol.
Hallstatt
Location: Austria
Recommended by: Charu from Travel with CG
Another romantic place to visit in Europe is the fairytale village of Hallstatt in Austria. Located on the banks of the pristine Hallstatter Lake, it is a postcard-perfect destination where time has managed to remain still.
One of the best things to do in Hallstatt is to take the funicular up to the Hallstatt Skywalk Welterbeblick viewpoint for a bird's eye perspective of the Dachstein mountains, Hallstatter Lake, and the village.
Next, go on a tour to the iconic Salzwelten Hallstatt, the world's oldest salt mine, and learn about its 7000 years of history.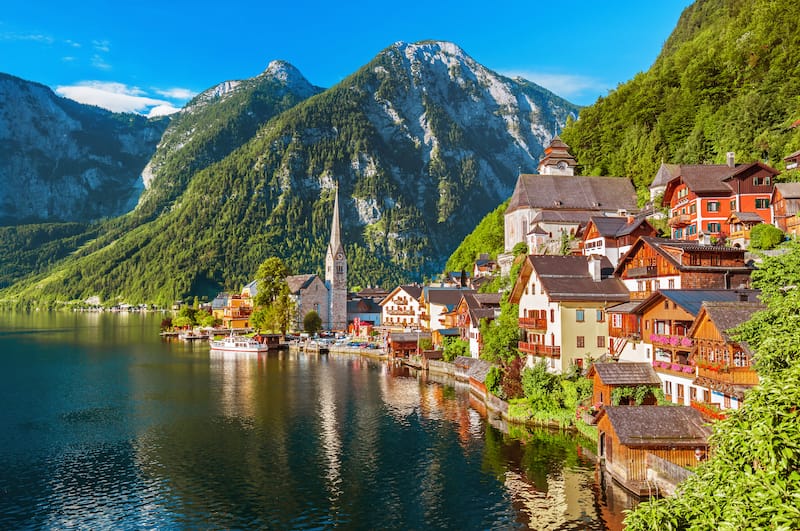 For lunch, get an outdoor table at the Seehotel Grüner Baum and have a romantic meal while swan-watching in the lake in front of you.
For something more memorable, surprise your partner with a sunset Zille tour on the lake that includes a picnic and wine. You can book it via Navia shipping.
Lastly, since no trip to Hallstatt is complete without visiting the most photographed perspective of the village, make sure to head to Aussichtspunkt Hallstatt to take some pictures to remember your romantic getaway.
Valletta
Location: Malta
Recommended by: Linn from Brainy Backpackers
If you are looking for a romantic place to visit in Europe, look no further than Malta. Jam-packed with enchanting medieval cities and towns, Malta is the perfect holiday destination for couples, especially its capital city, Valletta.
In fact, it is the perfect place for a romantic proposal! There are many cute jewelry stores in the shopping street of Valletta where you can look for a diamond to seal your love.
Take a romantic boat trip to explore the Three Cities or head to the Blue Grotto. For a romantic dinner, Valletta does not lack romantic restaurants.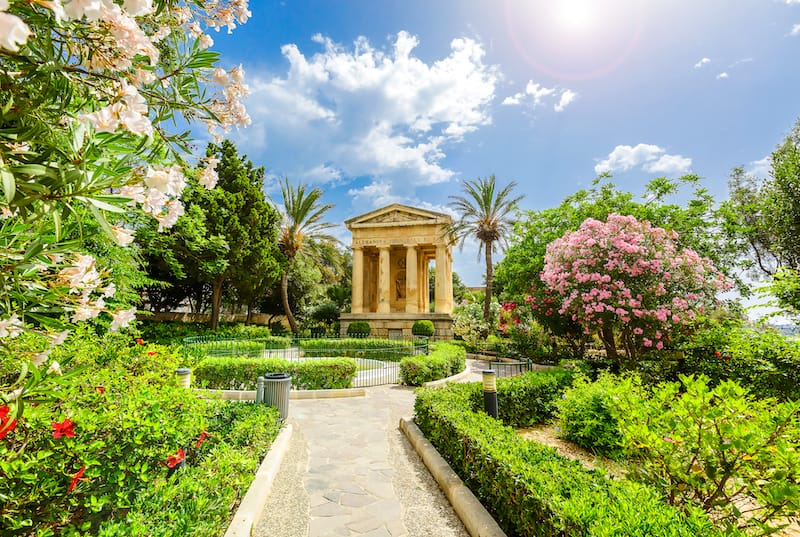 From luxurious restaurants to cozy caves like Gugar. The old streets of Valletta, covered in colorful, closed balconies, take you back in time and the warm streetlight at night wraps you in like no other place.
Walk hand in hand and grab a nice glass of red in one of the vibrant bars before walking back to your hotel room. For a romantic stay, check-in at the Valletta Suites boutique hotel.
Budapest
Location: Hungary
Recommended by: Anna from Explore Nightlife
Thanks to stunning architecture and rich history, splendid castles, fancy restaurants and pubs, and the beautiful Danube river offering opportunities for celebrating love, Budapest is undoubtedly one of the romantic destinations in Europe.
A guided walking tour is the best way to explore famous landmarks in Buda and Pest districts on either side of the Danube.
Check out its alluring Buda castle, Fisherman's Bastion, and Szenchenyi Chain bridge, which are the central pieces of Budapest's rich medieval history.
Take a tour of the iconic Parliament building and the Central Market Hall.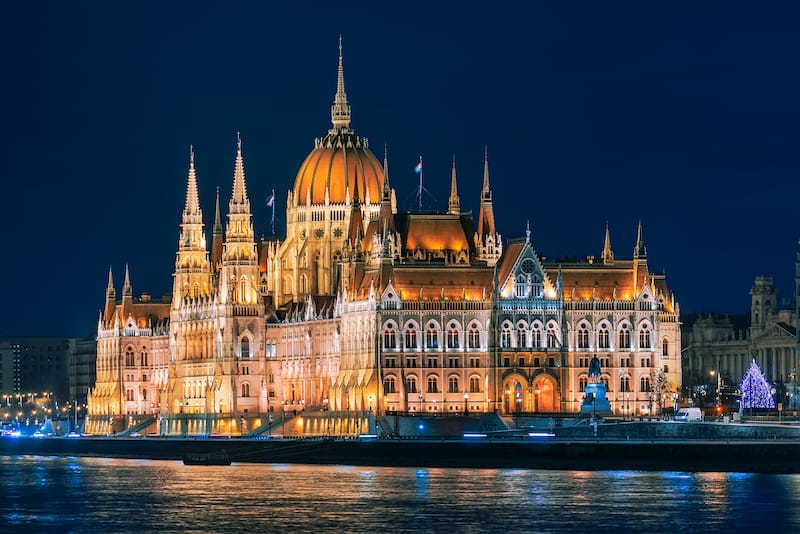 There are many amazing things to do in Budapest at night, from cruises to dinners and theater. Admire the city's grand treasures by hopping on a cruise with your partner in the evening.
Taste the local beer and food at Vaci street, Liszt Ferenc Square, and Raday Utca. Head to the iconic Szimpla Kert, Budapest's most famous ruin bar.
If you want something more slow-paced, wind up a packed day by enjoying a relaxing sauna at the famous thermal bath, Szenchenyi, or the Rudas Thermal Bath.
Iceland
Recommended by: Cristina from Honest Travel Stories
Iceland is romantic in a different way, and I'm here to tell you it should be seen as honeymoon material more often than it is.
And this is because it has everything: it has mountains, it has beaches, it has extreme sports, but it also has relaxing spas you can enjoy.
Nothing will connect you better with your loved one than the sheer loneliness you will encounter while on your Ring Road itinerary across Iceland. You'll drive for miles and miles and won't see a single human being.
You'll only see the fantastic landscape, beautiful scenery, and some sheep and horses running around, just to make you feel you're still on Earth.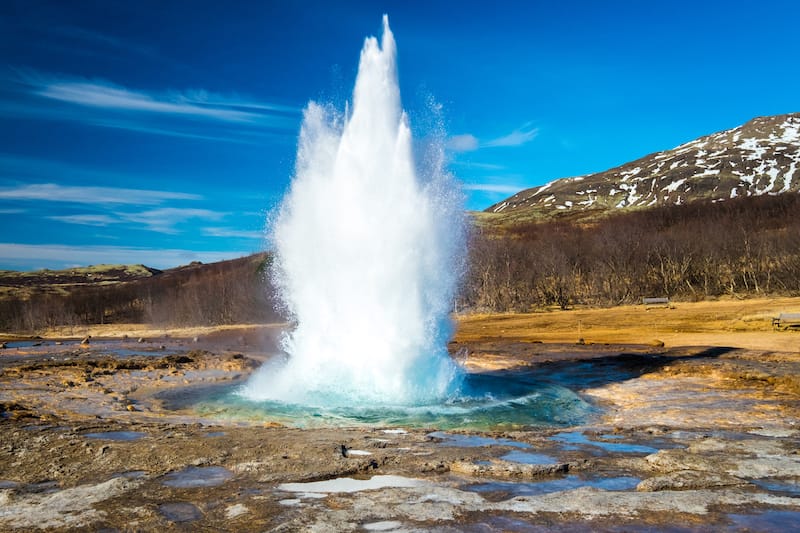 Nothing connects you more than sharing plenty of time just the two of you, going through some of the most intense challenges in the world.
You can hike some of the most difficult trails or just stroll on an easy path to reach the Reykjadalur hot river. You can go on the Vatnajökull glacier for an even more intense hike.
You can go inside an extinct volcano at Príhnúkagígur, snorkel between tectonic plates at Silfra, visit tens of waterfalls (Seljalandsfoss being the most known one) and look for elves and the Elf school of Reykjavik.
Or, you can relax at a new hot spring every day, visit Laugarvatn Fontana where you get to learn to make rye bread by using the Earth's heat, watch puffins up in the North, or go on a food tour in Reykjavik.
Because of this, Iceland truly is one of the most romantic places in Europe!
Obidos
Location: Portugal
Recommended by: Abbey from Trips on Abbey Road
One of the most romantic places in Europe has to be the Obidos Portugal Castle town. When you arrive in Obidos, the magic of the cozy town will overcome you!
The Obidos Portugal Castle is a medieval castle, from the Morrish era. But what makes it so unique is that there is still a fully functioning town inside the castle walls.
You will find boutique shops selling souvenirs and handmade clothes, medieval bars to stop at and enjoy a beverage, and there are many different options for accommodation inside the castle.
The most famous medieval bar inside Obidos is the Bar Inn Errik Rex. Here you will be transported back in time and you can even cook sausages over an open flame.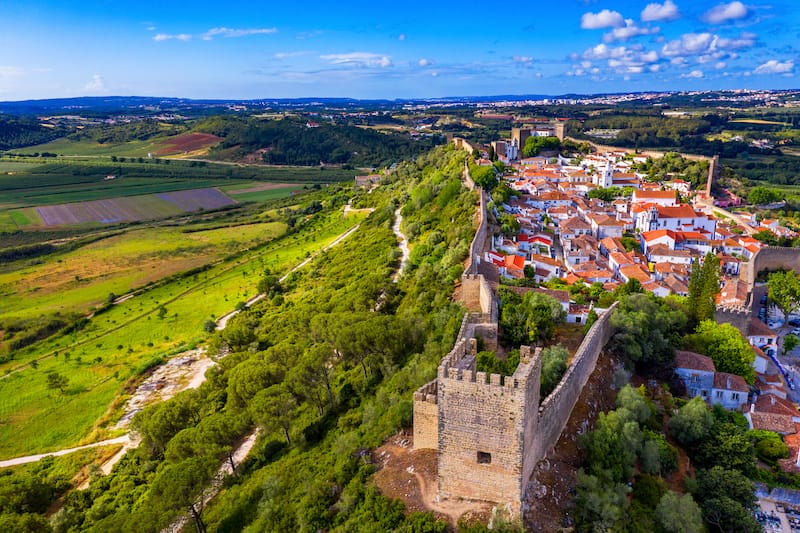 After you get in your bar fix, you will want to try the famous sour cherry Ginja that Obidos is so popular for.
You will see almost every shop selling the ginja in the cutest homemade chocolate cups. You have to try one of the white chocolate and one of the milk to see which one you like the best.
What makes Obidos one of the most romantic places in Europe is when you stroll along the 10-foot castle walls and take in the view of the whole town.
Did we miss any of the most romantic cities in Europe? Let us know your favorite romantic places in Europe in the comments. Thanks!
More Europe Travel Guides
Pin this Romantic Cities in Europe Guide