The Lofoten Islands in northern Norway are one of the most epic places on the planet. This is a guide to everything you need to know before you visit the Lofoten Islands.
These Lofoten travel tips will give you all of my tricks, as well as some practical information to help you plan your trip to this Arctic paradise!
In this Lofoten travel guide, we detail everything from how to get to the islands to what to expect in different seasons.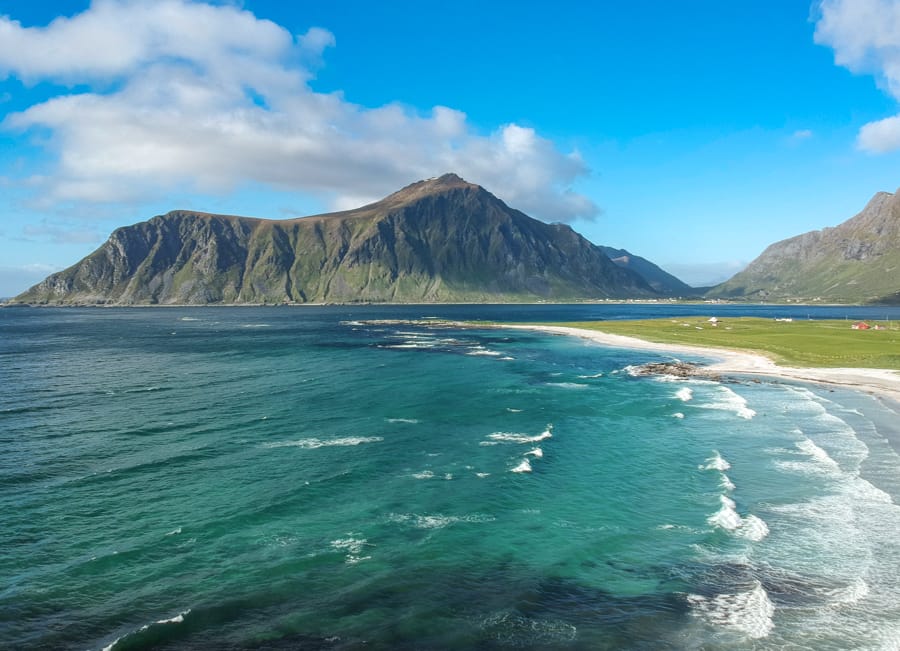 Did we miss anything you'd like to know before traveling to the Lofoten Islands? Let us know in the comments.
Lofoten Islands Transportation and Flights
Getting to the Lofoten Islands
First of all, you need to get yourself to Norway. It is the easiest thoroughfare to get up north. I flew airBaltic, my favorite airline, from Tbilisi to Riga to Oslo.
Once I was in Oslo, it made the opportunity to get up north much easier.
The Lofoten Islands are a bit remote, but they can be reached from Oslo or the larger cities in Norway via Svolvær, Leknes, or Harstad/Narvik Airports.
Harstad/Narvik is a bit larger and does have international connections seasonally… but it is not situated on the islands. Svolvær and Leknes Airports are located in the Lofoten Islands and are the best option based on proximity.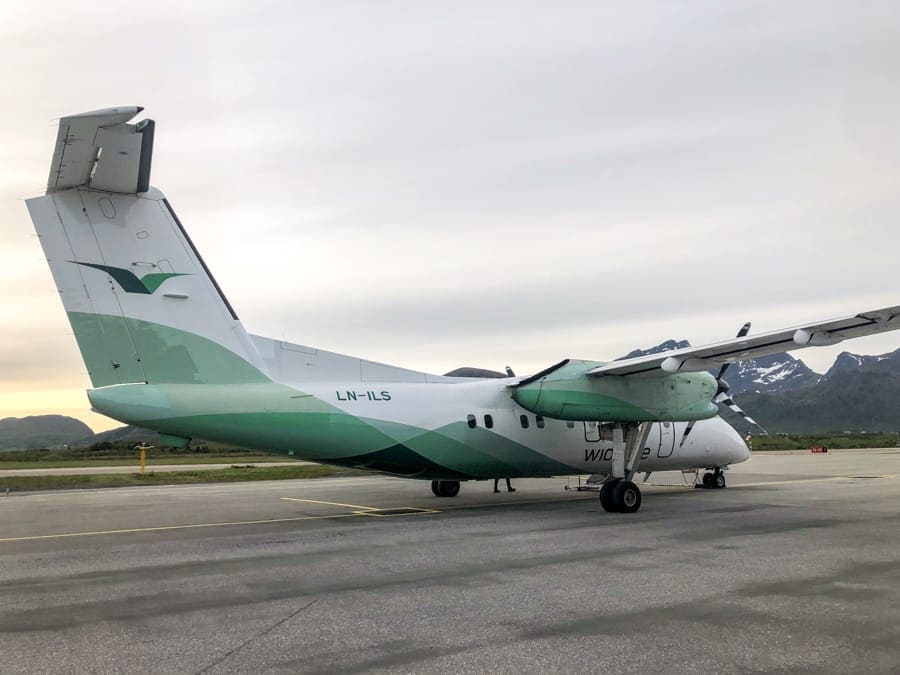 These airports are serviced by Widerøe, SAS, or Norwegian depending on where you're flying from and landing in. Try to book in advance a bit as the airports are small and the planes don't hold heaps of people.
Alternatively, you can take a ferry from Bodø to the Lofoten Islands. I mean, there are many things to do in Bodø, but you definitely need to see Lofoten while you're at it.
The boats arrive on Moskenes Island and, to be honest, it is one of the most beautiful parts of Lofoten so it will be a great first impression you'll receive coming right off the boat.
To see Bodø to Lofoten Islands ferry schedules, click here. If you're keen to research tickets on Widerøe to arrive in Svolvær, Leknes, or Harstad/Narvik, click here to search availability and options.
Lofoten Islands Airports
Please take into consideration that airports in the Lofoten Islands are extremely small as are the small towns and fishing villages.
There is not going to necessarily be a bus waiting to drop you at your hotel and the distance from one airport to a hotel can be great and needs prior planning.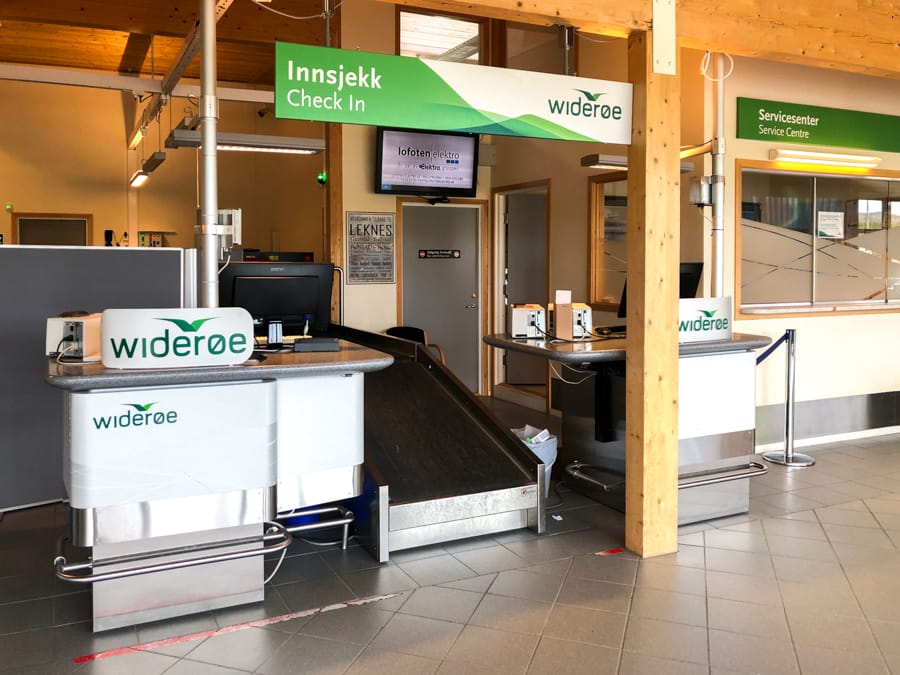 These airports have one runway and pretty much one gate. Widerøe is the carrier of choice (okay… the only carrier) in these parts and their planes are small and have limited space and no seating as the hops are generally pretty short.
I actually love flying them and think they are practical in an area that can be pretty challenging to get around.
The airport codes for Lofoten are as follows: Svolvær (SVJ), Leknes (LKN), and Harstad/Narvik (EVE).
If you're staying in the lower part of Lofoten (Å, Reine, Hamnøy, Stamsund, Leknes, Nusfjord, etc), you will want to fly into Leknes.
If you're staying in Svolvær, Henningsvær, Gimsøya, or somewhere more north, you will want to fly into Svolvær. I'd advise against flying into Narvik and Harstad unless you can't find alternative options in the aforementioned airports.
If you're wanting to investigate further options for getting from an airport to your final destination via public transportation, check out the local transport website.
Can You Take the Train to the Lofoten Islands?
There is no train to the Lofoten Islands. Why? Well, the trains in Norway don't run north of Bodø. And the Lofoten Islands are north of Bodø.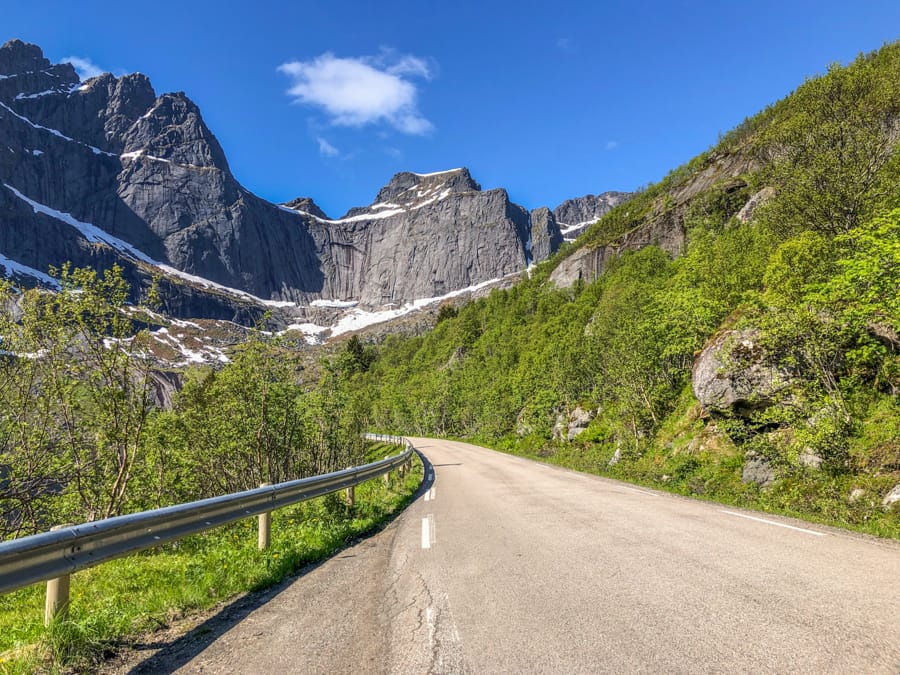 You can take the train to Bodø and then take a ferry or bus up to the Lofoten Islands. Or you can fly from Bodø and take the 29-minute flight or whatever it was.
Public Transportation in the Lofoten Islands
If you're not renting a car in the Lofoten Islands and are looking to use public transportation to get around, congratulations, you're in luck.
But, it is not the most ideal of situations, to be honest. You can view all bus schedules here.
The buses run throughout the islands on a schedule and can get you from point A to point B. But, they don't reach everywhere.

If you're looking to get out to Nusfjord, for example, you won't have much luck with public transportation.
I actually would rather hitchhike around the islands than rely on public transportation.
In addition, you can't just stop and take photos whenever you want and that is a travesty as the Lofoten Islands are easily one of the most beautiful places on the planet.
Renting a Car in the Lofoten Islands
I plan to write an entire guide to renting a car in the Lofoten Islands, but for now, here is a quick recap of what I think about the experience.
If you plan to rent a car in the Lofoten Islands, you will need your driver's license and decent driving skills. The airports are a prime place for pickup but there are limited cars available.
Be sure to communicate beforehand about your arrival and how to go about it. In Svolvær, the car rental place is removed from the airport and in an area to the left once you exit the arrivals area. Leknes is a bit the same.
Click here to check rental car options in the Lofoten Islands.
Driving in the Lofoten Islands
Taking a Lofoten Islands rental car around should seem like an easy business but it's not. The problem is not the infrastructure, roads, or the car hire itself.
The real issue is that the scenery is distracting. The landscapes of the Lofoten Islands are so sick that it is really easy to drive around and get extremely distracted and fall off course.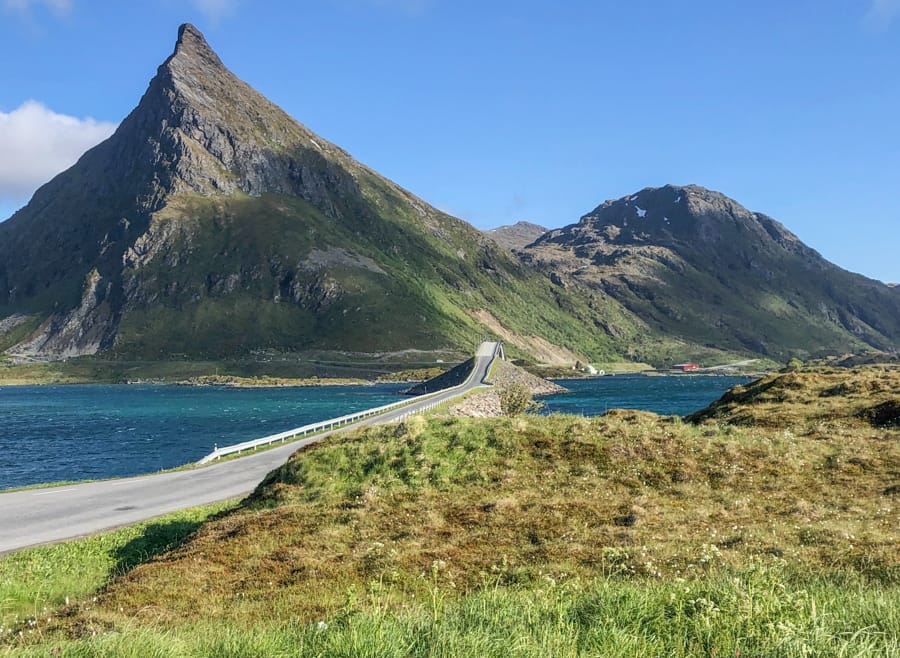 You are driving along the edge of the ocean, besides colorful rorbuer, and through scenery that actually doesn't look real. It is hard to take it all in while attempting to concentrate on the road.
This will force you to stop every five minutes to take photos and just bask in the glory of being in the gorgeous Lofoten Islands.
Another note is that there will be a lot of campers (notably from Germany) in the Lofoten Islands.
These Germans will still think they are on the Autobahn and will tear through corners as such, not leaving room for other vehicles to confidently cruise along the roads. The campers don't mean any harm, just prepare yourself ahead of time!
Parking Can Be a Pain
Learned the hard way.
So, why is parking difficult? Well, it is not entirely difficult as it is challenging to identify where you're permitted to park and where you're not permitted to park.
If you have any uncertainty, always ask for clarification.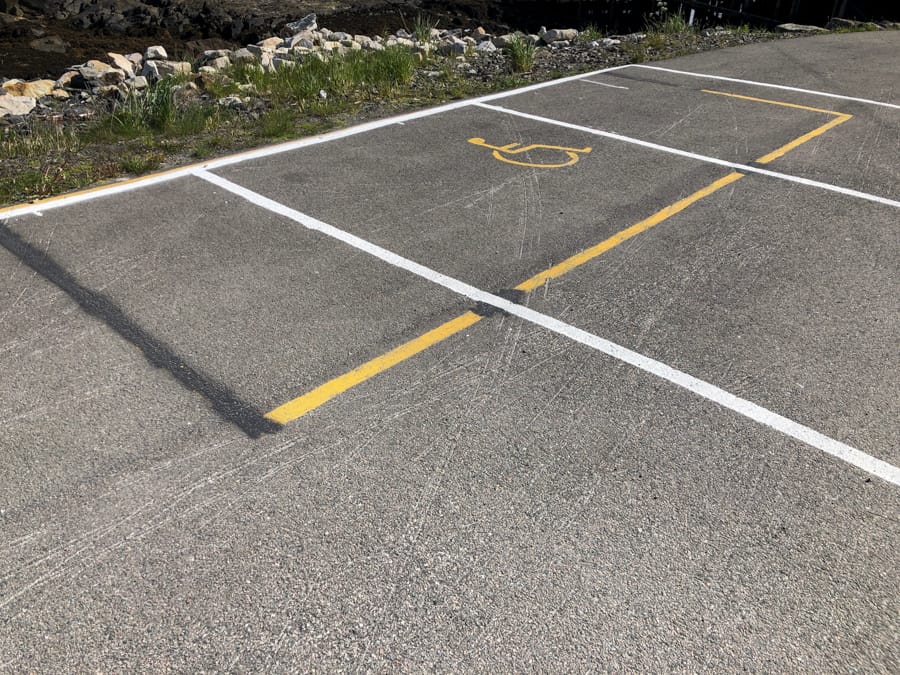 We received a ticket in Henningsvær for parking in a place that wasn't dedicated to our hotel. The yellow lines here indicated hotel parking. Um????
It was completely unclear and we ended up paying the 600 NOK fine in the end which was pretty lousy. Hope you put that money to good use, Vågen Kommune.
And by good use, we mean we hope you bought another can of paint and cleaned this mess up.
Hitchhiking in Lofoten is an Option
While we didn't particularly do this ourselves as we had a rental car (don't worry, we hitchhiked to Hammerfest in the far north), we did pick up hitchhikers during our Lofoten Islands trip.

Hitchhiking in Northern Norway was really fun and pretty easy. The roads are not teeming with cars, even in the summer months, and the locals and tourists in the area are pretty friendly and willing to pick up others traveling through these majestic parts.
Food, Drinks, and Restaurants in the Lofoten Islands
If you like delicious food (especially seafood!) and find yourself in the Lofoten Islands, congratulations! You have ended up in foodie heaven.
And don't worry if you're a vegan or vegetarian, most places in Norway will offer alternatives to those on a plant-based diet. Below is everything we know about food, drinks, and restaurants in the Lofoten Islands.
You Will See Cod Drying (Racks) Everywhere
Depending on what season you visit the Lofoten Islands, you may see cod drying on large racks everywhere you go.

You will see the racks no matter what, but if you venture there during the right time of year, you will see the actual cod hanging and you may even smell it before you see it.
This is where the local delicacy 'stockfish' comes from.
Stockfish Dishes are Everywhere
"Hi, what is your signature dish?"
"Stockfish."
So basically, everywhere you go you will see stockfish on the menu in some way, shape, or form.
These are rehydrated and cooked versions of the cod you will see hanging out to dry everywhere throughout the islands. While I do love stockfish, I can only take so much of it prepared the same way.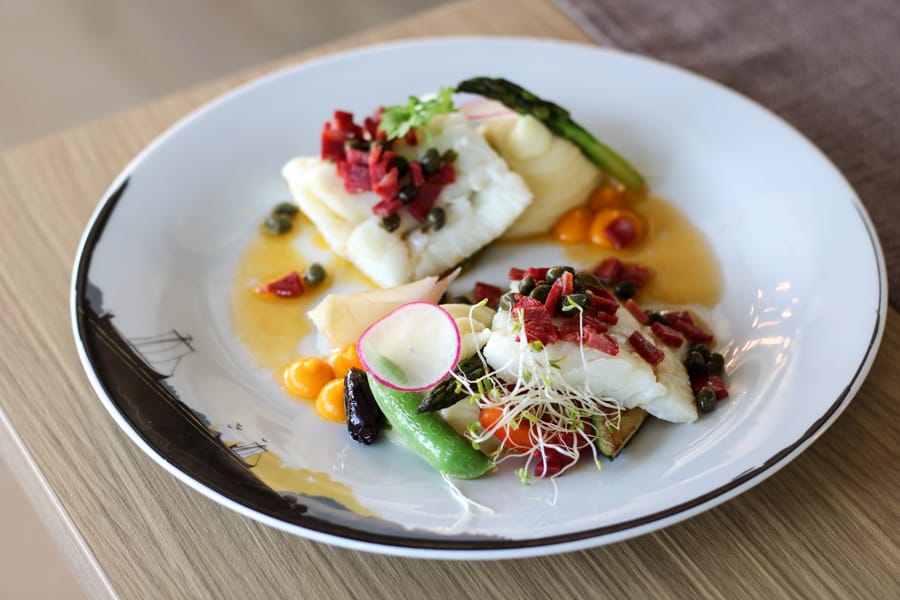 If you're looking for a stockfish dish with a unique twist, head to Henningsvær Bryggehotell's restaurant. They offer stockfish but it will have a spin on it that will take you to Southern Europe and it is simply divine!
The Word 'Søndagsåpent' is a Big Deal
In Norway, shops are traditionally closed on Sundays. Fortunately, and unlike Germany, you will be able to find limited shops that are called 'Søndagsåpent' shops, or 'Sundays open' shops.
These shops are sparse in the Lofoten Islands, but they do exist every so often! They will be your lifeline!
Norway is expensive and the cheapest place to purchase food is at a grocery store. I recommend buying a loaf of bread, some cheese and meats, and condiments from the grocery store and keeping them in your car.
If you do need something and you see a Søndagsåpent shop, stop and grab it because you don't know when the next shop will appear.
Lofoten Islands Craft Beer Does Exist
And it is good! Lofotpils is a company based in Svolvær that makes some absolutely delicious beer and they distribute it all throughout the islands.
Run by Andreas, an Icelandic-Norwegian who loves his beer and the Lofoten Islands, he has created an empire in the islands with the stuff.
Megan has had Lofotpils all over this part of Northern Norway and says the beers are simply delicious.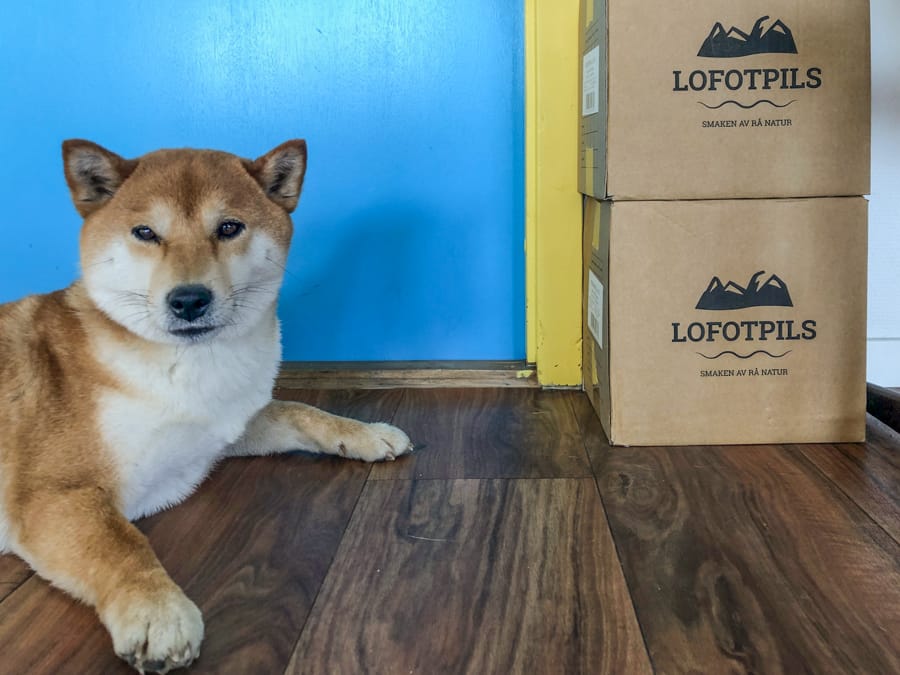 We had the chance to tour the brewery when visiting the Lofoten Islands recently and a chance to sample small amounts of the brews, and I can't say she was wrong!
The pilsner is the best-seller but they offer seasonal beers as well. They offer tours of the brewery but if you're simply interested in just tasting their beers, you can find them almost anywhere throughout the islands and at a lot of the restaurants.
Buying Alcohol in Norway
If you're looking to purchase drinks in Norway, you will need to do so at a grocery store (if lower alcohol percentage- like beer) or at the Vinmonopolet, a state-run alcohol shop with astronomical taxes on beverages.
Grocery stores sell beer and cider. You can purchase alcohol there on weekdays until 8pm and on Saturdays until 6pm. You are unable to purchase on Sundays.
In the Lofoten Islands, you can find Vinmonopolets in Leknes and Svolvær. This is where you can buy wine and spirits.
Just a quick tip- if you're flying into Norway from abroad (landing in a larger city not in Lofoten), take advantage of the duty-free shopping there for alcohol.
This is what most Norwegians do to avoid some of these high taxes on beverages. You can then carry it up to Lofoten if you're not just using carry-ons or if you didn't connect on a separate ticket.
Scenery in the Lofoten Islands
Beaches in the Lofoten Islands Rival the Caribbean
If you were to look at a photo of a Caribbean beach versus one from the Lofoten Islands, you may actually not be able to tell the difference. Thank goodness the weather doesn't translate via a photograph.
While the beaches may be cold and not surrounded by hammocks and smoothie bars, you can definitely still swim in them if you don't mind the cold waters.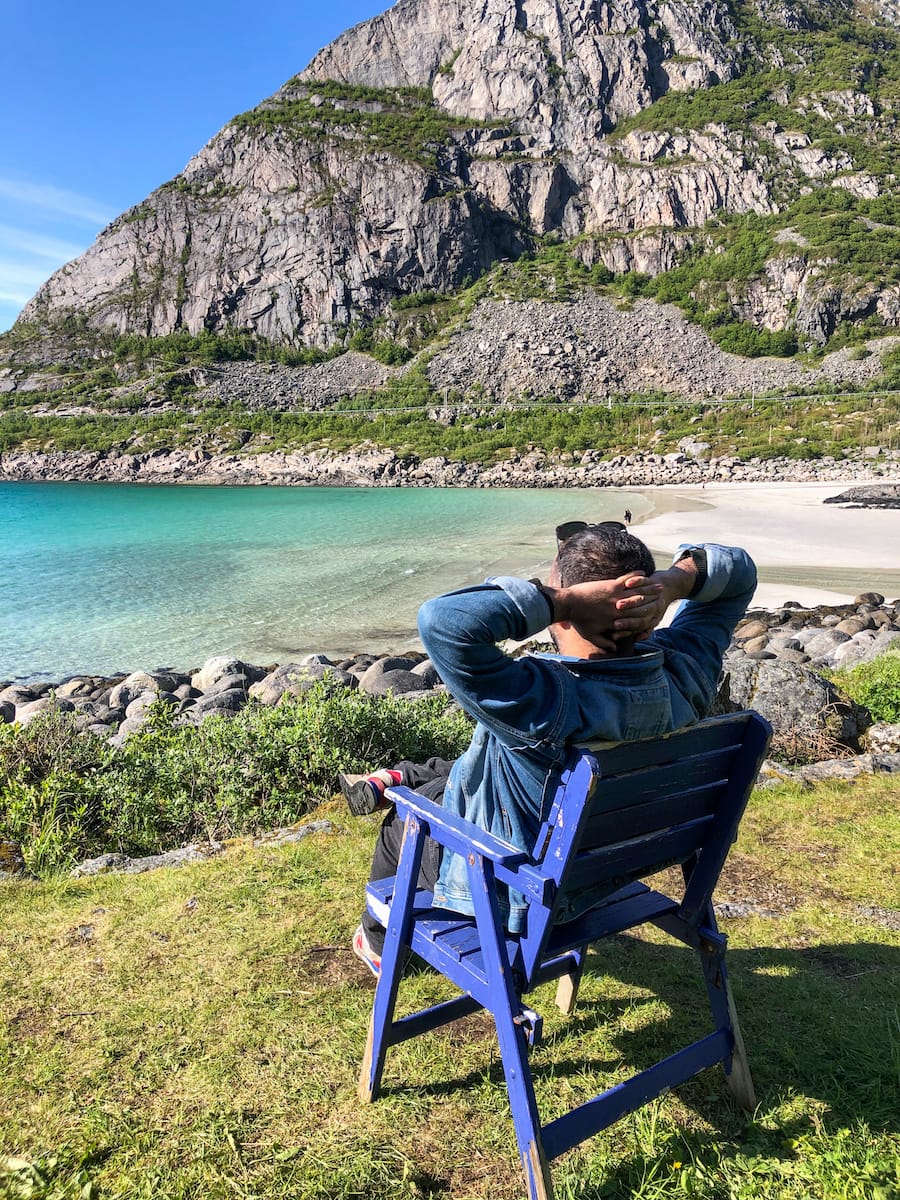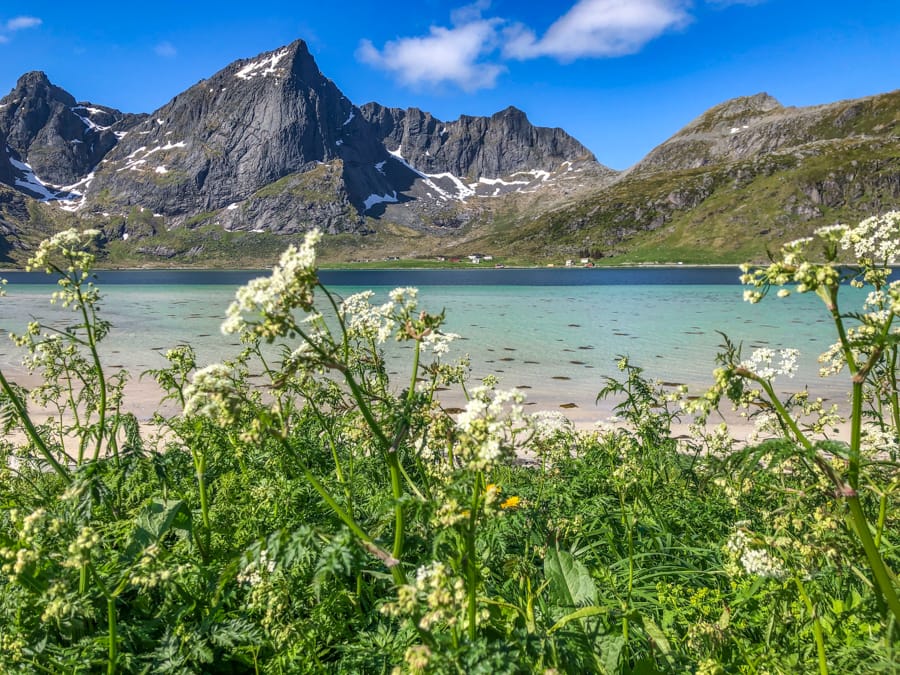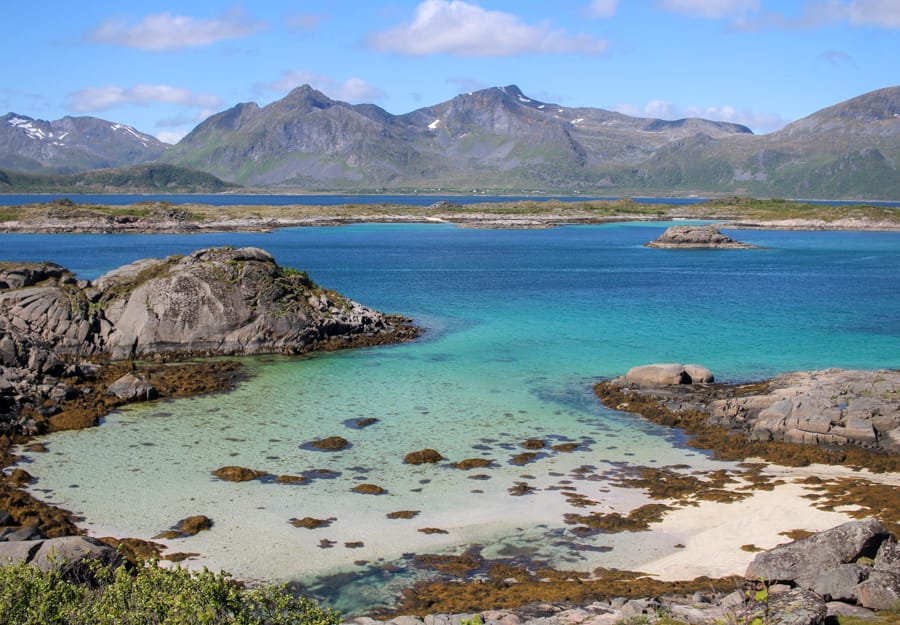 The Lofoten Islands is also a surfing mecca in the Arctic and is home to the world's northernmost surf resort (read below).
World's Northernmost Surf Resort at Unstad
You may not realize this, but the Lofoten Islands are home to some killer surfing. Granted, the waters are a feat to warm up to themselves but once you do, you're in for some great surfing if the conditions are right.
This is why the Unstad Arctic Surf Resort opened its doors and is one of the most popular places to visit and stay in the islands.
Another fun fact- they claim to have 'the best cinnamon bun in the world'. I take these claims seriously and when I saw the sign, I stopped in to prove them wrong.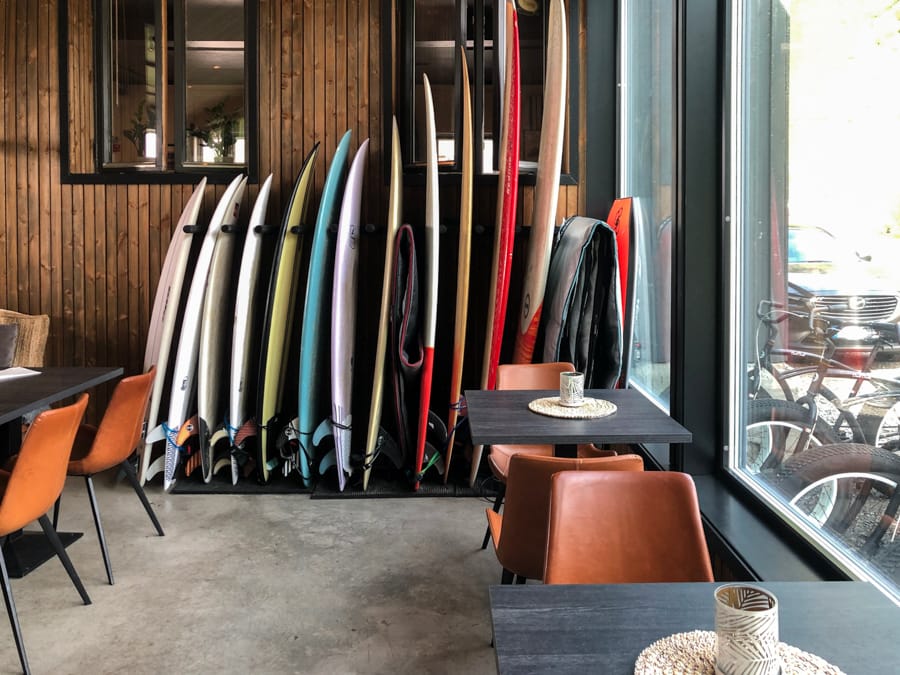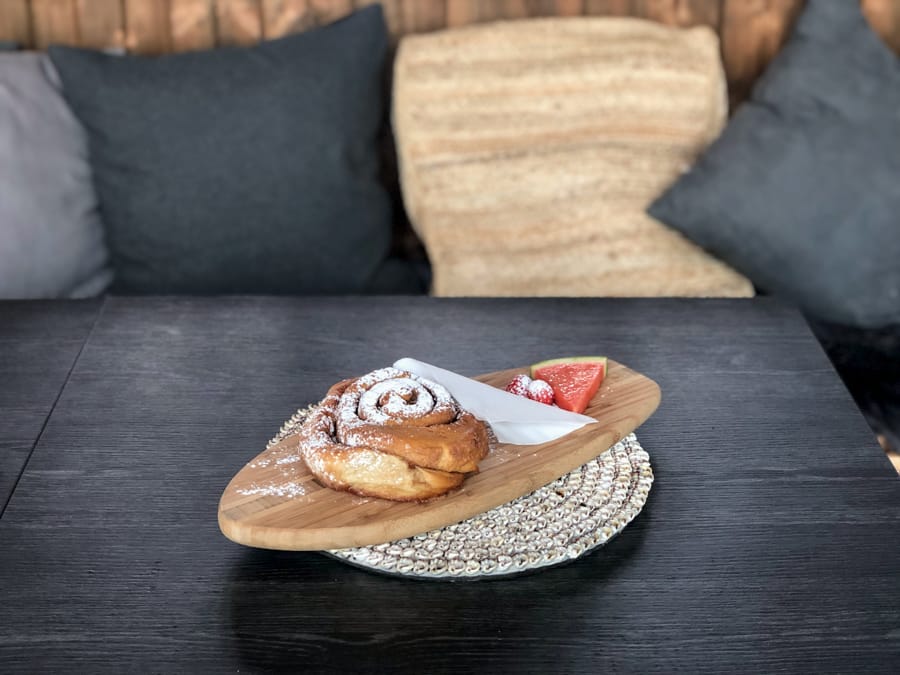 Turns out they DO have the best cinnamon bun in the world. It was a heavenly bite and I didn't want to leave.
You can find out more about Unstad Arctic Surf Resort here.
Hiking in the Lofoten Islands
One of the most popular activities that you can do in the Lofoten Islands is to take advantage of the scenery and go hiking. There are trails everywhere and some are well-trodden and others are less so.
But, they are everywhere! And there are trails for every level of hiker.
While I like day hikes, I am not one for multi-day treks, to be honest. You can check out this guide for 28 amazing Lofoten hikes… it includes maps, information, levels, and much more.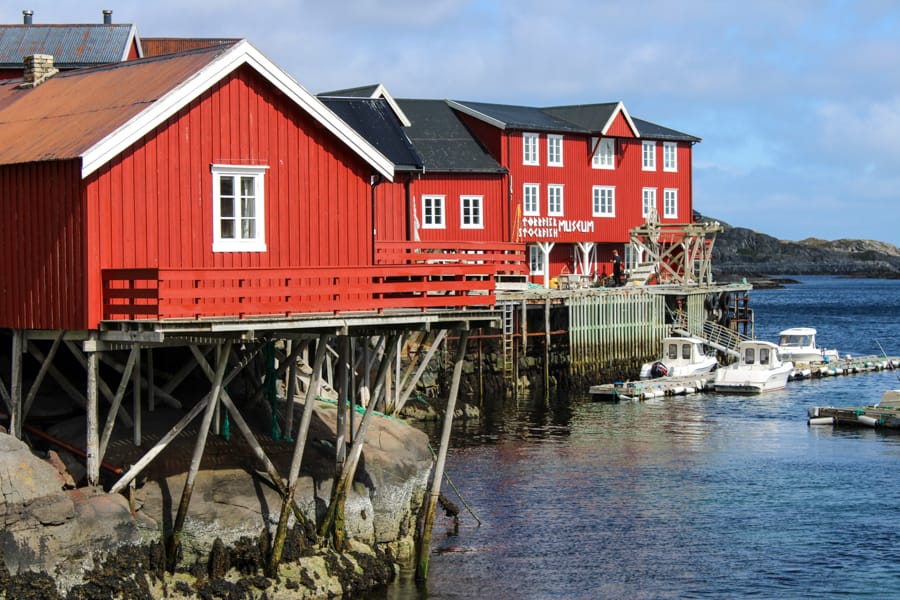 If you do choose to go hiking in the Lofoten Islands, be sure you bring the right equipment and clothing with you!
Below are a few recommendations from us that we think are fantastic for all hikers to bring on their trip:
⇒ Klean Kanteen: You will find several water sources in the Lofoten Islands and you can fill up your reusable water bottle easily. Please don't bring plastic. Click here to see which one we use.
⇒ Keen Targhee Hikers: We love the Keen Targhee Hikers as they have pairs for both men and women. They are durable and long-lasting (Megan's had hers for a decade!). Click here to shop Keen.
⇒ Helly Hansen Rain Jacket: We also recommend a nice rain jacket that will help combat the unpredictable and temperamental weather of Norway's North. Helly Hansen is a reputable Norwegian brand that makes a great addition to your suitcase for your trip. Click here to check out Helly Hansen rain jackets.
⇒ Manfrotto Pixi Evo Mini Tripod: We travel with a full-size Manfrotto as well as this small, mini tripod. If you're hiking, you definitely don't want to tote around something heavy so this tripod will be a perfect accompaniment. You can check prices here.
You Can See the Northern Lights in Lofoten
Yes, you can witness the northern lights in the Lofoten Islands.
In fact, while many people flock north to Tromsø to witness them, you will find that you have a more personalized experience in the Lofoten Islands northern lights hunting.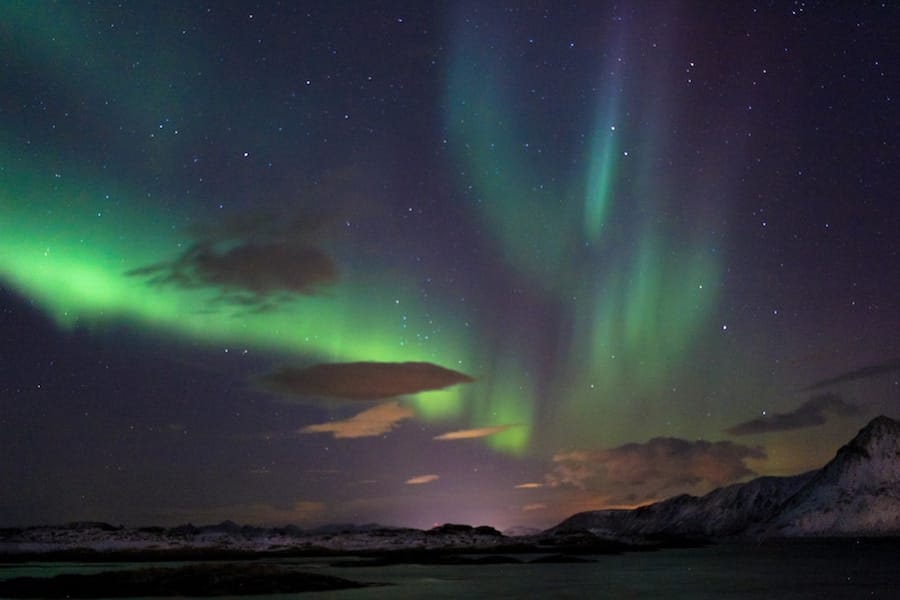 One of the best things about the area is that the weather is ever-changing so on a night when the KP Index is favorable for northern lights action, you can join a tour where you drive around until you find them.
Because the islands have fast-moving weather patterns and clouds, finding them is not as challenging as it may seem.
If you're looking for additional photography tips for the northern lights, check out our Tromsø aurora guide for help!
Are you looking to join a tour that will chase the Lofoten northern lights when you're there? If so, this is a highly recommended tour that we suggest you book ahead of time in order to find the elusive beauties.
⇒ Click here to check northern lights tour rates and availability
Seasons and Weather in the Lofoten Islands
Fortunately, we have been to the Lofoten Islands in two totally different seasons: winter and summer. This part of the guide will include a bit of detail about each and things we think you should know before traveling to the Lofoten Islands.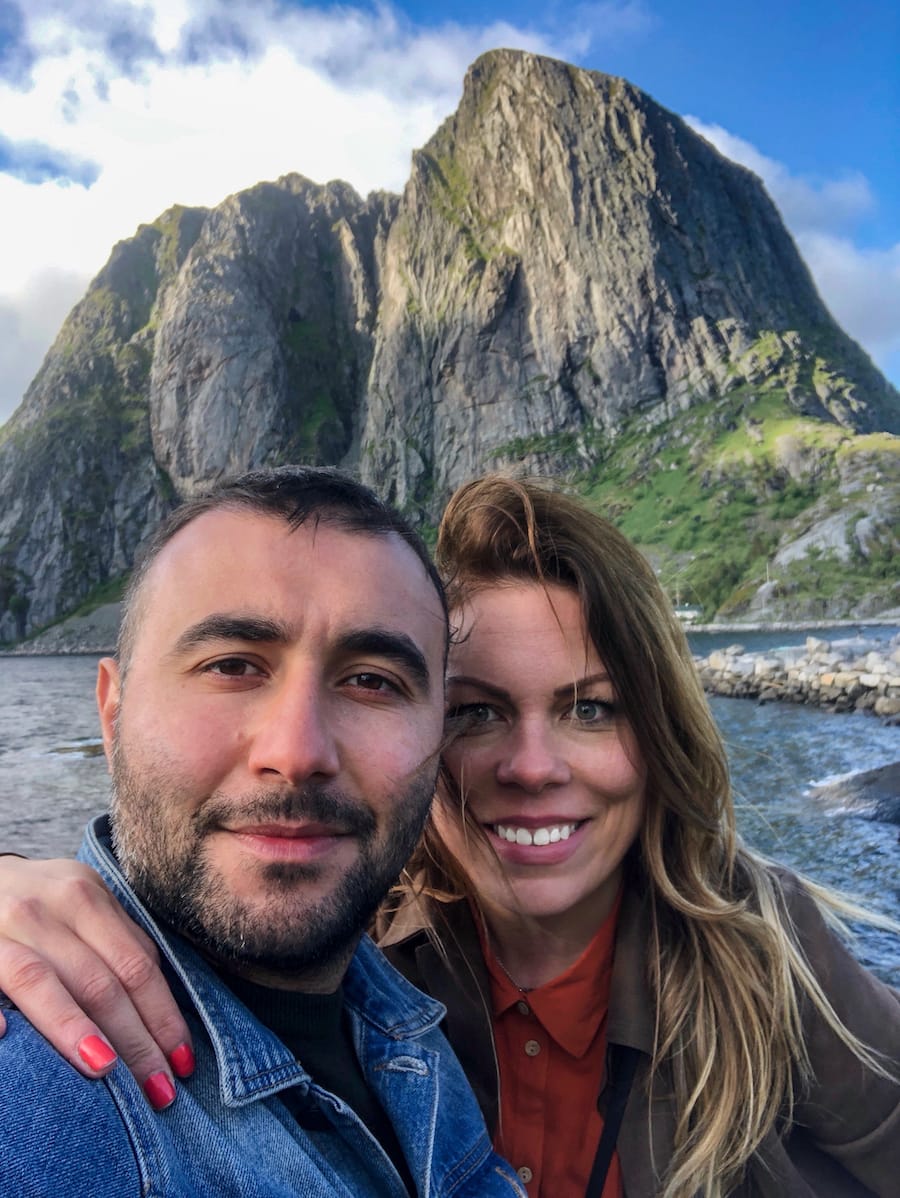 If you're looking for generic information about winter, we suggest packing a parka for winter and a light jacket for summer.
Winter temperatures are around -2 to 5C during the day and summer temperatures are about 16C or so. Rain is always in the forecast as weather patterns move quickly through so come prepared!
The Sun Doesn't Rise in Winter
But… the skies are light for a few hours and it looks like a colorful, extended sunset. Megan says it was one of the most magical phenomena she has witnessed and nothing really compares to it.
Lofoten is south enough that it does last for a longer duration than places further north, so take it all in!
The Sun Doesn't Set in Summer
And while the sun doesn't rise at all during a Lofoten winter, it doesn't set at all in summer. Due to Lofoten's location, the middle of the night can have an hour or two where things are a bit like a golden hour.
In fact, when we went horseback riding in Lofoten, it was during the middle of the night and we pretty much had epic light and skies as you can see below.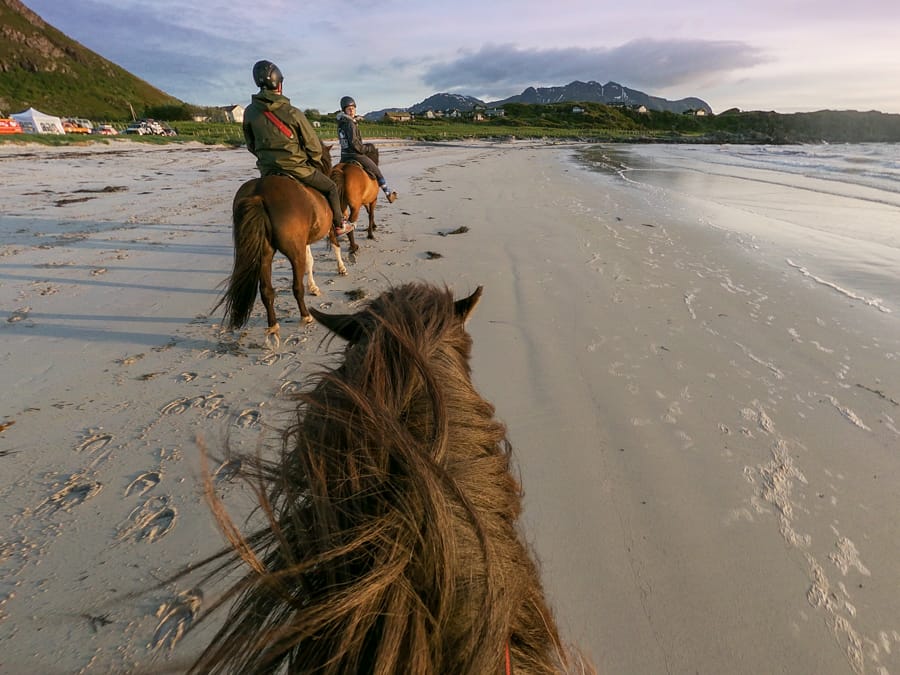 This can create a bit of a problem when sleeping so make sure you bring a sleeping mask with you if you are sensitive to it!
Where Should You Stay in the Lofoten Islands?
There are many options for accommodation in the Lofoten Islands from hotels to hostels to guesthouses to fisherman cabins to camping in the Norwegian nature.
This next section details a few things we think you should know before you visit the Lofoten Islands in terms of where to stay and more.
You Can Go Wild Camping in the Lofoten Islands
One of the best things about Norway is a law called 'Allemannsrett' which means 'every man's right'. This allows people to hike or camp pretty much anywhere they want as long as it is not private property.
Most property in Norway belongs to everyone, which is very different than in the United States, for example.

You will see a lot of tents pitched in obscure, yet beautiful spots, and it will leave you imagining what it is to wake up to such a view in the mornings.
This is definitely something to take advantage of for those that enjoy camping or are visiting the Lofoten Islands on a budget.
Staying at a Rorbuer (Fisherman Cabin) in Lofoten is Awesome
We stayed at Nusfjord Arctic Resort when there during the summer and Megan previously stayed at Svinøya Rorbuer when she was there during the winter.
Both are 'rorbuer' or converted fisherman cabins that are now places of accommodation for visitors.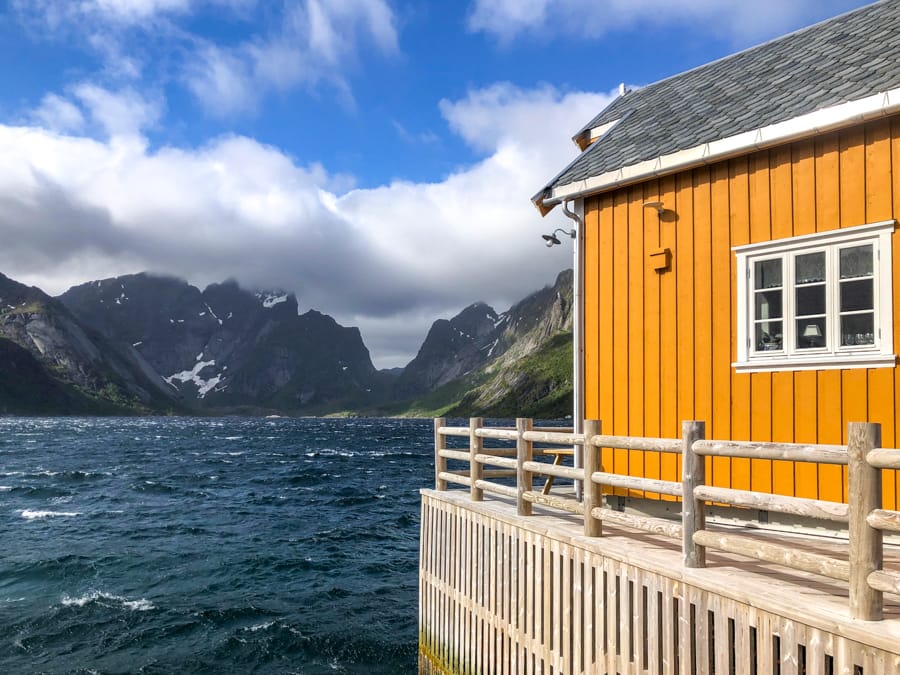 Rorbuer are rustic, yet clean and large. They often have a kitchen, multiple bathrooms, and a living space which will allow you all the amenities you need to enjoy the stunning Norwegian nature.
We highly recommend staying at a rorbuer in the Lofoten Islands if you have a chance!
Many Rorbuer are Part of Larger Complexes
What we found super interesting in the Lofoten Islands was that the rorbuer were part of larger complexes. They mostly all had their own restaurants, shops, bars, and more.
It was kind of like being at a resort of sorts and we really liked that feeling. Everything you needed was right at your fingertips and easy to manage.
The resort offered a sense of anonymity but still gave an intimate experience to those who worked there.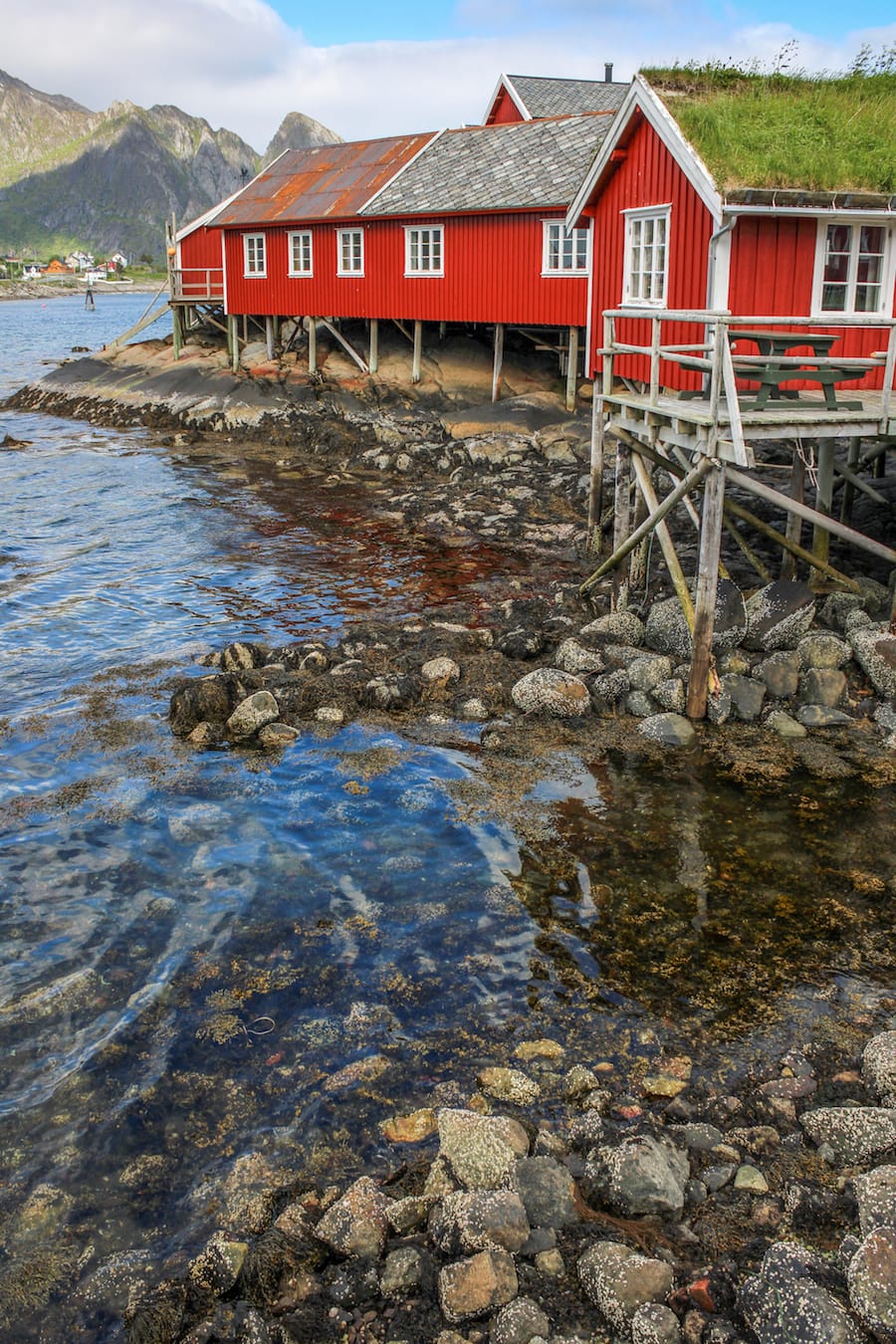 If you're looking for things to do in Nusfjord, for example, pretty much every restaurant and bar and cafe is associated with Nusfjord Arctic Resort, the rorbuer resort that is located there.
The ones in Reine are no different. It really helps make you feel at home (and never want to leave!)
Lofoten Islands Travel Tips for Photographers
Wind Can Make Photography Difficult
Driving in the Lofoten Islands and stopping every five minutes to snap photos is fun and is likely what you're doing to do. However, the wind can occasionally make these stops a bit tricky.
We visited Northern Norway on this previous trip during the summer and we quickly realized that we were a slave to the weather when there. And the weather was often windy.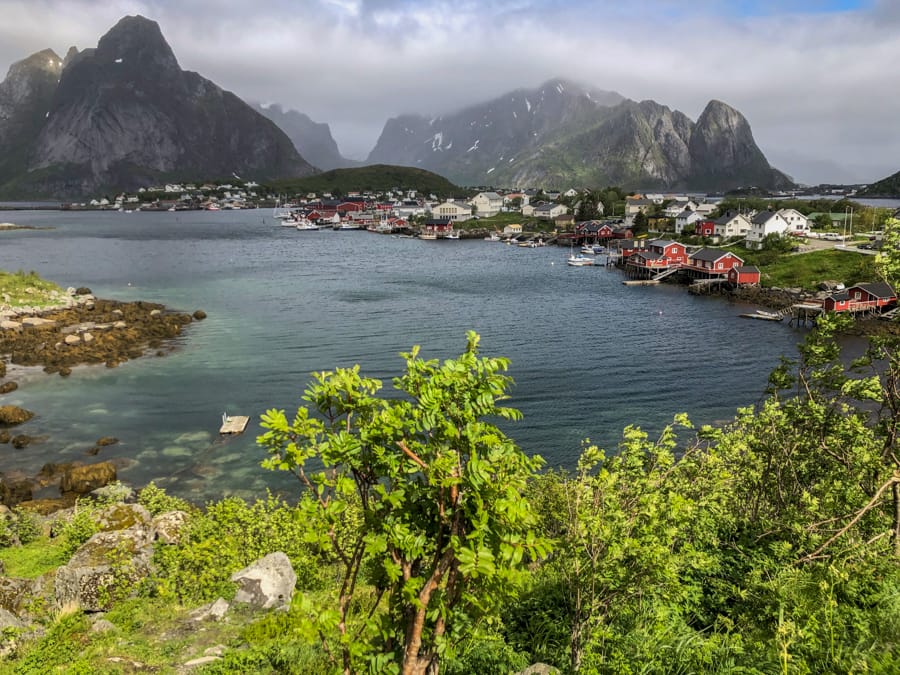 We set up a tripod in Reine trying to get some long exposures of the water and despite our tripod being a really heavy-duty one, it was completely blown over before our camera was even placed atop it.
We tried it again later in Hamnøy where the weather was actually milder and the same thing happened. Just be patient and wait for a weather change… or move along like we did and call it a day.
The Famous Hamnøy View is Taken From a Bridge
You know that epic Lofoten Islands photograph you see everywhere of Hamnøy? It is taken from a bridge. And if the conditions suck like they did when we were there, you won't easily get a long exposure from there.
The wind can be brutal! But, who cares? The view was so sick that we didn't care and enjoyed photographing it from multiple angles.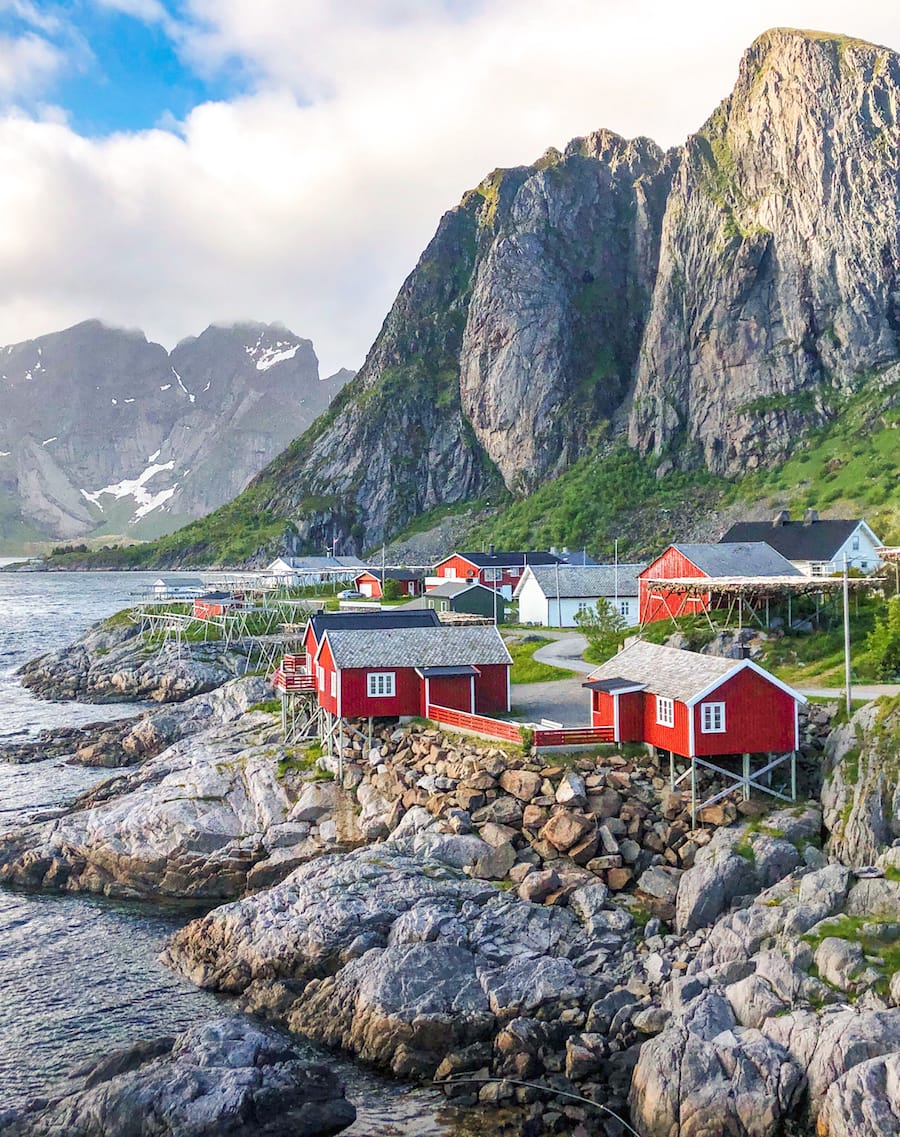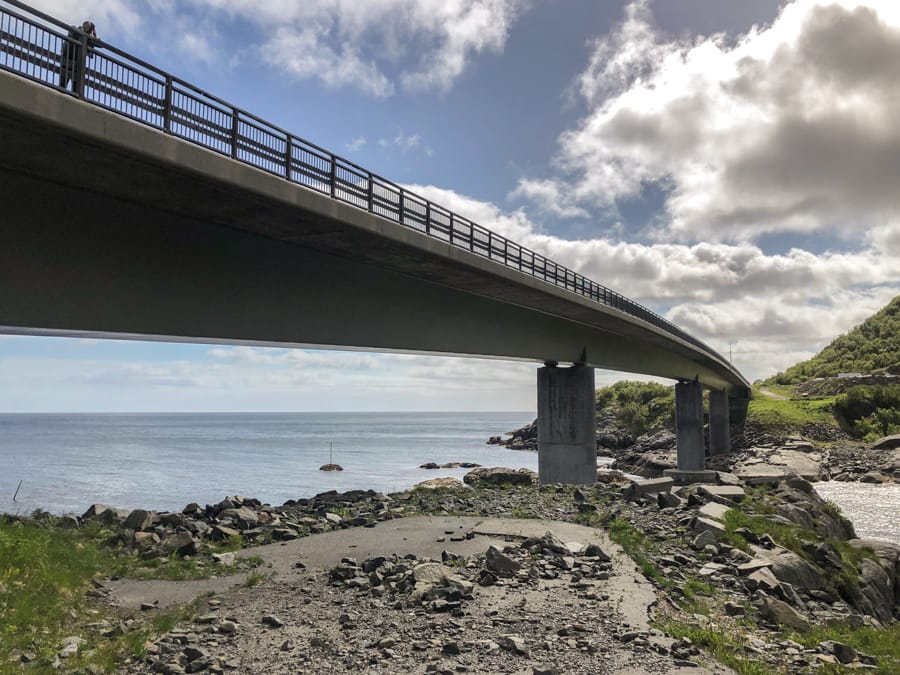 In addition, you will want to invest in a wide-angle lens for the photo opportunity. A wide-angle lens will also serve you well around the islands and the landscape is magnificent and it will give you more scale.
Click here to see which wide-angle lens we use with our camera.
That Henningsvær Football Pitch Drone Photo Also Isn't Easy to Get
If you arrive in Henningsvær in winter, you won't get the photo with a drone because the football pitch will likely be covered in snow like when Megan first visited there.
If you are there during the summer or when no snow is covering the field, you really need the right conditions to get the photo, as well as a high-quality camera drone to aid in the process!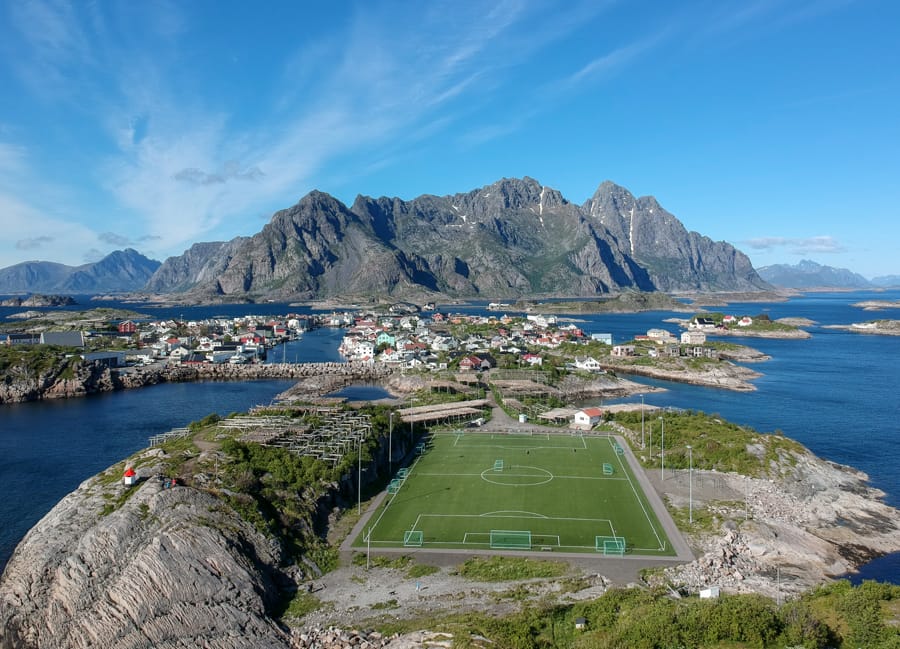 The sunlight plays a factor and we found it better to get the picture during the summer evenings. If there is wind, you will also not be able to send up very high or out too far.
When we were there, I had my drone settings still on what I left them on in Greece and didn't change, which gave me a maximum altitude of only 50 meters. This is what we scored at 50m.
You can see some quick drone regulations for Norway below.
Drone Laws in Norway
It is currently legal to fly a drone in Norway. However, it is illegal to fly above 120 meters (400 feet).
Many of the photos you will see in the Lofoten Islands break this rule and the Henningsvær football pitch is often taken from a drone breaking the law. Please don't do this because it ruins it for all of us.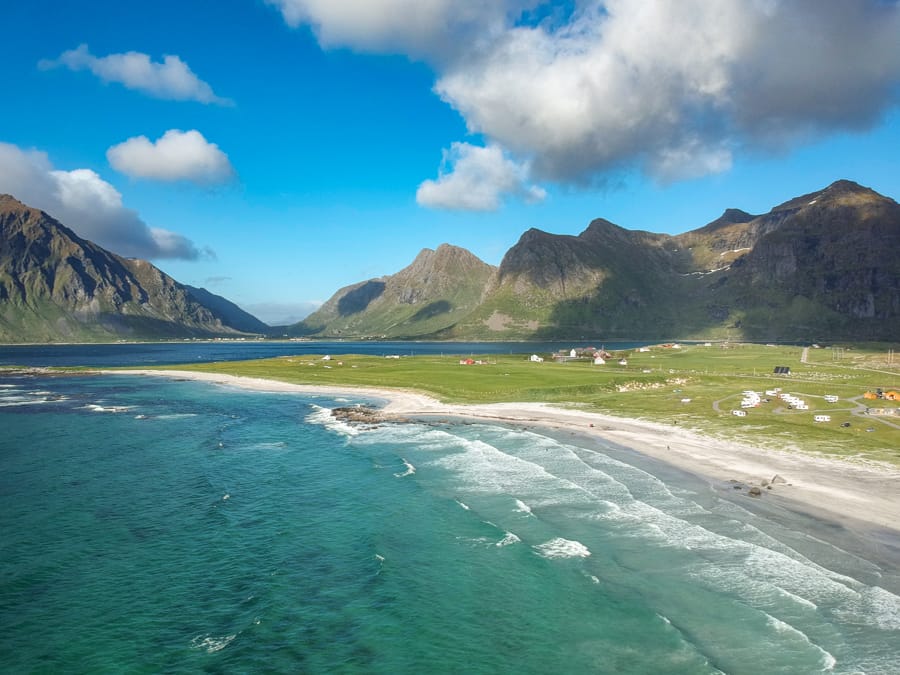 You can only fly during the day and at least 5 kilometers away from airports and 150 meters away from other people or crowds.
Click here to read more about drone laws in Norway.
Other Notes and Tips for Visiting the Lofoten Islands
Lofoten Has the World's Largest Deepwater Coral Reef
The Lofoten Islands are not only amazing on land but also underwater.
Norway is littered with amazing flora and fauna and gains global recognition for its many natural wonders but perhaps none are as remarkable as it boasting the title of the largest deepwater coral reef- something that exists in the Lofoten Islands.
This enormous and deep coral reef is located at the end of the Lofoten Islands on the western part of Røstlandet. The reef is 43 kilometers long and has a width of approximately 6.9 kilometers.
It is truly a natural wonder that was only discovered at the beginning of the 2000s.
Tromsø Gets all the Attention but Lofoten Has a Lot to Offer
We don't mean that Tromsø isn't a worthy destination but we just think that you should also consider Lofoten. Or better yet… BOTH! Tromsø already receives tourists.
The Lofoten Islands have just as much to offer but are still not getting as many tourists during the winter months.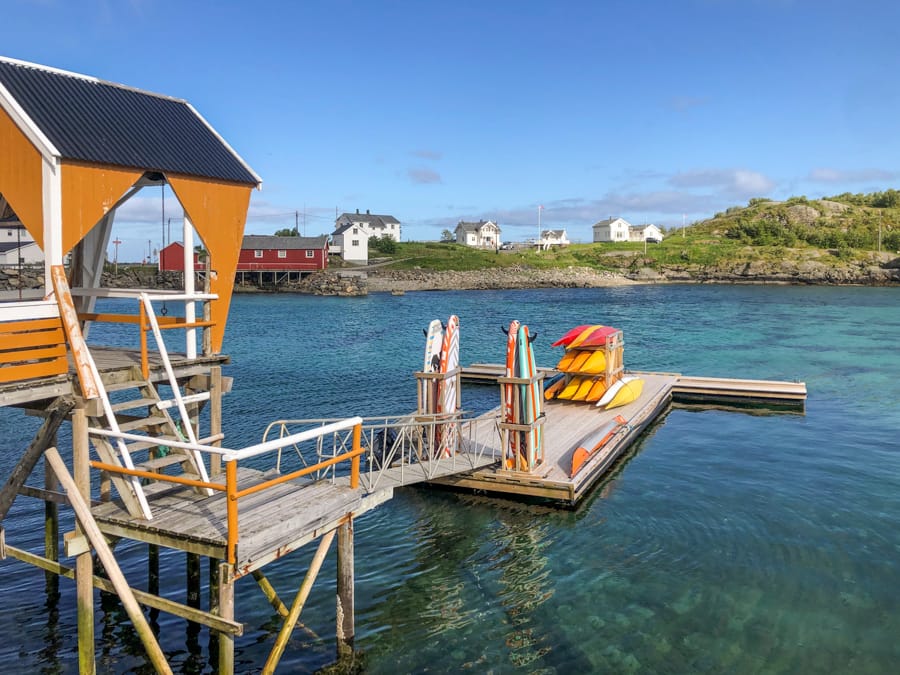 During winter, you can find the northern lights, snowshoeing, boat trips, horseback riding, surfing, Viking Museums, and more.
While there are no husky tours, Sami traditional evenings, and whale watching right nearby in Lofoten, the other activities more than make up for it.
To be honest, we recommend seeing both during the winter and even both during the summer. We think Lofoten will surprise you!
Norwegian People and the Locals are Extremely Nice
The best thing about the Lofoten Islands is not the landscapes, believe it or not. It was, without a doubt, the people that call this gorgeous archipelago home.
We met some of the nicest Norwegian people there and they were all accommodating, friendly, and went out of their way to ensure we had an epic trip to the Lofoten Islands.
The only person we didn't get on too well with was the person who gave us a parking ticket in Henningsvær. Not cool.
Yes, Norway is Expensive
Okay… so yes, Norway is not the cheapest place to travel to. But, the experiences surely outweigh the effect of the price and we are confident that you will have an incredible trip to these amazing islands.
You can grocery shop, use public transportation, and wild camp… which can allow you to save a bit of money when there.
If you have breakfast at a hotel or resort, pack up some sandwiches for lunch. This is encouraged as locals know that tourists may be on a budget.
Don't stop to buy food at gas stations. They are expensive. There are ways to cut costs and we will do a budget guide at some point in the future to highlight some of our tips!
Especially since Megan spent four years living in Norway!
Our Recommend Lofoten Islands Tours
There are so many fantastic tours you can partake in when you're visiting the Lofoten Islands. These are some of the highly recommended tours we suggest for those visiting the islands.
⇒ Chasing the Northern Lights: This tour will take you around to hunt for the gorgeous northern lights. If you're visiting during the winter… this is a must!
You will get to see one of Earth's best phenomenons in one of the most beautiful settings on the planet and it is just spectacular. Click here to see tour rates and availability.
⇒ Snowshoeing in the Lofoten Islands: Megan went snowshoeing in the Lofoten Islands in 2017 and highly recommend the experience to me.
Obviously, this is a winter tour and is dependent on the weather, but it is a great opportunity for those who enjoy the outdoors but don't want something too strenuous. Click here to see tour rates and availability.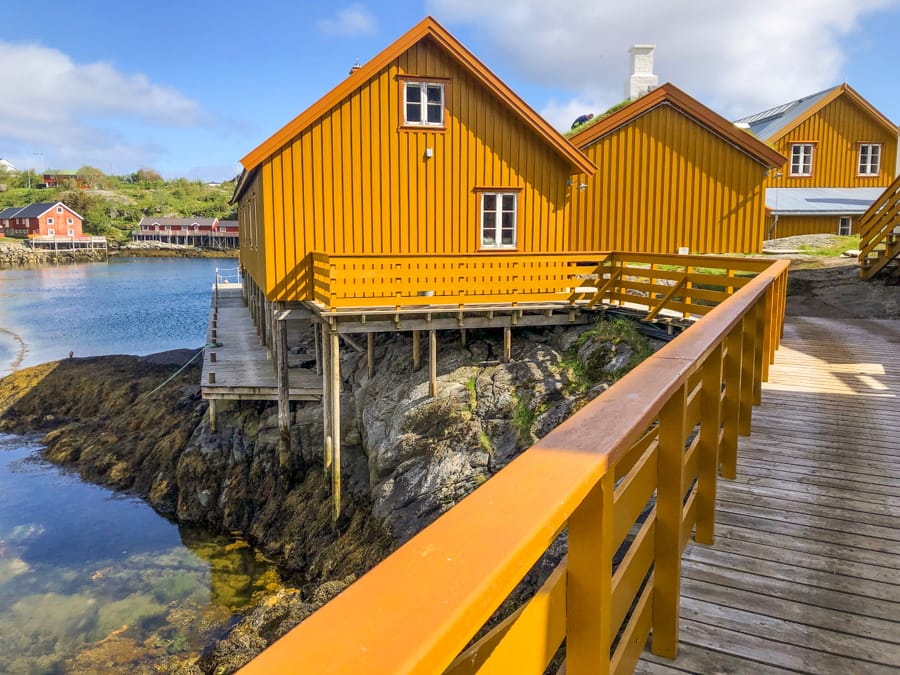 ⇒ Lofoten Islands Summer Photography Tour: This tour is during the summer months and will take you around to some of the most gorgeous spots in the Lofoten Islands to photograph.
This is a perfect tour for those that want to come home with a lot of pictures and memories. Click here to see tour rates and availability.
⇒ Horseback Riding on Gimsøy: One of our favorite recommendations is to go Icelandic horseback riding on Gimsøy.
Megan has done this activity twice and I have been once and we loved it and the entire experience at Hov Gård. This is a great summer AND winter activity! Click here to read about our experiences and how to book a trip.
Where to Stay in the Lofoten Islands
There are so many incredible places to stay in the Lofoten Islands. The following places are the places we have stayed when there on the two trips by Megan and the one trip we did together.
Svinøya Rorbuer: This is where Megan stayed on her first trip and it is located in the northern part of the islands in Svolvær.
Svinøya Rorbuer is a bunch of fisherman cabins located right on the sea and there is an on-site restaurant called Børsen that comes highly recommended by Megan.
–> For current rates and availability click here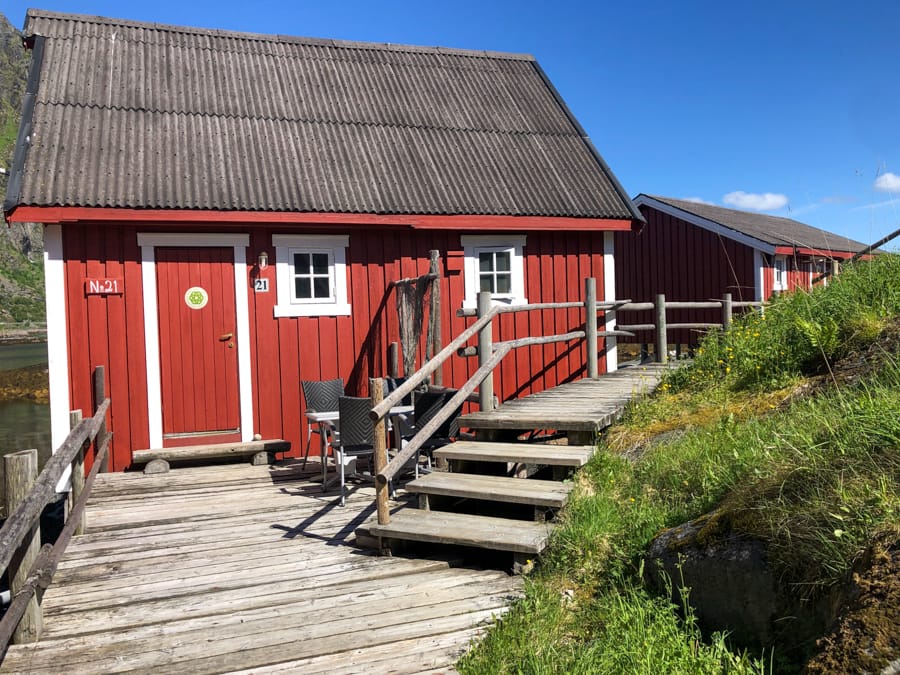 Henningsvær Bryggehotell: This is where we stayed in Henningsvær for our night there this past trip. The historic Henningsvær Bryggehotell is located right on the harbor in Lofoten's most charming fishing village.
They have an amazing restaurant on-site where we had the best stockfish of our entire trip.
–> For current rates and availability click here
Nusfjord Arctic Resort: Another complex of fisherman cabins, the Nusfjord Arctic Resort is a great place to stay a bit off of the grid.
There is an on-site restaurant, cafe, and bar and you are located right on the water in a tiny and peaceful village far removed from everything else. The rorbua was so cozy and practical- we didn't want to leave!
–> For current rates and availability click here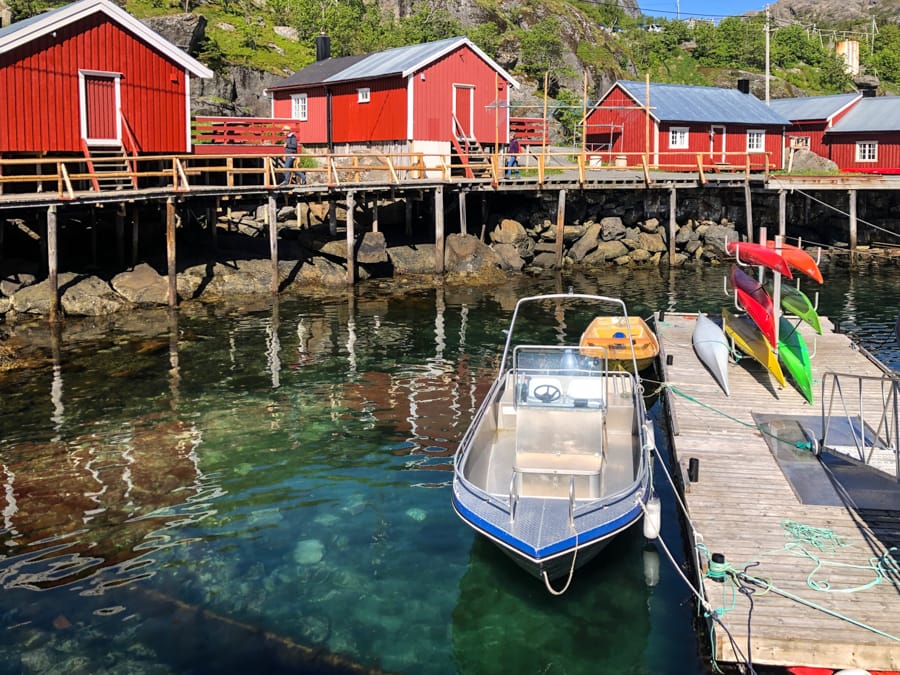 We hope that these Lofoten travel tips help you get started for your visit.
There are hundreds of things we could tell you but these are some we picked that might be the most vital for your trip… or just fun to know, like the surf resort's existence.
If you have any questions and visiting the Lofoten Islands, please drop us an email or a comment and we will do our best to reply in a timely manner. Thanks!
More Lofoten Islands Travel Guides
Pin this Lofoten Travel Tips Guide