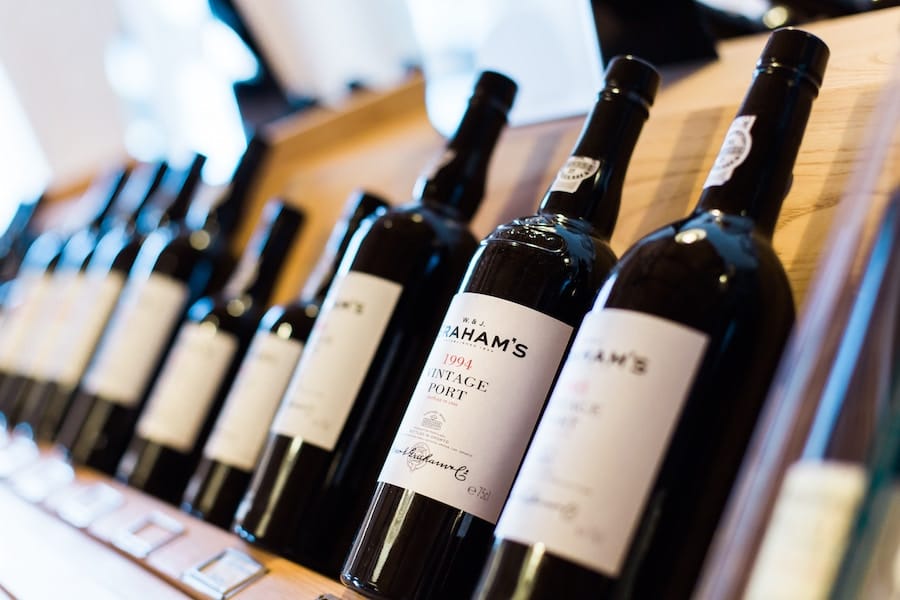 This post may contain affiliate links which means if you purchase something through that link, we will make a small commission at no additional cost to you. Think of it as buying a cup of coffee for us on someone else. Thanks and enjoy!


One of the most popular things to do in Porto is to enjoy the city's local beverages, including port wine. This is a guide to the best Porto wine tours and it includes wine tastings in Porto, wine day trips from Porto, and much more.
Best Porto Wine Tours: Wine Tastings in Porto
There are few places in the world where a city and a drink are so synonymous with each other quite like Porto and its beloved port wine. The sweet, fortified wine has been produced in northern Portugal for centuries. The traditions and cultural heritage behind this delightful drink have led it to gain protected status from the EU, meaning only port produced in the Douro Valley can be sold under the name 'Port' within the EU.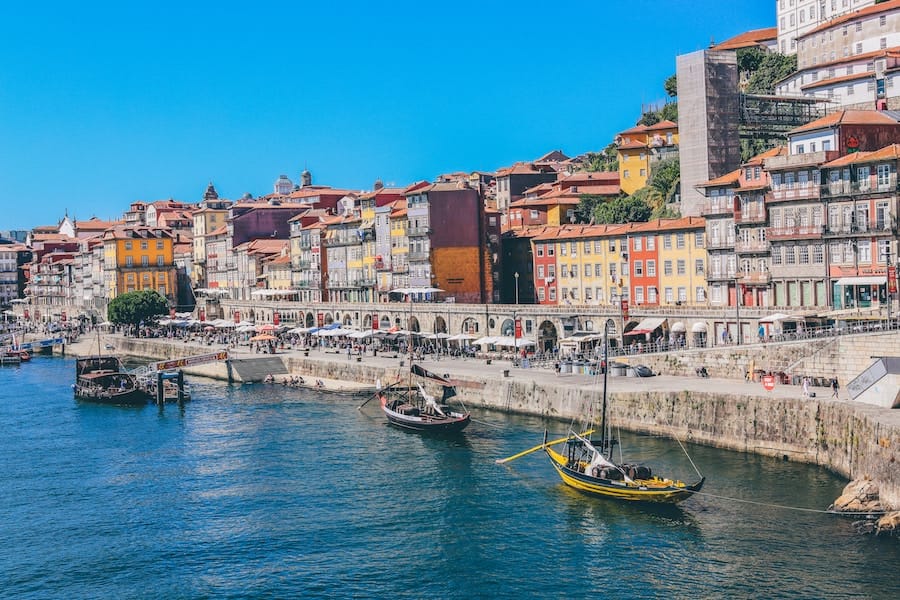 Amazingly, port is not the only specialty of the area with the Minho wine region to the north famed for its Vinho Verde wines. Vinho Verde wines are a type of young wine that is a demarcated type. The Dão region to the southwest also produces a stunning array of delicious wines. This vast range of wines makes the wine regions of northern Portugal some of the best places to visit while staying in Porto.
I don't know much about wine other than it tastes nice and I prefer a glass of red over a glass of white. However, when I was in Porto, I knew there was little chance that I wasn't going to try some Port during my stay and learn a little about the famous, fortified wine.
I must also admit, due to my absolute lack of knowledge of wine, I hadn't realized how diverse the wine scene in this area was or the fact that these regions were some of the oldest demarcated wine regions in the world. It is not just one of the best things to do in Porto, but in the world. Really.
This guide will take you through the various different options for the best Porto wine tours. The tours range from fantastic, all-day tours that will take you to specific wine regions such as the Douro Valley to evening tasting tours in Porto itself. All day trip tours depart from Porto with some including hotel pick up from centrally located hotels, otherwise, you will need to meet at the designated pick up/meeting point.
If you have suggestions for wine tastings in Porto, please drop them in the comments for other travelers to see additional Porto wine tours and tastings that we failed to mention on this guide.
Fun Facts About Northern Portuguese Wine
The Douro Valley is one of the world's oldest protected wine regions having been demarcated in 1756 and is the only place in the world where true port wine can be produced. Wine has been produced in the Douro Valley for millennia, however, until relatively recently the area was incredibly treacherous to reach due to the steep mountains and fast-flowing river.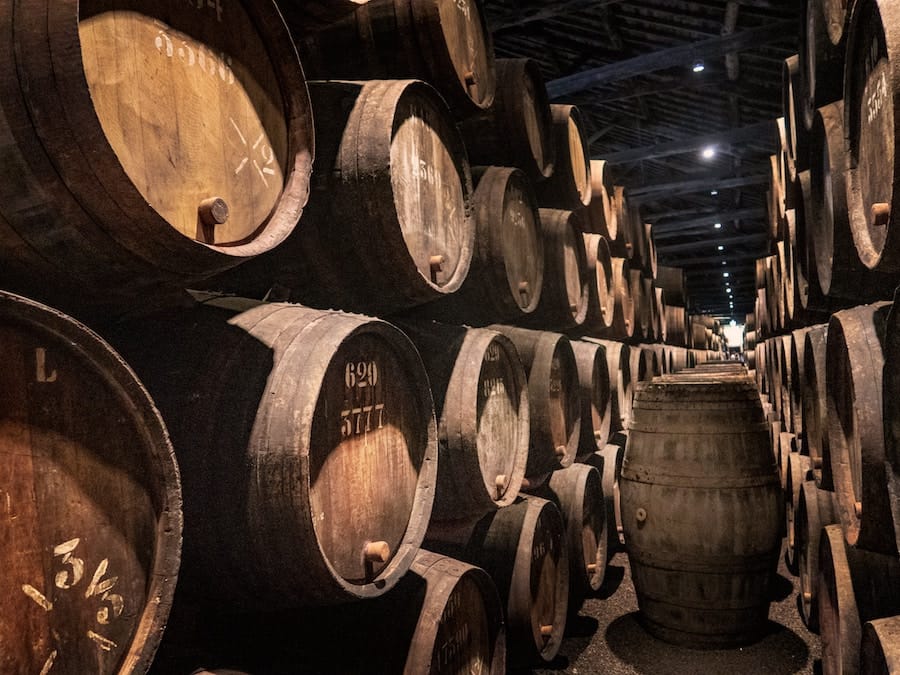 Before overland transport links were built, the port was sent to Porto via traditional Rabelo boats which would often meet a terrible fate as they navigated the dangerous waters. Once the port wine reached Porto, it was stored along the coast ready to be shipped out across the world as people became enamored with its taste.
Port is produced by adding a grape spirit to the wine during the fermentation process, which boosts the alcohol content but leaves residual sugar which gives the drink its sweetness. Typically, port is consumed as an after-dinner drink and in smaller amounts due to its higher alcohol content and concentrated sweetness.
There are several different styles of port available, which can typically be classed as those aged in glass bottles and those in oak barrels, each of which have their own special characteristics developed through the different levels of oxygen they are exposed to.
There is more to the region than just port. Head to the Minho wine region and get your hands on Vinho Verde, a type of young wine that has been bottled 3-6 months after harvesting. Despite the name translating as green wine, the wine actually comes in white, red or rose styles and the name only refers to the fact it is young.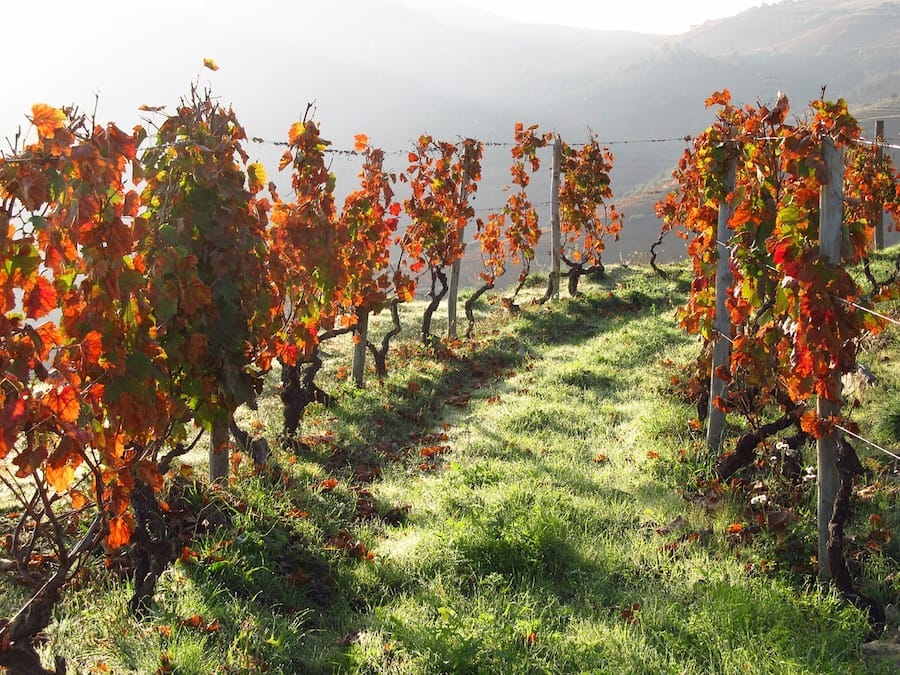 To the southwest of Porto, you will find the Dão region. This region is a lesser-known area that produces excellent regional wines that match those of the prestigious Douro valley and are slowly gaining international recognition.
When is the Best Season to Visit Porto Wine Regions?
Porto has scorching summers and mild winters, meaning you can head out to the wine regions pretty much all year and enjoy the views and the delectable wines. However, the best time to visit the Porto vineyards is during the harvest season when the vines are heavy with grapes and fall is settling in.
The harvest season is between September and October but it really depends on that year's weather, with hotter and drier summers causing earlier harvests. If you are not looking to head out to the wine regions and simply want to drink in Porto, then you can do this all year round. But, if you are wanting to avoid the crowds and have decent weather then I would go in spring or fall.

What to Bring on a Porto Wine Tour
Packing for a trip can always be hard since I tend to pack things that I don't need and that never see the light of day, however, I fully recommend bringing three essential items for those planning to do a wine tasting during your trip to Porto. They are as follows:
Klean Kanteen Reusable Water Bottle:

We are in the midst of a plastic crisis and the smallest actions can help bring around change to this global crisis. I always bring my trusty Klean Kanteen with me so that I don't have to use plastic bottles of water while I out exploring the vineyards.

Click here to see which Klean Kanteen I use.
Good walking shoes: If you are heading out of the city on a Porto wine tour, I recommend buying a sturdy pair of walking boots as you will be trudging around vineyards in the mountainous areas of northern Portugal. If you are planning on just taking a wine tour in the city center then a comfy pair of sneakers should be perfect or a pair of Birkenstock sandals for those hot summer days. Click here to check out the Birkenstocks that I rock when traveling.
Portugal Wine Guidebook: When you are traveling to the wine regions of northern Portugal, you may find that the cell phone signal can be somewhat sketchy so I recommend bringing along a guide book to the wine regions in the area around Porto like this one.
Do You Need Travel Insurance for Portugal?
One of the most important things you can bring with you to Porto is travel insurance. To protect yourself and not ruin your holiday, I recommend getting insured with SafetyWing, a Norwegian company covering travelers all over the globe. Their rates are affordable and their coverage is fantastic.
All Day Porto Wine Tours
If you have plenty of time and want to head out into the wine regions and see the wine production from start to finish, in addition to tasting some delicious wines, then I recommend taking an incredible all-day wine tour. There are various all-day tours that depart from Porto and will take you to different wine regions. To discover more, check out the following tours:
Douro Valley: 3 Vineyards Tour with Lunch
Spend the day touring through the magical Douro Valley, a UNESCO World Heritage Site where you will visit several local, family-owned vineyards and one of the larger corporate vineyards. Your day will start off in Porto where you will be picked up from your hotel or from the Trindade Metro Station if you are not staying centrally.
From there, your expert driver will take you to the Douro Valley and to the first vineyard where you will try a range of spectacular ports and wines. From there you will head to the second Vineyard, where you will enjoy a delicious lunch expertly paired with wine and port.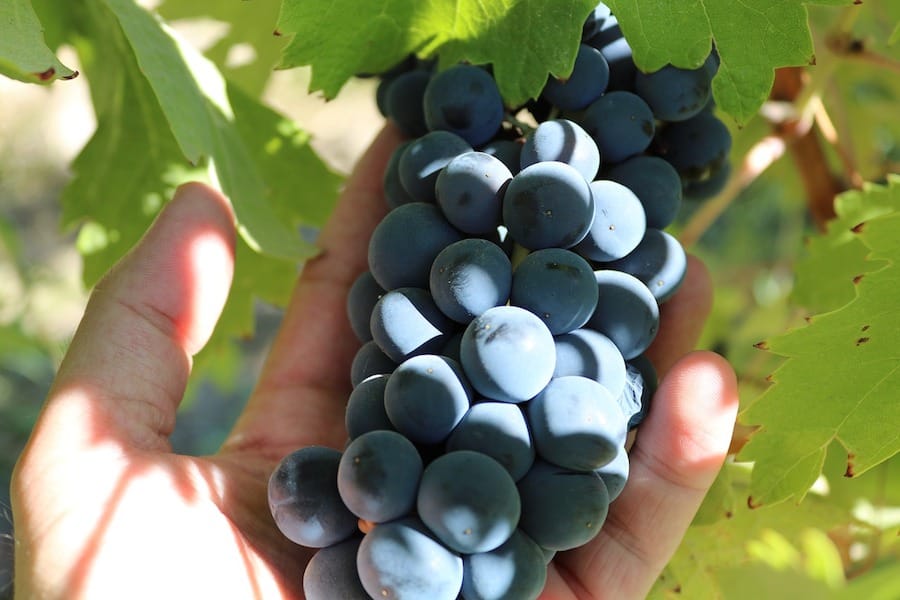 The final vineyard visit will be to a larger and more corporate one whose drinks are sold all over the world. The vineyard boasts spectacular views and you will also learn how the wine is produced on a much larger scale. On the way back to Porto, you will drive through the Douro Valley on a route that was voted one of the best drives in the world.
Douro Valley Tour: Wine Tasting, River Cruise and Lunch
Enjoy the Douro Valley from the road and water on this fantastic, day-long tour of one of the world's oldest demarcated wine regions. During the wine tour, you will head to two different vineyards where you can try some amazing wines and ports. Along with incredible wines, you will also try the valley's other big cash crop- olive oil.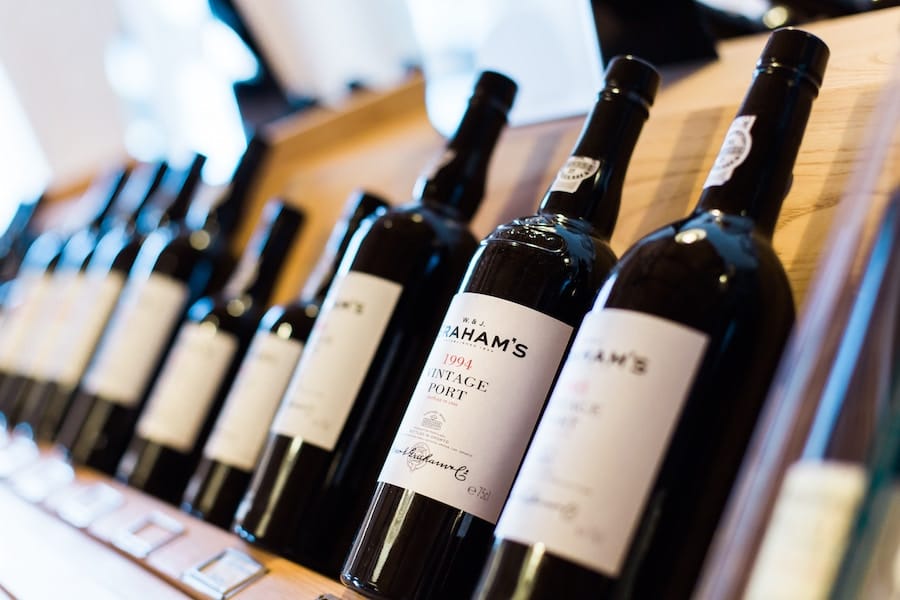 As you tour the valley, you will also enjoy an awesome Portuguese lunch in the valley. Prior to eating lunch, you will take a riverboat cruise through the Douro Valley and look at the vineyards that crawl up the hillside. The afternoon will be spent cruising through the valley by car to jaw-dropping viewpoints and through charming Portuguese villages.
Vinho Verde Full-Day Private Wine Tour
Head into Portugal's Minho wine region to try the distinct Portuguese Vinho Verde. Even though it translates as "green wine", the wine can actually be red, white, or rose and the term has more to do with the fact that the wine is young and bottled 3-6 months after harvesting.
The tour will start off heading into the ancient wine country of Portugal where you will see medieval castles and impressive monuments while you head down the Romanesque Route. You will then go to the first of two vineyards where you will learn all about the production of Vinho Verde from a local producer. This will be followed by a filling local lunch to soak up the first round of wine.
After lunch, you will head to the second Vinho Verde vineyard where you will try a range of young wines and start to learn how to taste the subtle nuisances in each wine. The tour will end with a scenic drive back to Porto. The tour involves some walking so it is best to make sure you have dressed appropriately for the weather, including practical shoes.
Dão, Wine & Serra da Estrela Cheese Tour
Venture out to the Dão region, located southwest of Porto. Your first stop will be at a charming village to enjoy some regional sweet treats and see some historical sites. You will then head to a family-run vineyard and try local Dão wines looking out to the highest mountain in Portugal.
After lunch, you will head to another, more modern vineyard and cellar and try some of their best wines. The tour will be rounded off with a tasting of the other famous specialty of the Dão region, the Serra da Estrela cheese. The cheese made from sheep's milk and is protected by the EU as it is special to the region.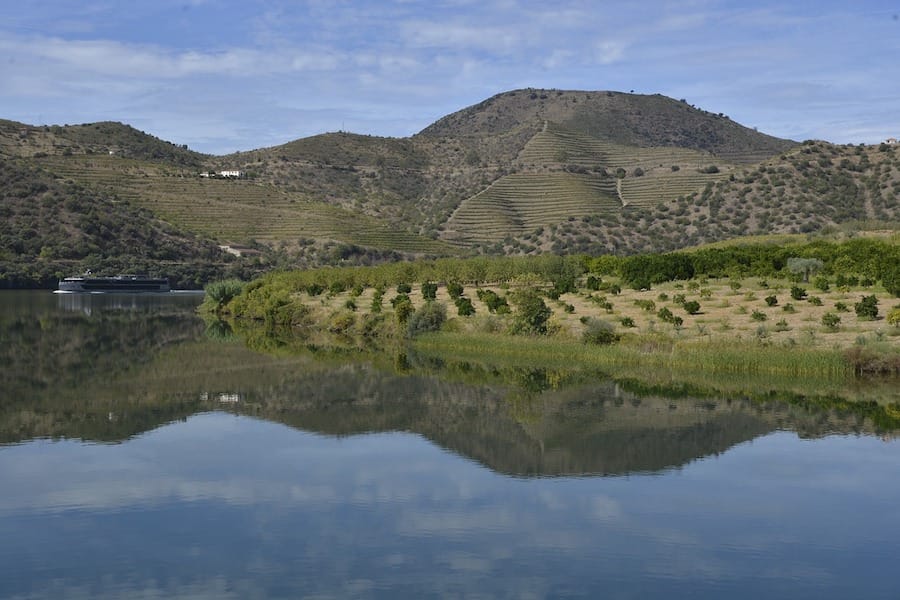 Due to its EU protection status, the cheese must be produced in the traditional way and is regulated heavily. You will learn all about the production of the cheese and the aging process, while you taste the delicious cheese.
Douro Valley Private Full-Day Tour from Porto
If you are looking for a more personal tour experience, I recommend taking this private tour to visit the Douro Valley. You will visit two epic vineyards and try some of the best wines and ports produced in the region. During your vineyard visit, you will learn all about the production of these regionally protected wines.
You will then enjoy a relaxing cruise down the Douro River on a traditional Rabelo boat that is commonplace on the famous river. After the boat ride, you will enjoy a scrumptious lunch in the village of Pinhão.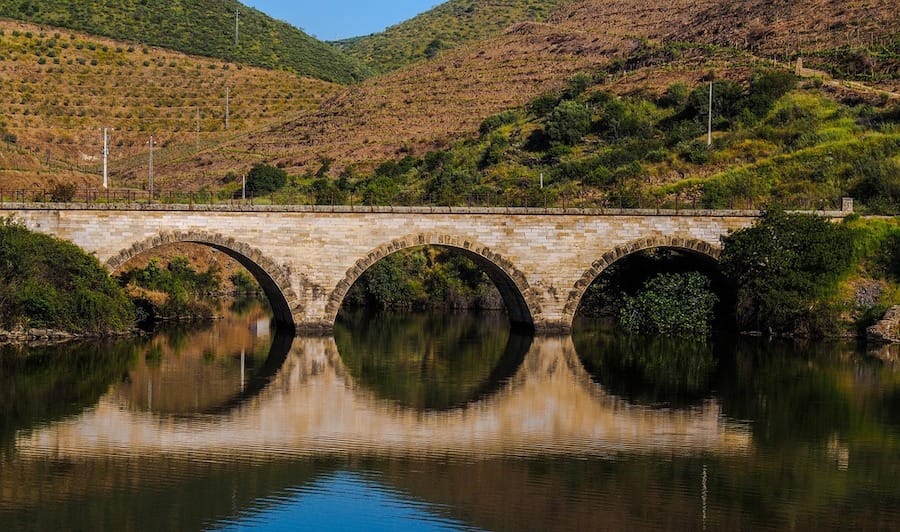 The afternoon will be spent driving around the breathtaking valley and visiting some of the most impressive viewpoints in the country. Before heading back to Porto, you will visit a historic wine village to bask in the full history of this culturally important valley.
Porto Wine Tours
If you are limited on time when visiting Porto and not planning to leave the city, then you are in luck. There are plenty of tours where you can head to some of Porto's best wine bars and Port cellars to try the fantastic wines of northern Portugal. For further information, check out the tour options below and add some to your Porto itinerary:
Cálem Cellars Ticket, Guided Tour, and Tastings
Tour the famous Cálem Cellars and learn how Port wine has transcended the ages. An expert guide will talk you through the history of Port and how the traditional methods of producing port have been infused with more modern techniques and technologies to perfect the drink.
You will also spend around 15 minutes enjoying the interactive museum. After the museum and tour of the cellars, you will have the option to taste two types of Port while being taught all you need to know about the proper way to taste this special drink.
Porto City Tour with River Cruise and Wine Tasting
Discover the city of Porto and all it has to offer on this epic, all-day tour. You will spend the morning driving to beautiful sites throughout the city such as the magnificent Clérigos Tower and Church. Along with historical and cultural activities, you will dive into the real life of Porto as you explore the Bolhão market, where vendors sell the freshest local produce.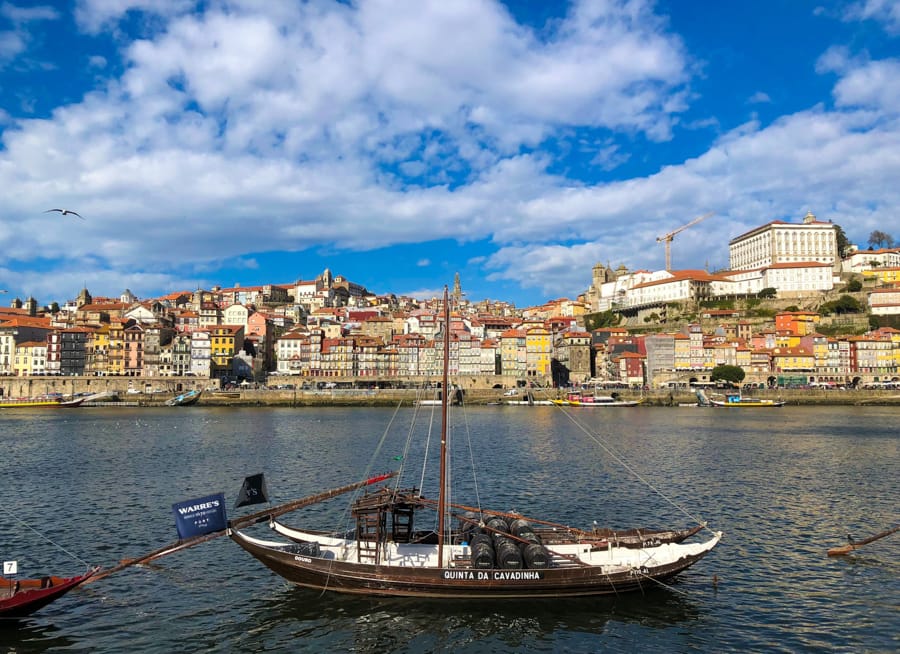 You will then enjoy a Port tasting session in one of Porto's famous Port cellars, learning all about the fortified wine named after this beautiful city. After a few glasses of Port, you will head to cruise down the Douro River which flows through the center of the city out to the sea. During your river trip, you will pass under Porto's famous six bridges.
Porto Half-Day Tour – Port Wine Cellars & Cheese Tasting
If you are on a time crunch, then this half-day tour of Porto is the perfect option for you. The tour will take you through the main sites of the city and through the UNESCO World Heritage Old Town. More importantly, during the tour you will head the Port wine cellars and learn all about how the fortified wine is produced and aged while trying various different Ports.
The tour will end with a cheese tasting session where you will be taught all about the different cheeses produced in Portugal. Your informative guide will talk you through the different production processes for each cheese and the region it comes from.
Porto: Wine Tour
Spend the evening enjoying the delights of the Porto wine scene. Start the evening off in the oldest Port wine cellar where you will taste three different kinds of Port and learn all about how this drink became a Porto institution.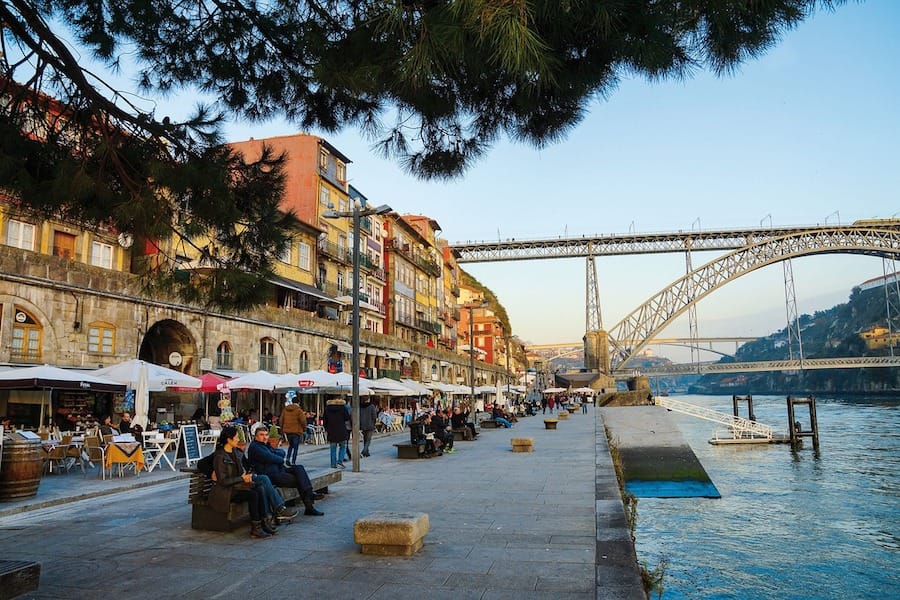 After enjoying the Port, you will head to two different wine bars that focus on local wines. In the first bar, you will try various wines from the world-famous Douro Valley along with some traditional Portuguese bar snacks. In the second bar, you will learn all about the young wine, Vinho Verde. You try several types of Vinho Verde paired perfectly with local cheeses and smoked meats.
Porto Food and Wine Tasting Tour
There are few things better in this world than food and wine and luckily, Porto does both exceptionally well. Immerse yourself in the food and drink culture of the city on this Porto wine and food tour. Along with an expert guide, you will walk through the city where you will see the main sites of the historical center while you venture to five different locations to try some of Porto's finest dishes.
In each location, you will enjoy a different local specialty alongside a drink. The food part of the tour will culminate in a traditional fish dish paired with an amazing wine from the Douro Valley. You will then enjoy some Port wine to finish off the evening.
For those who are vegetarian/vegan, you need to inform the tour prior to going on the tour so they can source dishes for you because Portuguese cuisine tends to be rather meat and fish heavy.
Fado in Porto: Calem Wine Porto Cellars Visit
For a truly traditional evening, enjoy this tour to the Calem Wine cellars where you will be treated to a live Fado concert. Fado is the national music of Portugal and it is characterized by its tuneful, yet melancholic songs.
Before listening to the band, you will take a tour of the Calem Wine Cellars, where you will learn everything you need to know about Porto's famous tipple. After touring the cellars, you will sit down and enjoy the music while tasting various types of Port.
Where to Stay in Porto
Pestana Palacio Does Freixo (Luxury)
Located just outside of the city center, Pestana Palacio Does Freixo offers you a five-star experience at a relatively affordable price. The hotel boasts killer views and the best of Portuguese hospitality, as you enjoy a more high-end experience during your stay in Porto. The hotel's onsite pools provide a great place to relax after a long day of exploration.
–> For current rates and availability click here | Read reviews on TripAdvisor
Linha22 (Mid-range Guesthouse)
This centrally located guesthouse is a brilliant place to stay if you are looking to be in the heart of Porto. From the comfort of your stunning bedroom, you can reach the impressive historic old town with its bustling bars and restaurants within a few minutes. In the morning, enjoy a coffee at the on-site cafe at Linha22 and a hearty breakfast to start your day off right.
–> For current rates and availability click here | Read reviews on TripAdvisor
CATS Hostel Porto (Budget)
A stylish hostel that is a great option for those traveling to Porto on a budget but wanting to enjoy a more high end vibe. The super clean hostel is located in the center of the city and is a stone's throw away from the main sites. CATS Hostel has an inclusive chilled out vibe to it and thankfully is peaceful during the night, perfect for those who are not looking for a crazy party hostel.
–> For current rates and availability click here | Read reviews on TripAdvisor
There are many options listed above for those looking for a Port wine tour in Porto, Portugal. If you have additional suggestions, please drop them in the comments!
YOU MIGHT ALSO LIKE: