One of Europe's most underrated cities that is finally starting to garner the attention it deserves is Porto, Portugal.
This is our ultimate one day in Porto itinerary for those visiting the city for the first time.
Are you planning your trip to Porto
last minute?
If youʻre booking your trip to Porto last minute, we have you covered. Below are some of the top tours, hotels, and more!
Top Experiences and Tours in Porto:
Top Places to Stay in Porto:
Pestana Palácio do Freixo (luxury)
Linha 22 (mid-range)
CATS Design Hostel Porto (budget)
Megan and I have both been there in different seasons so we will highlight things to do at all times of the year.
Did we miss anything on this Porto itinerary? Let us know in the comments!
One Day in Porto Itinerary
All of us travelers have had that opportunity to visit a city but only for a short amount of time and are unsure of how to make the most of our visit, or layover, there.
This happens far more than we would like it to happen, especially to me.
Sometimes that short layover or trip turns into a favorable first impression of the city and it encourages us to revisit for longer and at a later day.
Sometimes it has the opposite effect.
Porto was a city that I had a few days in during the hot, Portuguese summer.
Megan went there in February and had a much milder off-season experience. She spent 2 days in Porto and it rained and was cooler during her trip.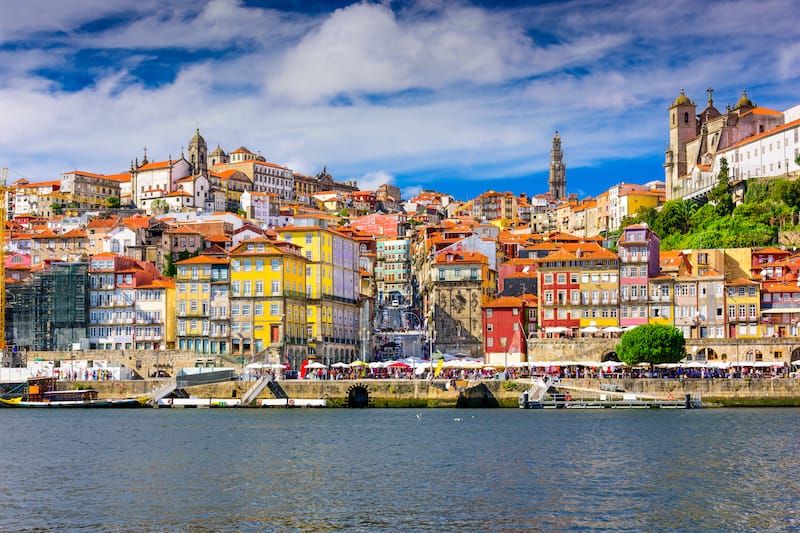 Porto ended up becoming one of my favorite cities in Europe during my short stay and I want to ensure that travelers there are able to enjoy the city the way I did even if they only have one day in Porto.
This is my Porto itinerary targeting those who have never visited the city before.
It will include the main sights and things to do in Porto, as well as where to stay and more.
If you have suggestions or tips that you believe should be on this day in the Porto guide, please leave them for us in the comments section. Thanks!
If you have more than one day in Porto, be sure to check out our Porto wine tours guide which gives tips for local tours and city tours involving Port wine.
How to Get to Porto, Portugal
Usually, when I am traveling around Western Europe, I like to take buses… even for long distances like Madrid to Porto or Prague to Berlin.
Sometimes, I do end up on flights if I have a bad time or want the ease and comfort of a shorter journey.
There are so many ways to get to Porto from various places around Europe.
You can catch a flight, take the bus, or hop on a train to Porto. Here are some quick tips depending on how you decide to get to Portugal's second city.
Flights to Porto
Porto is very well-connected to many other cities in Europe and it is a really seamless process to get there from different cities with discount airlines like Ryanair and EasyJet.
I took my flight to Porto from Lyon, France and like many other flights in Europe, it was quick and gave me the opportunity to plan my days in Porto and my transfer from the Porto Airport to the city center.
There are even seasonal and direct flights coming from the United States and Canada (Newark and Toronto), but you will find that most North American travelers find it easier to arrive in Portugal via Lisbon and then make their way up to Porto.
Click here to see how to get from the Porto Airport to the city.
Bus to Porto
As noted above, I like to travel by bus around Europe when I am not in a rush to get to a place.
Obviously, buses tend to be cheaper than flights so that usually plays a factor too.
It can take a long time to travel around by bus, on the other hand.
But, if you're looking to cheaply arrive in Porto from Spain, you can usually find affordable Flixbus options around.
I used it a lot on this trip to Europe.

Train to Porto
Yet another option that I don't use that often because they are sometimes overpriced is the trains.
The high-speed trains in Europe are super fast and efficient compared to in Armenia… but they are often more expensive than buses and I'm not always pressed for time that I need to take them.
You can find trains to Porto from even as far as Frankfurt so this is a viable option to consider if you're wanting to arrive via train.
Best Time to Visit Porto
I visited Porto in August and I think that summer is an ideal time to visit the port city.
It is too hot because the Atlantic Ocean is cooling things off a bit but also allows ample opportunity to visit Portugal's beautiful beaches nearby.
The downside to visiting Porto in August is that it is high season and things are more expensive and crowded.
If you decide to visit Porto during the high season (summer), be sure to make your reservations for hotels and accommodation, as well as restaurants, upfront.
Also, book any tours you want with enough time in advance.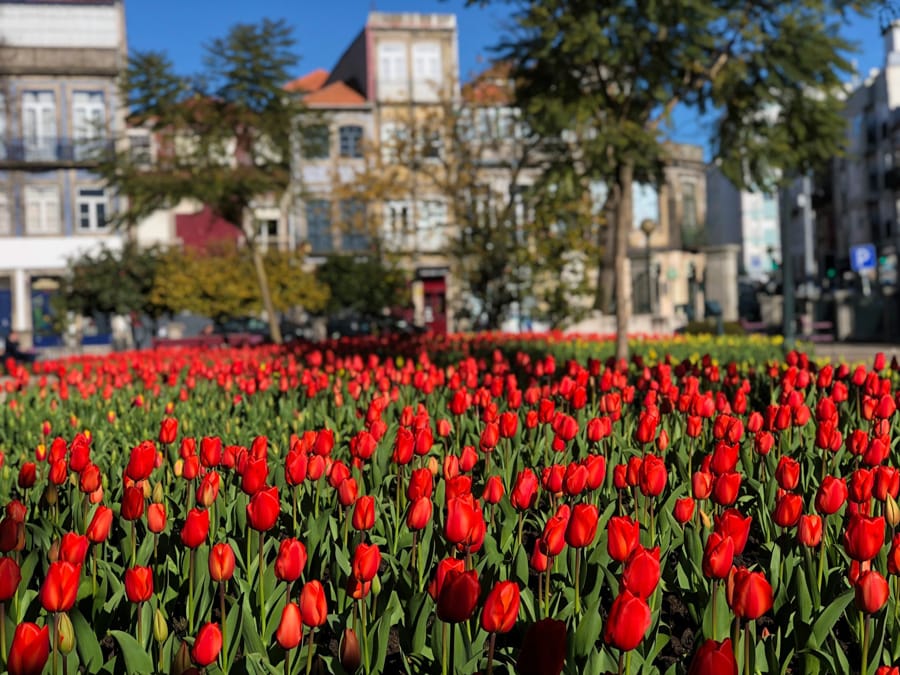 Megan actually visited Porto in February and enjoyed the city a lot then.
She said she had days that were around 14-16C and it was the perfect temperature to explore.
Megan absolutely hates the heat and visiting places in summer and, in true American fashion, hunts for the nearest place with air-conditioning… so if you're similar to her, winter or spring may be a better time for you to visit Porto.
Porto Card
For the best deals around the city, we highly encourage you to purchase the Porto Card (city pass).
It has over 150 discounts throughout the city and gives you access to the city's public transportation without an additional cost!
You even get a free Port tasting on the card!
>> Click here to get discounts galore with the Porto Card

Getting from Porto Airport to the City
I found Porto's Francisco Sá Carneiro Airport super easy to get around because, in general, I love medium-sized airports because they are often more efficient and the public transportation usually meets you at the exit doors.
Porto Airport is located 11 kilometers away from the city and there are several options to get from the Porto Airport to Porto city.
Bus to Center
I took the most convenient and cheapest mode of transportation from the airport to the city- the bus.
The main bus station is located right in the heart of Porto and there are scheduled buses going from there.
The single ticket price for one person (one way) is 1.95 Euros and you can purchase the ticket directly from the driver.
Line 602 is the bus that goes from Porto Airport to the city center.

Airport shuttle
There are also shuttle buses that are more expensive but connect the Porto Airport to the city center with ease.
The prices range from 5-12 Euros as there are different companies handling the service.
The buses have Wifi and can transport your luggage to and from the airport. Click here for more information.
Metro
Yet another affordable option to get from the Porto Airport to the city is the metro. Megan used this when there.
To find the airport metro station, you will need to pass through the arrivals area and it is on the opposite side a floor down.
The ticket at the ticket machine will only cost 0.60 Euros but you need to charge the ticket with the fare itself and the correct zone.
There are usually people around to assist.
The fare should be around 4.65 Euros and the train leaves every 30 minutes. Click here for more information.
Taxi
Taxis are easy to take in Porto and are a comfortable way to get from the airport to the Porto city center.
This will get you from the airport straight to your hotel and that can be a sigh of relief.
The cost of a taxi is usually anywhere from 20-30 Euros depending on where your Porto accommodation is located.
We actually recommend the option below, an airport transfer with Welcome Pickups.

Welcome Pickups Airport Transfer
If you're looking for something booked ahead of time, we highly recommend booking an airport transfer with Welcome Pickups.
We have used them in various places around Europe and it is the best way to make sure you arrive from the airport to your hotel with ease and comfort.
The driver, who will speak excellent English, will greet you at the airport with a sign (and make you feel very important) and will have a clean car ready and waiting outside.
They are flexible on pickup and will monitor your flight so they will know if you're delayed or early.
We find that the prices are pretty comparable to hailing a taxi from the airport. This is a much more trustworthy way to go.
Click here to book a Porto transfer with Welcome Pickups

Best Porto Tours
If you're not into independently seeing this city all in one day, don't worry- there are some organized tours that exist that you can join and not have to do much of the legwork yourself.
Tours in Porto are pretty affordable and taking care of guests is always a top priority.
Here are some of our suggestions for Porto tours, including a day trip to local wineries if that is what you're into and not the main sights of the city:
One Day in Porto
Walk Under or On the Luís I Bridge
The iconic and wonderfully, old-fashioned metal Luís I Bridge is one of the main sights in Porto and is even a focal point on tourism advertising.
Built from 1881-1886, the bridge crosses the Douro River and separates Vila Nova de Gaia with many warehouses and the famous Ribeira district.
The bridge has two main sections- a bottom one for cars and sidewalks and a top part that is for trams and pedestrians.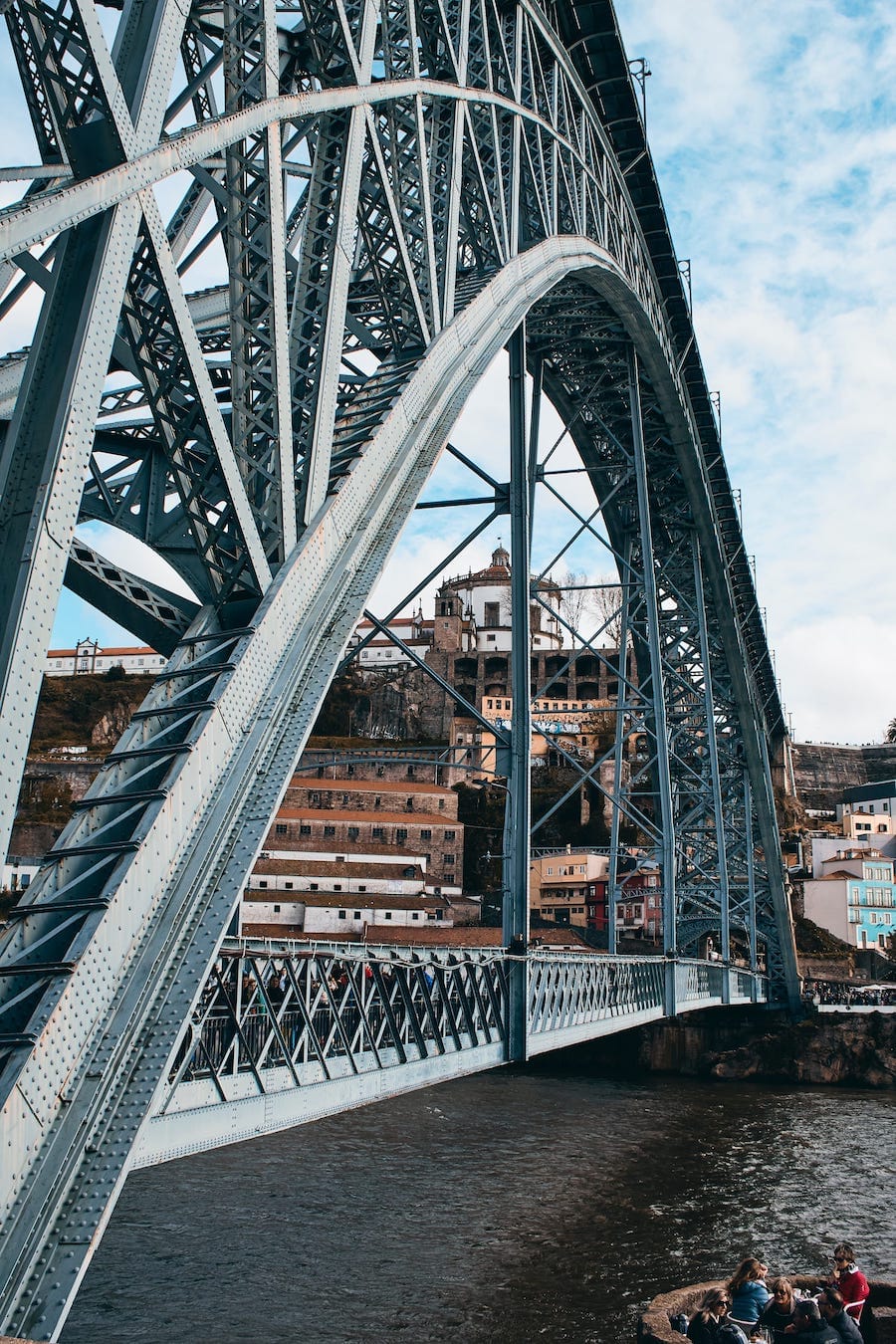 Visible next to the bridge is the Dona Maria Pia bridge which was built in 1876 and was designed by the one and only Gustave Eiffel who is renowned for designing the Eiffel Tower in Paris. No big deal…
The structure actually kind of blew my mind not only for how grand it is but also because it has been so well-kept over the years.
It is a fresh and beautiful place and it photographs especially well.
Drink Port Wine and Take a Tour in Calem
Something that you must do when visiting Porto is to taste the drink the city is famous for- port wine.
The drink can be enjoyed almost anywhere throughout the city but especially at the Calem Port wine cellar that was established in 1859.
You can take a Port wine tour there that will include a Port tasting, learning the history of the facility, and seeing (and the opportunity to purchase) the beverage in the museum sections.
At the end of the tour, you will have a unique opportunity to enjoy your glass of Port in the restaurant with live music from a Fado, a traditional Portuguese instrument.
The factory is located in the Vila Nova de Gaia part of Porto and you can book a port wine tasting with them here.
Peruse the Historic Ribeira District
After finding myself on a street exploding with color and authenticity, I quickly discovered that I was walking around the oldest district of Porto.
Located on the bank of the Douro River, Ribeira has been declared a UNESCO World Heritage Site starting from 1996 and it is no wonder why.
The area is saturated with open-air cafes and tiny alleys and charming streets.
You can find a 17th-century fountain and a small church while you guide your way through the idyllic streets of Rua da Fonte Taurina and Rua da Reboleira.
It will make you feel like you're walking through a different time in history and you will also be surprised at how many restaurants are nestled on the sides of the streets all waiting for hungry patrons like yourself.
Walk Up Porto's Famous Clerigos Tower
A point that became my identifier when I was lost around Porto was Clerigos Tower.
This famous Porto tower is 76 meters tall, has 49 bells, and has 200 steps that lead up to one of the best views of the city from above.
The tower was built from 1735-1748 and, until recently, was considered the most amazing tower within the city of Porto.
It is near some of the best azulejos in Porto!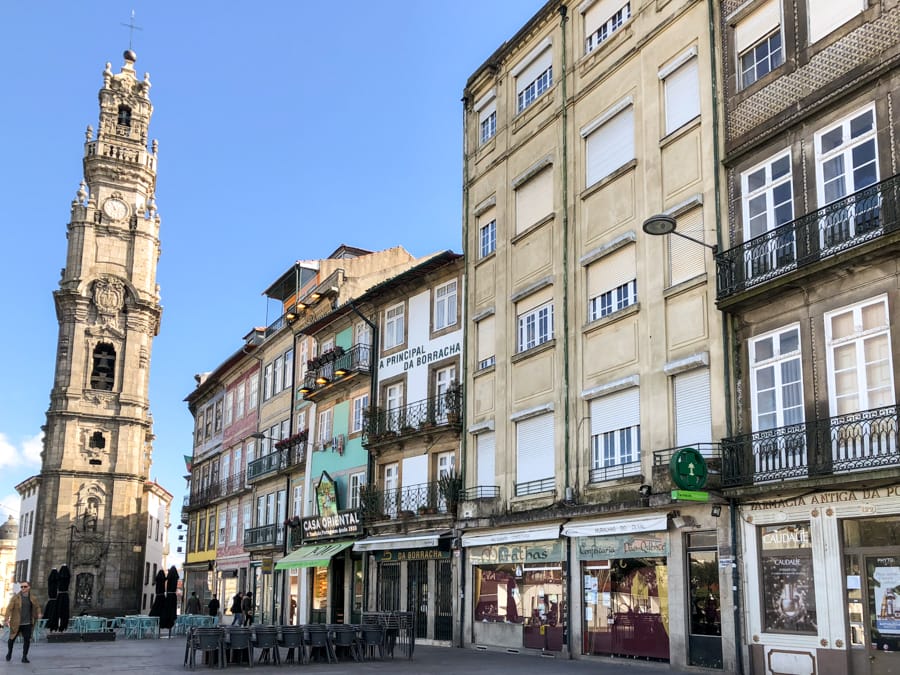 I found it to be one of the most photogenic places in Porto and it was truly an architectural masterpiece when you're close to it.
You can find the Clerigos Tower at R. de São Filipe de Nery in Porto.
Check Out Porto's Oldest Bookstore
Lello Bookshop is one hell of a place.
Not only is it amazing because it is the oldest bookstore in Porto but also because of its interior that showcases unparalleled beauty from the 19th century that has remained intact over the years despite some tough decades.
The design and bookshelves are true masterpieces and the neo-Gothic facade of the bookstore made the building my favorite in all of Porto.
It is really an important building for Portuguese and Brazilian history where it is possible to see books from the Middle Ages.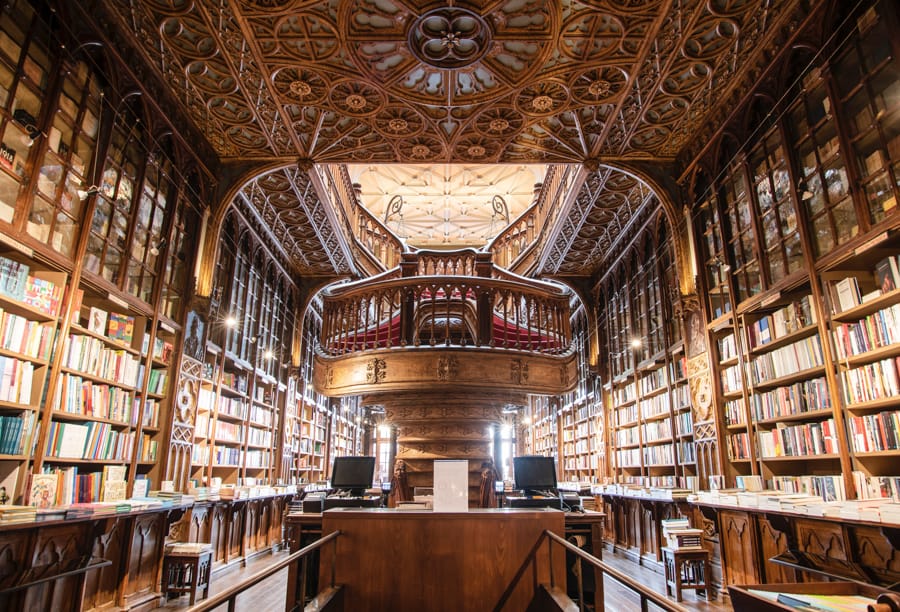 When you walk up to Lello, you will see a stained glass ceiling and a remarkable book collection… it is no wonder that this Porto bookstore is rated the third most beautiful library in the world.
You can find Livraria Lello (Lello Bookstore) at R. das Carmelitas 144 in Porto.
Visit the Porto Cathedral
The Porto Cathedral, better known to locals as Sé do Porto, is the most important religious monument in the city and is a key national monument for all of Portugal.
I was wandering around the 12th-century Cathedral and the architecture is just spectacular.
There is a watchtower in front of the Cathedral and an amazing cloister on it that depicts scenes from the Bible.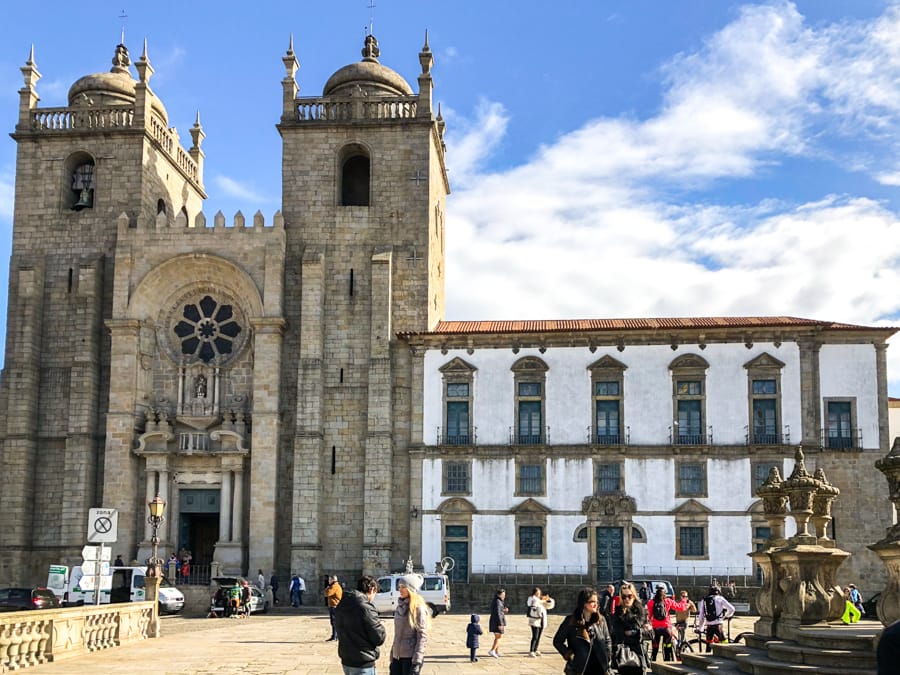 Visiting the Porto Cathedral is a must-add to your Porto itinerary. In the vicinity, you will also find several charming alleyways to get lost in. They make for some nice, quiet time and photographing.
You can find the Porto Cathedral at Terreiro da Sé in Porto.
Discover the Glowing Secret of São Francisco
São Francisco was built in the 13th century and is listed as a UNESCO World Heritage Site but what I found when I visited in person was that the sight actually GLOWS.
I just assumed that I would find yet another Gothic church inside but I was mesmerized by what I saw and learned.
The church was designed with 300 kilograms of gold dust, hence the electric glow it gives off. This is a must-visit on your day in Porto.
You can find São Francisco (or the Monument Church of St. Francis) at Rua do Infante D. Henrique in Porto.
Indulge in the Local Food in Porto (Lunch + Dinner Options)
No Porto itinerary would be complete without eating your way through the city! I love seafood and Porto is the right place to fulfill that craving.
The central cafes and restaurants in Porto will provide you with fresh seafood prepared with a traditional twist. I found so many amazing places to eat by the waterside of Ribeira.
Lunch in Porto
If you're keen to enjoy pastel de nata, famous Portuguese egg tarts, you can do so at Bacchus Vini, a place I suggest going to for lunch where you can enjoy one alongside a delicious glass of Portuguese wine.
You can find Bacchus Vini at R. da Lada 14 in Porto.

Dinner in Porto
There are many dinner options in Porto but my favorite place I went when there was Restaurante Filha da Mãe Preta, a restaurant that offered an incredible view over the city and it was really the perfect place to eat local food (and seafood!) at dusk. It gives a gorgeous view of the river too.
You can find Restaurante Filha da Mãe Preta at Cais da Ribeira 39 in Porto.
If you're wanting to try as many different local foods as possible, one of the best ways to do this is by joining a food tour!
This 3-hour food tour will give you the best of Porto all with an experienced guide who can walk you through what you're tasting and its importance of it to the city.
>> Click here to join a Porto food tour and eat your way through the city!

Where to Stay in Porto
There are many awesome places to stay in Porto. This gives three options: luxury, mid-range, and hostel accommodation when in the city.
Pestana Palácio do Freixo (Luxury): Not located directly in the city center is this palatial hotel that just screams luxury. It has a pool, killer views, and is just remarkable. Click here to check rates and availability for Pestana Palácio do Freixo.
Linha22 (Mid-range Guesthouse): This guesthouse has amazing recommendations from previous guests and is situated right by the Lello Bookshop mentioned above on this Porto itinerary. The guesthouse offers unique accommodation right in the heart of Porto. Click here to check rates and availability at Linha22.
CATS Hostel Porto (Budget): Previously Tattva Design Hostel, the renamed CATS Hostel is one of the best budget accommodation places in Porto. The property has a cool interior, awesome terraces, and a large kitchen space. It is super close to the city center and the bridge. Click here to check rates and availability at CATS Hostel Porto.

Do You Need Travel Insurance for Portugal?
We highly recommend getting a travel insurance package for Portugal.
While Porto is safe, nowhere is invincible to incidents and you never know what will happen (after you down too much Port wine). We recommend SafetyWing for travel coverage.
>> Click here to get a travel insurance quote for Portugal
I hope that you have an awesome trip to Porto and that this one day in Porto itinerary was able to help you plan your trip a bit more.
More Portugal Travel Guides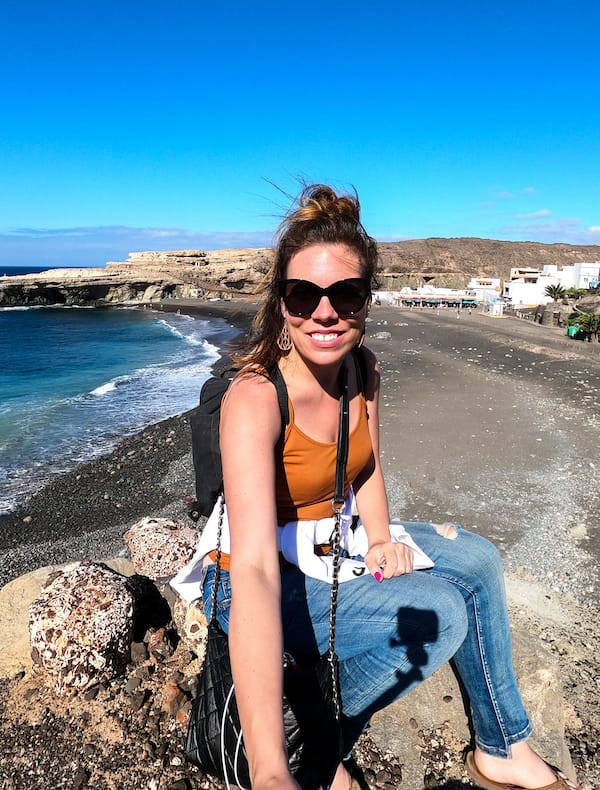 Megan is a travel blogger and writer with a background in digital marketing. Originally from Richmond, VA, she now splits her time between Frankfurt, Germany and Arctic Finland after also living in Norway, Armenia, and Kazakhstan. She has a passion for winter travel, as well as the Nordic countries, but you can also find her eating her way through Italy, perusing perfume stores in Paris, or taking road trips through the USA. Megan has written for or been featured by National Geographic, Forbes, Lonely Planet, the New York Times, and more. She co-authored Fodor's Travel 'Essential Norway' and has visited 45 US states and 100+ countries.