Are you on the hunt for the best day trips from Naples, Italy? We are filling you in on our favorite Naples day trips in this guide! Keep reading!
If you're going to be staying in Naples for a couple of days, it's a great idea to get the most out of what Italy has to offer, so it's worth considering a few day trips to add to the fun.
For me, Naples has the best day trips of any city in Italy (and I mean that)! It is essential to plot a few extra days in to enjoy some of them!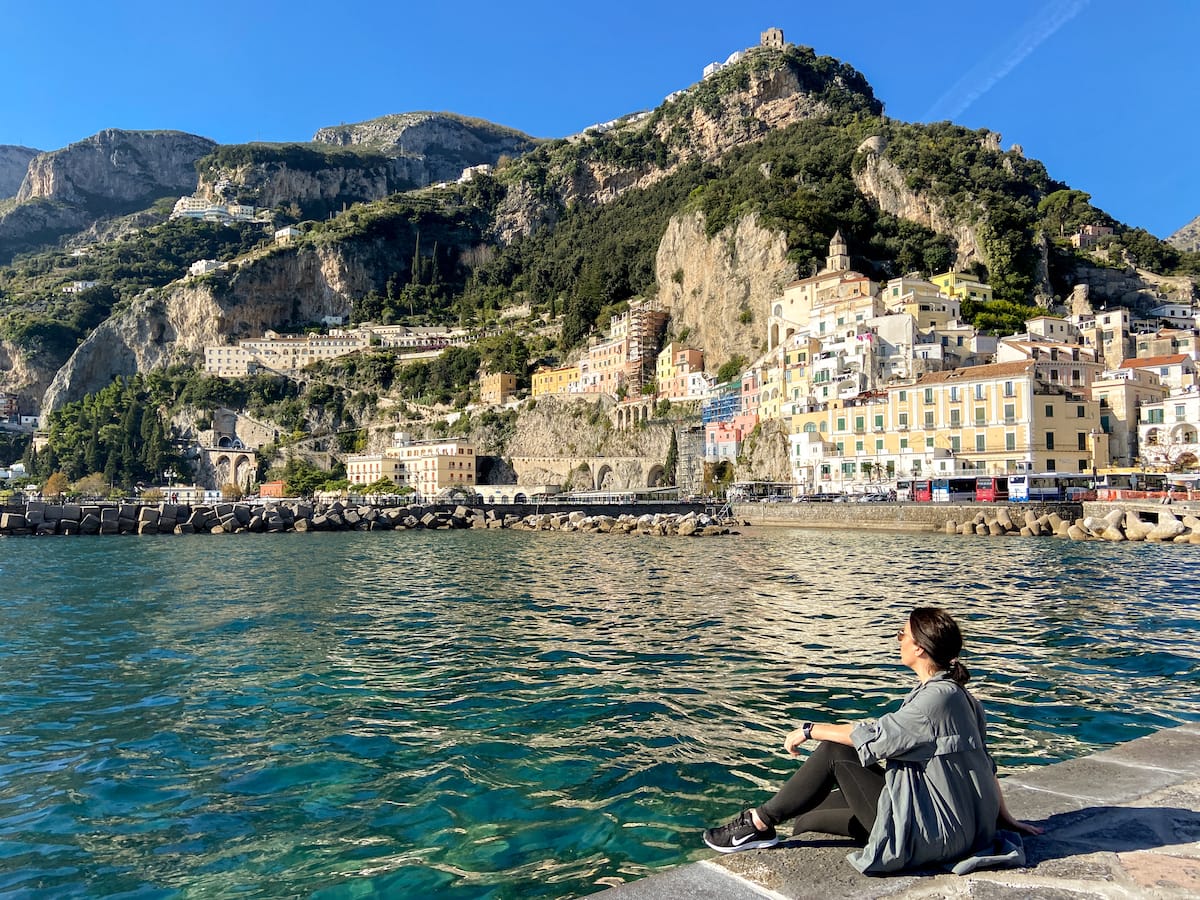 Here are some of our top picks for sites and cute Italian towns you can visit within a 2-hour drive from Naples to make your trip even more special!
Best Day Trips from Naples, Italy
1. Amalfi Coast
Distance from Naples to Sorrento: 48.7 kilometers (29.7 miles)
Driving Time: 58 minutes
➡️ Check Amalfi Coast day tour options
Nestled on the south edge of the Bay of Naples, you will find the quaint town of Sorrento, packed with lemon and orange groves and surrounded by rugged cliffs and crystalline seas.
Stroll through Piazza Tasso, the heart of the town lined with shops, Campanian restaurants, cafès, luxurious hotels, and limoncello sellers.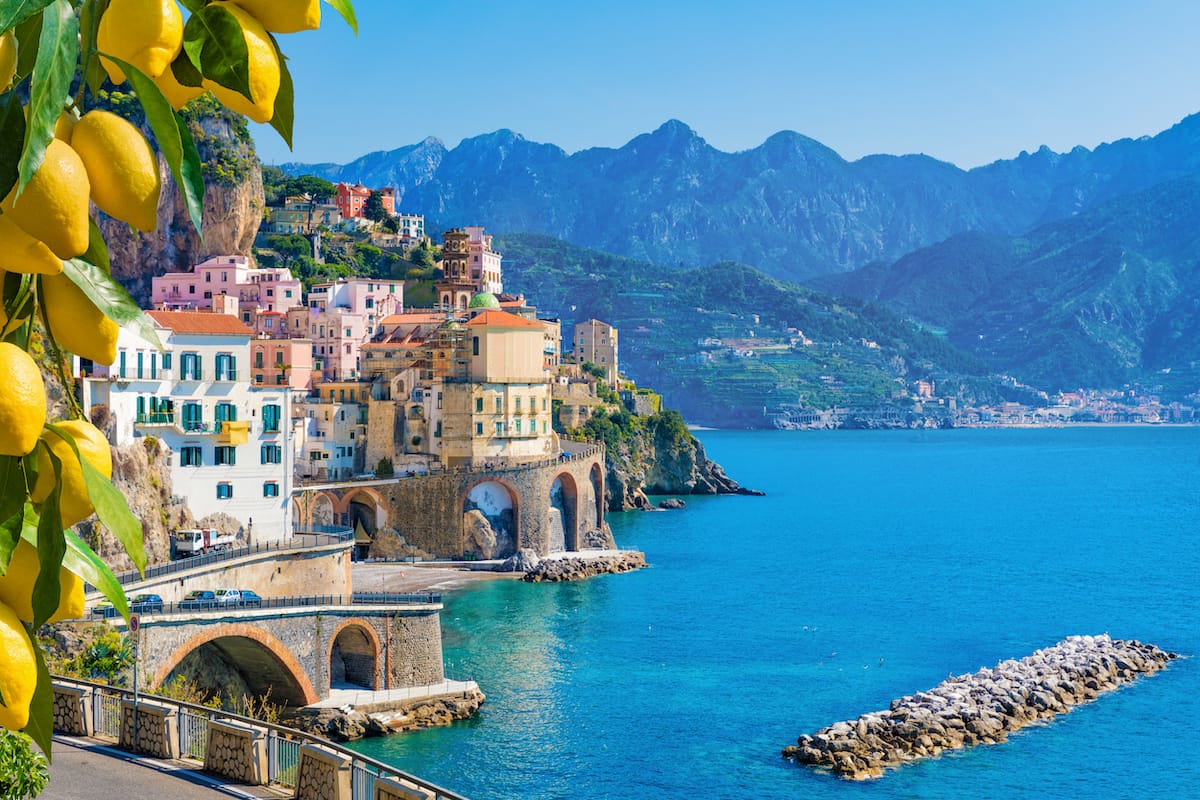 Dig deep into some art in Correale di Terranova Museum, which houses a significant collection of Campanian art, 17th and 18th-century Neapolitan paintings, European porcelains, Bohemian and Murano glass, and furniture of several periods.
From there, you have the whole coast at your fingertips! You can drive to Positano which is one of the most famous places along the Amalfi Coast.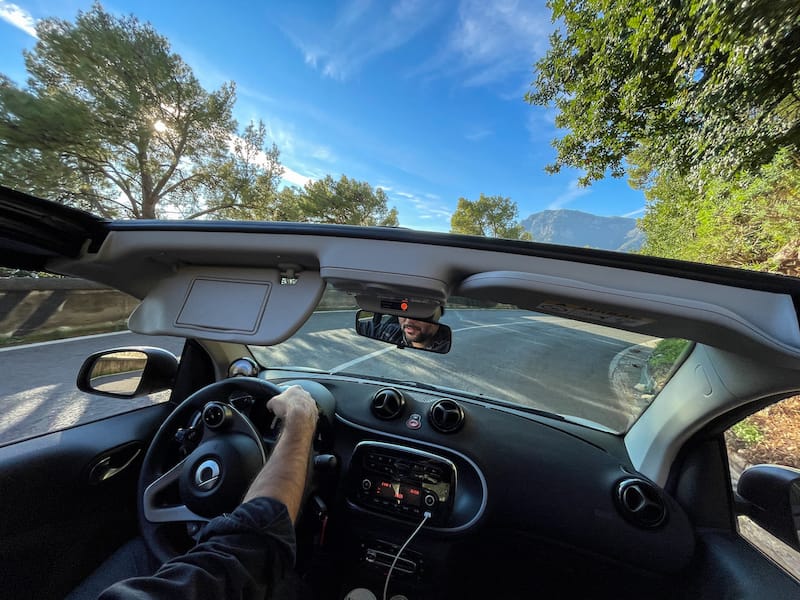 Positano is dramatic and known for its beaches and overlooks! Drive from there toward Atrani, Amalfi town, and Ravello for added adventure! While we enjoyed driving the coast, I think it is a much safer bet to take an organized tour from Naples there!
The roads are windy and the traffic situation can be dismal during the summer months!
>> Click here for Amalfi Coast day tour rates and availability
2. Pompeii
Distance from Naples to Pompeii: 25.4 kilometers (15.7 miles)
Driving Time: 24 minutes
➡️ Check Pompeii day tour options
Visit historic Pompeii to get a real feel of what life was like in an ancient Roman city and experience the devastating effects of the volcano Mount Vesuvius, which swallowed the entire city in 6 meters of ash and pumice in 79 AD.
Your first stop should be the oldest Pompeii Amphitheater which dates back to 80 BC. Then head to the Forum of Pompeii to witness the Temples of Venus, Apollo, and Jupiter.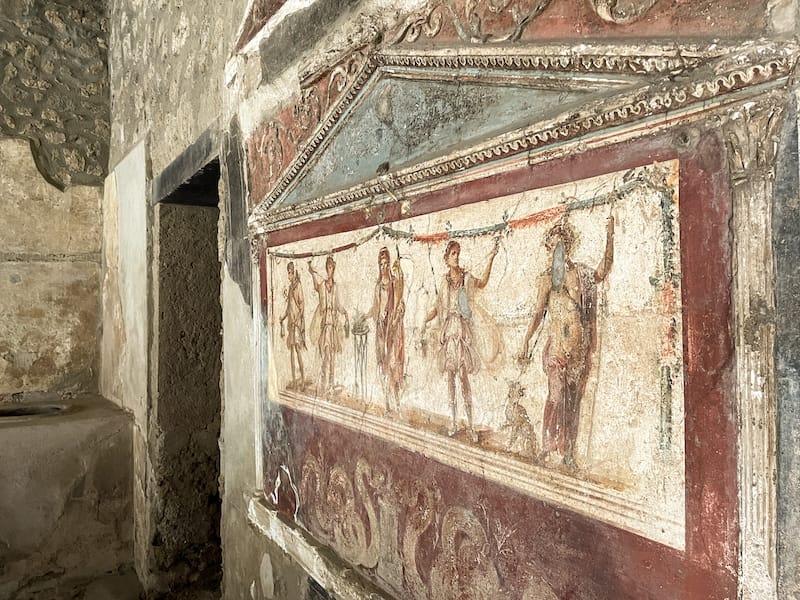 In the Brothel, Pompeii's main house of pleasure, you can still see some exotic art paintings well-preserved on the walls. Nearby you will find treasure-filled Villa Dei Misteri, home to the best-preserved frescoes of Ancient Rome.
Get a glimpse of how ancient Romans bathed in Pompeii's Forum Baths or visit Gladiator Barracks where real gladiators once lived and trained. It is no wonder that this day trip is one of the most popular things to do in Naples!
>> Click here for Pompeii day tour rates and availability
3. Capri
Distance from Naples to Capri: 28 kilometers (17 miles)
Driving Time: requires a ferry/boat (it is an island)
➡️ Check Capri day tour options
The island of Capri is true heaven on Earth, nestled off the coast of Naples.
Take a Capri boat tour departing from Marina Grande and head to admire the Faraglioni rock formations, mesmerizing Blue Grotto, Green Grotto, White Grotto, historic Punta Carena lighthouse, and the picturesque shoreline from the water.
Sunbathe on Marina di Pennauro and Marina di Mulo, hike to the Natural Arch, or get a bird's eye view of Capri from Monte Solaro's 589-meter peak.
For one-of-a-kind scenery, visit the Gardens of Augustus, the well-kept botanical gardens of Mediterranean flora, overlooking Marina Piccola harbor and Via Krupp road.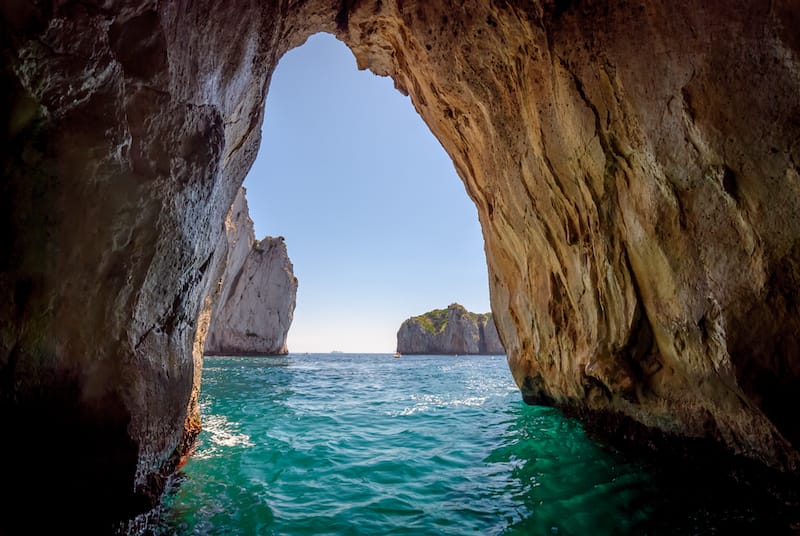 Marvel at a unique mix of Art Nouveau, Greek, Neoclassic, and Viennese architecture in splendid 20th-century Villa Lysis, which once was home to well-known artists, writers, and poets.
Getting from Naples to Capri requires a ferry or a day tour. Please note that the smaller, hydrofoil boats are a poor choice in winter! Do choose a larger (probably slower) boat during these months.
>> Click here for Capri day tour rates and availability
4. Herculaneum
Distance from Naples to Herculaneum: 11 kilometers (6.8 kilometers)
Driving Time: 16 minutes
➡️ Check Herculaneum day tour options
Herculaneum was an ancient Roman fishing town that was buried in molten lava by the same Mt. Vesuvius eruption in 79 AD.
Being one of the best-preserved ancient cities between Naples and Sorrento, it is home to remarkable archaeological gems that provide a glimpse of its glorious past.
Highlights of this ancient city are the Hall of the Augustales, seat to the College of the Augustales, the Samnite House (one of the oldest patrician mansions), and Fornici port warehouses that now house 300 human skeletons of those who tried to escape the disaster.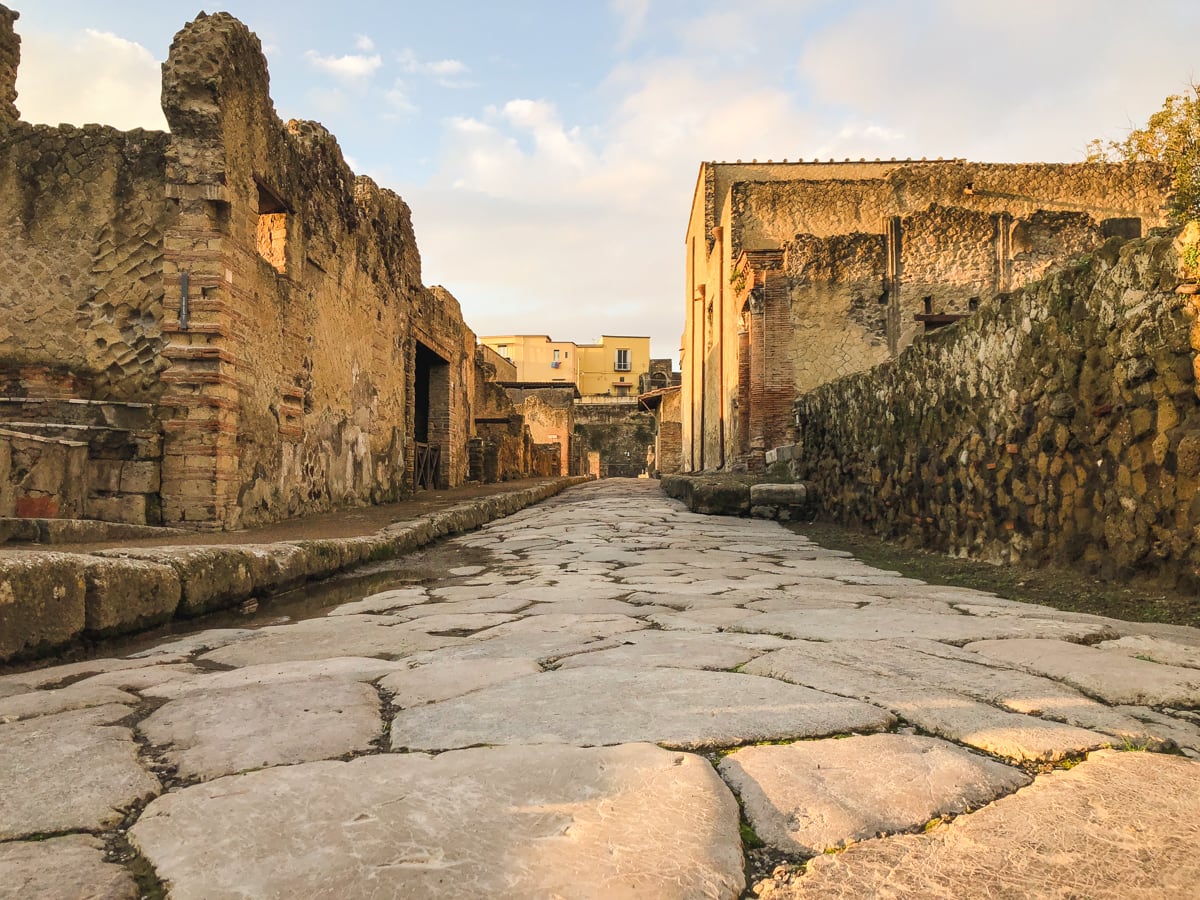 Explore the ancient thermal baths in Thermae, admire the vivid frescoes in Sacello Degli Augustali, or marvel at the well-preserved glass wall mosaic depicting Neptune and Amphitrite in House of the Neptune Mosaic.
This is also one of my favorite day trips when I visit Naples in winter as it is usually extremely uncrowded and super close. Do note that it is currently closed on Wednesdays.
>> Click here for Herculaneum day tour rates and availability
5. Ischia
Distance from Naples to Ischia: 47 kilometers (29 miles)
Driving Time: requires a ferry/boat (it is an island)
➡️ Check Ischia day tour options
Ischia is a gorgeous volcanic island, 47km from busy Naples, that offers exotic scenery, stunning beaches, thermal parks, and historic sites.
The medieval castle and cathedral, Castello Aragonese, and Cattedrale dell'Assunta are the real gems of the island where you can get a deeper look into the area's history and marvel at the splendid vistas of the town below.
Another highlight of the island is the bright white Chiesa del Soccorso in Forio, a historic church nestled on cliffs jutting out of the Tyrrhenian Sea.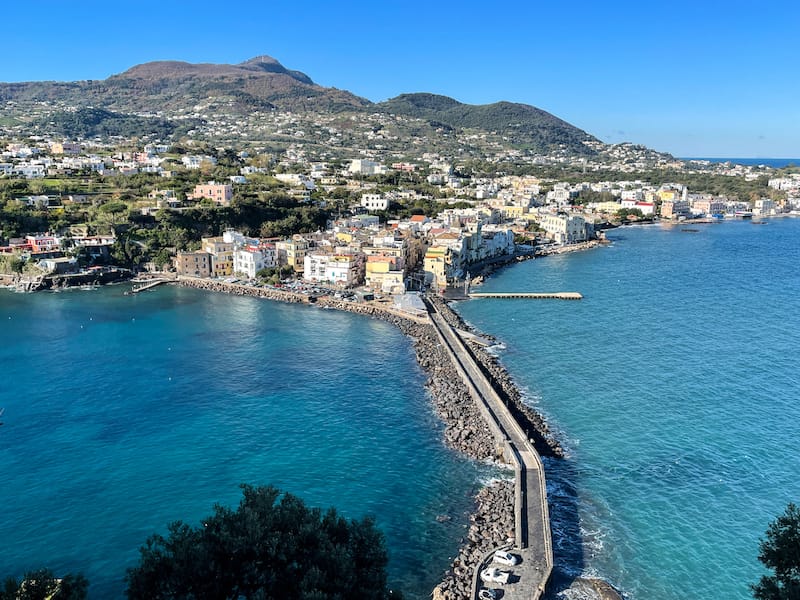 Along the coast, you will find many thermal baths, such as Sorgenti Termali di Sorgeto, where you can unwind and relax in volcanic waters.
For a luxury spa experience visit Centro Termale O'Vagnitiello, Poseidon Gardens Spa, explore fantastic scenery in Lacco Ameno, or sunbathe in Sant'Angelo, The Chiaia in Forio d'Ischia, Spiaggia dei Pescatori or Cava dell'Isola.
Ischia is an island and requires a ferry to get there. If traveling during the winter months, opt for a larger boat and not the hydrofoil one!
>> Click here for Ischia day tour rates and availability
6. Paestum
Distance from Naples to Paestum: 92.8 kilometers (57.6 miles)
Driving Time: 1 hour, 20 minutes
Go back in time in Paestum, famous for its finest remains of magnificently preserved Greek architecture.
The National Archeological Museum of Paestum is a must-visit spot to explore artifacts from the 6th-century Temple of Hera, Greek statues, Neolithic, Bronze, and Iron Age pottery, and tomb paintings in the nearby necropolis.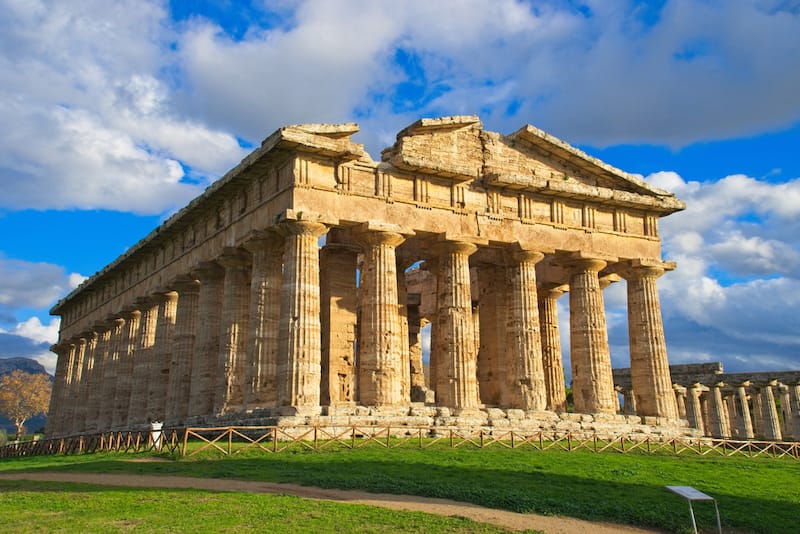 Paestum Archaeological Site houses a few of the finest remains of majestic Greek architecture, like Via Sacra, Temple of Hera, Tempio Italico, and Temple of Ceres.
For a one-of-a-kind experience, witness the ruins of the amphitheater, admire the 5 km-long town walls enclosing the ancient city, or explore how the Roman aristocracy lived in Velia.
You can also visit three large cemeteries outside the town walls that date back to the III, IV, and V century BC and feature vividly colored tombs still reminiscent of Greek culture.
7. Salerno
Distance from Naples to Salerno: 54.5 kilometers (33.8 miles)
Driving Time: 45 minutes
Neighboring Naples from the east, Salerno is a gorgeous coastal city rich in history, stunning architecture, and is home to the seafront Trieste Lungomare promenade.
The sacred 11th-century Romanesque-style Duomo Cathedral, considered Italy's most beautiful medieval church, is the centerpiece of Salermo, housing religious artifacts of Saint Matthew and Pope Gregory VII's tomb.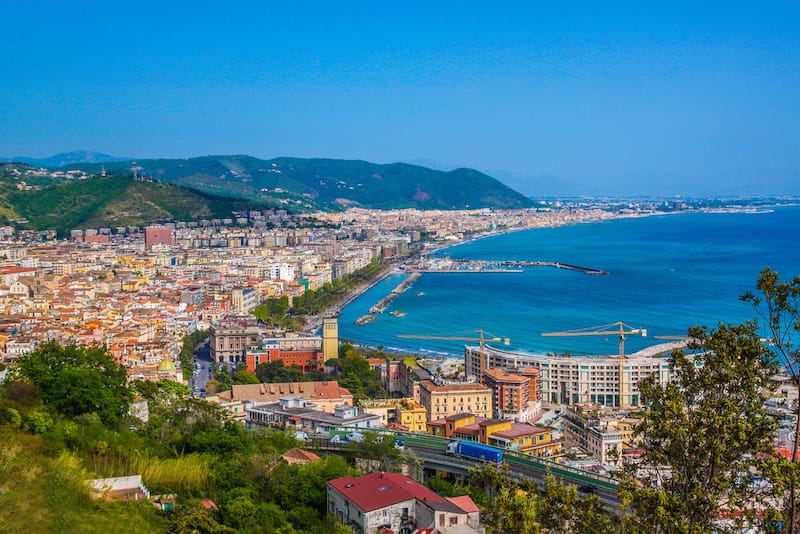 History buffs can explore the ruins of Paestum which features three temples dedicated to the Greek gods.
The Provincial Archaeological Museum is a must-visit to explore a huge collection of prehistoric items, such as a bronze bust of Apollo, pottery, Roman burial remains, gold coins, and weaponry dating back to the Roman era.
Visit 14th-century Giardino della Minerva to admire diverse flora or get a bird's eye view of the stunning Gulf of Salerno from the hilltop Castello di Arechi.
8. Phlegraean Peninsula
Distance from Naples to the Phlegraean Peninsula: 20.7 kilometers (12.8 miles)
Driving Time: 29 minutes
Pozzuoli is the main highlight of the Phlegraean Peninsula, nestled next to the majestic Phlegraean Fields.
The city is known for its local volcanic sand pozzolana, which was used in the first concrete. Once, the Macellum of Pozzuoli was the heart of Puzzuoli, where a statue of Serapis was discovered in 1750.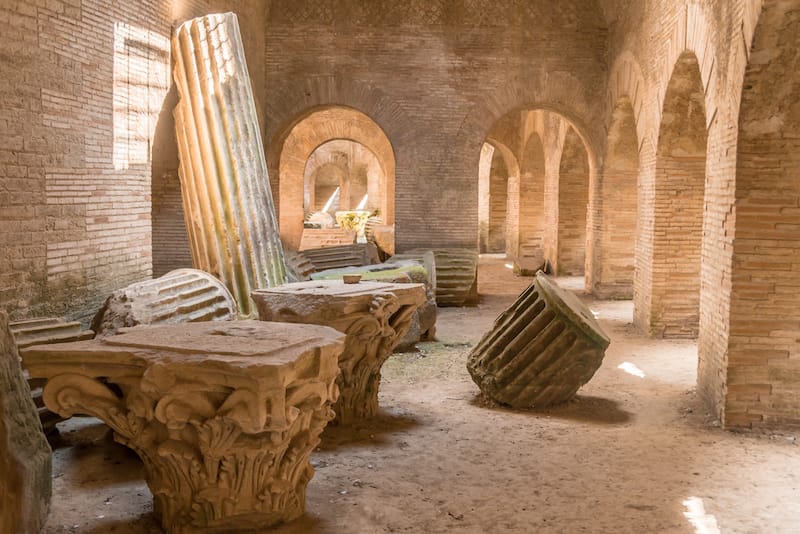 Another centerpiece of Pozzuoli is the Flavian Amphitheatre, the third-largest in Italy constructed by the same architect who built the Roman Colosseum.
For exquisite memories, take part in a private tour organized by Trinus Company to experience the full charm of the Phlegrean Peninsula.
Fun fact: famous actress Sophia Loren spent her entire childhood in Pozzuoli.
9. Go on a Mt. Vesuvius Hiking Adventure
Hiking enthusiasts should definitely add Mt. Vesuvius to their bucket list. This famous mountain, which once destroyed Pompeii, is still an active volcano.
The latter makes this a thrilling experience even though it is completely safe to hike.
You can get to the starting point from Naples, Rome, and the Amalfi Coast and conquer this piece of history through a private group tour.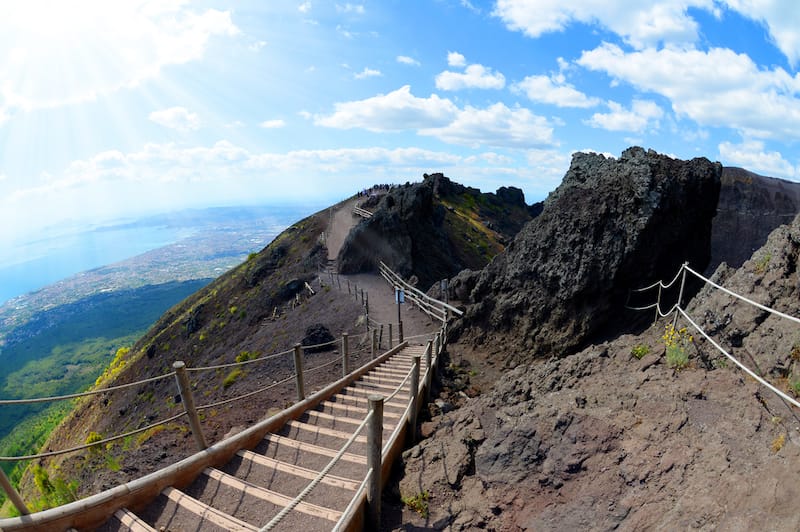 Not to waste time on the tricky trail, do this guided tour that will drive you to the start of the walking track.
From there, an easy 30-minute hike will get you to the summit, where you can witness the crater along with terrific cracks, but fortunately, no gas and lava.
Stand atop 1,281-meter-tall Mt. Vesuvius and experience how the devastating volcano once wiped out the entire city.
>> Click here for Vesuvius hiking tour rates and availability
10. Parco Regionale Monti Picentini
Distance from Naples to Parco Regionale Monti Picentini: 90.1 kilometers (56 miles)
Driving Time: 1 hour, 34 minutes
Escape into the world of green in Monti Picentini Regional Park, 156,000 acres of natural preserve nestled in Campania, an hour and a half east of Naples.
The park was established in 1955 with the main purpose of protecting the area's rich flora and fauna. It is home to two natural oases: Monte Polveracchio and Valle della Caccia.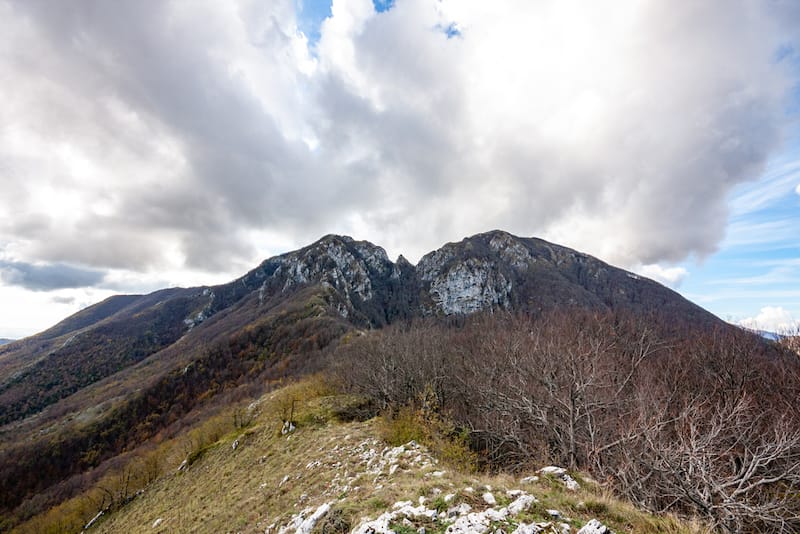 It is also home to the Picentini mountains, the biggest reservoir in the south of Italy, limestone-dolomite, unique rock formations, numerous waterfalls, and the following rivers: Calore, Sele, Sabato, Ofanto, and Picentino.
Lace up your hiking boots and cycling shoes and head to the Monte Mai and Monte Terminio, which will reward you with stunning natural beauty on every turn.
The Grotta del Caprone is another great day hike option for adventure lovers, which will take you along the slopes of Monte Serra Longo.
11. Procida
Distance from Naples to Procida: 26.7 kilometers (16.5 miles)
Driving Time: requires a ferry/boat (it is an island)
➡️ Check Procida day tour options
Colorful Procida Island, the smallest island in the Bay of Naples, is Italy's hidden gem. The first thing you need to do is enjoy the stunning views of the 17th-century harbor Marina Corricella, which is the island's oldest fishing village.
Listen to heart-pounding stories in abandoned Palazzo D'Avalos, which was originally a palace for a cardinal, then turned into a hunting site for the Bourbon kings.
Later in the 19th century, it served as a prison. Explore 16th-century streets lined with historic houses by climbing to the 15th-century walled town Terra Murata, nestled atop a rugged cliff overlooking gorgeous Marina Corricella.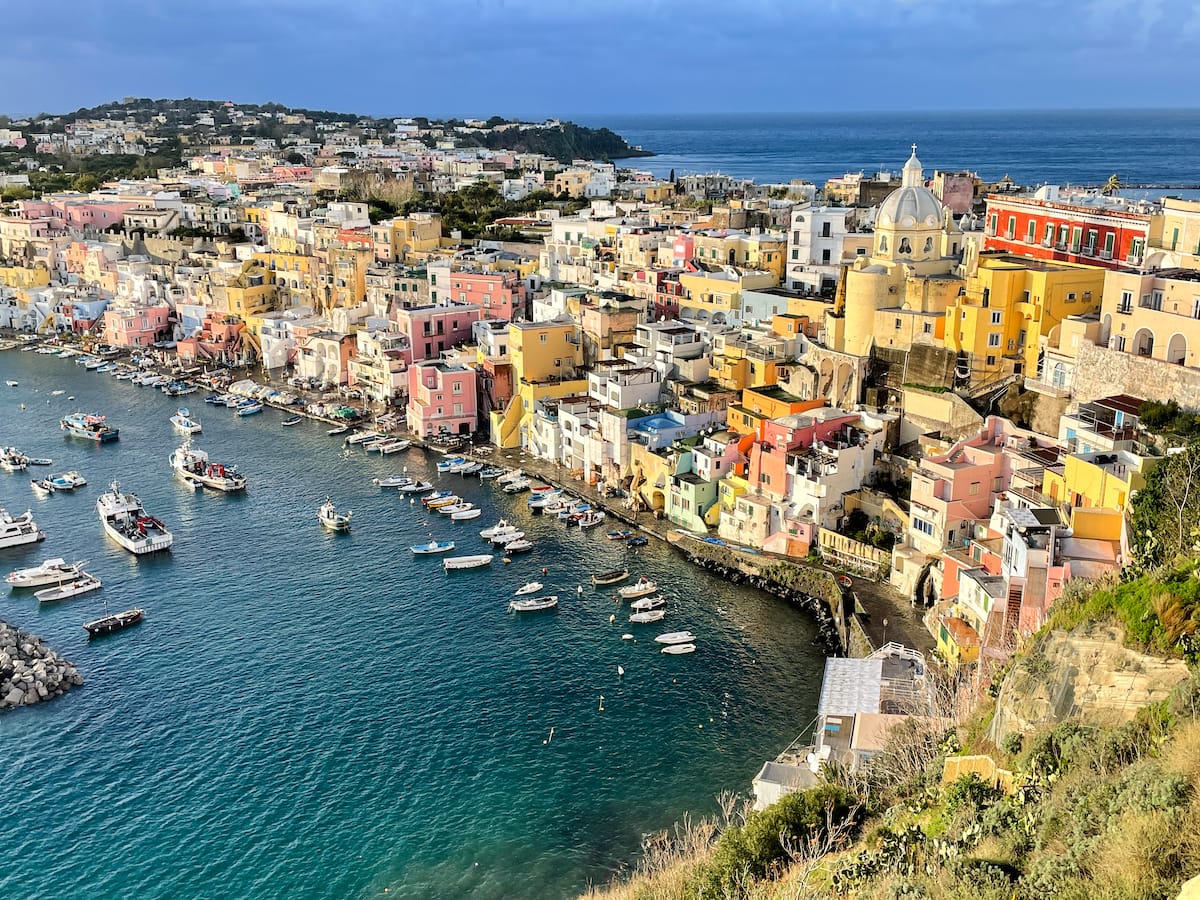 Soak up the sun on Island's volcanic beaches, like Chiaiolella, Ciraccio, Pozzo Vecchio, Chiaia, or take a trip to the half-moon-shaped Vivara through a 100-meter narrow footbridge to marvel at diverse birdlife and stunning scenery of surrounding sea and islands.
Getting from Naples to Procida requires a ferry ride. Be prepared that the smaller, hydrofoil boat is not a great idea during the winter. Opt for a larger ferry!
>> Click here for Procida day tour rates and availability
12. Parco Nazionale del Cilento (Cilento National Park)
Distance from Naples to Parco Nazionale del Cilento: 116.9 kilometers (72.6 miles)
Driving Time: 1 hour, 31 minutes
Escape the busy city and discover Italy off the beaten path in Cilento National Park, Italy's second-largest park.
Stretching from the coast of the Tyrrhenian Sea to the foothills of the Apennines, this pristine corner of Italy's untouched beauty is rich in mesmerizing scenery and home to the peaks of Cervati, Alburni Mountains, and Gelbison.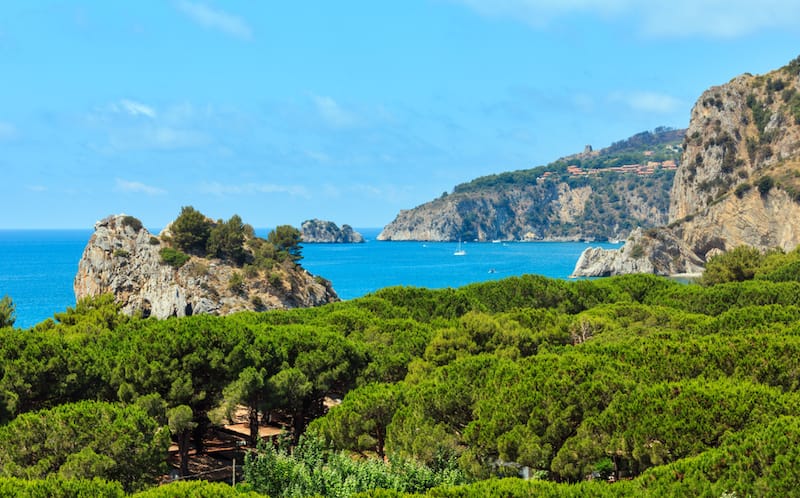 You can also explore Park's rich flora and fauna, which includes over 3,000 diverse native and exotic plant species, as well as various mammals, reptiles, birds, and fish.
The park is home to Certosa of Padula, the remains of the Greek colonies of Elea and Paestum, and enhances its mythical character by featuring the call of the nymph Leucosia and the beaches where, according to a legend, Aeneas and Palinuro's destiny was split.
13. Caserta
Distance from Naples to Caserta: 35.9 kilometers (22.3 miles)
Driving Time: 38 minutes
Delve deep into the Campania region's history in lovely Caserta, known for its magnificent historic architecture.
Get ready to be in awe of the marvelous neoclassical style architecture of the Reggia di Caserta, a former royal palace that now houses Neapolitan paintings, fresco rooms, period furnishings, and 3km of lush gardens with fountains and pools.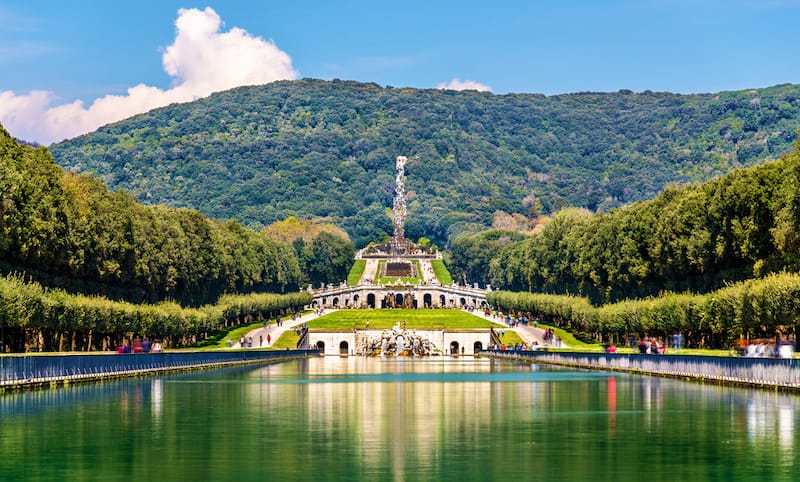 After touring the Royal Palace, head to Piazza Vanvitelli to witness the marble statue of Luigi Vanvitelli, the main architect of the Reggia Royal Palace, the San Leucio complex, and the huge Aquedotto Carolino.
Take a break from period art by strolling through the medieval village of Caserta Vecchia. For a glimpse of history, visit the XIX century Duomo, featuring many works of art, the gladiator museum of Santa Maria Capua Vetere, or the Church of St. Sebastiano to admire another masterpiece created by Vanvitelli.
14. Campi Flegrei
Distance from Naples to Campi Flegrei: 20.7 kilometers (12.8 miles)
Driving Time: 24 minutes
The "supervolcano" Campi Flegrei, the planet's most potentially hazardous caldera, is a huge, 13-km-wide caldera nestled under the Gulf of Pozzuoli beneath Naples' western borders.
This multi-crater Campi Flegrei is home to the famous Vesuvius and features many volcanic centers, including tuff rings, cinder cones, and 24 craters, which, according to Greek mythology, served as a home to the god of fire Hephaestus.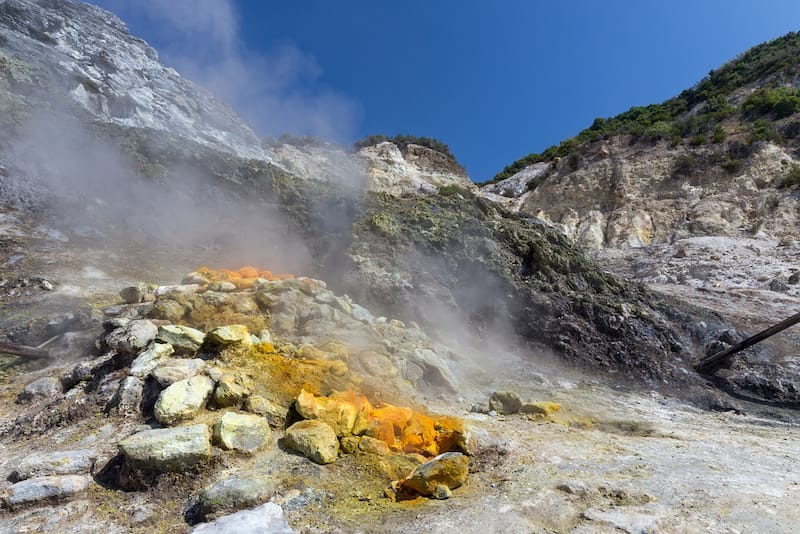 Nearby you will find several fumaroles and mud pools throughout the field. It has been active for the past 30-40,000 years but currently shows no signs of reawakening, yet its eruptive power can devastate most of Europe.
History buffs can head to the nearby 16th-century Sanctuary of San Gennaro, while adventure lovers can spend a night in an adjacent campsite (please bear in mind high levels of sulfur emissions).
15. Formia
Distance from Naples to Formia: 89.3 kilometers (55.4 miles)
Driving Time: 1 hour, 18 minutes
Formia, on the coast of South Lazio, is a charming seaside city tucked into the picturesque Gulf of Gaeta.
Explore the Torre di Castellone to see how ancient Romans defended against maritime assault, visit the Roman Theater where the martyrdom of Saint Erasmus of Formia occurred or check out the Annunziata, San Luca Evangelista, and Santa Maria ad Martyres churches in Borgo di Manarola.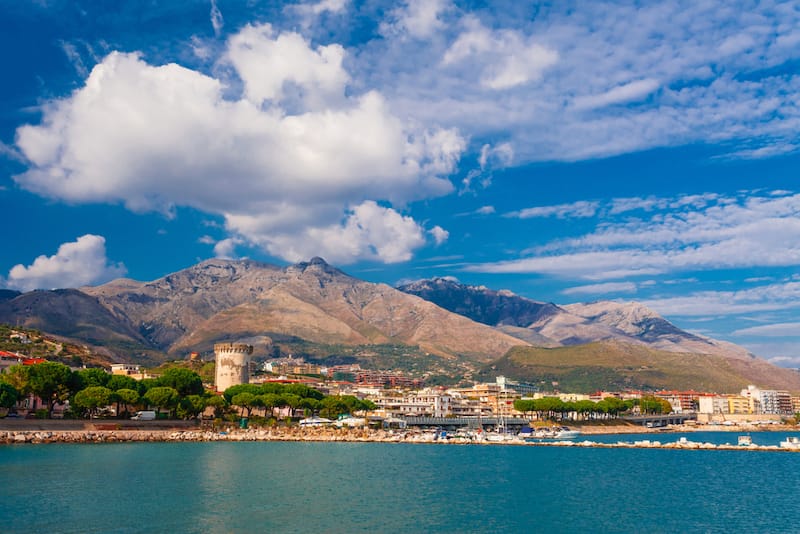 Soak up history in the Museo Archeologico Nazionale di Formia, Town Hall (the Comune), or tour Cisternone Romano, an ancient underground water reservoir, for a thrilling experience.
Other must-visit sites are the Augustan age 24m-high round Tomb of Cicero, the Torre dell'Orologio, and Torre di Mola.
After a busy day of sightseeing, pop over to the hectic Via Vitruvio, the main shopping street packed with eclectic boutiques, Italian chains, and cafes.
16. Go On a Vesuvius Wine Tasting Tour
If you are in the mood for wine, take part in this 4-hour tour from Naples that will take you to enjoy the volcanic wines produced on the slopes of Mt. Vesuvius.
Your first stop will be the Campania Ars Vinearia, a family-owned wine company that offers you to try their signature wines. Along this guided tour, you can take in the stunning panoramic vistas of Naples and Sorrento.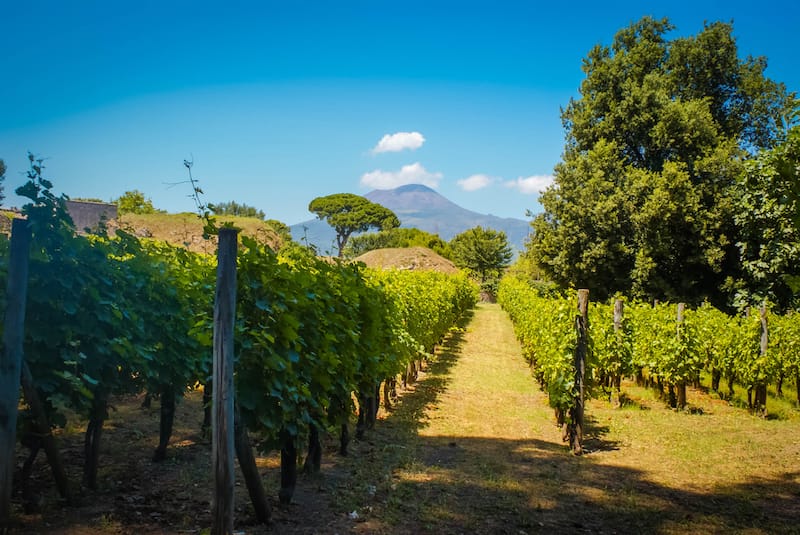 After exploring the vineyards, recharge your energy with a mouthwatering Mediterranean lunch that is served with the region's finest wines, such as "Falanghina," "Aglianico," "Lacryma Christi," and much more.
Make sure to purchase a bottle or two of your favorite wine from the farm store to bring home a piece of Mt. Vesuvius with you.
>> Click here for Vesuvius wine-tasting rates and availability
17. Torre Annunziata
Distance from Naples to Torre Annunziata: 22.4 kilometers (13.9 miles)
Driving Time: 24 minutes
Tucked at the southern foot of Mt. Vesuvius, Torre Annunziata is another lovely city in southern Italy's Campania region.
Once the center for ironwork, pasta, and food processing industries, it is now the hub featuring other active industries, including the firearms, naval, and pharmaceutical sectors.
Torre Annunziata is home to the lesser-known Villa Poppaea (Oplontis), an ancient elite Roman residence that was also buried in pumice after Mt. Vesuvius's devastating eruption.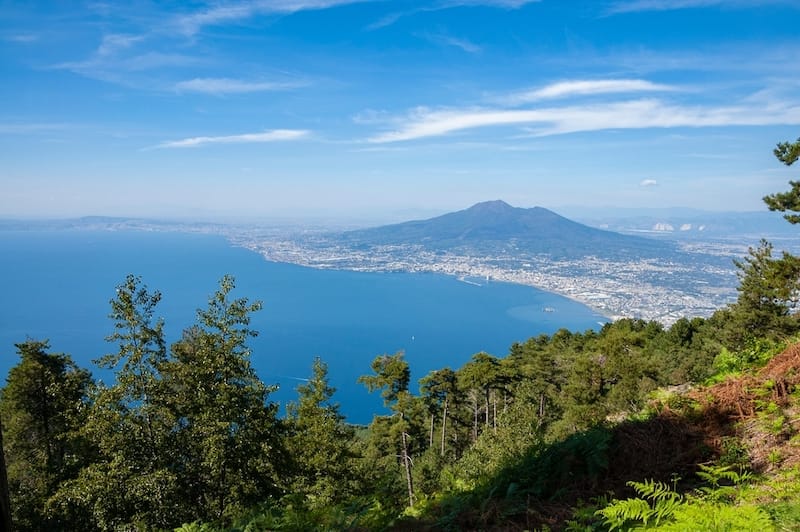 Another highlight is the small Rock of Rovigliano that juts out from the Sarno River.
This islet once housed an ancient temple during Roman times, turned into a monastery in the 9th century, then became a church in the 12th century, a fortress in the 16th century, and a restaurant in the 1930s, after which the islet was completely abandoned as you can see today.
18. Stabiae (in Castellammare di Stabia)
Distance from Naples to Stabiae: 29.6 kilometers (18.4 miles)
Driving Time: 30 minutes
The last destination on this list is another charming city that lies on the southeastern edge of the Bay of Naples. It got its name from Stabiae, an ancient Roman resort that was again destroyed in 79 AD by the catastrophic Vesuvius eruption.
Take in the unparalleled views of the Gulf of Naples from the 3,600-foot-high Monte Faito by taking a funicular from the center of the town.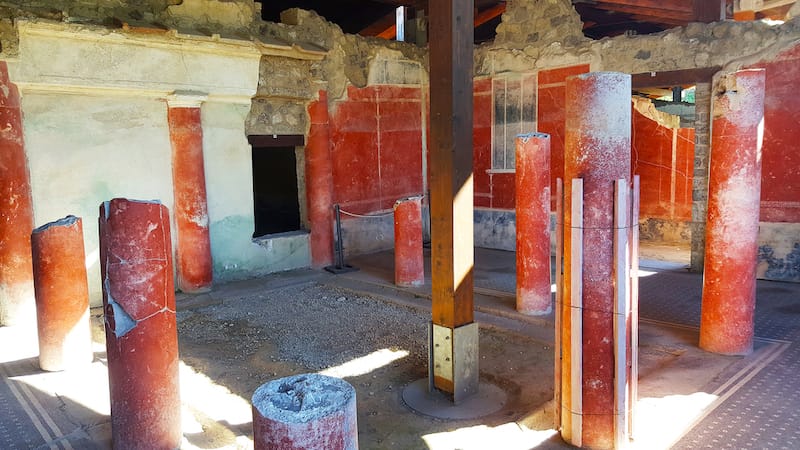 Immerse yourself in history in the recently renovated Villa Quisisana, the main residence of Bourbon royals, or feel refreshed in Nuove Terme Stabiane's thermal spa, nestled on the slopes of Monte Faito.
Make sure not to miss the ruins of Scavi di Stabia, the public gardens of Villa Comunale, and the stunning liberty masterpiece Cassa Armonica.
Where to Stay in Naples
If you are looking for where to stay in Naples, you will find plenty of options for all budgets! Here are some of our top picks:
Did we miss any of your favorite Naples day trips?
Let us know the best day trips from Naples, Italy that you have enjoyed in the comments. Thanks!
More Italy Travel Guides
Pin this Naples Day Trips Guide