You don't have to rent a car to enjoy the Faroe Islands to the maximum. These Faroe Islands tours will give you a taste of the archipelago and its best sights with ease.
These are the best tours in the Faroe Islands. Below is a short guide to the excursions and activities we cover in this post:
Planning your trip to the Faroe Islands last minute?
Below are some of the top tours, hotels, and transportation options in the Faroe Islands to help you plan your trip!
🚗 Getting around the Faroe Islands (+ airport transfer!):
Cheapest car rental options (you must book ahead!)
Vagar airport to Torshavn (a hassle-free transfer service)
🇫🇴 Top Experiences and Tours in the Faroes:
🛌 Top Lodging and Hotels in the Faroes:
Hotel Hafnia (Torshavn)
Hotel Føroyar (Torshavn)
Panorama Boathouse (Klaksvik – perfect for visiting Kalsoy)
Best Tours in the Faroe Islands
The Faroe Islands is fantastic and one of my favorite places in the world. I have been there twice, and I am enamored by the beauty that the islands are home to, and I just can't get enough of the place.
I want everyone to travel to the Faroe Islands but without the ability to drive, it may be a daunting place to visit, as a car is pretty essential to seeing the islands properly.
But… tours exist, travelers! These are the best Faroe Islands tours and excursions, from the puffins on Mykines to the steep bird cliffs in Vestmanna and beyond!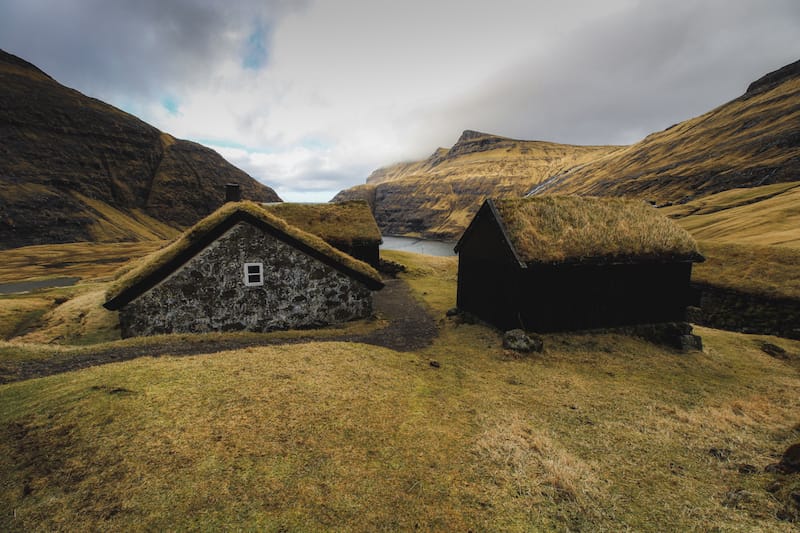 Is a Faroe Islands Tour for You?
The older I get, the more I like to have things planned for me. I never thought tours would be for me, but I discovered that day tours and excursions take a lot of the stress out of planning for me.
And… I can't currently drive. So, by having tours do the work for me, I can still see the main sights in a city or country without having to do the driving myself. A tour of the Faroe Islands might be for you if…
You can't drive. There is public transportation in the Faroe Islands, but it is really limited, and you may miss out on many main sights and attractions by relying on it.
Driving in the Faroe Islands is also not easy. I have been to the Faroe Islands twice and have been in an accident or mishap on both occasions.
You don't want to rent a car. Renting a car is expensive. And in the Faroes, every time you cross a bridge, drive through an undersea tunnel, or take a ferry, you are charged. Many of the tours I am including below have ferry prices included.
And if you're picked up, you won't be responsible for any of the tunnel fees. This can save a lot of hassle when you visit the Faroe Islands.
You don't want to hike alone. There is a mix of tours listed, but some of them are hiking ones. If you're not an expert hiker, it is not safe to go hiking alone. Trust me.
Having a guide who knows the islands and the terrain (and weather) is essential.
You don't have time to plan every step of everything. Booking a tour is a one-click process. It completes the planning process with such ease that even I am booking tours these days in certain locations.
Different Types of Faroe Islands Excursions
Currently, most tours are just day trips and excursions in the Faroe Islands. I think this is great because it is kind of a la carte, and you can pick and choose what is for you and what is not. The Faroe Islands tours are also seasonal in some cases.
I am going to break up the tours into seasonal ones and year-round tours. I have also listed the tour duration for each of them (please consider that this is always an estimate as the weather in the Faroe Islands can play an unexpected factor more often than not!)
Year-Round Tours and Activities in the Faroe Islands
If you're interested in a lot of the bird tours (i.e., puffins!), you're going to need to check out the seasonal tour options below. These are tours that run year-round in the Faroe Islands.
There are quite a few and having a guide will ensure that you're making the most of your time in the Faroe Islands regardless of the weather situation. I have been in both March and August and I loved both trips and nature for totally different reasons.
1. Tour to Kallur Lighthouse on Kalsoy (James Bond Island) (8 Hours)
Duration: 8 hours
Activities: Hiking, Sightseeing, Boat Trip
Difficulty: Moderate
Minimum age: 7 years
Languages: English, Spanish, German, French
⇒ Book it Here
What's Included? This tour includes a skilled guide, transport to and from Torshavn, a packed lunch, and ferry tickets.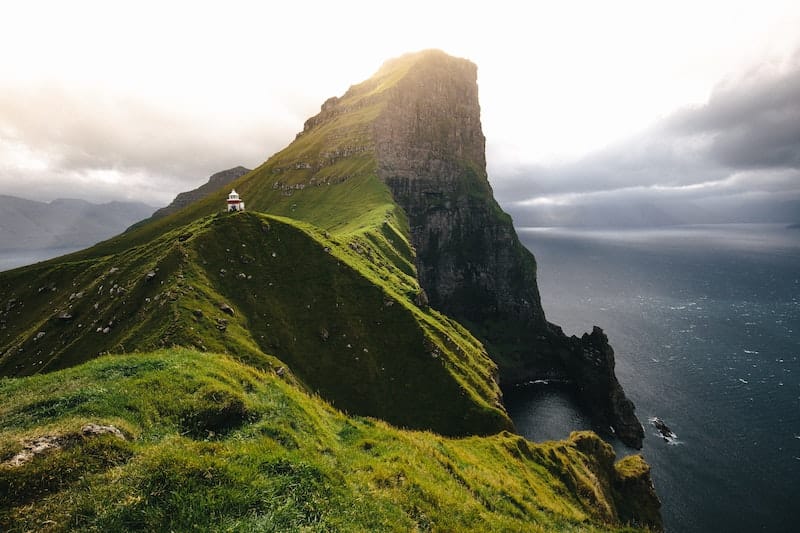 Easily one of the most popular hikes in the Faroes, the trail to the Kallur Lighthouse can be a bit muddy and not the easiest to trek depending on the time of the year.
I have hiked this in both March and again in August, and I failed in March because I was scared of heights and didn't quite feel like I had a good gait on the muddy trail.
It is not necessarily safe to do this hike alone if you don't know what you're doing, hence, a tour may be a good option for many. You will get to see insanely beautiful views not only have Kalsoy but of other islands as well!
The views are so epic that the new James Bond film "No Time to Die" filmed scenes there.
2. The Classic Tour of Vagar (4 Hours)
Duration: 4 hours
Activities: Hiking, Sightseeing
Difficulty: Easy
Languages: English
⇒ Book it Here
What's included? This tour comes with a tour guide and transportation around Vagar (but starting on Vagar) to all the sights.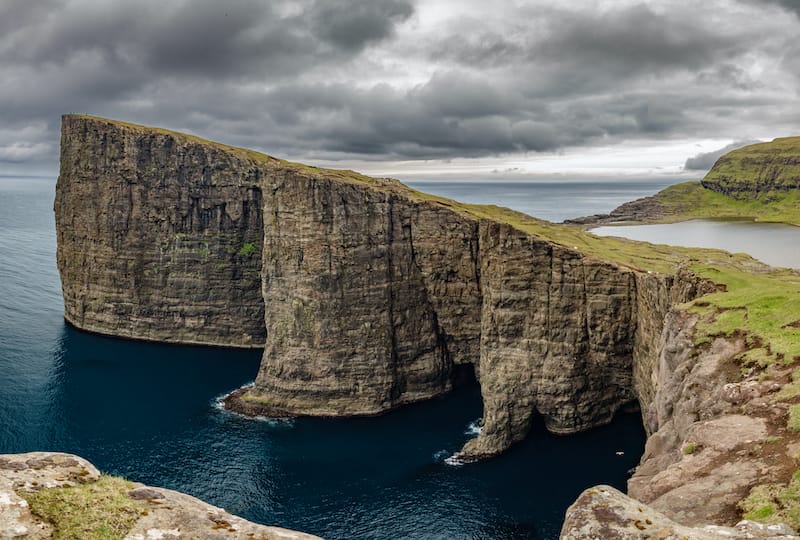 As of April 5, 2019, a fee has been assessed to hike to Lake Sørvagsvatn. This fee is about $67 including the hiking guide. All the more reason to book this amazing tour.
Vagar is easily one of the most impressive islands in the Faroe Islands and one that is essential to visit when you're there!
On this tour, you will see Trælanípa at Sørvágsvatn Lake, Bøsdalafossur (the biggest waterfall in the North Atlantic Ocean), the village of Bøur where you can get a killer view of Tindhólmur (giant, uninhabited islet) and Drangarnir (giant sea stack with a hole in the middle), and the village of Gasadalur where you will get to see the infamous Mulafossur waterfall that flows into the ocean.
This is easily the most jam-packed itinerary of any tour, but these places are all spectacular.
3. Faroe Islands Full-Day Highlights Tour (6 Hours)
Duration: 6 hours
Activities: Sightseeing
Difficulty: Easy
Languages: English
⇒ Book it Here
What's Included? The bus, including pickup and drop off in Torshavn, a skilled and knowledgeable guide, and lunch. All entry fees are included.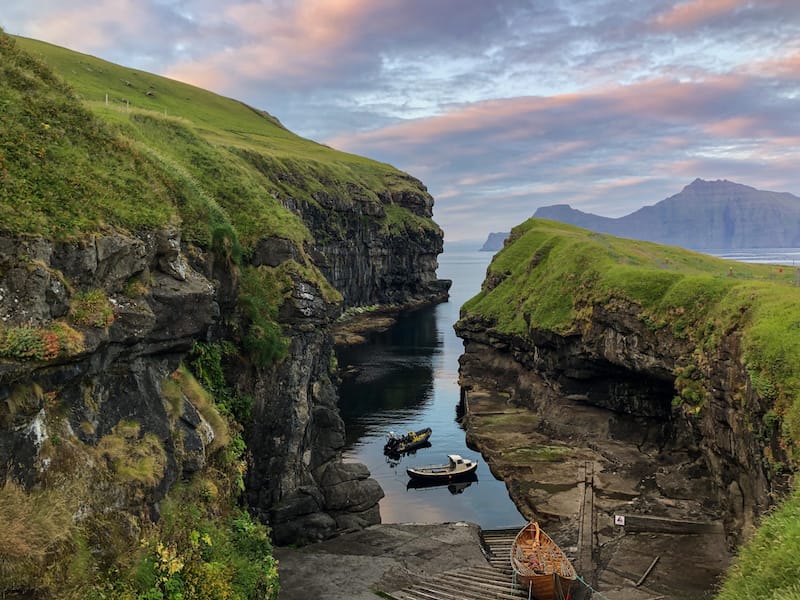 If you're into checking off some of the most beautiful villages and places in the Faroes from your list, this is the tour to do so! This full-day Faroe Islands day tour will set off from Torshavn, and you'll see the highlights of Streymoy and Eysturoy on it.
You will have a chance to stop by historic Kirkjubour, the village that holds the key to the history of the Faroe Islands on Streymoy. You will also stop by Saksun, the village made famous due to its grass-covered roofs and remote location on Streymoy.
Typically, a tourist must pay a fee to visit Saksun, but that fee is covered by this tour.
In addition, you will stop by Tjornuvik, a village at the edge of Streymoy that offers some of the best views on the islands and a surfer's paradise. On the way to Tjornuvik, you'll get a chance to see Fossa, the most powerful waterfall in the Faroe Islands.
From there, you will also visit Gjogv, a place considered to be the most charming village in the Faroe Islands. Gjogv is situated on Eysturoy.
Seasonal Day Tours in the Faroe Islands
Many of the tour offerings in the Faroe Islands are seasonal. It can be for weather-related reasons or simply because a puffin tour won't work in winter since the puffins aren't hanging around looking to interact with tourists then.
Regardless of what time you visit the islands, you'll have plenty of amazing things to do, but if you're looking for bird-watching or hiking opportunities, your best bet is to book a ticket to the Faroe Islands from May through August or September.
Here are some Faroe Islands tours and excursions that are perfect for the high-season traveler:
4. Day Tour to Mykines 'Puffin Island' with a Local (7.5 Hours)
Available: June – August
Duration: 7.5 hours
Activities: Hiking, Boat Trip, Bird watching
Difficulty: Moderate
Languages: English
⇒ Book it Here
What's Included? Tourist tax for Mykines, pickup and drop off in Torshavn, ferry, and a packed lunch.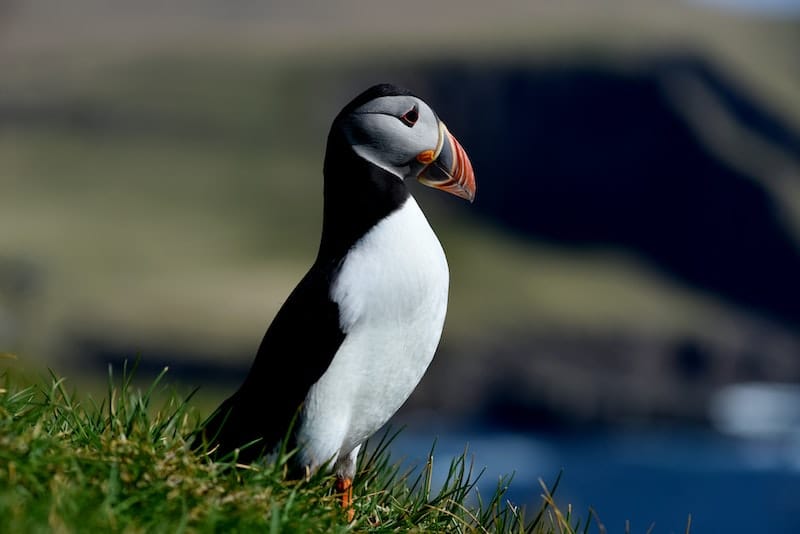 Puffins! This tour will take you to Mykines, where you will see the puffins in their natural habitat and you can hike the trail and admire them and witness their everyday routine and lifestyle.
Because the puffins are not hanging out year-round, this trip can only be taken from May until August.
Getting to Mykines has become increasingly harder as the Faroe Islands has implemented a tourist tax for going there (and rightfully so) to keep the place sustainable. I think going on a tour is the perfect way to ethically and sustainably see the puffins on Mykines.
5. Boat Trip to the Bird Cliffs in Vestmanna (1.5 Hours)
Available: April – October
Duration: 1.5 hours
Activities: Sightseeing, Boat Trip, Cultural Activity, Bird watching
Difficulty: Easy
Languages: English
⇒ Book it Here
What's Included? A skilled and knowledgeable tour guide and a boat ride in Vestmanna.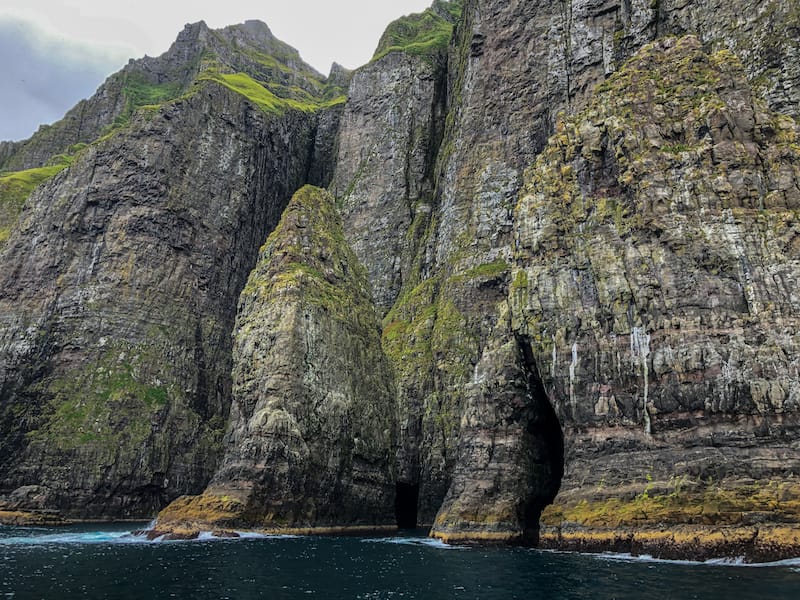 Ahhh this was one of my favorite experiences in the Faroe Islands. I highly recommend this Faroe Islands excursion to everyone, regardless of whether or not you like birds.
The grottos, sea stacks, and cliffs you will see on this boat tour will take your breath away and I find it so refreshing to have a chance to see the islands from a boat instead of always by land. Some of the cliffs are even around 700 meters tall!
This Faroes tour isn't merely about seeing the cliffs, but you'll also make stops in other areas such as Leynar, Kvívík, and Oyggjarvegur on the way to the tour meeting point.
6. One Day, Six Islands: Tour of the Northern Islands (7 Hours)
Available: June – August
Duration: 7 hours
Activities: Sightseeing
Difficulty: Easy
Languages: English, Danish, Faroese, Norwegian, Swedish
⇒ Book it Here
What's Included? Pickup and drop off from Torshavn as well as a skilled and knowledgeable guide.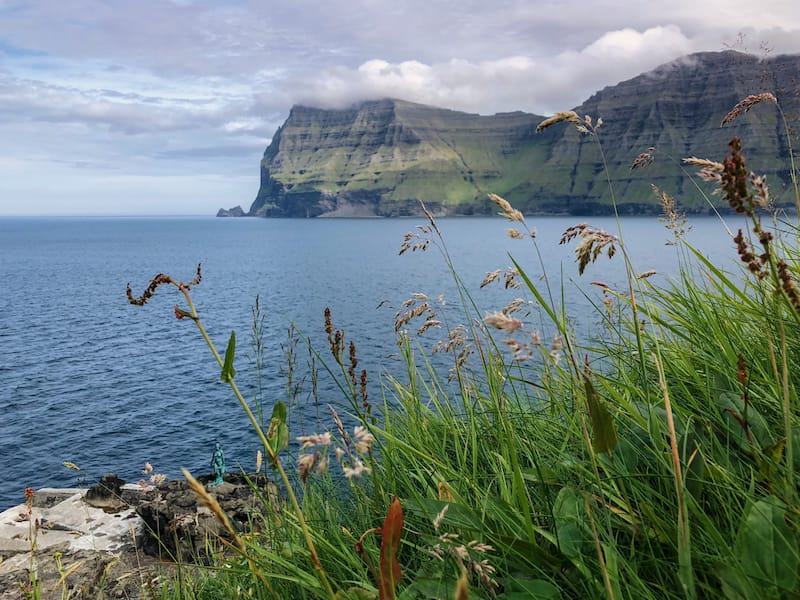 I have been to all of the places that this tour will take you and believe me, they are good! This tour takes you to six islands in one day. You will see Streymoy, Eysturoy, Kalsoy, Bordoy, Kunoy, and Vidoy.
It stops at various villages on the six islands and you'll get to see Mikladalur, one of my favorite villages in the Faroe Islands (Selkie statue is there).
I also really enjoyed Klaksvik, the second-most populous city in the Faroe Islands. By booking a tour to visit these places, you will eliminate the cost of tunnels and bridges, which is nice.
You also won't be responsible for driving through the narrow tunnels (I wrecked in a one-lane tunnel on Bordoy right outside of Klaksvik).
This tour is a fantastic option for those looking for a day tour from Torshavn that sees a lot in one day. It won't be the most active of tours but it covers so much ground that you will be talking about the places for years!
What to Bring to the Faroe Islands
I could give a huge list of things to pack for the Faroe Islands but three things that are essential to bringing are a plug adapter (if coming from the US or a country that does not use a European plug), sea bands motion sickness and seasickness bands (so essential, especially if you're going on a boat tour or ferry in the Faroes), and Faroe Islands by Brandt Travel Guides.
We have a complete Faroe Islands packing list that we recommend you check out if you're beginning to plan your trip to the Faroes!
Where to Stay in the Faroe Islands
We have a complete guide to the best hotels in the Faroe Islands that we highly recommend checking out! For the quick list, however, we suggest the following Torshavn accommodation: Hotel Streym (I stayed here!), Hotel Hafnia (mid-range in the city center) and Hotel Brandan.
If you're an outdoors and nature lover, I suggest a Faroe Islands camping experience. You can read my camping Faroe Islands guide for more details.
I hope that these Faroe Islands tours and excursions can help you plan your trip a little bit better, especially for those who want to visit the Faroe Islands but have been intimidated by doing so because getting around with public transportation can be daunting.
Even if you have a car in the Faroes, tours are a great way to give yourself a break from driving for a day and a way to interact with a guide who will offer a breadth of knowledge about his or her homeland!
More Faroe Islands Travel Guides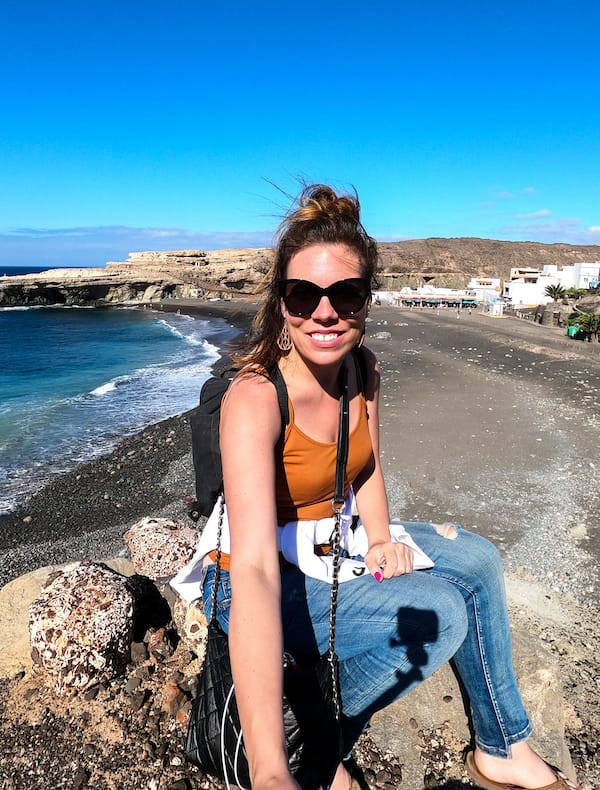 Megan is a travel blogger and writer with a background in digital marketing. Originally from Richmond, VA, she now splits her time between Frankfurt, Germany and Arctic Finland after also living in Norway, Armenia, and Kazakhstan. She has a passion for winter travel, as well as the Nordic countries, but you can also find her eating her way through Italy, perusing perfume stores in Paris, or taking road trips through the USA. Megan has written for or been featured by National Geographic, Forbes, Lonely Planet, the New York Times, and more. She co-authored Fodor's Travel 'Essential Norway' and has visited 45 US states and 100+ countries.