Are you looking to rent a car in Corsica for your upcoming trip? Keep reading – we help you learn all the tips and tricks for renting a car in Corsica!
Are you planning your trip to Corsica last minute?
🚗 Renting a car in Corsica: Discover Cars is our top pick for rental cars in Europe (and abroad)! They have several add-ons and also offer full-coverage insurance as an option, which is crucial for me. They also have a huge inventory of cars to choose from – something suitable for every traveler!
🐚 Tours and excursions in Corsica: Can't rent a car in Corsica? Definitely consider taking a tour! You can find some of the best tours in Norway with our trusted partners GetYourGuide, Manawa (great for active travelers), and Viator.
🛌 Booking a hotel in Corsica: We use Booking.com for all hotels in Corsica – many also offer last-minute cancelation.
In this guide, you will find useful Corsica car rental tips – from the minimum age of a driver to the best company to use to find the cheapest and best car rentals on the island!
Did we miss anything in this guide? Let us know in the comments!
Why Rent a Car in Corsica?
Corsica is one of the largest islands in the Mediterranean, at an impressive 183 km (114 miles) long. As there's so much to see, renting a car offers you the most flexibility.
Unlike other islands in the Mediterranean, Corsica has very little in terms of public transport. Some bus services run throughout the island during the summer months, but these are relatively infrequent.
Corsica also has a principal train line, but like the buses, the services aren't frequent. They also don't run to many of the island's popular tourist destinations.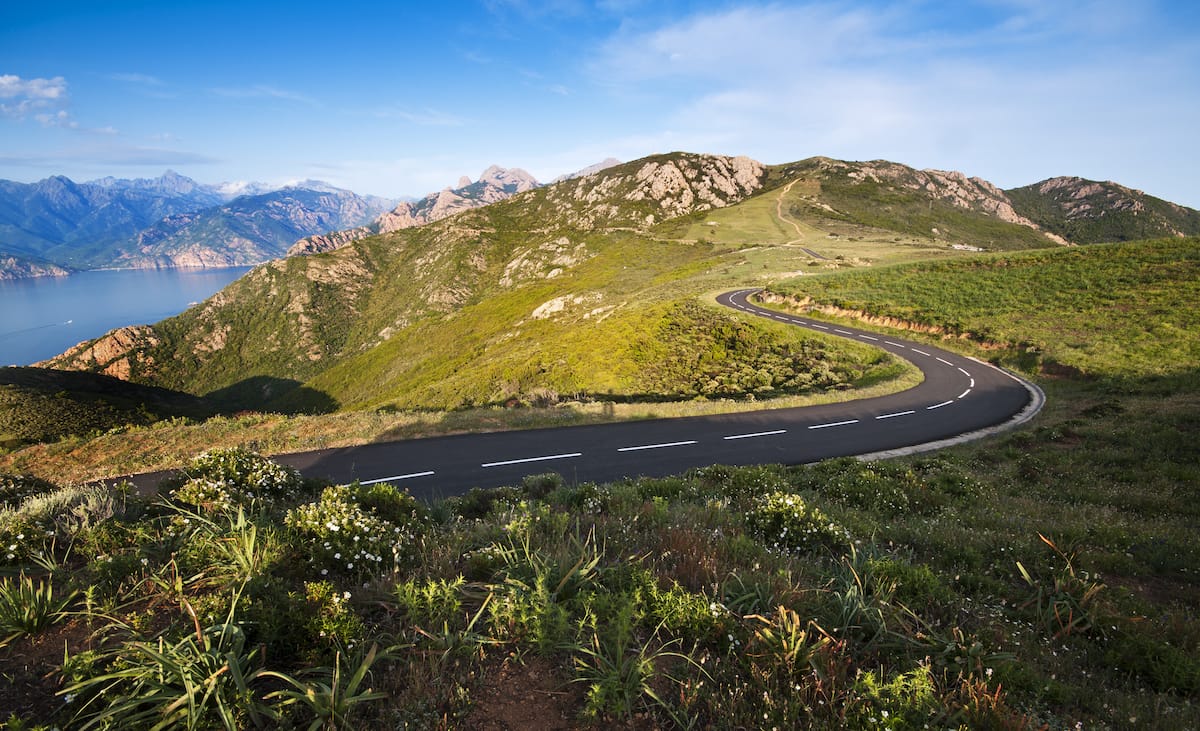 Due to the lack of public transport, you'll struggle to get around the island without renting a car.
You may be able to reach some of Corsica's tourist attractions if you're visiting during the summer on the bus, but your options will be limited.
Having your own vehicle allows you to create an itinerary suited to you, and you won't be tied to public transport schedules.
What Do You Need When Renting a Car in Corsica?
In order to rent a car on Corsica, there are a couple of things you should know! Of course, you'll need a driver's license and it must have been valid for at least a year.
If it's been issued by an EU Member State then it's valid, otherwise, you'll need to make sure your license has a photograph and is in English or French.
A blank, untranslated, or restricted license won't allow you to rent a vehicle here.
Another thing to consider is that many of the car rental companies on this island require a credit card.
This card must be from the main driver, and sometimes 'holding charges' are put onto the card until you return the vehicle.
Some companies will allow debit cards but you'll want to do your research first, to ensure you're thoroughly prepared. There are a few companies that will even take a cash deposit.
Where to Rent a Car in Corsica?
There are plenty of providers that offer car rental in Corsica. Some of the most popular rental companies include Europcar, Sixt, National, Avis, Hertz, and Enterprise.
These companies are all located at Ajaccio Napoleon Bonaparte Airport, which is just a 10-minute drive from Ajaccio, the island's capital. Many people choose to rent a car from the airport, as there are lots of options.
However, we'd recommend using Discover Cars. It's an online comparison website that will find the best deals in your preferred location.
All you need to do is input your location and dates, and you'll be given a wide variety of deals. This will allow you to easily see the best prices and vehicle availability.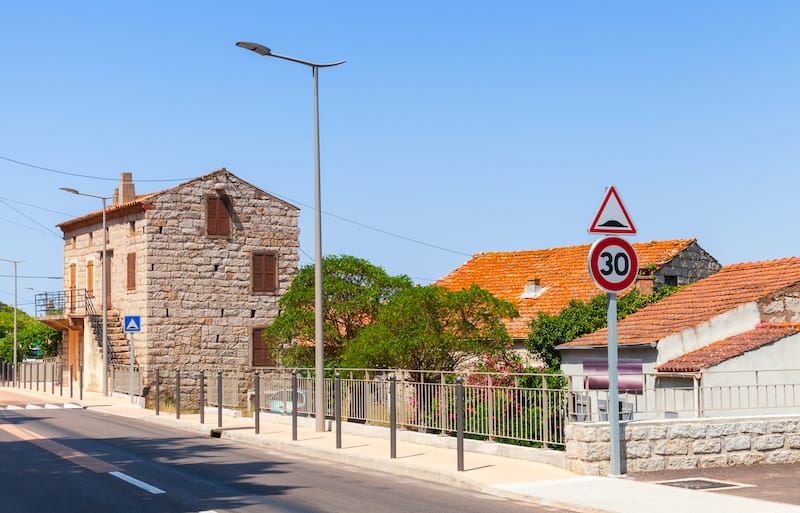 Not only that, but you'll be able to compare different providers side by side.
You can book online with Discover Cars to ensure a good price, and then pick your car up at the airport anyway!
Car Rental Insurance in Corsica
Unlike some other destinations, it's compulsory in Corsica to have rental insurance. As such, all companies include unlimited third-party liability insurance in their rental price.
As we all know, there are so many things that can go wrong when driving a car. The fact that liability insurance is included in your rental is a welcome relief and one less thing that you have to think about.
As insurance is mandatory, you won't need to take out any extra cover. However, sometimes it's best too. Popular additional extras include a collision damage waiver (CDW) and theft protection.
💡
GOOD TO KNOW:
If you do not have your own full coverage insurance (like me), I recommend you
purchase it through Discover Cars
at the time of booking. It is super affordable, and I have actually had to use it in the Nordics before. I was paid back by Discover Cars within a week of submitting my claim.
The cost of this extra coverage will differ depending on which company you go with, so it's best to do some research first.
Typically though, you'll pay a lot more by just grabbing a rental at the airport pick-up counter, rather than booking it in advance.
No matter what type of coverage you go for, make sure you keep the documents on hand at all times.
Things to Know Before Renting a Car on Corsica
1. The Age Limit for Car Rental
Although many destinations require you to be 21 to rent a car in Europe, the minimum rental age in France, hence the island of Corsica is 18.
However, you'll need to have had your license for at least a year before you rent a car. Not only that, but some companies will have age requirements of their own, and may only rent to you if you're 21 or 25.
If you're under the age of 25, you may also need to pay a young driver's surcharge fee, and there may be some limits on the type of vehicles you can rent.
When it comes to the maximum car rental age in Corsica, this will depend on the company.
2. Book Early to Get the Best Deals
Corsica is an extremely popular holiday destination, especially during the summer.
Due to the lack of public transport, traveling by rental car is the most popular way around, so rentals can get booked up quickly.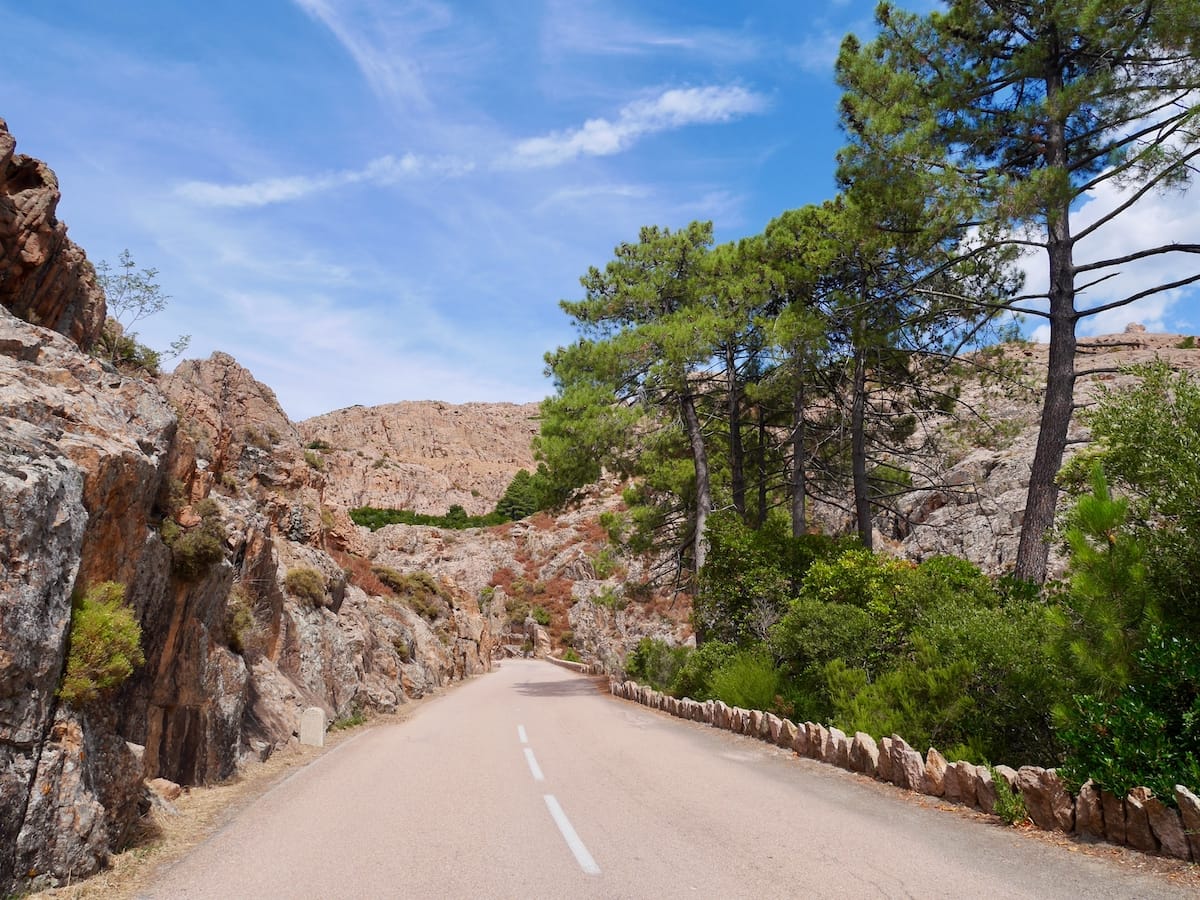 As there's such a high demand for car rentals on this island, you don't want to leave this until the last minute. Otherwise, you risk being unable to find a car for your dates
If you use Discover Cars, all you need to do is input your dates and you'll be given the vehicle availability for that time period.
However, we'd still highly recommend booking your rental in advance to secure a vehicle and find the best deals!
3. Take Into Consideration the Car That You Want
The majority of roads in Corsica are in relatively good condition. However, the same can't be said for the island's minor and mountainous roads.
Some of these are in very bad condition, while the mountainous roads are narrow and steep. As such, we'd recommend going for a car with a relatively powerful engine. You won't need a 4WD though.
You'll also want to consider going for a smaller vehicle so you can easily traverse the narrow roads. This way, you'll find it easier to cope with oncoming traffic and small passing places.
If you're just going to stay on the main roads, then you won't need to think too much about this. However, what's the fun in that?
4. Electric Car Rentals in Corsica
Continuing from the previous point, you'll actually find that many of the car rentals in Corsica are electric vehicles.
As the majority of rental companies only allow you to select a category, you won't have a choice in the vehicle you get. This goes for petrol or electric vehicles too, so don't be surprised if you get the latter.
Now this isn't a problem, you'll just need to plan your trip a little better. If you can, it's a good idea to opt for accommodation that offers an electric charging station.
This will allow you to charge your vehicle at the start of each day.
Apps like ChargeMap and ABRP will allow you to find charging stations throughout Corsica.
5. Check the Mileage and Fuel Policy Before You Book
Before you book a vehicle, it's important to first check the fuel and mileage policy. Some companies can be sneaky with hidden charges when it comes to these.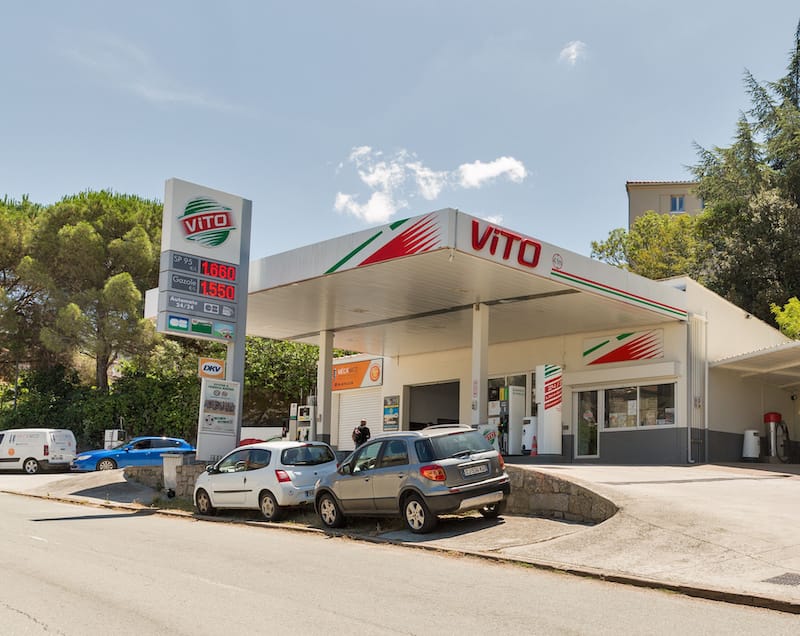 Luckily, you'll find that many providers in Corsica included unlimited mileage in their rentals. That means there's no daily limit on how many miles you can do, so you won't incur any extra charges this way.
You'll also want to look into the fuel policy when renting a car on Corsica. Typically many of the rental companies on this island will offer a 'full to full' policy.
This essentially means that you'll pick up the rental with a full tank of fuel, and you'll need to return it the same way.
6. How to Save Money on Car Rentals
Compared to other destinations, car rentals in Corsica are pretty affordable anyway! However, if you're like us, you're always looking for ways to save more money.
First of all, to keep the cost down we'd recommend using Discover Cars. This is the platform we use for rental cars, and they offer the best deals. Better yet, they offer free cancellation if your trip isn't yet set in stone.
This allows you to book your rental in advance which will also save you money. One-way rentals do cost more, so if you avoid these, you can save more cash.
Of course, renting a smaller car will be cheaper, but just take into consideration the engine power, which we discussed earlier.
7. Opt for Roadside Assistance
When renting a car on Corsica, we'd recommend opting for roadside assistance in your rental. If your company doesn't automatically include it in the price, it's worth paying an additional charge for this cover.
Unfortunately, things can go wrong with car rentals. That could be anything from a flat tire to the car running out of fuel, and if you don't have roadside cover, it can quickly put a dampener on your trip.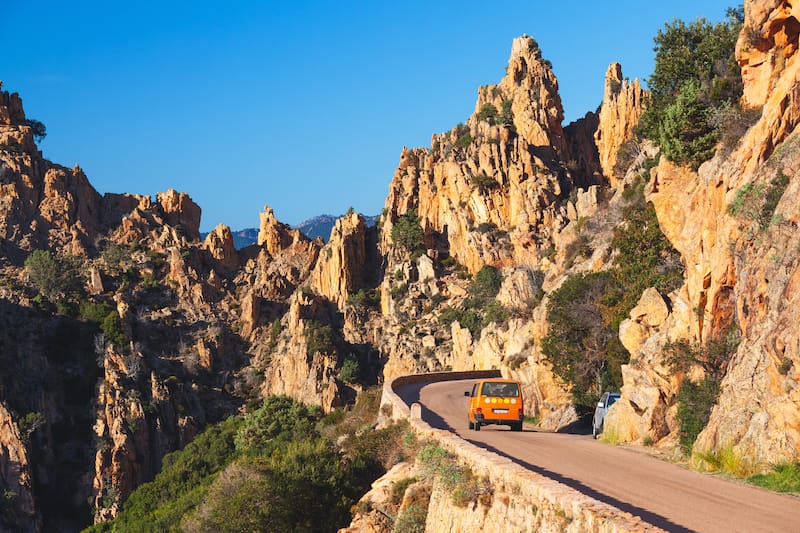 You'll find that many providers do include roadside assistance in their rentals, but if not, usually it's only a small amount to include it as additional cover.
It just helps to have that extra peace of mind, especially if you're driving in a new country or on a new side of the road.
8. Inspect Your Rental Car Upon Collection
Like anywhere, you need to be careful with lesser-known rental companies.
Common scams across the world include rental companies renting out poorly maintained vehicles, and then charging you for the damage upon your return.
Although this isn't a 'known' scam in Corsica, it's important to still be cautious. As such, we'd suggest inspecting your car once you get to the collection point.
You'll also want to take photographs of any scratches, stains, or damage to the exterior and interior.
These should be taken before you leave the collection point, so you can prove that they were there beforehand with a time stamp.
If you go with a reputable company, it's extremely unlikely that you'll encounter any problems like this, but it's always best to be safe.
9. You'll Be Driving on the Right Side of the Road
Like mainland France and the majority of Europe, you'll be driving on the right side of the road on Corsica.
If you're from the UK, Australia, Japan, etc, then you'll be used to driving on the left, so the switch can feel quite strange.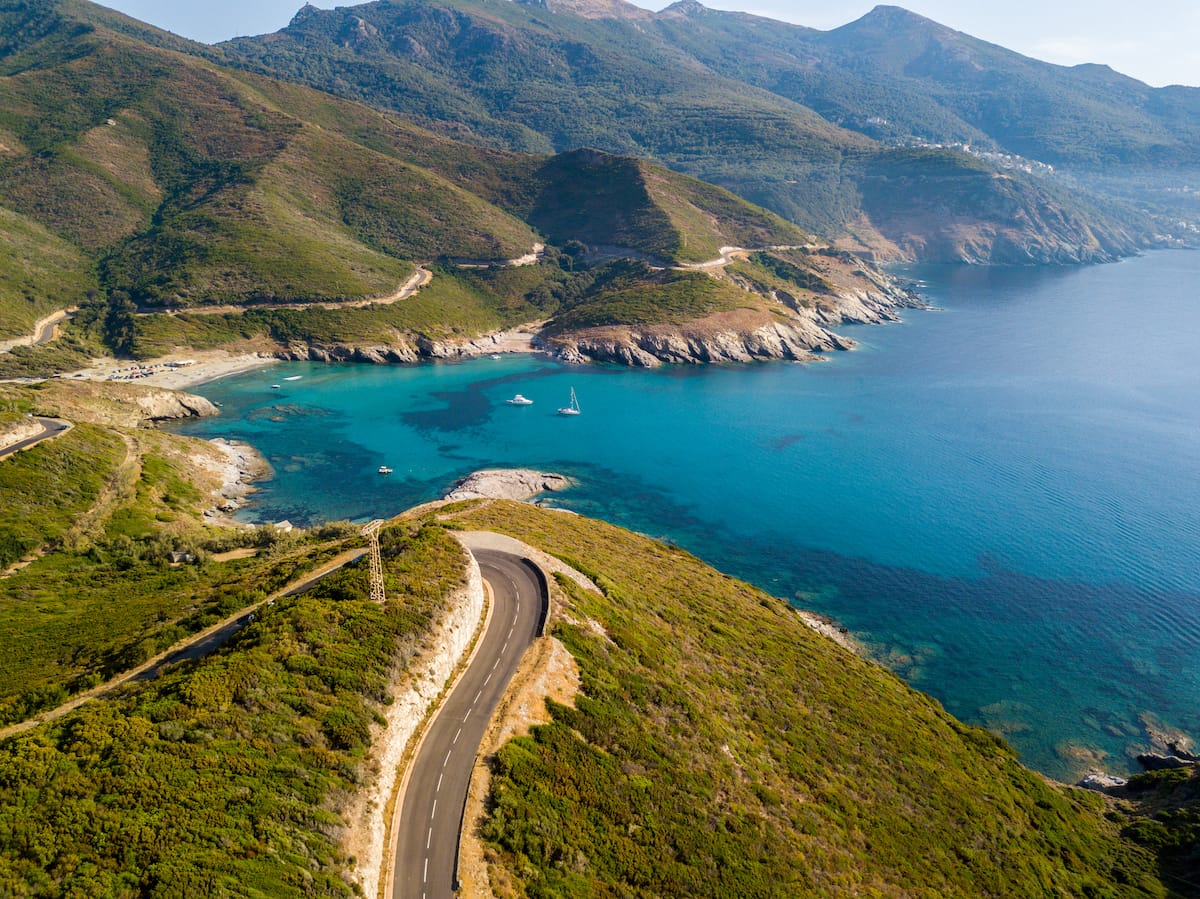 Once you've picked up your rental, it's best to take it somewhere quiet to practice if you're not used to driving on the right. You'll then get a feel for the roads before throwing yourself in the deep end!

Better yet, watch some videos or tutorials before you come to Corsica. You'll then get an idea of the road rules, such as right of way, roundabouts, and junctions.
10. Be Aware of the Speed Limit
You must keep an eye on the speed limit while driving on Corsica.
Typically, you'll find that two-lane highways have a speed limit of 110 km/h (68 mph), while other roads in non-urban areas have a limit of 80 km/h (56 mph).
When it comes to built-up areas, the speed limit tends to be 60 km/h (37 mph). There are no motorways on the island.
You'll find plenty of road signs throughout Corsica which will help you keep track of the speed limit. Just be aware that the roads are fairly slow here, so you'll want to allow more time than usual when traveling around.
11. Keep an Eye Out for Any Potential Road Hazards
Like anywhere else, there are always potential road hazards. Although Corsica is generally very safe to drive around, you'll want to take your time, to get used to the roads.
The main hazard on this island is the animals, as the livestock here has a habit of wandering out into the road.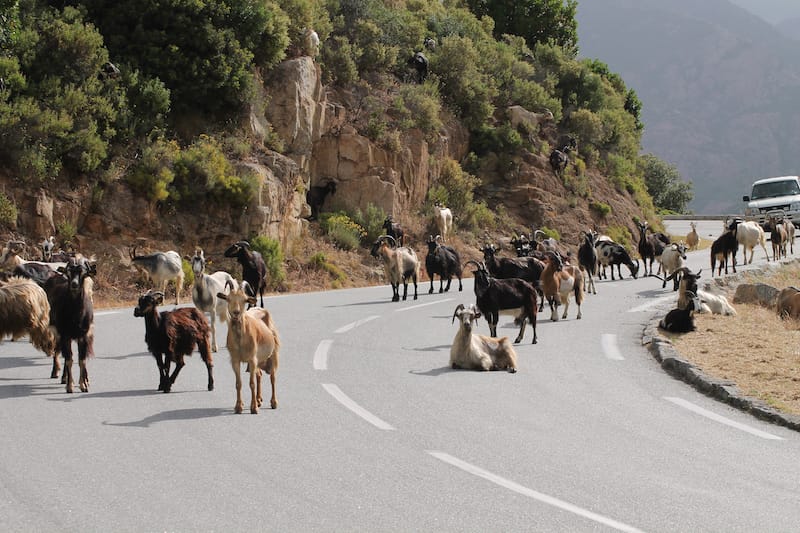 This could be a cow, pig, donkey, or goat, and often you won't see them until the last minute if you're going too fast.
If you're exploring rural areas, we'd recommend driving relatively slowly around corners and in areas where you can't see too far ahead. The last thing you want is a collision with livestock.
12. Don't Take Your Rental Over to the Mainland
It's important to note that the majority of rental companies will not allow you to take your vehicle over to the mainland of France.
It's also possible to take a ferry to Italy from Corsica (including the island of Sardinia), but again, don't take your rental.
The majority of car rental companies on Corsica don't allow this. If you choose to ignore the terms and conditions, your insurance will be invalidated and you'll likely have to deal with hefty charges.
If you do plan on exploring the mainland after Corsica, it's best to drop your rental off at the airport, and then pick another one up on the other side.
Some companies may include this type of travel in their rental, but you'll still have to pay for the expensive ferry fare, so it's just not worth it.
13. Have a GPS With You
When renting a car on Corsica, we recommend having a GPS device with you. This could be a sat nav (which often incurs an additional charge), a phone, or a handheld device such as a Garmin GPS unit.
Although many parts of Corsica offer decent signal, there are quite a few areas on the island where you'll struggle to stay connected. This is especially the case if you're exploring the island's more mountainous areas.
If you have access to GPS then you won't be reliant on an internet connection which is always a bonus!
There's nothing worse than getting lost when you're not familiar with the area or roads, and it can take up a lot of your sightseeing time.
14. Create an Epic Itinerary!
Once you've got your car, it's time to plan where you want to go. As Corsica is one of the largest islands in the Mediterranean, there's so much to see.
The capital city of Ajaccio is a popular spot, but you've also got the towns and villages of Corte, Bonifacio, Sant'Antonino, and Girolata.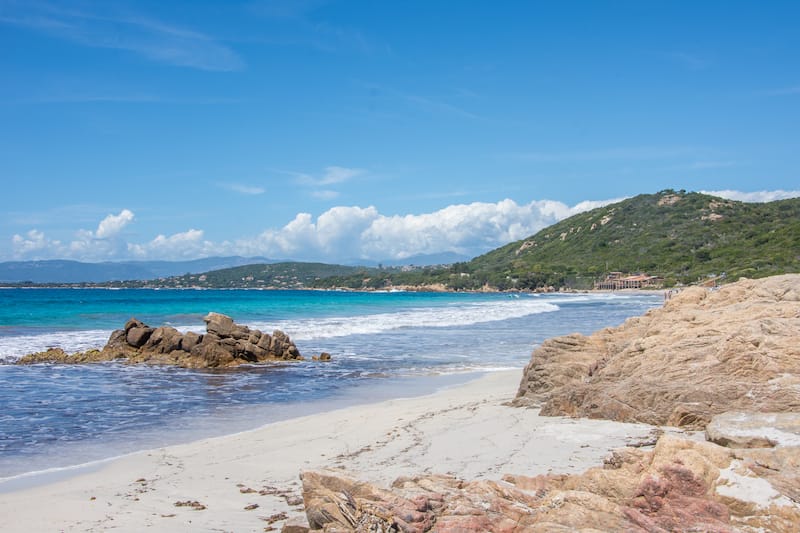 Other popular spots on Corsica include Escalier du Roy d'Aragon, Col de Bavella, Désert des Agriates, and Piscines Naturelles de Cavu.
Boat trips are also available to Scandola Nature Reserve, the Sanguinaires Islands, and the Lavezzi Islands.
Don't forget about the beaches of Saleccia, Santa Giulia, Rondinara, Palombaggia Beach, and Calvi. Honestly, there are so many amazing things to do in Corsica!
15. Dropping Off Your Rental
It's now time to drop off your vehicle! When you book you'll often be given a one-way option, so you can drop the car off in a different location than where you picked it up from.
Or, you can simply drop your rental off before you head for your flight.
If you've booked in advance, you'll likely be picking your vehicle up from here anyway, especially if you use Discover Cars as they have some great airport rental offers.
If you haven't booked your vehicle in advance, then you may want to head to Ajaccio to pick up a rental, as prices at the airport can be costly.
In that case, you'll likely be dropping the vehicle off wherever you picked it up from.
Did we miss anything you'd like to know before renting a car in Corsica? Let us know in the comments!
Pin this Corsica Car Rental Guide