One of the most beautiful gems in England is Cornwall. This is a guide to the best towns in Cornwall, particularly focusing on beach towns in Cornwall.
Let us know your favorite towns by the sea in Cornwall in the comments!
Best Towns in Cornwall – Overview
Cornwall is a British holiday destination like no other. It's got a really distinct Celtic culture, and it takes pride in its unique heritage. The peninsula truly makes for one of the best road trips in the UK!
When you visit Cornwall, you'll notice its black and white flag flying from buildings and street corners, you'll see abandoned tin mines that nod to its historical mining heritage, and you'll enjoy a particular English food that has put Cornwall on the map – Cornish pasties.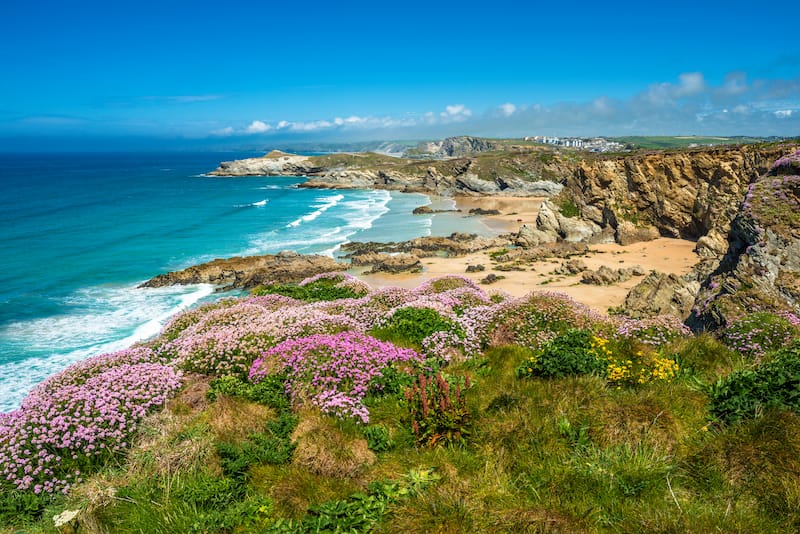 As well as all of this, there is one draw that brings most tourists to Cornwall – the beaches. Cornwall is the perfect weekend break in England!
Cornwall is very nearly an island – it has an epic 400 miles of coastline, and its only county border with Devon nearly wholly consists of the River Tamar. This means that there are countless beach towns to enjoy while you're holidaying in the county!
Some of Cornwall's beach towns are incredibly popular, for a good reason (they're epic). However, if you're visiting the county during the peak summer season, you may prefer to see a few quieter spots.
This beach towns in Cornwall guide has a town or village for everybody, so whether you're on a road trip in Cornwall or are looking for somewhere to spend your summer holiday, you'll find this post very useful!
The South West Coast Path
Just a note before we begin – the South West Coast Path connects every beach town in Cornwall. You're nearly guaranteed epic hikes in both directions in all of these beach towns.
The South West Coast Path also covers both Devon coastlines and most of Dorset's south coastline and a tiny part of Somerset's northern coast. At 630 miles long, it is England's longest hiking trail and it's a bucket list activity for many locals and tourists alike!
Best Beach Towns in Cornwall
To add this map to your Google Maps account, click the 'Star' icon next to the map name. You can then view it on your cell phone or computer by heading to your Google Maps account, click the menu and add it to 'Your Places'.
Bude
Bude is only a stone's throw from the Devon border, but even here, you'll get to experience the unique culture and geology of Cornwall. From the town center, you can drive to beautiful bays and coves like Widemouth Bay, or north to Sandymouth Bay.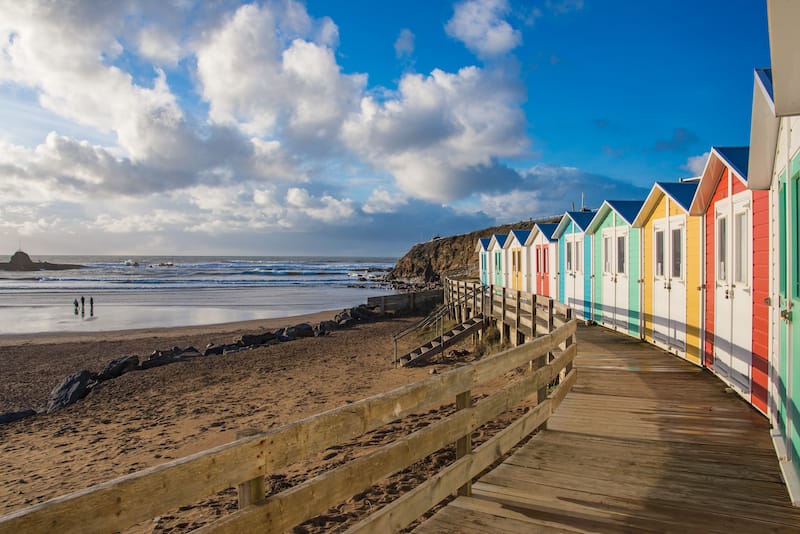 In Bude itself, there are some world-class surfing opportunities (as well as Summerleaze Beach, which has tamer waves for novices!). There's also the renowned Bude Sea Pool, a semi-natural pool that's ideal for safe swimming.
During the busy summer months, the town comes alive with a great atmosphere and events at the hotels and holiday parks. You will also find some of the best Airbnbs in Cornwall here!
Port Isaac
The stunning village of Port Isaac is famous for being the filming location of Doc Martin, a British TV series that follows the escapades of a grumpy doctor from London as he moves to Cornwall.
For this reason, it's often crawling with tourists – if you're a fan of the show, you can even do a Doc Martin tour to visit filming locations and learn about how the show has impacted the village.
If you haven't seen Doc Martin, there are still many things to do in Port Isaac. You can hike up the cliffs and to nearby villages, like Port Quin and Port Gaverne, enjoying epic views on the way.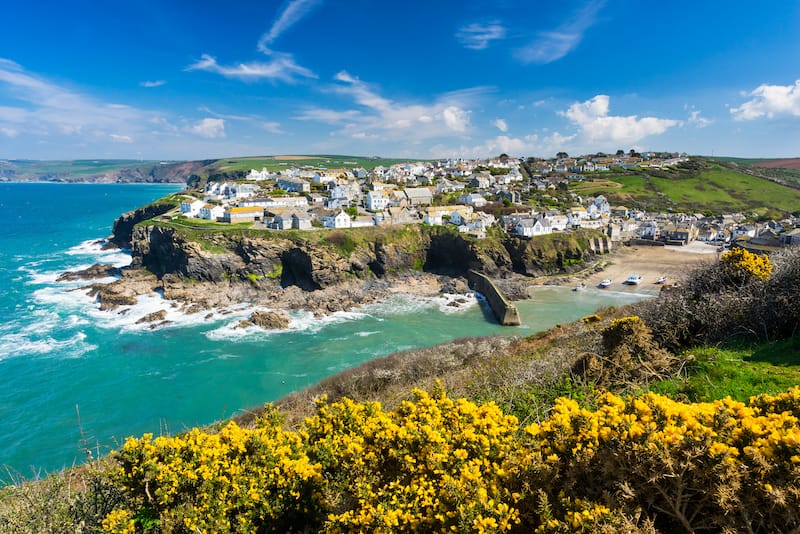 Alternatively, stay in the town, walk around the cobbled 17th-century streets, and admire all of the cottages – some of which are now available as holiday rentals.
Or, if you fancy taking to the water, Wavehunters are a Cornish boat company with an office in Port Isaac – take a boat tour to see the local coastline and watch out for dolphins, or take part in a kayaking excursion.
Padstow
Padstow is one of those Cornish towns that has maybe become a bit too touristy – there are numerous establishments in the town devoted to Rick Stein, so much so that it is sometimes dubbed 'Padstein' and has been the point of controversy for a lot of Cornish locals.
Nonetheless, it is still a stunning town with a picturesque harbor, and there are plenty of bays and beaches close by.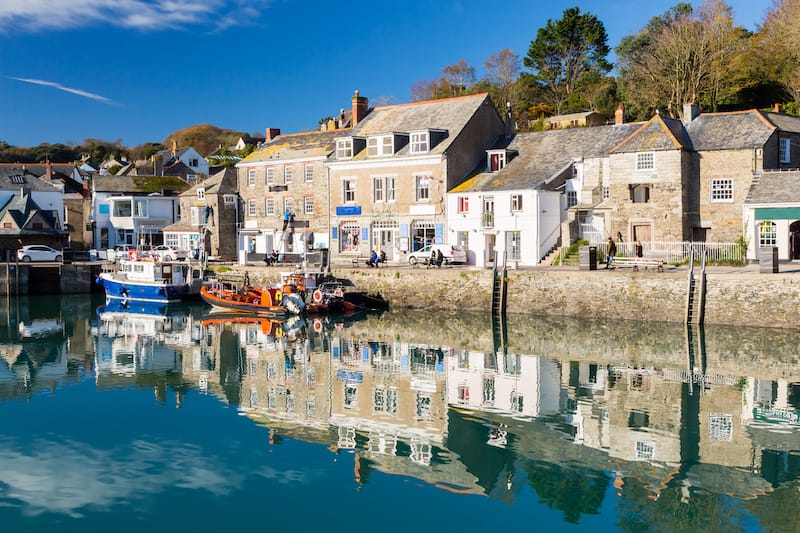 It's probably one to avoid in the hectic summer months, especially from the end of July to the start of September (UK school holidays), but if you're visiting Cornwall in the shoulder season, Padstow is worth a visit!
Newquay
Newquay is a large town by Cornish standards, and it's really well set up for tourists, with staggeringly beautiful beaches, plenty of activities, and dozens of pubs, bars, and restaurants.
It's a popular place, that's for sure, but it's got plenty of attractions for all types of travelers:
Some of the most spectacular parts of the South West Coast Path are near here (I particularly love the epic Bedruthan Steps).
Fistral Beach is one of the best surfing beaches in the world.
There are plenty of fun independent shops.
Also, you can enjoy a good few spa hotels – I recommend the Headland Hotel and Spa.
If you just want to go beach hopping, Newquay's your place – there are half a dozen a short walk from the town.
Towan Beach is famous for its rocky outcrop that's topped with a small house.
Porth Beach is a roomy beach with a famous pub 'The Mermaid' that's always got a great atmosphere in the summer months!
Lusty Glaze Beach was once called 'beach of the year' and is a popular place for watersports. It is privately owned, but tourists are welcome to visit it for free.
Tolcarne Beach connects to Towan Beach at low tide
Great Western Beach is right in the heart of town; it can get very busy here but it's convenient for all the shops and restaurants of Newquay!
And of course, the famous Fistral Beach – an essential place to visit if you like surfing.
St Ives
Along with Newquay, St Ives is one of the most popular towns to visit in Cornwall. There are plenty of beaches both near the town and along St Ives Bay and Carbis Bay – but equally, St Ives is a lovely place to enjoy the arty culture.
St Ives has been popular with artists for centuries but boomed in popularity after World War Two. St Ives attracted artists because of its natural beauty and warmer climate than other spots in the UK.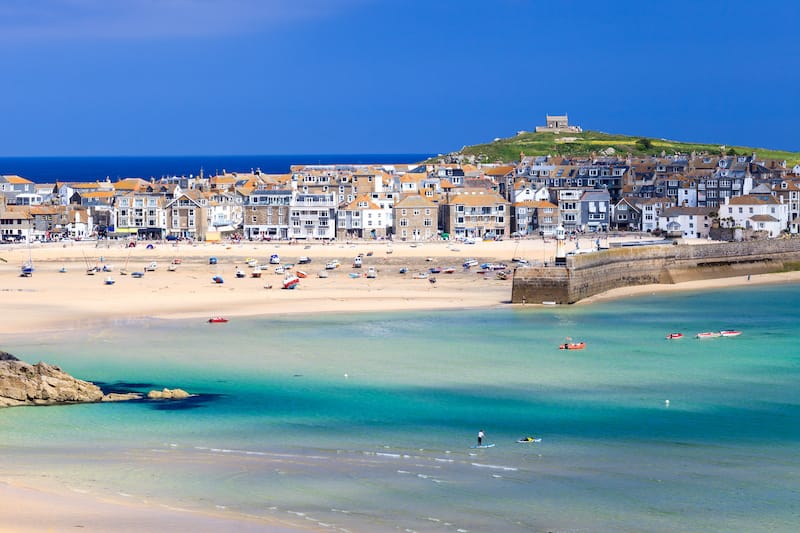 The town has its own Tate, as well as the fascinating Barbara Hepworth Sculpture Garden. Barbara Hepworth was one of the main artists who put St Ives on the map, and she tragically died in a fire in her home. The sculpture garden commemorates her life and work.
Nowadays, St Ives is still an artist's retreat, but it also has a thriving food culture, is a popular spot for surfers, and is one of the most beautiful towns you'll visit in Cornwall.
Mousehole
This cozy little village just encapsulates Cornish fishing culture. It's got an absolutely stunning harbor, with blue waters and traditional fishing boats, and the entire town has a lot of character.
Nobody's really sure how it got its interesting name. It might refer to the tiny harbor or a nearby cliff that looks like a mousehole. It might also derive from Moeshayle, a Cornish word that means 'young woman's brook'.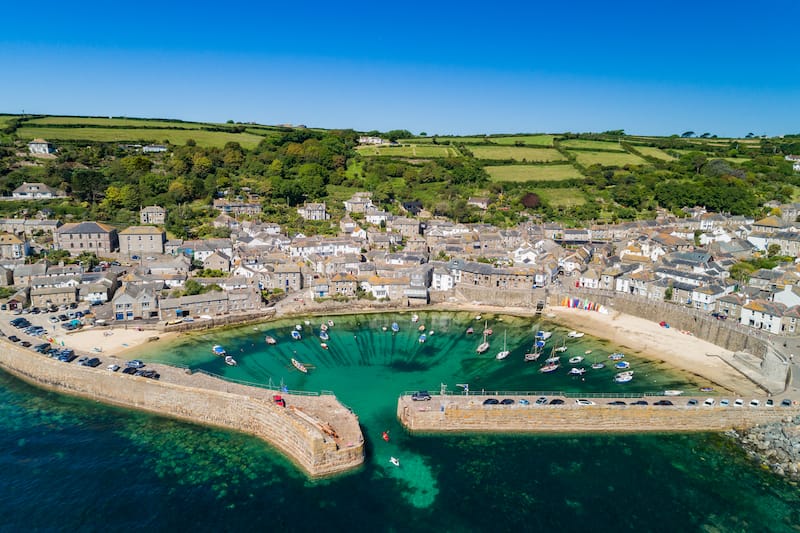 There's not a ton to do in Mousehole other than walk around and take in the atmosphere, but its sheer beauty makes it one of the best places to visit in Cornwall. You could visit it on a day trip to Penzance and St Micheal's Mount, or stay in the town to enjoy a relaxed holiday.
Lizardtown
Yes, Lizardtown is a place! This town/ village is not all that remarkable on its own, but it is the nearest settlement to the spectacular Lizard Point, which is the southernmost point of mainland UK.
The Lizard Peninsula is one of the best places for hiking in the county, with epic cliff-top views all around. The Lizard Coastal walk is a 7-mile chunk of the 630-mile South West Coast Path, and it's a challenging segment – but still doable as a day hike.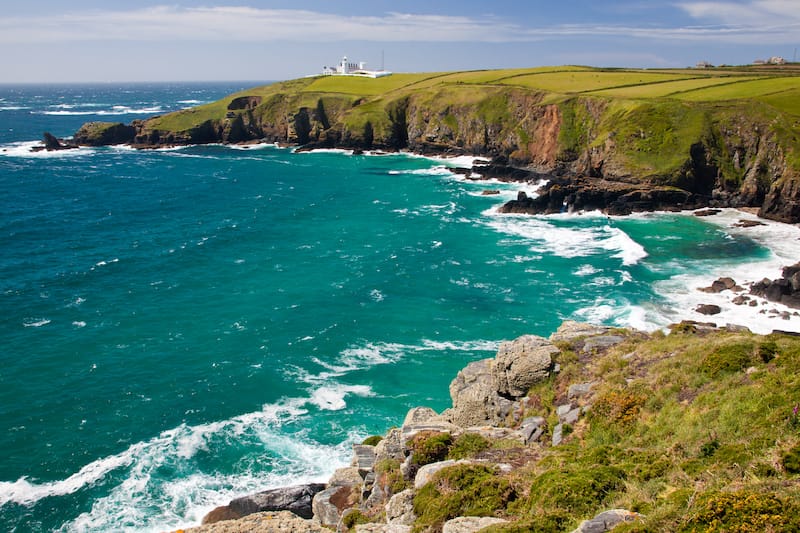 If you're an adventurous type, you could also try coasteering – exploring the coast by swimming and climbing! The Cornish sea can be very rough, so ensure that you only do this when on a tour with trained instructors – try Lizard Adventure for tours.
You can use Lizardtown as a base for exploring this dramatic peninsula – there are accommodation options on the edge of the town at Haelarcher Farmhouse or Housel Bay Hotel.
Falmouth
Falmouth is Cornwall's university town. It's not as touristy as some of the other options on this list, and it is sizable enough, meaning that you should find cheaper accommodation here.
Although Falmouth isn't as busy as other places, there are plenty of things to do here. There are a few local beaches, including Gyllyngvase Beach and the stunning Swanpool Beach.
You can also pay a visit to the National Maritime Museum which is based in the town and details Cornwall's unique relationship to water.
Pendennis Castle is another draw – built by Henry VIII, this castle was meant to protect Cornwall from foreign invasion. The idea behind building it was that Cornwall was easy to reach from Europe, and Falmouth – with access to the River Fal and Cornwall's interior – was a crucial point.
It's a fascinating historical place with information about Cornish/ English relations (there were two Cornish rebellions only 50 years before the castle was built, as Cornwall wanted more recognition as an independent country).
Falmouth town is chilled out, especially out of university term time. There are many tourists at peak season, but it's certainly quieter than many other Cornish beach towns.
Mevagissey
Mevagissey is another great place to visit on the South Cornish coast. It's not quite as busy as some of these other towns, but it's a small harbor village, so it still sees its fair share of tourists.
Mevagissey used to be the capital of Cornwall's pilchard trade and was historically famous for its boat building. There are plenty of historic buildings dotted around the village, mainly from back in the 19th century when the pilchard industry was at its height.
If you visit Mevagissey in late June, you may be able to join in the Mevagissey Feast Week. This is thought to be the longest surviving festival in Cornwall and has plenty of parades, a summer fete, races around the harbor, and – you guessed it – lots of pilchards.
Outside of feast week, it's a charming village to walk around and is conveniently placed to enjoy other places in Cornwall on either coast.
Fowey
Fowey is a chilled out town on the South Coast of Cornwall, with a harbor, another castle built by Henry VIII, and it is where the famous author Daphne Du Maurier lived. It's got an impressive history spanning back from Medieval times, and many of the houses still retain historic features.
If you've read Rebecca and Jamaica Inn (the latter of which was based on an inn near Bodmin, not too far from Fowey!), make sure that you pay a visit to the Daphne Du Maurier Literary Centre.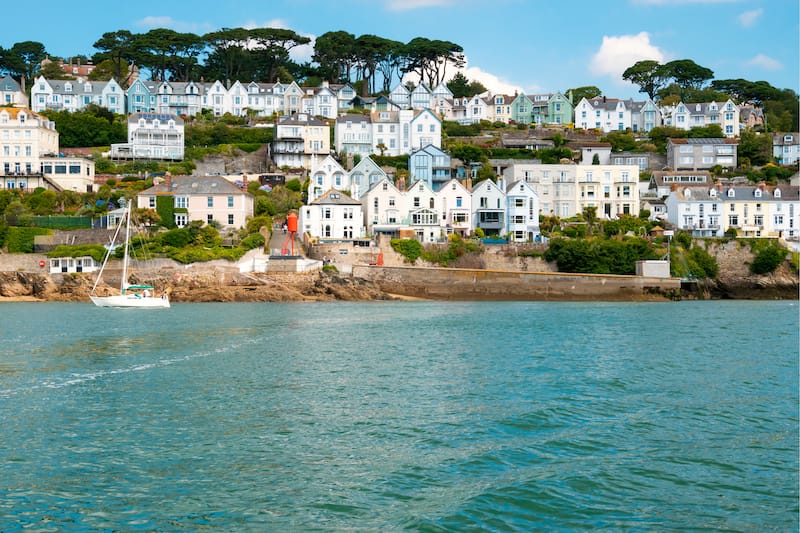 St Catherine's Castle is a free castle to visit; it's tiny, but it's got an interesting history, also being built by Henry VIII. From the castle, there's a beautiful view over the cliffs too!
Once you've learned about the history and culture of Fowey, you can enjoy both the river and sea by doing various watersports. There are kayaking and SUP opportunities, or you can take an organized boat trip to see the surrounding nature.
Polperro
Polperro is another idyllic fishing village on the South Coast of Cornwall. It maintains the charm of a 17th-century fishing village, and it's a wonderful place to stay if you want to experience Cornish culture and history.
Polperro may look like paradise, but like many villages on South Cornwall's coast, it was once a haven for smuggling. You can learn about this in the Polperro Harbour Heritage Museum. It's also worth walking this segment of the South West Coast Path – a five-mile hike will take you to Looe, or you can walk the other way to Polruan and the River Fowey.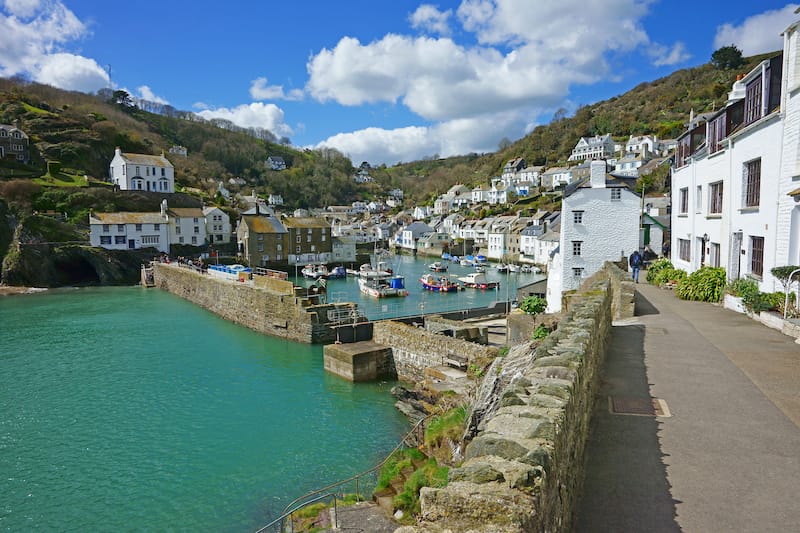 Or, there are plenty of beaches to enjoy near Polperro. Polperro Beach is right by the harbor, or enjoy the beautiful Talland Bay, which is on the way to Looe.
Looe
Situated in South East Cornwall, Looe is only a 30-minute drive to the River Tamar and Cornwall's border with Devon. It's known as a really family-friendly town, with attractions like Adrenalin Quarry and a scenic train from Liskeard.
It's quite a popular place due to its proximity to Plymouth – it's one of the more accessible Cornish towns to visit. However, visit during the shoulder season, and you'll be able to enjoy a relaxed atmosphere, with a glorious harbor and plenty of local fresh seafood.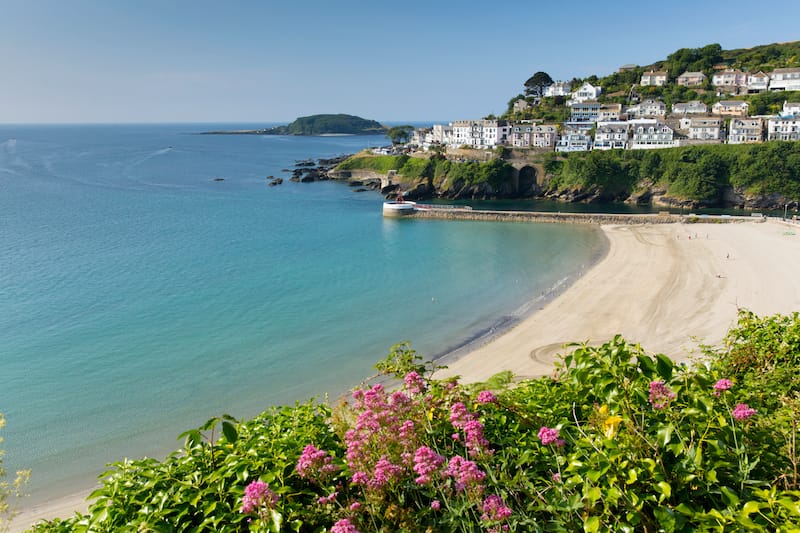 Cornwall is undoubtedly famous for its beach towns and villages – and this list features the best ones!
Whether you want a larger town with plenty of attractions like Newquay or Falmouth, or a tiny authentic fishing village such as Mousehole or Port Isaac, there's something for you in Cornwall!
In your opinion, what are the best towns in Cornwall? Leave us a comment and let us know!
Bio: Claire is a travel blogger based in South West England. She currently lives in Bristol, but her family is from Cornwall, and she has been on countless trips around Cornwall and Devon over the years. When she's not writing, she's traveling or hiking – and she plans to hike the entire 630-mile South West Coast Path this year!
Pin this Cornwall Beach Towns Guide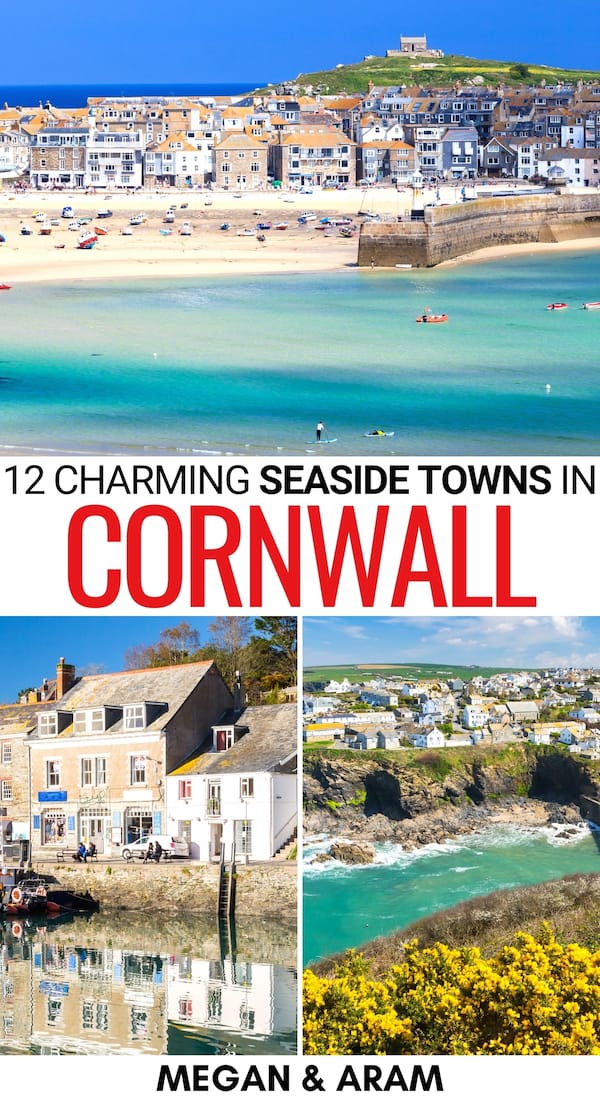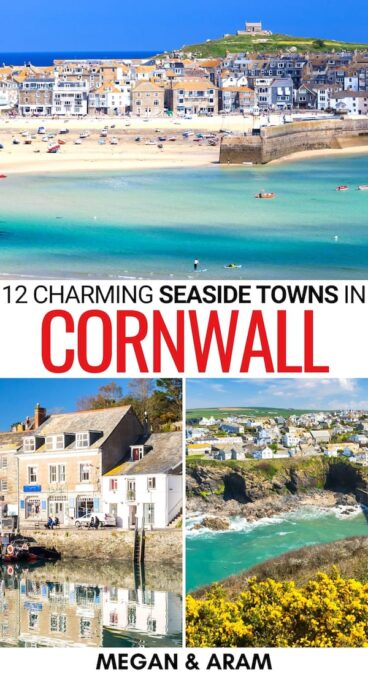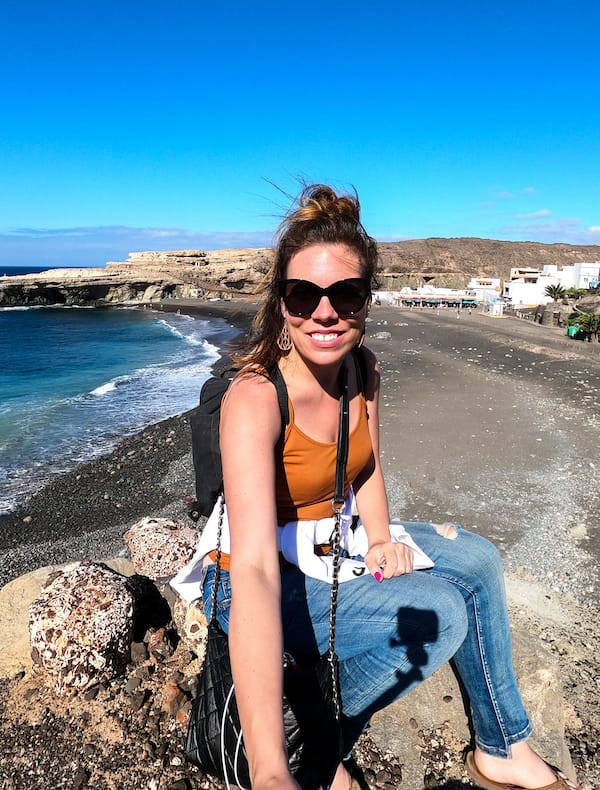 Megan is a travel blogger and writer with a background in digital marketing. Originally from Richmond, VA, she now splits her time between Frankfurt, Germany and Arctic Finland after also living in Norway, Armenia, and Kazakhstan. She has a passion for winter travel, as well as the Nordic countries, but you can also find her eating her way through Italy, perusing perfume stores in Paris, or taking road trips through the USA. Megan has written for or been featured by National Geographic, Forbes, Lonely Planet, the New York Times, and more. She co-authored Fodor's Travel 'Essential Norway' and has visited 45 US states and 100+ countries.