Are you on the search for the best weekend breaks in France? This guide takes you on a journey around France to find the best getaway for you!
From seaside cities to the unofficial capital of Champagne country, these are the best weekend getaways in France – and we rounded up some blogger friends to help us!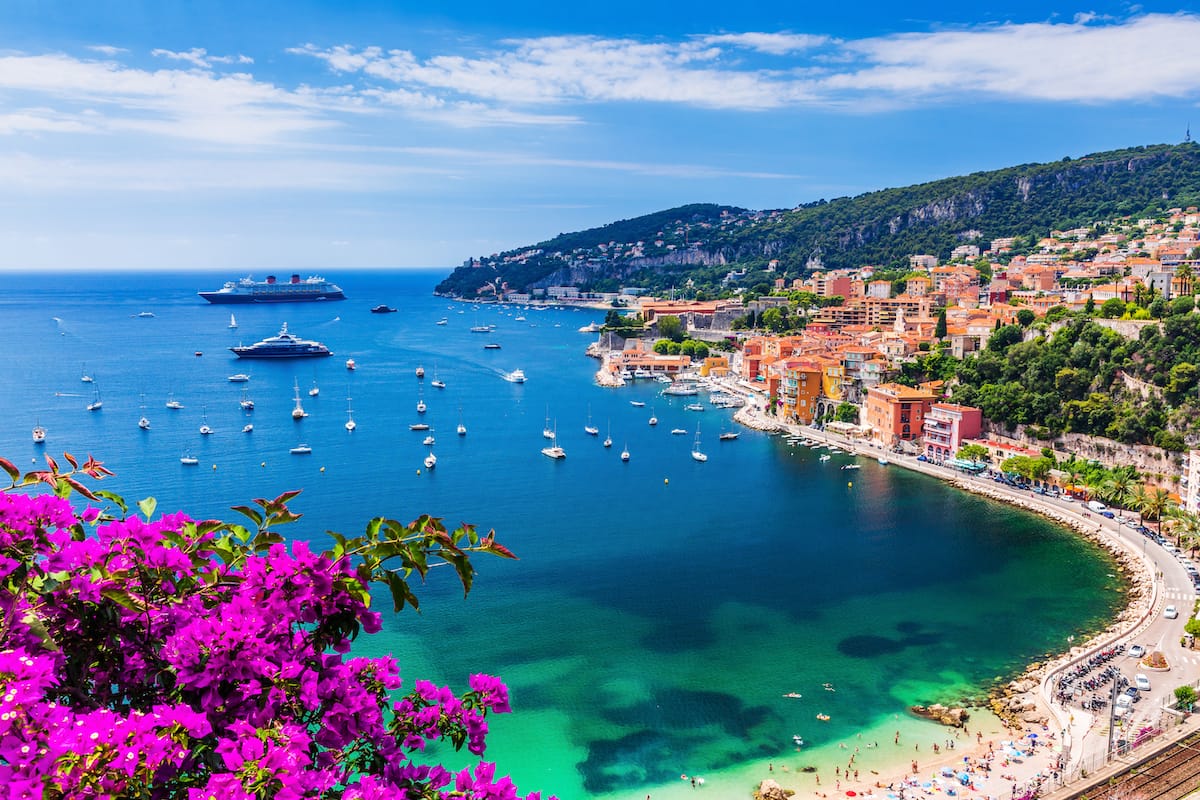 Did we miss any amazing France weekend breaks? Let us know in the comments.
Best Weekend Breaks in France
1. Carcassonne
Carcassonne highlights: Chateau Comtal, Church of Saints Nazaire and Celse, Carcassonne Cathedral, Porte de l'Aude
Recommended by: Kristin from Global Travel Escapades
Another city perfect for a two or three-day vacation is the medieval French city of Carcassonne.
Carcassonne is an absolute paradise for any history lover as the city is most well known for the impressive fortifications that enclose the Cité de Carcassonne.
Visitors can even walk along the ramparts and catch sweeping panoramic views of the surrounding scenery!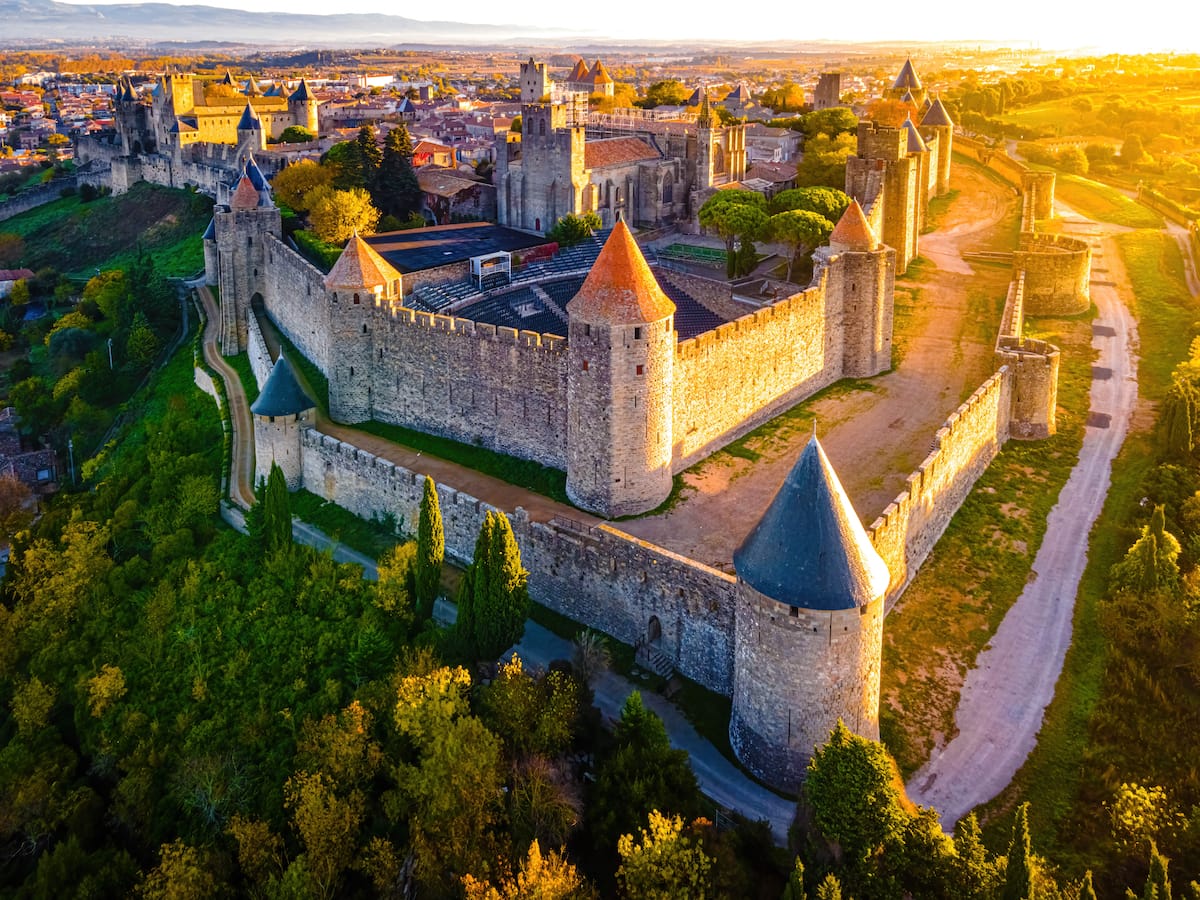 And when you're done wandering through the streets of the historic citadel, there are plenty of other popular sites to visit.
For example, lovers of gothic architecture will want to see the Carcassonne Cathedral, which dates back to the 13th century. Meanwhile, those who fancy French art can see regional artwork dating to the 17th century at the Museum of Fine Arts!
So, consider Carcassonne if you're ready for a weekend escape to the French countryside!
Where to Stay in Carcassonne
If you're looking for a place to stay, check out Aude-Cité Hotel, which is located in the city center and a 2-minute walk from the Aude River.
>> Discover the best Carcassonne hotel options here
2. Rennes
Rennes highlights: Parc du Thabor, Les Champs Libres, Cathedral Saint-Pierre de Rennes, Parc des Gayeulles
Recommended by: Faith from XYU and Beyond
Rennes is famous for its colorful half-timbered houses and is the capital of Brittany. The French city is only a 2-hour train ride from Paris and it has an international airport.
Place Ste. Anne is the very heart of Rennes and around it, there are 286 incredible colored half-timbered buildings.
In 1720, there was a fire that burnt down most of the city but this area of cobbled streets and crooked houses was rebuilt into what you see today.
Many of the restaurants around the square specialize in Breton dishes where you can enjoy Breton crepes and galettes.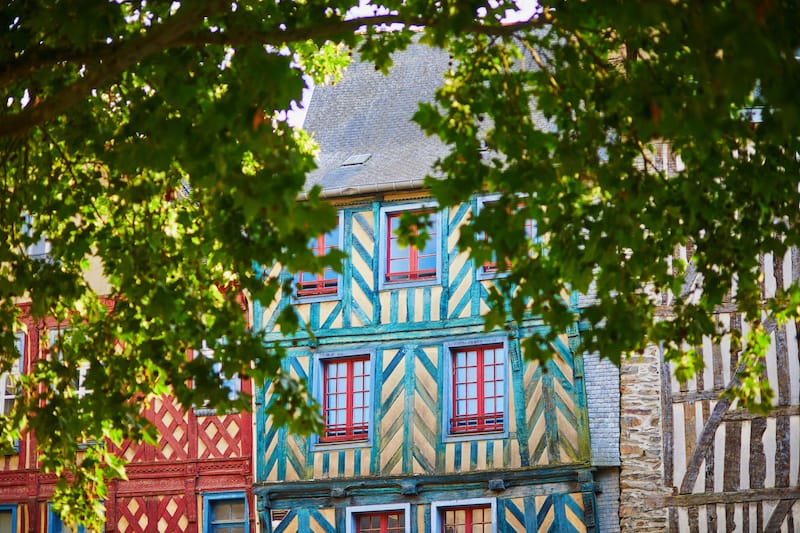 Place des Lice is where knights used to joust and is now the home of the second-largest outdoor market in France, alongside many boutique shops and cafes!
As a university city, Rennes offers many cultural activities from opera, theatre, music festivals, and more.
Off the Place Sainte-Anne, you will see the rue Saint-Michel which is nicknamed the Road of Thirst because there are dozens of bars all along the street which are frequented by Rennes students.
Where to Stay in Rennes
One of the best places to stay in Rennes is the Balthazar Hotel and Spa, a sustainable hotel located in the city center!
>> Discover the best Rennes hotel options here
3. Chamonix
Chamonix highlights: Aiguille du Midi, Grotte de glace, Mont Blanc, Parc de Merlet
Recommended by: Emily from Emily Embarks
Nestled in the valley shadowed by the iconic Mont Blanc, Chamonix is undoubtedly one of the best weekend breaks in France.
Known for its awe-inspiring alpine scenery and world-class skiing at Les Houches, it offers a range of activities for all seasons.
From hiking the Aiguillette des Posettes trail and paragliding off Mont Blanc in the summer, to snowboarding and ice climbing in the winter, there are plenty of things to do in Chamonix to keep you busy.
But Chamonix is more than just a destination for adrenaline junkies. Its charming town center boasts cozy cafes (the Galerie Café des Aiguilles is particularly good), Michelin-starred restaurants like Les Chalets de Philippe, and luxury spas around every corner that make for a perfect weekend of relaxation and indulgence.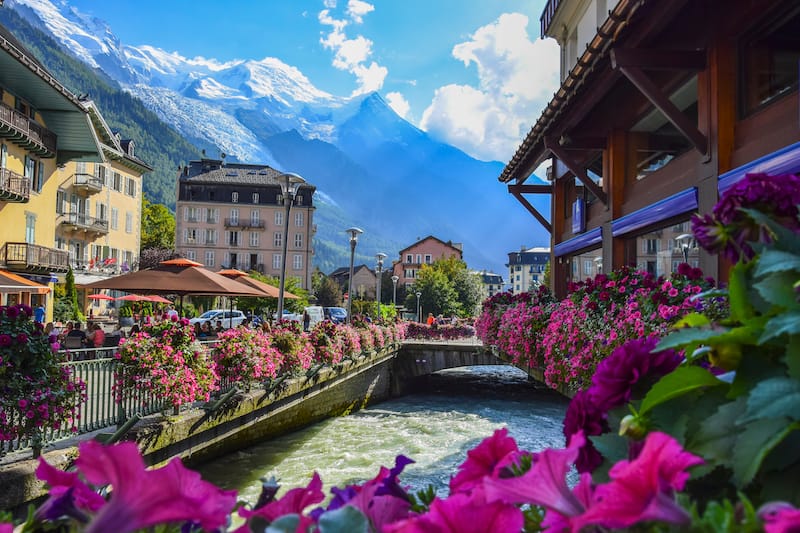 If you're going for at least a couple of days, be sure to take the Aiguille du Midi cable car up to the Step into the Void – a glass box that hangs high over the French Alps perfect for the thrill-seeker in your group.
Or, if adrenaline isn't really your thing, take the Montenvers Railway up to the Le Panoramic Restaurant which boasts incredible views over the Mer de Glace glacier.
Grab an hors d'oeuvre before making your way back to the gorgeous and affordable Hôtel de L'Arve.
Equipped with a stunning terrace with views of Mont Blanc and just steps away from the shuttle to the ski slopes, it's the perfect place to accompany your weekend break in Chamonix!
Where to Stay in Chamonix
Hôtel de L'Arve is a beautiful place only 100m from the shuttles that take guests to the slopes! There is also a terrace that gifts guests with Mont Blanc views!
>> Discover the best Chamonix hotel options here
4. Strasbourg
Strasbourg highlights: Cathedrale Notre Dame de Strasbourg, Parc de l'Orangerie, Palais Rohan, Barrage Vauban
Recommended by: Bec from Visit the Alsace
A visit to the Alsace Region in France is one that will never be forgotten. Its fairytale villages, world-renowned wine route, epic Christmas markets, and fabulous food are some of the reasons it is high on many travel lists.
One of the easiest ways to sample everything the region has to offer is a vacation to Strasbourg. Strasbourg is the largest of the towns in the Alsace and here you can either stay in the city or spend some time by taking some scenic drives.
Strasbourg Cathedral should be your starting point in the center of the city. Visiting is one of the best things to do in Strasbourg!
Many will tell you that here is the most touristy place in the city and while that may be true you can also find some of the most popular wine and food businesses that have set up stores in the area.
Wolfburger has a wine cave right near it and brings its wines and liqueurs from Eguisheim.
Fortwenger has a small store where you can sample their famous Gingerbread from Gerwiller or pick up some of the traditional Alsace souvenirs to take home.
There are also plenty of small stores where you can find something you can fall in love with.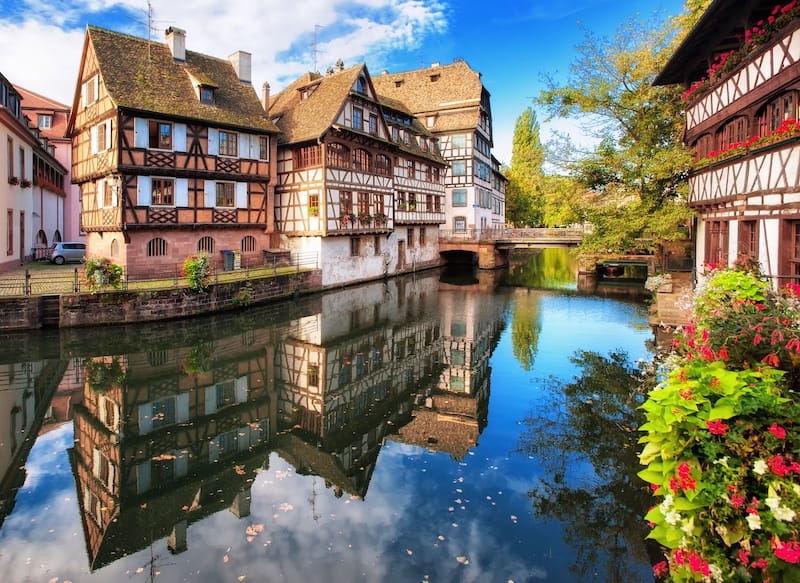 Once you have looked in the Cathedral it is time to walk the city! You can visit the Palace Rohan, which also has some other small museums in the halls that may interest you.
You can wander the La Petite France, admire the Barrage Vauban, sit for a minute in the park right near the Ponts Couverts de Strasbourg, cruise the canals, or tour the European Parliament building.
In the summer months, you can easily find a beautiful square to sit in filled with restaurants and people happily sampling the amazing Alsacian cuisine.
In the winter, the squares are filled to the brim with locals and tourists alike taking in the Christmas markets and the festivities that go with it!
If you have time you can also do some short half-day trips to stunning towns like Eguisheim, Kaysersberg, and Ribeauville. Chateau Haut Konigsbourg sits mighty overlooking the Alsace and is a great viewpoint on a clear day.
Where to Stay in Strasbourg
Midpoint Studios is an apartment-like accommodation that offers fantastic lodging only 600m from St. Paul's Church in the city. There is air-con, as well!
>> Discover the best Strasbourg hotel options here
5. Rouen
Rouen highlights: Cathedrale Notre-Dame de Rouen, Le Gros-Horlage, Rouen Museum of Fine Arts, Place du Vieux-Marche
Recommended by: Bradley from Dream Big Travel Far
It's always important to choose the right destination when planning and booking your trip.
For a French weekend break filled with medieval charm and old European architecture, Rouen should be on the top of your list.
As the capital of Normandy, this city lies 1.5 hours from Paris (it is one of the best day trips from Paris, hands-down!) and is steeped in interesting things to do.
Stroll through the beautiful cobbled streets and immerse yourself in ancient Gothic architecture, impressive Renaissance structures, and lush gardens.
Although small, Rouen teems with so many gorgeous churches, including St Joan of Arc's Church and the Cathédrale Notre-Dame de Rouen.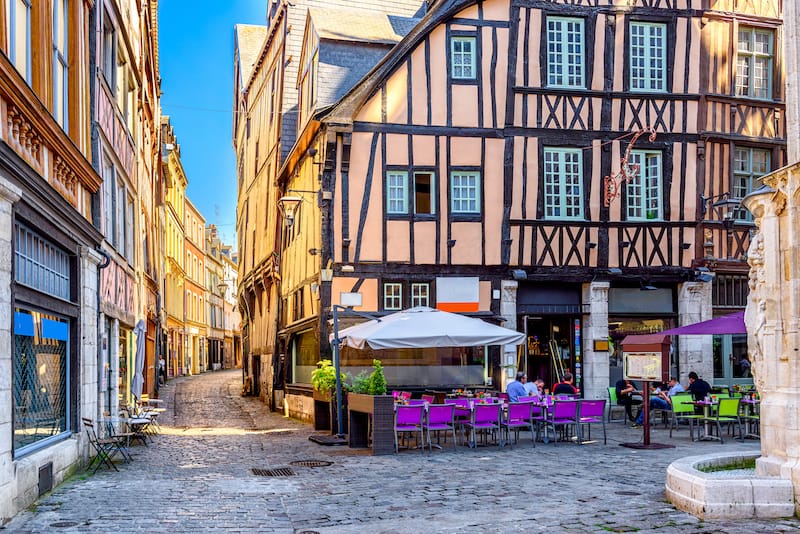 For art lovers, the Musee des Beaux-Arts flaunts an excellent collection of works by famous French artists like Degas, Delacroix, and Monet.
To round up a great weekend in Rouen, don't miss out on some of its favorite eateries, most notably Un Grain De, a cozy traditional establishment serving scrumptious local fare.
From dorade filet to osso buco and their popular rhubarb crème brûlée, these dishes are bound to leave a lasting impression!
Where to Stay in Rouen
Stay at Hôtel Paulette Rouen for an affordable yet comfortable hotel right in the heart of Rouen's city center. It's only a stone's throw from the metro station, the Notre Dame Cathedral, and many other attractions.
>> Discover the best Rouen hotel options here
6. Aix-en-Provence
Aix-en-Provence highlights: Paroisse Cathedrale Saint Sauveur Aix-en-Provence, Musee Granet, Hotel de Caumont, Cours Mirabeau
Recommended by: Izzy from The Gap Decaders
Heady with the deliciously distinct scent of the south of France, Aix-en-Provence is a city that epitomizes the region and is perfect for a weekend break.
Elegant tree-lined avenues lined with chic cafes replete with red checked tablecloths, independent boutiques, and art galleries, Aix is a wonderful place to soak up the atmosphere, stroll the boulevards, and admire the architecture.
A perfect weekend in Aix-en-Provence should include a wander by the Cathedrale Saint-Sauveur d'Aix-en-Provence, a delightfully simple cathedral full of beautiful art.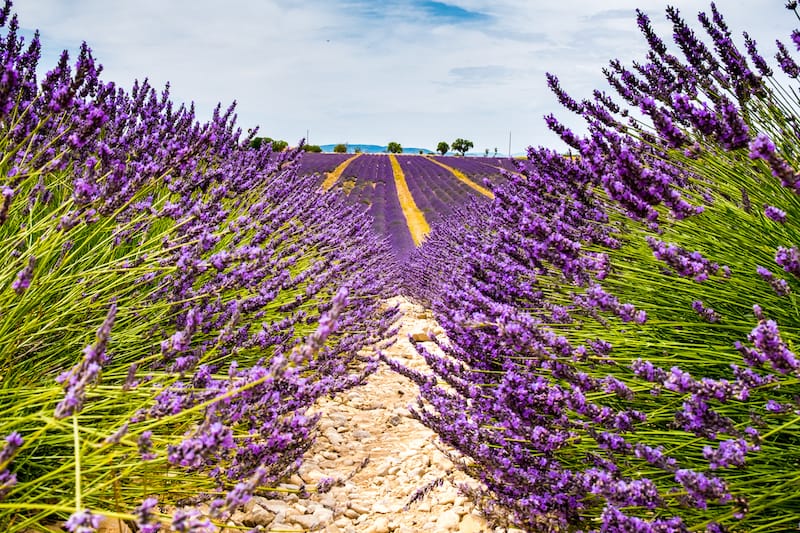 From here, head to the wonderful Atelier Cézanne, once the studio of Aix's most famous son, Paul Cezanne, and where many of his greatest works came to life.
The fabulous 17th century Hôtel Estienne de Saint-Jean is now the Musée du Vieil Aix, showcasing the history and traditions of Aix in the most gorgeous old aristocratic home, and well worth a visit.
In between these visits, stop at one of the many épicerie fines and try some of the delicious foods which Aix is famous for, like local olives noirs and Tomme à l'Ancienne, a soft goat's milk cheese marinated with the flavors of the region.
Where to Stay in Aix-en-Provence
Stay at the stylish Hotel Escaletto in the center of the old town, where you'll find contemporary rooms, well-designed public spaces, and friendly staff.
>> Discover the best Aix-en-Provence hotel options here
7. Amiens
Amiens highlights: Cathedrale Notre-Dame d'Amiens, Jules Verne House, St. Pierre Park, Les Hortillonnages
Recommended by: Paul from Paulmarina
Amiens is the capital of the historical Picardy region in Northern France, and it's located about 1 1/2 hours to the north of Paris.
The current French President, Emmanuel Macron, and the world-known 19th-century writer, Jules Verne, called this city their hometown. The city is mostly known for its cathedral and its water canals with floating gardens.
The Amiens Cathedral is a medieval masterpiece known to be the largest cathedral in France. High beams let in the maximum of light into the nave, making this one of the most important architectural monuments in the country.
A stroll through the city will unravel some charming corners of the town. Look out for the Saint-Leu quarters and discover colorful rows of homes and artisanal workshops.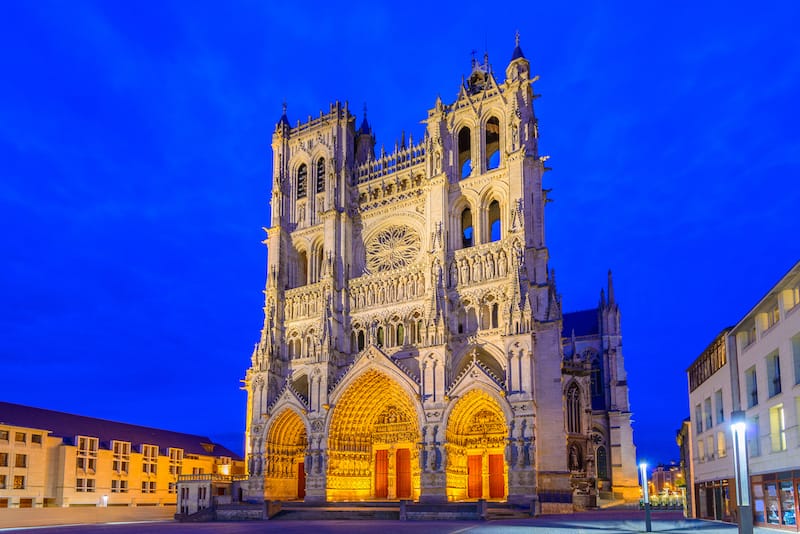 The restaurants, "Le Quai" and "Le Port Saint Leu" are located in the vicinity and invite one to try out local food specialties, such as the savory stuffed crêpes, the "Ficelle Picarde".
Enjoy a guided boat ride through the floating gardens, a maze of natural waterways surrounded by an impressive ecosystem in the city, which is also sometimes called the Venice of the north.
Where to Stay in Amiens
At the end of the day make yourself at home in the Hôtel Spa Marotte, located in the historical district, and take in the lively evening vibes that this beautiful city has to offer.
>> Discover the best Amiens hotel options here
8. Les Contamines-Montjoie
Les Contamines highlights: Contamines ski area, Notre Dame de la Gorge, Cascade de Combe Noire, Eglise de la Sainte-Trinite des Contamines-Montjoie
Recommended by: Mike from Live Travel Teach
Les Contamines is an incredible weekend getaway in France. It's a 4-season destination in a classic French village nestled in the Alps.
There are winter wonderlands at the Parc de Loisirs du potent and nearby ski resorts but my personal favorite is the summer hiking trails that connect with the Tour du Mont Blanc.
This village has cute hotels and delicious restaurants featuring local cuisine, including some of the best wine and cheese you'll ever taste.
There is a great shuttle system for tourists to get between the shopping, accommodations, trail access, and the outdoor playground sporting water sports, climbing routes, ski trails, golf, racquet sports, and even a roller ski rink!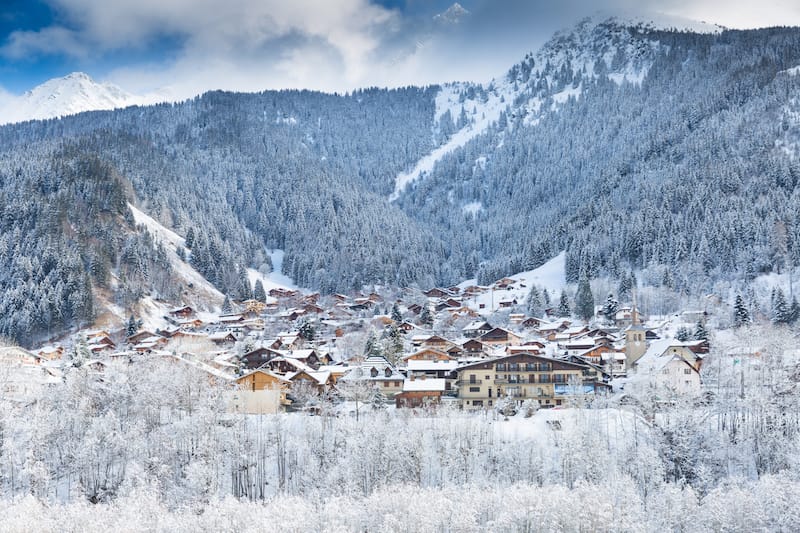 These family-friendly activities are great for all ages and you have stunning mountains surrounding you no matter what you pick.
Most hotels have restaurants attached to them and you can't go wrong, but we highly recommend Hotel Gai Soleil for an excellent 3-course meal or Brasserie Berangere for a light meal and drink.
The gorge provides nature lovers with an easier escape in the valley as you walk alongside a beautiful river carving its way through a lush forest.
Notre Dame de la Gorge sits a the base of the mountains and often has art exhibits and a food stand catering to nearby hikers coming down the Col du Bonhomme the Alps.
Where to Stay in Les Contamines-Montjoie
Chalet-hôtel Gai Soleil offers lodging only 300m from Loyers Ski Lift. There is also a shared lounge on-site.
>> Discover the best Les Contamines-Montjoie hotel options here
9. Nice
Nice highlights: Marc Chagall National Museum, Castle Hill, Cathedrale Saint-Nicolas de Nice, Jardin Albert 1er
Recommended by: Sarah from CosmopoliClan
Thanks to its international airport just minutes away from the city center, Nice makes for a convenient weekend getaway destination in France. This French Riviera gem offers the perfect combination of relaxation, culture, and nightlife.
Start your Nice itinerary by exploring the cobblestone streets of Vieux-Nice and visit the Cours Saleya flower market or have a drink at the pretty Place Rossetti.
You're just steps away from the coast, where you can take a leisurely stroll over the iconic Promenade des Anglais. Climb the steps to Castle Hill and take in the view over the Baie des Anges and the Port.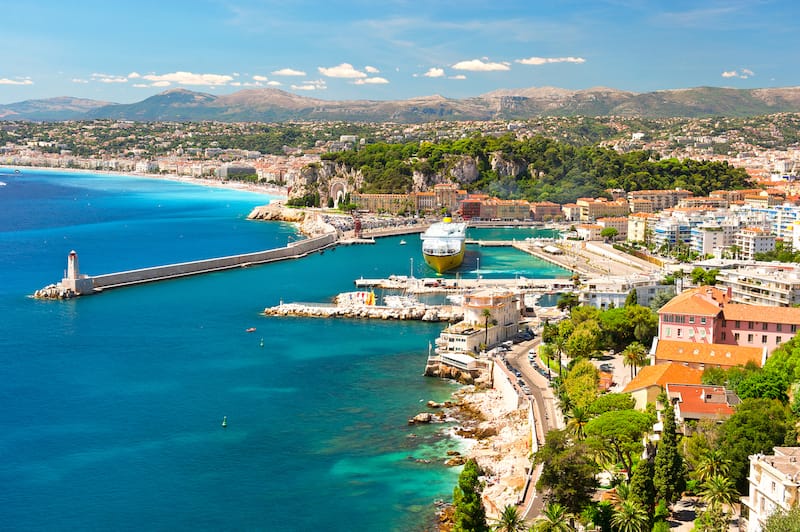 Explore the Carré d'Or and Gambetta neighborhoods with their Belle Époque mansions and splurge on a cocktail at the legendary hotel Le Negresco. It is easily one of the most popular things to do in Nice!
Hit the shops at Avenue Jean-Médecin before enjoying a sumptuous dinner at fish restaurant Bocaccio in Rue Masséna. The next day you could head uphill from Nice's waterfront where you'll find the Cimiez district.
Visit the ruins of an ancient Roman site with its amphitheater and public baths or admire the art in the Chagall Museum and the Matisse Museum.
Where to Stay in Nice
One of the best places to stay in Nice is the Palais Saleya Boutique Hôtel in the heart of Vieux-Nice.
>> Discover the best Nice hotel options here
10. Dijon
Dijon highlights: Cathedrale Saint-Benigne de Dijon, Museum of Fine Arts Dijon at the Ducal Palace, Liberation Square, Colombiere Park
Recommended by: Gabi from Under Flowery Sky
Dijon is the capital of Burgundy, located in Northeastern France. Being one of the prettiest French towns, it will simply delight you as it's known for its world-famous mustard and Burgundy wine.
The impressive architecture will leave you breathless as you stroll near the golden palaces. Dijon deserves the title of a UNESCO World Heritage Site!
Ducal Palace is the highlight of Dijon, its construction started in the 14th century. Nowadays it hosts City Hall and the Museum of Fine Arts.
The owl is a symbol of Dijon and will lead you to the best city attractions. Beautiful Darcy Garden is one of them and it is a perfect place to relax.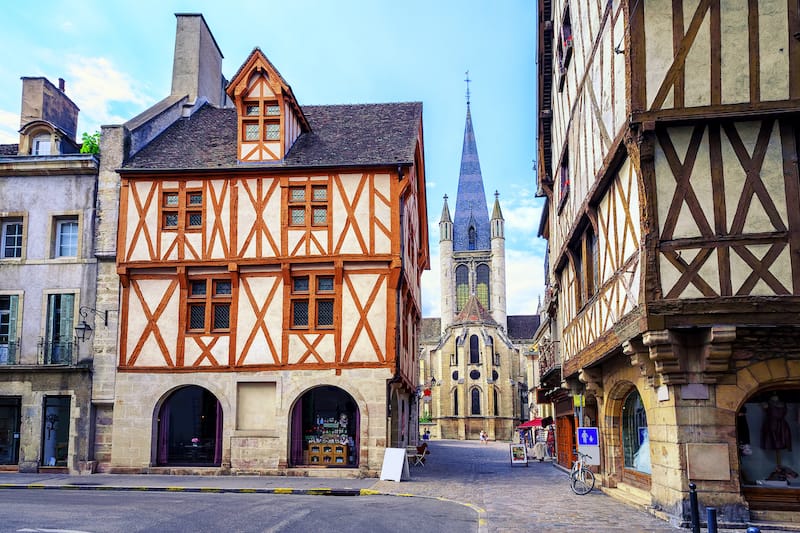 The Church of Notre Dame is a Gothic building with marvelous stained glass that is another great place for a Dijon itinerary.
Les Halles is a food market where you'll discover various local products. The cast-iron building is fascinating, the artwork of the famous Gustave Eiffel and a can't-miss sight in the city.
If you have enough time, visit the vineyards of Burgundy or cycle around. Taking a tour might be a great option when there if you're looking to maximize time. Lake Kir is also a fantastic day trip near Dijon!
Where to Stay in Dijon
Hotel Oceania Le Jura is an excellent accommodation in the center of Dijon. It offers mid-range prices, pretty rooms, a great breakfast, an indoor pool, and a hammam.
>> Discover the best Dijon hotel options here
11. The Dordogne
Dordogne highlights: The Marqueyssac Gardens, Castelnaud-la-Chapelle Castle, Lascaux International Center of Parietal Art, Chateau de Beynac
Recommended by: Paul from Anywhere We Roam
The Dordogne is a verdant hill country in southwest France with charming villages, swaying meadows, and romantic river-side castles.
With an abundant supply of locally sourced truffles and a serious relationship with wine, the Dordogne is the perfect weekend break in France.
Take a boat ride down the Dordogne River from La Roque-Gageac, a beautiful village nestled into the foot of a dramatic limestone cliff, and admire several of the region's medieval castles including the towering fortress Castelnaud-la-Chapelle.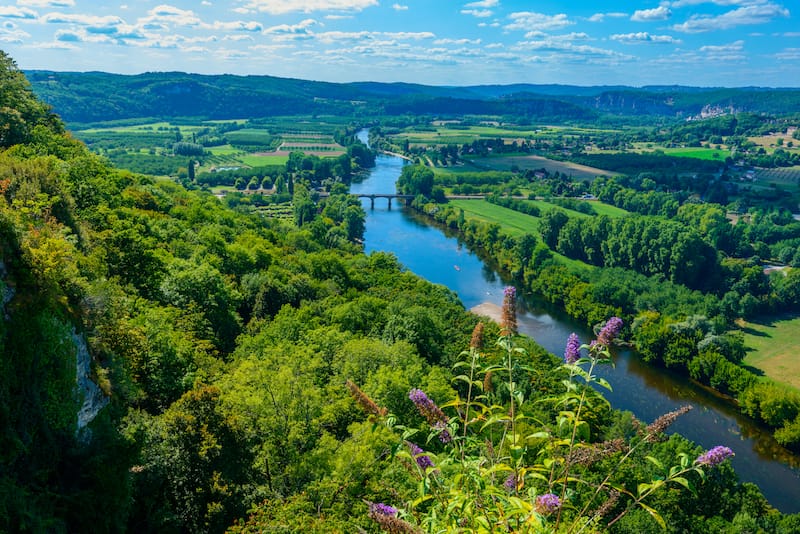 Stroll the romantic streets of Sarlat-la-Canéda and visit the bustling Saturday morning market, overflowing with local produce, before admiring the exquisite stalactite formations in the Grotto du Grand Roc.
Bask in the splendor of the area at Marqueyssac gardens – a must-visit attraction in the Dordogne – where 150,000 boxwood trees are sculptured into a beautiful example of topiary in a prime location overlooking the river.
Where to Stay in Dordogne
Watch the sunset over the grand Château de Biron before dinner at Le 1862 for original local dishes, impeccably prepared. Stay at the restaurant's bold and impressive digs, Hôtel Les Glycines.
>> Discover the best Dordogne hotel options here
12. Saint-Emilion
Saint-Emilion highlights: Monolithic Church of Saint-Emilion, Cloître des Cordeliers, Château Coutet, Château Cantenac
Recommended by: Victoria from Guide Your Travel
St Emilion is a small town located close to the city of Bordeaux. This area is known for its world-class wines and many vineyards and St Emilion is a prime destination for anyone interested in wine tastings.
The town is made up of historic buildings like the Monolithic Church and the old cloister which now houses a cafe and wine shop.
Don't forget to ride the Great Vineyards Train which will take you around to the best chateaux in the area and there is even a wine tasting included for only €13.50 per person total.
You'll learn all about the winemaking process at Château Rochebelle and the fascinating history of Saint Emilion and its many underground tunnels and wine caves.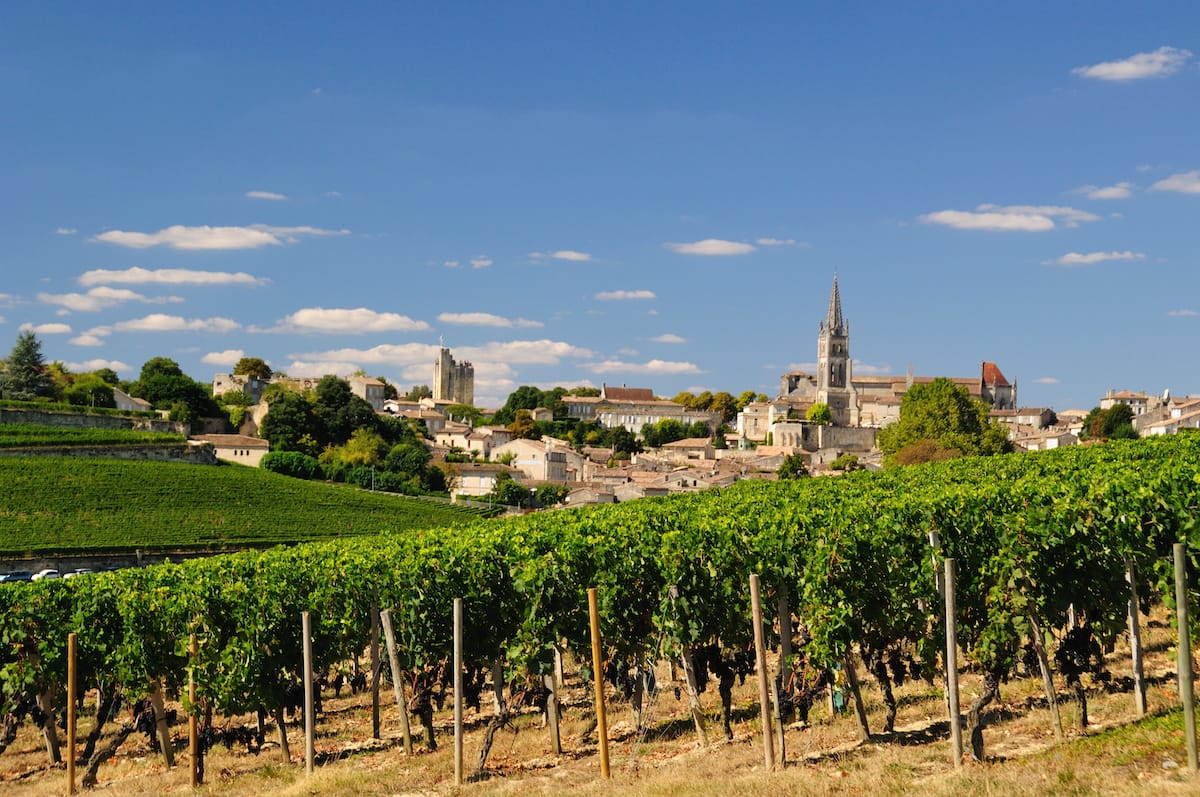 Back in town, have dinner at Lard et Bouchon which offers high-quality service and the best beef ribs you'll have in France.
St Emilion is also known for its traditional macarons which are very different from the colorful pastries you might know from other areas of France.
You can pick up some of the most famous ones in the city at Macarons de Saint-Émilion – Nadia Fermigier. They cannot be found anywhere else and are unique to this town!
Where to Stay in Saint-Emilion
Stay at the Badon Boutique Hotel which is a little bit pricey but worth it for a weekend getaway.
>> Discover the best Saint-Emilion hotel options here
13. Metz
Metz highlights: Centre Pompidou-Metz, Metz Cathedral, Museum of La Cour d'Or, German Gate
Recommended by: Christine from Journey to France
The soaring gothic Saint-Etienne Cathedral and the German Imperial District near the Train Station are two of Metz's most recognizable landmarks.
Metz, in Lorraine, is the ideal weekend getaway for those looking to spend a few days in a charming, French city.
The train ride from Paris to Metz only takes about 1 hour and 23 minutes, so you can arrive in the early morning and begin exploring the city right away. The Centre Pompidou-Metz is a must-see if you love the world-famous Centre Pompidou in Paris.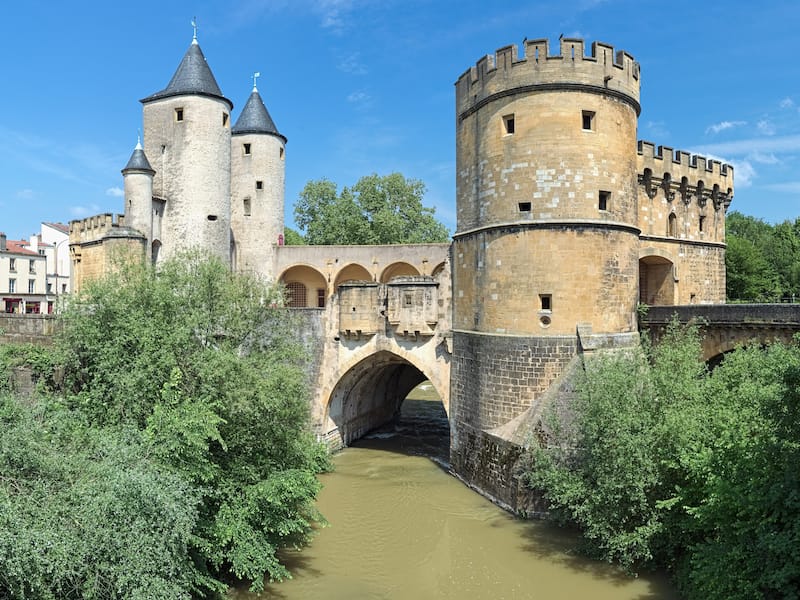 Stop by the Metz Art & History Museum to learn about the city's history. Don't miss the magnificent Cathedrale Saint-Etienne with its stunning stained glass windows and high vaulted ceiling.
An equally impressive group of structures are the Porte des Allemands, which spans a bridge over the river Seille.
Enjoy some delicious Lorraine cuisine at restaurants like Le Romarin near the Château d'eau in between sightseeing.
Where to Stay in Metz
During your Metz weekend, stay in one of its beautiful but affordable hotels such as the Hôtel de la Cathédrale Metz. Located on Cathedral Square, it has beautiful, spacious rooms with a view of the cathedral.
>> Discover the best Metz hotel options here
14. Deauville
Deauville highlights: Deauville Beach, Casino Barriere Deauville, Villa Strassburger, Hotel Barriere Le Normandy Deauville
Recommended by: Victoria from TheFrench.com
If you're looking for one of the best weekend breaks in France, then look no further than Deauville, France.
Deauville is a chic, upscale seaside town on the northern Normandy coast. After all, it's where Coco Chanel opened her first boutique in 1913.
Deauville is also where you'll find the closest beach from Paris – Plage de Deauville.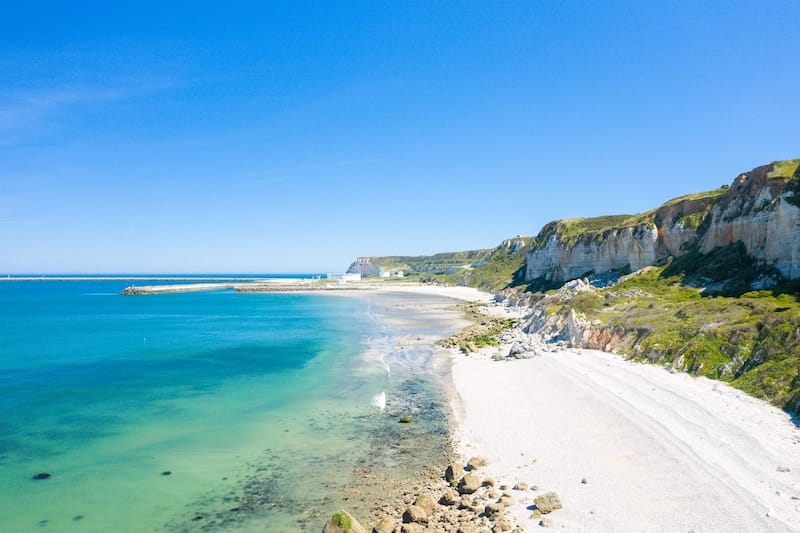 The boardwalk along the beach is lined with Art Deco-style cabanas that display the names of various famous movie stars that have visited the town over the years for the annual Deauville American Film Festival.
Foodies shouldn't miss a meal at L'Essentiel, a Michelin-starred restaurant specializing in plates from the Périgord region of France.
Where to Stay in Deauville
I recommend staying at the five-star Hotel Barrière Le Normandy, a quintessential Belle Époque-style hotel that opened in 1912. Ask about the secret passageway that leads directly to the nearby Casino of Deauville so you can play your hand.
>> Discover the best Deauville hotel options here
15. Nimes
Nimes highlights: Amphitheatre of Nîmes, Jardin de La Fontaine, Maison Carree, Museum Romanite
Recommended by: Sarah from Slow Travel
Nîmes in the south of France is the ideal location for a weekend break. Warm and sunny, compact and easy to get around, and filled with historical delights and fantastic restaurants, this is the place to go for a break away from it all.
Nîmes has its own airport as well as train and bus station making it easy to get to, and once you are there, there is no need for any further transport as everything is within walking distance.
You can visit the incredible les Arènes de Nîmes, the Roman amphitheater which is still in use today for events, the Maison Carré, one of the best preserved Roman temples outside Rome, or the new Musée de la Romanité which takes you on a journey through thousands of years of history.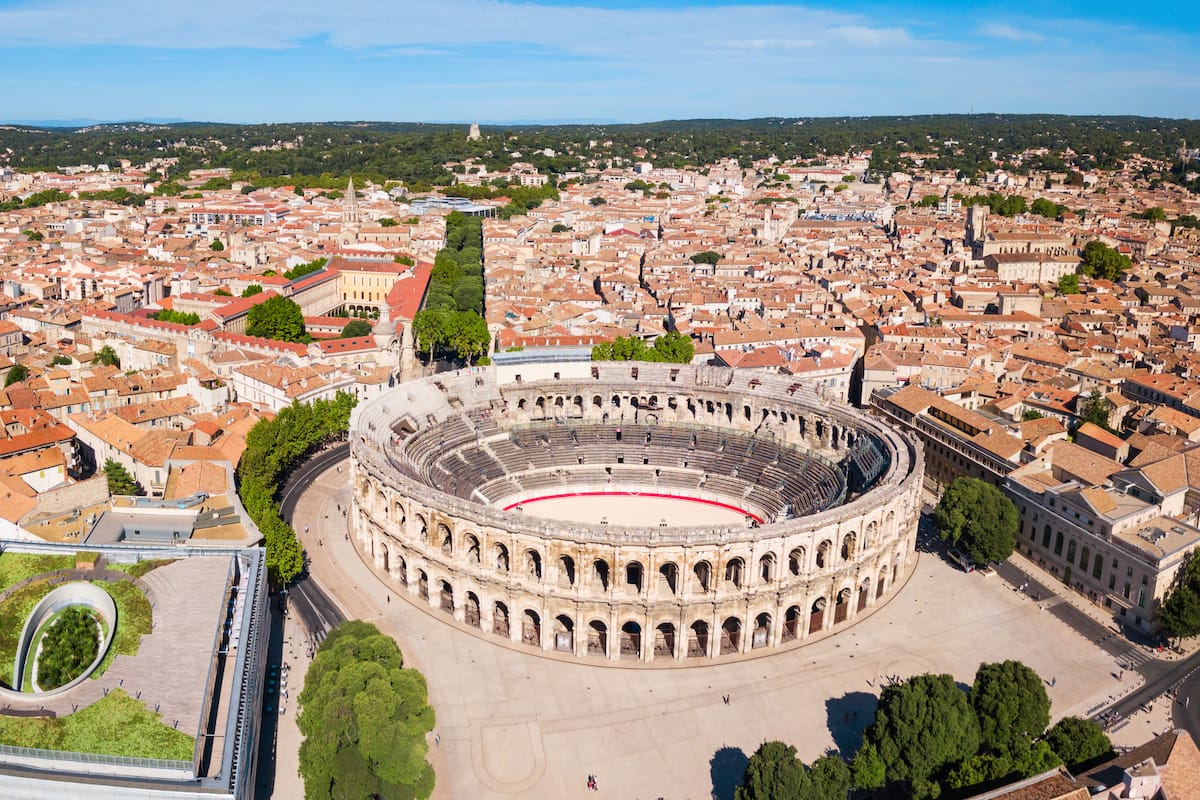 It is not all about the ancient world though as the town has some of the best restaurants and certainly the best food market you will ever find; filled with fresh, local food.
The town itself is beautiful; full of parks, trees, countless water features, and is surrounded by the wild landscapes of the Camargue. Nîmes is the perfect place for a cultural and gastronomic weekend away in the sun.
Where to Stay in Nimes
The best place to stay is right in the center of everything at the ApartCity Hotel which has good-sized rooms with mini kitchens and a sweeping staircase that makes you feel like a film star.
>> Discover the best Nimes hotel options here
16. Lyon
Lyon highlights: La Basilique Notre Dame de Fourvière, Parc de la Tête d'Or, Cathédrale Saint-Jean-Baptiste, Place Bellecour
Recommended by: Roxanne from Faraway Worlds
The third largest city in France, Lyon, is the perfect destination for a weekend break. Lyon is more accessible than Paris and very walkable with an intriguing mix of modern and historic neighborhoods.
Lyon is the old silk capital of Europe and you can easily spend an afternoon discovering the remnants of silk production in the city.
Visit the Museum of Silk, see the old workshops, and admire the scarves in the silk shops in the city.
You can also explore the secret passages or traboules (originally designed to transport silk to the river), although you may want to join a tour to find them all.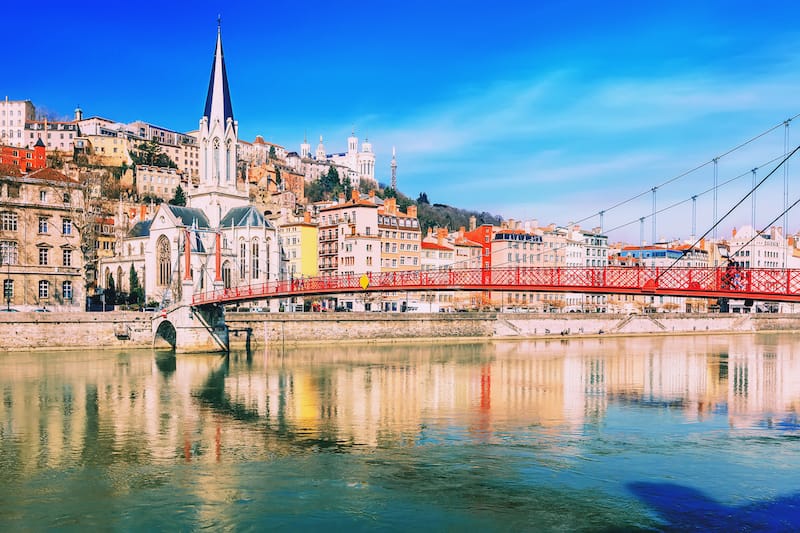 Lyon is also known for its delicious food, from fine-dining restaurants to market stalls that are worthy of being on every Lyon itinerary.
No matter where you stay in Lyon, you can find excellent places to eat and Les Halles, the indoor market, is well worth visiting.
Some of the best things to do in Lyon are to wander around the old town, take the old funicular up Fourvière Hill to see the stunning views, and stroll through the Place de Bellecour, a large square between the rivers.
There are also many interesting museums in the city including the Museum of Fine Arts and the Miniature and Cinema Museum.
Where to Stay in Lyon
Hôtel Des Artistes in the center of the city. It's a nice hotel in a good location a short walk from the old town and worth staying at on your trip to Lyon.
>> Discover the best Lyon hotel options here
17. Colmar
Colmar highlights: Unterlinden Museum, La Petite Venise, St Martin's Church, Marché Couvert Colmar
Recommended by: Stephanie from the Unknown Enthusiast
Colmar is an adorable village on the eastern edge of France that is perfect for a weekend break. Colmar is in Alsace, a region that used to belong to Germany and still has a lot of German influence, including super cute half-timbered houses.
One of the best things to do in Colmar is simply to stroll the streets – it's said that Disney's Beauty and the Beast was based on this village, and you can really see why!
Stop by the Schwendi fountain (that resembles Belle's village fountain) and definitely walk through the Petite Venise area, which features a charming canal and colorful houses.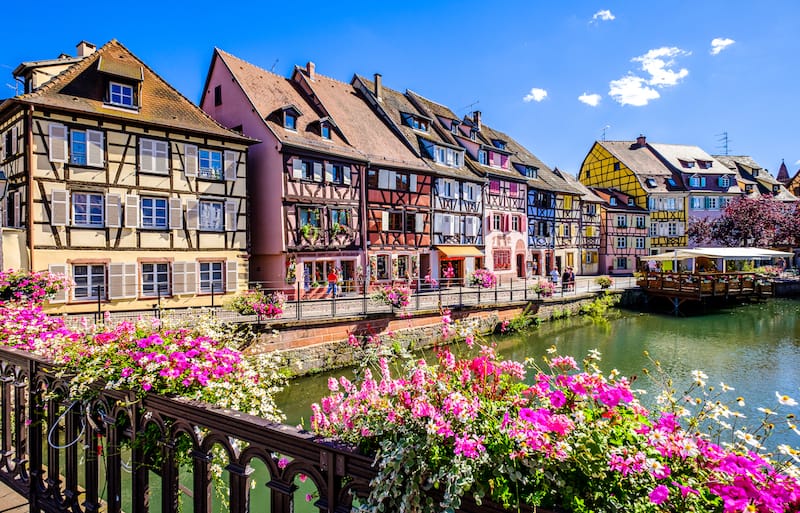 Other great things to do include visiting St Martin's church, or appreciating the art at the Unterlinden Museum.
There's also a toy museum and a chocolate museum, and even a Statue of Liberty on the north edge of town (the designer was from Colmar).
Le Petit Tanneur is a cozy restaurant serving traditional Alsatian food that you definitely need to check out on this weekend getaway!
Where to Stay in Colmar
A beautiful hotel in Colmar is Le Colombier, located right in the charming Petite Venise neighborhood.
>> Discover the best Colmar hotel options here
18. Bordeaux
Bordeaux highlights: Place de la Bourse, Gran Teatro de Burdeos, Bordeaux Cathedral, El Espejo de Agua
Recommended by: Jakub from Tymrazem
Bordeaux is the world capital of wine and the perfect destination for the weekend trip! The city itself is beautiful, enriched by its many narrow streets and alleys that you will feel enamored by.
Walking along the boulevards along the river in the sunshine will be exciting. You can ride a bike, scooter, or use a boat to experience something new and get a different perspective.
Remember to buy local products – "Canele" – they will be great for your walk. They can be found in Canelés Baillardran (chain of patisseries).
French cuisine is very tasty, and the proximity of the ocean means that in Bordeaux you will find great seafood and one of the best oysters in France (from Arcachon). If you want to try fresh oysters, go to La Cabane Cent Un restaurant – great wine and seafood!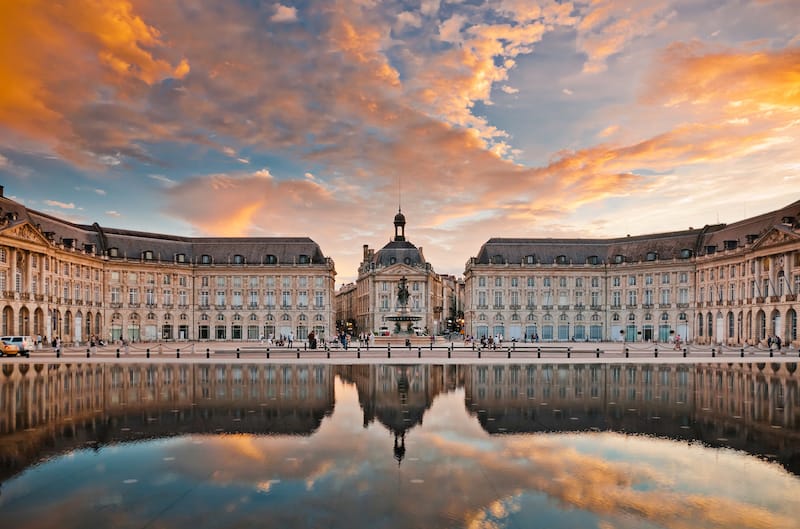 Arcachon itself (a French seaside resort by the ocean) can be reached by car or public transport in less than an hour, but if you are visiting Bordeaux, plan also a visit to one of the huge amounts of vineyards in the area!
They are some of the best day trips from Bordeaux!
Many of them offer accommodation, meals, and tastings! One of the closest (accessible by public transport) is the Saint Achon Vineyard with a beautiful castle and lots of wine in cellars!
It's best to go to Bordeaux during the end of spring, in summer, or in early fall.
Flea markets with antiques, food markets with delicious products, and the bell tower of the cathedral offering perfect views of the Cite du Vin (a center where you will learn everything about wines) are only some of the attractions that are waiting for you there.
Bordeaux is the perfect choice for the weekend but staying longer is also a great idea and you'll find plenty to keep you occupied.
Where to Stay in Bordeaux
A fantastic place to stay in Bordeaux is the Hotel Bleu de Mer, located right next to Place de la Bourse – one of the most famous monuments of the city.
>> Discover the best Bordeaux hotel options here
19. Paris
Paris highlights: Eiffel Tower, Louvre Museum, Arc de Triomphe, Musee d'Orsay
Recommended by: Editor's choice
Paris for the weekend? Yes, please! Whether it's your first time in Paris or you're a seasoned visitor, there's always something exciting to do.
Some big highlights to see for first-timers are seeing the Louvre (don't miss the jaw-dropping apartments of Napoleon III!), the Musée d'Orsay, going to a Moulin Rouge show, walking from Trocadero to underneath the Eiffel Tower, climbing to the top of the Arc de Triomphe, and strolling down the Champs-Élysées.
Don't miss visiting the neighborhood of Montmartre, with its charming streets and beautiful Sacre Coeur cathedral.
If you want some green space, visit the Luxembourg Garden or the Tuileries Garden. A great place to tour is the Palais Garnier, Paris's sumptuously decorated opera house.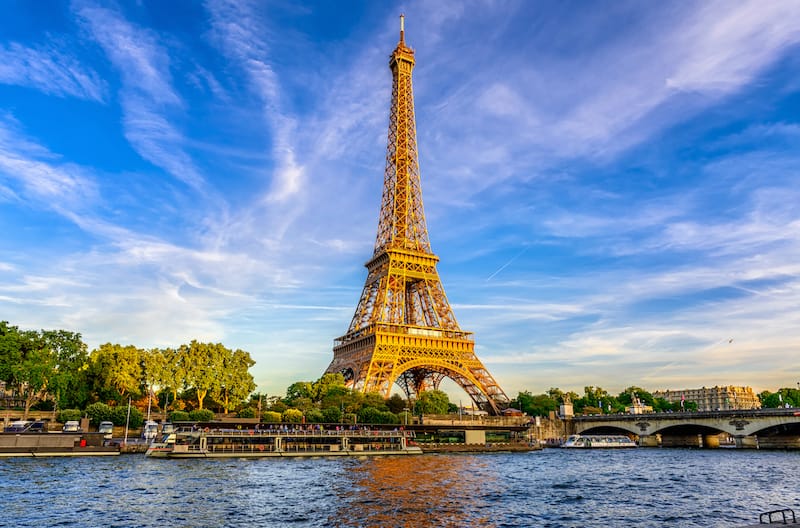 If you want to see Paris from a different perspective, book a sunset cruise down the Seine and enjoy the sights as you relax on the boat soaking up Paris at night. If you're into fragrance, sign up for a Paris perfume workshop!
There are so many fantastic things to eat while in Paris, it will be hard to choose what to get!
The classic croissant and coffee for breakfast are always a great choice. If you want to satisfy your sweet tooth, stop for hot chocolate at Angelina Paris or Laduree for macarons.
And croque monsieur sandwiches, escargot, and a variety of cheeses are always staples to try while in Paris! If you're looking for an escape, consider one of the many Champagne tours from Paris!
Where to Stay in Paris
Hotel Lutetia is a luxury hotel in Paris' beautiful Saint-Germain-des-Prés area. It is only a 2km walk from the Louvre and is on the left bank of the Seine.
>> Discover the best Paris hotel options here
20. Toulouse
Toulouse highlights: Basilique Saint-Sernin de Toulouse, Saint Stephen's Cathedral, Place du Capitole, Couvent des Jacobins
Recommended by: Editor's choice
Toulouse is a picturesque small city in France's southwest, nicknamed "The Pink City" due to its pink stone buildings. It's a walkable city that's perfect for a weekend getaway.
The heart of the city is at Place du Capitole, where the gorgeous city hall building offers free tours of its historical rooms.
If you're looking for some of the top Toulouse attractions, the city boasts some beautiful churches, including the Gothic-style Jacobins monastery, the medieval St. Stephen's Cathedral, and the jaw-dropping UNESCO-listed Saint-Sernin, built in the 1100s.
The gorgeous city sits on the lovely Garonne River and has several picturesque bridges spanning it, including Pont Neuf, the city's oldest bridge completed in 1692.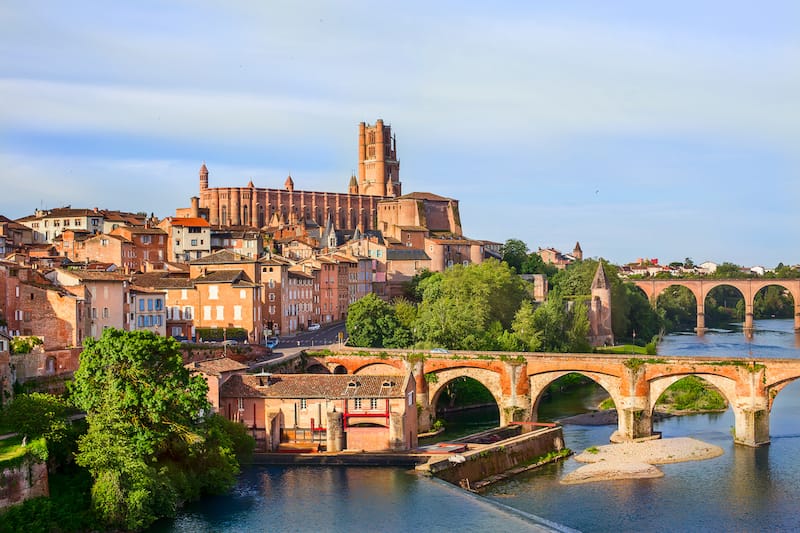 For indoor activities, check out one or two of Toulouse's fantastic museums like the space museum, the modern art museum at Les Abattoirs, or the antiquities museum of Saint Raymond.
Lastly, a trip to Toulouse won't be complete without trying the city's most famous dish, cassoulet, a delicious, rich dish made of beans, pork belly, and sausage.
Where to Stay in Toulouse
LA CARTOUCHERIE is located 600m from Zénith de Toulouse and is an apartment that offers multiple rooms, a fully-equipped kitchen, and more!
>> Discover the best Toulouse hotel options here
21. Nancy
Nancy highlights: Place Stanislas, Parque de la Pépinière, Museum of Fine Arts in Nancy, Villa Majorelle
Recommended by: Editor's choice
Gorgeous and elegant, Nancy is a small city perfect for exploring one weekend.
The city's main square, Place Stanislas, has been deemed a UNESCO World Heritage Site and is full of beautiful Baroque-style buildings and fountains, including the Hotel de Ville, Opéra, Musée des Beaux-Arts, and Arc de Triomphe. Near Place Stanislas, you will find the Ducal Palace, an exquisite building from the 15th century full of historical treasures.
Nancy has several beautiful churches such as the 18th-century Cathédrale Notre-Dame-de-l'Annonciation and the Gothic-style Basilique Saint-Epvre.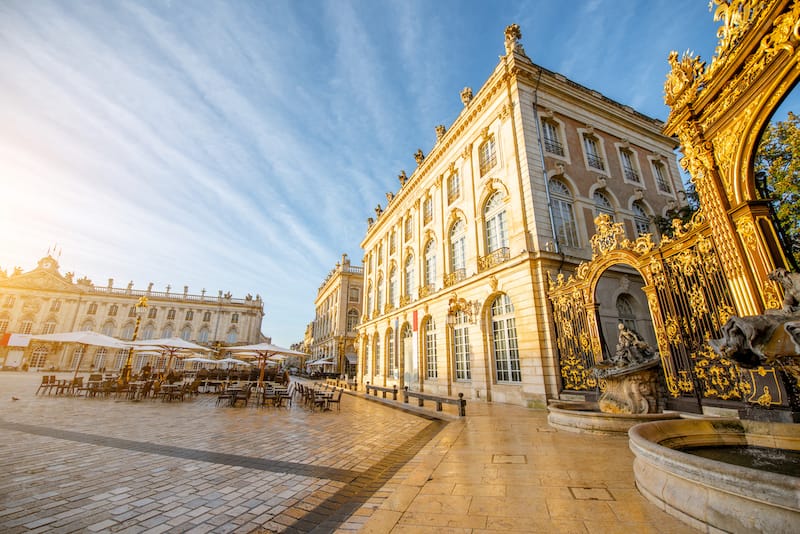 Walk through the Old Town to soak up the charm of the city. Nancy is famous for its Art Nouveau ornamentation style, so take a self-guided walking tour to find the little hidden Art Nouveau gems built into the architecture of the city.
While in Nancy, make sure you sample two delicious staples of the region- traditional macarons, a treat that's been made in Nancy for hundreds of years, and quiche Lorraine, a savory quiche made with cheese, bacon, and cream.
Where to Stay in Nancy
Le jaccuzi des caves Stanislas is located only 600m from Place Stanislas and is a wonderful apartment-like option in Nancy.
>> Discover the best Nancy hotel options here
22. Reims
Reims highlights: Cathédrale Notre-Dame de Reims, Basilique Saint-Remi, Palais du Tau, La Porte de Mars
Recommended by: Editor's choice
Reims is a great city for a weekend getaway, conveniently located only 45 minutes from Paris by high-speed train. It is one of the capitals of Champagne country (alongside Epernay).
The jewel of Reims is the beautiful Gothic-style cathedral, Notre Dame de Reims. Built in the 13th century, this church saw many coronations of French kings.
It has so many layers of history, it's well worth taking a guided tour to not miss out on all the interesting stories. Add on the Palais du Tau next door and you will discover all about the history of the cathedral and French royalty.
Reims is a small city that you can explore on foot, so wander by the main square, Place d'Erlon, for some shopping or to relax at a cafe.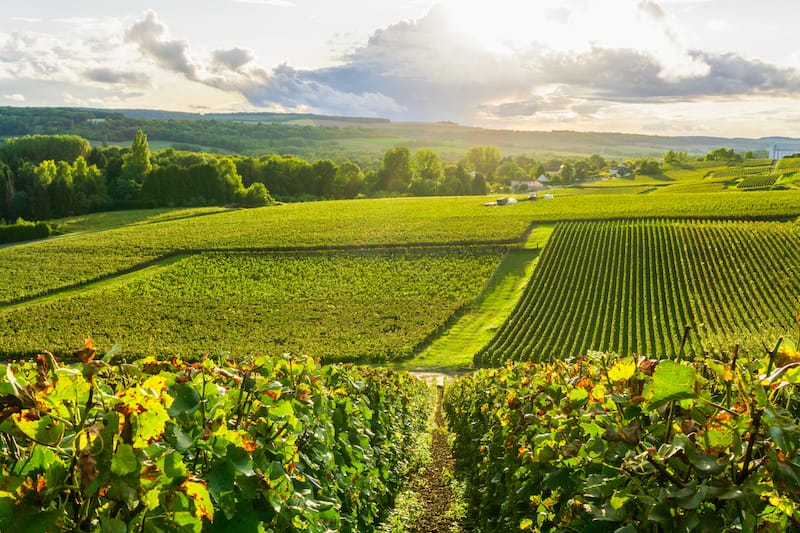 On Saturdays, you'll find a covered market at the Halles Boulingrin, full of fresh produce, cheese, bread, and other delights. After walking around, enjoy a hearty French meal at Le Petit Basque, or check out A l'Ere du Temps for both savory and sweet crepes.
Reims is in the region of Champagne, known for, of course, Champagne! Don't miss out on tasting some while you are there.
There are many cellars and Champagne estates where you can sample different Champagnes and buy your favorite bottles.
Where to Stay in Reims
Located near the Cathedrale de Reims, Les 7 Anges is a fantastic option that has free private parking and amazing city views.
>> Discover the best Reims hotel options here
23. Marseille
Marseille highlights: Basilique Notre-Dame de la Garde, Cathédrale La Major, Palais Longchamp, Mucem – Museum of Civilizations of Europe and the Mediterranean
Recommended by: Editor's choice
Marseille has a reputation for being a rather gritty city, but it's not without its charm, and certainly worth spending at least the weekend.
There are several interesting neighborhoods to explore such as Le Vieux Port and Le Panier. The jewel of Marseille is the grand Basilique Notre-Dame de la Garde perched on a hill above the city.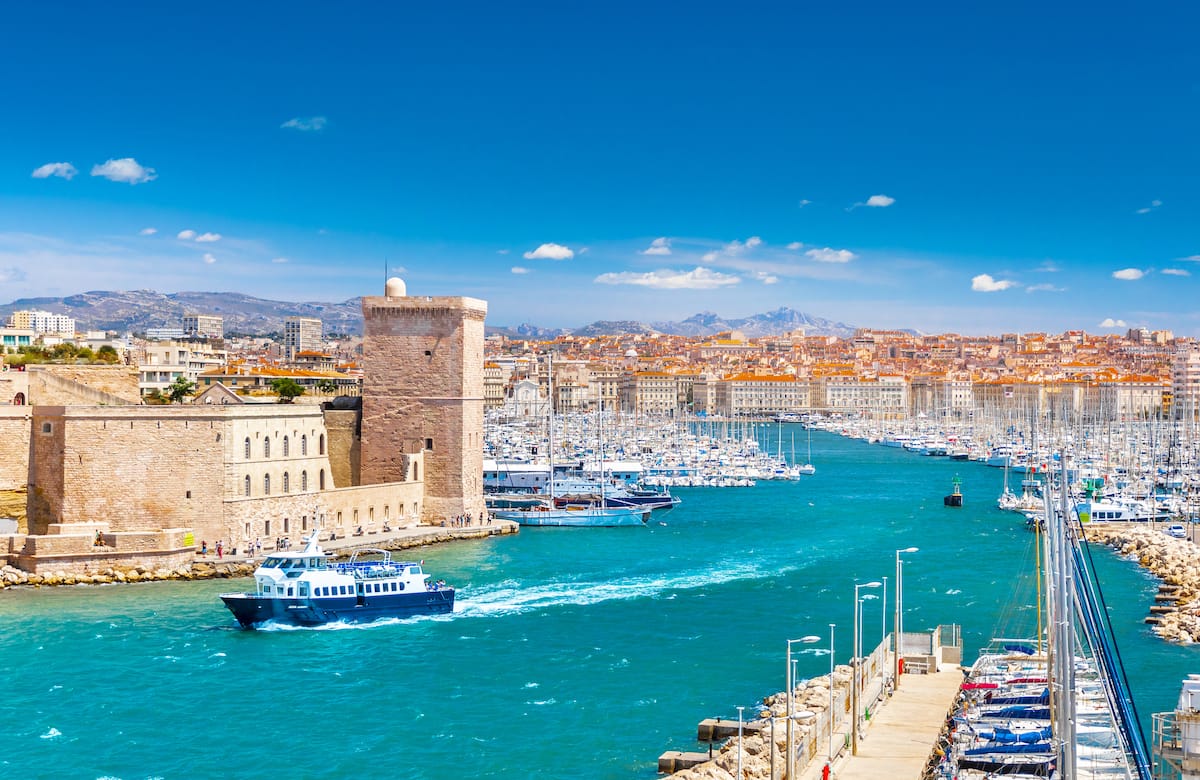 The cathedral itself is stunning and has exceptional views of the city and coastline. Visiting is one of the best things to do in Marseille!
Don't miss visiting the fascinating Chateau d'If fortress just off the coast, made famous by Dumas' novel The Count of Monte Cristo.
For an indoor activity, check out the Museum of Civilizations of Europe and the Mediterranean to learn more about Mediterranean history and culture, or the Marseille Soap Museum to discover more about Marseille's famous soap-making industry.
If you can't decide what to eat, visit Les Halles de la Major, a food market with tons of delicious options that will satisfy any craving. It is an essential place if you're spending only 2 days in Marseille… or more!
Where to Stay in Marseille
Marseille's Vieux Port République Cannebiére hotel is merely 1.9km from Plage des Catalans and offers luxury apartment-type accommodation in a centralized location.
>> Discover the best Marseille hotel options here
24. Montpellier
Montpellier highlights: Place de la Comédie, Promenade du Peyrou, Montpellier Cathedral, Jardin des plantes de Montpellier
Recommended by: Editor's choice
Montpellier is a perfect weekend getaway because there are so many options for activities: you can lounge on the beach of France's southern coast just a few kilometers away, hike in the gorgeous regional parks surrounding the city, or visit the plethora of wineries in the area, where Montpellier is the heart of the Languedoc wine region.
If you don't have time to visit a vineyard, you can still enjoy regional wine at one of the many wine bars in town, such as Glouglou, Augusta, or Vinarium.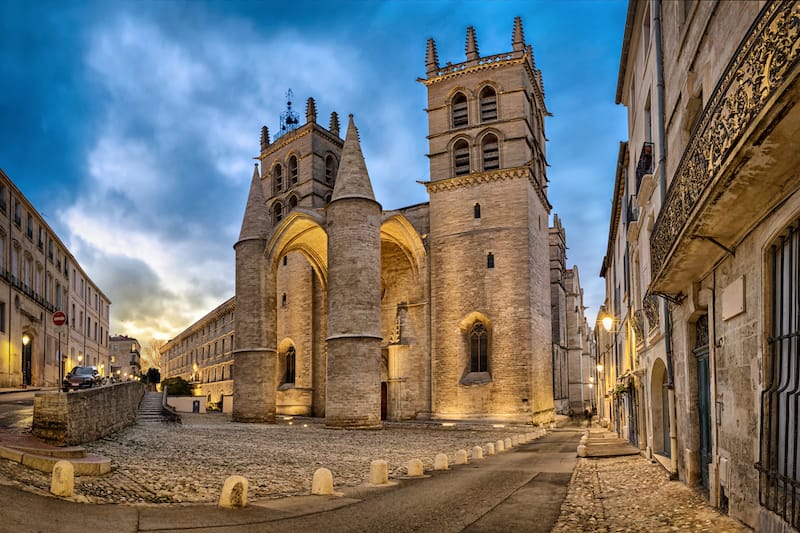 Take a stroll around town to see some of the sights, such as the Arc de Triomphe and the Aqueduct St. Clement, both located at the Promenade du Peyrou.
Don't miss the impressive Musée Fabre, a fantastic art museum established in 1825 by Francois-Xavier Fabre, a painter from Montpellier.
Lastly, check out the remarkable St. Pierre Cathedral, built in the 16th century with distinctive conical towers and beautiful stained glass.
Where to Stay in Montpellier
In Montpellier, you'll find Domaine de Biar which is 6km from the center but located in an epic location. There are garden views and terraces.
>> Discover the best Montpellier hotel options here
Did we miss any of the best places for exciting weekend breaks in France? Let us know your favorite France weekend getaways in the comments. Thanks!
More France Travel Guides
Pin this France Weekend Getaways Guide