It's no secret I love to eat and one cuisine that doesn't get enough love is English food. This guest post from Victoria Philpott from Day Out in England showcases some of the most popular and the best food in England.
What to Eat in England
It's sad that England isn't particularly known for its cuisine, because I for one, think it's great. I've traveled to over 70 countries in my life, but I always look forward to coming home to some good English food.
We have a great variety, and yes, it might not be the healthiest, but, it's surely the tastiest. It's one of the many reasons people like to visit England.
Food in England is hearty, best enjoyed with family and friends, and will give you the energy and oomph to get out there and explore the country while you're here.
Here's a look at some of the best food in England you need to try while you're here, and if you think you already know it all, then have a go at my English food quiz to test your knowledge!
Best Food in England
Fish and chips
Nothing beats proper fish and chips from a proper fish and chip shop in England. Preferably from a fish and chip shop on the coast. Try some fish and chips on a day out in Portsmouth, or Brighton, or Newquay and you won't regret it.
English fish and chips are made up of a piece of fish – usually cod or haddock – fried in a deep fryer, with some fresh cut deep-fried potatoes on the side. It used to be served in a newspaper, but health and safety have put an end to that and so it'll either be paper, or in a box.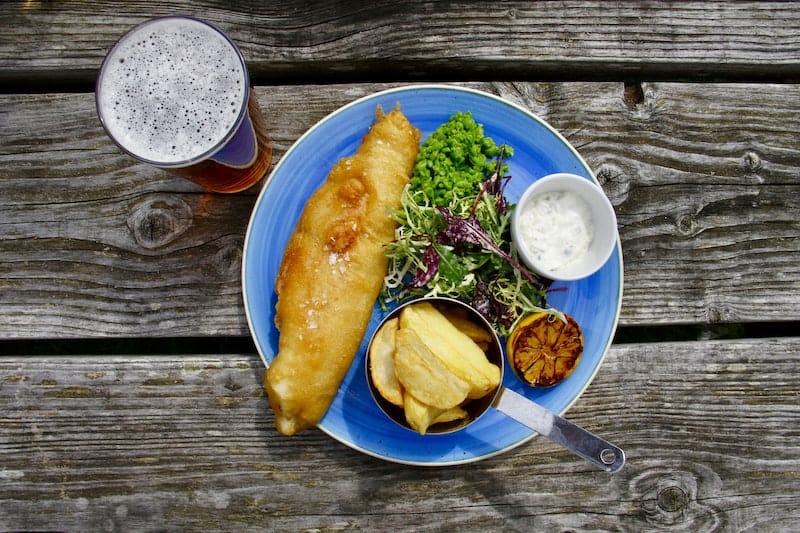 You'll find that each area in England does this dish differently. Up north it's served with gravy, mushy peas, and bread and butter. Down south, they like curry sauce. Wherever you are in England fish and chips has to be served with plenty of salt and vinegar. Vinegar first, of course, to give the salt something to stick to.
Traditionally, fish and chips are served with a cup of tea, although, if you're eating them in the evening a pint of cider will get them down easily.
Cornish Pasty
Finally, for today, let me tell you about the humble Cornish pasty. First invented as a way for miners to have their meat in a nice little package, the Cornish pasty has become an iconic food from the region.
You can get your Cornish pasty with almost anything inside – including cheese and onion, lamb and mint, traditional and even a full English breakfast. Then it will be sealed in pastry and closed up, so you can burn your mouth on the insides when you bite it open.
Nowadays you don't have to go all the way to Cornwall for a pasty, you can pick them up in bakeries all over the country. In fact, we have the West Cornwall Pasty Company in all good train stations, although of course, pasty connoisseurs would dismiss these as just fast food. I'd say they were delicious!
Full English Breakfast
Oh, you can't beat a Full English breakfast when you're in England. I'd strongly recommend you go to a greasy cafe to get the full experience. You can pay a few quid and get a full plate of sausages, bacon, eggs, beans and sometimes chips, served with a side of tomatoes, toast, and mushrooms.
You're supposed to be absolutely stuffed after a Full English – it'll set you up for the day ahead. Down it all with a cup of tea, or a coffee – in most greasy spoons it'll be refillable.
Just FYI, a 'greasy spoon' is what we like to call a traditional cafe, not one of these hipster types but a traditional British High Street favorite. You'll get more for your money there.
Bangers and Mash
Sticking with the sausage theme, bangers and mash are an absolute essential for Brits. So easy as well.
You just need to cook up a minimum of three sausages per person, rustle up some mashed potato with cheese and butter for ultimate creaminess, and then cook some onion gravy on the side – as thick as possible. Serve with a few greens et voila. English food perfection.
Cream Tea
I love how much Americans think we eat cream teas in England. I think I've had one this year, and that was a special occasion on a day out on the Isle of Wight. They are good though, and maybe I do need more in my life.
A cream tea is a scone, with cream and jam, and a traditional breakfast tea on the side.
Visit Stately Homes in England, forests and countryside areas in England and you'll be able to find a cream tea being served. There's a whole controversy in England about whether you're meant to put the jam on first, or the cream.
A Devonshire Cream Tea is cream then jam, and a Cornish Cream Tea is jam then cream. You'll just have to experiment to see which side of the debate you stand on, although to be honest, I'm with the Cornish.
If you find a cream tea doesn't fill you up, then of course you can upgrade to an Afternoon Tea. Afternoon Teas will have all kinds of sandwiches as well, and maybe some cakes. Also, the best kind has a glass of Champers on the side.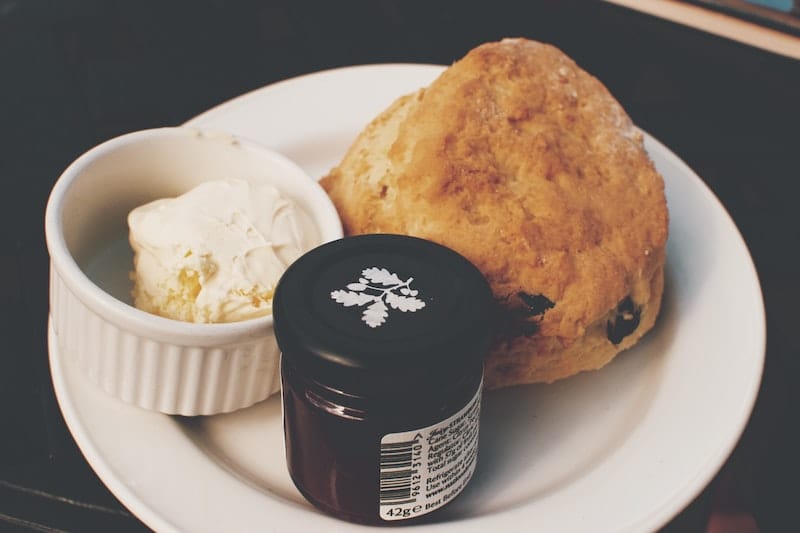 Shepherds Pie and Cottage Pie
The difference between Shepherds Pie and Cottage Pie?
Shepherds Pie is made with lamb, and Cottage Pie is made with beef. Otherwise, they're the same. All you need to do to make Shepherds Pie and Cottage Pie is to fry up some mince and veg, add the spices and stock, and simmer. Then, you need to make mash.
Just put the mince in an ovenproof dish, add the mash to the top, and some cheese, and bake. I've totally oversimplified it there, but you can find a good recipe on BBC Good Food.
Serve up Shepherds Pie to a Brit and they'll love you forever. A truly hearty dish that will warm you from the inside. Great for the winter!
Pork pies
Pork pies are a big deal in England and an essential addition to our summer picnics. If you're looking for quality every time then go for a pork pie with 'Melton Mowbray' in the name. Melton Mowbray is a town in Leicestershire famous for having the best pork pies in all the land.
You can get little generic ones in the supermarkets, but a pork pie aficionado will tell you that you need a special deli one, with meat from a butcher and a good layer of fat inside to be considered a proper one.
Serve with a chutney or pickle to get those flavors just right in your mouth.
Sunday Roast
A good Sunday Roast is what I miss most when I'm away. Basically, with a Sunday Roast, you have some sort of meat – usually chicken, lamb, beef or ham – with veg on the side, and potatoes too.
My family is from Yorkshire, so a Yorkshire Pud is an absolute essential.
Anyone can make a Sunday Roast, but a good one is hard to find. The best are always homemade, in fact, my Grandma made the best, closely followed by my Mum.
The accompaniments are almost as important as the main event when it comes to a Sunday Roast. We have mint with lamb, cranberries with turkey, horseradish with beef and stewed apples with pork. This is very important to learn.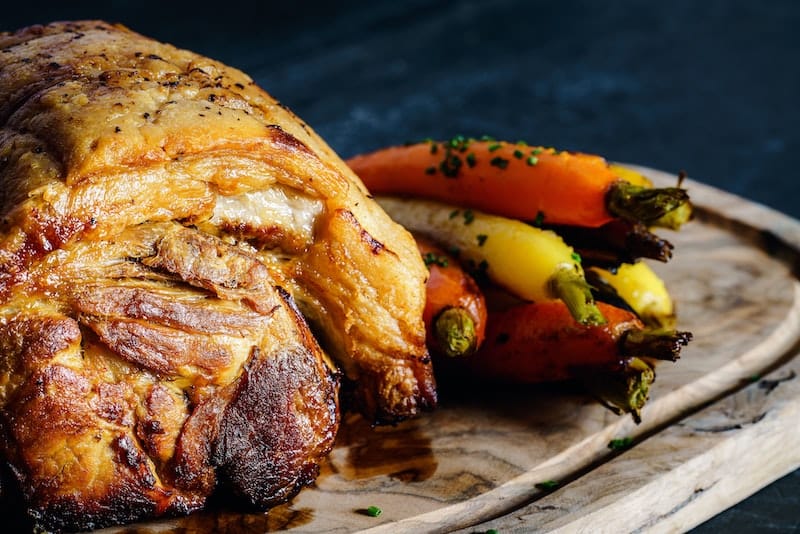 Also, gravy. This needs to be thick enough to feel and taste, but not too thick to overpower.
As you can tell, cooking a good roast dinner is a mastery in timings to have it all ready at the same time.
Woah, I almost forgot the stuffing!
Good stuffing is an absolute essential when it comes to a Sunday Roast, drowned in gravy it's pretty much my most favorite thing.
Trifle
And for another delicious English dessert, how about a trifle?
This is my dad's favorite – honestly, you should see his eyes light up if ever he sees one.
They are pretty good, I see what he's saying.
A classic English trifle is made up of fruit, sugar, Madeira cake, ladyfinger biscuits, cream, and custard. And you definitely need to add a few nuts and flake a flake chocolate bar on top too.
A trifle needs to be served in a glass bowl, so you can see the layers. The first bite is in the presentation after all!
Chicken Tikka Masala
The Chicken Tikka Masala has become the national dish of England. The rumor of the origin of it becoming so popular in England is that British Pakistani chef, Ali Ahmed Aslam, proprietor of the Shish Mahal restaurant in the west end of Glasgow, invented chicken tikka masala by improvising a sauce made from yogurt, cream, and spices.
Apparently Chicken Tikka Masala isn't actually even a thing in Pakistan, but England has adopted the delicious flavors to become one of the most popular English foods on the menu.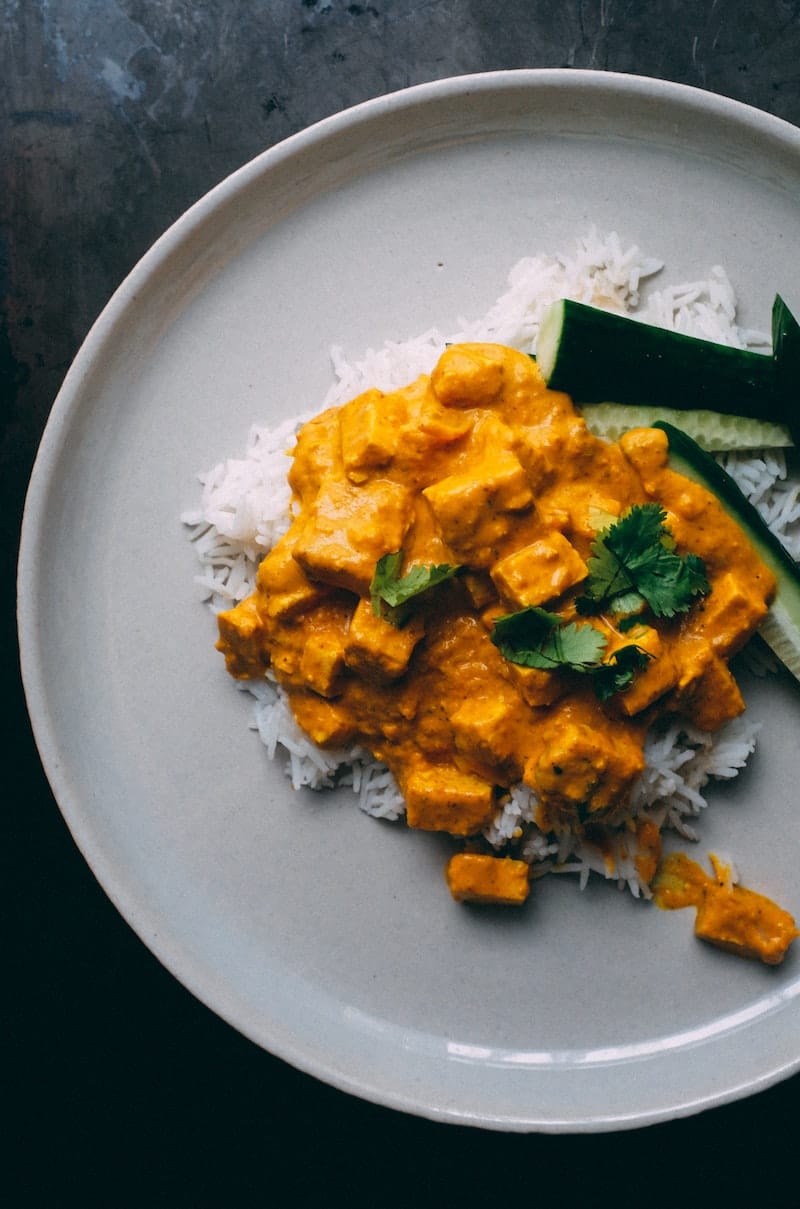 Eton Mess
Eton Mess is an absolute classic English dessert. Tasty and good looking, it's an essential in summer in England. Eton Mess is made from tasty pavlova – but you need to actually make it, not buy it – and cream and fruit all mashed together. Serve with another strawberry or raspberry on top for flair.
Eton Mess was first served at cricket matches at Eton College back in the turn of the century. It's actually very cheap to make, apart from the fruit on top that is.
It's traditionally served with strawberries, but you can also make it with lemon, raspberries, ginger, pineapple or whatever your heart desires to keep things exciting. Fresh, tart, and tasty, I haven't met anyone in England who doesn't like an Eton Mess. In fact, it's my all-time favorite dessert – and I've tried a lot of desserts!
Sausage rolls
Sausage rolls are a big deal in England. In fact, we have a pastry shop here called Greggs and they sell 1.5 million sausage rolls every week. I am partial to a Greggs sausage roll, but they're not the best quality out there.
Any self-respecting deli in England will serve their own version of a sausage roll, made from home mixed sausage meat, their own blend of herbs and spices, and some tasty pastry. Serve with a bit of chutney, or mustard, to really bring out the flavors.
English Food
See, lots of traditional English food to try on your trip over here. As well as the delicious offerings above, we also have a lot of modern fusion cuisine over here. There's a restaurant for every taste, and most are willing to adapt to modern diets.
You can ask for vegan, gluten-free, and dairy-free and you won't be met with blank stares. In England you can buy a freshly made sandwich on every high street, ice cream parlors are popular, and we love a street food stall in all the cities and towns.
Come to England and you can enjoy a whole host of traditional and modern cuisine. You definitely won't go hungry!
By Victoria Philpott, from DayOutinEngland.com. The essential resource for guides and itineraries to England's best days out. Searchable by interests, counties, cities, and areas – they're definitely not just for the kids!
PIN IT FOR LATER!