There are eighteen islands in the Faroe Islands and they all contain jaw-dropping scenery. Before you visit the Faroe Islands, you should definitely do your research so you can see as many of the gorgeous spots as possible.
This is a travel guide to the best views and places for Faroe Islands photography.
Planning your trip to the Faroe Islands last minute?
Below are some of the top tours, hotels, and transportation options in the Faroe Islands to help you plan your trip!
🚗 Getting around the Faroe Islands (+ airport transfer!):
Cheapest car rental options (you must book ahead!)
Vagar airport to Torshavn (a hassle-free transfer service)
🇫🇴 Top Experiences and Tours in the Faroes:
🛌 Top Lodging and Hotels in the Faroes:
Hotel Hafnia (Torshavn)
Hotel Føroyar (Torshavn)
Panorama Boathouse (Klaksvik – perfect for visiting Kalsoy)
Faroe Islands Photography Guide: The Best Spots on Each Island
When you visit the Faroe Islands, you will almost immediately be stopped in your tracks by how raw and dramatic the landscapes are. The sea stacks, rock formations, and views are actually mind-boggling because they genuinely don't look real most of the time.
I have had the chance to visit the Faroe Islands twice and during two different seasons and I have seen quite a bit of scenery there (although still have only been to nine of the eighteen islands!)
This post is a guide to my favorite photography spots in the Faroe Islands. I hope this helps someone plan their trip before traveling to the Faroe Islands and I will be adding to it after my next trip there once I set foot on some new islands!
All photos below were taken in March 2017 and August 2018 (hence the very different colors!)
Disclaimer: I have not been to Mykines and even though I know it is worthy of being on this list, I am leaving it off as I am at odds with people going in masses to the island to photograph the puffins.
I think there are spots in the Faroes where you don't need to trek across puffin habitats to photograph beautiful scenery. And Mykines is not the only place to see puffins when you visit the Faroe Islands; the birds live on other islands too.
Vágar
When I asked a Faroese person on Suduroy which island was their favorite aside from their own, they blurted out 'Vágar' without any hesitation.
It was hard to even question why they loved Vágar so much because after being on the island several times (it is where the main airport is) and seeing the scenery there, it is a completely justified opinion. The island is a photographer's dream.
There are waterfalls flowing into the ocean, obscure and otherworldly sea stacks, and a lake that provides an optical illusion so well-known that it is constantly luring people to the Faroes just for that view alone.
These are some of the best views on Vágar that you'll want to check out when you visit the Faroe Islands.
Tindhólmur and Drangarnir
This was the first sight I saw in the Faroes on my first trip. Why? Well, you fly over and beside it when you're flying into the Faroes from Copenhagen.
Pending the fog allows you to see it, it will powerfully welcome you to the Faroe Islands and you'll be struggling to lift your jaw up off the ground for the rest of your trip.
Tindhólmur is an uninhabited islet on Vágar that can be found on the southern side of Sørvágsfjørður.
You can see it from above as I did at first, but you can also catch glimpses of it when on land, particularly from the village of Bøur which sits across the fjord. Tindhólmur has five noticeable peaks: Ytsti, Arni, Lítli, Breiði, and Bogdi.
Drangarnir is a pair of sea stacks that are situated right beside Tindhólmur and they are often seen in photos with the aforementioned islet.
They are individually called Stóri Drangur (large cliff) and Lítli Drangur (small cliff). They were regularly visible during my first trip in March 2017 but seemed to be swallowed in fog during my entire August 2018 trip.
If you're looking to stay in a place that gives you a view of Tindholmur and Drangarnir, click on my Faroe Islands hotel guide and book the amazing place in Bøur.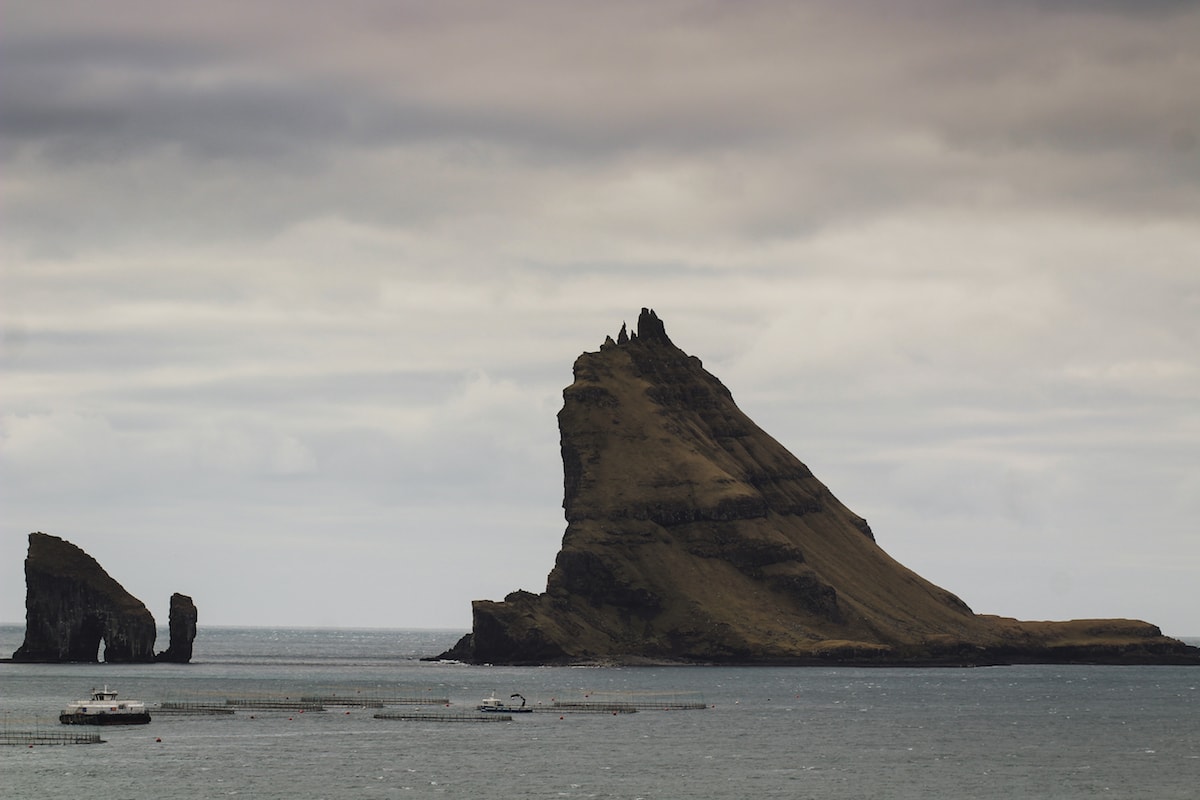 Gásadalur and Múlafossur Waterfall
The waterfall at Gásadalur is undoubtedly one of the most famous sights in the Faroe Islands. Known for being temperamental and (sometimes) flowing directly into the ocean (and sometimes blows in random directions), this waterfall sits on the edge of Mykinesfjørður and offers a complete view of Mykines across the water.
Once one of the most remote villages in the Faroe Islands, a tunnel was built through a mountain in just 2004 which finally allowed the residents (which there are less than 20 of) of Gásadalur to connect with the rest of the island by car.
And this also allowed tourists to feast their eyes on one of the best sights a person can witness when they visit the Faroe Islands.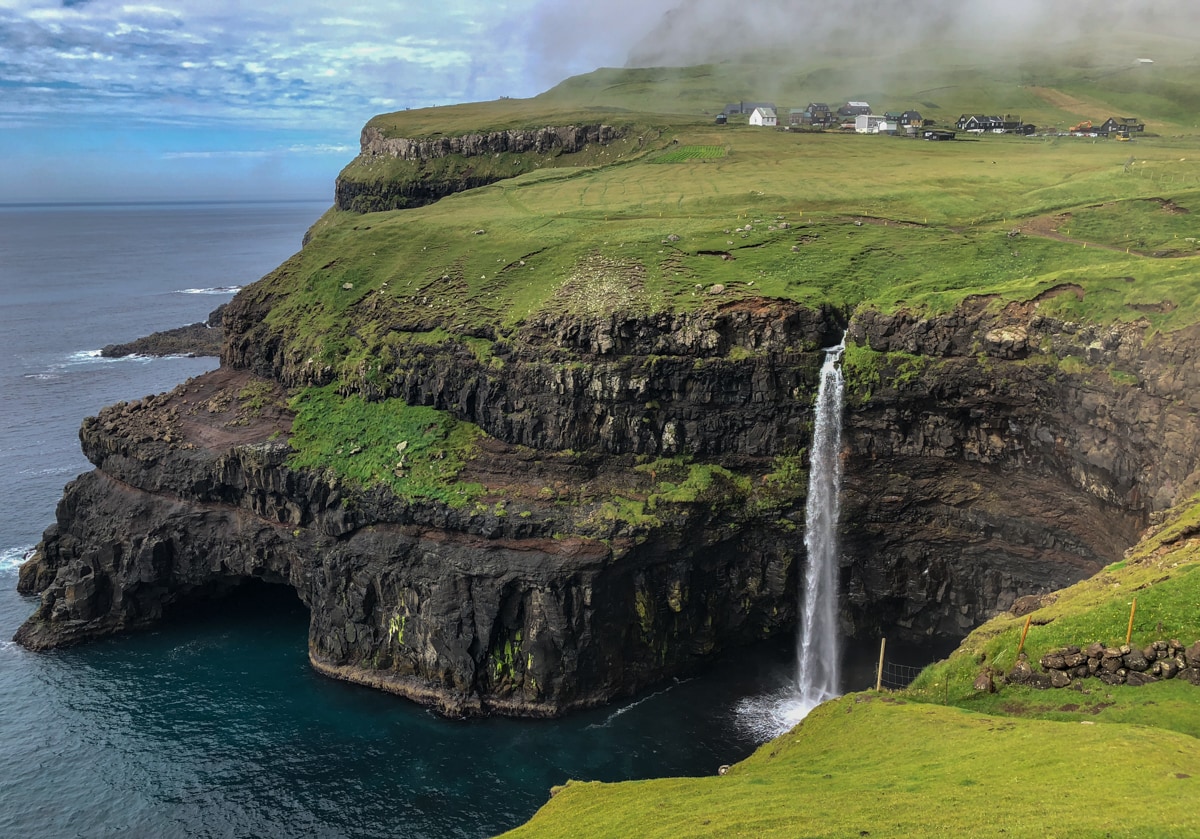 Sørvágsvatn / Leitisvatn (Trælanípa Cliff)
Sørvágsvatn, or Leitisvatn, is one of those sights that we have all seen but not everyone knows the location. It's on Vágar in the Faroes, of course.
And naturally, it is a can't miss when you visit the Faroe Islands. The view is kind of like an optical illusion where you can see both the ocean and Lake (Sørvágsvatn) at the same time from a cliff called Trælanípa.
Everyone basically gets the same photo from here. But I like to be different, which is my way of admitting that I'm too scared of heights to get too close to the edge to score that photo.
But really, there isn't a bad view. Unless you have fog like I did the last time I was there a couple of weeks ago and can't see anything.
The best thing about this area is that the hike is easy and well-marked and you can even hike beyond Trælanípa over to Bøsdalafossur, a waterfall that flows from the lake into the sea.
There are stunning cliffs around this area and it is essential to try to make it over there. Unless, of course, there is fog and you can't (annoyingly raises hand).
Sørvágsvatn is the largest lake in the Faroe Islands and it sits close to the airport so you can also watch planes take off.
When you're hiking back to your car, also be on the lookout for Trøllkonufingur, a sea stack known as a witch's finger. Could the Faroe Islands seriously get any prettier?!
FYI: As of April 5, 2019, the hike to this spot and this lake is now requiring a fee of about $67. Click here to read more about it.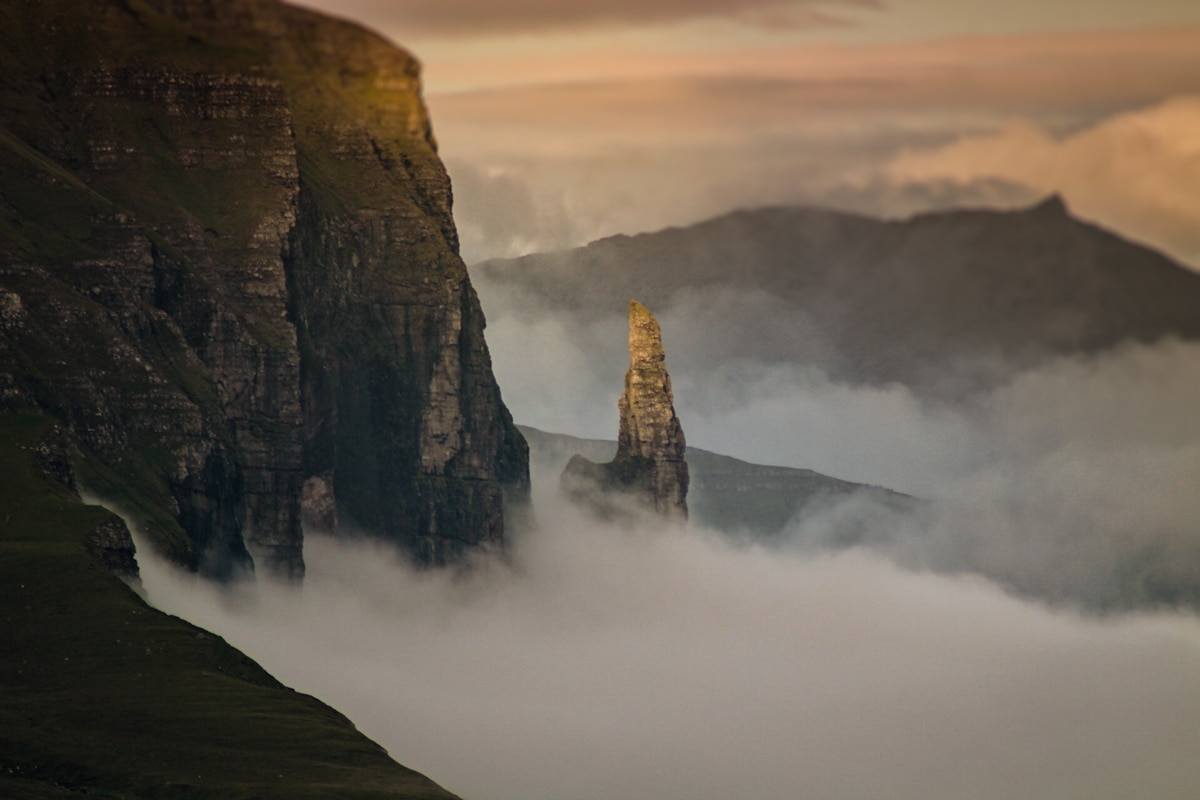 Streymoy
Streymoy is the main island in the Faroes and home to the capital city of Tórshavn. One would think that a capital city and main island would be overshadowed by the nature on other islands, but that isn't the case at all in the Faroes.
Streymoy is truly one of the most beautiful islands in the North Atlantic and it offers a variety of landscapes and scenery to keep all photographers delighted and ready for a day out shooting.
These are a couple of places on Streymoy to check out when you visit the Faroe Islands.
Tjørnuvík
Everyone has their favorite village in the Faroes and mine is, without a doubt, Tjørnuvík. The small village of Tjørnuvík sits on the top of Streymoy and looks out to Eiði on Eysturoy across the water.
The reason I loved this village so much is that it has a black sand beach that produces glassy and perfect sets of waves that are perfect for… surfing!
Most people don't visit the Faroe Islands to go surfing, but the fact that you can do it easily here in this location is pretty cool if you ask me.
Tjørnuvík also offers a stellar view of Risin and Kellingin, two majestic sea stacks across the way on Eysturoy. So, perhaps one of the best things about the village isn't actually the village itself, but the views elsewhere.
Either way, Tjørnuvík is a photographer's paradise and a spot that nature lovers need to check out when they are in the Faroe Islands.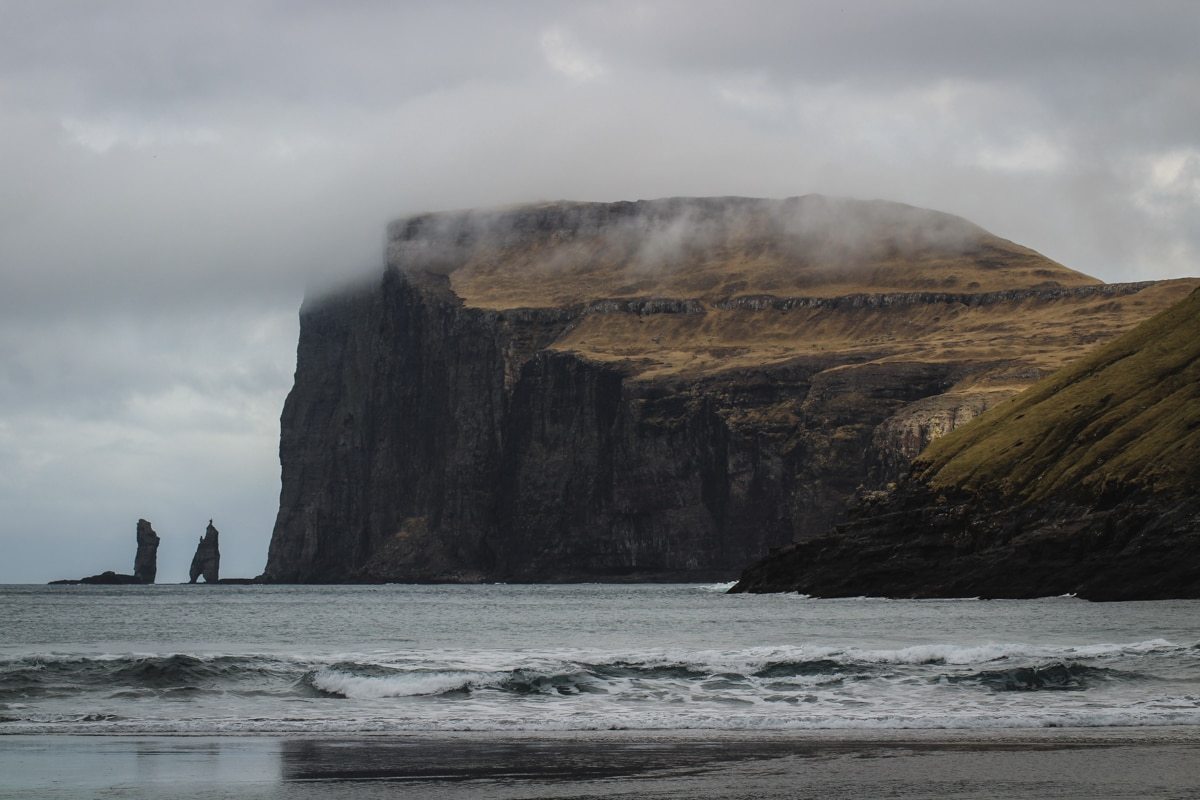 Saksun
Before I even write anything, I'd like to say that if you're heading to the Faroe Islands because your brain had a creative renaissance and you decided to recreate photos you saw on Instagram of the Faroe Islands, consider hard your impact on sustainability of a place and ensure you leave the place better than you found it.
The reason I mention this is because Saksun is a popular area and the Instagrammers love it. So much that they are peeking in locals' windows and posing for their Insta-shoots on people's property. Why??!
The area and houses are inexplicably spectacular. But, the whole area is spectacular. And you don't have to march on someone's property to score that photo.
Respect the people that live in Saksun and take your photos from afar and enjoy the landscapes surrounding it. There is a waterfall in Saksun that you can hike up to.
There are so many views on the drive to Saksun that are gorgeous too. Nevertheless, Saksun is a great place to add to your list for when you visit the Faroe Islands. Just go there respectfully (which travelers should be doing no matter where they are going).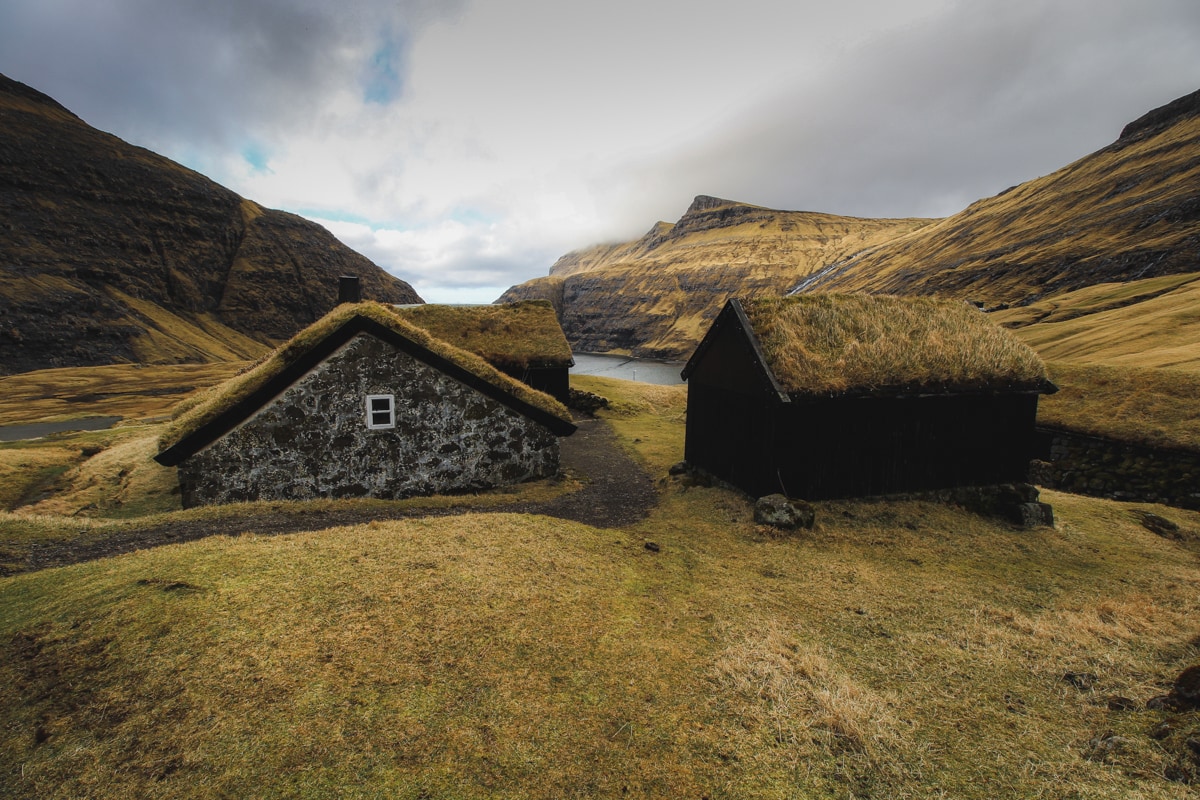 Tórshavn
Believe it or not, Tórshavn is highly underrated. And the people that do visit the capital city of the Faroe Islands typically just pass through or base themselves there without giving the city much of a visit.
I find Tórshavn extremely pleasant, filled with friendly locals (but that is anywhere in the Faroes, really), and lively for only being home to around 13,000 residents.
The city feels much larger than that after you have driven to other places in the Faroe Islands where the population is fewer than in your immediate family.
So what does this have to do with views and photography? Just look at this place! It's extraordinary and easily one of the most colorful places to photograph in the Faroe Islands.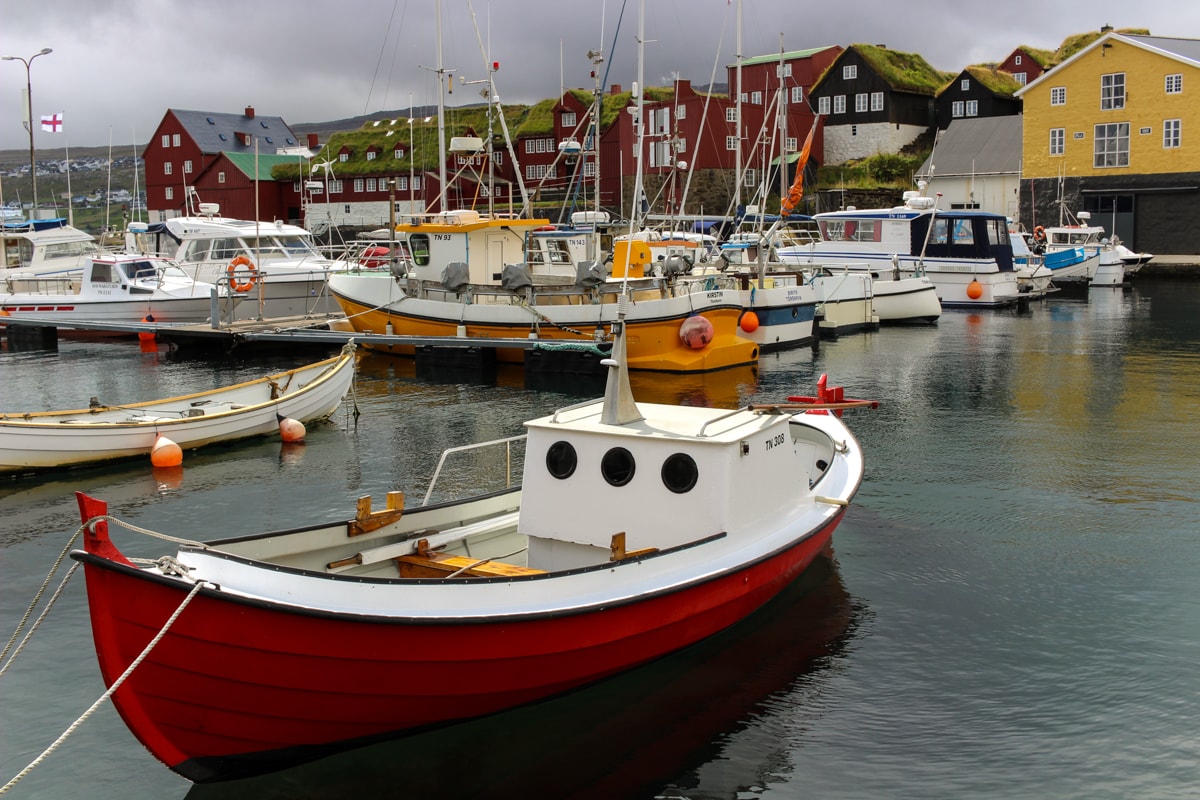 Kirkjubøur
History is not really my cup of tea in most respects, but I love learning about Faroese history and Kirkjubøur is the perfect place to get a lesson in local history.
The village, located at the end of the road on Streymoy, boasts a history museum, ruins, and views worth bragging about. I have been to Kirkjubøur twice and, while I'm no expert, I find the sheep there to be some of the most curious and friendliest in the Faroe Islands.
Making friends with sheep living in a place with a pretty view is just another reason you need to visit the Faroe Islands.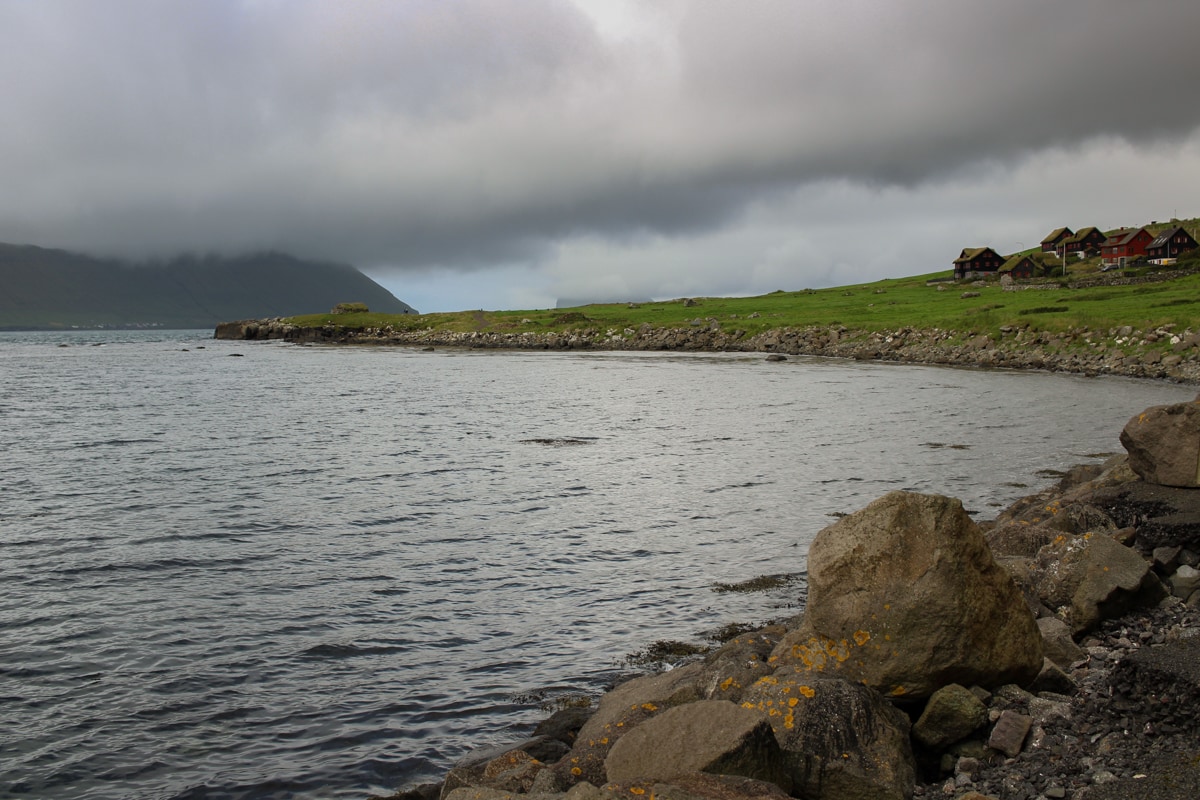 Vestmanna
The famous bird cliffs at Vestmanna were kind of the place that got away on my first trip to the Faroe Islands. So, when my friend, Allison, and I visited the Faroes recently, we put a boat tour of Vestmanna high on our list and were determined to do it. And we did.
And, like anywhere in the Faroes, it was incredible and breathtaking. We weren't sure we would be able to do it as the fog was heavy that day, but by the time we arrived in Vestmanna, everything had settled a bit so that we could go on our pre-arranged boat tour.
The Vestmannabjørgini, or Vestmanna bird cliffs, are home to puffins, razorbills, guillemots, and fulmars during the warmer months. I saw two puffins while there and my eyesight is horrendous, meaning there were probably several that I didn't catch.
Some of the cliffs are as high as 700 meters and the boat tour will weave you in and our of grottos along the coast. If the day has moody weather, you may want to bring seasickness tablets.
This natural and rugged paradise is a must for photographers who visit the Faroe Islands.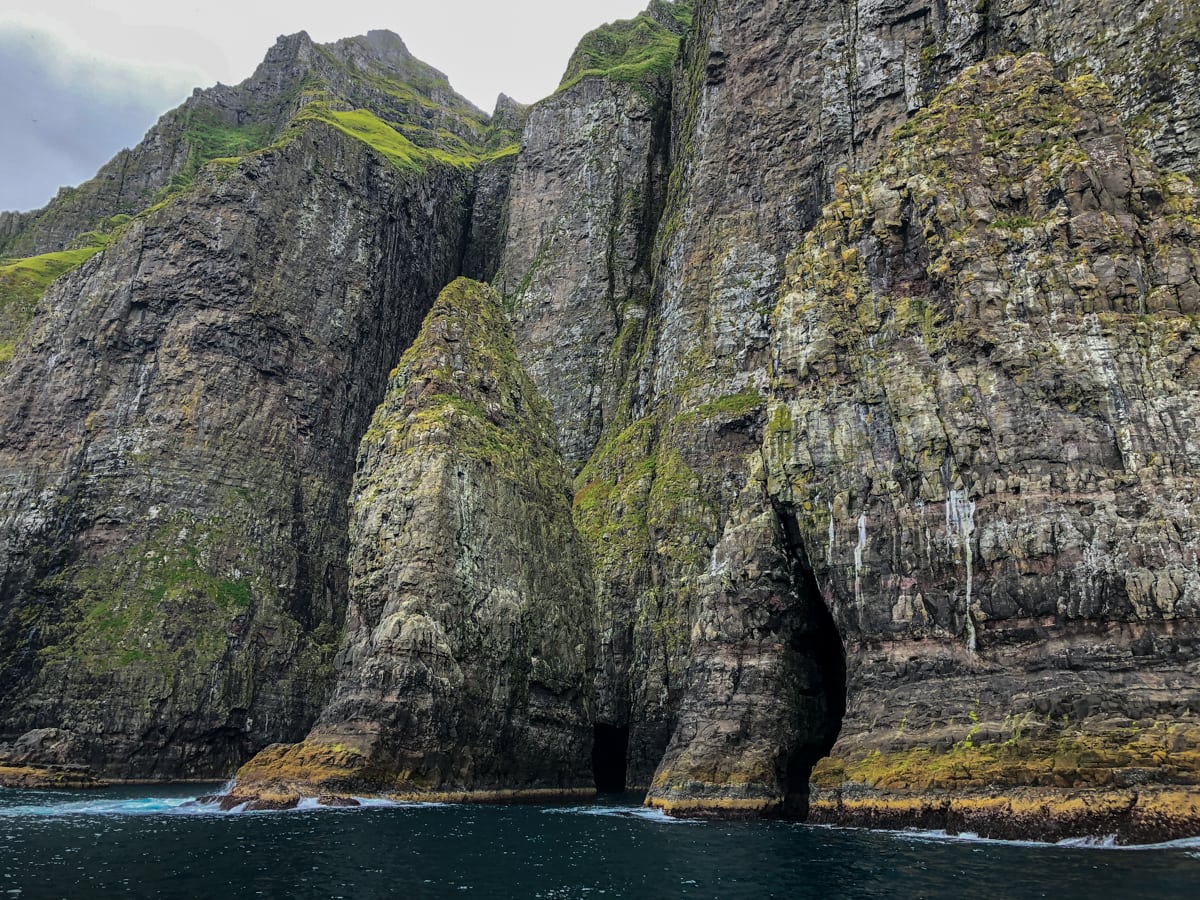 Sandoy
I found Sandoy the most peaceful of any of the islands I have had the opportunity to visit so far. As the name suggests, there is sand on Sandoy.
The island is calm, pretty windy, and brimming with friendly locals who will be very excited that you picked to visit their home instead of staying on the typical tourist trail. Something about Sandoy reminds me of the Maritimes in Canada (which is a compliment and a half).
While I loved everywhere I visited on Sandoy, one place really stood out because it nearly caused me a heart attack getting to it.
Dalur
The tiny village of Dalur sits at the edge of the world. I'm pretty much not kidding. Getting to Dalur, or 'valley' in Faroese, is no easy task for those afraid of heights.
The road there hugs steep cliffs and the coastline and my knuckles were white the entire drive there. Once we arrived, we found a small village nestled in the valley and some of the most serene scenery I have ever laid eyes on.
The sound of the beach and small gusts of wind were also extremely soothing. Maybe Dalur was just my kind of a place to remove myself from the real world.
Or maybe I loved it so much because a horrible Atlantic storm rolled in a few hours later and this was the last amount of 'sun' I saw in the Faroe Islands. Either way, Dalur is a calming place and a place photographers would love.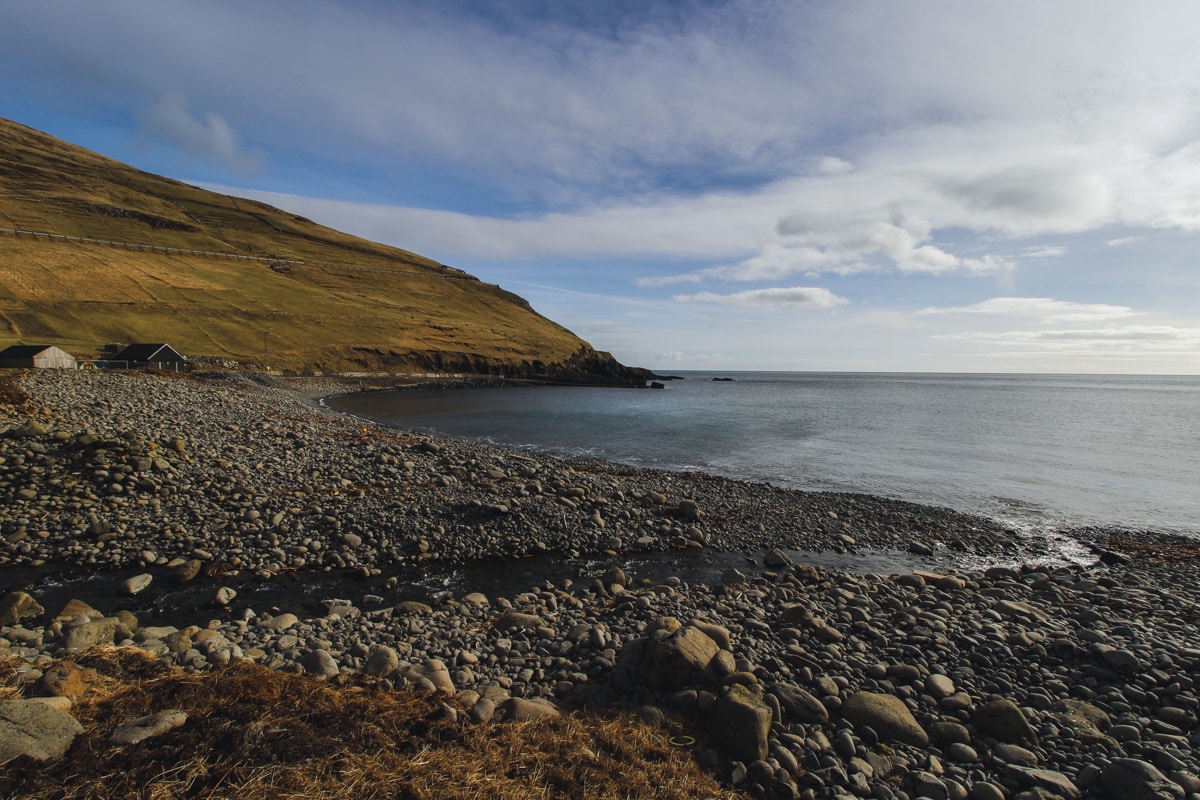 Eysturoy
I must admit that even though I have been to Eysturoy several times during my two trips, it is one place I just haven't explored thoroughly.
I have been across Slættaratindur, the tallest mountain in the Faroe Islands, more than once and I have been to Eiði and Gjógv two times. But, that is really about it. I hope I can add more locations to Eysturoy in the future, but for now, here are my favorite two.
Gjógv
The village of Gjógv is known for its vibrant desirability and the gorge that gave the village its name. Gjógv is home to merely 49 people but I am certainly convinced that those 49 people live in one of the most beautiful villages in the world.
I initially went there in March 2017 and the grass was a burnt orange hue and everything seemed ominous and mysterious.
I went there again recently and everything was green and seemed to have a glow to it. It also helps that we ended up there at dusk and the sky was putting on a show.
I am optimistic that people that visit Gjógv will love it and will want to stay and photograph its magnetic views. You can't visit the Faroe Islands without a quick stop in Gjógv… just trust me on this.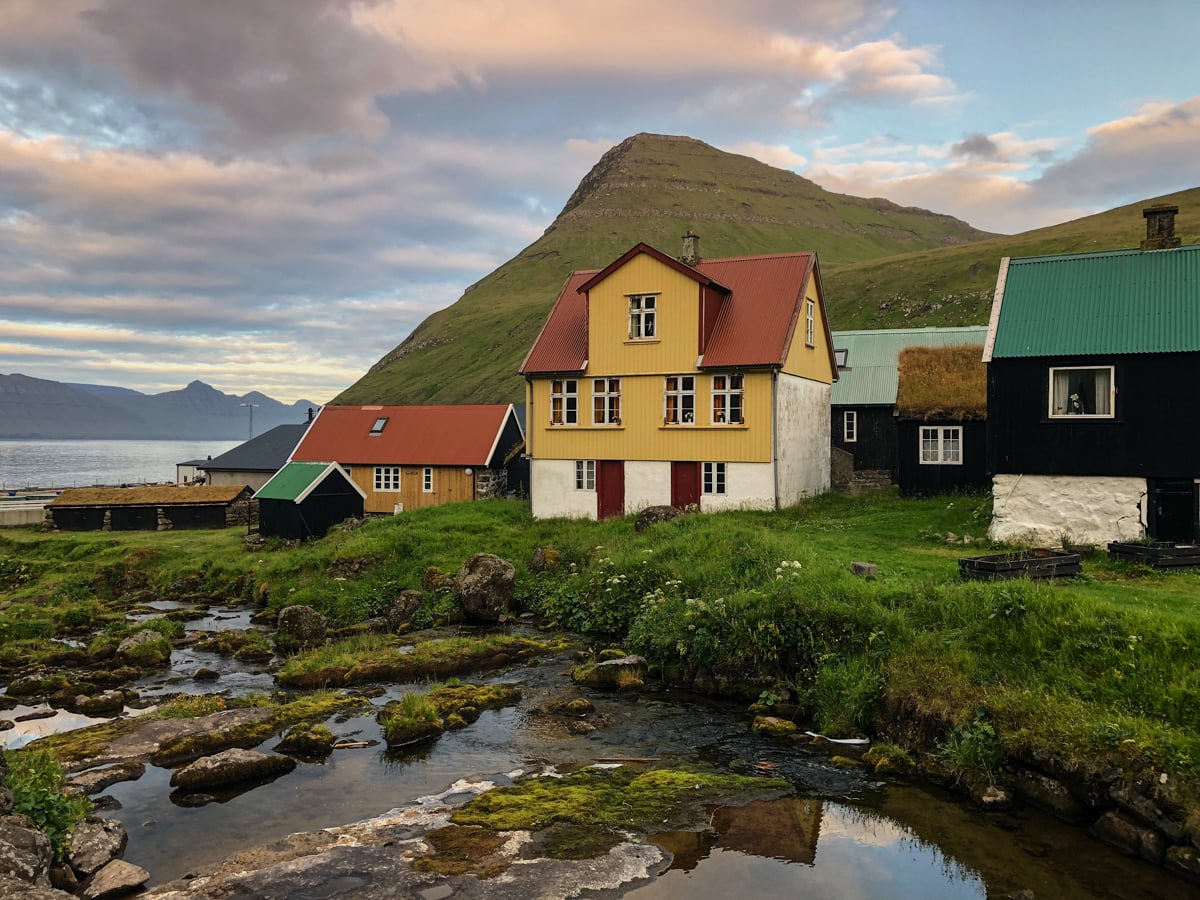 Slættaratindur
Guess which mountain in the Faroe Islands gives you a view of the entire archipelago? Slættaratindur does just this as it is the tallest mountain in the Faroes (at 880 meters) and on a clear day, it'll give you the view of a lifetime.
My first trip across Slættaratindur involved a lot of fog. My second one was clear and left me speechless.
I was with my friend and we were listening to 80s music and stopped to take photos of the sea stacks visible on Streymoy from the top of Slættaratindur.
We hit dusk while driving across the top of it and the colors of the sky were sick and mesmerizing. You can also do a hike up on Slættaratindur if you're into that. But either way, the views and nature offer a lot to those visiting the Faroe Islands.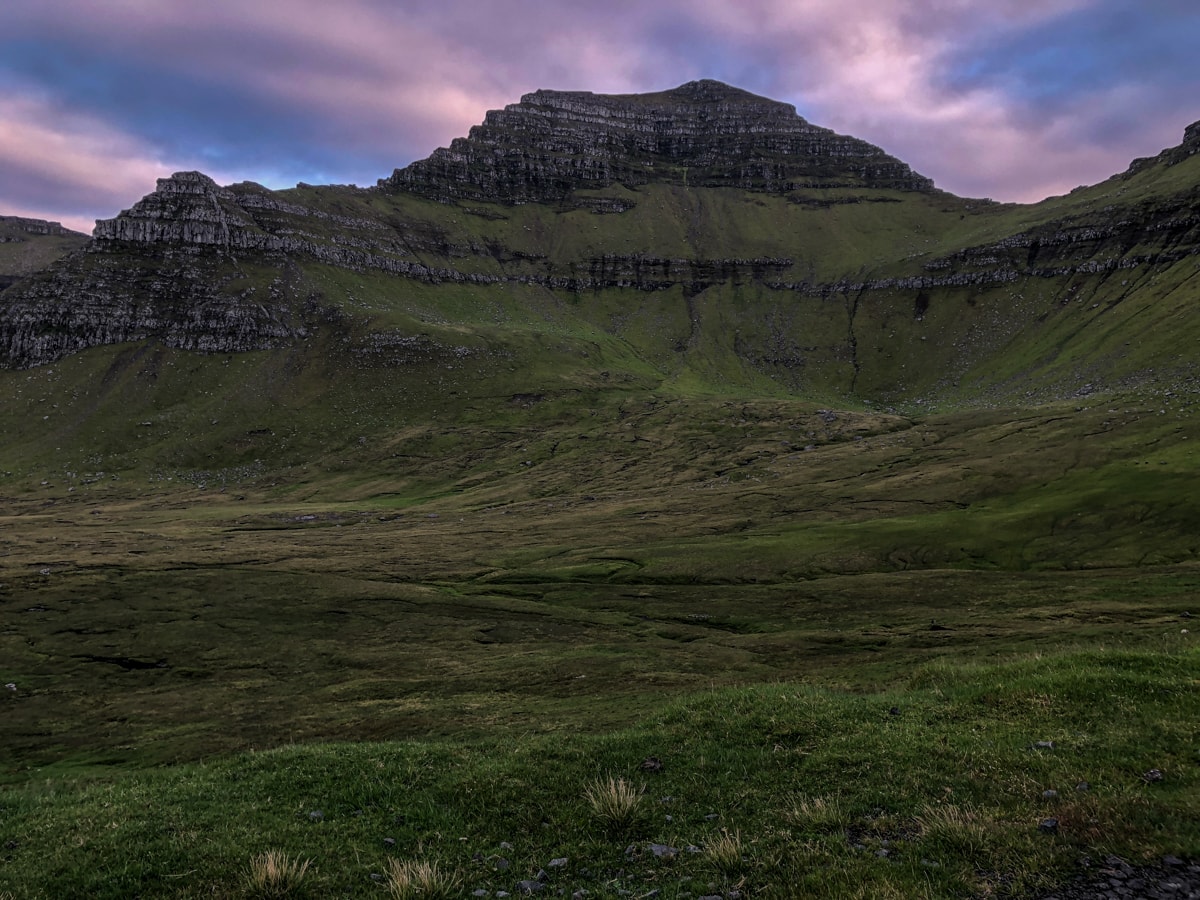 Suduroy
I used to claim Streymoy as my favorite island… and then I went to Suðuroy. I genuinely was blown away by the southernmost island in the Faroes.
So much that I am already secretly plotting a return back there. The island was a mix of charming villages and startling scenery and I just couldn't get enough of it. Allison and I constantly looked at each other and said, "Gosh, I wish we had more time here!"
Everywhere we went was a postcard in its own right and I even flew my drone over Sandvík, the island's northernmost village, to get a different perspective (which did not disappoint).
This Suðuroy list will likely grow to over twenty places after my next trip, but here are four of my favorites for now.
Akraberg Lighthouse
The Akraberg Lighthouse is the southernmost point not only on the island of Suðuroy but in the Faroe Islands. This lighthouse is situated 5 kilometers south of the village of Sumba (which is super picturesque, by the way) and is 14 meters tall.
The Akraberg Lighthouse was built in 1909 and it is owned by Hans Petur Kjærbo and his family.
We drove out to this lighthouse to check it out and so that we could say we had been to the southernmost point of the Faroe Islands.
We had no idea how stunning and photogenic the area would be. If you're heading to Suðuroy when you visit the Faroe Islands, I absolutely suggest making a stop at the Akraberg Lighthouse.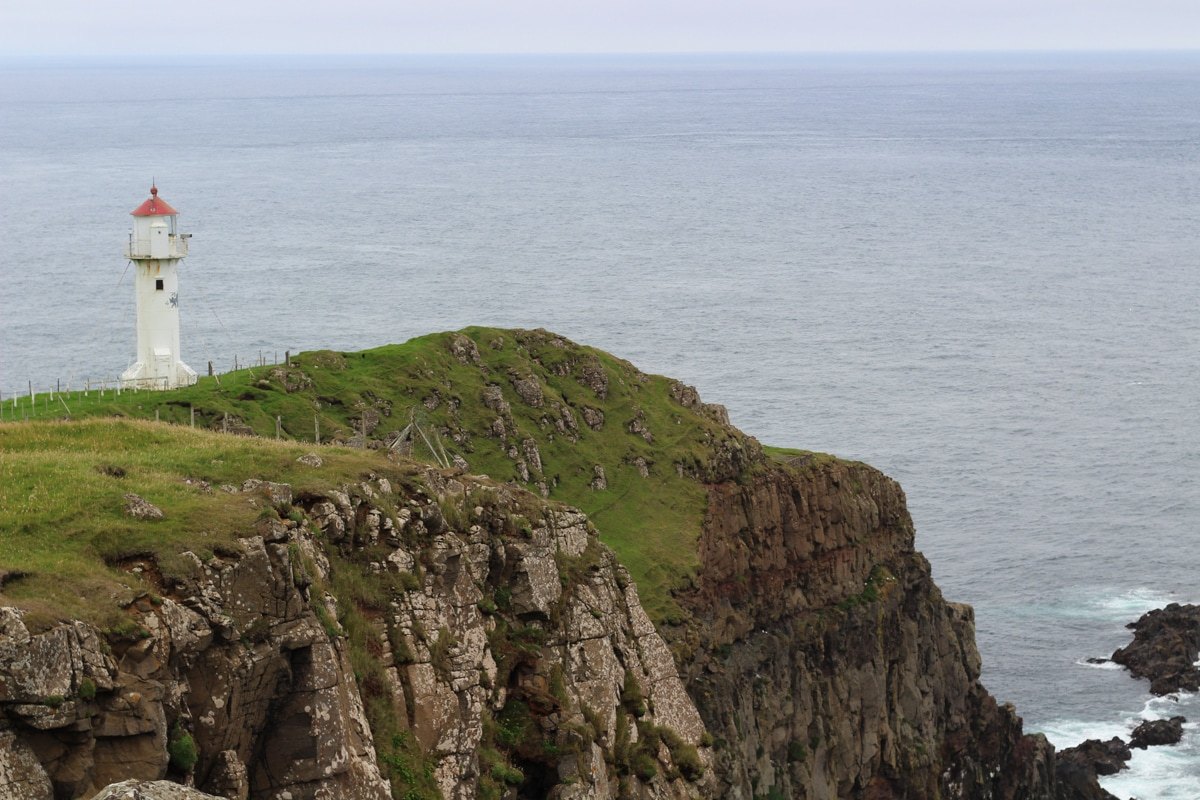 Hvalba and Nes
These two villages sit side by side in the northeastern part of Suðuroy on the Hvalbiarfjørður. Allison and I arrived at Hvalba and wanted to stop briefly before carrying on north to do some hiking, which we never ended up doing.
We found the area especially idyllic and the black sand beach was picture perfect. But I think the most incredible thing about these two villages is the view of Lítla Dímun from both of them. The uninhabited island of Lítla Dímun is undoubtedly one of my favorite views in the Faroe Islands.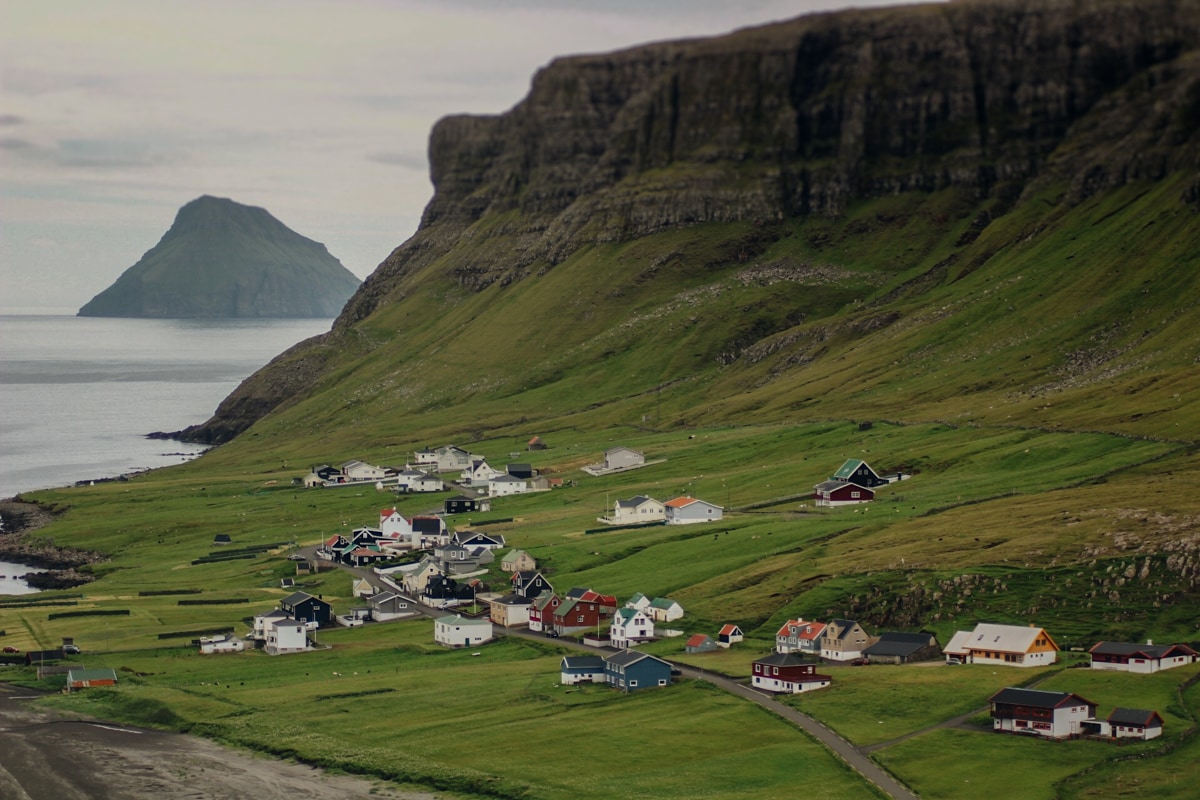 Tvøroyri
If you're coming by ferry from Tórshavn, your first stop on Suðuroy will inevitably be the village of Tvøroyri. Tvøroyri sits on the north side of the Trongisvágsfjørður and it was where I stayed on Suðuroy.
The people were outgoing and the village had a sleepy charm to it. One of the most notable places in the village is the church, which was constructed in Norway and sent to the Faroe Islands in 1907.
But my favorite part of Tvøroyri was the harbor. It is a seriously photogenic place that you should check out if you visit the Faroe Islands and make it down to Suðuroy.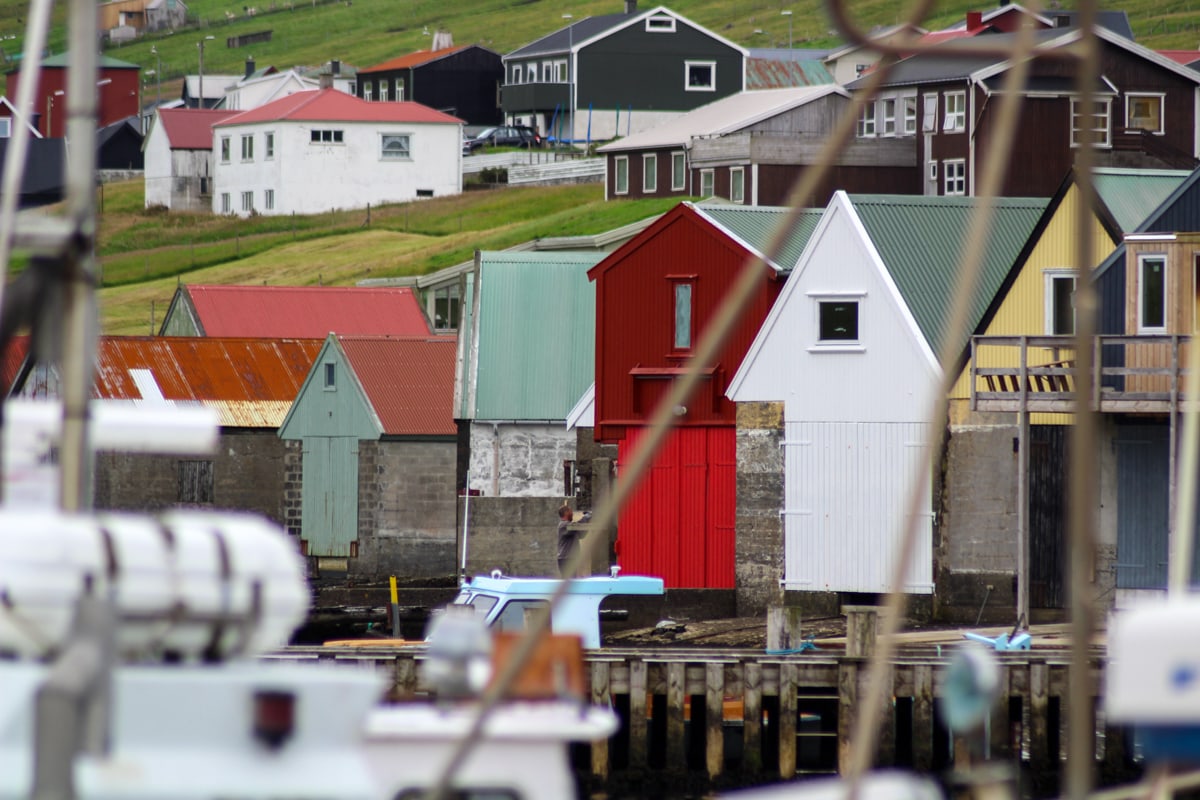 Eggjarnar Cliffs
The Eggjarnar cliffs close to the village of Vágur on Suðuroy and were one of my favorites views on the southernmost island.
We couldn't stay as long as we had hoped because the rain moved on in but the little time we had there was completely delightful and I can see myself visiting again in the future and staying a bit longer.
The Eggjarnar cliffs are not only epic from a scenery perspective, but they also played a key role in the Faroe Islands during WWII for the British. You can read more about that here.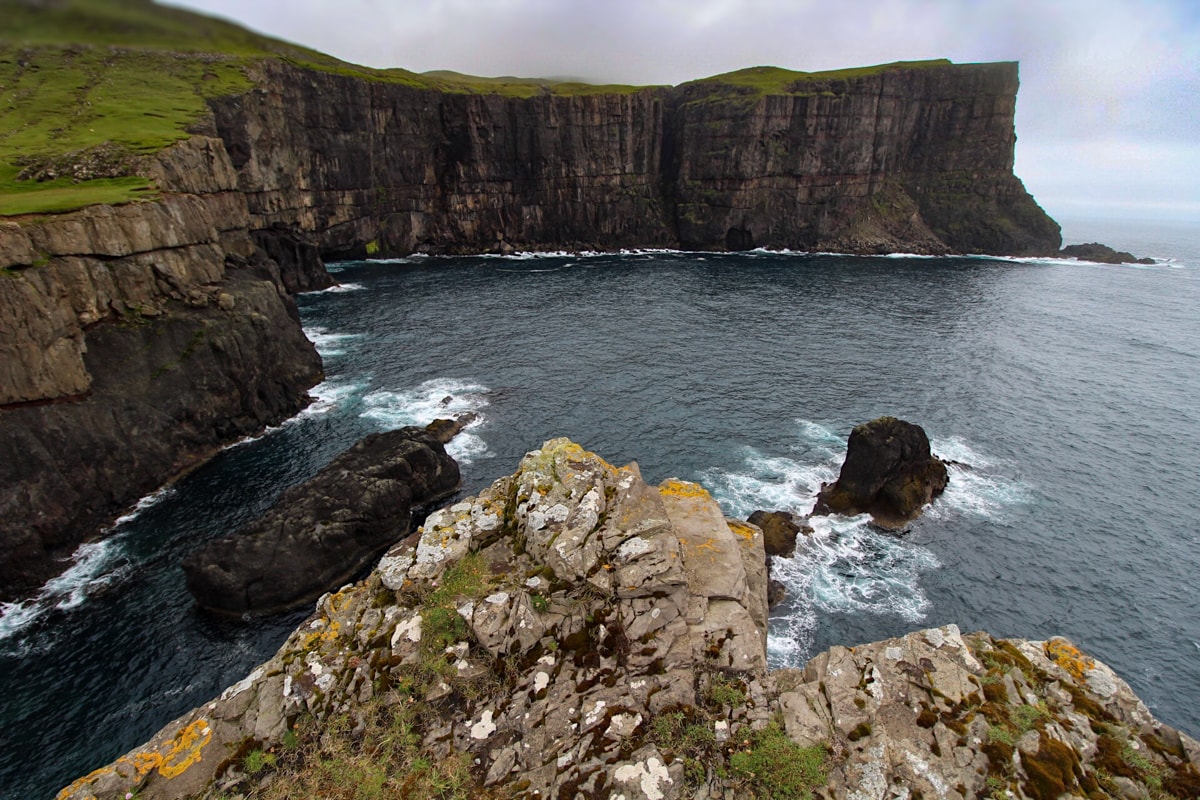 Kalsoy
One of the most recognizable places in the Faroe Islands is the island of Kalsoy. It requires a ferry from Klaksvik to travel there, but once you're there, you will witness scenery so epic that you'll be mindblown.
There aren't too many villages on Kalsoy and most of the nature is inaccessible, but that places on Kalsoy that you can visit will be forever engrained in your mind.
Mikladalur
The village of Mikladalur is the largest on the island of Kalsoy and one that you should definitely add to your list when you visit the Faroe Islands.
It is home to the famed and legendary Selkie statue. Many travelers bypass Mikladalur to head north to the village of Trøllanes for the famous Kallur Lighthouse hike but I definitely say that you should see both.
Once you enter the village, you can walk down toward the water via a staircase and you'll be up close and personal with the statue and you'll find that there are a couple of waterfalls hidden that you can only see from that view. You also have a magnificent view of Kunoy from the area as well.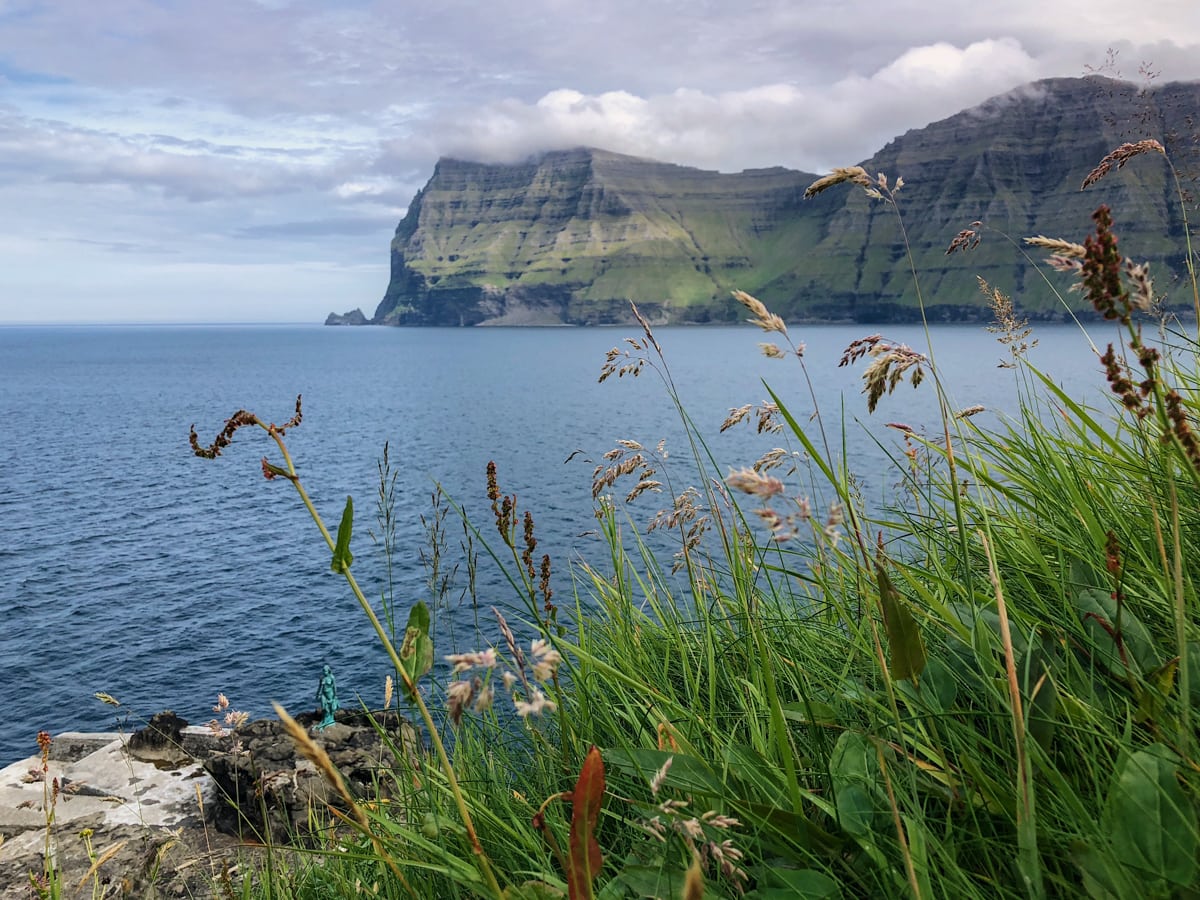 Trøllanes and the Kallur Lighthouse
I have a bad history with Trøllanes and the hike to the Kallur Lighthouse on Kalsoy but I have recently redeemed myself and my memories are now positive ones.
This hike is the easy one that gives an epic view of a lighthouse and a steep cliff that people constantly want to take photos of. I failed the first time I made the hike as it was very muddy and my fear of heights was at its worst that day.
My second attempt went much, much better and I was able to witness the otherworldly beauty with my own eyes. If you visit the Faroe Islands, be sure to add this hike to your list.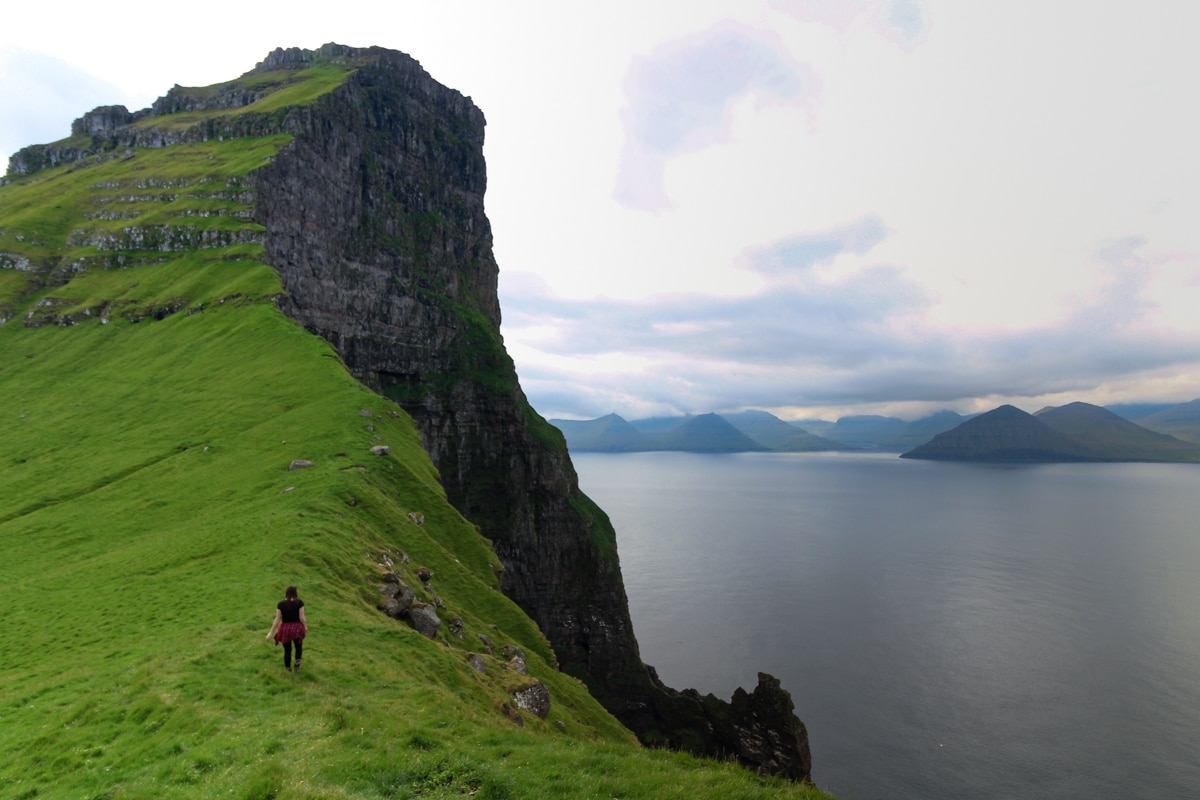 Kunoy
I shamefully have not spent enough time on Kunoy. Granted, there is not too much happening on the island but there are some worthy hikes there and I'd love to do them one of these days.
My most recent trip to the Faroe Islands had Kunoy on the agenda and while our time there was shorted due to an incident we had in Viðareiði on Viðoy, we still made it over there and through the tunnel to one place we had on our agenda, Viðarlundin Park.
Viðarlundin Park
Only 0.06% of the Faroe Islands is forested. One of the most remarkable things about the islands is actually its lack of trees, especially for an American from eastern Virginia where there are far more trees than people and animals combined. But, there is something really special about seeing a tree in the Faroes.
Viðarlundin Park on Kunoy is a man-made forest that makes up part of that small percentage of tree-covered space you might have the chance to see when you visit the Faroe Islands.
We drove out there quickly and against weather signals and walked through it and admired this anomaly that sits on the island of Kunoy, population 69.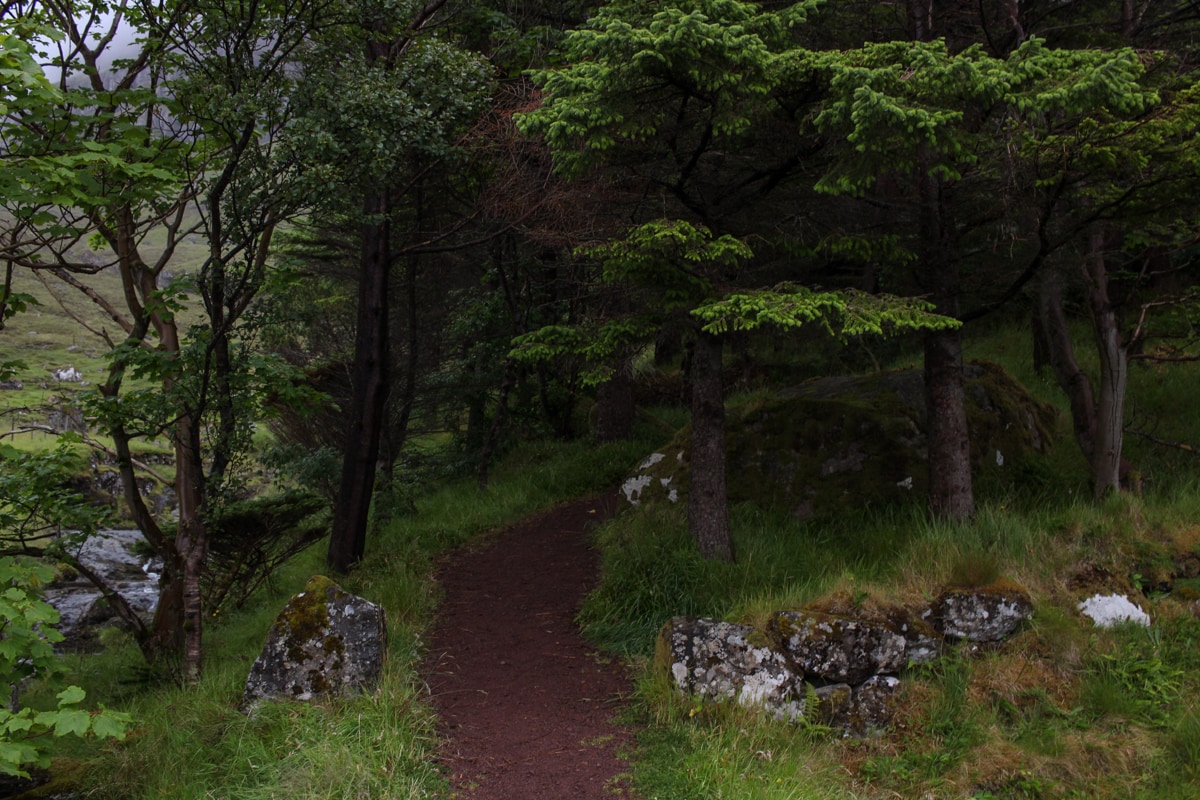 Borðoy
I owe Borðoy big time. I really haven't done the island justice after my car accident in a tunnel in March 2017 while on my way to the abandoned village of Múli in the north of Borðoy.
I never did make it to Múli that time and my time in Klaksvík was merely to catch and return from a ferry to Kalsoy. On my most recent trip, I didn't do it much justice either aside from a crazy trip to the pub and catching a ferry to and from Klaksvík. But, I finally did make it to Múli.
Múli
The story of Múli is no secret to those who have studied up on the Faroe Islands or know a bit about the place.
The village can be traced back to the 14th century but is currently classified as being abandoned. It was the last place in the Faroe Islands to receive electricity and once the road was built out to the village, the residents packed up and left.
Interestingly enough, there are still seasonal dwellers residing there. The population is currently thought to be 4.
Allison and I had canceled our trip to Múli after an incident on another island but we decided to say 'screw it' and head there anyway. The road to Múli is graveled and narrow and hugs cliffs along the coast.
Once we made it there, low-lying clouds and rain settled in and it really added an ominous vibe to the village… a vibe that was definitely to my liking. I will be writing about Múli in the future, so stand by! But for now, add it to your list!
There are some waterfalls on the drive there that make the whole experience worthwhile.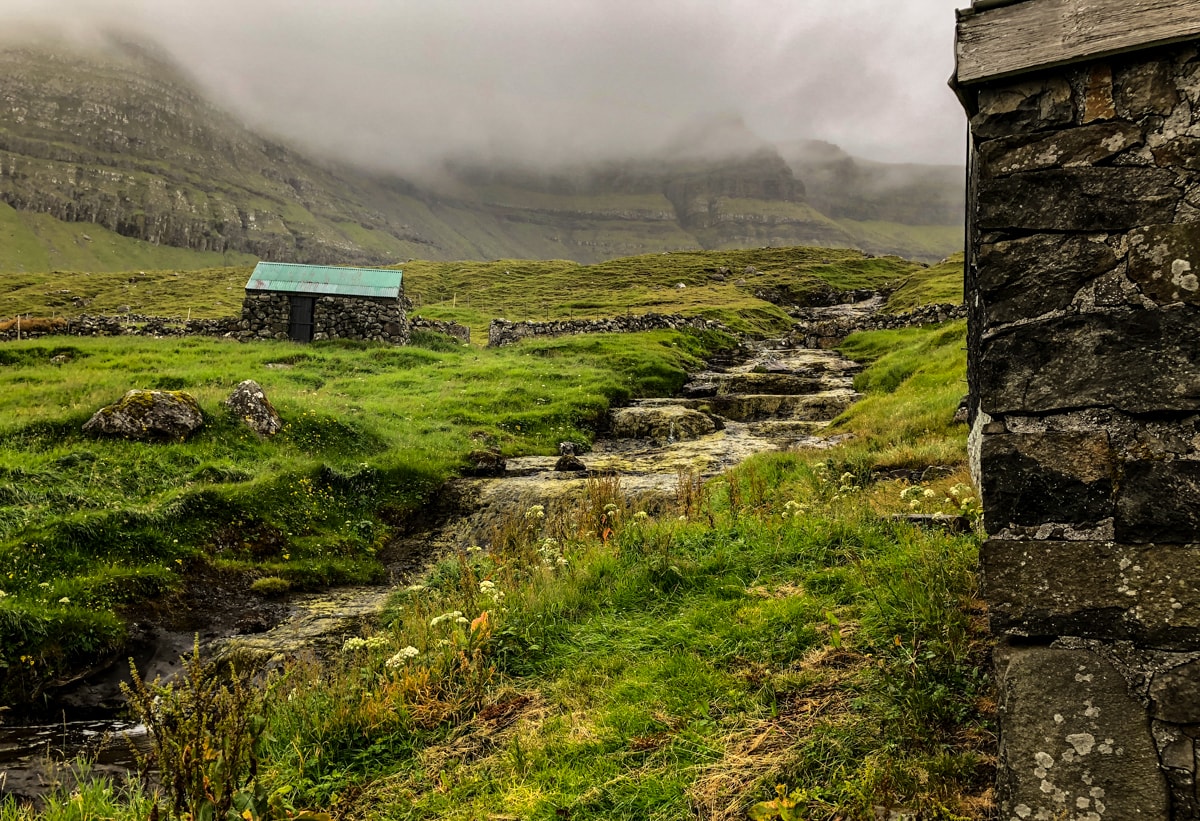 Klaksvík
Something about Klaksvík reminds me of Oregon's coastline in the US. I have no idea why. It doesn't really look like it, but maybe it's the way the houses gracefully stack up on the hills and mountains there against the whimsical harbor.
Either way, I love Klaksvík and really want to spend more time there in the future.
My experience in Klaksvík has been going in and out of its harbor on the way to Kalsoy or at the pub dominating pub quizzes (spoiler alert: we only dominated one round and even that was a second place domination). Nevertheless, if you visit the Faroe Islands, you should give the second most populous city more of a chance than I have.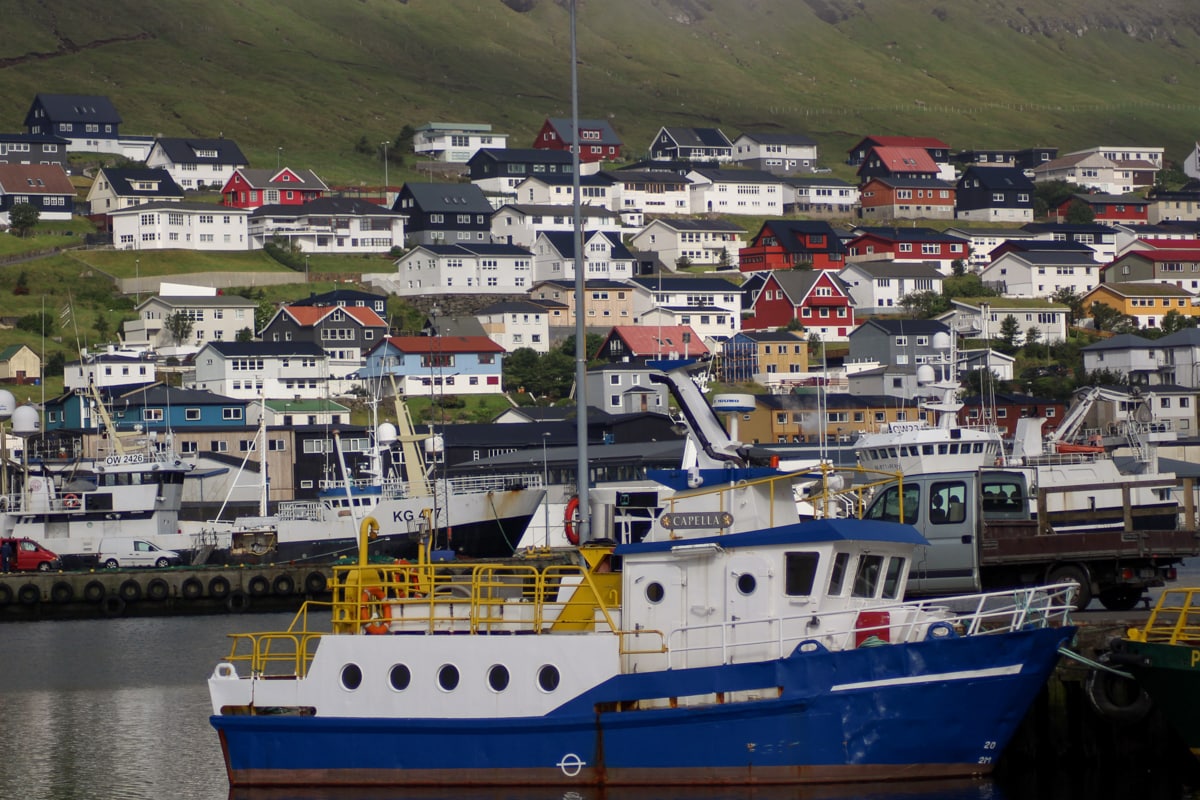 Viðoy
I always wanted to check out Viðoy as it is one of the northern islands that intrigued me the most. Not really sure why or if I mixed up my Faroese knowledge, but it was the least remarkable of all places I have been to because we had a sour time there (not Viðoy's fault, however).
We drove what seemed to be a new road to the village of Viðareiði which is known for having a church nestled along the coast in a picture-worthy location. You can read more below about our experience there:
Viðareiði
The village of Viðareiði sits at the top of Viðoy on the northwest. The land is an isthmus and is known for the Viðareiði church as noted above.
But our time in Viðareiði was marked by tall grass covering secret ditches on the side of the road, if you get my jist.
Fortunately, this incident caused us to interact with some of the locals and I can confirm that the locals in Viðareiði are as awesome as they are everywhere else in the Faroe Islands.
I will return to Viðareiði and do a little hiking in the future as I think the setting for the village is in such a photogenic place!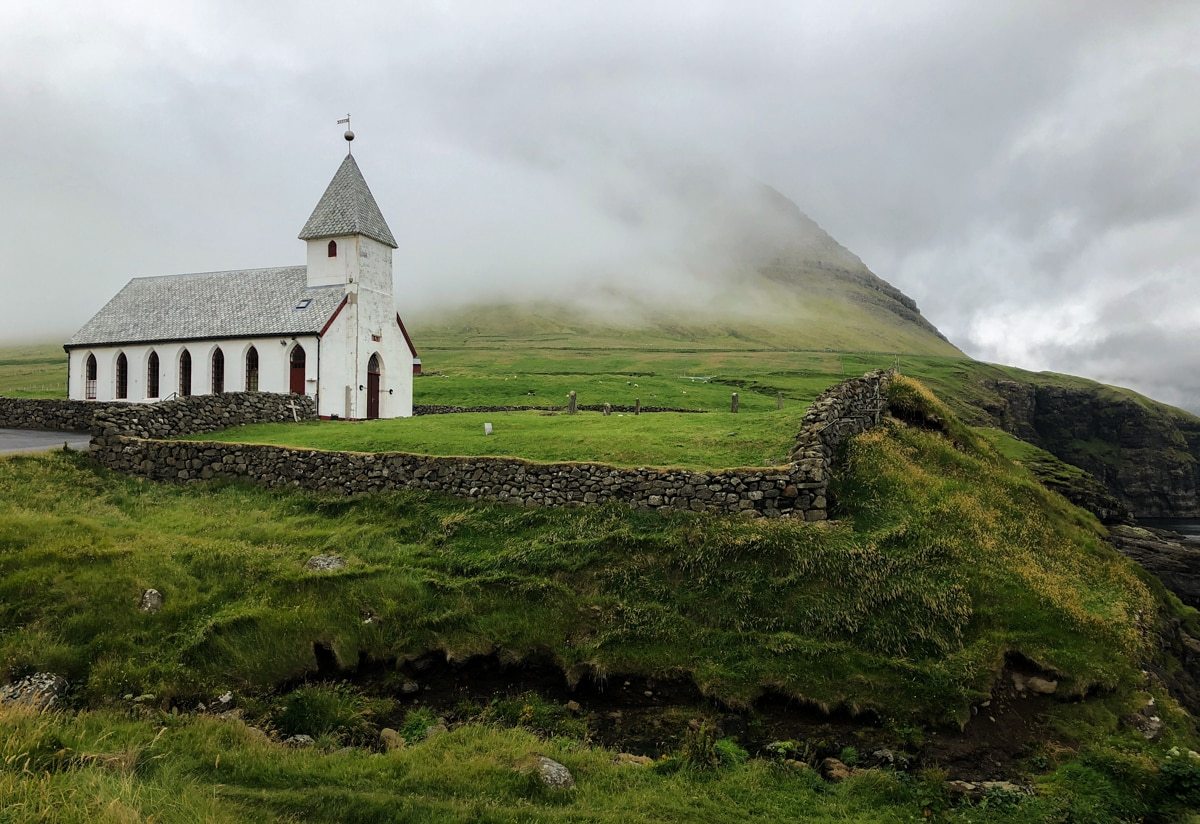 Things to Know Before You Visit the Faroe Islands
There are many things you should know before you travel to the Faroe Islands and I have written an entire post detailing them. But, a couple that I think are extremely relevant to this post are the following:
Study How to Drive in the Faroe Islands
This is kind of an obvious one, but I highly recommend studying the driving rules and regulations in the Faroe Islands.
If you set out to photograph places throughout the islands, it is imperative to safely get to each and every one. I can't say that I excelled at this on either trip.
So, please don't make the mistake I did and underestimate the nature, tunnels, or anything else on the islands.
Always Have a Plan 'B'
Weather won't be your friend. If it is, congratulations- the Faroes Islands loves you. But it probably won't be too nice to you. Just continue to remember that this weather helps keep the Faroe Islands as magical as it is and appreciate it.
If you let the weather put a damper on your plans, you should change your plane ticket to somewhere like the Canary Islands.
The weather woes and change of plans may end up the best option in the end as you never know what you may stumble up when you visit the Faroe Islands.
Faroe Islands Photography Tips
I am considering writing an entire post about this in the near future, but below are some quick tips for photographing. Click here if you're looking for more of what to pack for the Faroe Islands.
Bring a Wide Angle Lens
A wide-angle lens is almost essential for the best photography in the Faroe Islands. The landscape is larger than life and it is really hard to capture how sparsely populated, yet immense, it actually is.
If you're looking to photograph the Kallur Lighthouse on Kalsoy along with the cliff and the water, you're definitely going to need a wide-angle lens. I currently use a Canon 10-18mm. You can check prices and buy the lens here.
Camera Rain Gear
While I just ran back to the car when it rained, it wouldn't have been an option had it actually happened when on a hike (thank goodness it never did during these times!)
I highly advise bringing rain gear for your camera so that you can still take photos along the way. Click to see the camera rain cover that I use.
Bring Your Drone if You Have One
The Faroe Islands is a drone-friendly place right now and for the time being and you can bring it with you as long as you adhere to the rules in place which you can find here.
I have traveled in the past with a DJI Mavic Pro and a DJI Spark and both are suitable, but I would suggest the Mavic Pro over the Spark there just because the winds can be a bit rough at times even when we think they are calm. You can check prices and information about the Mavic Pro here.
Invest in a Dry Bag
If you follow me on Instagram or have followed me for any amount of time on this blog, you'll know that I swear by dry bags from The Friendly Swede.
I actually don't only use my dry bags when I am on vacation or hiking in wet or dirty places, but also when I am just perusing around the city and want to prepare for the worst.
The Friendly Swede is constantly evolving its product line, quality, and branding and I just love them for it. Click here to check out prices for a dry bag.
Bring a Power Strip With You
If there is one thing I never forget to travel with, it is a power strip. I bring a European one with me as most of my electronics have European plugs. But, if you're American, bring one with American outlets and just use a single adapter to charge everything.
This is particularly great in the Faroes as you will spend so much time in your car during the day and will have limited time in the evenings to charge everything.
And, if you're dealing with limited plugs somewhere or traveling with other people, this is a lifesaver. Trust me! I prefer ones with some USB charging options in addition to regular plugs. Click here to see the power strip I recommend.
I will hopefully be adding more and more places to this Faroe Islands photography guide in the future. There are so many remarkable places in the Faroes that I could probably add 100 more to this over time.
But for now, this is a good starting point and I hope you have a chance to visit the Faroe Islands and enjoy and photograph the places yourself! You will not be disappointed!
If there are any places you suggest me to hit up on my next trip, please leave them below in the comments! I'm all ears!
More Faroe Islands Travel Guides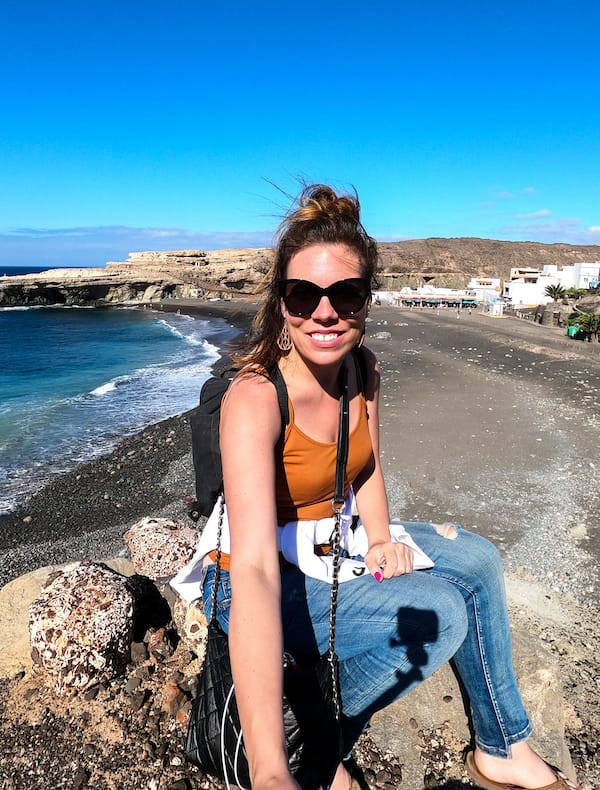 Megan is a travel blogger and writer with a background in digital marketing. Originally from Richmond, VA, she now splits her time between Frankfurt, Germany and Arctic Finland after also living in Norway, Armenia, and Kazakhstan. She has a passion for winter travel, as well as the Nordic countries, but you can also find her eating her way through Italy, perusing perfume stores in Paris, or taking road trips through the USA. Megan has written for or been featured by National Geographic, Forbes, Lonely Planet, the New York Times, and more. She co-authored Fodor's Travel 'Essential Norway' and has visited 45 US states and 100+ countries.