Porto has become a popular travel destination in Europe in the last six or so years. This is a guide to the best things to do in Porto, Portugal… from tasting the city's food to walking the historic streets.
Are you planning your trip to Porto
last minute?
If youʻre booking your trip to Porto last minute, we have you covered. Below are some of the top tours, hotels, and more!
Top Experiences and Tours in Porto:
Top Places to Stay in Porto:
Pestana Palácio do Freixo (luxury)
Linha 22 (mid-range)
CATS Design Hostel Porto (budget)
If you're looking for what to do in Porto, this guide has you covered! Let us know if we miss any of the best Porto attractions!
Best Things to Do in Porto, Portugal
Sometimes when I am looking back and reminiscing about how I ended up in certain destinations around the world, I laugh at my random choices even though they will never be as random as Megan's.
And sometimes you find yourself unexpectedly connecting with a city you didn't even initially intend on visiting and later desiring to return to.
This was my experience when I traveled to Porto, Portugal in the summer of 2018. My trip was booked initially to visit Lyon to see a friend and later, Portugal was added to the itinerary.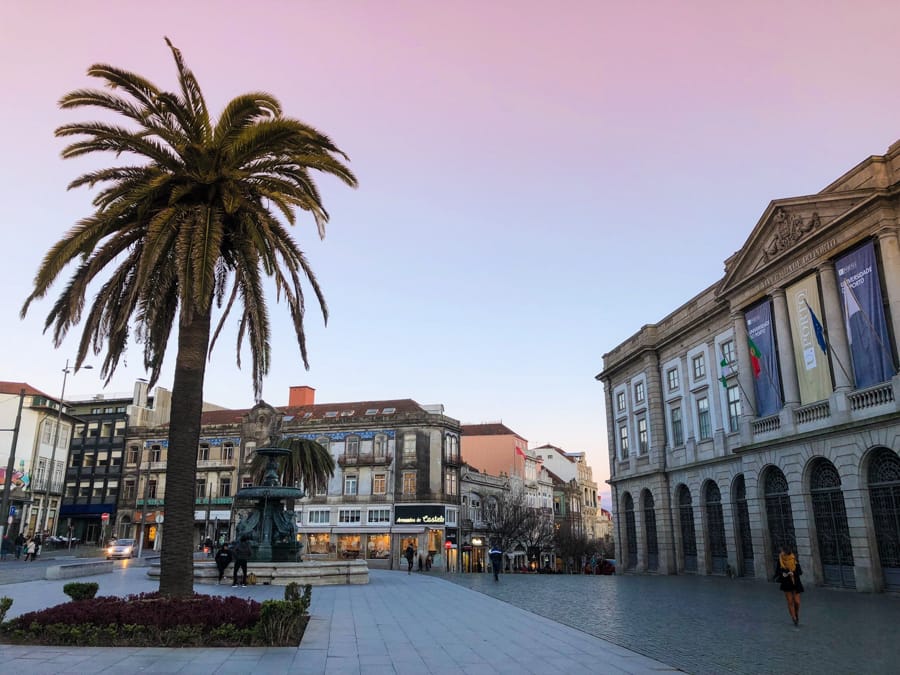 I had very limited knowledge about Portugal, in general, and even less knowledge about Porto aside from knowing about the FC Porto football team and that an old friend lived there even though I had never visited her.
I fell in love with this city instantly when I was on my way from Porto Airport to the city.
Porto is just a beautiful, warm, and historically rich city with traditions dating back to 300 BC and the Celtic-era.
The city has mind-blowing architecture, old districts, green parks, ocean views, delicious food, and friendly locals… all of which capture my heart.
You can spend a weekend in Porto or a lot longer… but one thing is for certain, you will fall in love with it!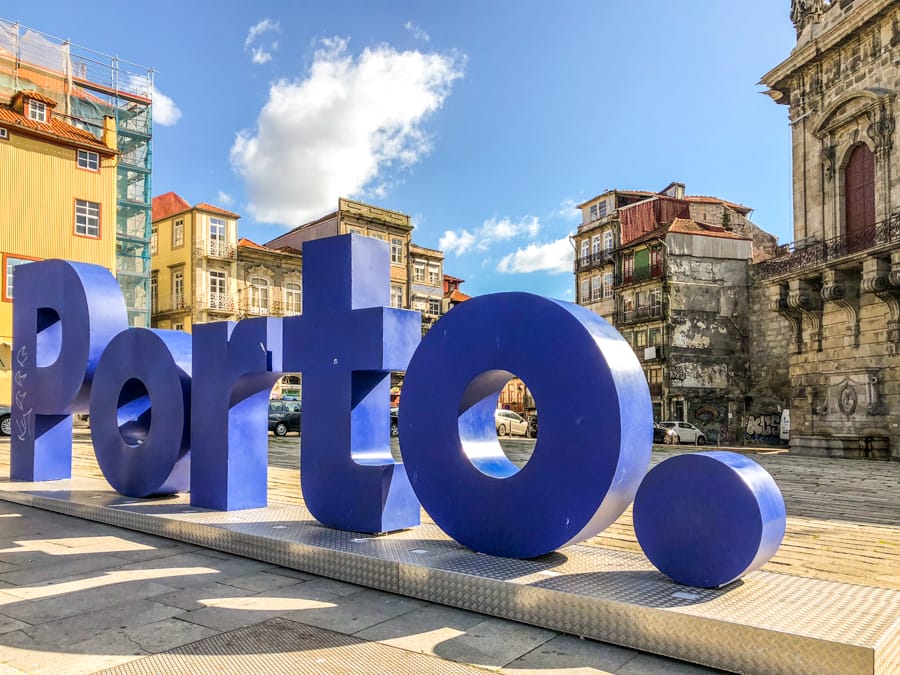 Porto Card
There are many things to see in Porto and the best way to do this, and to save a couple of bucks, is to purchase the Porto Card, a city pass for Porto's best attractions and sights.
The Porto city card gives visitors the chance to visit museums, take public transportation at no cost, get a discount in cafes and Porto restaurants, and take free tours.
For first-timers visiting Porto, this is a great purchase to make you have the best trip possible.
>> Click here to purchase the amazing Porto Card
Renting a Car in Porto, Portugal
Are you keen to rent a car when in Porto? That is truly the best way to get around and you can take many Porto day trips, too.
We not only recommend a car in Porto because of the ease of maneuvering about, but we also recommend it because it will give you air-conditioning in summer when the temperatures are scorching.
Renting a car in Portugal also makes it easy to get from Porto Airport to the city center.
Click here to check rental car rates for Porto
Cultural Things to Do in Porto
See St. Francis Church
One of the top things to do in Porto is to visit St. Francis Church (Igreja de São Francisco). This church is known for its interior which is fully doused in gold and it is located in the center of Porto.
From the outside, you might just think it is another Portuguese church.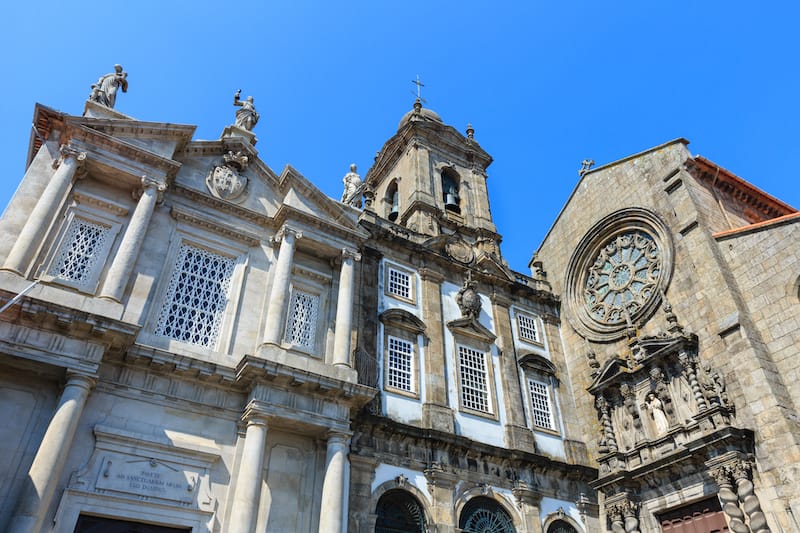 However, this UNESCO World Heritage Site dating back to the 13th century has such an impressive interior that you really need to take the time to step inside of it.
The inside of the church, the walls are covered with 300 kilograms of gold dust.
Climb and See Porto from Above at Clerigos Tower
Seventy-six meters and 200 steps into the sky is the Clerigos Tower, one of the best views over Porto. This iconic construction was my navigation point that I would use whenever I was lost and found in the city.
You will inevitably see the Clerigos Tower when you're in Porto. The 18th-century tower has 49 bells and you can actually visit it.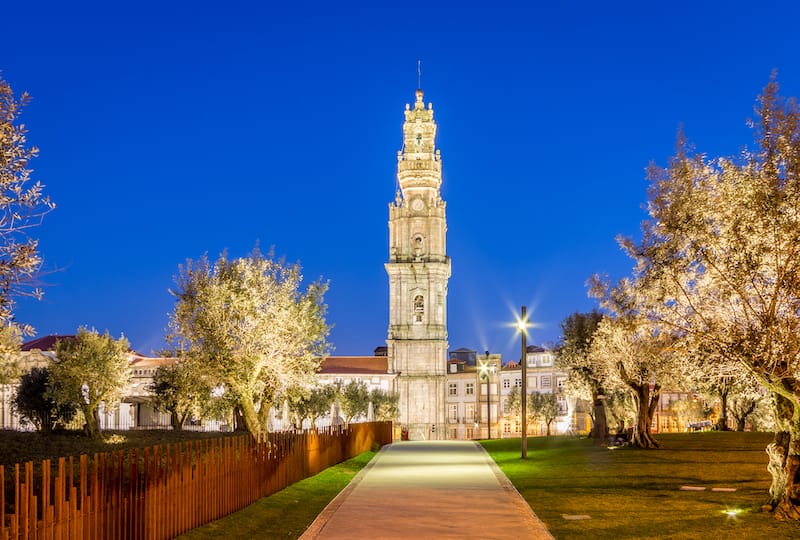 We recommend purchasing the Porto Card, which gives you easy and discounted access to visiting the tower (and several other Porto sights!)
The Clerigos Tower can be found at R. de São Filipe de Nery in Porto. Click here for more information.
Check Out the Porto Cathedral
One of the most famous places for sightseeing in Porto is in and around Porto Cathedral. The red roofs and viewpoints around the Cathedral are pretty epic.
The Porto Cathedral was built in a Gothic style from construction that began in the 12th century and it took 6 centuries to officially finish it up.
The Porto Cathedral can get a bit touristy at times but it is easy to escape the crowds by taking to one of the back alleys around the church.
You will find the Porto Cathedral at Terreiro da Sé in Porto.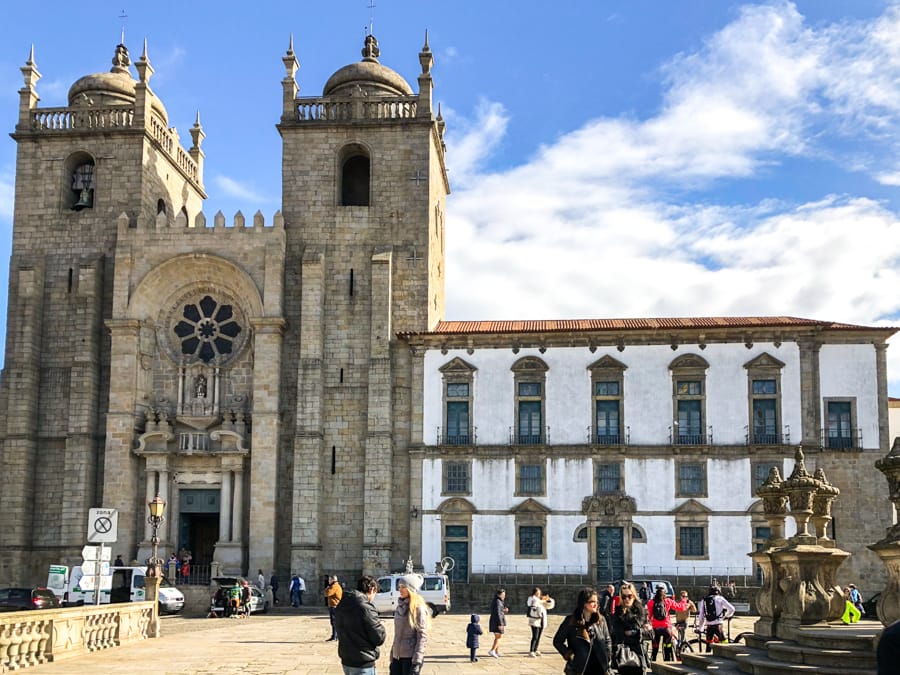 Walk and See Amazing Porto Street Art
As if Porto didn't already have it all, it also has a thriving street art scene. You can peruse the small alleys and walkways and find some of the most spectacular art on the most unassuming of buildings.
Local and foreign artists have left their marks on various parts of the city and you just need a camera and some patience and you will have a field day.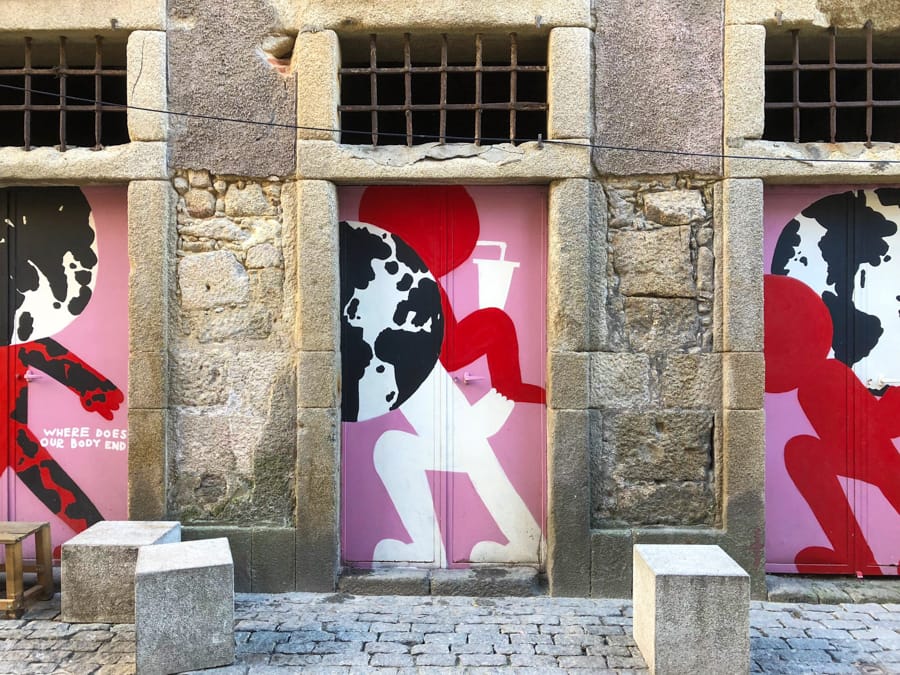 In my opinion, places like Rua Miguel Bombarda and Rua do Paraíso/Camões offer the coolest and best street art in the city.
Enjoy Music in Casa de Musica
Usually in Porto, when you see an old and traditional-style building in the city center, you become curious as to what it is and the history behind it.
Such was the case with the Casa de Musica in Porto for me. I quickly learned that this creative music hall had a captivating history when it comes to its architecture.
Dutch architect Remnant Lucas Koolhaus designed the outstanding, asymmetrical polyhedron with large, glass windows covered with white cement.
It is where the National Orchestra of Porto performs and its exterior serves as a place where people can hang out, socialize, and skateboard due to the perfect conditions.
The Casa de Musica is part of the Porto Card and you can get a discounted tour inside if you present your card. You can find the Casa de Musica at Av. da Boavista 604-610 in Porto.
Go to the Soares dos Reis National Museum
Soares dos Reis National Museum is one of Porto's central museums and some of the notable exhibitions are Flemish paintings and masterpieces of Portuguese sculptures.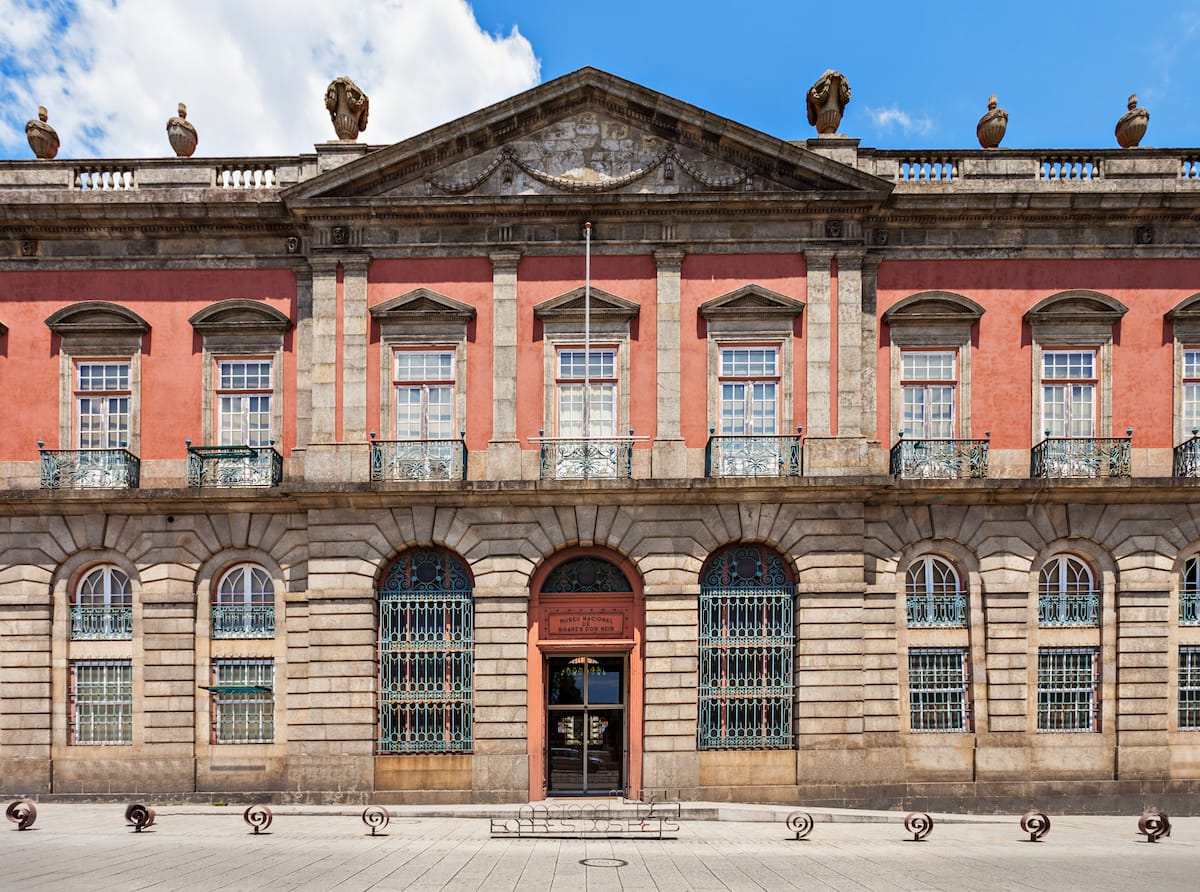 I liked the idea that the museum is located in an 18th-century palace which gave it more charm and made the whole experience far more interesting.
Art lovers will love visiting the Soares dos Reis National Museum if they are looking for what to do in Porto. It is located in the Porto city center.
One of the best ways to see the museum and several other museums is if you purchase the Porto Card. You can visit Soares dos Reis National Museum at R. de Dom Manuel II 44 in Porto.
Discover Why One Building Has Two Churches
The Igreja do Carmo and Igreja dos Carmelitas are located right in the heart of Porto next to square Fonte dos Leões fountains and you might overlook both many times before you randomly recognize it.
One interesting fact about these two churches is that from a distance, it appears as one church. They are, in fact, two separate churches and are separated merely by around one meter.
The reason for the separation of the two churches was to divide the nuns of Igreja dos Carmelitas from the monks of Igreja do Carmo back in the day. The Igreja dos Carmelitas was built in 1616 and the Igreja do Carmo was established in 1756.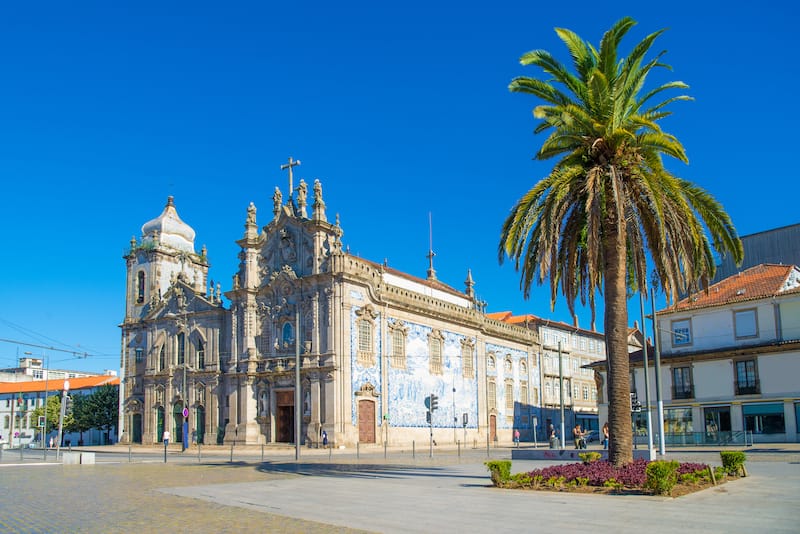 One unique thing I noticed about Porto when I was traveling there was that there are so many blue-painted tiles and Frescas covering the facades and walls of buildings.
One of the most famous tiled buildings is the side of Igreja do Carmo. It is simply beautiful.
You can find these churches at R. do Carmo 1 in Porto.
Visit the FC Porto Museum
As a football lover, I can definitely recommend that you visit the FC Porto Museum if you are also into sports.
The museum focuses on the sports achievements of FC Porto and since Portugal is a football country, it really is an interesting cultural experience as the sport plays such a huge role in the daily life of many there.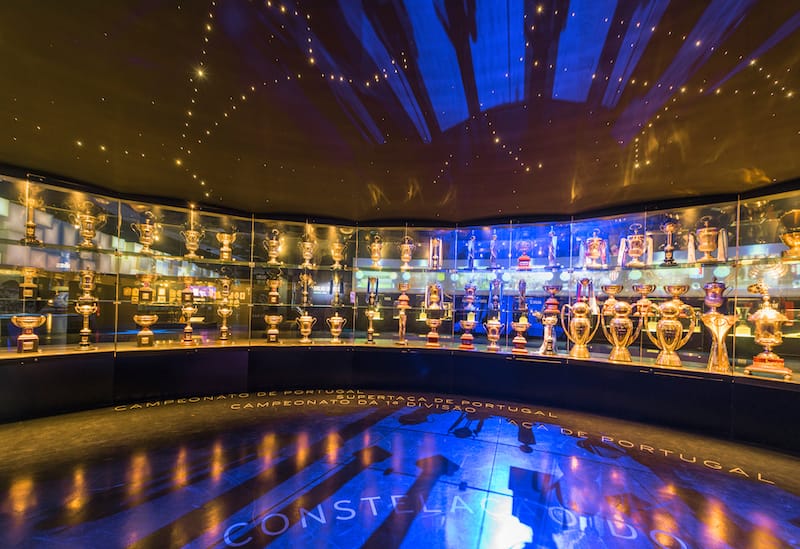 The museum is beautifully decorated with the team's history, titles, and achievements from over the decades and it is located inside of the Estádio do Dragão football stadium and is worth a visit.
With the Porto Pass, you will receive a discount on a tour of the stadium while there. Definitely a great activity for sports lovers!
Feel Glamorous at Palácio da Bolsa
Erected on the ruins of St. Francis Convent in 1842, the Palácio da Bolsa (an old stock exchange) is the luxurious National Monument of Porto.
The rich design of the building and sculpture showcases decorative engravings, stunning chandeliers, and many tile Frescas.
You can wander around independently or take a tour. Both will allow you to see the many ornate rooms and you can even admire the metal roof of the Hall of Nations.
The Porto Card gives you a 50% discount at the Palácio da Bolsa. You can find it at R. de Ferreira Borges in Porto.
Go to Serralves Museum & Villa
Built in a 1930s style, the Serralves Contemporary Art Museum, and Villa is a combination of nature and eloquent taste.
A well-maintained and gorgeous garden with art deco design, this museum and villa will take you back in time and inform you about the history of the Villa.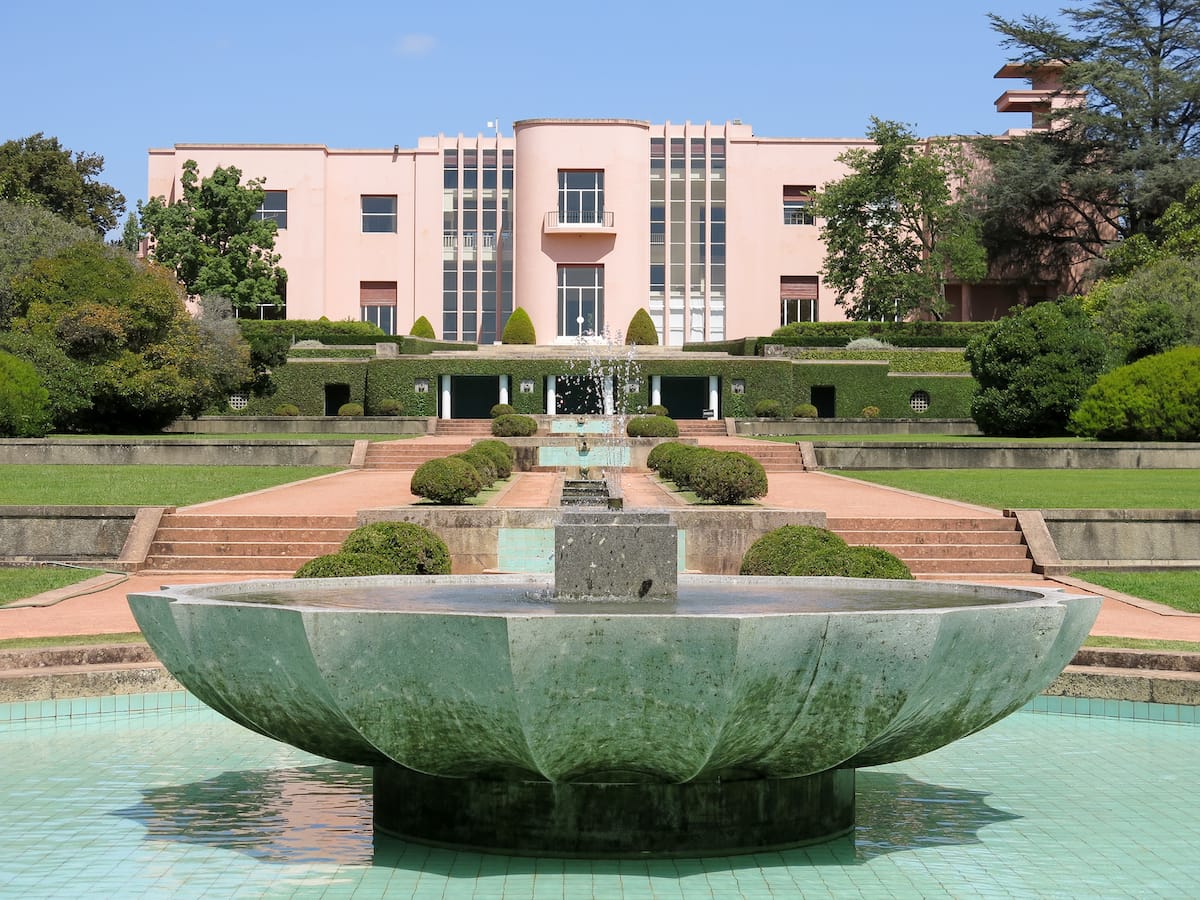 Built-in 30s style Serralves Museum & Villa is a combination of nature and good taste. A well-maintained and stunning garden and the Villa with Art Decor design will take you back in time and will inform you of the history of the Villa. I'm high to visit this unique mansion.
What to Do in Porto for Nature lovers
I find Porto to be super green compared to other cities I have visited. There were so many parks in the city… both small and large ones.
There are flowerbeds inside and a lot of greenery. You can stay in the city and experience them or head out of the city to get more in touch with nature… including some of the area's best beaches.
Visit Jardins do Palácio de Cristal
If you want to take refuge from the hot, Portuguese sun and relax in a nice, green environment, then Jardins do Palácio de Cristal's gorgeous botanical garden if the exact place to do so.
The garden's paths will lead you to gorgeous fountains, sculptures, little ponds, contemporary art exhibitions, and other pieces of art. From Jardins do Palácio de Cristal, it will be possible to get an amazing view of the Douro River.
You can find Jardins do Palácio de Cristal at R. de Dom Manuel II in Porto.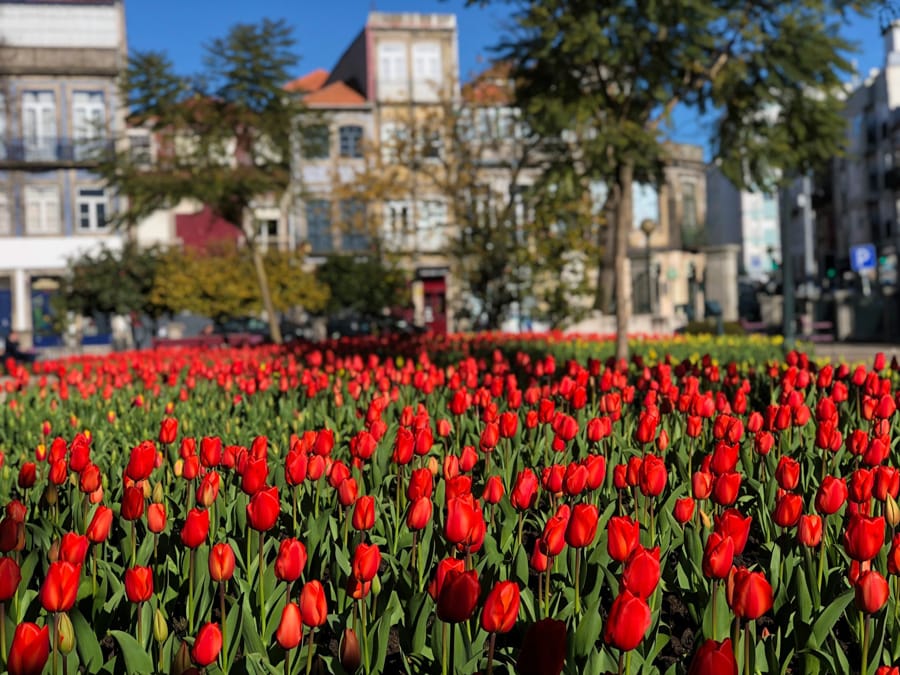 Hang Out at Porto City Park
This huge city park spans over 80 hectares and is located an hour away from the city by bus, but trust me… it is well worth the visit and is one of the best things to do in Porto.
Inside Porto City Park, you will feel as though you've entered a forest… however, this family-friendly green space has so many sights within it.
One example is a floating sculpture that is 27 meters high and looks like a fishing net where people can learn about the meaning and value of water. There are also biking and walking paths and even some sand volleyball courts.
On Saturdays, you can visit Mercado Biológico, a market that is located in the center of the park and is known for selling juicy and delicious, organic fruits. You can find the Porto City Park at Estrada Interior da Circunvalação in Porto.
Go to Local and Nearby Beaches in Porto
You will adore the beaches of Porto because they are mostly sandy and extremely comfortable for those looking to spend a day there or have a picnic.
I actually tried surfing for the first time in Porto with my friend and it was such an unforgettable experience. If you are visiting Porto, here are some of the best beaches in Porto (and nearby):
Praia de Matosinhos Beach: This beach is a 20-minute car ride from the center of the city. It has a big public beach with outdoor showers, golden sand, and open views of the Atlantic. You can find it at Av. Norton de Matos in Matosinhos.
Praia do Carneiro Beach: This beach is really close to the center… only about a ten-minute car ride approximately.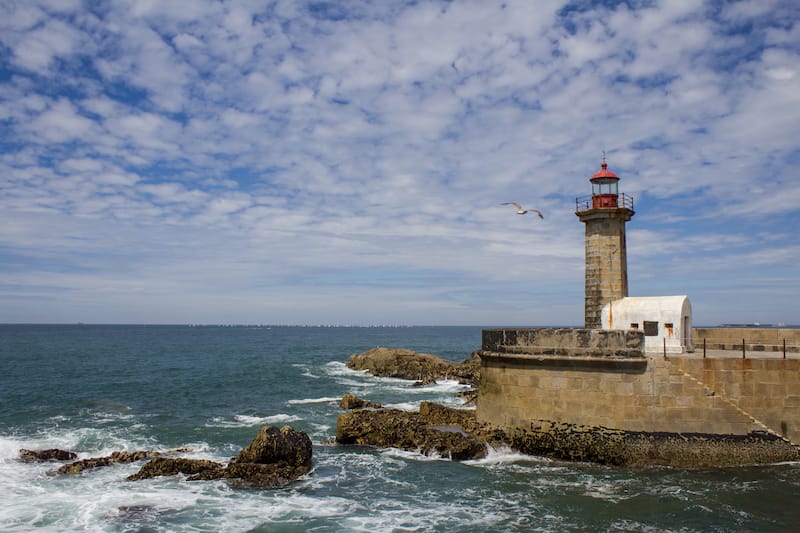 You will find sandy beaches, palm trees, and nice buildings surrounding other photogenic spots where you can see an old lighthouse and a lot of gorgeous water. You can find it at Av. de Dom Carlos I in Porto.
Praia da Granja Beach: This is my favorite beach. The area has open terraces with open-air cafes where I enjoyed my afternoon with my friends had a great picnic and swam in the cold Atlantic Ocean.
If you decide to visit a beach, I can recommend Praia da Granja, but to get there you need to take a train because it's out of the city, about an hour from Porto Central Station.
You can find the beach at R. São Félix in São Félix da M.nha.
What to See in Porto for History Lovers
There are historical monuments everywhere in Porto and many of them are close to each other.
It is a truly amazing city for history lovers and you will be able to quickly get a positive impression of Porto based on its historical monuments and sights.
See the Iconic Luis I Bridge
One of the most popular constructions in Porto is the iconic Luis I Bridge. The legendary 172-meter-long bridge was built from 1881-1886 and is one of the symbols of tourism for Porto.
It goes over the Douro River from Vila Nova de Gaia to the historic Ribeira district.
The bridge has two different parts to it (different levels). One level is for trams and pedestrians and the other is for cars and pedestrians. The views from the bridge are completely stellar.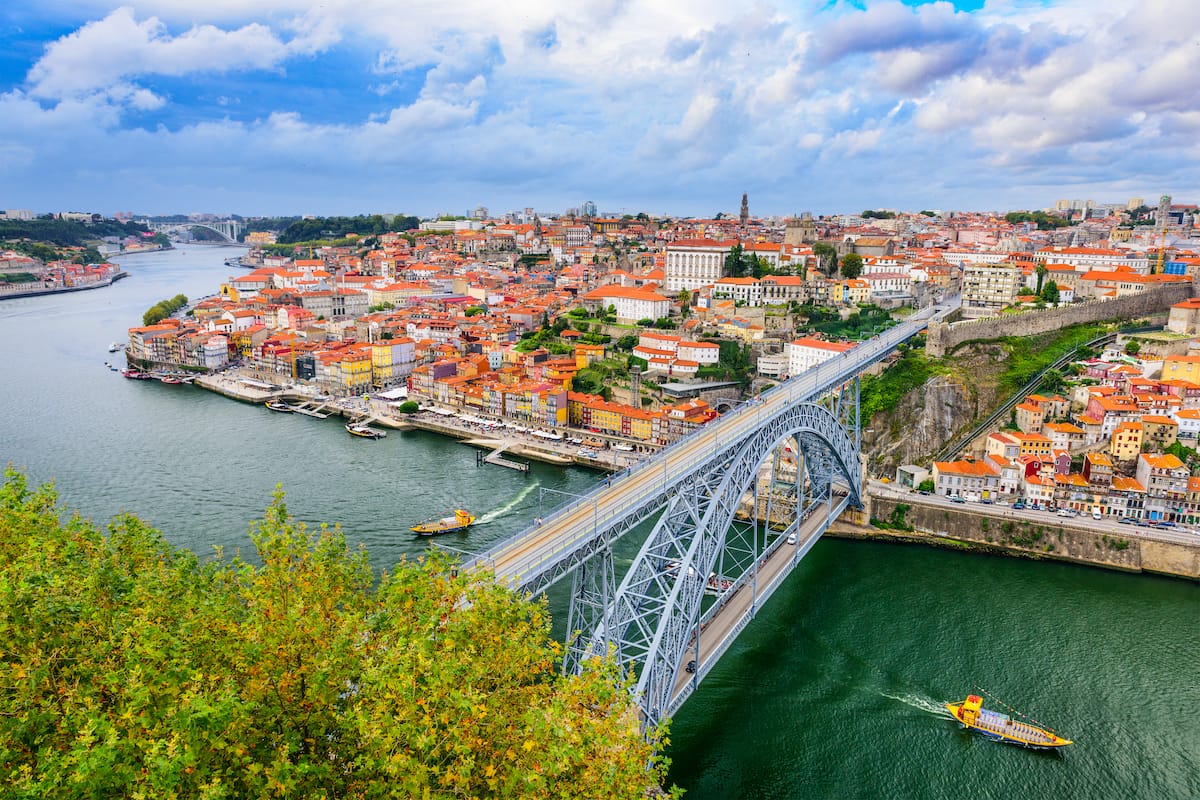 Wander Around the Ribeira District
Wandering around the Ribeira district is one of the essential things to do in Porto. It is a UNESCO World Heritage Site (and has been since 1996) and you will see why when you visit Porto.
The energy is so active there and there are lots of riverside cafes and restaurants with tourists perusing around and creating blissful chaos under the gorgeous medieval buildings.
Visit an Old Porto Jail
I had a unique opportunity to visit an 18th-century prison called Cadeia da Relação that had been converted into the Portuguese Center of Photography in 1997. The idea of using this impressive building with a tragic history for something more creative and positive presently is remarkable and worth a visit.
I had a chance to visit a Frida Kahlo exhibition at the Portuguese Center of Photography when I was in Porto… but I am sure whatever exhibit they have on will be worth the journey to it. You can find the Center of Photography at Campo dos Mártires da Pátria in Porto.
Marvel at One of the World's Most Famous Bookstores
One of the most fascinating and must-visit places to visit in Porto is the Lello Bookstore (Livraria Lello). I have never seen such a beautiful bookstore in my life.
It is constantly ranked as the third most beautiful bookstore in the world and is essential to add to your Porto itinerary.
The inside of Lello Bookstore is made of glass and wood. It was established in 1881 and has a huge collection of historic books from the Middle Ages. The neo-Gothic facade of the building definitely will attract visitors because it is so unique to others.
You simply can't visit Porto without stopping at Lello to marvel at the stunning architecture and book collection. You can visit Lello at R. das Carmelitas 144 in Porto.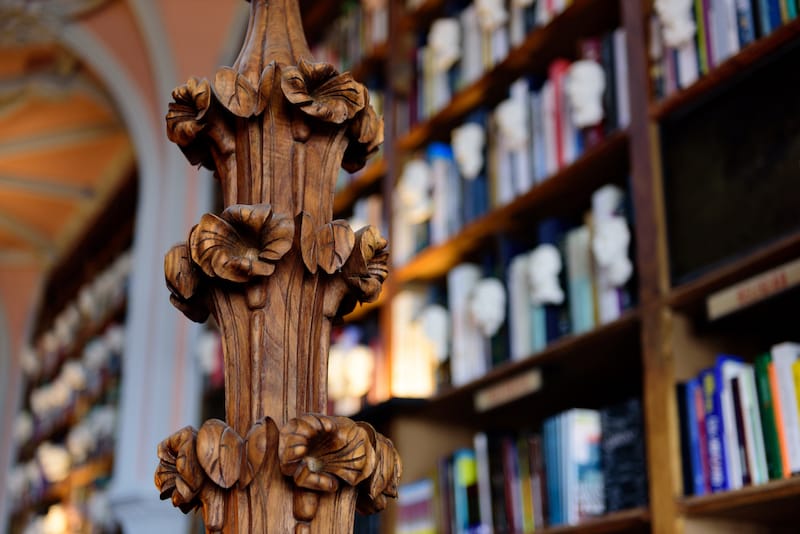 Walk Around Aliados Avenue
This picturesque and wide avenue is located right in the center of Porto. The architecture along Aliados Avenue is detailed and ornate and it showcases how rich the street is. Masterpiece buildings like the Banco de Portugal show the 19th-century bourgeois lifestyle of Porto.
Aliados Avenue is also known to be Porto's welcome hall because there are so many nice hotels and coffee shops there, like Guarany, which was founded in the 1930s. And just like in a lot of other remarkable spots in the world, you will see a McDonald's.
Take a Ride to Fernandina Wall
Right next to Luis I Bridge, you can see the old, medieval fortress wall that was originally built in the 14th century but later rebuilt in the 19th century.
The impressive wall is visible from many places around Porto and there are two options to get there: by taking the Guindais funicular near the Luis I Bridge or in the Ribeira neighborhood.
If you purchase the Porto Card, you are able to take the funicular and see the Porto sight for free. The Fernandina Wall can be found at Escadas do Caminho Novo 17 in Porto.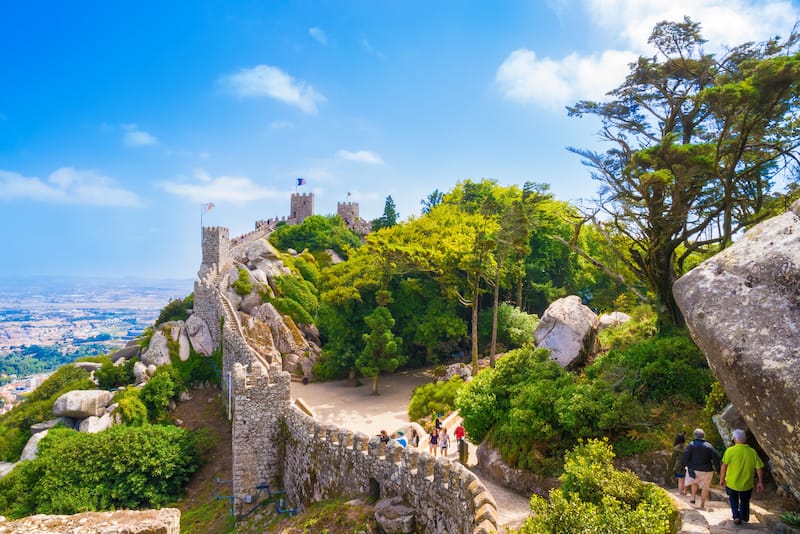 Check Out the Fort of Saint Francis Xavier
Thanks to my local friend who lives in Porto, I discovered the Fort of Saint Francis Xavier during my visit to Matosinhos, a district of Porto.
I have always had an interest in protective forts and history, especially when they are located near large bodies of water, like the Atlantic Ocean. This was such a captivating piece of history and one that I am glad I got to check out on my trip to Porto.
The impressive sea fort was built in the 16th century and has a defensive purpose as it was protecting Porto from Spanish ships.
Today, the beautiful piece of history is a monument that you can enter and find charming cafes, souvenir shops, and a military museum with the original cannons from the 16th century. There are also views over the Atlantic Ocean nearby.
It takes around 20 minutes to reach it by car and an hour to get there by public transportation. Be sure to grab the Porto Pass so you can use the transportation benefits the card offers!
You can find the Fort of Saint Francis Xavier at Praça de Gonçalves Zarco 20 in Porto.
Delicious Things to do in Porto
My love for Portuguese food (and my food coma) started right after my first day in the city. The food in Porto is simply fantastic and so fresh. Not only the seafood… but everything!
There are so many hidden cafes and restaurants throughout the city that you will happily uncover some of the best that Porto has to offer in terms of food.
Enjoy Fresh Sardines
Even though the combination of sardines, potatoes, and vegetables may seem simple and humble, this boiled or fried dish is so easy and tasty that you will be blown away.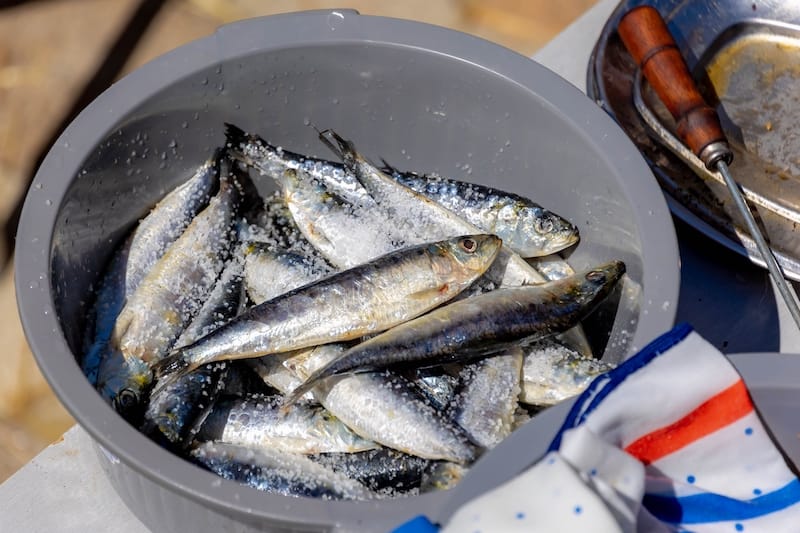 You can order sardines almost everywhere in Porto because of the popularity of fish in Portuguese cuisine. I found awesome cafes in Ribeira and fine dining restaurants all offering amazing sardines.
Try Traditional Francesinha
After eating seafood for a couple of days, I was hungry for traditional, local food and my friend told me about this typical Porto dish that I just had to try.
Francesinha is a heavy food, but it will satisfy your hunger for hours and hours!
So, it looks like a big sandwich covered with sauce and its ingredients are ham, bread, fresh sausage, steak or roasted meat, cheese, and tomatoes. Try it at lunchtime and you will be full all day!
I enjoyed Francesinha at Lado B Cafe and my friend said it was the best in the city. You can find Lado B at R. de Passos Manuel 190 in Porto.
Eat Your Body Weight in Pastel de Natas
If you have a hankering for something sweet, definitely snack on a Portuguese favorite, pastel de nata, or egg tart. While they may originate in Asia, they are immensely popular in Porto and everywhere else in Portugal.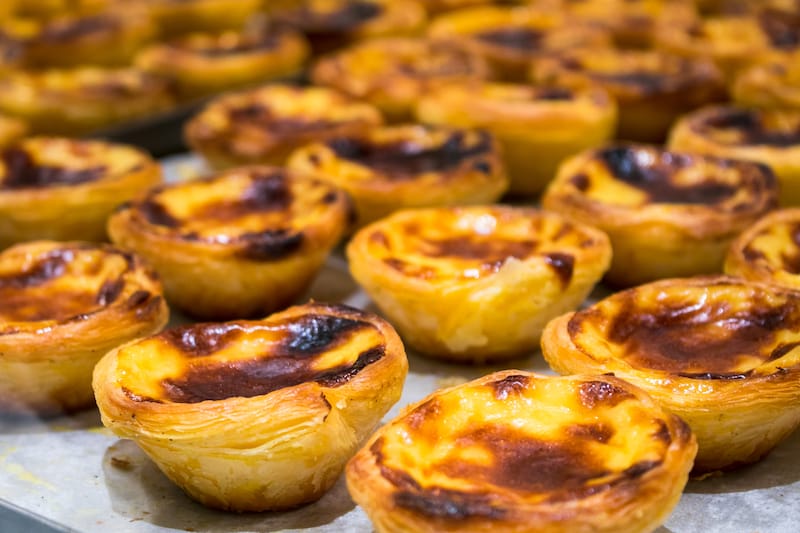 I found tasty ones in Ribeira, especially at Bacchus Vini right by the riverside.
You can find Bacchus Vini at R. da Lada 14 in Porto.
Have a Glass of Port wine
It would be remiss of you to head to Porto and not indulge in the city's signature drink, port wine. You can try Port almost anywhere in the city, but I suggest booking a tasting as I did at the 19th-century Calem Port Wine cellar.
The tour included learning the history of the facility, checking out the museum dedicated to the drink, and enjoying listening to the Portuguese instrument called 'fado' during the tasting.
This tour was amazing and I know you'll enjoy it as much as I did! We even included it on our Porto wine tours guide where you can see alternative options if you're looking for something a bit more in-depth.
>> Click here to join the perfect Port wine tasting in Porto
Nightlife in Porto
Porto has an underrated nightlife scene and I had the opportunity to experience it when I was there. If you walk downtown toward Galerias de Paris Street, everywhere seems to be a party after 10 pm, both during the weekend and during the weekdays.
It is hard to recommend just one place in Porto because the party was everywhere. There are many clubs, bars, and open-air cafes… and all are brimming with people having a blast.
One thing that I was surprised about was that there were hidden dance clubs in old buildings almost everywhere.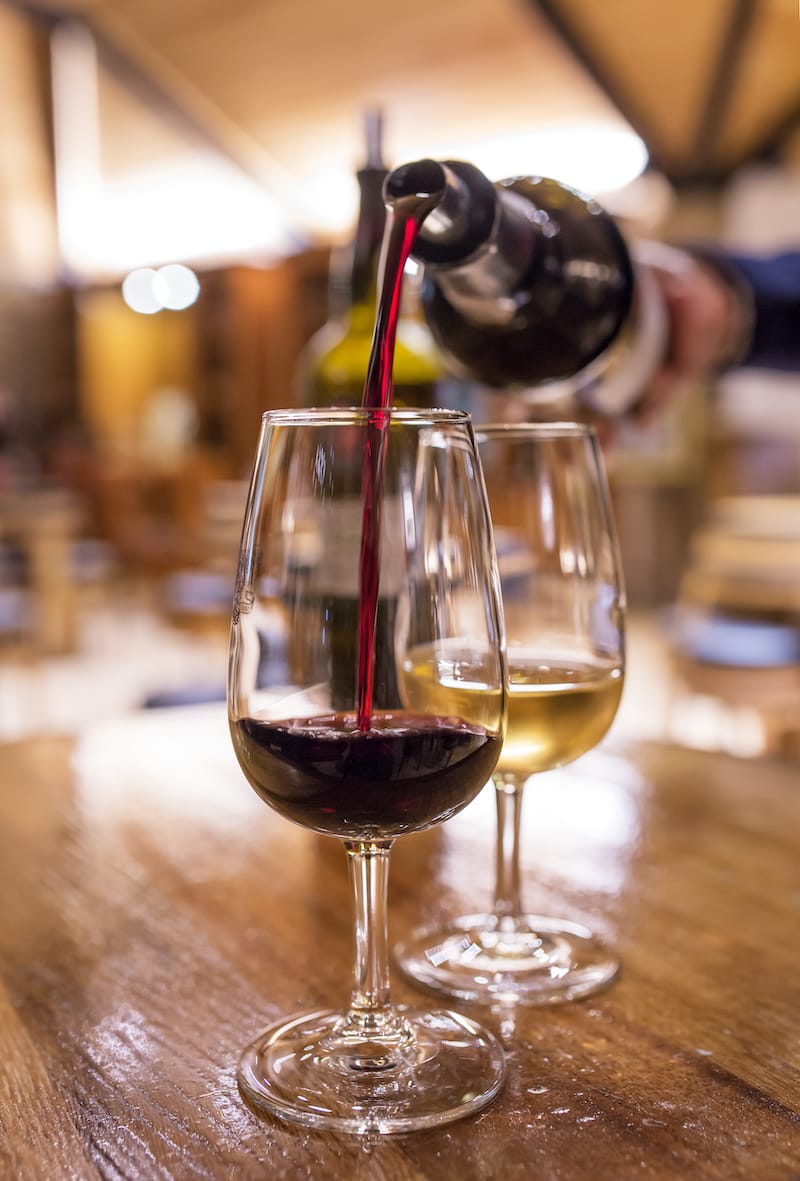 The beer was cheap (around 1 Euro) and skilled and unskilled dancers alike took to the clubs to show off their skills. I didn't have great skills but after a few drinks, I sure felt like I did.
These locations change often and they are spread throughout the city, so just keep your eyes peeled when you're walking. You will also see many people dancing on the streets and showing off their skills.
We found many of these dance clubs in buildings along Galerias de Paris and its backstreets.
Best Porto Tours
There are so many Porto tours worth the investment but I definitely recommend the ones below as they will take you to some of the cream of the crop on this list.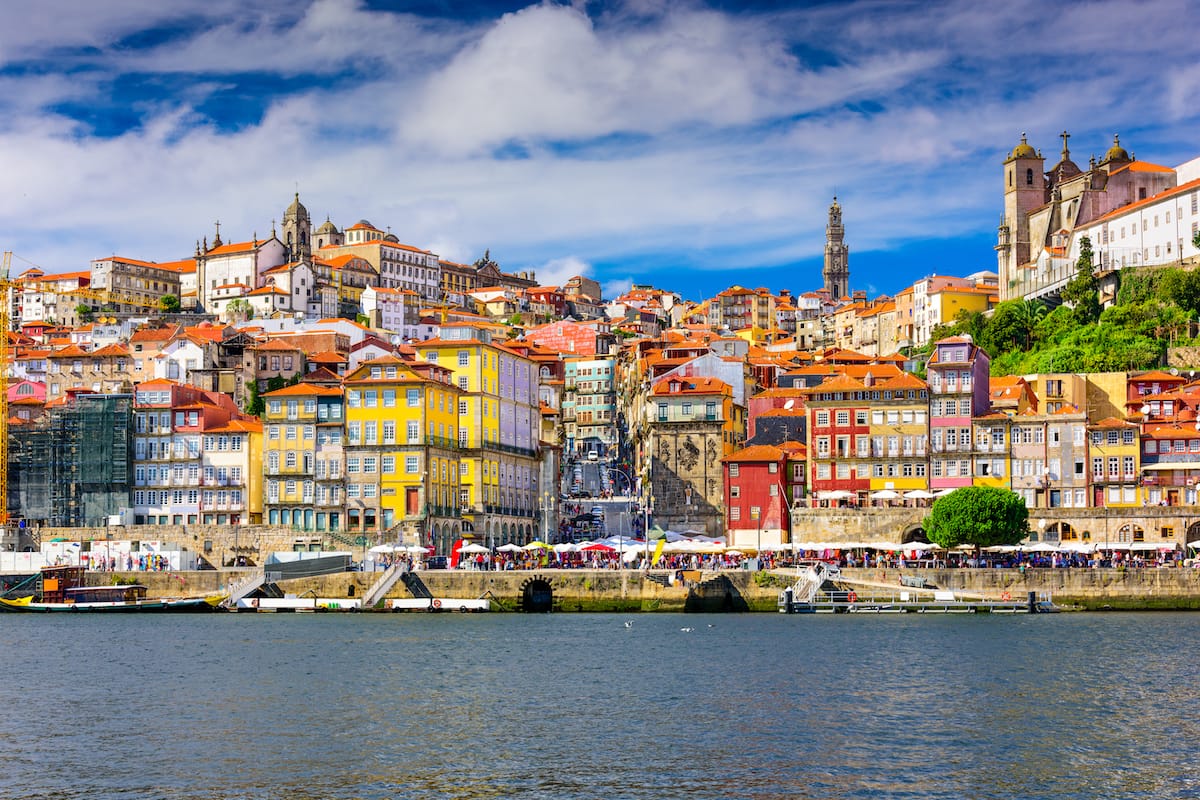 These tours can help you see the main sights and learn more about the city, its history, and its culinary scene.
Where to Stay in Porto
Pestana Palácio does Freixo (Luxury)
This luxury hotel is located slightly outside of the city but is one of the grandest experiences you can have while there.
They offer a high-end experience at a relatively affordable price and even have a pool, killer views, and some of the best Portuguese hospitality you could wish for while you're visiting Porto.
–> For current rates and availability click here
Linha22 (Mid-range Guesthouse)
This guesthouse is located in the heart of Porto and is a great option for those wanting a chilled-out experience with a bit of hospitality and charm.
The guesthouse has a beautiful aesthetic and exudes the vibe that Porto has been made famous for. They serve a robust breakfast and will give you everything you need while in Porto.
–> For current rates and availability click here
CATS Hostel Porto (Budget)
Megan stayed here when she was in Porto and even though she isn't a hostel person, she found it super clean and that if offered more of a design hostel experience rather than a party place with people screaming drunkenly in the middle of the night.
If you're on a budget in Porto, this is a great place to stay to get a lot of value for your dollar.
–> For current rates and availability click here
Porto was one of my favorite cities I have visited. I found so many awesome things to do in Porto and I truly can't wait to return to the city.
I hope you have a great trip there and if you need any help or have any questions when planning your trip to Porto, please feel free to reach out.
More Portugal Travel Guides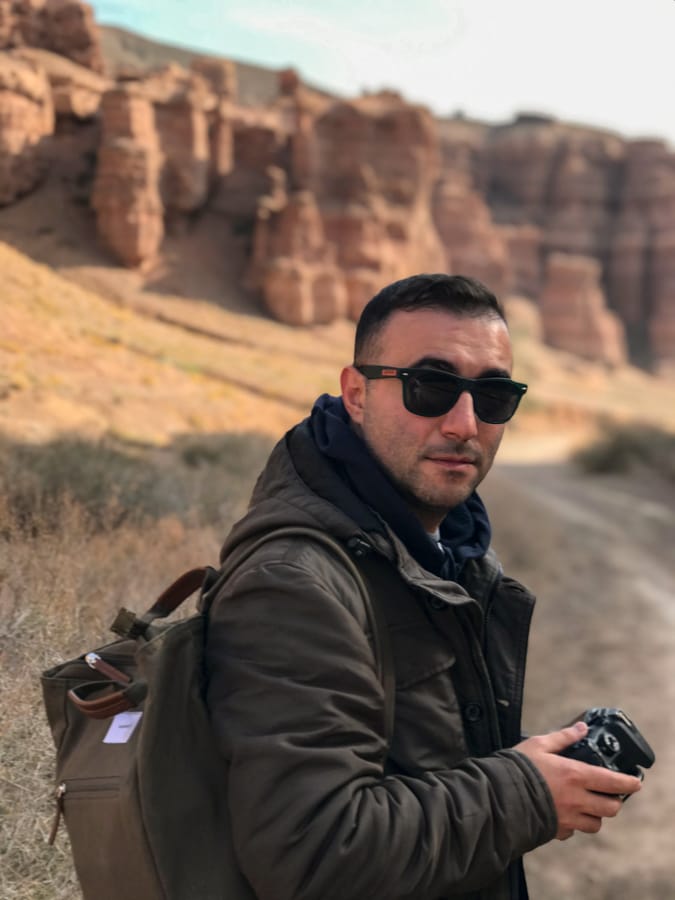 Aram is a travel blogger and writer from Armenia who spends his time between Spain and his home country. He is passionate about music and football (the European kind) and covers a lot of Western European destinations on the blog. Aram is a laidback traveler who enjoys meeting new people and finding the best food in each city that he visits (hence his frequent trips to France, Italy, and Greece!). He has been featured in (or written for) Forbes, BBC, The Guardian, Fodor's Travel, and more.