I have been to Riga, Latvia about twenty times. I've had long trips, short layovers, and weekend breaks there. One of the best things about the Latvian capital are the many day trips from Riga available to visitors. This is a guide of the best Riga day trips.
10 Amazing and Worthwhile Day Trips from Riga, Latvia
I have spent a lot of time in Riga, Latvia since my first trip there in 2011. The capital city is actually my favorite city in the Baltics and I continue going back there whether it's on a short layover or a long trip to show off the city to a friend who has never been.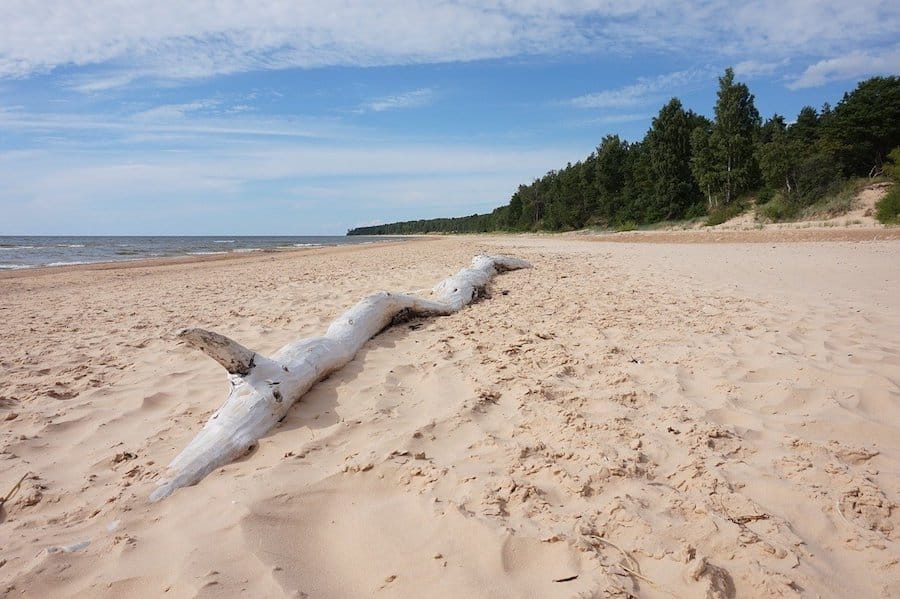 One thing that many people don't realize is that there are plenty of really awesome day trips from Riga that you can take when there. And they are all really pretty easy to do, whether it be by train, bus, or organized tour. You can take a trip to the sea in Jurmala or learn history at Rundale Palace… and beyond!
This guide will take you through some of the best Riga day trips and how to easily do them. If you have any other Riga day tour suggestions, please drop them in the comments for readers to see. Thanks!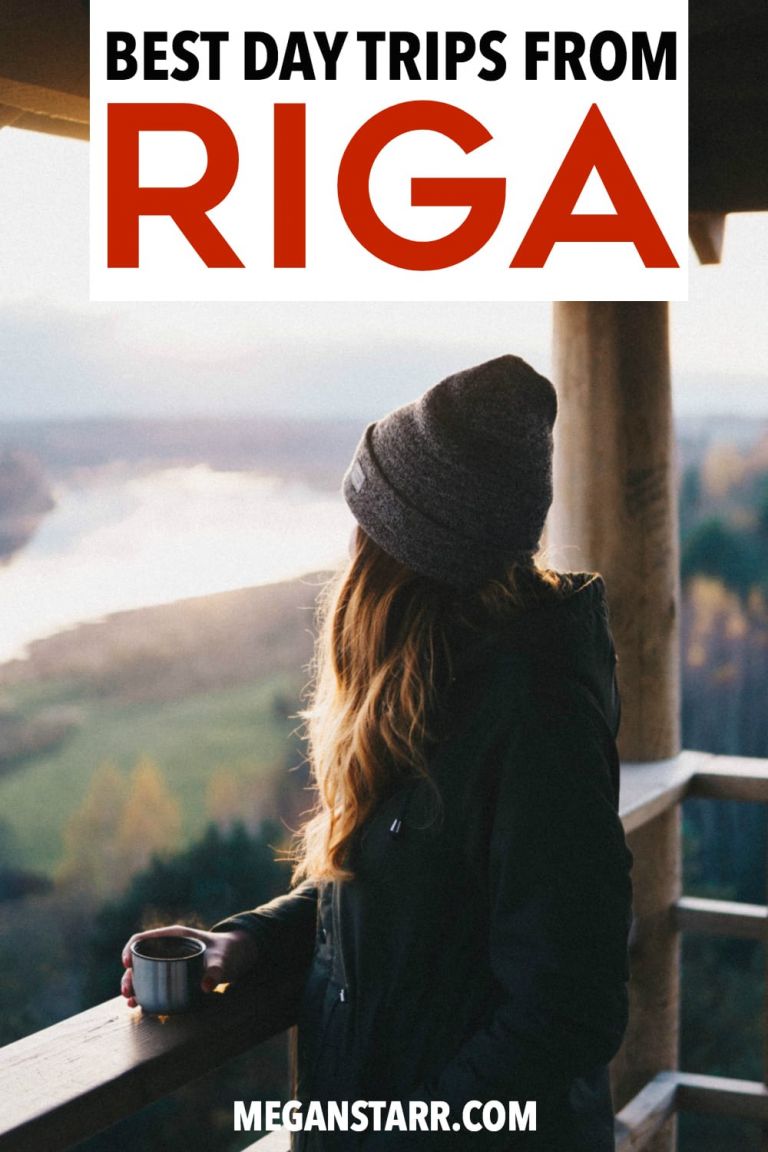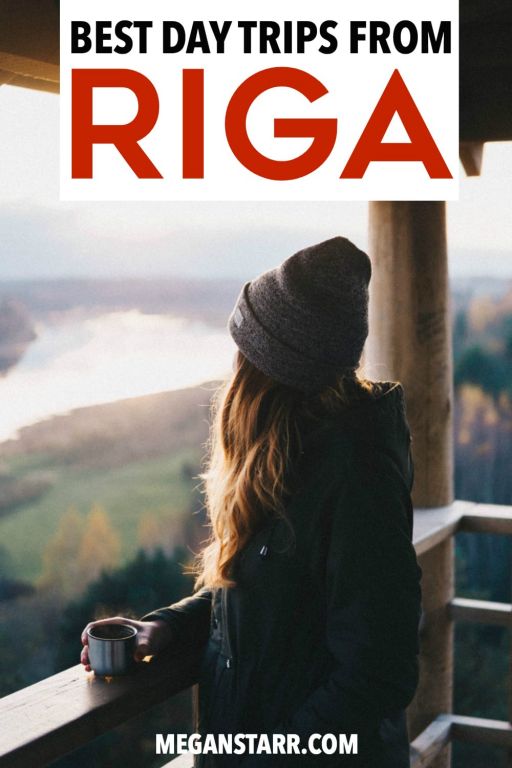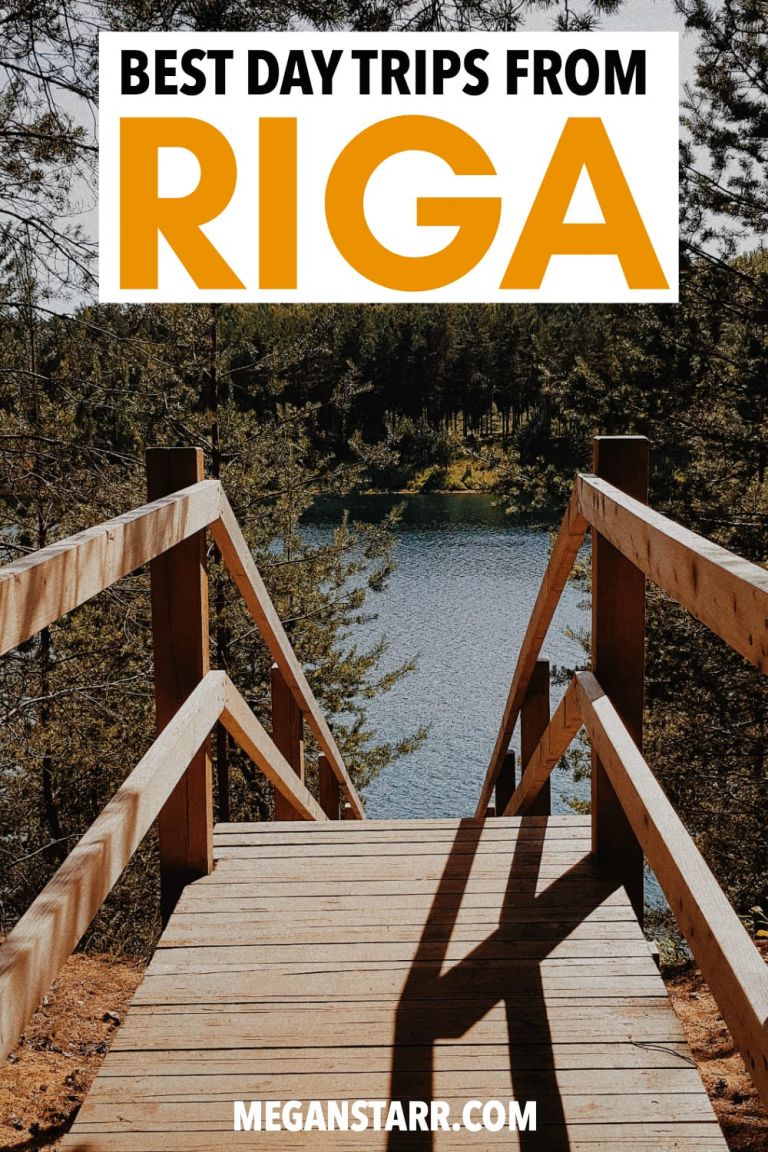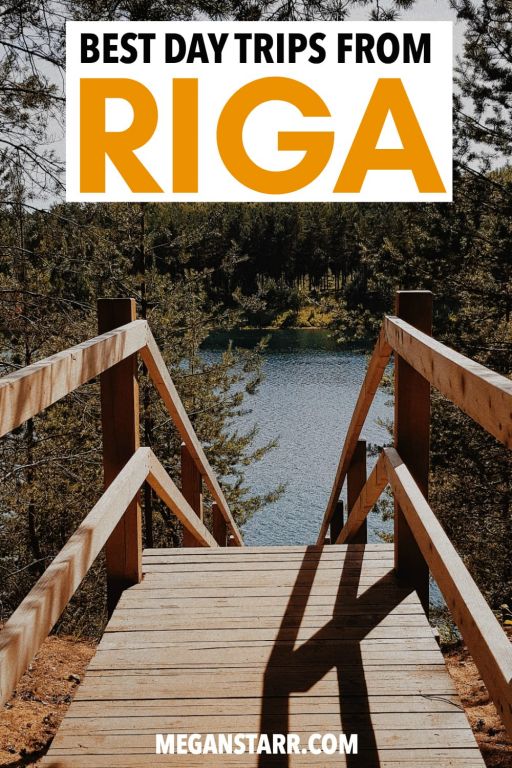 Do You Need Travel Insurance for Latvia?
Yes, we recommend getting good travel insurance for Latvia. Our suggested provider is SafetyWing, a great company out of Norway that we use ourselves. Getting a policy can be done within a few minutes and the coverage is super affordable and widespread.
>> Click here to get a Latvia travel insurance quote
What to Bring to Latvia
Below are a couple of items we suggest bringing along with you for your trip. Latvia is not really all that warm except in the summers (and even then, the temperatures are more 'comfortable' than they are 'hot').
Mobile power bank: If you're in Latvia during colder times of the year, your phone will hate you and the battery will die. Bring a mobile power bank with you!
European plug adapter: If you're coming from the USA or not Europe, you will notice that Latvia uses standard European plugs. Don't forget an adapter!
Lonely Planet Baltics guidebook: While wifi is SO accessible in Latvia, sometimes there is nothing better than having a guidebook in your hands. The Lonely Planet Baltics guidebook to Latvia, Lithuania, and Estonia is a brilliant resource for your trip. Click here to shop for it.

Renting a Car in Latvia
If you're looking to rent a car in Latvia, you will find that the infrastructure is pretty good and getting around is fairly easy. Latvian drivers are fairly easy-going and the roads are not as chaotic as some other parts of Eastern Europe. I think renting a car is a fantastic way to get around the Baltic states, personally, and it will make this Riga day trips MUCH easier!
>> Click here to rent a car in Latvia
Riga Day Trips
The following places are the cities and places around Riga worth visiting on a day trip from the capital city.
Jurmala
How far is Jurmala from Riga? Jurmala is about 45 minutes from Riga. The distance is 40 kilometers, or 25 miles.
Why should you visit Jurmala? Jurmala is my favorite day trip from Riga. It sounds so basic because it is pretty much everyone's favorite, but the seaside city has a lot to offer. Strangely, I have only visited in winter and most was closed and it was cold… and I still loved it.
Jurmala sits on the Baltic Sea and was once a resort town for the Soviet-elite. While that enthused me on my first visit, I actually found Jurmala to be more than just its past. The city not only has the sea at its disposal, but also some really interesting architecture.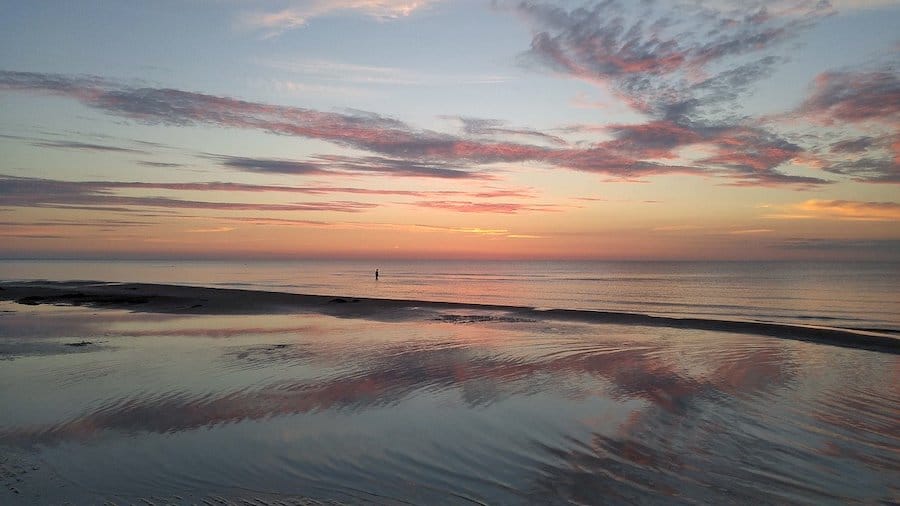 You will find modern contemporary buildings sitting right alongside wooden, traditional Latvian homes. Along the shore, you will see the Baltic Beach Hotel SPA, once a Soviet-masterpiece of architecture that has been renovated into a modern spa and hotel.
When is the best season or time to visit Jurmala? I have only been in winter and I can confirm that it is probably not the best time to visit Jurmala. Summers are booming but I suspect autumn or spring would be really interesting in Jurmala as the town is shifting to a different season. But, if you want things to be open, go during summer.
How do you get to Jurmala? I took a train to Jurmala. You can drive there easily by car hire or you can take a train or bus. The train is super easy to take.
To take the train from Riga to Jurmala, you will go to the main station in Riga and buy a ticket to the station 'Majori' (costs approximately 1.40 Euros). You will then go to platforms 3 or 4 where trains leave regularly in the direction of Tukums, Kemeri, or Sloka. The ride takes anywhere from 20-50 minutes depending on the route's stops. Click here for the train schedule from Riga to Jurmala.
On another note, you can take an organized tour from Riga to Jurmala. This will give some great insight into the city and its history and I think it is totally worthwhile! Click here to check rates and availability for a Jurmala tour.
Cesis
How far is Cesis from Riga? Cesis is around 1 hour and 20 minutes by car and about 2 hours by train (depends on the train, of course). The distance is 88 kilometers, or 55 miles.
Why should you visit Cesis? The most popular reason to visit Cesis is to check out the castle there. The Cesis Castle was built in the 13th-century and despite its many tragedies over the years, it has been restored and visiting makes for one of the best day trips from Riga.
The Cesis Castle has dungeons and the grounds around it have a brewery, souvenir shops, cemetery, and the Transfiguration of Christ Orthodox Church. The city also boasts a worthwhile art museum that you should visit if you travel to Cesis.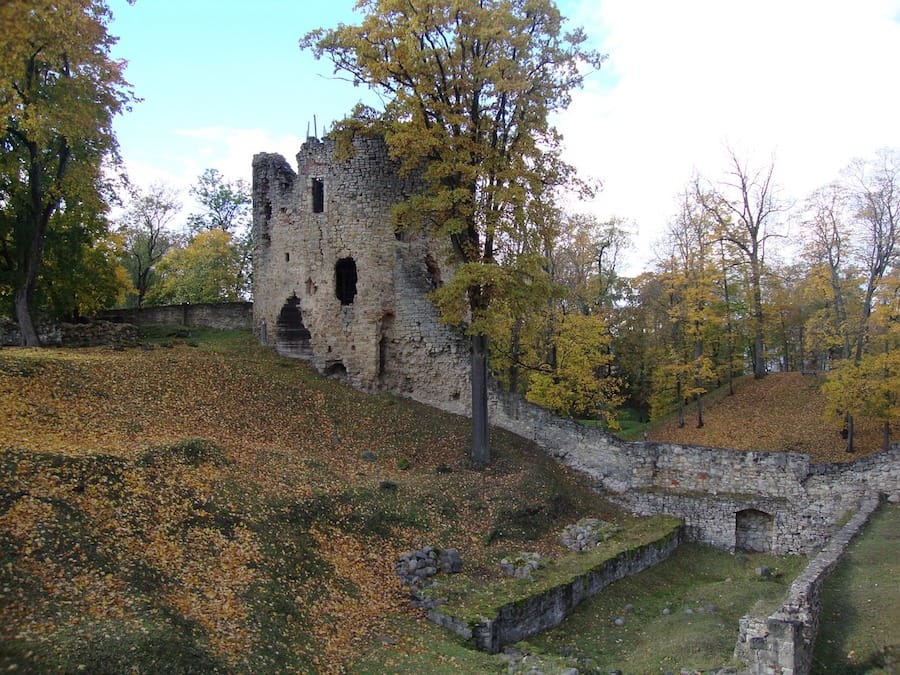 When is the best season or time to visit Cesis? The best time to visit Cesis, in my opinion, is during summer or autumn. The winters are bitterly cold and the springs can have remnants of a frigid winter. During summer, you will see a lot of greenery in the parks and flowers. And, of course, autumn brings foliage that is worth viewing.
How do you get to Cesis? Getting to Cesis from Riga is pretty easy by train, but you will need to plan an entire day for the trip. There are only four trains leaving Riga to Cesis most days and they are pretty spread out. A ticket is 3.50 Euros and the journey takes anywhere from 1.5 hours to 2 hours (or slightly over). Click here for train timetables to Cesis from Riga.
Alternatively, you can drive a car to Cesis and it will only take about 1 hour and 20 minutes.
If you're keen to take an organized tour to Cesis, you can join this one that combines it with Sigulda for a day in one of the most naturally beautiful places in all of Latvia. Click here for tour rates and availability.
Valmiera
How far is Valmiera from Riga? It takes about 1.5-2.5 hours to get from Riga to Valmiera, depending on your mode of transportation. The distance is 108 kilometers, or 67 miles.
Why should you visit Valmiera? The best reason to visit Valmiera is its historical center and the nature that surrounds the area (it is seriously a gorgeous and green place!) In the old city of Valmiera, you will find St. Simon's Church that was originally built in 1285. Close to St. Simon's are some castle ruins that sit along the Gauja River.
The buildings are in impeccable condition to visit and have been well-preserved with many restorations. You can also visit the following buildings, all of which have been preserved from the 18th and 19th centuries- an Old Pharmacy, the Little House of Valters, and the Postal Service Horse Station.
When is the best season or time to visit Valmiera? The best time to visit Valmiera is in the summer or fall. I just love Latvia in September and October and even though I never visited Valmiera then, I think that would be my ideal time to visit.
How do you get to Valmiera? The best way to reach Valmiera from Riga is by train. The price for a one-way ticket from the main station in Riga is 4.20 Euros and the time is anywhere from 2 hours to 2.5 hours. depending on the train. Click here to check the Riga to Valmiera train timetable.
If you choose to drive from Riga to Valmiera, you will be in the car for around 1 hour and 40 minutes.
Sigulda
How far is Sigulda from Riga? It takes about one hour to get from Riga to Sigulda. The distance is 52 kilometers, or 32 miles.
Why should you visit Sigulda? You should visit Sigulda to see Latvia's adventure capital at work! There is so much to do in the small place and it functions well regardless of the time of year. The city sits inside of Gauja National Park which is a gorgeous, protected area that is home to numerous forests, lakes, and rivers.
At Sigulda, you will find adventure parks and many active things to do. There are also ruins from the Sigulda Castle, as well as an opportunity to visit the New Castle. You will find bungee jumping, tree obstacle courses, bobsled tracks, and more in Sigulda.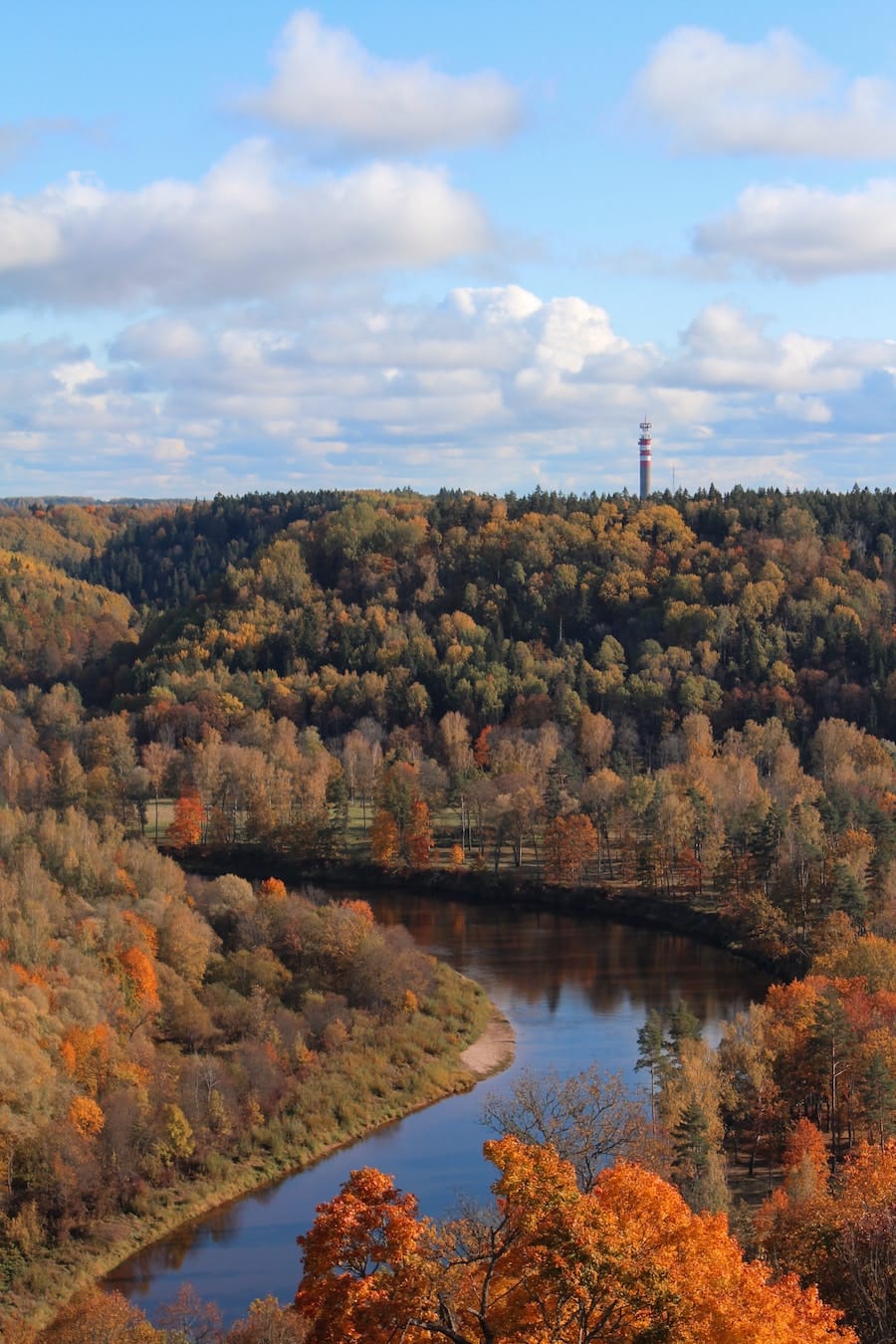 When is the best season or time to visit Sigulda? Visiting Sigulda can be done at any time of the year as this city has something to offer in every season. If you visit in winter, there are luge and bobsled tracks and a lot of other winter activities. If you visit in summer, you will be greeted with a lot of greenery and flora. Shoulder seasons are wonderful too.
How do you get to Sigulda? To get to Sigulda from Riga, the best way is by train. To take a train to Sigulda, you will go to the main station in Riga and purchase a ticket there for about 1.90 Euros. The travel time to Sigulda is about 1 hour and 15 minutes, give or take a little. Click here for train timetables from Riga to Sigulda.
You can also get to Sigulda from Riga by car. The travel time to Sigulda from Riga by car is about 1 hour.
If taking an organized tour is more your speed… you can join this incredible tour that takes you to Sigulda and the local area from Riga. It is a great way to see the Switzerland of Latvia!
Kuldiga
How far is Kuldiga from Riga? It takes about 2 hours to get from Riga to Kuldiga. The distance is 150 kilometers, or 93 miles.
Why should you visit Kuldiga? Kuldiga sits in western Latvia and is said to be one of the most beautiful towns in the country. Aside from the charming buildings and streets of Kuldiga, you can enjoy the rapids, the town's most famous sight. The rapids, or Ventas rumba, are 270 meters wide and to be honest, not entirely tall, but still gorgeous in their own right.
When is the best season or time to visit Kuldiga? The best time to visit Kuldiga is any time of the year when you can handle the respective weather. The winter sees a freeze and the rapids tend to freeze over… which is a really unique site in the Baltics as you don't find many rapids and waterfalls.
Summers and shoulder season are also great to visit Kuldiga as you will find more tolerable climates and a lot of greenery.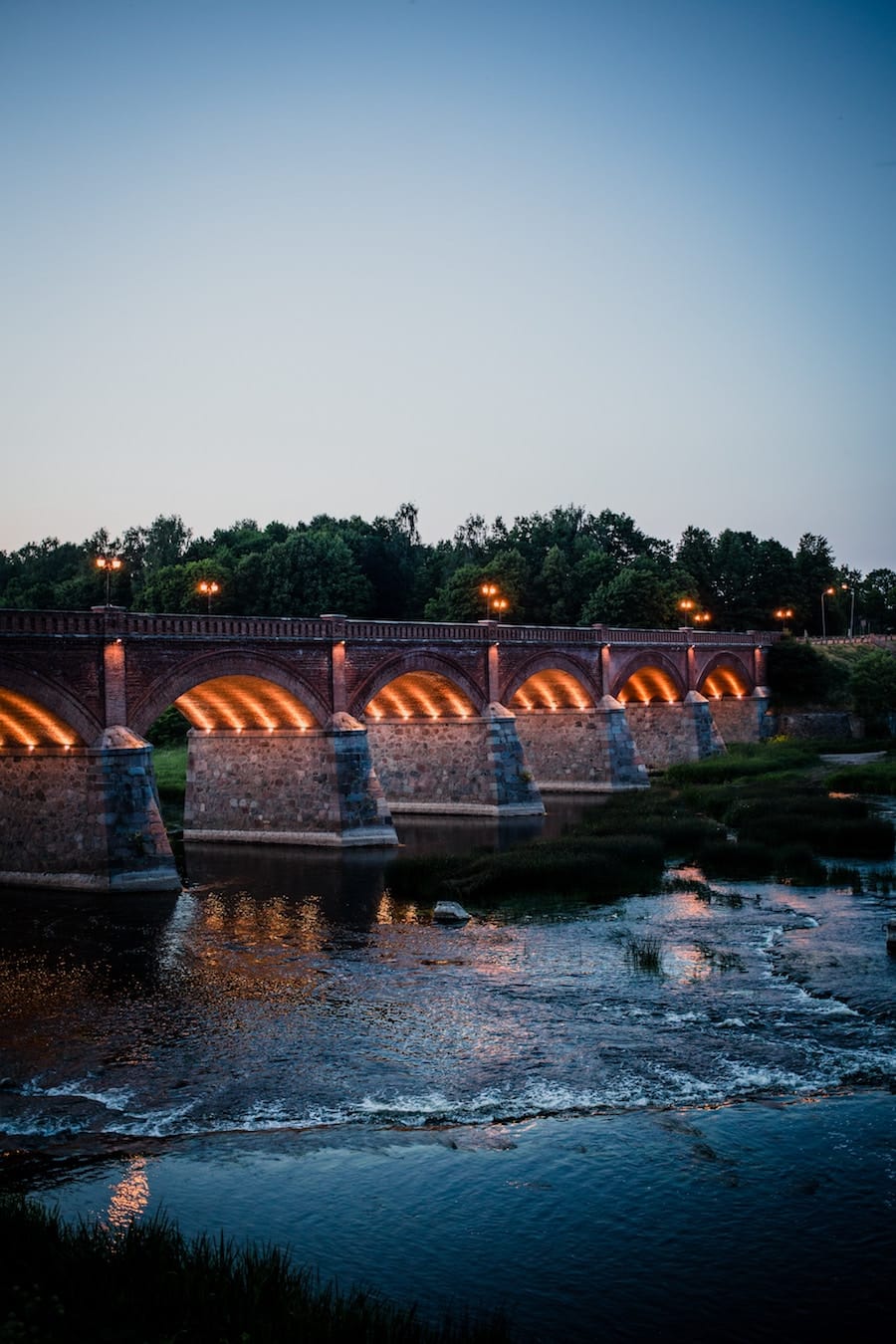 How do you get to Kuldiga? Getting to Kuldiga is not the easiest feat unless you have a little bit of time or your own rental car. To get there, you will need to go to the main bus station in Riga and take a bus.
There is a 7am bus that takes 2 hours and 30 minutes but the rest of the buses take around 3-4 hours. Trains are not the best option as the closest a train would get you to Kuldiga would be to a town called Tukuma and then you'd need to take a bus to Kuldiga.
If you drive to Kuldiga, you will need about 2 hours and to just follow the A10 and then switch to the P121 to the town Lidums.
Ventspils
How far is Ventspils from Riga? It takes about 3 hours to get from Riga to Ventspils depending on the mode of transportation. Ventspils is 189 kilometers, or 117 miles from Riga.
Why should you visit Ventspils? The city of Ventspils is one of the great port cities of Latvia. Located right on the Baltic Sea, Ventspils has a lot to offer for a day trip from Riga or even an overnighter. It is actually a fantastic family destination with water parks and a lot of things to do for children.
Ventspils has a historic 13-century fortress that now houses the local museum. The cobblestone streets and 17-century old storehouses will keep any visitor intrigued and occupied for a day. This is definitely one of the best day trips from Riga… particularly for families.
When is the best season or time to visit Ventspils? The best season to visit Ventspils is during the summer. The wind and cold weather off of the Baltic Sea make it a bit difficult to visit in winter for those intolerable to the extreme cold (and trust me, Latvia can get COLD).
How do you get to Ventspils? Getting to Ventspils is best done by car hire or via a bus. Trains are not really a feasible option out there. Driving to Ventspils takes about 2.5 hours from Riga. If you choose to take a bus, you can do so from the main bus station in Riga (by the train station). The fare is 7.55 Euros to Ventspils and the journey is around 3 hours.
Jelgava
How far is Jelgava from Riga? It is about an hour from Riga to Jelgava. The distance is 44 kilometers, or 27 miles.
Why should you visit Jelgava? Jelgava is the largest city in the region of Zemgale and is fairly close to the capital, making it a great Riga day trip. I, personally, think that charming towns are great but it is also important to see some of the bigger cities (okay, Jelgava only has 55,000 inhabitants). You can find everything in Jelgava from cool bars to cozy cafes to the Rastrelli Palace, an imposing building in the city center.
If anything, a day trip to Jelgava will offer something unique from the city life of Riga.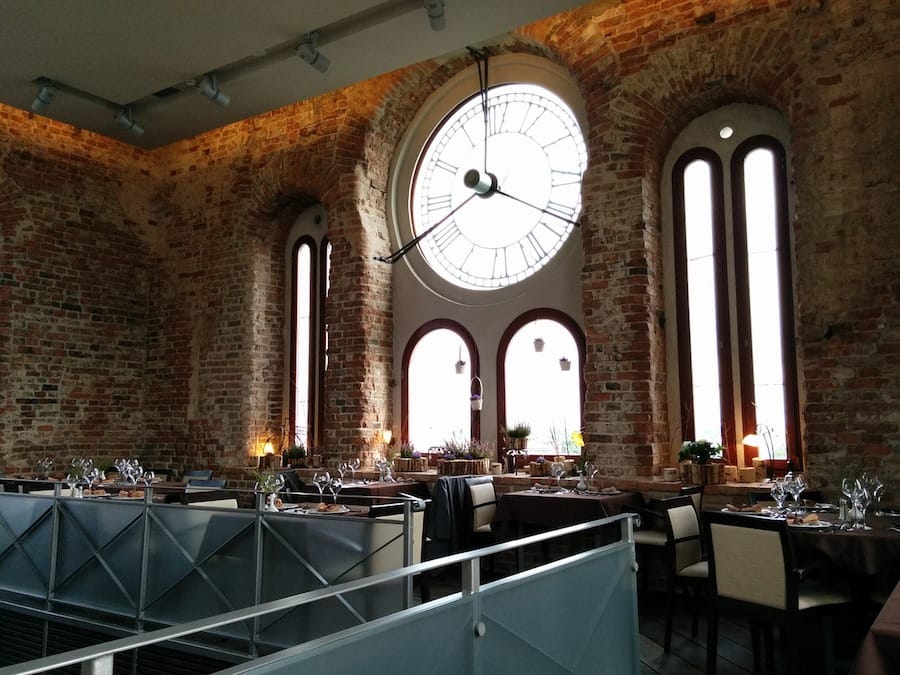 When is the best season or time to visit Jelgava? Jelgava is a city so it is pretty good to visit at any time of the year as things are open and ready for business. There are some nice natural spots surrounding the area and there are many parks within the city itself. Just be warned that winter is cold like everywhere else in Latvia.
How do you get to Jelgava? The best way to get to Jelgava is by rental car or train. From Riga Central Station, you will take a train and the fare is 1.90 Euros. The ride is 45 minutes long. You can check out the timetable for trains from Riga to Jelgava here.
Daugavpils
How far is Daugavpils from Riga? The quickest way to Daugavpils takes about 3 hours. The distance from Riga to Daugavpils is 223 kilometers, or 139 miles.
Why should you visit Daugavpils? There are many reasons to visit Daugavpils but I think the main reason you should travel there should be to see the second-largest city in Latvia.
I went to Daugavpils back in 2012 and while it was a long time ago, I definitely believe that the city deserved more tourism than the zero that it got. There were magnificent churches there along with a historic fortress, tragic WW2 history, and more. They also opened a center dedicated to Mark Rothko, one of the most famous artists of all time who was originally from Latvia before he emigrated to the United States.
Daugavpils is different but in a good way. Most people scoffed at me when I told them I was heading there. True, the city was grey and in need of a bit of life. But, I have heard it is moving along just fine these days and I think you should head there and check things out yourself. It is another world from Riga.
When is the best season or time to visit Daugavpils? I was there in the middle of December and I reckon pretty much any other season is better. There wasn't snow at the time (which is kind of strange), but the cold weather made it really grey and miserable. I would suggest summer as the churches and parks will be wonderful then.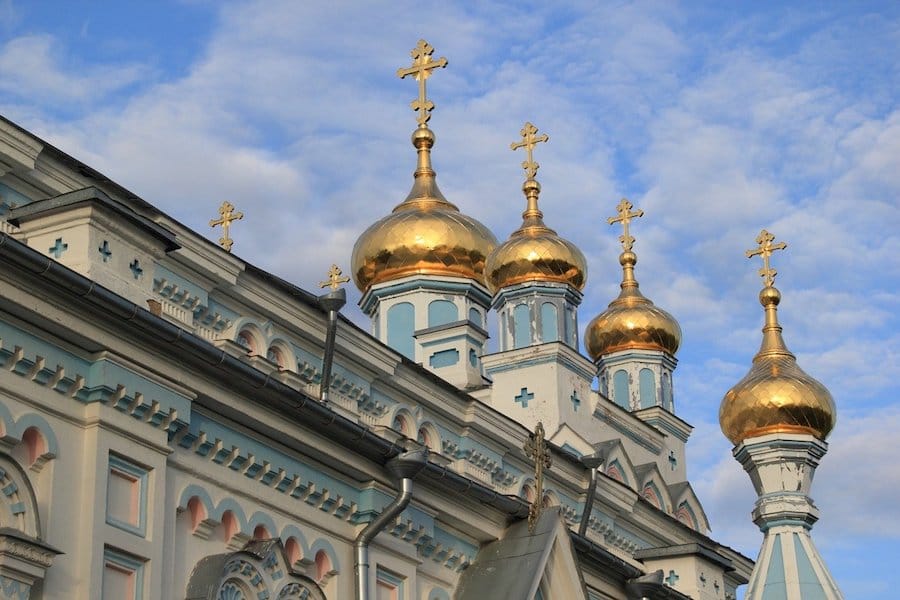 How do you get to Daugavpils? Getting to Daugavpils is easy from Riga, but it really only is a Riga day trip if you drive. Otherwise, I would suggest overnighting there.
If you opt to take the train to Daugavpils from Riga, it is anywhere from 7.05 Euros to 7.75 Euros depending on which train you take. The ride ranges from 2.5 hours to 3.5 hours. There are also buses from the Riga main station that you can take there. They leave quite regularly.
Kemeri National Park
How far is Kemeri National Park from Riga? Kemeri National Park is about an hour from Riga. The distance is 48 kilometers, or 29 miles.
Why should you visit Kemeri National Park? Kemeri is one of the best gems in all of Latvia. The National Park is the third-largest park in all of Latvia and it contains a lot of forests and bogs. The most notable bog there is called The Great Kemeri Bog.
When I think of the Baltics, Kemeri is what comes to mind. It really is kind of the entire region packaged up into one area filled with stunning birch and dreamy landscapes. The park was established in 1997 and there have been so many developments (although keeping mindful of nature and wildlife) in order to take advantage of the healing properties the bog and its mud have.
If you're looking for one amazing place to visit in Latvia that has nature, definitely don't miss Kemeri National Park. It might just be the best day trip from Riga of them all.
When is the best season or time to visit Kemeri National Park? I think the best seasons to visit Kemeri National Park are summer (so you can take advantage of the exquisite nature) or autumn where you can admire the changing colors.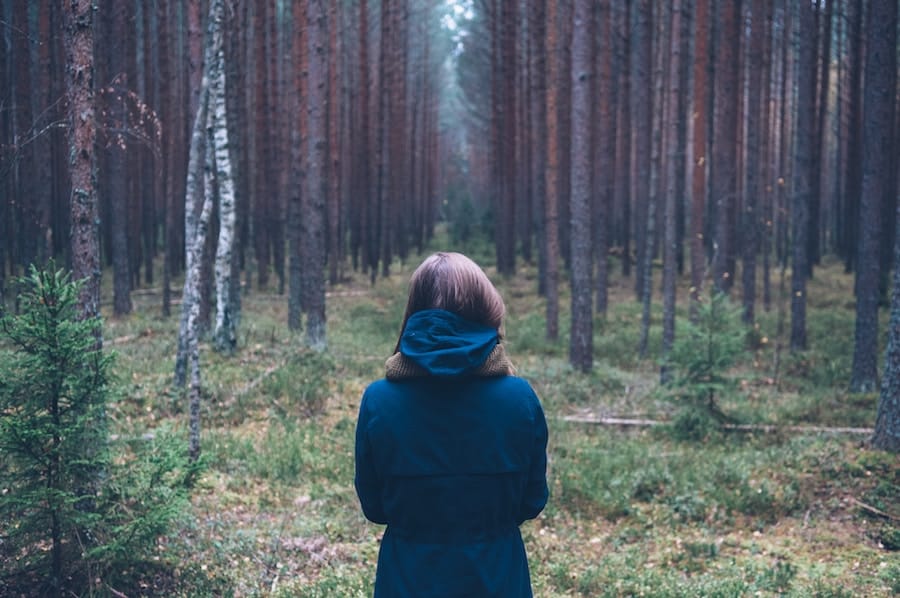 How do you get to Kemeri National Park? The best way to get to Kemeri National Park, in my opinion, is to take an organized tour. There is a lot to learn about the place and its history, flora, and fauna and you just don't get to immerse yourself in the park fully without a knowledgeable guide who can instruct you about the area, its properties, and its importance to Latvia.
The best tour of Kemeri National Park is this one that will leave from Riga. Do be aware that it involves at least 7-8km of walking… so this is not a good option for those who are not mobile enough to do it. You can see tour rates and availability here.
Another option for getting to Kemeri is to hire your own car and make the drive there yourself.
Šiauliai (Lithuania)
How far is Šiauliai from Riga? It is about 2 hours from Riga to Šiauliai. The distance is 131 kilometers, or 81 miles.
Why should you visit Šiauliai? To be honest, Šiauliai is a really freaking cool city. Most people know it from the Hill of Crosses there… it is easily the most famous sight in Šiauliai. But, the city has much more to offer than just the Hill of Crosses. There is also a wonderful photography museum as well as a bicycle museum there.
One great thing about visiting Šiauliai from Riga is that you get to pop into Lithuania for the day… and that's pretty cool and one of the perks about visiting the Baltics.
When is the best season or time to visit Šiauliai? I went to Šiauliai on Halloween actually. It was SO creepy that I totally advise you to do the same (the Hill of Crosses was creepy on Halloween). It was foggy and grey and really interesting. Anyway, in reality, spring or autumn would be best as you won't have as many crowds around the Crosses.
How do you get to Šiauliai? I took a bus to Šiauliai and it worked out well. The bus had a final destination of Kaliningrad and it was full of old women barking orders at the driver to stop for food (can you blame them?!) But, it was comfortable and pretty easy.
Just show up early to the Riga bust station and see what options exist that day. You may have a change in Jelgava, FYI. The tickets are around 10-12 Euros one way and the ride is about 2 hours or so.
Alternatively, you can drive to Šiauliai. It will take you anywhere from 2-2.5 hours.

Riga Day Tours Mentioned in This Guide
Below are the day tours from Riga mentioned in this guide:
Where to Stay in Riga
There are so many fantastic places to stay in Riga. I have stayed at a variety of different properties there over the years and there is always a place to accommodate any budget. You can see my recommendations below with what budget they are suitable for. I have stayed at ALL of these and truly do recommend them.
I hope that you are able to plan your Latvia vacation with some of these day trips from Riga. If you have any Riga day trips that you recommend to readers, please leave them in the comments! Thanks!