Are you looking for the best spots for your Rhodes itinerary? This guide will help you plan 7 days in Rhodes (or more)!
Rhodes is a historical island that has so much to offer to every type of traveler.
From the island's epic beaches to ancient sites that will transport you back in time, this guide will show you how to maximize your week in Rhodes!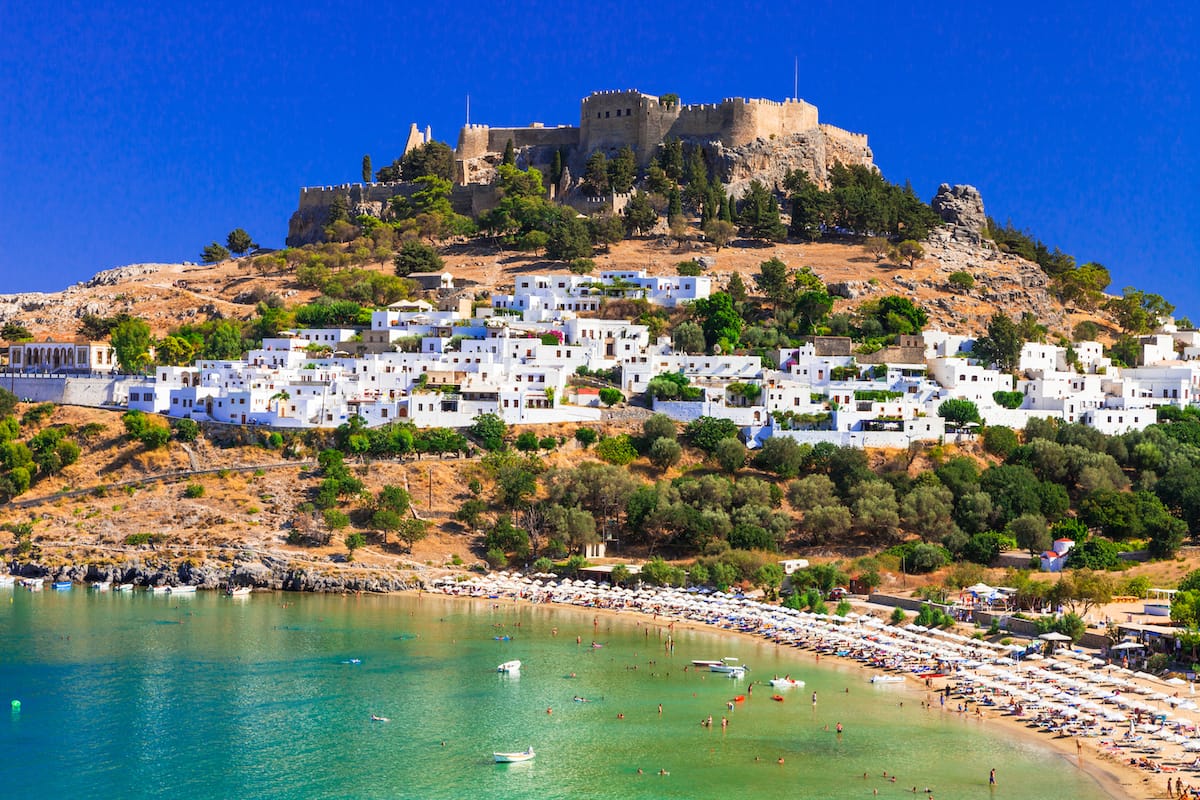 Did we miss any amazing places on this Rhodes itinerary? Let us know what else you'd include on a Rhodes 7-day itinerary in the comments!
How to Use this Rhodes Itinerary (+ Map!)
This itinerary for Rhodes is broken up day by day with details for each day of your trip!
Since this is merely a suggested itinerary, feel free to include whatever else your heart desires along the way! We leave enough time on each day that you can tailor the itinerary the way you'd like!
To add this map to your Google Maps account, click the 'Star' icon next to the map name. You can then view it on your cell phone or computer by heading to your Google Maps account, click the menu and add it to 'Your Places'.
How to Get Around Rhodes
Like many of the Greek Islands, there are several ways you can get around.
A popular option is to hire a rental car (Discover Cars is your best bet!), and this offers you complete flexibility.
You'll also be able to use public buses if you'd prefer not to drive. The main bus stop is located in Rhodes Town, and from here, there are routes all across the island.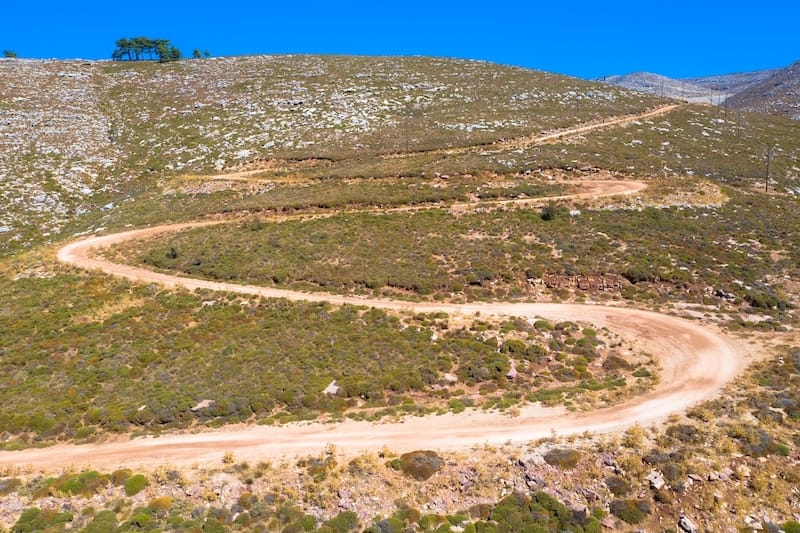 There are two primary services on the island; KTEL and RODA.
Although more expensive, many people choose to use taxis in Rhodes as they're fast and convenient.
You'll find them in most of the central areas, or you can ask your accommodation to organize one in advance.
You will also find some fantastic guided tours that include transport, as well as sea buses and water taxis.
Week in Rhodes Road Trip Overview
Day 1 Overview
Ancient Acropolis of Lindos
St Paul's Bay
Have lunch at a rooftop restaurant
Lindos & Pallas Beach
The Church of the Panagia
Day 2 Overview
Pefkos Beach
Tsambika Beach
Have lunch at Tsambika
Traganou Beach
Kolymbia Beach
Day 3 Overview
Rhodes Old Town
Palace of the Grand Master of the Knights of Rhodes
Submarine Cruise
Archaeological Museum Rhodes
Grab a drink at The Last Butler
Day 4 Overview
Day trip to Symi Island
Grab lunch on Symi
Explore Mandraki Harbor
Day 5 Overview
Valley of the Butterflies
Have lunch at Butterflies Restaurant
Filerimos Hill
Seven Springs
Day 6 Overview
Faliraki Water Park
Dine at Faliraki Beach
Day 7 Overview
Sea Kayaking
Acropolis of Rhodes
Head out on a sunset cruise
Day 1 in Rhodes
Ancient Acropolis of Lindos
To reach the Acropolis of Lindos you'll need to walk up a steep rocky path, with over 250 steps.
You can pay for a donkey ride, but we advise avoiding this at all costs, as there are questions surrounding the treatment of the animals.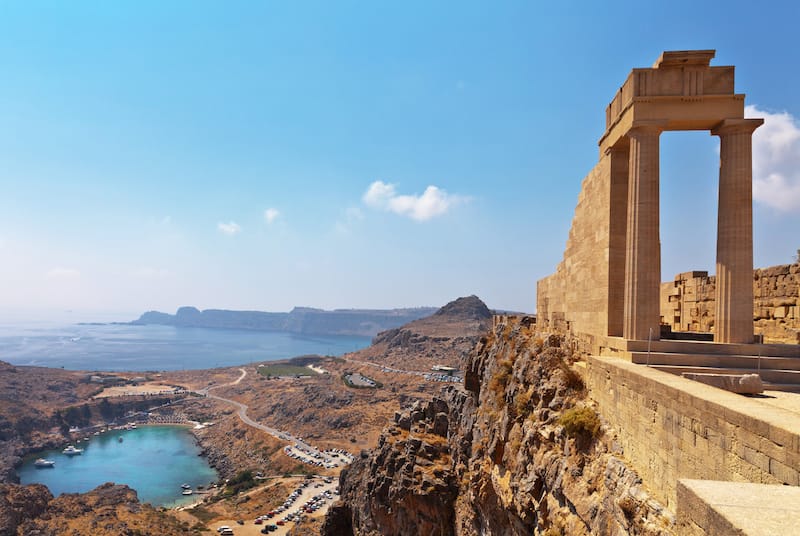 At the top of the Acropolis, you'll come across the Hellenistic Stoa and the Temple dedicated to Athena Lindia; the latter is thought to date back to the 4th century.
The views from here are also something to shout about!
Address: Acropolis of Lindos, Lindos 851 07, Greece
St Paul's Bay
Naturally formed in the shape of a heart, St Paul's Bay has to be one of the most beautiful spots on the island.
Boasting crystal-clear waters, golden sands, and fantastic snorkeling opportunities, you don't want to miss this place off your Rhodes itinerary.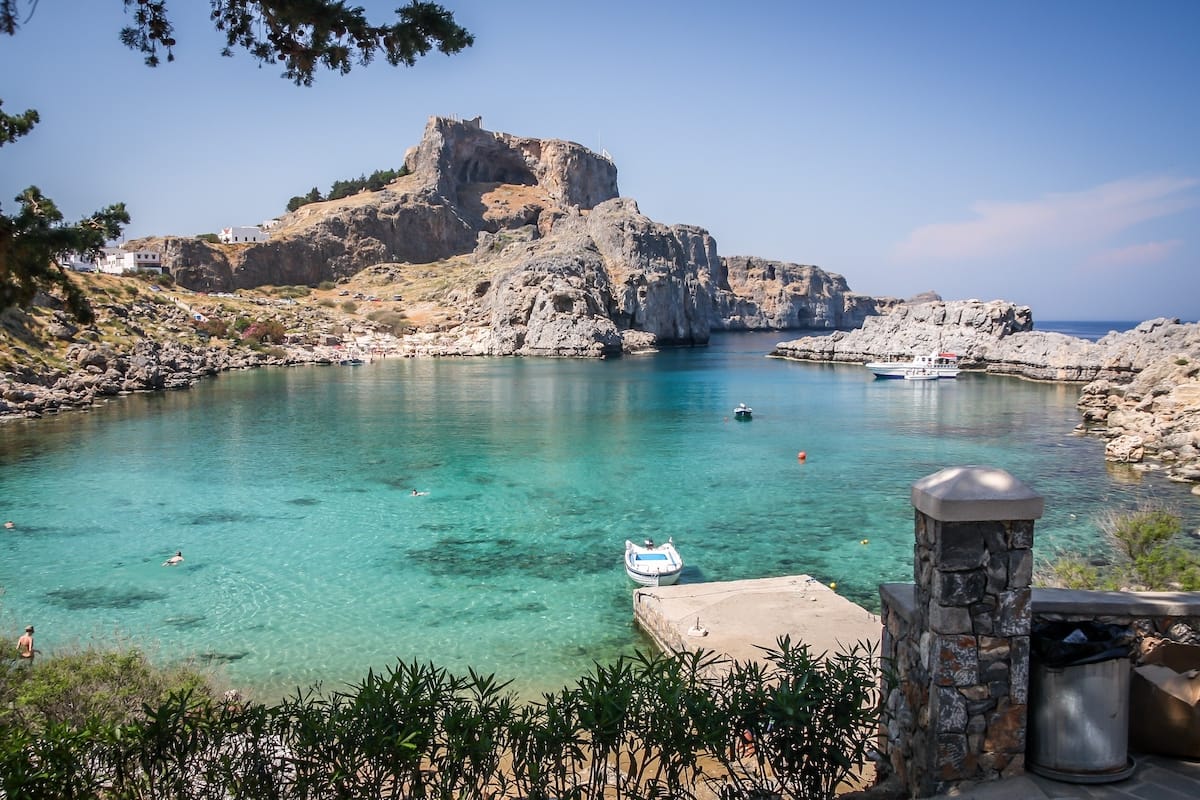 To cool down, there are a couple of charming tavernas here where you can grab a drink.
Thanks to its shallow waters and sheltered location, this bay is also very family-friendly!
Have Lunch at a Rooftop Restaurant
With its breathtaking Acropolis, pristine beaches, and stunning bays, there's no better place to grab lunch than at a rooftop restaurant.
Luckily, there are plenty to choose from so you won't be limited in options.
Some of the top choices include Acropolis Roof Garden Restaurant, Rainbird, Mystilli, and Odyssia.
Make sure you check out Kalypso Restaurant if they have any free tables as it's one of the village's most famous dining options.
Lindos and Pallas Beach
Technically the bay here is shared by two beaches; Lindos Beach and Pallas Beach.
Lindos is located along the left-hand side, while Pallas is situated directly below the Acropolis.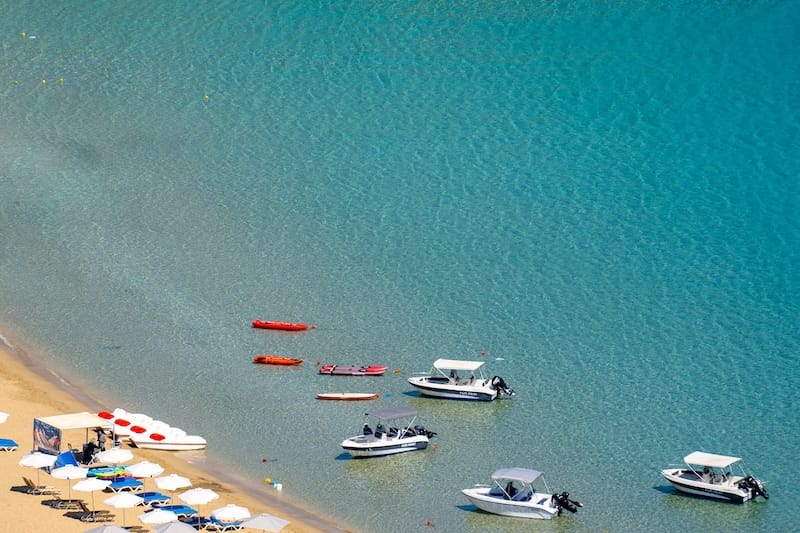 Both are undeniably beautiful, and they offer sunbeds and umbrellas for your convenience.
The waters are shallow too making these beaches an excellent spot for families.
You'll also find plenty of tavernas along the shore if you require refreshments, or you can hire a canoe and head out to explore.
The Church of the Panagia
While in Lindos, you need to visit The Church of Panagia. Initially built in 1300, this beautiful building has undergone numerous renovations and reconstructions since then, with the most recent being in 1927.
Although the exterior is striking, the church's interior will take your breath away.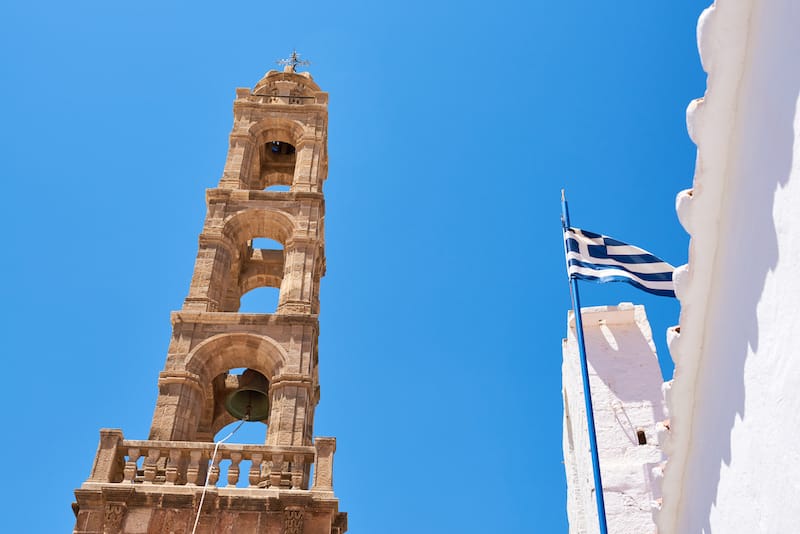 Home to frescoed walls, ornate features, and a mosaic floor, it's truly something else.
Just make sure you've dressed appropriately and check the opening times before you visit.
Address: Lindos 851 07, Greece
Day 2 in Rhodes
Pefkos Beach
Undoubtedly one of the most beautiful beaches on Rhodes, Pefkos Beach is a must-visit.
With long stretches of soft sand, relatively shallow waters, and amenities including toilets and restaurants, you'll have everything you need here.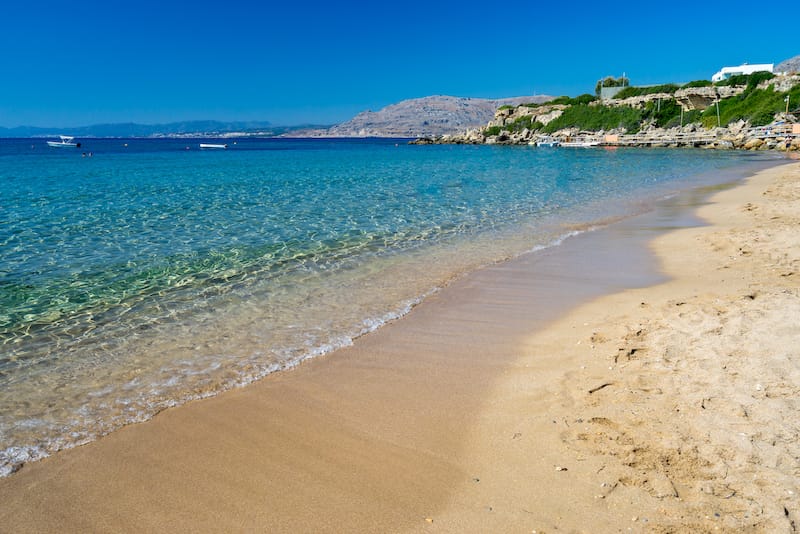 Just keep in mind that Pefkos Beach can get pretty busy during the summer months so it's best to head here early.
This way you can secure a sunlounger if you're looking to spend a few hours at this beach.
Tsambika Beach
Day two of this Rhodes itinerary is going to focus on the island's beaches, so naturally, Tsambika Beach had to be included.
Boasting a breathtaking hilly backdrop, crystal-clear waters, and golden sands, this is the perfect place to catch some rays.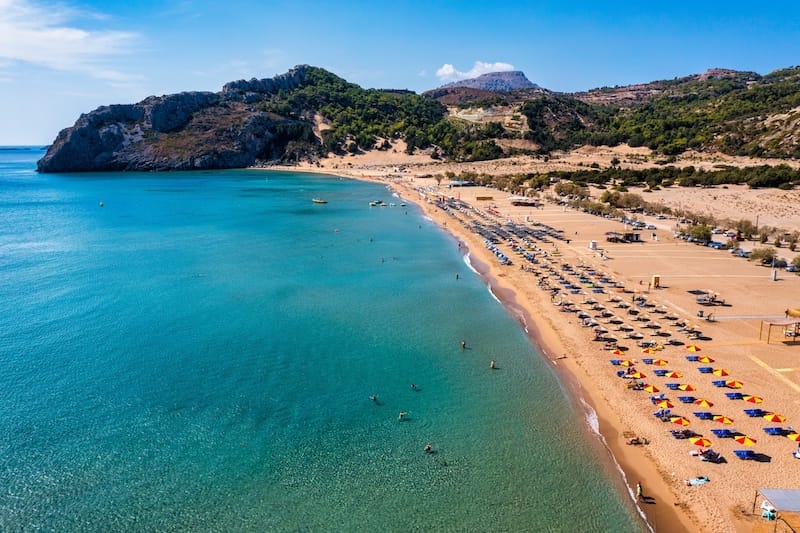 While here you can get involved in some watersports including jet skiing, relax on a sun lounger, or dine in one of the seafront restaurants.
Just make sure you take some time to appreciate the views too!
Have Lunch at Tsambika
While at Tsambika Beach, why not grab a bite to eat?
There are several options when it comes to eateries, whereas the other beaches in today's itinerary are more limited in terms of facilities.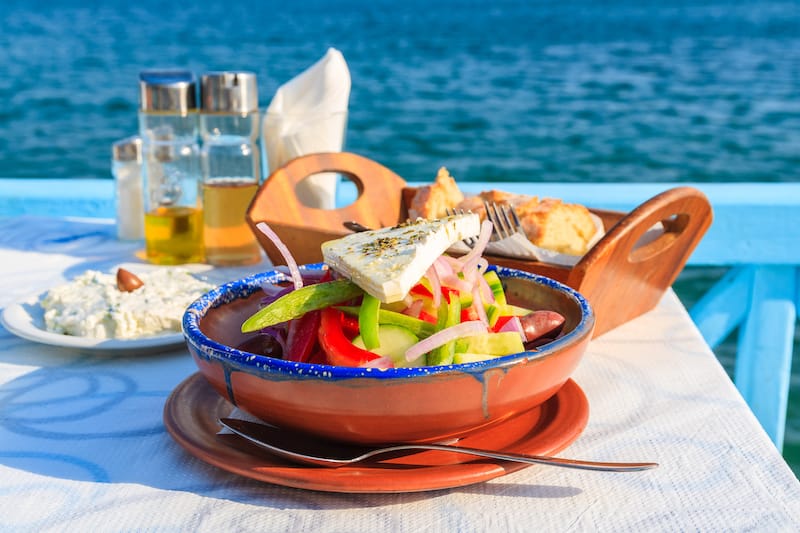 Here are some great restaurant options:
Traganou Beach
Traganou Beach is known for its superb cave that's located toward the end of the beach.
Once you've spent some time exploring here, head into the water as this beach is perfect for snorkeling with its clear waters.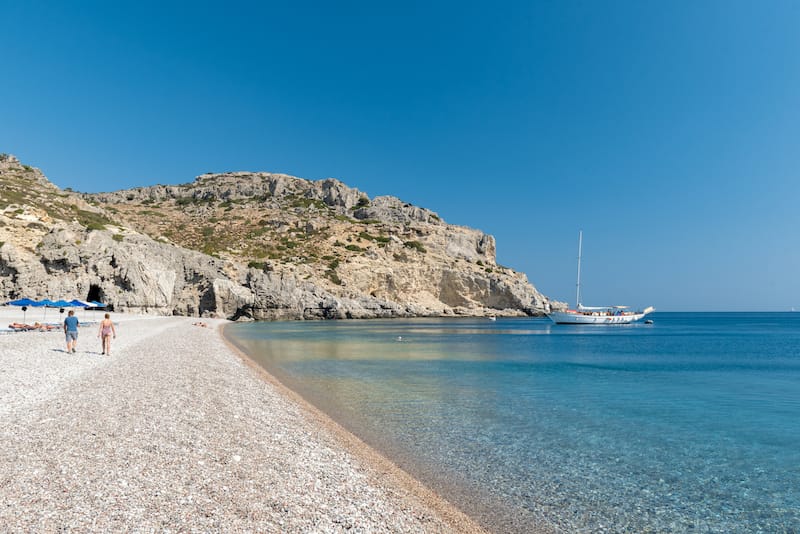 As Traganou is a pebble beach it's often much less crowded than others on the island.
This means you'll get to enjoy one of Rhode's most beautiful beaches without the crowds.
Kolymbia Beach
Last but certainly not least on today's itinerary there's Kolymbia Beach. Like Traganou, it's a pebble beach so you may want to pack water shoes.
Not only is the mountain backdrop incredibly striking, but the beach itself is also really clean!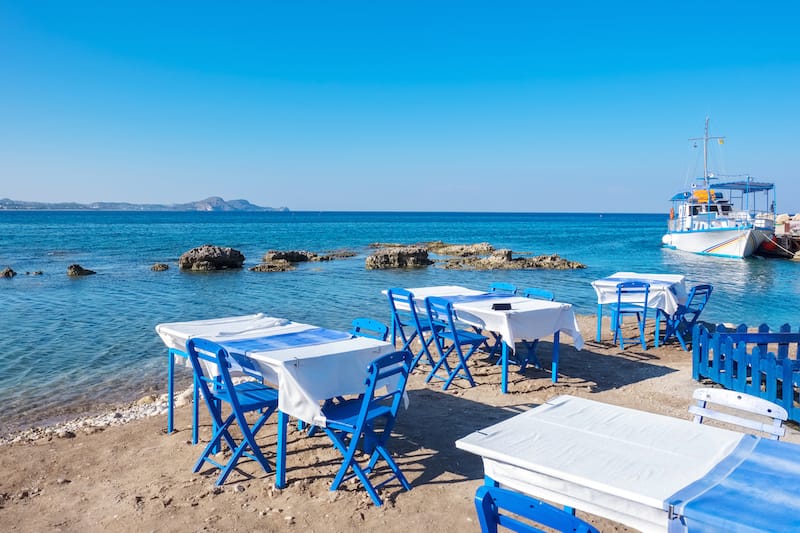 There are beach chairs available to rent at Kolymbia Beach or you can try out some water sports like water skiing. Take some time to snorkel too, as the water is extremely clear.
Day 3 in Rhodes
Rhodes Old Town
A highlight of any Rhodes itinerary; the Old Town has so much to offer.
Also known as the 'Medieval City of Rhodes', this area dates back to the 14th century.
It's located within a 4 km fortified wall and still maintains much of its character and history.
As you wander through Rhodes Old Town and its 200 or so charming alleyways you'll feel like you've been transported to another time.
Palace of the Grand Master of the Knights of Rhodes
This iconic site is located at the end of the 'Street of the Knights' within the Old Town.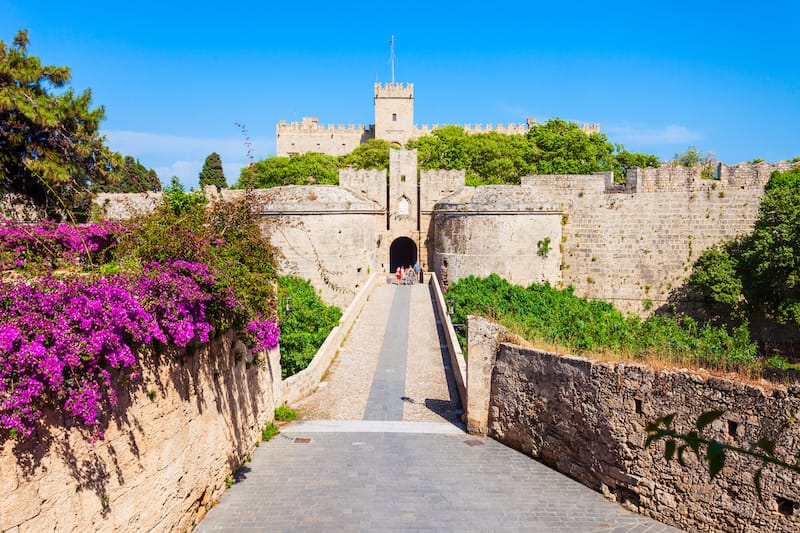 The Palace of the Grand Master of the Knights of Rhodes (a mouthful we know) is a fascinating place to visit with its unique architecture and museum that's housed inside.
There are 158 rooms in total at this palace but only 24 of these are open to the public.
Some of the most popular rooms to visit include the Grand Reception Hall and the ballroom.
Address: Ippoton, Rodos 851 00, Greece
Submarine Cruise
If you're looking for unique things to do in Rhodes then check out this awesome submarine cruise!
For 45 minutes, you'll get to appreciate the marine life found here and be treated to panoramic underwater views.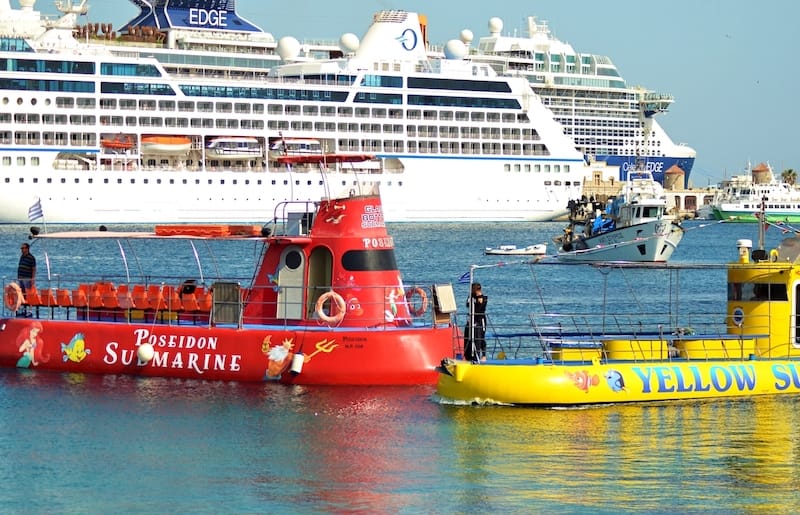 This submarine cruise departs from Mandraki Harbor and you'll benefit from an onboard bar and an outside deck where you can admire Rhodes from a unique perspective.
It's extremely cheap too for the experience you'll get!
>> Click here to check tour rates and availability
Archaeological Museum Rhodes
The Archaeological Museum of Rhodes is situated within a medieval building that was once known as 'Knights Hospitaller'.
It's home to a variety of incredible artifacts including statues, Mycenaean jewelry, vases, and Rhodian coins.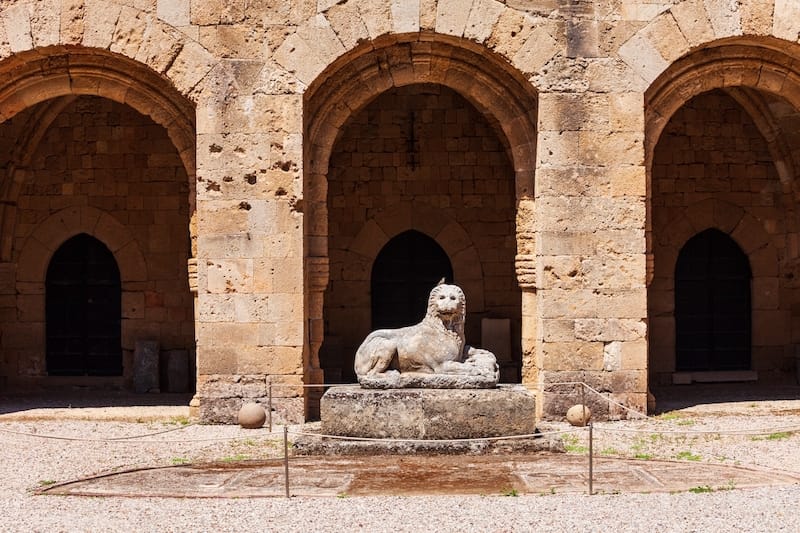 You'll also find a courtyard within this museum that features mosaic flooring and a seated stone lion.
Full tickets are €6 while 'reduced' tickets are €3, but there's also a combined ticket that includes other attractions.
Address: Great Alexander Square, Rhodes 85100
Grab a Drink at The Last Butler
The Last Butler offers a speakeasy experience within Rhodes and is probably the last thing you'd expect to find on this island.
This lively bar is famous for its jazz music, extensive cocktail menu, and fantastic atmosphere so it's not a place you want to miss.
You can also grab something to eat here as they offer finger foods, sharing snacks, and some tasty desserts.
Address: 45 Amarantou Street, Rhodes Greece 85100
Day 4 in Rhodes
Day Trip to Symi Island
Symi Island is one of the most picturesque destinations in Greece and you can easily visit on a day trip from Rhodes.
The island is known for its beaches, colorful houses, and the annual Symi Festival.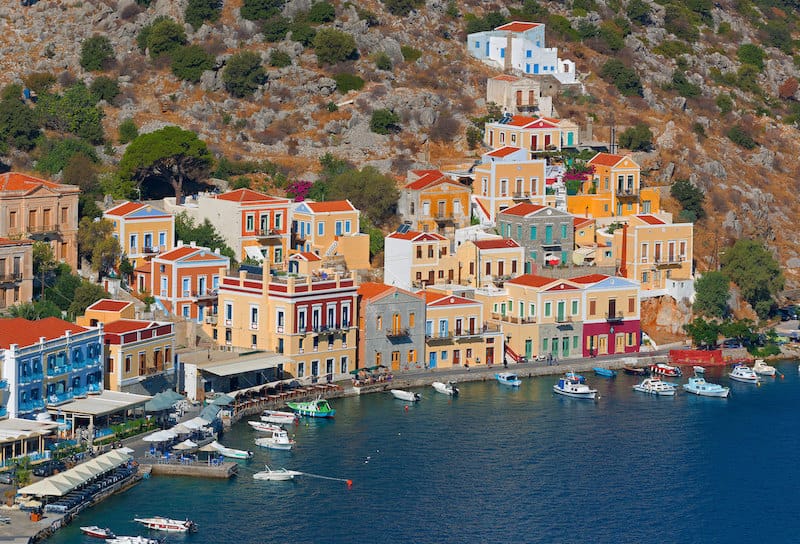 This full-day trip includes roundtrip boat tickets and port transfers, and you'll have free time to explore Symi Island and Panormitis Monastery.
You'll also get to take a dip in St. George's Bay!
>> Click here to check tour rates and availability
Grab Lunch on Symi
During your 3.5 hours of free time on Symi (if you go for the previous tour), you'll want to grab something to eat.
Luckily, there are plenty of options but here are some of the best choices:
Explore Mandraki Harbor
Once you've departed your boat trip at Mandraki Harbor, you'll want to spend some time exploring the area.
You'll get to admire all the luxury yachts and the Saint Nicholas Fortress which is found here.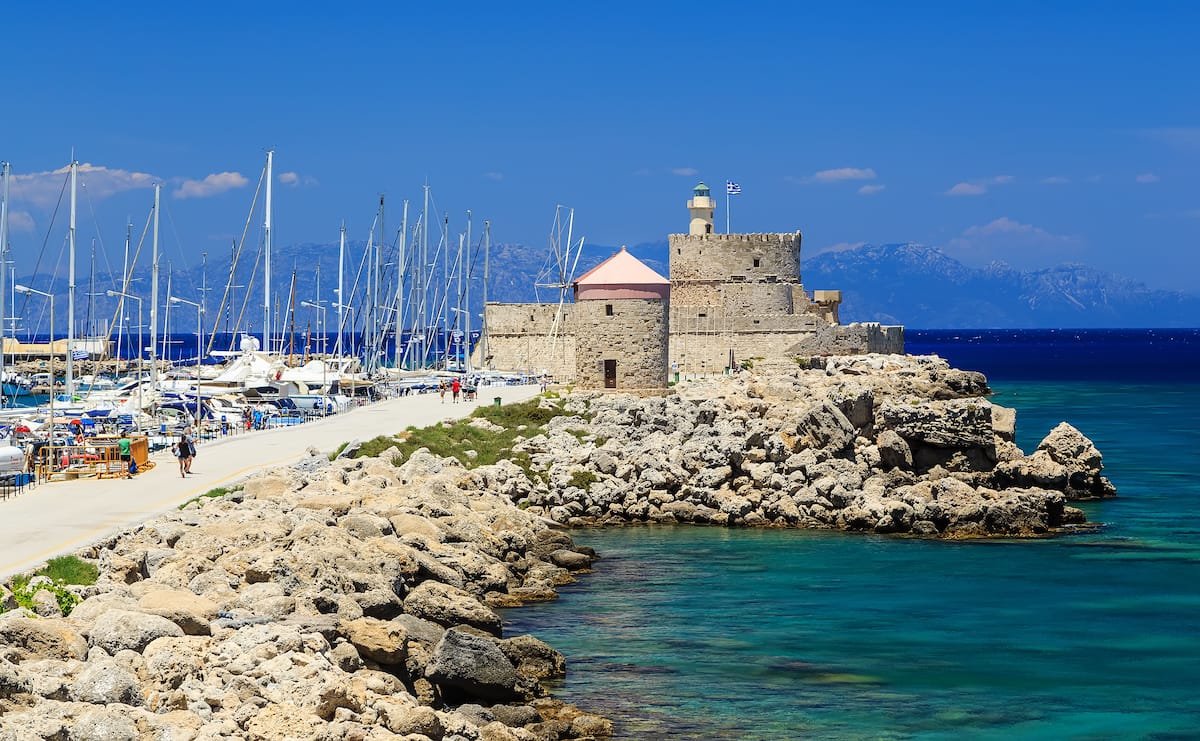 This harbor is where the mighty 'Colossus of Rhodes' once stood which was a huge statue dedicated to the sun-god Helios.
Today, all that remains are two columns and two deer statues to mark its location.
Address: Ploutarchou Plessa 2, Rodos 851 00, Greece
Day 5 in Rhodes
Valley of the Butterflies
Often referred to as 'Petaloudes Valley', Valley of the Butterflies is an impressive nature reserve that's a must-visit.
Between May-September, this place becomes overrun with butterflies (as the name suggests) and it's quite the sight!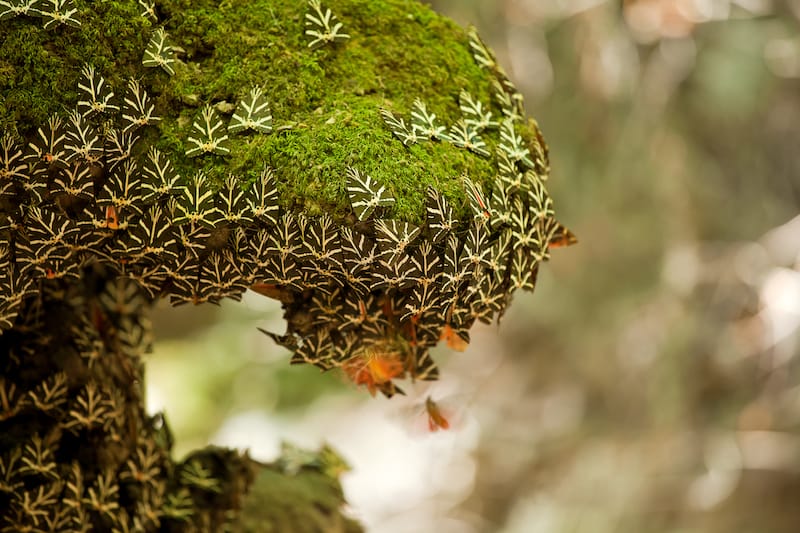 This 5-hour bus trip includes all your transport, and you'll visit the Valley of the Butterflies and Filerimos Hill.
At the latter, you'll get to see the Monastery of Our Lady and the Ancient Acropolis of Lalyssos.
>> Click here to check tour rates and availability
Have Lunch at Butterflies Restaurant
While at Valley of the Butterflies, you'll want to stop for lunch at the Butterflies Restaurant.
It's only open during butterfly season which is typically between May-September (but this can change).
This traditional taverna is found right at the entrance of the nature reserve and has been around since 1948.
It uses locally sourced ingredients and serves a variety of traditional Greek dishes.
Address: Epar. Od. Kalamonas-Psinthou, Damatria 851 01, Greece
Filerimos Hill
If you don't opt for the tour we've just mentioned above then you still need to visit Filerimos Hill.
From the top, you'll be treated to breathtaking views of Rhode's Northern areas. If you're lucky, you'll also get to see the peacocks that tend to wander around.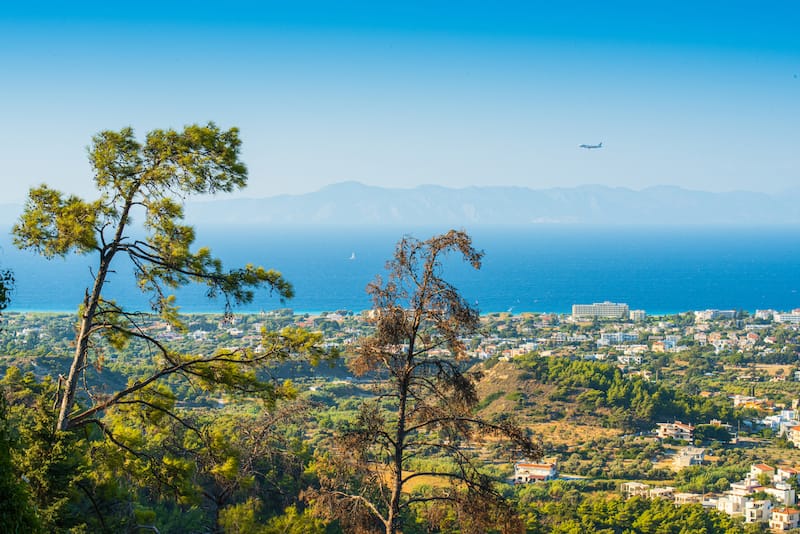 There's also plenty to see at Filerimos Hill including the two chapels of Prophet Elias, the Monastery of Our Lady, and the Ancient Citadel of Ialyssos.
You've also got the path to Golgotha!
Seven Springs
Also known as the 'Epta Piges', Seven Springs is a must for any Rhodes itinerary!
This peaceful and stunning gorge is home to several springs and small rivers, making it extremely beautiful.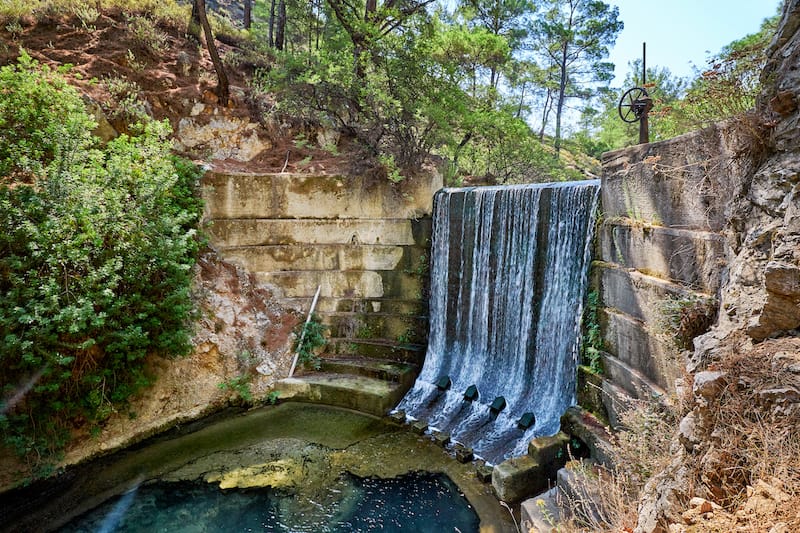 There are a couple of walking trails at Seven Springs if you're after a short stroll.
After just 5 minutes, you'll reach a stunning lake that's surrounded by woodland. Many people choose to take a picnic here or there's a small tavern nearby.
Address: Archangelos 851 02, Greece
Day 6 in Rhodes
Waterpark Faliraki
If you're looking for fun things to include on your Rhodes itinerary then head to Waterpark Faliraki.
It's set to re-open in early May 2023 and is home to a whole host of attractions including a swimming pool, lazy river, tipping bucket, and thrilling slides.
The slides are obviously the highlight and you've got both family-friendly and extreme options available.
If you're a daredevil then check out the Kamikaze Slide, the Turbo Slide, and the Twister Slide.
Address: Athanaton, Rodos 851 05, Greece
Dine at Faliraki Beach
After spending a few hours at Faliraki Water Park (or a whole day if you wish), head to the Faliraki Beach area for something to eat.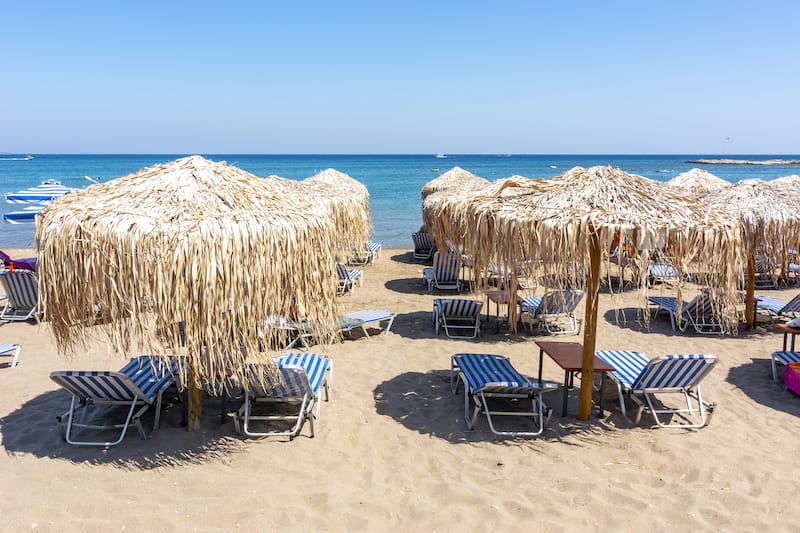 You'll find plenty of great restaurant options here including:
Day 7 in Rhodes
Go Sea Kayaking
There's no better way to explore the coastline of Rhodes than by heading out in a sea kayak.
You'll get a unique view of the island and many kayaking tours also offer you the chance to snorkel as they include all equipment.
This Pirate's Route sea kayaking tour lasts for 4.5-5 hours and is run through Trekking Hellas Rhodes.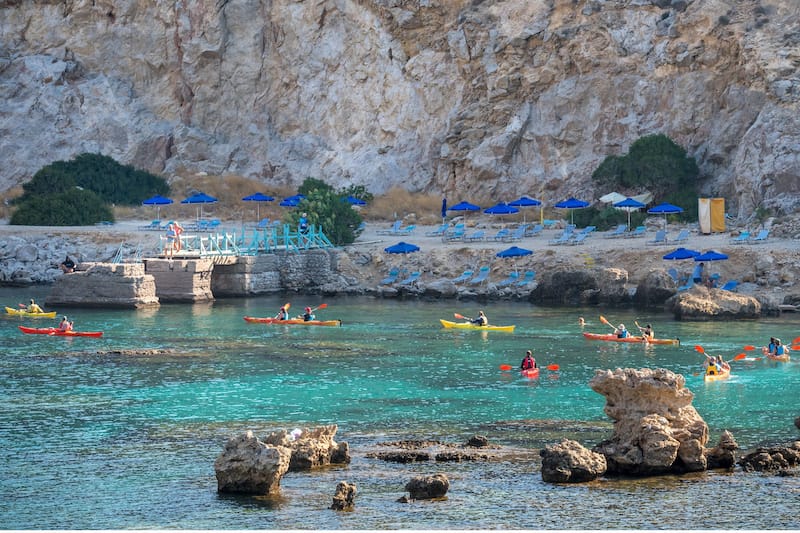 It includes a homemade picnic at Traounou Beach and will allow you to visit popular spots like Anthony Quinn's Bay and Ladiko Beach.
>> Click here to check tour rates and availability
Acropolis of Rhodes
The Acropolis of Rhodes is thought to date back to the 3rd century BC and is yet to be excavated fully.
It's one of the best examples of Hellenic architecture, and there are some fantastic monuments here including The Temple of Athena Polias and Zeus Polieus.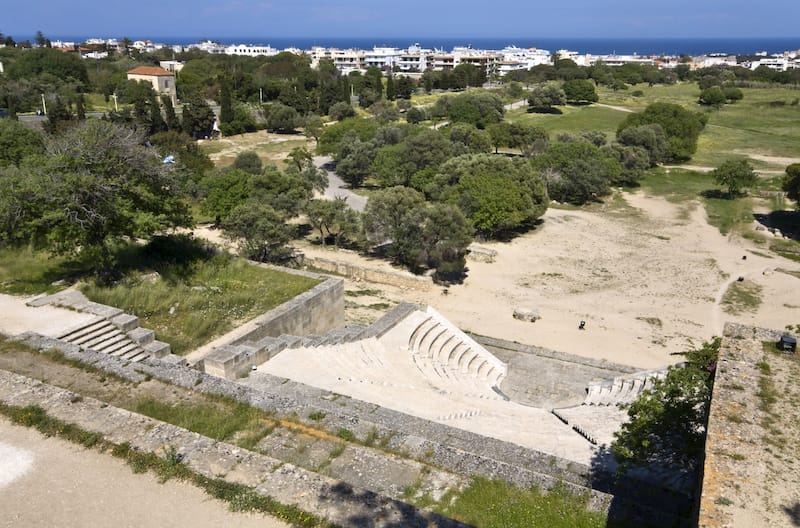 Other monuments include the Odeon, The Temple of Pythian Apollo, the stadium, and the gymnasium. There's a lot to see here so take your time!
Address: Diagoridon 68, Rodos 851 00, Greece
Head Out on a Sunset Cruise
With a BBQ, unlimited drinks, and relaxing tunes, there's no better way to end your trip than by heading out on a sunset cruise.
This all-inclusive sunset cruise leaves Mandraki Harbour and allows you to visit and swim at Kalithea Spa.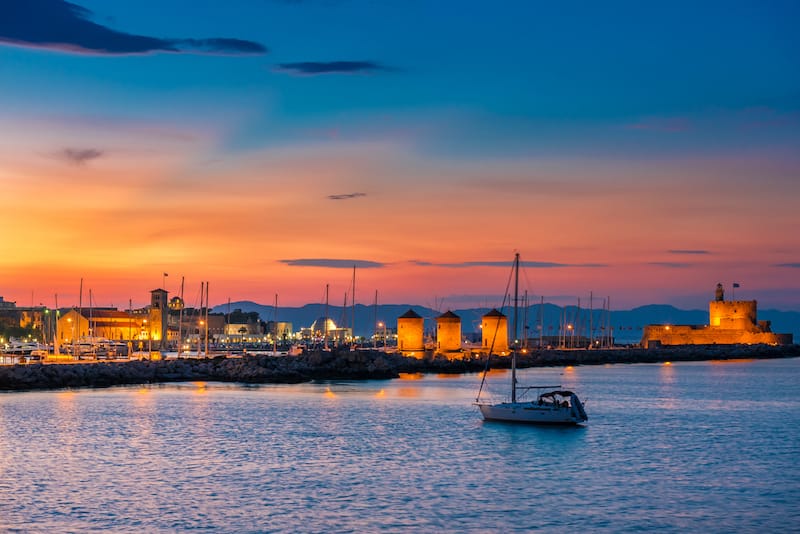 Take in the breathtaking views, head out for a dip, and enjoy a free-flowing Aperol spritz while you watch the sun go down!
There are also soft drinks available and you'll be treated to an authentic Greek BBQ.
>> Click here to check tour rates and availability
Where to Stay on Rhodes
If you are looking for some of the best accommodations on this island, here are some of our top picks!
Did we miss any of the best spots for a Rhodes itinerary? Let us know how you would spend 7 days in Rhodes in the comments!
More Greece Travel Guides
Pin this 7 Days in Rhodes Itinerary