Are you planning to spend an epic weekend in Berlin?
This 2 days in Berlin itinerary will show you the best of the German city and how to make the most of your trip.
Are you planning your trip to Berlin last minute?
If youʻre booking your trip to Berlin last minute, we have you covered. Below are some of the top tours, hotels, and more!
Top Tours in Berlin:
Top Accommodation and Lodging in Berlin:
Hotel Adlon Kempinski (luxury)
Adina Apartment Hotel (mid-range)
Generator Hostel Mitte (budget)
Berlin is an interesting and unique European city like no other.
I'll be honest that it wasn't an instant love affair—it was a slow build to appreciate Berlin, especially as I'm an architecture lover.
But once I saw past the neighborhoods with block after block of stern 1960s-looking apartments, I was able to see a different Berlin.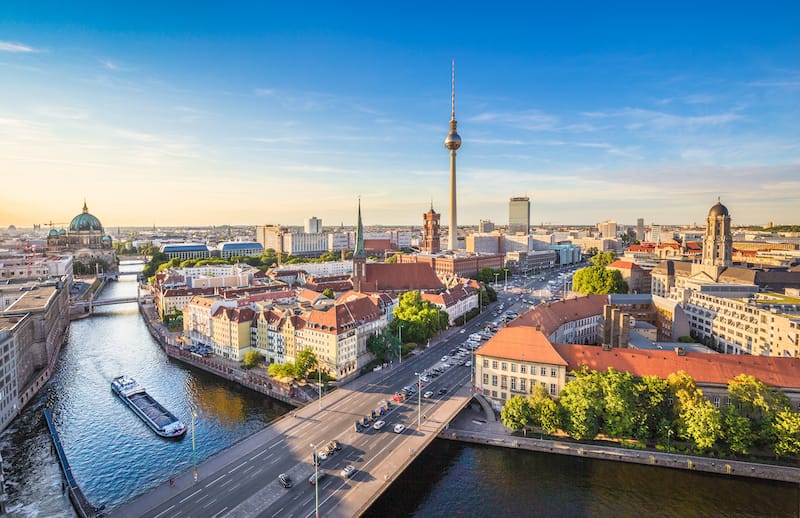 It's not a city with stunning architecture like the rest of Europe. Instead, Berlin's charm is in its quirky and almost rebellious side.
There are many landmarks in Berlin that will blow your mind and keep you occupied throughout your stay!
Berlin is a city that acknowledges its past and looks toward the future in a youthful and hopeful way. Here are the top things to do during a weekend in Berlin! Let us know your Berlin travel tips in the comments!
Best Time to Visit Berlin
Prime tourist season in Berlin is during the summer, from May to September.
You'll find the best weather at this time and it's the perfect time of year to take to the streets to explore the city and to enjoy outdoor cafes.
It's also the busiest time for travelers. In the late spring and early fall, shoulder season is a perfect time to visit Berlin to enjoy seasonable weather with fewer crowds.
There are a lot of great festivals in Berlin worth checking out.
Oktoberfest is a big one celebrated in late September and early October. It's not as big as the celebrations in Munich, but it's still worth going to.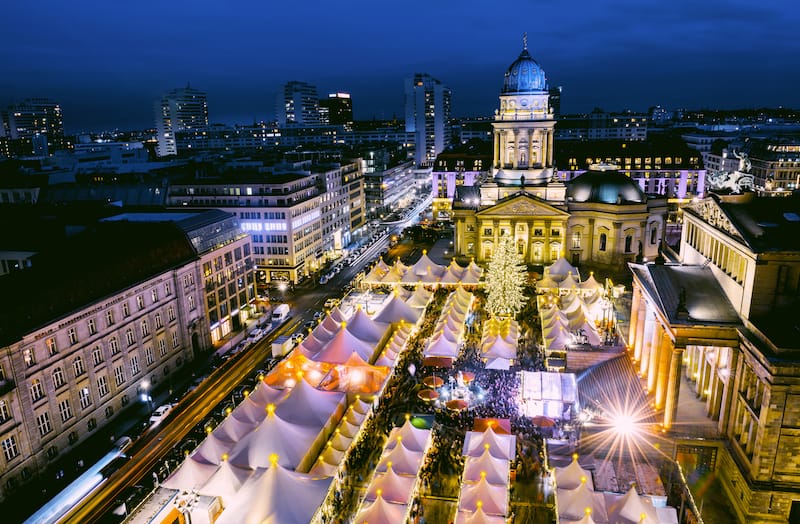 In August, you'll find the Berliner Bierfestival (because Germans love their beer!), Karneval der Kulturen, a celebration of Berlin's cultural diversity, and others.
There's even an international film festival hosted in June, the Berlinale International Film Festival. In the wintertime, you'll find many Christmas markets throughout the city to celebrate the holidays.
Whether you decide to go to enjoy a festival or just to explore Berlin, you'll find a cosmopolitan city with lots to do.
Where to Stay in Berlin
If you only have a couple of days in Berlin, you'll want to stay in the city center so you can maximize your time.
The Mitte neighborhood (meaning center) is a good part of town to consider or bordering that area.
Budget: Generator Hostel Mitte is a great budget-friendly bed and breakfast option.
Rooms are basic but comfortable and thoughtfully appointed. It's close to public transportation, and there are lots of nearby restaurants. The staff is really friendly and helpful.
Mid-Range: Adina Apartment Hotel offers three locations in the Mitte area. One is near Checkpoint Charlie and another is close to the train station, making it convenient to easily access the subway system.
These apartments are comfortable, well-appointed, and will make you feel like a local.
Luxury: You can't beat Hotel Adlon Kempinski for a splurge. It's located steps from Brandenburg Gate (convenient so you can see it by day and by night!). This luxury hotel offers the best German pampering.
Where to Eat in Berlin
German food is often a bit heavy.
You'll find dishes like sausages and sauerkraut, schnitzel (fried meat), and meats with rich sauces. Being a modern city, you will find vegetarian foods as well at many restaurants and all types of foods.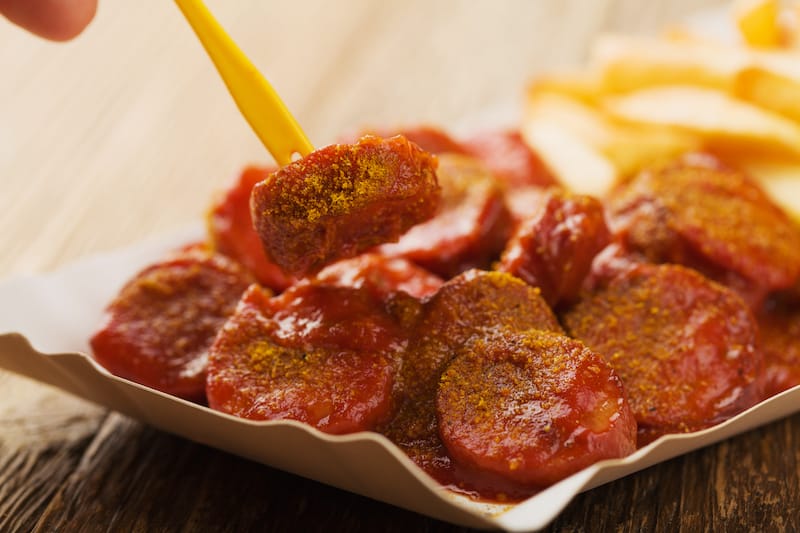 Definitely try some traditional German places when you visit Berlin. Here are some Berlin restaurants that come highly recommended:
Restaurant Tim Raue: A hidden gem in a nondescript building near Checkpoint Charlie.
Augustiner: Great place for traditional German food near Gendarmenmarkt, a large square with some impressive architecture and great people watching.
Grill Royal: Upscale and trendy restaurant on the river.
Alt Berliner Gasthaus Julchen Hoppe: A local favorite near Museum Island where many of the most popular museums are located.
Vedang: A plant-based burger joint with multiple locations.
Kurpfalz-Weinstuben: Another local favorite not far from Charlottenburg Palace.
Curry61: Try currywurst, a local cheap eats dish.
Of course, finish your dinner with an apple strudel, a local treat!
How to Get around Berlin
Berlin is a very walkable city and the primary tourist attractions are clustered together.
There's a great public transportation system and between the U-Bahn subway and the S-Bahn regional system, you can get everywhere you need to go in and around the city.
There are close to 175 stops so the city is well-covered (as well as many of the most famous landmarks in Germany).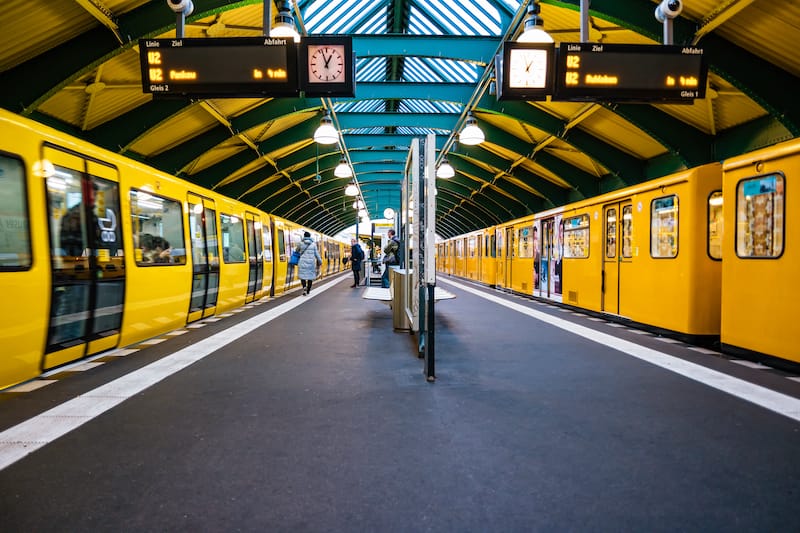 Tickets are required, and you can purchase them on the platforms at all stations. You must validate your ticket with a stamp so be sure to do that as they check.
A single one-way ticket is 3.20 Euros (around $3.50 USD). You can get a day ticket for the central city for 9.5 Euros (around $10 USD) or a 7-day ticket for 39 Euros (a little over $42).
Weekend in Berlin Itinerary Overview
Day 1 in Berlin
Brandenburg Gate
Memorial to the Murdered Jews of Europe
Reichstag
Tiergarten
Charlottenburg Castle
Day 2 in Berlin
Berlin TV Tower
Berlin Cathedral
Pergamonmuseum
Eastside Gallery
Checkpoint Charlie
Berlin Attractions on this Itinerary
1. Brandenburg Gate
Start your weekend in Berlin tour at one of the most popular sites in the city, the Brandenburg Gate. Berlin is the most heavily touristed city in Germany, and this is the most popular landmark in the city.
This striking gate is an iconic landmark in the city. Though it once represented the German division during the Cold War years, it's now a symbol of peace and unity in Germany.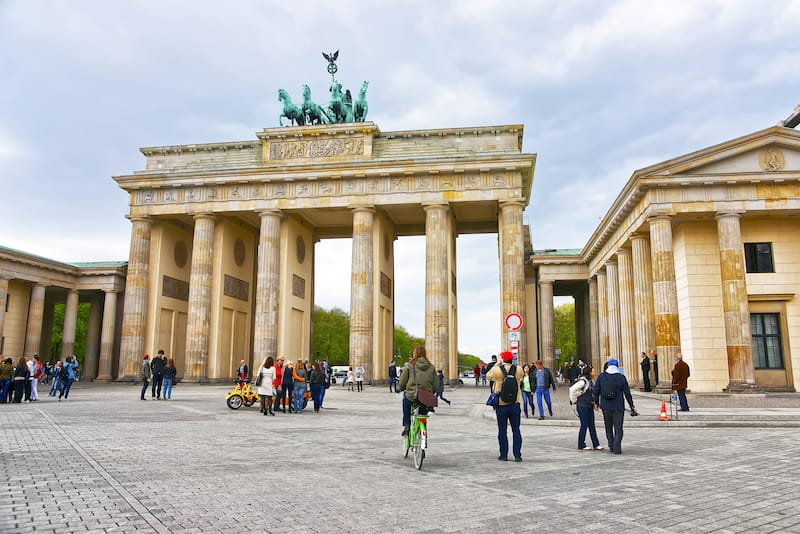 The gate was built in the late 18th century by Friedrich Wilhelm II of Prussia, inspired by a similar one at the Athens Acropolis.
It was built to be an impressive architectural statement about the prominence of Germany and Berlin.
The Brandenburg Gate has historical significance as it was a Nazi symbol of power during World War II.
Later in the 1980s, it was the place where United States President Ronald Regan made his famous speech saying, "Mr. Gorbachov, tear down this wall!"
Following this speech, the division between East and West Germany ended both physically and mentally.
2. Memorial to the Murdered Jews of Europe
Chances are you'll see this memorial when you head to the Brandenburg Gate, and it's worth a quick stop. This Holocaust memorial was built on the 60th anniversary of when World War II ended in Europe. It's one of the ways Berlin makes sure to be sure never to forget.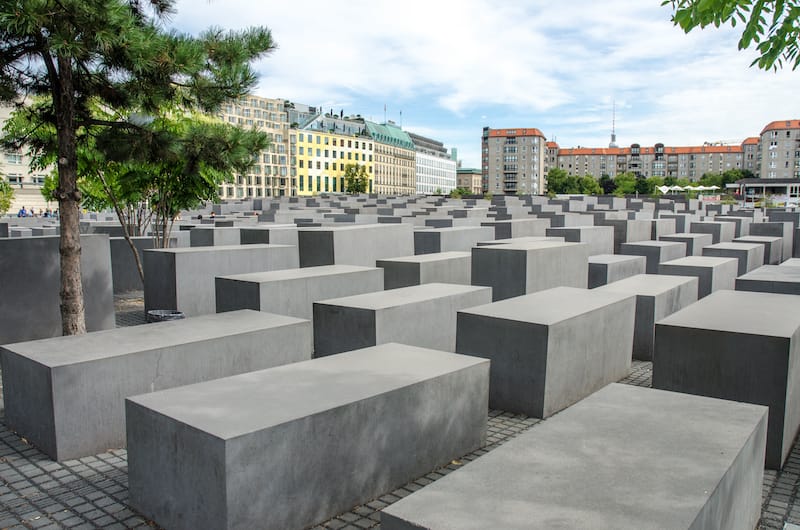 It's an interesting place with nearly 3,000 concrete slabs arranged in a grid pattern with varying heights and widths. The slabs aren't quite centered, intentionally so, providing a sense of uncertainty.
It's designed as an area of remembrance and contemplation so you can pay your respects as you wander through the stones.
Address: Cora-Berliner-Straße 1, 10117 Berlin
3. Reichstag
Just a block from the Brandenburg Gate is the Reichstag, which houses the German Parliament. This impressive stately building has quite a history, surviving wars, bombs, and fire to rise as a symbol of a democratic modern Germany.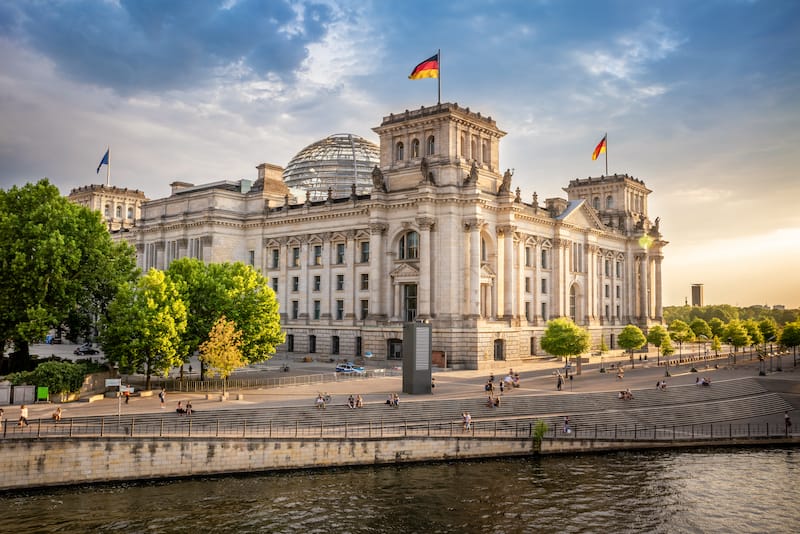 If you're interested in political history, it's a great place to visit. It was initially opened in 1894, though it was closed for many years following a fire. Some work was done to repair the Reichstag, but the building wasn't fully restored until the 1990s.
You can go to the top of the large glass dome on top of the building to enjoy 360-degree views of Berlin, a popular thing to do.
However, you are required to book in advance to get a time slot at least 3 days before you want to go. They do not allow people to walk up without a ticket.
Address: Platz der Republik 1, 11011 Berlin
4. Tiergarten
For a break from the city, check out the Tiergarten. It's a massive park in the center of Berlin and one of the largest in the country.
The Tiergarten dates back to the early 16th century, and it was created as a hunting area for King Friedrick III.
The Tiergarten has many statues throughout. They are beautiful and ornate and seemed a bit out of synch with the park, adding a fun and quirky touch to it.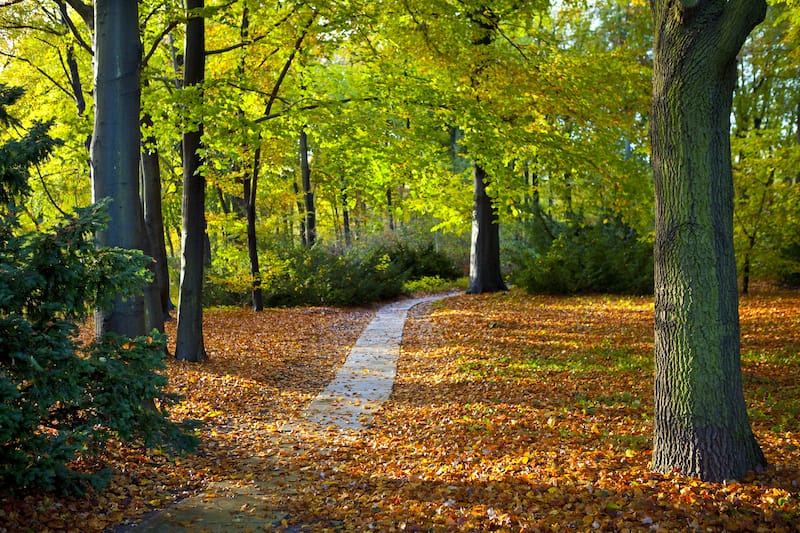 Wander to check them out while enjoying the "green lung" of Berlin. It's a popular place for runners, cyclists, walkers, and people just lounging in the grass to take a break from their day.
Address: Str. des 17. Juni, 10785 Berlin
5. Charlottenburg Palace
It probably won't surprise you to know that Berlin has a beautiful palace that rivals the other grand palaces throughout Europe.
Charlottenburg Palace was built in 1699 as a summer palace for Sophie Charlotte, the wife of King Friedrich I.
The palace is built in the Baroque style and it's grand and opulent. It was badly damaged during World War II though it was painstakingly rebuilt to its original grandeur.
You can tour this incredible palace, and you can even see the Berlin Residence Orchestra play here.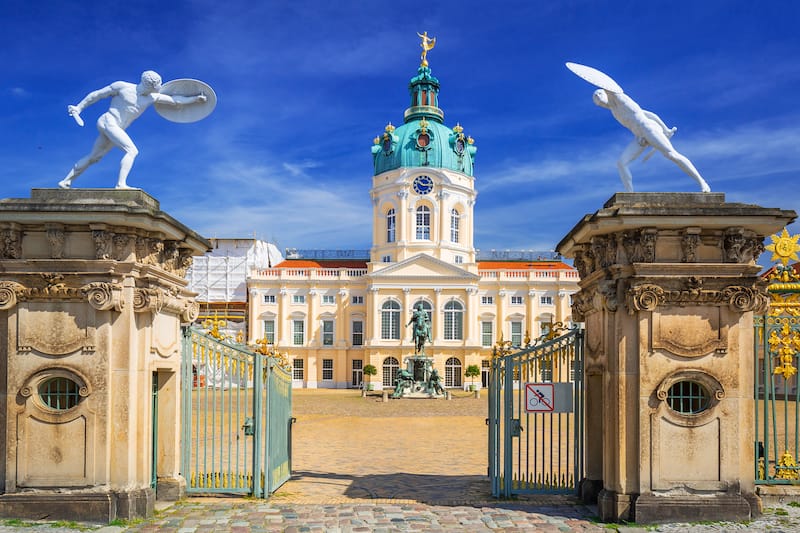 As incredible as this palace is, the grounds rival its beauty. There's a large pond and smaller ones with fountains and gardens designed in English and French styles.
Address: Spandauer Damm 10-22, 14059 Berlin
6. Berlin TV Tower
Berlin's day two will start at the iconic and modern Berlin TV Tower. It was built in the late 1960s when the area was the German Democratic Republic, now East Germany.
The TV tower represented Communist power in Germany, yet another period of East Germany's history.
The Berlin TV Tower is visible through much of the central neighborhoods and even in some of the suburbs.
It's the tallest structure in Berlin and one of the tallest in Europe as well. It rises over 1,200 feet (368 meters).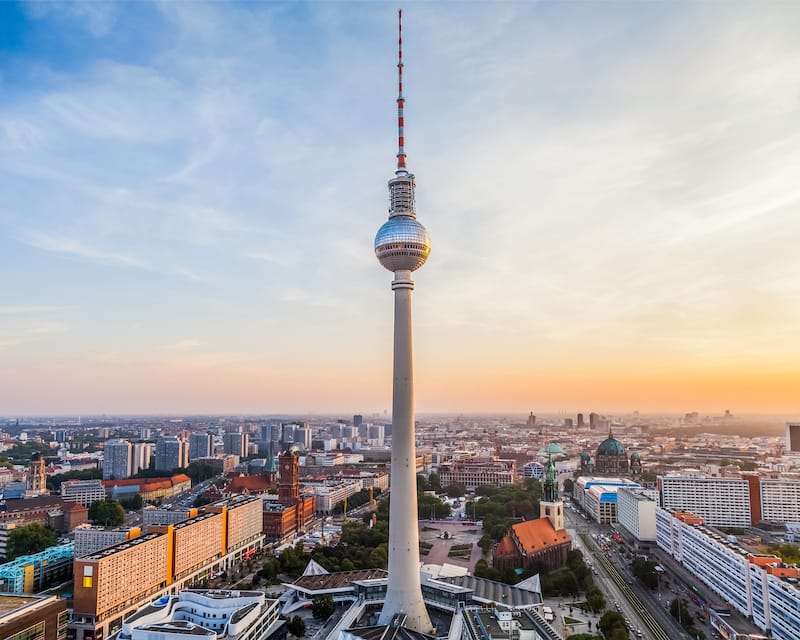 There are several radio stations and tv broadcasting stations that operate in the tower.
Visitors can go near the top to the observation deck on the viewing tower or enjoy a bite to eat in the rotating restaurant.
You'll take in incredible views of the city.
Address: Panoramastraße 1A, 10178 Berlin
7. Berlin Cathedral
Next, make your way to the striking Berlin Cathedral. Berlin may not have a lot of truly stunning architecture, but the Cathedral makes up for it.
It's located on Museum Island, a UNESCO World Heritage Site.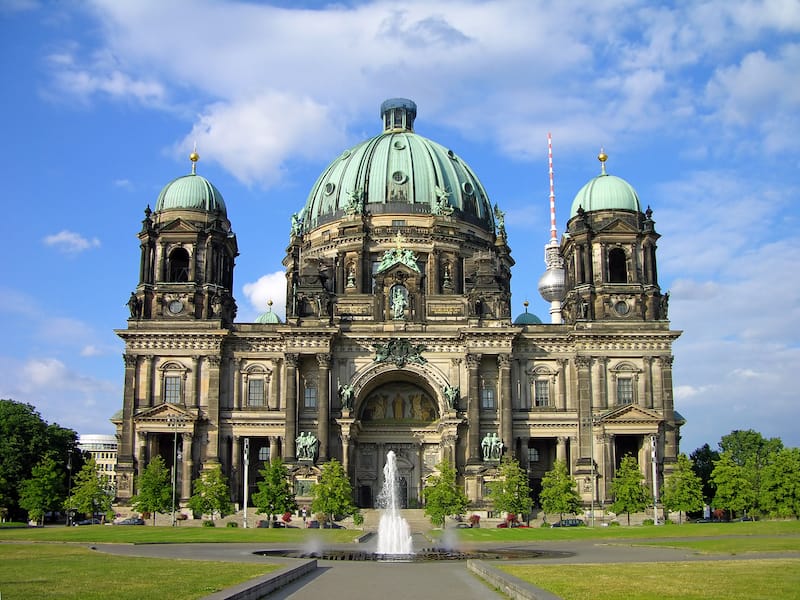 The cathedral was built in the late 19th century by Emperor William II in Baroque Revival and Renaissance styles.
It was badly damaged during World War II though the interior was restored to its original state in 2002. Climb 270 steps to the top for incredible panoramic views.
Address: Am Lustgarten, 10178 Berlin
8. Pergamonmuseum
Berlin has a number of noteworthy museums, but if you can only choose one, go to the Pergamonmuseum. It is the most unique of the museums in this area.
When you visit, you'll feel like you're walking through the pages of history. It's one of five museums on Museum Island.
There are actually three museums in one: Collection of Classical Antiquities, Museum of Islamic Art, and Museum of the Ancient Near East.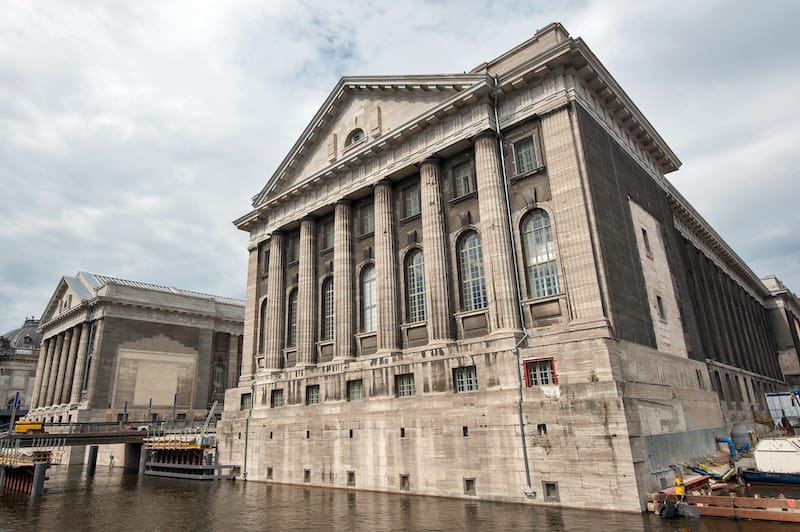 You'll be amazed by the Pergamon Altar that was from the 2nd century BC in Greece. Or, walk through the reconstructed Ishtar Gate of Babylon. It's built to scale and awe-inspiring.
In addition to their larger exhibits, you can see one of the most impressive collections of Islamic art you could find anywhere.
The museum houses artifacts from Christian, Jewish, and Muslim groups from between the 7th and 19th centuries.
Address: Bodestraße 1-3, 10178 Berlin
9. Eastside Gallery
For a different, more modern, and edgy kind of art, visit the Eastside Gallery.
Nearly 120 artists representing 21 countries worked on the project to paint an old section of the wall that separated East and West Germany.
The Eastside Gallery is the largest open-air gallery in the world, rejoicing in the wall being torn down and the end of the Cold War.
Through art, they found a voice to make something that was so painful a memory into art.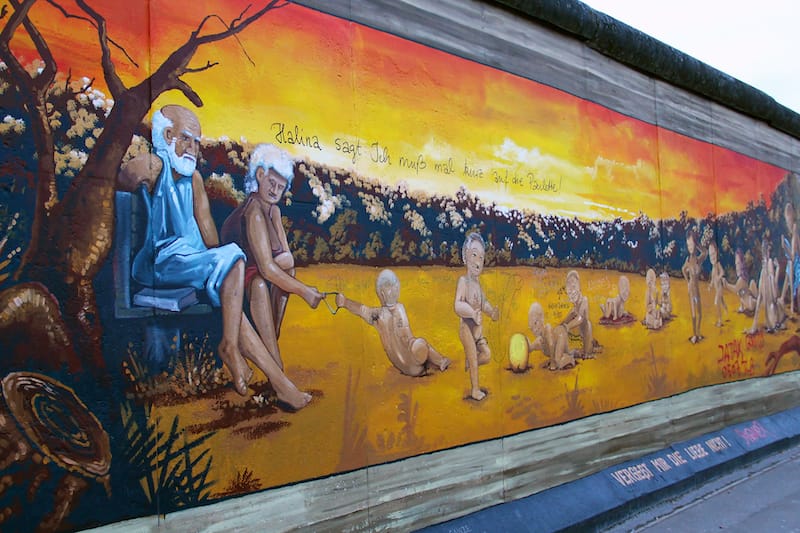 The gallery is by the Spree River at the former border between the American and Soviet sectors.
It's over 4,000 feet long, and though there's a lot of graffiti marring the artwork, it's still worth seeing.
Address: Mühlenstraße 3-100, 10243 Berlin
10. Checkpoint Charlie
Checkpoint Charlie was the most well-known gate established by the Allies between East and West Germany. The gates were named Alpha, Bravo, Charlie, etc.
Though the other checkpoints were used, Checkpoint Charlie was the most famous one used by foreigners.
You may have herald of it from spy novels and Hollywood movies, but it's a real place in Berlin. It remains standing as a reminder of the division in Germany during the Cold War.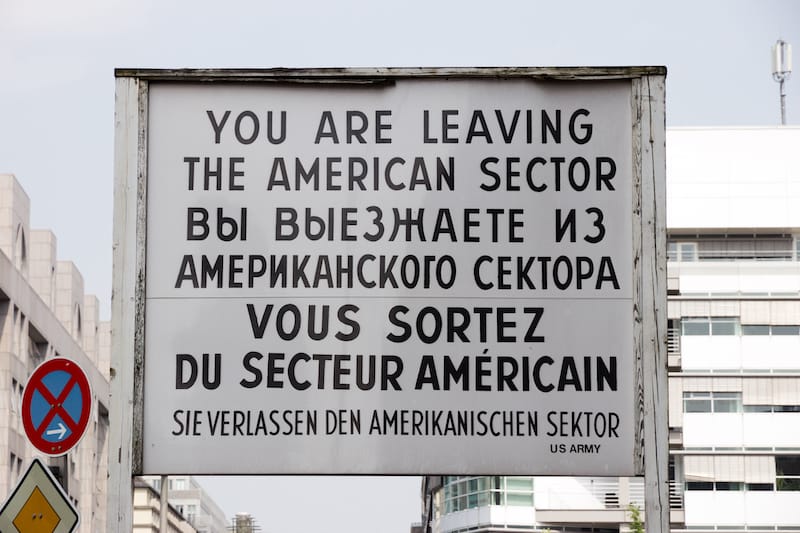 If you have the time and want to learn more about this period of time, check out the Mauer Museum (Wall Museum). It's nearby and provides a good perspective of what it was like to live in East Germany at the time.
Address: Friedrichstraße 43-45, 10117 Berlin
More than 2 Days in Berlin?
If you have time to add a day to your weekend in Berlin, you won't want to miss a day trip to Potsdam. It's only a 45-minute ride on the S-Bahn from the central train station in Germany so it's easy to get to and well worth your time.
Sanssouci Palace is the primary draw to Potsdam. It was built by Frederick the Great of Prussia in the mid-18th century.
It rivals the beauty of the French Palace of Versailles though it's much smaller. It's part of a UNESCO World Heritage Site.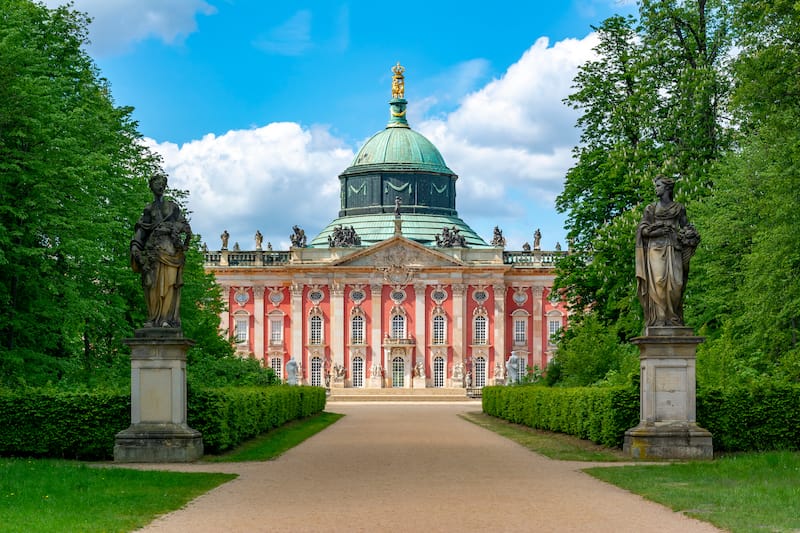 The Potsdam town center, Old Market Square, is gorgeous, with a lot to see and do.
St. Nicholas Church is a stately place, and the Potsdam Film Museum is a gorgeous building with a really interesting museum inside. City Palace is worth seeing and walk through the Potsdam Brandenburg Gate.
Cecilienhof Castle is another interesting place to visit, both for the English Tudor manor house as well as its history.
It was here that Franklin Delano Roosevelt, Winston Churchill, and Joseph Stalin gathered at the end of World War II for the Potsdam Conference to decide on the structure of Germany after World War II.
Should You Book a Berlin Weekend Trip?
It's hard to believe how much you can fit into a weekend in Berlin. From stunning palaces to quirky artwork to modern masterpieces, visiting Berlin is a unique experience.
There's a lot to see and do if you have 2 days in Berlin and it will surely whet your appetite for a return trip!
AUTHOR BIO: Sam is a travel-obsessed animal lover on a quest to create a life of travel with her dog. She loves learning new things, snuggling a dog, architecture, hiking, and bold red wine. Join her in creating a life to dream about at My Flying Leap!
More Germany Travel Resources
Pin this Berlin 2 Days Itinerary!