Are you heading to the Faroe Islands and planning to visit Kalsoy? This guide details what to do in Kalsoy and how to hike to the Kallur Lighthouse!
Planning your trip to the Faroe Islands last minute?
Below are some of the top tours, hotels, etc to help plan your Faroe Islands trip!
Getting around the Faroe Islands:
Cheapest car rental options (and with most availability!)
Vagar airport to Torshavn (a quick transfer service!)
Top Experiences and Tours in the Faroes:
Top Lodging and Hotels in the Faroes:
Update: I initially went to Kalsoy and did the Kallur Lighthouse hike in March 2017. I failed miserably at it due to my insane fear of heights. I went back in August 2018 and finally completed it! It is a pretty easy hike, but if you're scared of heights, it may be more challenging.
This post talks about everything you need to know before hiking to the Kallur Lighthouse on Kalsoy in the Faroe Islands. My newest updates are in the 'August 2018 Kalsoy Updates' section.
We've all seen it. That image of the Faroe Islands where the lighthouse sits majestically on a rugged mountainside that plunges into the ocean dramatically on both sides.
People hike to it. Otherwise, how would everyone score such an epic photo? (Spoiler alert: the only other tourist on the island when we were there didn't opt to hike but rather to fly his drone for the picture… psh).
I had long dreamt of the day when I would get to see the Kallur Lighthouse on Kalsoy with my own eyes. In fact, our day on Kalsoy was the only research I had done prior to going to the Faroe Islands.
Because the trip needed to be done by ferry and the ferry was small, it was something I had wanted to have planned out strategically so that we wouldn't end up stuck somewhere or missing the boat out to the island.
About Kalsoy
Kalsoy is one of the eighteen islands that make up the Faroe Islands. Kalsoy is mostly known for the Kallur Lighthouse, harsh and rugged landscapes, and the Selkie statue in Mikladalur.
The island is long and skinny and wedged in between Kunoy and Eysturoy.
In fact, "Kalsoy" means man island and "Kunoy" means woman island. There are no bridges or underwater tunnels connecting Kalsoy to another island; you can reach it merely by ferry or boat.
The island of Kalsoy has four settlements comprising of around 150 people collectively. The settlements are Trøllanes, Mikladalur, Húsar, and Syðradalur.
The settlements are all on the east side of the island as the west side of the island is extremely rough and rather inhabitable. The small villages are connected by a single road that goes through four extremely snug tunnels.
The callous and unforgiving landscape is home to quite the seabird colony, on the other hand.
The northern and western coasts are home to around 40,000 pairs of Atlantic puffins, 5,000 pairs of European storm petrels, and 200 pairs of black guillemots.
While Mykines gets all the fame for its puffin colony, several other islands boast large numbers of puffins, as well.
Kalsoy is home to thirteen peaks. The two largest ones are Nestindar and Botnstindur, standing tall at 787 meters and 743 meters, respectively.
Getting To and From Kalsoy from Klaksvik
Getting to Kalsoy from Klaksvik is pretty self-explanatory, but you really do need to read ahead and know the ferry schedule. To check out the website containing all ferry schedules for the islands, click here.
We went to the Faroe Islands in March and were not in the travel high-season, so we did have fewer ferry options then.
Below are the ferry schedules in accordance with the season courtesy of Strandfaraskip Landsins.
Please do check their site before your trip to ensure the schedules stay the same and that you are not hitting the trip during a holiday (they list national holidays and observances on their website).
All ferries go from Klaksvik to and from Syðradalur on the south end of Kalsoy.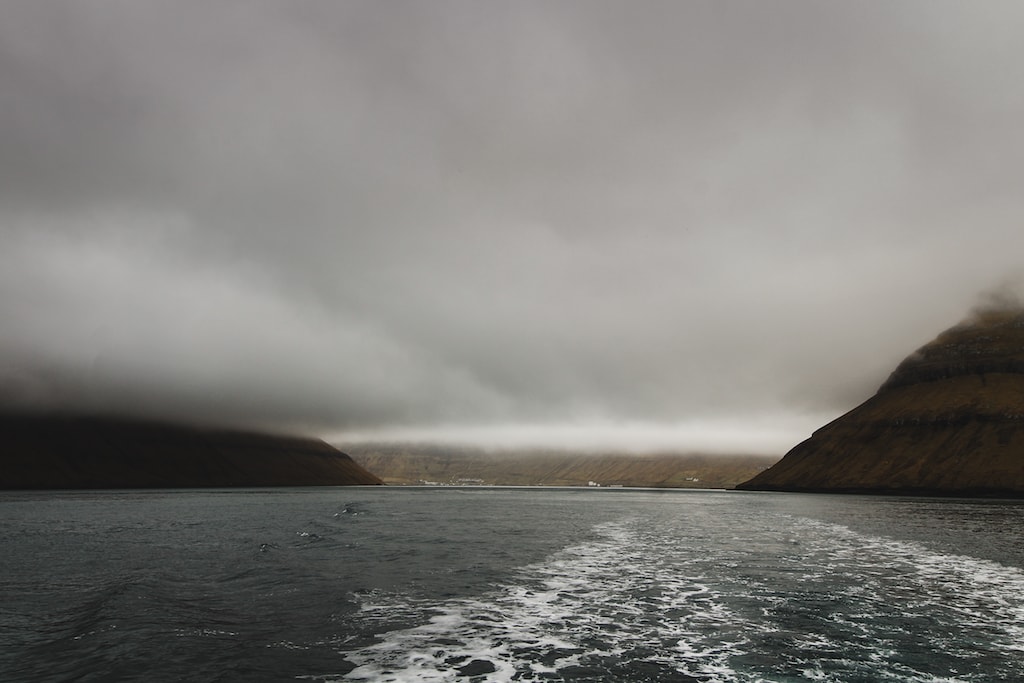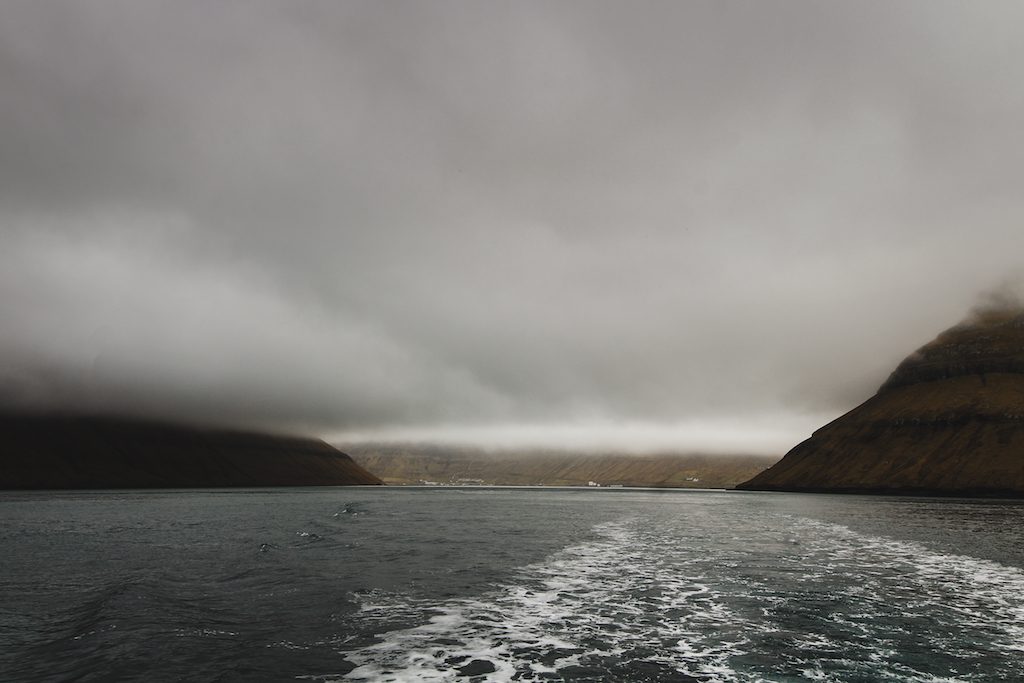 Ferry tips: These ferries are small and don't fit a ton of cars which is probably good because the roads and tunnels are small on Kalsoy and the island can't handle too many people from an infrastructure perspective.
The ride is 20 minutes long and you will ride the ferry in the same area that your car is parked. It is the perfect time to birdwatch and admire the unmatched scenery that the Faroe Islands has to offer.
High Season Ferries (May 1 – August 31)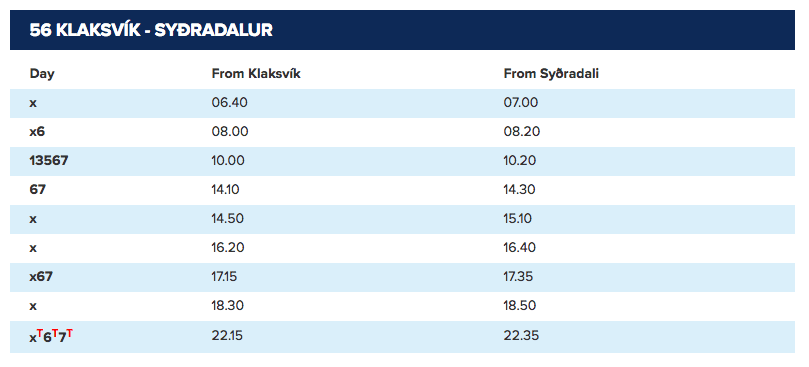 x = Week Days from Mon. to Fri.
1 = Monday
2 = Tuesday
3 = Wednesday
4 = Thursday
5 = Friday
6 = Saturday
7 = Sunday
Low Season Ferries (September 1 – April 30)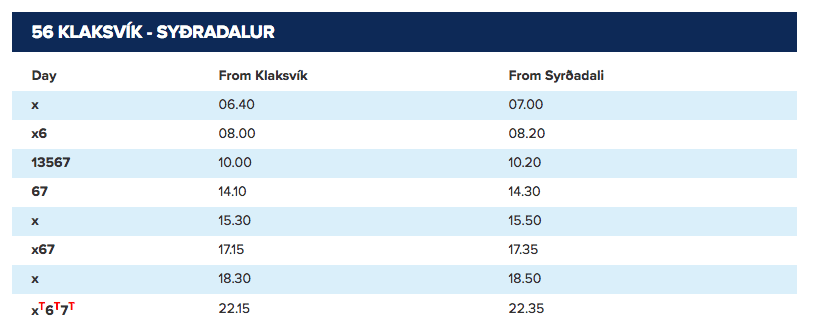 x = Week Days from Mon. to Fri.
1 = Monday
2 = Tuesday
3 = Wednesday
4 = Thursday
5 = Friday
6 = Saturday
7 = Sunday
Arriving on Kalsoy and Getting to Trøllanes
Once you arrive in Syðradalur, you will have to drive north on the island until you reach the last village, Trøllanes.
This takes around twenty or so minutes and this is where you get to test your driving skills by going through the tiny tunnels.
Navigating Kalsoy is so painfully easy as it is completely impossible to steer off track as there is one road that takes you north to south on the island. And, you can not go south of Syðradalur.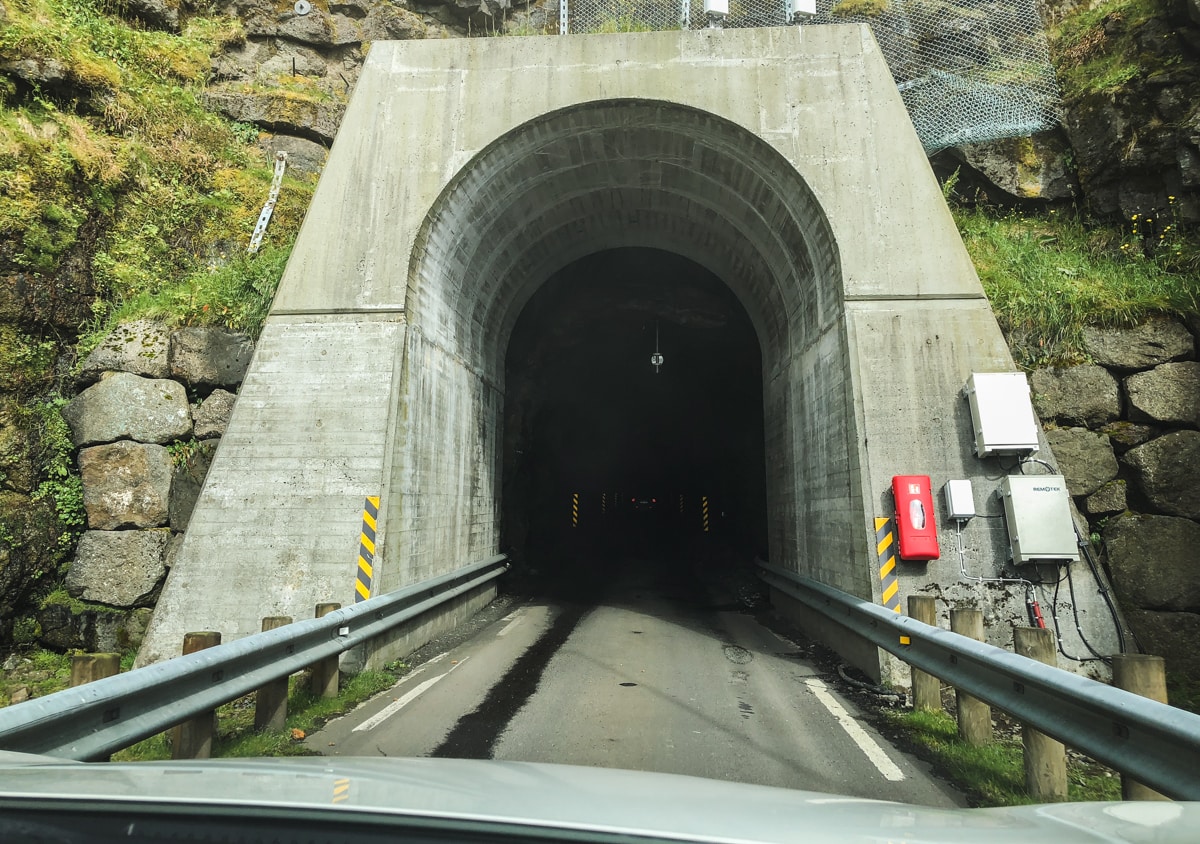 Hiking to the Kallur Lighthouse
Here is where it gets a bit interesting. Once you park in Trøllanes, you will have the sea in front of you and not much else. If you are standing looking at the sea, you must go left.
There will be a fence and you can just follow the footsteps that have inevitably done the trek first.
The mud is dense and deep in some areas, which makes the hike a bit more difficult than meets the eye.
Once you get closer to the coastal cliffs, you will need to go up the hill/mountain toward the sheep shack (a pile of rocks stacked up).
It isn't difficult and you don't really need to be in excellent shape to do this hike, but it also isn't something I would suggest to those who haven't hiked before.
Once at the sheep shack, you will continue north and then you'll see a deep valley that basically ends up in the ocean. Obviously, don't go down this… stay to the left of it on the hillside and walk until you're past it. This is where my hike ended.
Having gone to the Faroe Islands in muddy and rainy March, the ground was not firm and we were sliding around in sheep shit and mud, unable to control our gait most of the time.
My partner's parents were with us and they stayed at the sheep shack to wait for us to complete the rest of the hike.
We slowly walked on this 'path' (which didn't really exist at the time as the Faroes doesn't see many visitors this time of year) and eventually, I started to cry.
I have a fear of heights that escalates when I don't see the endpoint. From where we were, walking around that deep valley from above, you don't see a lighthouse and have no idea how much of the hike is left.
I eventually sat on the ground and decided I was done. It just wasn't meant to be.
While I was gutted as I crawled (yes, not even joking) my way back to the sheep shack, a thick patch of fog maneuvered its way toward the island. It was like no patch of fog I had ever seen.
One piece of advice you're given in the Faroes is to never move about too much in fog and you should wait for it to pass as it does quickly, but brazenly.
We had started to make our way back toward the car and Trøllanes village when it swept in and we just stood there, all in separate areas, to wait things out.
I was so thankful that we never continued our hike as this fog would have scared the daylights out of me.
Once the fog cleared, the sun popped out and the skies were blue. Welcome to the Faroe Islands.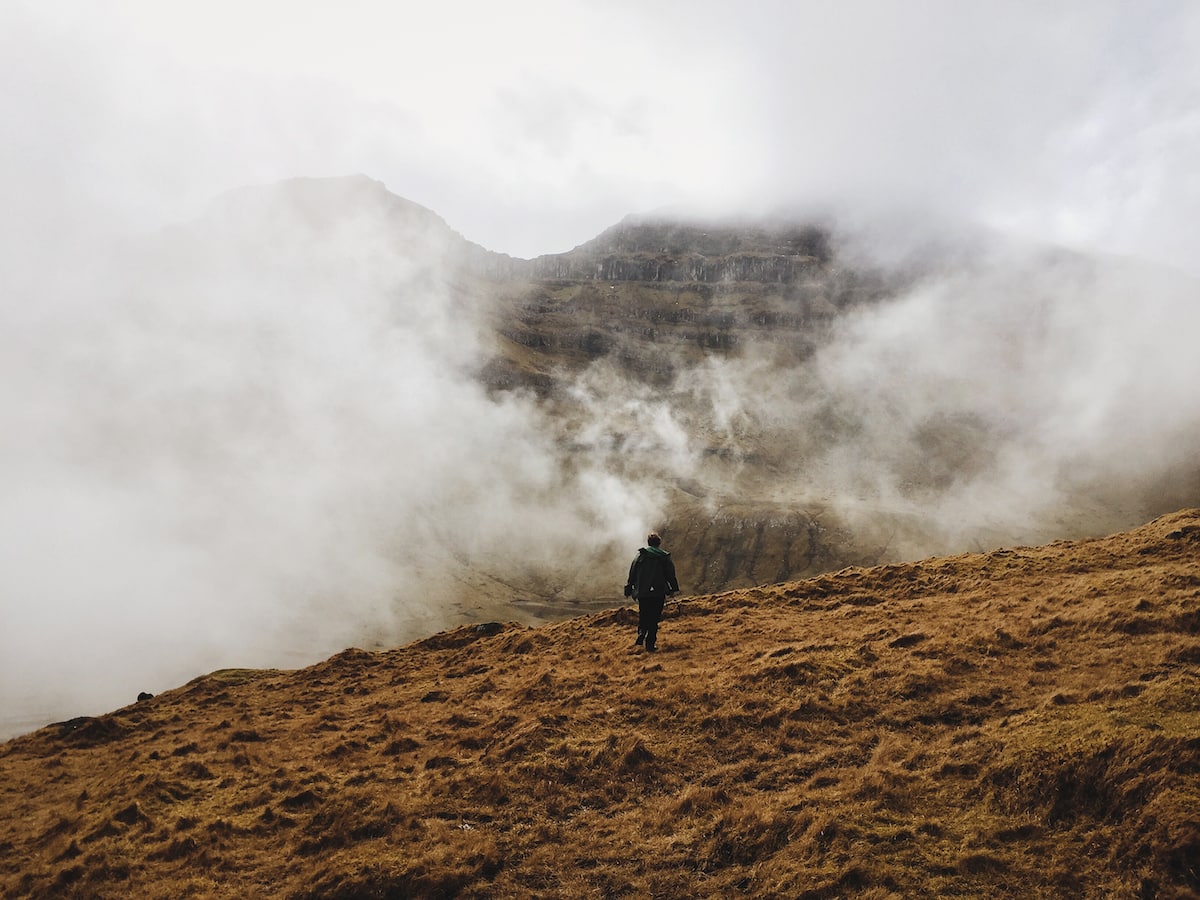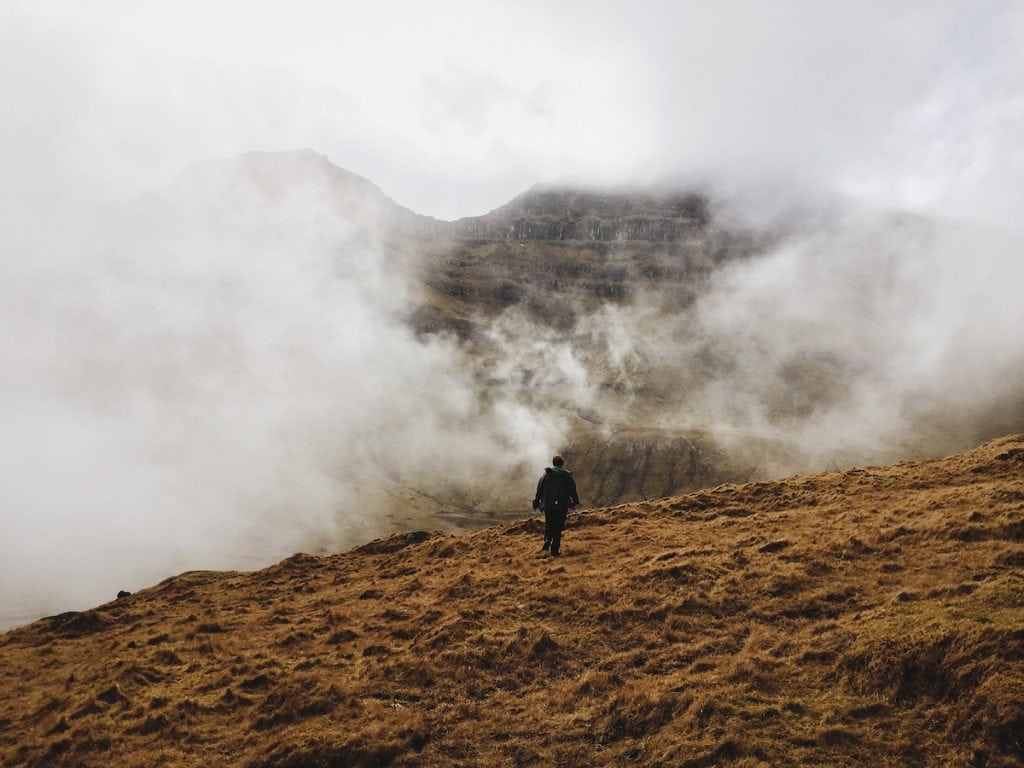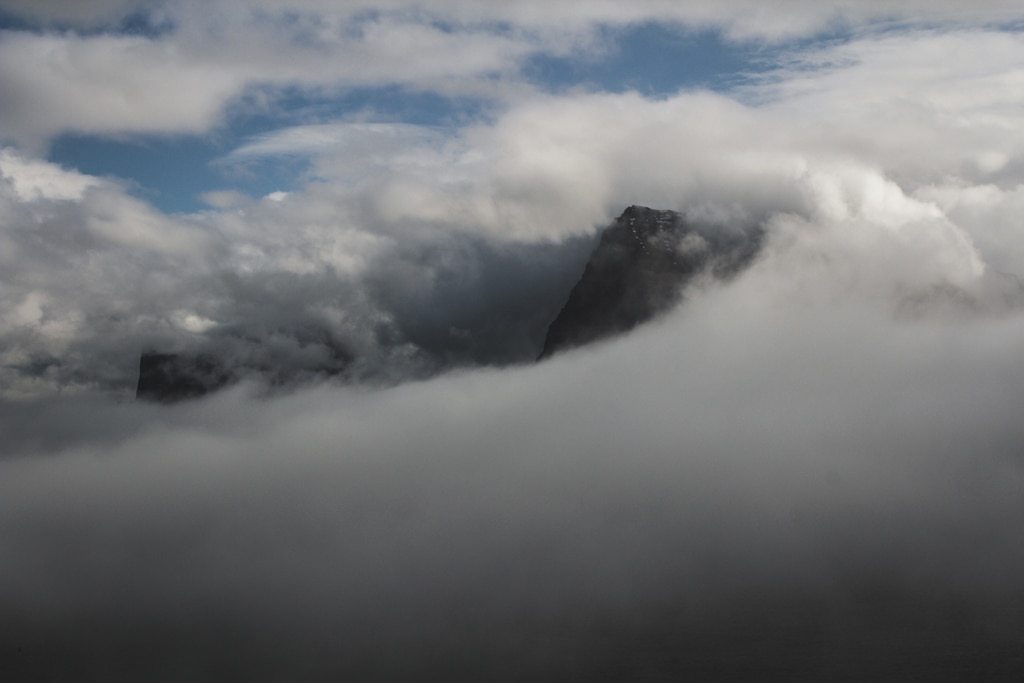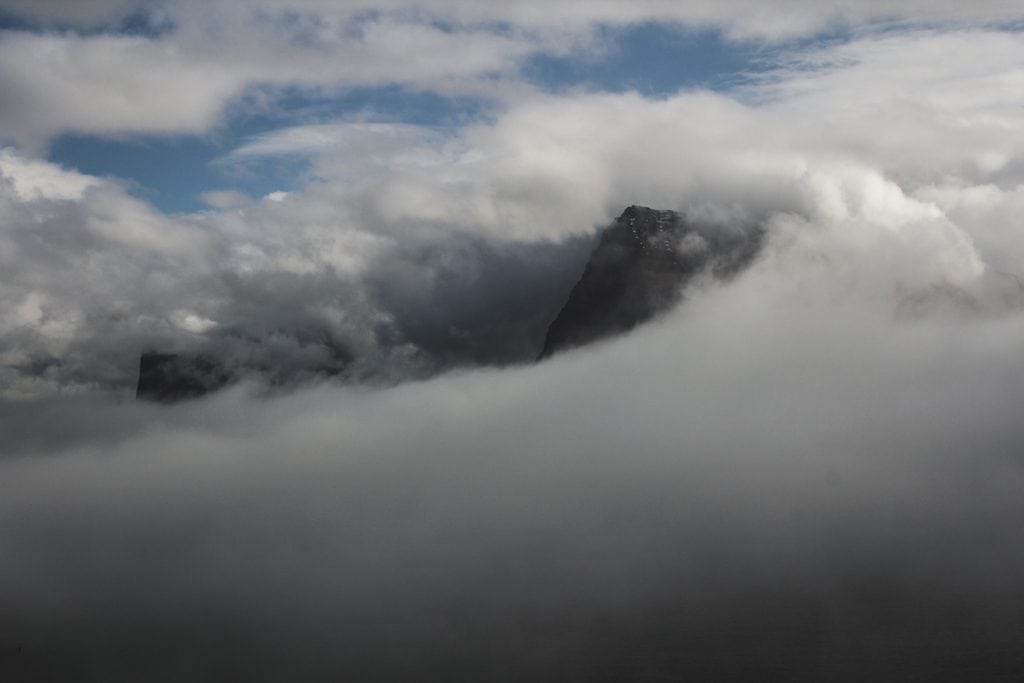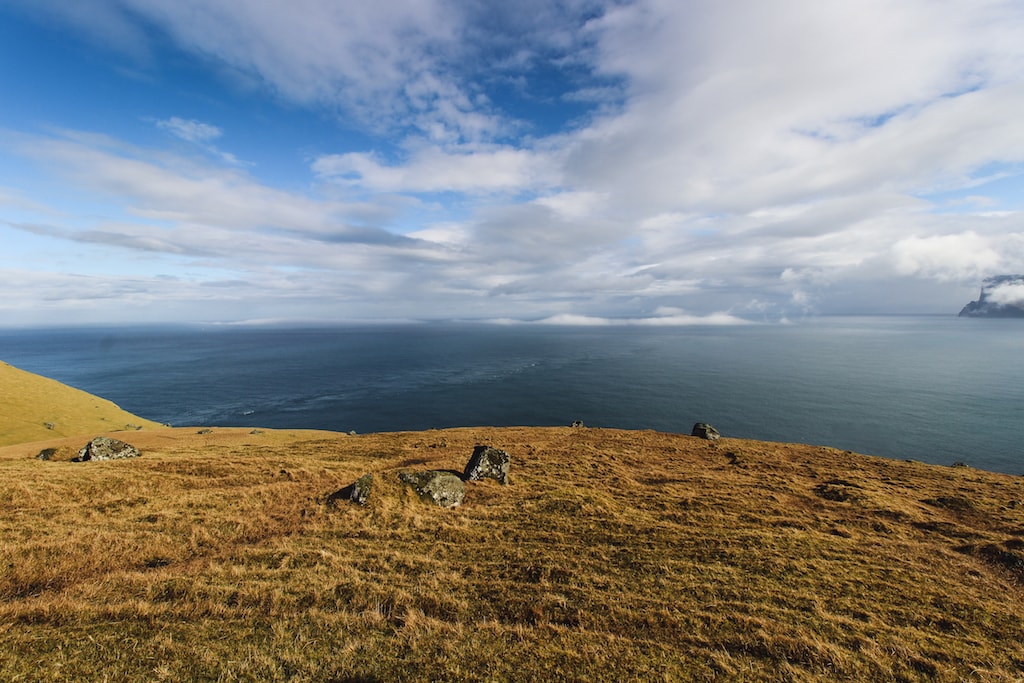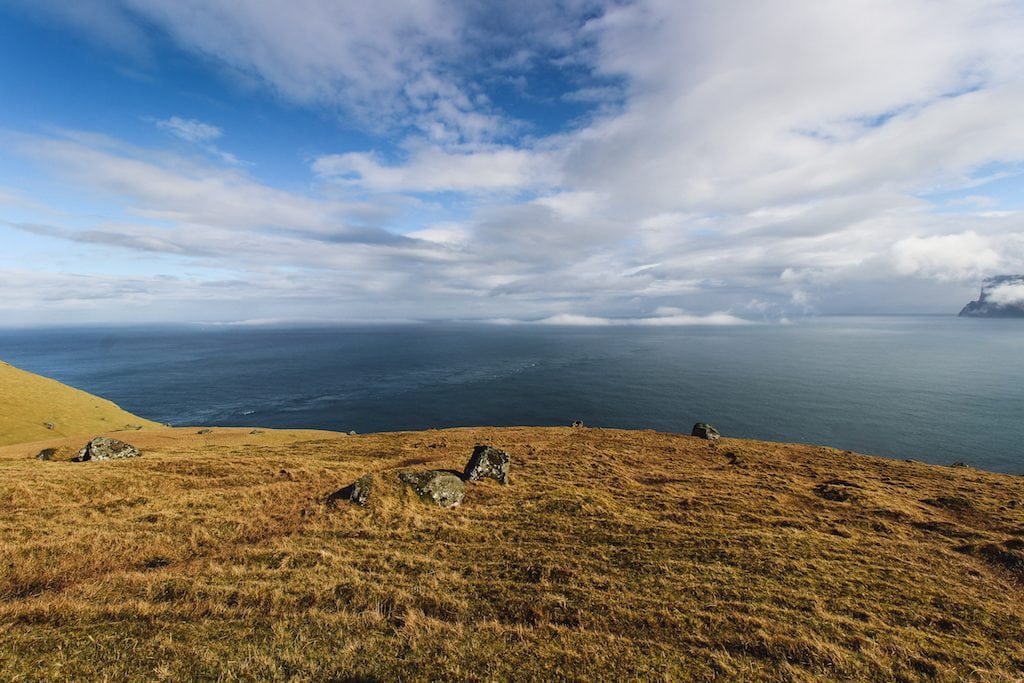 Kalsoy Hike Update
I finally completed this hike!
I was really nervous about embarking on something I had previously failed so miserably at, but I knew it would be easier for me during summer and when the path was clearer than it was during muddy March.
I was definitely right. Below are some updates from my hike and experience there.
Ferry to Kalsoy from Klaksvik in August
The ferry was a totally different experience this time. In fact, if you don't arrive early, you may never make it to Kalsoy in the first place. We arrived an hour early and still had heaps of cars in front of us.
The ferry was packed full of cars and we were wedged in between so many others that we couldn't even get out of the car for the journey, which was nauseating and probably a bit dangerous. But, we made it.
Hiking to Kallur Lighthouse (Round Two)
We parked the car in Trøllanes and set off for the hike. There are public restrooms available in the town and you can use them before setting off.
There were a few other tourists out that day, but not as many as I had anticipated.
Once we went through the gate, we started following the other trekkers and made our way up the hill.
This time, I went up almost immediately as opposed to last time where I walked down toward the coast before starting my ascent. It was very easy and not nearly as muddy as my first time doing it in March.
But hiking boots are still essential.
We eventually made it to the place where I quit last time. Allison was in front of me guiding me through the parts that made me nervous, but I never questioned whether or not I would make it.
I did have a trekking pole with me, however, and that put me at ease (and probably made me look like a 90-year-old).
We made it to the top shortly after and arrived at the renowned Kallur Lighthouse!
The views were incredible and there were also a few other hikers up top that we got to chat with (mostly Scandinavians from Norway and Denmark).
The view you will receive at the lighthouse is this one: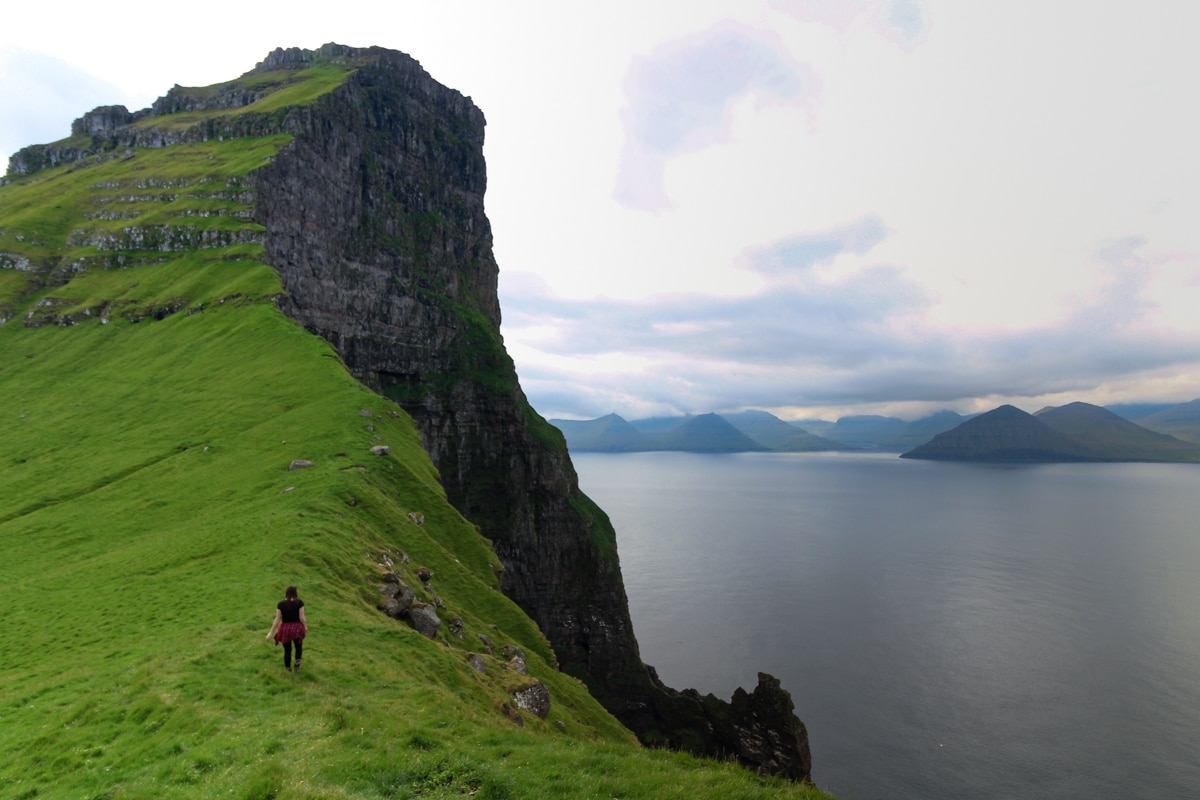 In order to get that view with the actual lighthouse in it, you will have to trek further and the trek is a bit riskier. I didn't really even attempt it because of the steep drop-offs, but Allison did and scored this photo: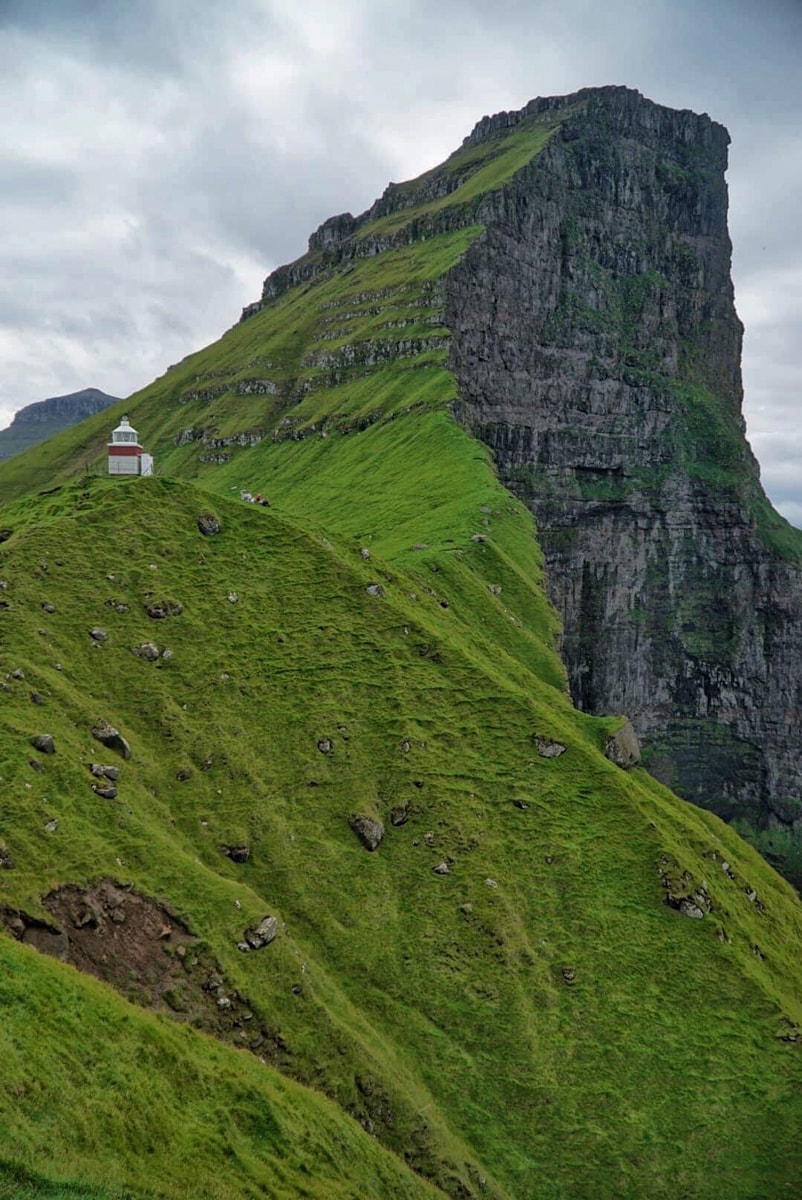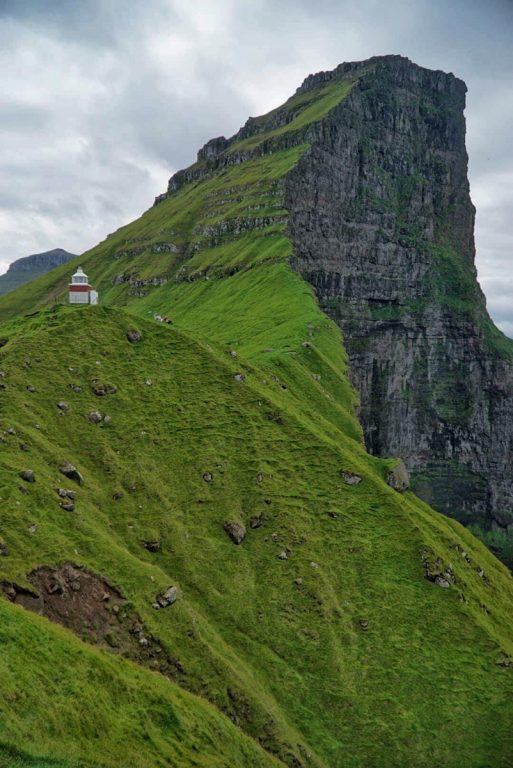 The weather was pretty good for the beginning of our hike, but slowly started to turn and it seemed as though rain was going to greet us on our way back. The rain came a bit later and never stopped.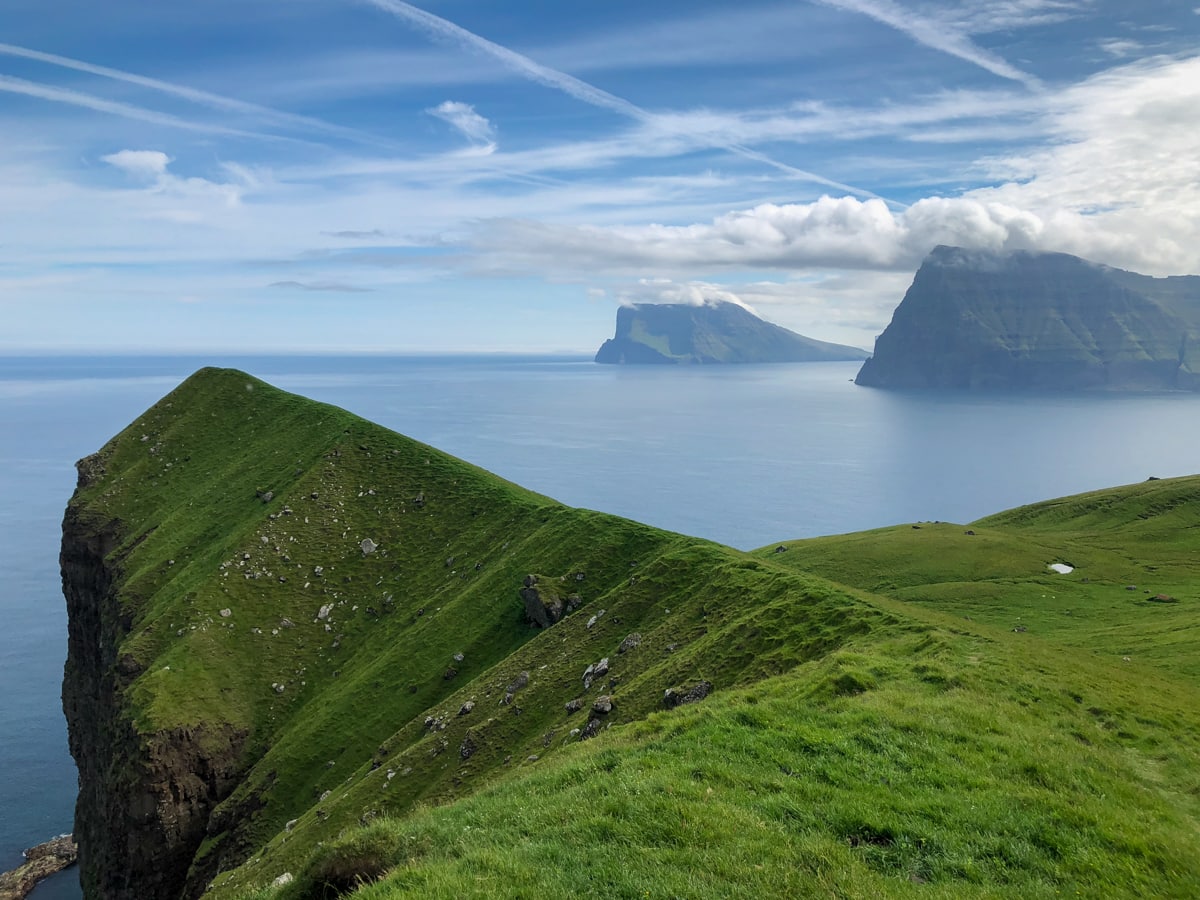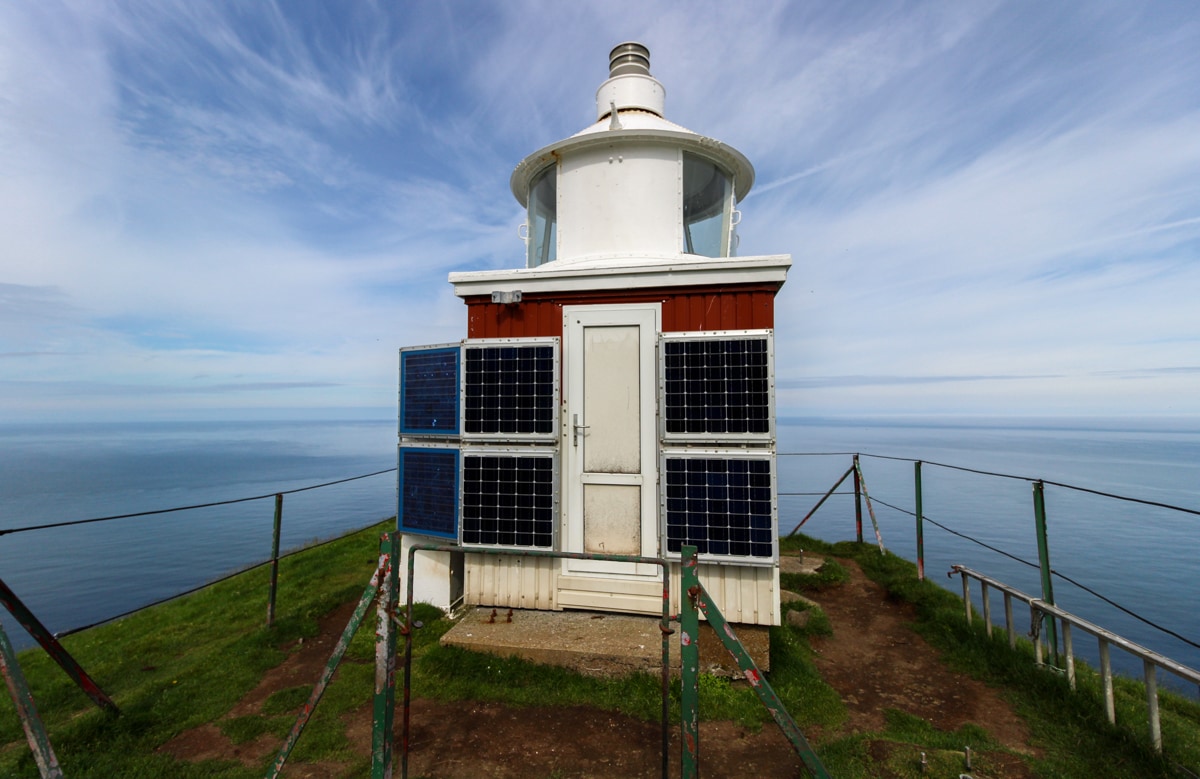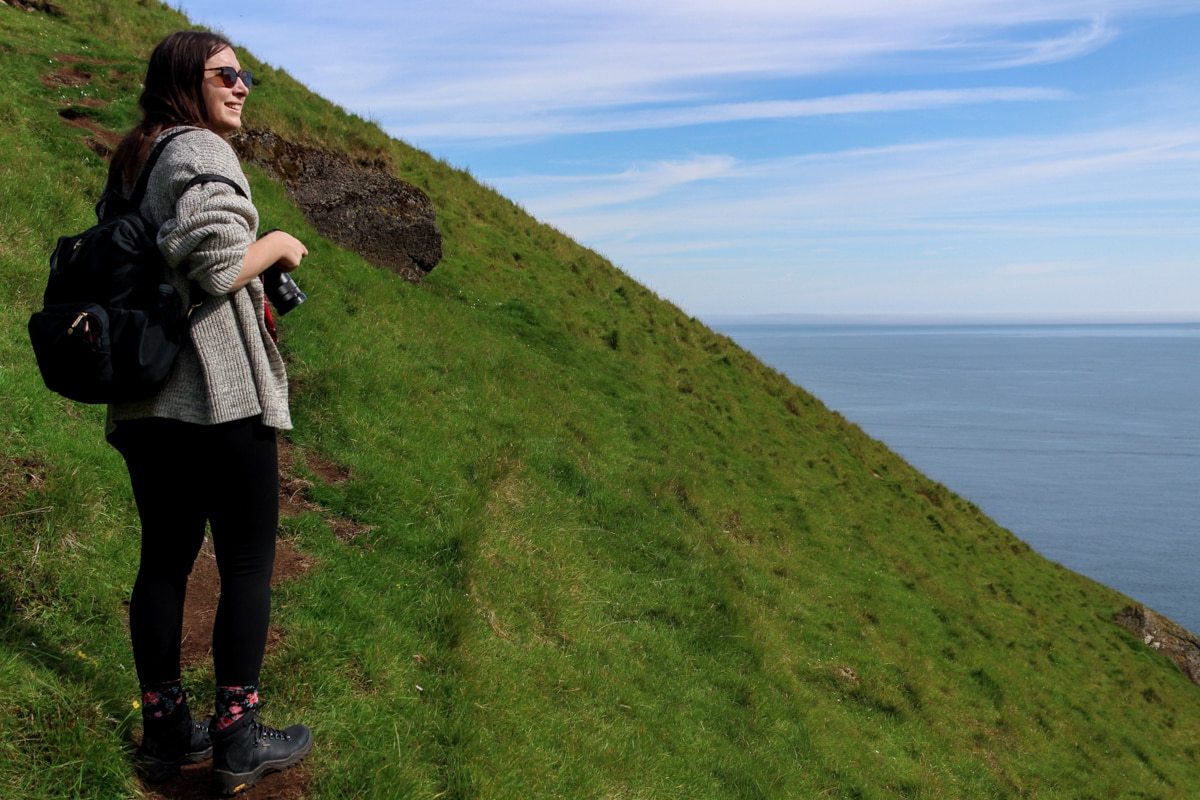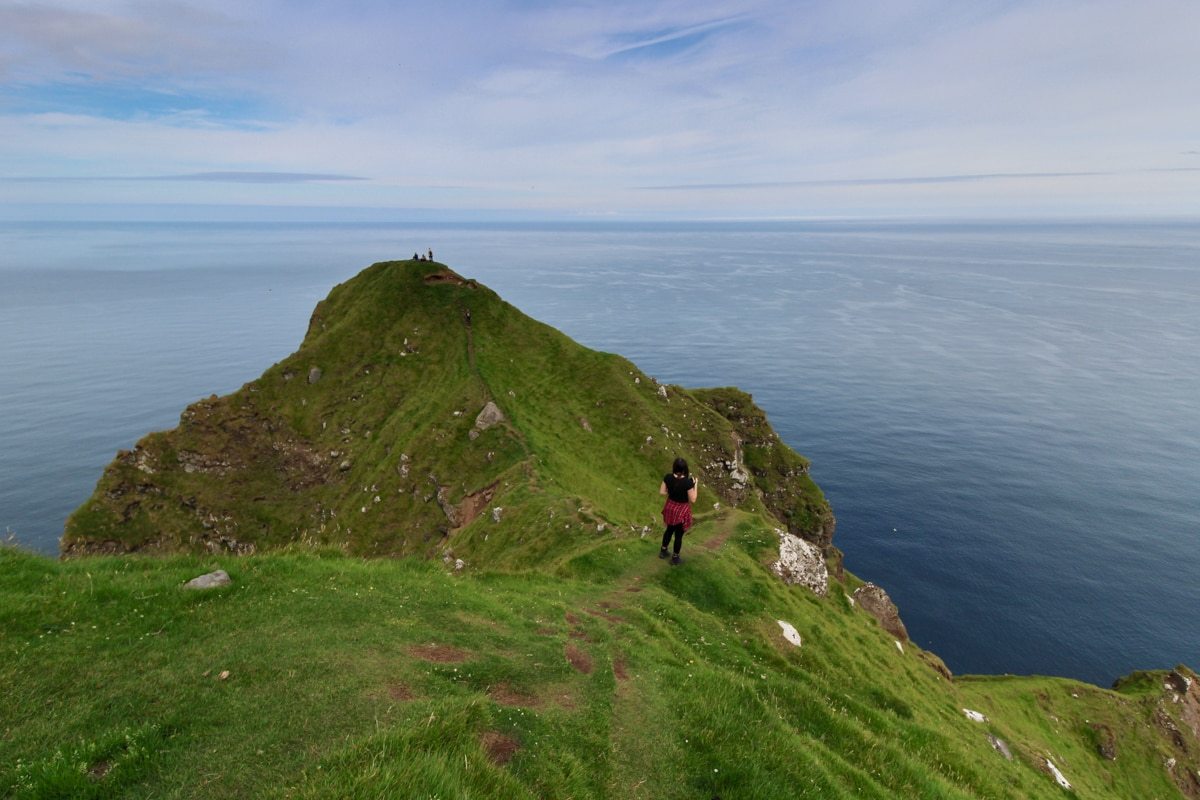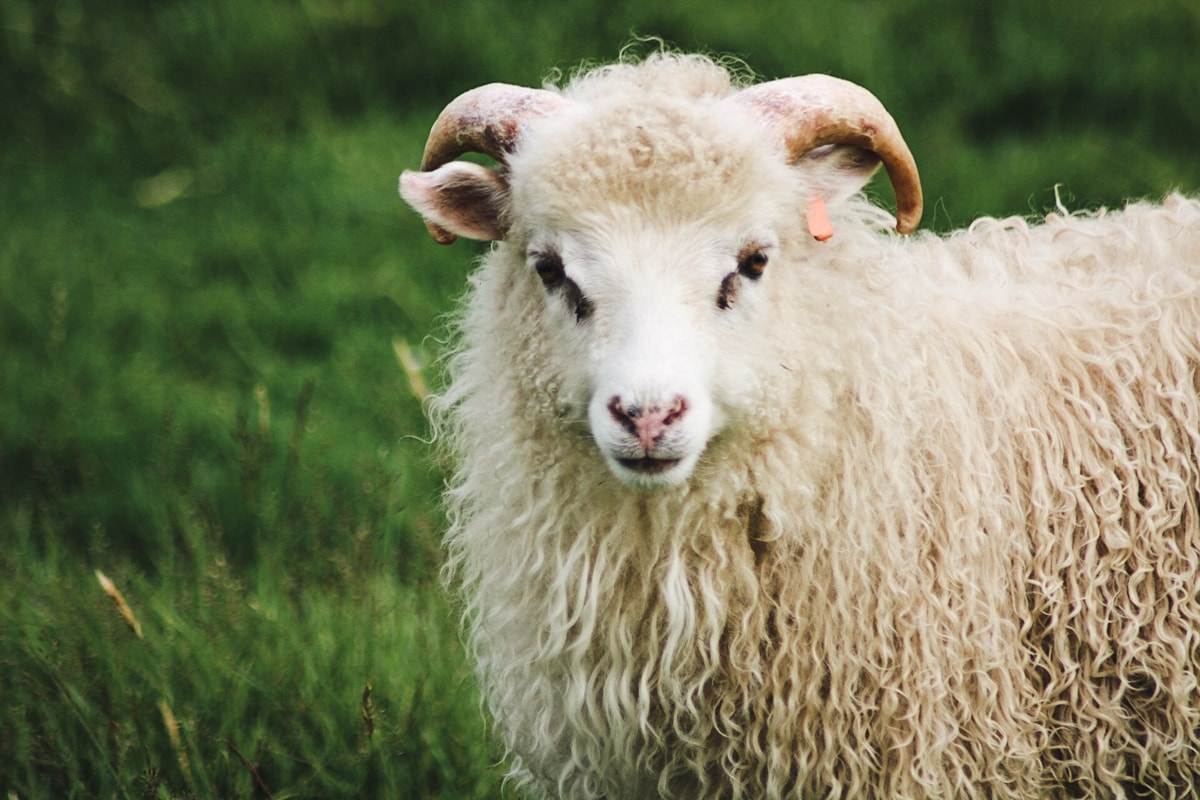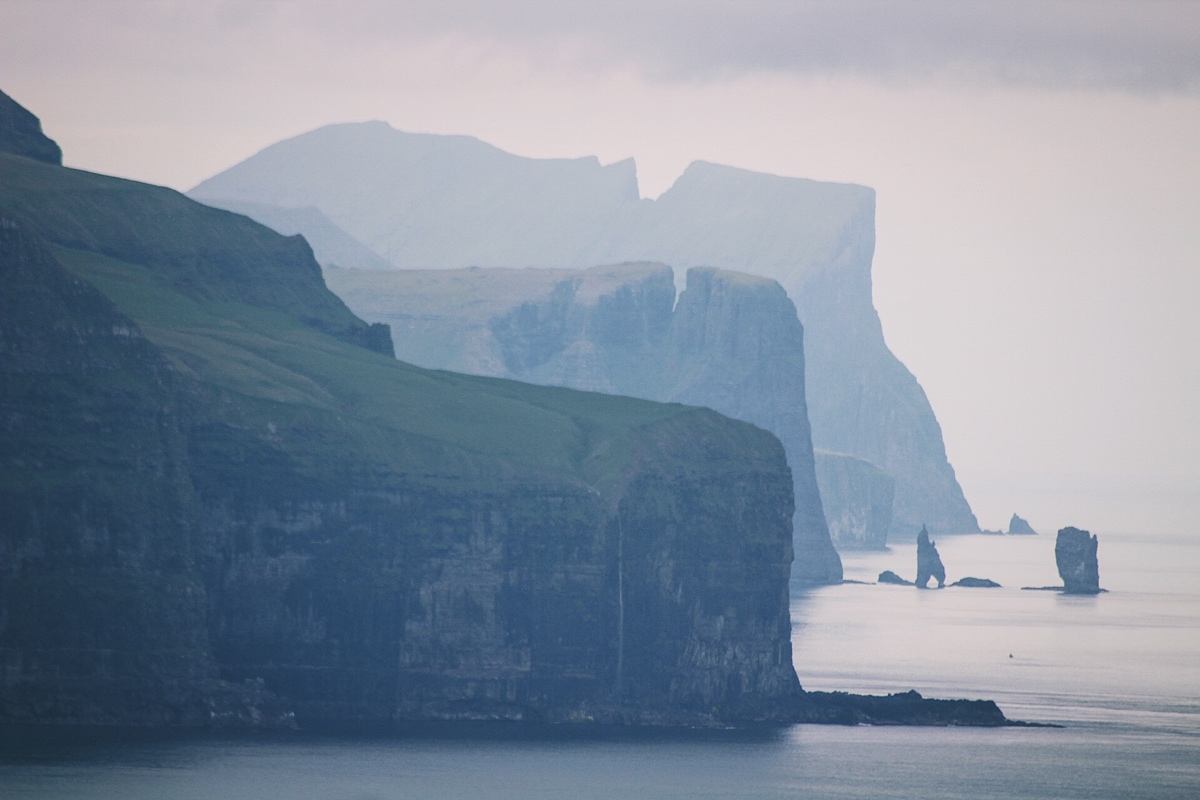 Quick Stop in Mikladalur
I actually think that the Selkie statue and views from Mikladalur are highly underrated and overlooked by many people who go out to Kalsoy.
I suggest you take thirty minutes and stop there and see for yourself! Be sure to walk all the way down to the statue as the sea is gorgeous and there are waterfalls that you won't be able to see otherwise.
The Ferry from Kalsoy to Klaksvik
We thought that since there were limited people permitted on the island at a time (because of the ferry's capacity) that we would have no issue getting on the ferry back to Klaksvik.
We were very mistaken and missed the first one and had to wait an hour for another one.
We arrived at the ferry about 45 minutes early, so just be prepared to miss the first one and wait for another.
I am really unsure of how this will all pan out in the future as tourism picks up in the Faroe Islands and people all want to head to Kalsoy for the hike and its dramatic views. Just bring something to do.
Once the ferry arrived, the cars were not as crowded as on the one over to Kalsoy and I was able to get out of it and enjoy the rain and fog.
Kalsoy Tours
There are a couple of tours available to get you to Kalsoy with ease.
Renting a car is not always possible in the Faroe Islands (I literally no longer have a license), so it is nice to be able to see some of the other islands and their beauty without having to stress about transportation.
Here are two tours to Kalsoy that you may be interested in, whether you are driving or not and whether you like hiking or not.
Hiking to Kallur Lighthouse (8 hours)
Fortunately, you don't have to hike this alone! You can take a tour to Kalsoy's Kallur Lighthouse in a small group. You will be picked up in Torshavn and the duration of the tour is 8 hours.
The tour includes a guide, packed lunch, transport to and from Torshavn, and the ferry tickets to Kalsoy.
The tour is affordable and definitely a great option for Kalsoy as I am a huge advocate for making sure people do not hike alone (although I stupidly do it on occasion). Click here for rates, availability, and additional details.
RIB Boat Tour to Kallur Lighthouse (1.5 hours)
If hiking isn't your thing or you're not capable of successfully getting to Kallurin, or the Kallur Lighthouse, by foot, you can always take a RIB boat there.
In fact, this is something I'm interested in doing on my next trip as it will weave you through the 4th largest sea cave in the world that is located on Kalsoy.
You will meet at the Klaksvik harbor and all boating gear and safety equipment is provided. The tour is 1.5 hours. Click here for rates, availability, and additional details.
Hiking and Travel Tips for Kalsoy
Definitely be prepared when making this seemingly easy hike to the Kallur Lighthouse. The hike doesn't last too long, but if you're out of shape, be prepared for more frequent stops.
You can check out my guide for what to pack for the Faroe Islands for additional tips.
Wear appropriate shoes. This is a must in the Faroe Islands, anyway. Waterproof, lightweight, and durable shoes are essential for the Faroe Islands and especially this Kalsoy hike.
My favorite hiking boots are made by Keen. You can check for sizes and options here.
Bring hiking poles. While this may be questionable, if you are doing this hike out of season, it can be muddy and hard to predict what the land beneath your feet is going to do.
To be honest, I would have had enough confidence to complete this hike if I had brought my trekking poles with me.
It would have offered that extra sense of security that I needed as someone who is afraid of heights. I recommend these trekking poles for your Kalsoy hike.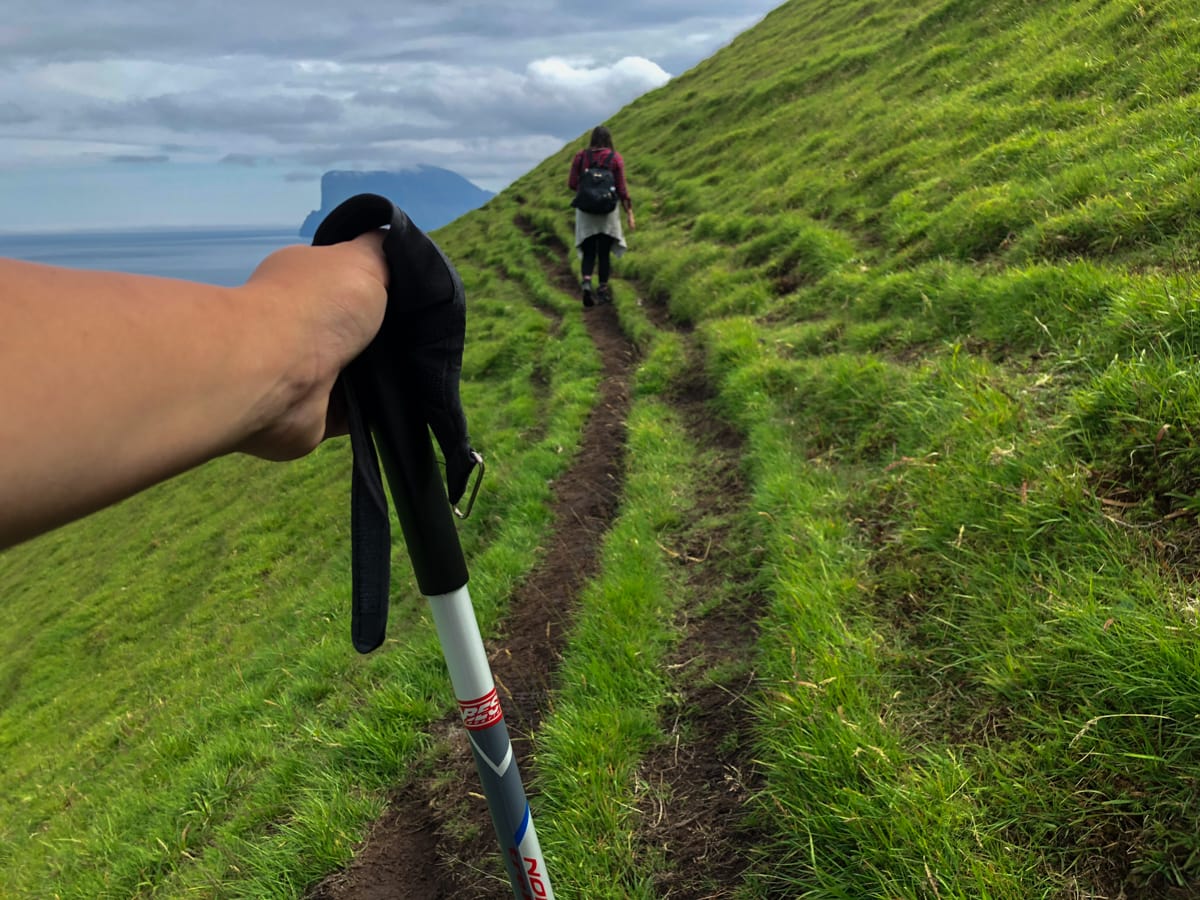 Layer your clothing. The weather here is everchanging and completely unpredictable. I wore sunglasses for a few minutes and then was engulfed in a thick patch of fog for the next few.
I started out wearing a lightweight rain jacket over top of a sweater and eventually had to take off the jacket as I began sweating from the mild, humid air.
Bring snacks and water. This is not a long hike. However, you never know what you will encounter during it and if you end up stuck somewhere, you will definitely be thankful you brought a snack and water along for the ride.
In addition, you won't be able to easily purchase food on Kalsoy, so you're just better off packing a lunch for the day alongside the snacks you bring.
The water in the Faroes is clean and refreshing. As the islands are not cheap, you'll find it handy to bring a water jug with you everywhere you go. I travel with this from Klean Kanteen.
Have a wide-angle lens on your camera. The views up top are incredible, but best shot with a wide-angle lens. It will be hard to gauge things without that in a photo.
It really will do the landscape justice! Click here to see the wide-angle lens I use on my camera.
Have patience. The weather in the Faroes will clandestinely connive against whatever plans you have and you will likely have to change or alter them accordingly.
Always plan enough time for things and have snacks and water on you at all times. Things rarely work out according to plan and truthfully, that is what makes the Faroe Islands such a cool and unpredictable destination.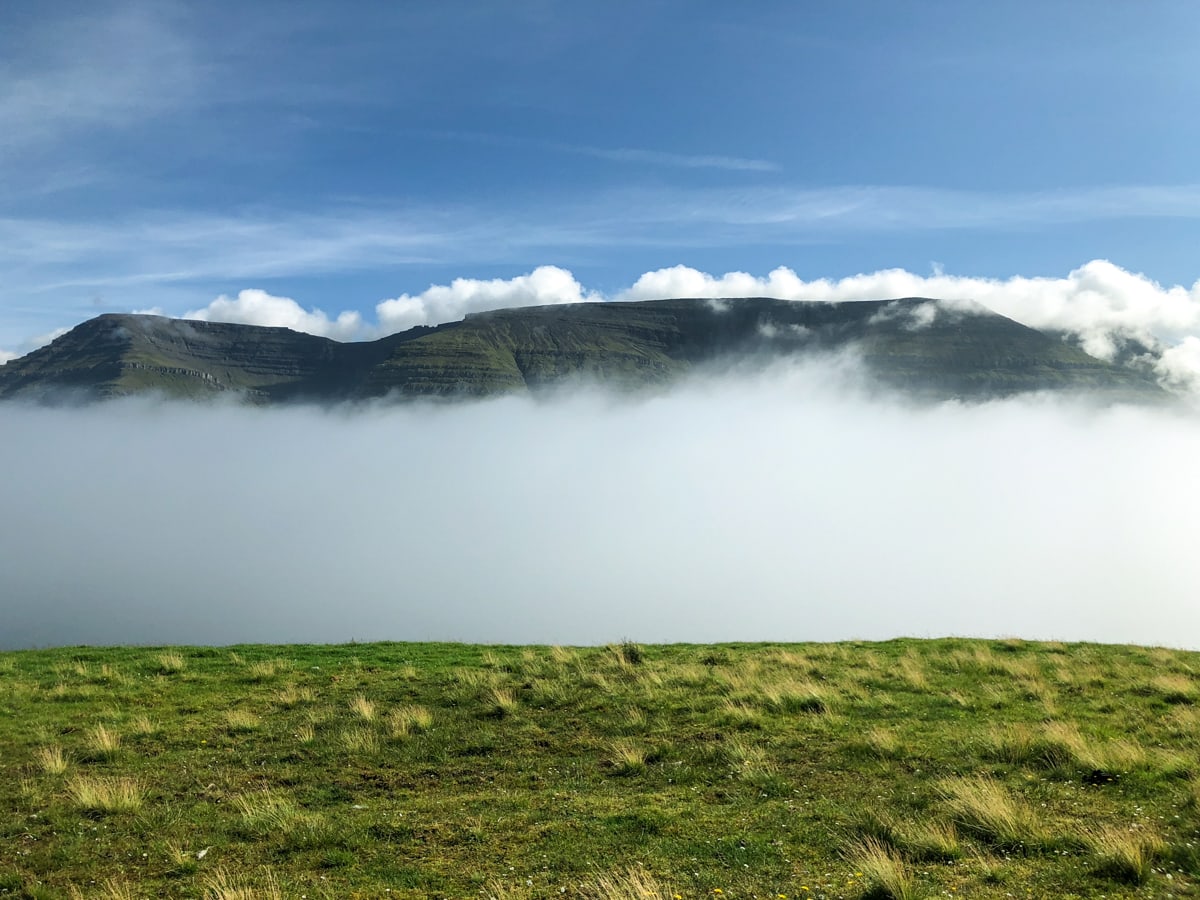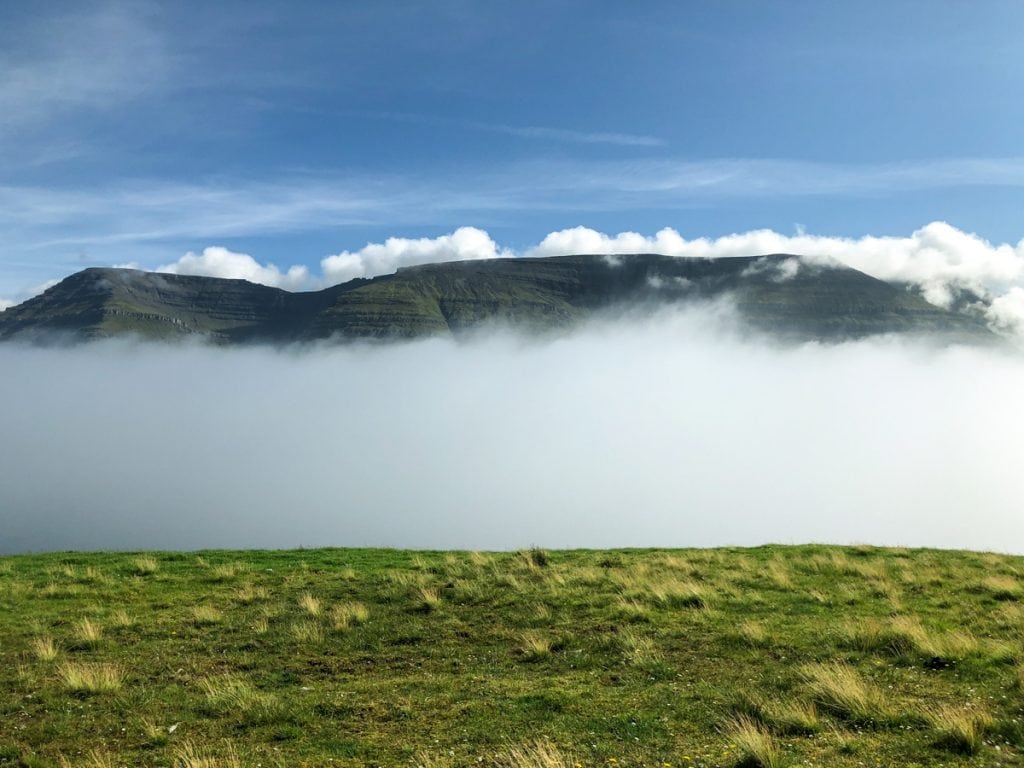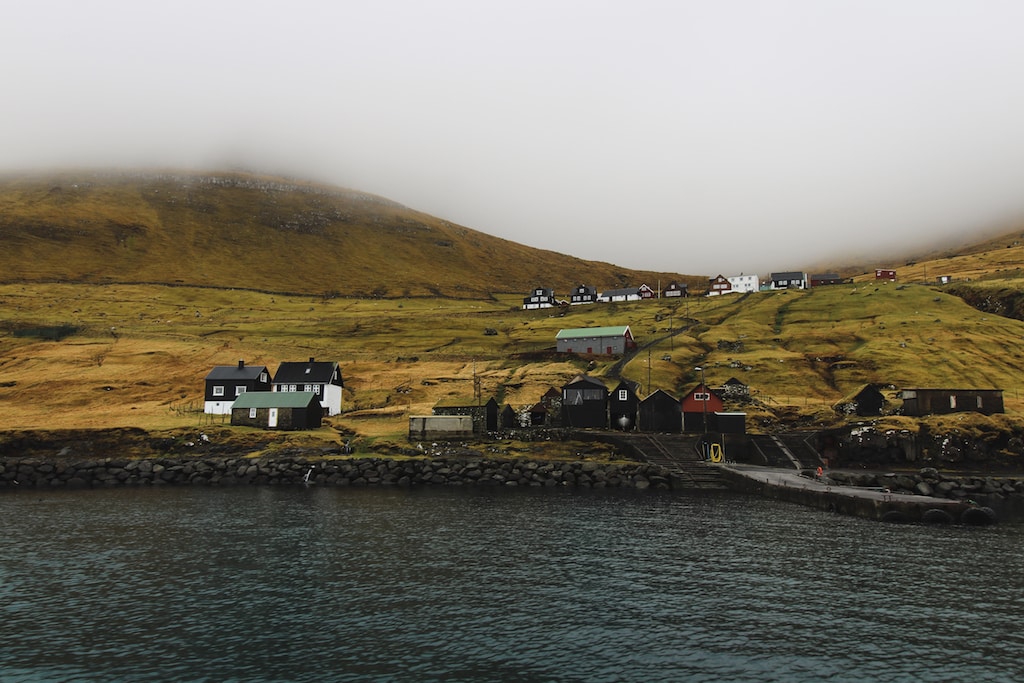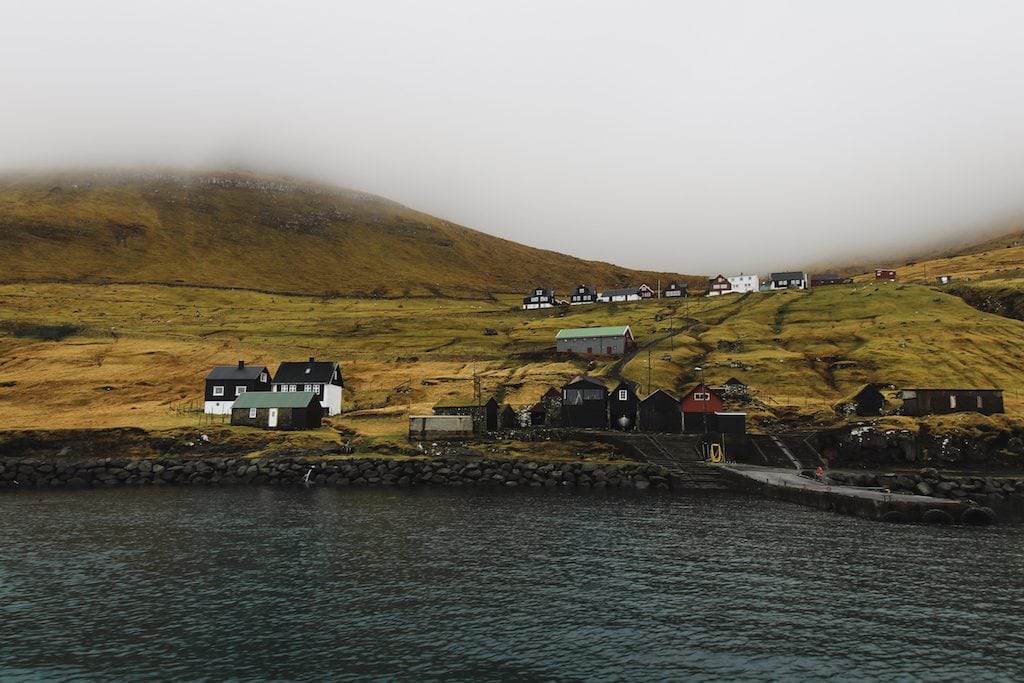 A Quick Stop at Mikladalur
After our failed hike in Trøllanes, we drove south a bit to Mikladalur, another small settlement that is known for its views and Selkie, or the Seal Woman, statue.
The largest of all settlements on Kalsoy, the village is also known for its church which dates back to 1856.
Nevertheless, Mikladalur ended up being a pleasant surprise for us and I really enjoyed taking photos by the sea and learning more about the Selkie statue.
There is also a majestic waterfall to the north of the statue that can be viewed from down by the sea. Several seabirds also have their nests in the area.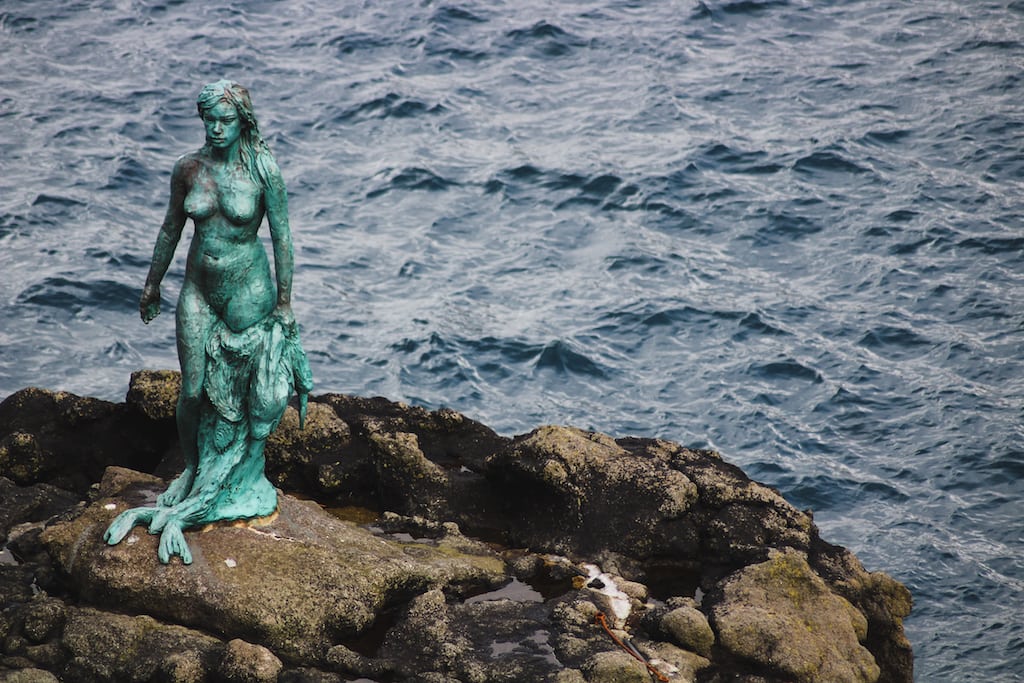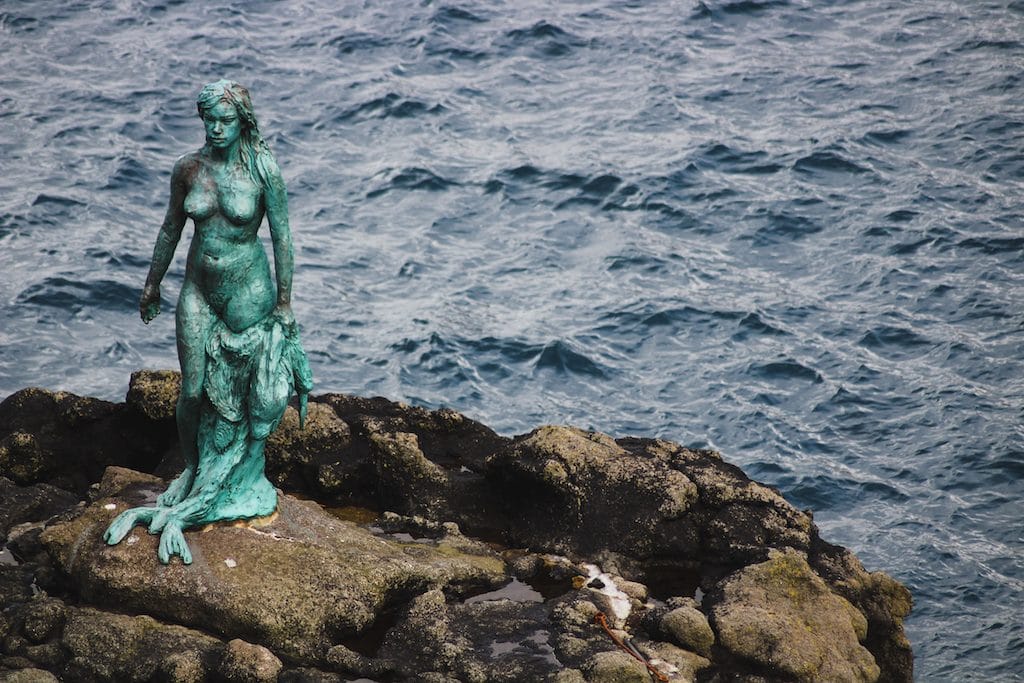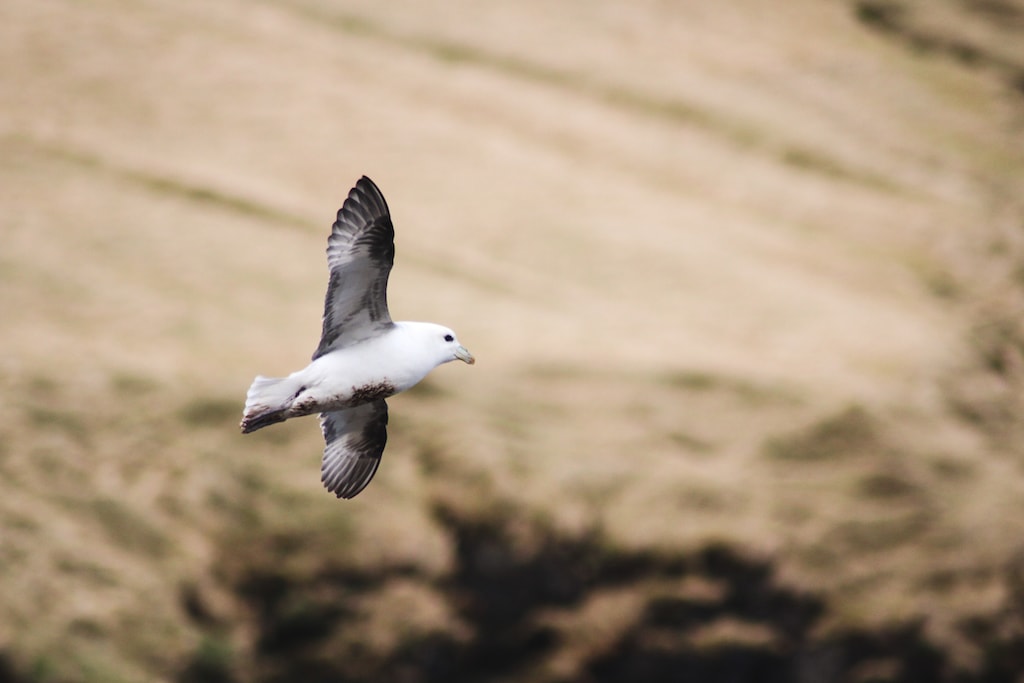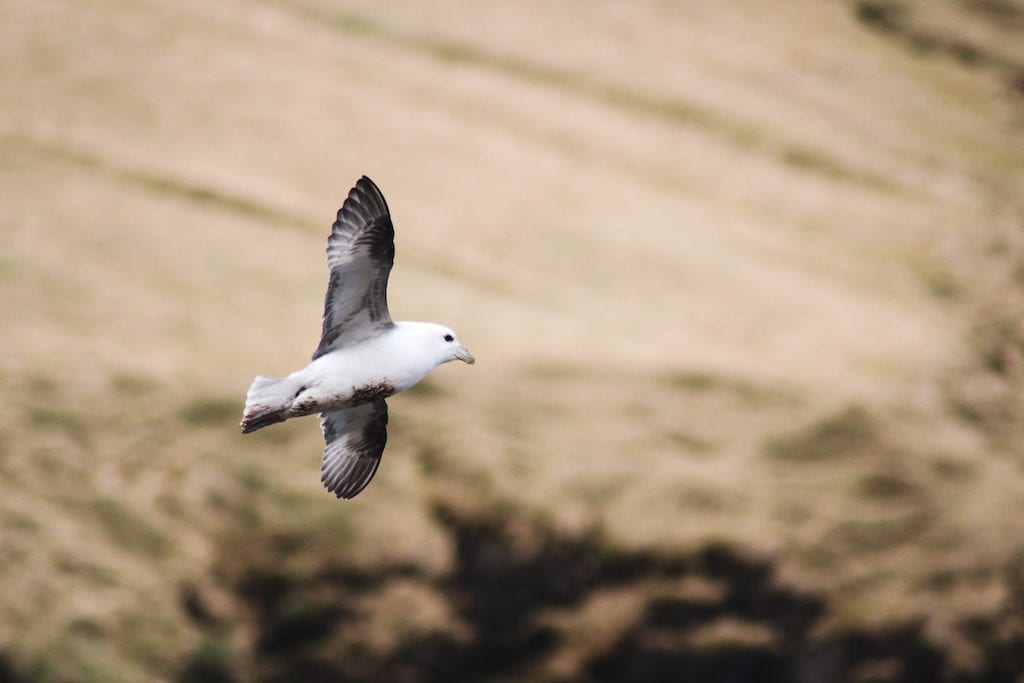 Where to Stay in Klaksvik
Unfortunately, with a population of under 150, Kalsoy isn't exactly brimming with accommodation options. I think your best bet is to stay in Klaksvik (where the ferry departs from) or even back in Torshavn as it isn't a long drive to and from.
We stayed in Torshavn, personally, for the entire trip and no island was so far out of reach that we ever regretted that decision. Klaksvik would be pretty ideal if you're looking to explore the northern islands, on the other hand.
Click here for rates and availability in Torshavn
Click here for rates and availability in Klaksvik
Our time on Kalsoy may not have gone according to plan, but I really think it was one of the highlights of my entire trip.
Maybe it was because it reminded me of how travel and destinations can provide an unpredictability that can throw even the most seasoned of travelers off a bit.
I have had plenty of 'failed' plans in the past, including my unsuccessful trip to Pyramiden in Svalbard, but this one didn't leave me disappointed as I feel I made the right decision to quit the hike at the time.
My Faroe Islands trip was filled with so many positives that it would be remiss of me to view this day trip as a negative.
The only real negative that happened during the trip was that we wrecked our rental car in a tunnel after we arrived back in Klaksvik after Kalsoy. Whoops. More on that sometime down the road!
If you're looking for awesome Faroe Islands accommodation– check out my hotel guide or my Faroe Islands Airbnb guide! If sleeping out in nature is more your style, check out my camping in the Faroe Islands guide with many tips!
More Faroe Islands Travel Guides