Have you ever considered taking a trip in a hot air balloon in Europe (or Eurasia)? This guide tells you the best destinations to do it (and how to book a trip)! We have also included Eurasia in this guide.
Are you planning a hot air balloon ride last minute?
If you're booking your hot air balloon ride in Europe last minute – here are some of our top picks to book!
Top-selling adventures across Europe (and Eurasia!):
If you're looking for a unique activity in Europe, then a hot air balloon ride is something you should consider.
Not only do they offer a different perspective on some of the most breathtaking scenery in Europe, but the chance to float peacefully through the sky is an experience you won't soon forget.
There are many hot air balloon rides in Europe – from the picturesque vineyards of Tuscany to the historical center of Vilnius.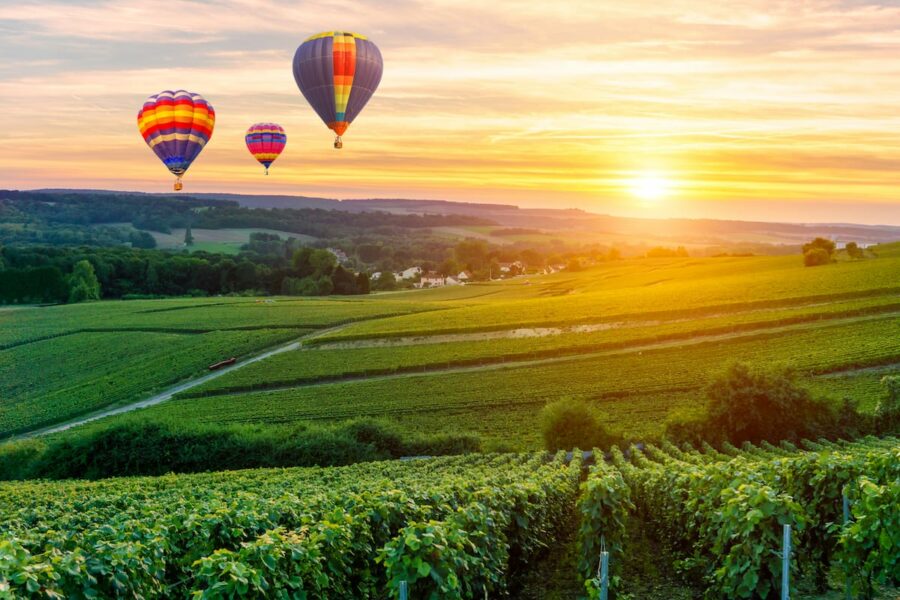 Whether you are looking to enjoy the scenery or learn more about the history of a particular area, there is a hot air balloon ride in Europe that is perfect for you.
Without further ado, here are the best places for a hot air balloon ride in Europe!
Where to Ride in a Hot Air Balloon in Europe
Cappadocia, Turkey
There is perhaps no place in the world more famous for hot air balloon rides than Cappadocia in Turkey. And for good reason – the landscape is unlike anything else on earth!
The valley is home to unique rock formations called "fairy chimneys," the UNESCO World Heritage Site of Goreme, and is one of Turkey's most iconic landmarks.
While visitors can get close and personal with some of the rock formations on some of the hikes in Cappadocia, it pales in comparison to what you can see from above on a hot air balloon.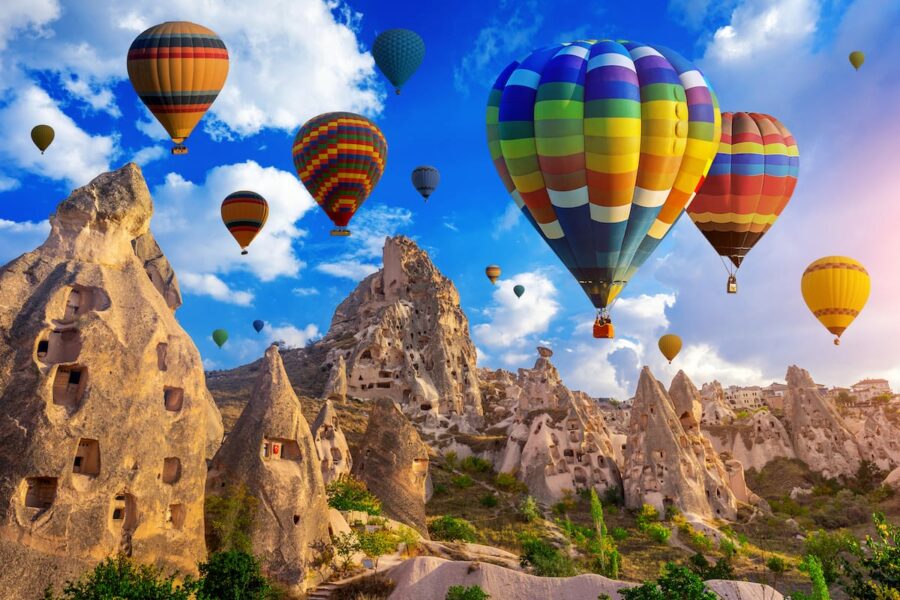 From the sky, you can see the entirety of the 5,000 square km area that makes up the Valley of Cappadocia. You'll also get a sense of the scale of the fairy chimneys, many of which are over 30 meters tall.
And as if that wasn't enough, hot air balloon rides in Cappadocia occur during sunrise. The morning glow and its warm vibrance bring out the moon-like features of Cappadocia. It's truly an unforgettable experience.
Fun Fact: Turkey is a country that is in both Europe and Asia. Though Cappadocia is technically on the Asian side, many travelers consider it a European destination (which is why we've included it in!).
>> Click here to book a hot air balloon ride in Cappadocia
Montserrat, Spain
A hot air balloon ride in Montserrat is the perfect way to get a different perspective of one of the most famous mountain ranges in Europe.
The range is home to the Benedictine Abbey of Santa Maria de Montserrat, which has been a pilgrimage site since the Middle Ages.
The building itself is breathtaking, but from above you can really appreciate its location in such a dramatic landscape.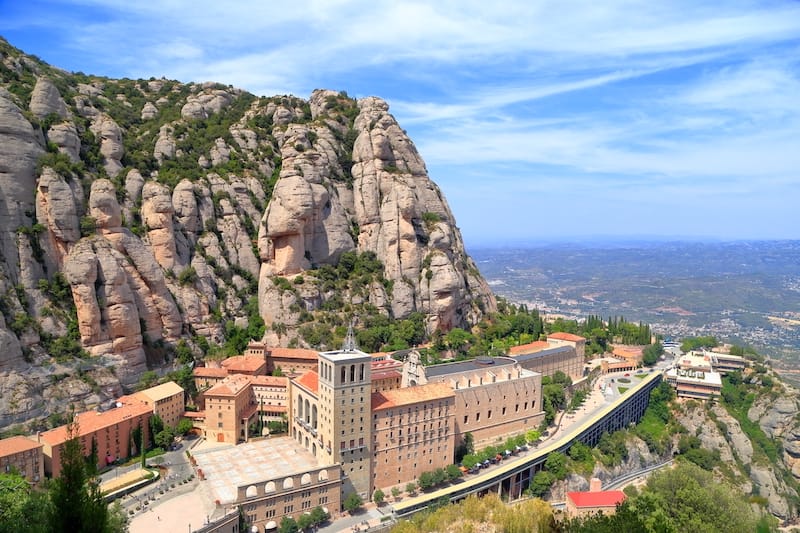 The mountain itself is also a popular hiking spot for people visiting Barcelona in winter or in summer. Hikers typically do an overnight hike and arrive at the top of Montserrat just in time for an epic sunrise.
But on a sunrise hot air balloon ride, you'll get to see all of this and more, but without the need to break a sweat.
You get to glide peacefully through the sky and watch the sun illuminate the jagged peaks of the Montserrat Mountains. At the right angle, you can see the silhouettes of the mountains and the shadows cast onto the ground – quite a cool spectacle.
>> Click here to book a hot air balloon ride in Montserrat
Mallorca, Spain
One of the most popular activities in Mallorca is to take a hot air balloon ride! Available all year round, you can discover the gorgeous island while flying from Manacor.
The trips are about 3 hours long (briefing, etc) and you can take one at sunset or sunrise, offering a unique perspective for you and your group.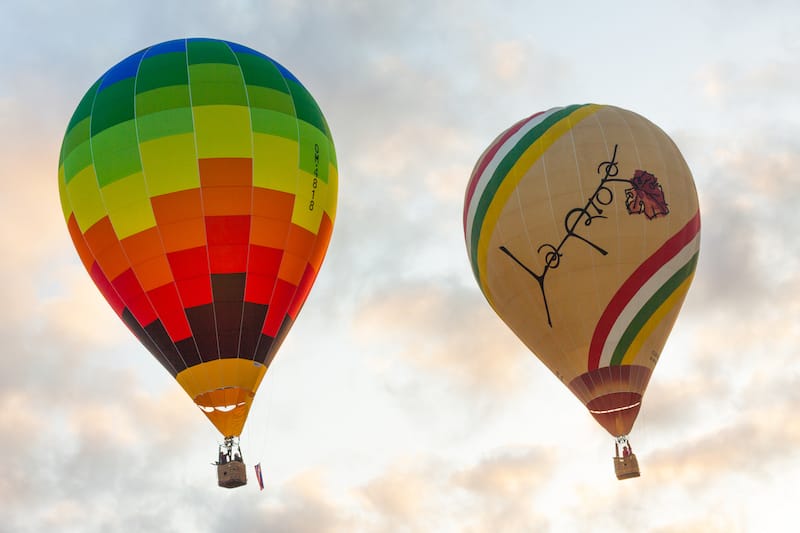 You will fly over villages at 100m high and see mountains from 500m… all while downing a delicious glass of cava.
The flight itself lasts 1 hour and the sunrise adventures start at 7am and the sunset ones start at 8pm.
>> Click here to book a hot air balloon ride in Mallorca
Tuscany, Italy
If there is one hot air balloon ride in Europe that should be on everyone's bucket list, it's a ride through Tuscany. The landscape in this region of Italy is world-renowned for its natural beauty – from the rolling hills to the picturesque vineyards.
While exploring on land gives you the opportunity to explore quaint towns and historical castles, nothing is compared to a hot air balloon ride.
From above, you'll be in awe of the endless rows of grapevines, olive groves, and medieval, off-the-path villages.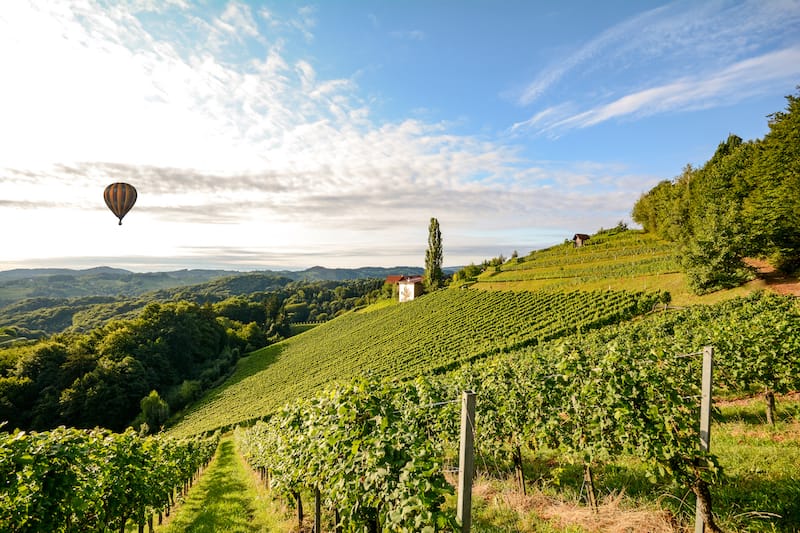 Hot air balloon rides depart from many different towns and cities in the region, and each offers something slightly different. Whether you want a tour that is just focused on the Tuscan countryside, or one that explores some of the towns and cities such as Florence and Siena, there is something for everyone.
Wine-lovers will especially love hot air balloon rides in Tuscany, as many end with wine-tasting in a local vineyard. What could be better than floating above the very landscape that produces some of the world's most iconic wines?
>> Click here to book a hot air balloon ride in Tuscany
Vilnius, Lithuania
Most hot air balloon rides in Europe take off from the countryside, but what if you want to admire the intricacy of a city from above?
Well, head to Vilnius, Lithuania! Vilnius is one of the few cities that has allowed hot air balloon rides right above its Old Town.
The Lithuanian capital is home to many beautiful buildings and historic landmarks, which are best seen from above. It is one of the essential places to visit in Lithuania!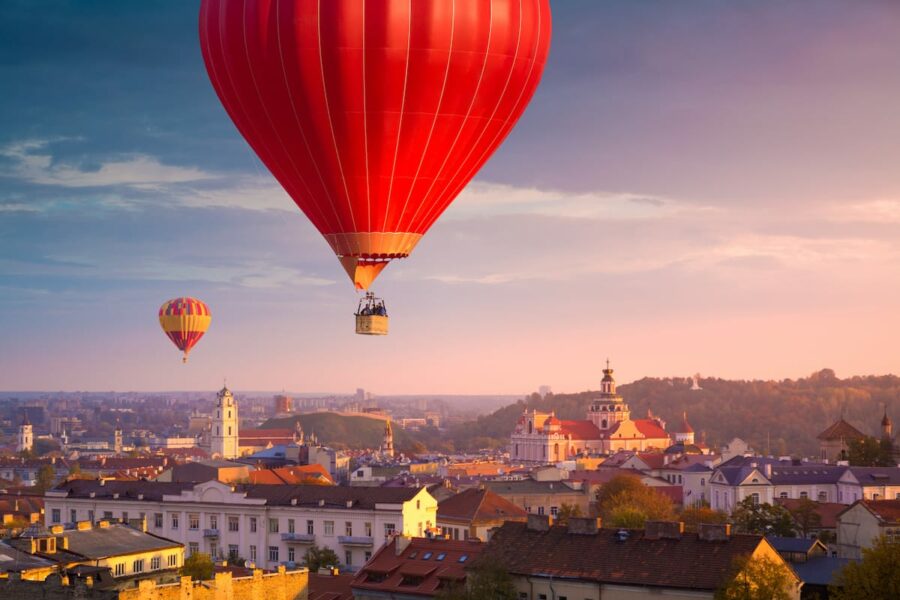 The Gothic architecture of St. Anne's Church and the fortification of the Grand Duke Gediminas Castle might be stunning at ground level, but so much more can be seen from the sky, and it's the best way to appreciate their significance.
Hot air ballooning in Vilnius is an unforgettable experience and one that we would recommend to anyone visiting the European city.
If you are interested in hot air balloon rides in Lithuania, you can also take off from Trakai, a stunning town on the water surrounded by lakes.
>> Click here to book a hot air balloon ride in Vilnius
Loire Valley, France
The Loire Valley in France is famous for its many beautiful and historical chateaus, and what better way to see them than from a hot air balloon?
You can float gently over the countryside, admiring the views of the river below and the chateaus in the distance.
Along with the abundance of vineyards and fruit orchards, this region of France has earned the nicknames "Cradle of the French" and "Garden of France."
Many of the chateaus in this region were built during the Renaissance period, reflecting the French nobility's wealth and power at that time.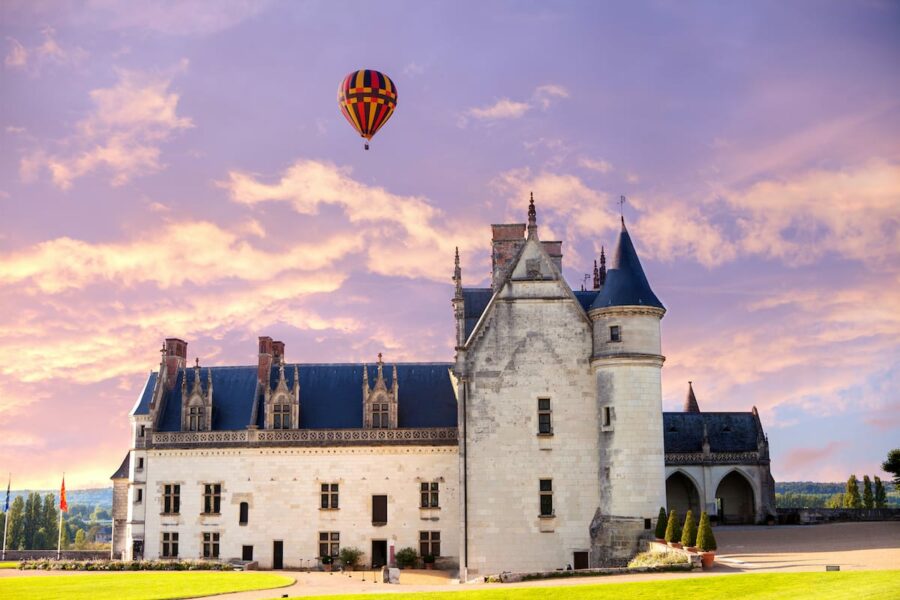 The Loire Valley became a UNESCO World Heritage Site in 2000, thanks to its stunning natural beauty and the historic towns and villages that encompass it. The chateaus in the region have played a major part in the royal history of France.
When you are on the hot air balloon, make sure you keep an eye out for Château de Chambord. It is the biggest chateau in France and is considered one of the most beautiful in the world.
Built in 1519 by King Francois I, the chateau is an exemplary example of the beauty of French Renaissance architecture.
So, if you are looking for a hot air balloon ride in Europe that involves great wine, amazing views, and interesting history, check out the Loire Valley in France.
>> Click here to book a hot air balloon ride in the Loire Valley
Coruche, Portugal
Coruche is a stunning region in the center of Portugal with a long-standing ballooning history.
From above, you can see the best of Portugal's countryside and diverse biosphere, with views over the Montado Forest, the Sorraia River, and the Sorraia Agricultural Valley, also known as "Lezíria Ribatejana."
Coruche is just 79km outside of Lisbon, which makes for the perfect day trip to escape the hustle and bustle of the city.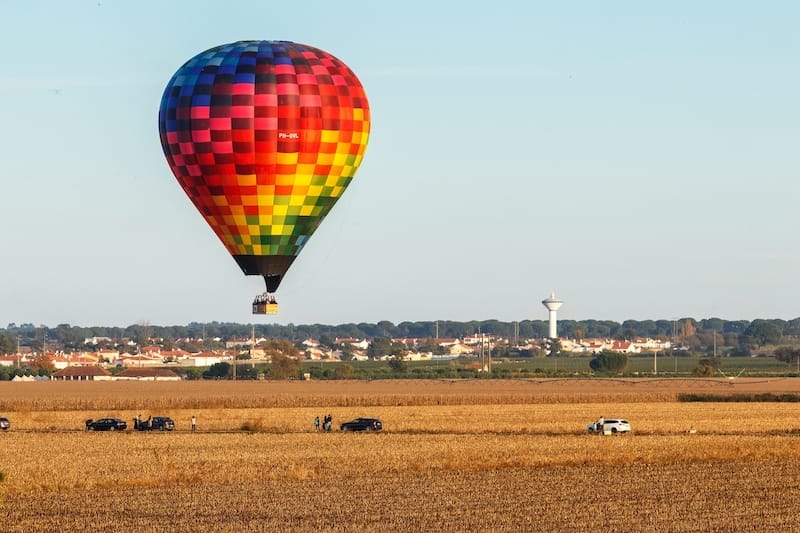 Coruche itself is only a small town, with traditional whitewashed architecture and a slow-paced vibe.
One of the main reasons people visit here is for the Coruche International Ballooning Festival, which is held for 5 days at the end of October. The balloons take off from the Montado Forest and the sight is purely magical.
>> Click here to book a hot air balloon ride in Coruche
Armenia
Armenia has gorgeous landscapes all over the country and the country is one of the most mountainous in Eurasia! You can see it all from above in a hot air balloon ride over Armenia!
If you love adventure and aren't too scared of heights, you can take a hot air balloon trip from Yerevan while you'll soar over the Temple of Garni (about 30 kilometers from Yerevan), the Khosrov Forest, and the Azat Reservoir.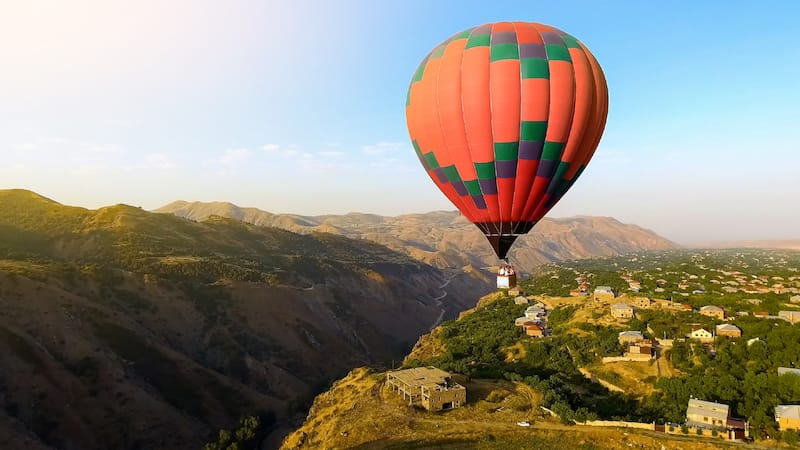 In the distance, you will get to see majestic Ararat Mountain… all while sipping on Champagne and enjoying snacks.
>> Click here to book a hot air balloon ride in Armenia
Segovia, Spain
Segovia is a historic town known for its Roman architecture, its Roman aqueduct, and its stunning Gothic cathedral, which is said to be the last cathedral in Europe to have been built in this style.
It's also a UNESCO World Heritage Site and is said to be one of the inspirations behind Walt Disney's Cinderella Castle.
With so many historic sites to see here, the best views are certainly from above.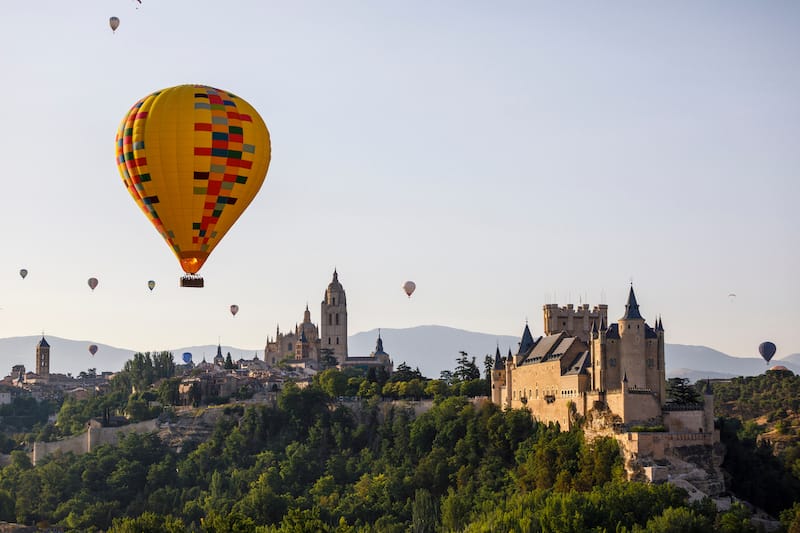 From a hot air balloon, you get a bird's-eye view of the incredible feats of engineering by the Romans, nestled amongst an expansive landscape of unspoiled natural beauty.
Another perk is that it is a great thing to do for a day trip if you're spending winter in Madrid!
>> Click here to book a hot air balloon ride in Segovia
Burgundy, France
Another wine region known for offering hot air balloon rides is Burgundy in France. Setting off from the historic town of Beaune, you will soar through the skies that offer an unparalleled view of the vastness of France's vineyards.
As you ride, you'll see medieval villages, huge chateaus, and miles upon miles of vineyards used for winemaking.
What's great about hot air balloon rides in Burgundy is that they nearly always come with wine, either at the end or during the flight.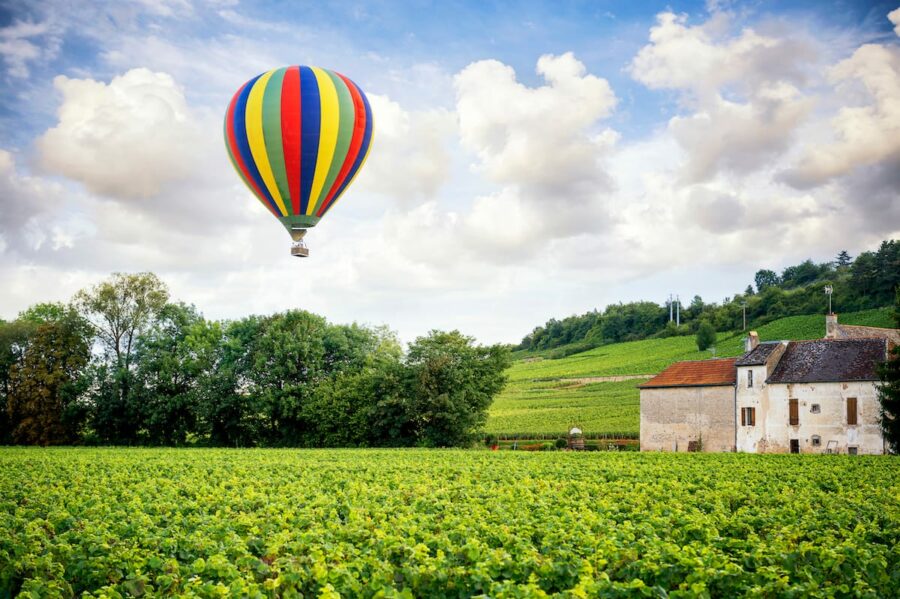 What better way to appreciate where your wine comes from than by flying over the source?
The balloon rides end in Dijon, the capital of Burgundy. Dijon is a historic town that's most famous for producing mustard, as well as wine, of course.
This concludes our guide to the best hot air balloon rides in Europe. Hopefully, you've found the perfect location for your epic hot air balloon adventure!
>> Click here to book a hot air balloon ride in Burgundy (and Dijon)
Château-d'Oex, Switzerland
One of the most unique sites to see from a hot air balloon in Europe is the Swiss Alps. And this is one of the best day trips from Geneva in winter!
Taking off from outside the town of Chateau-d'Oex, the hot air balloons fly through the valleys and offer incredible views of the craggy peaks of the Alps, which are even more spectacular in the winter.
The area is not only associated with ballooning, which holds an annual festival every year for 9 days in January, but also with its Paleolithic and Mesolithic history. As you fly in the hot air balloon, see if you can spot the prehistoric caves on the mountainside.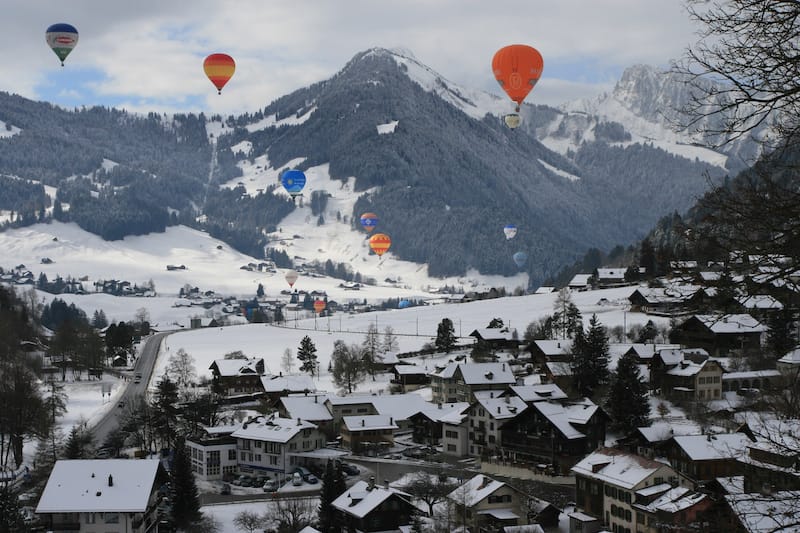 The town itself is stunning, with medieval architecture and traditional Swiss chateaus nestled in the foothills of the mountains. The views from the ground are stunning. Just imagine what it would look like from above!
Did we miss any amazing places for a trip on a hot air balloon in Europe? Let us know your top picks in the comments. Thanks!
Author Bio: Sean is the co-founder of The Turkey Traveler, the #1 travel blog on all things Turkey-related. Offering insider tips, recommendations, and guides, The Turkey Traveler is your ultimate resource to help you plan a trip to Turkey.
More Europe Travel Guides
Pin this Europe Hot Air Balloon Guide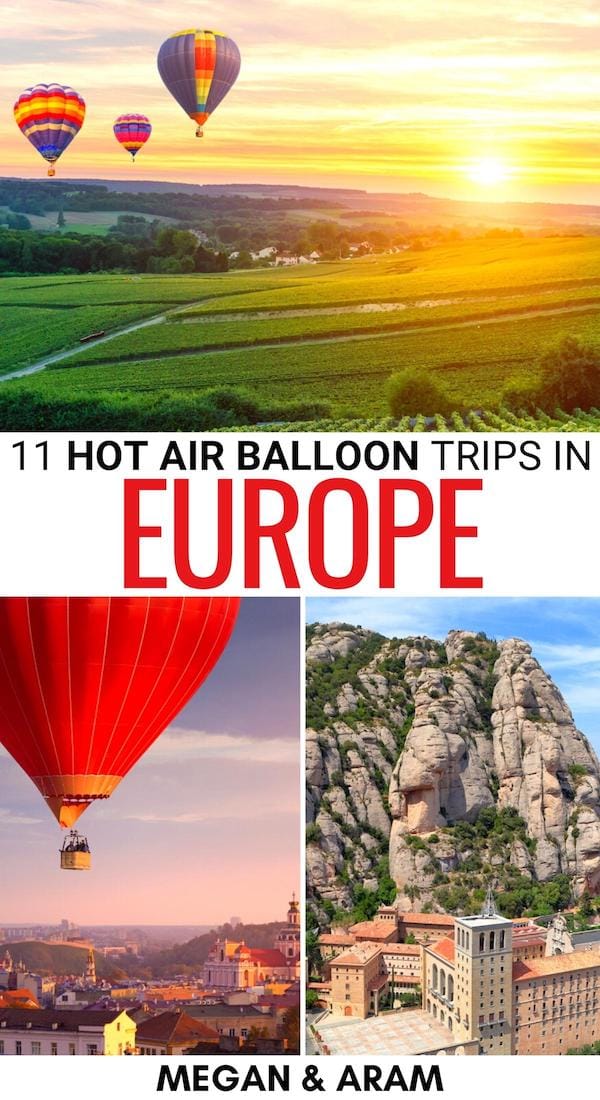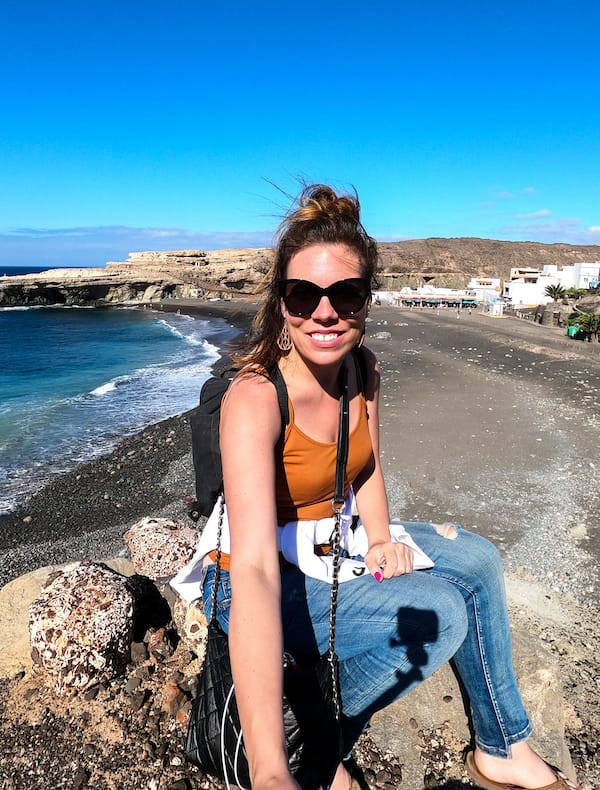 Megan is a travel blogger and writer with a background in digital marketing. Originally from Richmond, VA, she now splits her time between Frankfurt, Germany and Arctic Finland after also living in Norway, Armenia, and Kazakhstan. She has a passion for winter travel, as well as the Nordic countries, but you can also find her eating her way through Italy, perusing perfume stores in Paris, or taking road trips through the USA. Megan has written for or been featured by National Geographic, Forbes, Lonely Planet, the New York Times, and more. She co-authored Fodor's Travel 'Essential Norway' and has visited 45 US states and 100+ countries.