Are you looking for the best way to spend 2 days in Porto, Portugal?
This Porto 2 day itinerary will show you just how to do so! Let us know your tips for spending a fun weekend in Porto in the comments. Thanks!
Are you planning your trip to Porto
last minute?
If youʻre booking your trip to Porto last minute, we have you covered. Below are some of the top tours, hotels, and more!
Top Experiences and Tours in Porto:
Top Places to Stay in Porto:
Pestana Palácio do Freixo (luxury)
Linha 22 (mid-range)
CATS Design Hostel Porto (budget)
If you ask me what the coolest city in Western Europe is, I will list Porto as one of my top picks every time.
Porto is just cool, photogenic, and authentic and I feel lucky for having discovered it … so much that I am eager to get back there as soon as I can.
Portugal's second city has a lot to offer and it takes several days, even weeks, to discover it to its fullest.
However, you can definitely see quite a bit of Porto in 2 days. You can uncover a lot even with one day in Porto!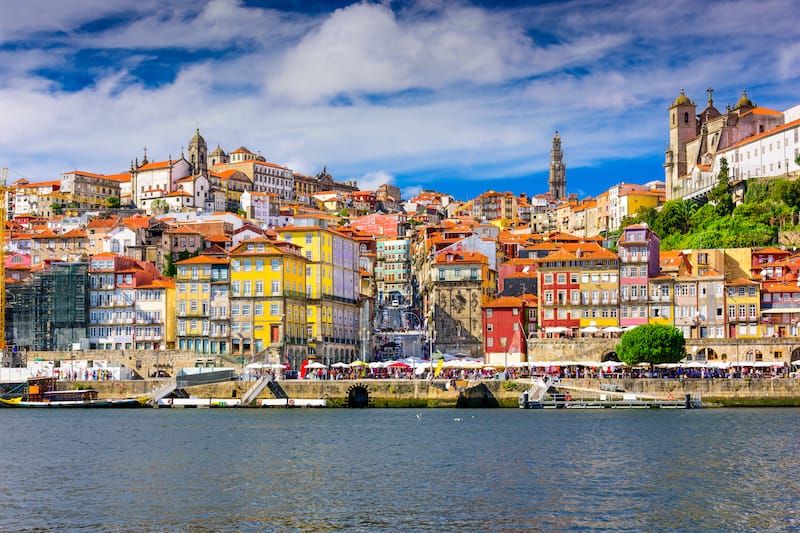 For those looking to spend a weekend in Porto, I can strongly advise you to book that trip because it is fairly cheap to get there, you'll find many amazing things to do in Porto, and you will probably fall in love with the city as I did.
This guide will discuss my experience visiting Porto and how to best spend 2 days in Porto if you only have a short time there. Please let us know if you have any questions!
This Weekend in Porto Itinerary
This weekend in Porto itinerary is set up so that you have options.
Please note that this was written for a first-time visitor to the city, so it takes into account all of the most famous attractions in Porto and not too many 'off-the-path' landmarks.
I give accommodation recommendations here at the top and these are based on our personal experiences (Megan has also visited Porto).
I have broken the guide into two sections depending on the day.
Day 1 is spent in the Old Town and exploring all that Porto is famous for.
Day 2 offers more flexibility to book a tour, go to the beach, hit up a museum, or simply head to somewhere you passed on Day 1.
If you have any questions, please let us know in the comments! Here is a quick overview of what you will see throughout this 2 days in the Porto guide:
Day 1: Porto's Main Highlights
Ribeira

Admire Luís I Bridge

Monument Church of St. Francis

Lado B Cafe

Clerigos Tower

Livraria Lello

Calem Caves (Port wine)

O Muro Antigo Restaurant
Day 2: Porto Your Way
Praia da Granja (Beach)

Museum of Contemporary Art

Bolhao Market (option 1)

Boat Tour (option 2)
Visit Porto Card
Another way to easily and cheaply get around the city and its sights is by purchasing the Visit Porto card.
Megan has used this on her trip and transportation is included as well as a free port wine experience and tasting, cable car ride, and SO much more!
>> Click here to get your own Visit Porto Card
Where to Stay in Porto
There are many options for places to stay in Porto but we are only going to recommend a place for each budget category of luxury, mid-range, and budget. Here are our top picks:
Porto Weekend Map
To add this map to your Google Maps account, click the 'Star' icon next to the map name. You can then view it on your cell phone or computer by heading to your Google Maps account, click the menu and add it to 'Your Places'.
Day 1: Main Porto Attractions
Your first day in Porto will take you to some of the most popular sights in Porto.
They are all located very close to one another apart from the Calem Caves which are across the river.
As a result, you can opt to do a port wine tour and tasting on day two if you don't feel like venturing that way on your first day.
Walk around Ribeira
Here we go – after arriving in Porto from the Porto Airport, train station, or by car, you should take the time to leisurely stroll around the charming Ribeira district of the city.
It is a can't-miss place in Porto, especially for first-timers visiting!
You will see plenty of riverside cafes and restaurants, colorfully-tiled buildings, and many narrow alleyways all just waiting to be photographed.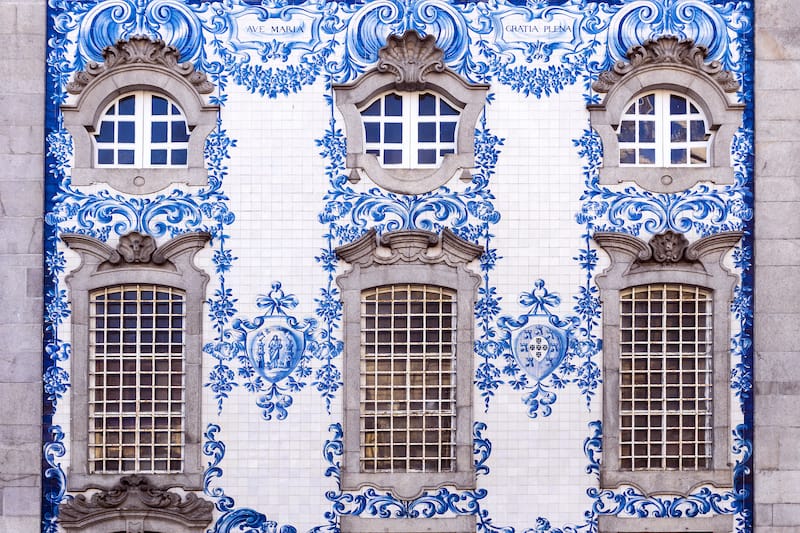 Since 1996, Ribeira has been a designated UNESCO World Heritage Site, and deservingly so.
You can wander around and take in the views and what makes this Portuguese city so special.
Admire the Views of Luís I Bridge
Another sight that is impossible to miss out on due to its location is the legendary Luís I Bridge which passes over the beautiful Douro River and connects the Vila Nova de Gaia and Ribeira districts.
Why is the Luís I Bridge one of the symbols of Porto?
Well, it was designed in the 19th century by the legendary Gustave Eiffel, who is also the creator of the magical Eiffel Tower in Paris.
It is 172 meters long and has two levels – one for pedestrians and public transportation and another for cars.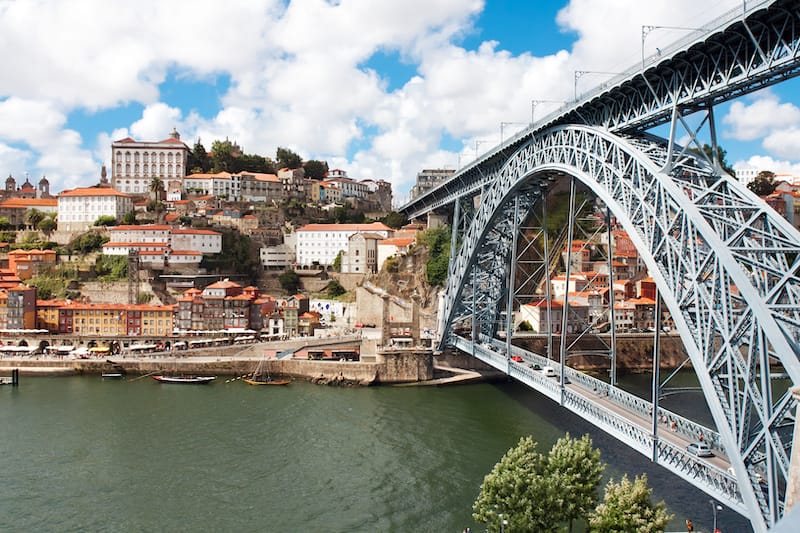 It is possible to walk across this bridge but I can say that you can simply admire it from afar and it is just as grand!
However, if you follow this 2 day Porto itinerary, you will notice that we recommend crossing into Vila Nova de Gaia for a port wine tasting, which requires a trek across the famous bridge.
Be Blown Away by St. Francis Church
One of the most iconic sights in Porto is the St. Francis Church.
This religious landmark is renowned for its ornate interior and the fact that it used 300 kilograms of pure gold dust in its design.
While you may find the outside of the church a bit lackluster in its appearance, it isn't until you make it to the inside that you will be blown away by its construction.
Everything was golden and it was beautiful!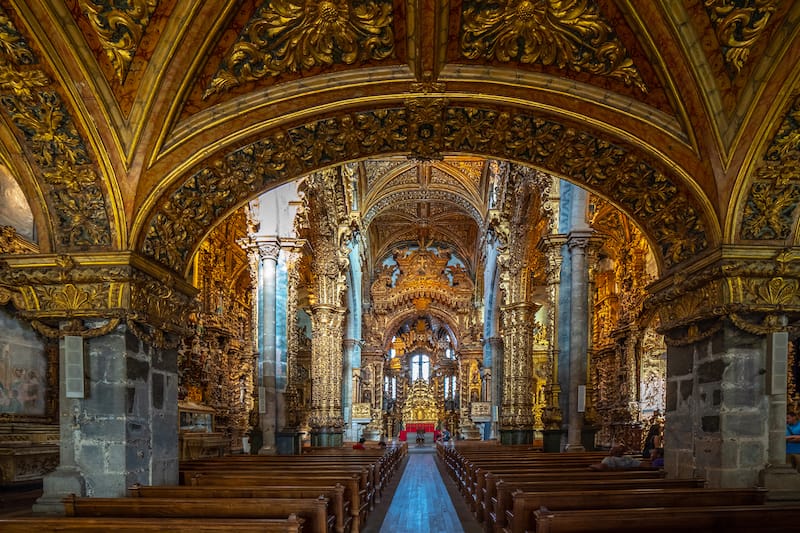 St. Francis Church was built in the 13th century by King John I who was apparently into opulence… so much that he decided to create this church in a style that was symbolic of that.
Enjoy Lunch in Porto
There are so many famous Portuguese foods and dishes that you can indulge in but one that feels sinful, yet delicious all at the same time is a traditional dish called Francesinha.
Unfortunately, this one is not for vegans and vegetarians.
Francesinha appears to be something resembling pancakes and honey, but in reality, it is heavy food that will leave you without the desire to eat for a long time afterward (and one that is easy to burn off by making your way around the city on foot)!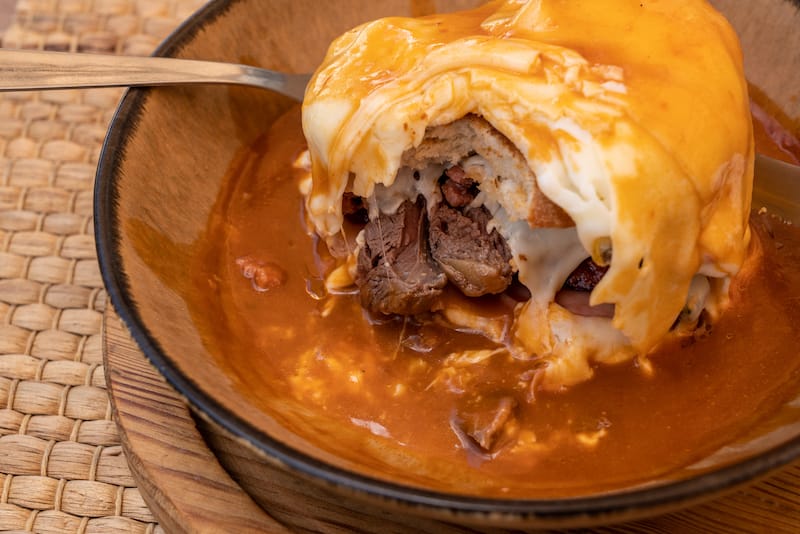 The dish's main ingredients are roasted meat, fresh sausage, ham, cheese, and tomatoes wrapped in bread and doused in a heavy sauce.
I tried Francesinha at Lado B Cafe based on recommendations, but you can enjoy this heavy delight almost anywhere around the city.
Visit the Clerigos Tower
After getting fueled up for the rest of your day, it is time to stop by another Porto attraction – the Clerigos Tower.
The tower was built in the 18th century and has 200 steps, is 73 meters tall, and has an impressive 48 bells.
It's possible to walk all the way to the top to get an overlook of the city from this tower.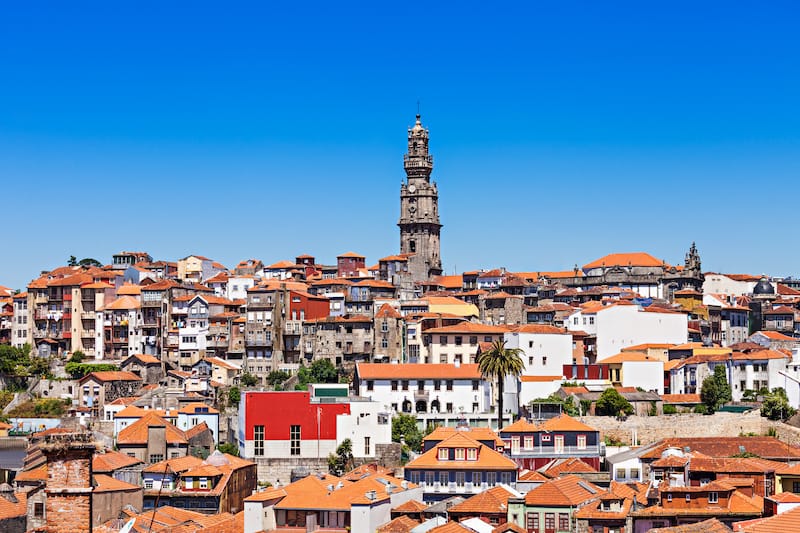 Another great thing about this tower is that it can be used as a point of reference for strolling around the city! Every time I felt a bit lost, I would use the Clerigos Tower to point me in the right direction.
Click here to get your entrance ticket to Clerigos Tower in Porto.
Wander into Livraria Lello Bookstore
Consistently topping lists of the world's most beautiful bookstores, Livraria Lello is a can't-miss place in Porto and needs to be on your Porto weekend itinerary!
Founded in 1881, Livraria Lello has a neo-Gothic facade and will almost certainly transplant you into a Harry Potter movie with a Portuguese twist.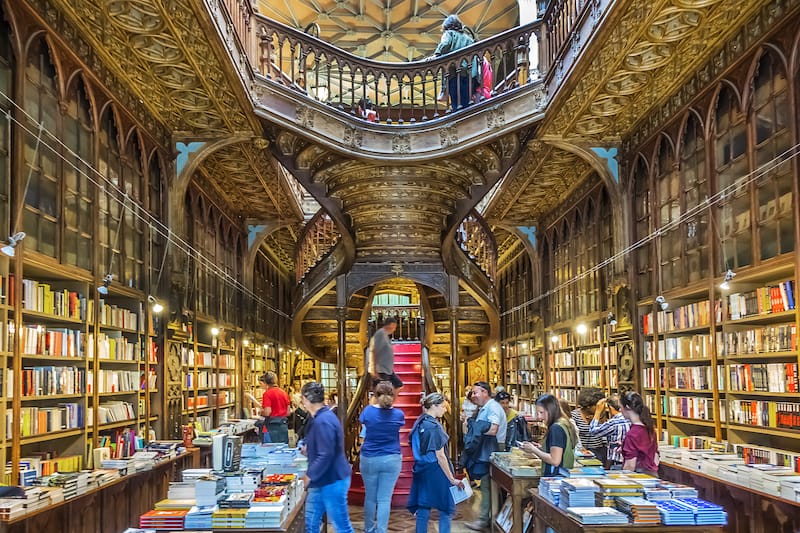 The library has an impressive collection of books dating back to the Middle Ages in it.
It is crowded inside, just to prewarn you but you can take a tour to learn the max about it while there.
This will help save you time so you don't need to wait in line to get inside.
Click here to see more about taking a tour of the Livraria Lello Bookstore in Porto.
Taste Local Port Wine
To visit Porto and not try its most famous export is unfathomable!
When I visited Porto, I used my trip as time to experience one of the most famous port wine factories in the city center located right on the riverside.
It is the 19th-century Calem Caves Port wine cellar.
This Porto wine tour allows you to experience the magic of Port wine right in the city itself.
You will learn about how the drink is made, and its history, and you will have the opportunity to walk in an old wine factory while tasting the drink as you listen to the sounds of the Fado.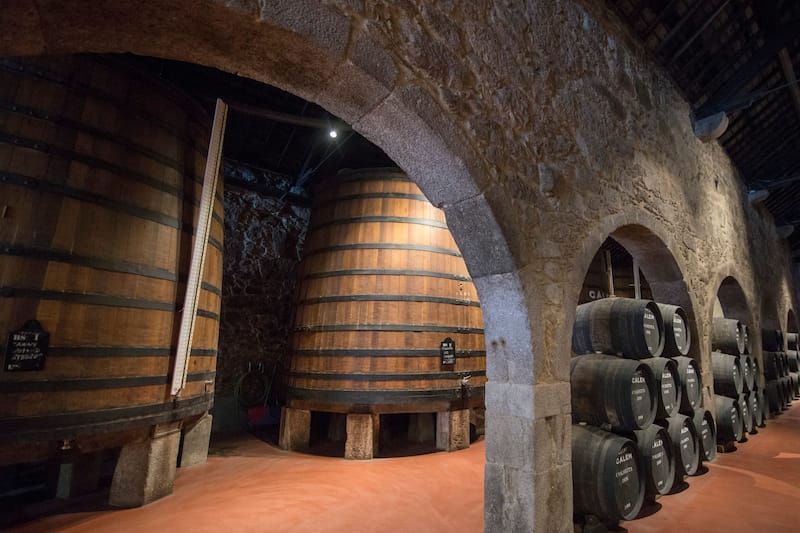 At the end of the Port wine tour in Porto, you can purchase some to take home (it is the ultimate Portugal souvenir).
Click here to see how you can take a port wine tour of the Calem Cellars in Porto.
Finish the Day with Dinner on the River
After doing your wine tasting, it is best to head back over to Ribeira to enjoy dinner along the river.
This historic neighborhood is centralized and likely close to your hotel or Porto accommodation, so we definitely suggest eating there or nearby.
One of my favorite places that I dined in Porto was O Mura Antigo Restaurante, right on the river and a place where you can enjoy some of the city's best seafood while you sip on a glass of wine. It truly was a memorable experience!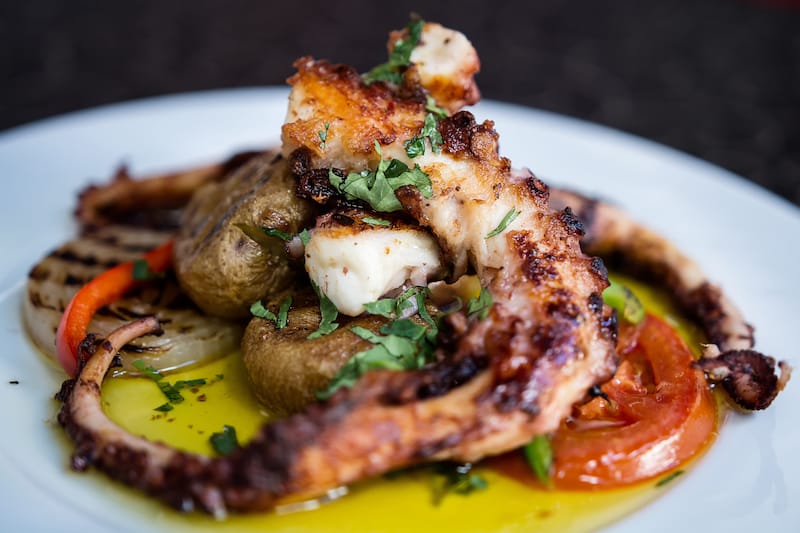 Day 2: Porto Your Way
Spend the Morning at the Beach
Being from Armenia, I am not exactly used to seeing real beaches.
But, Porto has some nice beaches near the city and I was eager to check them out and see the Atlantic Ocean.
Most beaches are approximately 20-30 minutes away by car from the Porto city center.
You can find popular public beaches like Praia de Matosinhos Beach which has outdoor showers and fantastic ocean views.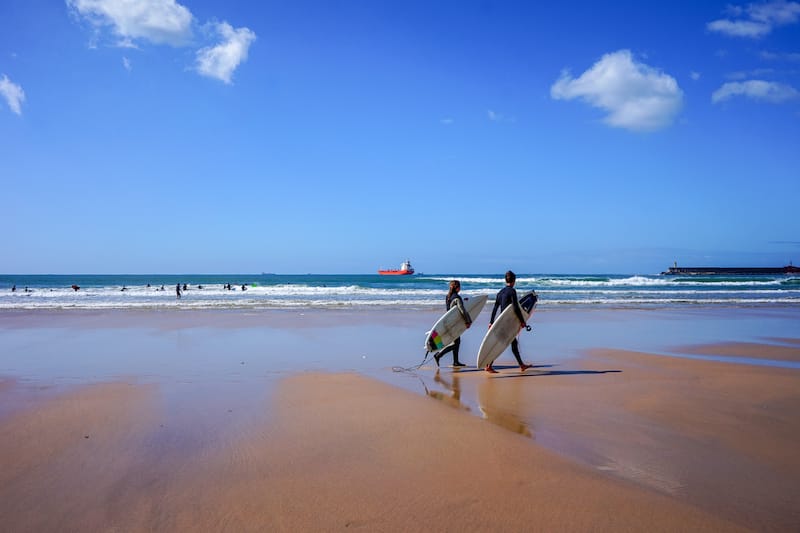 You can also head to Praia da Granja, where I went, and have a picnic and an enjoyable morning or day with friends. I even tried surfing there!
To reach Praia da Glanja, you will need to head to the Porto Central Station and purchase tickets there.
It is pretty easy! Just familiarize yourself with the train schedule the day before to see which train suits your itinerary.
Indulge in a Sardine Feast
One of my favorite things to do in Porto is to eat my body weight in sardines!
There is some fantastic seafood in Porto and while sardines may seem humble and not worth writing about, there is just something so delicious about their simplicity in the cuisine and being able to enjoy them at a 5-star restaurant or right on the beach in a casual setting.
I enjoyed them best when prepared in a simple manner with beans and potatoes.
Visit the Serralves Museum & Villa
If you find yourself spending time at Praia de Matosinhos beach in Porto, you will be close enough to pay a visit to the Serralves Museum in Porto.
This contemporary art museum is open daily until 7pm and is a great stop during your 2 days in Porto.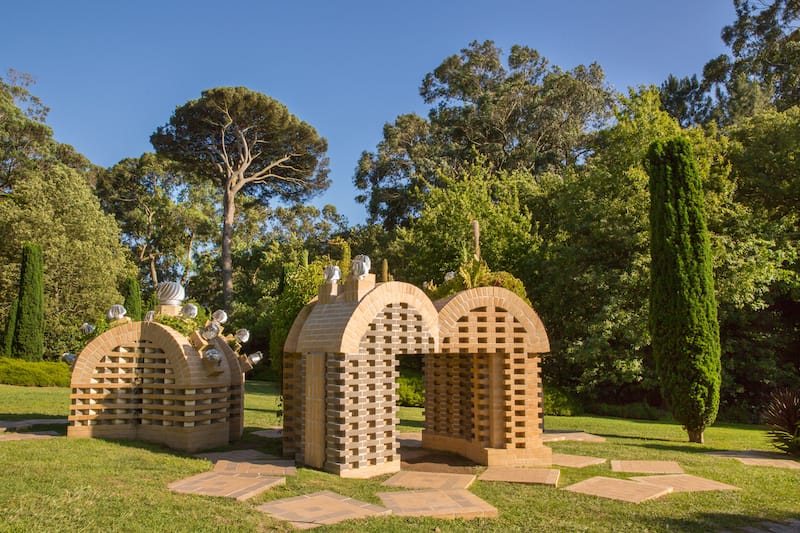 Established in 1999, you can see unusual exhibitions right in the garden.
It contains Art Deco architecture to Modernism pieces and is a hub for some of the most important illustrations in the world.
Afternoon Option 1: Boat Tour
Two days in Porto is simply not enough but you can maximize your time depending on your travel tastes and style.
One recommended Porto activity is to take a boat ride on the river!
The boat cruises include hop-on, and hop-off options and there are even port wine tours on it (and tastings).
Departure hours vary but you can purchase your ticket in advance to take advantage of this affordable activity!
>> Click here to check rates for a Porto boat cruise
Afternoon Option 2: Bolhão Market
If a boat cruise is not your thing, then you can opt to venture to the Bolhão Market, a famous food market in Porto.
The traditional building, also known as the Big Bubble, was constructed in the 19th century and was fully furnished in 1914. It has remained a popular city market for the last century.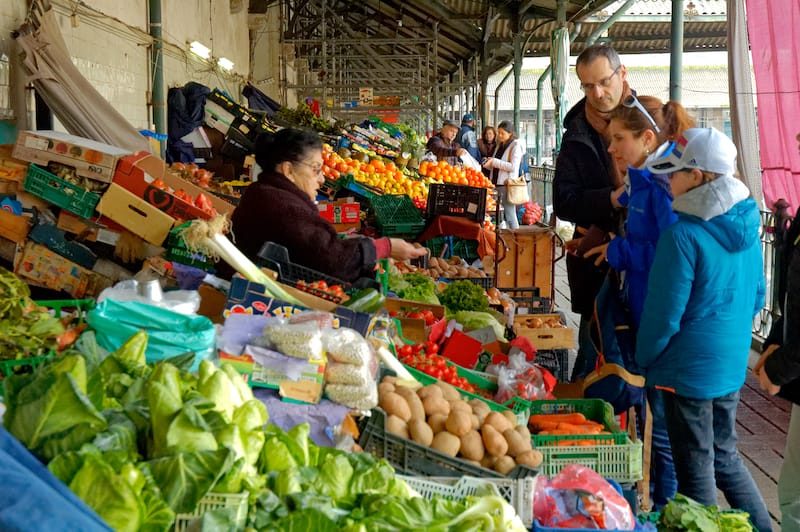 You can find everything at the Bolhão Market, from fresh seafood to delicious fruits and vegetables. You can also explore the wine and cheeses for sale there.
If you're interested in taking a tour that includes a visit to the Bolhão Market and focuses more on the gastro delights of Porto, check out this tour that also includes a wine tasting.
More Than 2 Days in Porto?
Are you staying in Porto for longer than 2 days?
While you can keep occupied with many other things to do in Porto during your stay, you can also do one of the most recommended activities in Porto – heading to the Douro Valley for a wine tour!
This Douro Valley tour is a bestseller and is a top pick among those who have visited Porto.
You will have a wine tasting, boat tour, and more! It is only 85 Euros per person, which makes it extremely affordable for all of its offerings!
>> Click here to check rates and availability for a Douro Valley Wine Tour
Porto Travel Tips
Best Porto Tours
We all know that seeing many places in a city in a short amount of time can be hard to manage, especially in older cities in Portugal with narrow roads and alleys, making it easier to get lost.
This is why we recommend taking tours to maximize your time there!
Fortunately, tours are fairly affordable in Porto and you can see a lot in a short amount of time with an expert guide.
Here are some of our top Porto tour picks that will enhance your experience in the city:
How to Get to Porto
There are a few ways to get to Porto but Megan and I both arrived by air.
You can alternatively take the bus or train to the city. It is an easy stop-off for those visiting Lisbon, too.
Click here to read our guide to how to easily get from the Porto airport to the city.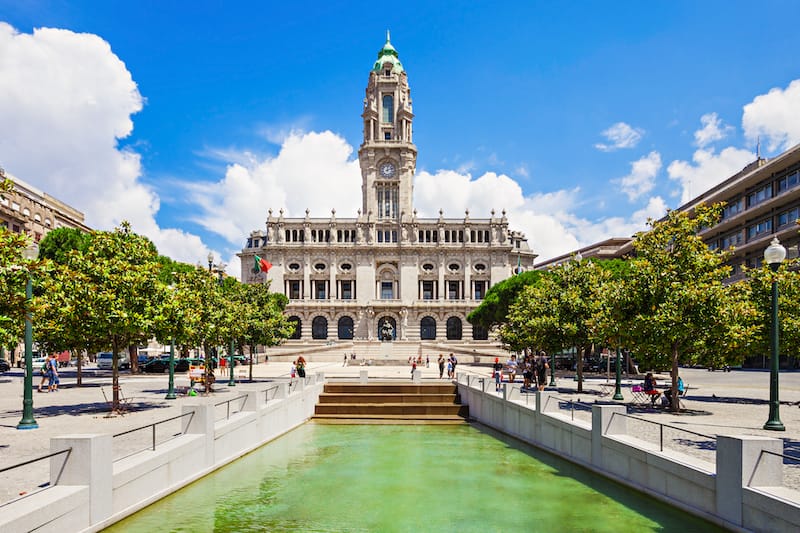 Best Time to Visit Porto
The best time to visit Porto is in the shoulder season, in my opinion. But, it is one of Portugal's best weekend breaks all year round, to be fair!
Summer is high season and it is very crowded. Megan visited in February and said it was really nice but perhaps a bit too cold and rainy.
Porto is one of the best places to visit in Europe in March, but April and May are also fantastic.
Alternatively, the autumn in Porto is comfortable, less crowded, and a bit cheaper.
We would love to know your 2 days in Porto travel tips and recommendations!
Please leave them in the comments and we hope this guide encouraged you to spend a weekend in Porto soon!
More Portugal Travel Guides
Pin This Porto 2 Days Itinerary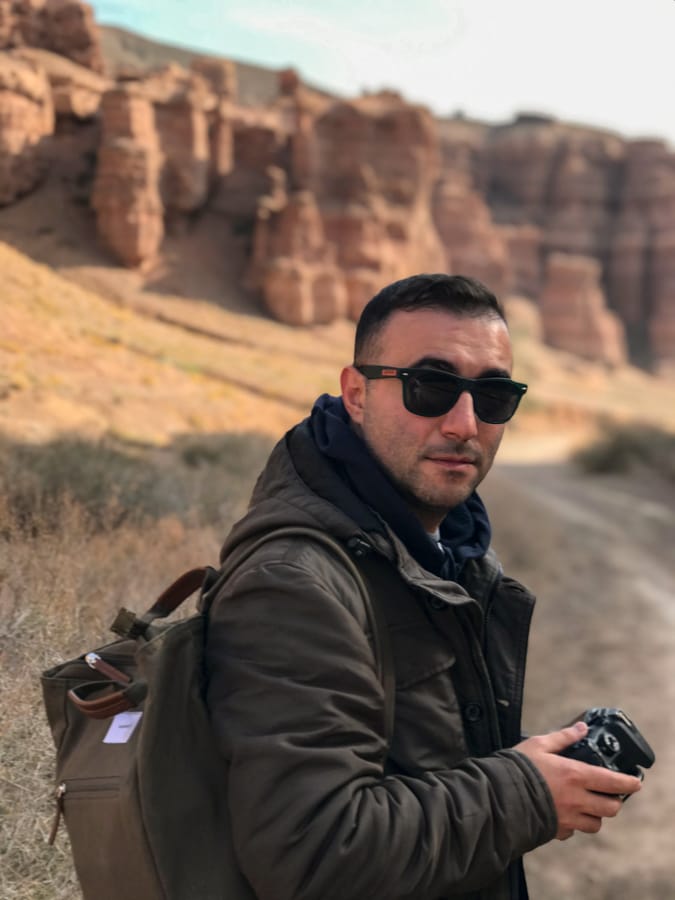 Aram is a travel blogger and writer from Armenia who spends his time between Spain and his home country. He is passionate about music and football (the European kind) and covers a lot of Western European destinations on the blog. Aram is a laidback traveler who enjoys meeting new people and finding the best food in each city that he visits (hence his frequent trips to France, Italy, and Greece!). He has been featured in (or written for) Forbes, BBC, The Guardian, Fodor's Travel, and more.