Are you looking for the best things to do in Sicily on a budget? These are some of our favorite free things to do in Sicily!
Are you planning your trip to Sicily last minute?
If youʻre booking your trip to Sicily last minute, we have you covered. Below are some of the top tours, hotels, and more!
🇮🇹 Top-rated (affordable!) tours in Sicily:
🛌 Affordable hotels in Sicily:
San Giorgio Palace Hotel Ragusa Ibla (Ragusa)
🚗 Looking to travel around Sicily independently? Click here to check Sicily rental car rates!
The little Mediterranean island off the coast of Italy, known as Sicily is a treasure trove for lovers of architecture, history, good food, and pristine beaches.
It offers the best of what Italy has to offer with a bit of Sicilian spice to make it extra interesting.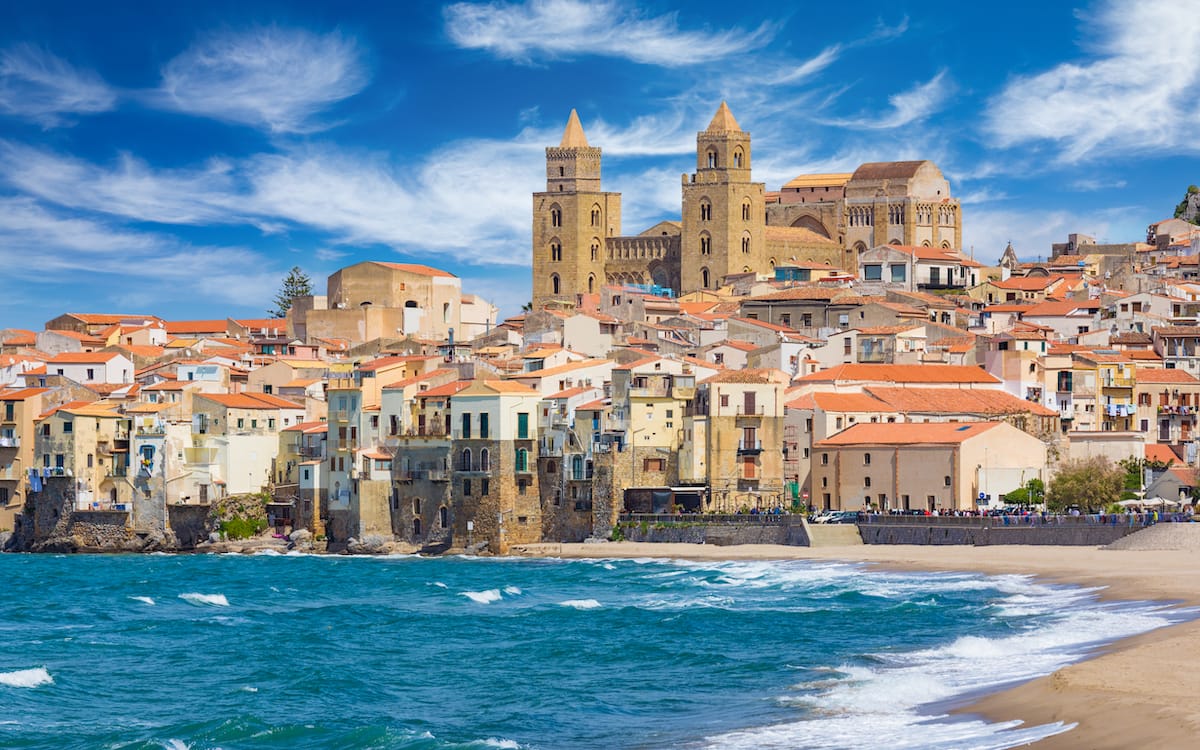 Visiting the island does not need to break the bank, and with these amazing free things to do in Sicily, you will get a taste of what the island has to offer on a budget.
Did we miss anything in this guide? Let us know your Sicily budget tips in the comments!
Tips for Traveling Sicily on a Budget
The good news is, eating out in Sicily is very inexpensive. Most villages and cities have bakeries offering delicious rosticceria (street food) which can be purchased for €1/piece.
Grab two pieces and you have yourself a cheap lunch/breakfast. Your average costs for restaurants should be between €15-€30/per person, depending on how much delicious Sicilian wine you order.
When it comes to budgeting accommodation, the key question is where to stay in Sicily.
The island is a lot bigger than it might seem and distances tend to take longer to cover than expected (ex: Palermo to Taormina is a mere 122 km but will take over 3 hours to drive).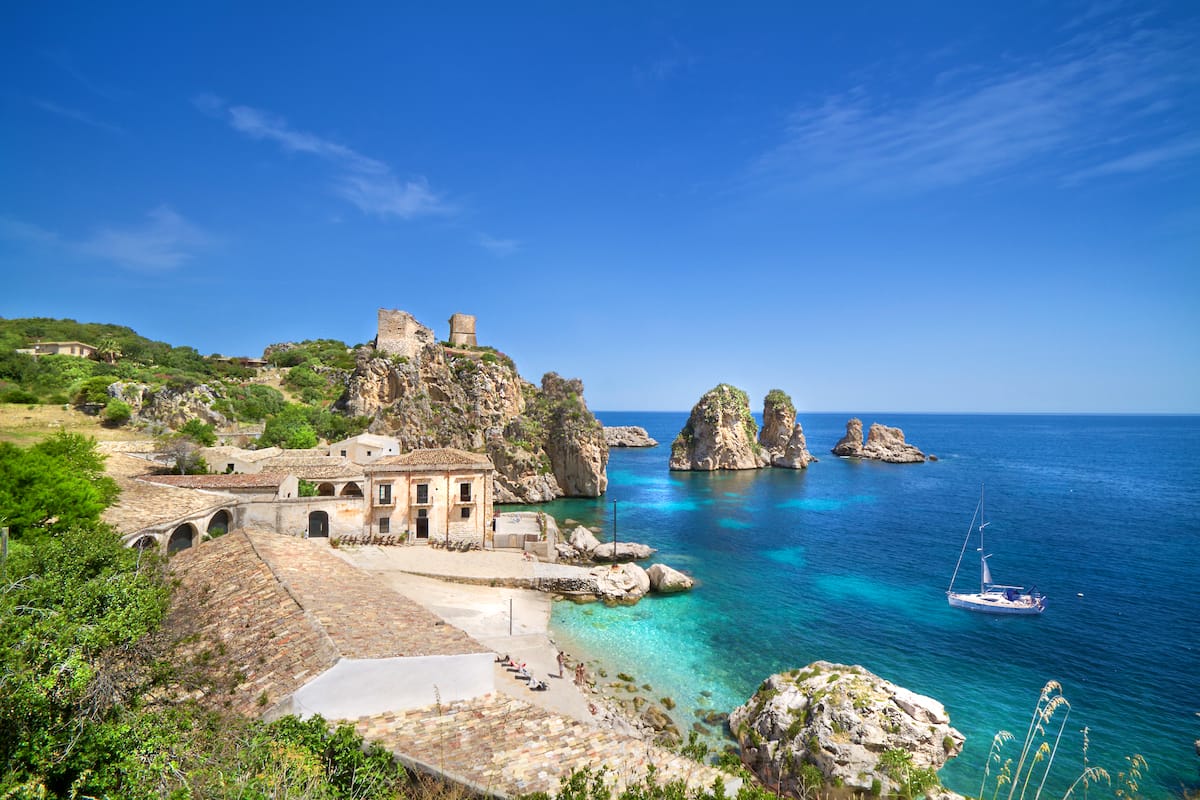 Palermo is a great base if you want to check out western Sicily, while Catania and Siracusa are good for exploring eastern Sicily.
There are a ton of little villages in and around the larger cities that offer great budget accommodations.
Getting around the island with public transportation is virtually impossible. Many of the highlights are simply not reachable via train or bus as the infrastructure is sadly lacking.
Therefore, if there is one thing you do not want to be frugal about it is transportation, make sure to allot some budget for renting a car, that is if you want to see more of the island.
Book your rental car in advance to get the best prices!
Free Things to Do in Sicily
1. Visit Mondello Beach
Situated a 20-minute minibus ride from downtown Palermo lies one of the most pristine sandy beaches in all of Sicily – Mondello Beach.
A 3-kilometer uninterrupted stretch of beach, dotted with beautiful liberty (the Italian version of Art Nouveau) villas lining the coastline.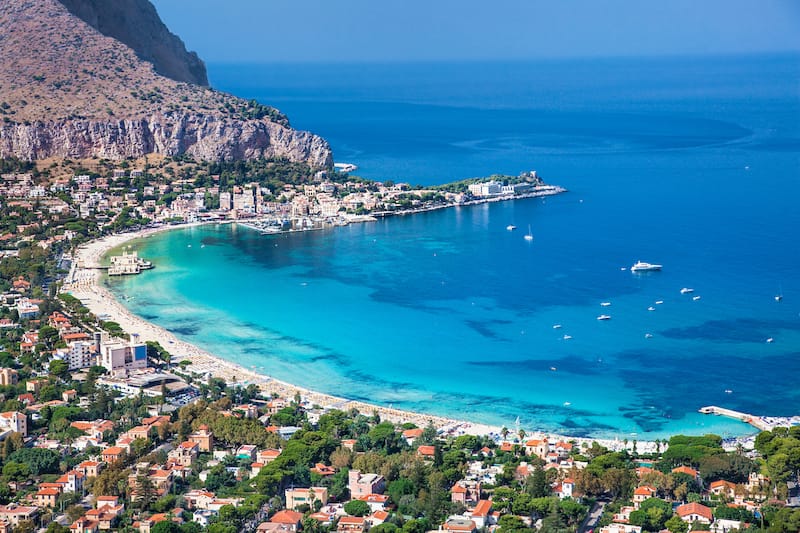 Bring a towel, plenty of sunscreen, and cash – many of the establishments offering refreshments and food do not accept payment by card.
Tip: Come early, Mondello is the favorite beach hangout for local Palermitans and they tend to flock here in large groups.
Kick your butt out of bed and be at the beach before 10.00 AM to ensure you have a spot to chill out.
2. Check Out the Various Street Food Markets in Palermo
One of the best things to do in Palermo is to head to one of the three historical markets: La Vucciria, Ballaro, or il Capo market.
While these three markets used to be 100% for locals – and a tad dangerous to explore – you will now find a wonderful mix of locals and tourists alike.
Locals tend to go early in the morning to buy fresh fish, meat, and vegetables (before they wilt from the heat) while tourists start arriving at 09.30 AM when most tours start.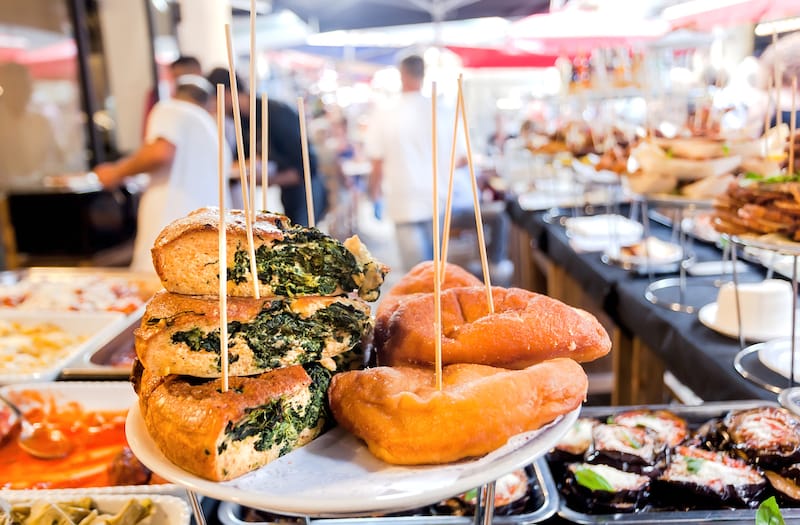 If people-watching is what you are after, come early in the morning to hear the cries of street vendors, witness the wild gesticulation of locals as their bargain for their wares, and the odd bleary-eyed youngster stumbling home from a party.
In the evening the market stalls make way for little open-air bars and bbq stands which serve customers until the wee hours of the night.
Why not go local and try the famous spleen sandwich at 03.00 AM after one too many beers?
Be careful of your valuables, the markets are known for having pickpockets around.
3. Climb Mount Etna
While most people take a tour to climb Mount Etna, it is actually possible to go without paying for a – admittedly decently priced – tour.
Please note you can only hike up to 2900 meters without a guide, the last stretch – 2900 meters to 3300 meters (to the very top of the crater) is not accessible without a guide, this is for safety reasons.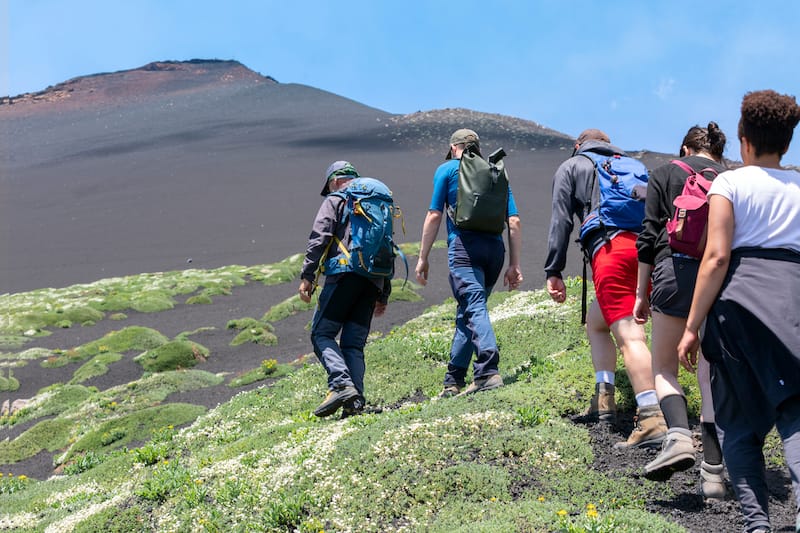 If you have a car, park it at Rifugio Sapienza and hike for 1.5 hours to Mountain Hut – The path is easily recognizable and runs along the rifugio.
This will allow you to skip the expensive cable car (€35 to and back).
💥
PRO TIP:
If you are not comfortable hiking Etna independently, this
Mount Etna hiking excursion
offers pick-up from Catania and is only around €60/pp.
The best time to go is between April to October as this is the official summer season, winter tends to get very cold, rainy, and misty.
4. Catch the Sunset Over the Salt Flats in Marsala
Kilometers of salt flats dotted with picture-perfect windmills and the occasional little boat. The salt flats in Marsala are absolutely spectacular.
While heading to salt flats is not possible without a tour, catching the sunset from the outskirts of the salt flats is absolutely free.
In the months of June/July, the salt flats turn a slight shade of pink, which makes them even more beautiful to visit!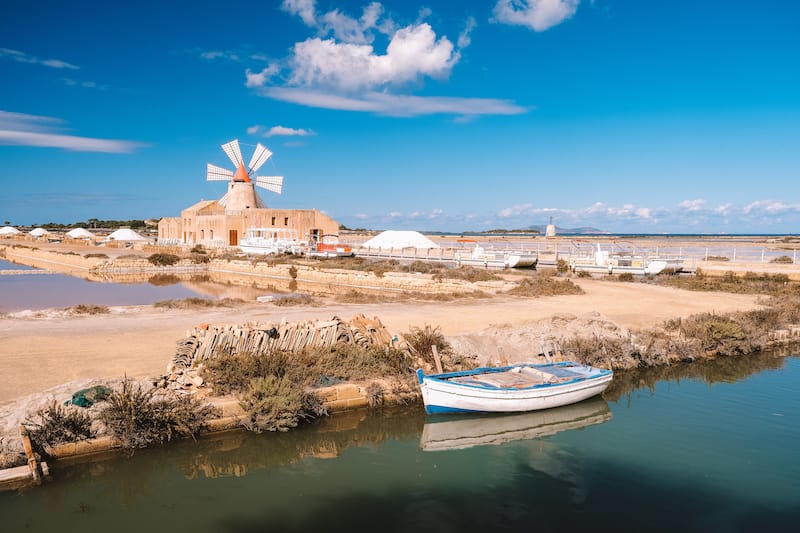 Combine your visit to Marsala with a stop in the little village of Erice – a medieval hilltop village with an impressive castle – or hang out in the medina of Marsala and wander around the tiny winding streets, before heading to the salt flats themselves which are located slightly outside of town.
Park in one of the official parking lots (all neatly indicated along the road). Bring a cold beer or a bottle of Sicilian wine and settle in for the best sunset on the island.
5. Listen to a Free Concert in Noto
Noto is one of the UNESCO-classified Baroque villages of Sicily.
It also happens to be one of the most used locations for filming period dramas in Sicily, most recently it was the set of the very popular series White Lotus (season 2).
While staying in the village tends to get expensive, especially during the summer months, staying just outside of Noto is wonderfully affordable.
Wander the streets during the day, and grab a mouthwatering almond gelato at the famous café Sicilia across from the Piazza del Duomo.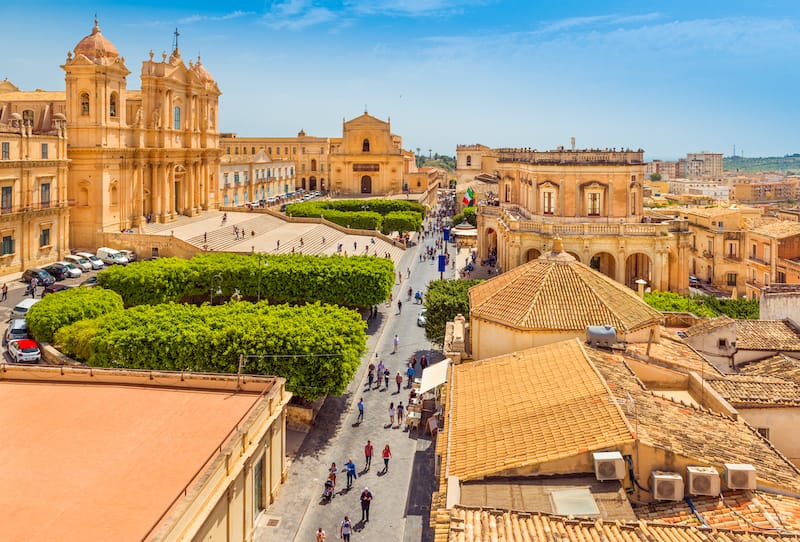 During the summer months, this very Piazza (square) is the scene for many concerts – usually in the form of street musicians playing their hearts out for a few pennies. It is one of the best things to do in Noto!
Swaying to the sound of Italian Classics, while taking in the beautiful view of Baroque Noto is the absolutely perfect way to end your evening in Noto. And best of all, it is completely free of charge.
6. Check out the Fish Market in Catania
Not only Palermo is known for its age-old markets, but Catania also has its very own version – the fish market.
Runs daily from 06.00 to midday and is choc-a-bloc full of little stalls selling everything from fish to small tourist trinkets.
While it has lost a smidge of its authenticity over the years, it is still a great place to catch a glimpse of bygone days in Catania.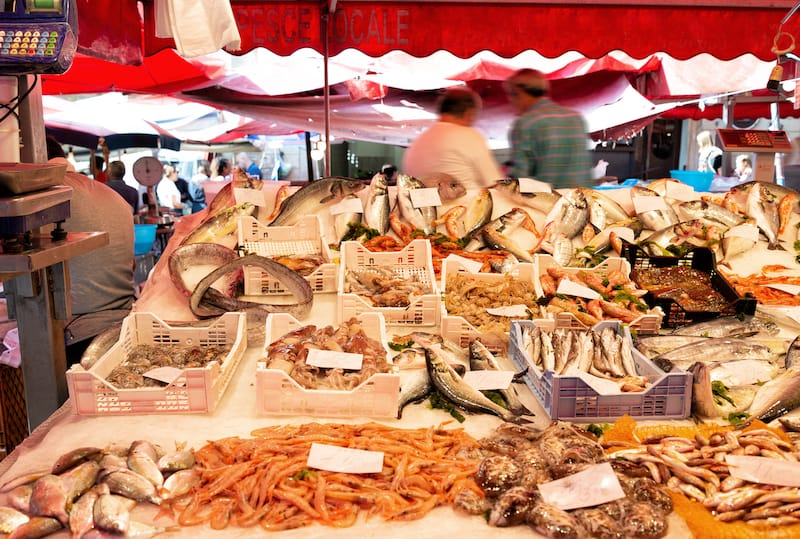 For that, however, you will need to kick your butt out of bed early, aim to explore before 09.00 AM to get the real authentic feel.
If you want to try out the local street food, this is the place to do so! Avoid buying any fruits, vegetables, or olives as they tend to be strongly overpriced for tourists.
Be very mindful of your personal effects in the market, it is small and tends to get crowded making it the perfect hunting ground for pickpockets.
7. Visit the Palermo Cathedral
You might be surprised to read that one of the free things to do in Sicily is to visit the famous Palermo Cathedral.
The Cathedral itself is located in the center of historical Palermo and architecturally reflects the various marauders that ruled this part of the island: Arab-Norman, Greek, Swabian, and Roman.
It was once a mosque, then later converted into a cathedral under the Saracens who promptly kicked the Normans out of Palermo.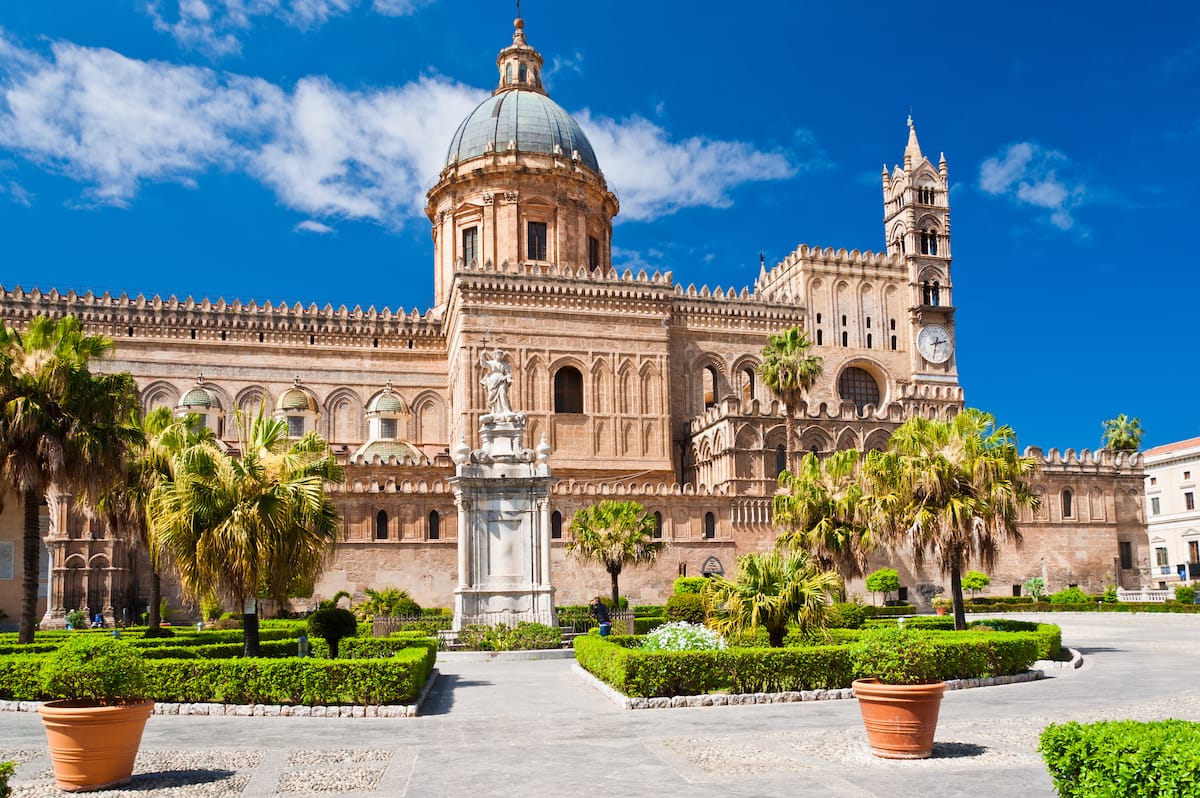 While the outside is absolutely spectacular in its opulence, the inside is slightly underwhelming with its whitewashed walls and sober Neoclassical interior, a legacy of 18th-century remodeling.
While the inside of the cathedral is free to visit, the rooftop and crypt are subject to an additional (small fee).
8. Explore the Beautiful Fishing Village of Cefalu
A mere 70 kilometers from Palermo lies the beautiful fishing village of Cefalu.
Replete with UNESCO-classified Arab-Norman architecture, a fort overlooking the village, quaint cobblestoned winding streets leading to hidden piazzas, and a large stretch of sandy beach.
The village is an absolute must on any itinerary through Sicily. Get lost in the medieval heart of the village or spend an afternoon lounging on the beach, both completely free of charge.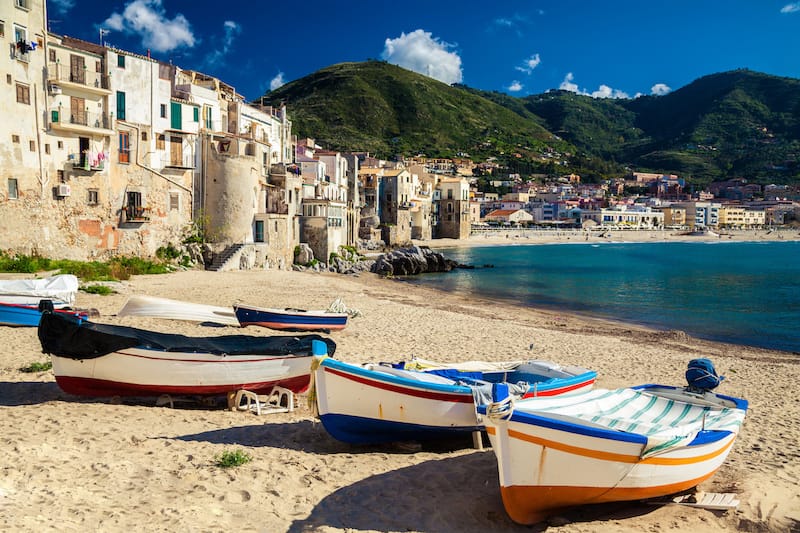 If you have a few pennies to spare, pop into the Arab-Norman Cathedral and admire the opulent golden mosaics that adorn the ceiling of the outwardly seeming austere cathedral.
Hike up to the Castello di Cefalu for the very best views over the city or head out to the Rocca di Cefalu around sunset to see the whole bay turn 50 shades of pink as the sun dips in the sea.
9. Find the Prettiest Baroque Façades in Ortigia
Ortigia is an islet off the coast of Syracuse, connected to the mainland by two sets of bridges.
Together with Noto is the prettiest example of 16th-century Sicilian Baroque the east of Sicily is known for.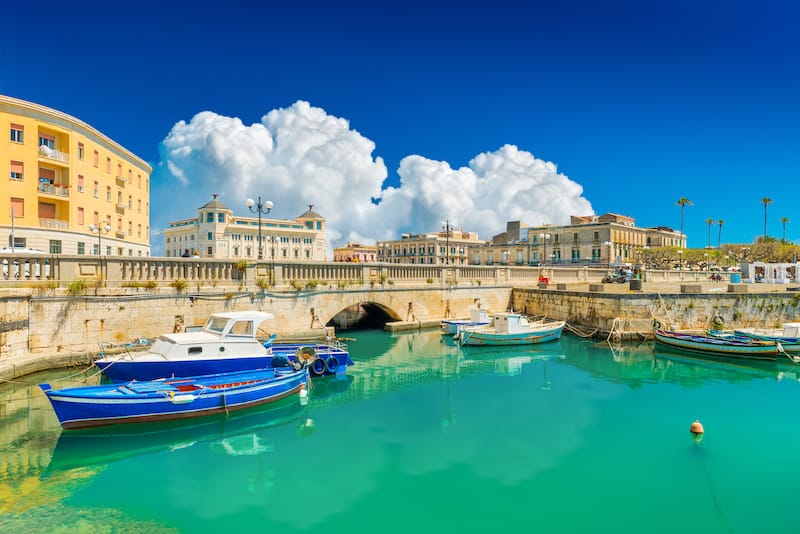 While it might seem tiny (the circumference is 3.5 kilometers) it is absolutely jam-packed with the most ornate baroque façades you will likely ever see.
Wander the narrow alleys and look up to capture the ornately carved balconies depicting Moorish heads, lions, and a host of other fauna and flora.
🌟
BUDGET TIP:
You can actually take a
1-hour boat trip to Ortigia
from Siracusa for only €20/pp – which is a great way to see the place on a shoestring!
Step inside the Syracuse Cathedral- formerly a temple of Athena, the columns of which are still visible inside the cathedral or lounge on one of the many (little) rocky beaches around the island.
The beaches might be small, but the water is about as turquoise as you will get anywhere in Sicily.
10. Go Hiking in Zingaro Natural Reserve
The Zingaro Natural Reserve is located right next to San Vito Lo Capo and is simply spectacular.
While there are many places to go for a hike in Sicily, this might just be the most scenic one. It is also the very first Natural Reserve that was established on the island, dating back to 1981.
The reserve has two entrances – The North and the South – and a 7-kilometer hike that runs between both.
Please note the hike is not circular and there is no transportation between both entrances which means you will need to hike back the same way you came in.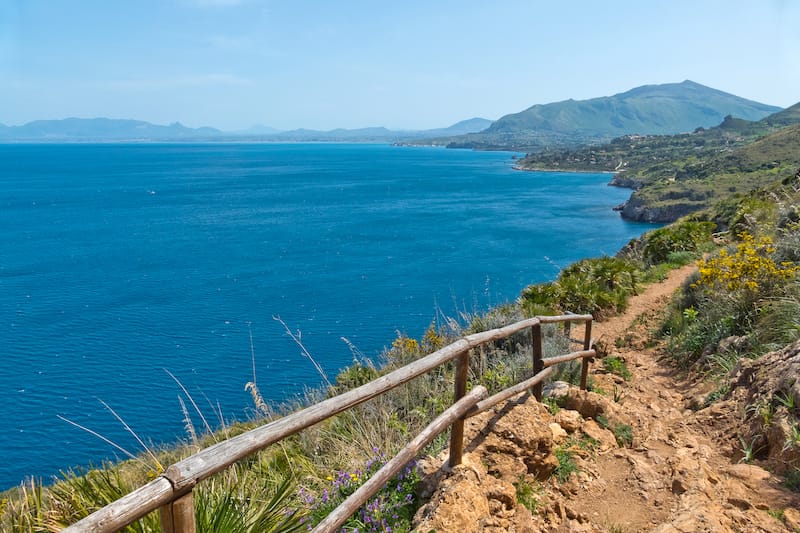 Depending on the time of day you enter, there might be a guard at the entrance in which case an entrance fee of €5 is required to enter.
These €5 will buy you a day pass as well as a map which contains the various hiking paths and little coves where you can venture out for a swim.
Bring sturdy shoes, swimming gear, and food & drink (there is no option to buy either along the path).
Additional Things to Do in Sicily That are Free
Every city on the island has a market, not just Palermo and Catania.
The market in Ortigia is known to have the very best sandwich on the entire island, while the medina of Marsala will transport you right back to the Middle East.
If markets are not your thing, you can have your pick of free beaches to plonk down on.
By law the first 5 meters of every beach need to be free for the public, the rest can be taken up by lidos (private stretches of beach with sunchairs and umbrellas) but those first few meters will always be free.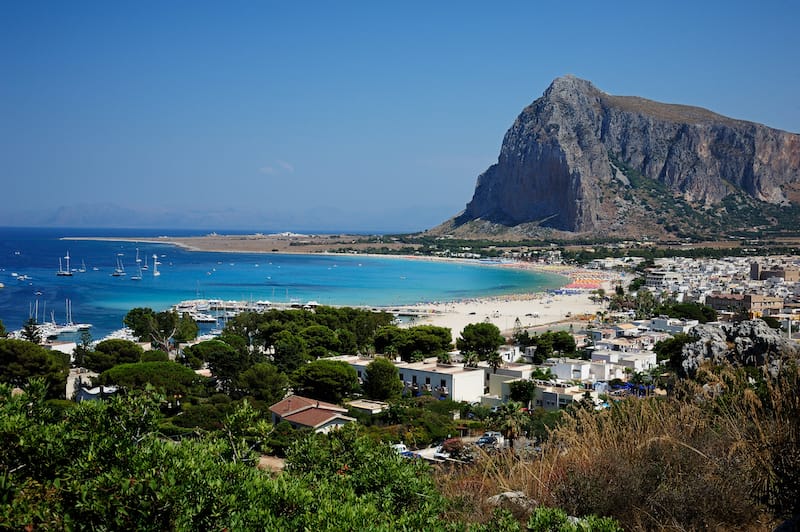 Some of the island's best beaches can be found in the lesser frequented western part of Sicily – San Vito Lo Capo is much beloved amongst locals, yet somehow has remained blissfully under the tourist radar.
Be sure to head to the beach early though, locals tend to hit the water as early as 09.00 AM and spend all day.
Did we miss any of the best free things to do in Sicily? Let us know some of your favorite cheap things to do in Sicily in the comments!
More Italy Travel Guides
Pin this Sicily Budget Guide