I recently went on a Champagne tour in France and it was one of the coolest experiences I have had in a long time. This guide will show you the best Champagne tours from Paris and how to book your perfect Champagne day trip from the French capital city.
Are you planning your trip to Paris last minute?
Be sure to book your accommodation and Champagne tours from Paris ahead of time to ensure availability!
🇫🇷 Top recommendations for tours in/from Paris:
🛌 Top recommendations for accommodation in Paris:
Ibis Hotel in Clichy (Budget – I stayed here and recommend)
Tilsitt Etoile (Mid)
La Maison Favart (Lux)
🚗 Looking for the best way to get around Paris? Click here to check rental car rates for France!
Did we miss anything in this guide that youʻd like to know? Let us know in the comments. Thanks!
Champagne Tours From Paris: How to Book Your Perfect Champagne Day Trip
I have to admit, I always was the one in my group to opt for beer over wine or even Champagne (yea, I laughed as I wrote that).
It is not that I didn't like the drink… I thoroughly enjoyed it, I just never thought to purchase it when I was out.
As I have gotten older, I have really started to enjoy drinking Champagne.
I recently took a trip to Paris and Reims with the intent of learning more about the region and Champagne.
Fortunately, if you're just staying in Paris, there are many Champagne tours from Paris that you can join to explore the region and educate yourself on the beverage (educate = taste).

Click here if you're looking for Champagne tours in Reims instead.
This is a guide to the best Champagne tours from Paris, including Prestige, private, and group tours. Taking a trip to this region is my absolute favorite day trip from Paris (hands-down)!
They are all tours that can be done within a day and do not require an overnight (but, there are many amazing things to do in Reims if you change your mind!).
The guide will also include tips, facts, and other information about France's Champagne region.
Facts About France's Champagne Region
The Champagne region of France, now known as Grand Est since 2016, is a historic region in the northeast of France that is known for the beverage of the same name, Champagne.
This bubbly white wine is recognized all over the world and has become synonymous with celebrations and events and luxury. Not to mention, it is one of the best places to visit in France.
The grapes that are most commonly grown in the Champagne region are Pinot Noir, Chardonnay, and Pinot Meunier. These grapes dominate certain areas of the region itself.
France's Champagne region is broken up into five distinct wine-producing regions and they are Aube, Côte des Blancs, Côte de Sézanne, Montagne de Reims, and Vallée de la Marne. The two main commercial centers are Épernay and Reims.
There are a variety of Champagne tours you can take in the region but not all leave from Paris.
This guide is exclusively going to be Champagne tours from Paris. I will create another guide detailing ones that leave from Reims soon.

When is the Best Season for a Champagne Tour and Tasting?
Visiting the Champagne region of France can be done at any time.
The only time of the year that I would avoid would be during the harvest as the Champagne houses have a lot of work to do and it could impact tours and tastings slightly.
I went in February and it was a great time to be there because there were fewer crowds. The harvest period varies based on the season's weather but it can range from mid-August to September typically.
Prestige Champagne Tours from Paris
A Prestige Champagne, or Cuvee, is a producer's top-quality Champagne. These often are the most expensive ones, as well.
You can take a tour that focuses only on Prestige Champagne if you're into the high-quality stuff.
It also pairs with some incredible food and experiences during the day. To find out more, see the Prestige Champagne tour from Paris below:
Prestige Champagne Tour and Tastings
This Prestige Champagne tour takes you to one of the most famous Prestige Champagne houses in the world (either Dom Pérignon or Ruinart depending on the tour).
You will also visit a boutique producer who will educate you on the process of making Champagne.
If that wasn't all cool enough- you will have the chance to dine in a Michelin-star restaurant and enjoy a 3-course lunch there.

The tour will take you through the vineyards of Montagne de Reims, Cote des Blancs, and Vallée de la Marne between Reims, Ay, and Epernay all while giving you an education on the different grapes of the region and the process and hard work that goes into the Champagne making process.
This is definitely the premier Champagne tour from Paris that you will want to partake in if you're serious about bubbly and want to see where the most renowned Champagne names in the world do their work and earn their well-deserved reputations.
>> Click here to check tour prices, dates, and itinerary details.
Private Champagne Tours from Paris
Are you looking for a personal and intimate Champagne tour? The tour suggested below is probably the best Champagne tour from Paris option for you then.
Full-Day Private Day Tour to Champagne
This full-day Champagne tour from Paris departs in the morning and will privately take you up to Champagne country from the French capital.
You will get to visit one world-famous Champagne house as well as two smaller ones. On this Champagne tour, you will have a chance to try 8 different types of Champagne and varieties.
You will also have the opportunity to stroll along with Avenue de Champagne in Epernay and to visit Hautvillers (Dom Perignon's village).
Lunch will be included at a local restaurant or at a winemaker's home, depending on the day.
This is definitely one of the best Champagne tours from Paris and one to highly consider when booking your trip.
>> Click here to check tour prices, dates, and itinerary details.
Group Champagne Tours from Paris
If you're on a budget but still want to learn more about Champagne and explore the region from Paris, these are some more affordable group tours from Paris that will give you the chance to learn more about the sparkling beverage.
Small-Group Champagne Tour with Tastings
This Champagne tour is a small group one that leaves from Paris and takes you to the beautiful Champagne region of France.
You will have the chance to visit a selection of wine estates and you will also have the opportunity to visit the world-renowned Moët & Chandon Champagne house while there.


There will not only be an opportunity to taste some of the finest Champagnes but also to eat some tasty, regional French food that will be included in your 3-course lunch.
>> Click here to check tour prices, dates, and itinerary details.
Champagne Region Day Tour by Minibus
Another popular Champagne group tour option, this one departs from Paris and heads deep into the Champagne region of France.
You will visit Reims, the unofficial Champagne capital of France and home to three UNESCO World Heritage Sites.
You will also have a delicious, regional lunch in Epernay, another major town in the Champagne region.


And lastly, you will visit the famous Moët & Chandon Champagne house for a learning experience and a tasting.
This is a great Paris Champagne tour that will show you the best of the region in merely a day.
>> Click here to check tour prices, dates, and itinerary details.
Things to Know Before Going on a Champagne Tour
I recently went on a Champagne tour and to be honest, I wish I had educated myself before I went.
I know beer so well but I really didn't know too much about Champagne (like I am ashamed to admit I didn't even know that wine was made from the same type of grapes… apparently I thought Champagne was made from oranges or something).
Here are some tips I can give for your day on a Champagne Tour from Paris that will help prepare and educate you for the trip:
⇒ Learn the history of the region. I really can't stress this enough. The 20th-century World Wars actually had a major impact on the region and on the beverage.
The Champagne houses didn't really speak much about this, but when my group asked, they gave some insight and it was more fascinating than I could have imagined. Many of the cellars housed families during the wars.
Click here for a book detailing the history of the Champagne region.
⇒ Try to know a bit about Champagne. Obviously, you want to learn more on the tour itself, but it helps to not be as dumb as I was on the tour because it left me too embarrassed to ask the questions I wanted to ask and I went searching for them on Google later.
Click here for a book describing everything you should know about Champagne.
⇒ Dress appropriately. Most people on my tour were dressed up fairly nicely. This is my version of dressing nicely and exactly what I wore to my Champagne tour the day before: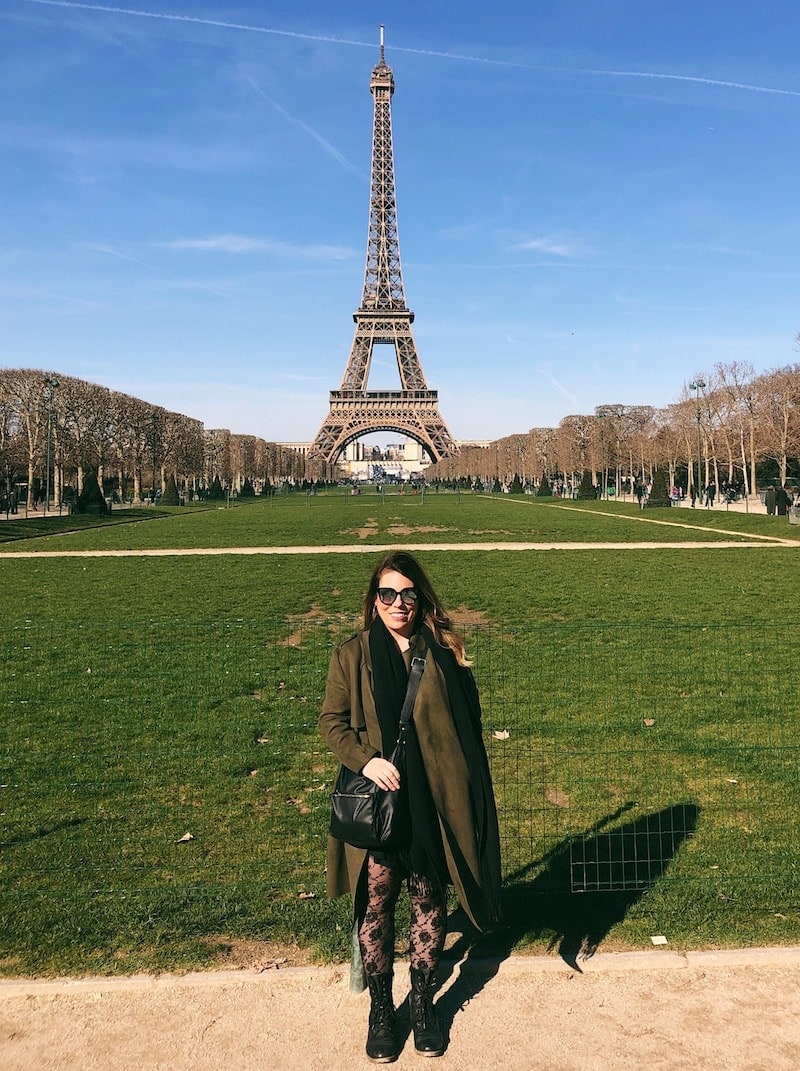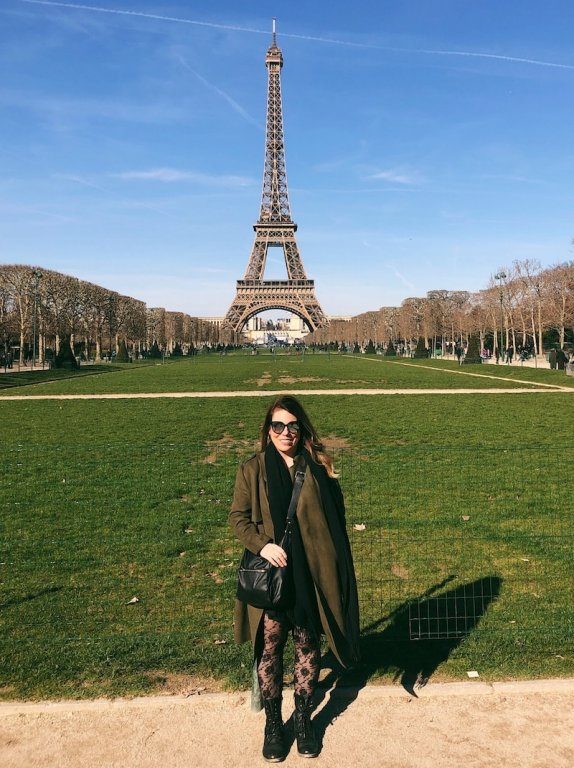 Needless to say, I was able to make it work but I didn't don a huge hat for Instagram for the tour or any of that like the other people in my group. Wear something nice, but comfortable.
You will be in Champagne cellars, so also ensure you have something that will keep you warm as they are a bit cool.
Since you'll be walking around a bit, I also suggest wearing stylish, yet comfortable shoes. I'm no fashionista clearly, but I suggest these vegan Dr. Martens for maximum comfort, versatility, and ease.
⇒ If you're in France, you can never go wrong with a French phrasebook. Click here to buy a phrasebook for France.
Where to Stay in Paris
There are so many places to stay in Paris, let's be honest. I stayed most recently with an Ibis Hotel in Clichy, which is a really nice and safe neighborhood there.
But, you will have your pick of where to stay depending on your arrondissement in Paris.
Click below to find the best hotel or accommodation in Paris to suit your needs.
>> Click here to check rates and availability in Paris
Have you ever been on a Champagne tour from Paris to the beautiful region in France?
If so- please let me know how your experience was in the comments and feel free to add any additional tips!
More Paris Travel Guides