There are so many things to do in Frankfurt, Germany… but many people leave without a real impression of the city and the culture it offers visitors.
I have lived in Frankfurt for the last five years and think it is truly one of the best cities to live in Europe… and I can name hundreds of cool places to visit in Frankfurt. These are a few of my favorites.
A Local's Guide to Alternative Things to Do in Frankfurt, Germany
Frankfurt is not the easiest city to familiarize oneself with.
Almost always intimidated by the sheer size of the airport alone, travelers arrive in Frankfurt puzzled and with not a lot on their agenda.
The truth is that the city has so much to offer every kind of traveler. I have lived here for five years of my adult life.
There are a lot of things to do in Richmond, my hometown in the US, but I have easily found just as many things in Frankfurt.
The skyscrapers may not offer the 'European charm' that many travelers jaunt to Germany for, but when people appreciate the city for what it is and not what it isn't, they will quickly realize that Frankfurt is easily one of the coolest cities in the country.
Frankfurt is known for its Christmas markets and airport. But it is more than just a European Christmas destination and a layover stop.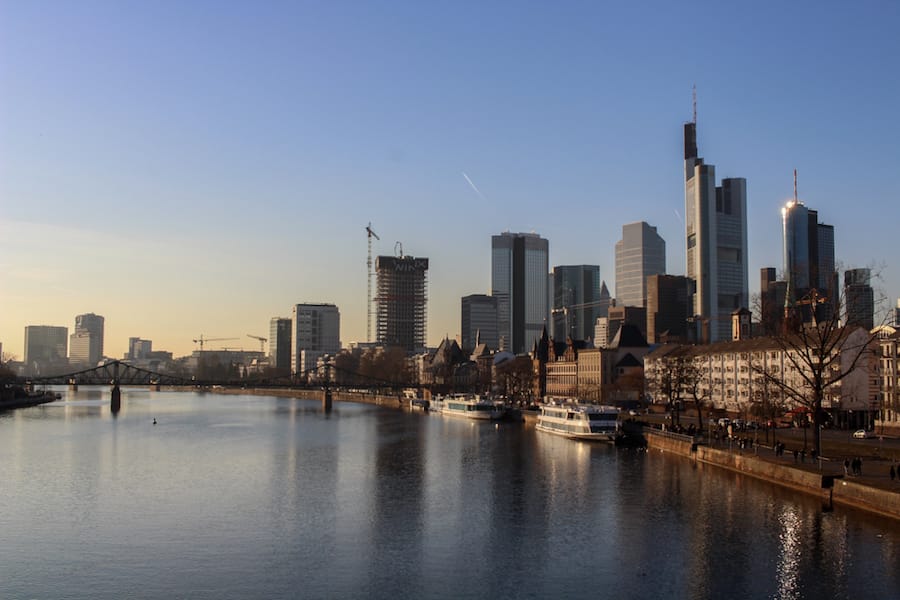 On a side note, the city of Frankfurt is often associated with banks and a lack of culture.
This is a guide consisting of some alternative things to do in Frankfurt, Germany that will prove to you just how hip the city really is.
What to Do in Frankfurt
1. Visit Höchst
Frankfurt's Altstadt (Old City) and city center get a lot of attention, but so many people neglect to see anything beyond that.
I could tell you to go to Bockenheim or Bornheim, but I think Höchst is Frankfurt's true hidden gem.
This Frankfurt district has an old city that is quiet and very walkable.
The timbered, historic buildings are protected by the Denkmalschutz, a law that has been protecting old cities since 1972.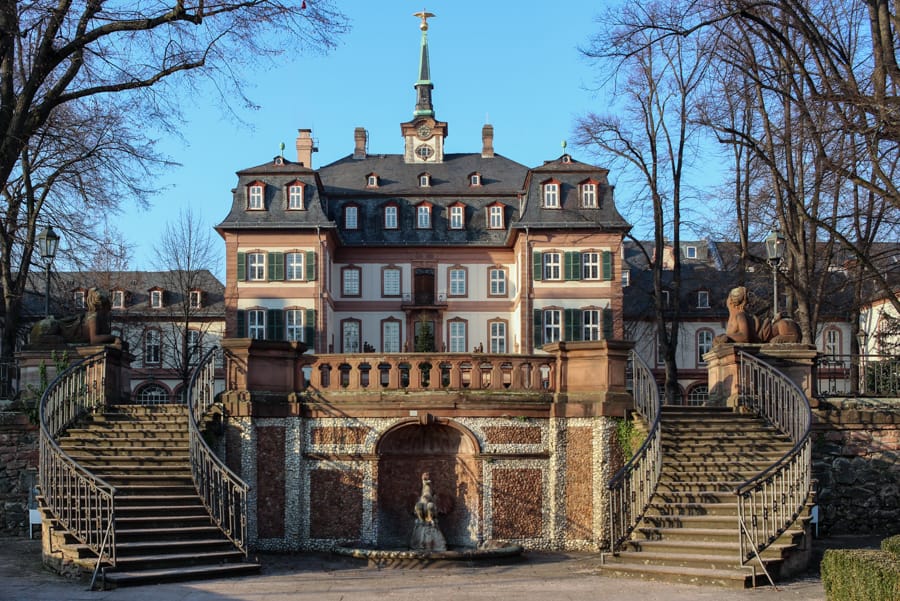 In Höchst, one of my favorite things to do is visit the Schwanheimer Düne, a nature reserve with fauna and flora unique to anywhere else in Germany.
I also really love taking my camera and photographing the Bolongaropalast, a baroque palace that was the largest private residence of its type built during the 18th century.
Many Frankfurters don't even know about this building and I can't tell you how many tourists haven't even heard of Höchst and its offerings!
2. Sip Coffee at Tumult Café
New to Frankfurt's caffeine scene, Tumult is a café that doubles as a work area, yoga center, and get this… an escape room.
The décor inside is all handmade and unique.
The coffee is sensational. And the staff is friendly and welcoming.
This café has quickly become a Frankfurt favorite for specialty coffee lovers and they are receiving beans from some of Europe's best roasteries.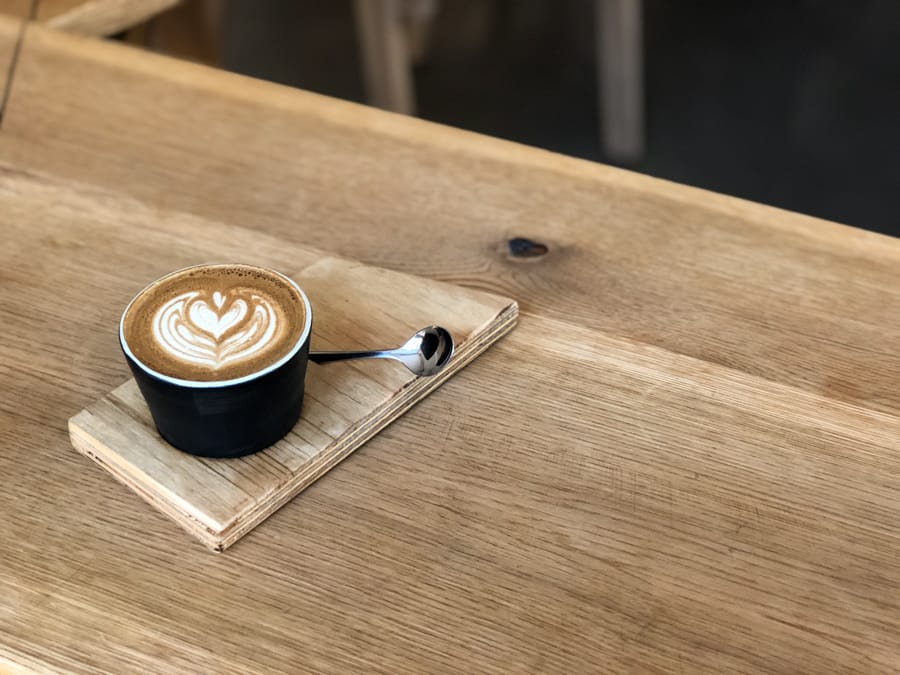 Click here if you're looking for places to grab a delicious coffee in Frankfurt.
Tumult Café can be found at Moselstraße 4 in Frankfurt's Bahnhofsviertel neighborhood near the central train station.
3. Stroll Around Bahnhofsviertel
Bahnhofsviertel is Frankfurt's grittiest and edgiest area and has undergone some controversial changes in the last couple of years.
While the gentrification has been a hot topic in Frankfurt, many of the businesses that have opened have been really great additions to the city's culinary and nightlife scene.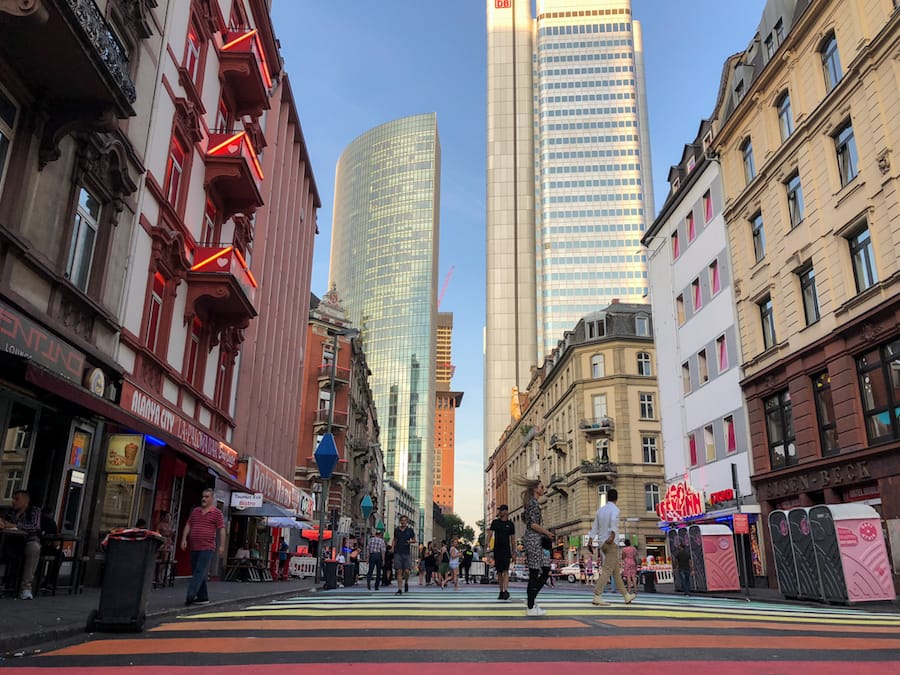 This is also a very diverse neighborhood and you can find Chinese, Malaysian, Ethiopian, German, Thai, Indian, Sri Lankan, Pakistani, Turkish food, and more all within this one small area of the city.
Coffee joints and cool concept shops are opening left and right and Bahnhofsviertel is becoming the epicenter of Frankfurt's cultural scene presently.
Bahnhofsviertel is also home to Frankfurt's Red Light District and certain areas can be a bit seedy at night… but if you stick around people and the main streets, it is a must-visit when in Frankfurt.
You can find Bahnhofsviertel around the Frankfurt Hauptbahnhof, or Central Train Station.
4. Buy a Craft Beer from Kiosk 45
And once you buy that beer, take it to a local park and enjoy it.
Germany allows public drinking (just clean up after yourself and be responsible!) and this gives the bottle shops a boost, especially when located near parks.
Kiosk 45 has the best array of craft beer in Frankfurt and they even have a large walk-in cooler that keeps the beers frothy and ready to drink. Günthersburgpark is close by and a local favorite.
Kiosk 45 is located in Frankfurt Bornheim at Wiesenstraße 45.

5. Taste Local Wine at the Friedberger Platz Weinmarkt
Don't like beer? No problem! Every Friday, Friedberger Platz ignites into a social event based around delicious wines. The event occurs after work hours every Friday, year-round, and lasts until around 8 pm.
Vendors come with local wines and everyone sits or stands around and socializes while imbibing.
Summers are obviously more crowded than winters, but this is still a great place to head to enjoy a bit of local culture in Frankfurt.
6. Taste the Berbere at African Queen
Frankfurt has a fairly sizeable Eritrean community and several of them have opened up their own restaurants and cafes over the years. The very best Eritrean restaurant in Frankfurt is African Queen.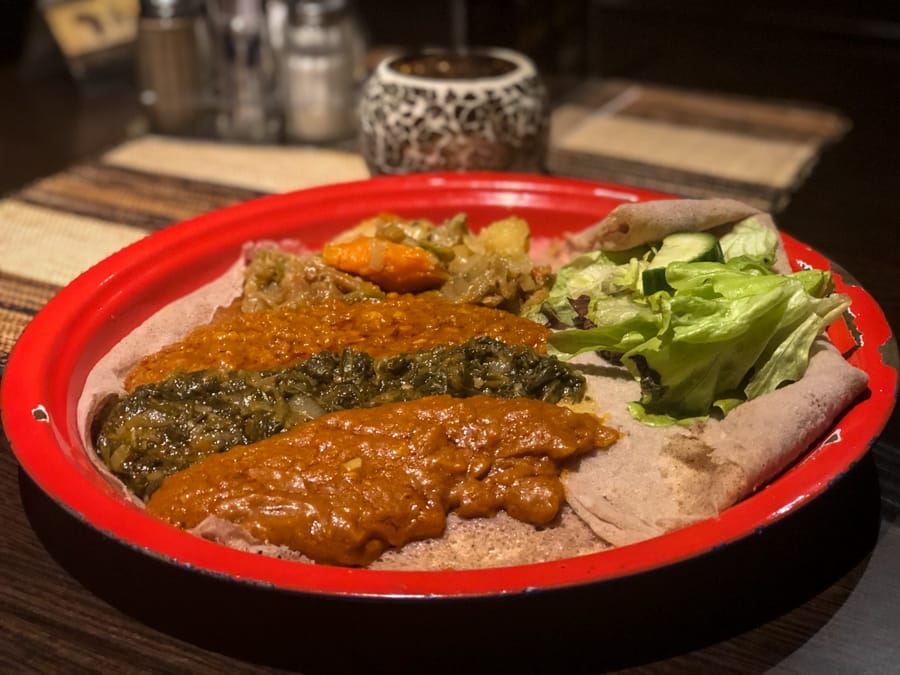 Eritrean and Ethiopian cuisines are very similar and if this is a type of fare you enjoy or if you are just in the mood for something a little different, definitely check out African Queen.
The owner was formerly a famous singer in Eritrea and even the President of Eritrea eats there when he is visiting. Vegetarian options exist (I always order the vegetarian platter).
African Queen can be found at Stuttgarter Str. 21 in Frankfurt's Gutleutviertel neighborhood close to the Hauptbahnhof and Main River.
7. Spend Your Saturday Morning at Markt im Hof
Every Saturday from 10 am until 6 pm, a courtyard market opens on the other side of the river in Sachsenhausen.
This market, aptly called Markt im Hof, is a creative gathering of international food, beverage, and goods vendors and it has become one of Frankfurt's best-kept secrets that tourists don't know about since its inception in 2013.
You can get amazing coffee by a local roaster, Hoppenworth & Ploch (or simply 'Hopplo' if you're local), Vietnamese street food, and even a local beer. Don't worry, you can also find some really great Hessen specialties there, as well.
This is easily one of the coolest weekend things to do in Frankfurt.
Markt im Hof can be found in Sachsenhausen at Wallstraße 9-13.
8. Spend the Rest of Your Saturday at the Konsti Market
Once you leave Markt im Hof, head over to Konstablerwache, a main square in Frankfurt's city center, for the Konstablerwache Markt.
Taking place every Thursday and Saturday, this farmer's market brings in fresh goods from all over the Hessen region, including local beer and apfelwein.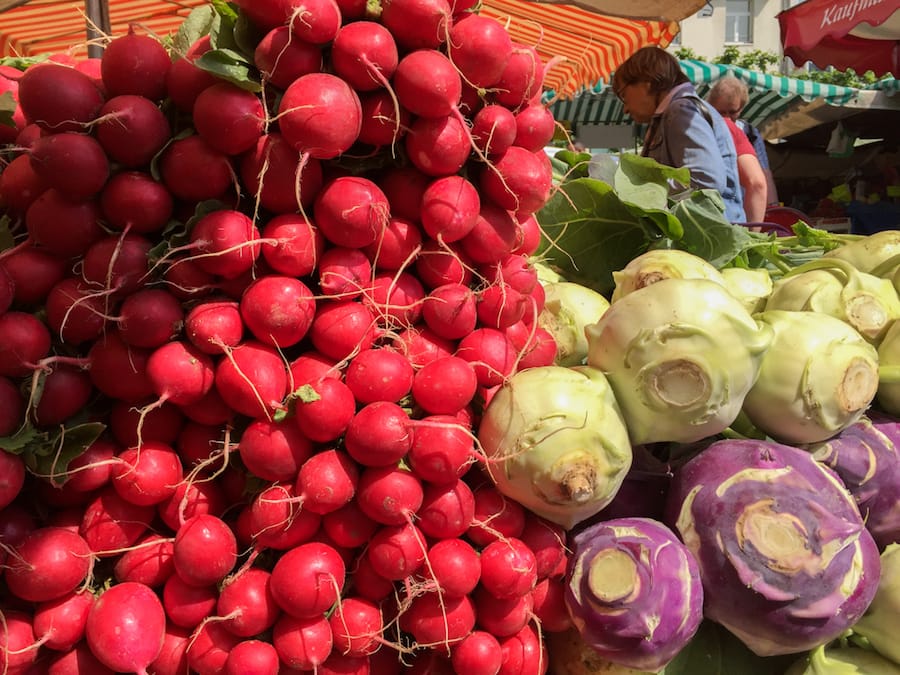 There are also vendors selling cheese, meats, and a lot of local specialties, like Handkäse mit Musik… a fermented cheese served with onions and vinegar that is either a hit or miss for people.
There is also fresh Grüne Soße and Ebbelwoi there, two Frankfurt staples.
The Konsti Market is a Frankfurt institution and is a must-visit if you find yourself in Frankfurt on the weekend (or Thursdays when it is calmer).
9. Explore Germany's Largest City Forest
In Frankfurt, you can find peace and relaxation inside of the Stadtwald, or the city's forest.
Frankfurt's Stadtwald is the largest inner-city forest in Germany and is located near the Frankfurt Airport but is extremely accessible from the city by a street tram.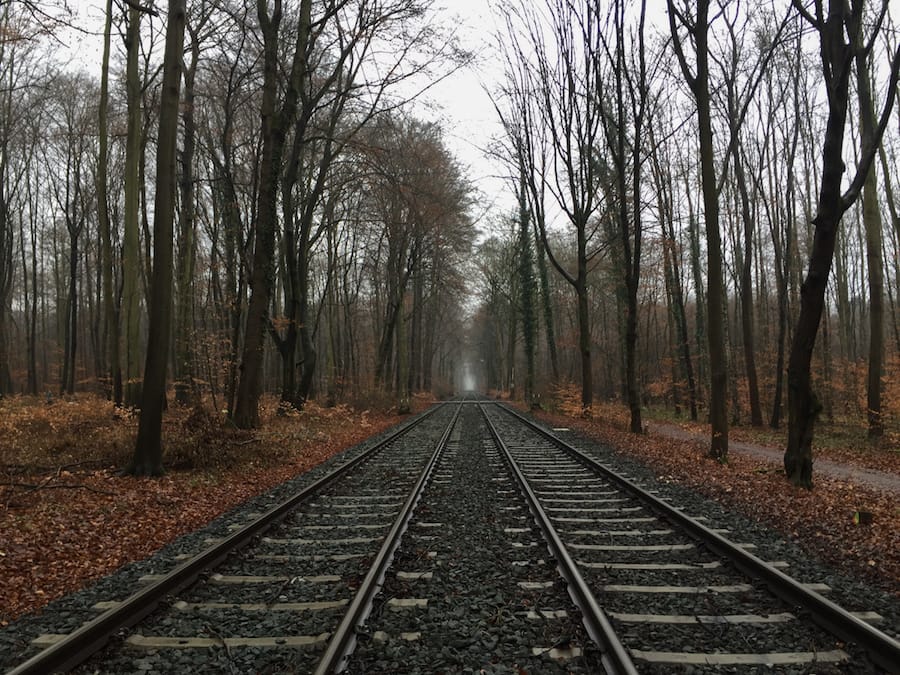 The forest is 48 square kilometers and is heavily forested and has several paths throughout that are perfect for riding bikes, running, or simply taking a stroll through.
The Stadtwald has nine ponds and six playgrounds, making it the ideal go-to place for families, too.
10. Set Eyes on New and Old at Fleming's Club
Near Eschenheimer Tower sits a hotel called Fleming's. If you take the elevator to the top floor of Fleming's, you will find yourself at a restaurant and bar called Fleming's Club.
You now will have one of the most iconic views over the city and one that not many people know about. This view mashes together the old and the new in the city, starkly showcasing its contrasts.
Order a beer and enjoy some beer snacks and bask at the beauty of Frankfurt from above.
Fleming's Club can be found in the city center of Frankfurt at Eschenheimer Tor 2.

11. Get Cultured at Frankfurt's Museumsufer
Not necessarily a secret amongst tourists but definitely something that is wildly overlooked is the Frankfurt Museumsufer. Along the Main River sit many of the city's museums.
You'll find everything from the Jewish Museum of Frankfurt to the Museum der Weltkulturen, or Ethnological Museum.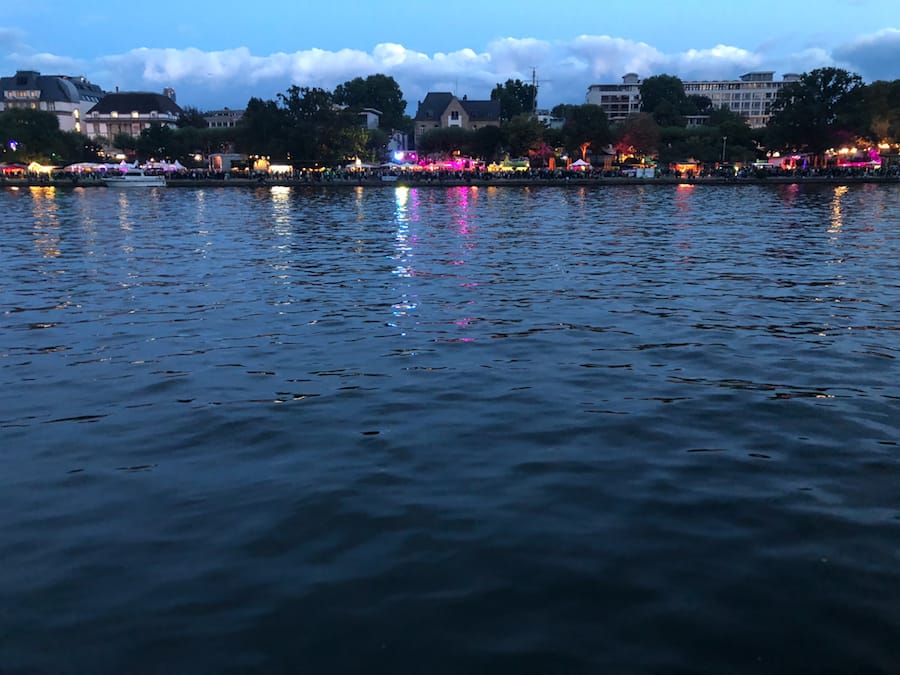 Several people proclaim that Frankfurt lacks culture but the Museumsufer alone is proof that that couldn't be farther from the truth.
Every year there is a festival in August called the Museumsuferfest, which celebrates this special part of Frankfurt, and it is arguably the most popular festival in the city.
12. Have a Drink in the Sun at City Beach
Something that is very unique to Germany compared to other countries is the country's affinity for putting beach lounges along rivers or in this case, on a building's rooftop in the city center.
There is another rooftop lounge across town, but City Beach has so much to offer that it would be remiss to not show up on a guide of hidden gems in the city.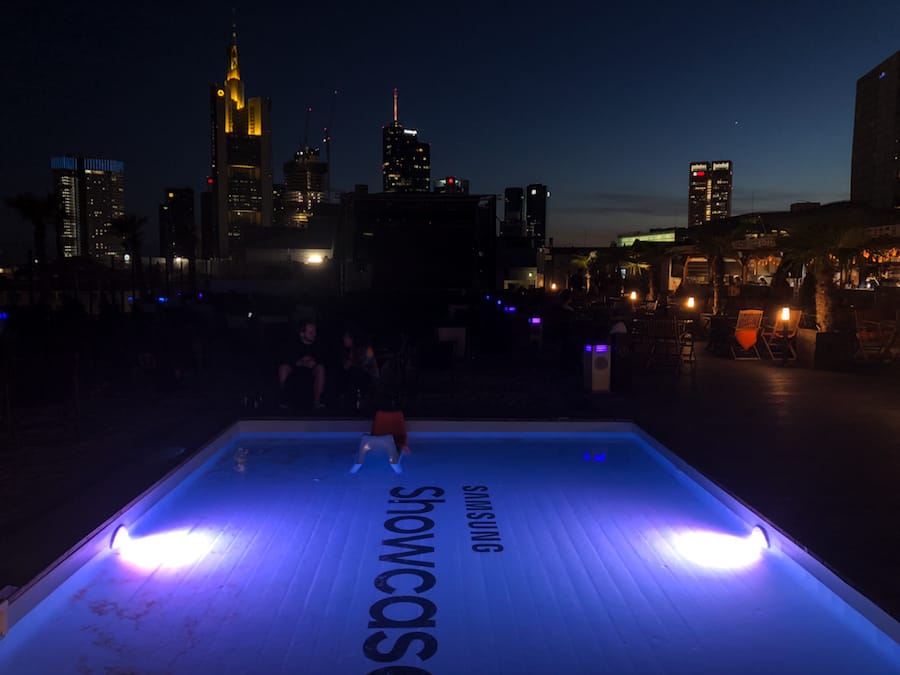 City Beach is the perfect spot to enjoy the sun while drinking a mojito. It is only open when the weather is nice during the summer months.
City Beach can be located at Töngesgasse 8 in Frankfurt's city center.
13. Raise a Bembel with the Locals at Apfelwein Solzer
There is no Frankfurt without apfelwein. Applewine to English speakers.
Or Ebbelwoi if you're a Frankfurt native. Either way, this sour drink made from apples is a must-try for those visiting Frankfurt.
You can head to Sachsenhausen and drink along the Apfelwein area with other tourists.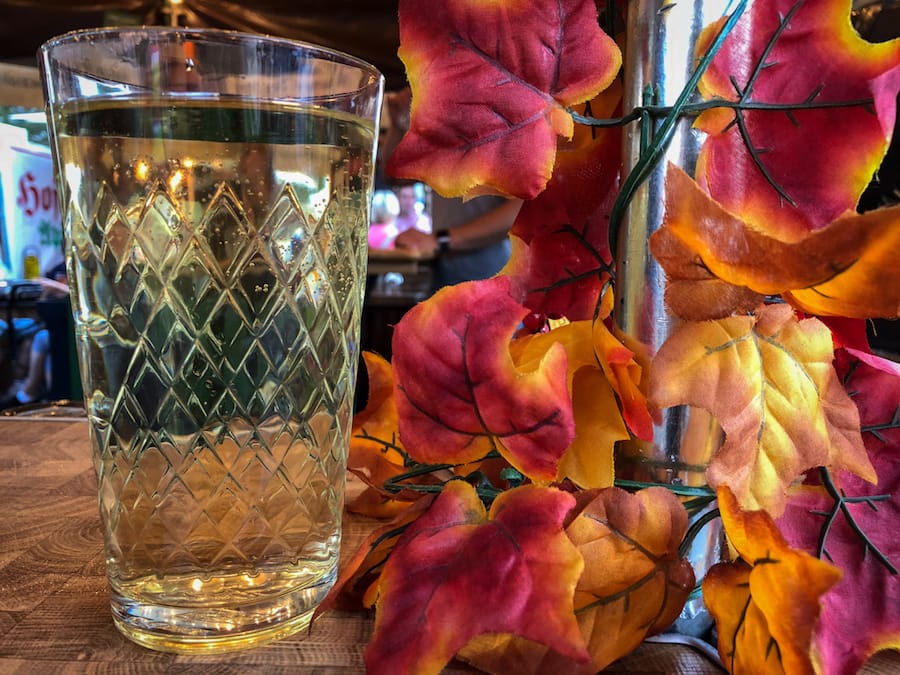 Or you can head to Apfelwein Solzer in Bornheim (Bornheim Mitte U-bahn station) and sip the good stuff amongst the locals.
At Apfelwein Solzer, you will also have a chance to try some local foods and it really is one of the best German restaurants in the city, if not the very best.
If you miss the chance to head to Apfelwein Solzer, take a ride along the city's Ebbelwoi Express, a tram that takes you on a journey through Frankfurt celebrating the drink while you're, you guessed it, imbibing on the delicious drink.
14. Chill out at The Yard
Opened right before the 2018 World Cup, The Yard is a newer place in Frankfurt that uses an old warehouse/building to hold food stalls and shipping containers to keep the place feeling private and like you're in your own garden in the middle of Frankfurt.
It is one of my new favorite places to visit in Frankfurt and I suggest you head there too as they have food from all over the world and it is just a fun and laid back experience.
You can find The Yard near Konsti station at Breite G. 10.

15. Grab Lunch at vif Westend
A couple of years ago a really cool place opened in Frankfurt called vif Westend and I just couldn't get enough of it.
Unfortunately, Frankfurt got enough of me and sent me packing after many visa woes, but vif is still here and still awesome.
The cafe has a cool design but the food is what you really should head there for.
They create plates of conscious food and everything is homemade and absolutely delicious.
Head in and have lunch and stick around for a tasty coffee. You can find vif Westend in Frankfurt's Westend at Mendelssohnstraße 83.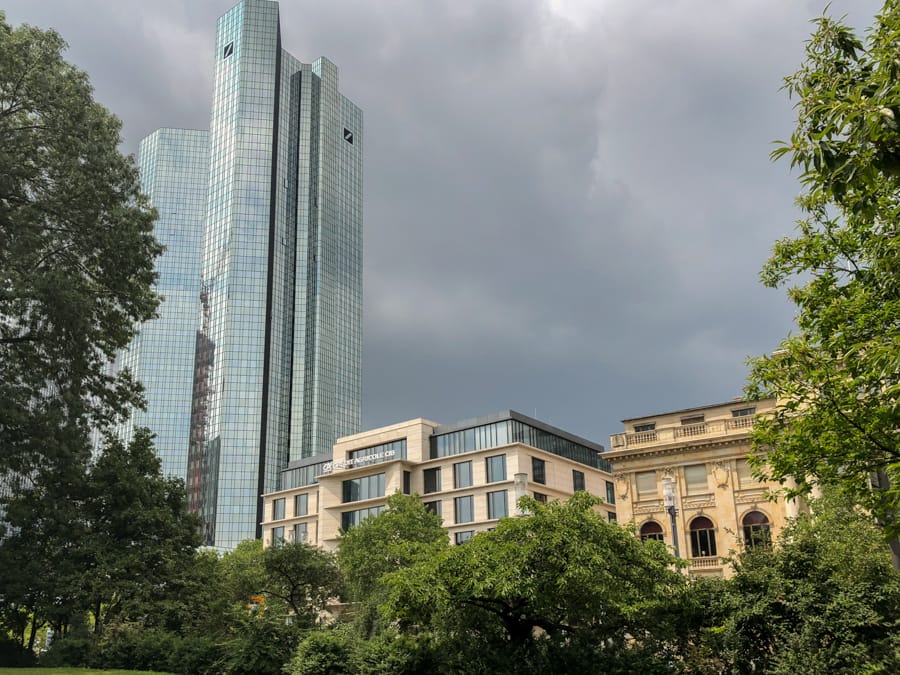 There are many amazing things to do in Frankfurt, Germany… these are just a few of my favorite things to do as a local and things that will give visitors a taste of what makes this city a wonderful city break from other places in Europe.
Please leave a comment with your favorite things to do in Frankfurt if you have any!
Where to stay in Frankfurt