Are you spending one day in Rotterdam on your upcoming trip? This Rotterdam itinerary for first-timers will help you make the most of your time there!
Planning your trip to Rotterdam at the last minute?
Below are some of the top tours, hotels, and more!
Top tours in Rotterdam:
Top Accommodation and Lodging in Rotterdam:
Best Hotels in Rotterdam: Mainport Design Hotel (5-star on Maas River banks in center), nhow Rotterdam (4-star with epic views), The James Rotterdam (3-star in heart of city), citizenM Rotterdam (4-star and stylish)
So, you're about to explore the Netherlands and you plan to explore Rotterdam in one day. With so many things to see and do in the city, it's no surprise to wonder if one day is enough to see Rotterdam. You're in luck, a day trip to the city is worth it.
In this post, we will share a one-day itinerary with you that will let you make the most out of the city. With so many things to do and places to see, it could be overwhelming—where do you start?
Don't worry because we got you covered. With this itinerary, your trip to Rotterdam will be a memorable experience.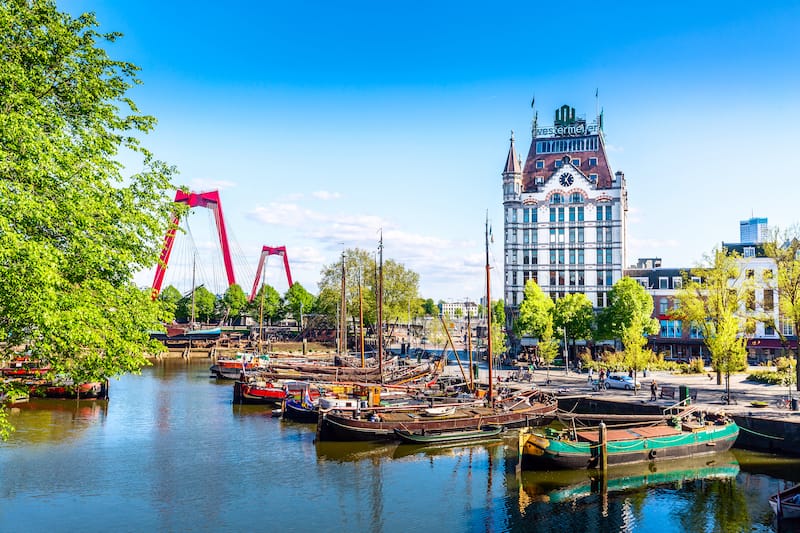 Rotterdam Overview
Rotterdam is one of the most popular places in the Netherlands, but you will be surprised that it's not all about the tourist spots there because aside from stroopwafels, the city holds a lot of history.
Rotterdam is popular for its port, which is the biggest seaport in the whole of Europe. It is the second-largest city in the Netherlands and had a terrible past as it was bombed heavily during World War II.
You can still stroll through the remains of old Rotterdam before the heavy bombing in the city, which is something you should definitely do on your one day in Rotterdam.
Due to the heavy bombing, the city has rebuilt itself, and it brought modern architecture that will wow you. Rotterdam has some of the most beautiful modern architecture in the whole country and that makes it worth a visit.
The moment you set foot in the city, you will notice how it looks and feels a bit different from other popular cities, such as Amsterdam.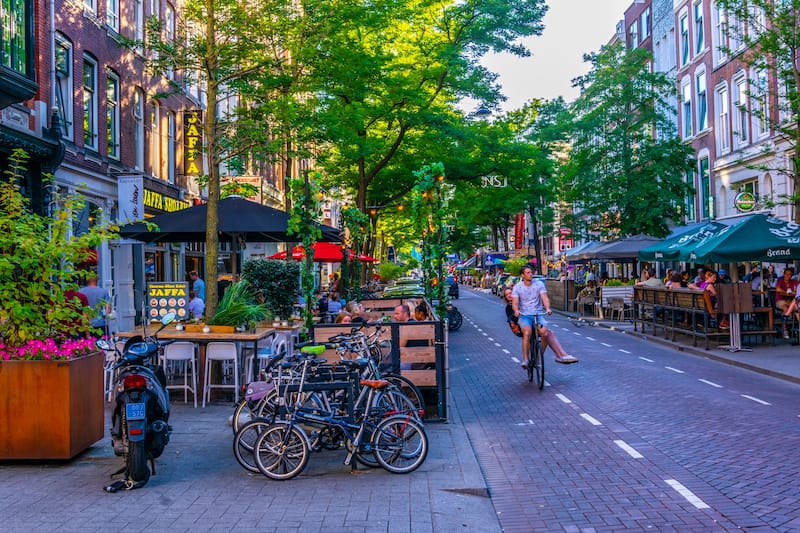 How to Get to Rotterdam
If you're coming from Amsterdam, it's only an hour away from the capital of the Netherlands. The good news is, you won't have a hard time with the travel because the country is known for its well-connected public transportation system.
If you will spend a couple of days touring the Netherlands, it's important to have the OV Chipkaart because it will let you ride public transportations with ease.
If you're coming from Brussels Airport, the city is only an hour away. Trains and buses to the city are available for you whether you choose a train, bus, or even a taxi or a car!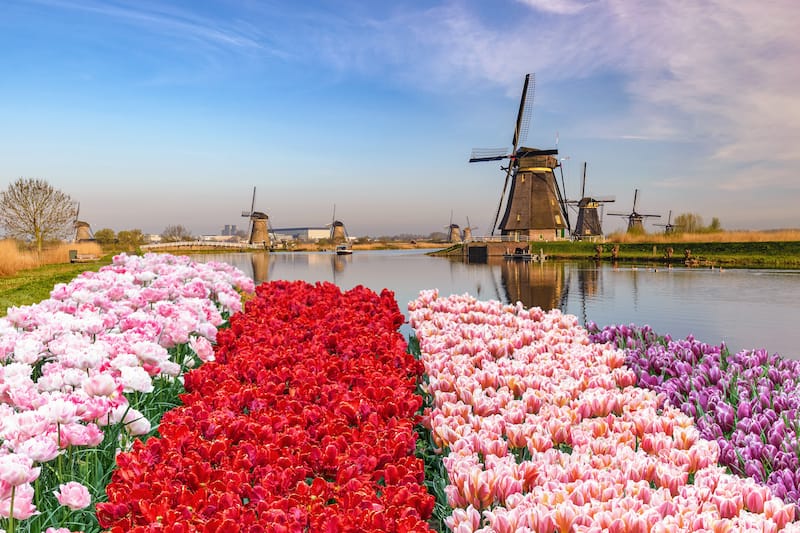 Getting Around Rotterdam
Why don't you explore the city the Dutch way? Rent a bike and explore the city on your own! It will be a fun experience, plus, you get some exercise in.
The city is bike-friendly, just like all the other cities in the Netherlands, so you won't have a problem on the road at all as there are dedicated bike lanes. There are many places where you can rent a bike in Rotterdam.
If you don't feel like exploring the city on your own, there are day tours you can get on foot or via a tour bus. In the case that you want to explore the city all on your own but you don't want to join a tour, there are buses and taxis if you don't feel like walking much.
But do know you can explore the city on foot because it's only a small city!
With that, make sure you're in comfortable clothes and shoes as well. If you're coming here in the winter, layer up and bring an umbrella with you—you never know when it's going to rain, so best to be prepared.
1 Day in Rotterdam Itinerary – Map
To add this map to your Google Maps account, click the 'Star' icon next to the map name. You can then view it on your cell phone or computer by heading to your Google Maps account, click the menu and add it to 'Your Places'.
One Day in Rotterdam
Exploring the city isn't impossible even if you only have a day to do it. Here you will be able to take in the rich history of Rotterdam, at the same time, see the modern architecture that will really take your breath away.
Here's a one-day itinerary you can use for your one full day in Rotterdam:
Visit Delfshaven
The city was destroyed in WWII but there are still remnants of old Rotterdam in the city and you can find it in Delfshaven.
It is one of the areas in the city that survived the bombing in 1940, which covers a large area of the city; Delfshaven is also known as Rotterdam West.
While you're here, take the time to explore this area to see what the city looked like before the war.
There are so many things to see here, such as the Pelgrimvaderskerk which is open to the public on Fridays and Saturdays. Besides that, walk along the city's historic canal houses, which have been transformed into shops that sell various stuff.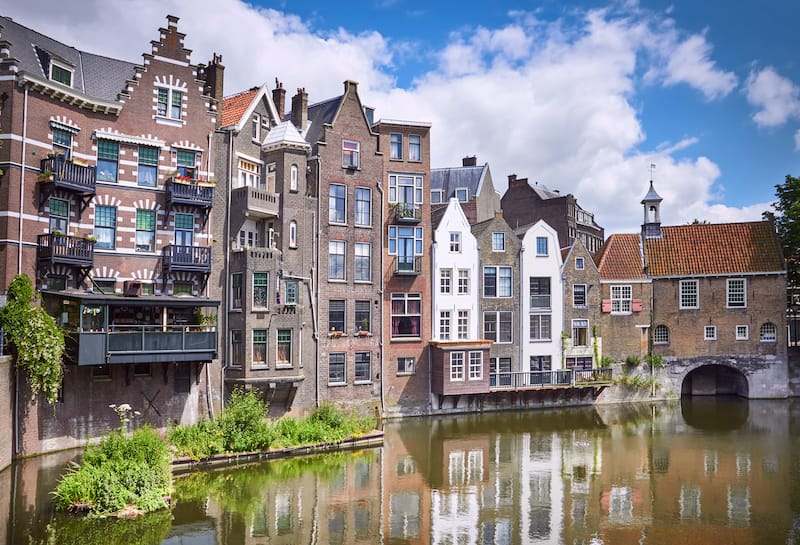 Some houses have been transformed into breweries and eateries as well. With that, you can sit down and grab a bite while you're here.
The Netherlands is popular for its windmills, and in this part of Rotterdam, you will find an old-school grain mill, the De Distilleerketel. You will also get to see the local Hindustani tailors, Turkish bakeries, and many more.
You can also find a market on Visserijplein every Thursday and Friday with 180 stalls. If you don't feel like shopping, you can stroll through the Heemraadssingel, which is lined with trees that is an excellent area to relax and just enjoy nature.
Go Up the Euromast
If you have no fear of heights (or even if you do!), go up to the Euromast and take in the magnificent views from up above. The Euromast observation tower is a must-visit place in Rotterdam. It is 185 meters high and offers a 360-degree view of the city and its surroundings.
At the top of the tower is a brasserie where you can have lunch, afternoon dinner, or dinner. If you're looking for a place to stay in the city, the Euromast offers two suites at 100 meters high that you can book.
With that, you'll wake up above the city. Isn't that a thrilling experience?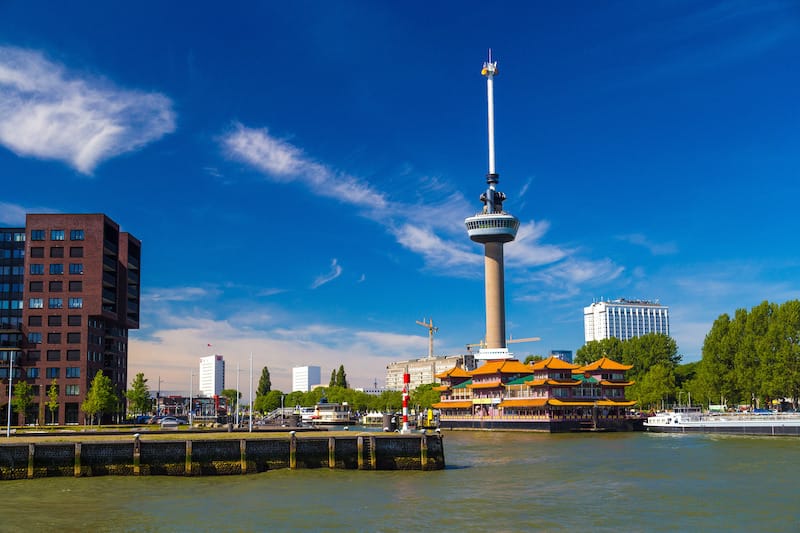 On a beautiful day in the observation tower, you will see Antwerp, a Belgian city that is 80 kilometers away. However, don't worry if you come up here on a rainy day because you can still see great views.
For adventurous ones, there are activities you can do here, such as cable glide or abseil.
Abseiling will let you walk down along the building's outer wall, while a cable glide is a diagonal line to the ground in which you will be hanging from a cable track. These activities are safe; so, you don't have to worry!
>> Click here to book your ticket in advance for Euromast Tower
Have Lunch at the De Markthal
After your Euromast adventure, grab a bite at De Markthal. Built-in 2014, Markthal is the city's market that is in a unique piece of architecture. It is hard to miss this building because of its horseshoe shape that is a cover for the market that has 228 apartments.
Walk inside and you will see a huge painting, the Horn of Plenty, that covers the ceiling. You can compare it to the Sistine Chapel!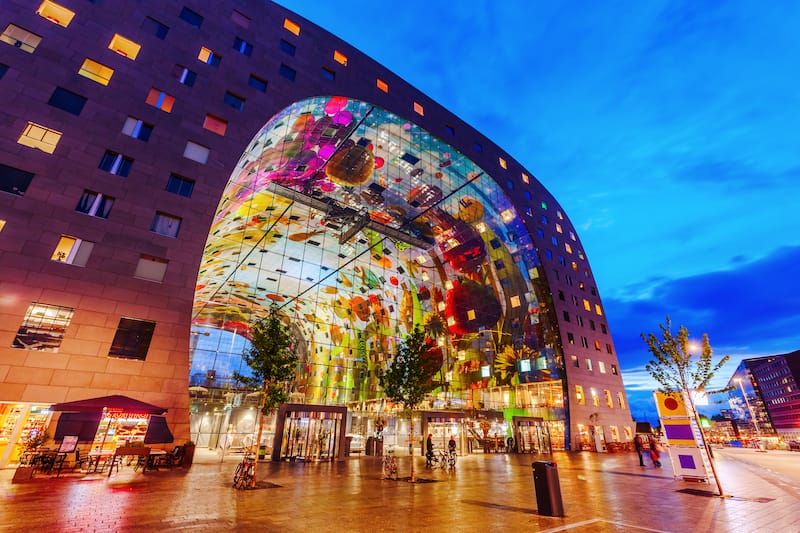 You can have lunch in the Markthal as there are over a hundred food stalls here. From traditional Dutch foods to other cuisines from all over the world, you will be able to satisfy your cravings here.
If you're up for it, you can also go to the underground car park of archeological items where you can know more about the history of the city.
Say a Prayer at Grote of Sint-Laurenskerk
Slow down and visit the Saint Lawrence Church. Say a little prayer and appreciate the beauty of the church, which was built in the 1500s.
The church is the oldest building and the only remaining artifact from the Middle Ages in Rotterdam—and that makes it a spot to see while you're here.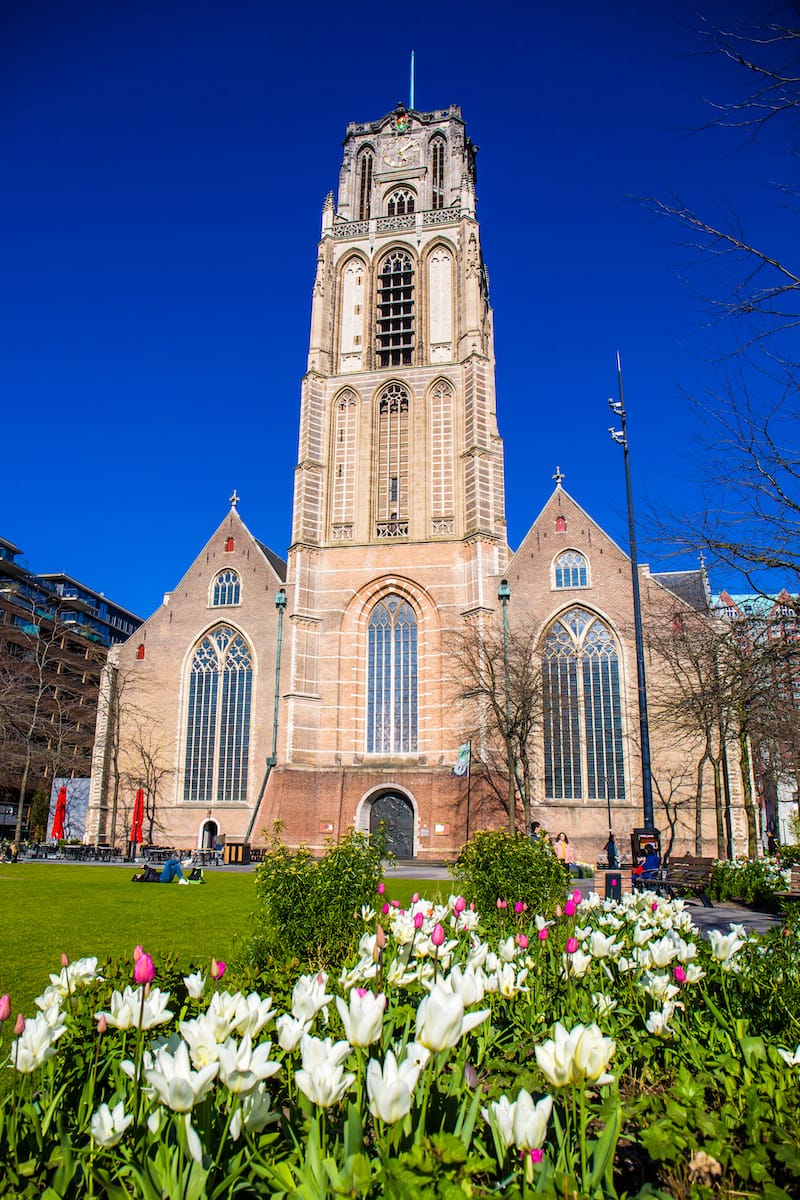 If you're up for it, you can climb the tower to bask in the panoramic views of the city. Indeed, the view is something and it will really make you appreciate the city even more.
While you're here, check out the statue that is dedicated to Desiderius Erasmus which sits next to the church.
Ride the Water Taxi
If you haven't experienced riding a water taxi, now's your chance to do so! Although the OV Chipkaart doesn't accommodate this, paying for the water taxi is worth it. The boats are really fast, which is quite a thrill. It's a wonderful experience you shouldn't skip while you're here.
Head to the Cube Houses
The Cube Houses are one of the top attractions in the city. In fact, they will catch your attention immediately. At first look, you might look at them as something senseless, but look closer and you will appreciate this unique architecture that the city is famous for.
Also known as Tree Houses, these houses were designed by a Dutch architect, Piet Blom.
The houses were designed with a forest in mind, which is why it's important to know its history because when you see it from this point of view, you will see the cubes look like the top of a tree, while the trunks are the canopy.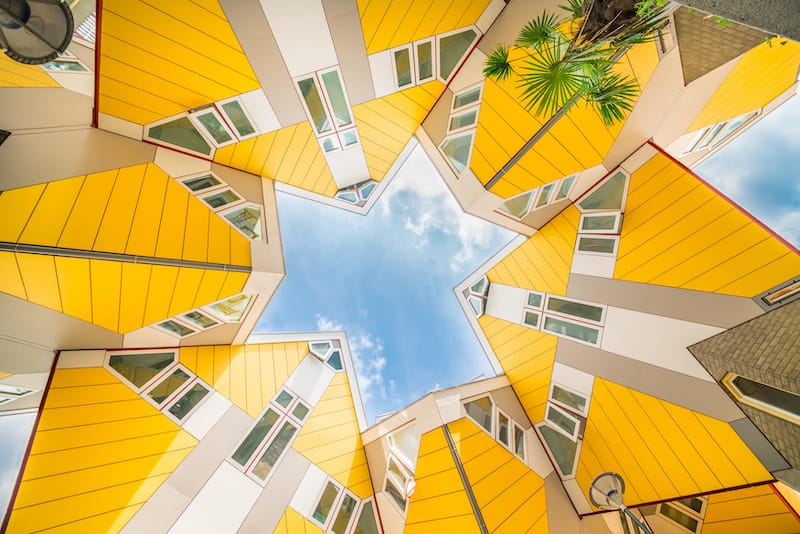 Therefore, when you look at it as a whole, you will see a forest. Pretty cool, huh?
The geometric shapes that are complemented with yellow panels will catch your eye.
Take a moment to visit one of the houses inside, which is the Kijk-Kubus where you can appreciate the interior and feel what it's like to live in a cube house.
If you want, you can stay here as well as one of the cube houses is a hostel. So, if you plan to extend your stay in the city, then you might want to consider staying in a historic piece of architecture.
Take Photos On the Erasmus Bridge
The Erasmus Bridge, also known as the Erasmusbrug, is an 800-meter-long suspension bridge consisting of a 139-meter-high pylon secured by cables.
It stands out because if you look at it from afar, you will see that the bridge is shaped like a swan; hence the nickname "The Swan."
The bridge is now an icon in Rotterdam, which is definitely a must-see if you're in Rotterdam, especially if it's only for a day!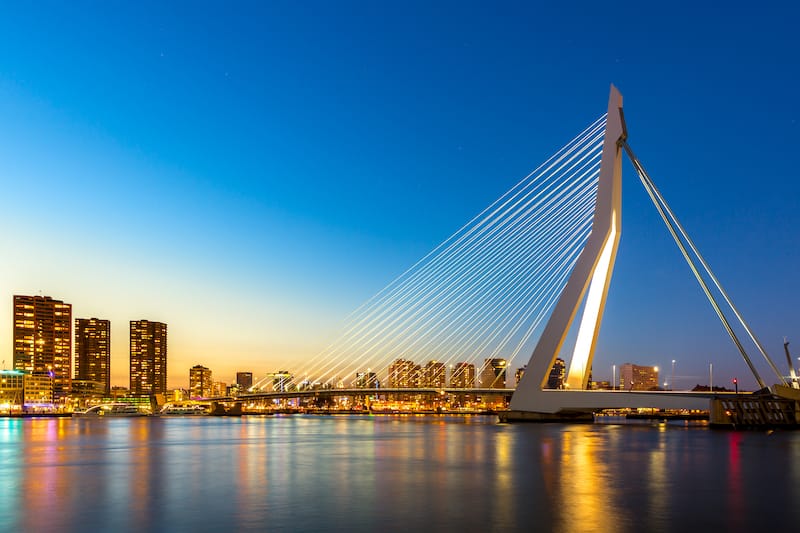 Go Shopping
If you have some time left, make sure you go shopping. There are plenty of shops here, such as the Beurstraverse where you'll see a lot of beautiful-looking shops.
You will notice that most shops here are modern and quirky, and for sure, you will be able to buy something to take with you.
Dishes to Try Out in Rotterdam
As you only have one day in Rotterdam, you shouldn't pass up the chance to try out these popular Dutch treats.
For one, the Stroopwafels, which are caramel waffle cookies, are all over the city. You can get them fresh from the griddle at specialty stands or you can get a pack at any supermarket.
If you love cheese, make sure to try the Kaas, which is similar to Gouda cheese. There are plenty of varieties you can choose from based on age.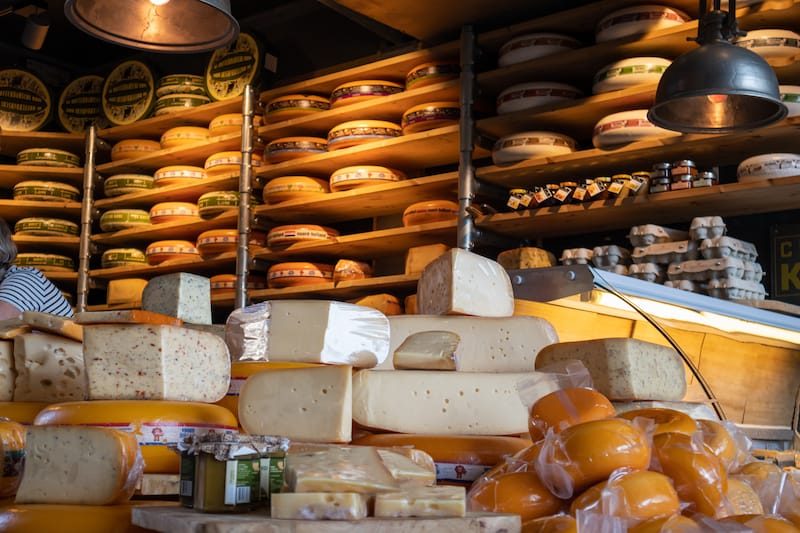 Finally, make sure you try the Bitterballen as well—these are deep-fried balls that are served hot with a side of mustard. Dutch restaurants and pubs have bitterballen—and if you can, try it with Dutch beer, it's heavenly!
Rotterdam in One Day is Worth It!
Rotterdam in one day is a delight! Even if you think it's impossible to get the most out of your trip, by simply visiting these spots and trying out famous Dutch treats, your one full day in the city will be worth it.
Take in the modern architecture, the rich history, the delicious food, and if you have time to spare, you can grab some drinks by the port.
In Rotterdam, you will have the best Dutch experience that is far different from other major cities in the Netherlands.
Therefore, don't pass up the chance to explore the city even for a day—it will all be worth it! We hope that this one day in Rotterdam itinerary helped encourage you to plan a trip!
Go on and have fun!
Author Bio
Ask The Dutch Guy your go-to guide when it comes to The Netherlands. The goal of Ask The Dutch Guy is to showcase the beauty of The Netherlands and to inspire others to explore the country.
Read more about Ask The Dutch Guy at https://askthedutchguy.com. Follow him on Facebook and Instagram.
Pin this Rotterdam 1 Day Itinerary!