There are many amazing things to do in Madrid in winter. And… we detail so many of those things in this guide!
Are you planning your trip to Madrid last minute?
If youʻre booking your trip to Madrid last minute, we have you covered. Below are some of the top tours, hotels, and more!
Top Experiences and Tours in Madrid:
Top Hotels in Madrid:
Hotel Villa Real (luxury)
Soho Boutique Opera (upper mid-range in the Centro District)
2060 The Newton Hostel (budget)
This guide will detail the best Madrid winter activities from food offerings to festivals held during the colder months.
If you have additional suggestions, please leave them in the comments!
Things to Do in Madrid in Winter
During the winter months, Madrid shakes its reputation as a sunny destination and becomes a fantastic winter getaway.
The city known for world-class football, sunshine, and its amazing food and drink scene becomes a winter wonderland with events and cold-weather activities in abundance.
You also donʻt want to miss out on Madridʻs best tapas bars!
Founded in the 9th century, Madrid is a city built on history and cultural traditions.
Tourists head to the city during the warmer months in droves, looking to enjoy a drink in the warm sunshine that basks the squares or to check out a game at the Bernabeu stadium where some of the world's best athletes play.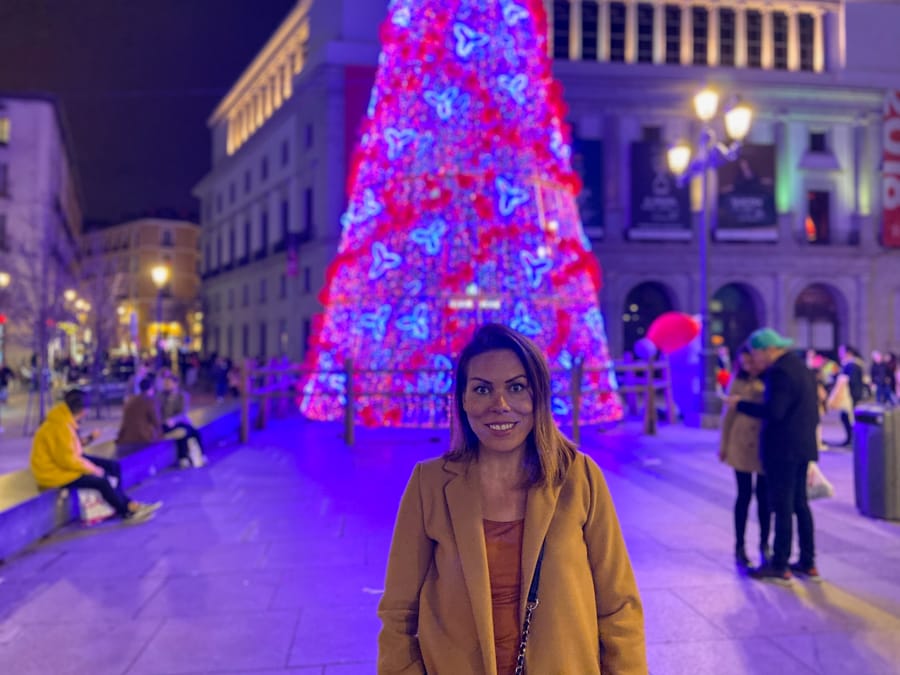 However, during the three months of the winter, Madrid experiences a cold snap and the common allures of the city go into hibernation.
Thankfully, during December, January, and February in Madrid, a different side of the city comes out to play with some of the most important religious celebrations happening during the winter, creating an amazing party atmosphere as locals celebrate the Christmas period and carnival in the build-up to Lent.
To help you plan your trip to Madrid in winter, I have collated a list of 15 fun things to do and see in Madrid during winter.
If you feel I have missed something from the list, please leave a comment below!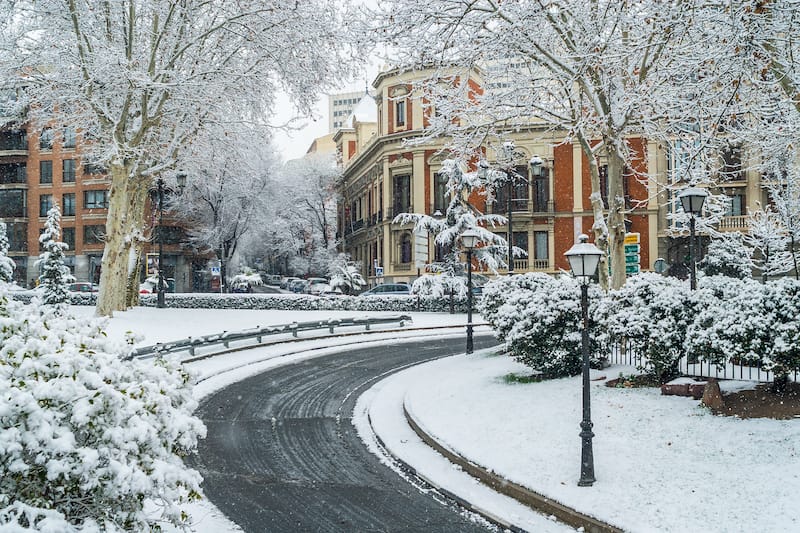 Madrid Winter Weather
Although Madrid doesn't experience cold snaps like the rest of Europe, it is colder on average than many other areas of Spain, such as Marbella.
Throughout most of the Madrid winter, temperatures average around 8°C (46.6°F), apart from January when it is on average a little cooler than the rest of winter.
During the night, temperatures drop further and warm clothes are essential.
As Madrid sits at a higher altitude and is surrounded by snow-capped mountains, the wind-chill factor can play a big role and frigid winds often blow through the city.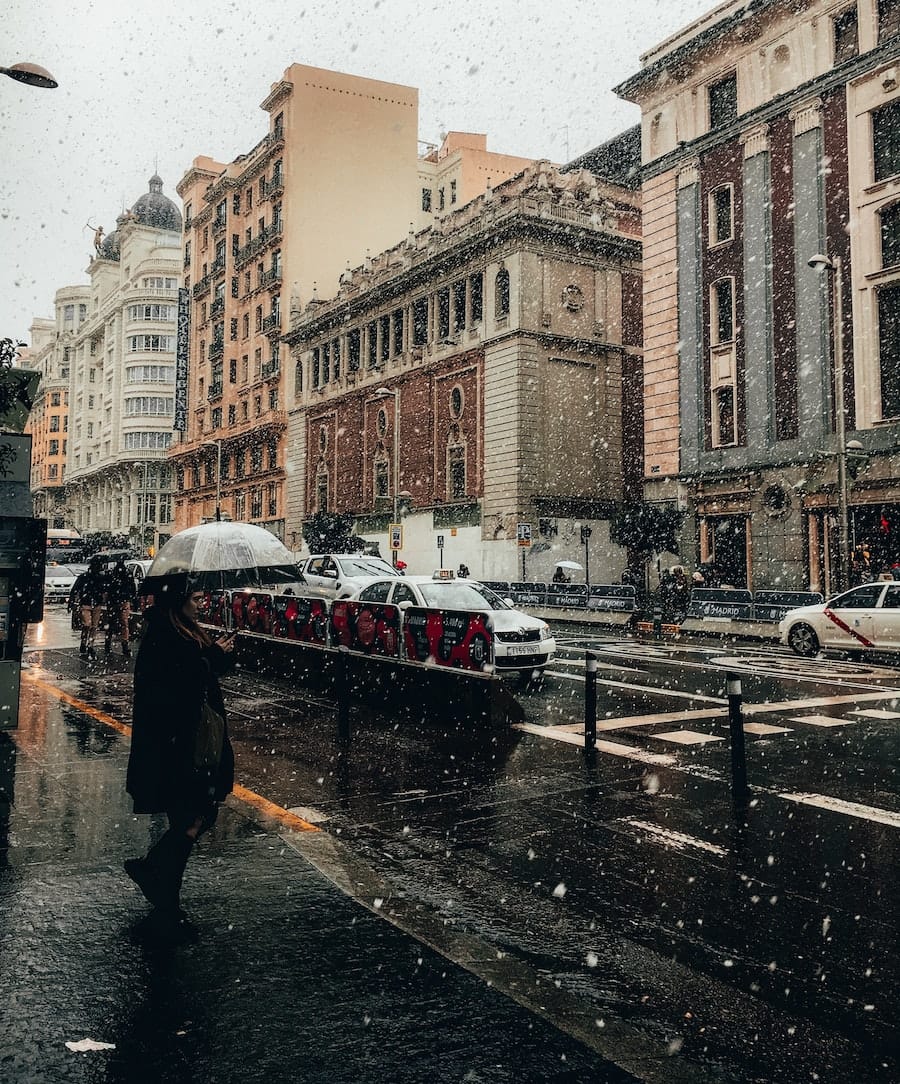 In the middle of Madrid, you are unlikely to see any snow, but if you plan to head out of the city to surrounding towns and villages in the mountains, it is likely you will find snow.
Getting To Madrid from Madrid Airport
Madrid airport is located about 12 miles from the city center and can be reached by both public transport and car.
From Terminals 2 and 4, you can take the metro directly into the city, with trains departing every 5 minutes between 6am and 2am daily.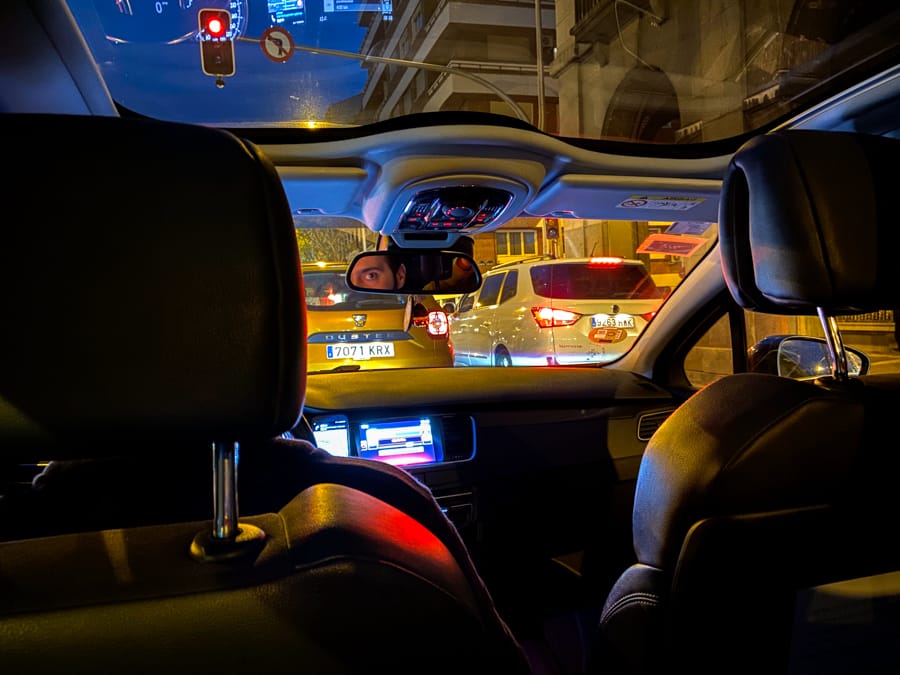 Personally, when I arrive in a city, especially for the first time, I like to take an airport transfer to remove any stress upon arrival.
Welcome Pickups offers a great service where an English-speaking driver will meet you at the airport and take you directly to your hotel.
Your friendly driver will greet you at the airport with your name written on a sign providing a nice VIP feeling.
You can also have your driver meet you with additional extras such as a SIM card and entrance tickets to various museums.
The transfer costs around 35€ and, in my opinion, is worth every cent.
>> Click here to book your transfer with Welcome Pickups
Madrid During Winter: What to Do
Admire The Christmas Lights By Foot Or Bus
Madrid is a city that takes Christmas lights very seriously. Each year, the displays get bigger and bigger, with new streets and districts being incorporated into the display.
The city employs local cultural artists to design the annual display, making every year special and different.
Starting on the last Friday of November, the lights run through until the 6th of January.
So, if you have one day in Madrid during these dates, be sure to wander about and admire this work!
The Madrid Christmas lights turn on every day at 6pm and stay on until late, depending on the day of the week, with the lights staying on until 6am on New Year's Eve.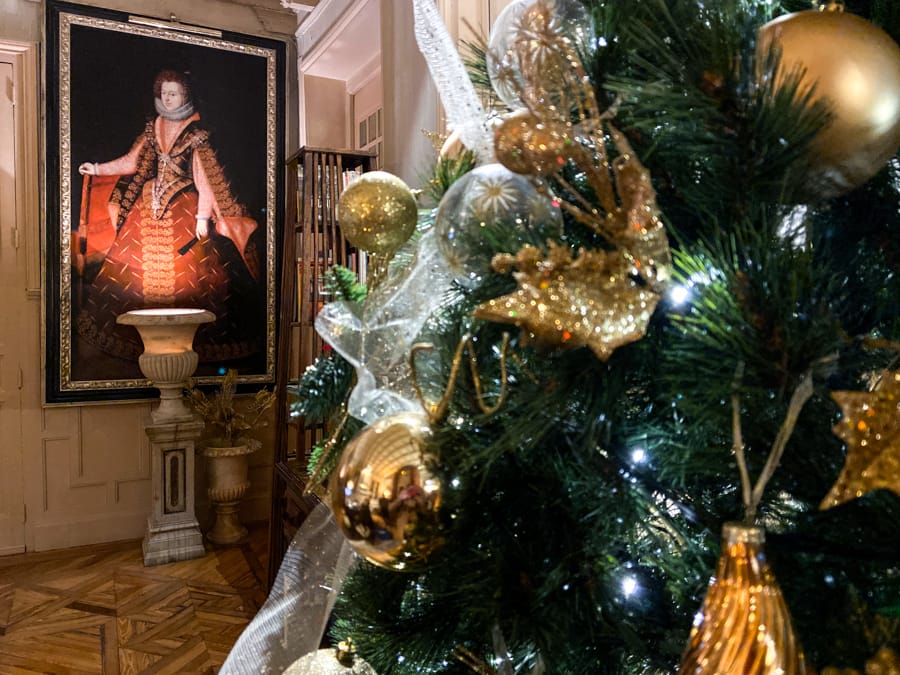 There are two main ways to see Madrid's illumination- either by foot or the Naviluz, Madrid's famous Christmas bus.
If you wish to walk the lights, it takes about an hour and a half to see all of them, plus the magical window displays in the shops.
Alternatively, the Naviluz is a famous Christmas sightseeing bus that takes you to see the lights, along with many of the other famous sights in the city.
The bus tour takes around 50 minutes and is popular not only with tourists but also with locals who want to the fantastic displays.
Walk the Botanical Gardens Winter Wonderland
In the center of Madrid, you will find the botanical gardens which are home to over 90,000 different plants along with more than 1500 trees, spread over 7 gardens and 4 greenhouses.
There are a range of species of plant life from all corners of the Earth and in the greenhouses, you can see various flora that is not native to Madrid's climate.
During the festive season, the gardens turn into a winter wonderland!
Spread along a mile-long trail, Christmas lights and figures line the way. During this period, the gardens open later than normal, closing at 11pm rather than at 6pm.
The entrance is based on an hourly pass which is enough time to do the route at a reasonable pace and enjoy the festive magic.
The lights are on from mid-November to January 6th but are closed on Christmas Eve, New Year's Eve, and New Year's Day.
After the festivities of the holidays are over, the gardens still make for an awesome place to visit during winter to escape the noise of the city.
Watch The Christmas Display At Cortes Ingles Preciados-Callao
Outside of one of Madrid's most famous department stores, Cortes Ingles Preciados-Callao, you will find one of the most famous Christmas attractions in Madrid called Cortylandia.
Each year, the department store puts on a different animatronic display for the holidays.
Throughout the day, the display comes to life and performs for the crowds, with festive songs seemingly sung by the figures on the display.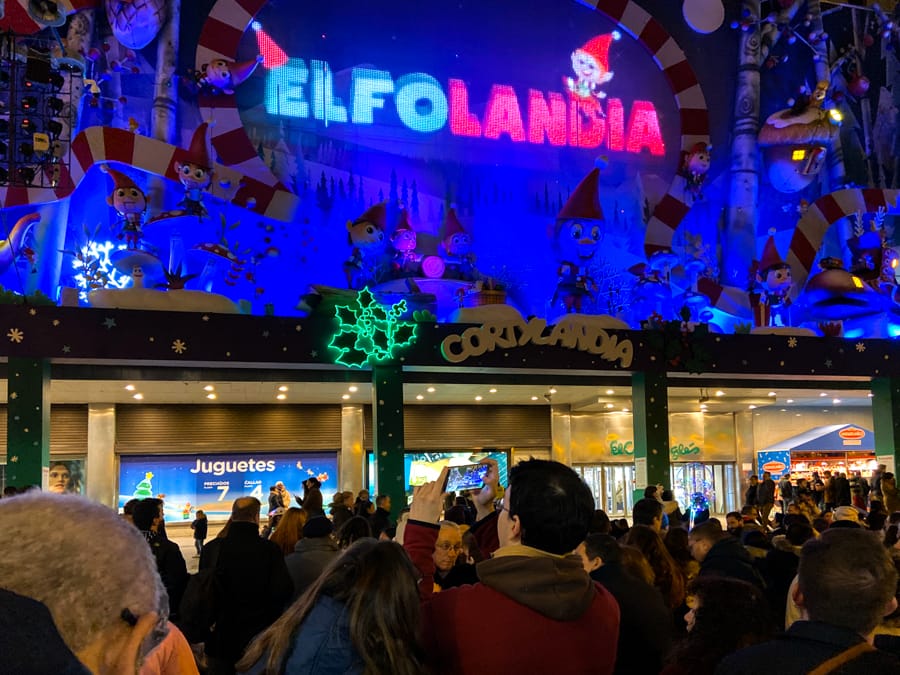 Personally, I find the evening performances to be the best as the Christmas lights in the streets surrounding the display make for extra holiday magic.
The department store is a great place to do some high-end Christmas shopping after watching one of the performances.
The Christmas display at Cortes Ingles Preciados-Callao runs until the 6th of January and is free to view.
Watch the Three Kings Parade
Christmas traditions change from country to country.
While the US considers the 25th as the most important day of Christmas, much of continental Europe celebrates on the evening of the 24th of December.
However, in Spain, many people consider the 6th of January as the most important day of Christmas.
The 6th of January is Three Kings Days (Los Reyes Magos) symbolic of the arrival of the Three Kings/Wisemen to meet Baby Jesus and bring him his presents.
Due to this, many Spanish children receive their Christmas gifts on the 6th with the Three Kings delivering them during the night before.
On the 5th of January, the kings arrive in Madrid and the festivities start.
As night falls, a huge parade courses through the center of Madrid with many fantastic and elaborate floats and displays, including one with the Three Kings aboard.
The parade ends in Plaza de Cibeles, where the Three Kings go on to a stage overlooking the crowd and a huge fireworks display erupts above the square.
It is highly recommended to add this parade to your January visit to Madrid and be sure to plan your trip to coincide with these celebrations and enjoy the festivities late into the night.
Enjoy Serrano Ham (Jamon Serrano) in Madrid
Spain is famous for its ham, with Jamon Serrano being available pretty much everywhere (although I recommend avoiding any serrano ham sandwiches in the airport… one gave my partner food poisoning!).
As you wander around the city, you will find plenty of ham shops and even a museum dedicated to the delicious cured meat.
You can even find a lot of options at the famous Mercado San Miguel food market!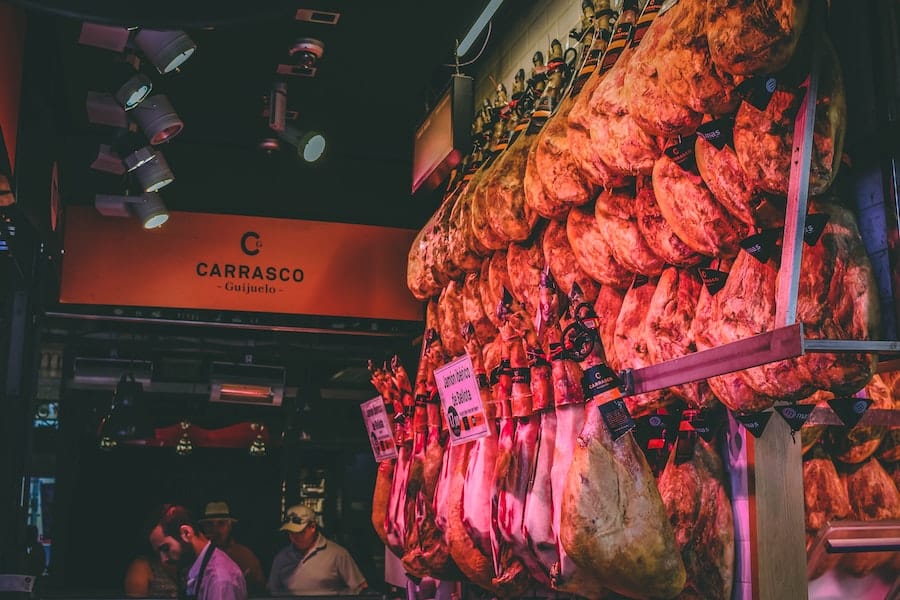 Serrano is a popular Christmas delicacy and families often have a whole leg of ham available throughout the Christmas period, as it makes a great snack or accompaniment to festive dishes.
Eating ham during Christmas is one of the best things to do in Madrid in winter… or any time of the year.
Explore the Christmas Markets
Madrid has a surprisingly long history when it comes to Christmas markets, or mercadillos de Navidad, as they are called in Spanish.
The first ones took place in the 17th-century in Madrid.
There are several markets throughout the city that run from mid-November until the end of the year, selling a range of Christmas items from delicious Spanish desserts to cool trinkets to give as a gift.
The most famous of the markets is the one on Plaza Mayo where you will find over 100 vendors selling their goods in little wooden huts, along with carousels and other Madrid Christmas market favorites that you find throughout the rest of Europe.
If you are looking to try some of Spain's favorite Christmas treats, head to Feria Dulces de Navidad where you can try delicious sweets from all over Spain in one small area.
Shopping at the markets will mean you are supporting local artisans and it is a great opportunity to pick up unique gifts.
Try Torrons Vicens Arenal
Close to Plaza Espana, you will find the wonderful little Torrons Vicens Arenal, a specialty nougat shop.
Upon entering the shop, you will be astounded by the vast range of nougats on offer with pretty much every single flavor you can think of available.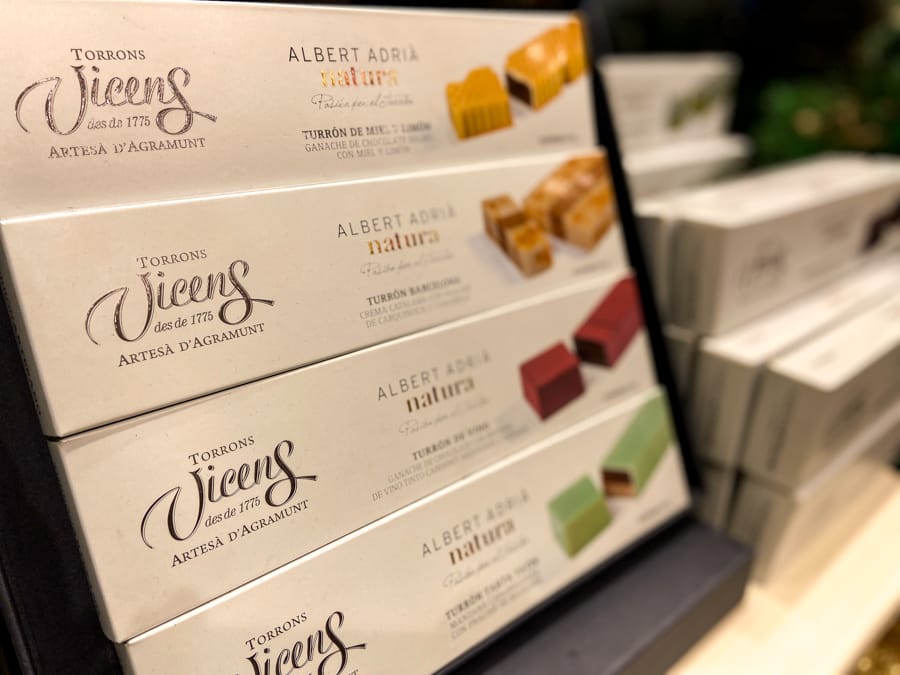 Helpful shop assistants will help you pick out the perfect selection to match your tastes and provide you with free samples.
The family-run business has been producing artisanal nougat since 1775, keeping the long-standing traditions and methods alive and well.
The delicious nougat makes for a great present to bring back for family members and friends back home or alternatively, like in my case, to devour back at your hotel room.
Take a Walk in Retiro Park
Going for a walk might not be your first idea for a wintertime activity, but a stroll throughout Madrid's Retiro Park is a must during your winter visit.
The boulevards are lined with trees, and the park is full of joggers, cyclists, and strollers.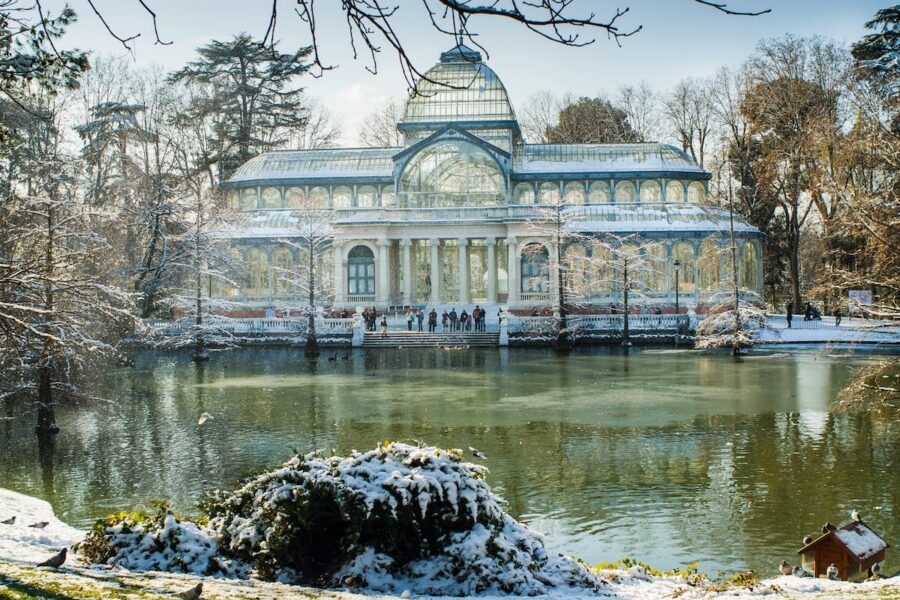 Depending on the weather, you can rent a rowing boat to get a close-up of the boating lake.
There is also a lake surrounded by restaurants nearby in the Casa de Campo Park, so you can stop here for a bite to eat while enjoying the scenery in the heart of Madrid.
In the winter, you can visit between 6 AM and 10 PM.
Celebrate New Year's in Madrid
Madrid is known for being a party city, with locals staying out all hours of the night enjoying the restaurants, bars, and clubs that are saturating the Spanish city.
One of the best ways to experience the full force of the Spanish celebrations is to head into the center of Madrid and enjoy all the city has to offer.
Take part in the Spanish tradition of eating 12 grapes before midnight hits. It is said to bring you good luck for the upcoming year.
Devour your grapes in Plaza del Sol, the epicenter of Madrid's New Year's celebrations where citizens toast the New Year in with fireworks and bottles of sparkling Spanish wine.
After ringing in the New Year, head to one of Madrid's many nightclubs where all-night parties rage until the early morning (you may need to purchase tickets for many clubs well in advance, just a heads up!).
Alternatively, throughout the city, there are various upscale galas are held where you can enjoy a traditional three-course meal and dance throughout the night.
Ring in the New Year in Spain is an epic idea and Madrid is a fantastic place to do it!
Discover Madrid's Best Tacos
I have ventured through Europe trying to find semi-decent Mexican food (okay, 'edible' is the better word here) and I am usually greeted with food that is either inedible or mediocre at best.
However, I was quick to discover that Madrid is full of taco places and many have great ratings and high recommendations.
On the advice of my friend Emily at Along Dusty Roads, I headed to Taco Mi Ciudad, an awesome little taqueria that cannot fit more than maybe 15 people and serves up some of the best tacos I have ever had in Europe.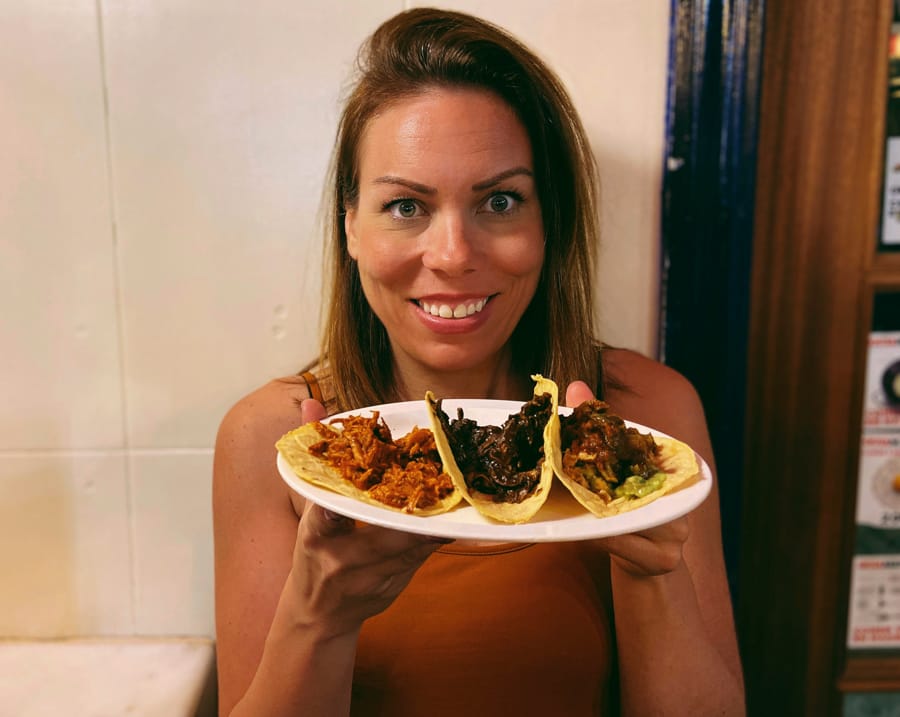 The food was so good that I could not control myself and quickly devoured 7 tacos and tamales and I probably could have eaten more (and regret not doing so).
If you cannot fit into Taco Mi Ciudad, or there is a long line, check out Takos Al Pastor which also came highly recommended to me.
Go Ice Skating in Madrid
Like many cities across the world in winter, open-air ice skating rinks pop up throughout the cities and Madrid is no exception.
Throughout the festive period, you will find ice rinks popping up around the city, offering affordable and fun skating options for locals and tourists.
Some of the best rinks are Javier Fernández Ice Skating Rink in the Azca district (Madrid's financial district) where an ice skating session costs a euro.
Another popular one is Villa de Vallecas, where you can skate for free or enjoy one of their impressive ice skating shows.
And just outside of Madrid in the small town of Alcalá de Henares, you will find Spain's largest outdoor ice rink.
Pretty much all of Madrid's outdoor ice rinks close on the 6th of January as the Christmas period comes to an end and Spain prepares to start warming up again.
Devour Chocolate And Churros
It's hard to believe there is a way to improve hot chocolate but Madrid seems to have managed it by serving this winter warmer with a side of churros to dip into the hot chocolate.
Although Chocolateria San Gines sells this delightful treat year-round, there is something magical about having it during the winter when Madrid loses its reputation of being a warm city and experiences 3 months of cold temperatures not dissimilar to those found in other parts of Europe.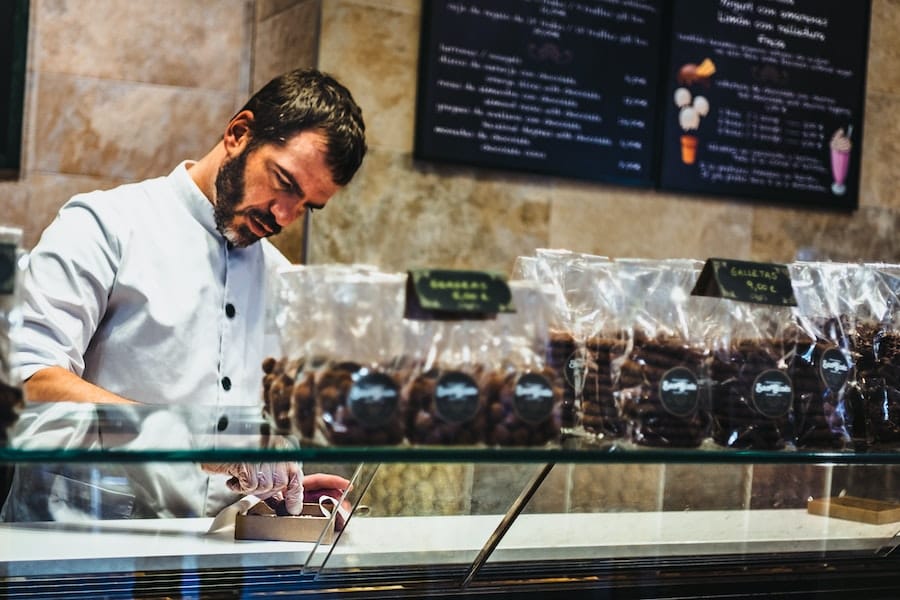 It's possible to find this delicious combo around the city but Chocolateria San Gines is the most famous place to enjoy them.
With over 120 years of expertise serving up churros, the quaint, historic shop really knows how to form the perfect churro and the hot chocolate is to die for.
It's important to note that the hot chocolate isn't like the normal one you find in coffee shops, but instead, a thicker more pudding-like consistency which can either be devoured with a spoon or by drinking it from the cup after you have finished dipping your churros in it.
Head to the Mountains Near Madrid
When people think of Madrid, they will often imagine sun-soaked squares with people eating delicious food and soaking up the warmth.
However, during the winter in Madrid, when the cold manages to grip the city for a few months, you will find that the area becomes the perfect place to enjoy some winter sports.
There are three ski resorts ranging in size located between 40 and 75 miles from the Spanish capital.
Puerto de Navacerrada is the closest resort to the city and can be reached quickly. The resort is small with a limited number of red and blue runs along with a snow park for those looking for extra thrills.
Valdesquí is located around 47 miles from Madrid and is a much larger resort than Puerto de Navacerrada and its proximity to the city means that is the most crowded of the resorts.
The resort is perfect for beginners with loads of blue and green runs along with a couple of reds and a snow park. For a quieter option, you can venture out to La Pinilla, which is about 75 miles from Madrid.
There is a great range of red and blue pistes spread across a vast range and serviced by different types of lifts.
It's important to note that snow cover isn't guaranteed and resorts may not be open when you are visiting.
Shop Madrid's Sales
Madrid is a shopper's paradise with large shopping streets full of designer shops along with some of the world's best-known high-street fashion retailers.
After the Christmas period, the shops will be bursting with sale items, many of which are not available outside of Spain.
You can find many goods available in Madrid for much less or half the price of what you would get in other parts of Europe.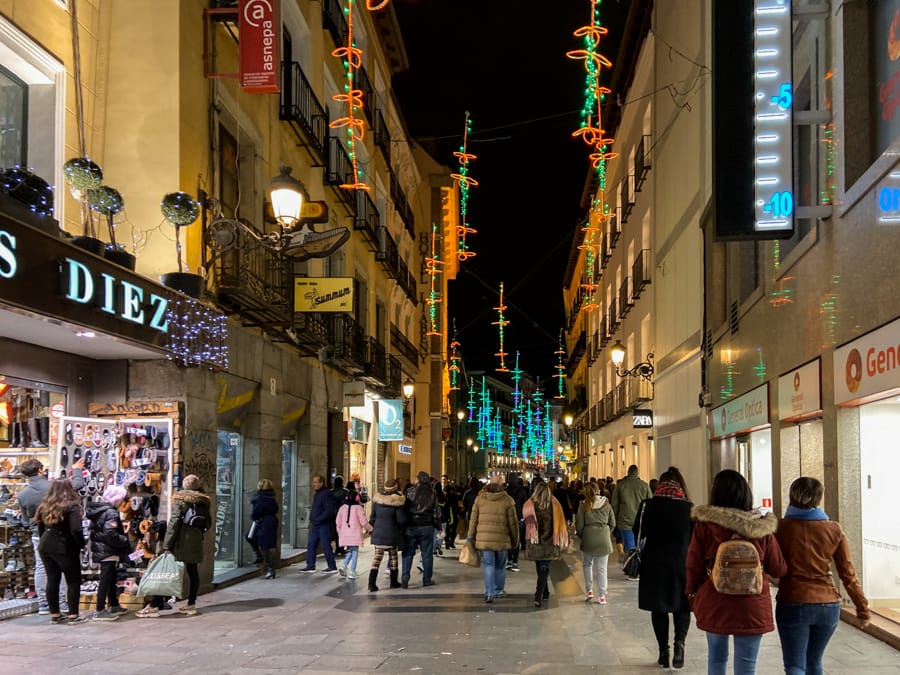 Whether you're visiting Madrid in December, January, or February – shopping is a great way to give back to local businesses.
Eat Ruscon de Reyes
In the build-up to Three Kings Day (also called Epiphany), you will find the bakeries of Madrid are full of Roscón de Reyes, a tasty crown-shaped cake.
The main part of the cake is made of a brioche-like sweet bread that is then topped with colorful, candied fruits and sweets and is said to represent the crowns worn by the Three Kings.
If you are lucky enough to score an invite to a local family's Christmas meal, you may find when you bite into a piece of the tasty cake that you will discover a small porcelain figure of baby Jesus baked into the cake or a dried fava bean.
If you score this piece, you are said to have good luck for the following year, however, if you are unlucky and get the fava bean, you will be in charge of bringing the cake the following year.
Dress Up for Madrid Carnival
Like many Catholic countries and regions, Spain takes the beginning of Lent seriously with 5-day long carnivals kicking off across the country.
There is no better place in Spain to experience carnival than in Madrid.
Starting 5 days before Lent officially begins, the city's plazas and streets fill up with locals dressed in fancy dress costumes and enjoying the party.
Each year, the city chooses a theme for the carnival and a neighborhood where the carnival will kick off from.
There are several key events across the city, such as the Great Carnival Parade and the Masquerade Ball at the Círculo de Bellas Artes, although, you will also find hundreds of other events across the city that should be checked out.
During this time, the bars and clubs will also host their own parties that will carry on until the early hours of the morning.
The festivities end with a somewhat bizarre tradition.
On the final day, the carnival takes a somber tone as costumes are ditched and the city turns out en masse to watch the Burial Of The Sardine.
This is a centuries-old custom where a giant sardine is carried through the streets before eventually being burnt on a bonfire to get rid of any evil spirits as people prepare to fast over Lent.
Before the carnival finishes, be sure to try the chocolate sardines, the official sweet treat of the celebration.
Catch a Show at the Cine Doré
The most noteworthy arthouse cinema in Madrid, Cine Doré, awaits lovers of classical Spanish film.
Having opened in 1912, you can check out some classical Spanish films, as well as foreign films, including ones from the USA and England.
The cinema also hosts seasons that are dedicated to certain directors or actors, so be sure to keep an eye out for that.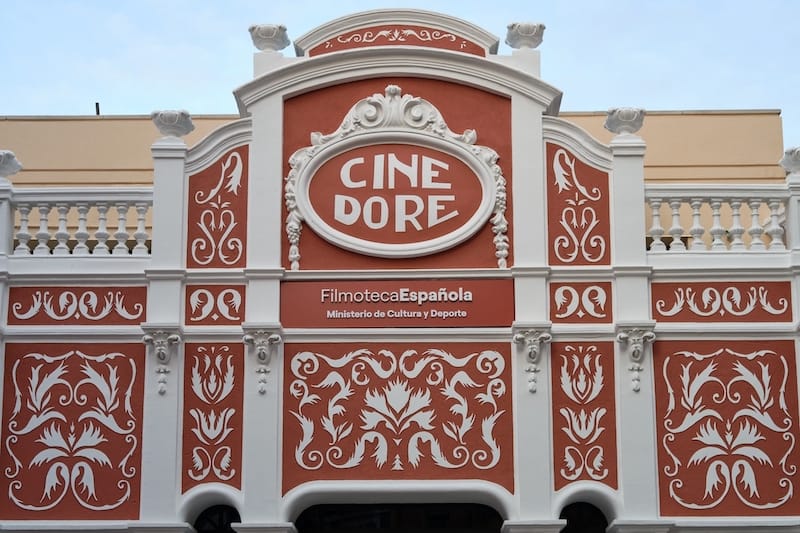 The films are all shown in their original languages with Spanish subtitles, and the cost per tickets is roughly 3 euros.
You can purchase the tickets from the box office next to the entrance.
Best of all, you don't have to sit through long advertisements and trailers- the films start right at the time listed on the ticket!
And, you can check out the bar and coffee shop for a bite to eat before or after the movie!
Address: C. de Sta. Isabel, 3, 28012 Madrid
Where to Stay in Madrid
A city of over 6 million people, trust me when I say you have your pick of awesome places to stay in Madrid! I have been to the city many times and I have always stayed somewhere different.
Here are my top picks of places to stay in Madrid (all budgets considered):
If you're traveling to Madrid during winter, this guide should help you plan many of your activities.
I was in Madrid in December but I had a blast and am confident that the low season is a wonderful time to visit to enjoy more than just the city's summer sun.
Have alternative suggestions? Please drop them in the comments below! I would love to try them out on my next trip!
More Spain Travel Guides
Pin This Winter in Madrid Travel Guide